10 Maang Tikka Without Chain Designs to Add Sparkle to Your Look
Looking out for elegant Maang Tikka designs for your big day? These 10 elegant Maang Tikka without chain pieces are definitely worth checking out!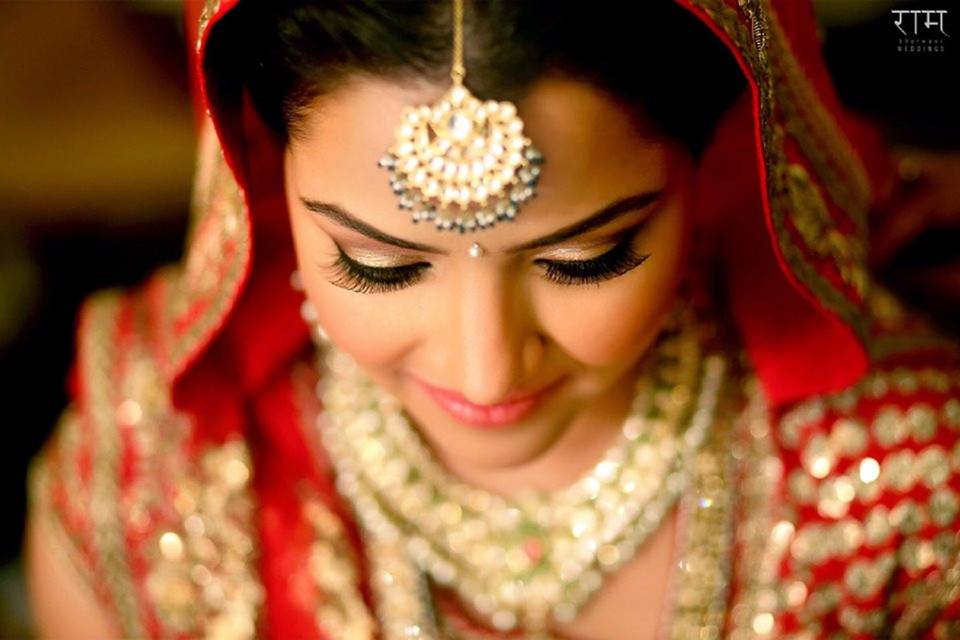 A Maang Tikka is an important part of an Indian bride's jewellery and her look would seem incomplete without it. A Maang Tikka has become quite popular with many women wearing it with their traditional outfits. And of course, not only Indian outfits but women are even seen sporting that beautiful drop pendant on their foreheads, even with their western outfits as well to add that extra touch to their whole attire.
When you look at a bride, the first thing that catches your attention is that beautiful piece of jewellery that sits right in the centre of her forehead, so it's something that most brides make sure to get the best one for their big day.
Maang Tikkas are available in a number of amazing designs – right from simple gold patterns to huge dangling pieces and even artificial ones. Floral Maang Tikkas are a favourite for pre-wedding functions like a Haldi or a Sangeet too.
You can find Maang Tikkas in different shapes and sizes and even customise it according to your taste and style. You can opt for elaborate chain type designs or even a Maang Tikka without chain if you prefer the simple look.
If you're looking out for a Maang Tikka without chain for your big day, then you're at the right place because we've got 10 elegant Maang Tikka pieces with prices, along with the places you could buy it from. So, check these awesome designs out and choose the perfect one for your big day!
Medium-sized Maang Tikka With Maroon and White Beads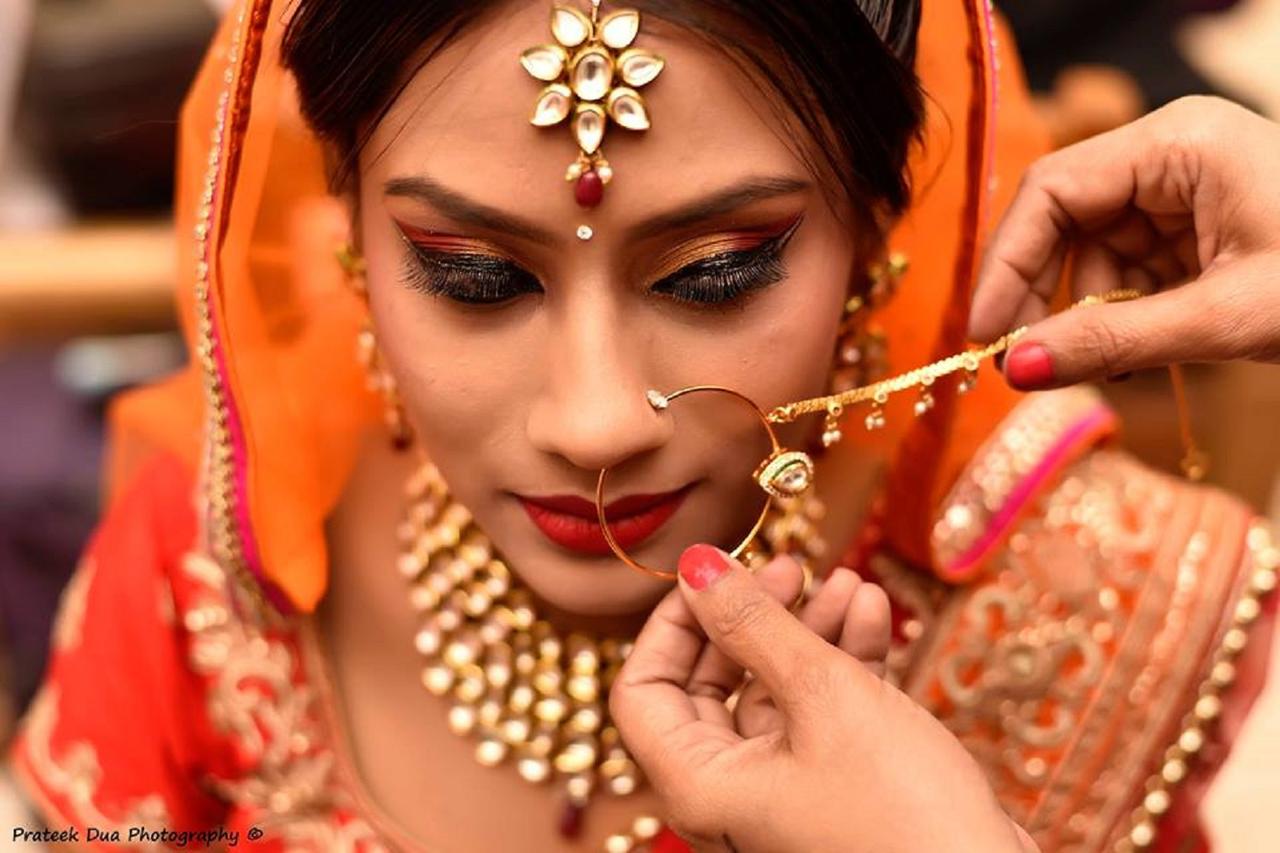 This is a lovely medium-sized Maang Tikka with maroon and white beads that look extremely beautiful in the middle of the forehead. This Maang Tikka comes matched with a nose ring, earrings, and a stunning elaborate necklace. This bride looks gorgeous wearing this classy Maang Tikka without chain with her beautiful wedding attire. This Maang Tikka has a very nice design that's so traditional and it can be purchased as a single piece as well.
You can get a similar Maang Tikka just like this from Om Sons Bridal Store. This store is situated in Lajpat Nagar, South Delhi and offers brides some amazing designs. They have genuine jewellery pieces that are handcrafted and outlined according to your own taste and choice. They offer customers imitation jewellery, artificial jewellery and even floral jewellery.
A piece like this could be priced anywhere from ₹8,000 to ₹10,000, depending on the design. You could even team a Maang Tikka like this with any type of Indian outfits for the best look.
The Gorgeous Maang Tikka With White Pearls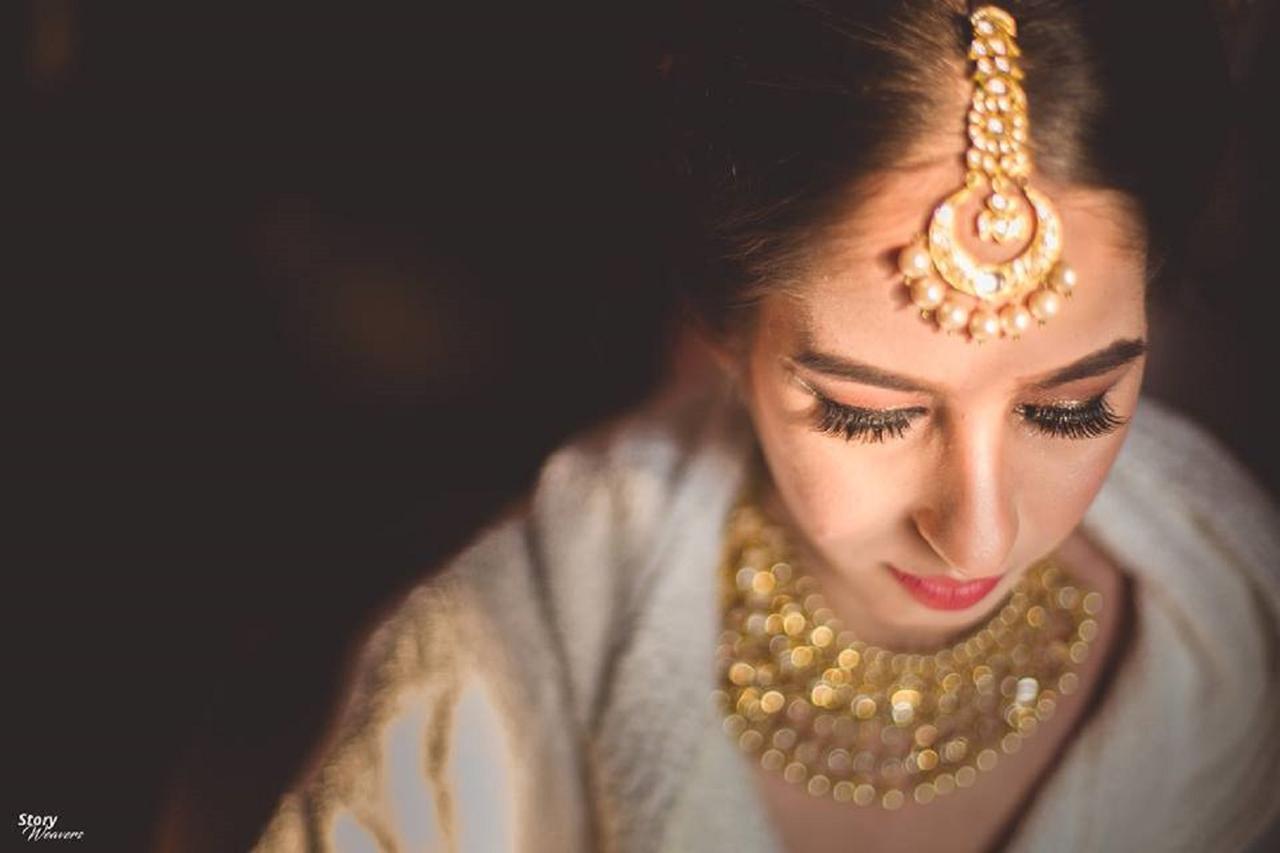 If you're looking out for a beautiful Maang Tikka without chain, then probably you could go in for a design just like this. This one comes with a lovely, stunning design in the middle that brings out the best in the design. The classic white pearls that surround the Maang Tikka is another factor that takes this Maang Tikka to another level. This bride looks so gorgeous showing off that Maang Tikka in style.
You can get a design like this from Gems in jewels a famous bridal jewellery company that's based out of Vasant Kunj in South Delhi. They offer you a wide range of bridal jewellery for all your wedding functions. This brand is known for its Gota work with Kundan and imitation jewellery. Here, you can find a plethora of options which you can wear for all your pre-wedding and post-wedding functions. If you wish, you can also order your own design as well. They promise to deliver the customised jewellery within 15 days.
We think an artificial Maang Tikka like this one can be priced anywhere between ₹5,000 to ₹10,000 depending on the design you choose.
The Perfect Green Maang Tikka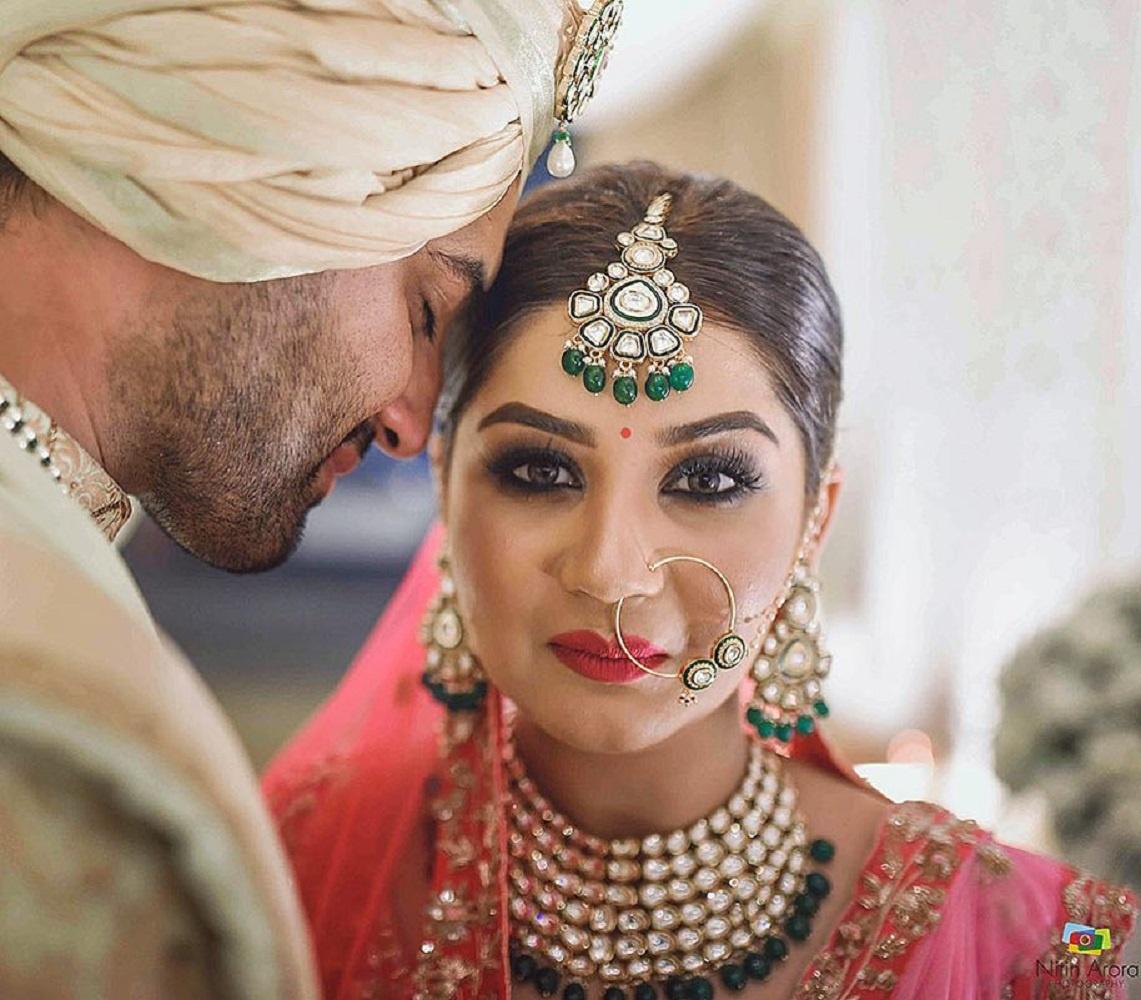 When going in for a Maang Tikka without chain, you can always go in for precious and semi-precious stones. Emerald green is a popular colour when it comes to bridal jewellery these days, and most brides love to wear emerald green stones with their bridal attire.
So, whether it's your necklace, earrings or a Maang Tikka, green can definitely take your whole look to a new level. This beautiful Maang Tikka is neat and doesn't look too big at all. If you have a small forehead, then a small one like this would look perfect.
If you would like a design like this, you could check with Amar Gems & Crafts, a jewellery store that's based in Colaba, Mumbai. Here, you can find custom-made solutions for all your wedding jewellery needs.
They have a team of professional jewellers and artisans who work with precious and semi-precious real gemstones. They offer you a variety of designs in gold, Kundan stones, diamond, pearl and even floral jewellery.
If you're looking for high-quality Maang Tikka designs, then this is definitely a place you should check out.
With regards to price, we think a Maang Tikka like this would range between ₹5,000 to ₹7,000. You could customise jewellery designs according to your budget as well.
Classy Floral Maang Tikka Design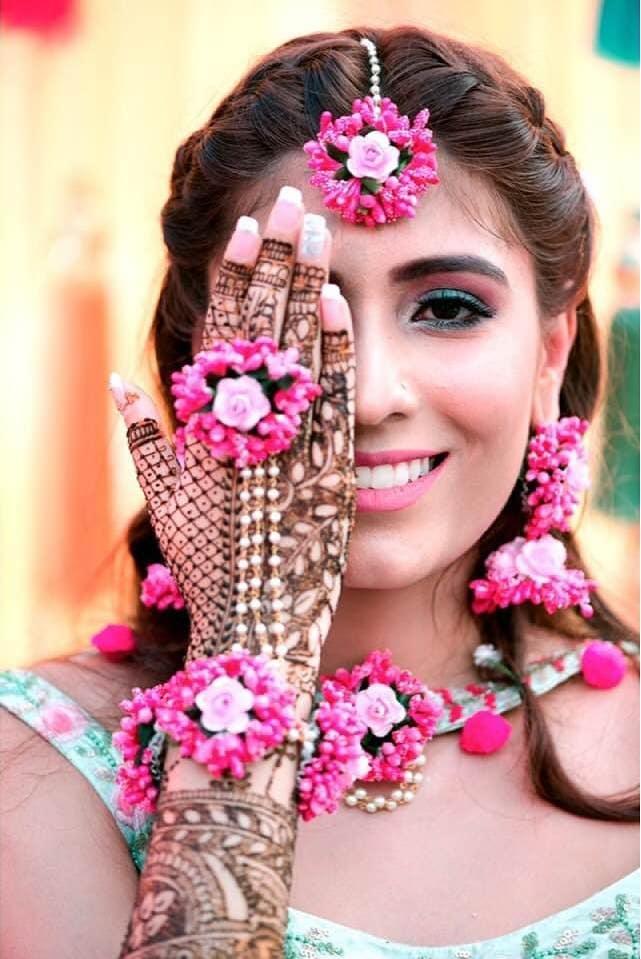 Floral Maang Tikkas without chains are perfect for your pre-wedding functions like Haldi and Sangeet. It is one of the in things now when it comes to jewellery options for brides who are looking for that fun and cool look.
There are many amazing places where you can order floral jewellery. They even have custom-made options, where you could give your theme colour and design and they will make it accordingly.
Prune is a great place to order floral jewellery just like this. They have handcrafted Gota and floral jewellery designs that are just awesome. They have designs using some of the finest jewels and this adds a personal touch to all your jewellery.
Prices start from ₹3100 to ₹11,000.
Beautiful Emerald and White Pearl Maang Tikka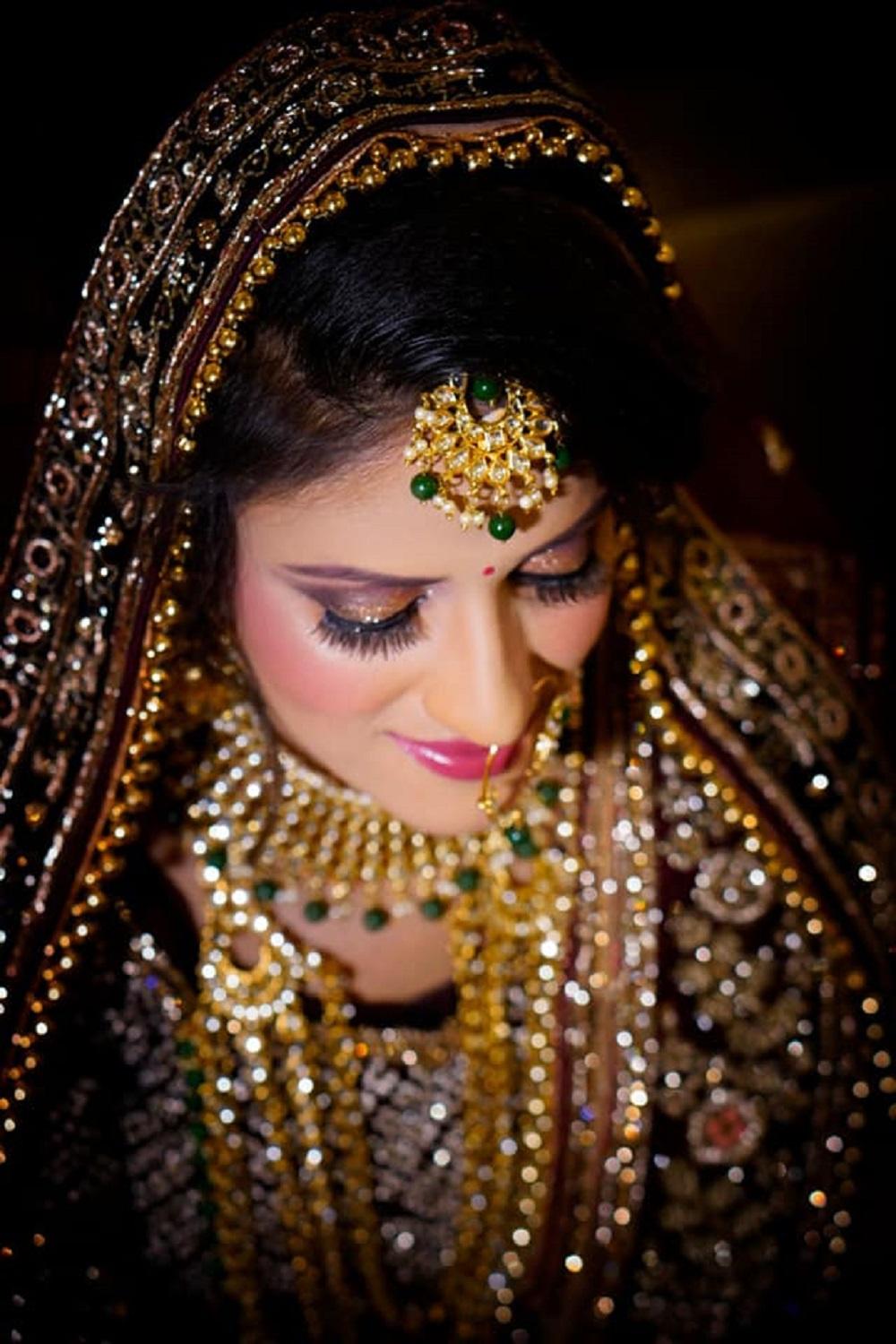 Another classy emerald and white pearl Maang Tikka without chain that is really beautiful to wear for your wedding day. Right from the design to the stunning drop down green and white beads, this Maang Tikka is simply perfect.
If you're someone who loves going big when it comes to your jewellery, then going in for a good-sized Tikka would definitely be a great idea. You could choose to wear your Maang Tikka right in the centre of your forehead or even choose to go for the side look which is equally impressive.
You can order a piece like this from Amrapali Jewellery that's situated in Jaipur. Known to deal with real jewellery, imitation, artificial, floral jewellery and even semi-precious stones. Their designs are sure to add glamour and glitter to your look.
Pricing would be on request.
The Dainty Maang Tikka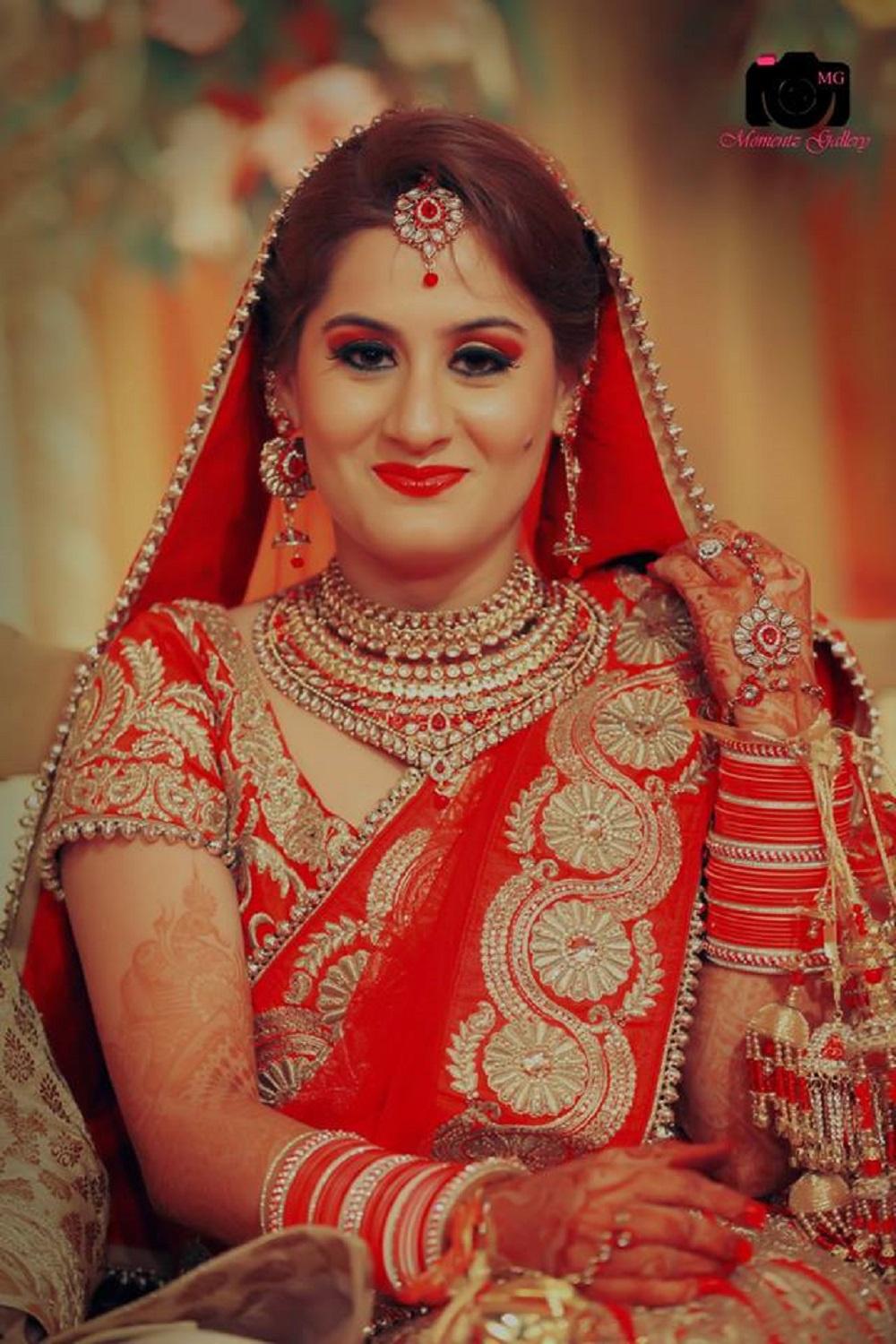 Looking for a dainty Maang Tikka that looks elegant and simple. A small Tikka just like this would seem perfect. You can buy a Maang Tikka as a single piece or even order it to match up to your overall jewellery set. This Maang Tikka comes will white stones and a nice drop red pearl in the centre, making it look very traditional.
A Maang Tikka without chain would go well with any of your Indian outfits. You could order a design like this from Djewels that offers bridal and wedding collection, solitaire collection, Kundan polka collection and even white gold collection.
Their prices start from ₹6,000, and this would, again, depend on the design you choose.
Unique-shaped Maang Tikka Without Chain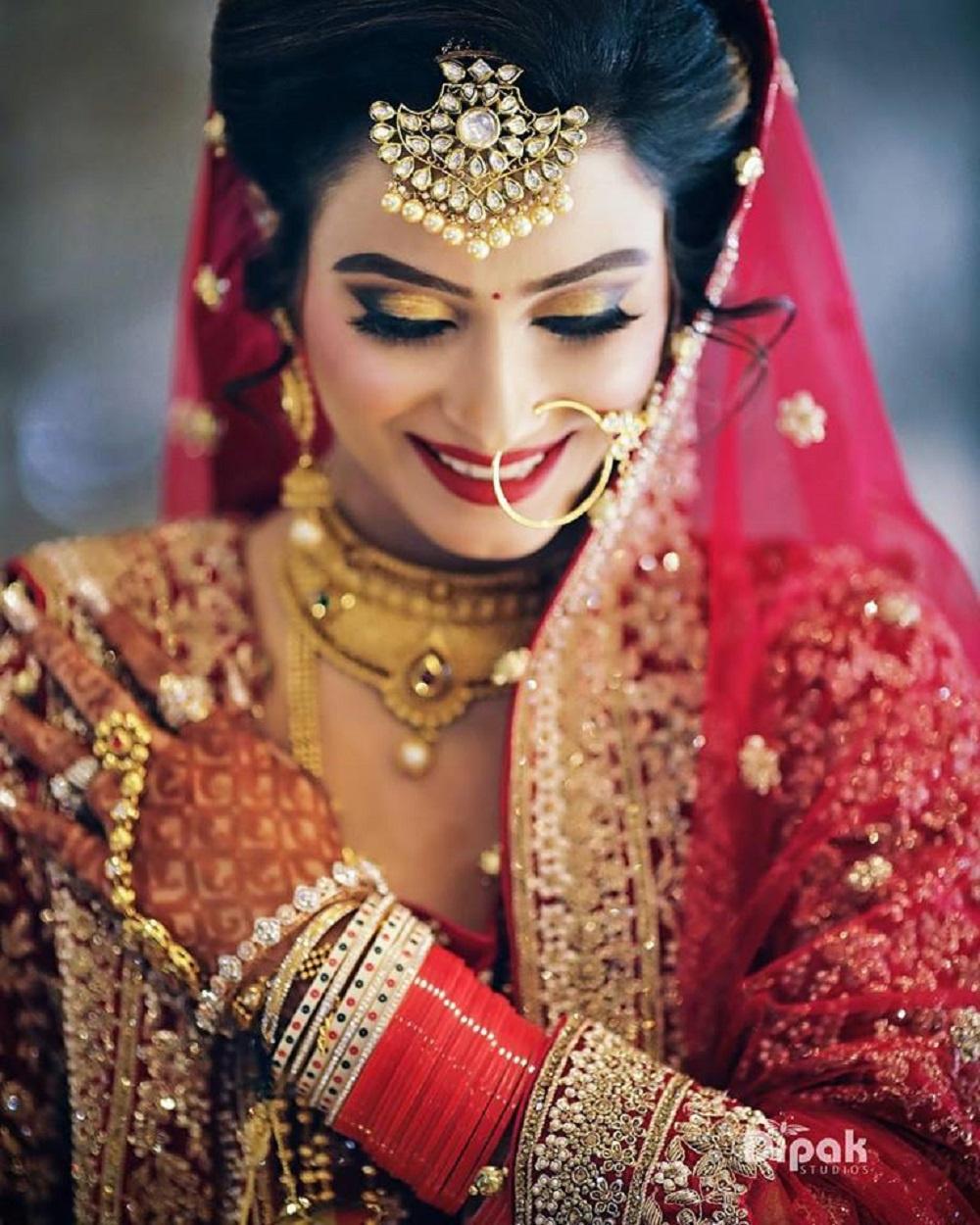 If you're on the lookout for a unique-styled Maang Tikka without a chain, then have a look at this beautiful design. A pretty huge Maang Tikka that covers up the forehead perfectly. The striking part of this Maang Tikka is the stones and pearls used together to bring about a fabulous design. When clubbed with the right type of necklace, earrings and nosering, what you get is a bride dressed to perfection.
You can order a piece like this from Ratan Jewellers that are situated in Jaipur. They offer customers real jewellery, imitation and artificial jewellery, including floral jewellery as well. Each piece of jewellery is made with the finest craftsmanship to provide you with the best design.
Their prices start from ₹10,000.
Pretty in Gold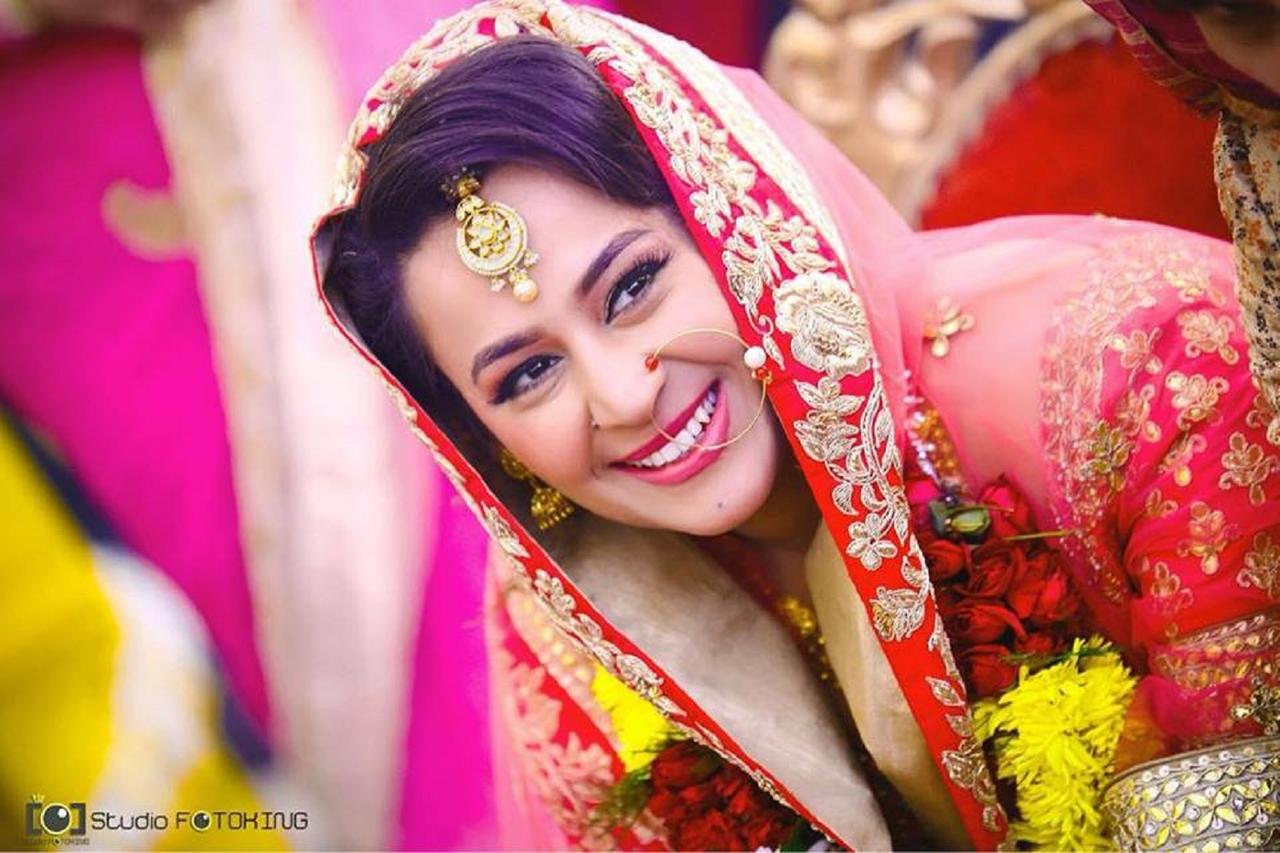 If you would like an all gold Maang Tikka look with stones and pearl, then take a look at this Maang Tikka without chain, it's a perfect size and suits the bride beautifully. You can choose to get a piece like this that matches up with your earrings and chain as well or you can order a Maang Tikka separately if that's what you want.
You can order a fabulous Maang Tikka from Kays Jewels, Kanpur. They offer you thousands of amazing designs and styles to choose from. They specialise in diamond and gold jewellery.
Prices available on request, depending on the style and design you choose.
Silver Maang Tikka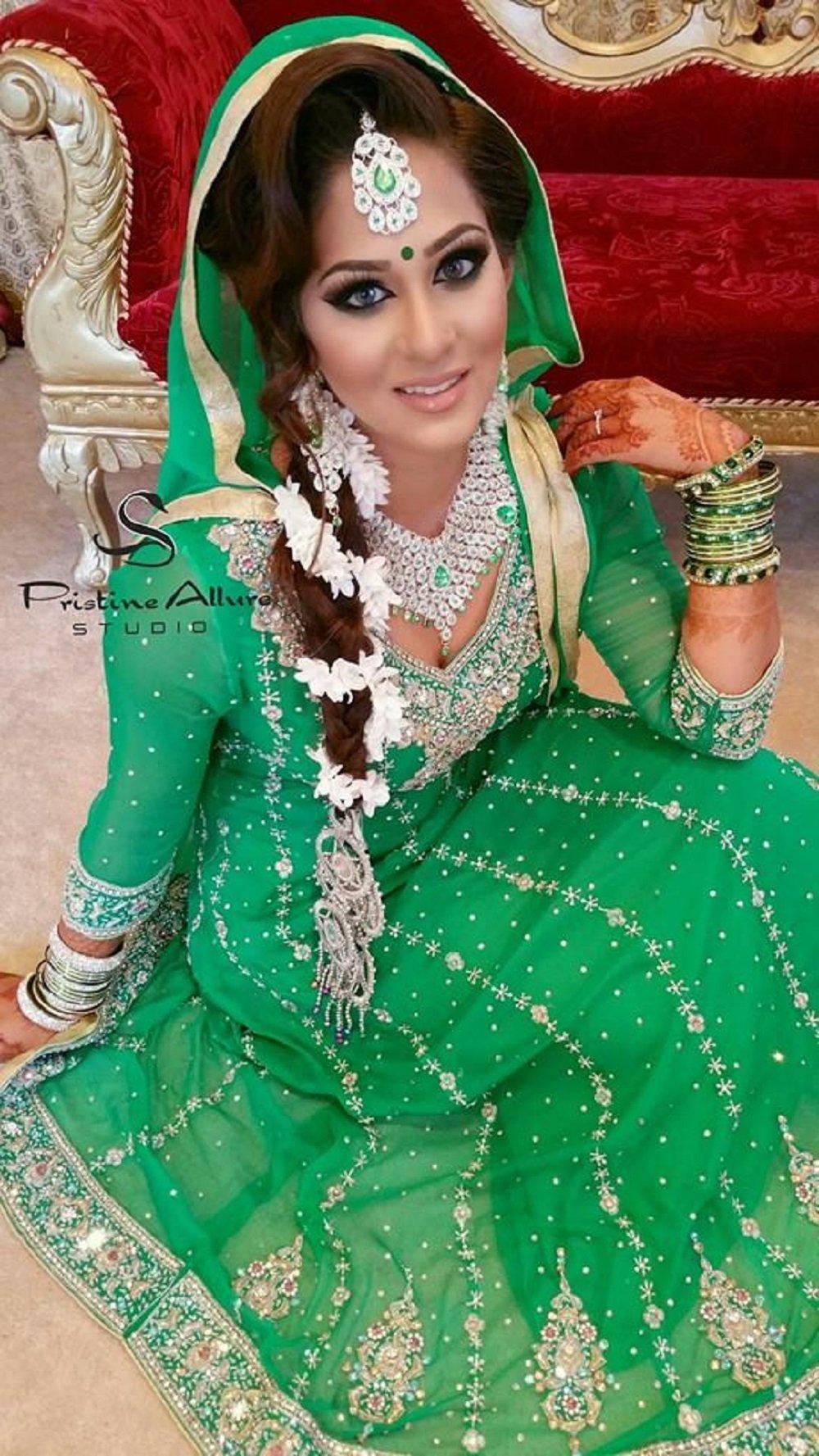 Depending on your outfit, you can choose your jewellery to match up. If you're in for a silver look when it comes to your jewellery, then take a look at this Maang Tikka without chain that's quite nice. It's got a very interesting design that matches up with the chain. It also comes with little green stones beautifully put together in each little petal. Try out Gandhi Jewellers to order a Maang Tikka of your choice. They offer quality jewellery at affordable rates.
Prices start from ₹1000.
Beautiful Three-layer Maang Tikka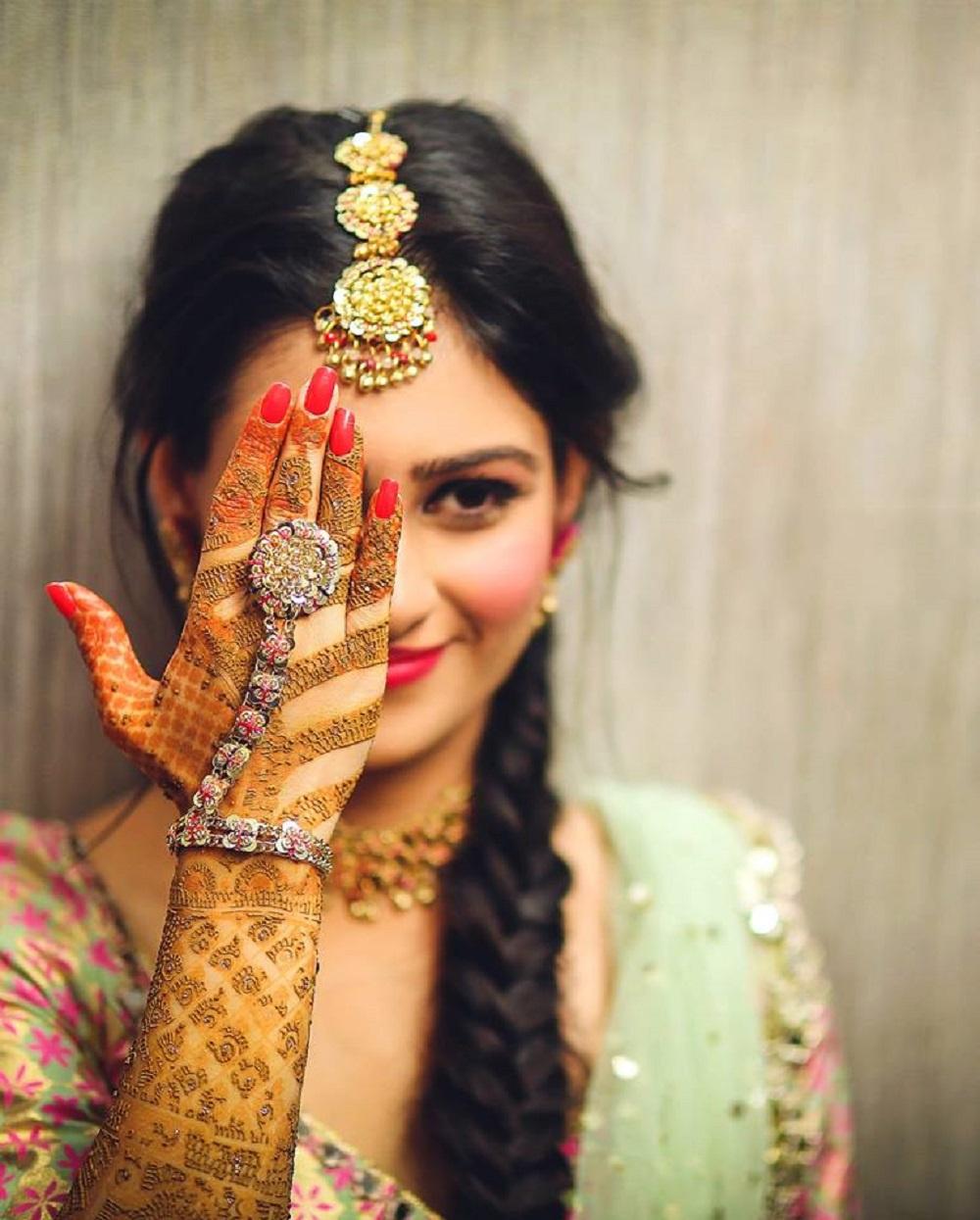 This is a nice three-layer Maang Tikka that's elegant. It comes combined with tiny red beads and bells that make it a great piece for a grand occasion. You can get a design like this from Puushpa Creation Imitation Jewellery.
Rates start from as low as ₹400, depending on your design and style.
These were some of the best Maang Tikka without chain designs just for you. You have a wide variety of options when it comes to a Maang Tikka, so make the right choice for your big day.
If you would like to order any of these Maang Tikkas for your wedding day, then check out with our bridal jewellery vendors for the latest designs.