Maang Tikka Designs Online To Add The Glam To Your Outfit
Tired of the same old Maang Tikka designs? So are we! Therefore, we created for you a listicle of designs which will make you say 'WOW' out loud!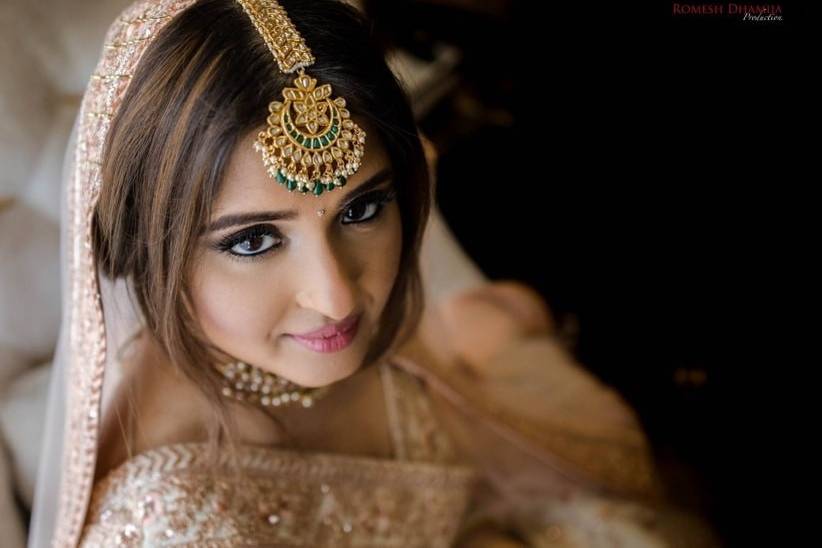 While looking for your Maang Tikka on the internet, you must have mostly seen ones with gold and precious stones ⁠— while those are always a great idea to go ahead with, there are definitely unique Maang Tikka designs that you're missing out on.
Even the typical ones come with a twist these days and there are tons of new options available, from floral ones to silver ones. So, go through this ultimate guide to pick one that suits your personality and sense of style and looks stunning at the same time:
Round Maang Tikka online with pink beads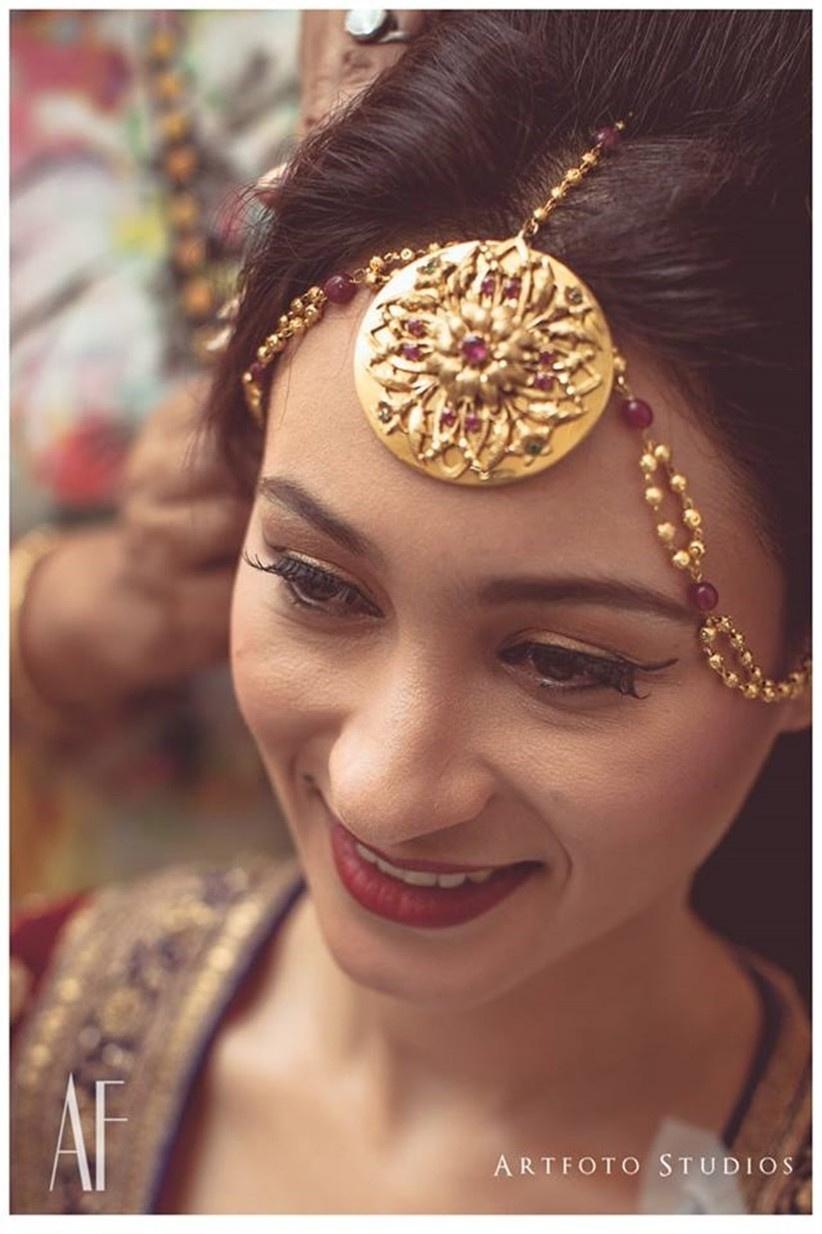 Gold is always about glamour ⁠— this statement piece in circular shape is nothing short of royal and grand. So if you're looking to make a bold statement with your outfit on your D-DAY without being over-the-top, this Maang Tikka is a must-have!
Gold Maang Tikka online with green extensions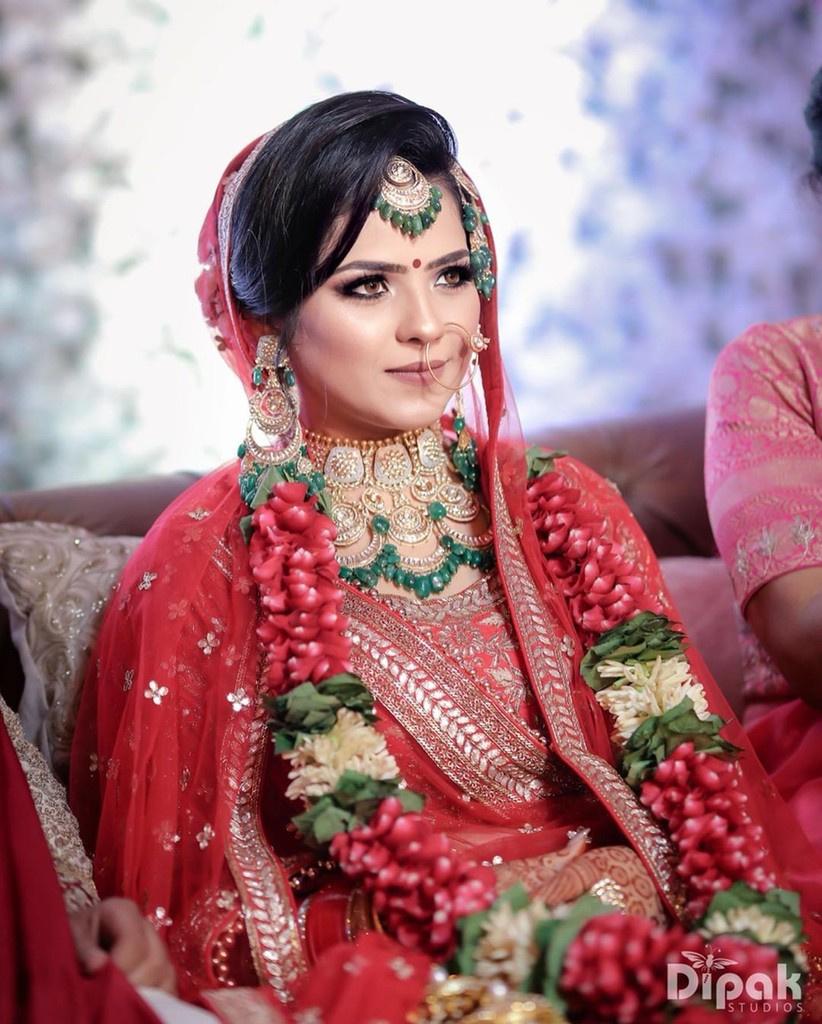 Although this one is golden in colour, it also has a metallic tinge to it making it look chic and contemporary. The green extensions are a great choice if the rest of your bridal jewellery has them too. The best part about this one is the unique shape ⁠— it is cutout in the middle with a solid border surrounding it.
Leaf-shaped Maang Tikka online with a red stone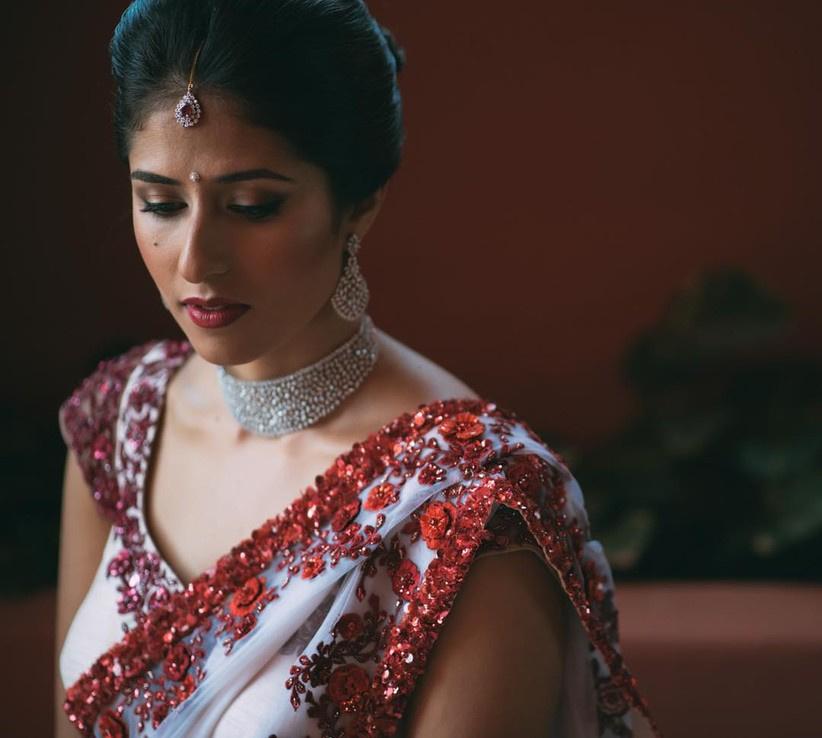 While huge Maang Tikkas are perfect for your wedding night, you'll definitely need smaller ones for the different wedding functions before that. For instance, this leaf-shaped Tikka with an elegant red stone in the centre is great for engagement functions. It highlights the rest of your outfit and jewellery without grabbing too much attention.
Maang Tikka online with teardrop design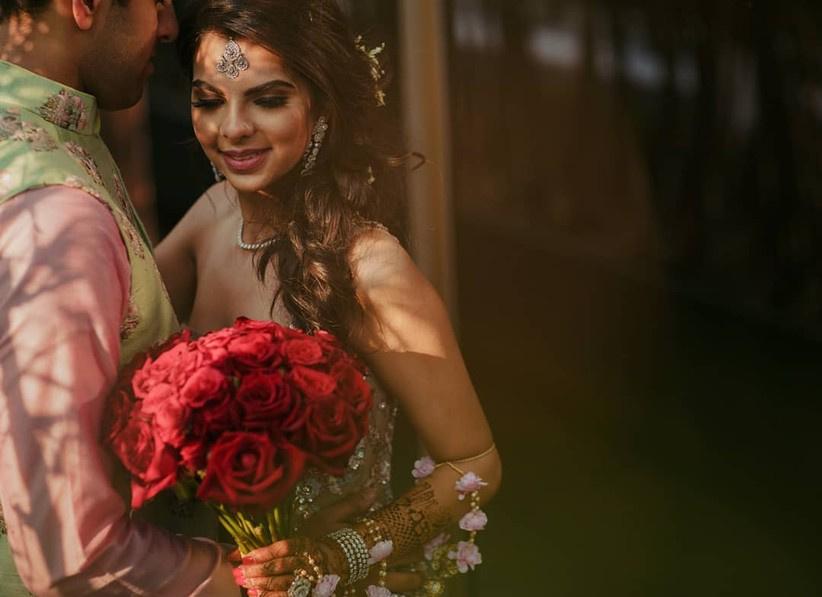 For brides who love subtle elements, this light weight jewellery piece will make you fall in love with it. While the individual shapes are quite intricately designed, the Maang Tikka as a whole is minimal. The only white stones also add a dazzling effect and the offbeat shape sets it apart.
Maang Tikka online with golden rims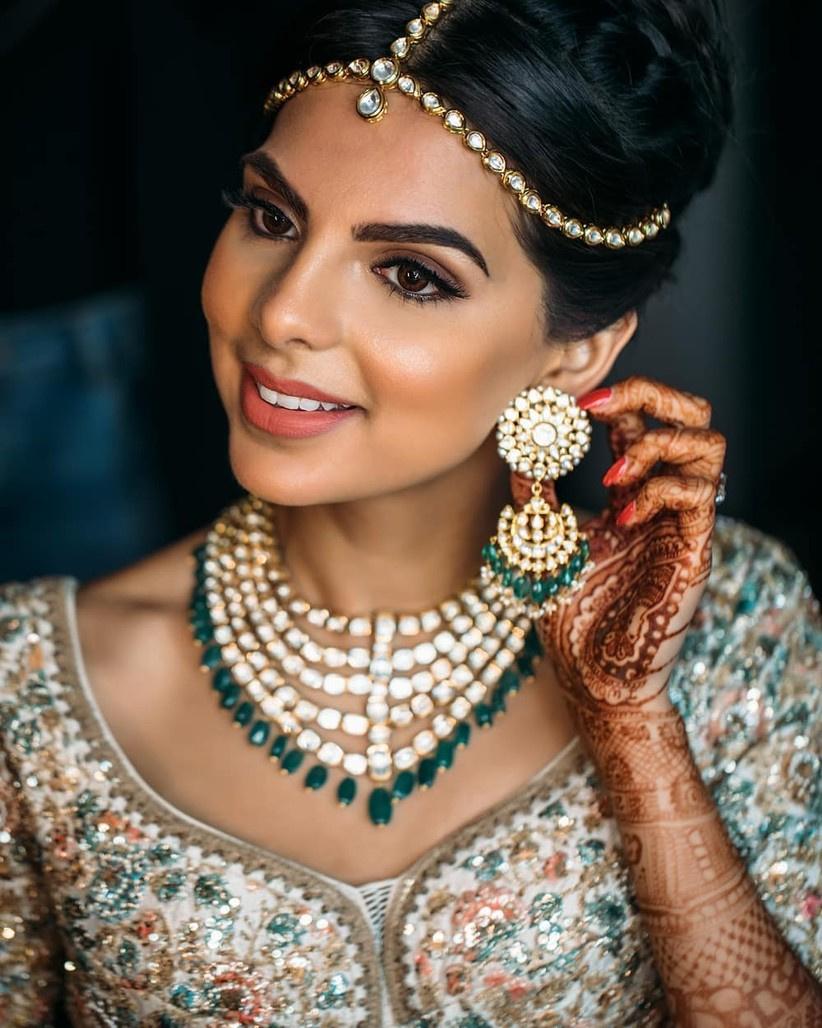 A touch of gold in your jewellery can work wonders ⁠— this otherwise simple stone Maang Tikka with a head chain become breathtaking with the golden rims. You can pair this up with any kind of jewellery and be rest assured that it'll blend in well!
Maang Tikka online with a huge Chand base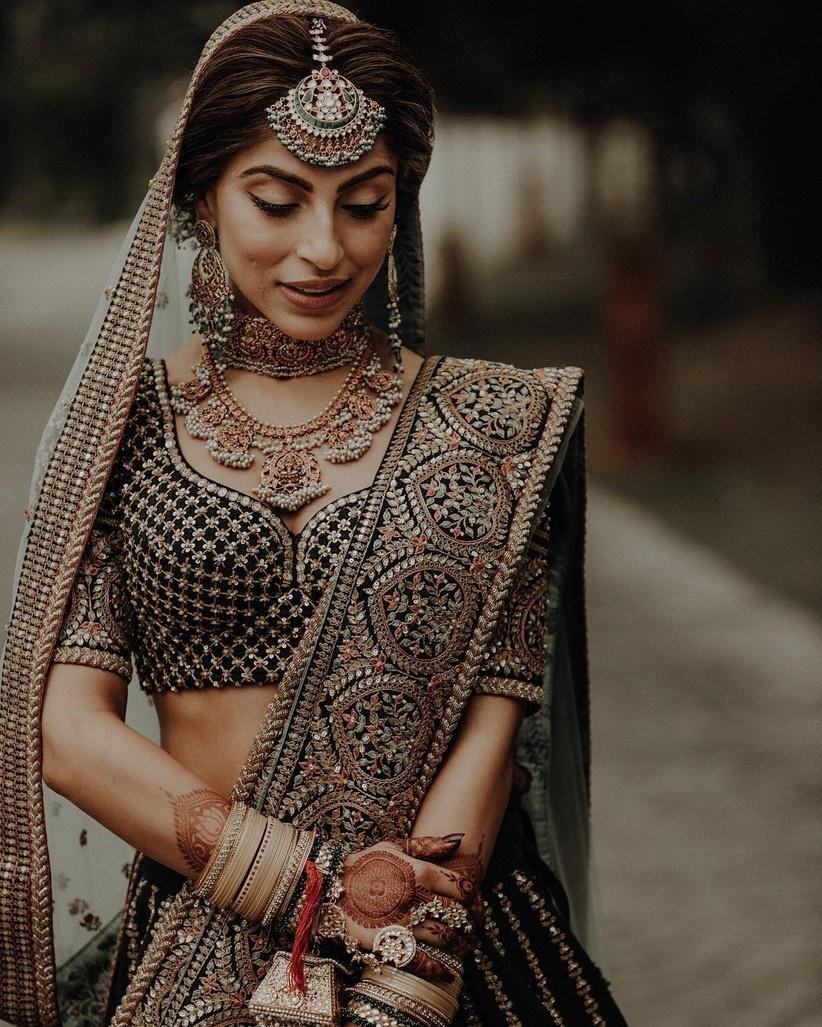 For brides who love to go all out and are wearing very exquisite outfits on your D-DAY, this Maang Tikka design is for you ⁠— it has a multitude of stones embedded on the giant base, shaped to form traditional patterns. Even the connecting chain has stones studded on it, to add to the glitz and glamour of your look.
Maang Tikka online with dangling Ghunghroos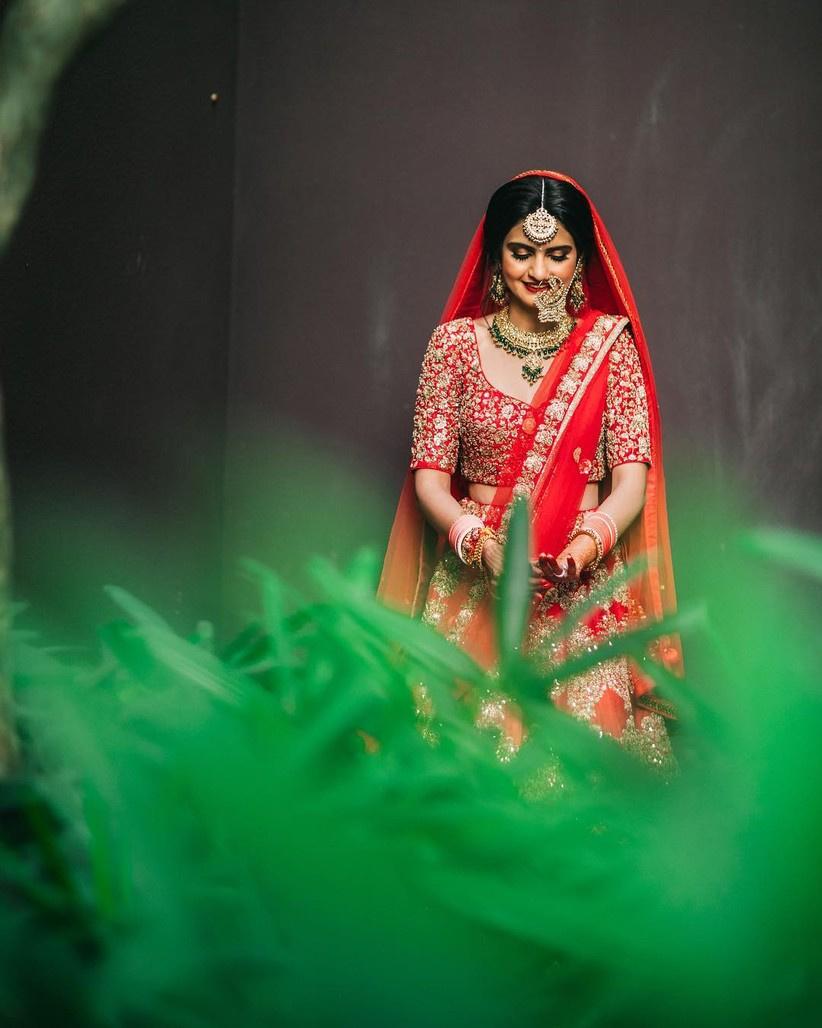 This Maang Tikka although elaborate, also has a playful vibe to it. Unlike the previous one where the base had stones of different colours and shapes, this one is quite simple. It is golden in colour with tiny Ghunghroos hanging from the edges making it look modest and stylish at the same time.
Flower Maang Tikka online with pearl embellishments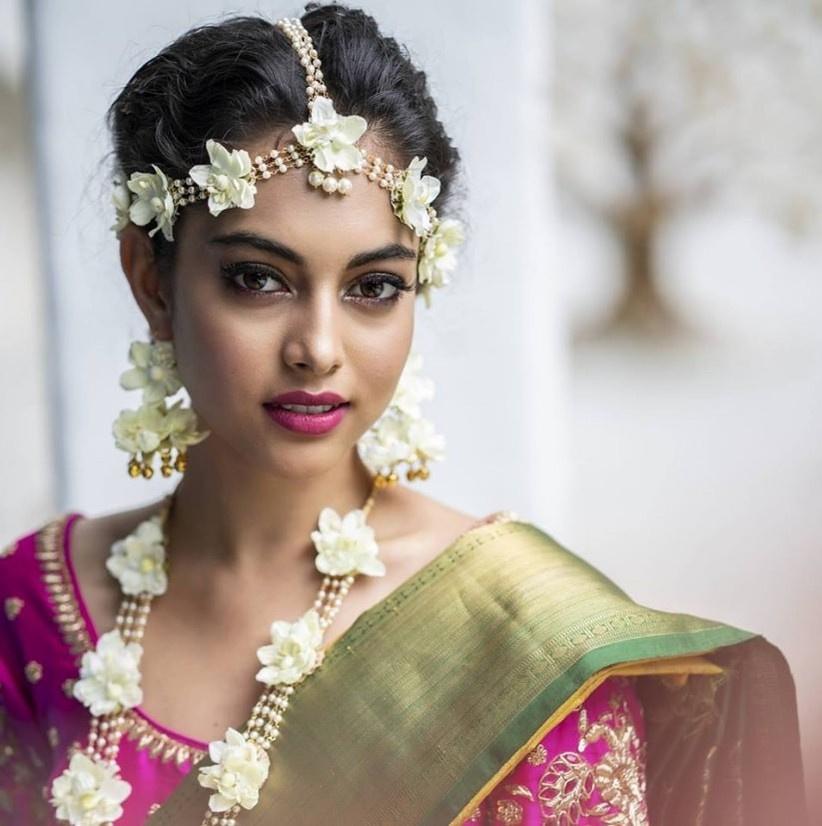 Catching on with the trend of flower jewellery, a floral Maang Tikka is also a great option. The white flowers along with a seamless blend of white pearls is what makes it look gorgeous. You can wear it with any kind of saree or lehenga and for functions like Sangeet and Haldi.
Mirror Maang Tikka online with yellow tassels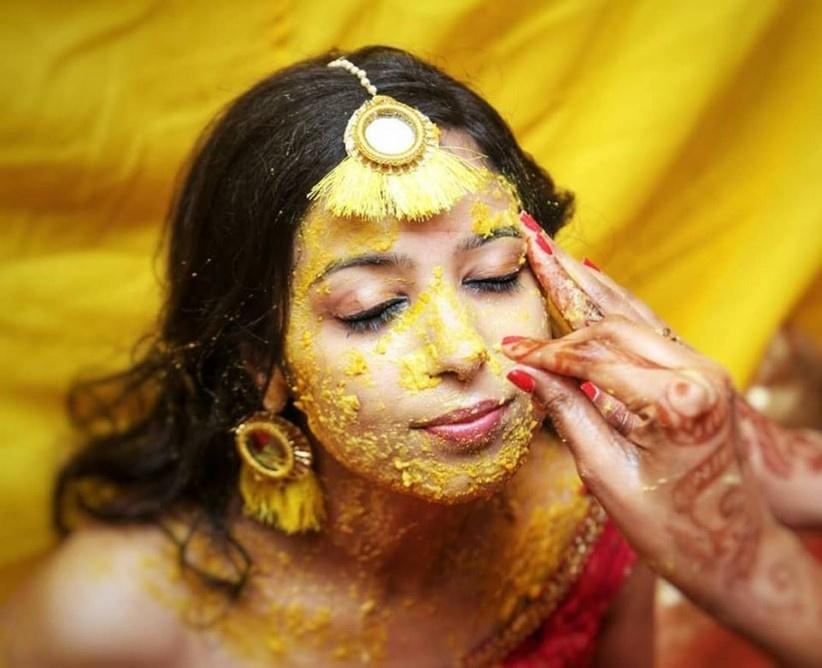 This Maang Tikka design is another vibrant option for the happy-go-lucky brides. Best worn on pre-wedding functions, the mirror and the tassels add a pleasing touch to your look. Although the tassels shown here are yellow in colour (adhering to the Haldi ceremony dress code), you can pick one with any colour of your choice.
White and green Maang Tikka online with a head chain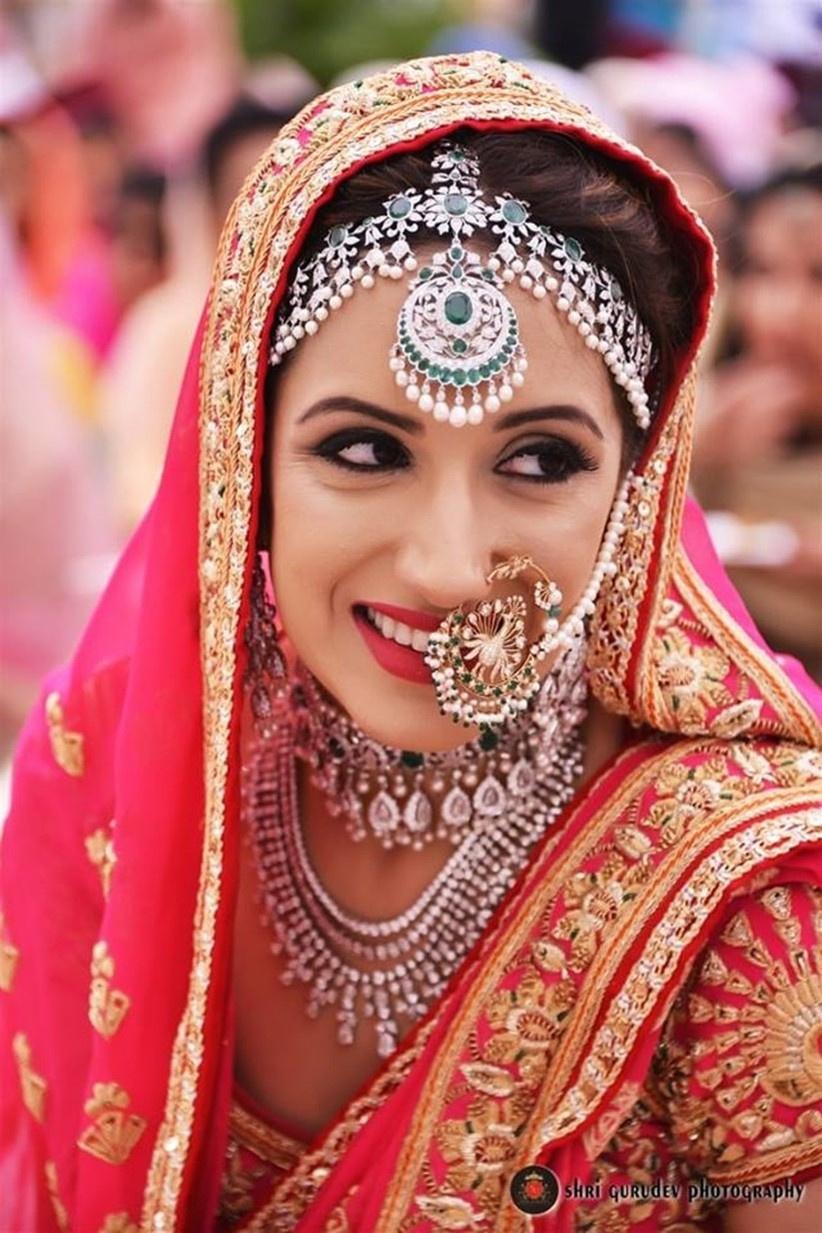 The colour combination of this Maang Tikka design is truly tasteful ⁠— we've seen a lot of green and gold designs but this one stands out and how. The circular centrepiece with white extensions is a show stealer and the cut-out floral motifs on the head chain look majestic, to say the least. You can try out a variety of hairstyles with this Maang Tikka design. from top buns to leaving your hair open, there are a wide range of options available if you choose to go ahead with this one.
Maang Tikka online in an inverted kite shape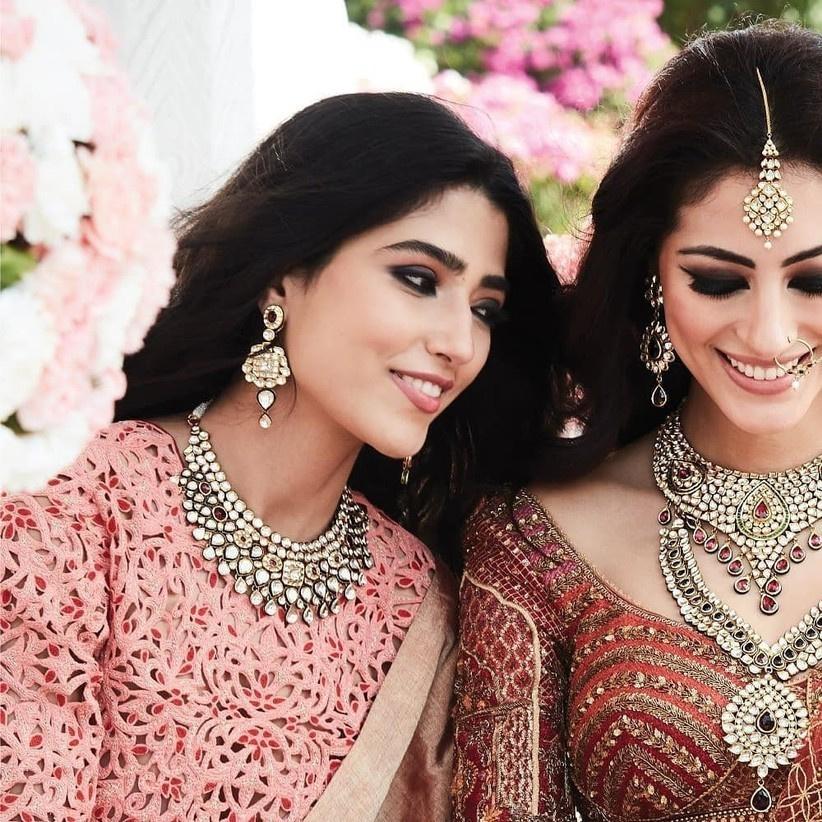 Image courtesy: Tanishq
Accentuate your bridal ensemble with this distinct Maang Tikka design. The most attractive part about it is its shape ⁠— the way it has a longish silhouette ending with a flower motif. Plus it's also simple and classy, so if you don't wish to adorn a Maang Tikka that is all about grandeur, then you can go ahead with this one to look sophisticated, modern and beautiful.
While each of these Maang Tikka designs is equally mesmerising, it is important to pick one that goes best with your face shape and other elements of your outfit ⁠— for instance the colour of your bridal saree/lehenga, the necklace and earring design, so on and so forth. So before you pick your Maang Tikka, make sure that you've considered all of these things and you'll be all set to make a perfect choice.
Which one of these Maang Tikkas did you like the best? Share with us in the comments below!
Written by Rohini Roy