9 Gold Choker Necklace Styles That Are Perfect for the Wedding
The charm that comes with a gold choker necklace can never be replicated with any other kind of bridal necklace styles. But how many varieties of gold choker necklace can a bride-to-be really wear? Let's find out!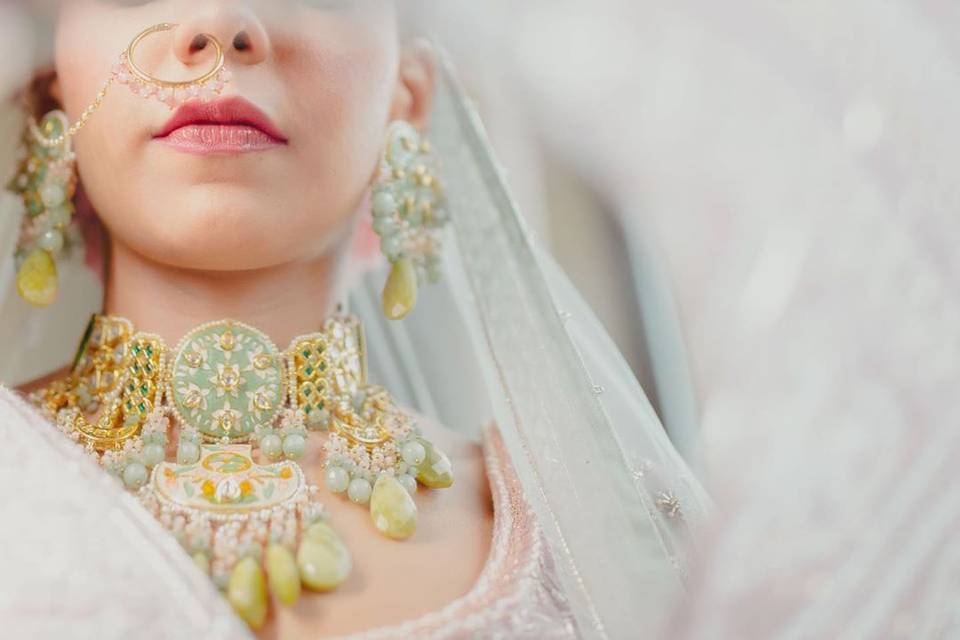 Gold choker necklace is not just a famous piece of jewellery in the west, but it has been a traditional style of jewellery across India for centuries as well. Right from the royalties wearing semi-precious stones embedded designs of gold choker necklace to a simple solid metal choker style that is worn by the local women on a daily basis, this style of the necklace has been in the Indian jewellery traditions since always.
Amidst thousands of gold choker necklace designs that are available in the market, we have shortlisted the ones that are absolute stunners and will make a bride-to-be look more enchanting and beautiful on her wedding eve. These designs come in a range of simplistic to grand, giving different style options for every bride-to-be's personal preferences. Take a look!
Pippal Patti Choker Necklace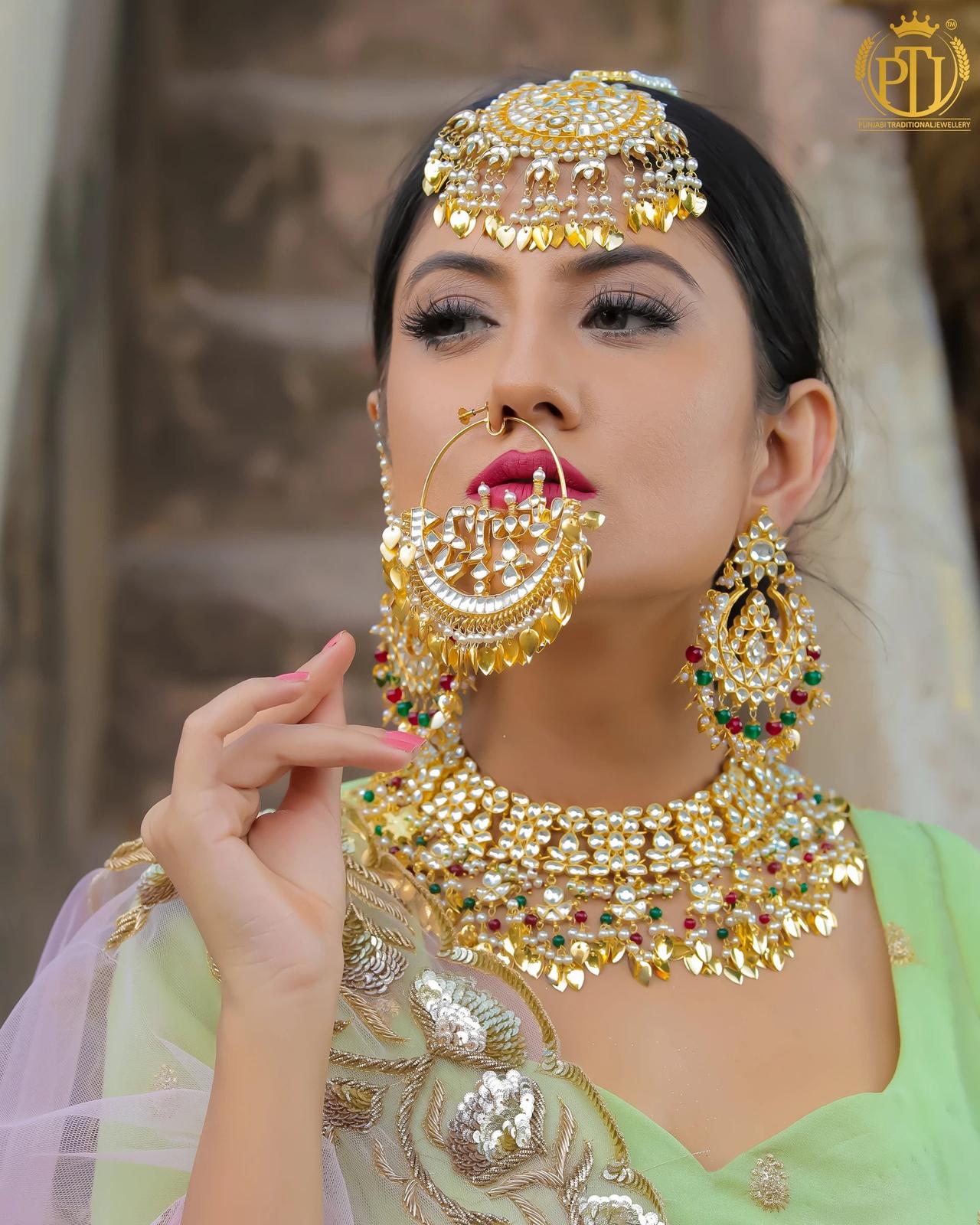 Image Courtesy: Punjabi Traditional Jewellery
Pippal Patti jewellery is a famous traditional Punjabi jewellery style. Often included as part of the heirloom jewellery by the bride-to-be's family, Pippal Patti jewellery can be mostly found in pure gold make. Pippal Patti gold choker necklace consists of beaten and flattened pieces of gold, twisted and bent into leaf-type shapes that are used as Latkans to embellish the gold choker necklace.
Filigree Gold Choker Necklace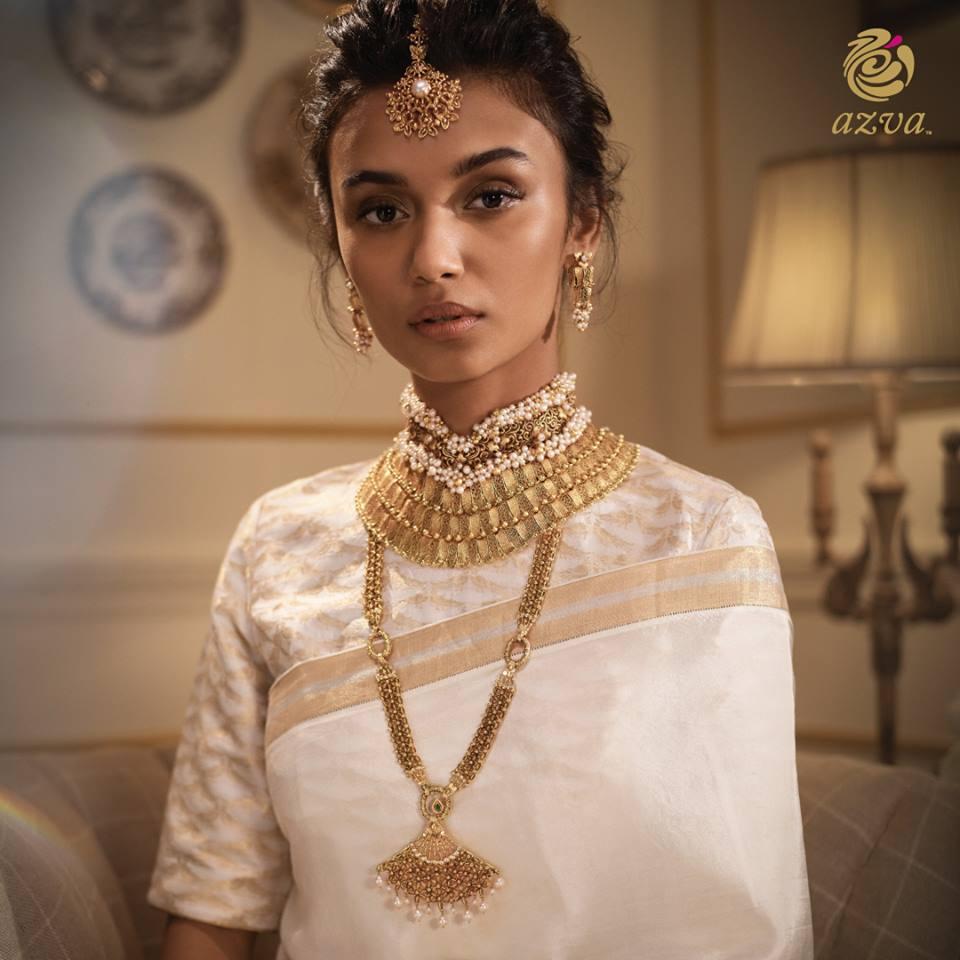 Image Courtesy: Azva
The interesting factor of Jaalidaar or Filigree gold choker necklace is that the design looks heavy in appearance but it actually uses lesser amount of metal to create the design, as compared to a regular solid gold jewellery might actually require. Filigree gold choker necklace is best worn in their pure gold form, but if required, they can be embellished with rubies and pearls depending on the wedding trousseau as well.
Antique Gold Necklace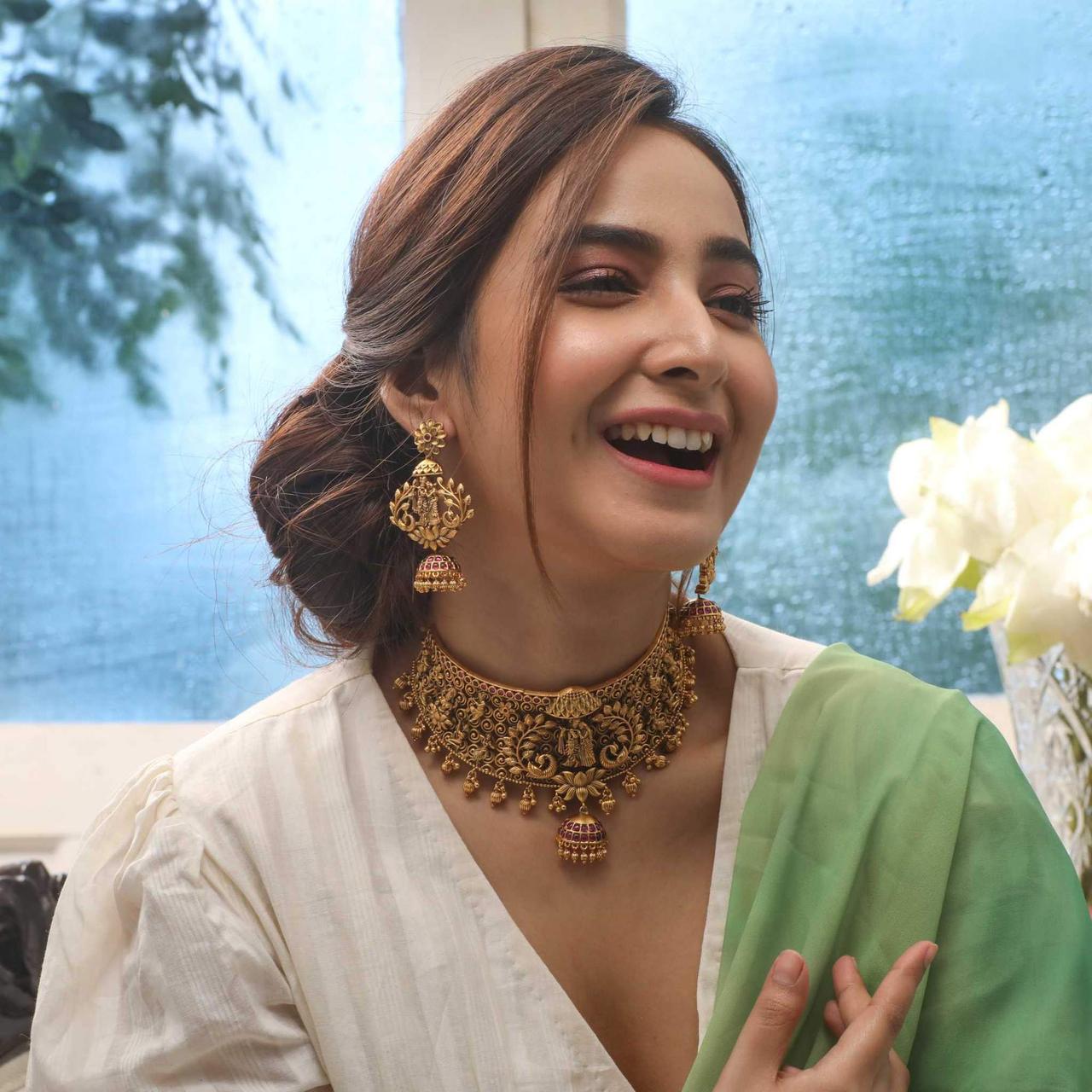 Image Courtesy: Tarinika Jewelry
The beauty of any antique gold necklace is that it is a timeless piece of jewellery that can be worn for numerous occasions. The simplicity of the antique gold necklace makes it a perfect option to be worn with a regular party wear saree post-marriage too!
Minimal Solid Gold Choker Necklace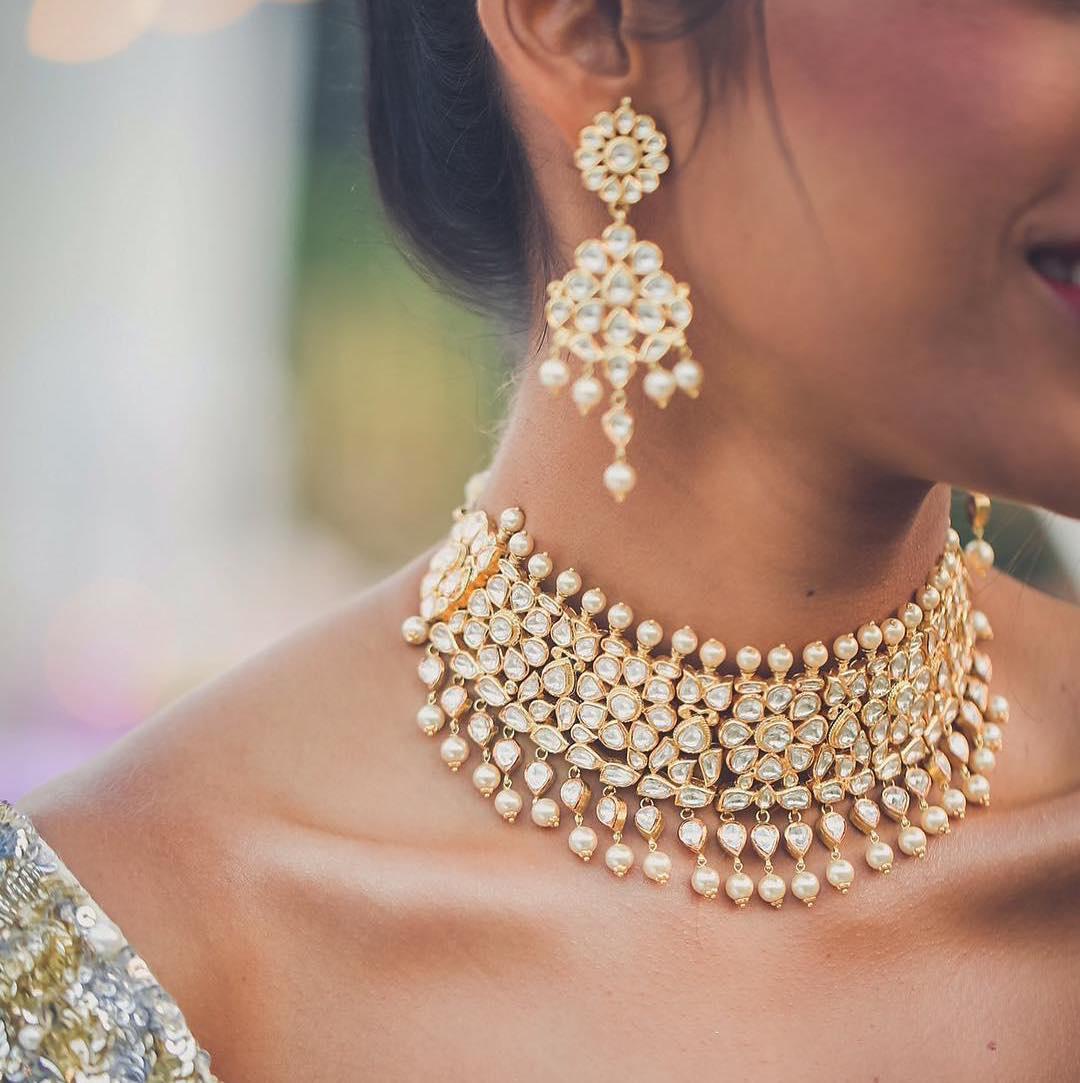 Image Courtesy: Morvi Images
A bride-to-be who is looking at investing in gold jewellery, but would like to prefer simpler designs can consider minimal gold choker necklace styles. Such compact choker necklaces can be matched with both ethnic and western wear, making these styles versatile and evergreen.
Temple Style Choker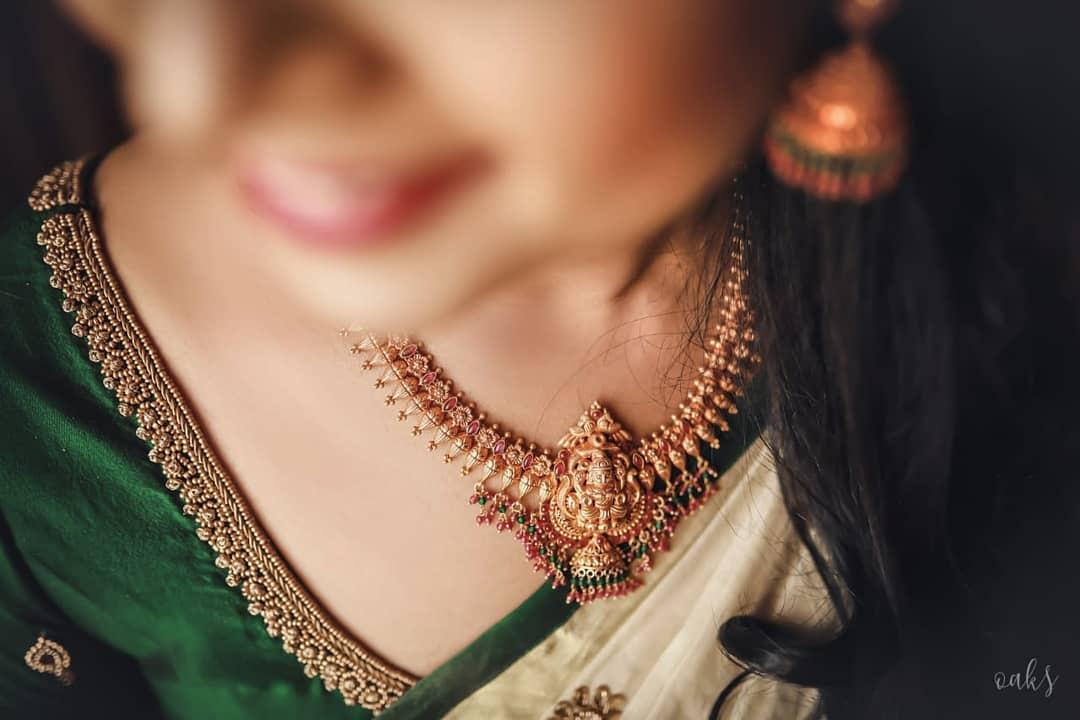 Temple style gold choker necklace is famous in Southern parts of India, with the bride-to-be wearing the design along with the traditional wedding sarees. Such style of jewellery is also considered to be auspicious, making it a perfect piece of jewellery to pass down in the family as heirloom jewellery later.
Aad Rajasthani Choker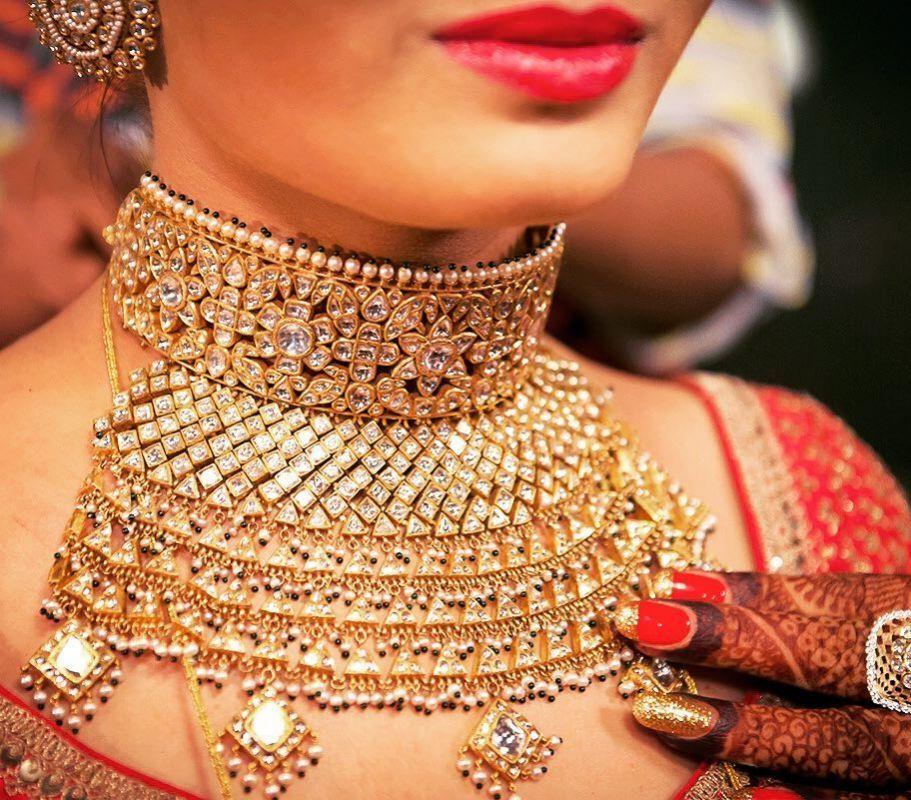 Aad choker necklace is a royal Rajasthani jewellery design that brides-to-be love adorning with their wedding trousseau. Because it is a heavy style of bridal jewellery, it doesn't require any additional layers of necklaces and can very well be sufficed by pairing earrings and a Maang Tikka for the wedding ceremony.
Hansli Gold Choker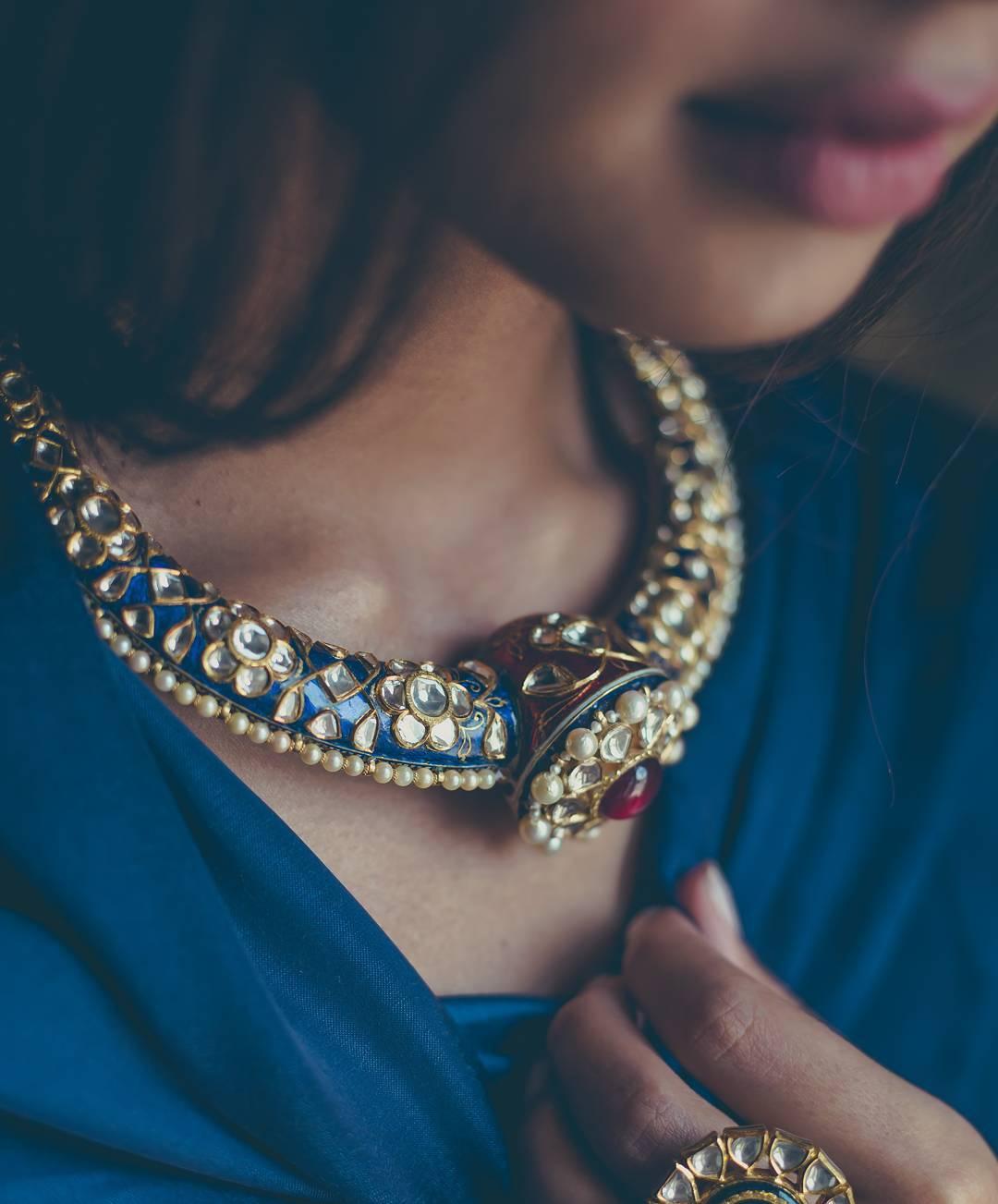 Image Courtesy: Sunita Shekhawat
Another style of choker necklace which is famous in Rajasthan is the Hansli gold choker necklace. It is shaped like a giant bangle or Kadha, that is worn around the necklace, embedded with precious stones and danglers. This style of the choker is also worn by the locals in cheaper metal on a daily basis and is considered auspicious by the married women of the state.
Small Gold Choker Necklace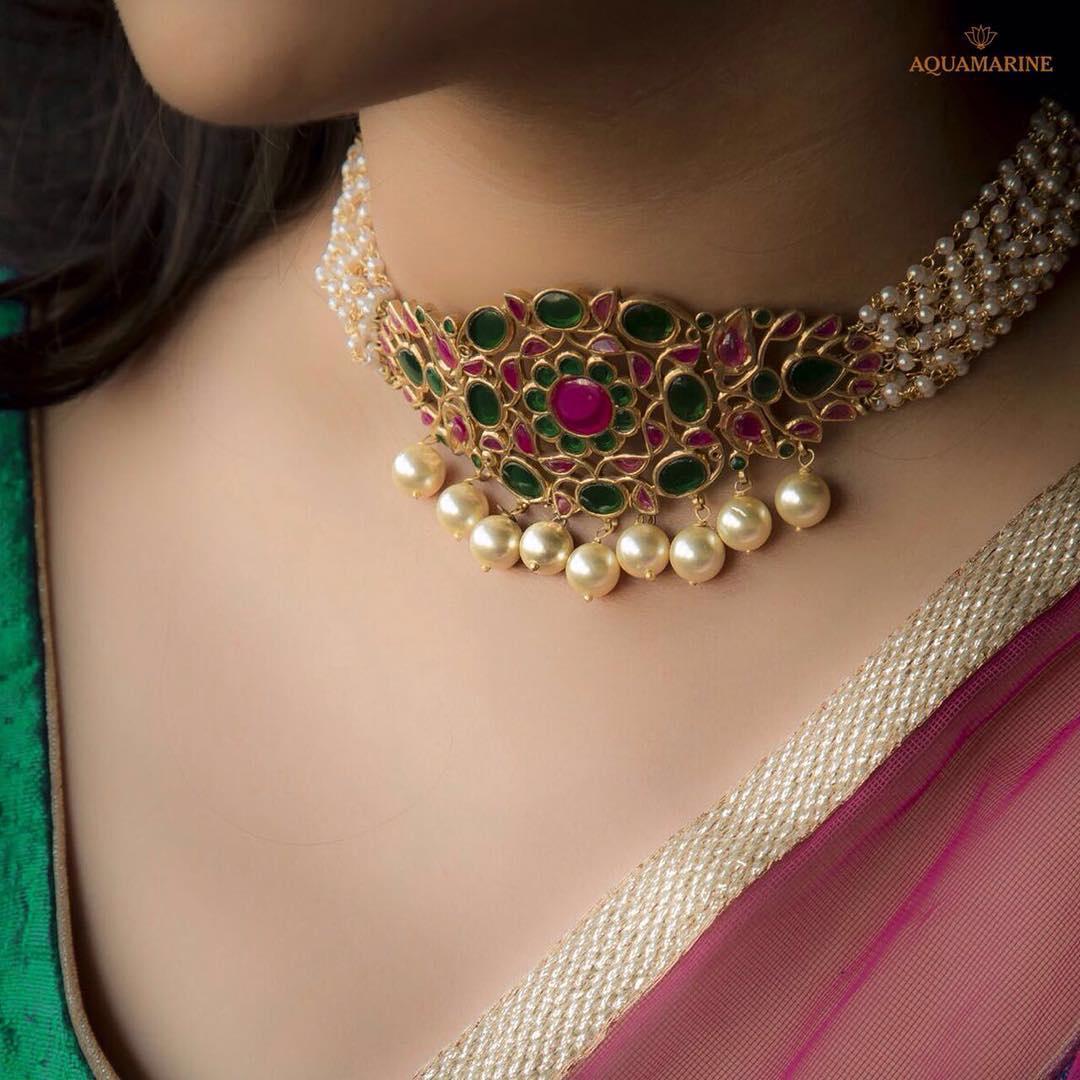 Just like the filigree choker necklace designs, this small gold choker necklace designs too looks plush in appearance, but actually, involve a lesser amount of metal to complete the looks.
Navratan Jadau Gold Necklace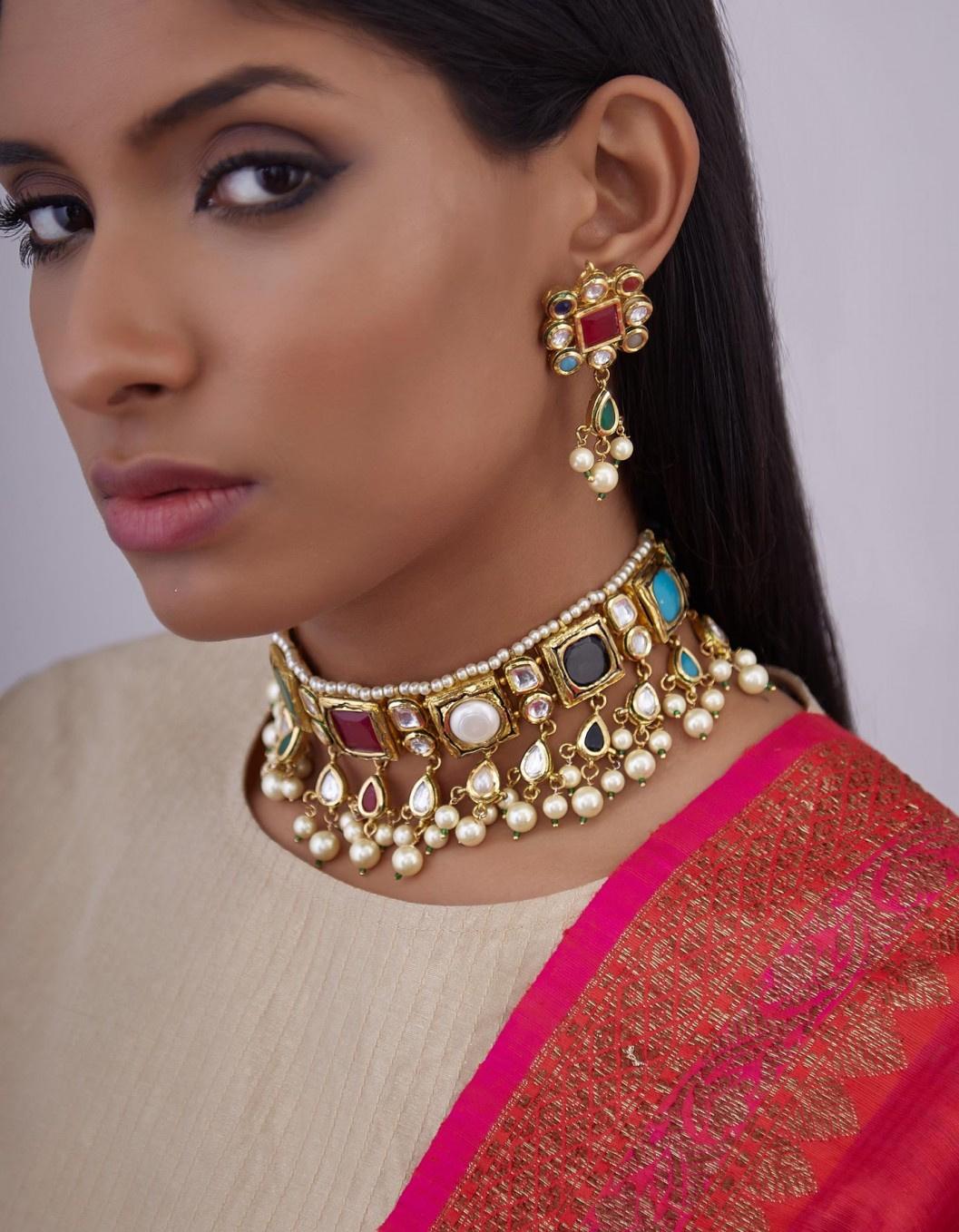 Image Courtesy: Ogaan
Navratan necklace design has been associated with the royalties for centuries. The inclusion of 9 different kinds of semi-precious stones is considered to unite the power of each individual stone, blessing the wearer with the best of fortunes and most favourable future ahead. Hence, a bride wearing Navratan Jadau gold necklace is considered no less than a blessing for a prosperous wedded future.
Because gold choker necklace styles are statement makers in themselves, they can be worn as the main piece of necklace jewellery by the bride for her wedding. If need be, the gold choker necklace can also be layered with longer strands of gold chains, pearl chains and stone-studded necklaces to amplify the grandeur of the bride-to-be's jewellery assembly. A Matha Patti along with a pair of Jhumkis also goes very well with any gold choker necklace, making them an add-on option for the bride to complete her wedding jewellery set with.
We have many jewellery designers and brands listed with us who offer a variety of gold choker necklace designs for the brides-to-be. Don't forget to check them out.