Get Inspired to Wear These Glamorous Indo-Western Gowns at Your Wedding 
These long elegant formal wear dresses have gone beyond the typical gown one would spot in the malls a few years back. Check out these Indo-western gowns for weddings and get inspired!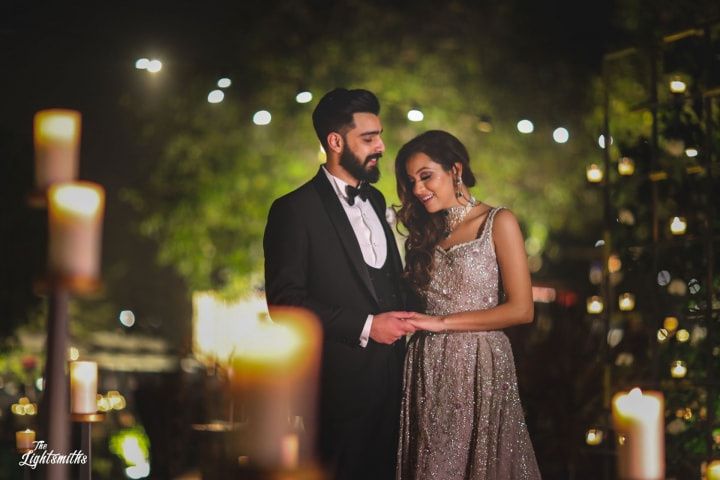 Over the past few years, gowns have grown to be a favourite outfit for brides at functions including cocktail, sangeet and even reception. In fact, some brides have even chosen to wear this trending outfit at their wedding ceremonies. These long elegant formal wear dresses have gone beyond the typical gown one would spot in the malls a few years back. They have been twisted, given a draped silhouette and modified to meet the Indian taste and that too so well.
While most brides decide to don this trend for their engagement, cocktail and reception, there are some brides who decide to give lehengas a run for its money while wearing a gown! With almost a royal and elegant touch to gowns, it is not only comfortable but stunningly stylish. With many Indian designers too pioneering this style, there are many ways you too can try out a gown at your wedding!
1. Raving beauty in
red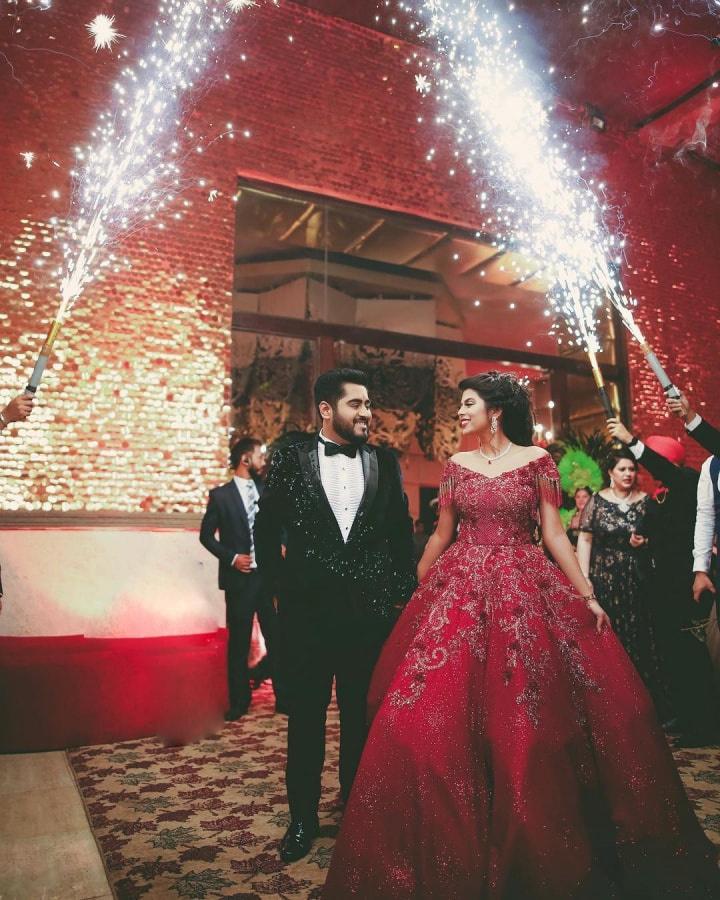 Who said you could be a bride in red only at your wedding? Just look at this radiant bride gliding across in her red off-shoulder embellished gown. We especially love the red and silver tassels flowing across her arms on each end, it is quite the special touch! With a delicate diamond set, which has a ruby as the centrepiece, and a watch, we love how simple she went with the elements including her fresh makeup and hairstyle, given the royal presence of just her gown.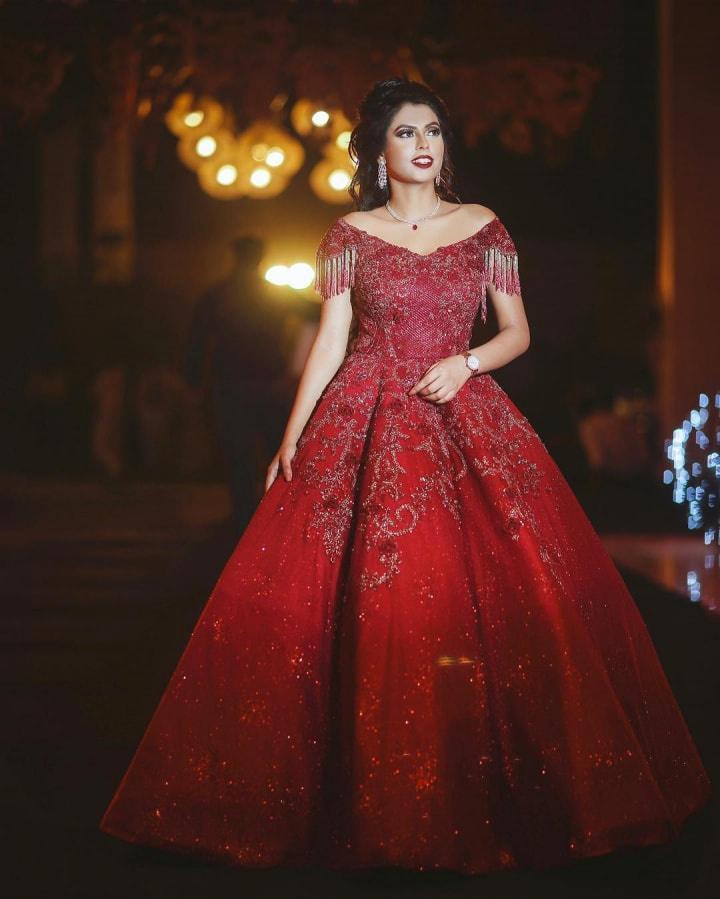 Also, we could not help but love their entrance at the function. One of the most stunning looking Indo-western gowns at your wedding.
2. Decadent drapes – the Indian take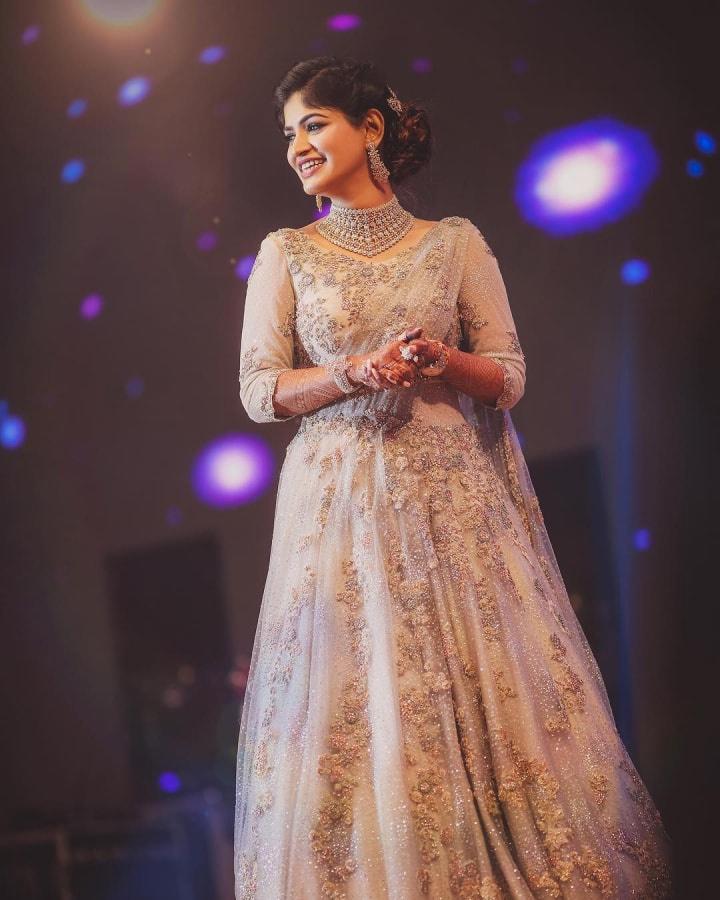 This gown has to be one of the prettiest and yet unique ones we have seen in a while! This pink and beige have embroidered and embellished flowers flowing all across the gown giving it quite an intricate look and special shout out to the shimmer net all over the gown which gives it an oomph factor, this net is then pulled over onto one side just like a saree which revives an Indian twist to this outfit. This bride chose to accentuate and highlight the gown with a heavy diamond set, nude makeup and a Juda with some hair accessories! Quite the perfect look for an evening function.
3. A fairytale moment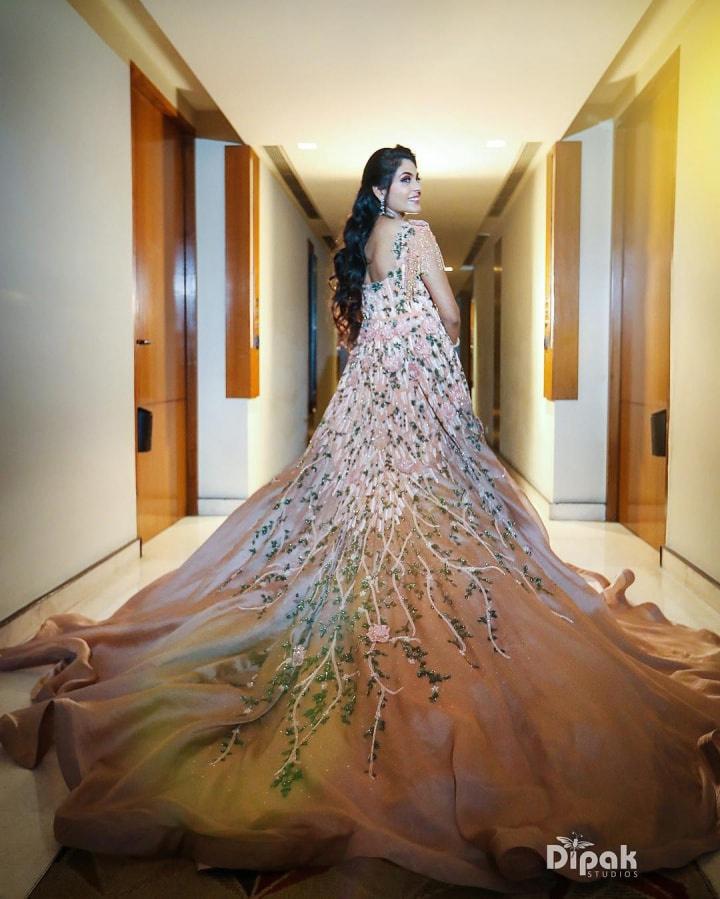 We thought back to fairytales and the lavish outfits the Disney princess often flaunted at their balls, when we saw this bride and her beige gown flowing across the hallway flaunting it's neatly embroidered white and grey motifs which run all along the long trail as well. This bride's outfit got us lusting for a gown with a long trail.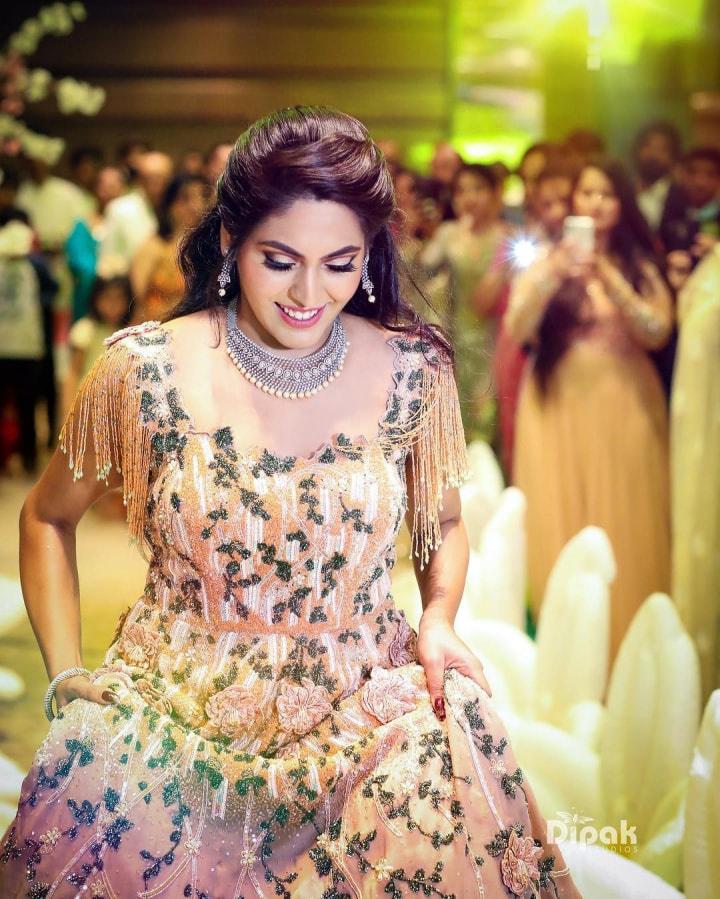 She complimented it well with a diamond set, curled-up hair and smoky eyes! It is a picture-perfect moment just seeing her make past the guests towards the stage to her prince charming.
4. Trendsetting in green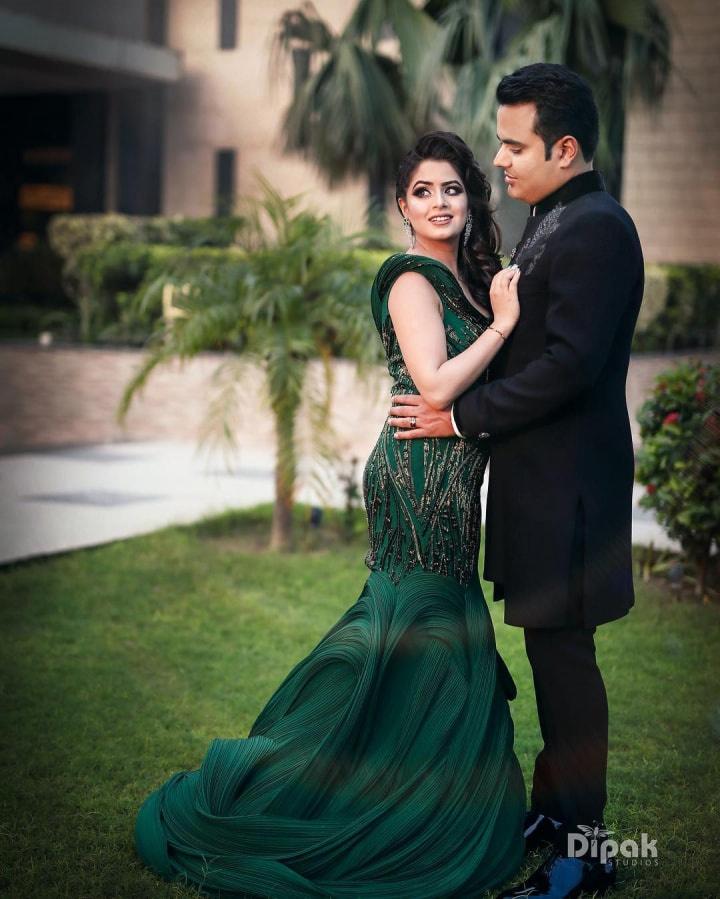 In a world where pastels and reds rule the palette, this bride reminded us why going the other way is always a good choice! The master of drapes and silhouettes, Indian designer Gaurav Gupta has made yet another eccentric piece for this bride. There is nothing we don't love about this green gown which not only accentuates the bride's features but also make for a statement piece in your wedding outfits! If you had to go for an indo western gowns for weddings why not choose something unique and gorgeous like this gown. The bride's side-swept curled hair and diamond dangles do justice to her look.
5. Pretty in a peplum!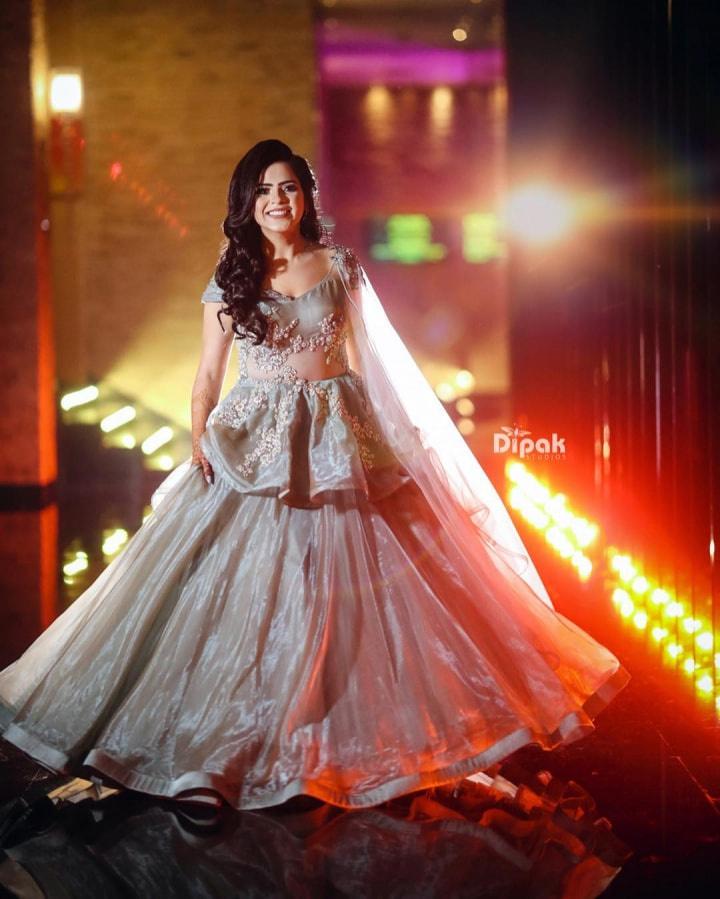 Who thought you would find a peplum looking so perfect in a gown? This is quite a twist to Indo-western gowns for weddings that we spotted on a bride. The silver foil gown with a hue of lavender and flowers embroidered on the peplum half of the gown, we just fell for this look for the first instant! It is unique, modern and yet traditional with the ruffled dupatta hanging on one side just completing this look perfectly. It is one of the most stunning looking Indo-western gowns for weddings.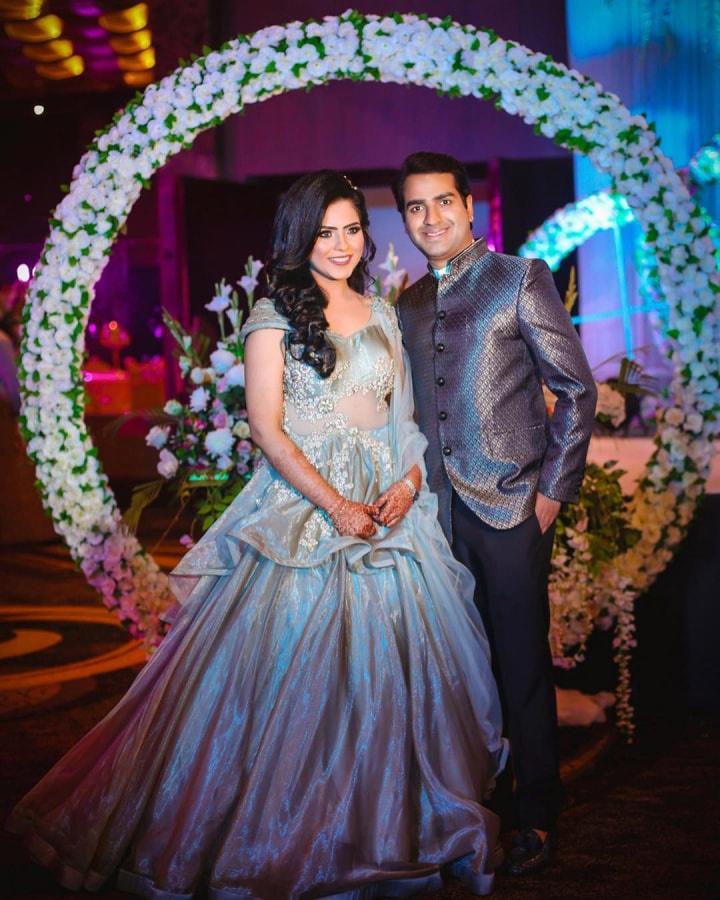 The bride's choice of side-swept hair with beach waves, nude makeup is just amazing!
Indo-western gowns for weddings make for the perfect outfit option for evening events and are perfectly unique as you step away from the traditional world of lehengas, sarees and Ghararas but while still maintaining roots in the traditional world.
You could give shape to your own fairytale moment with this outfit be it a long trail, a plunging back or even peplum tops, the sky is the limit when it comes to customizing your Indo-western gowns for weddings. There is an array of Indian designers that cater specially to making Indo-western gowns for weddings for Indian brides and you could always customise their styles to your own sensibility and liking.
So, what are you waiting for? Go through our list of vendors to find the perfect designer to help bring your Indo-western gowns for weddings vision to reality!