Punjabi Jewellery Essentials Every Bride Needs to Rock Her Wedding
Punjabi brides are known to be one of the best dressed, and one thing that makes them this pretty is the Punjabi jewellery they wear. Here are the essential pieces that add to this look.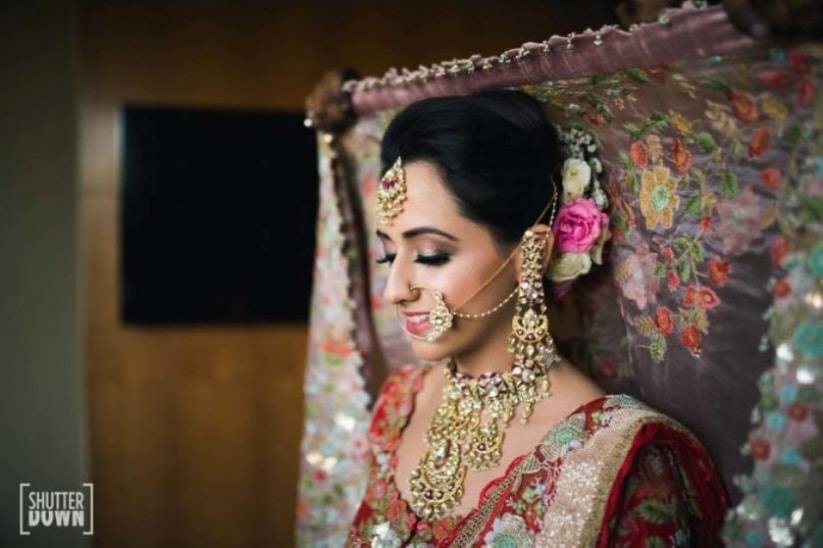 Like people of every region and place, Punjabis also have some specific jewellery that they wear on their wedding day. This jewellery is special not just in design, but also because of the history it has of its own. Each piece has a different significance to the people and the place, and each piece makes the Punjabi bride look more stunning.
Even as generations have passed since Punjabi brides started wearing this jewellery, the tradition has continued, and it still looks as beautiful as ever. With the passing generations the Punjabi jewellery that each bride wears might not have changed, but the design has surely modernised with age. So the question remains what does every Punjabi bride needs to make her look the part?
1. Matha Patti / Maang Tikka
Let us start by identifying the Punjabi jewellery that every bride needs starting from the head. The first one is the Maang tikka or Matha Patti.
The Maang Tikka, for a Punjabi bride, is often an oversized ornament, occupying a central position. These are generally Kundan and embellished Maang Tikkas, though a plainer piece can also work if you're trying to rock it with a heavy, embroidered dupatta.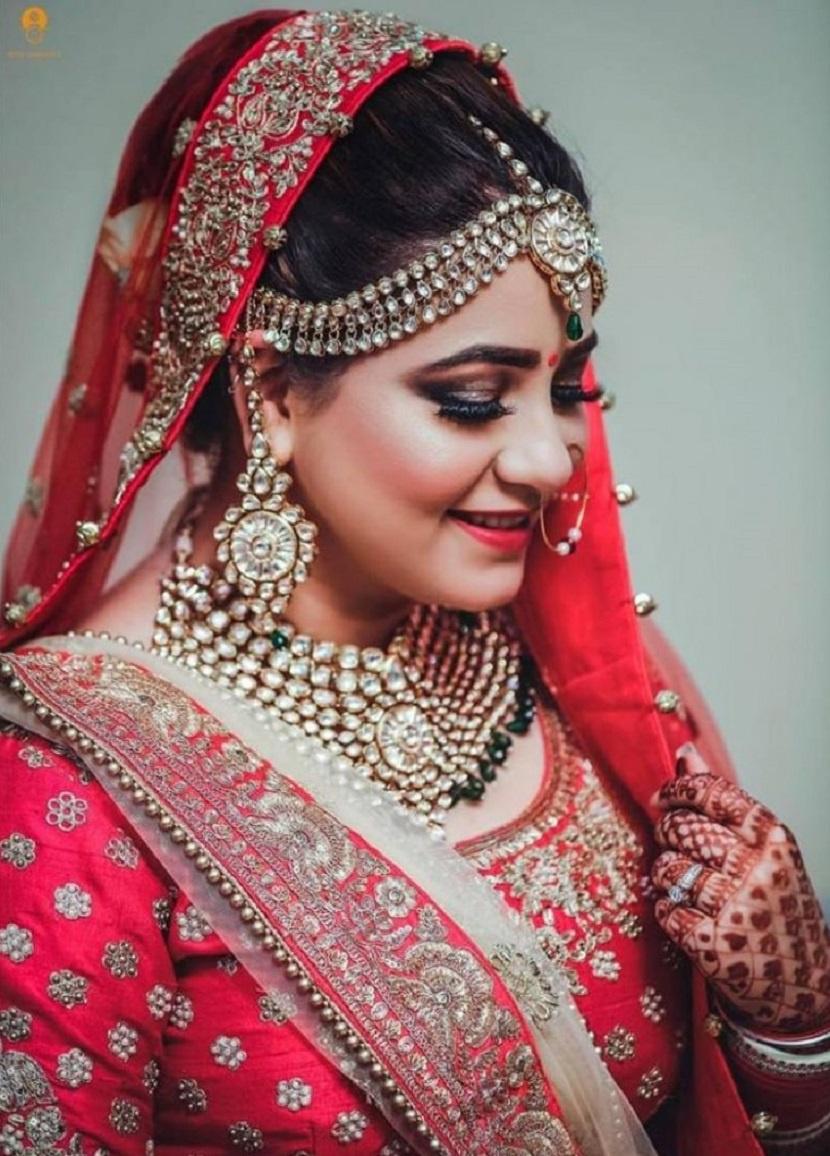 The difference between the two is that Maang Tikka, is basically a singular pendant that hangs from your head, Matha Patti, on the other hand, is a little more elaborate, as with the pendant it also has two chains for each side of the head. Both of these look equally beautiful, and the only problem you would face is choosing between the designs.
Depending on the function that you would wear the look for, you can choose a chain-based Matha Patti or a thicker, traditional variant (like the one above), combined with a Borla-style Rajasthani TIkka.
2. Shikarpuri Nath/Laung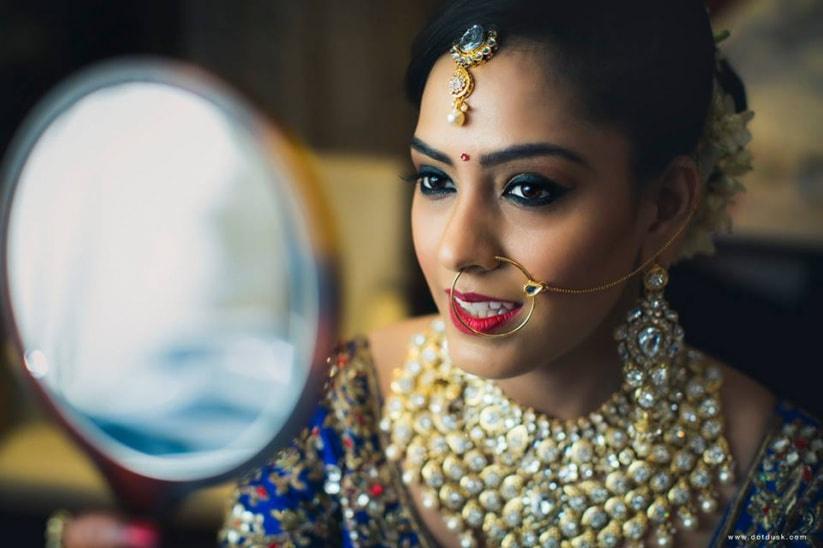 Then comes the Nath. The usual Punjabi Naths are of two types, one is Shikarpuri Nath, and the other is the laung. The Shikarpuri nath is a huge nose ring with a small pendant, which is attached to the chain of the Nath. This Nath looks elegant and delicate and can rival any other Nath. The laung, on the other hand, is a stud, or a nose pin.
These nose pins can be designer pieces, or can even be gemstones studs. Both these Nath choices look beautiful, even if Laung is not usually worn with the bridal attire. Though, if you want to go for something small and delicate, a Laung is a good choice to go for.
3. Bali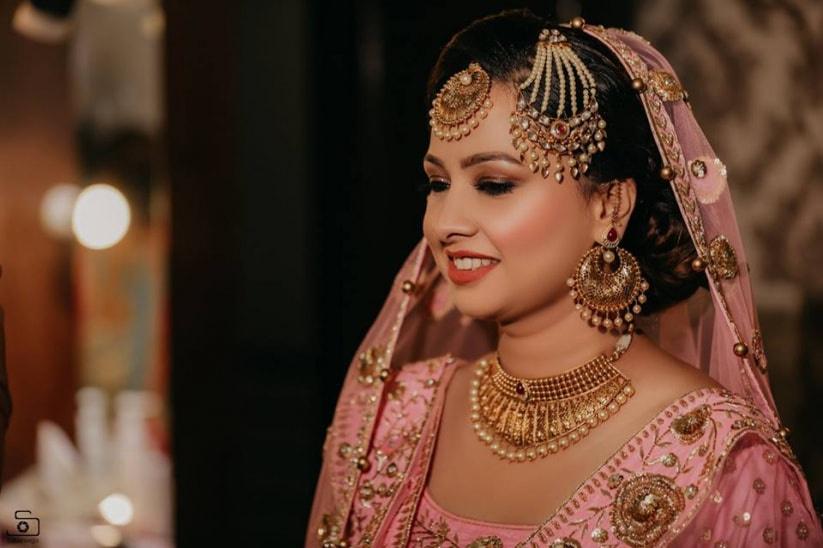 Earrings are one of the common and beautiful pieces of jewellery, and it is no different in Punjabi jewellery. There ethnic version of earrings are Balis, these are hanging earrings, which can be either crescent or round in shape. These can be made by different sorts of metals like gold or silver and can be embellished with precious or semi-precious stones.
Over the years the design of the Bali has gotten more elaborate, but the essence remains the same. You can opt for Chandbalis, combination Baalis (with Jhumka accents) and hoop earrings.
4. Choker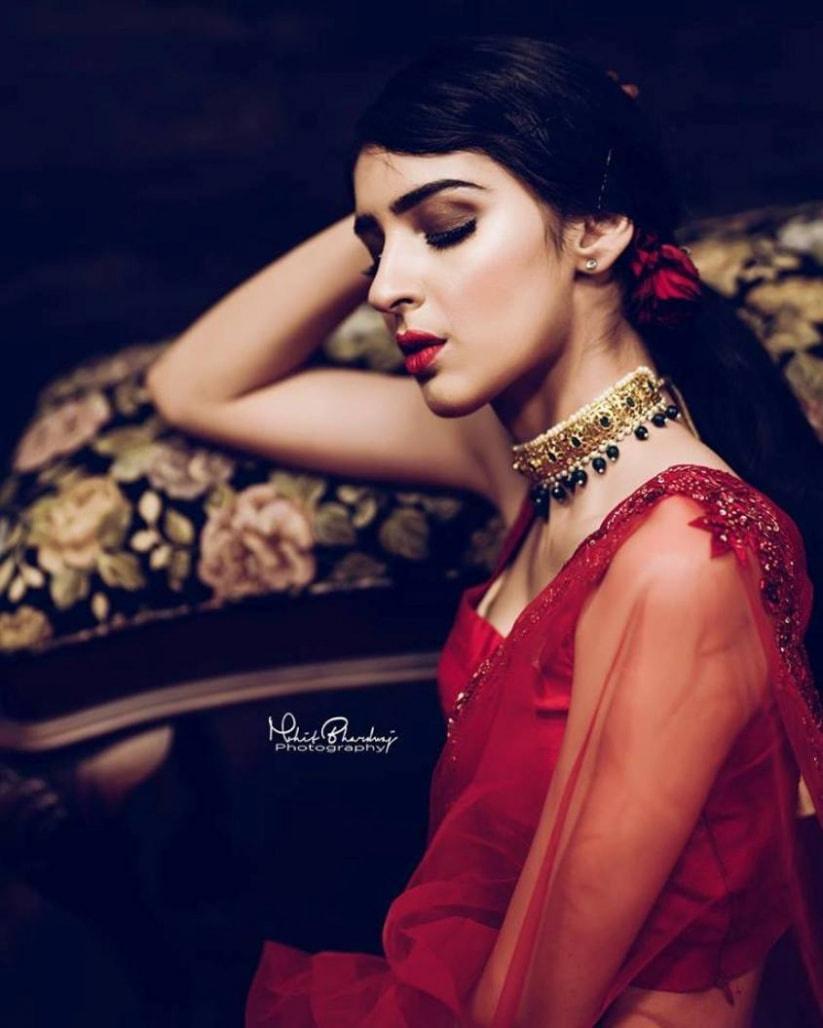 The choker is a type of necklace that is a part of the Punjabi jewellery. The choker necklace looks elegant and rich, and the best part is it can be worn alone or paired with a long necklace if you want. As it is so diverse, the choker necklace can look extravagant or even pretty modest.
The good part is that this necklace has come back into fashion, and you can see a number of brides sporting it on their wedding day.
Based on the function that you're wearing this piece to you may either choose to go for a standalone choker necklace or combine it with a Rani haar.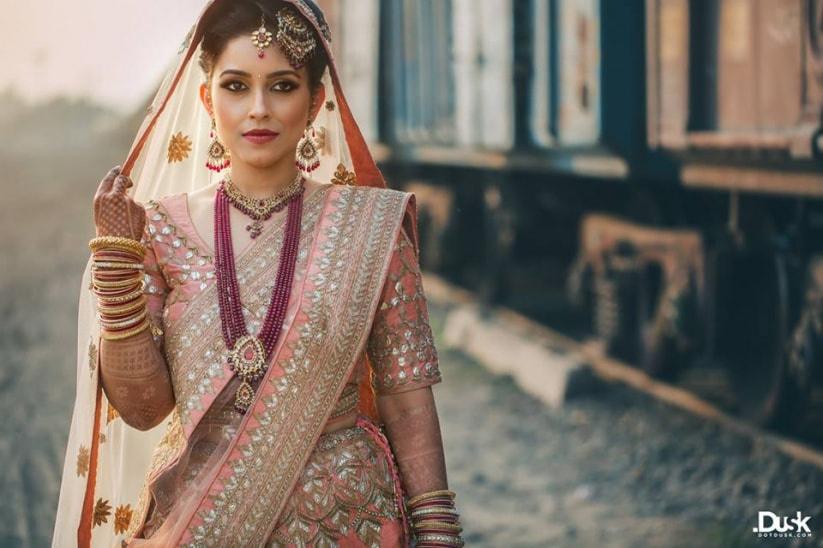 If you want to go for a more royal look, then maybe Raani Haar should be your first choice. This necklace is quite a popular choice in Punjabi jewellery, and it never goes out of fashion. The Raani Haar is quite close to a Satlada in looks, but falls in a U-shape, unlike a Satlada necklace. This necklace looks classy and evergreen and can be paired up with different necklaces too, like the choker.
Wearing a Raani Haar, makes you look no less than a royal, it is that magnificent.
6. Haath Phool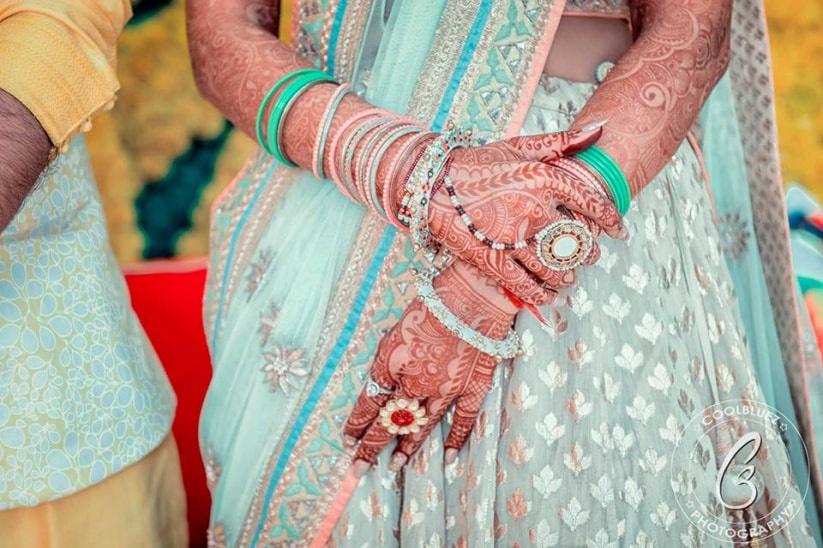 Though these are named Haath Phool, this Punjabi jewellery is not necessarily made out of flowers. This piece brings attention to your hands and makes them look delicate in the process. These can be made out of flowers also today, but are more popular and look richer in their jewelled style. Though not all brides wear it, a Haath Phool gives certain elegance to a bride that can be noticed.
7. Kada / Chudi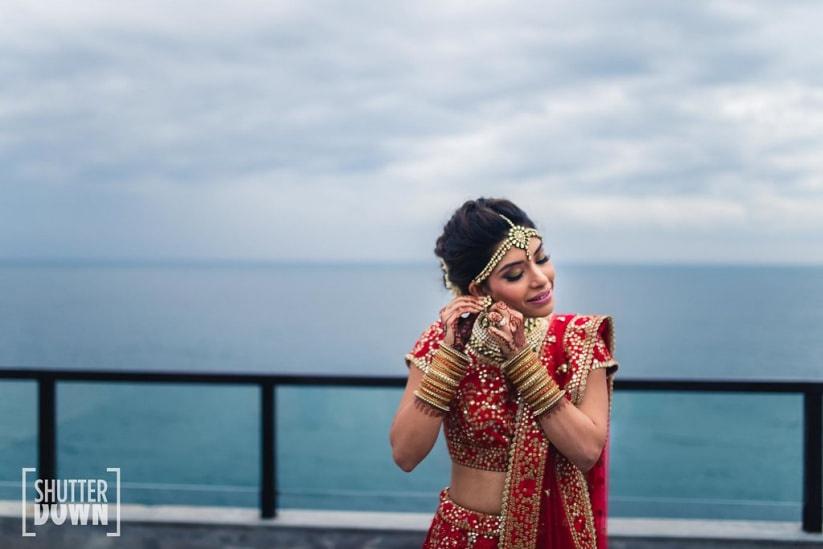 These are a piece of jewellery that many of us have been fascinated by since we were toddlers. The sweet sound the Chudis made when they knock into one another, and the different colours they come in. Kadas are also quite similar but are a more regal looking version of Chudis. Though, it is the combination of both of them that takes the prize.
8. Kalire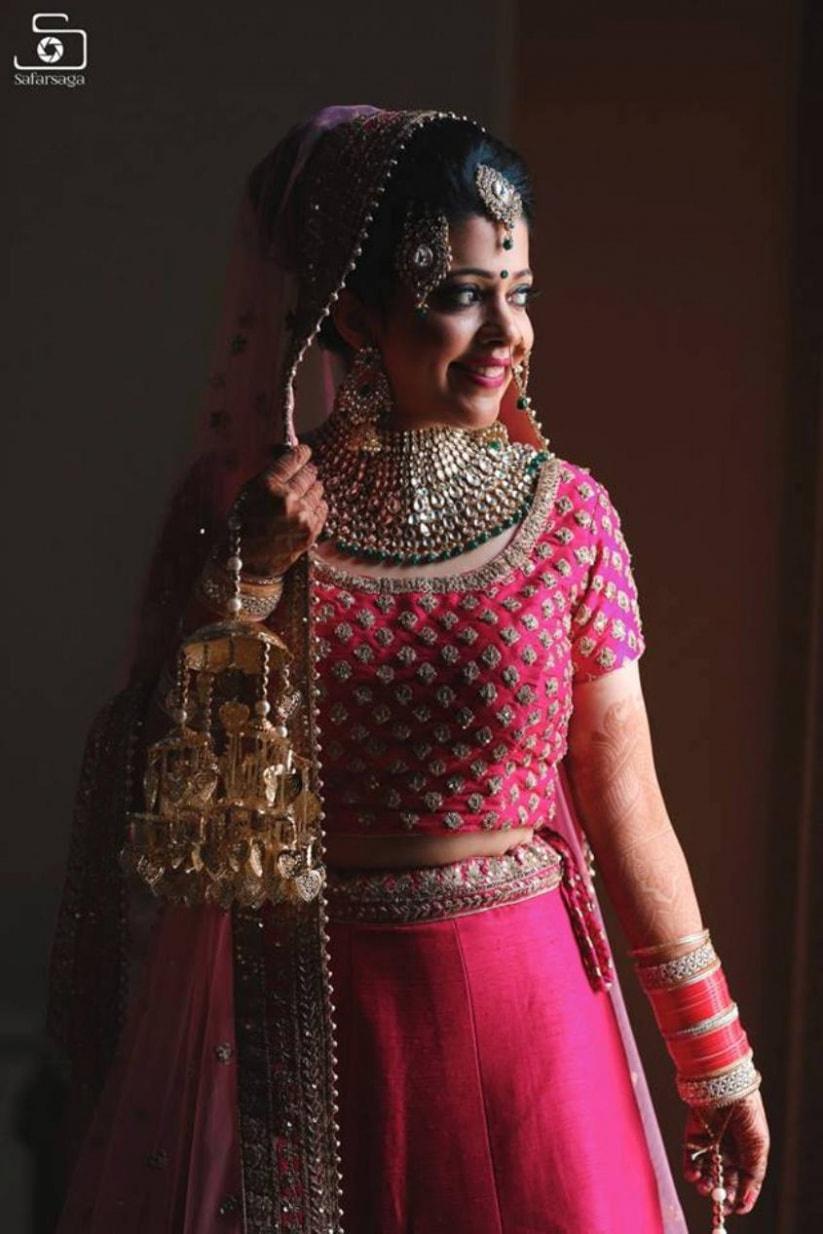 Nothing shouts a Punjabi bride more than a bride wearing Kalire. This is a through and through Punjabi jewellery. These umbrella-shaped ornament, are supposed to hang from the brides Chuda, and she is supposed to wear it throughout her wedding day. Though earlier on Kalires were made out of more natural elements, in today's date they can range from being made out of pearls to pure gold.
The concept of the bridal Kalire remains the same, but the designs seem to vary as a person's personal choice. How heavy or light do you want it, is your choice, but heavier and elaborate Kalires seem to be the choice of the season.
9. Chooda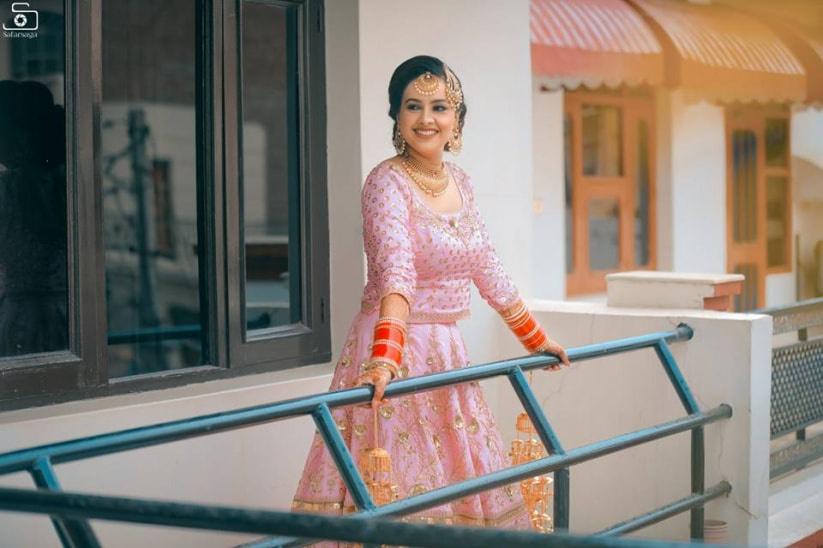 Like Kaliras, Choodas are also a very important part of the Punjabi jewellery. The Chooda has two colours of bangles, which are usually red and white, but nowadays the red can be replaced by other tones. The special thing about the Chooda is that it not only signifies a bride, but also a newly wedded bride, as a bride is not supposed to take her Chooda off till at least 40 days of her marriage.
10. Angoothi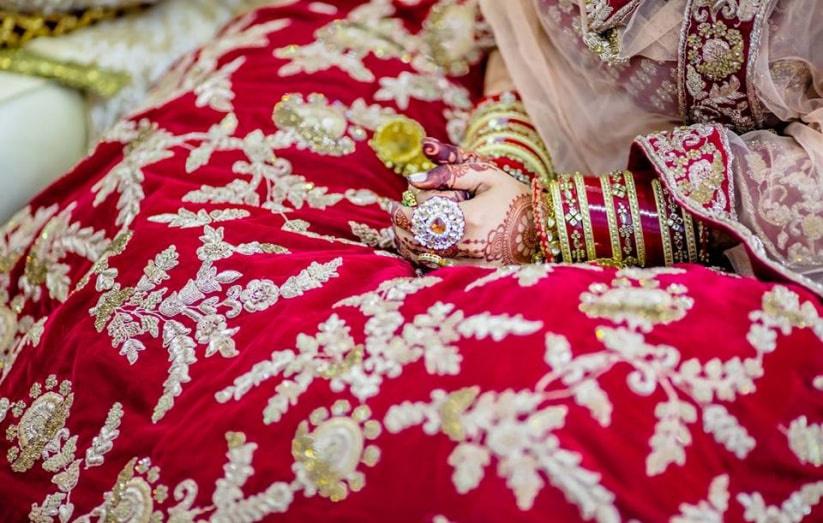 For Indian brides, and also Punjabi, an Angoothi is not just an engagement ring but is a beautiful piece of Punjabi jewellery, that can have a rich history behind it. The concept of a ring is not new to the brides of Punjab; they have their own beautiful Angoothis, which are usually elaborate, and not quite delicate. These rings are pieces of art that are beautifully crafted for each bride.
11. Pajeb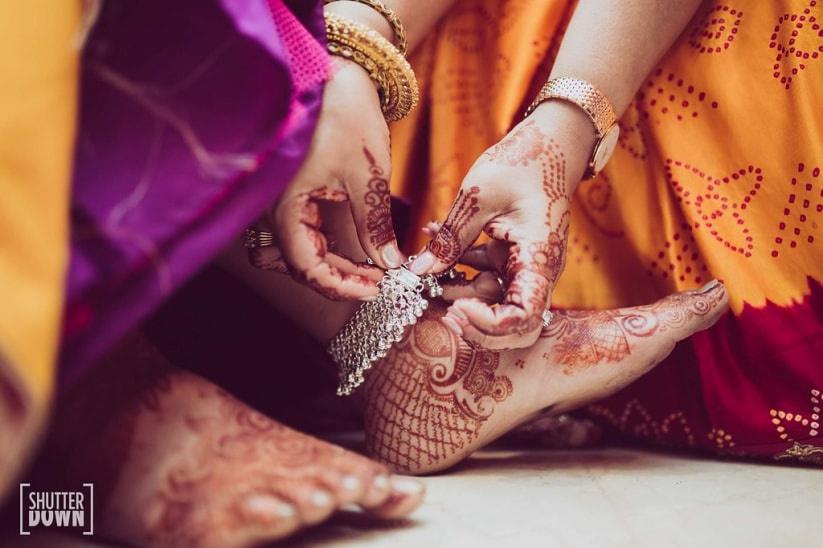 Even though we are not sure why we view Pajebs as a very romantic piece of jewellery. This Punjabi jewellery, cannot be viewed by everyone, but can most certainly be heard if you concentrate enough. Though not every Pajeb has Ghungroo on them, it is certainly are a dream to walk around wearing one, make that sweet noise in our wake.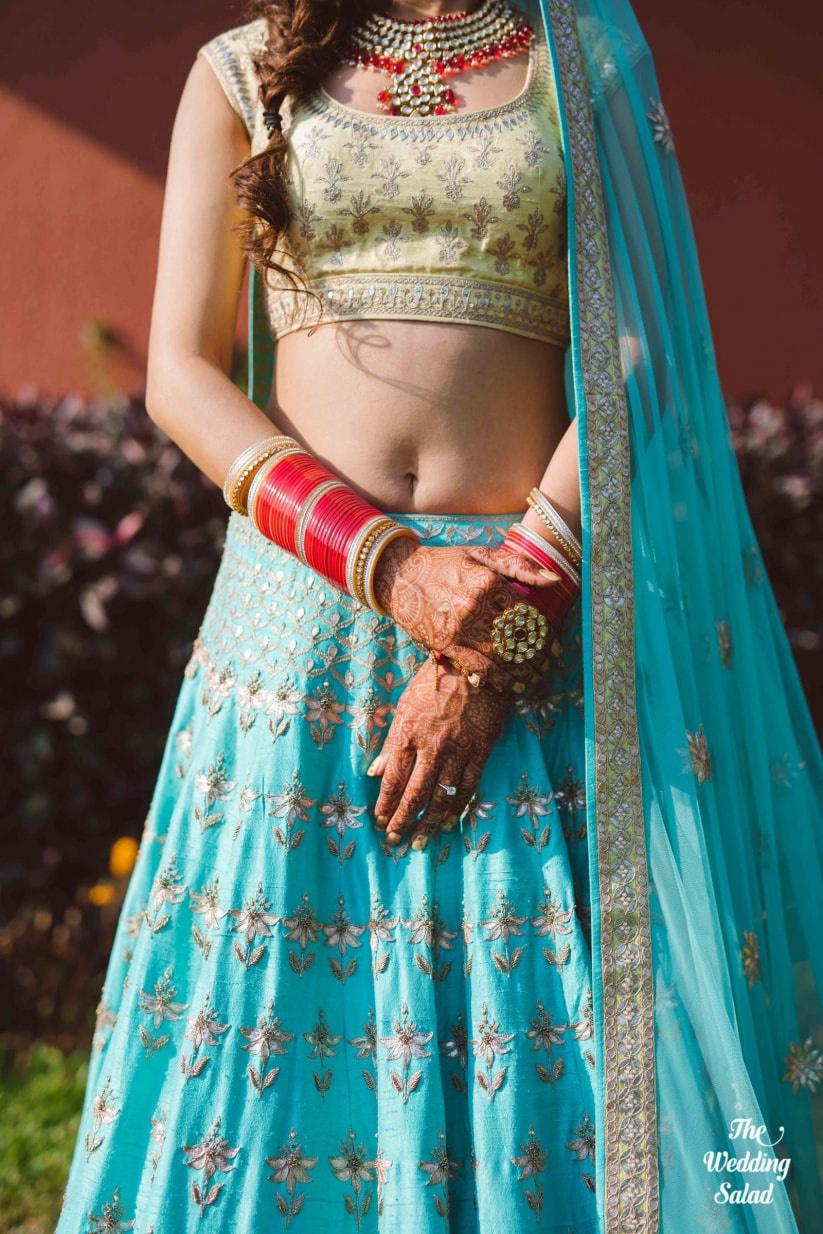 Each piece of Punjabi jewellery is special and unique. Even if it may seem like they clash with other jewellery, each piece here has a unique design and make, which would be hard to find somewhere else. All these pieces together make a complete Punjabi bride, who is stunning and exquisite.
So now that you know what all are the essentials of Punjabi Jewellery, tell us which one is your favourite?