15 Gorgeous Kanjivaram Saree Designs to Kick Start the Wedding Division
Kanjivaram saree styles are the most worn kind of trousseau by South Indian brides. Compiling a list of the best, here are 15 different Kanjivaram saree designs to get inspired from.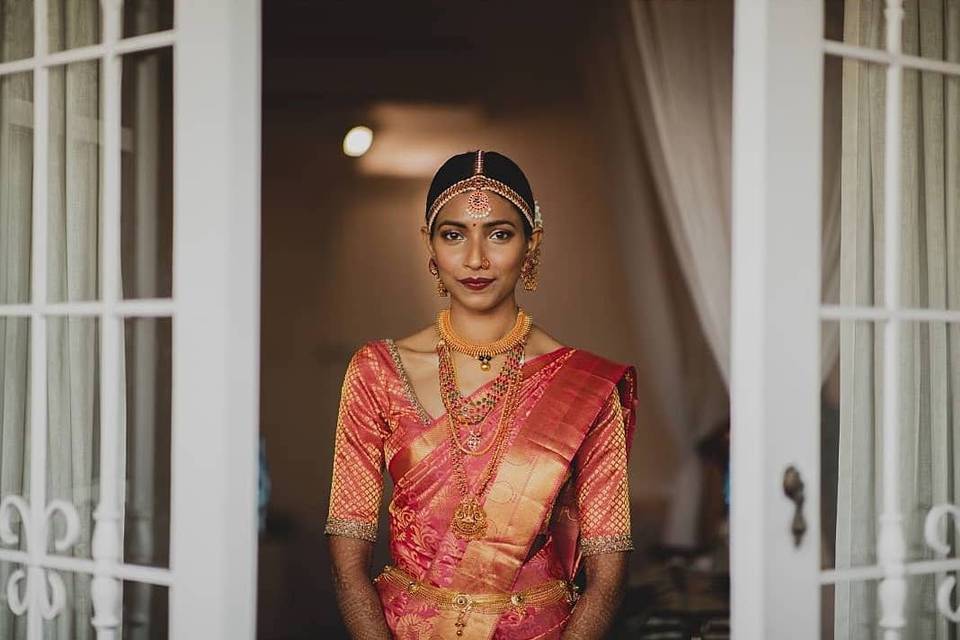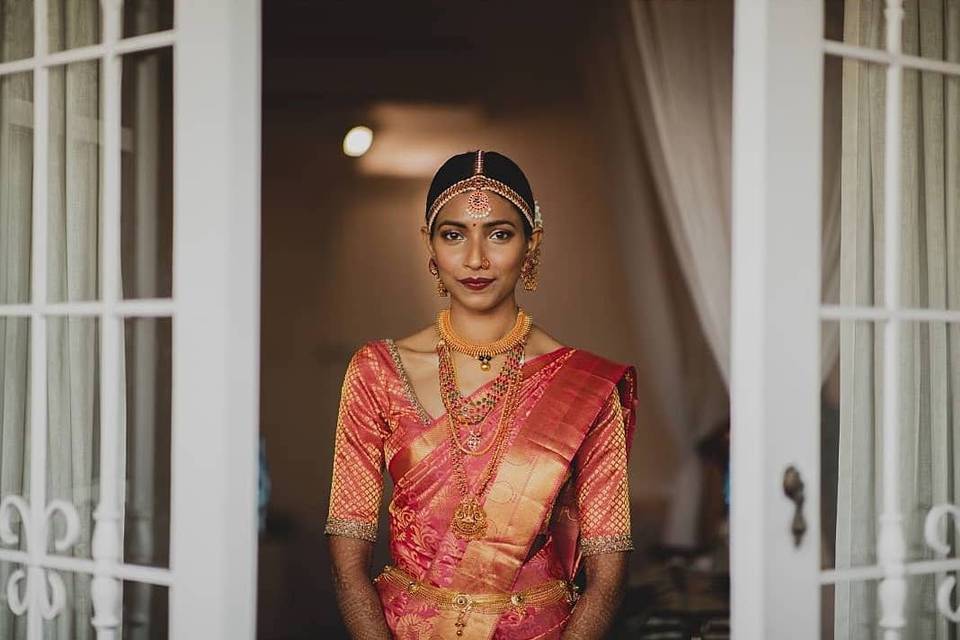 Image Courtesy: Sugar & Scotch Films
A shiny Kanjivaram saree is considered a sacred and traditional attire that brides-to-be and other married women of the house wear for different occasions. An origin of Tamil Nadu, Kanjivaram is also famously addressed as Kanchipuram or Conjeevaram. This silk saree style is produced by weaving the purest form of mulberry silk threads into different patterns.
One significant factor of a Kanjivaram saree is that the design of the border is much different from the rest of the saree. Another settling factor that identifies an authentic Kanjivaram saree from the rest is the fact that the border and the body of this saree style are woven separately and then are stitched together in a flawless manner to complete the process. Here are some stunning Kanjivaram saree styles for you!
Embellished Kanjivaram Saree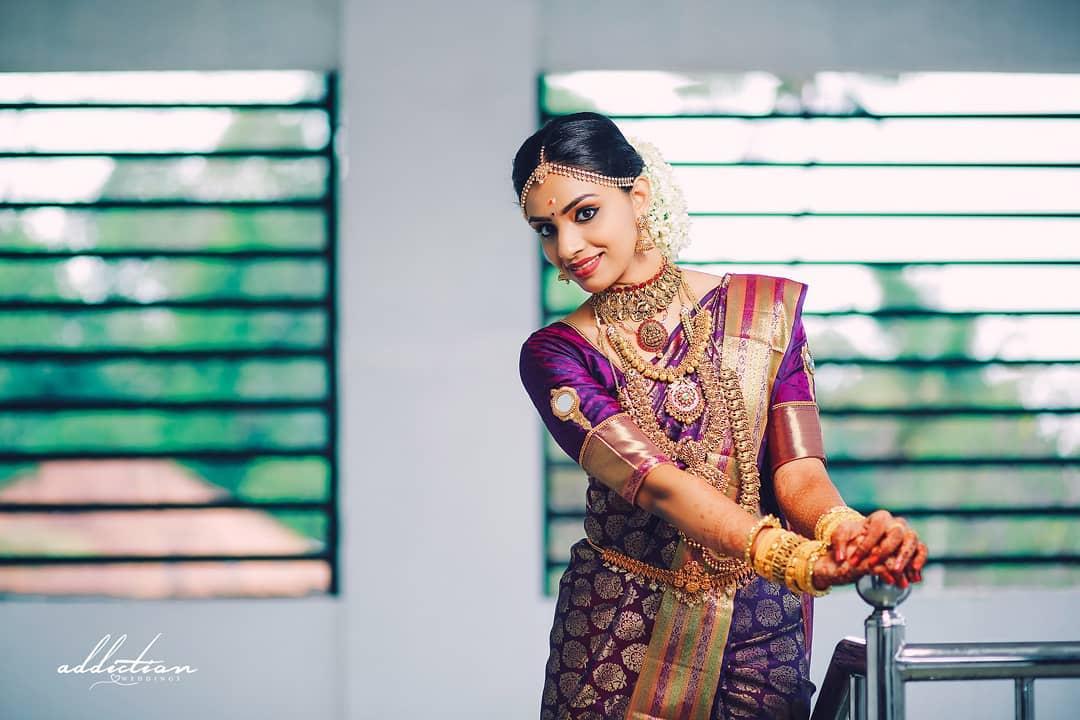 Image Courtesy: Addiction Weddings
Add embellishments in the form of mirror-work on the sleeves of the saree blouse to upgrade the wedding Kanjivaram saree trousseau into more stylish attire. Extend the mirror-work design at the back of the blouse for added glamour.
Unique-hued Kanjivaram Saree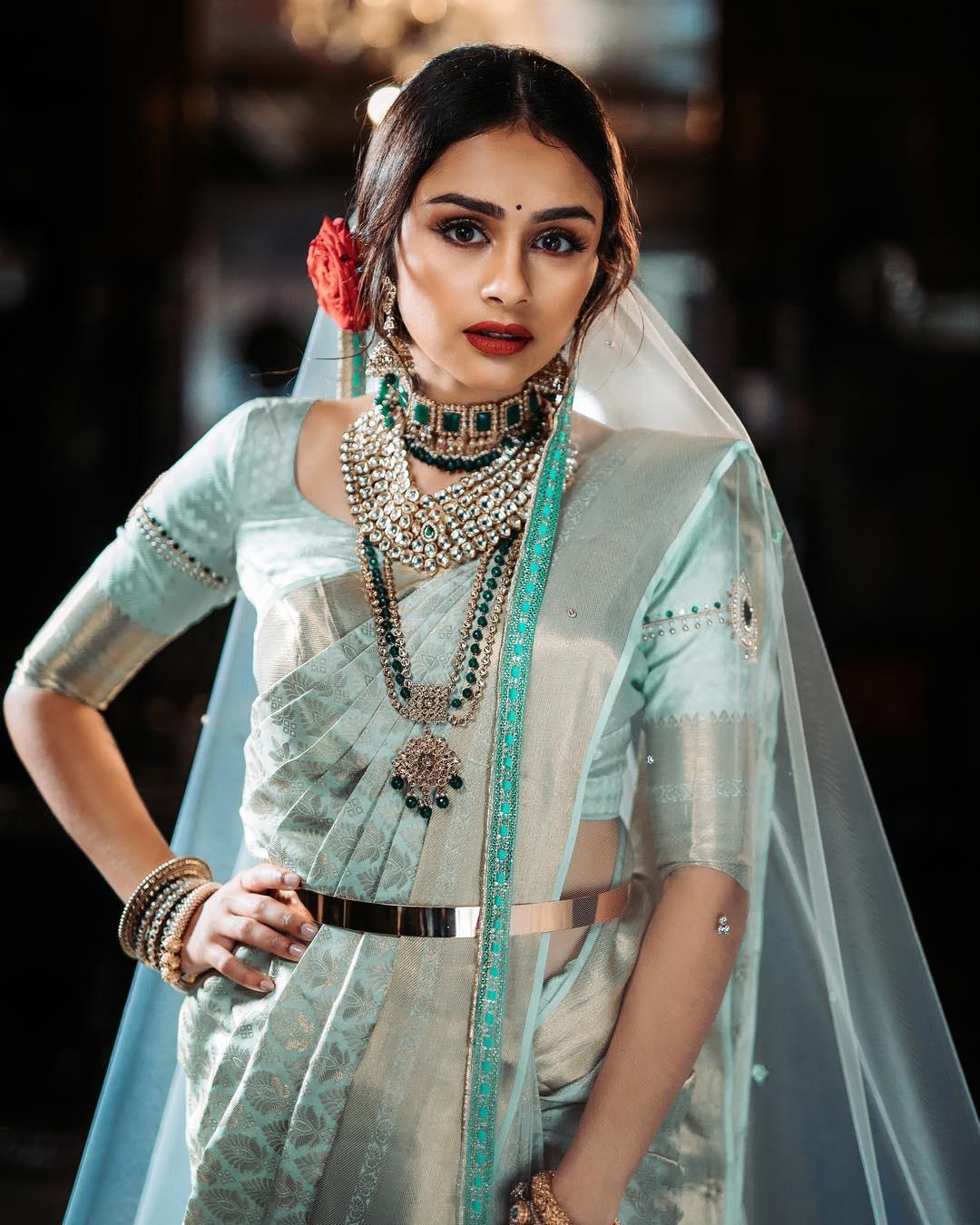 Image Courtesy: Black Magic Creation
Break the traditions by opting for a borderless Kanjivaram saree design. Match the shiny silk saree with a contrasting blouse with Zari embroidered sleeves to break the monotony of the seamless drapes.
Chequered Kanjivaram Saree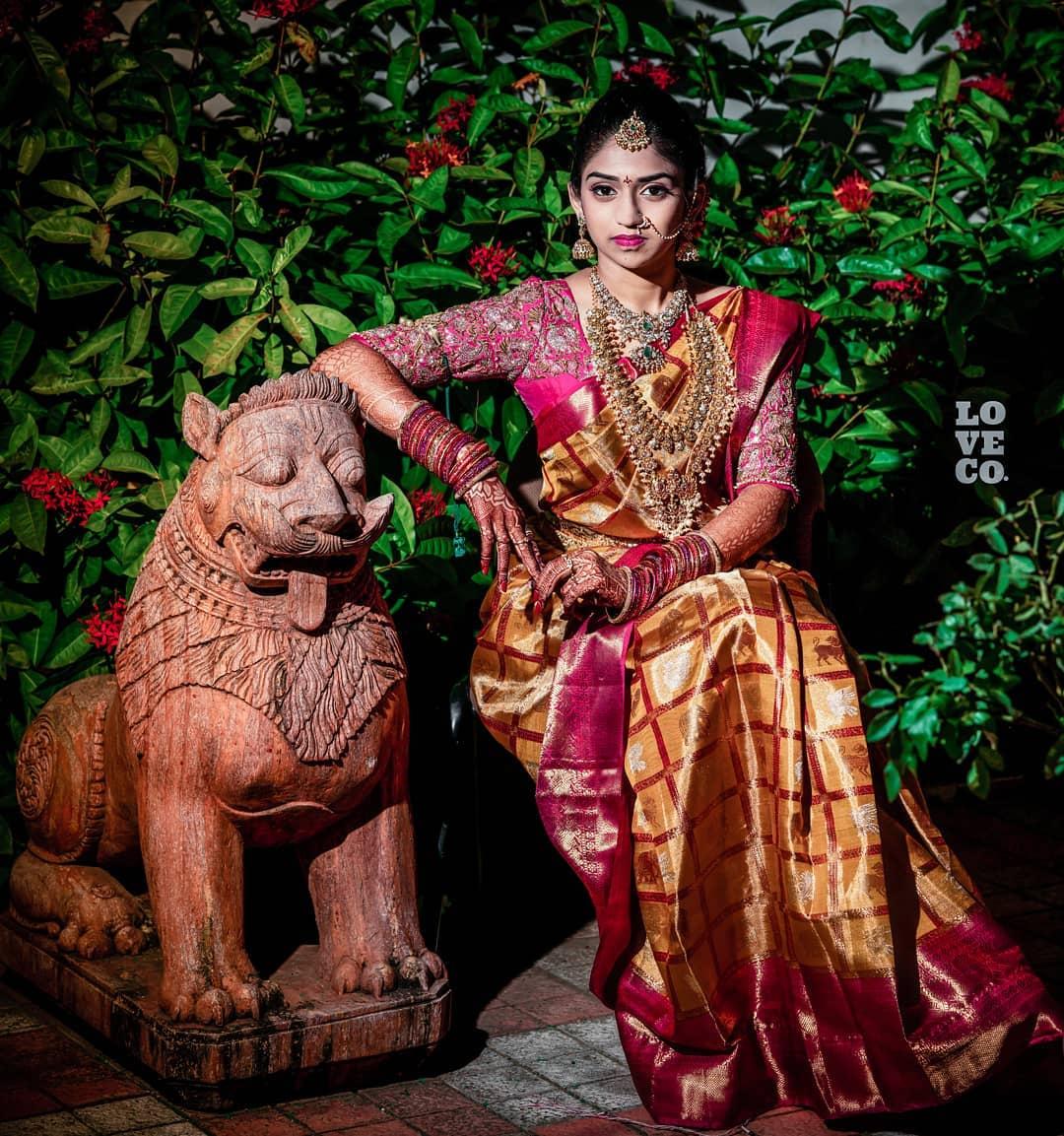 Image Courtesy: Love Co.
Switch blocked-motifs with chequered pattern all over the Kanjivaram saree for a unique bridal-trousseau design for the D-day. Heavily embellished blouse all over goes very well with such a pattern style.
Ombre Kanjivaram Saree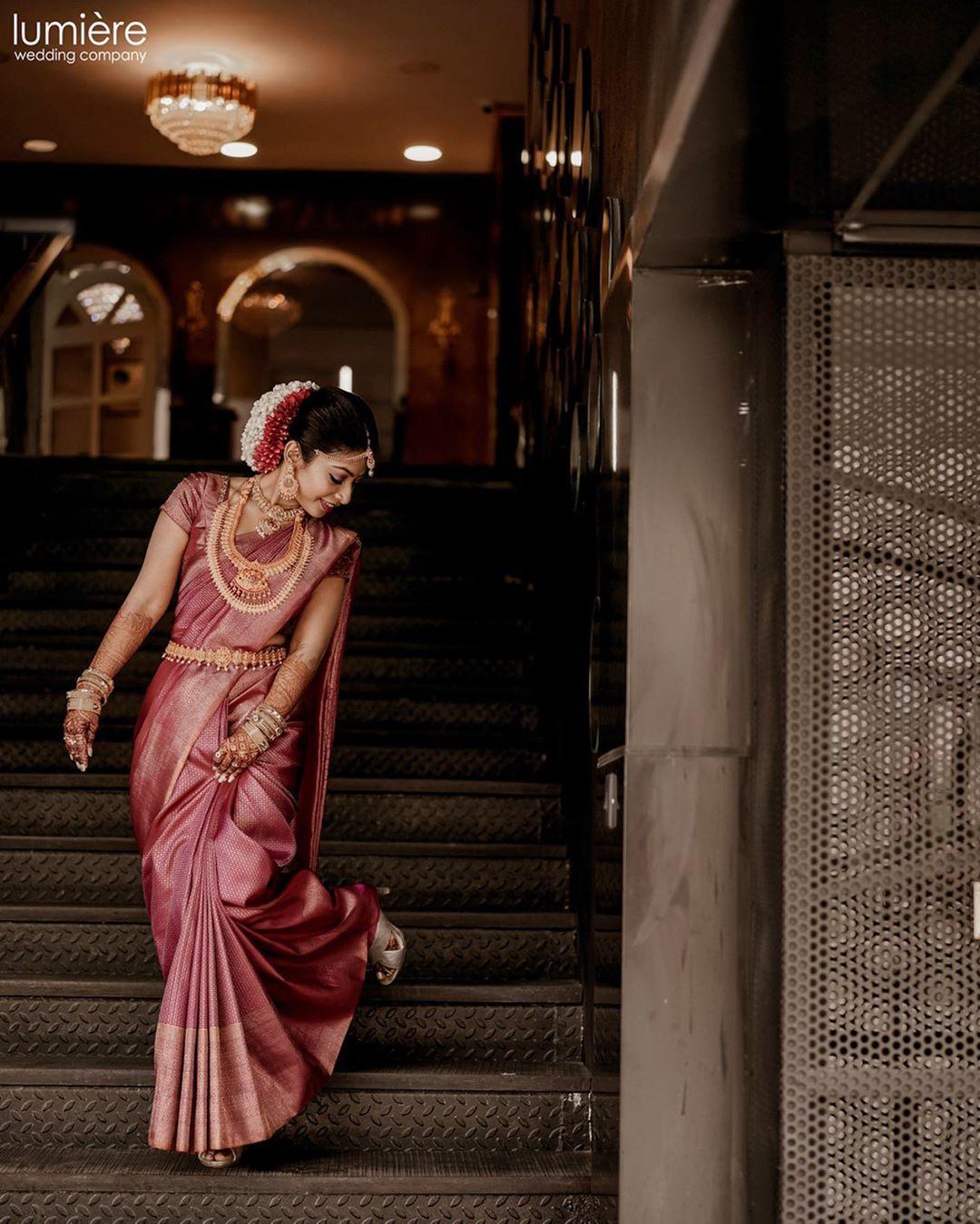 This Kanjivaram saree style consists of adapting one colour for the overall saree and a hue of the shade stitched flawlessly as the borderline for the ensemble. The style looks best when the bride-to-be is looking for a toned-down version of the otherwise vibrant Kanjivaram saree style.
Polka Dot Kanjivaram Saree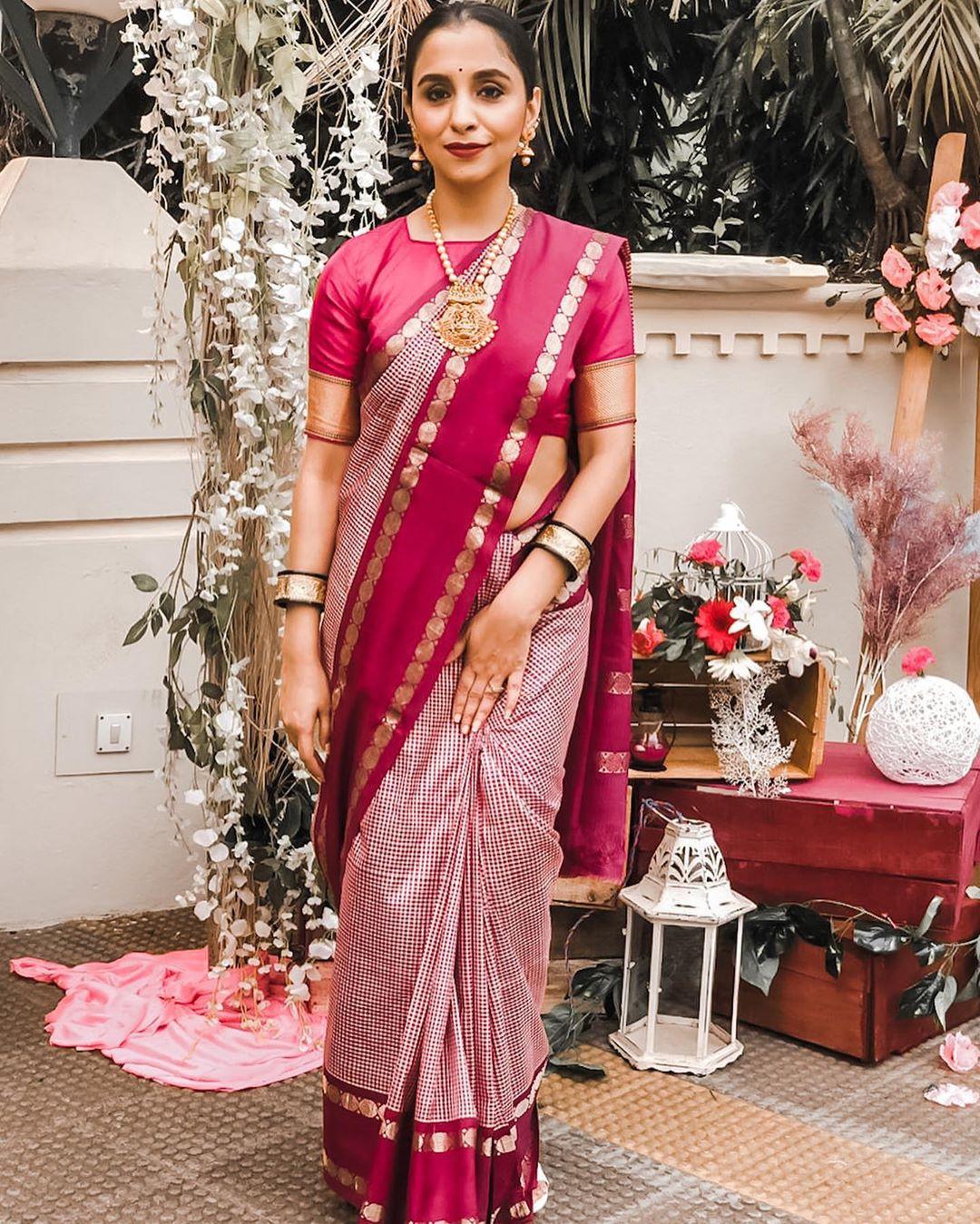 Image Courtesy: Monalisa Panda
For a Kanjivaram saree style that is different from the traditional one, yet goes very well as a wedding function wear, is the polka-dot Kanjivaram saree design. Micro polka-dotted patterns all over the saree, with the borderline decorated with larger dot prints, creates a wonderfully complimenting design of the saree style.
Honeycomb Print Kanjivaram Saree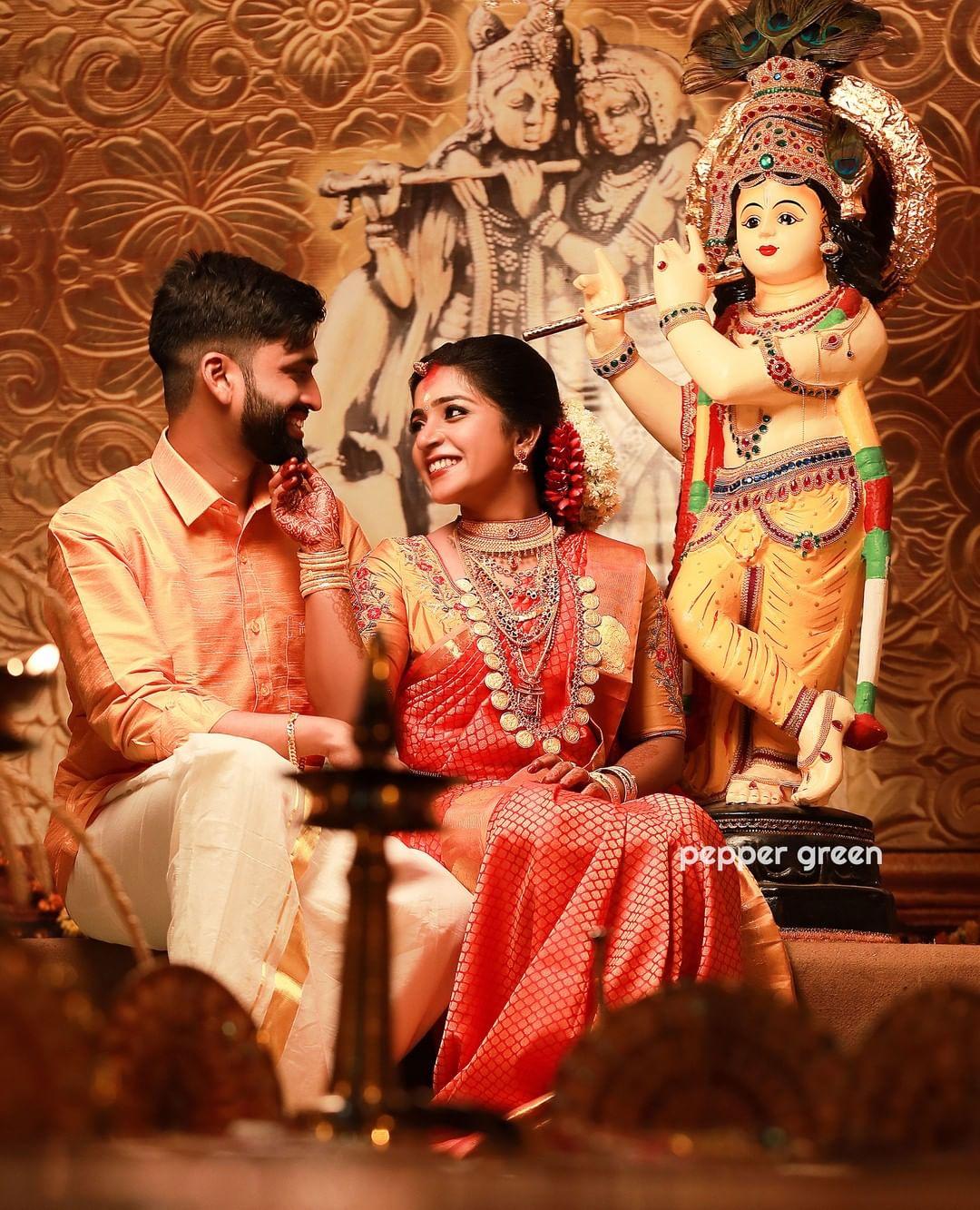 If not for the regular polka-dotted saree, one can also opt for honeycomb-style printed Kanjivaram saree in metallic colours for the main wedding. Temple jewellery goes very well with such saree designs.
Metallic Dual-Toned Kanjivaram Saree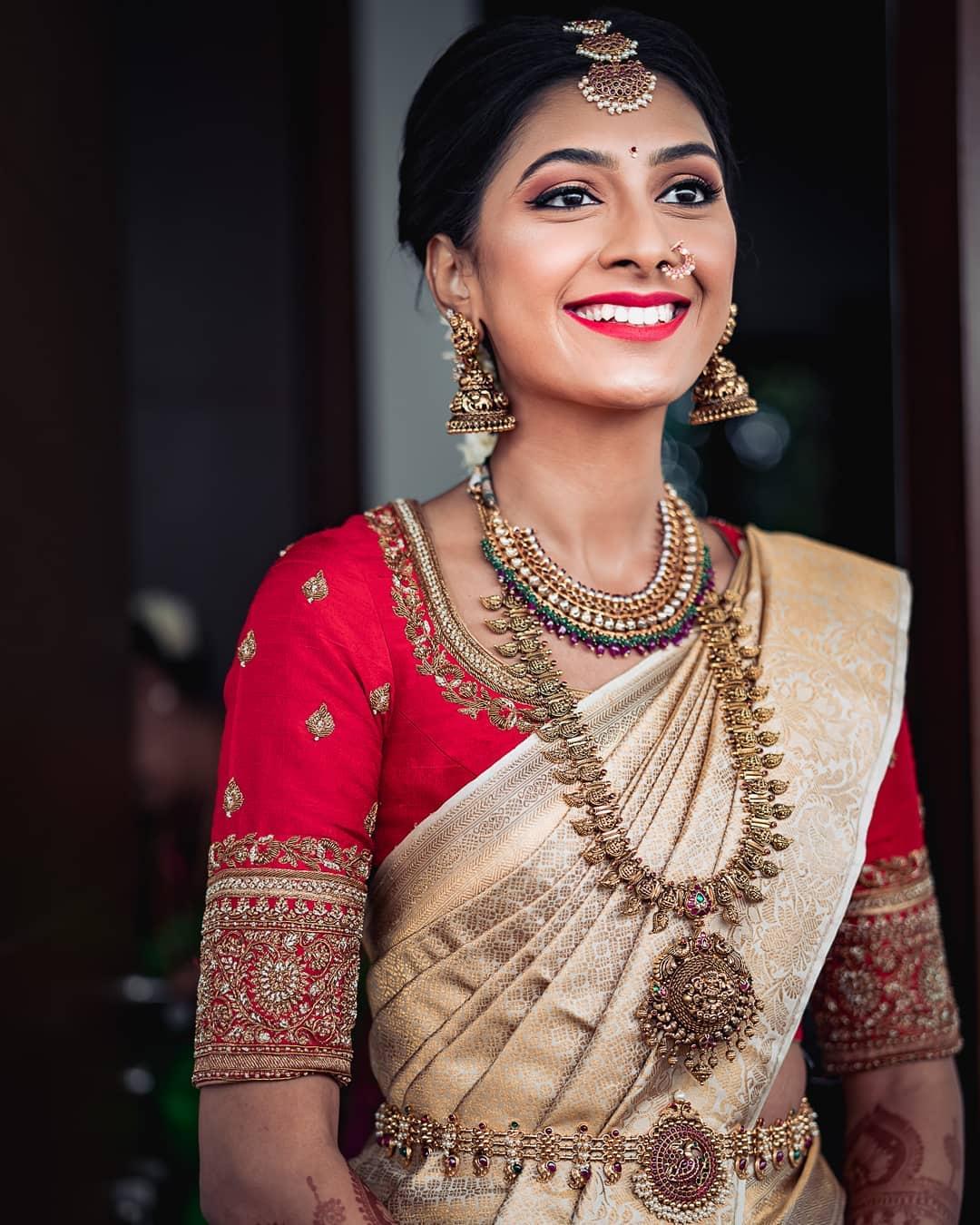 Image Courtesy: Ranya Saree
Generally, a Kanjivaram saree style plays around with hues of reds, whites and pink for any wedding function. For the brides who wish to wear something different, an unconventional, dual-toned saree in the classic red and gold combination is also a great option to consider.
Vibrant Dual-Toned Kanjivaram Saree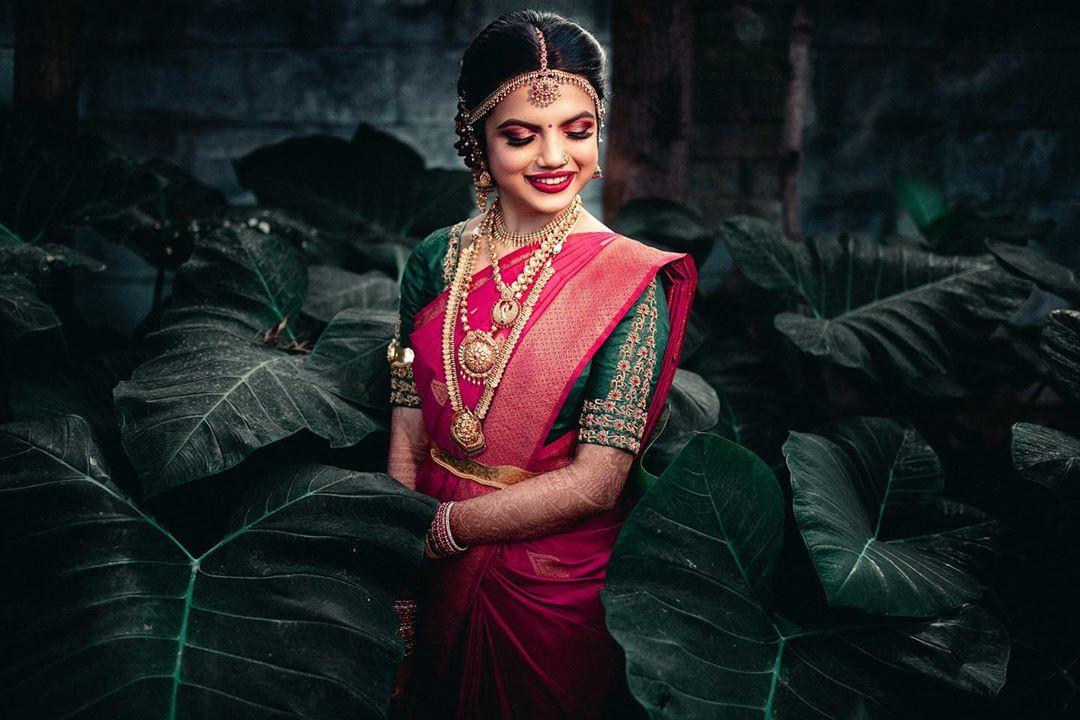 Vibrant dual-toned Kanjivaram saree styles go very well with morning wedding functions. A rouge red shade Kanjivaram saree with bottle green blouse embellished with golden thread-work adds glamour to the otherwise boring wedding trousseau.
White Kanjivaram Saree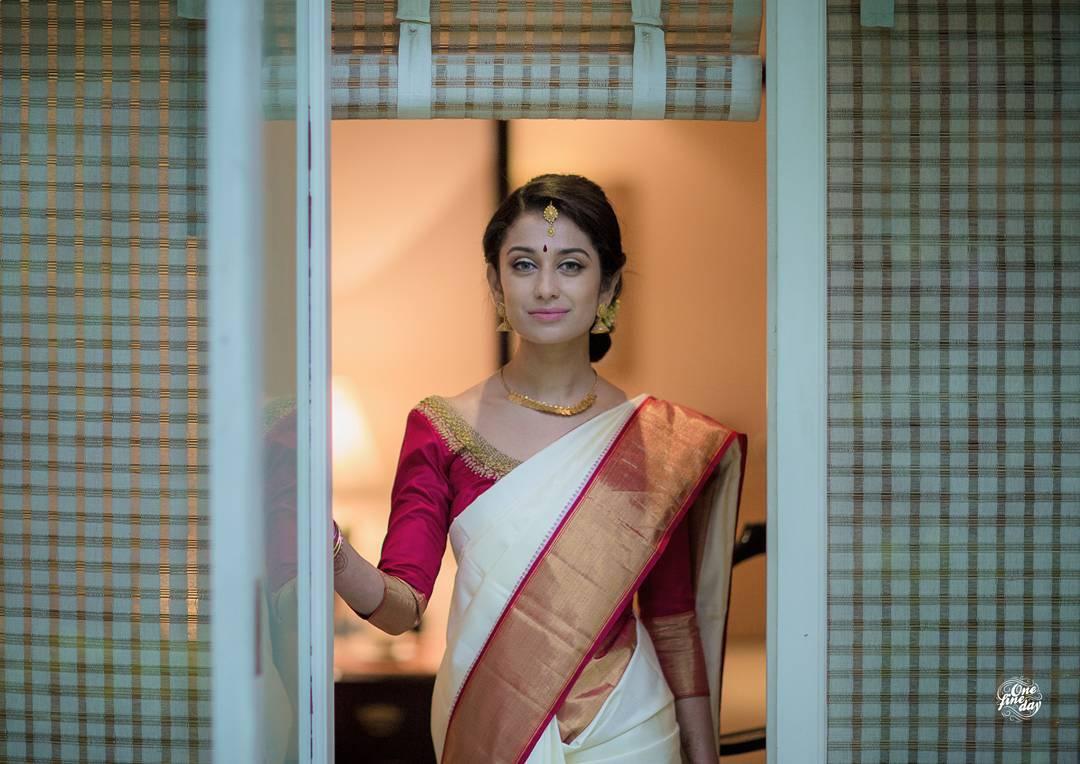 Image Courtesy: One Fine Day
South Indian weddings see a lot of white sarees being adorned by the bride-to-be. Instead of the traditional white saree with gold border, opt for this plain white saree with rust border and plain red blouse for the wedding.
Reverse Kanjivaram Saree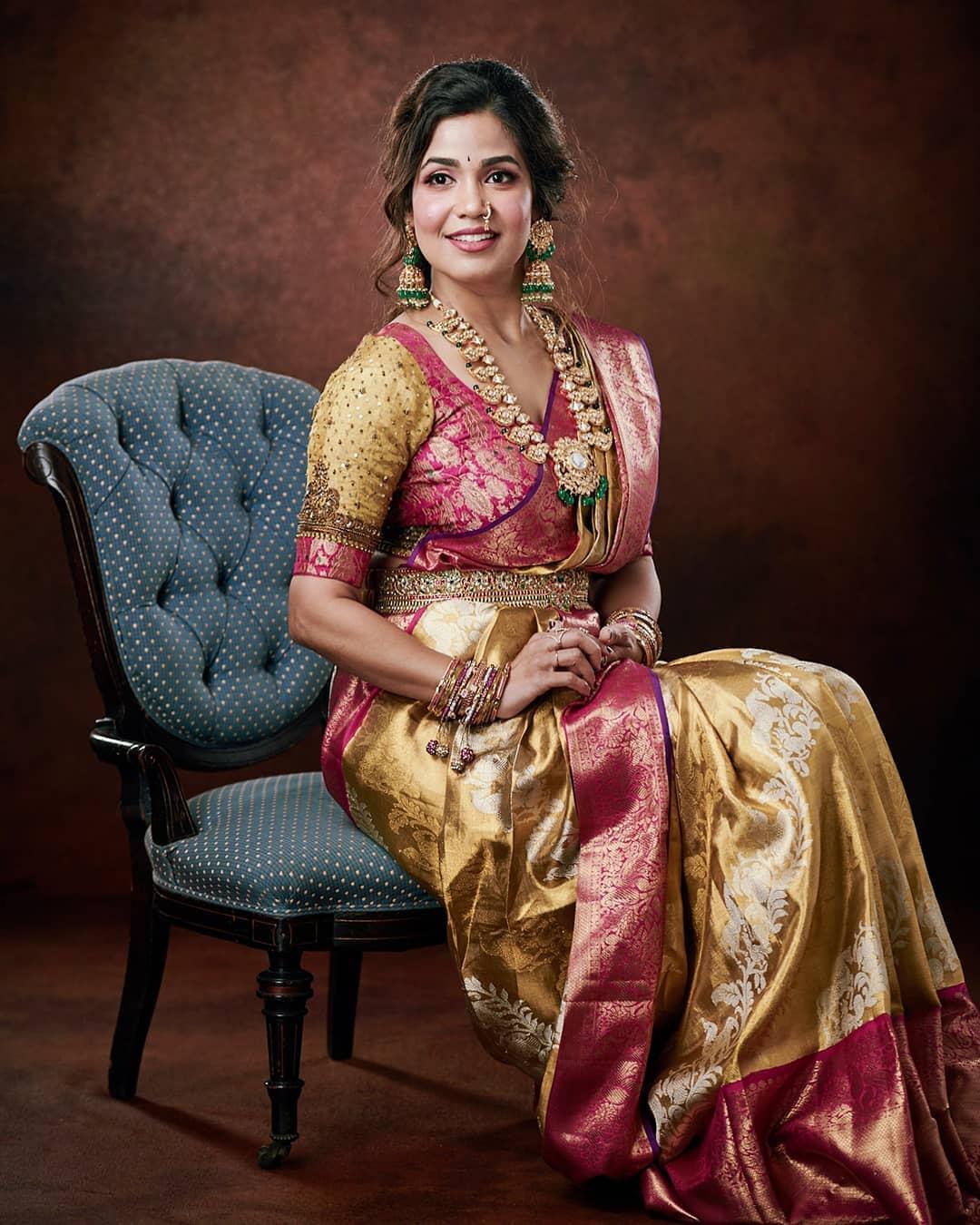 Image Courtesy: Sirisha Thatakula
Usually, a Kanjivaram style consists of coloured saree with gold border. To opt for something unique, the bride can consider wearing an all-gold saree with a coloured border and team it up with statement jewellery for that royal look.
Kanjivaram Saree With Embellished Blouse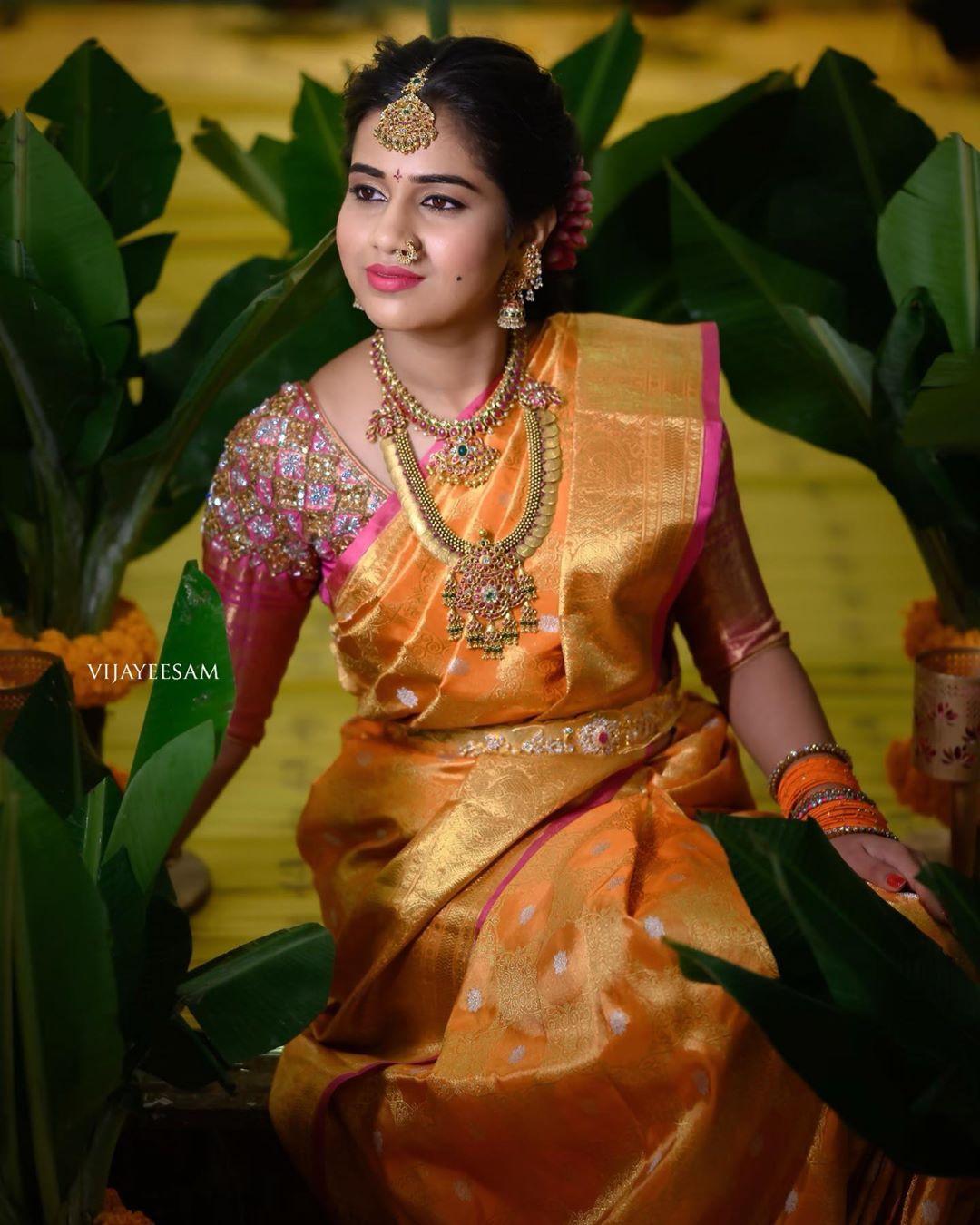 Image Courtesy: Vijayeesam
This year has seen some extra attention being given to the saree blouses instead of the main drapes. Taking a cue from this trend, pair a plain Kanjivaram silk with a heavily embellished blouse to balance the overall look as perfect wedding wear.
Minimal Borderline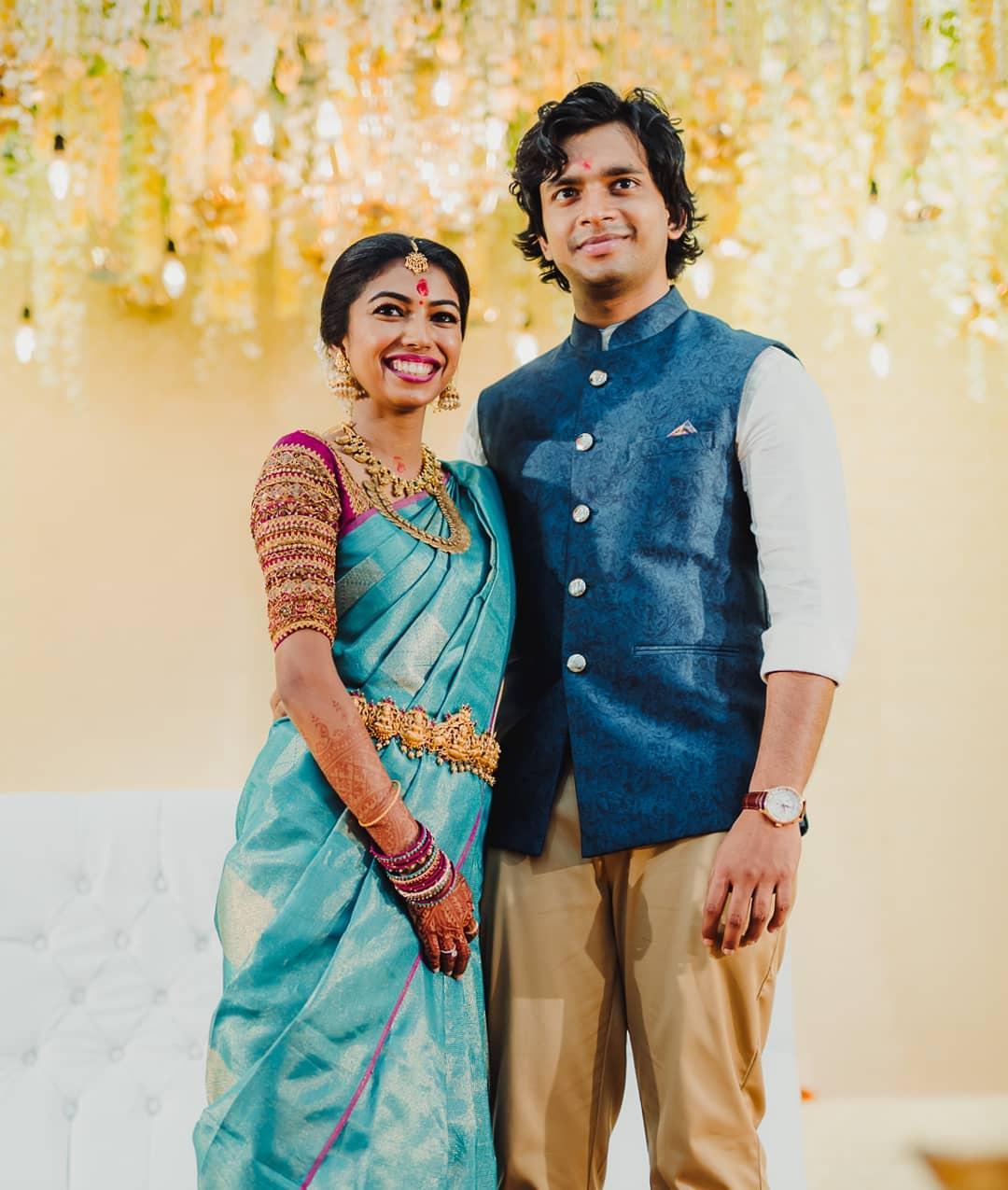 Although a Kanjivaram saree is famous for its intricate borders, in the world of minimalism, the borders have shrunk to making just a guest appearance on the entire ensemble. This trend goes very well with heavy blouse designs or when the bride wishes the jewellery to take up the centre stage.
Powder Pink Kanjivaram Silk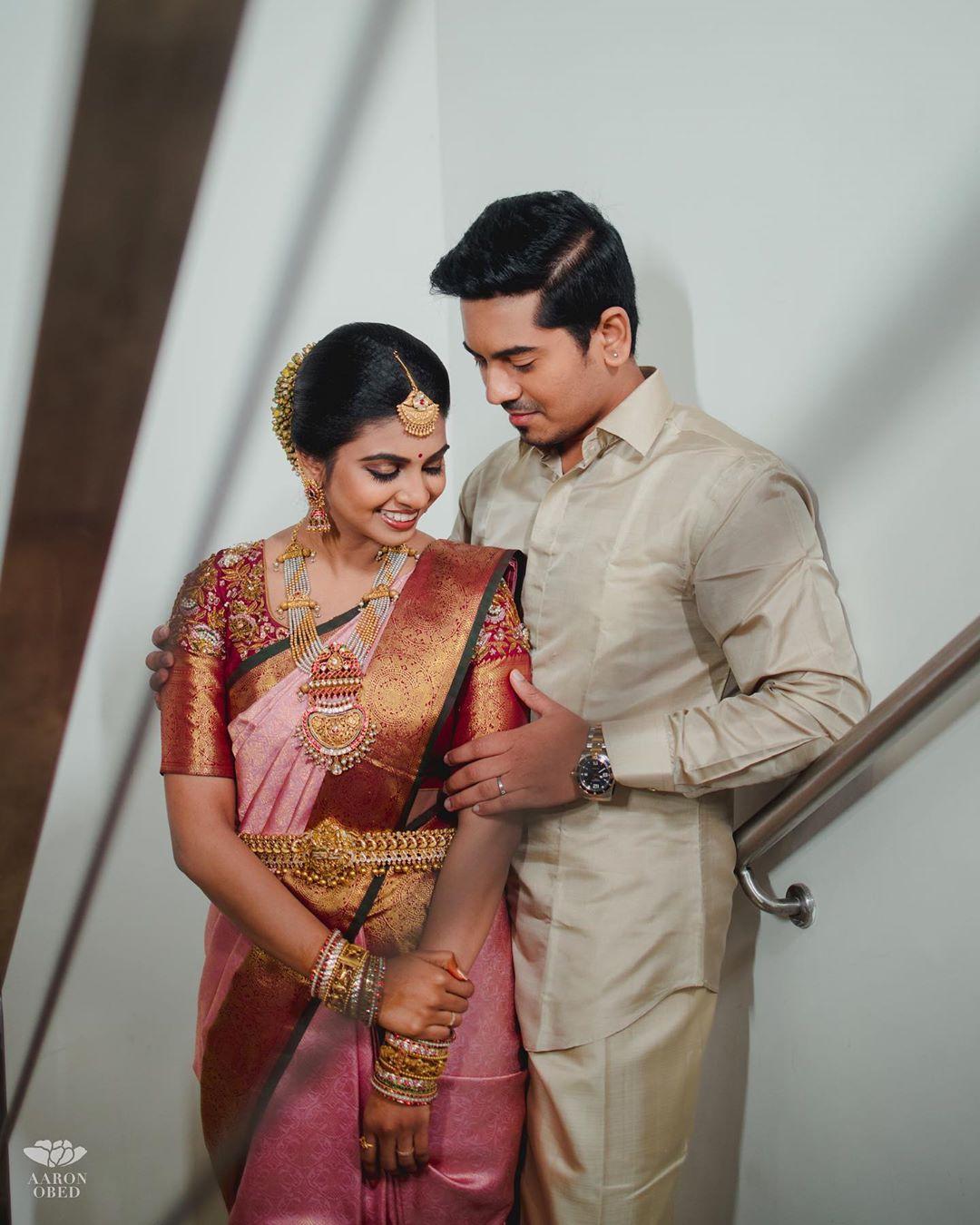 This style of Kanjivaram is not too vibrant, not too white and nor too dull either. The perfect powder pink with red and gold borderline works wonders with statement jewellery and heavily embellished blouse designs.
Traditional Red Kanjivaram Saree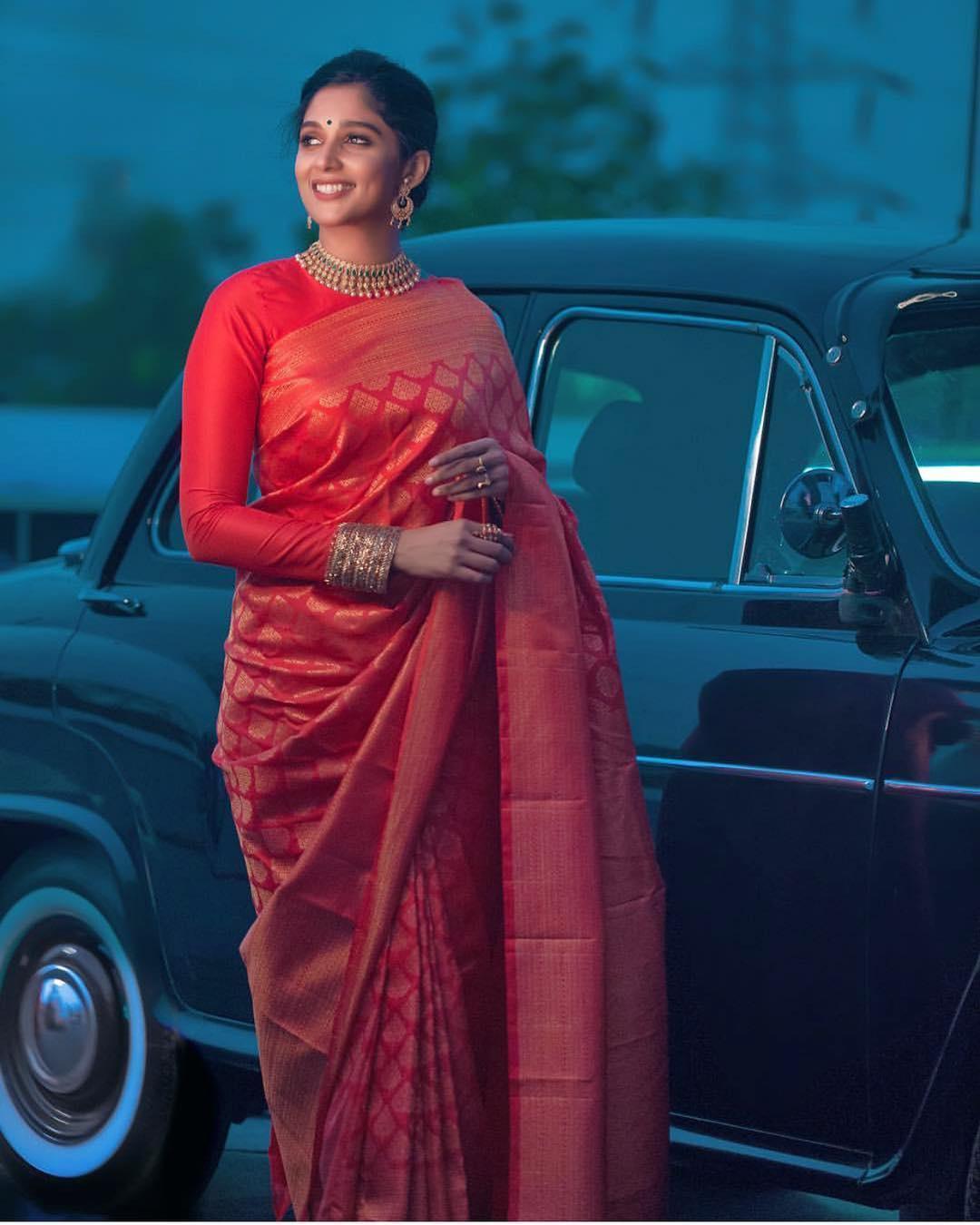 Image Courtesy: Seematti Textiles
Traditional plain Kanjivaram saree never goes out of fashion. If the bride-to-be wishes to invest in something evergreen, then a simple Kanjivaram saree will go perfectly well with all kinds of blouse styles and accessorisation.
Due to the richness of a Kanjivaram saree, it is a favourite of many celebrated Indian fashion designers as well. Hence, expect to find some stunning designs every season by known designers, apart from checking out the local handloom stores and online boutiques that guarantee pure silk and authentic Kanjivaram saree in their collections.
Many of the designers listed with us are experts in manufacturing authentic Kanjivaram saree styles. You can check their collections out to purchase pure Kanjivaram silk for the wedding.