10 Latest Silk Saree Designs that Brides-to-Be Must Check Out
Create meticulously mesmerising bridal and newly-married looks with these latest silk saree designs. Explore timeless, trousseau-worthy silk sarees and styling tips here!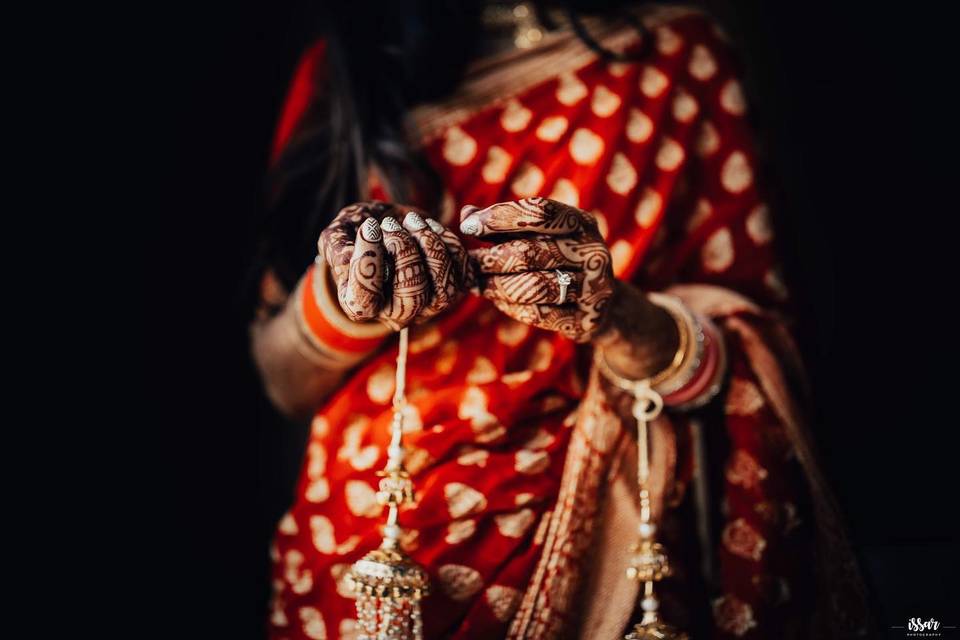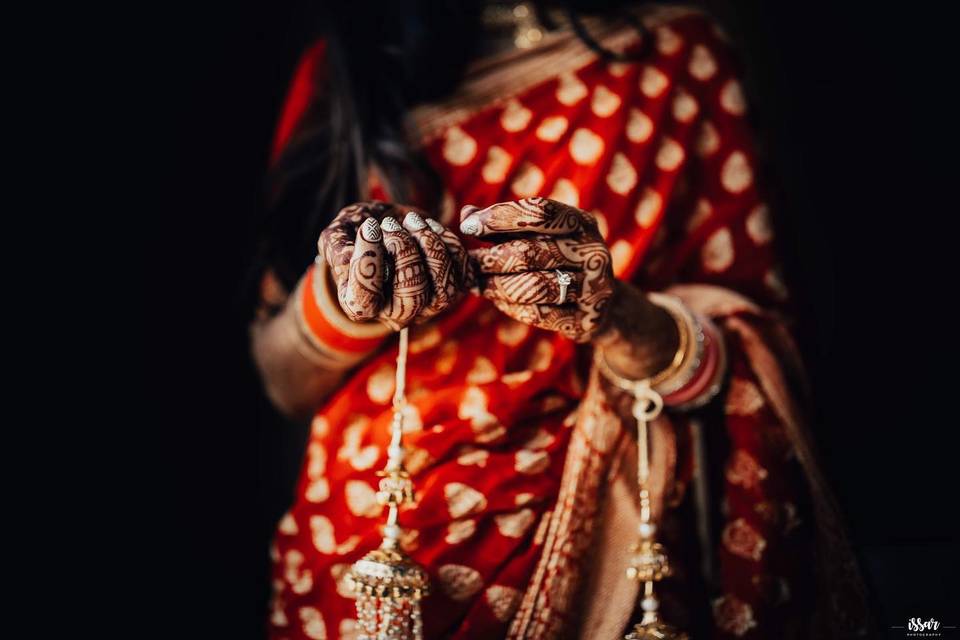 Image Courtesy: Shashank Issar
From yarn to fabric, from warp to weft, from lustre to smoothness - every property about silk is luxe and exotic. So, no matter how many synthetic fabrics come and go, silk will always remain a true depiction of class and style. If you are a bride-to-be, looking for gorgeous sarees for her trousseau, silk sarees should be on your list. Checkout these latest silk saree designs now!
Apart from being an excellent hand-me-down piece from your bridal collection, a silk saree will help turn you into the epitome of grace. Silk sarees last a lifetime, and if well cared for, they can look as good as new even after decades. As a result, silk sarees never cease to lose their charm. Let's explore some must-see latest silk saree designs that are worth adding to your wishlist.
Red Banarasi Saree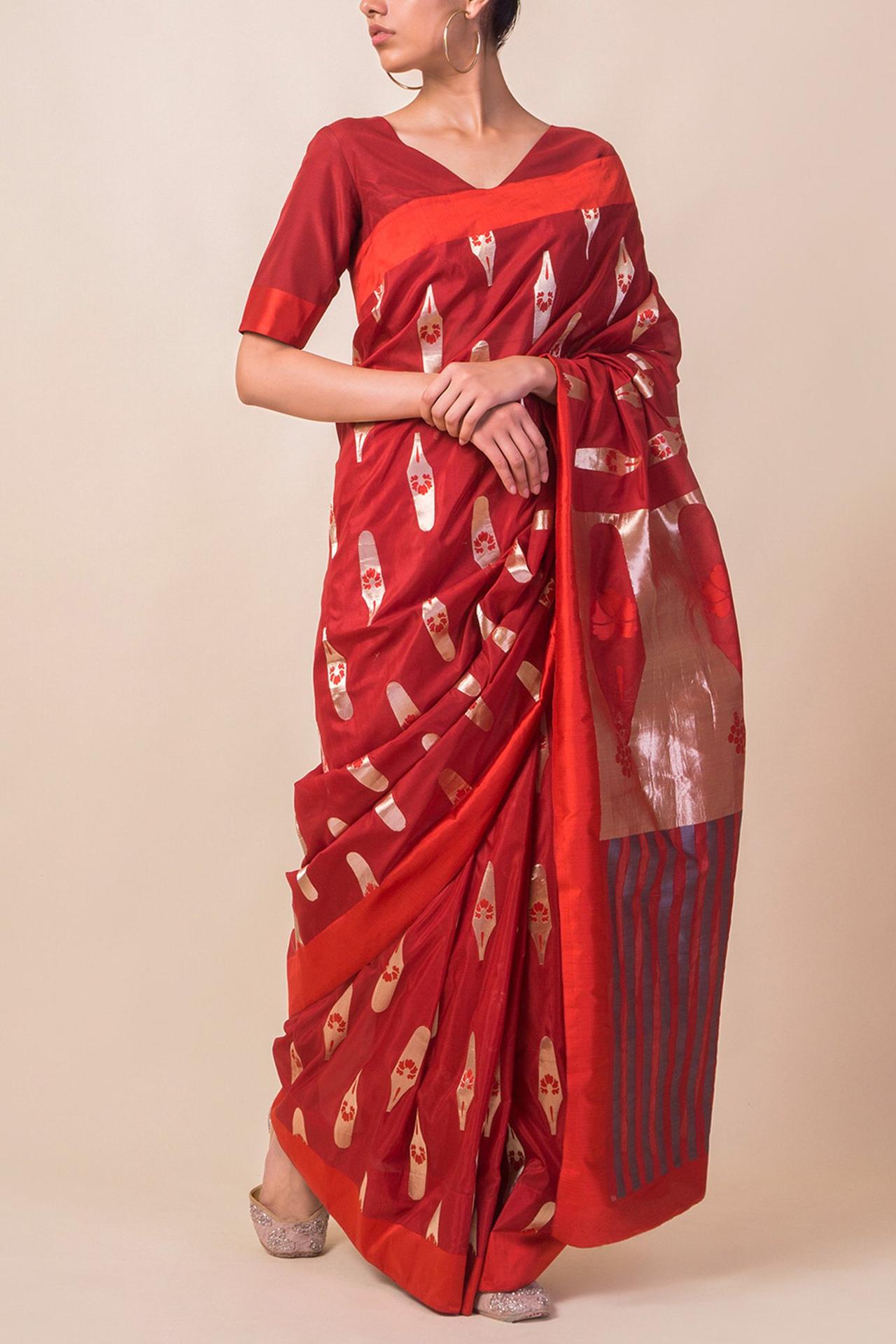 Image Courtesy: Masaba Gupta
Red is the quintessential bridal colour but there are many other reasons to check this saree out. This festive silk saree has the classic Banarasi cutwork feature all over it with stripes details on the Pallu. Hence, the overall look is traditional but not boring in any sense. You can wear this saree with a pair of gold Jhumkis and some bangles; even dainty diamond jewellery is well-suited for such latest silk saree designs.
Onion Pink Moga Silk Saree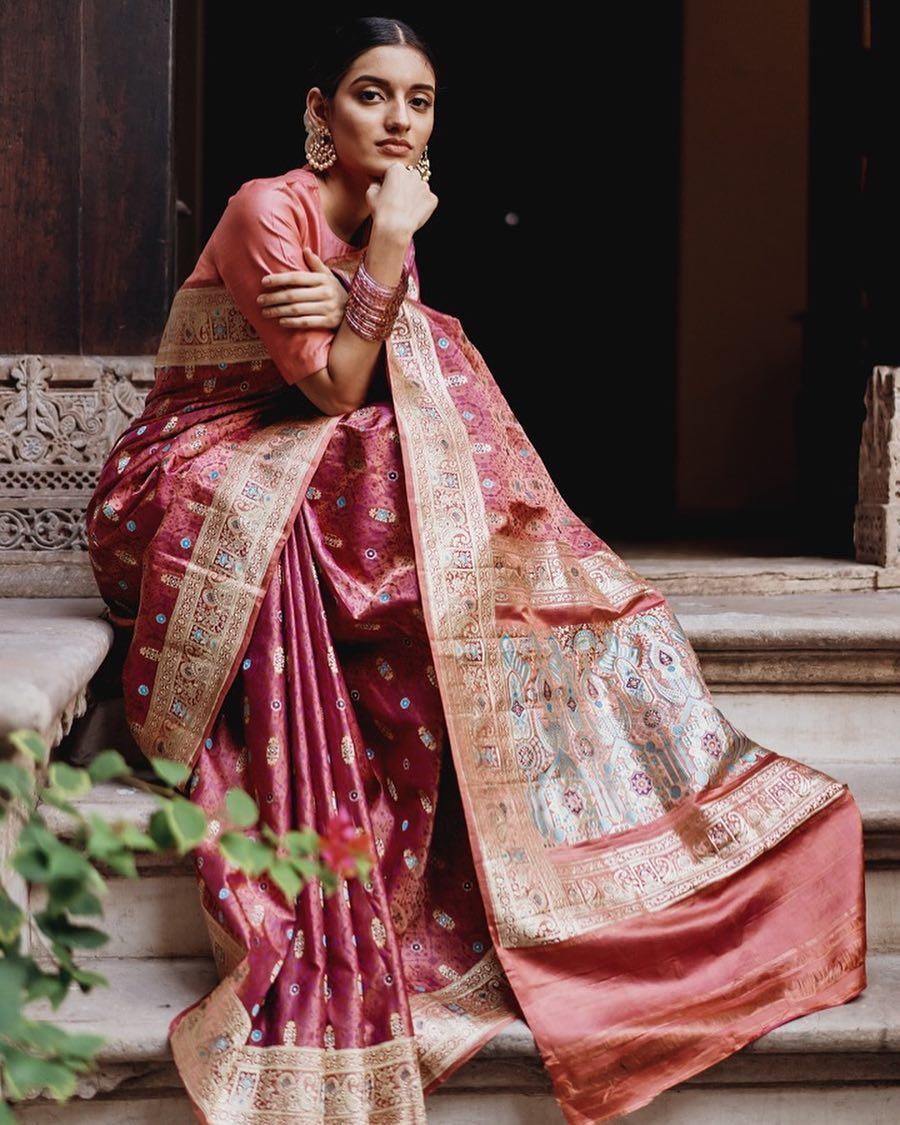 Image Courtesy: Mimamsaa
The subtle hints of pink and peach give this Moga silk saree the right amount of glamour and grace. But what makes it more interesting are the traces of blue on the pallu. A statement in itself, this saree has a rich and antique look, thanks to its dense zari and Zardozi embroidery work. Perfect for weddings and parties, this rich saree will look its best with a classic Indian bun hairstyle and nude makeup look.
Banarasi Silk Saree With Victorian Weave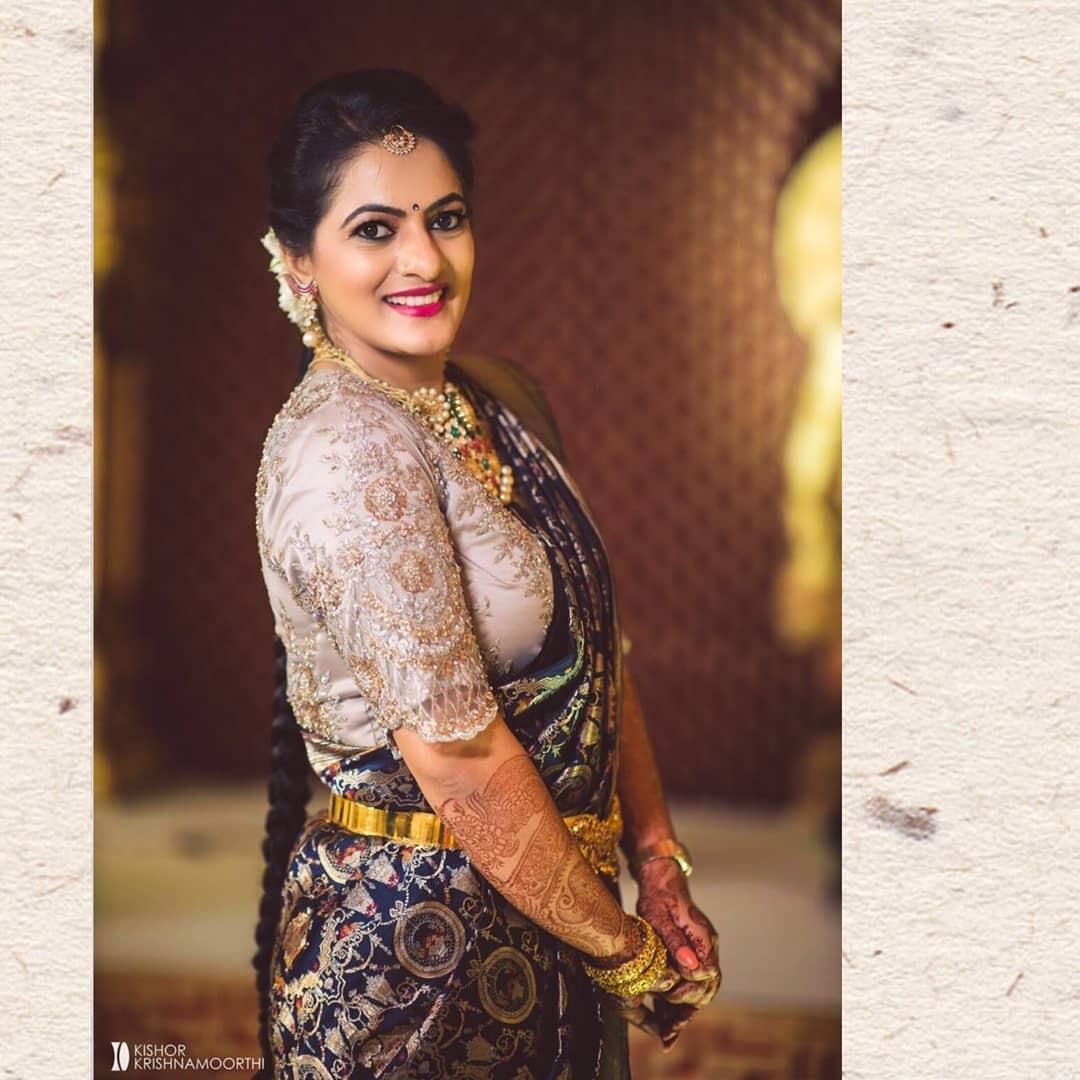 Image Courtesy: Kishor Krishnamoorthi
Your end for an interesting silk weave ends with this saree. Inspired by the Victorian era, the weaves of this blue silk saree are unique and yet high on handloom heritage. We are digging this bride's styling of this saree. She has worn it with a contrasting dull grey blouse with pearl trims and gold jewellery. You can certainly wear this saree to your own wedding functions, just like this pretty bride.
Jamdani Wilk Waree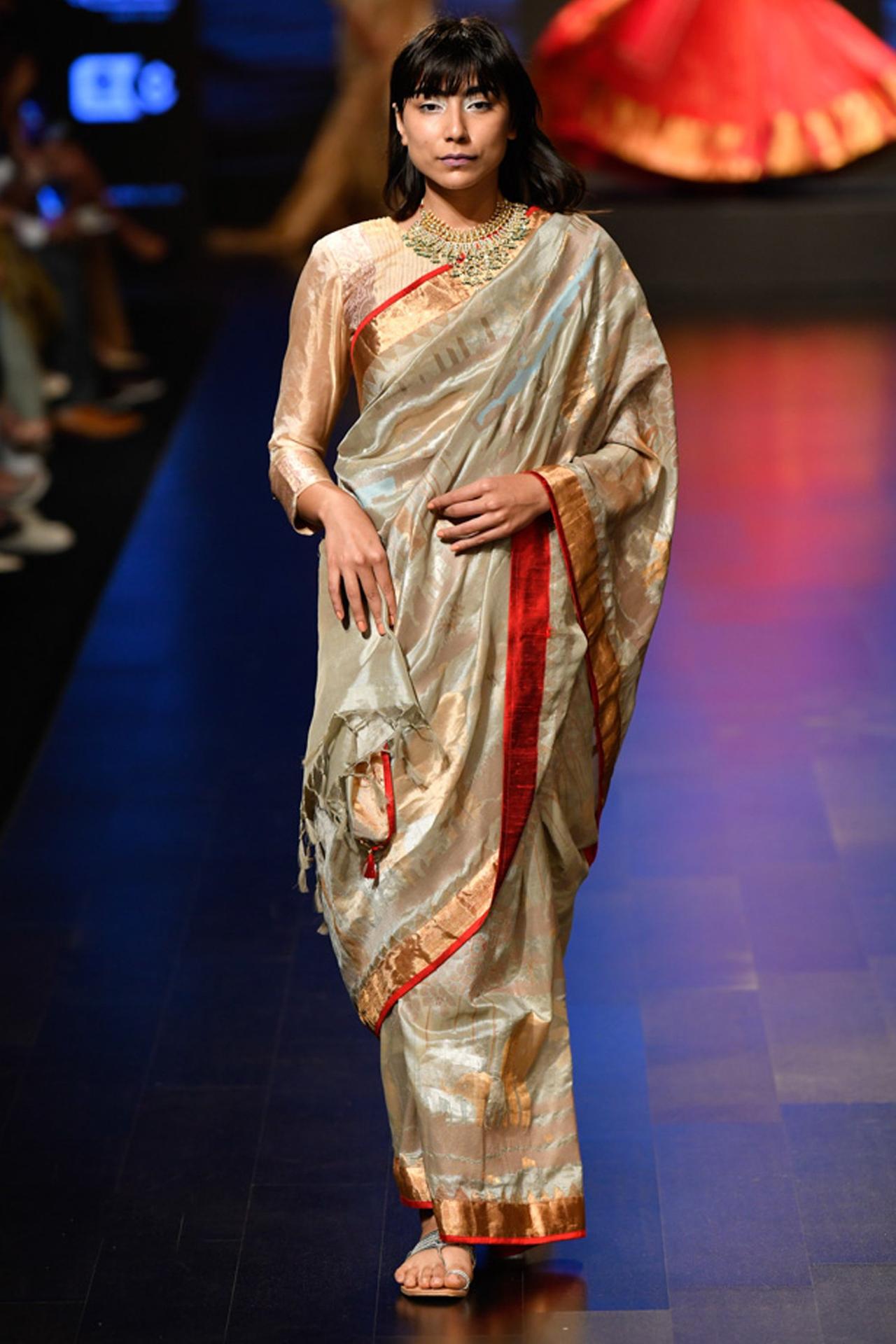 If you prefer to wear lightweight yet dressy sarees, get a silk saree with jamdani weave. When translated, jamdani means flower and vase respectively, which describes the rich work on this saree. This grey saree has the motifs all over it, inspired by forests and its elements. Pair it with a golden blouse and let the contrasting details of red and blue work their magic. We recommend wearing Polki jewellery with this saree.
Silk Saree With Gota Patti Embroidery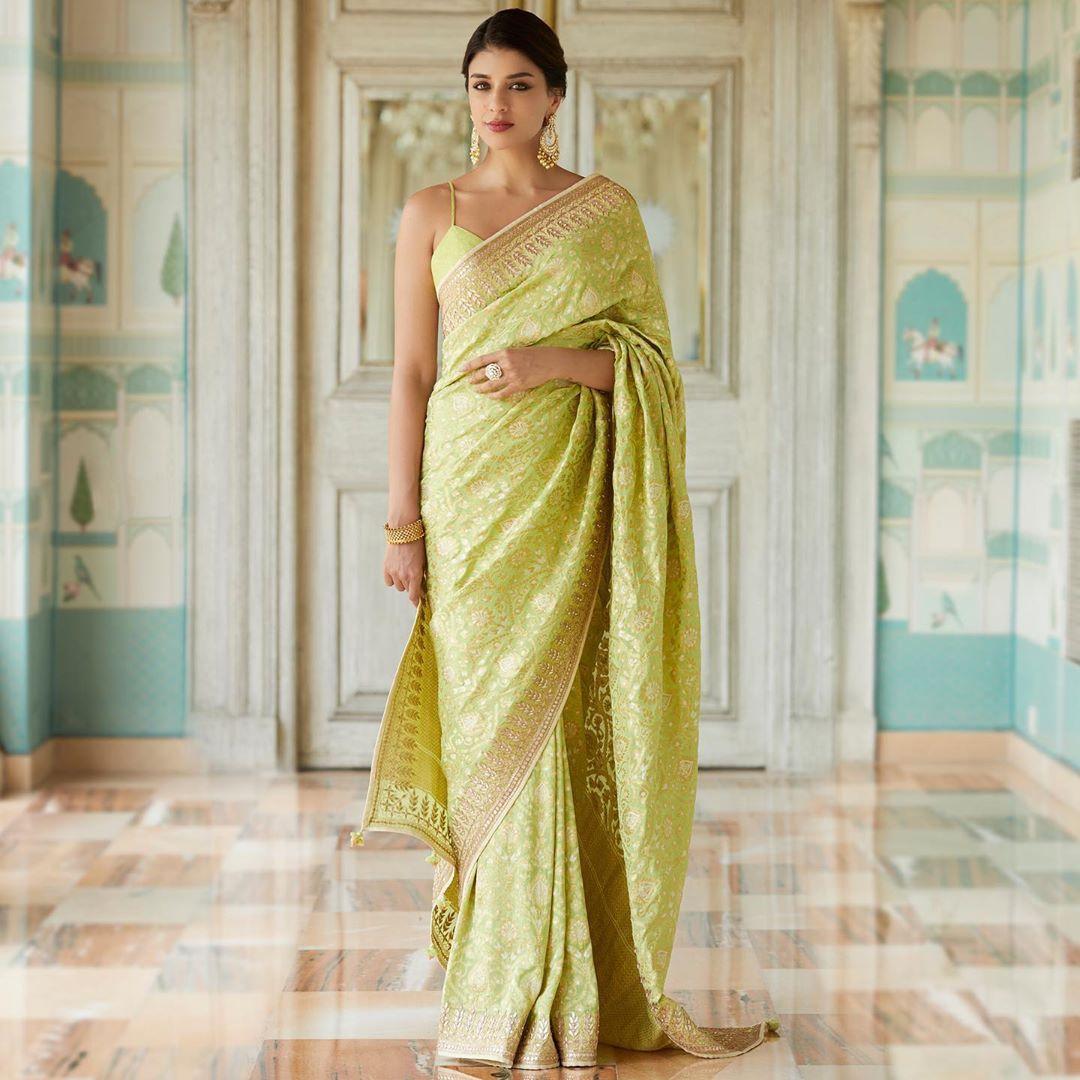 When it comes to finding the latest silk saree designs, a lot of us refuse to experiment in terms of colours. But, here is a colourful masterpiece that appears more like poetry and less like a saree. This lime green Banarasi silk saree comes adorned with traditional Rajasthani Gota Patti embroidery work. Since the saree is a statement in itself it does not require too much jewellery and yet is a perfect pick for your own engagement or reception.
Minadaar Jaal and Karhua Silk Saree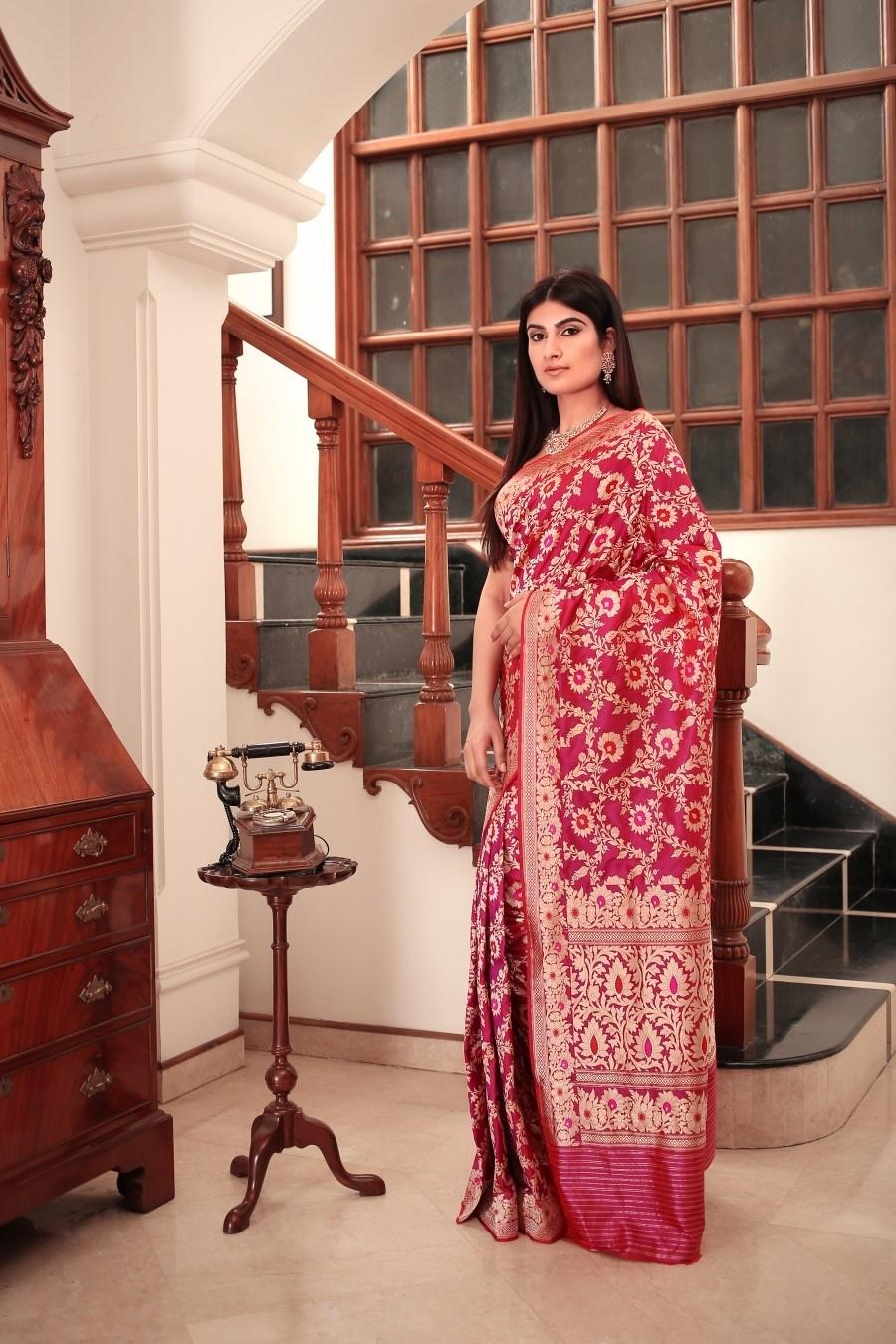 Image Courtesy: Oh Fab
If silk means magnificence to you, take a look at this peachy-pink saree. You can see an abundant use of Minadaar Jaal and Karhua weaving technique all over the saree. The creation of such latest silk saree designs takes over two months and requires a dedicated craftsman for a uniform design. You'd be surprised to know that this saree was made with 100% mulberry silk as the base and has over 40% silver zari embroidery.
Jacquard Weaves Red Silk Saree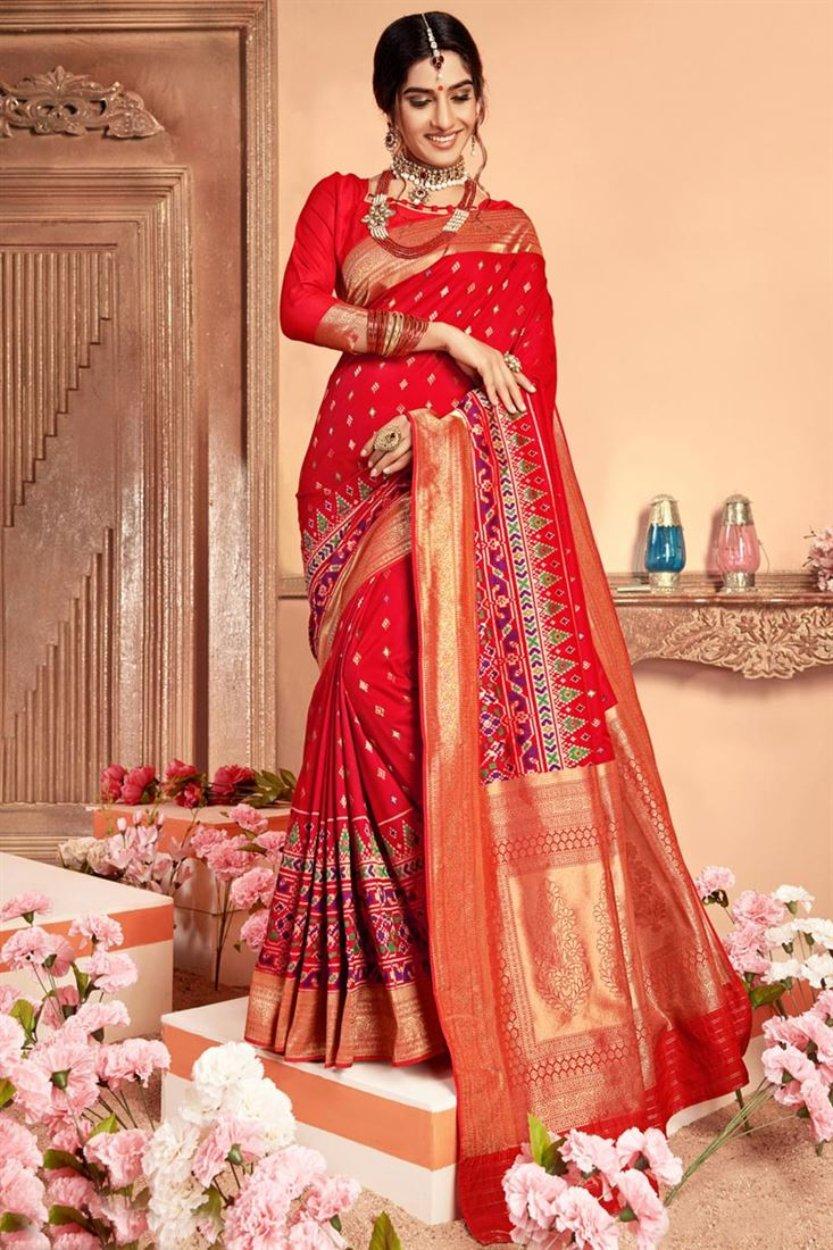 Image Courtesy: Sarees Bazaar
Damask, floral and geometric motifs give beauty to the jacquard weave in latest silk saree designs. This red saree has been designed using the same pattern but the unique use of colours throughout the saree keep it attractive. A newly-married girl wearing such a classic saree could take anyone's breath away.
Silk Saree With Hand-embroidered Flowers
For your bridal trousseau, choose the unconventional route by picking a cream coloured saree. This one features hand-embroidered flowers in patterns inspired by nature. We love its styling with a complementing light green coloured silk blouse and an open pallu. You must check out the latest silk saree designs like this one if you are not a fan of traditional motifs in predictable colours.
Sabyasachi Red Saree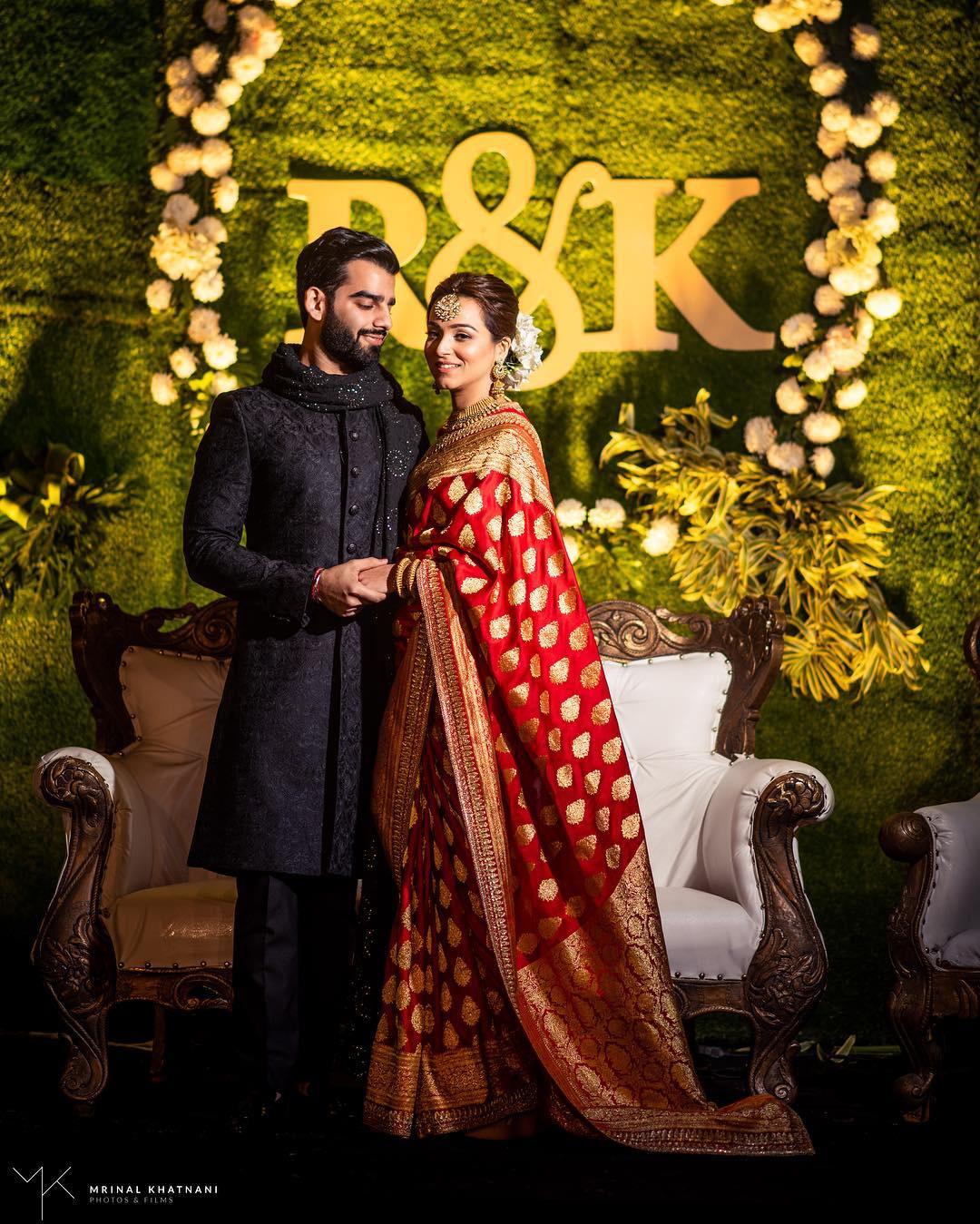 When talking about silk sarees, specifically Banarasi silk sarees, how could anyone leave out Sabyasachi Mukherjee's timeless creations? Seen on many Bollywood celebrities over the past few months, this classic saree gains more value when it's paired with a red bindi, sindoor and Gajra. Engagement, wedding, reception - the bride can choose this saree for any of her wedding function without the fear of going wrong.
Golden Kanjeevaram Silk Saree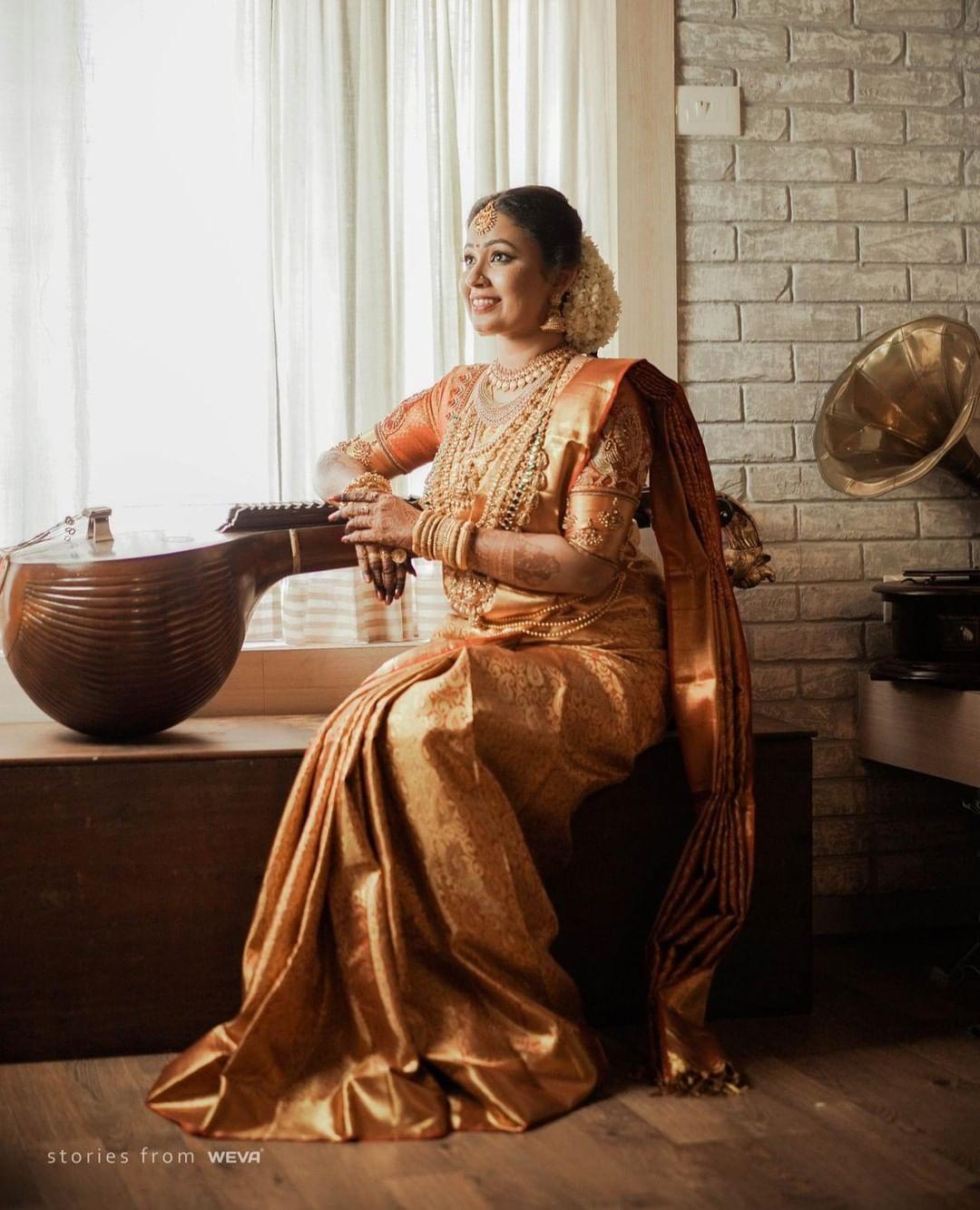 South Indian brides take pride in their silk saree collection and their latest silk saree designs are also worth drooling over. This saree has been crafted beautifully and carefully so that it has paisleys all over it. To not go overboard, this bride has kept the look monotoned. Her gold jewellery and Gajra are giving her a gorgeous bridal appeal. The ways to style this saree are immense, you just need to use your imagination.
Silk sarees are more of a tradition and less of an outfit. The best part is that there are various varieties and styles of the latest silk saree designs that vary in terms of weight, embroidery and lustre. This gives a chance to experiment and take delight in wearing these sarees over and over. Whether you'll be wearing a silk saree on one of your main wedding functions or getting a couple of them for your collection, you won't regret it.
Could you find the latest silk saree designs you were looking for? Tell us which one if your favourite!