9 Kinds of Silk Sarees for Marriage Which Are a Perfect Blend of Tradition and Wonder
Every bride requires a few fundamental elements when she is getting married. Amongst those necessities, your silk sarees for marriage come as a priority.
Building your bridal trousseau can be difficult and confusing. Your bridal trousseau needs to have everything you could imagine which one needs to dress up. You can have everything from western to Indian styles, but you simply cannot skip on your silk sarees for marriage. These silk sarees for marriage come from all over India, and why not when India is world renowned for its silk.
These sarees will not just make your trousseau better in terms of aesthetics. But, you can also add to it a touch of heritage and legacy by including some sarees from your mothers' wardrobe and passing these valued possessions onto your children as well. These silk sarees for marriage are good enough to be worn on your shaadi itself or even when after your marriage you are in need of something extraordinary. So choose from some of the best silks that India has to offer, and curate your own very special trousseau.
1. Chanderi Silk Saree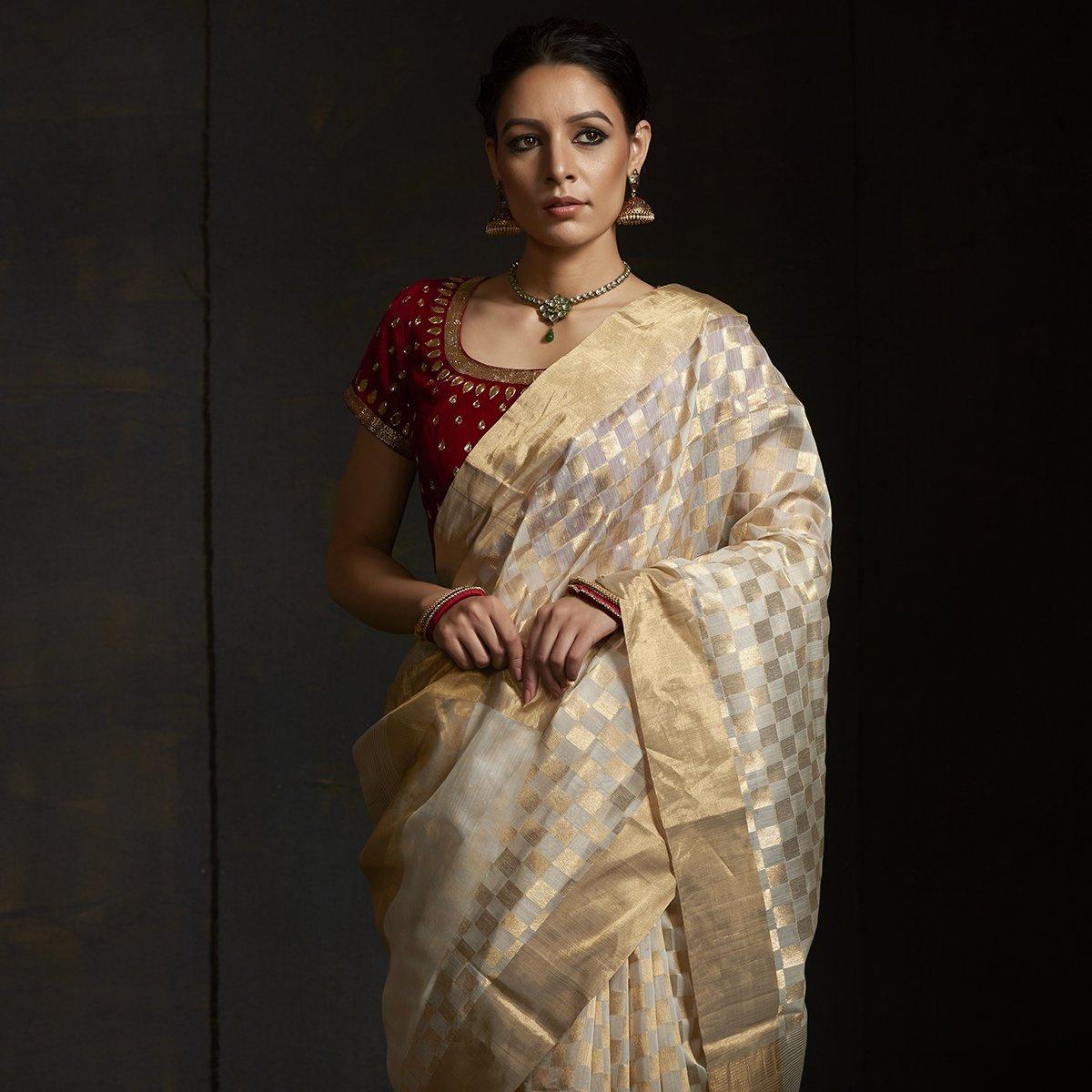 Image Courtesy: Weave Story
The Chanderi silk saree comes from a small town in the state of Madhya Pradesh. These sarees were famous among the women because of its soft light texture and shimmery appearance. It even enjoyed royal patronage at one point, and it does not come as a surprise. It is known for its beauty and softness throughout the nation. Though Chanderi fabrics were and are known for their pastel colours in combination with gold, even bolder colours have become popular in them.
These silk sarees for marriage are perfect for your before marriage functions like the Roka or maybe a small function during your marriage. This saree does not require a lot of accessories to look complete, but you could experiment with a fancy hairstyle leaning on the traditional side.
2. Mysore Silk Saree
This list of silk sarees for marriage, would not have been complete without the Mysore silk saree. This saree is said to be one of the purest forms of silk that you would find. A pure Mysore silk saree is sought after all over because of its quality. This saree is definitely not just a saree, but an investment.
This saree should be worn at a function you can definitely show it off. If you have a south Indian marriage, then the wedding itself is a fine place to don this saree. A Mysore silk saree could be accessorised with a gorgeous Kamarbandh, and bangles that match the saree.
3. Paithani Silk Sarees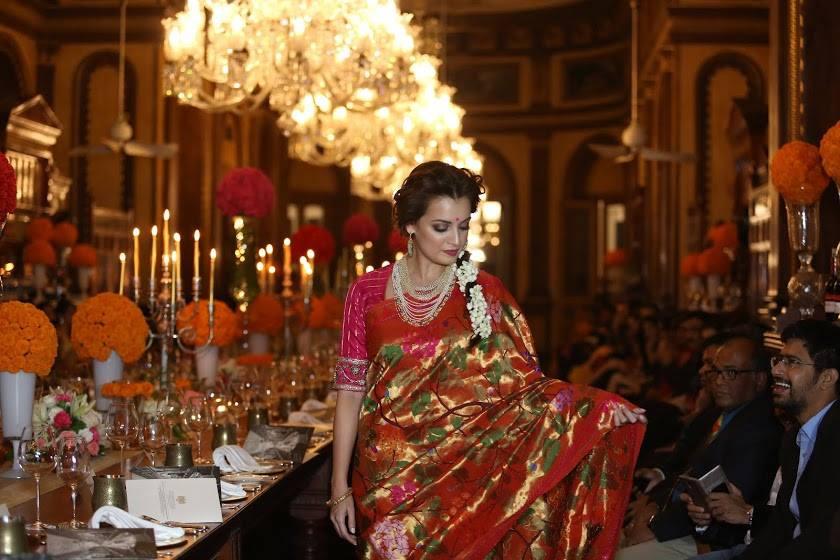 This saree holds a special place in every Maharashtrian bride's heart. It should be counted in your list of silk sarees for marriage. These sarees, have a combination of both silk and gold zari in them. Though these sarees can only be found in the basic colours, this is just one way to tell that they are naturally dyed.
A Paithani sarees highlight is its pallu and border, so make sure to have a loose pallu while wearing it. You can wear it for the sangeet or the engagement. It can be paired with a layered necklace and matching earrings. (IMG-Gaurang-Paithani-silk sarees for marriage)
4. Kanjivaram Silk Sarees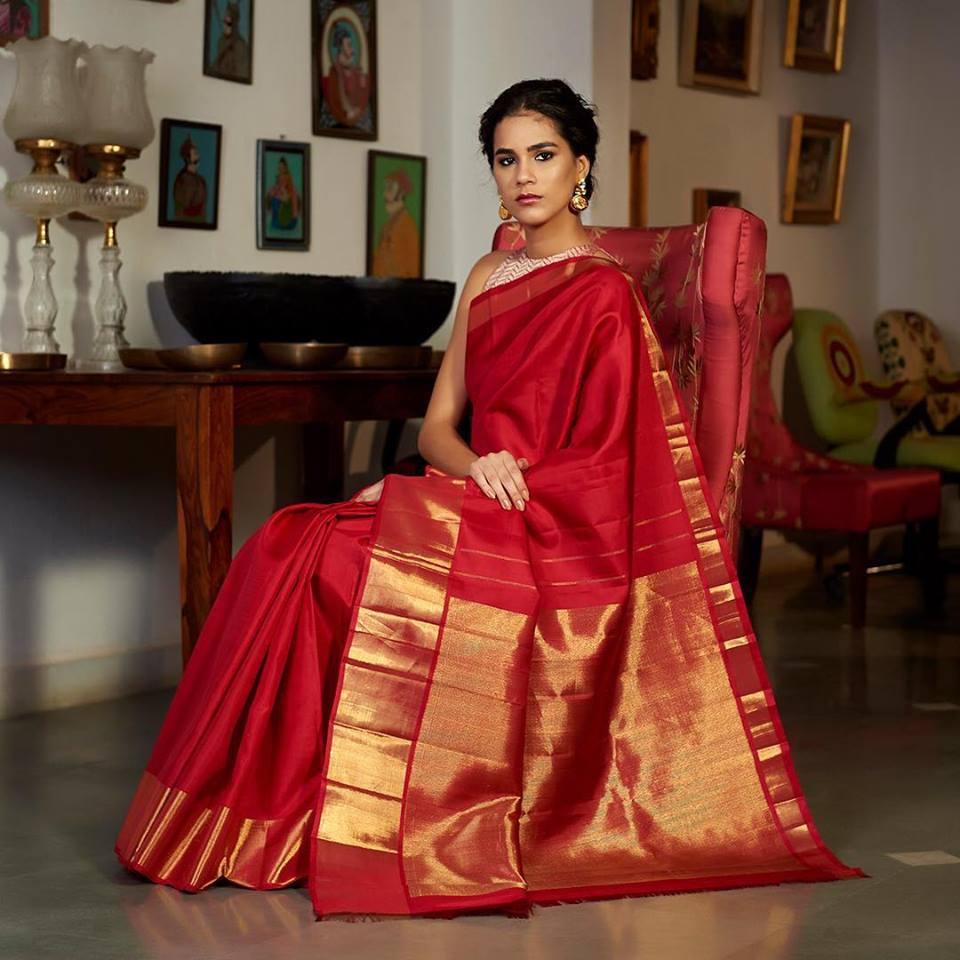 Image Courtesy: Weave Story
The Kanjivaram silk saree is perhaps one of the better-known names when it comes to traditional silk sarees. So much so that skipping it, on a discussion of silk sarees for marriage is blasphemous. These sarees are known for their vibrant colours and designs. These silk saree for marriage are the just the thing her bride needs to add to her trousseau to make it timeless.
These sarees are immensely popular among South Indian Brides for their marriages and is a given in south-Indian wedding traditions. Brides from other parts of India favour it for a big reception. Gold jewellery is the perfect thing that you can wear with this saree to complete your look.
5. Mashru Silk Saree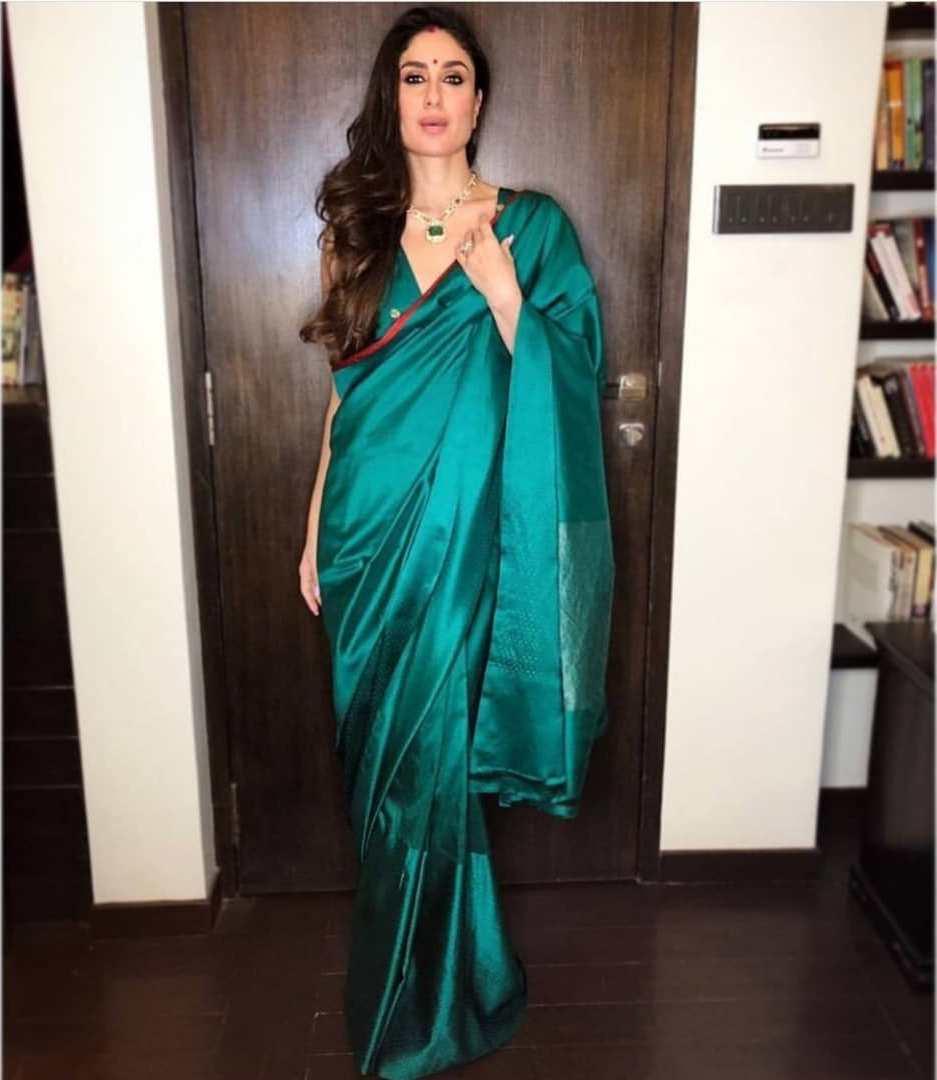 Image Courtesy: Raw Mango
Mashru silk saree, is not a pure silk saree, rather a mixture of cotton and silk in equal parts. This can be an advantage to those who do not want to spend too much on their silk sarees for marriage. Still other than that Mashru silk sarees come in vibrant colours and vivid designs. These sarees are also more durable than other pure silk sarees.
You can save this saree for small functions after your marriage, and maybe adorn it with a simple but elegant necklace, and dangling earrings.
6. Patola Silk Saree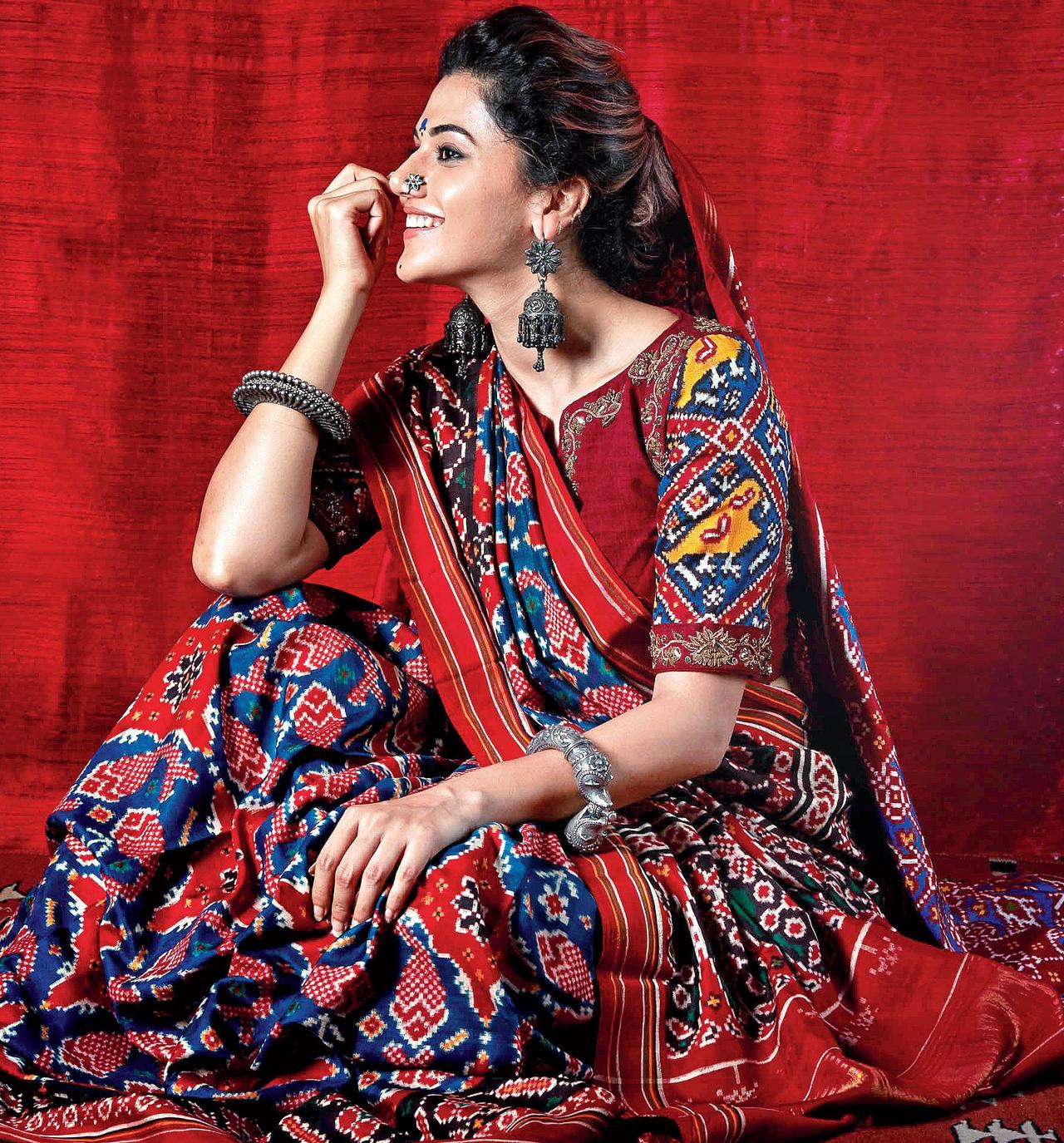 These silk sarees come from Gujarat. Patola sarees are double ikat sarees, which can take up till 6 months to weave. They can easily be recognised by their motifs and prints. Since they are naturally dyed, an original patola saree would only come in some basic colours.
This saree will definitely help you make a statement at any important function, like the reception. You can wear more traditional jewellery so it blends in or something in total contrast to the traditional vibe of the Patola saree. (IMG-Gaurang-patola-silk sarees for marriage)
7. Tussar Silk Saree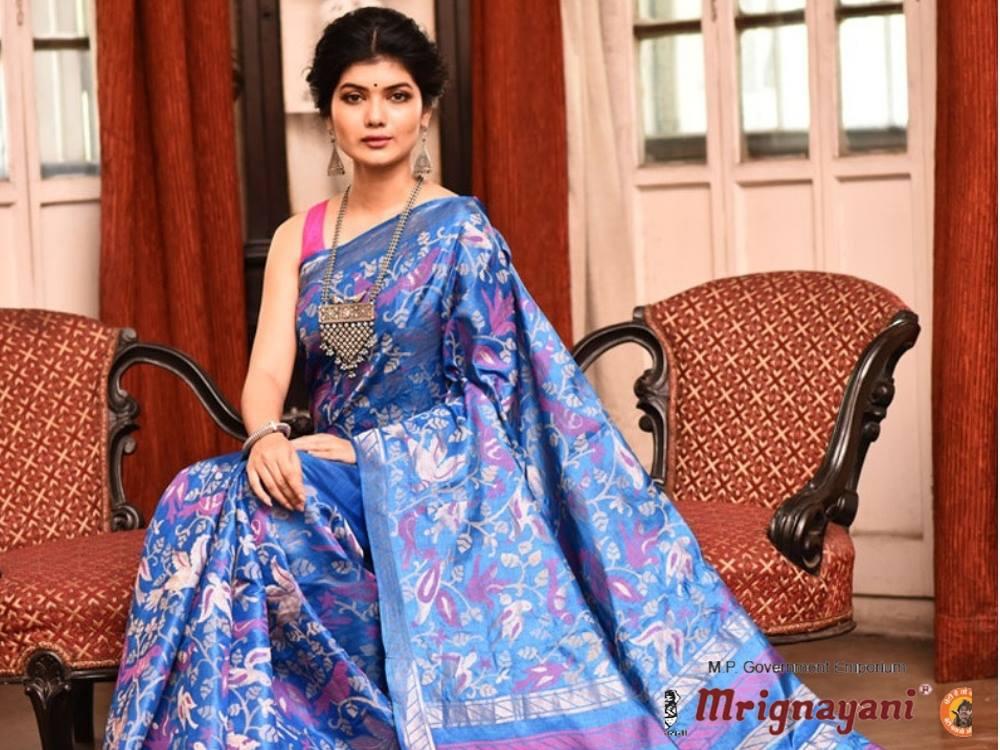 Tussar silks speciality is that it has a dull gold sheen to it, which works very well for Indian wedding clothes. Also, this silk is more textured than most mulberry silk clothes, so it adds a depth to the Tussar silk cloth. It can be a good addition to your silk sarees for marriage because of how different it looks and also its affordability.
Tussar silk can be worn for your smaller functions, you can also adorn this saree with a pair of contemporary earrings if you like.
8. Banarasi Silk Saree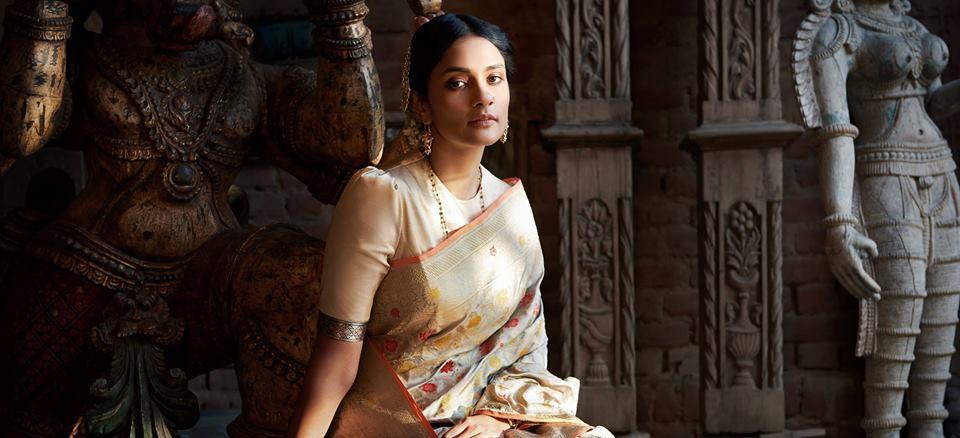 When we talk of silk in India, it would be pretty impossible to miss a Banarasi silk saree. It is one of the most famous types of silk sarees for marriages, and not just in its own region but all over India. It is also one of the oldest sarees weaved, so there is no debate as to if this should be in your trousseau or not. The brocade of this saree is made with zari technique which is one of the things that makes them so famous.
The motifs used in Banarasi silk sarees have changed over time even though a number of them are still used popularly. Wear an original Banarasi saree to a function like reception or engagement, as people recognise quality. To complement the saree, wear heavy jewellery, like big chokers.
9. Pochampally Silk Saree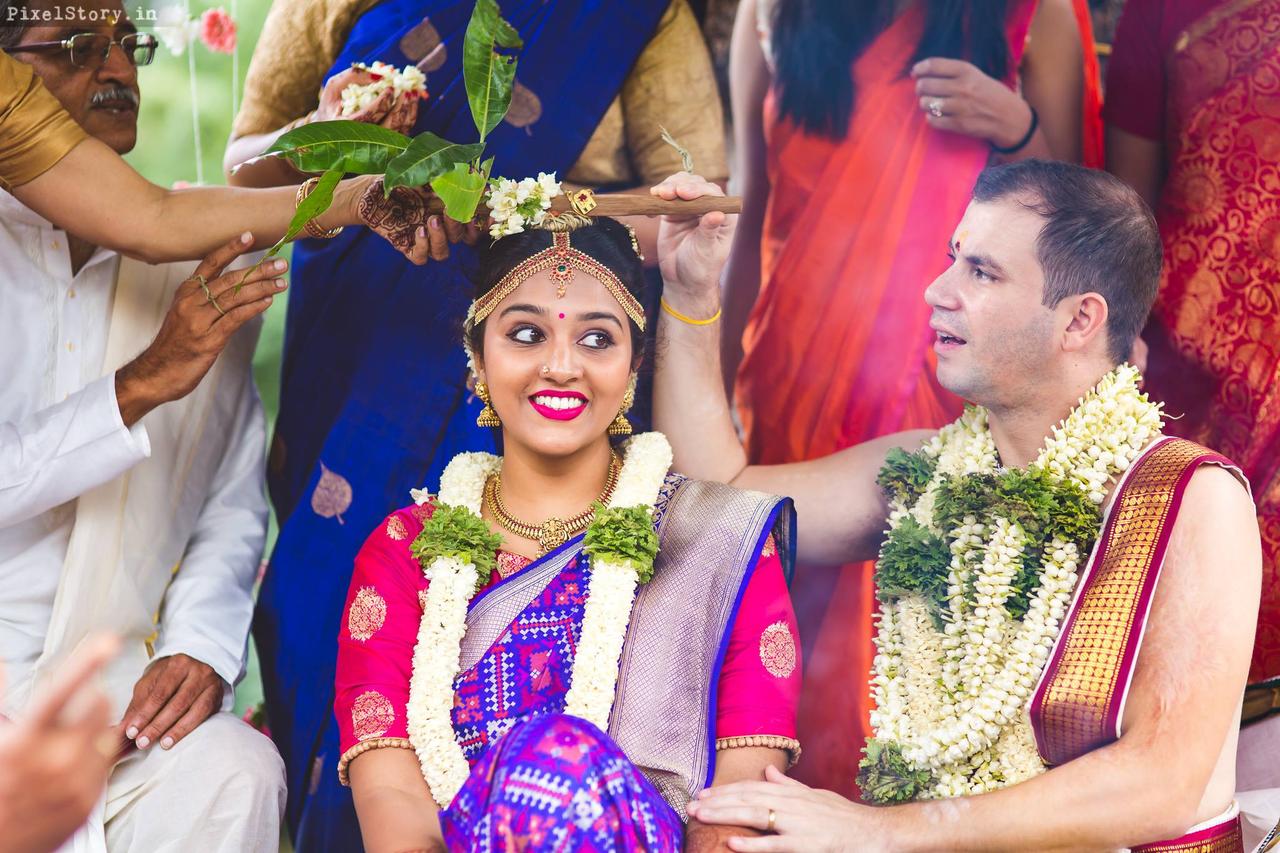 Pochampally silk sarees are also a double ikat weave saree, these weaves are a tedious process to create and that is what makes them so unique and special. Another thing that makes these sarees so unique is the geometric patterns that these sarees have.
These sarees are lightweight and comfortable, so they can be worn almost at any function, as they are flavourful too. These sarees can be worn with light gold jewellery as it complements the saree perfectly.
These are the silk sarees for marriage one should have or at least look into when one is building their trousseau. There are other silk sarees like raw silk, Baluchari or even Kota silk that can also be kept in mind at this time. All these sarees are not just a part of your trousseau but also reflect the different cultures in our country.
Which one of these silk sarees for marriage is the one that your heart wants?