125+ Gown Designs From the Wonder Palette for the Season-specific Picks
Looking for the perfect gown design for your wedding? Well, check out this list of gorgeous gowns that brides and bridesmaids flaunted for the wedding.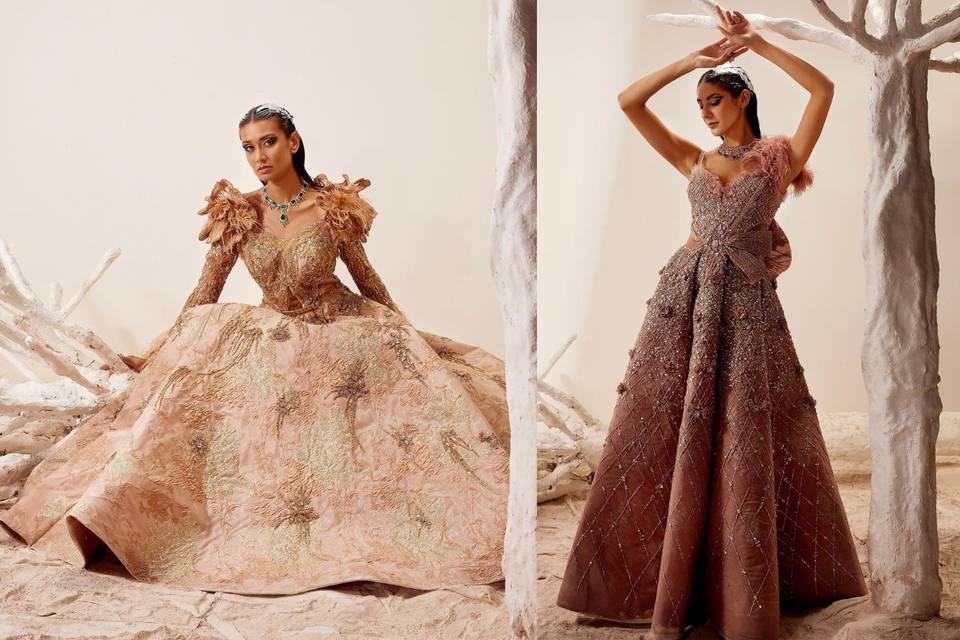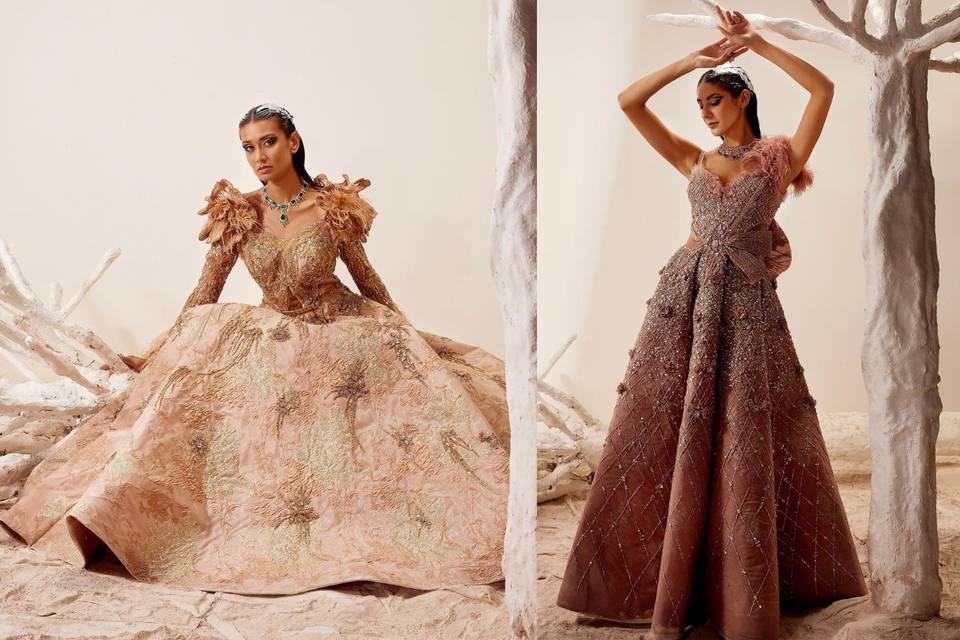 Image Courtesy: Adaara Couture
Indian weddings call for a stunning bridal trousseau which the bride and her loved ones spend months curating. From visiting the narrow bylanes of Chandni Chowk in New Delhi or Banjara Hills in Hyderabad to pick out the best bridal lehenga colour to exploring the stunning designer stores of Shahpur Jat for your princess dress, choosing vibrant designs from Johri Bazaar to picking out the elegance in Sowcarpet, a bride has to look perfect for all her wedding functions. While you choose to wear the traditional attire for the rest of your wedding functions, a few celebrations like your Cocktail party or Reception night call for something different from the conventional trends. How about a magnificent ball gown with an imperial trail that makes you feel nothing less than a princess?
This article is for our brides who wish to stick to the season-specific colour palette when it comes to choosing their gown designs. Apart from choosing the season-specific colour palette, the gown design they pick must also be something that raises eyebrows and makes them feel bride-like.
In this article:
4. Latest Wedding Gown Designs
From cut to style, colour to shade, and fabric to fall, make sure you look through everything before zeroing down on what you really want. So here's a list of our favourite gown designs that are sure to give you some good choices and help you pick your outfit for the big day.
Latest Gown Designs
Sheer Black Western Gown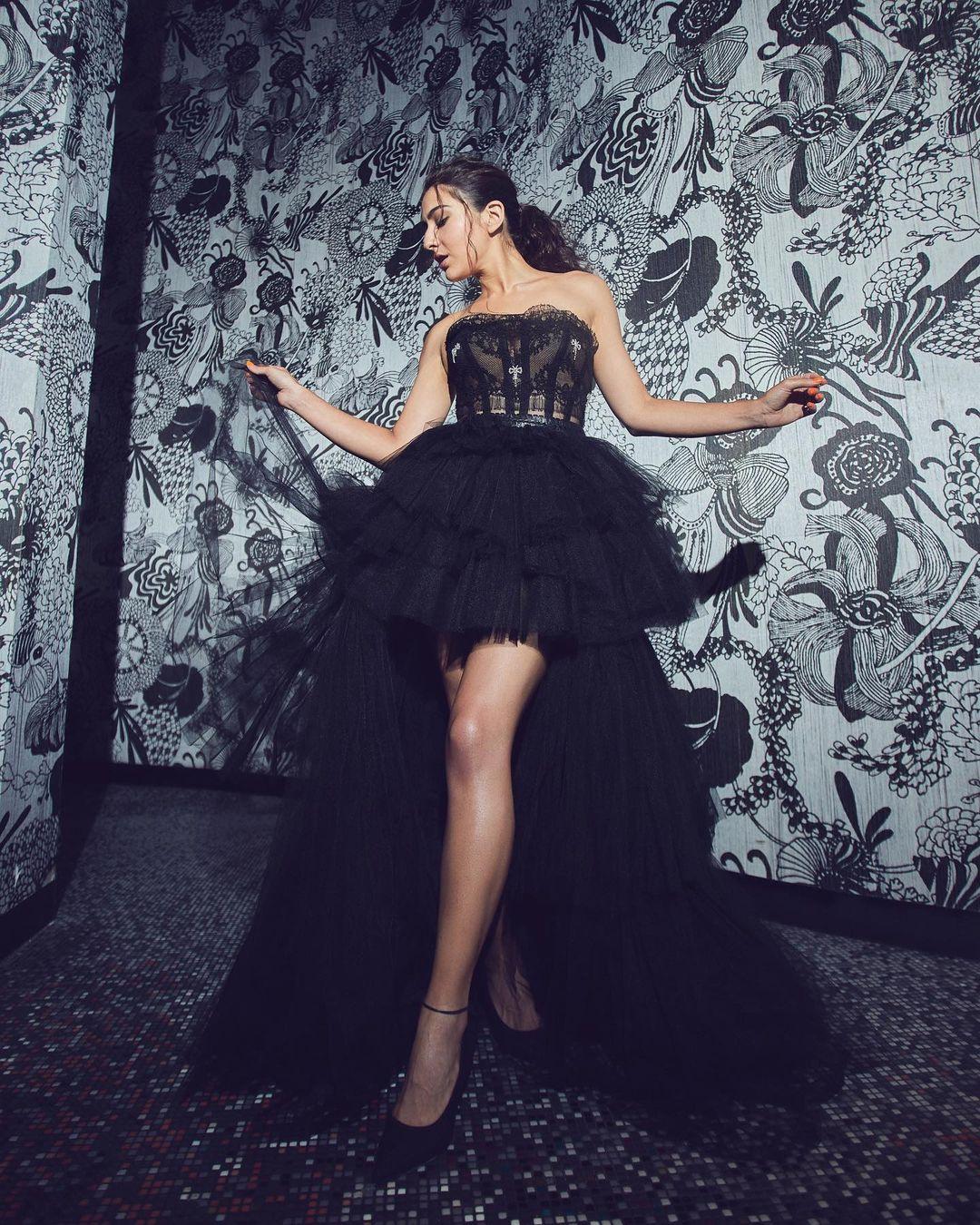 Image Courtesy: Aadnevik
Looking for some of the latest gowns to wear on your wedding festivities? Take a cue from this stunning gown design worn by Sara Ali Khan for stunning celebrations. The stunning flowy gown has a sheer bodice that will look perfect for your cocktail function or reception ceremony.
Top Wedding Gowns and Bridal Lehenga Stores
Gorgeous Red Gown Picture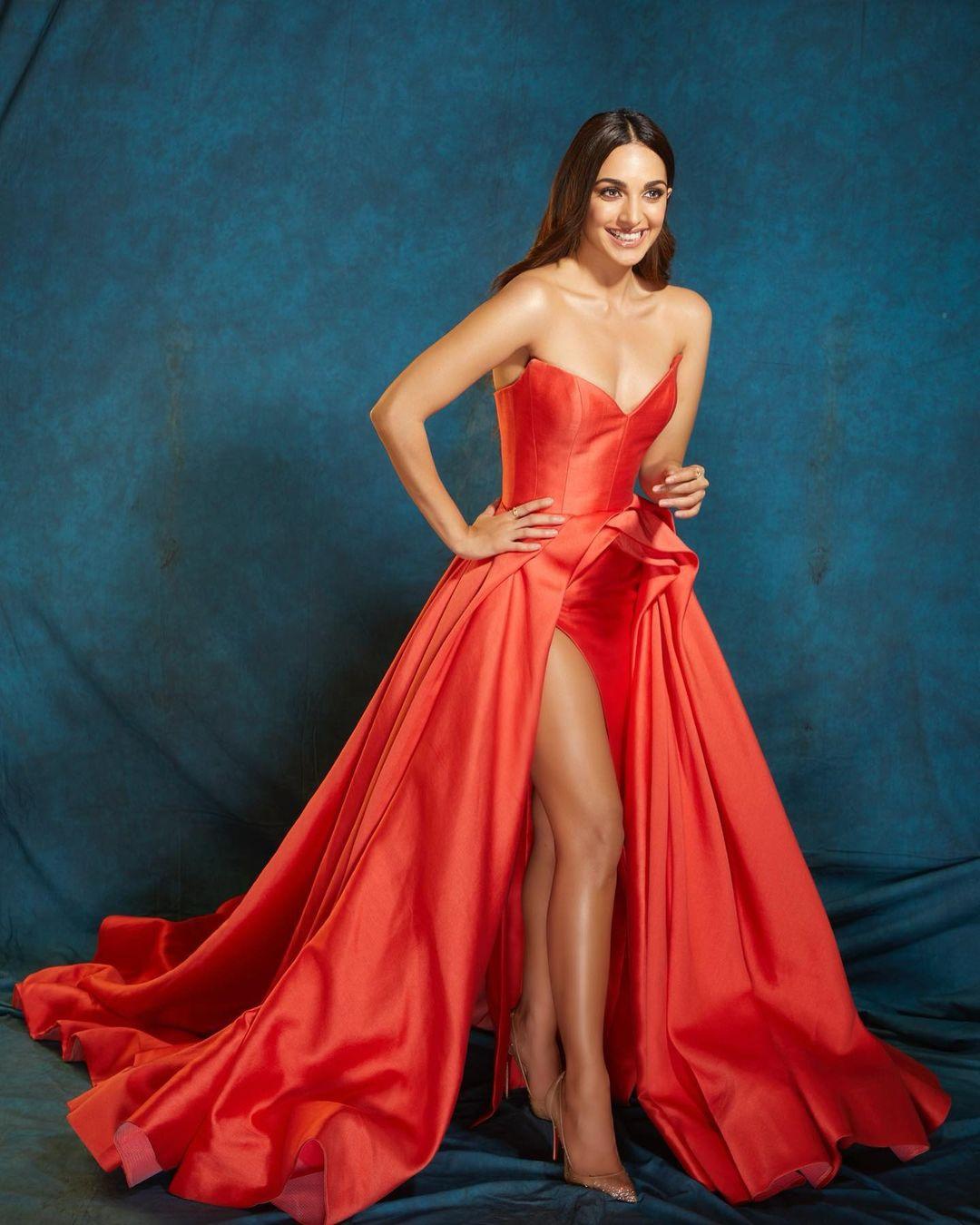 Image Courtesy: Kiara Advani's Instagram
One of the latest wedding gown designs to bookmark on your list for your wedding trousseau is a gorgeous gown design worn by Kiara Advani. With a corset bodice, it has a beautiful flowing gown that will slay the floor for your wedding festivities.
Pastel Dream Beautiful Gown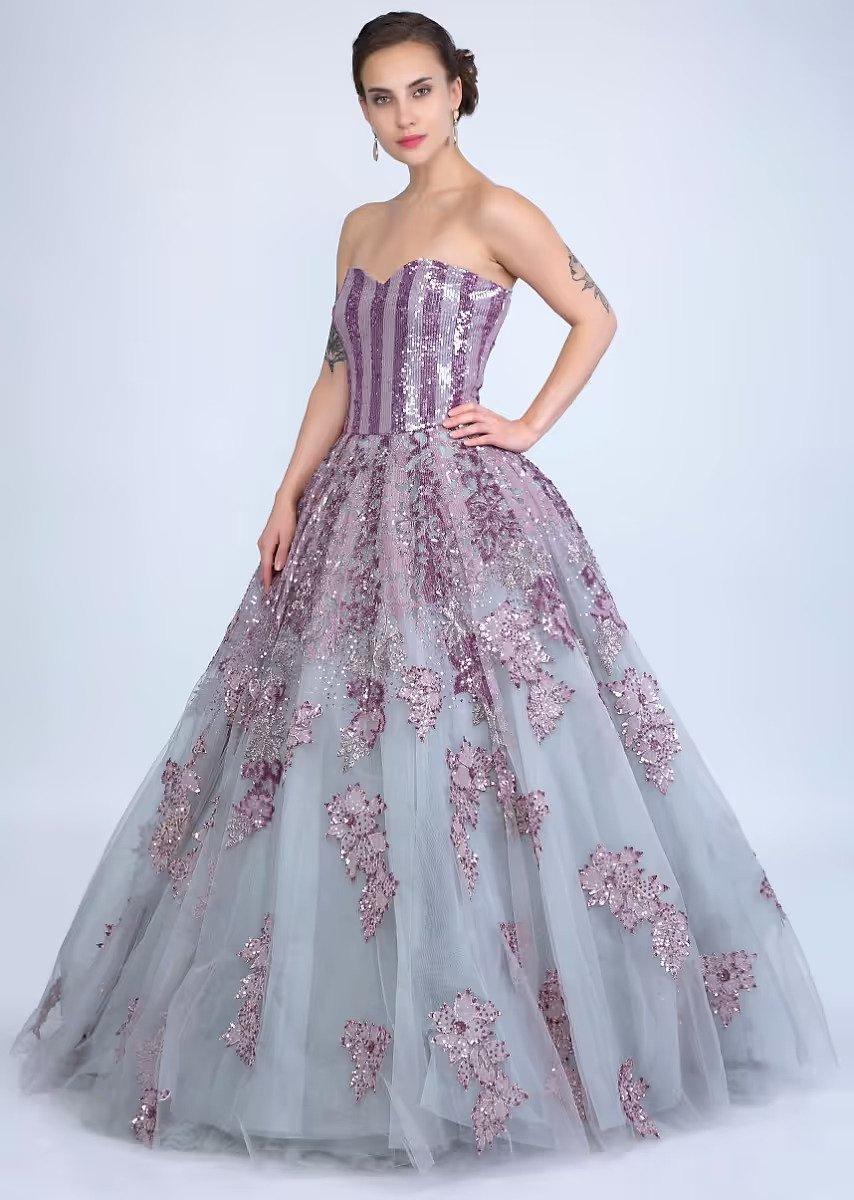 A beautiful combination of blue and pink makes a perfect pastel gown design that you have to add to your bridal collection. The bluish-grey strapless corset-style gown flows in multi-layers of the net and has a bodice adorned with alternate sequins that work in shades of mauve. This beautiful gown from Kalki Fashion has a gorgeous off-shoulder top that will be perfect for any of your wedding festivities.
Scarlet Gown Design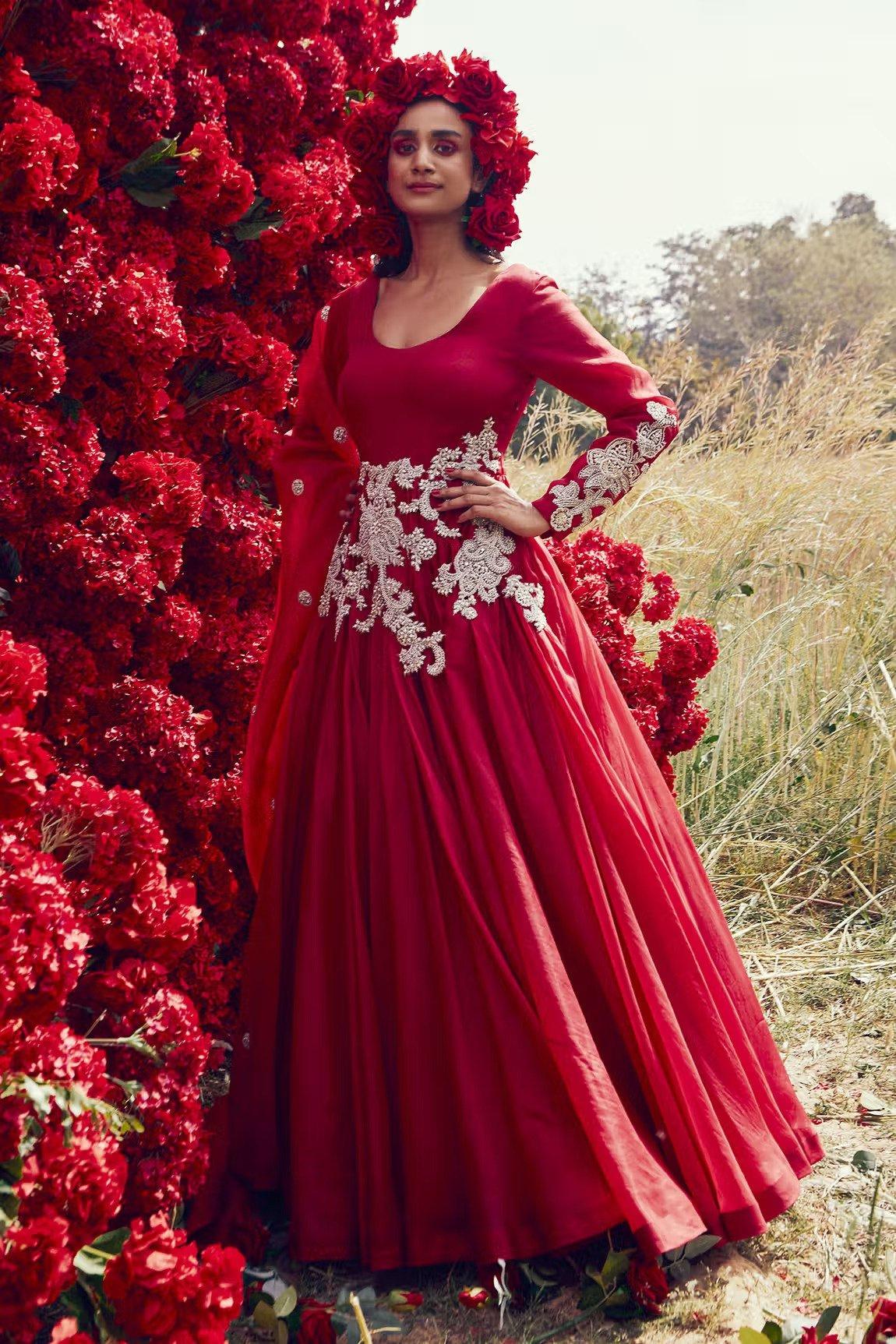 Wish to look your best for your post-wedding festivities? Take inspiration from this elegant Indian gown design by Bhumika Sharma. The V-neck gown design is encrusted with zardozi, pearl, sequin, dabka and mirror embroidery.
Green & Gold Gown Design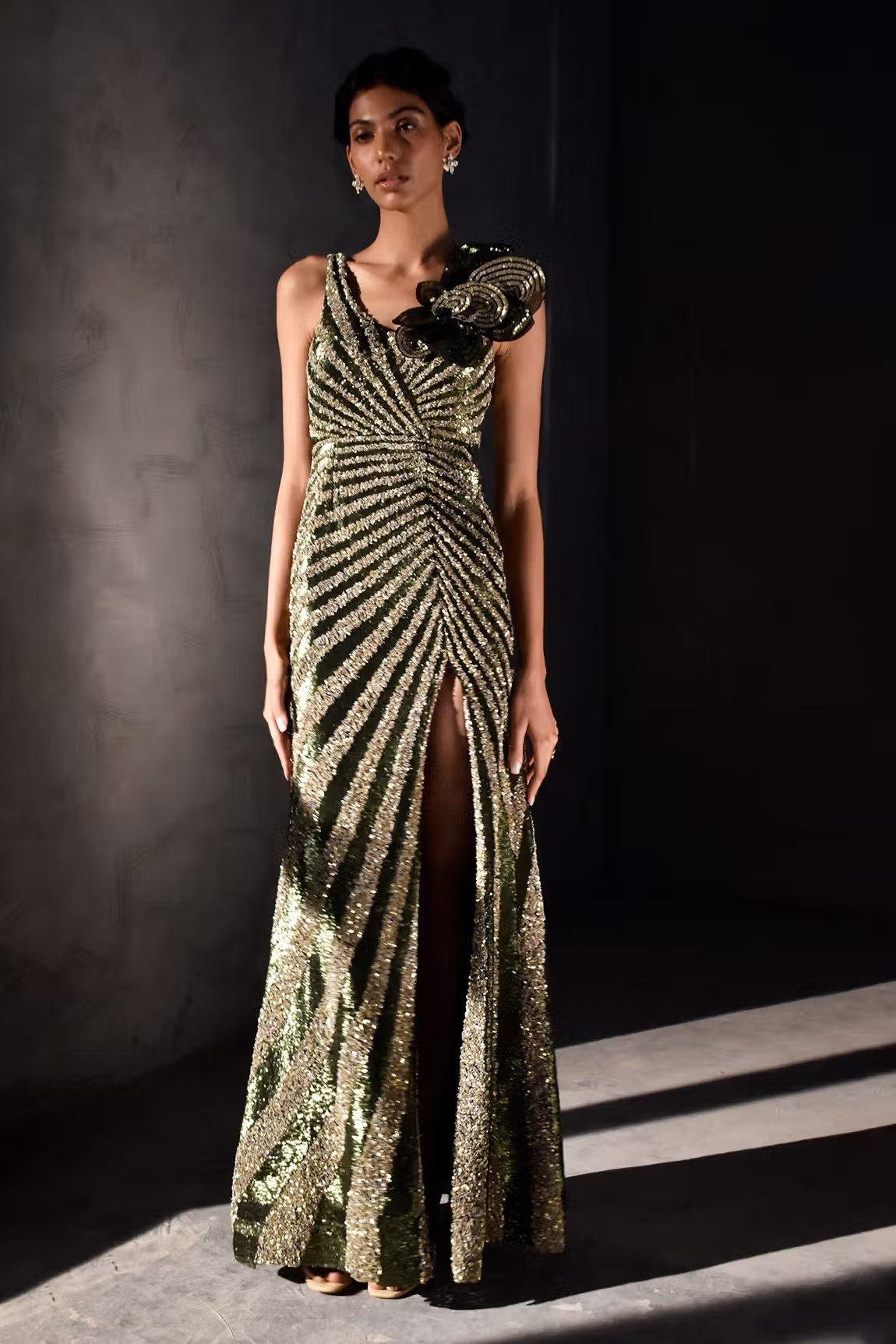 Wish to wear a western gown design for your Indian wedding ceremonies? You can choose this lovely gown design by Geisha Designs with a green and gold gown with sequin embroidery in a striped pattern, a handcrafted 3D floral motif on the shoulder and a thigh-high slit in front.
Latest Gown in Peach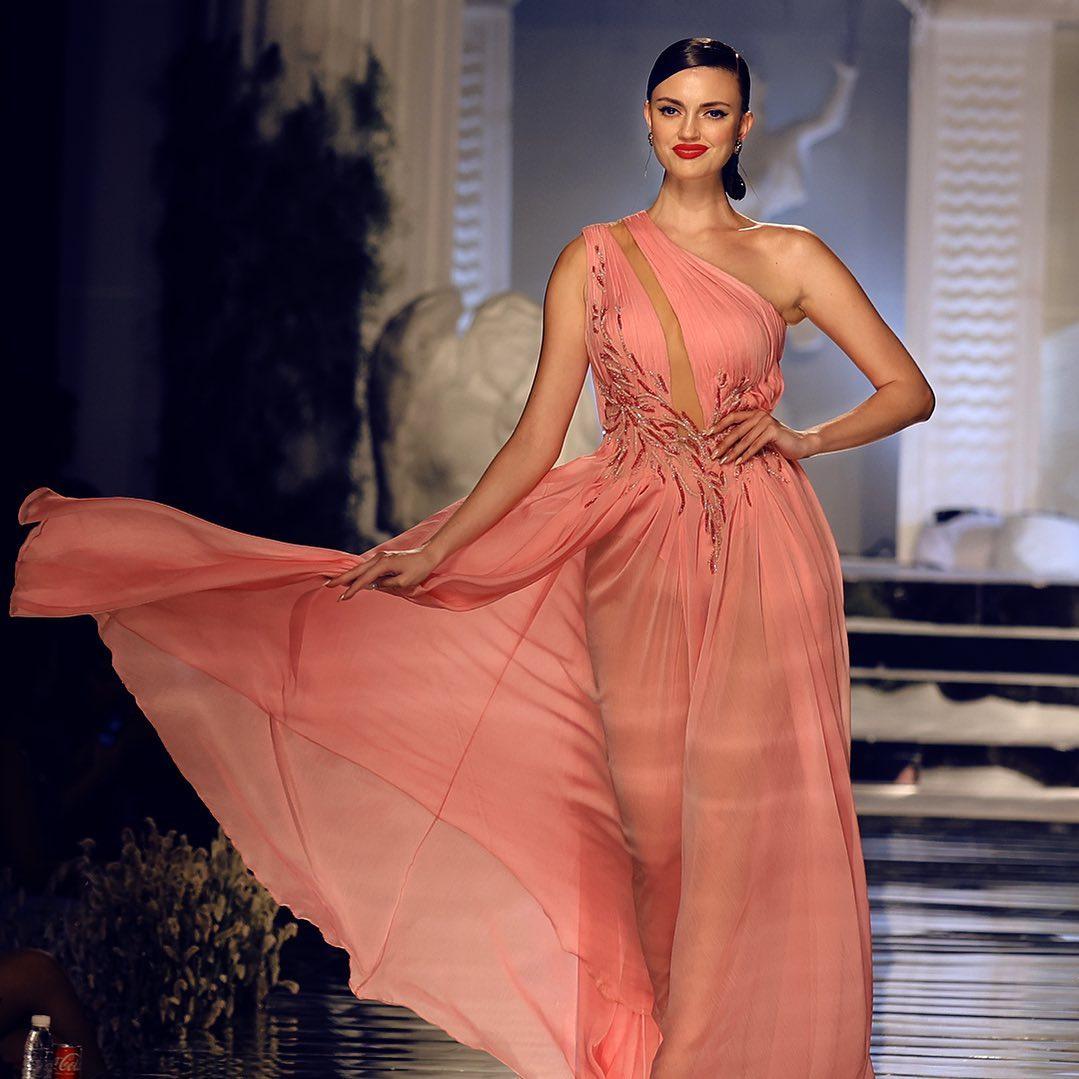 Image Courtesy: DL Maya
This floor-length pink gown design offers a flowing marvel that is ideal for leaving a lasting impression with its plunging neckline, feather designs, and silver sequins. This stunning gown design by DL Maya will be perfect for your elegant celebrations.
Gold-Panelled Gown Design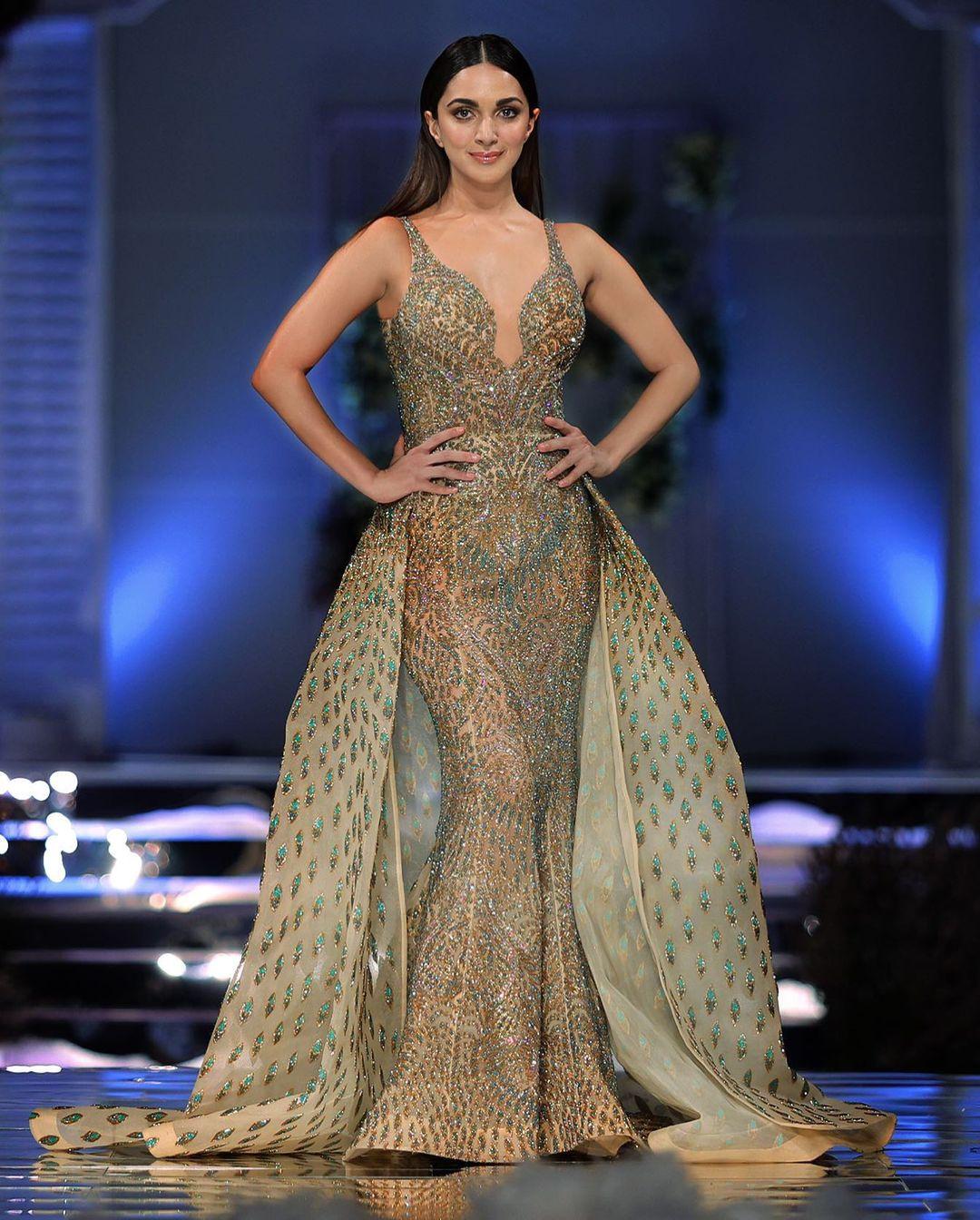 Image Courtesy: Kiara Advani's Instagram
Looking for a gorgeous panelled gown collection from the latest gown designs? Take a cue from this beguiling golden net-encrusted gown with a plunging neckline worn by Kiara Advani graced the runway for the launch of our latest red carpet collection, 'Tapis Rouge'.
Red Ruffled Gown Design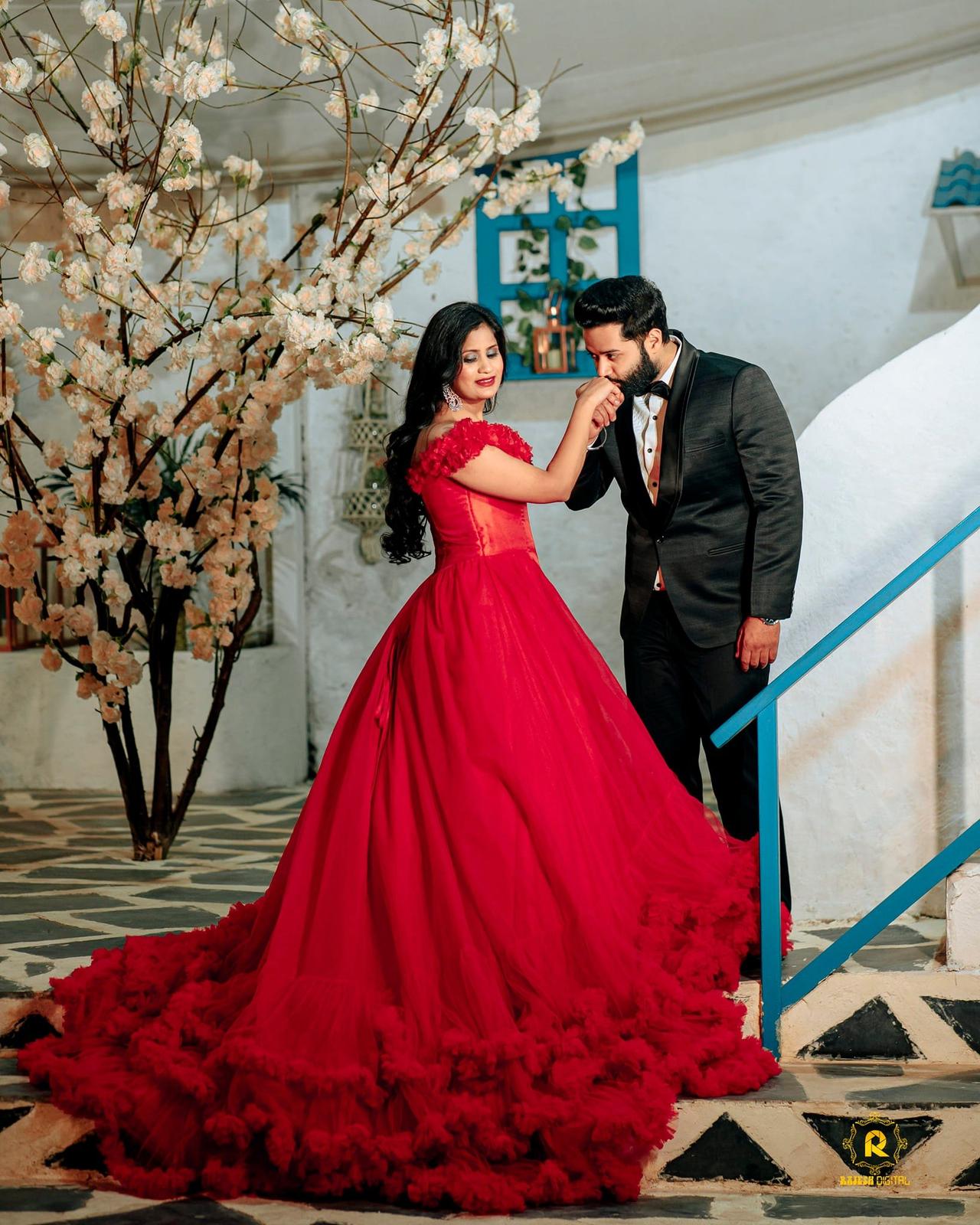 Look nothing less than a princess at your wedding festivities, adorning a gorgeous red princess gown for your wedding festivities. You can wear this stunning ensemble on any of your wedding celebrations, or it can make a perfect and elegant outfit for your pre-wedding shoot ideas.
Lilac Princess Indian Gown Design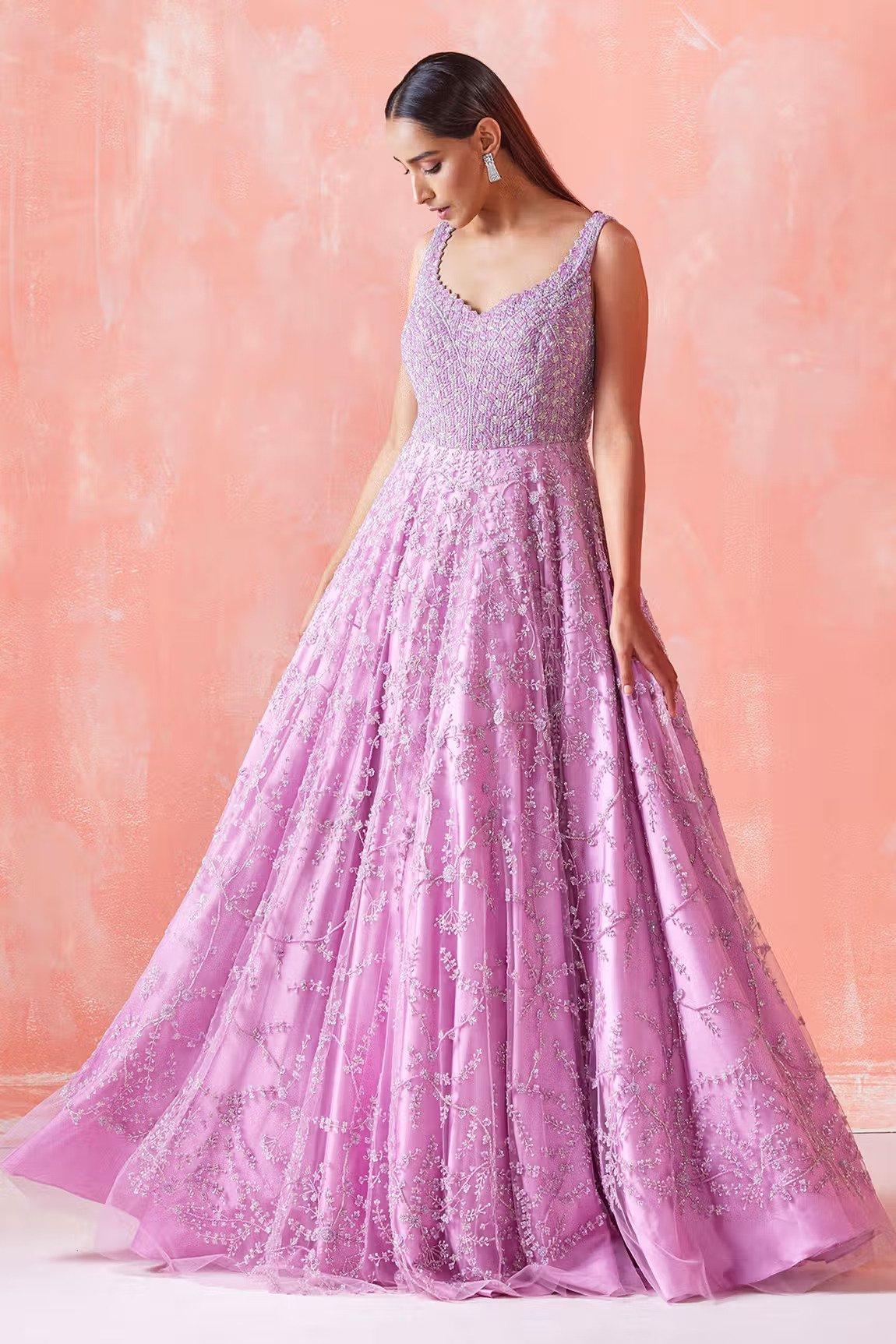 Image Courtesy: Mirroir
Pastel pink sleeveless gown design with silver sequins and embroidery and Bugle beads with a leaf neckline from Mirroir label will be a perfect pick for your Indian gown design collection.
High Slit Gold Western Gown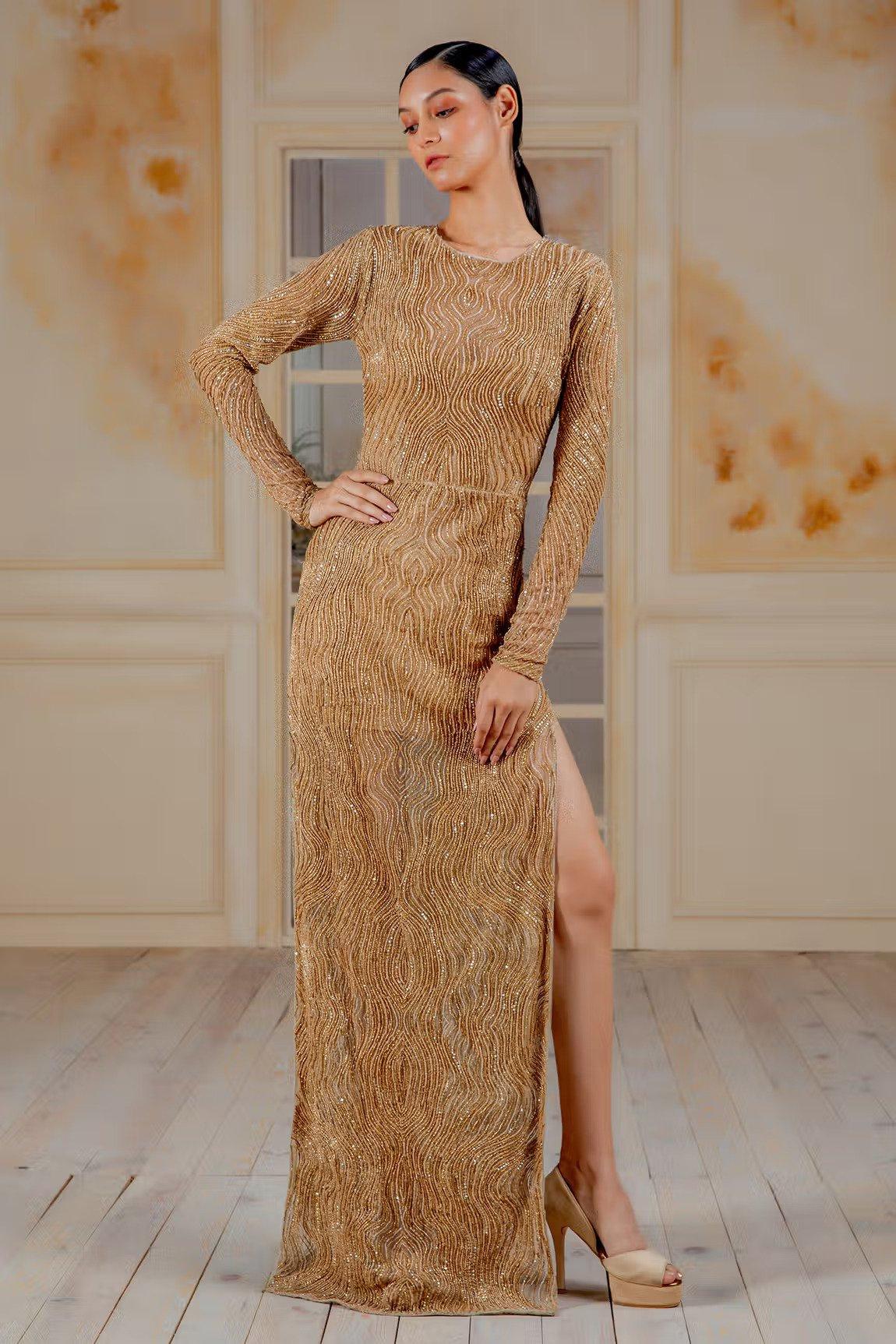 Image Courtesy: Siddartha Tytler
Look nothing but the best with this stunning western gown design by Siddartha Tytler. The gorgeous gold net embellished slit gown design is embellished with hand-embroidered zari, pearls, and beads - crystal with a thigh-high slit.
Tangerine Latest Wedding Gown Design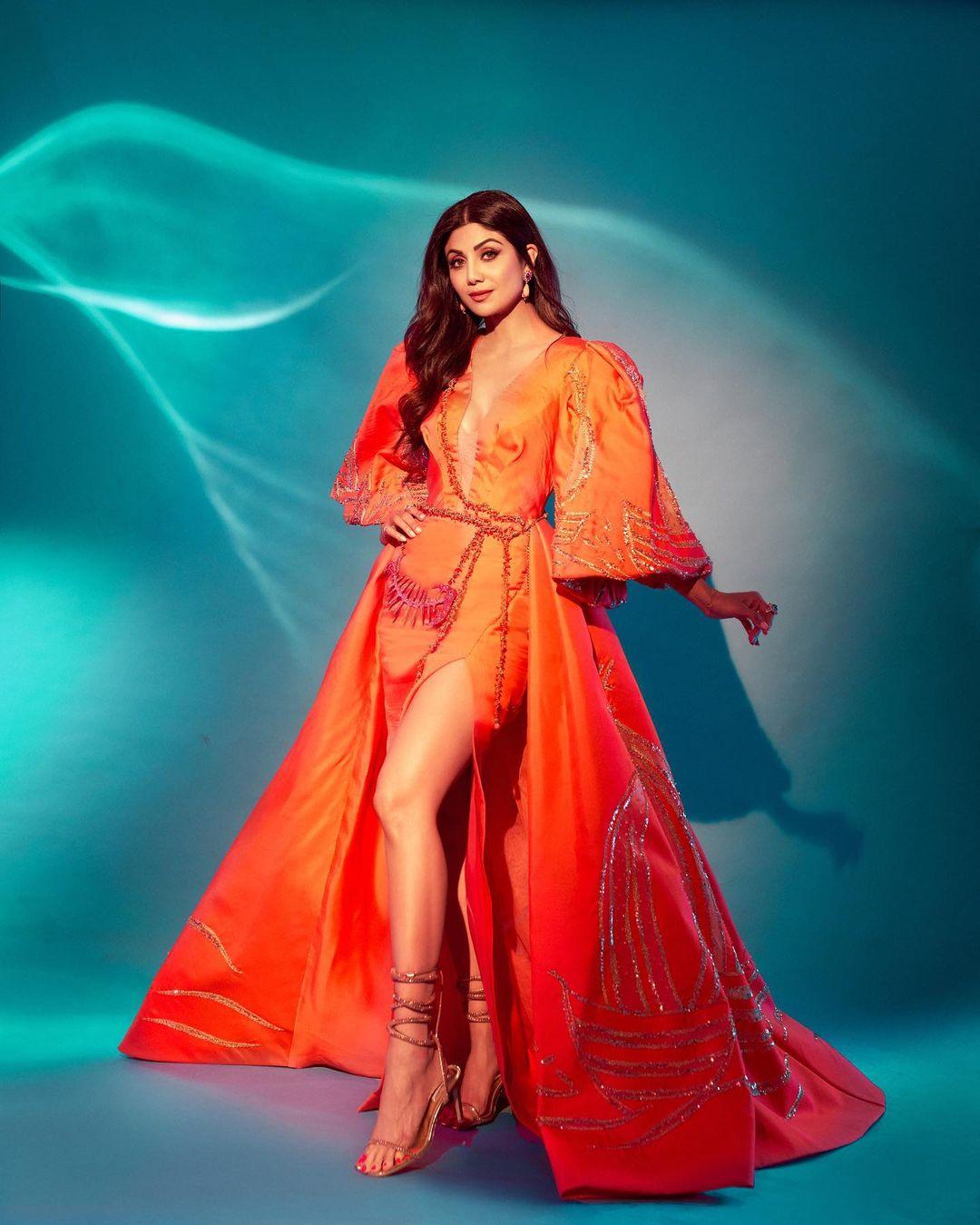 Image Courtesy: Shilpa Shetty Kundra's Instagram
Look brighter than ever for your wedding festivities by adorning this gorgeous and flowing panelled ensemble flaunted by the gorgeous Shilpa Shetty. With belle sleeves, a plunging V-neckline, and a thigh-high slit, the gorgeous gown design is embellished with stunning embroidery work.
Sapphire Evening Gown Design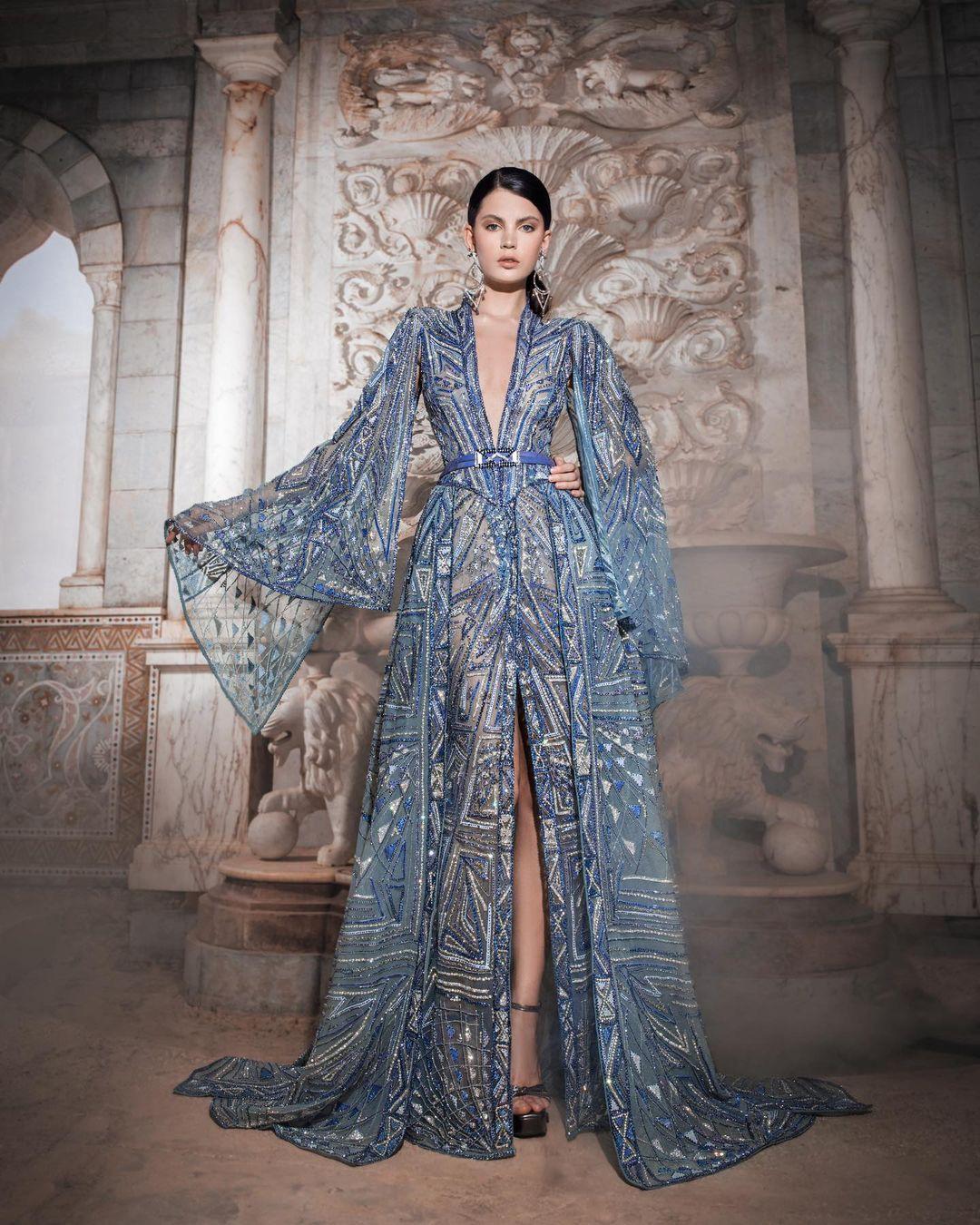 Image Courtesy: Ziad Nakad
From the Couture Collection 2022 from Ziad Nakad, make the most of your festive celebration in this stunning gown design in a wonderful blue colour palette. With a plunging neckline and Kimono-inspired sleeves, it will definitely catch the attention of all your wedding guests.
Solid Black Western Gown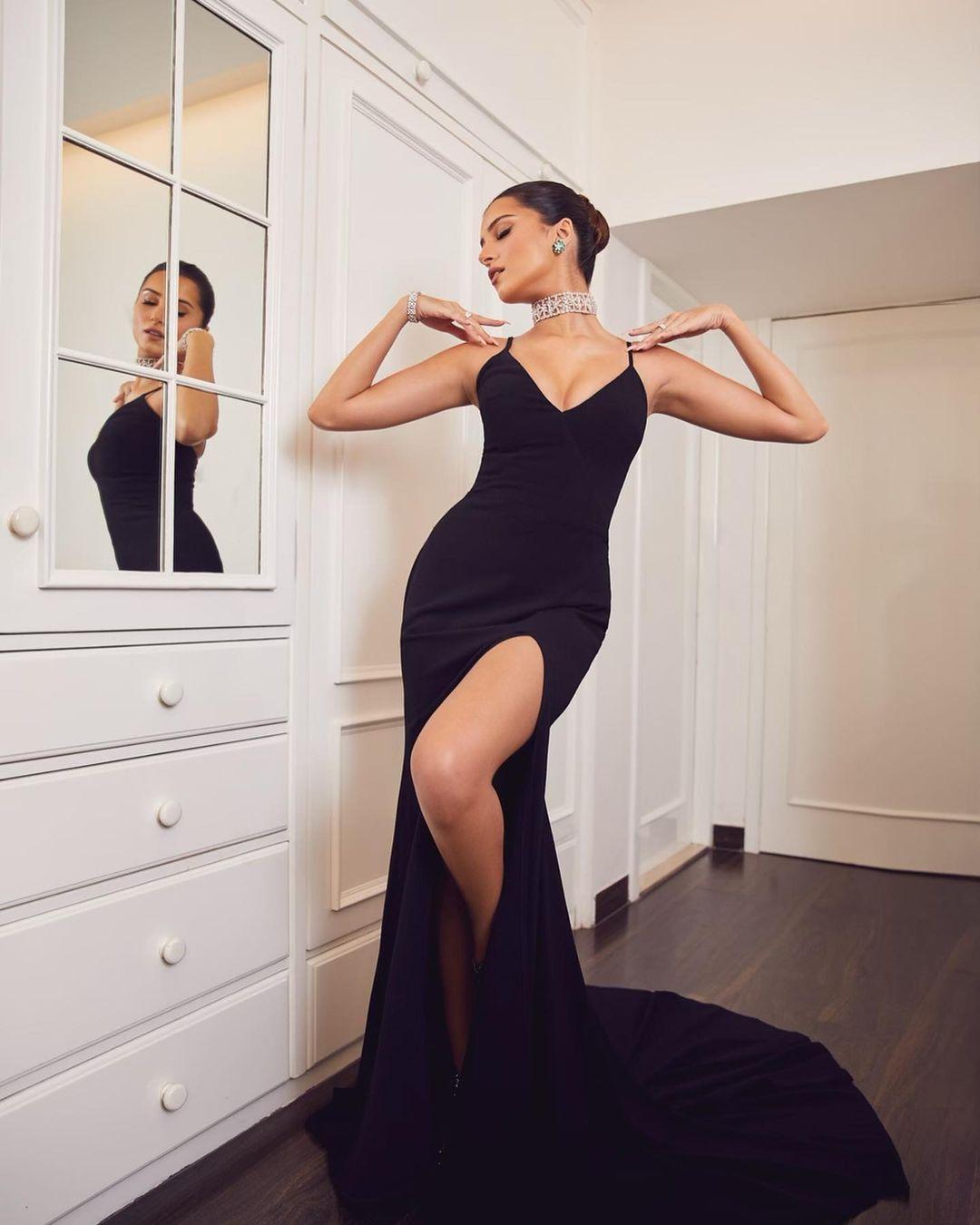 Image Courtesy: Tara Sutaria's Instagram
Looking for an elegant western gown design but subtle and minimalistic are your first choice? Take a cue from this gorgeous solid black slit gown adorned by Tara Sutaria. Perfect for your Cocktail festivities, you can style it with a stunning statement necklace design.
Shimmering Red Gown Design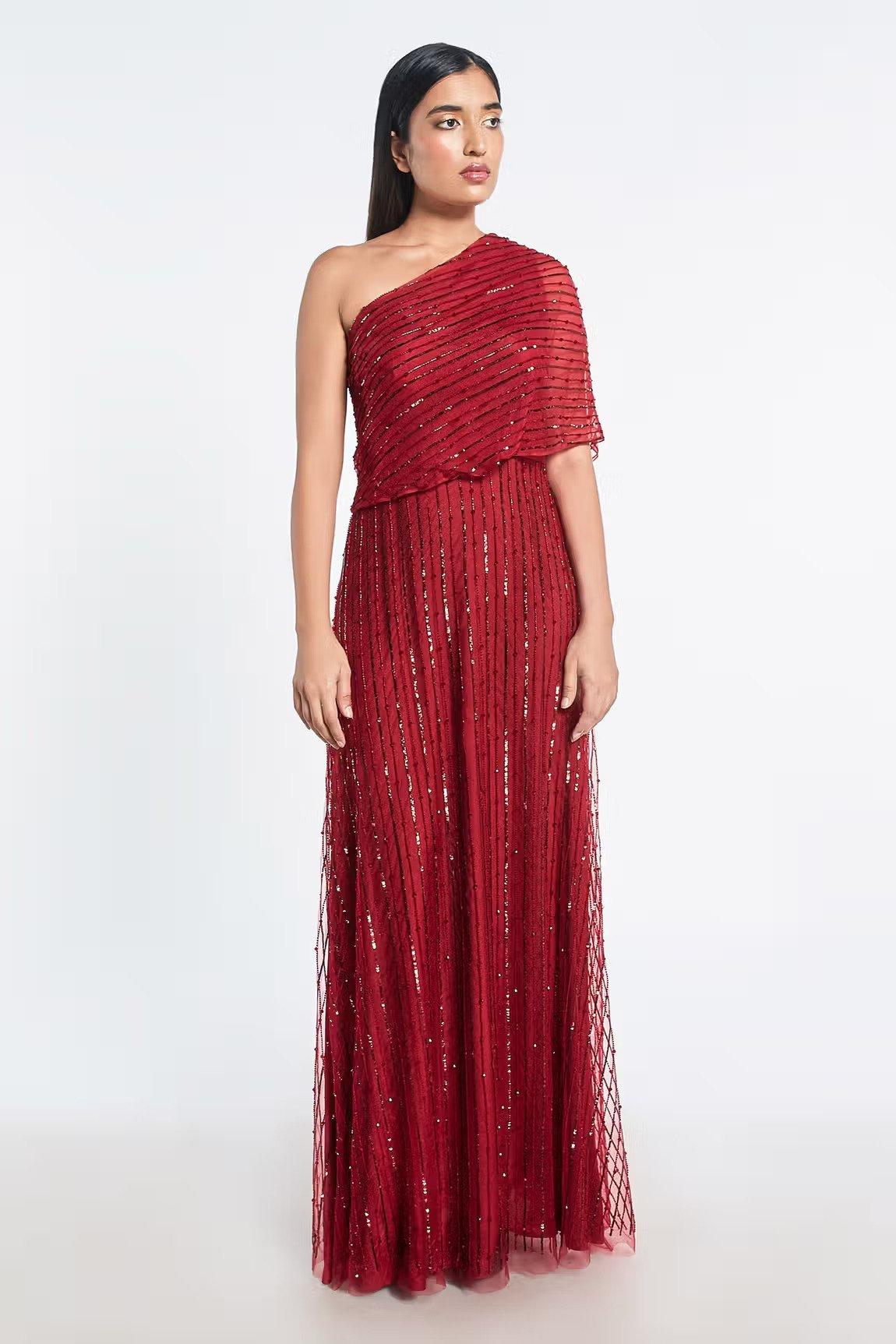 Image Courtesy: Shivani Awasty
Set the stage on fire with a bewitching red net and georgette one-shoulder cape-style gown design with linear embroidery and an overlay bodice by Shivani Awasty. Perfect for your pre or post-wedding festivities, style this elegant western gown with stunning choker necklace designs.
Designer Gowns
Emerald Sequin Gown Design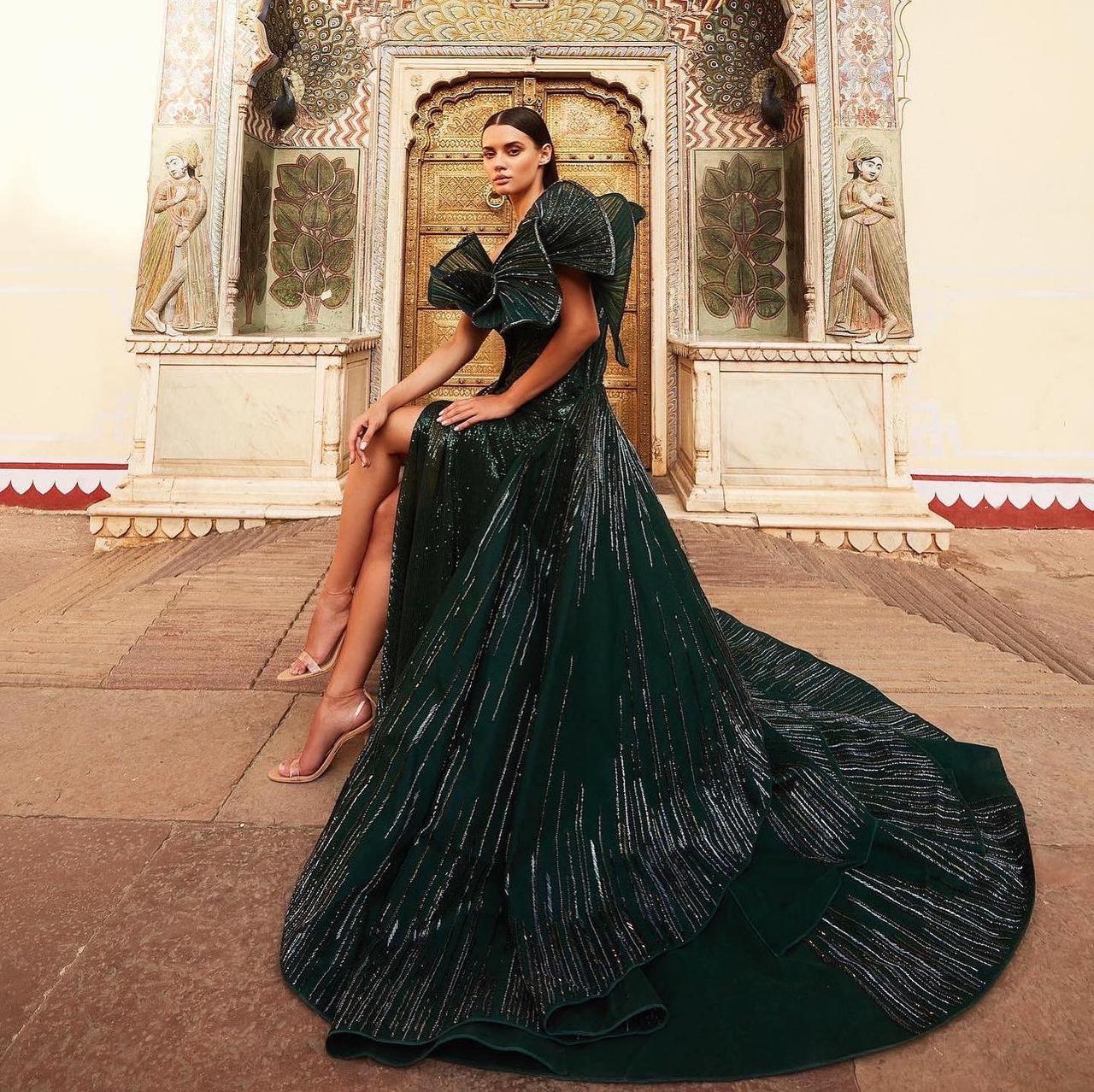 This stunning gown design from Gaurav Gupta is bound to make the heads turn. The swirl structure emerald gown with liner sequin work can be the perfect choice for your Cocktail party, adorning, which would make you look absolutely spectacular.
Beautiful Ombre Gown Design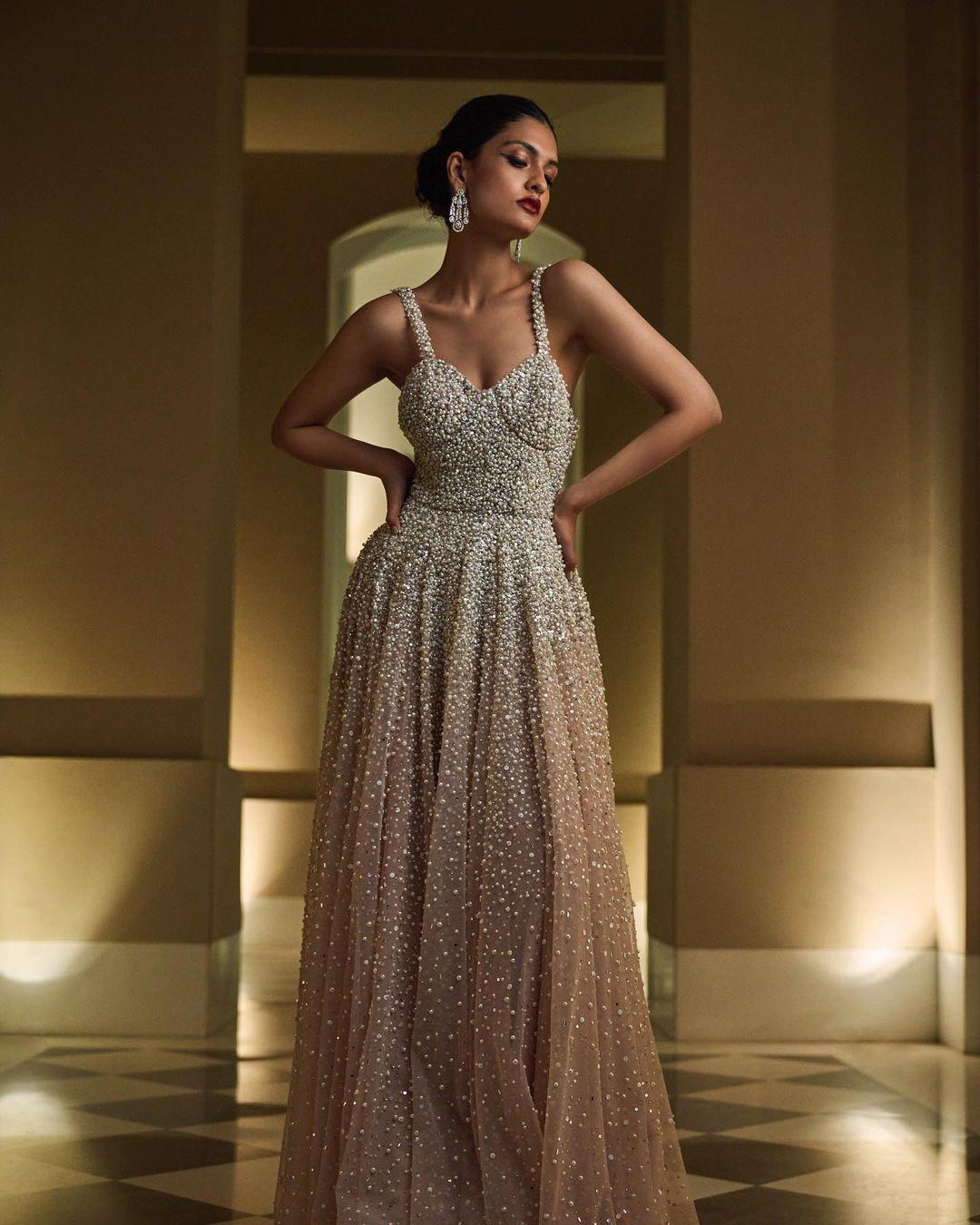 The delicate beauty of pearl embroidery over a subtle nude hue makes this pearl gown by Seema Gujral superbly feminine and beguiling. With a corset fit top and an extravagant flowy flare, this ensemble is an alluring sight to behold and will look spectacular for your wedding festivities.
Draped Blue Gown Design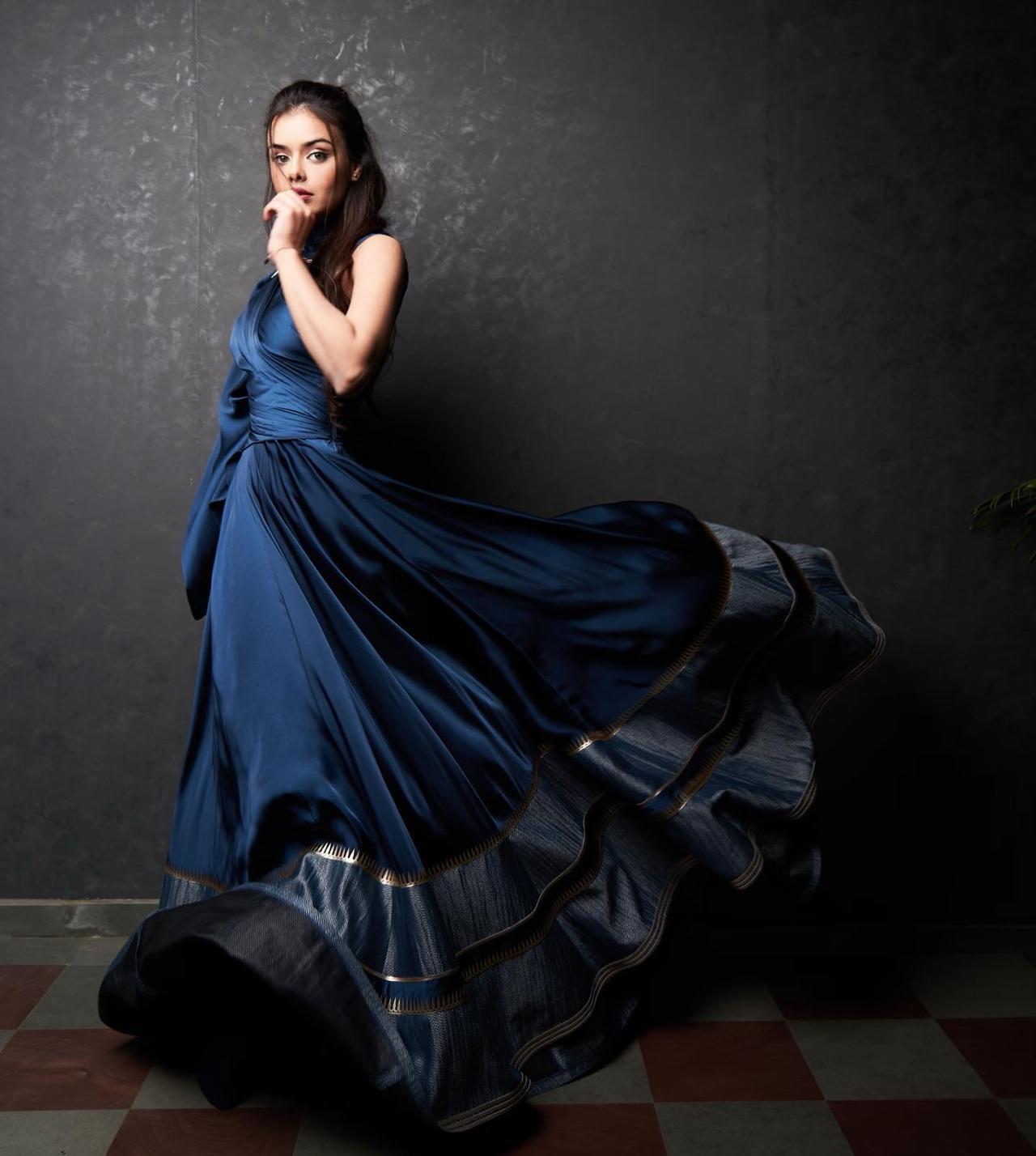 Explore the art of draping in a stunning gown design by Shantanu & Nikhil, where power, romanticism and the sublime are enswathed in design. The magnificent gown captures opulence by way of free-flowing fabrics and an easy-breezy silhouette for your upcoming wedding festivities!
Metallic Green Gown Design

Image Courtesy - Amit Aggarwal
Upgrade your bridal trousseau by including a stunning metallic ball gown design by Amit Aggarwal. Encrusted with metallic polymer and flawless taping trails, this stunning gown shouts class. This spectacular outfit will make you look nothing less than a princess for your wedding festivities.
Oyster Organza Gown Design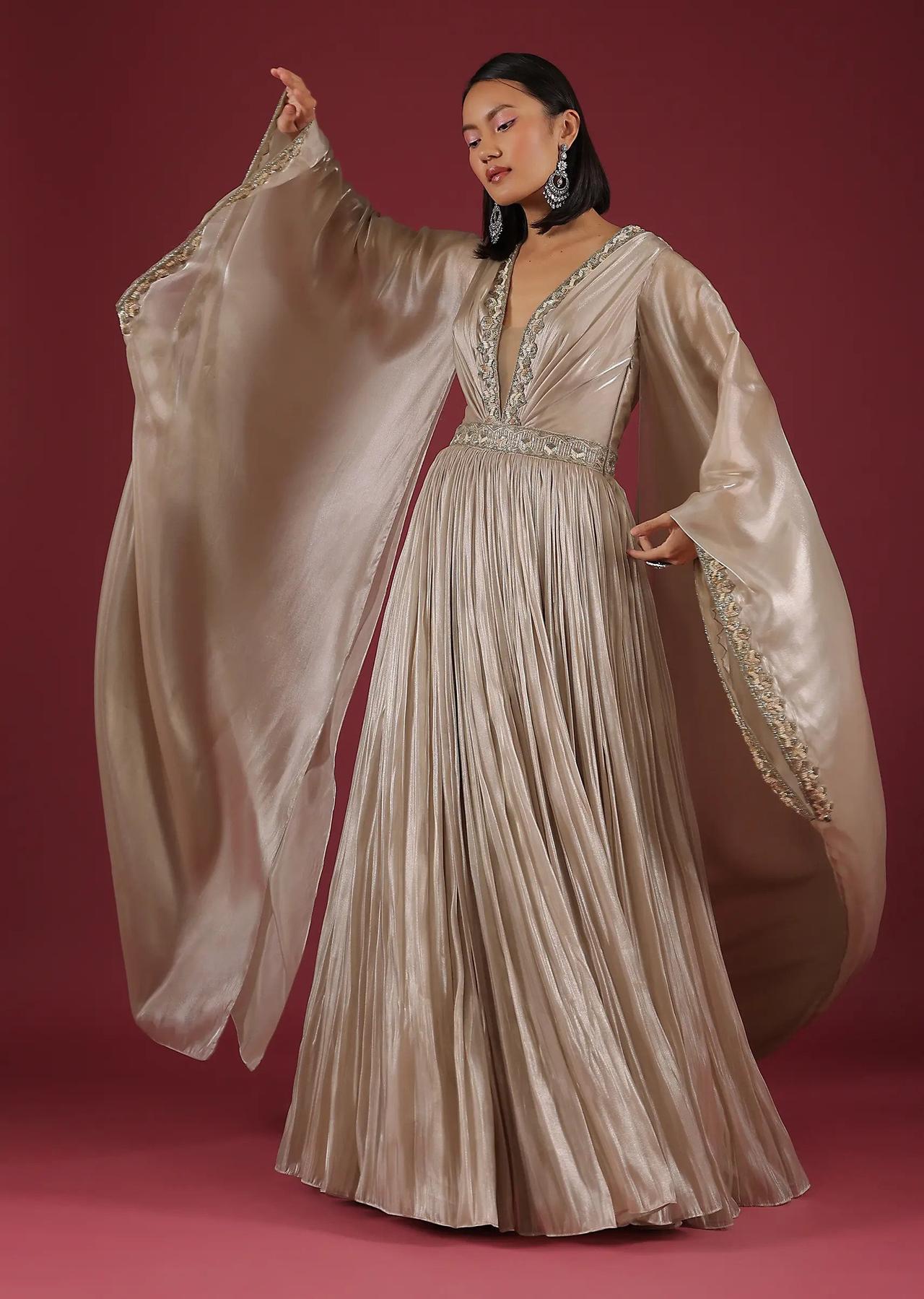 Image Courtesy - Manish Malhotra
A beautiful oyster gown design with a plunging neckline and Kimono sleeves by Manish Malhotra is a beautiful choice for your wedding celebrations. Crafted in tissue organza with a deep V-neckline, it has a beautiful and delicate surface cut embroidery on the sleeves border, neckline and waist, making it a gorgeous pick for your festivities.
Stargazing Galore Gown Design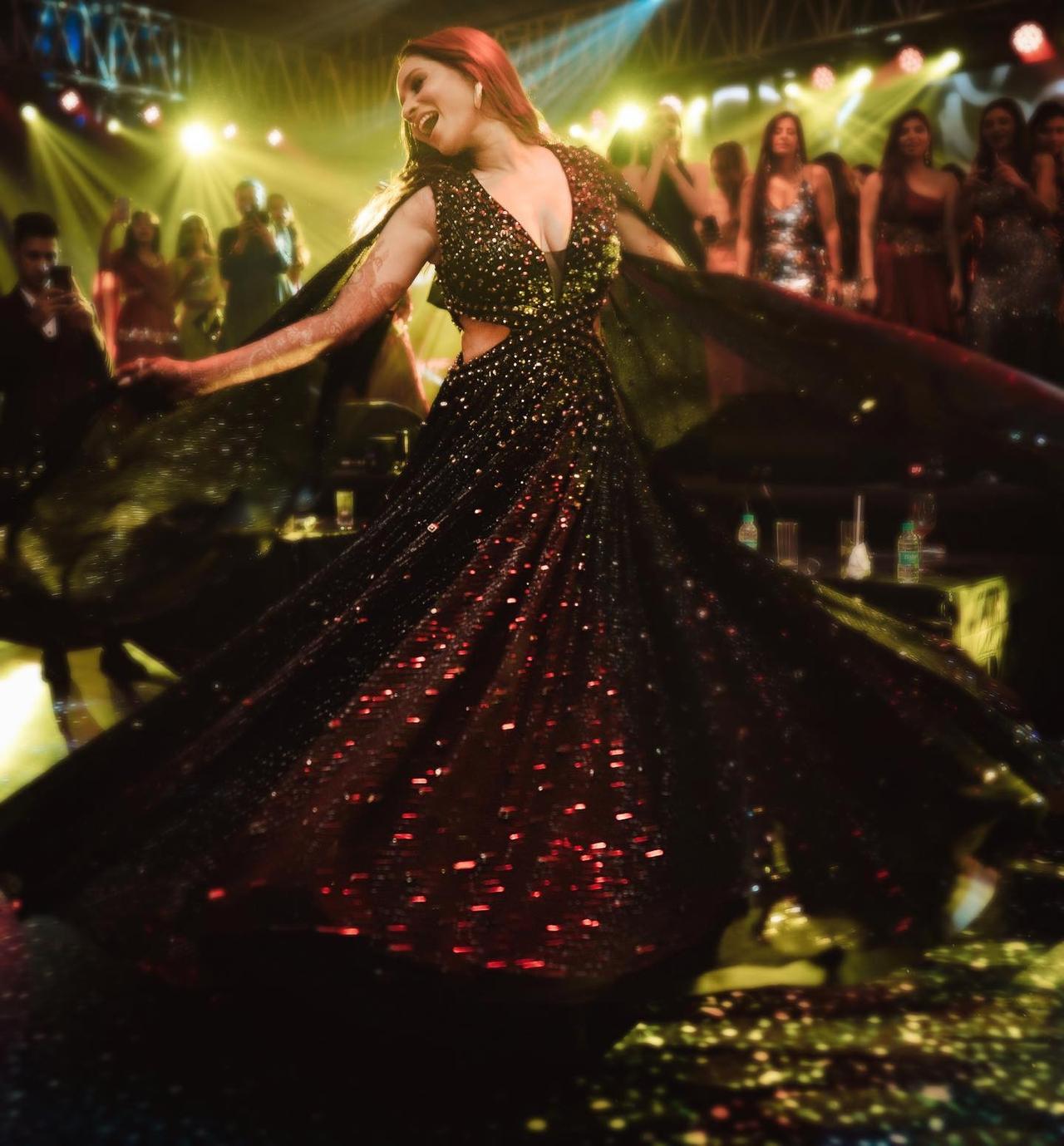 Anikta Lokhande looks her most gorgeous self and glams up her style with a magnificent Shantanu & Nikhil gown design. It's a voluminous draped neo-gown with beautiful details and metallic influences that will look amazing for your Cocktail night festivities.
Pastel Gown Design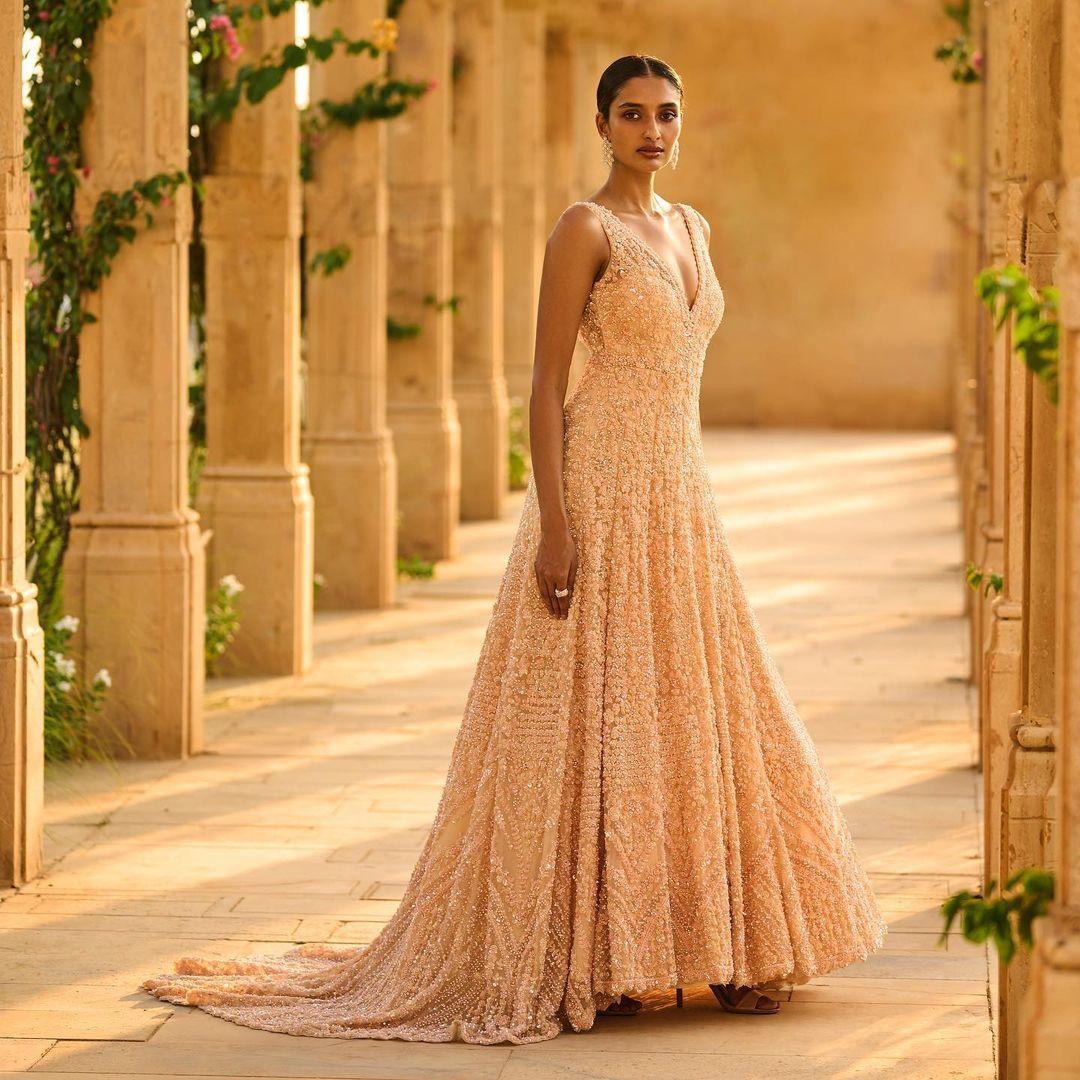 A feminine silhouette, a delicate trail of peaches and cream, this pastel gown by Seema Gujral is a vision to behold. Adorned with intricate tonal embroidery and handcrafted pearl work, it has a conspicuous and stunning back with a matching trail. This gorgeous ensemble is a treat to the eyes and definitely deserves a spot in your wardrobe.
Mint & Ruffle Style Gown Design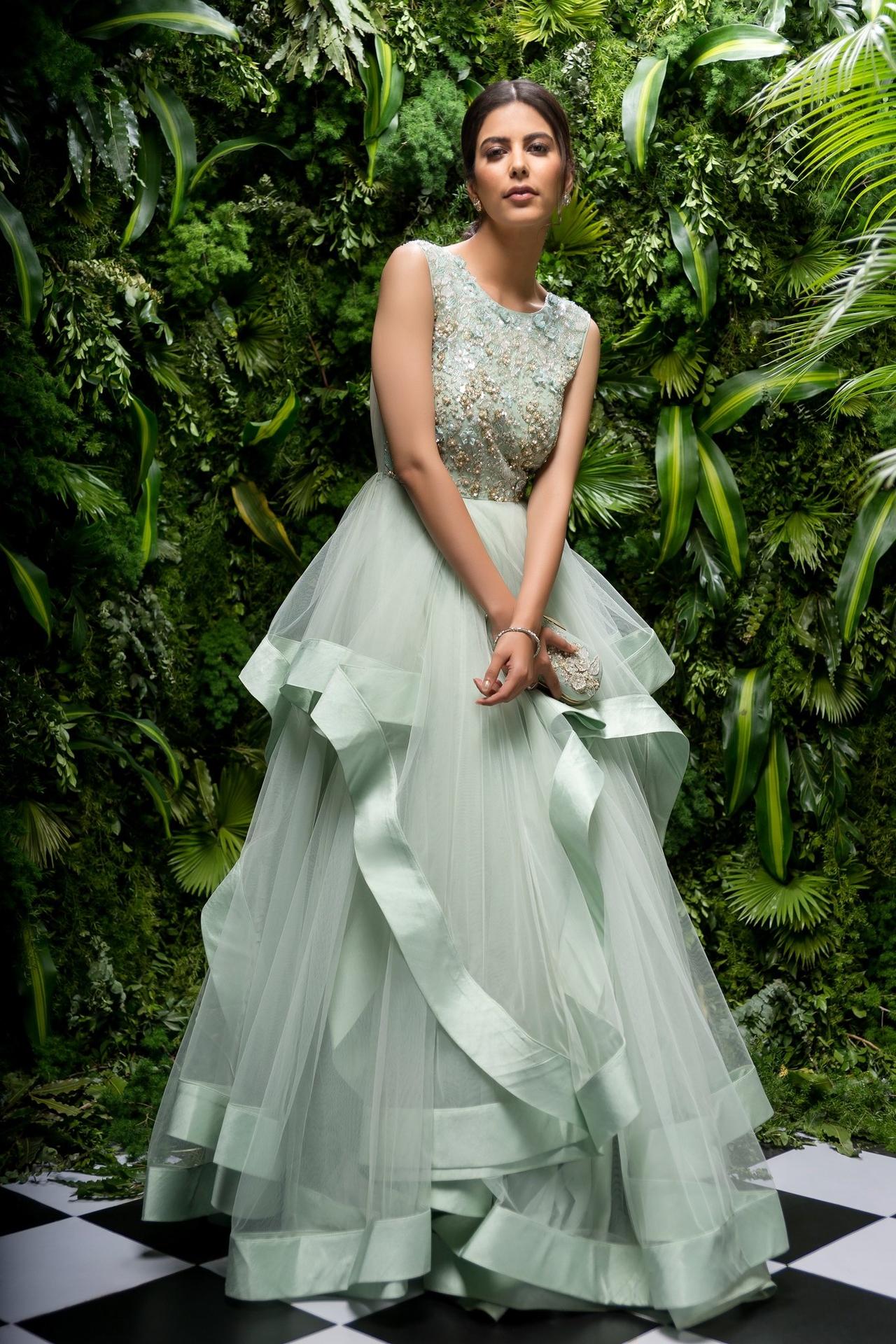 A misty mint tulle gown design with gentle cascading bias ruffles and an elegant bodice embroidered with delicate sculptured flowers will be a pretty choice for a bridal gown made to perfection by the renowned designer duo Shyamal & Bhumika.
Falling Floral Delight Gown Design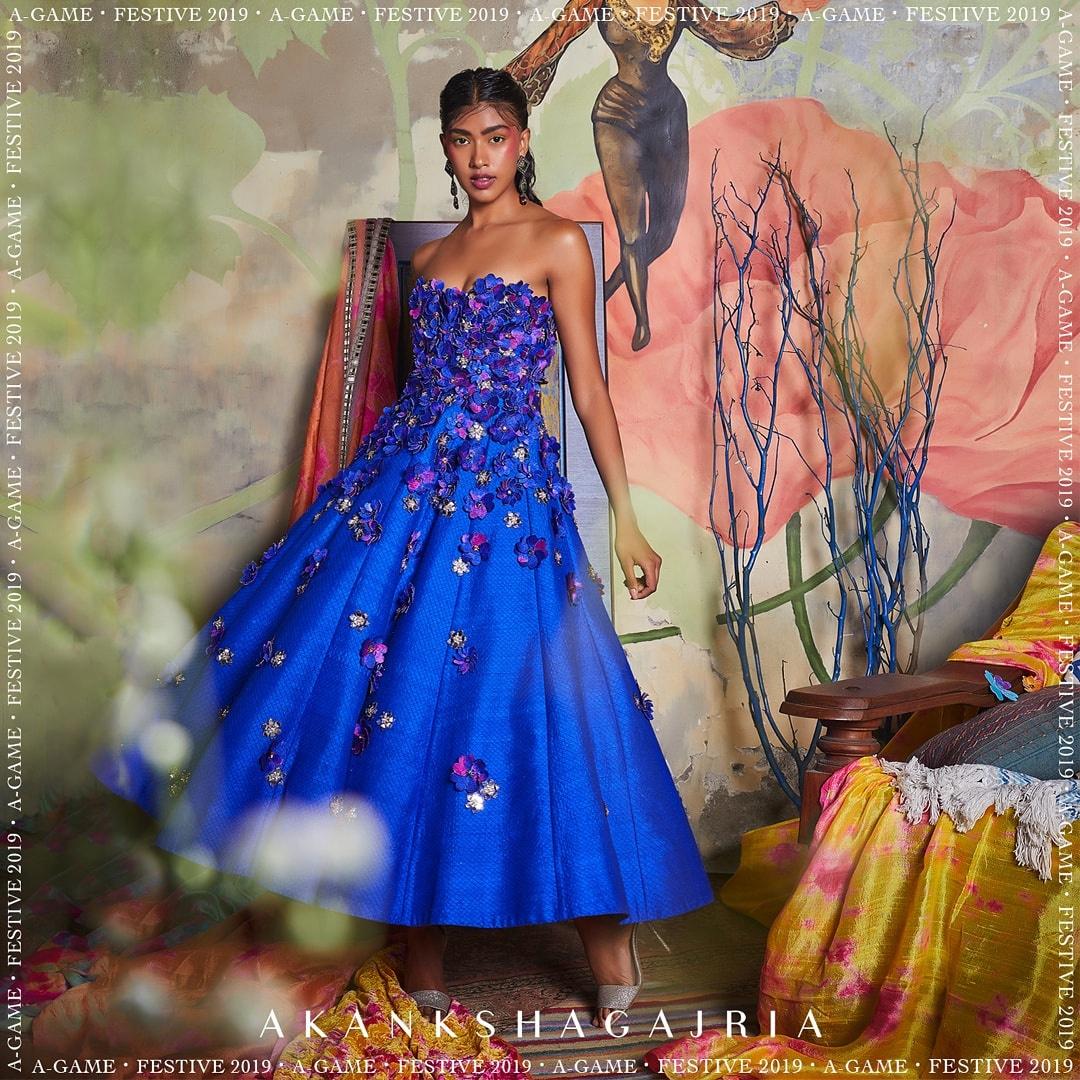 Image Courtesy - Akanksha Gajria
Falling Flowers, anyone? Add the touch of romanticism to your bridal trousseau by choosing this glamourous gown design by Akanksha Gajria. From the eye-catching cobalt blue colour to the scattered floral detailing, everything about this bridal gown is absolutely spectacular.
Red Hot Gown Design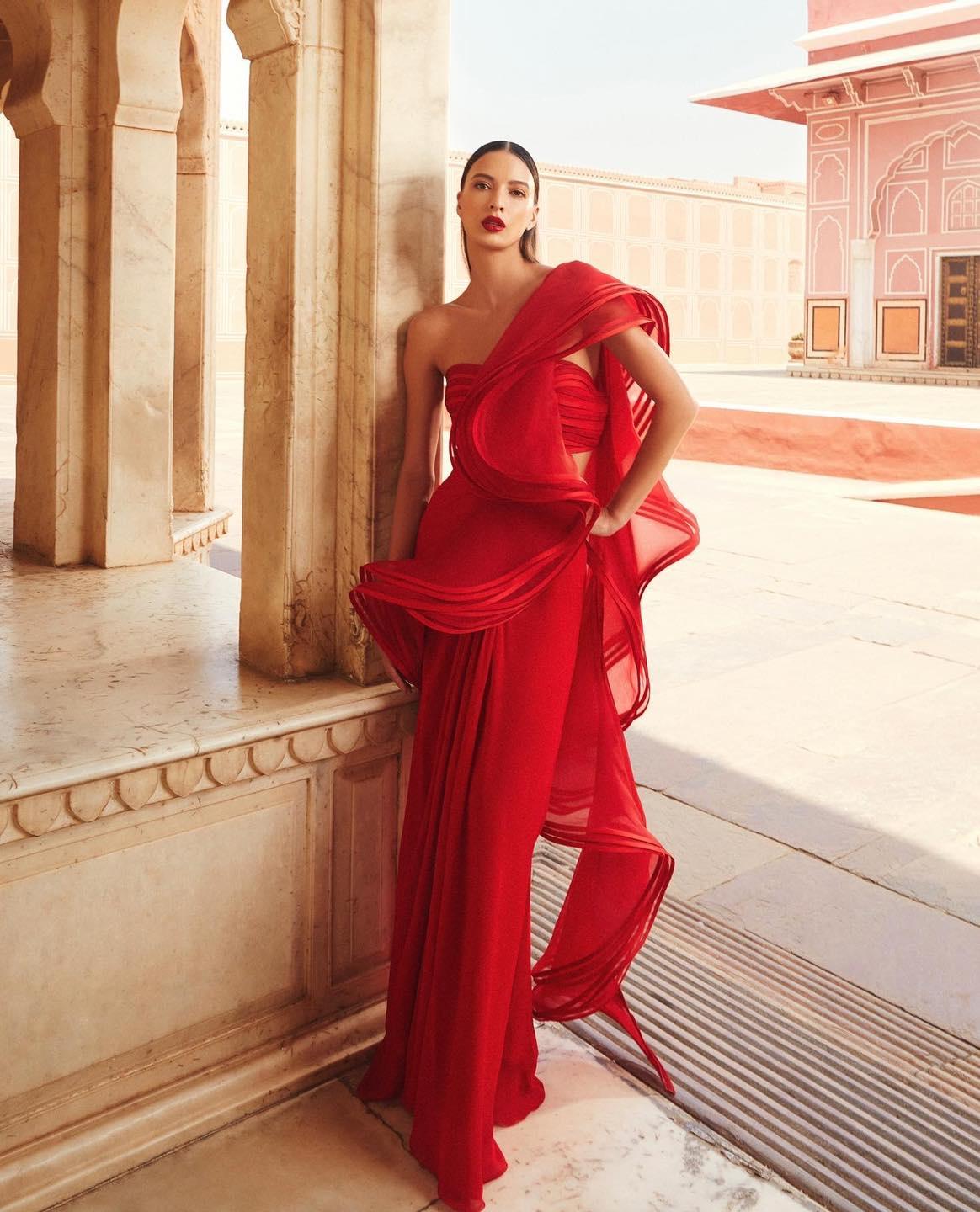 Adding a hint of drama to the modern outfits, Gaurav Gupta's sculptured gowns are the go-to choice for many modern brides. From architectural cuts to contemporary silhouettes, add a touch of couture to your wedding festivities by choosing GG gowns.
Elegance in White Gown Design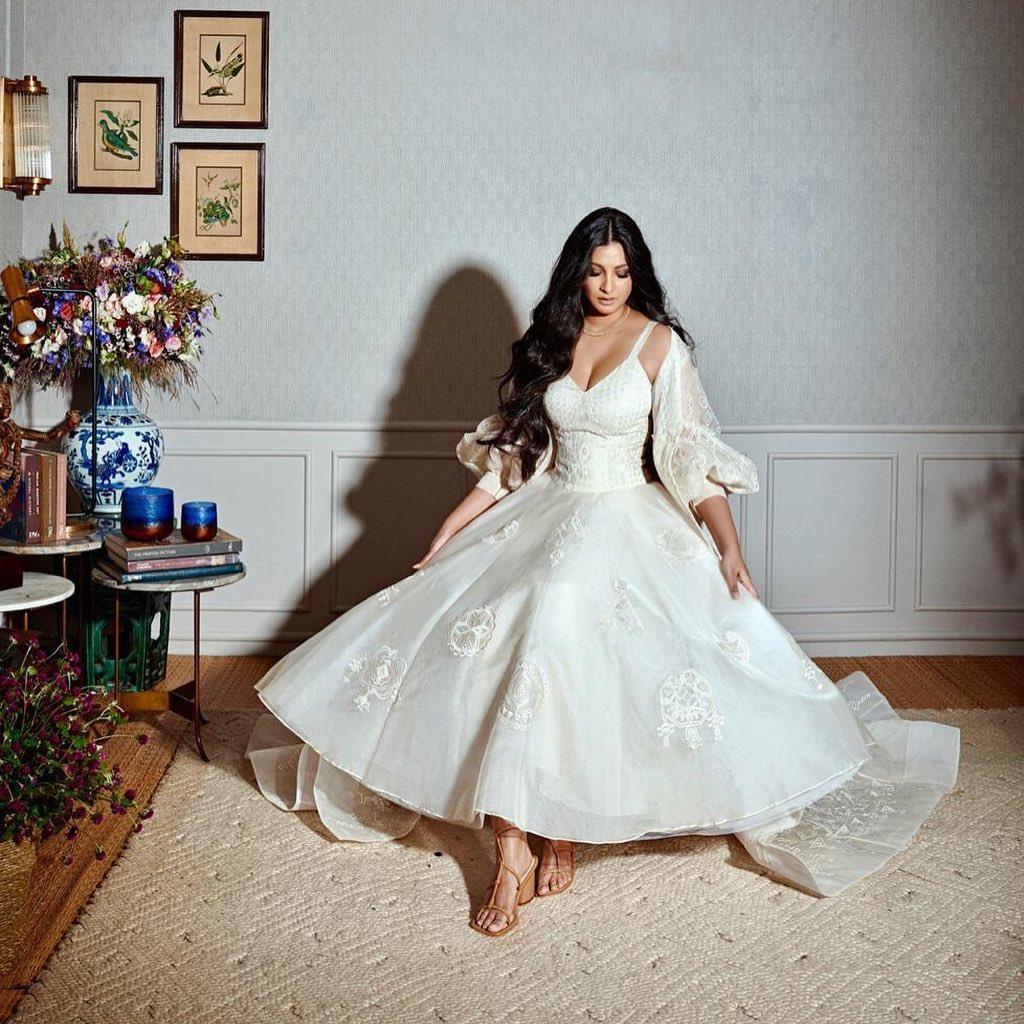 If you are looking for something beautiful and elegant to wear at your reception, this beautiful white gown by Abu Jani Sandeep Khosla should top your shopping list. Lightly embroidered with a delicate flare and added train, it can be styled with a ballon-sleeved jacket.
Glittering Gold Gown Design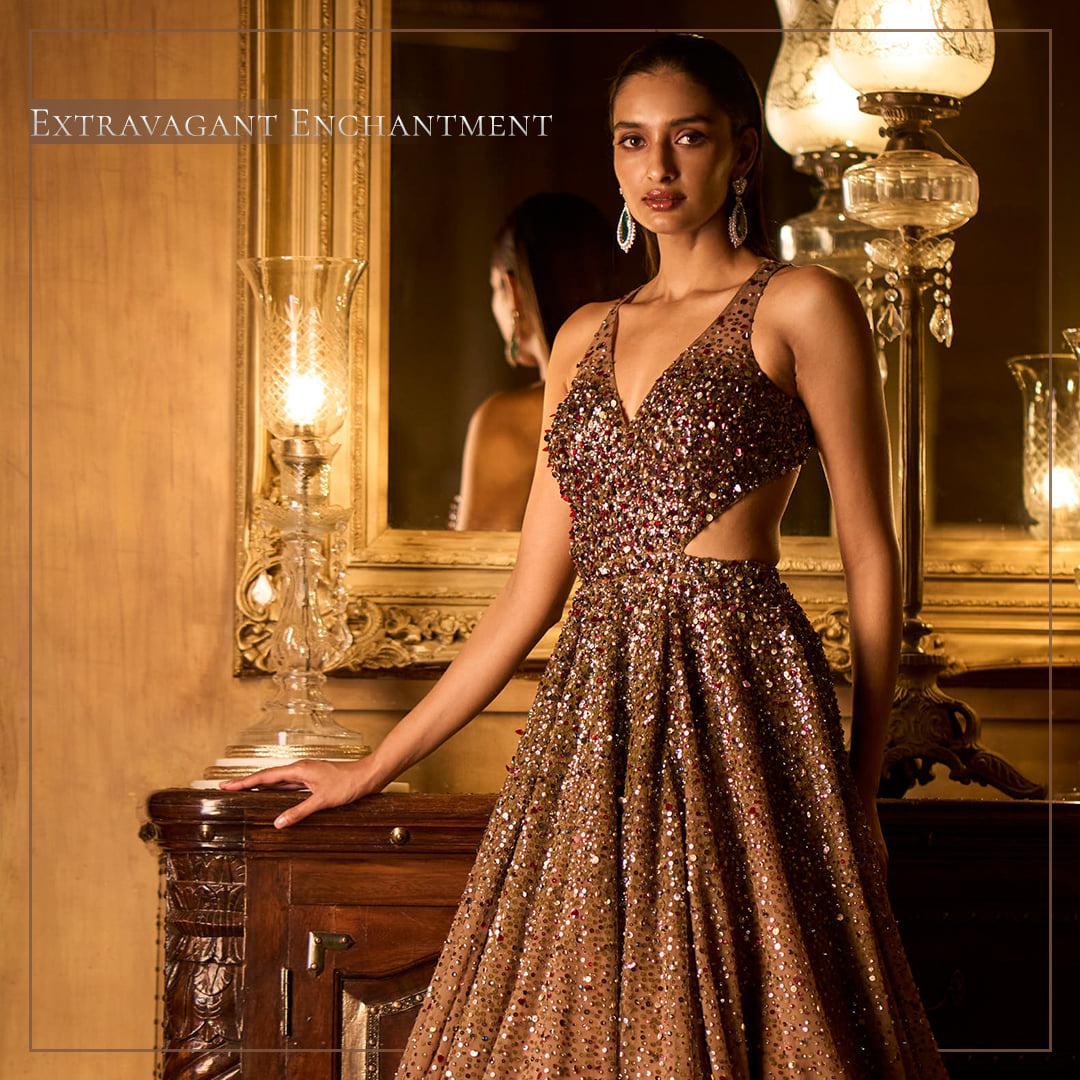 With a perfectly cut and fitted corset, this gold and coffee gown is a style statement like no other. Lavishly embellished with the sparkle of beads, sequins and stones, the flowing flare leaves behind an aura of grace and elegance. True glamour is in the details of this alluring gown design by Seema Gujral.
Tempestuous Sea Waves Gown Design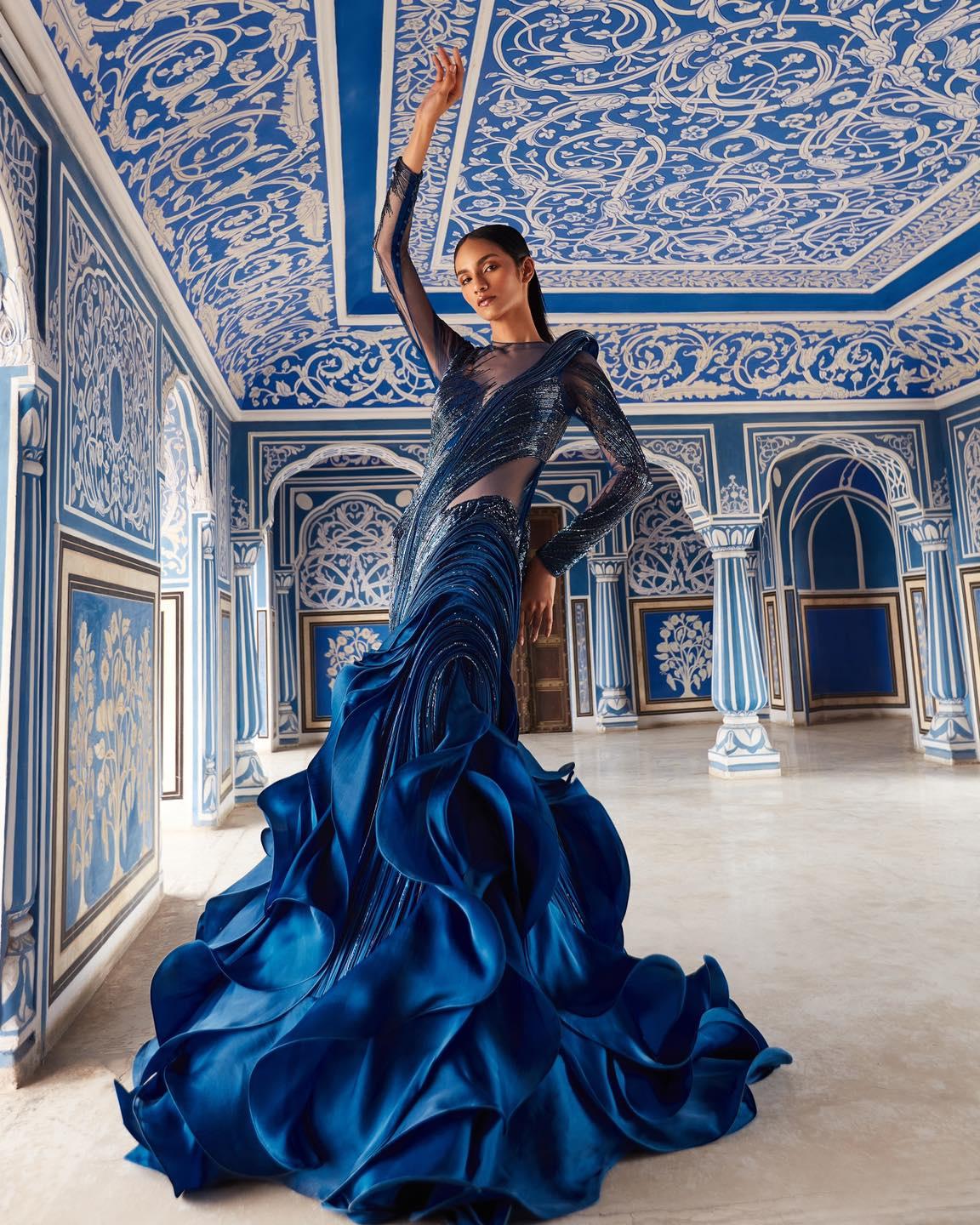 Want your evening gown to mirror the beauty and playful nature of the waves? Choose this breathtaking sculptured couture gown by Gaurav Gupta. A sheer fitted bodice, this gown is intricately embroidered, while the organza high-low bottom is sculpted with multiple ruffles, adding extra flair to the entire outfit.
Sparkling Lavender Gown Design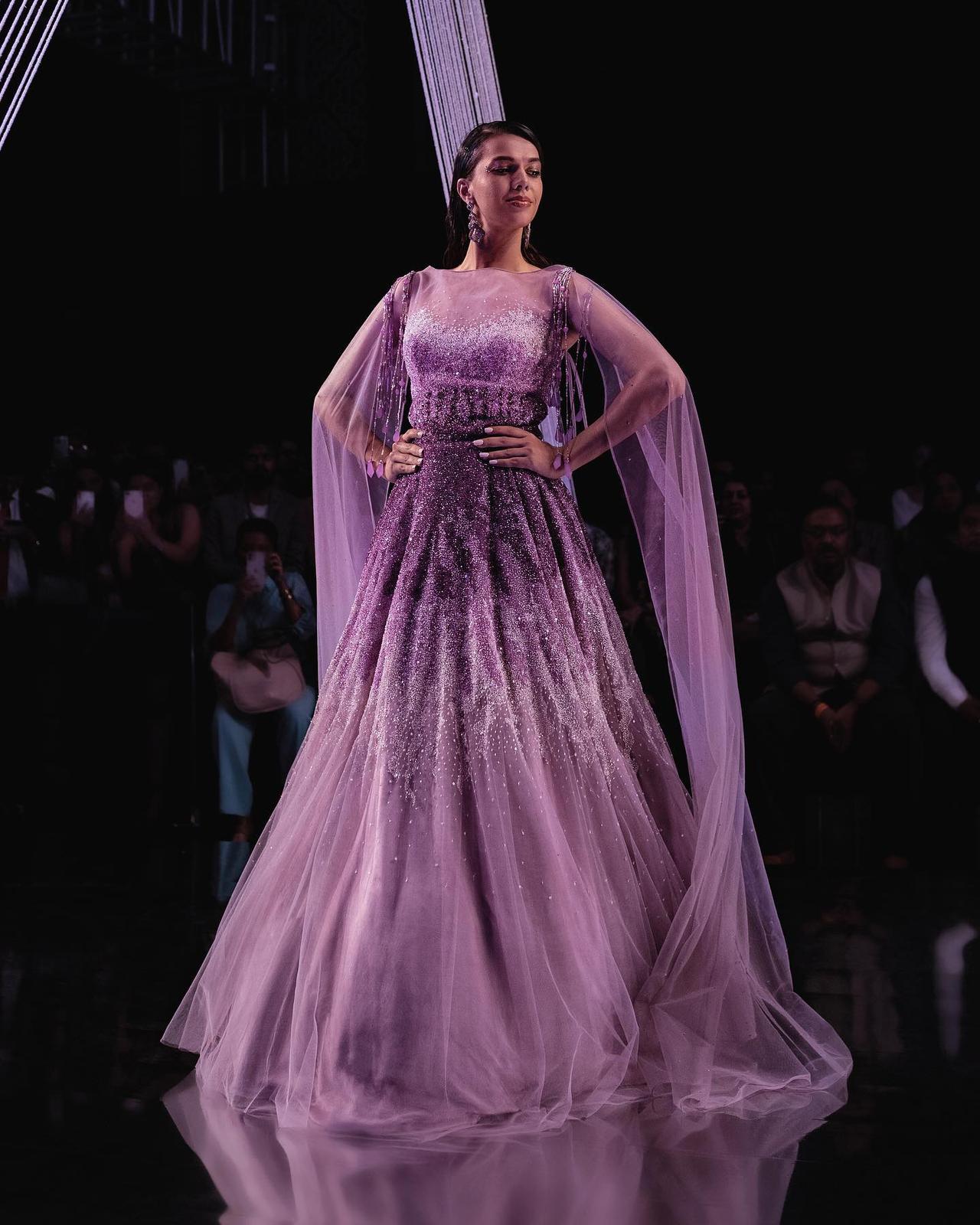 Capture the magic through this gorgeous starry lavender gown by Kalki Fashion with scattered sequin work and cape sleeves. Perfect to make a dramatic entry to your wedding festivities, you would look your most gorgeous self adorning this stunning gown design.
Ivory Bridal Gown Design Glory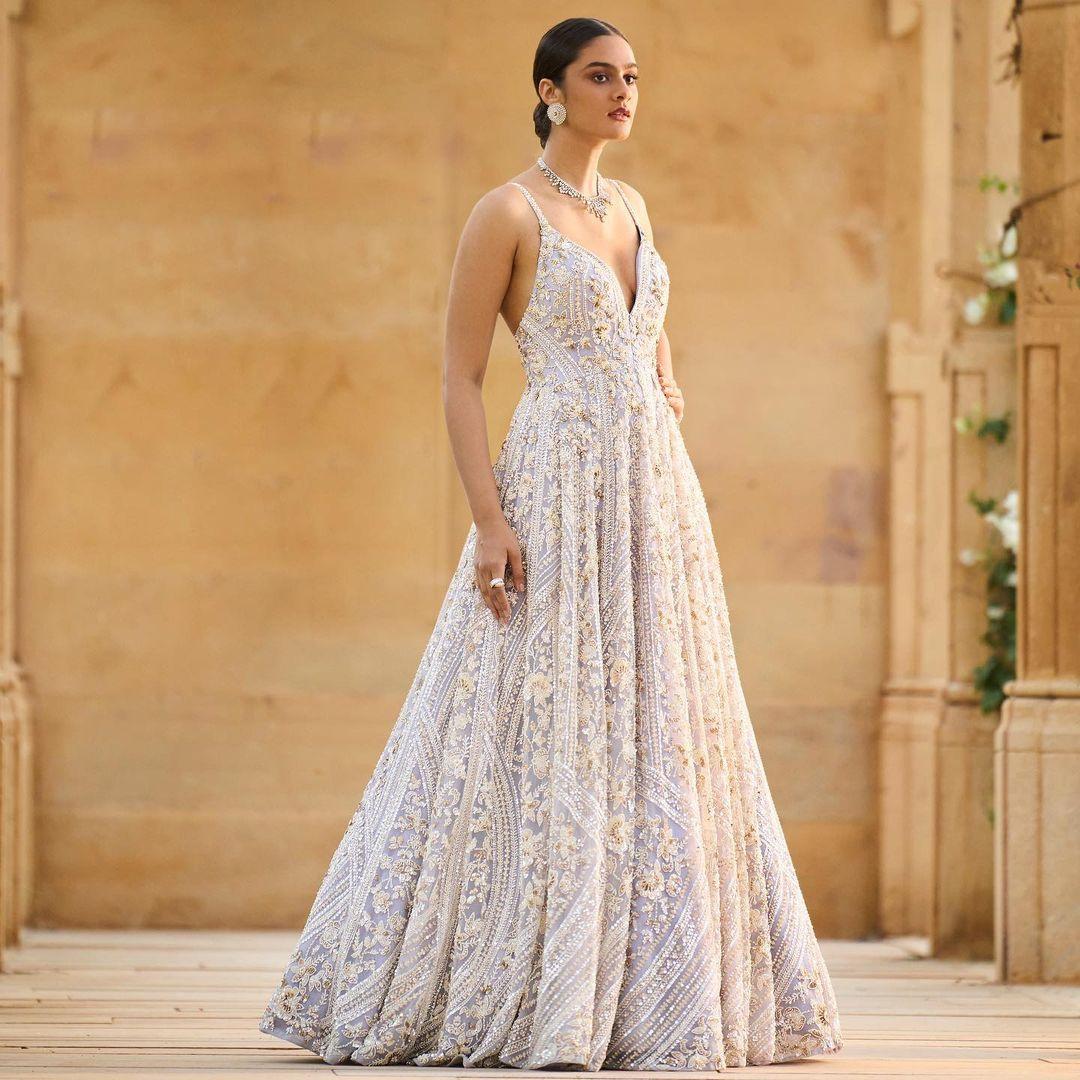 With a flattering fit and dreamy flow, this bridal gown design by Seema Gujaral is the epitome of femininity. Delicately embellished with all-over pearl embroidery over a mauve palette, this handcrafted piece is nothing short of a dream. It will look absolutely breathtaking for your cocktail night, ensuring you look elegant throughout your celebrations.
Indian Gown Designs
Golden Shower Gown Design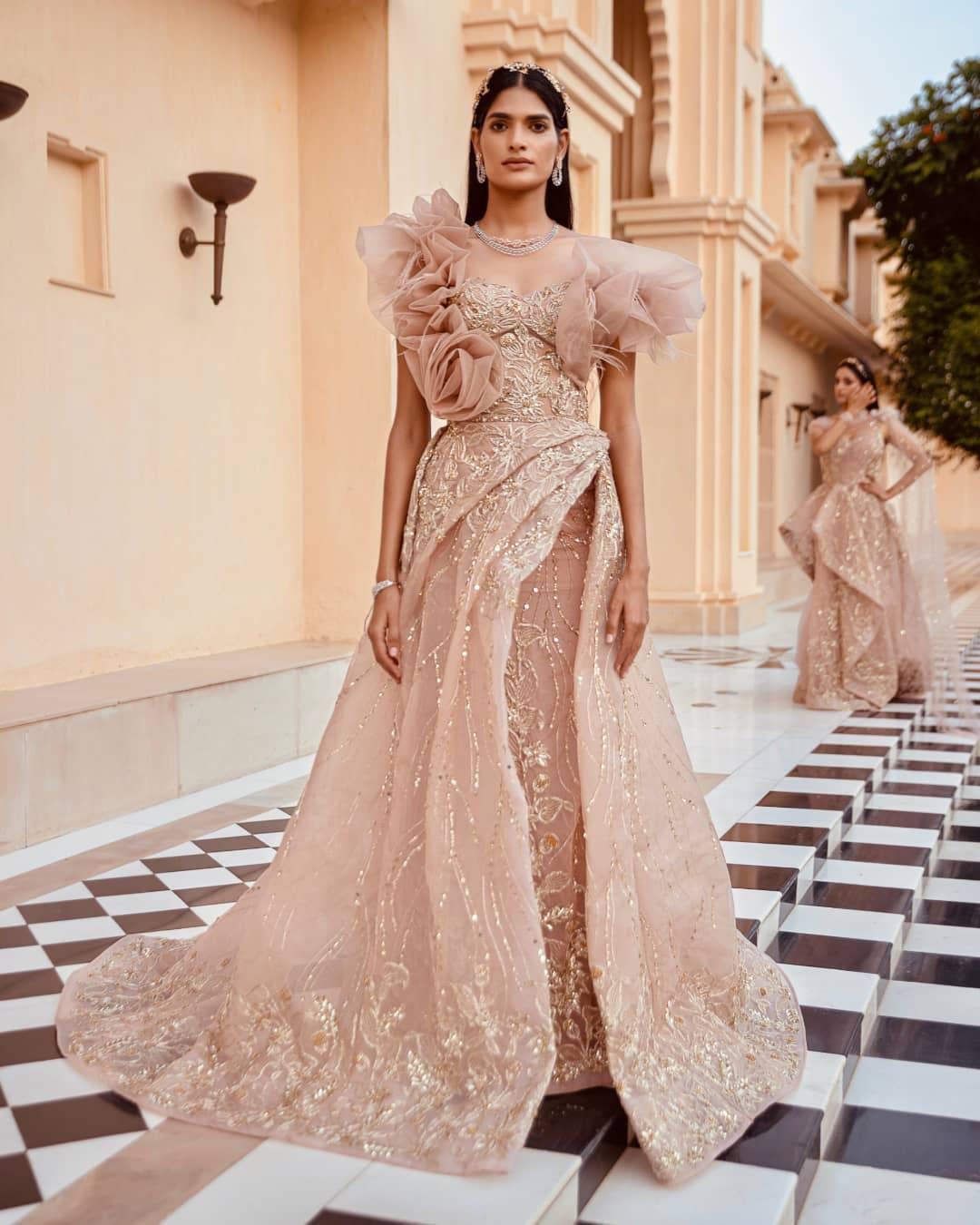 Also known as the Sara Gown from Amit GT's collection, the gown has golden cosmic shower and waterlily motifs embroidered with zari and bugle beads all over the gown with a detachable wraparound sculpted bustle and train.
Off-shoulder Powder Blue Gown Design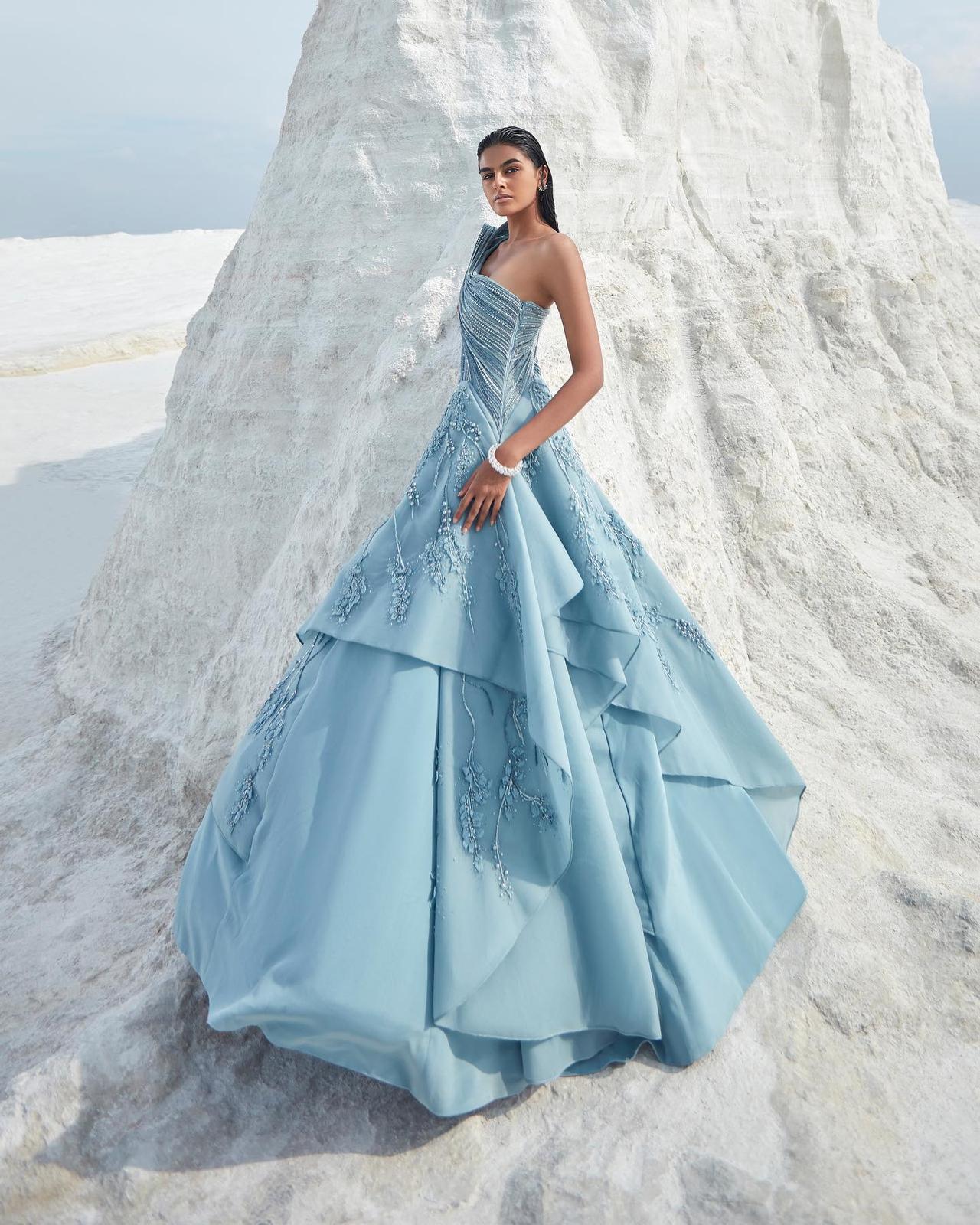 Gaurav Gupta never fails to amaze with his stunning gown designs, like this cascading powder blue gown with intricate embroidery work and a gorgeous one-shoulder bodice design. If you want to make a lasting impression for your wedding festivities, we have the right pick of gown for you.
Princess Dreams Gown Design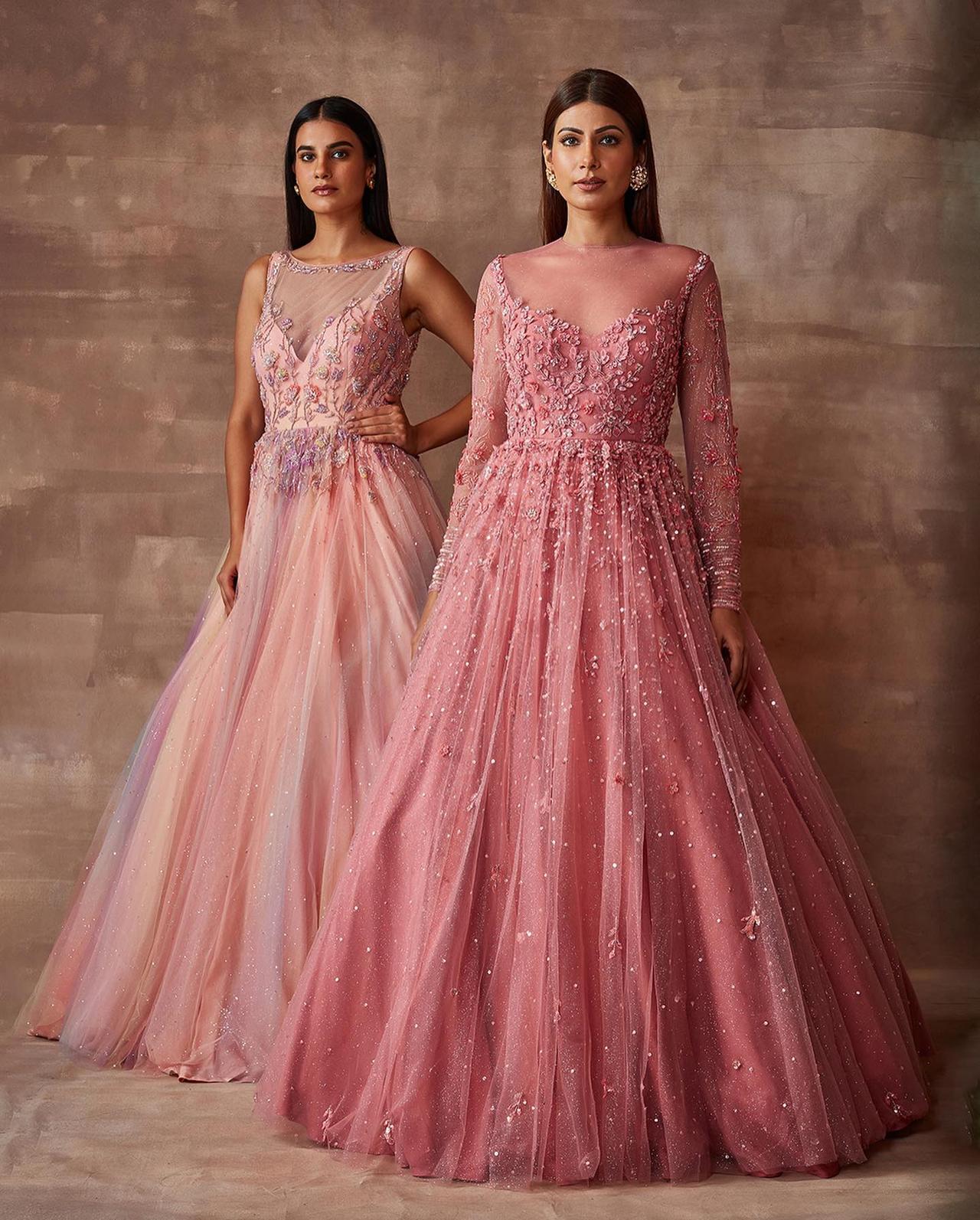 Image Courtesy - Neeta Lulla
Whether you are inclined towards the beautiful unicorn colour palette or choose to play safe by choosing a bold pink shade, you can never go wrong with these graceful gown options. From the magnificent ball gown collection of Neeta Lulla, these stunning attires should have a place in your wedding closet for sure.
Black Corset Gown Design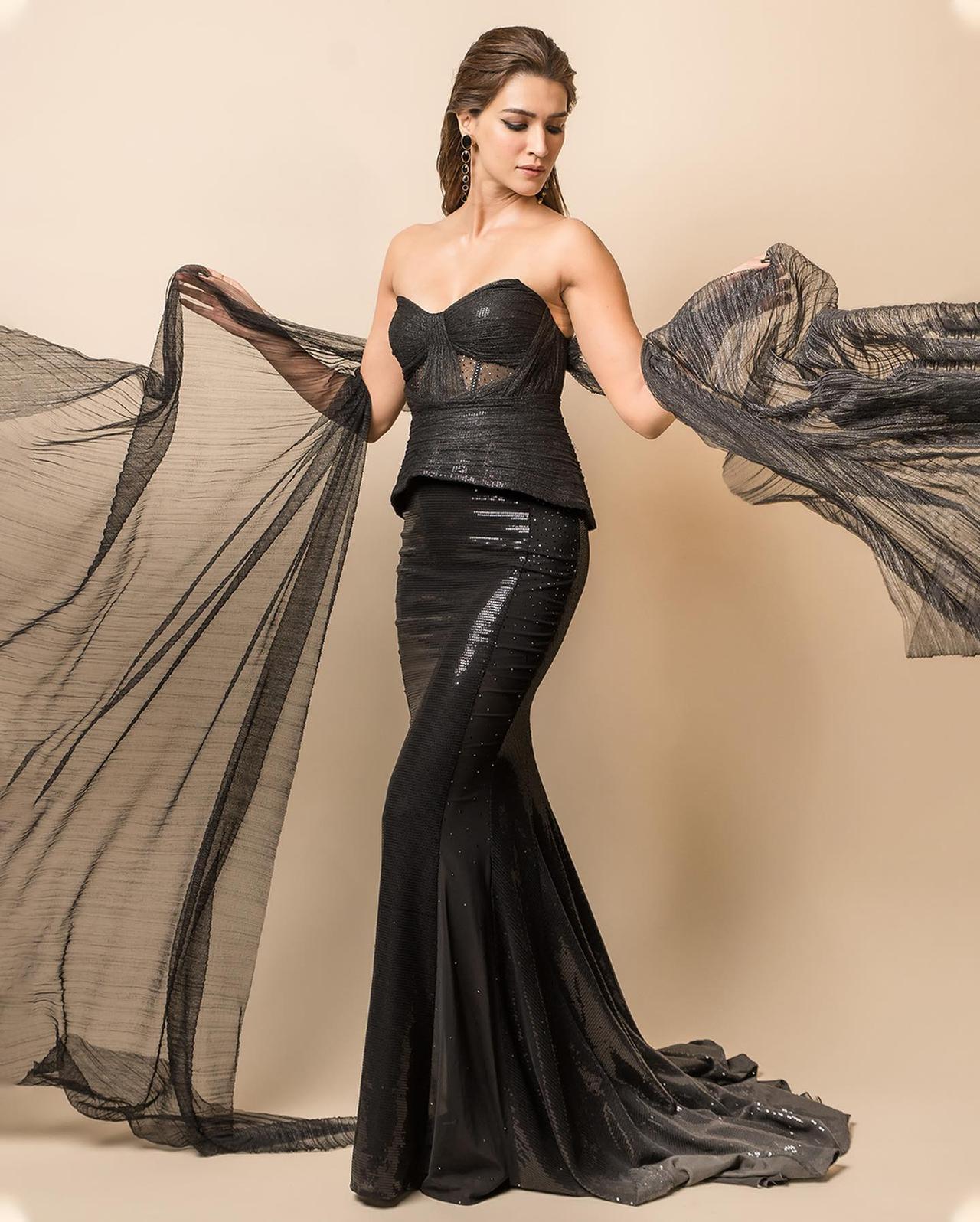 Wearing a beautiful corset gown design by Tarun Tahiliani, Kriti Sanon looked effortlessly gorgeous. Featuring an all-embroidered skirt with sheer panel and crystal highlights, this gown design looks absolutely perfect for your pre-wedding festivities.
Scarlet Ball Gown Design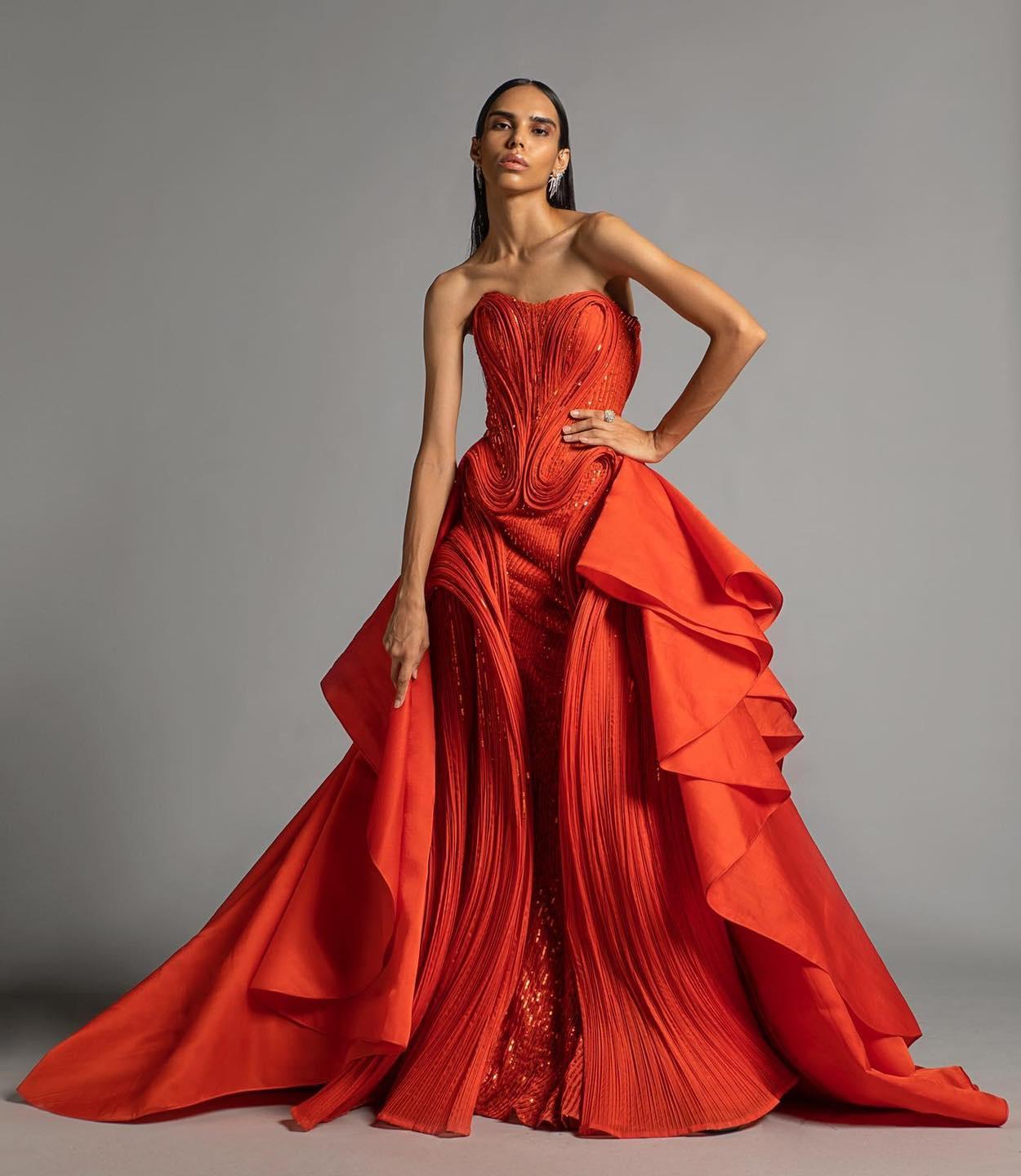 Are you a fashionista who wants to look the best for all your wedding functions by wearing stylish and gorgeous outfits? We have just the right couture gown design by Gaurav Gupta for you. This ravishing scarlet gown filled with sequin work with an added flare and structured ruffles will be the best outfit to choose for your chic Cocktail celebrations.
Alabaster & Gold Gown Design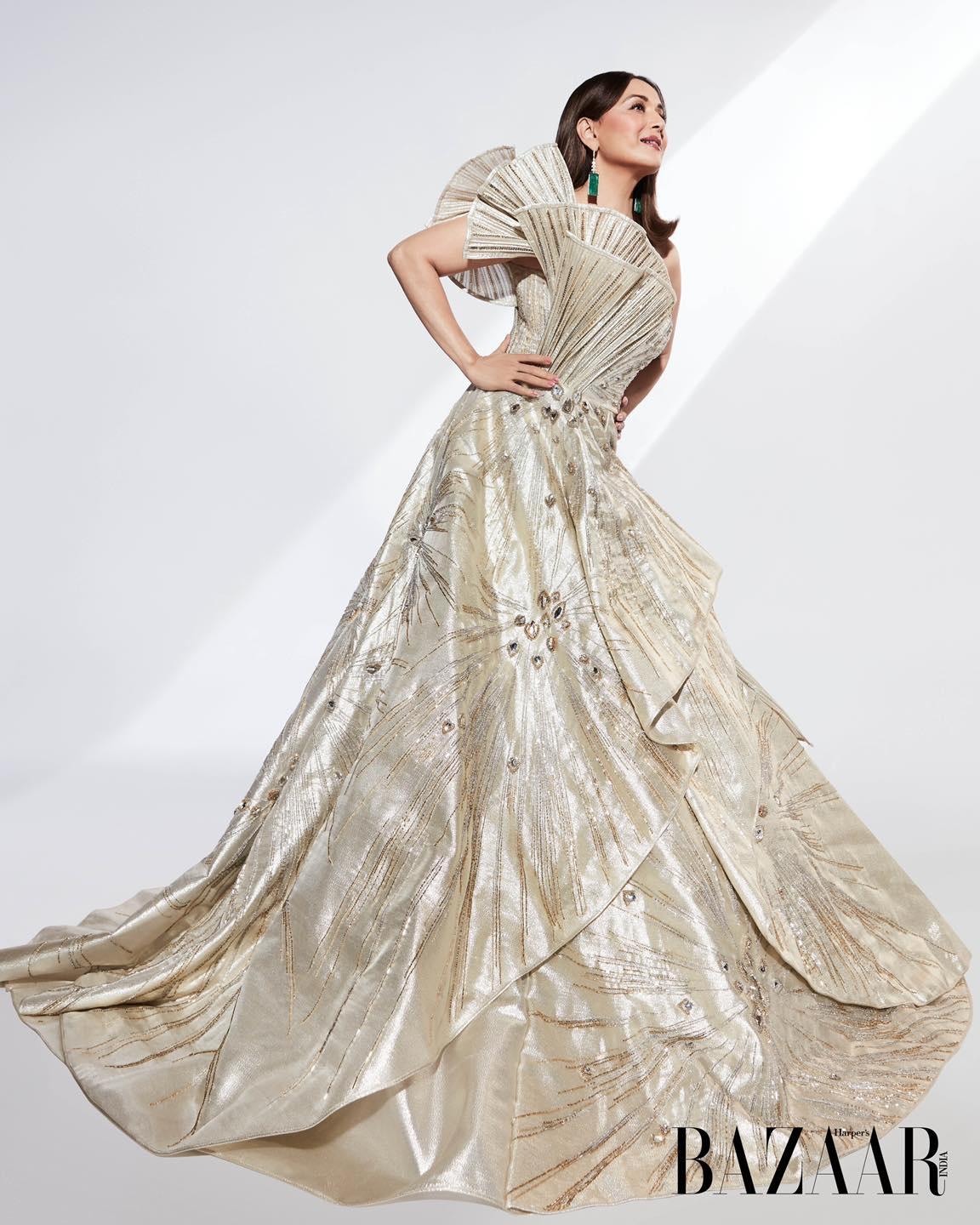 Known for his off-beat designs, this beautiful alabaster gown with gold embroidery signifying firework and free-flowing cuts and drapes has our heart! Every little detail makes it a masterpiece that we cannot take our eyes off.
Flowy Lilac Gown Design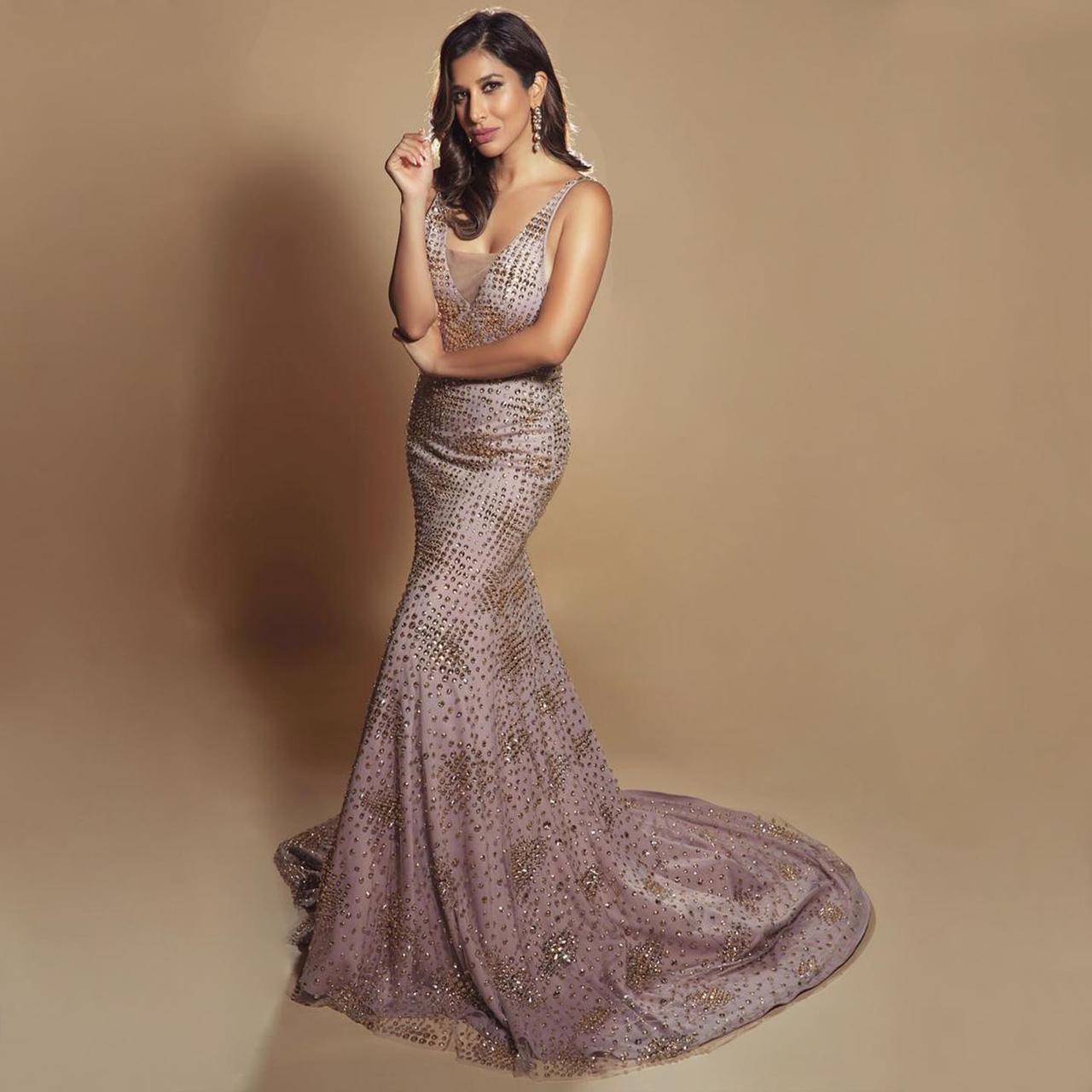 Image Courtesy - Manish Malhotra
Sophie Choudhary makes a style statement in Manish Malhotra's gorgeous lilac gown design encrusted with scattering gold Swaroski crystals. If you want to turn heads and look ever so chic on your Cocktail night, this is a gorgeous gown design you can add to your shopping list!
Etched Galaxies Gown Design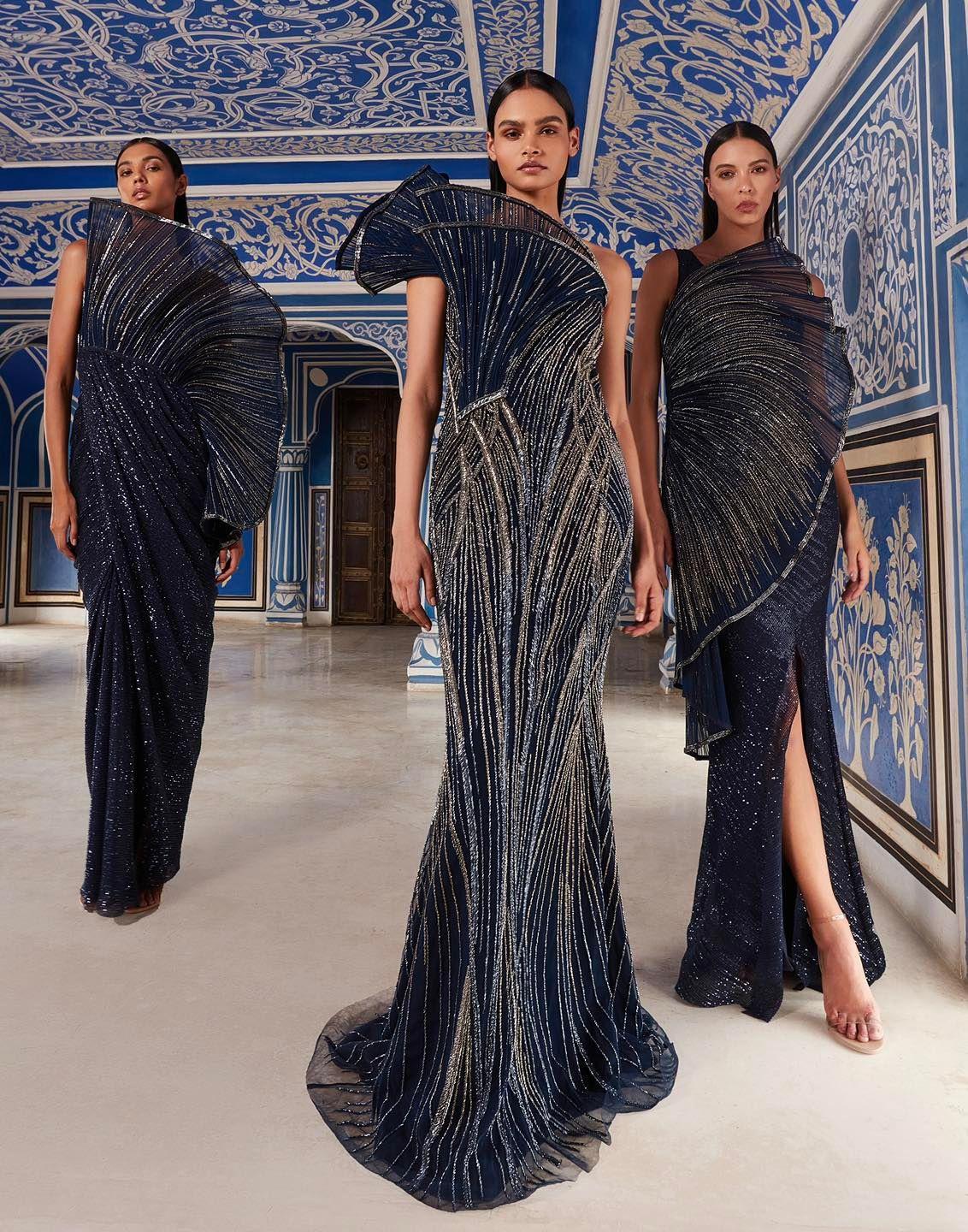 Break away from the conventional bridal gown style by choosing a gown design that beautifully combines futuristic sensibilities with sculptural draping with this stunning midnight blue couture gown by Gaurav Gupta. With a fan-sculpting on the bodice and a dramatic side slit, the whimsical sequin fabric emits light with the slightest movement, making you the star of your evening.
Mauve Gown Design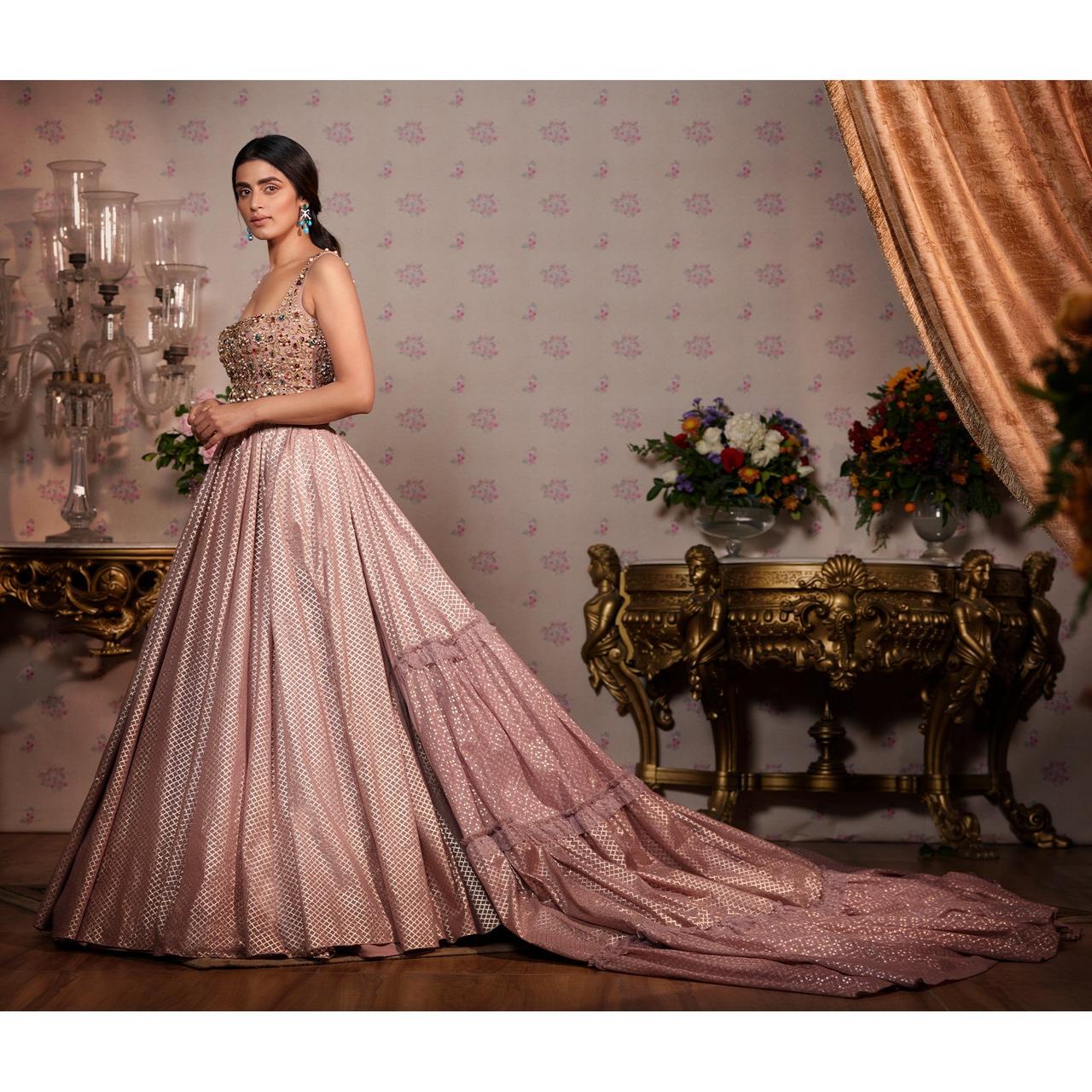 Image Courtesy - Neeta Lulla
While one of India's most celebrated fashion designers, Neeta Lulla, imbibes grace, feminity and power in each of her gown designs that resonate with you when you wear that ensemble. This stellar mauve gown design with an imperial train from her collection beautifully blends a woman's fragility with cultural influences to create a stunning contemporary design.
White Imperial Train Gown Design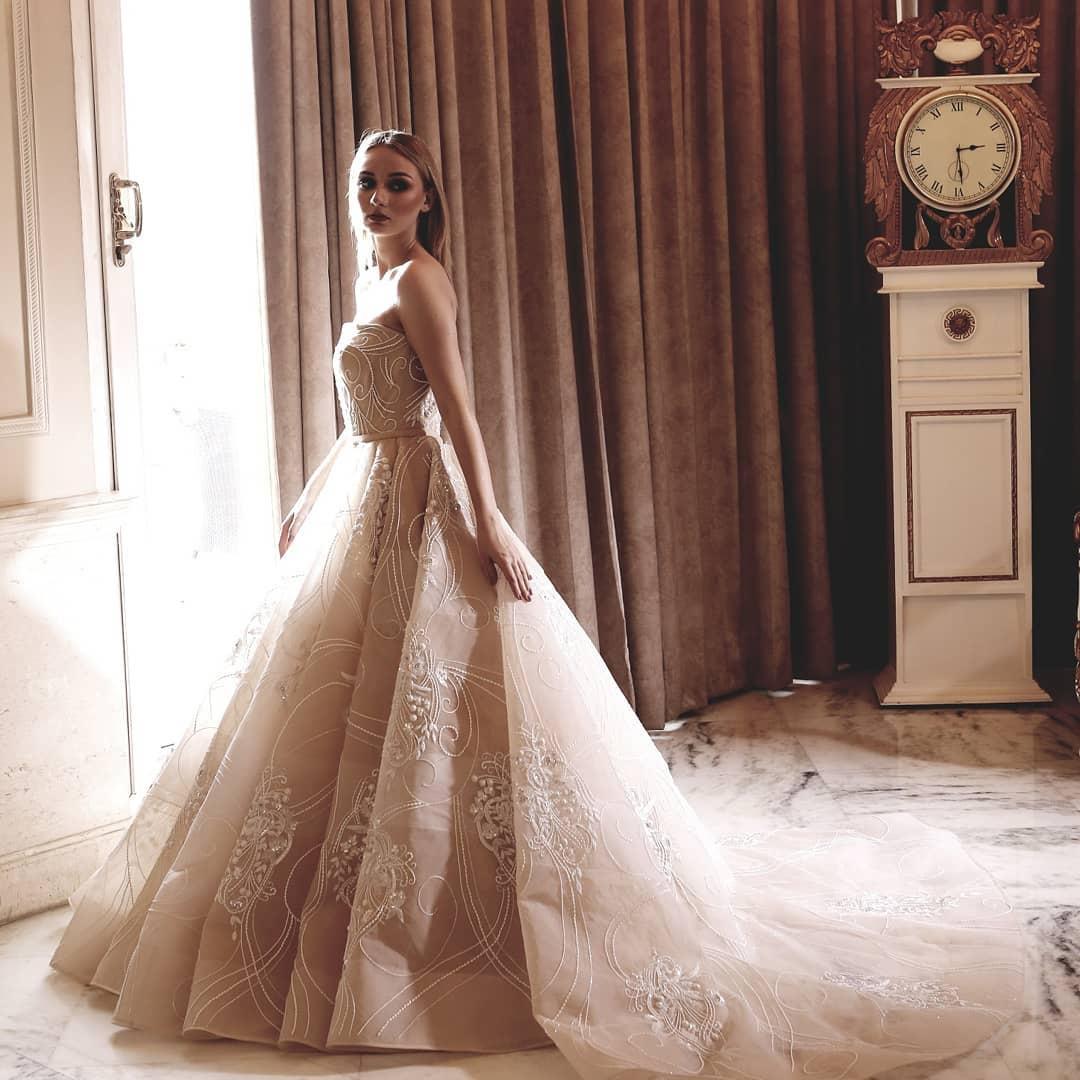 If you want to choose a gown design that is elegant yet decadent, then Amit GT's designs are what you should choose for your wedding festivities. Featuring a beautiful white princess gown with a fitted corset, imperial train and delicate embroideries, his innovative gown design is bound to create magic and make your celebrations much more memorable.
Couture Goddess Gown Design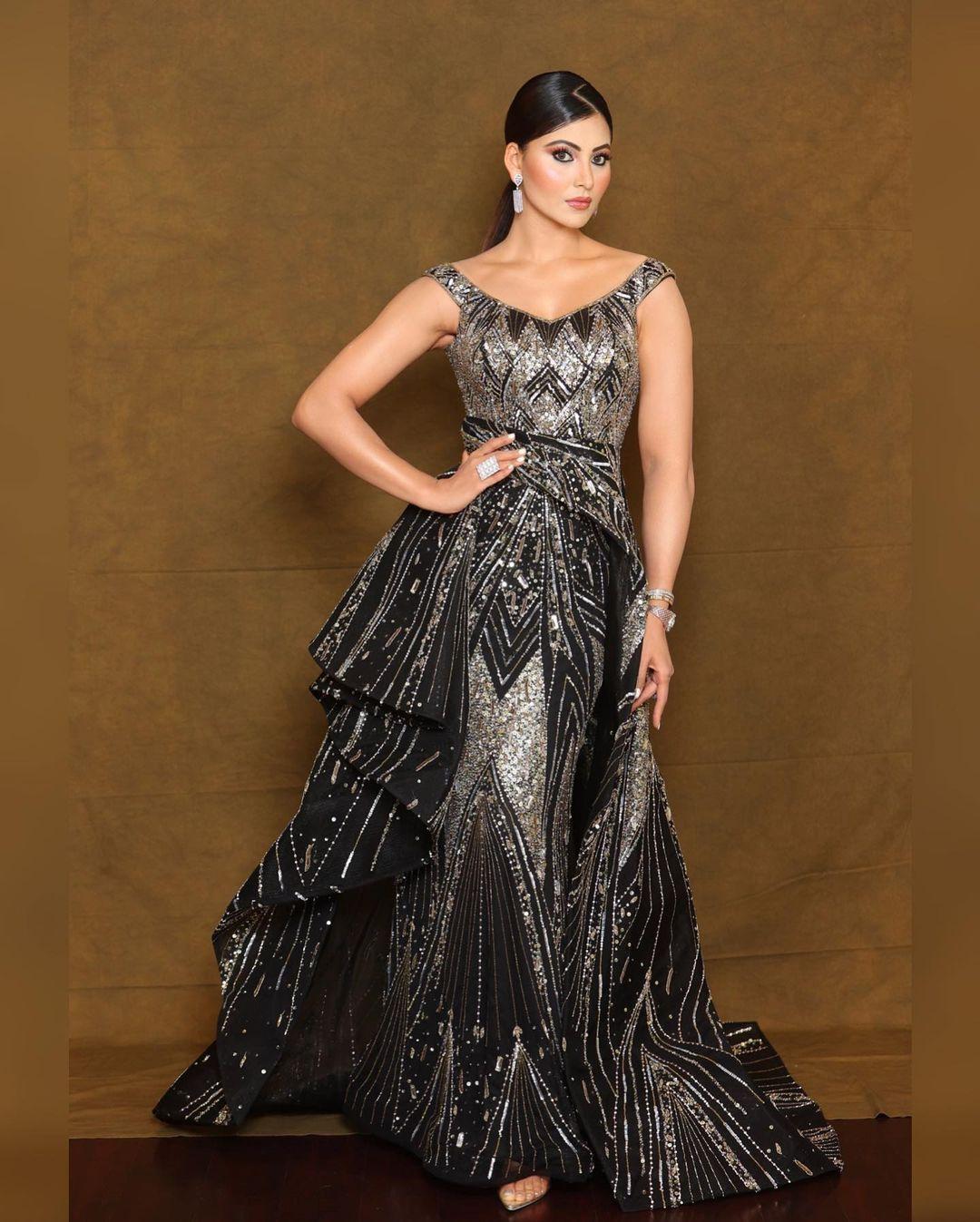 With delicate intricacies and designs that redefine the style of Indian brides, Amit GT Haute Couture gown designs are perfect for all millennial brides. This Noir Scintilla gown depicts signature embroideries with a wraparound bustle over a pillared gown.
Red Ruffle Dream Gown Design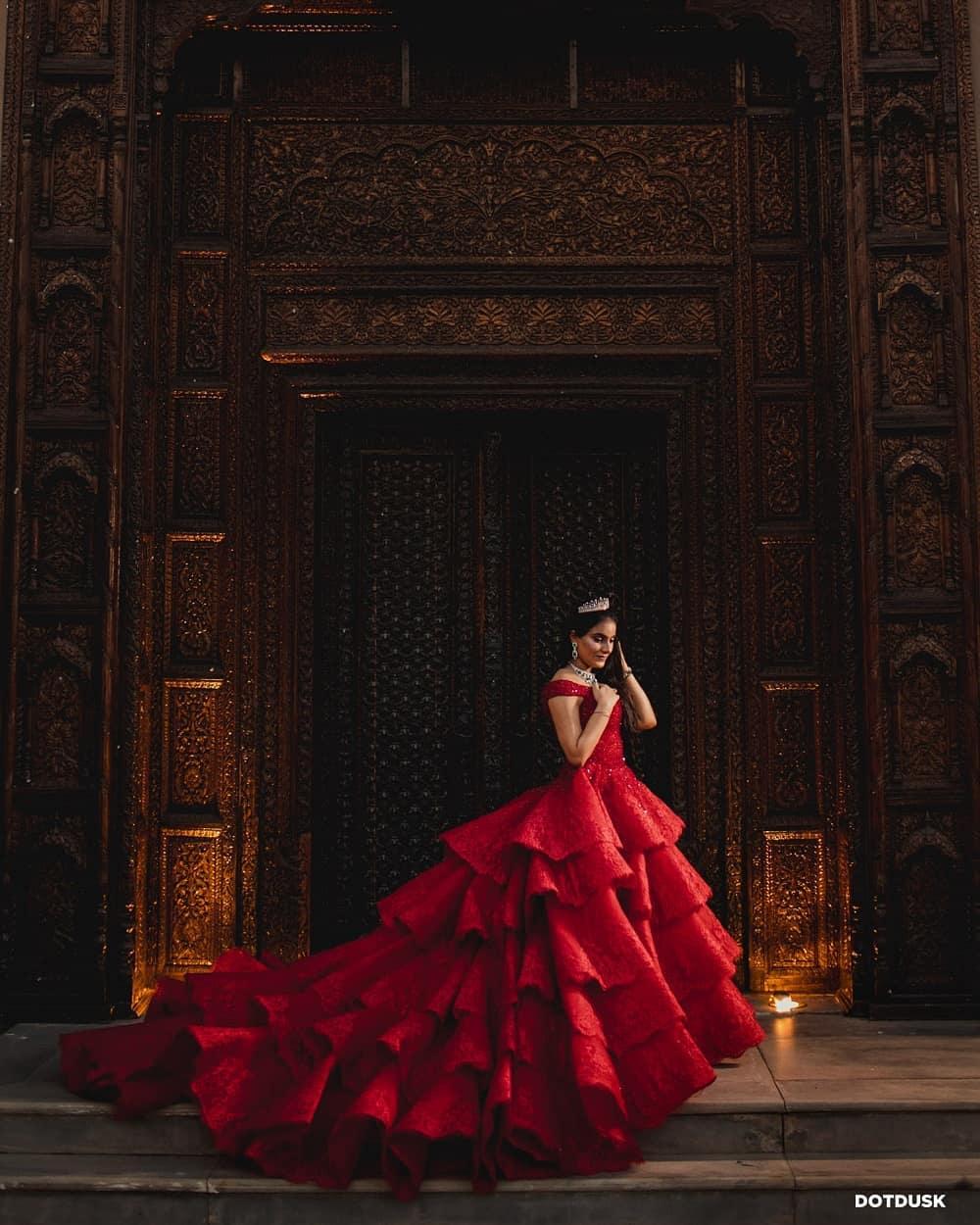 How can you decide if too many ruffles are enough ruffles for your dream gown design? Channel, your inner queen with this gorgeous layered gown in bright red with a flowy train. Wear it for your pre-wedding festivities or post-wedding celebrations, you will look drop-dead-gorgeous for sure.
Can't Go Wrong With Pink Gown Design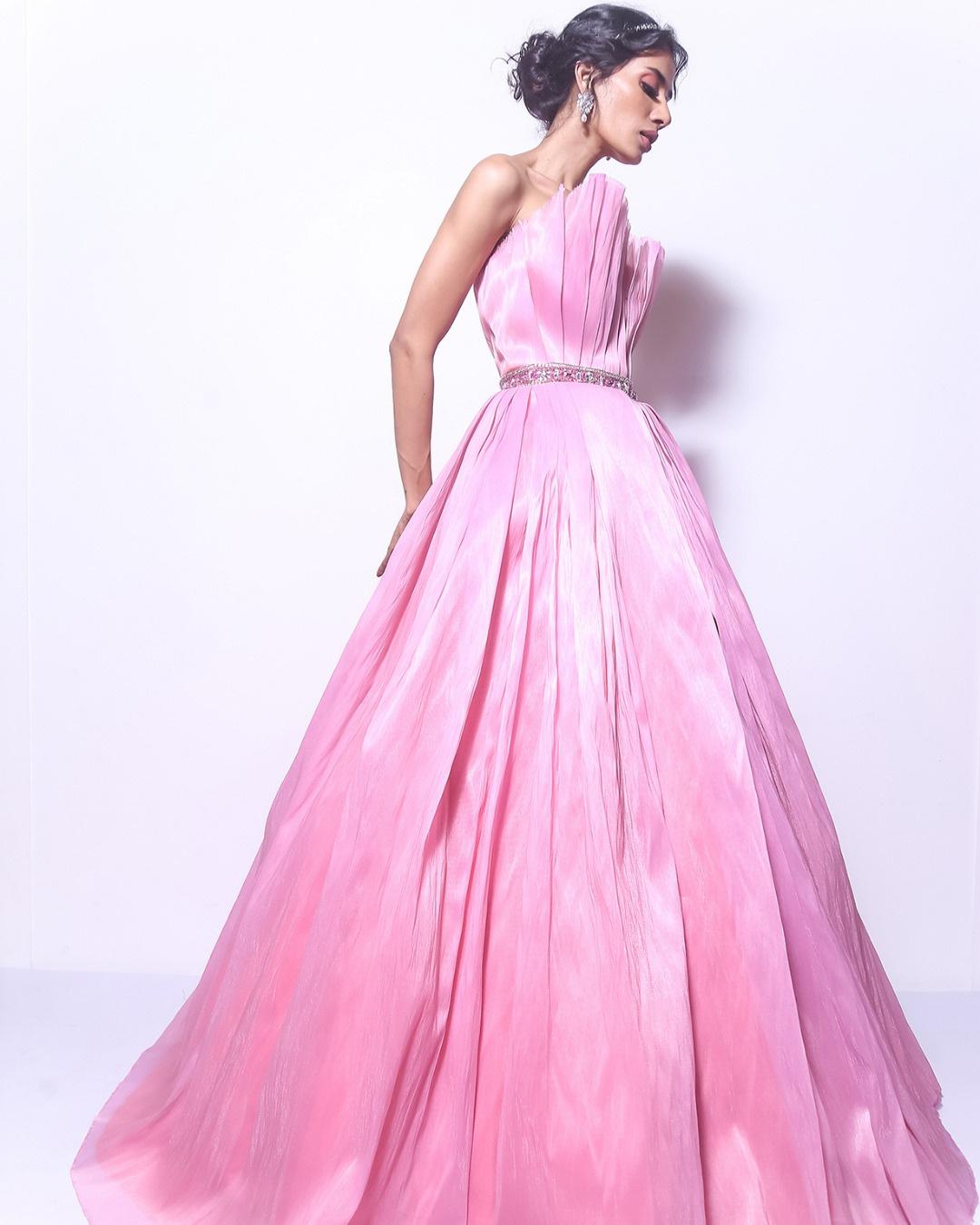 Image Courtesy - Neeta Lulla
For all the minimalistic brides who are looking for a charming yet simple ball gown design for their wedding festivities, this stunning overall pink gown by Neeta Lulla can be your perfect pick. With a gorgeous flare and minimal detailing on the waist, you can never go wrong with it.
Chive Sequin Gown Design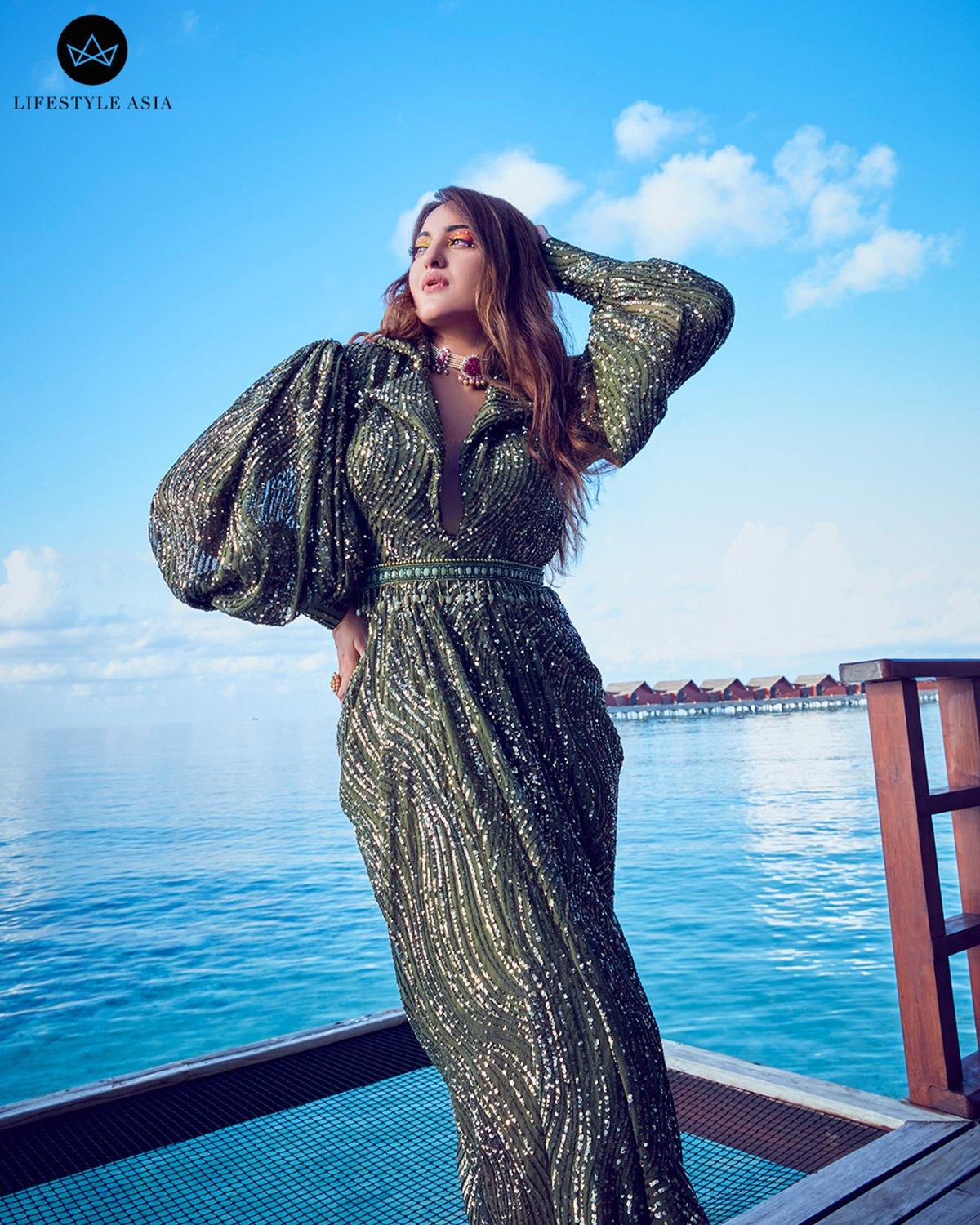 The chic chive green collared gown design by Kalki Fashion is crafted in net with bishop sleeve and sequins in sea waves design. Perfect for adding to the relaxed vibe of your festivities, you would simply be the showstopper of your event by adorning this gorgeous ensemble.
Yellow Ruffled Gown Design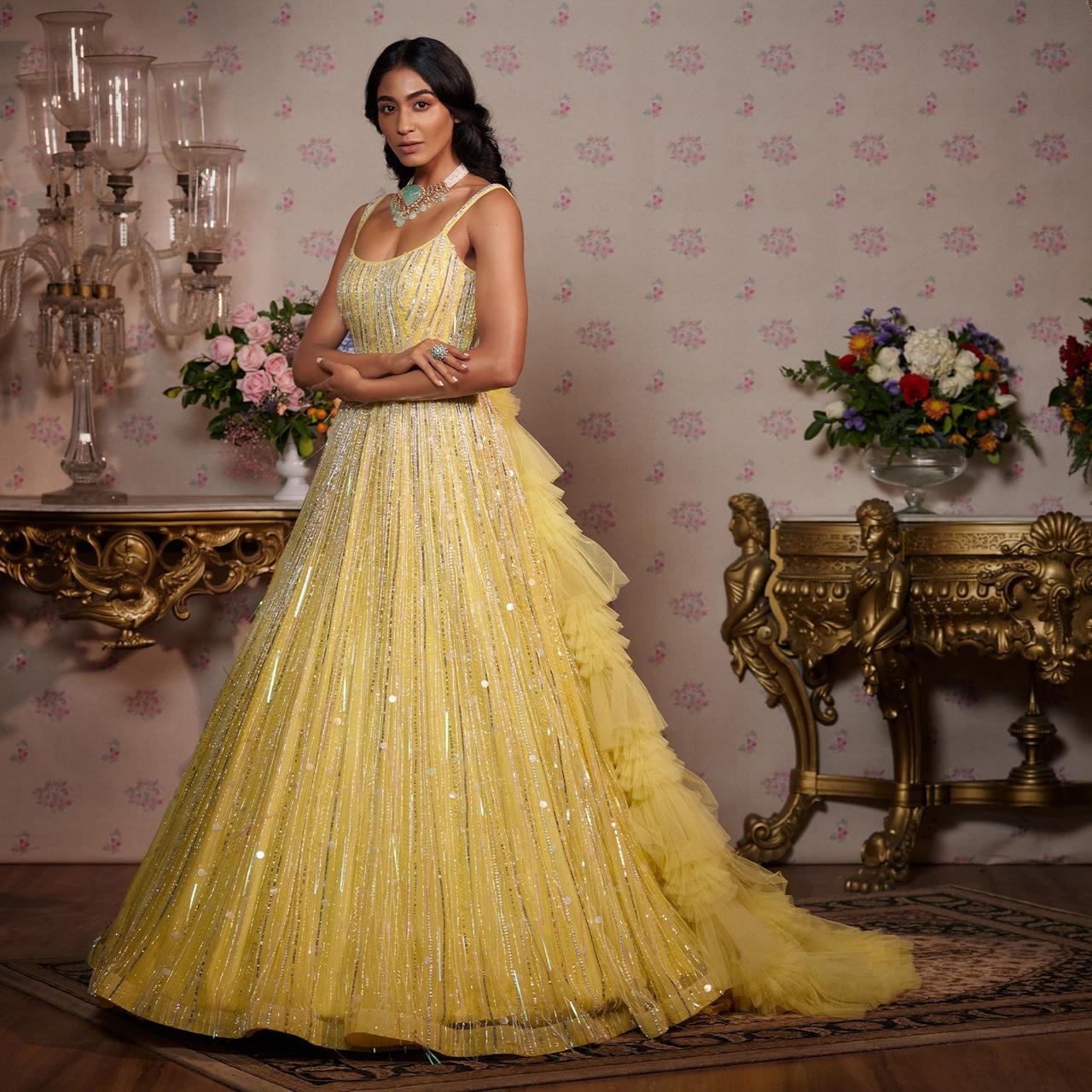 Image Courtesy - Neeta Lulla
The ethereal elegance of feminine details, subtle majestic grandeur and delicate intricacy have been the constant reference for this ravishing gown by Neeta Lulla. With gorgeous ruffles and scattered sequins, this collection is a revival of a fashion theatre at its splendid best!
Latest Wedding Gown Designs
Melodies of the Fall Gown Design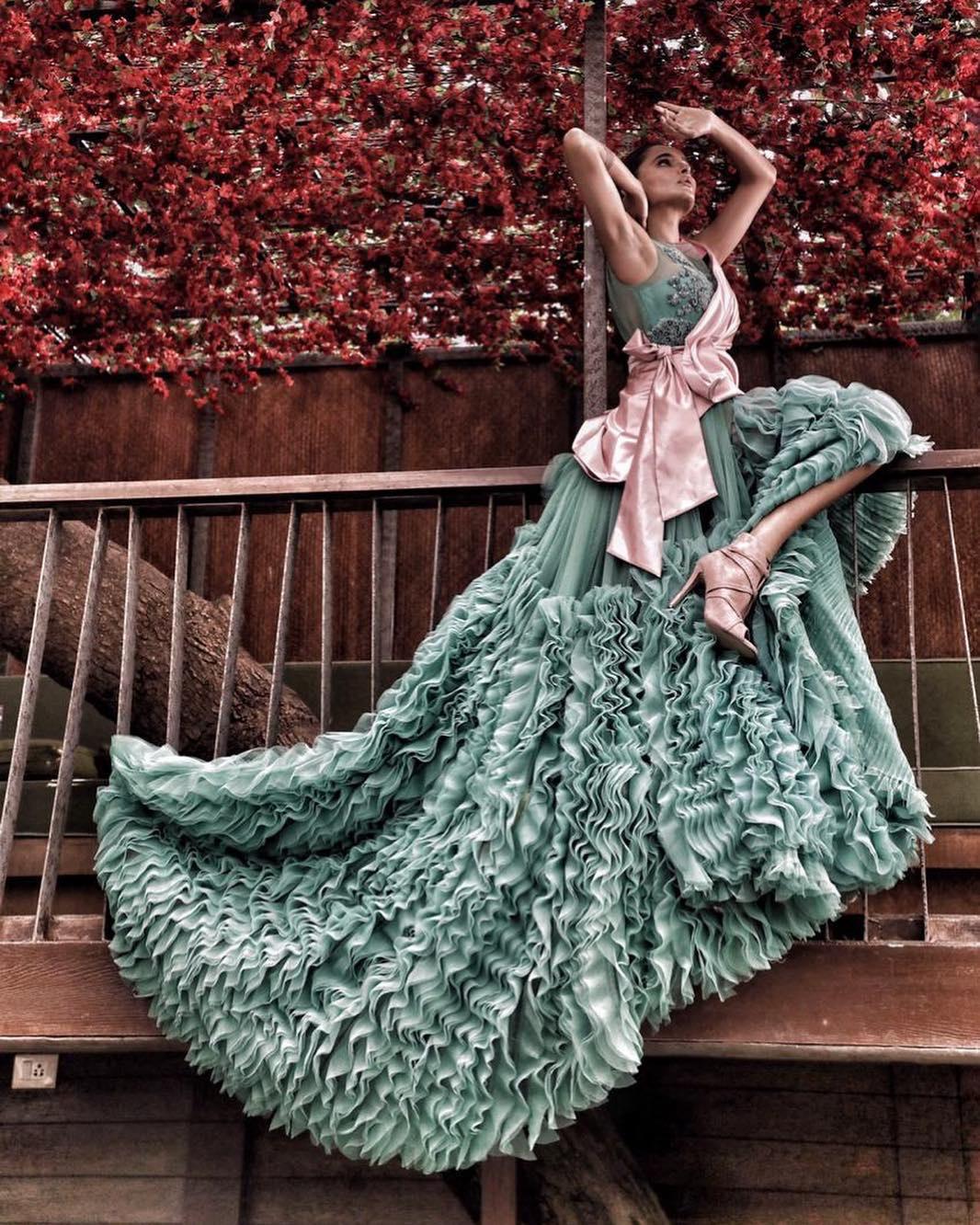 Make your own fairytale with this stunning teal tulle gown by Papa Don't Preach by Shubhika. From the collection called The Little Mermaid, it can be styled perfectly with a one-shouldered blush pink Wrap Jacket from the brand itself.
Bohemian Gown Design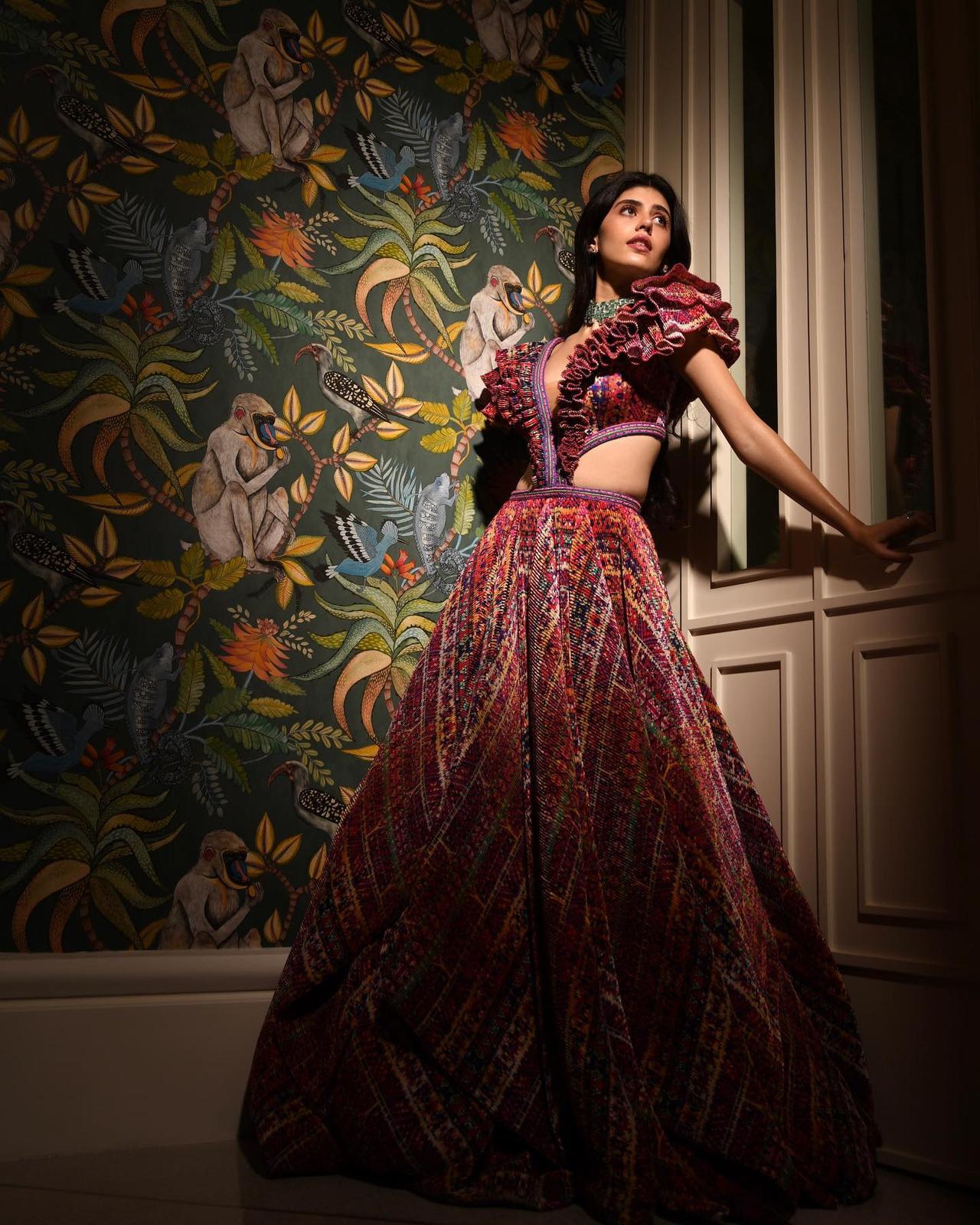 Make a scintillating entrance to your Cocktail party wearing this gorgeous gown by the talented designers Shantanu & Nikhil. The fabric, colour and design will ensure that you look stellar at all times.
Glistening Purple Slit Gown Design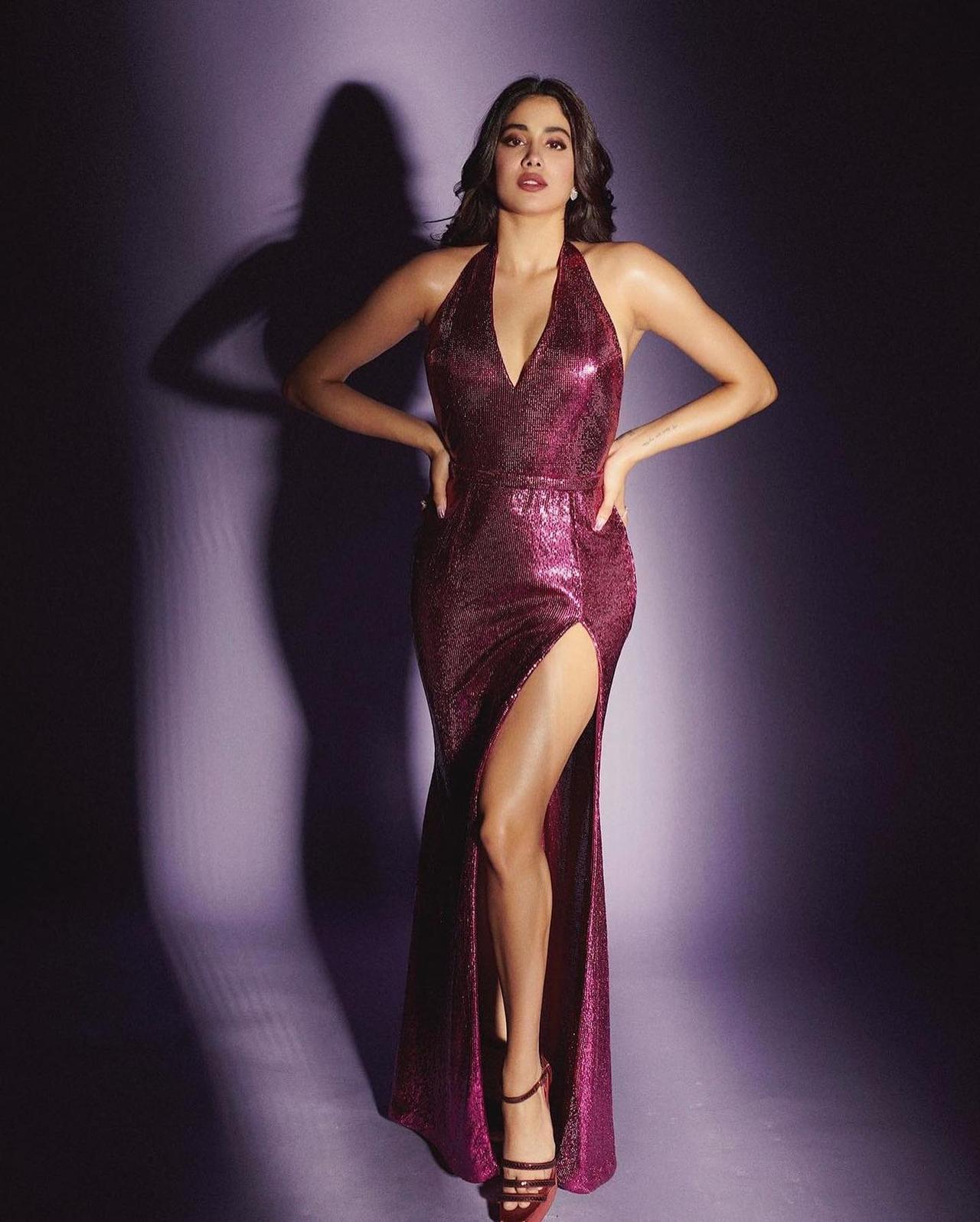 Image Courtesy - Manish Malhotra
For the bold and fierce you, choose a gorgeous sheath slit gown design by Manish Malhotra for your pre-wedding celebrations. The plunging halter neckline and metallic finish of the gown will definitely make the heads turn as you walk down for your festivities.
Forest Green Empire Gown Design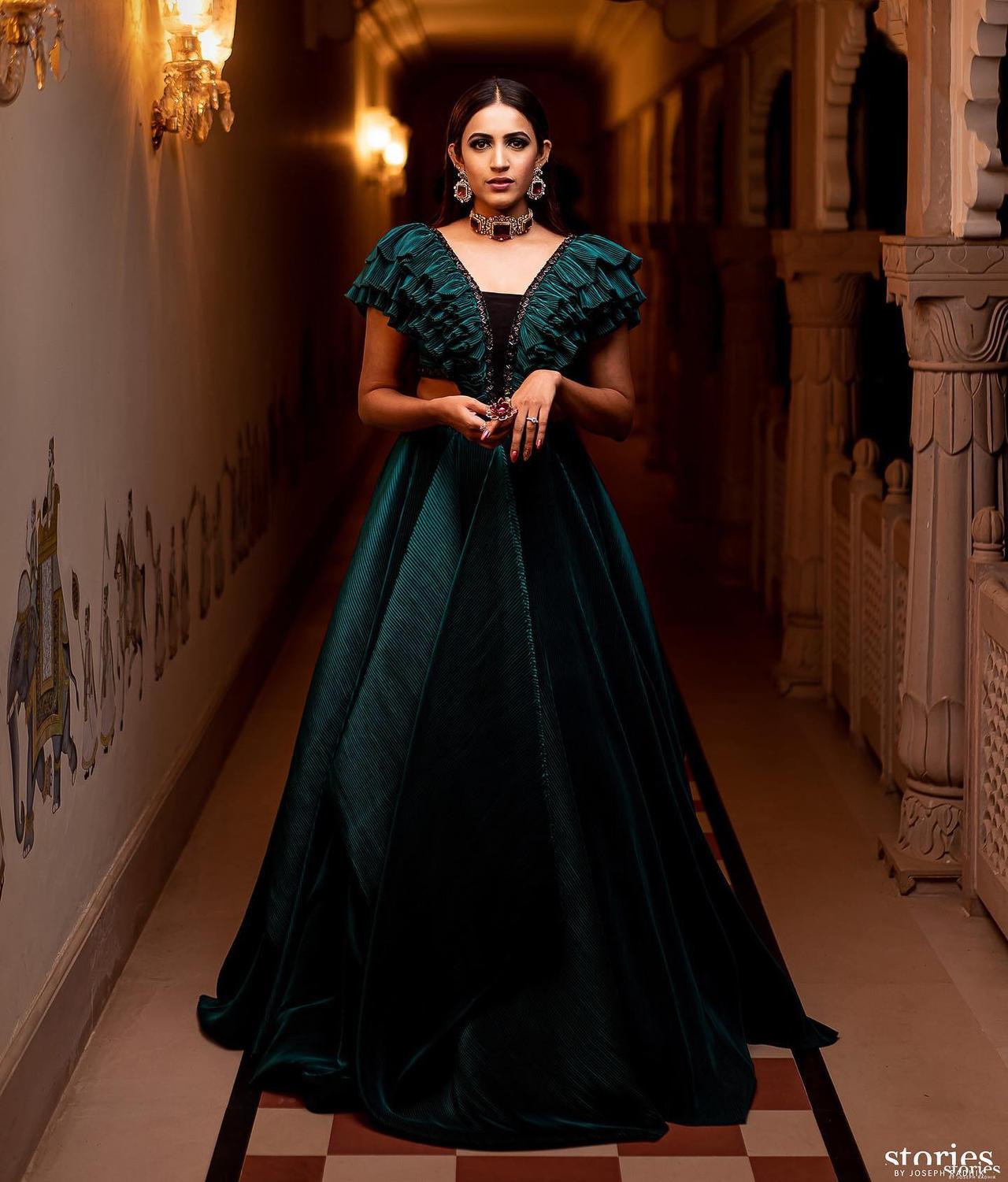 Whether it's your Cocktail party or Mehndi night, make a fashion statement with a graceful gown design, and if you are looking for a dress that will enchant all your wedding guests, then this beguiling forest green ensemble by Shantanu & Nikhil should be your choice. Here, the statement bodices meet flowing fabrics, with their classic draping style rendered in a deep emerald palette.
Corset Sheath Gown Design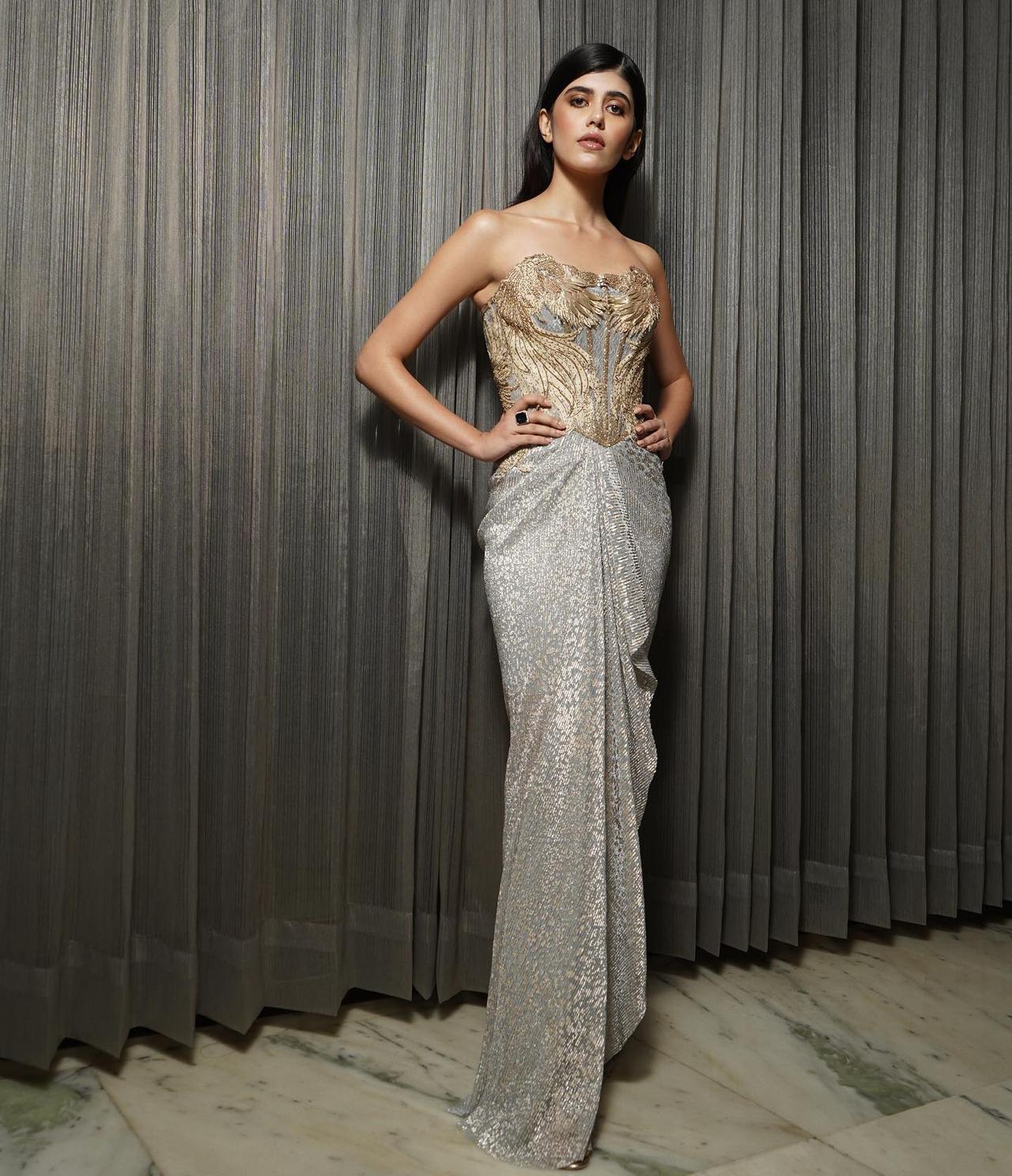 Adorning a stunning emblazoned 3D Neo gown design by Shantanu & Nikhil, millennial star Sanjana Sanghi looked stunning and party-ready. The gown dramatised the anti-trend drape that will win hearts for sure.
Studded Blush Pink Gown Design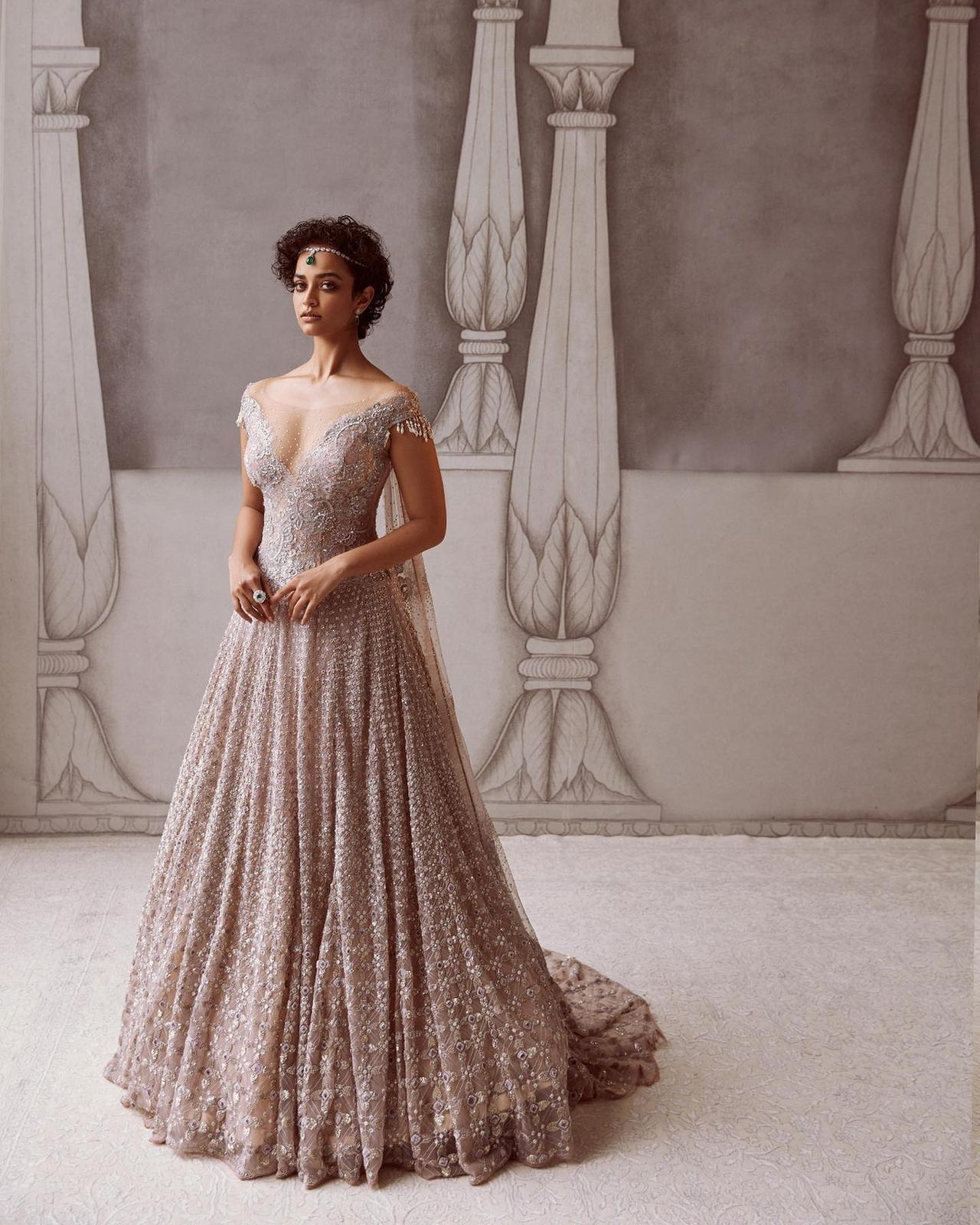 This gorgeous tulle gown in blush pink by Tarun Tahiliani is embroidered and studded all over and features a beautiful illusion neckline. With a delicately embroidered sheer bodice and a striking pastel colour palette, this has to be the ideal choice for all modern-age brides.
Gleaming Gown Designs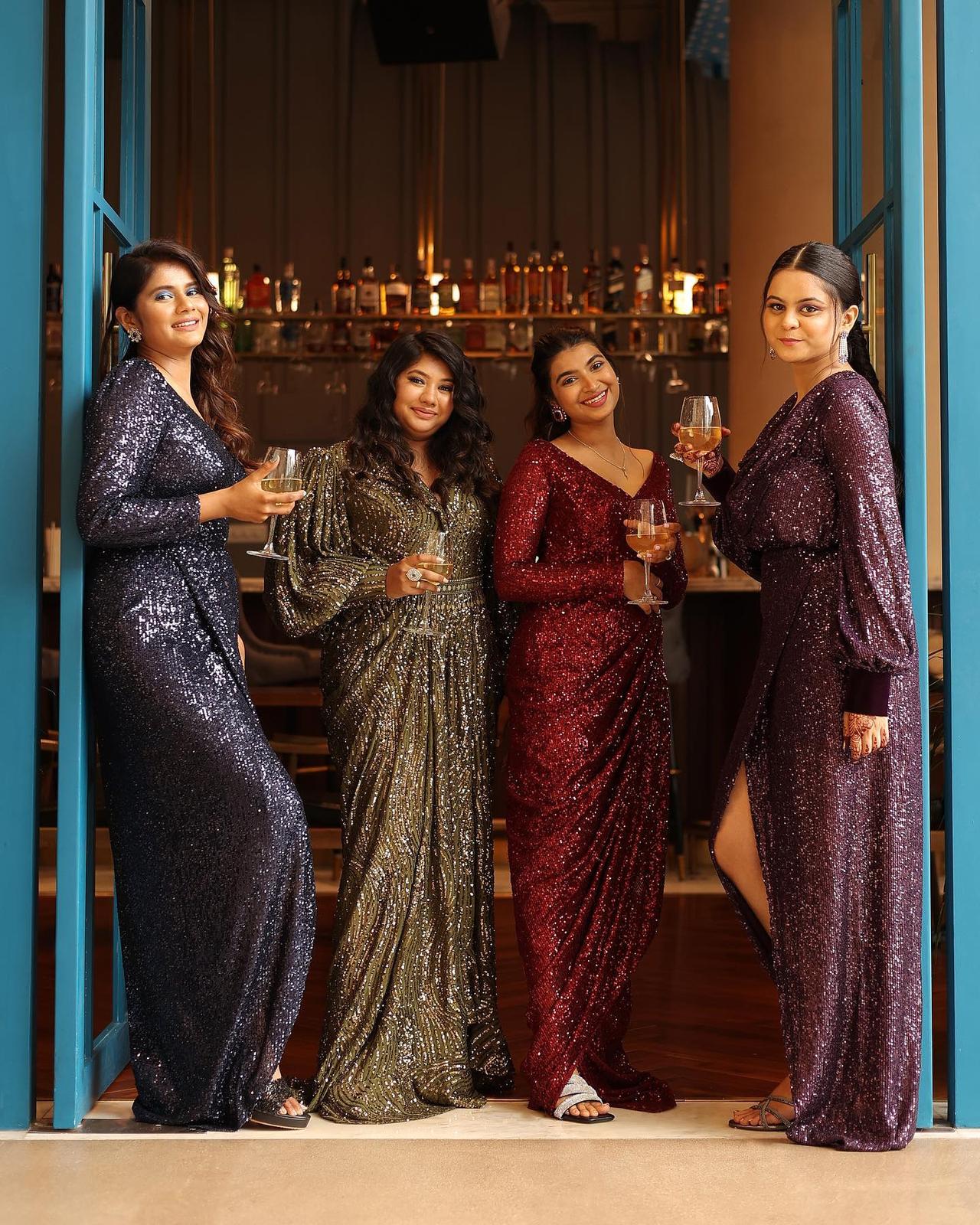 If you are looking for shimmering gown designs that will dazzle your wedding guests, then choose from the beautiful variety of sequin gowns by Kalki fashion. From plunging necklines, overlapping slits, fancy bodice drapes, and peasant sleeves, they have a lot to offer as per your style preferences and choices.
Metallic Ruffle Dream Gown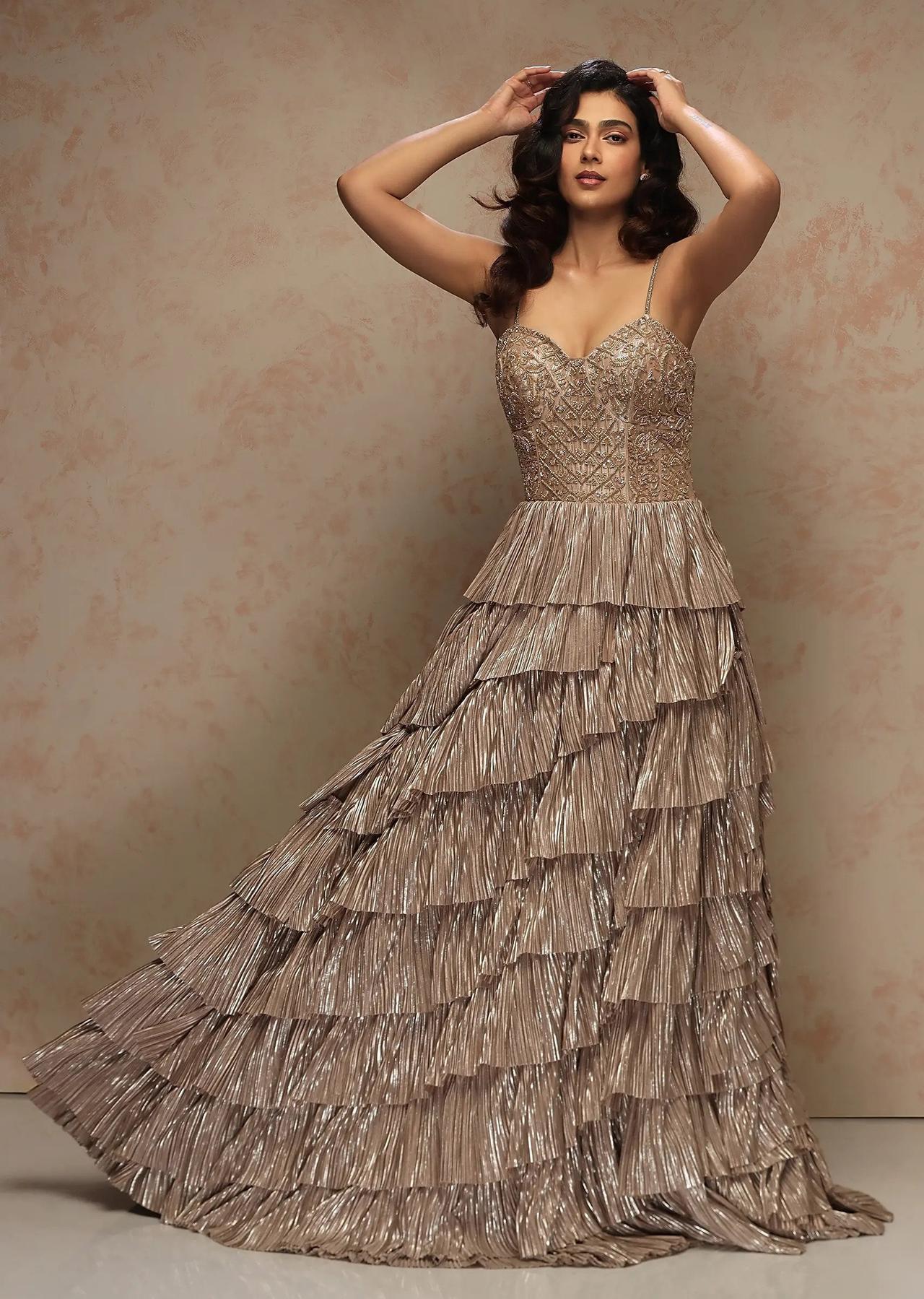 This champagne gown with crushed shimmer layers by Kalki Fashion has our heart. With a layered silhouette, this stunning gown design accentuates cut dana, sequins, moti and Zardosi embroidered floral and chevron patterns.
Teal Tulle Gown Design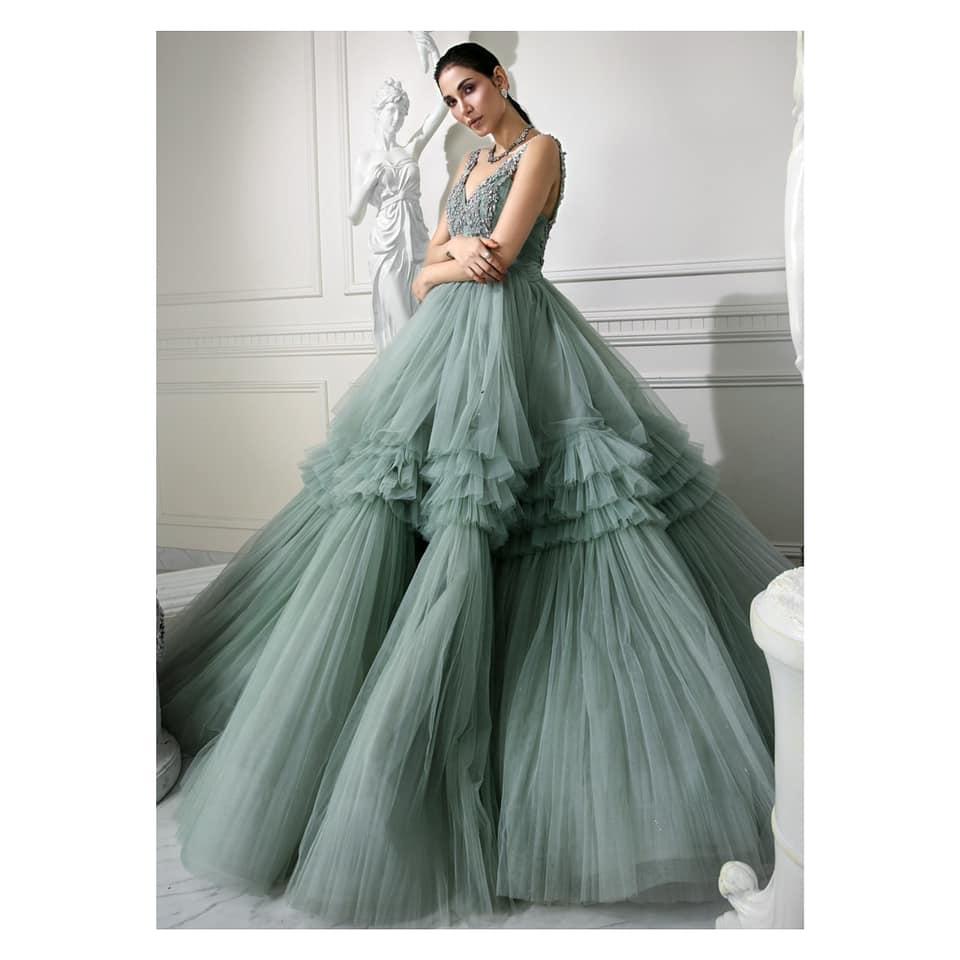 Image Courtesy - Sanafsha
The warm sublime hue, feminine neck cut, and scintillating details of the net flare and layers in the gown by Sanafsha are a perfect combination to elevate your style. The unique aesthetic infused with a western look will take you away to evening parties and intimate affairs, making it a perfect pick for your wedding festivities.
Timeless Embroidered Empire Gown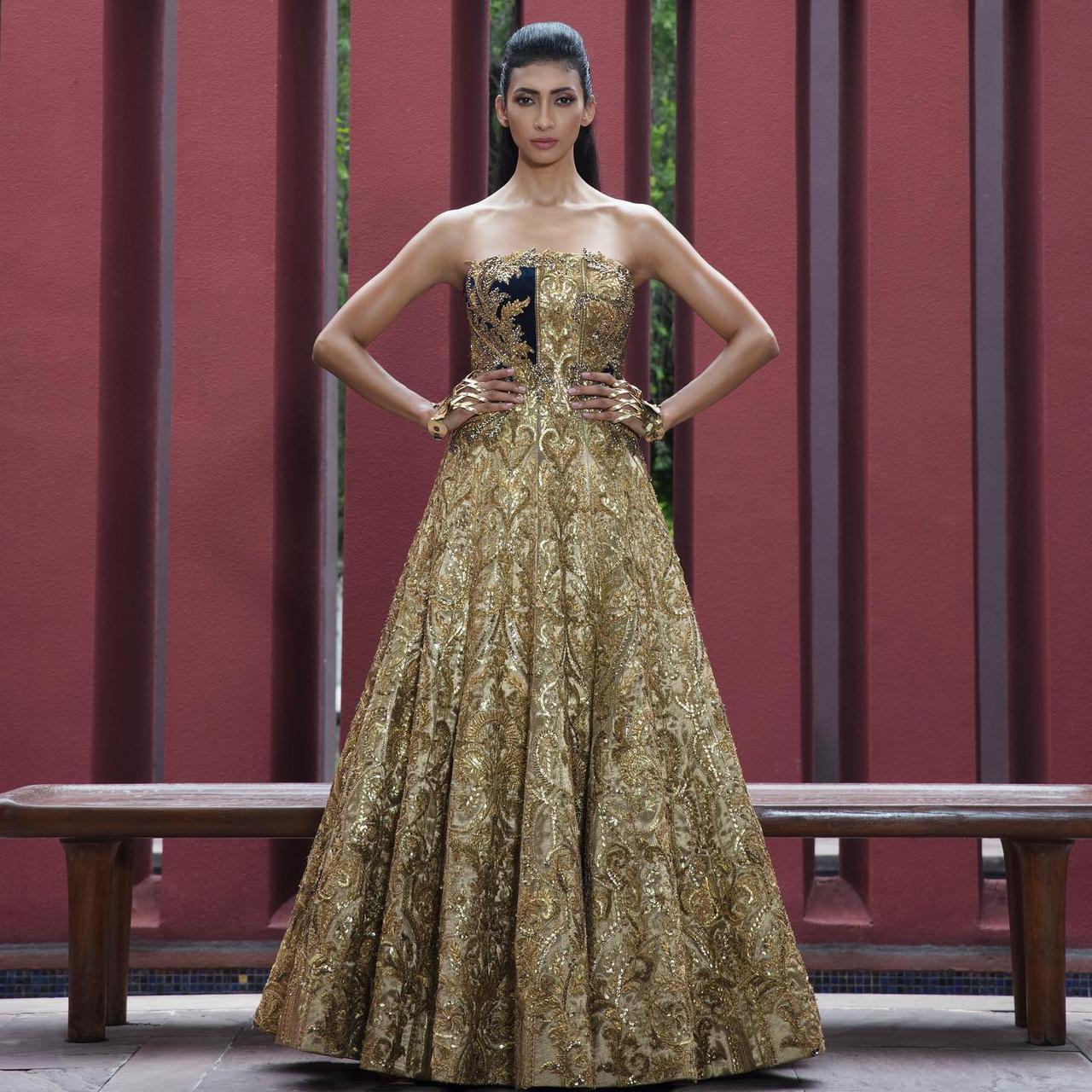 Want a gown design that speaks volumes about the regal aura and royalty that you possess? Make a statement in a striking gold gown like this design Shantanu & Nikhil that is adorned with palatial embroidery and exquisite zardozi work, making it perfect for all our brides-to-be.
Silver Trumpet Gown Design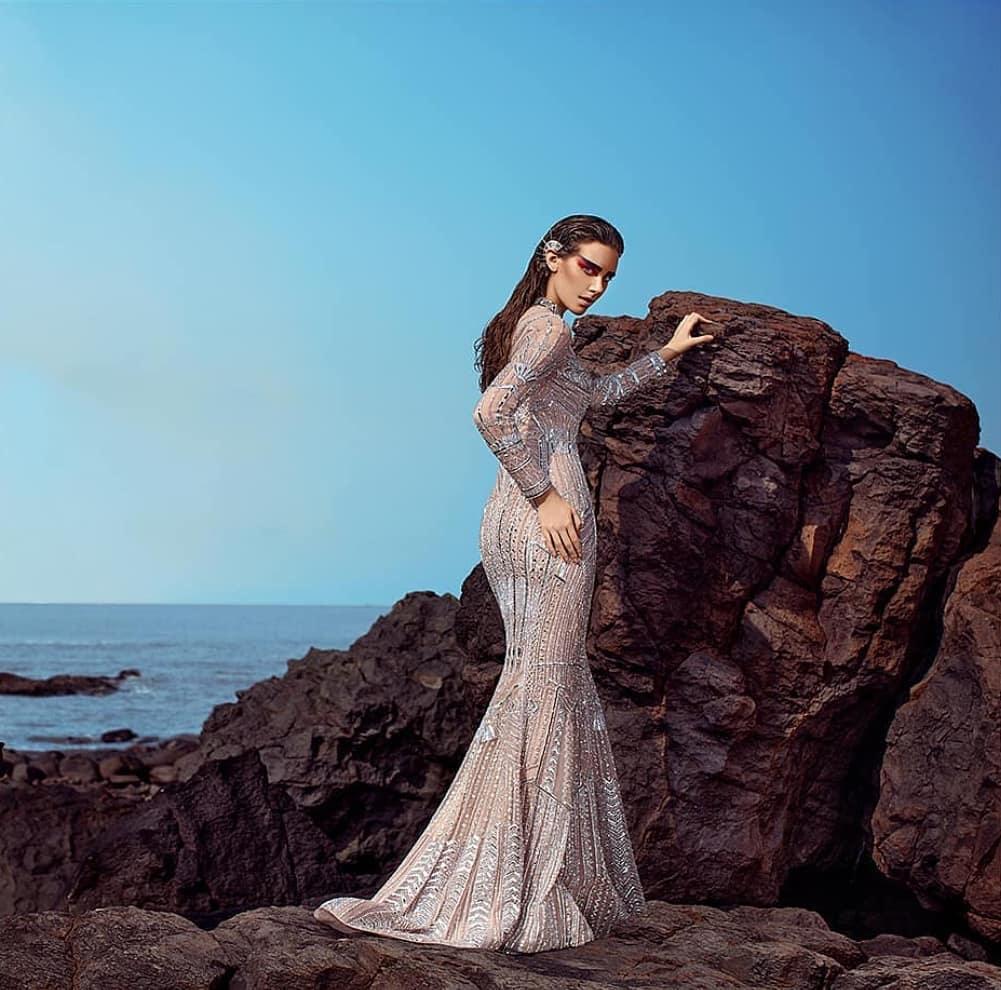 Image Courtesy - Falguni Shane Peacock
Want to turn the heads as you walk down to your pre-wedding festivities? Ensure that all eyes stay on you wearing a stellar silver gown like this dream of a gown by Falguni Shane Peacock. This nude-based silver gown will surely be the talk of your event.
Crimson Panelled Gown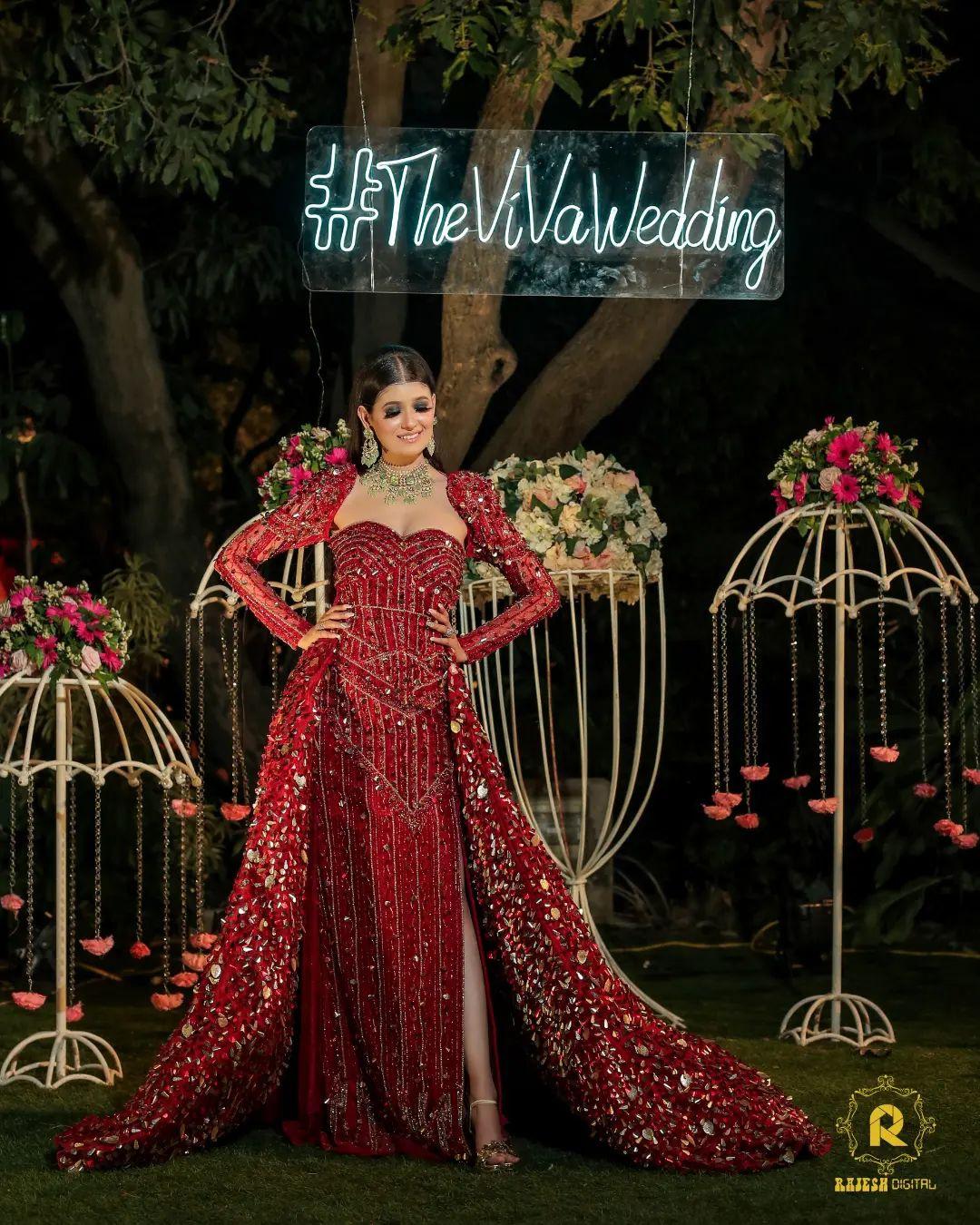 Be the star of your festivities while choosing a gorgeous column gown with added panelled flared, plunging sweetheart neckline and shimmering sequin work against a striking crimson palette.
Audrey-esque Gown Design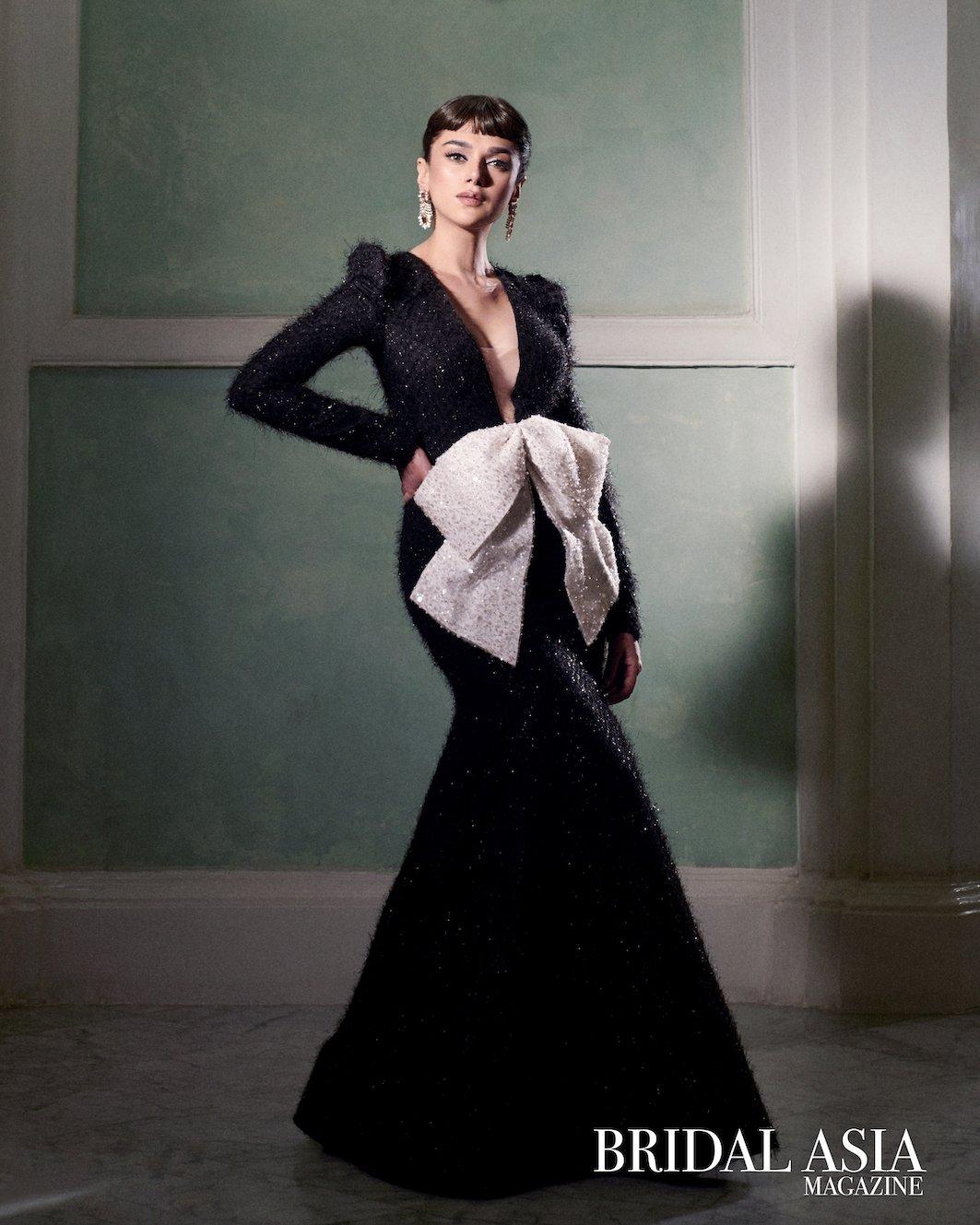 Image Courtesy - Rohit Gandhi & Rahul Khanna
If you are a fan of the iconic Breakfast At Tiffany's star and wish to bring out your Audrey-esque avatar for your wedding celebrations, then this gorgeous black gown by Rohit Gandhi & Rahul Khanna should be your choice. Bring out your uninterrupted charm paying homage to a legend, and look every so elegant for your festivities.
Taraasa's Summer Bridal Gown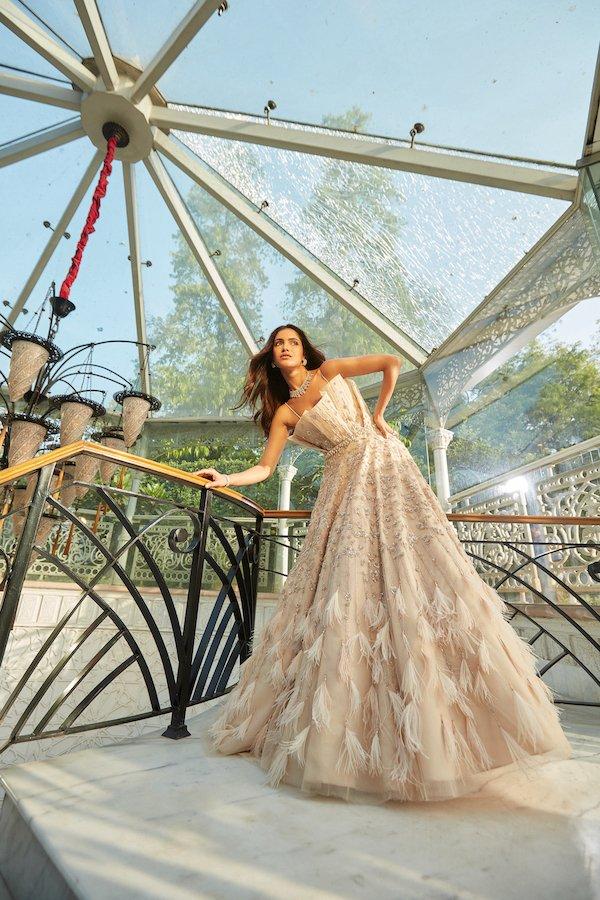 Modern Heirlooms by the urban brides, this gorgeous collection by Frontier Raas features a fresh summer palette. Reminiscent of lightness and ease, the beautiful earthy pastels feature apex design elements and ostentatious silhouettes, making them ideal for your wedding celebrations.
Delicately Embroidered Champagne Gown Design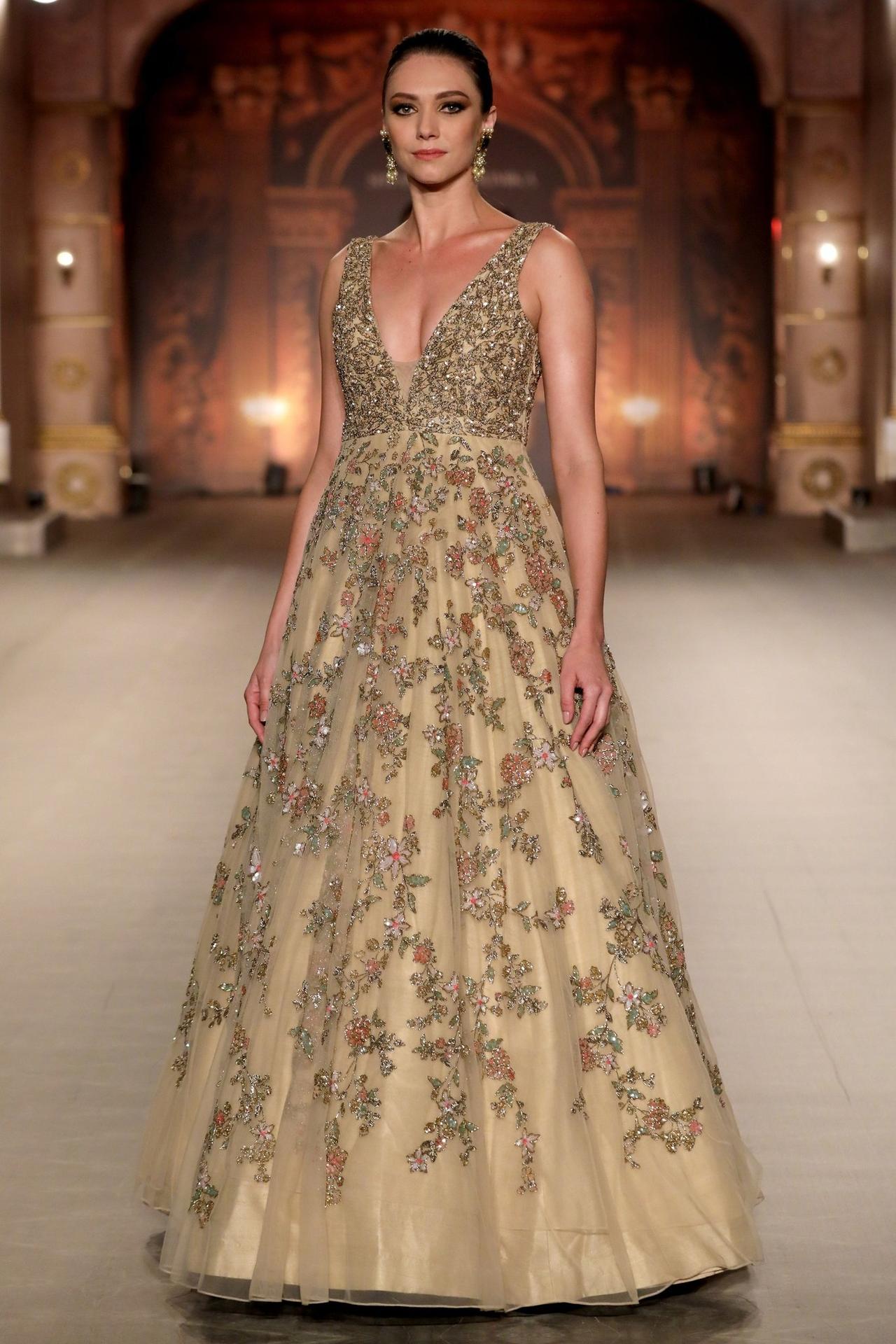 Be the Renaissance's muse adorning this tulle champagne gown with an encrusted bodice and floral flare gilded with intricate peeta and subtle watery sequins. Perfect for your reception ceremony, this stunning gown design by Shyamal & Bhumika will be the ideal pick for you.
Western Gown Dresses
Illusion Sheath Gown Design with Cape Sleeves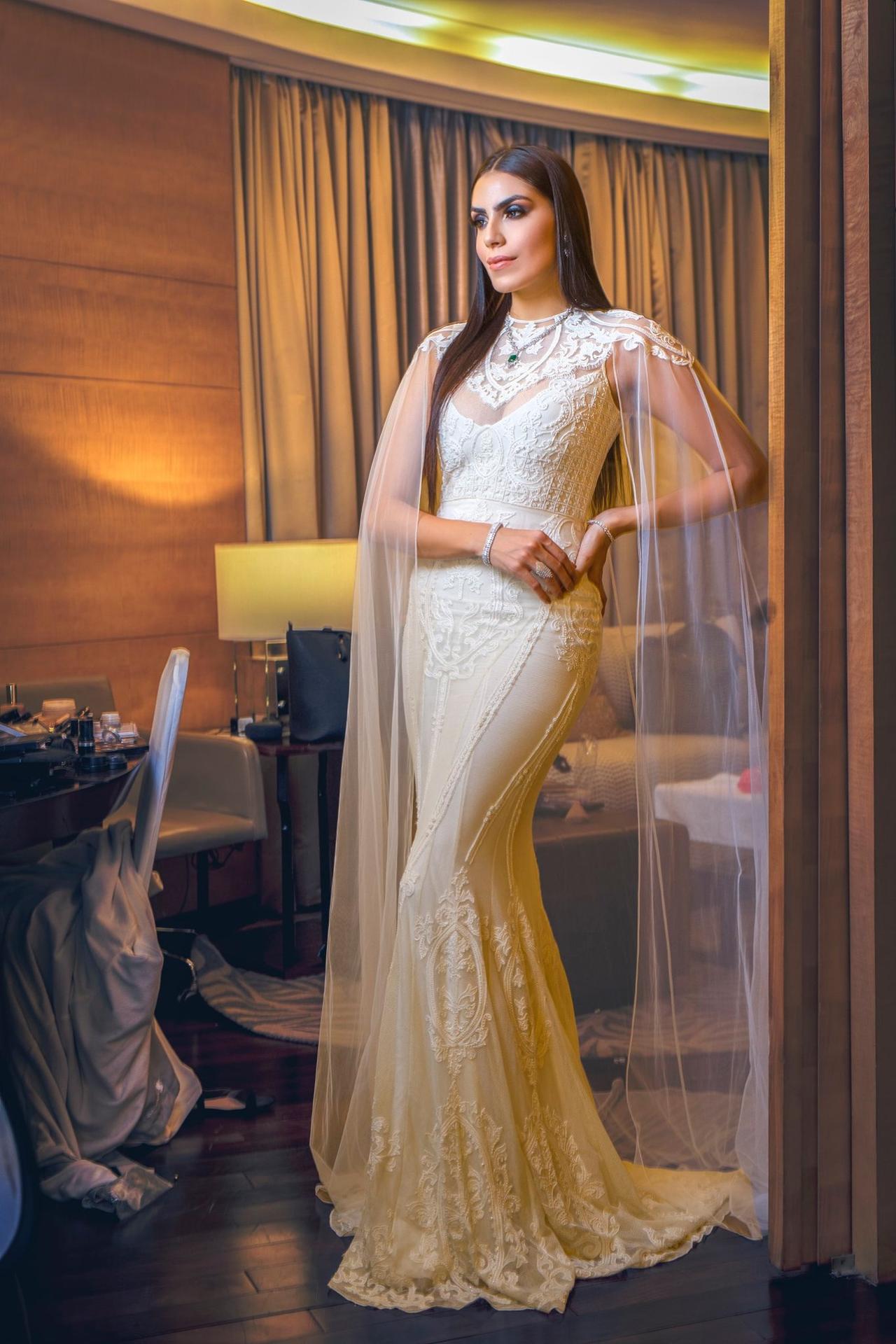 For all the brides looking for a gorgeous gown design to accentuate and flatter their curves, this sheer white embroidered gown with cape sleeves can be your perfect choice. Blending the elegance and beauty together in your outfit, you will look effortlessly gorgeous adorning this ensemble.
Scintillating Salmon Gown Design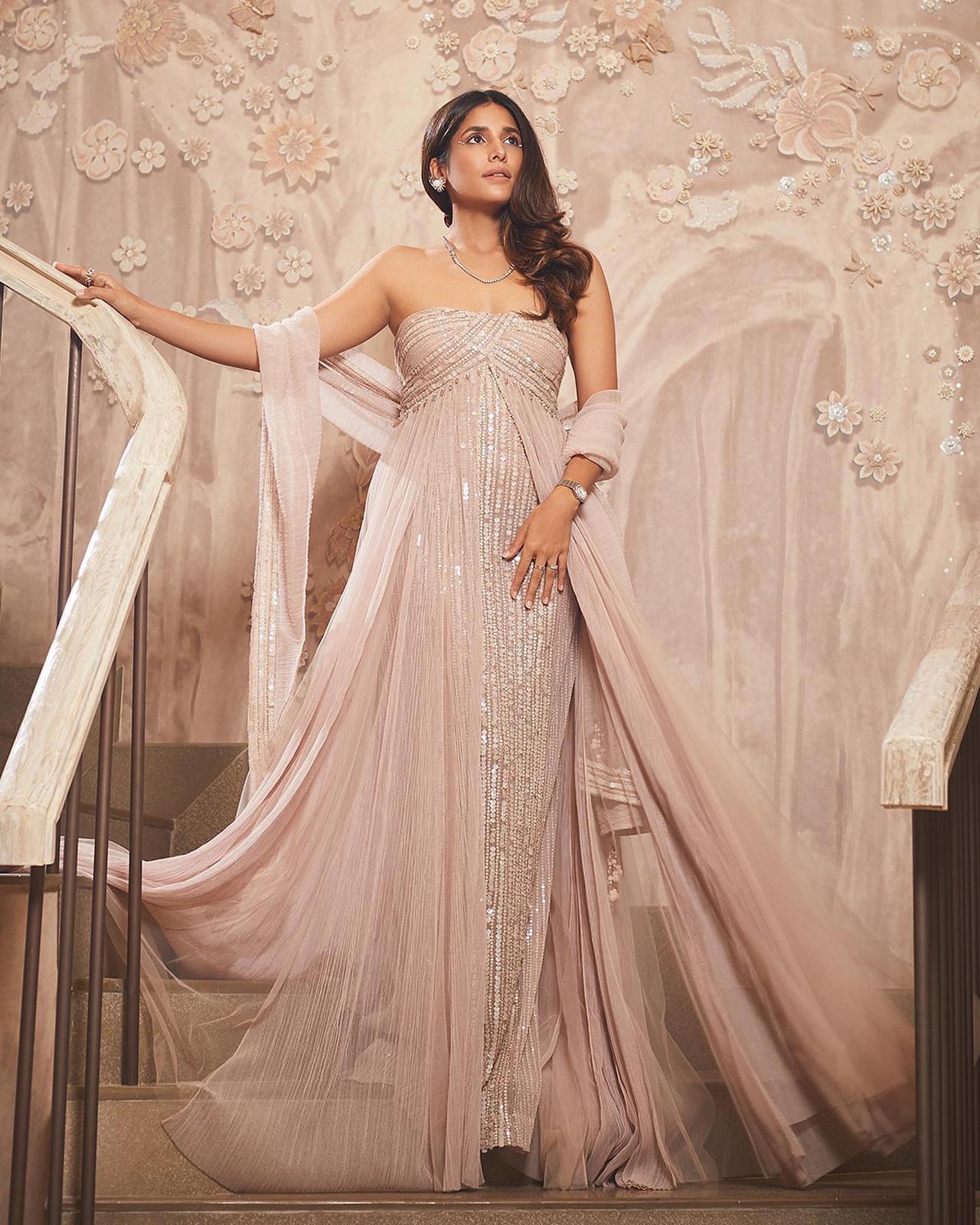 Tarun Tahiliani explores the futuristic expression and fluidity of beauty in his gorgeous gown for women. The glam of modern cuts in this beautiful gown design features innovative textile explorations with Zari threads and Resham for a distinct metallic sheen.
Arrays of Scintilla Bridal Gown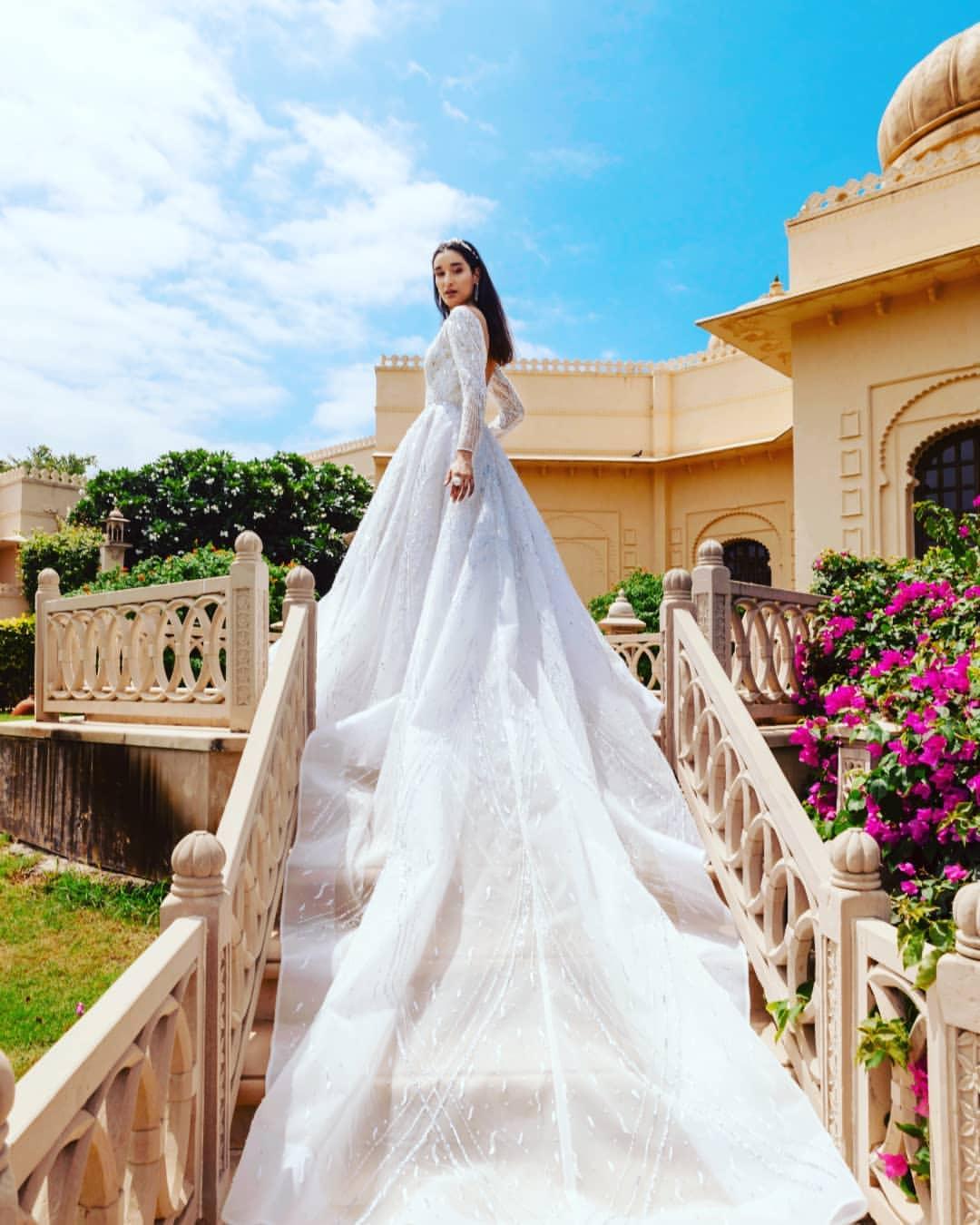 Fireworks symbolise celebration, and what can call for more celebration than the wedding? This exquisite wedding gown by Amit GT Haute Couture depicts jubilation through fireworks motifs all over the voluminous gown with a royal train that will make you look like a princess for your wedding festivities.
Burgundy Sequin Gown Design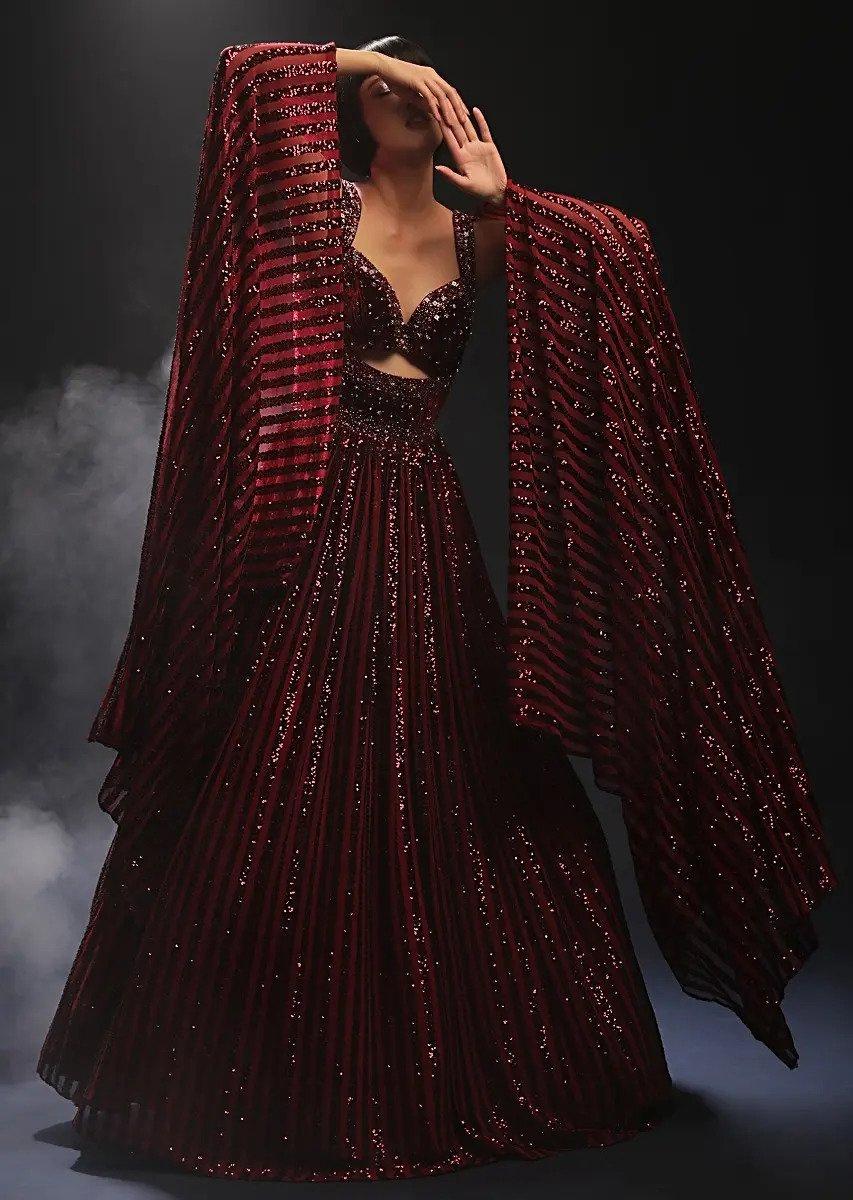 A beautiful net gown with sequins embellished striped design and velvet bodice by Kalki Fashion will surely have your heart. It is adorned with fancy cut sequins, cut dana, and Kundan works on the bodice, with front cut out, sweetheart neckline and attached cape dupattas on the shoulders in striped sequin embellished net.
Starry Emerald Sheath Gown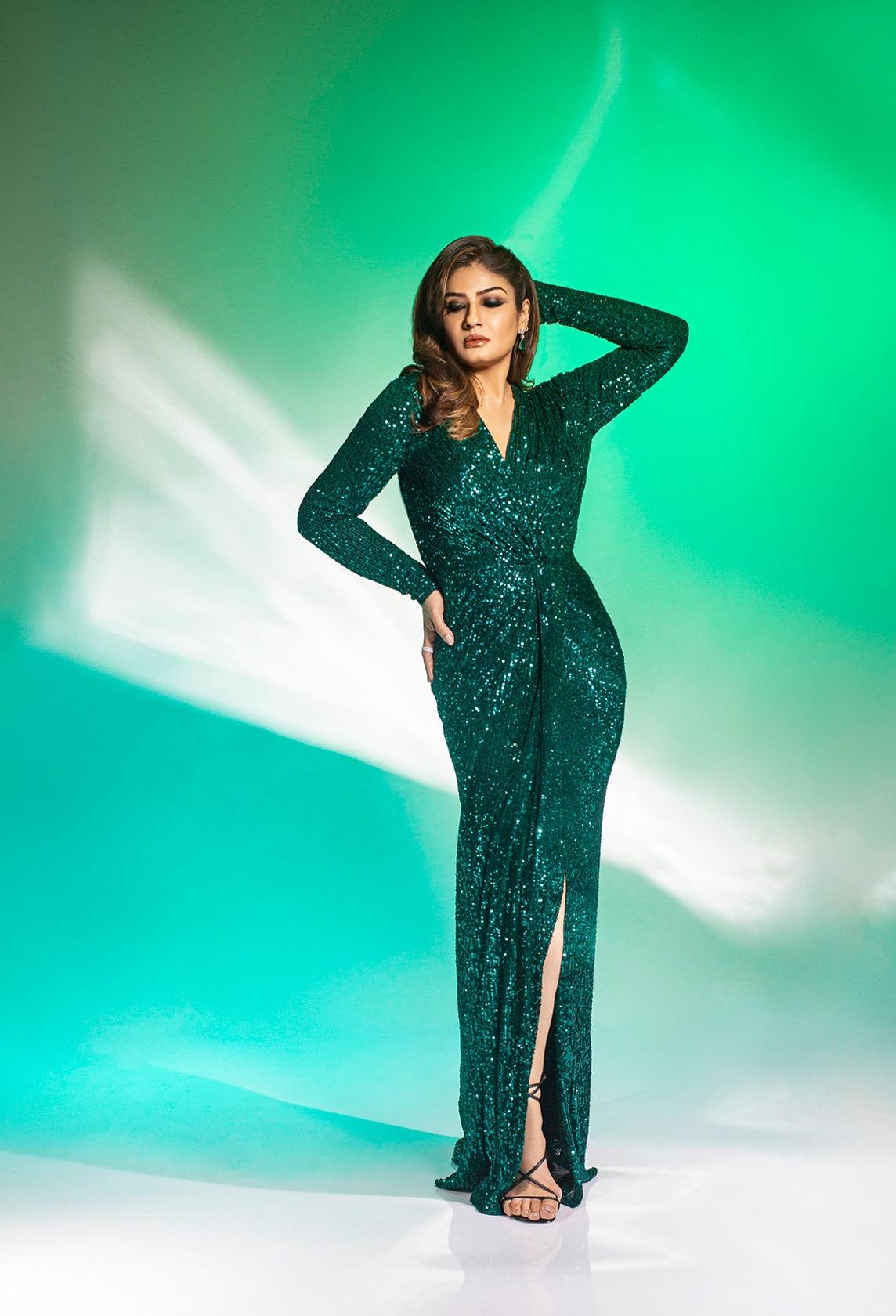 Image Courtesy - Neeta Lulla
A ravishing sheath gown perfect for your Cocktail celebrations has to be this lovely emerald beauty from Neeta Lulla. Her collection of gown designs offers stunning contemporary silhouettes and an overlay of sequins that will surely make you sparkle like no other for your festivities.
True Blue Glamour Gown Design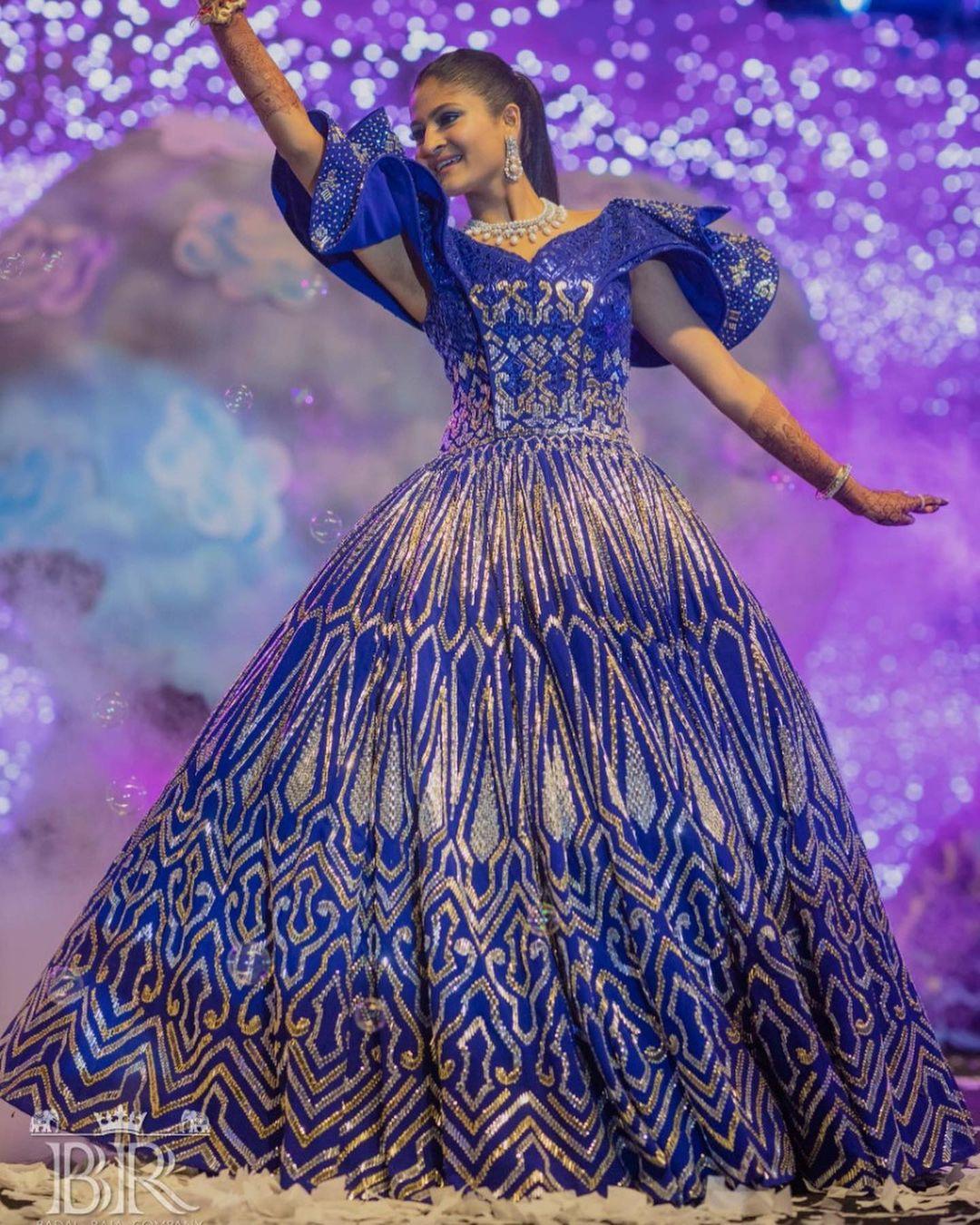 Dazzle in the gorgeous royal blue Art Deco ball gown by Abu Jani & Sandeep Khosla. and look nothing less than a royal queen for your wedding reception. If you wish to shine like no other in your wedding festivities, this is the perfect pick for you!
Dazzling Gold Sequins Gown Design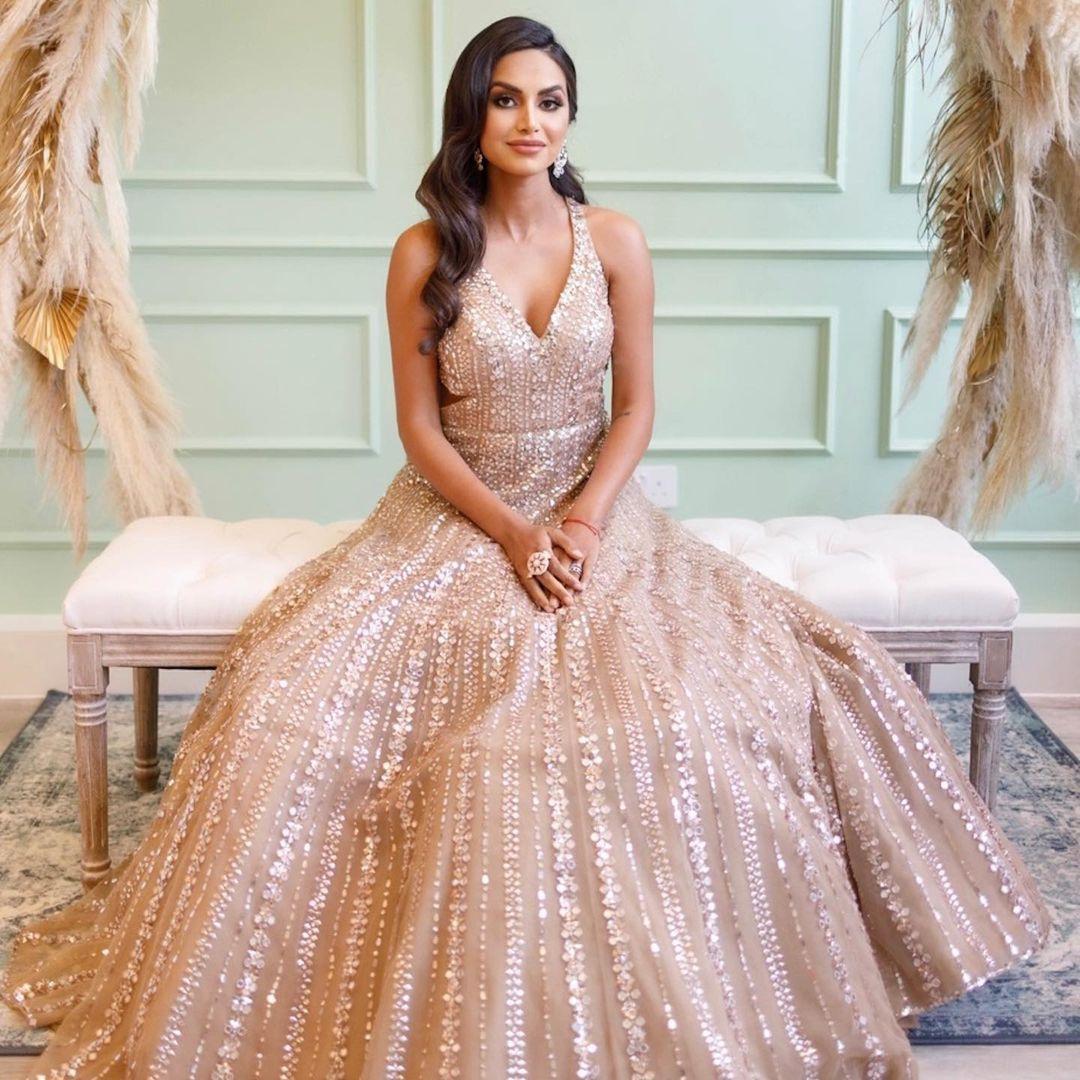 Igniting radiance in this light gold gown by Seema Gujral, Diipa Khosla looks dazzling in this attire featuring bold sequin embroidery. With striking hues, this ensemble is nothing short of a masterpiece and is detailed to perfection.
Aegean Blue Princess Gown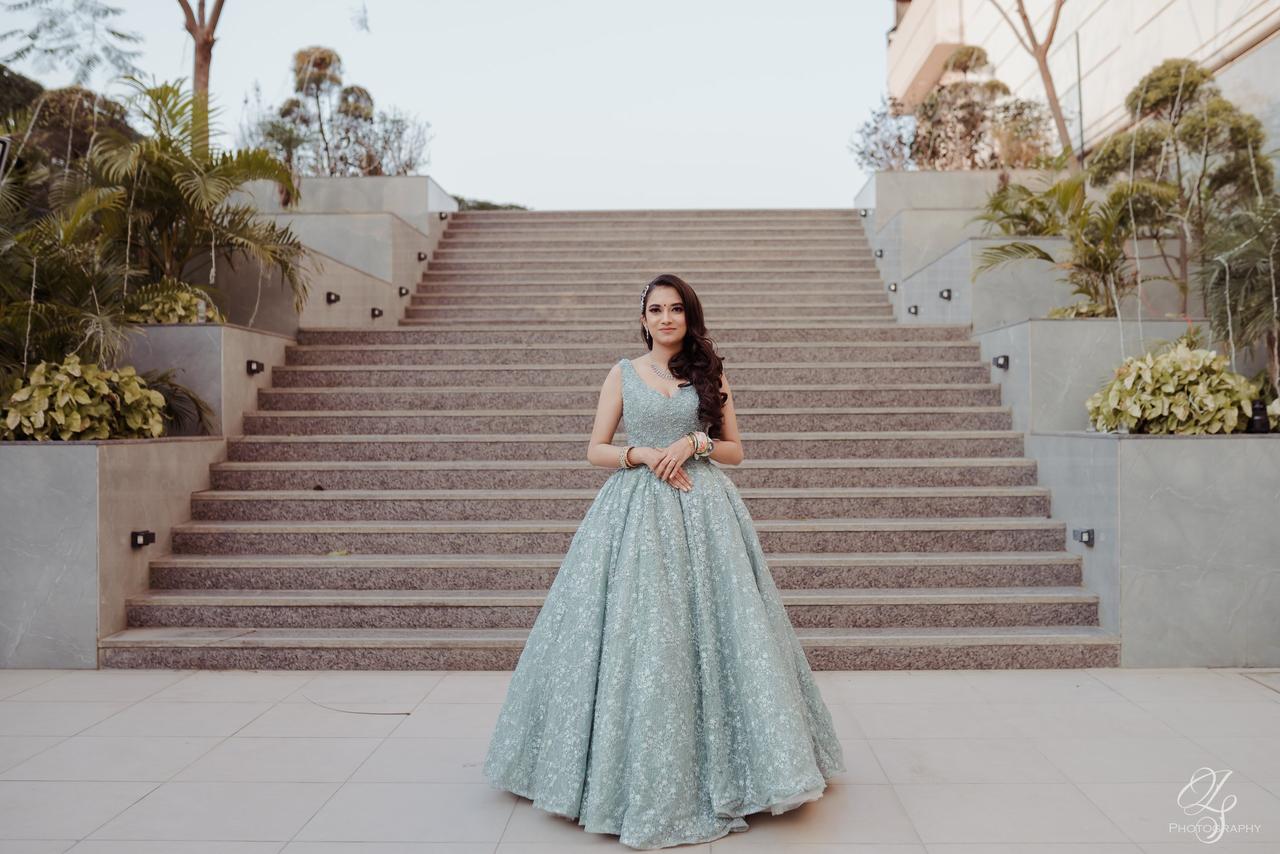 Image Courtesy - HM Designer Studio
For your wedding festivities, especially your Cocktail or reception party, channel your princess vibe in this gorgeous frost blue ball gown by HM Designer Studio. A hand-crafted gown with glittery florals balances the best of modern and royal styles.
Taupe Sequin Kaftan Gown Design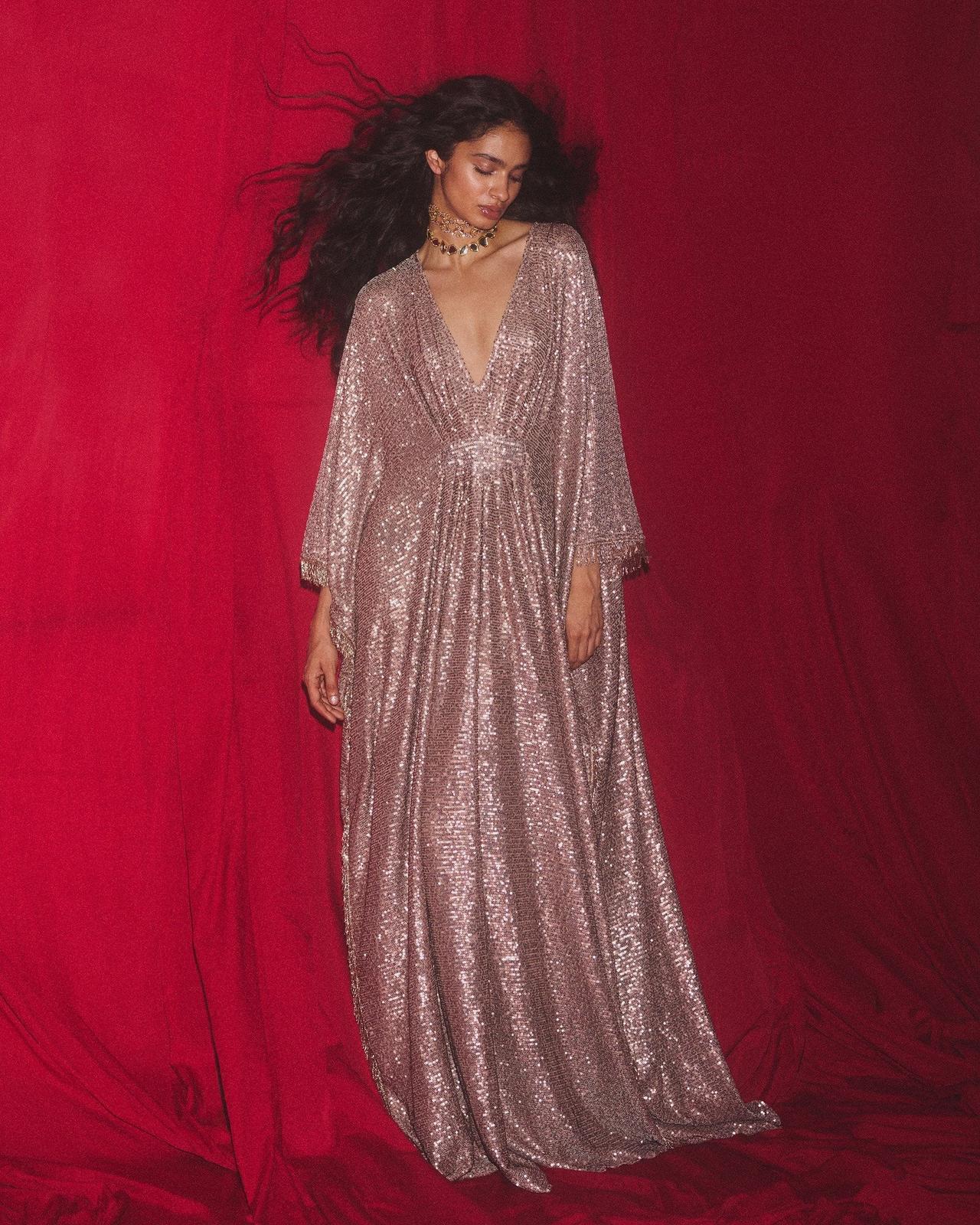 A Kaftan-inspired gown design in a Taupe colour palette with plunging neckline gathers and overall sequin work is a perfect choice for a laid-back Cocktail celebration. With shimmering embellishments, the gown is trimmed with cut dana fringes on the borders.
Satin Organza Sequin Gown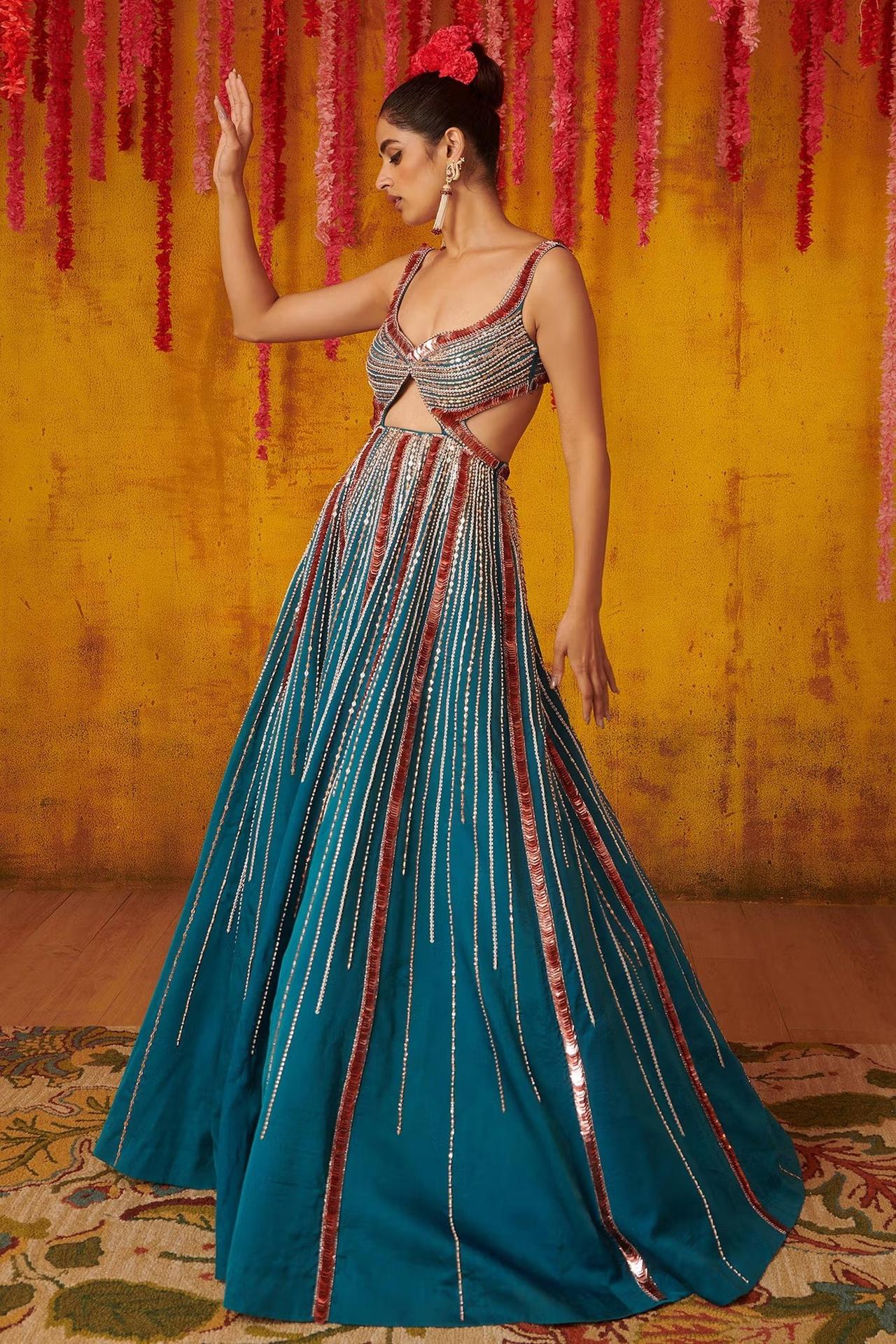 Up your glam quotient with a gorgeous gown design featuring linear sequin embroidery and cut-out details by Pink Peacock Couture. The gorgeous teal blue satin and organza gown design with a plunging neckline will definitely win everyone's heart.
Indigo Blue Gown Design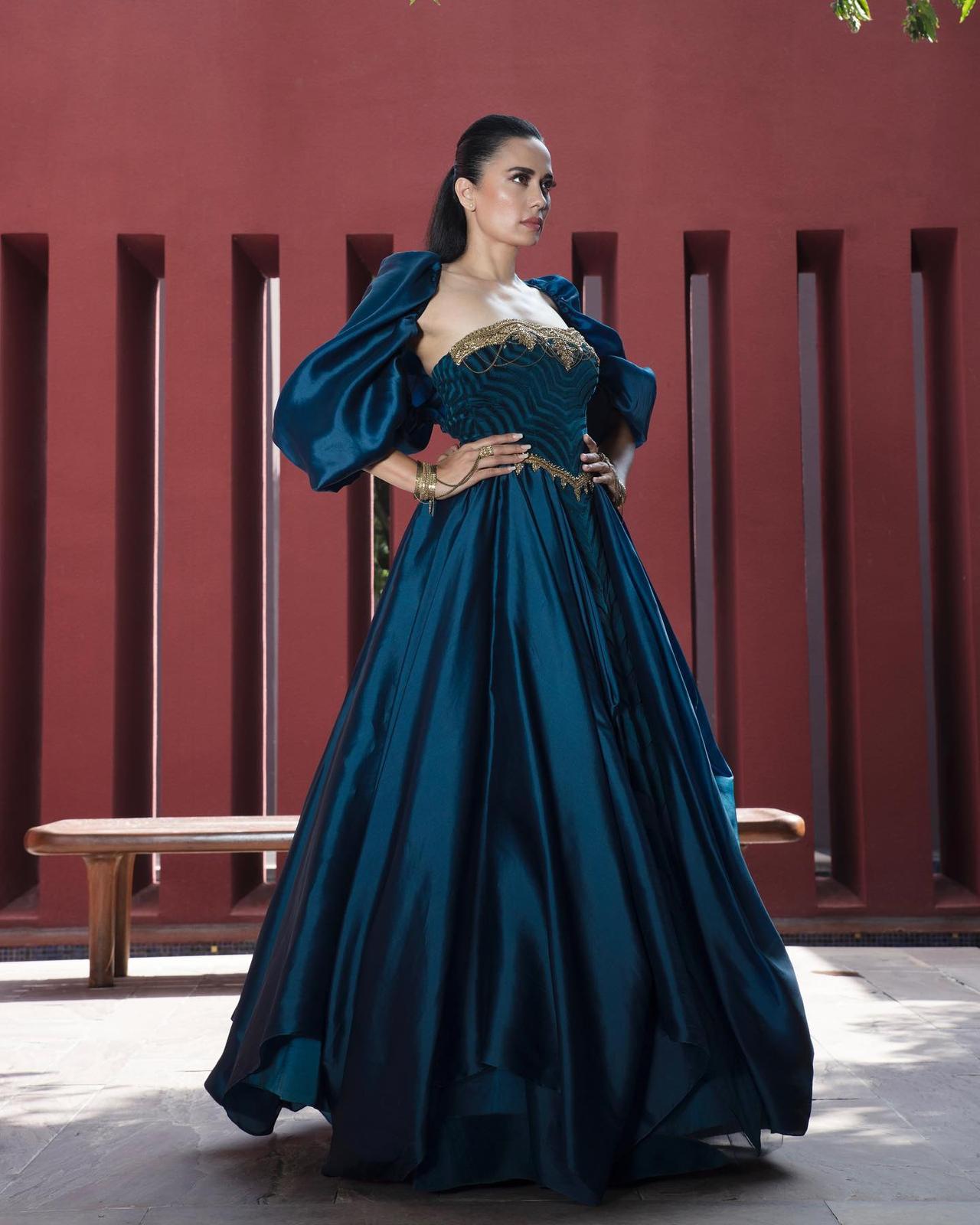 Are you looking for something ravishing and yet very balanced? This indigo blue gown with a western silhouette and cut is unique because of the deliberate contrast that will balance your look. A trip back to Baroque enlivened with a velvet bodice & metallic surface detailing, this regal gown is a chic pick for your Cocktail ceremony. If modern meets traditional is what's on your mind, this is what we'd say you need.
Embellished Princess Gown Design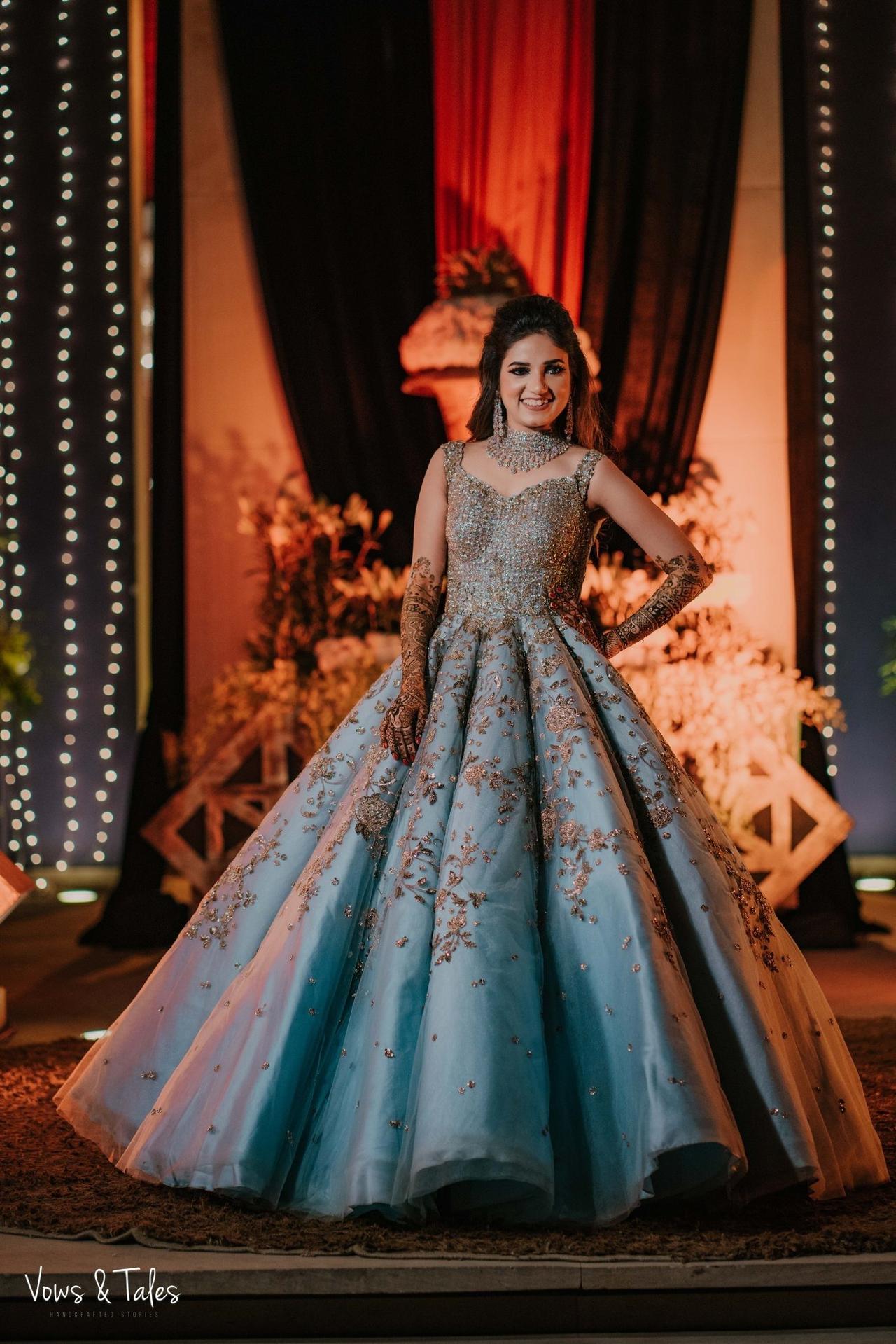 Next on this list is a fully flared princess gown for brides that love some extra drama when it comes to their wedding outfits. The heavily embellished corset top of this gown in contrast to the scattered floral embellishments on the skirt, is the perfect contrast that this powder blue ballroom gown needs. While it has the perfect Indian touch to it, the flare is sure to make the bride look nothing less than a princess.
Sheer Off-Shoulder Ivory Gown Design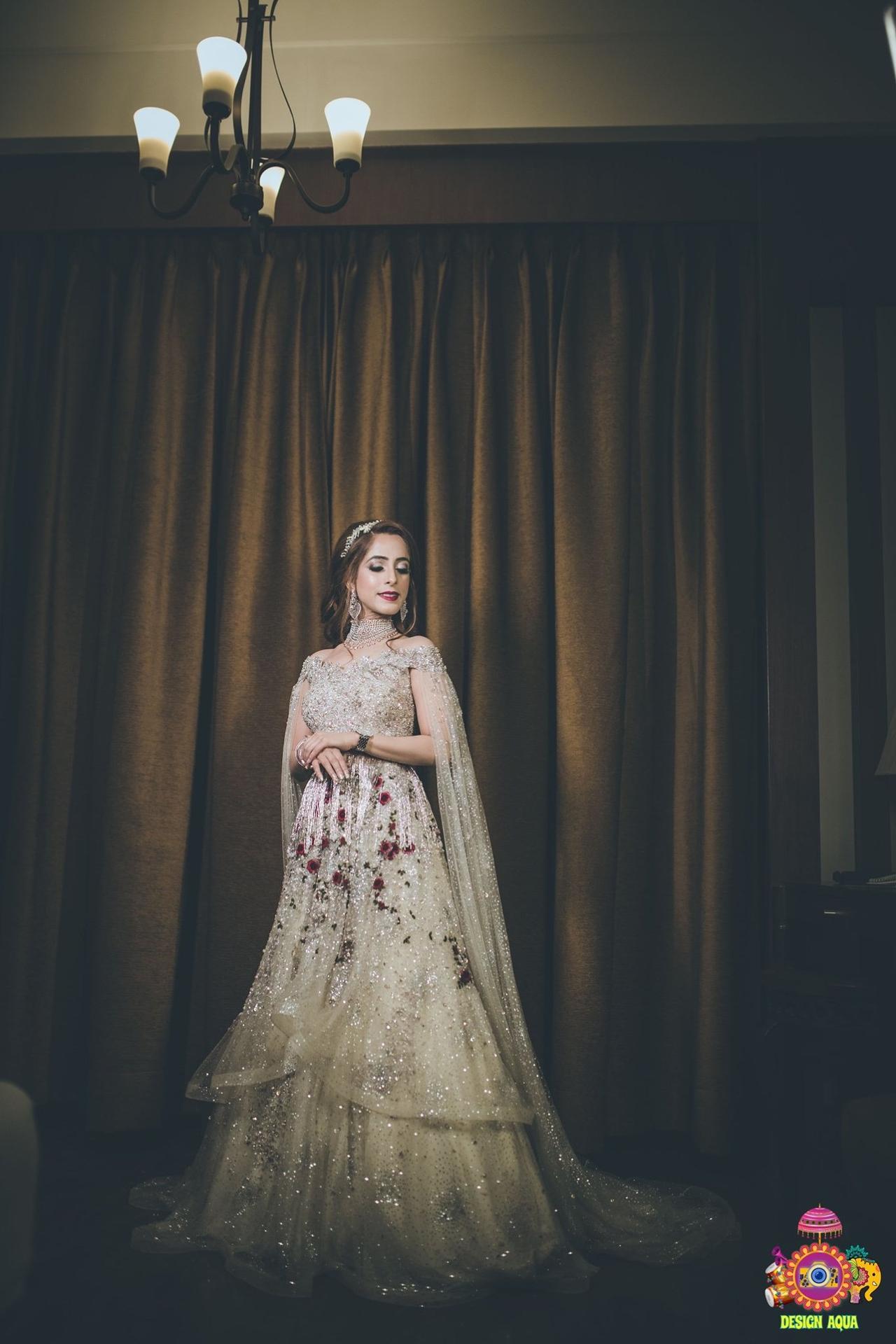 This one is for the brides that love sheer fabric and wish to keep the shade of their outfit classy and one of a kind. The asymmetrical off-shoulder sheer gown with beautiful long cape sleeves makes for the perfect cocktail night or Reception outfit. The hint of floral red patterns makes the outfit look more alive, while the tiered skirt gives it the drama that it needs.
Corset Style Embellished Gown Design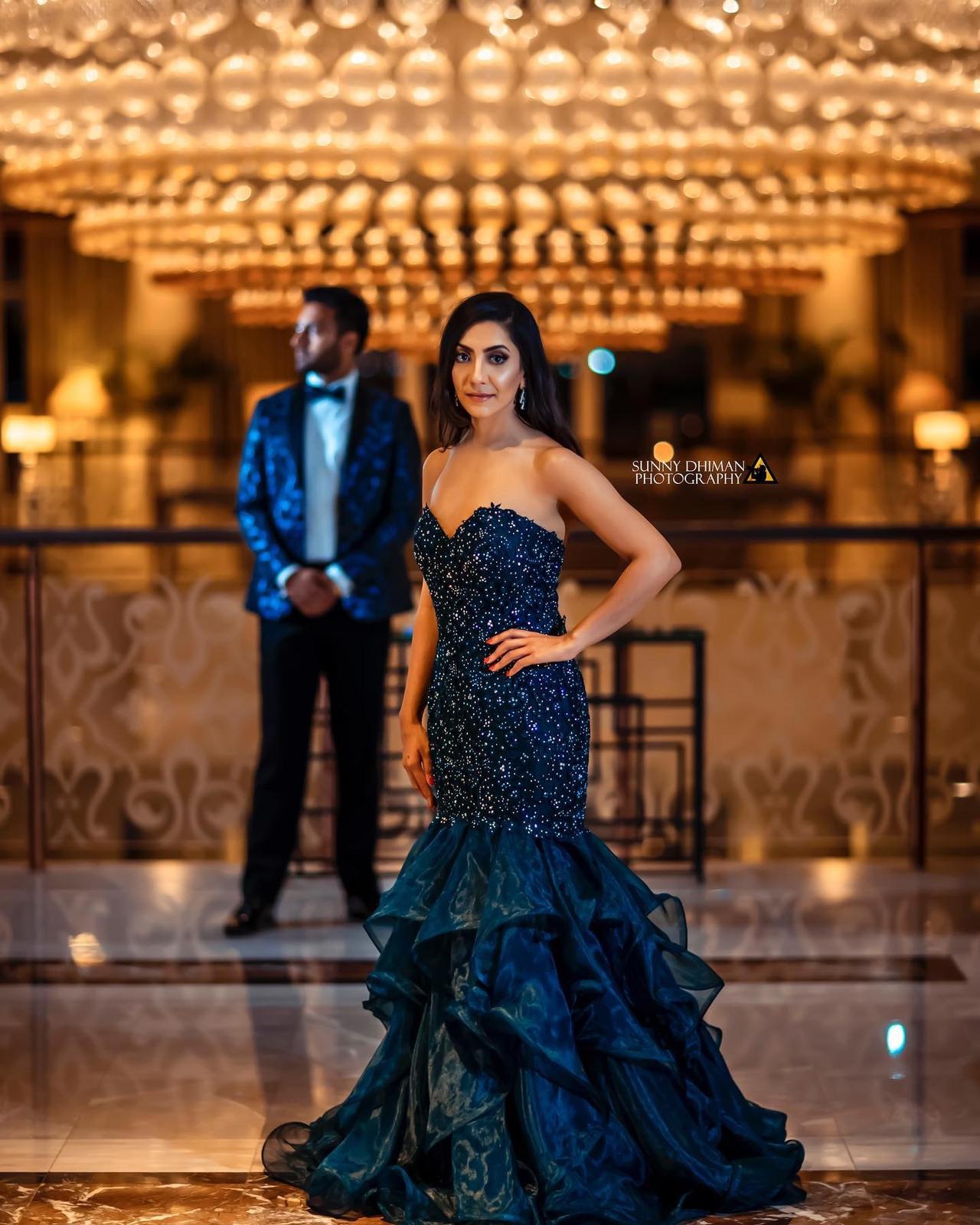 Now here's another winter wonderland that fits perfectly to the needs of a bride that wishes to pick a shade perfect for the season. This dark blue corset style embellished fish cut gown does not just allow brides to show their body off, but the ruffled panels at the bottom also give the gown a tiered look that makes it more elaborate and beautiful.
Evening Gown Images
Laced Tulle Gown Design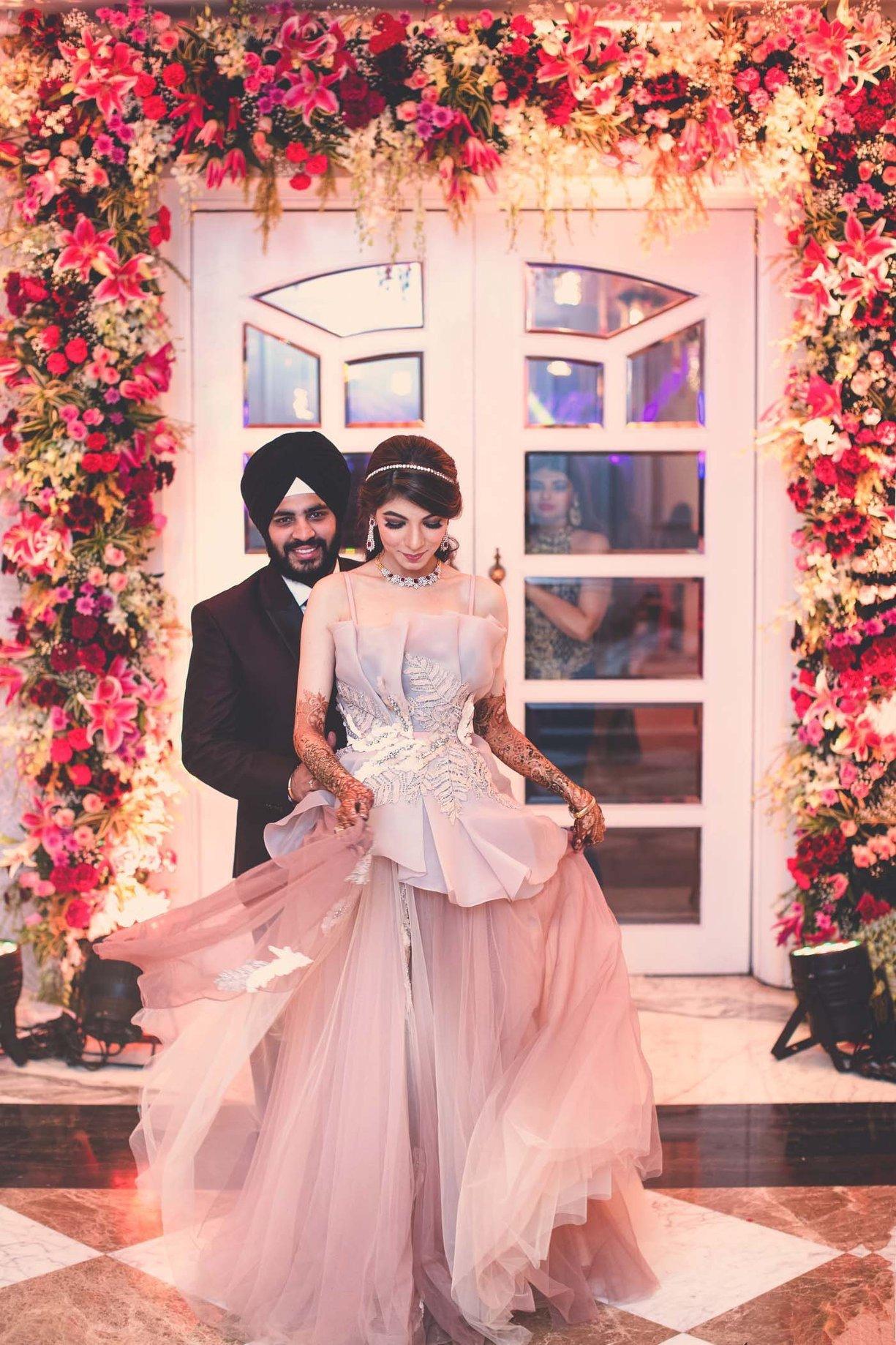 Now here's one of the most unique gowns that we came across, as this one gives the illusion of being a skirt and top. The spaghetti straps with the organza top and a lacy belt blend seamlessly with the tulle skirt giving it a unique touch. From its colour to its style, this one's for the brides that wish to keep the flare of their gown minimal and its design one of a kind.
Sheer Gown Design in Fish Cut with Added Flare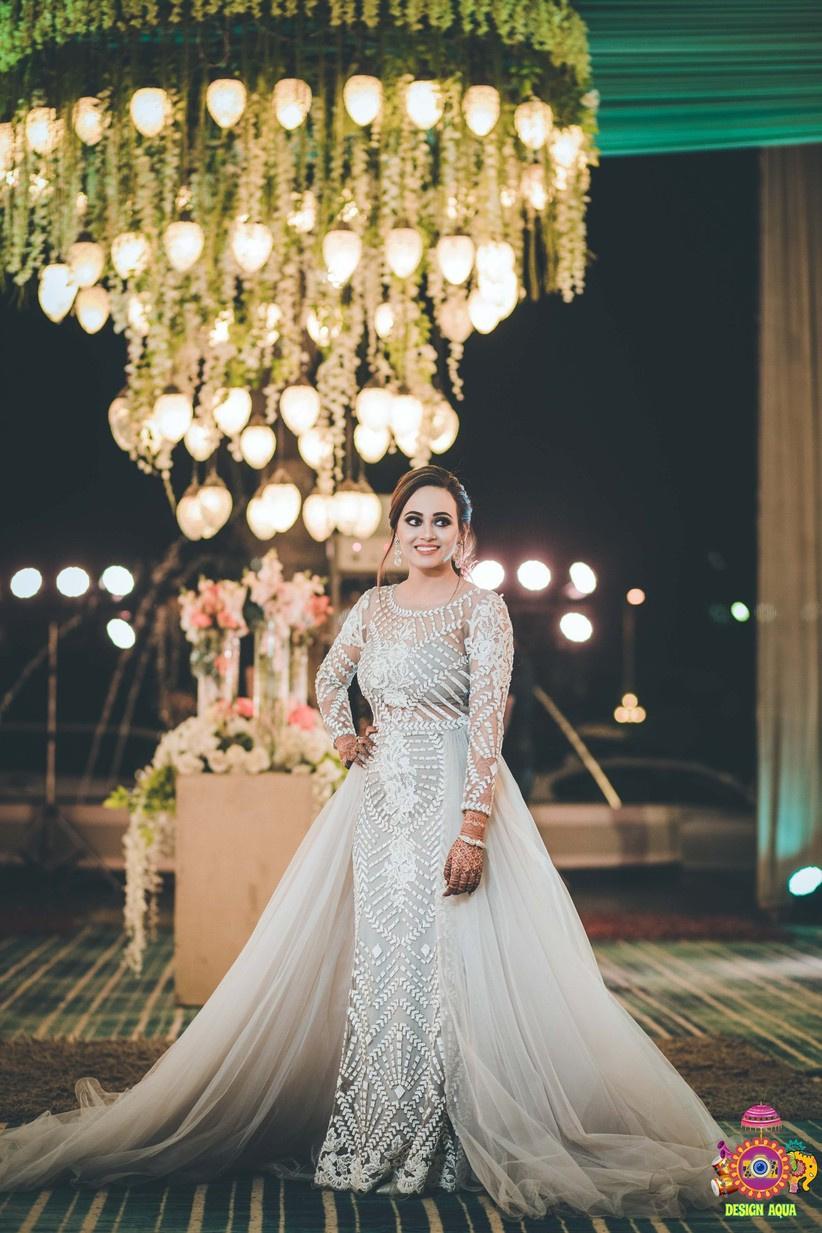 This is a gown design that we most like because of its unusual style. The fish-cut sheer gown with an illusion of a corset top and skirt makes for a beautiful pattern. The tulle added on the waist to create flare and make it more bride-like is what drew our attention at first. This gown design for brides is the best of both designs, keeping it elaborate and sensational.
Embroidered Net Draped Gown Design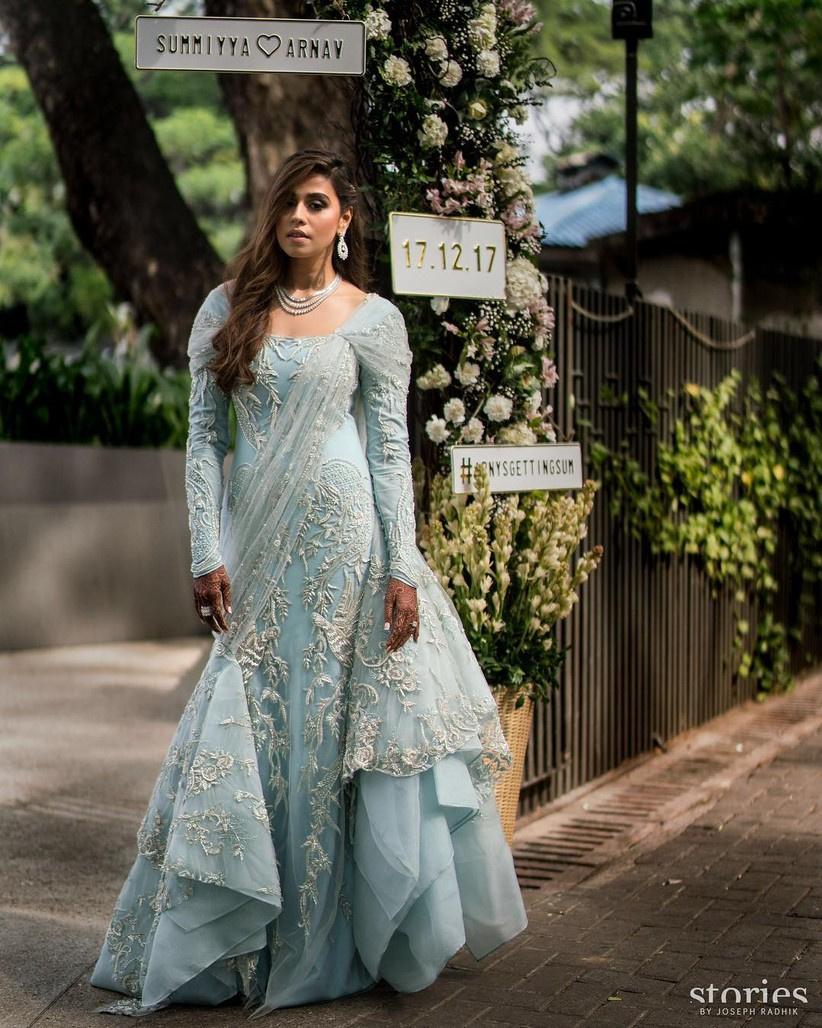 Image Courtesy: Stories by Joseph Radhik
Here's another powder blue attire as an addition to our list as it seems to be a winter favourite amongst brides. But what is unique about this gown design is its intricately done gorgeous work along with the use of the net to create an illusion of drape around the gown. The full sleeve and asymmetrical panels on both sides make this gown even more unusual and eye-catching.
Contemporary Column Gown Designs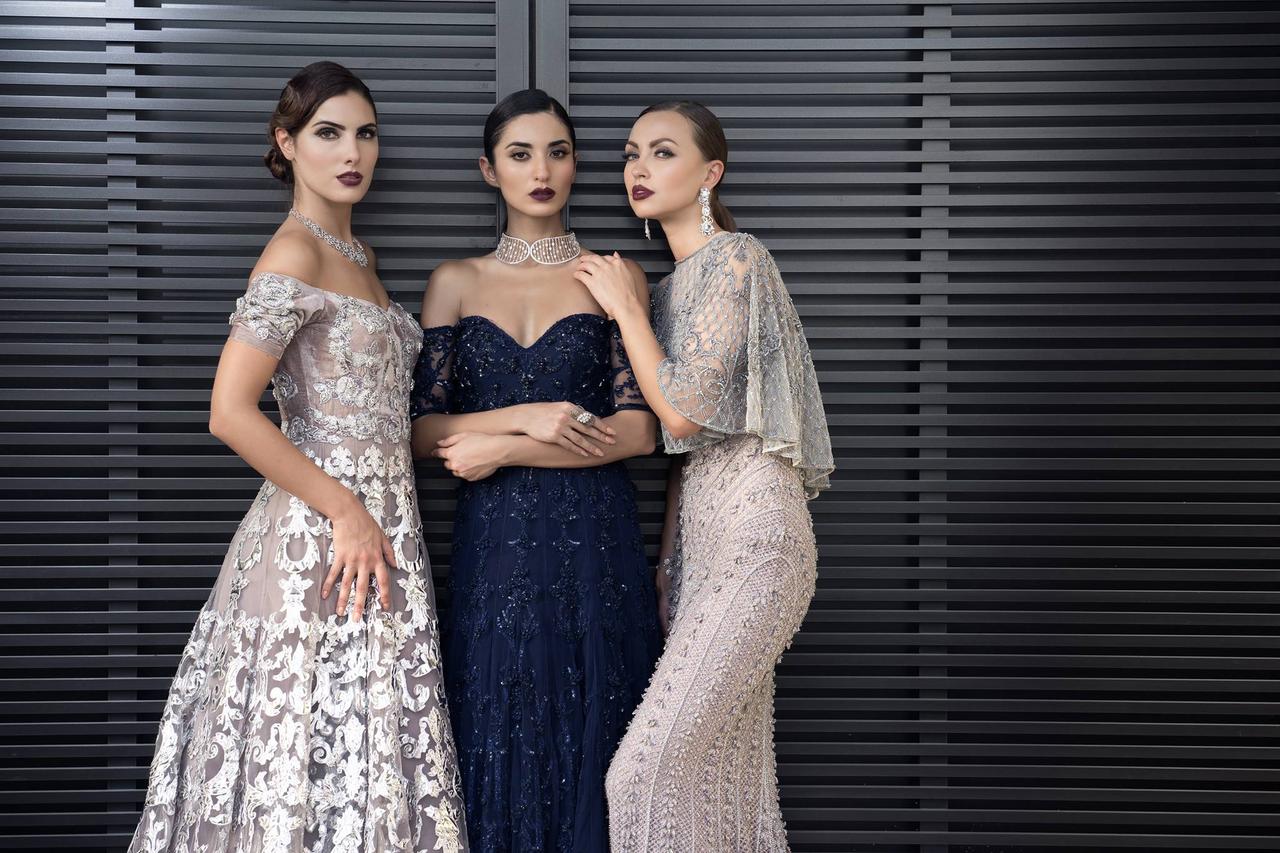 Last on our list is another beautiful gown design that is traditional but still gives tough competition to all the contemporary ones on the list. The strapless sweetheart neckline on Banarasi fabric and a body-flattering cut makes this one a huge hit amongst millennial brides. The intricate and heavy Zari work at the bottom, along with a dupatta to drape around, is the Indian attribute of this gown design that brides can incorporate or alter as per their own taste.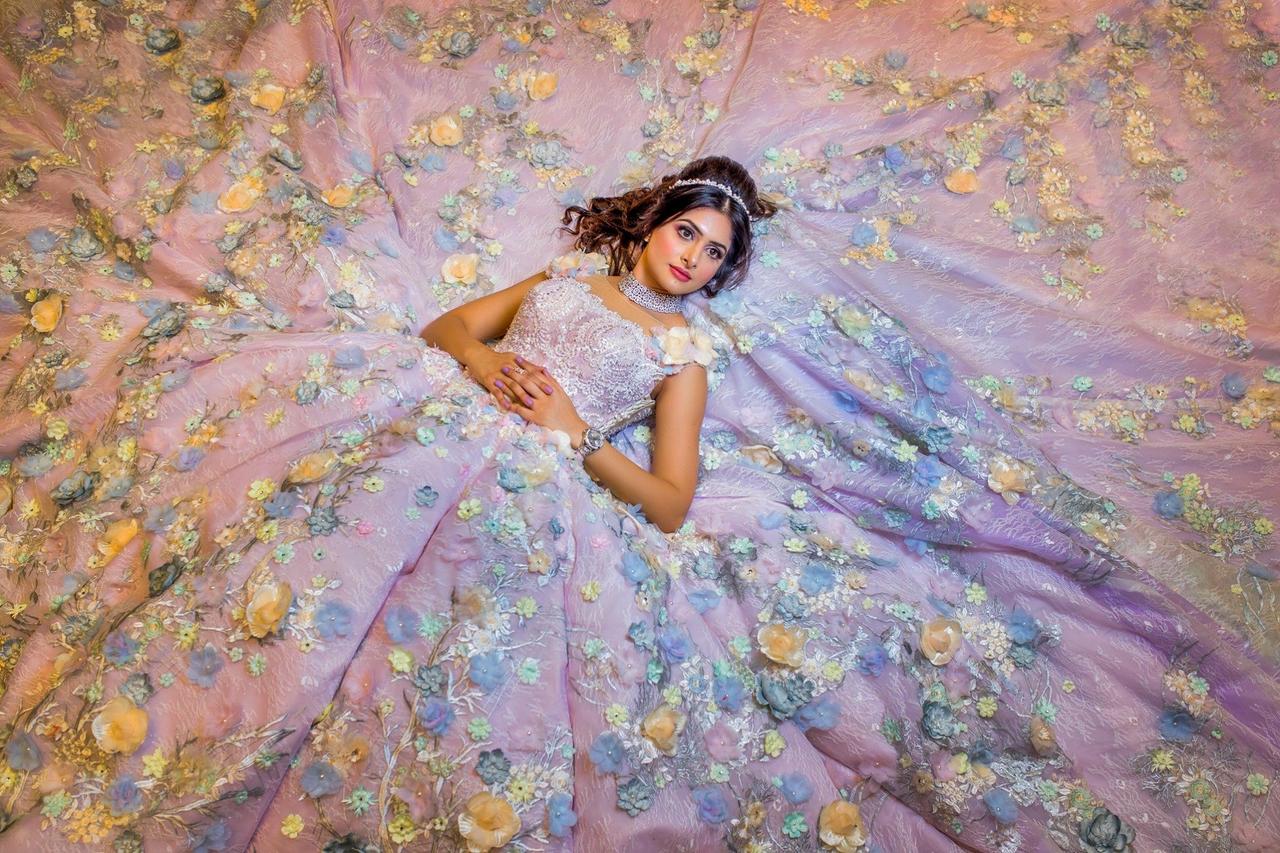 Whether you are looking for metallic gown designs to upgrade your wardrobe or ravishing designer Indian gown images to bookmark for your wedding trousseau, we have the perfect list of stunning gown designs for you to choose from for your festivities.
Amongst all these beautiful gowns, the choice to pick one can be rather tough. The details that you must think about are the cut ad style of the gown, its colour and fabric, and also the look that you wish to adapt for your big day. Once you have these three questions answered, we are sure you will know exactly how your gown must be. So think no further and start your research taking a cue from our list of super hit gown designs carried by brides for their winter wedding.
Which gown design from our list would you choose for your Reception or your Sangeet ceremony? Do let us know in the comments below!
Top Blogs on WeddingWire India