Upgrade Your Wedding Wardrobe With These Latest Metallic Gown Designs
Looking for a gorgeous metallic gown for your precious day? Check out these awesome metallic gown designs selected for all the spirited brides-to-be. Keep scrolling!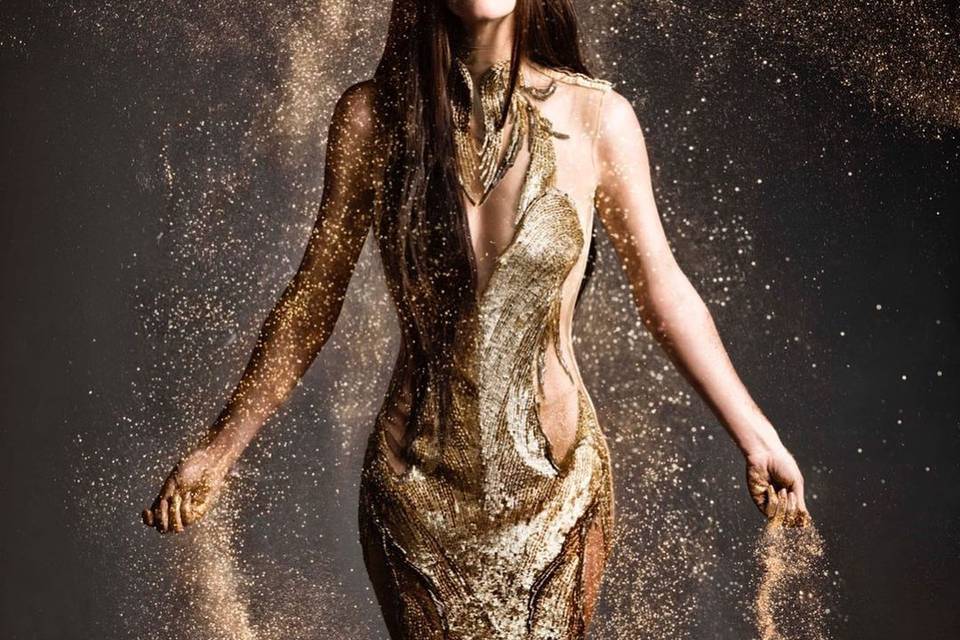 Bridal fashion never touches the base of the ordinary but keeps evolving with newer trends every year. Amidst the ever-evolving fashion trends that can take your dream bridal wardrobe to another level, the craze for metallic gowns is breaking the internet with jingling-jangling vibes. While Indian outfits are about embellishments and embroideries, the metallic palette is levelling the fashion trend for millennials. The pretty silhouettes and edgy designs add a style quotient to the metallic gown and give a shiny stairway to all the brides-to-be.
Metallic gowns have levelled up the queue of fashion trend. From structured to edgy designs, a beautiful metallic gown is all you need to hit the wedding functions with grace. Acing a bridal look with a chic metallic gown level up the style with charm. If you are a bride-to-be who wants to hit the stage of new beginnings with pizzazz, why not make a metallic gown your saviour for the night? After all, the #shaadifun can be doubled when you are on the top of the new-fangled trend!
To all the pretty brides-to-be who are keen on gripping the new-fangled trends, get ready as we are going to bombard your bridal inspo list with a bag full of metallic gown designs. Scroll further, and pick your favourite pattern!
All That Glitter Is Silver Metallic Gown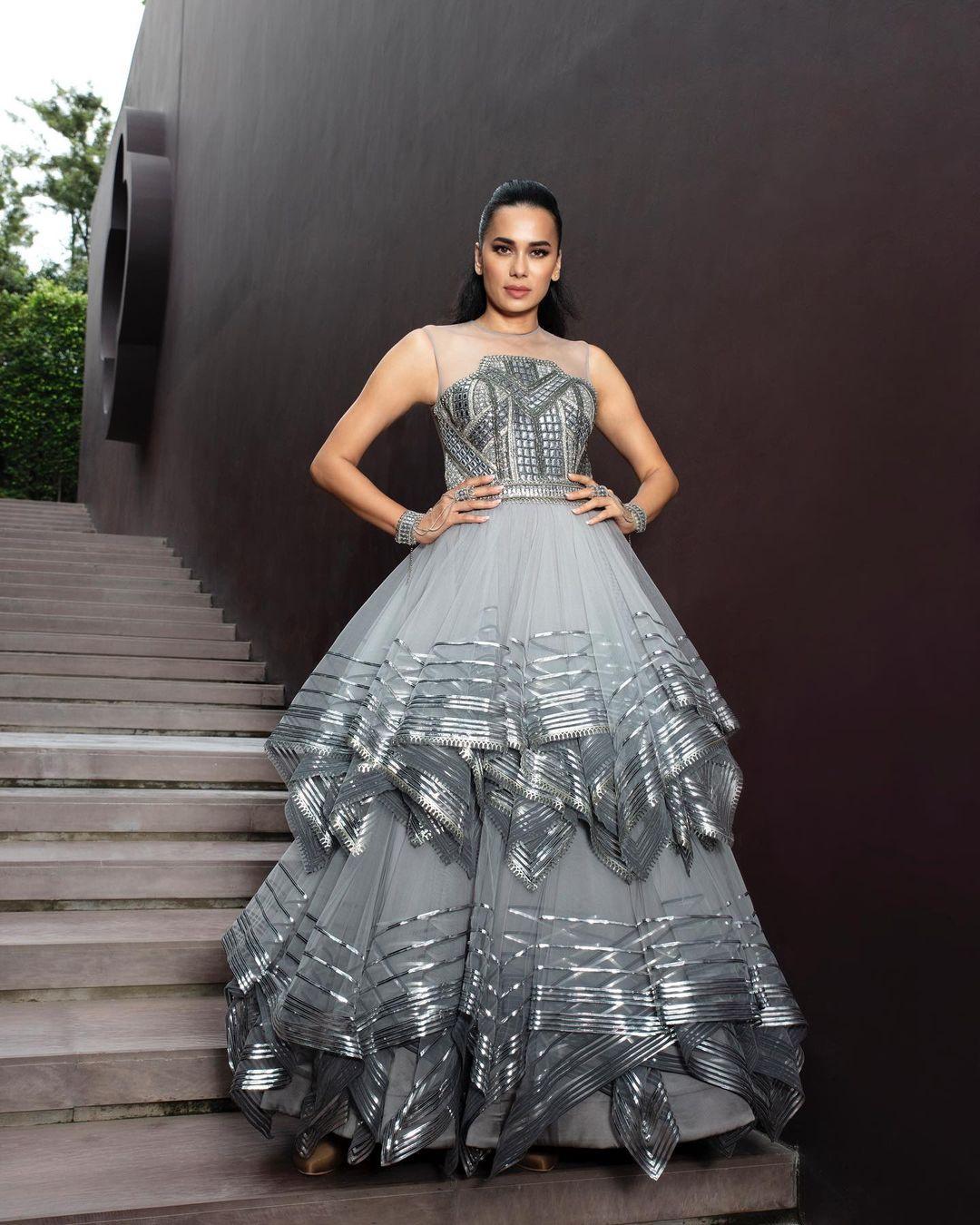 To all the lovely brides-to-be searching for the striking reception gown, this gleaming metallic gown from the collection of Shantanu & Nikhil is an ideal pick for you. This pansy gown is way ahead of the fashion curve and is giving some major #diva goals. The magnificent metallic taping enriched with fierce bodice is surely going to turn the tables of romance and exquisiteness. Get ready to slay in this lovely outfit and commence the new beginnings with a happy vibe, you pretty bride!
When Embroidery Meets Golden Metallic Gown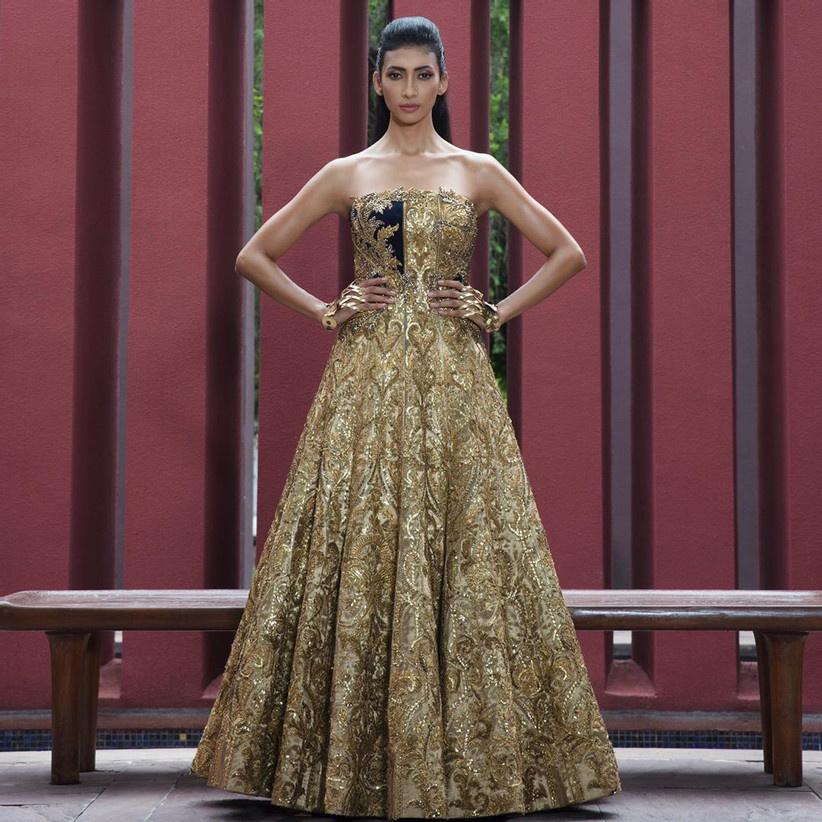 Beautiful embroideries, exquisite zardosi work and dazzling golden colour, that's what tops this heart-throbbing metallic cocktail gown. Perfect for the brides-to-be, this masterpiece from the collection of Shantanu & Nikhil is all you need to capture the gleeful moments of your wedding day. Make a bold statement at your engagement with this stunning gold metallic gown.
Timeless Emerald Metallic Gown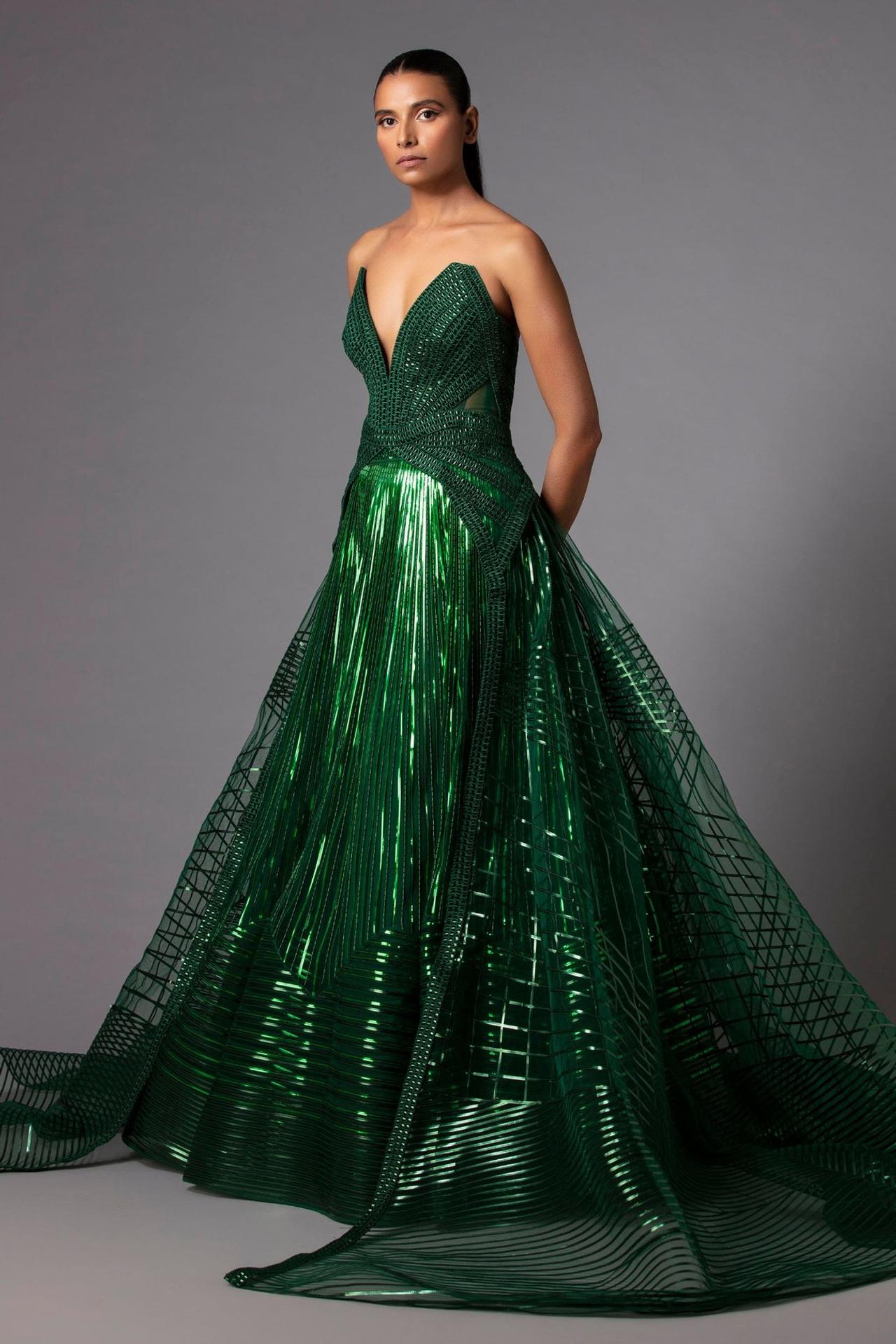 Image Courtesy: Amit Aggarwal
If this gown doesn't shout class, then we don't know what does. Encrusted with metallic polymer and flawless taping trail, this sheeny metallic gown from Amit Aggarwal's latest collection is surely a treat to the heart. If you are planning to ditch the mainstream colours and opt for an exceptional colour palette for your sangeet or reception night, then let emerald do the talking!
Cutesy Blush Metallic Gown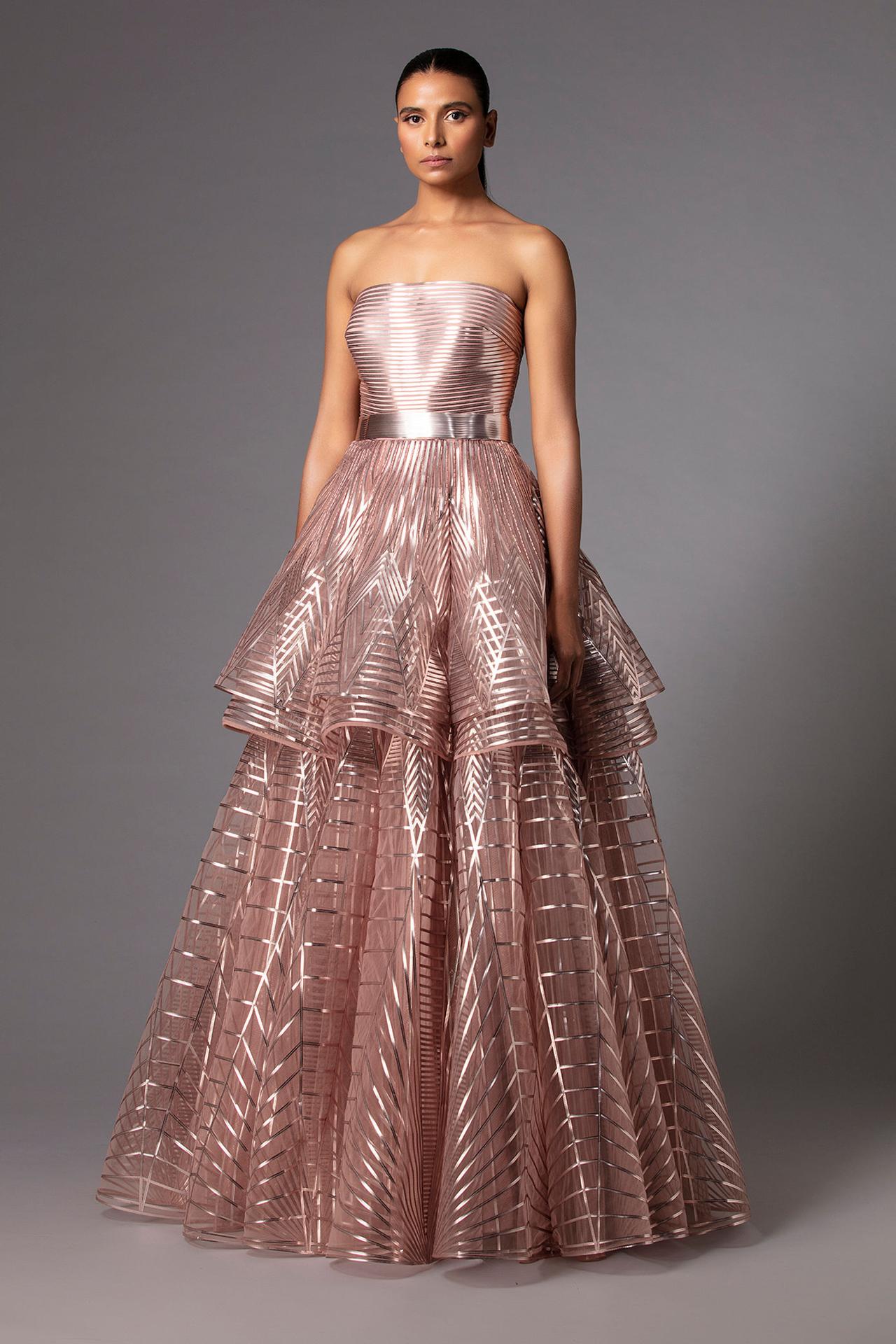 Image Courtesy: Amit Aggarwal
The combination of silver and blush pink always tops the bar of elegance and grace. Needless to say, we are going all mushy over this blushy metallic gown! Amit Aggarwal never fails to top the collection with beautiful masterpieces. It's a dream of every girl to look the best at her wedding functions, and this blossomy gown is just what you need to slay your #ShavaShava moments. From the layers of metallic polymer to fine taping, this metallic winged tube gown is surely going to give you wings!
Molten Metallic Gown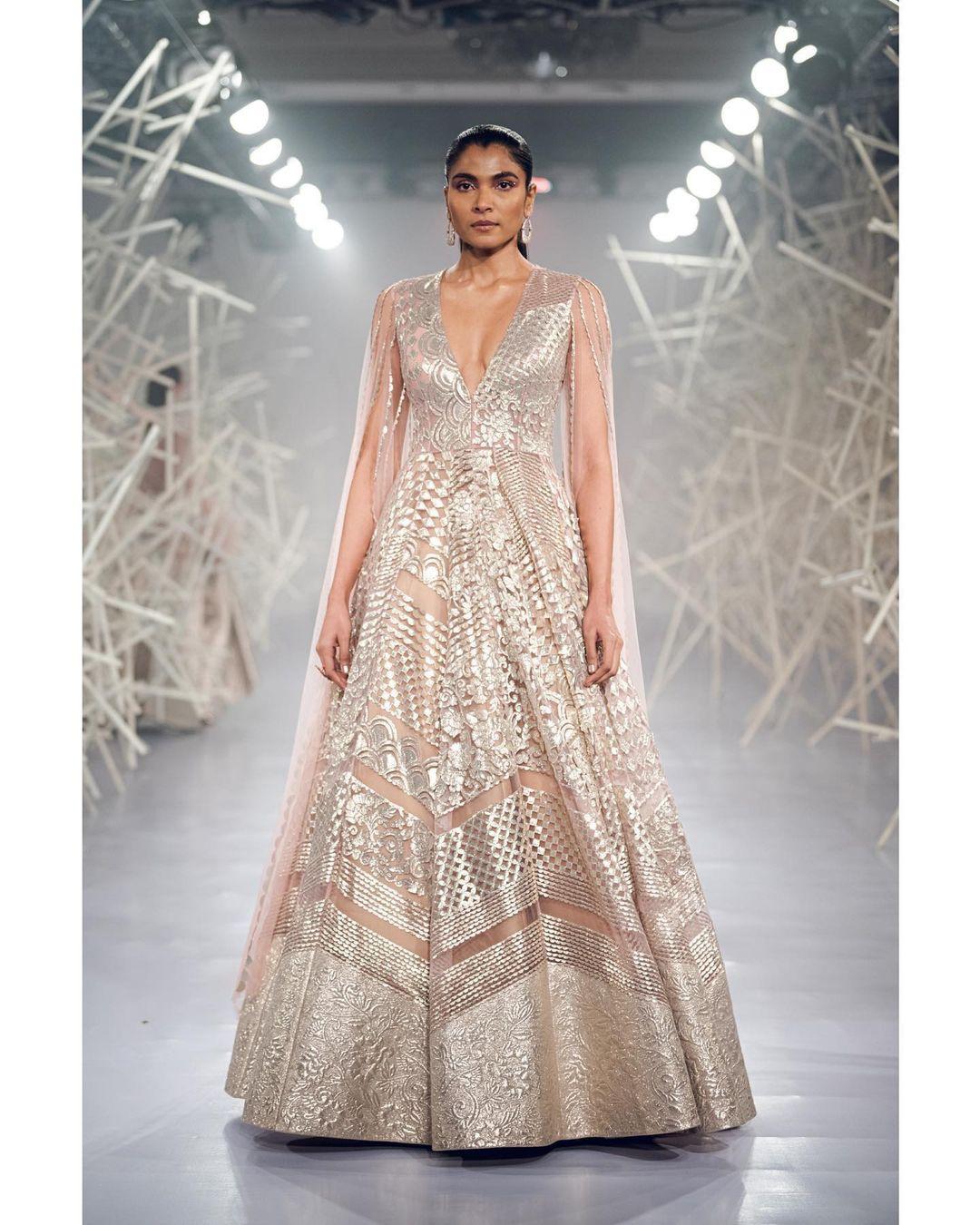 Image Courtesy: Pankaj and Nidhi
Looking for an elegant gown to hit your engagement ceremony with glitz and glam? This gold hand-embroidered gown in quartz pink has to be it! The surreal pink tulle gown by Pankaj and Nidhi has us swooning over the sheer shoulder trail. A pinch of delicacy and a dash of glamour is all you need to match with this charming metallic gown. Count on cherishable memories while you top up your #queening moment in this lovely outfit.
Stunner Silver Metallic Gown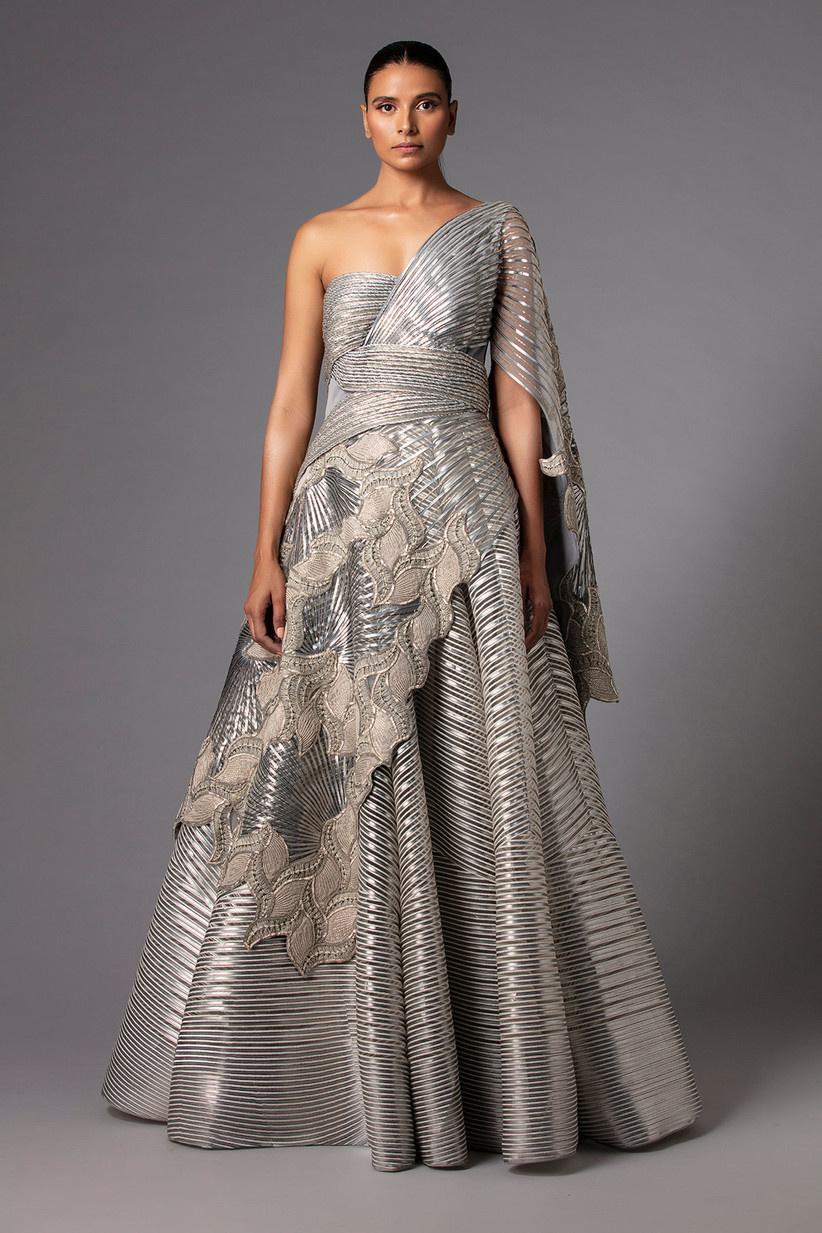 Image Courtesy: Amit Aggarwal
Stand out from the crowd with this eye-popping embroidered layered gown adorned with cut-dana, metallic polymer, and cords with winged palla. How amazing is it to slay on your precious day and make truckloads of cheerful memories with your beloveds? This amazing layered metallic gown from the collection of Amit Aggarwal is your answer to all your reception and cocktail wardrobe selections. Flaunt this gorgeous metallic gown while you shake a leg on your favourite wedding song and grab the happy vibe with glee!
Are we amazed or are we amazed? We are swooning over these lovely metallic gown designs which have completely taken over the rage of trends. Upgrade your wedding fashion wardrobe you lovelies, and smack the way of new beginnings with bliss!
Did you pick your favourite gown? If yes, then let us know under the comment section below!