5 Indian Bridal Jewellery Sets Online That Will Make You Shine Bright like a Diamond!
When building your trousseau, you'll come across a wide range of Indian bridal jewellery sets online. Don't get the abundance of choices to overwhelm you! Read on to know the 5 types of jewellery sets you must have!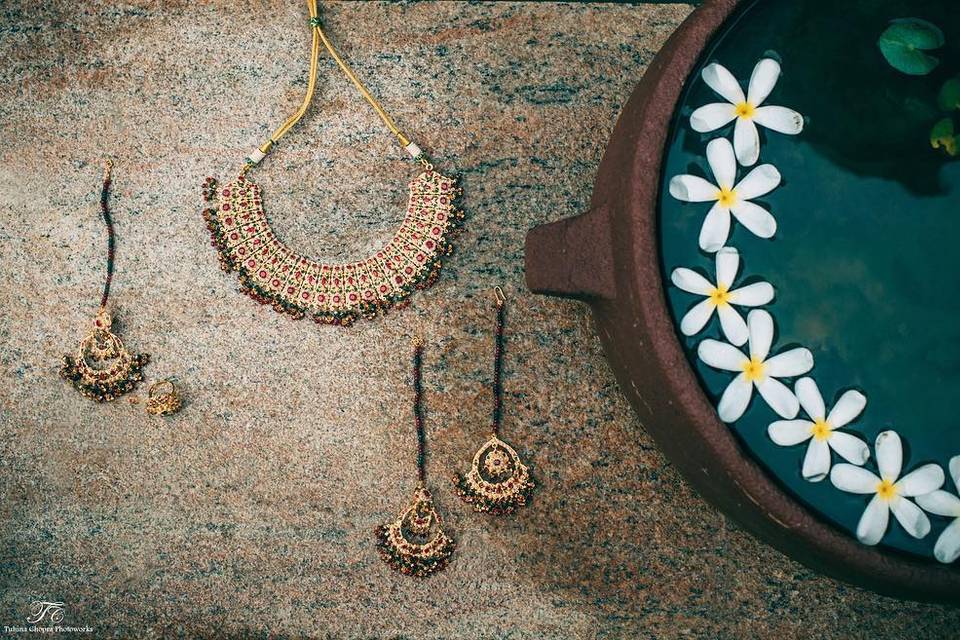 No bridal look is complete without gorgeous jewellery that enhances her look! From heavy Maang Tikkas, that weave in and out of the bride's locks to intricate necklaces that play hide and seek with her dupatta, a bride and her jewellery are inseparable concepts! If you are getting married soon, and are researching Indian bridal jewellery sets online, you must ensure that your trousseau has a collection that's as diverse as India itself!
Now, that won't be hard! Every state in the country has its own style of jewellery, and we've curated a list of the top 5 Indian bridal jewellery sets online that you must consider adding to your collection!
1. Classic Polki Sets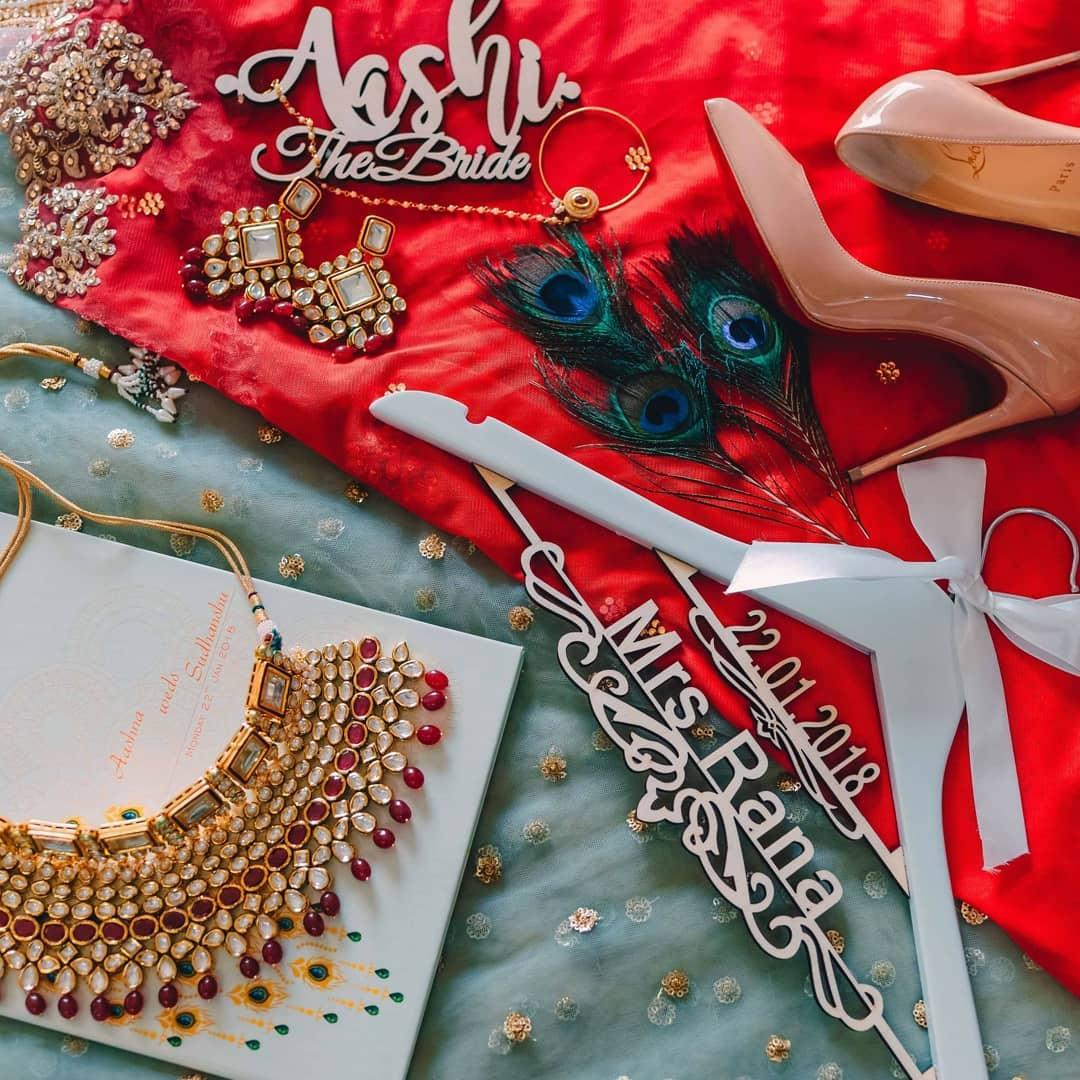 There's just something about uncut diamond sets that scream bridal! Perhaps it's the fact that these sets are associated with a very regal look, and what are brides if not modern day princesses? If you want to look very traditional and lovely, a Polki set (or a Kundan one – which has raised gold foils onto which the stones are set) is an ideal one to pick. One of the most popular Indian bridal jewellery sets online, this one tends to sell by the truckloads during the wedding season.
Pro Tip: Find a set that also has elements of precious stones to add more glamour to the look.
2. Gorgeous Temple Jewellery Sets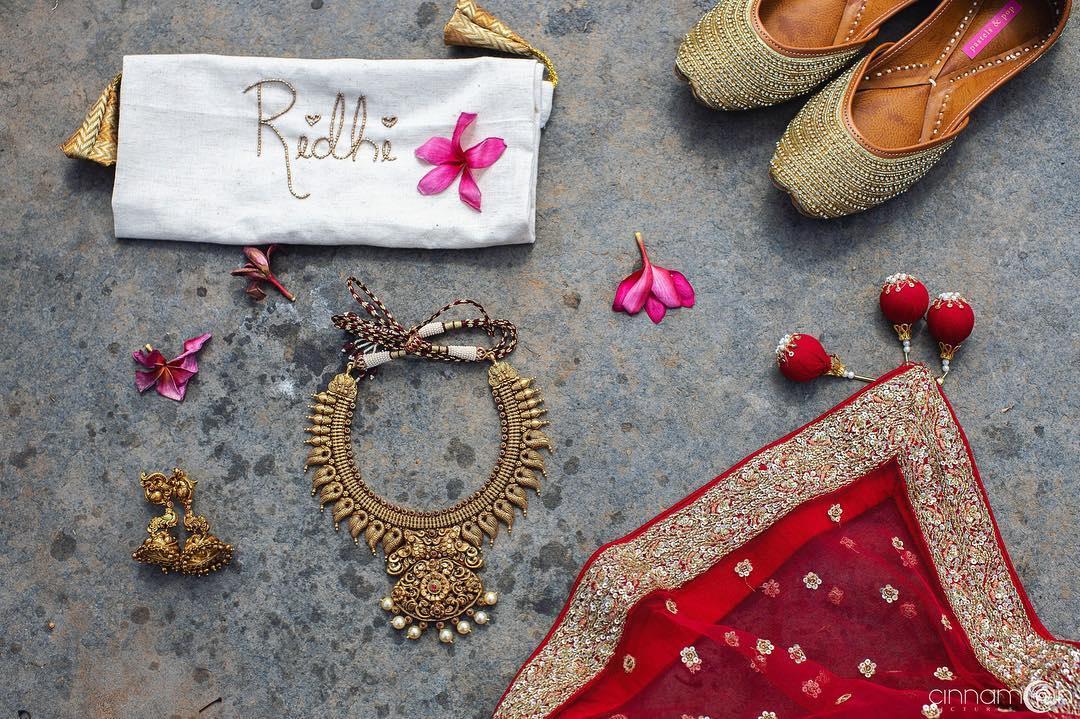 Temple jewellery is yet another one of the most sought-after Indian bridal jewellery sets online. With heavy strands of gold interwoven together to create unique pieces of jewellery, this is a style that can never go out of fashion. Though most people associate this type of jewellery with the South Indian look, however, gold is a very versatile metal and can be paired with different regional garments quite easily. Make sure that your set includes a moon shaped Billai that you can clip onto your head and rock as an accessory!
Pro Tip: Heavy gold bangles are an absolute must with this look! Also, if you can find them, gold Payals would also look great!
3. Colourful Meenakari Sets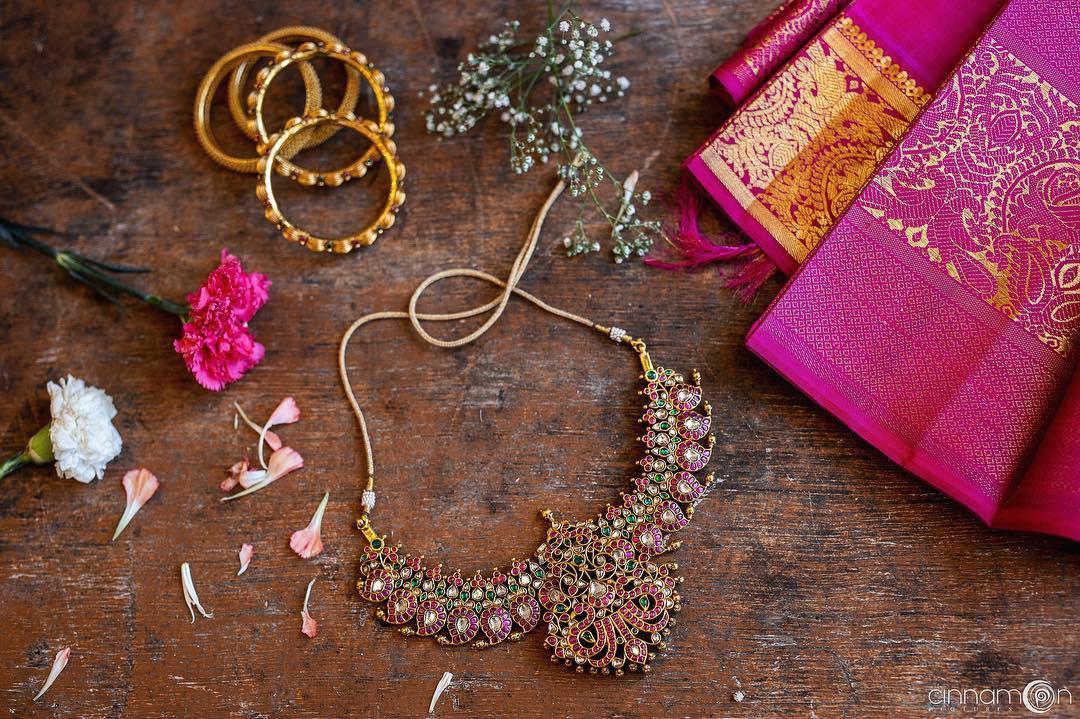 The Meenakari style of jewellery is one that uses many colourful stones to bring different hues to the jewellery. Typically, red, green, and blue stones are the most commonly used one, however, one can find variants of this style with pink and purple stones too. Depending on your outfit, you can wear a lovely choker in this design because its proximity to your neck will help highlight your skin tone further. A nose ring with a similar design and earrings would look great too! Look for rings too when considering such Indian bridal jewellery sets online.
Pro Tip: If you are wearing an all-beige or ivory look, you should use this type of jewellery in order to add little pops of colour. It can stop your look from being too monotonous.
4. Sparkling Diamond Sets!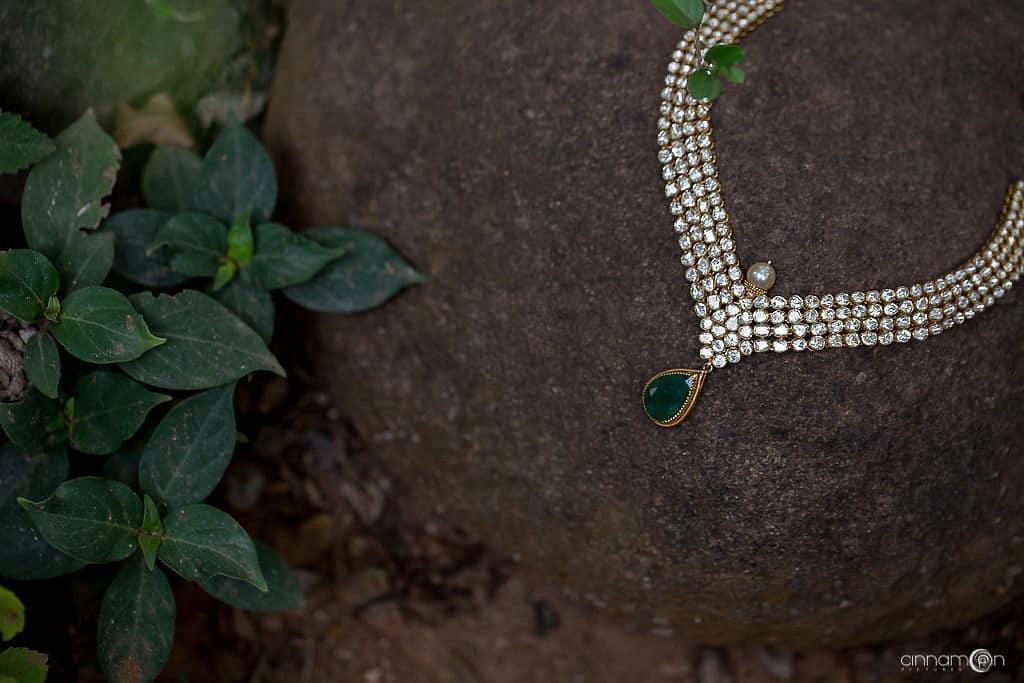 Your bridal trousseau won't be complete without a lovely diamond set that you can wear whenever you want. If you look for such Indian bridal jewellery sets online, you'll see heavy necklace pieces with glittering earrings – exactly what you want for a great bridal look! If the set contains other types of stones too, you can use them with traditional attire in a way that looks a bit more organic (as a completely western set may just stand out for the wrong reasons!)
Pro Tip: Buy light weight jewellery if you want to wear diamond sets on a daily basis! These jewellery pieces are appropriate for work and go well with western formal wear!
5. Designer Heritage Jewellery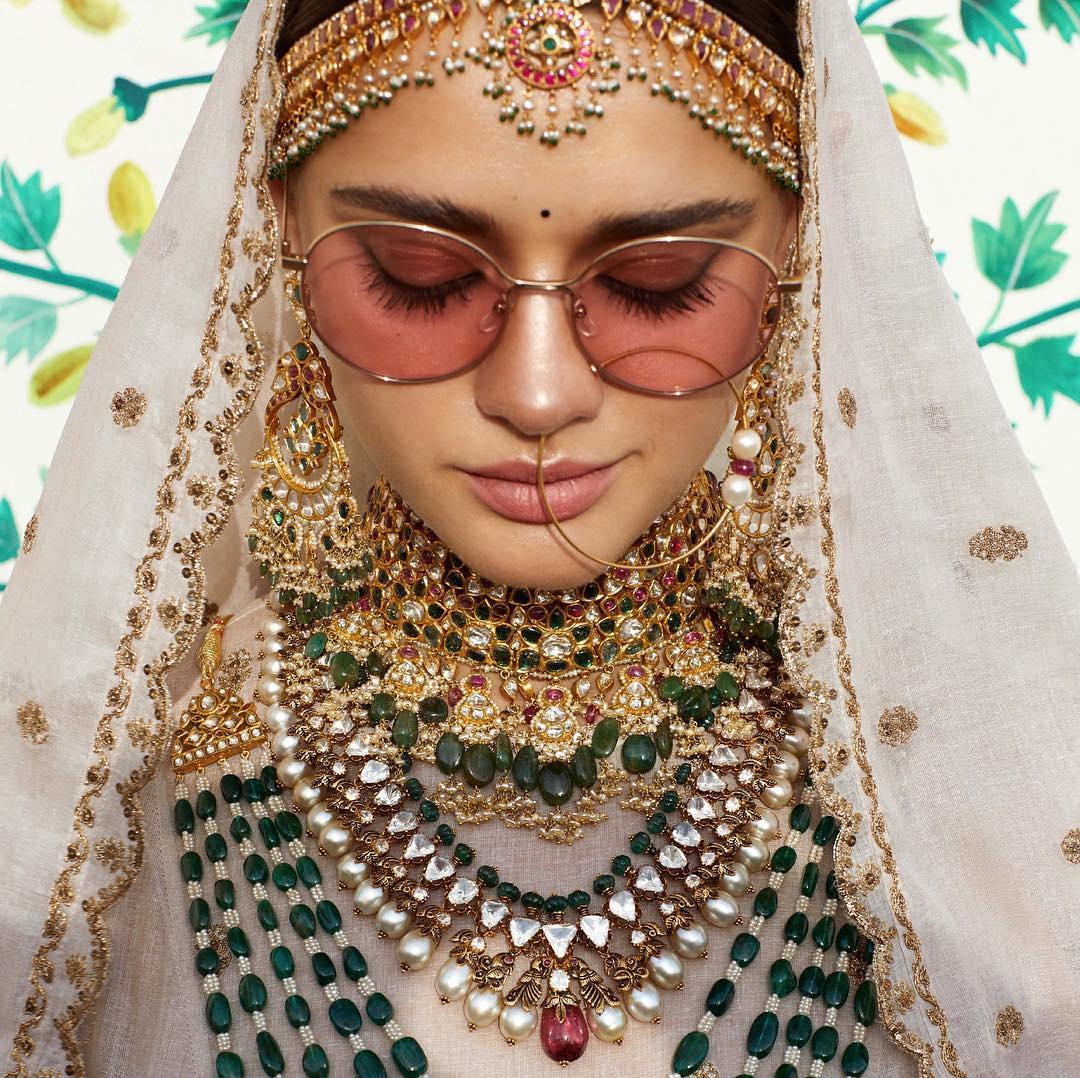 Image Courtesy: Sabyasachi
Many designers are choosing to make their mark in the jewellery world in their own way. Sabyasachi has his own line of Heritage Jewellery filled with opulent sets. These Indian bridal jewellery sets online are often seen paired with the designer's garments, though that does not mean that you have to be a Sabya-bride in order to wear them. Similarly, Rohit Bal has a collaboration with the brand Swarovski and this collaboration offers a range of exquisite brooches and jewels that can make your ensemble very interesting! When you're looking for Indian bridal jewellery sets online, you should definitely run a quick search on what India's best designers have to offer!
Pro Tip: Find varied sets that can all be used differently. For instance, one set can have a Maang Tikka, necklace and earrings, while another can have earrings, necklace, and bangles!
When curating your jewellery collection, remember that these pieces are not just for your wedding – they're the pieces you'll turn to the most when any occasion crops up. So, pick jewellery items that are versatile and timeless, rather than those that are centred on flighty trends! This will help you make sure that you never get bored of your jewels!
Get in touch with our jewellery vendors to find lovely sets that suit every look!