Upgrade Your Bridal Look With Temple Jewellery & Look Like a Diva on Your Big Day!
Temple jewellery has been a craze at weddings, making the brides dazzle on a special day. As this ancient art comes back into the modern bridal collection, we introduce you to the different types of temple jewellery!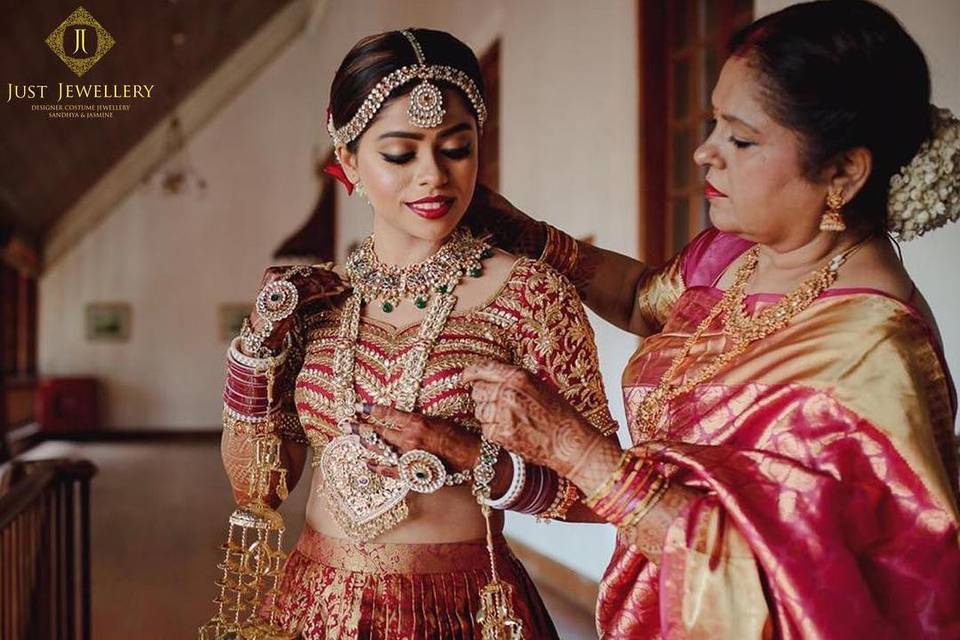 A bride plans and prepares for her wedding for months, making sure that her D-day goes perfect, while donning a beautiful wedding lehenga and weddings jewels. However, you need to stop and take a rain check on the popular styles of jewellery you were planning to wear. The ancient style of temple jewellery is back in demand and you must try it out for your wedding. After all, you become a bride only once!
Originated in the 9th century, this type of jewellery was created for Gods and Goddesses. However, women have been adding it to their wedding attire to look graceful on their special day. Have a look at the different pieces and variants of this jewellery that you must consider wearing!
1. Kemp Necklace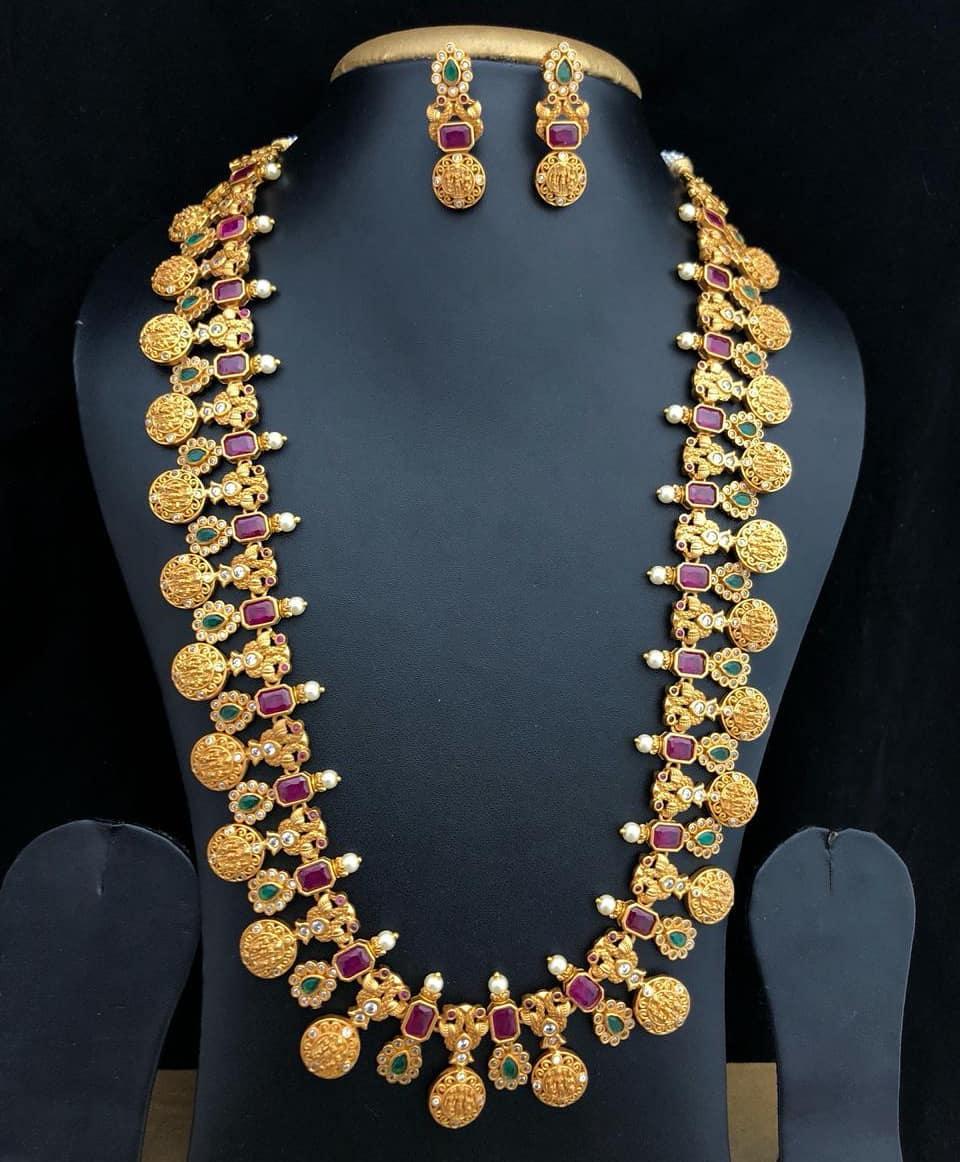 Image Courtesy: Taasha
The kemp necklace is an important piece of art that represents temple jewellery. This mesmerising piece of ornament requires a lot of labour to be crafted and it used to be worn by a lot of Indian classical dancers. It has now become a part of the bridal ensemble as the trend has come back to life. It brightens up the bride's wedding attire and looks stunning, no matter what kind of wedding lehenga she is wearing.
Average Cost: ₹2 to 3 lakhs.
2. Bajuband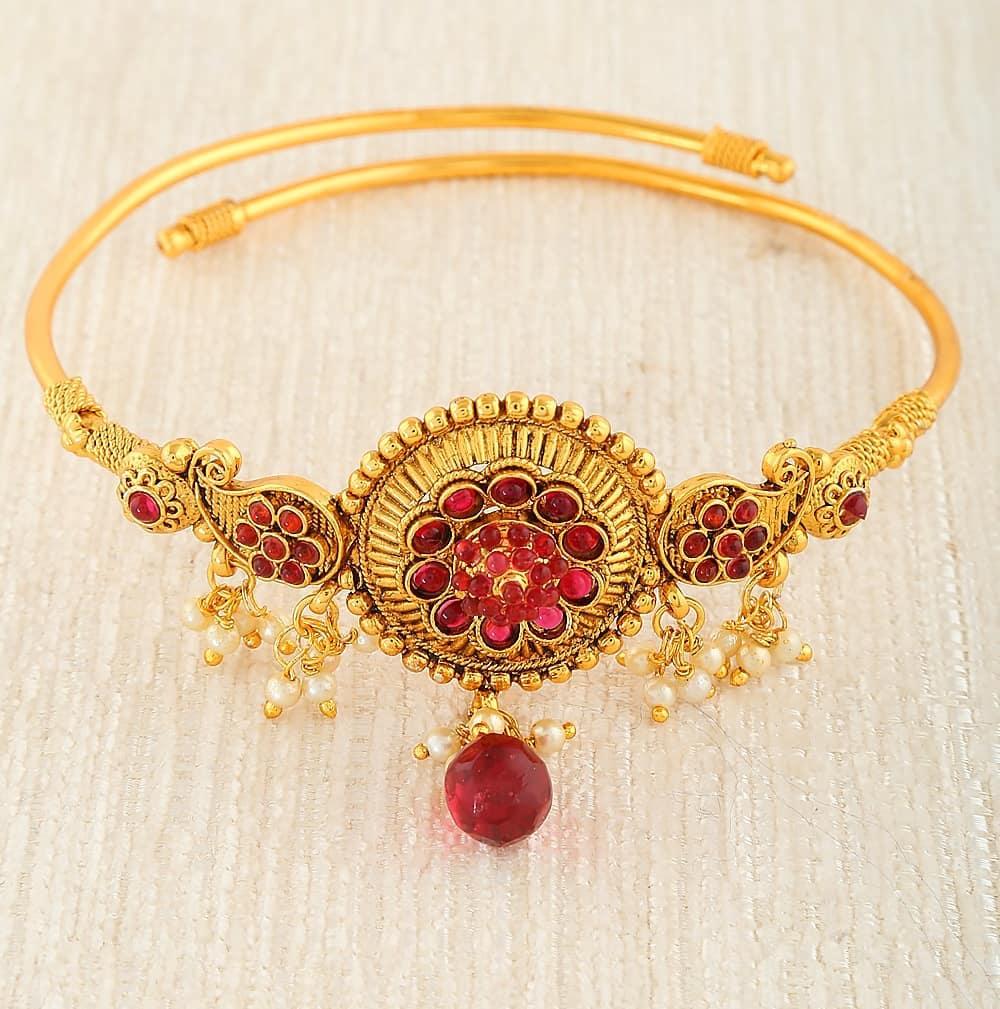 Image Courtesy: Anuradha Art Jewellery
The Bajuband or armlet is a temple jewellery ornament worn by women on their upper arm. However, you will be fascinated to know that in earlier times, this piece of jewellery was worn by men! It's available in various designs and shapes and doesn't have to be worn in both the arms. One Bajuband is enough to make an impression for the bride. Apart from that, it doesn't need to match her wedding dress; a contrasting Bajuband is better! Often designs like a pattern of snakes or crocodiles are made on these Bajubands. This is an exotic piece of jewellery that should definitely be added in a bride's trousseau.
Average Cost: ₹ 1 lakh
3. Lakshmi Earrings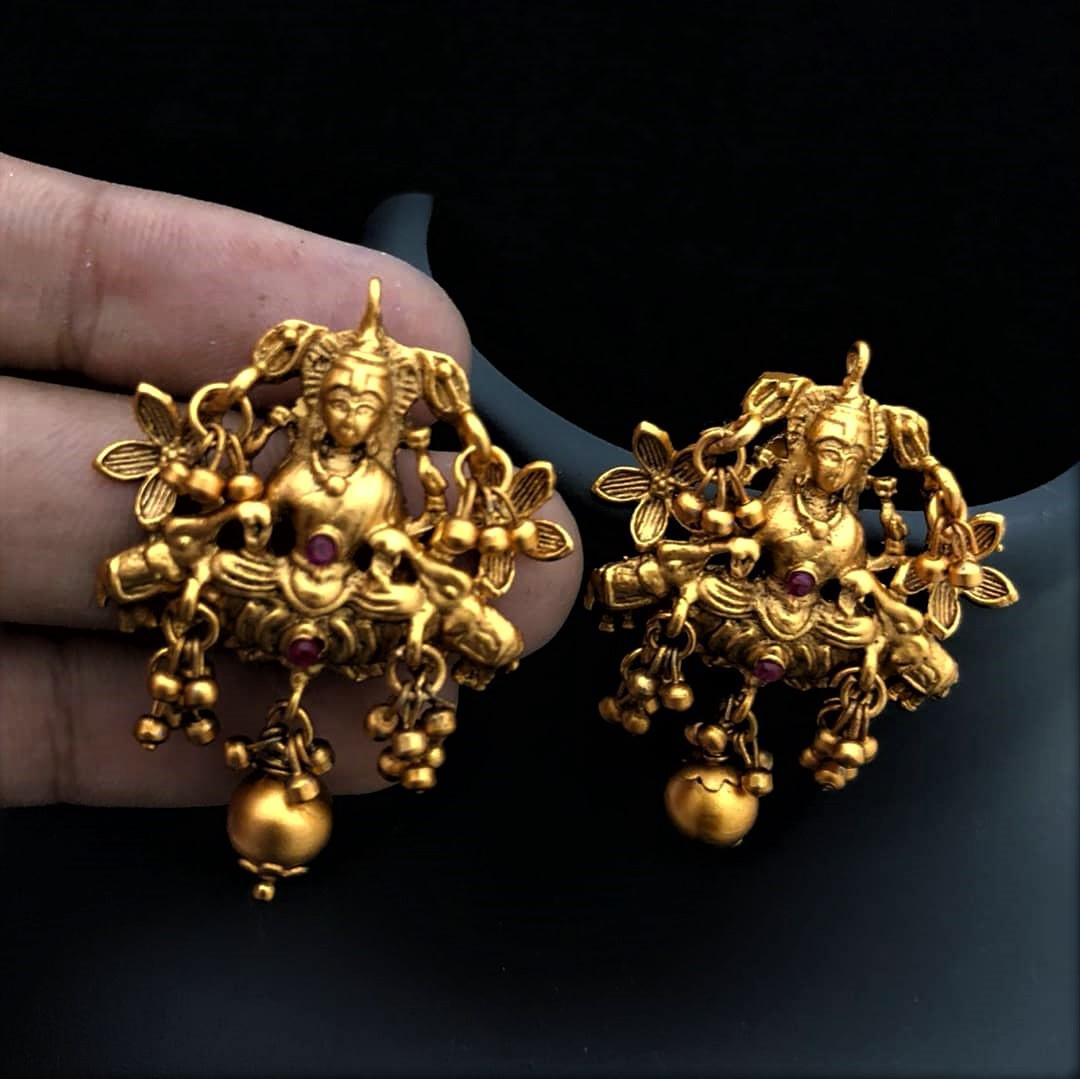 Image Courtesy: SK Fashion Jewels
Beautifully crafted into the Goddess Lakshmi, these Lakshmi earrings have been in fashion in the south for a long time. This ornament of temple jewellery has spread all over the country like a wildfire and no South Indian look is now complete without the Lakshmi earrings. Radiant with finesse, they are a fad among women and are often designed with gems or diamonds. Stunning and eye-catching, these earrings are a must have for all future brides!
Average Cost: ₹1 lakh
4. Nethi Chutti Mang Tikka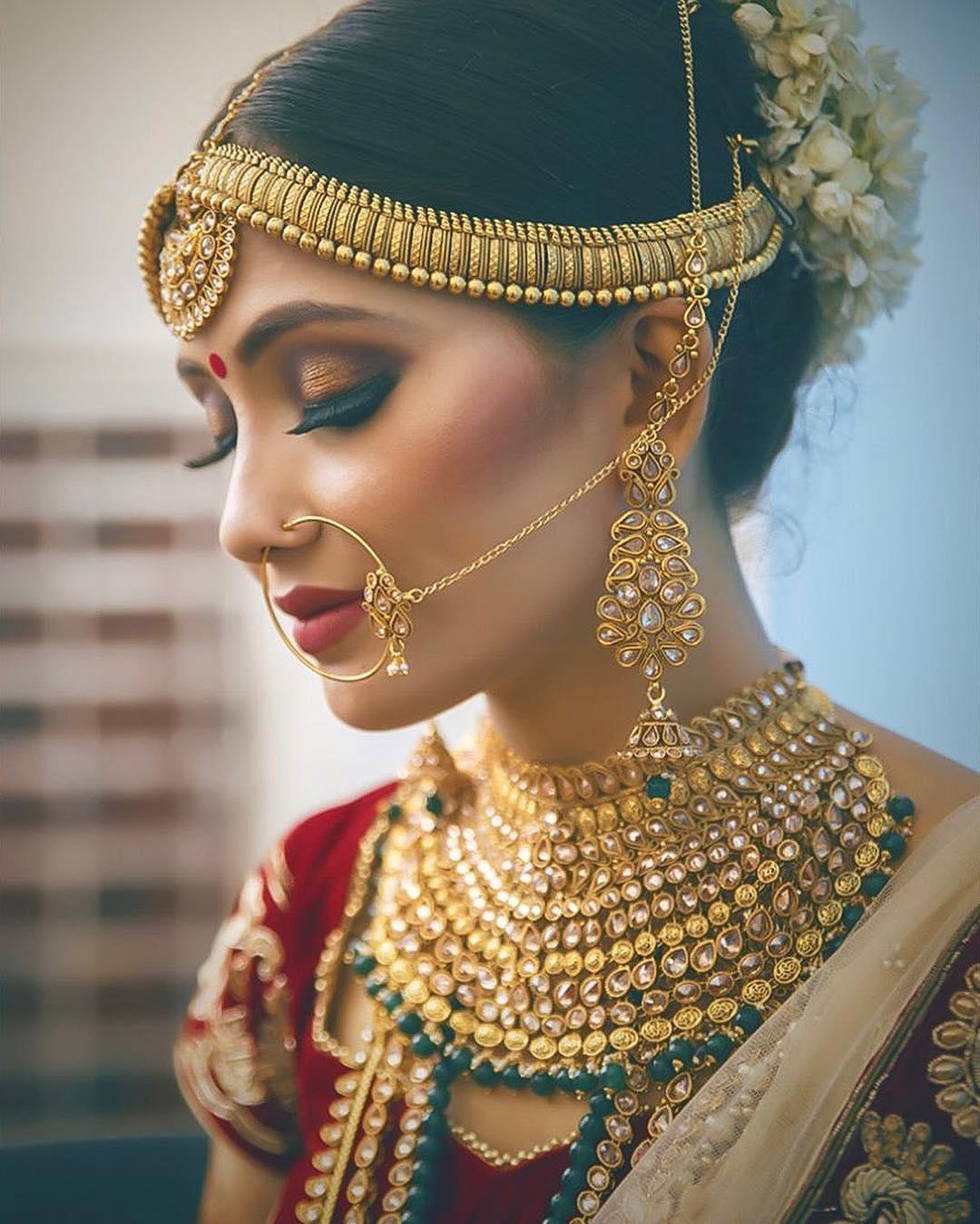 Image Courtesy: India Gram Wedding
Instead of the common Maang Tikka that will be worn by most of your friends at your wedding, opt for the Nethi Chutti Maang Tikka and once again go for temple jewellery. It's a manga shaped headgear for the best day of your life, available in a number of designs. You can opt for the kemp style, studded with red stones in modern design, matching your wedding lehenga or a board pendant Nethi Chutti which fortunately suits all face cuts. Another option is a layered Maang Tikka for all modern brides crafted with pearls and stones. If you want to look more alluring, you can choose the white stone Nethi Chutti giving you a unique bridal look.
Average Cost: ₹50,000
5. Poola Jada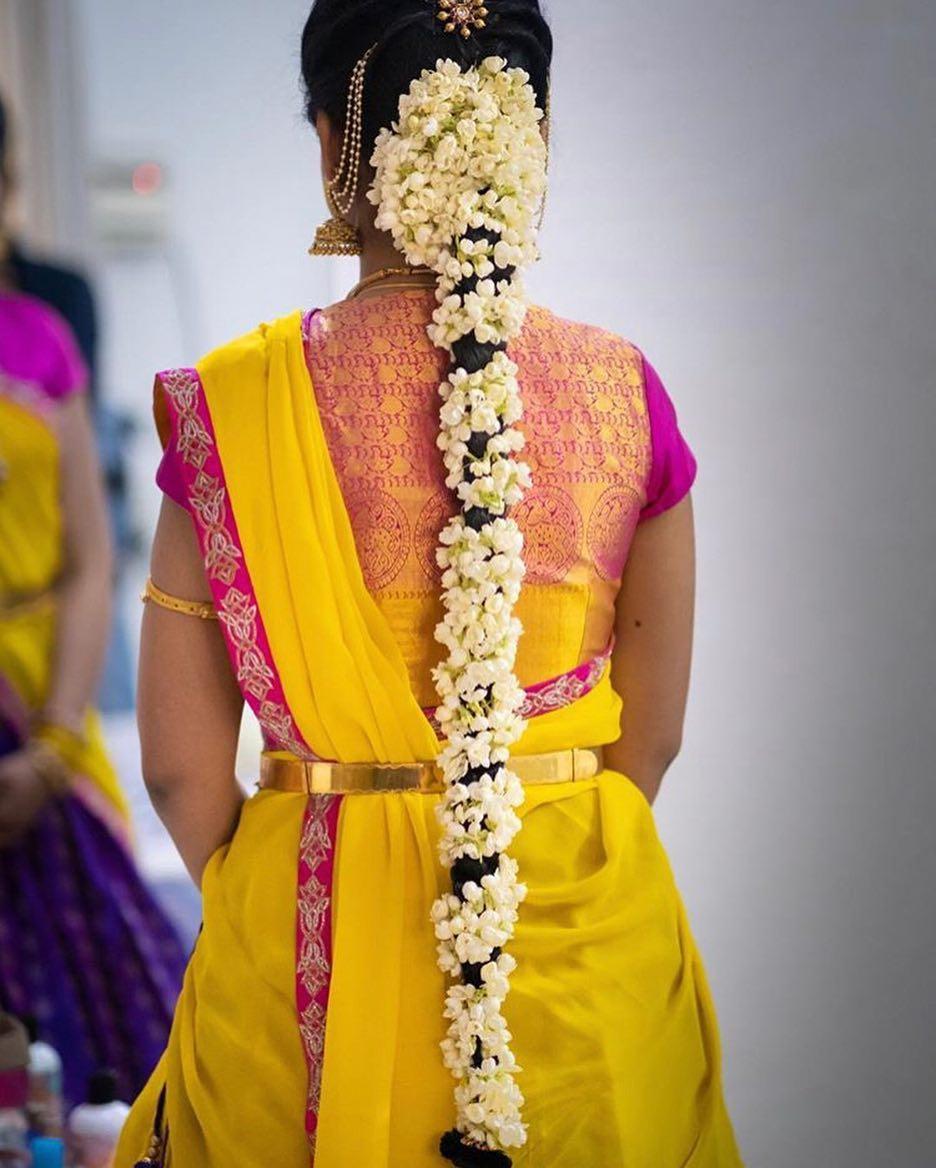 Image Courtesy: Pellipustakham
Poola Jada is considered a temple jewellery style for the hair that can make any bride stun the wedding guests at her wedding. Made up with a variety of flowers, such as roses, jasmine, lilies and more, this is a hairstyle developed in the south. However, if you think that only southern brides adorn their hair with flowers, think again! This style has become a fad amongst brides from all over India. You can wear it on a long braid of your hair while showering yourself with an amazing fragrance.
Average Cost: ₹2000
6. Kamarbandh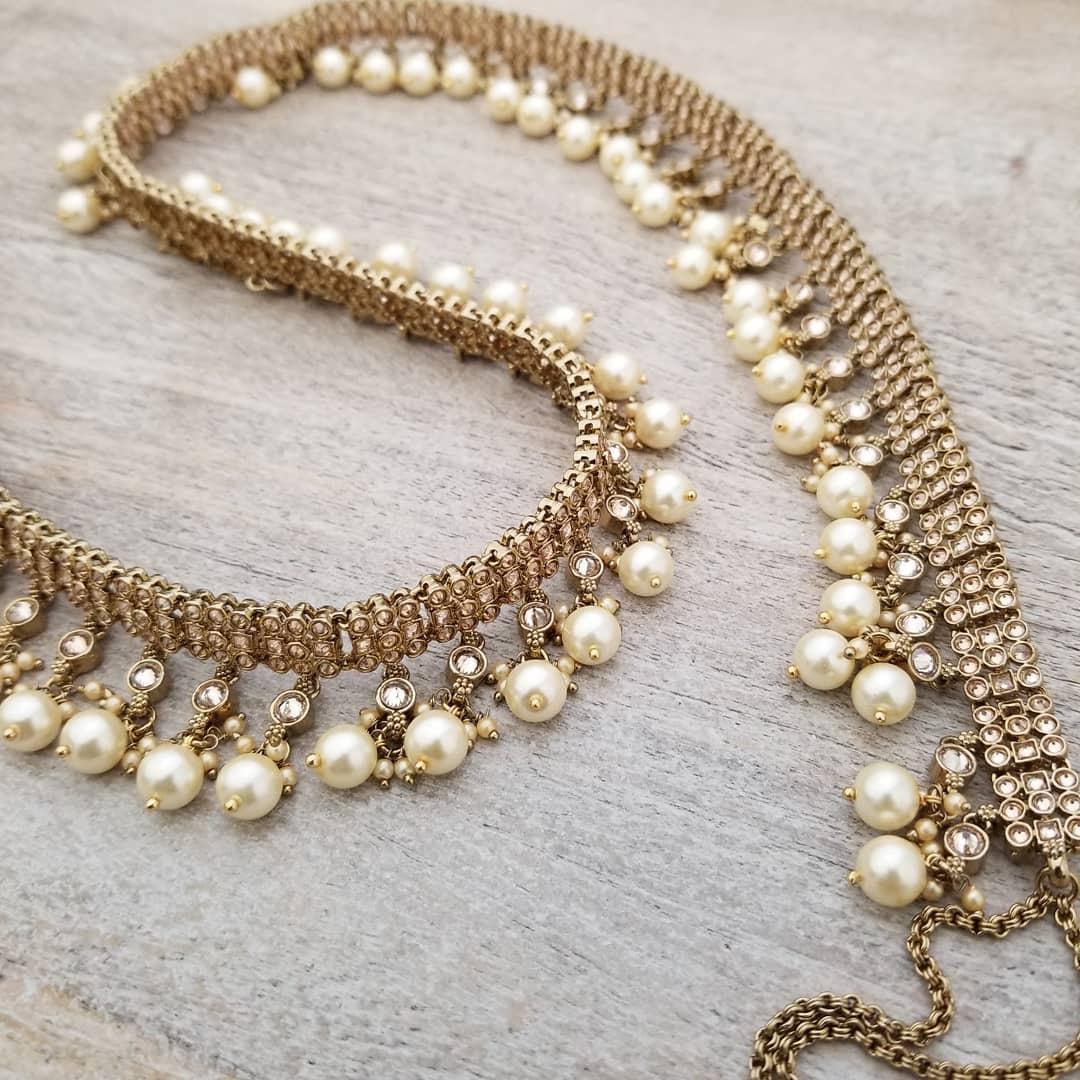 Image Courtesy: show off that waist
Defined as a waist belt for sarees, or in your case, a wedding lehenga, a Kamarbandh is truly the right way to flaunt your waist. Originating in ancient India, it's a fine work that shows off the heritage of the country and has developed from being just plain gold waist belt to being crafted with beads and precious stones and gems. Fit it with a chain and let it dangle from your waist to make it look appealing on your wedding day. This temple jewellery is certainly the most mesmerising piece of jewellery for your wedding.
Average Cost: ₹8 lakh
With so many temple jewellery options for your D-day, it's no surprise that you want to own them all. The best advice we can give you is that you must try them all out first and make sure that they go with your wedding outfit, so you don't end up in a bridal crisis later on. Happy jewellery shopping!
Get in touch with our jewellery vendors for great options!