5 Jewellery Set For Wedding That Will Make You The Most Gorgeous Bride Ever
A bride's ensemble is the most important part of her look, but it is her bridal jewellery that makes all the difference to it. Here are 5 gorgeous jewellery sets for wedding that you must check out if you are a soon-to-be bride.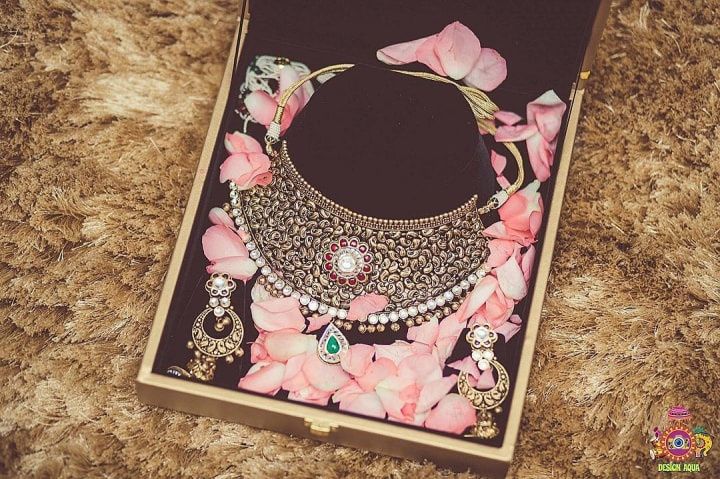 You can have the prettiest ensemble and the best make-up on, but your bridal jewellery is what actually makes all the difference to your bridal look. It is a given that every girl wants to look her gorgeous best on her wedding day, but to make sure that happens she needs to focus her attention on the tiniest details of her look, the jewellery being one of the important ones.
Traditionally, brides from different cultural and religious backgrounds have different kind of jewellery which is specific to them. For example, Muslim brides usually wear a Passa while Rajasthani brides wear a Borla. But the millennial brides of today are past these restrictions and rules. They wear what they think suits them best we think it's amazing. Here we have five bridal jewellery sets for wedding that will make you look like the most gorgeous modern bride ever. Check them out.
1. Royalty at its best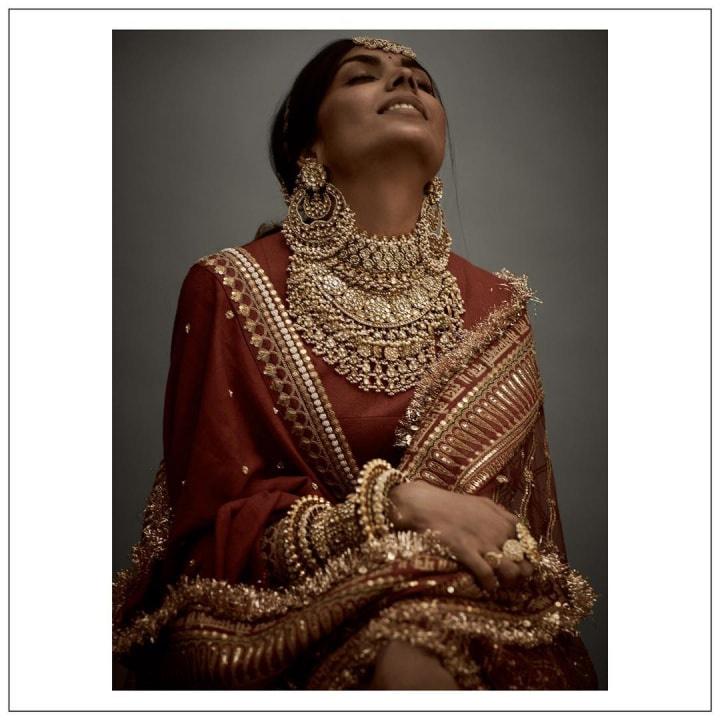 Image Courtesy: Sabyasachi's Instagram
Do you have a feeling that you have seen this jewellery set somewhere before? Well, you are right. This stunning jewellery set for wedding from the Sabyasachi Heritage Jewelry Collection is the same one that the very beautiful Deepika Padukone wore for her Anand Karaj with Ranveer Singh. The traditional and royal jewellery set consists of a very heavy choker, Chandbalis, Maang Tikka and Kangans, all made of uncut diamonds and pearls which are perfect for a bride who wants to look nothing but regal on her big day.
2. Pristine and pretty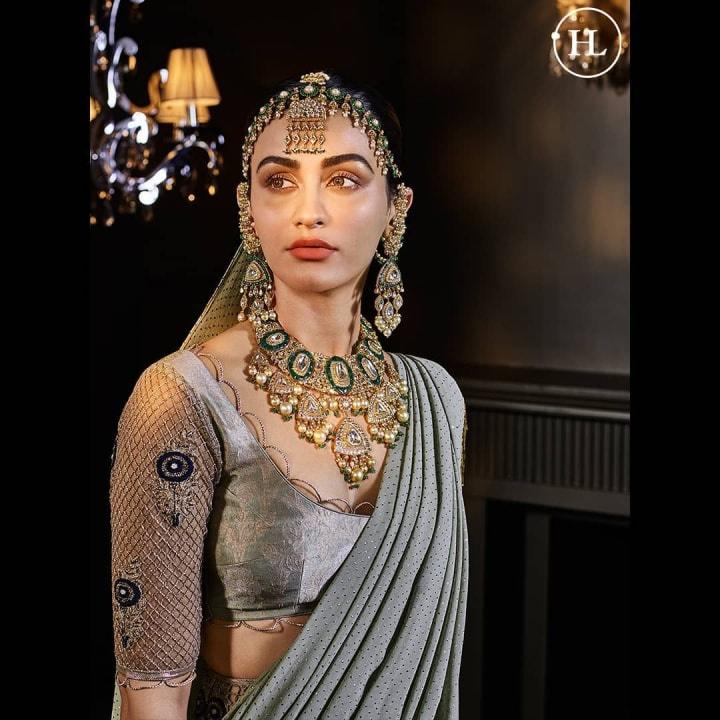 This beautiful and traditional jewellery set for wedding is from the house of Hazoorilal Jewellers, a brand that is no less than heritage in itself. This jewellery set comprises of a choker necklace, heavy earrings and a gorgeous Matha Patti with intricate Meenakari and Kundan work. This is another jewellery set which is perfect for the bride who loves all things royal.
3. Sterling silver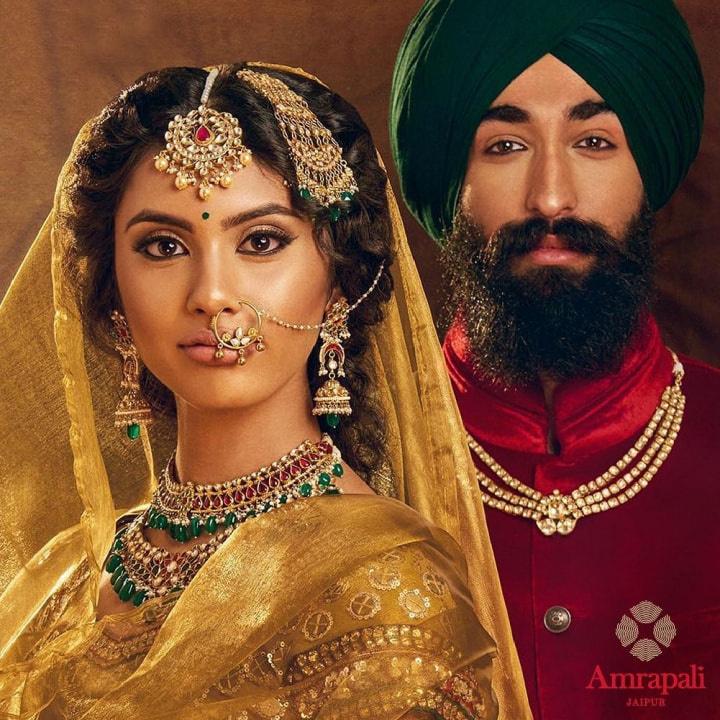 Confused about why we are calling it silver? Well, that's because this awe-inspiring jewellery set for wedding by Amrapali Jewels is actually all set in silver. Hard to believe but true. This silver Jadau jewellery set is a complete package with a layered necklace, Maang Tikka, Passa, earrings and a Nath, all embellished with precious stones. We just cannot take our eyes off this beauty!
4. Emerald glory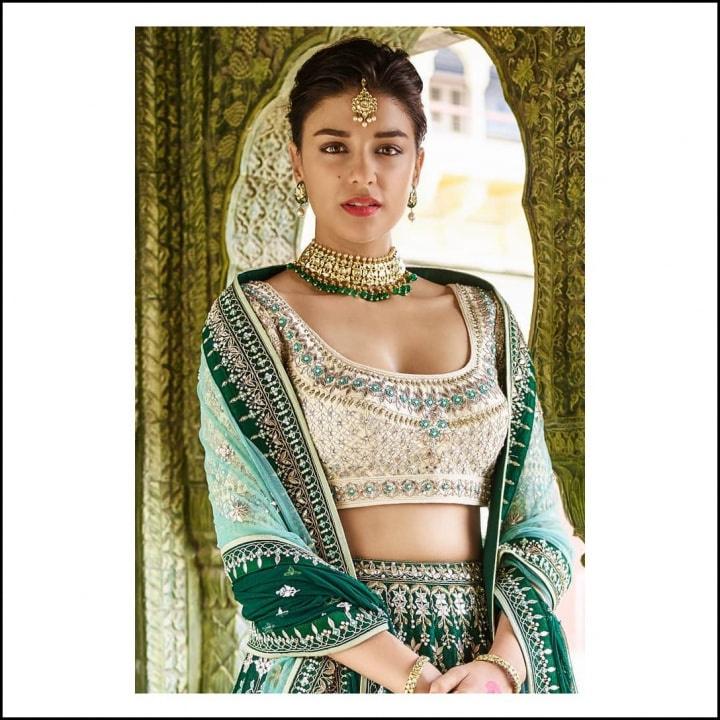 If you are a minimal bride who doesn't want to go OTT with her wedding jewellery but still look classy and pretty, then this beautiful jewellery set from Pink City by Anita Dongre is a great option for you. The Miraan choker Necklace, Karvi Maang Tikka and Tamasi earrings are all designed with uncut diamonds, emeralds, pearls and enamelling work set in hallmarked yellow gold. It is the perfect jewellery for a minimalist millennial bride!
5. Classic gold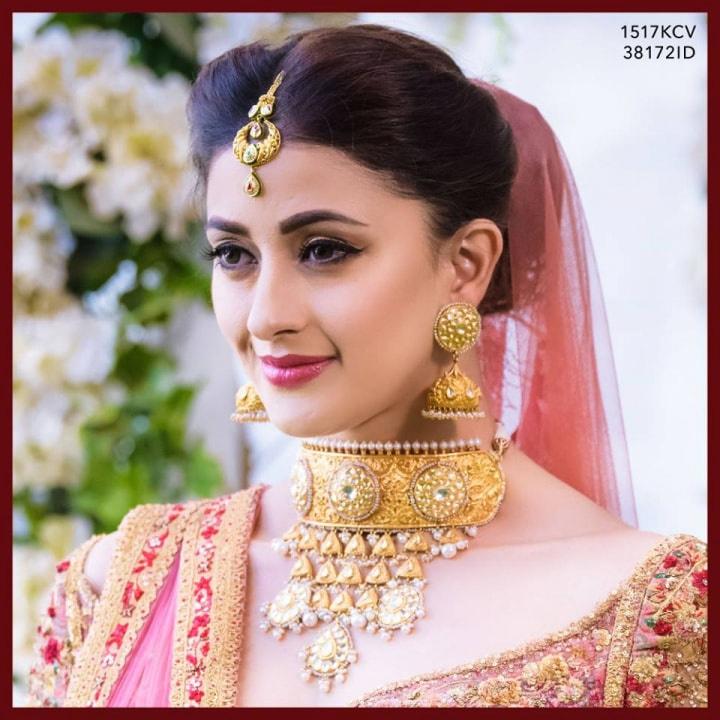 And last but not the least, we have something for the bride who wants to mix traditional with modernity at her wedding and rock it like a boss bride. This stunning jewellery set from Tanishq is set in classic yellow gold and has intricate Kundan detailing. It consists of a choker, Jhumkas and a simple Maang Tikka. This one is a show-stopper for sure.
A few things you need to keep in mind when picking your bridal jewellery set for the wedding:
Always pick jewellery that matches your face shape. For example, if you have a round and chubby face, you might want to steer clear of heavy Chandbalis and round Maang Tikkas. Similarly, if you have a long and thin face, you can opt for a layered or thick Matha Patti so as to make it look fuller.
Just because something looks good at first glance doesn't mean it will look good on you. So always try before you buy.
When buying matching jewellery for your outfit, make sure you have the said outfit with you. Imagination and memory of the outfit colours, work etc can fail you sometimes, and trust us when we say this, you do not want to take such a risk with your bridal jewellery.
Visit a few stores before finalizing your jewellery. Until and unless you check out various options you will never know what you could have gotten. Do not settle.
Jewellery shopping can be tricky and very tempting. If you do not know what you are looking for and how much you want to spend on it, you can easily go astray. So, fix a budget and stick to it.
Now that you have some beautiful jewellery sets for wedding to take your bridal jewellery inspiration from and you also know everything you need to keep in mind before finalizing your precious accessories, we can safely say that you will totally rock that bridal avatar!
We are totally in love with all the jewellery sets on the list. Which one is your favourite though? Drop your word in the comments below.