Gold Jewellery Images To Inspire You For Your D-day Look
Already looking for jewellery inspiration for your D-Day, look no further than our gold jewellery images guide which will smoothly sail your wedding woes away.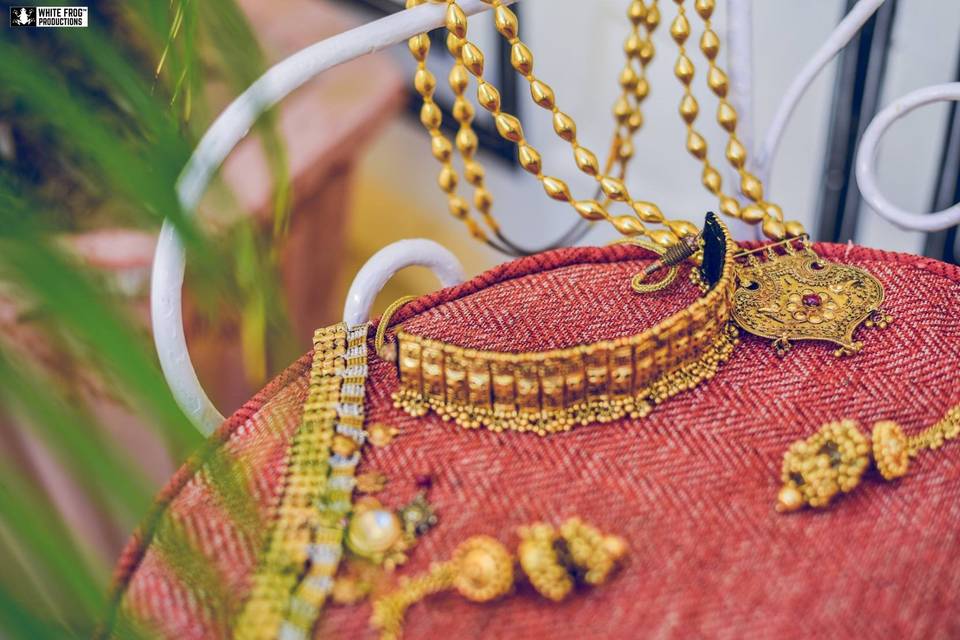 Brides, get excited for we got you covered with some of the mesmerising and jaw-dropping jewellery inspiration to get you hooked this wedding season with all kinds of love. Swoon in romance and let your beau compliment you on your chicest of couture and jewels for the D-Day, we got your back with our exquisite finds of gold jewellery images!
From handcrafted choker necklaces to intricately crafted Jhumka earrings, blend of gold with pearls, Kundan, and semi-precious stones like ruby etc. will certainly work like a charm. Gold jewellery images depicting the historic significance of the royalty who ruled and sophistication that brewed back in the day will be enough to transport you to the era bygone.
Check out these iridescent gold jewellery images and take note for each one of them is uniquely crafted to complement the real you.
1. Choker Necklace Set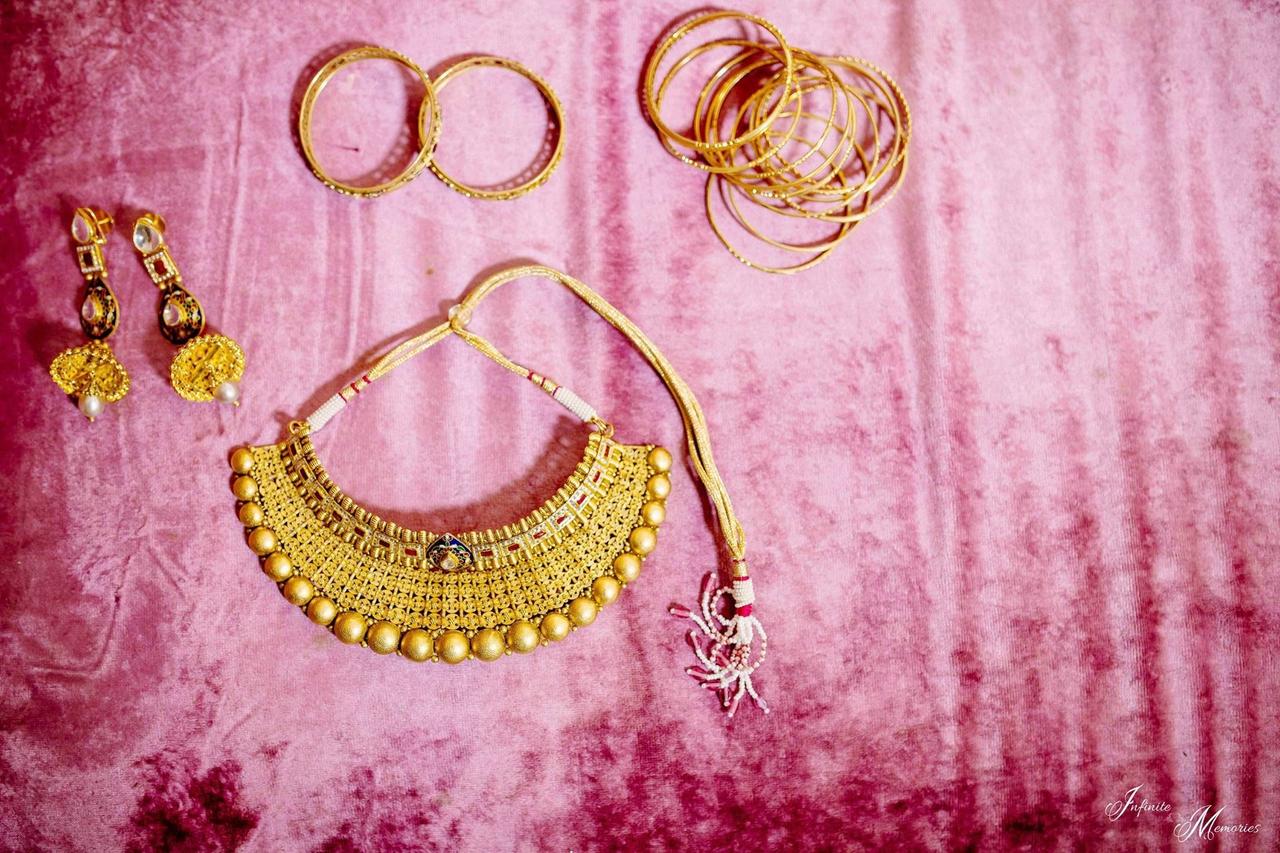 When weddings spring and pop up in the minds of brides- quintessential queen-esque choker gold jewellery images often back and forth in the deep galleries of a bride's heart.
We know the sheer beauty of such endearing jewellery options that flatter the wearer and mesmerise the audience effortlessly. Kindle a spark of elegance and sophistication as you adorn the glorious choker design in gold jewellery with delicately handcrafted drop-down earrings and stack the meticulously crafted bangles to suit the holy occasion.
2. Temple Gold Jewellery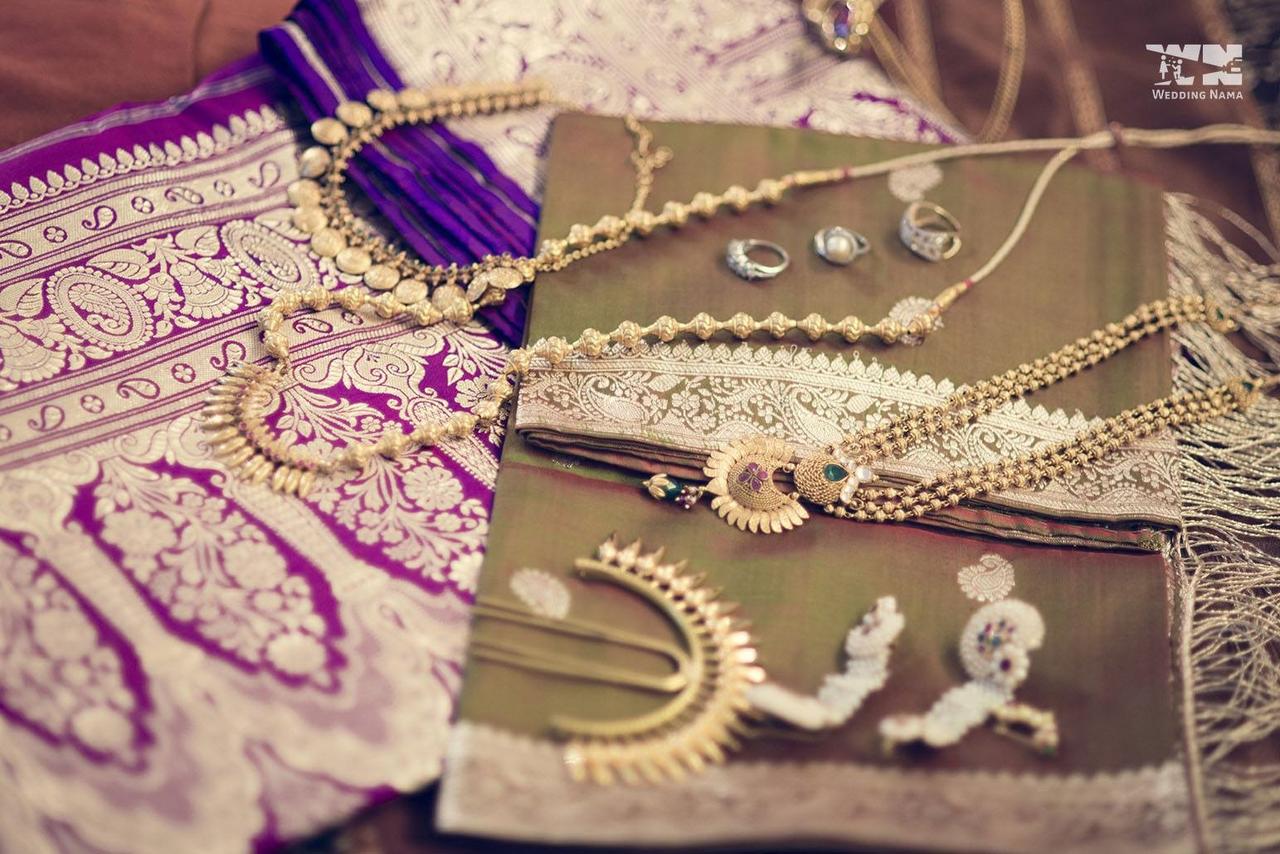 Soak in the purity of authentic and pious South-Indian speciality of temple jewellery which exudes an essence of old-world charm with a flavour of the contemporary cult. Temple gold jewellery images evoke an expression of sanctity and a union of two souls in an unconditional bond.
We love how the tales of South Indian mythology are beautifully engraved on gold jewellery and harbinger the message of tradition, rich culture passing through several generations. Another unique feature of temple gold jewellery is the fact that they are self-explanatory with images of gods and religious deities engraved on gold jewellery to establish a connection with the higher bodies and seek their obligatory blessings to commence the fresh start of their life happily.
3. Gold and Pearl Jewellery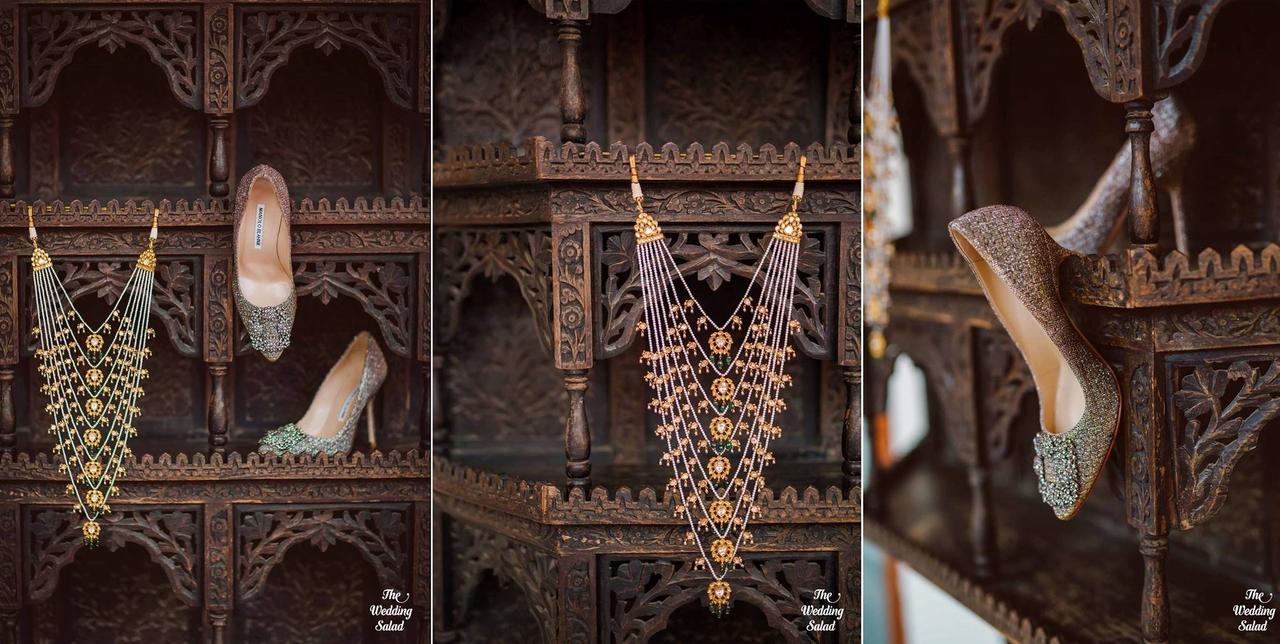 Nothing spells the everlasting enamour of aristocracy reflected in the Hyderabadi jewellery which is mixed with equal measures of gold and pearls to create stunning artwork. Such incredible and artistic gold jewellery images are a mandate in your bridal trousseau box.
Explore the bounty of incessant glory dipped in the gold and pearl jewellery like this signature Satlada necklace which is an epitome of grace and poise for any Indian bride on her wedding day. Flaunt the effervescent charm of this gold jewellery with your traditional Indian haute couture and strike a flattering pose with your better half just the way you like it.
Trust us, you won't regret it. Also, don't wait for the D-Day to take out this gem, you may layer it with your regular choker necklace on gala events or wedding ceremonies like the cocktail, reception party etc. depending on how grand they are.
4. Gold Kundan Jewellery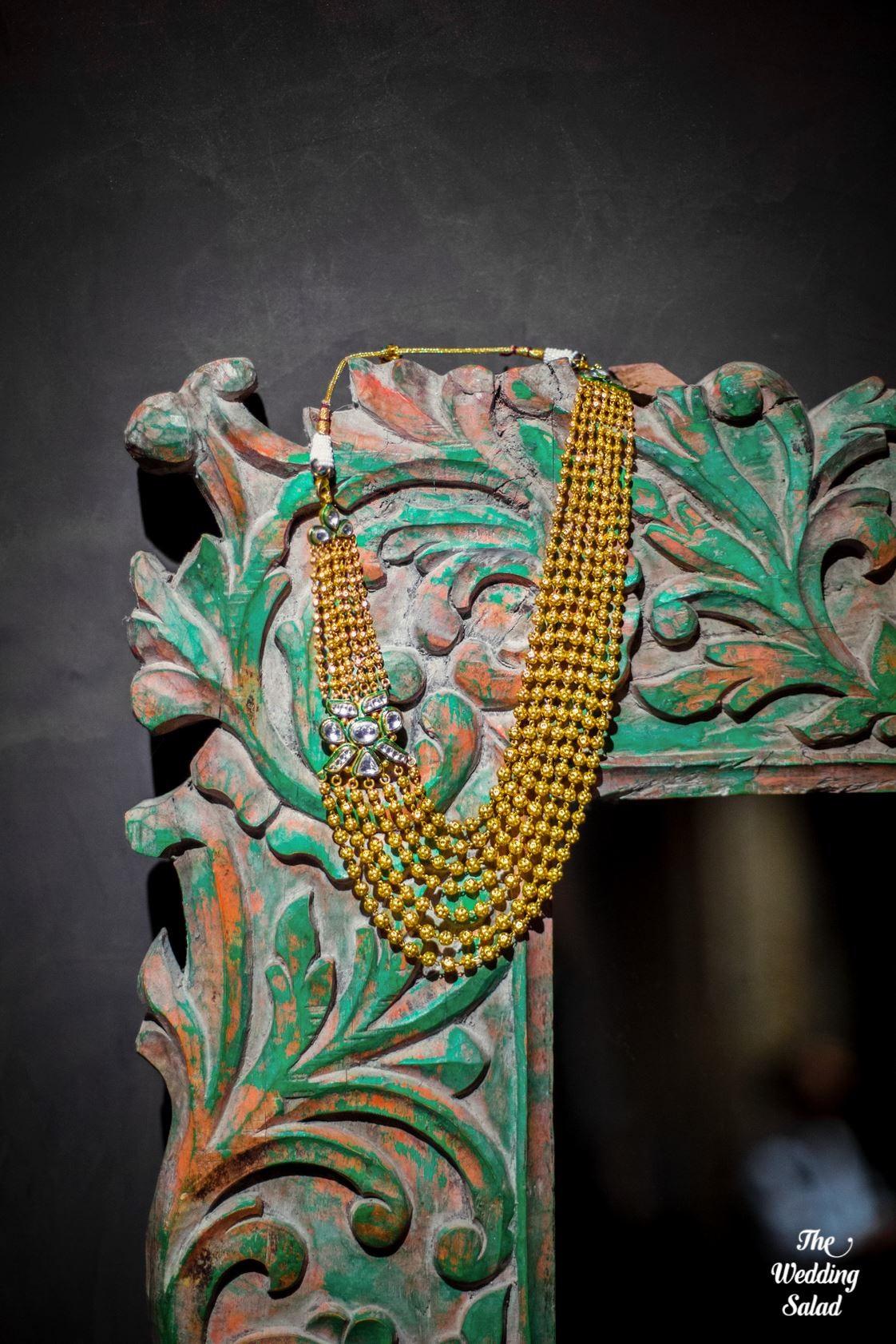 Yet another remarkable trend in gold jewellery images is the one which is ecstatically paired with Kundan gemstones. The Rajasthani-based semi-precious stones which are highly revered for their sheen and shine, gold and Kundan combination is the current hit amongst Indian brides.
We can't get over the sheer magnificence of such alluring combination and more so, how effortlessly the gold and Kundan jewellery falls with every outfit so seamlessly. Whether you're in a fix of what to layer with your saree or lehenga or Indo-fusion, just slip into this statement-worthy gold jewellery and let them steal side glances at your infectious aura.
We have carefully shortlisted such rare gold jewellery images for you to swoon over them this wedding season and fall in love with voguish trends all over.
5. Ruby Gold Jewellery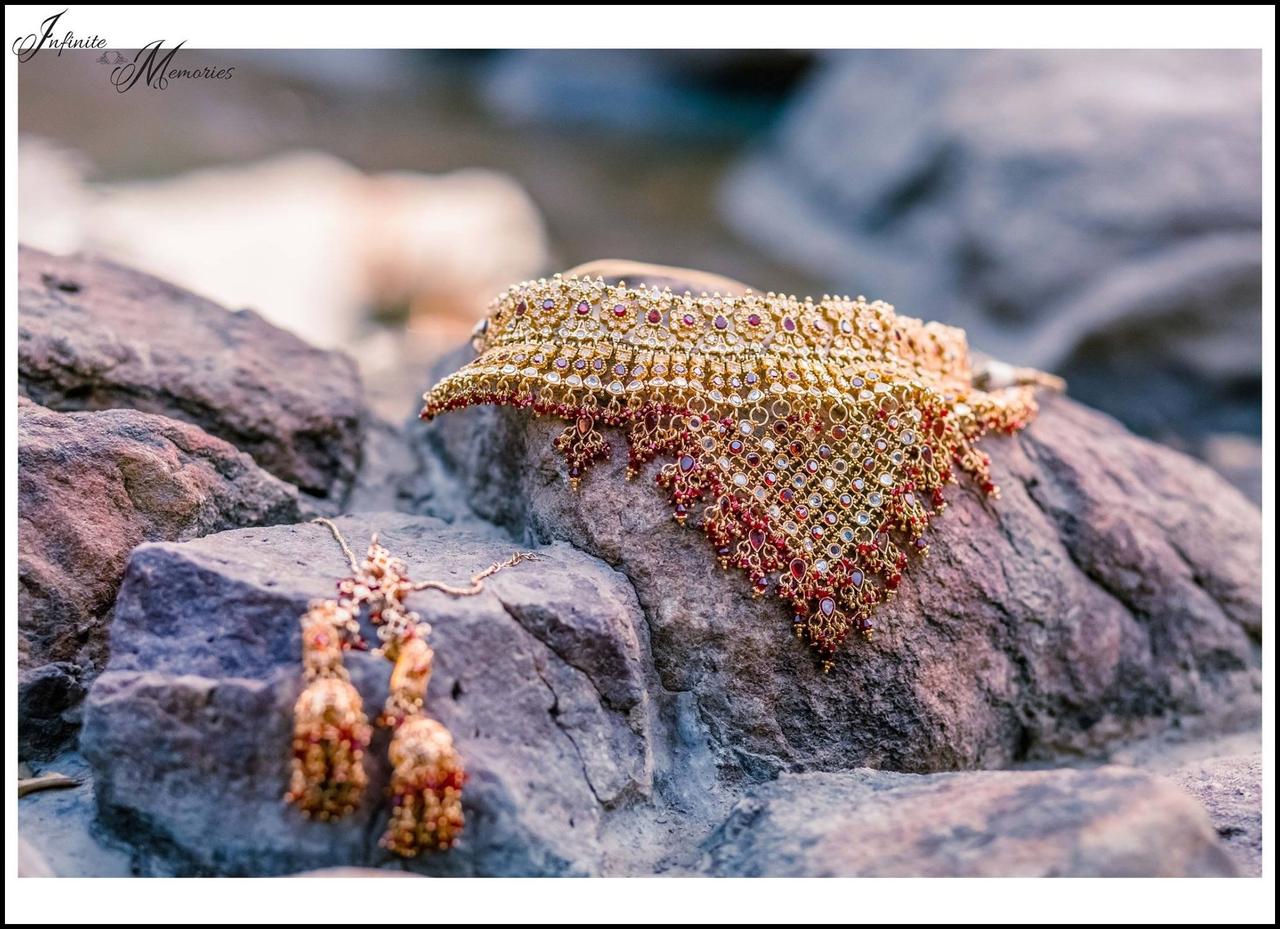 The daunting task of finding perfect bridal jewellery is indeed a herculean task, however, you can always pep it up with some awesome sauce. Like we did, mix some gold with semi-precious stones like ruby to stand out of the crowd and let the reigning sunshine rise upon you.
These gorgeous handpicked gold jewellery images shall be an escape for the non-conformist bride who never wants to settle and always looking to steal that spotlight. And hey, it's your big day, you must steal the show like a boss.
6. Choker with Tassel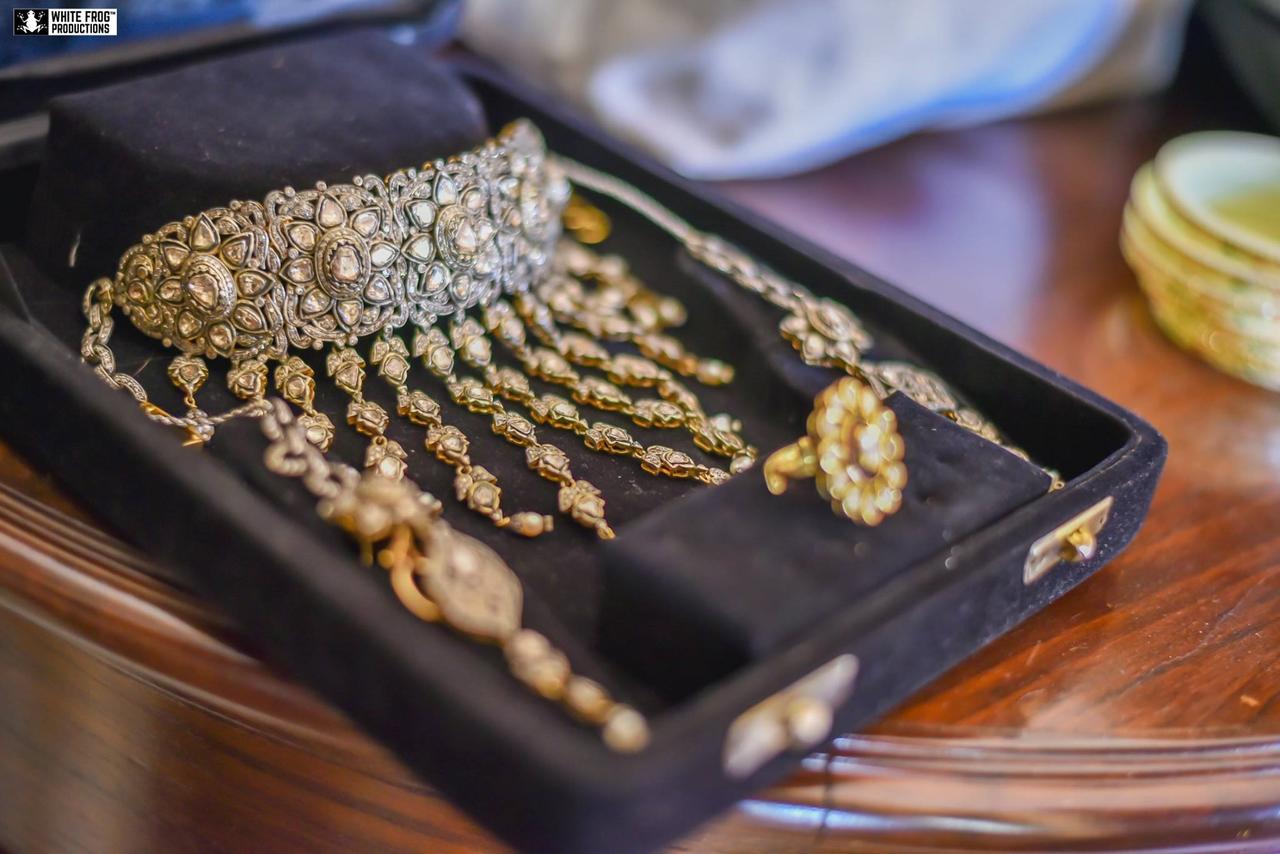 Talk about contemporary gold jewellery images like this, we are in awe with the heritage beauty that it effortlessly screams of. The antique and rustic touch to the choker necklace that comes with delicately handcrafted tassels encrusted with gemstones to elevate the royal glam of the wearer.
Such gold jewellery images simply transport us back in the times of the royalty and sheer aristocracy where the queens sashayed in plummeted couture adorned heavily embellished jewellery. Feel like a queen on your big day as you invest in this extraordinarily curated and highly acclaimed gold jewellery on your wedding day.
Here's a tip- don't forget to keep your blouse understated to put the focus on the necklace and let them sing praises of your high esteem.
Striking looks created for the modern Indian brides, these are some of the gold jewellery images we were totally crushing on and laced some flavour of drama and romance to please your inner bridezilla. We're still gaping in awe of the gold and pearl blended jewellery images that are quite versatile pieces in every bride's vanity, however, if you want to experiment and take that extra floor, nothing beats the effervescent light of antique gold jewellery like a choker with tassels.
So which one of these did you loved the most, tell us in the comments below!