Look Hot in a Red Saree With Golden Border This Wedding Season
Your search for the perfect red saree with golden border for the big day ends here. Our curated list of gorg sarees will have you going gaga over 'em all.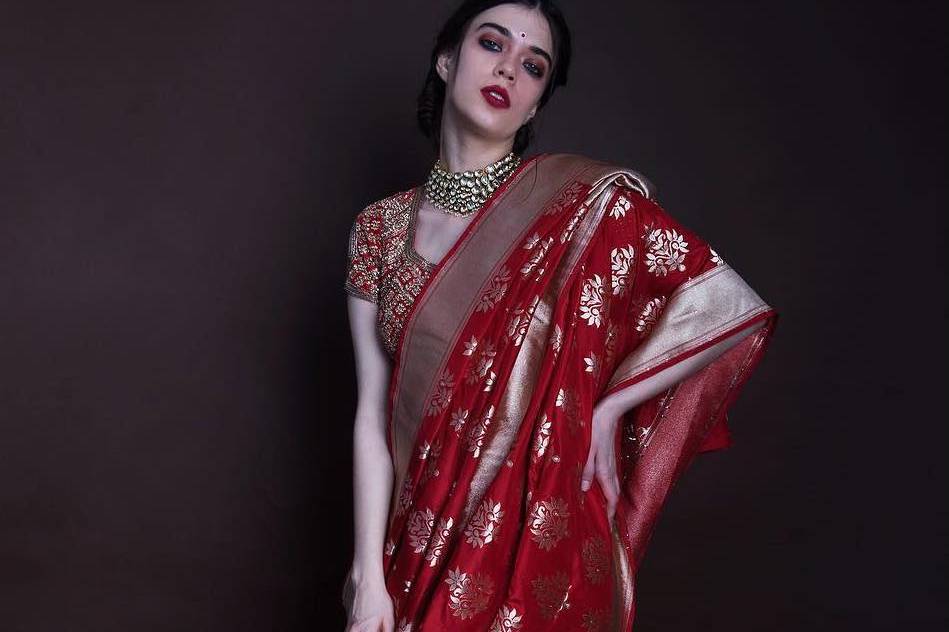 The first colour that comes to our minds whenever there is a mention of weddings or celebrations is bright red. Not only is the colour culturally relevant but it also gets a thumbs up from the fashionistas across the industry.
Every time a little girl dreams about getting all decked up for her wedding, the colour of the outfit is almost always red. (You know it!). And when you finally hear those wedding bells ring, you owe it to that little girl and fulfil your childhood desire to wear red for your big day.
Thus to help you make the right choice with which styles and designs are in these days, we have curated a list of some gorgeous options of red saree with a golden border that you can flaunt like a queen.
Major Heart Eyes: A Golden Sequin And Beadwork Border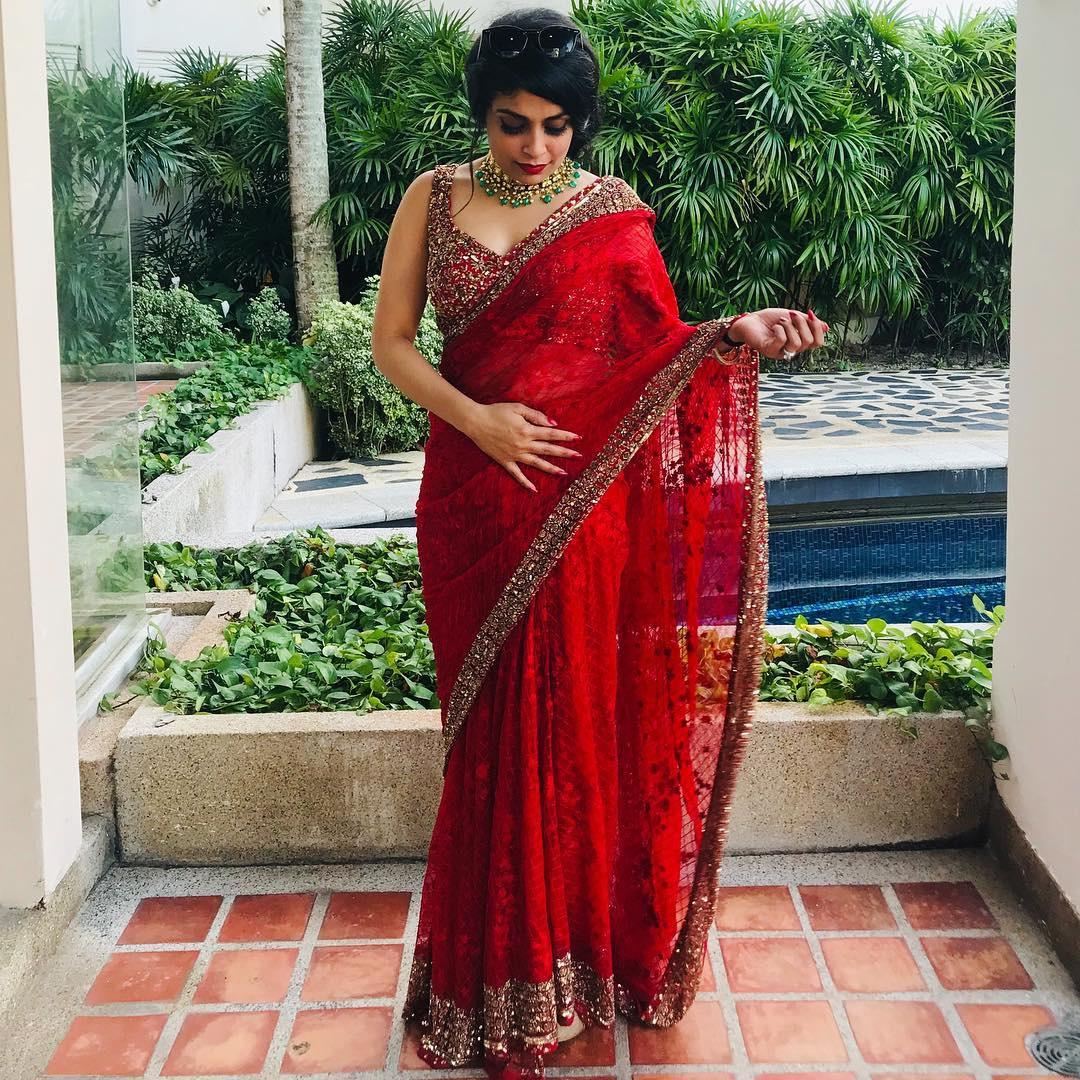 Red is the colour of love. Red is the colour of celebration. And well, red is the ever-stylish colour of the wedding season. This gorgeous Astha Narang saree with hand threadwork and a golden sequin and beadwork border makes for a perfect pick for any bride-to-be.
Style this beauty with an equally heavily embroidered blouse and slay the day, girl. You can choose to stick with a modest blouse neck design or go all out with a stunning deep v-neck and flaunt that collarbone.
Add to the beauty of this red saree with golden border by opting for an ornate pair of earrings that complement the overall look that you have put together for your special day.
Style Your Favourite Jewellery With This Red Benarasi Saree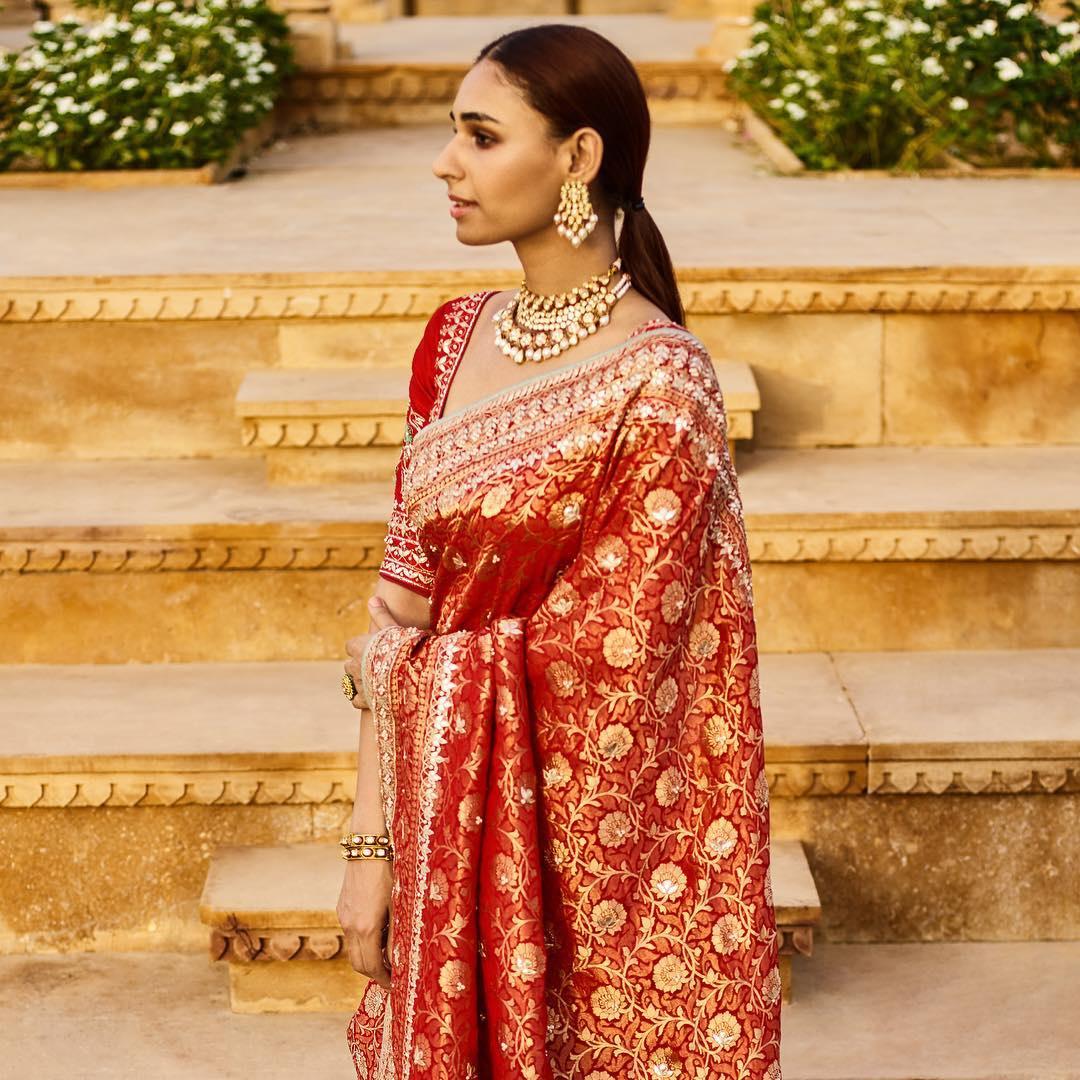 When it comes to sarees, there is a palpable rhythm that resounds the woven looms of Benaras. Countless years of sheer expertise and on-point craftsmanship pour into this gorgeous style, where fine silks are mingled with motifs that blossom with natural symbolism.
This Benarasi red saree with golden border by Anita Dongre is a perfect depiction of what we are talking about. The opulence of this saree makes for a great companion when paired with heavy set jewellery pieces in gold.
Complete your look by styling your favourite necklace and earrings, and don't shy away from putting on that stunning Maang Tikka too. As for the hairstyle, pick a bun hairdo or a messy side braid so that it doesn't interfere with the other elements of your ensemble where this red saree with golden border steals the show.
Look Like A Million Bucks In This Beautiful Saree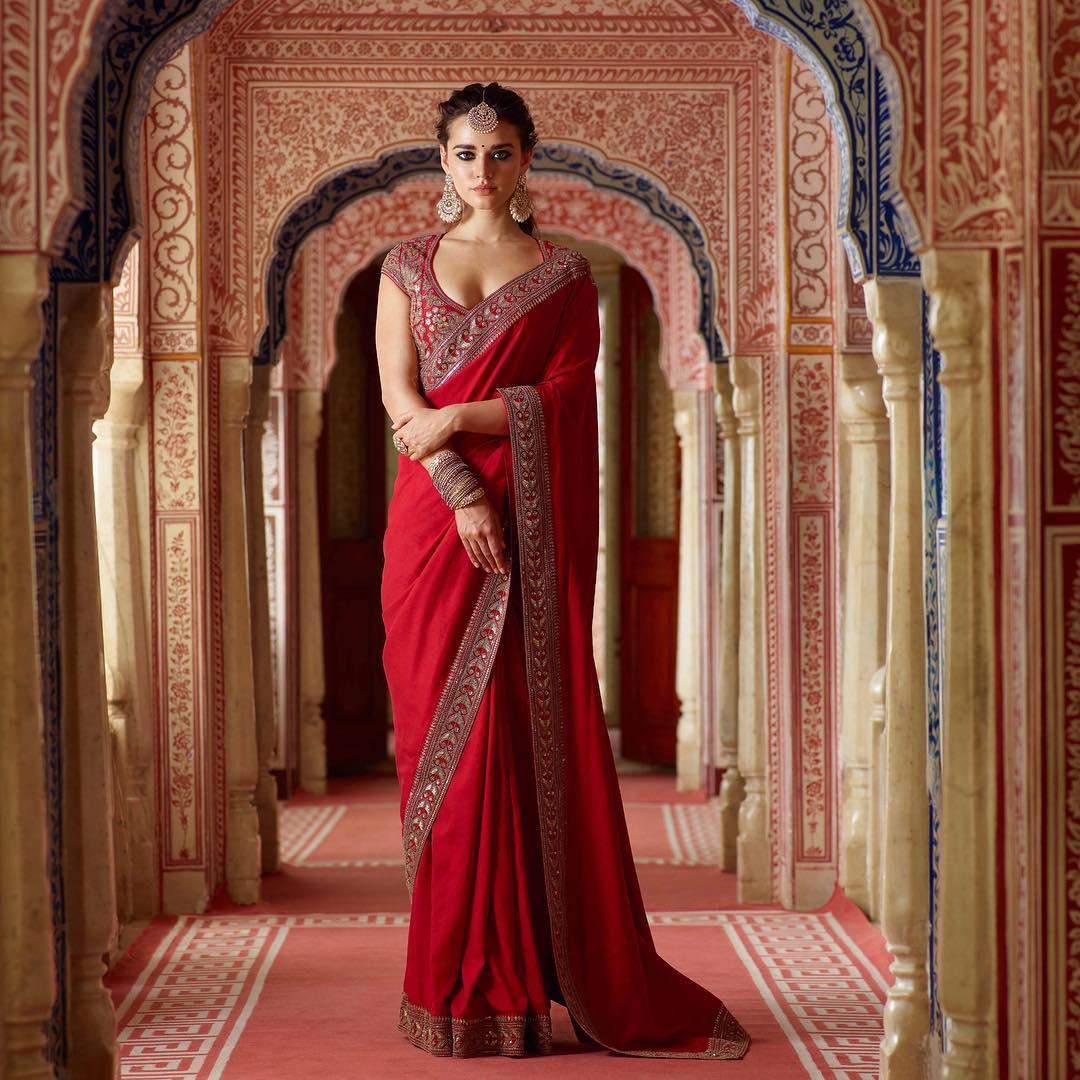 Image Courtesy: Sabyasachi Mukherjee's Instagram
Fulfil your teenage dream of wearing a designer outfit for your big day by picking this stunning red saree with golden border by Sabyasachi. The saree looks absolutely breathtaking with the beautiful Tussar Georgette fabric and the Tilla work that adorns both the blouse and the border.
The beauty of this red saree with golden border lies in the juxtaposition of the solid colour and the embroidered border. It makes for a beautiful contrast, which creates the stunning effect that any bride-to-be would want to flaunt on her wedding day.
Oh, and for the blouse neck design, you can either pick a deep round neck like this one or go for something subtler and choose a simpler neck. Base your choice on the jewellery style and the level of comfort.
An Exceptional Designer Saree For The Bride-To-Be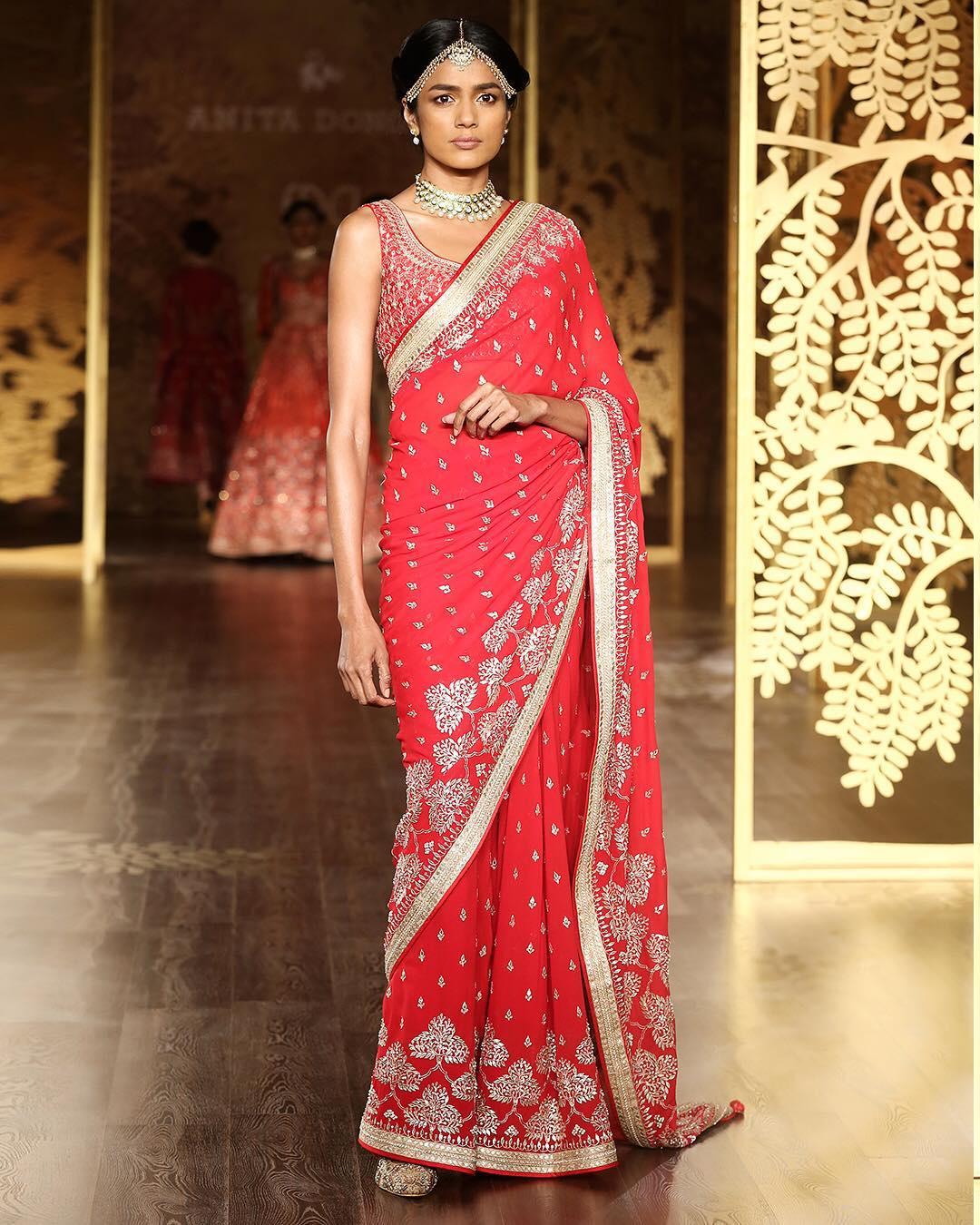 The auspiciousness of the wedding is often equated with the deep-rooted significance of the red colour which invariably appears as the part of the identity of a married woman. The vermillion, the Chuda, the Mehndi, and the Bindi, all become a part of her every day look from the D-Day onwards.
So why not go for an outfit that is in the same colour and take this love affair up a notch by pairing it with the best accessories and the most stunning footwear?
With beautiful work all over the drape and the blouse, this traditional red saree with golden border by Anita Dongre is a head-turner for sure. And don't miss out the intricate work on the border that gives this outfit an ethereal look.
This Sheer Saree Emits Sheer Grace And Elegance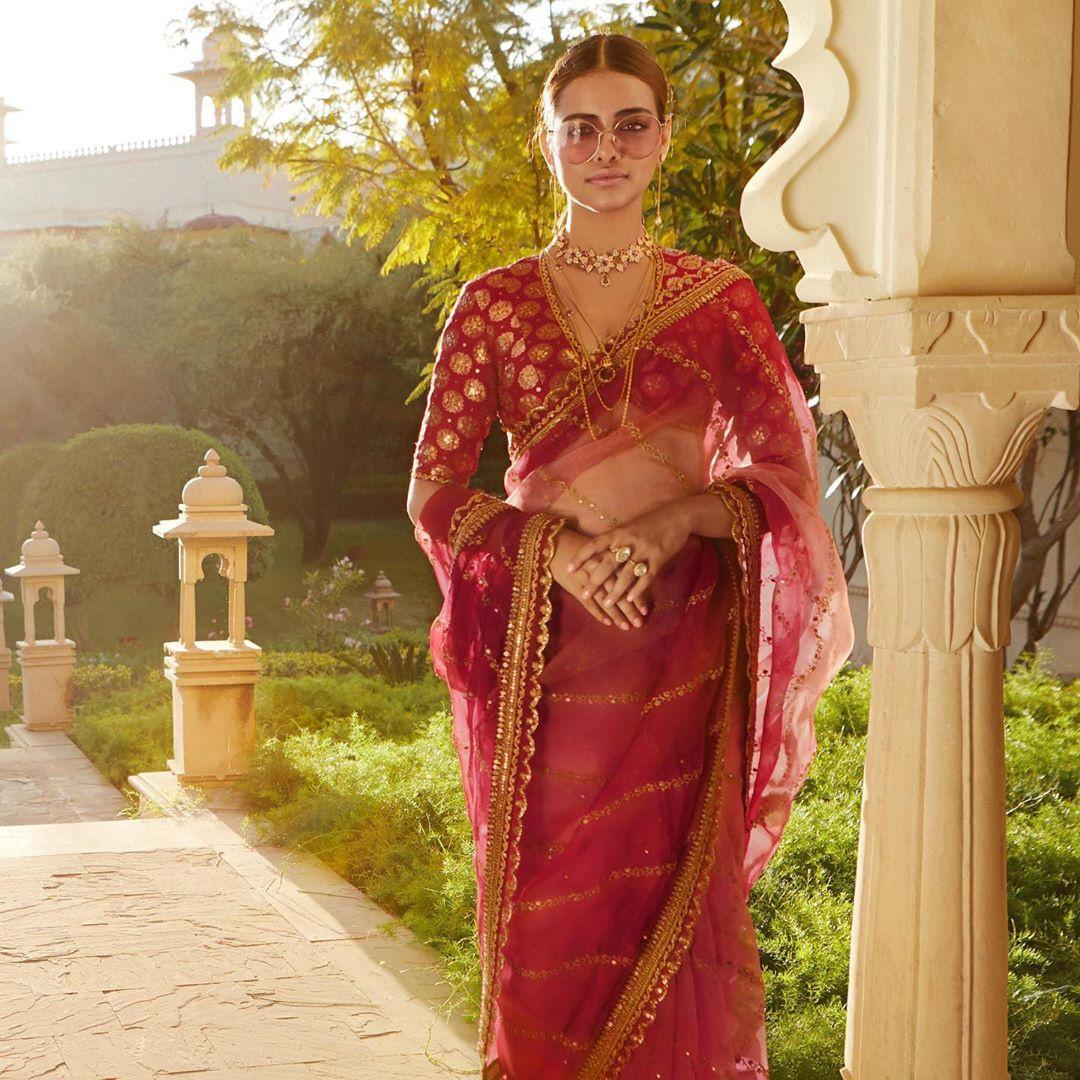 Image Courtesy: Sabyasachi Mukherjee's Instagram
Cultural nuance and brilliance of handicraft are no strangers when it comes to the outfits of this designer. This sheer red saree with golden border adorned with Gota Patti pairs beautifully with the Benarasi silk blouse.
The sheer grace and elegance of this saree by one of our favourite designers, Sabyasachi Mukherjee, is what keeps you from looking anywhere but at this sophisticated outfit.
You can accessorise it right by opting for an ornate layered Rani Haar and a choker. Oh, and don't hold back from adding some antique rings and bangles to complete your look.
Get The Royal Look Right With This Exquisite Red Saree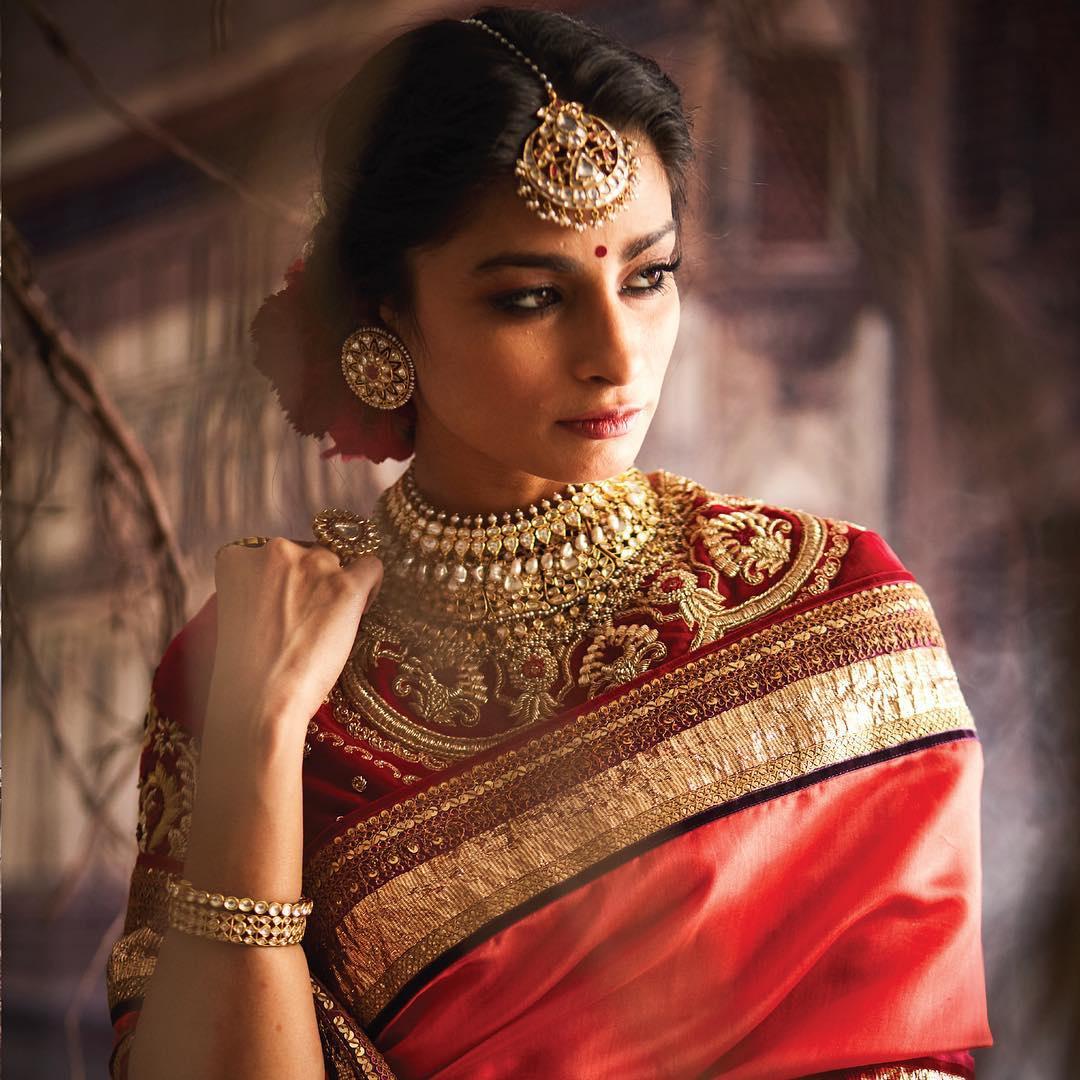 Any outfit is comprised of multiple elements coming together in perfect harmony. Everything from the hairdo, the jewellery, the makeup, the blouse design, the saree, and the footwear have to be in sync with the overall ensemble that the bride-to-be has envisaged for herself.
When it comes to brides who are all about contrasts and royal feels, this subtle yet stunning red saree with golden border makes for the go-to choice. The heavily embroidered half sleeves blouse with a high neck design goes beautifully with the rather simpler saree.
And when you choose a saree like this you have the liberty to opt for heavy set jewellery without running the risk of going over the top.
An Elegant Red Organza Saree For The Classy Brides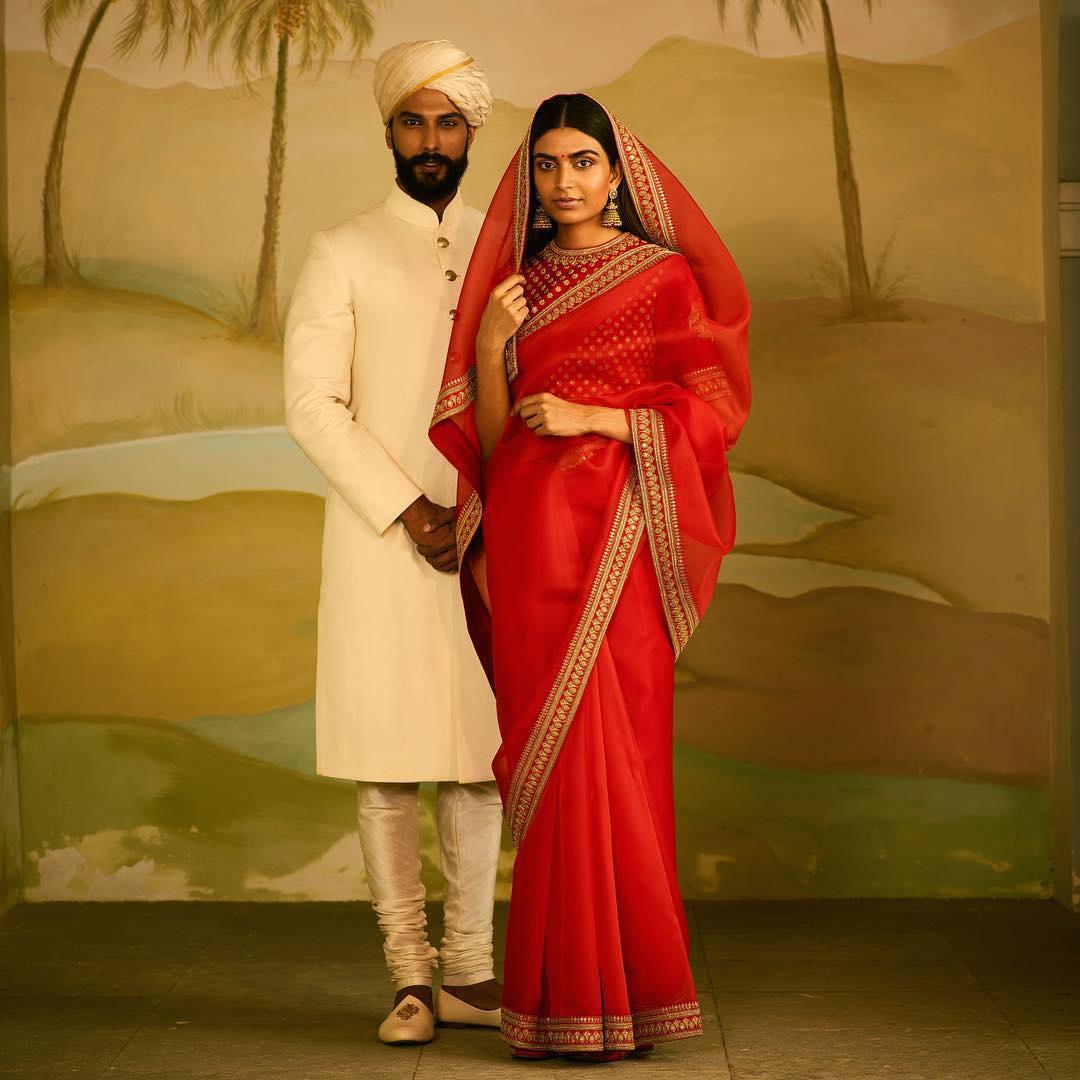 Image Courtesy: Sabyasachi Mukherjee's Instagram
When your style is all about minimalism, modernity, and looking chic no matter what event or ceremony, then this red organza saree with a simple border should be your ideal choice. Paired with a gorgeous raw silk blouse with Tilla and Maori detailing, this red saree with a golden border would make for a great outfit choice for the wedding reception.
Complete your bridal look by styling your hair in a beautiful bun hairdo. And as for the jewellery options, you can either stick to the bare minimum or go all out by choosing that heavy heirloom set and bangles that you have been dreaming to flaunt for so long.
Get The Traditional Festive Look With This Gorgeous Red Patraka Print Saree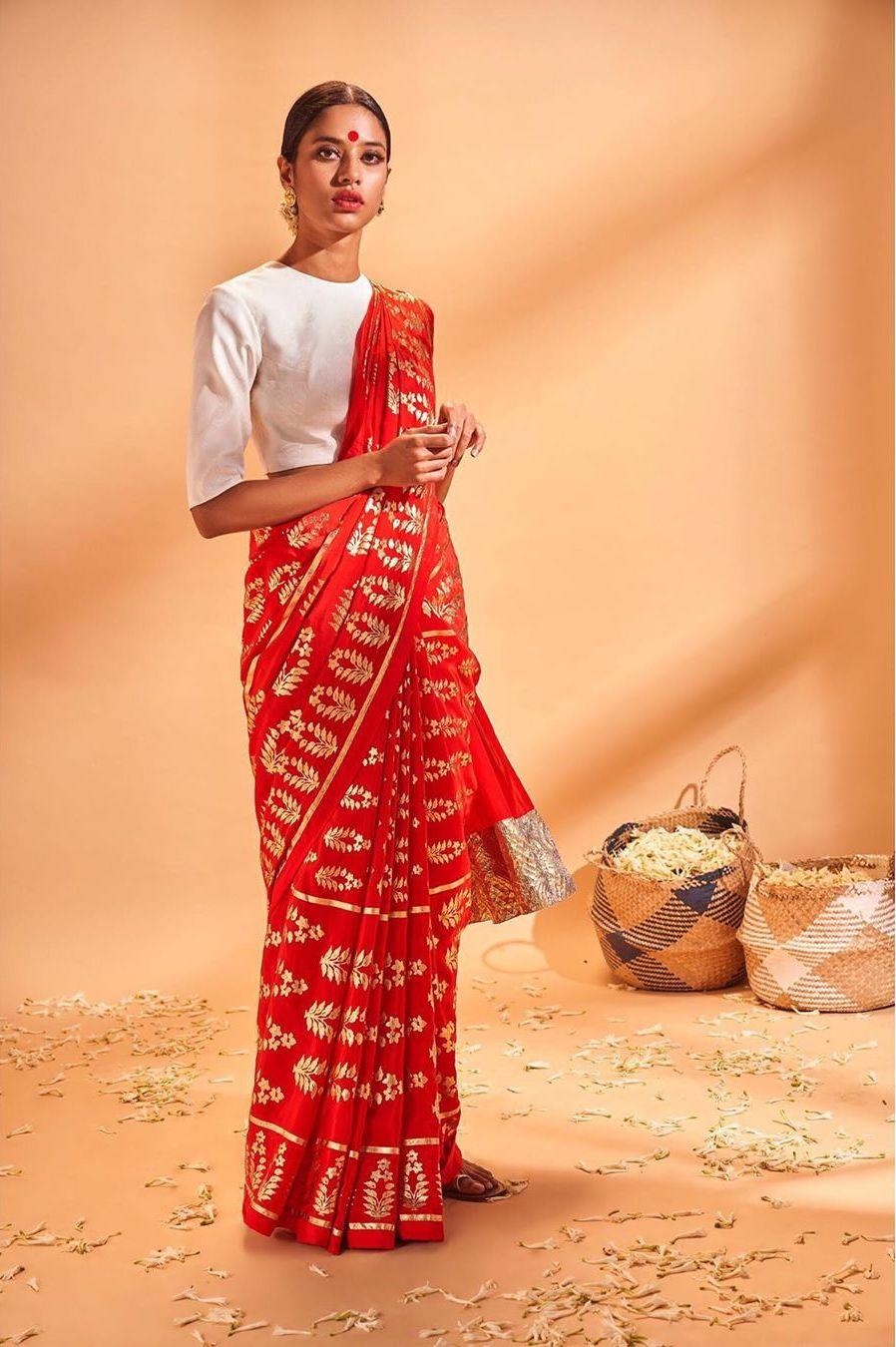 Image Courtesy: House of Masaba
If your marriage is just around the corner or you are a newly wedded bride waiting for the festivities, this gorgeous red saree with golden border by House of Masaba is the right way to go.
While the saree is adorned with heavy leaf-like motifs, the blouse is breaking free from the stereotypical range of bright and heavily embroidered blouse designs. This plain white round neck blouse makes this saree a popular outfit option for the contemporary brides-to-be.
You can style your luscious hair in sleek bun hairdo with a centre part and use your favourite flowers to accessorise it a little more.
This Alluring Saree With Antique Zari Work Is An Absolute Winner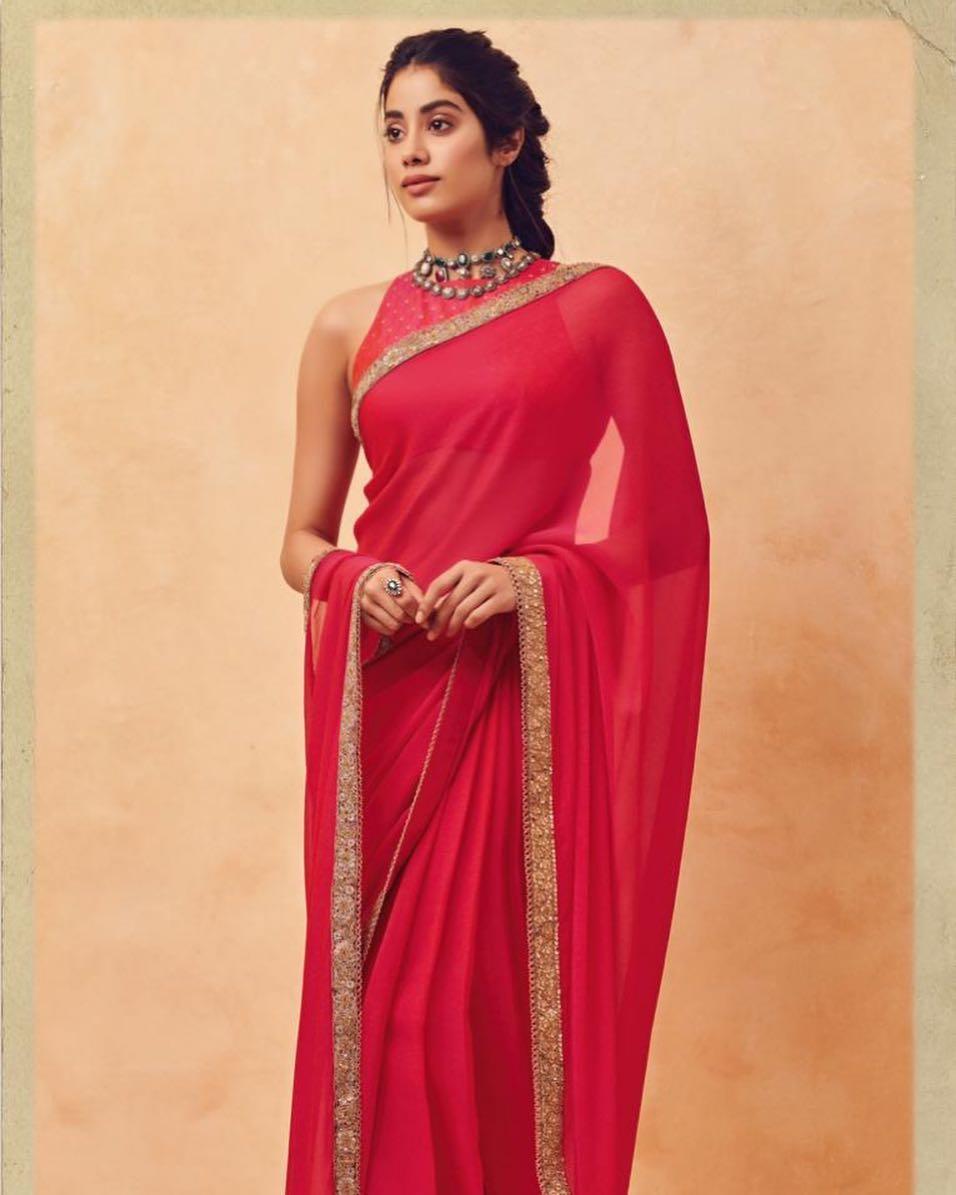 Image Courtesy: Manish Malhotra's Official Facebook Page
You don't really have to wear a heavily embroidered saree for the ceremony to look gorgeous, and this alluring red saree with golden border of antique zari work by Manish Malhotra is enough to prove our point.
And if you are a bride who is a firm believer of the common saying - "Beauty lies in simplicity", then you will love this saree as much as we do. The detailed, antique zari work on the border adds oomph to the simple saree and makes it an ideal choice for all the no-hassle brides.
And the best part about such a decent saree is that you can take your pick with the jewellery styles and get your hair done in your favourite hairdo without worrying about messing with the design and style of the outfit.
The colour of the outfit is what sets the tone for the rest of the paraphernalia - the jewellery, the makeup, the footwear, and even the hairdo accessories can only be stocked on once the filter of the colour is set.
But it doesn't stop there. After the colour, you have to choose the kind of the outfit because what goes with the saree might not necessarily go well with the lehenga. So if your heart is set on wearing a red saree with a golden border for the big day, then we have got your back with this elaborate list of styles of sarees that you can choose from.
And no matter what your style is like, there is something for every bride-to-be. So whether you are a bubbly bride or one who is all about contemporary style, you will find a red saree with golden border that complements your personality.
Tell us which blouse neck design works best with a red saree with golden border in the comments below.