Latest Long Necklace Designs in Gold, Kundan and More!
Long necklace designs don't always have to be traditional. They can be fun, vibrant and quirky too! Check out this list for 12 different long necklace designs.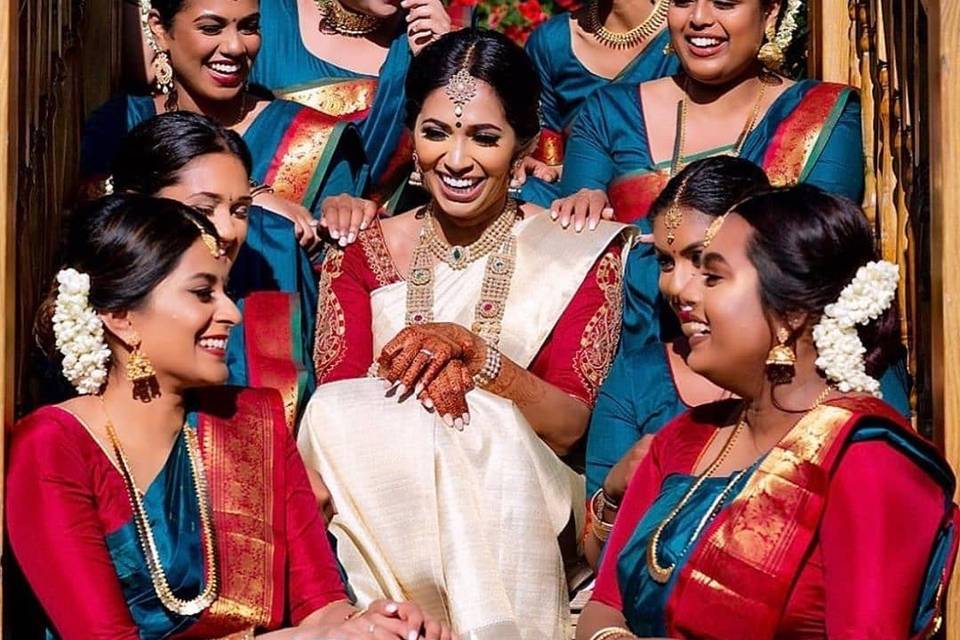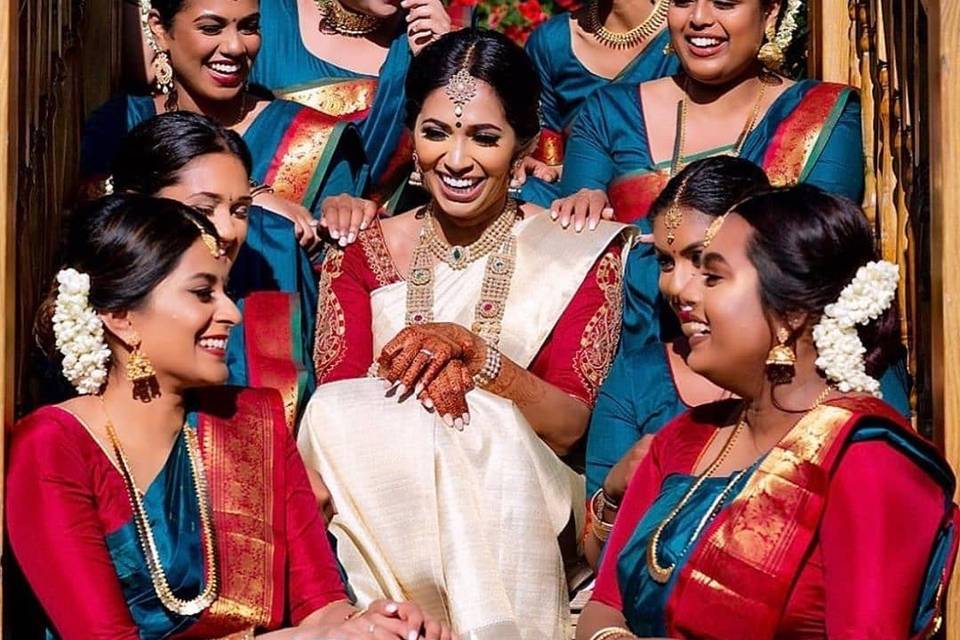 Image Courtesy: Siva Prasad Photography
Selecting the bridal jewellery for your big day is nothing short of art. From deciding the neckpieces, bridal earring, bracelets, bangles and bridal anklets, there's a lot of work that goes into it. Especially for the necklace part, it is necessary to wear a shorter necklace and a longer one to add different layers. So, if you're confused about the long necklace designs that will look perfect on you, take some inspiration from this list:
The Heavy Long Necklace Design With a Green Stone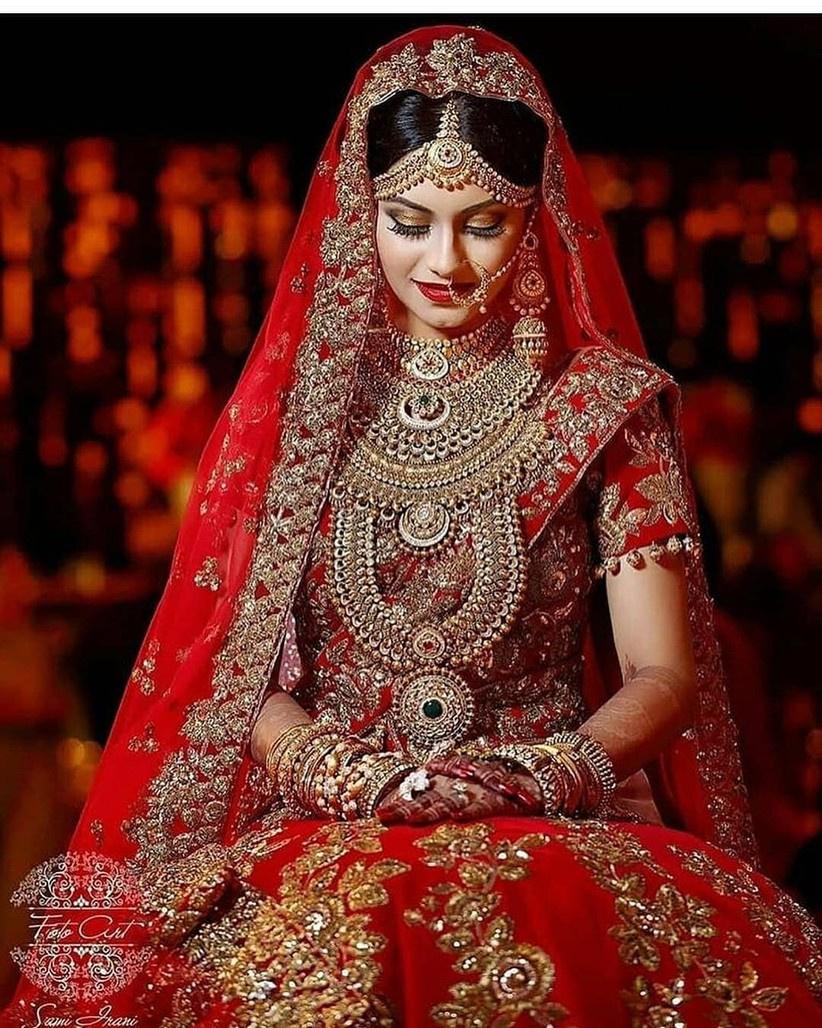 Image courtesy: FotoArt by Sami Irani
Heavy long necklace designs are our favourite! This one has a circular silhouette with the green stone in the centre acting as the cherry on the cake. This one goes perfectly well with bright red bridal outfits and is best worn with a neck-filling shorter necklace as shown in the picture.
Long Necklace Designs With White Stones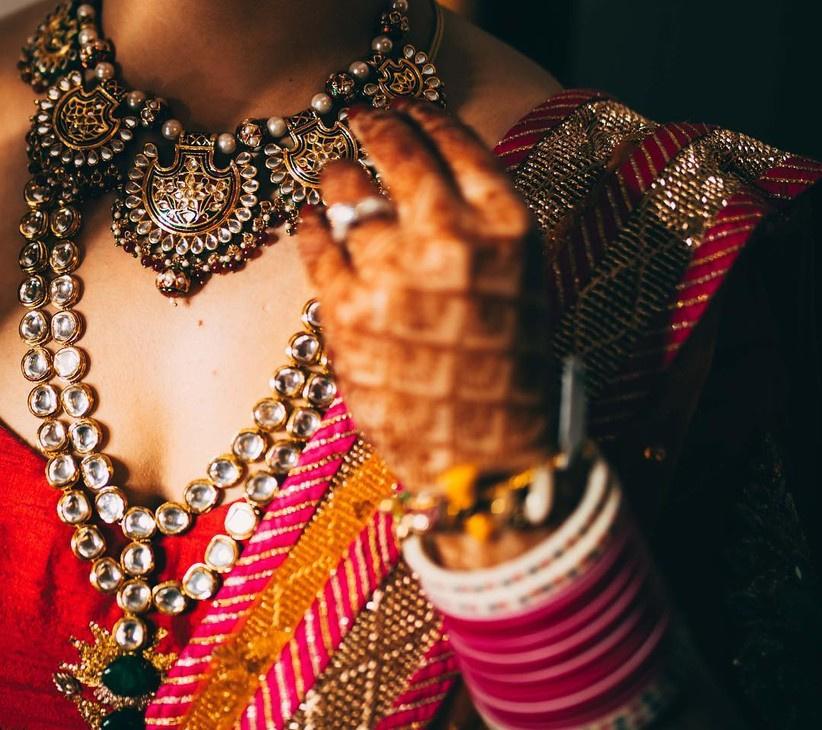 This long necklace design is quite versatile - the chunky white stones can go with any colour and is great for brides who love vibrant ensembles. We recommend keeping the base in gold to retain the royal effect. If you want to experiment with colours, you can also choose colourful stones instead of the white ones. Just make sure they complement your outfit!
Royal Raani Haar Long Necklace Design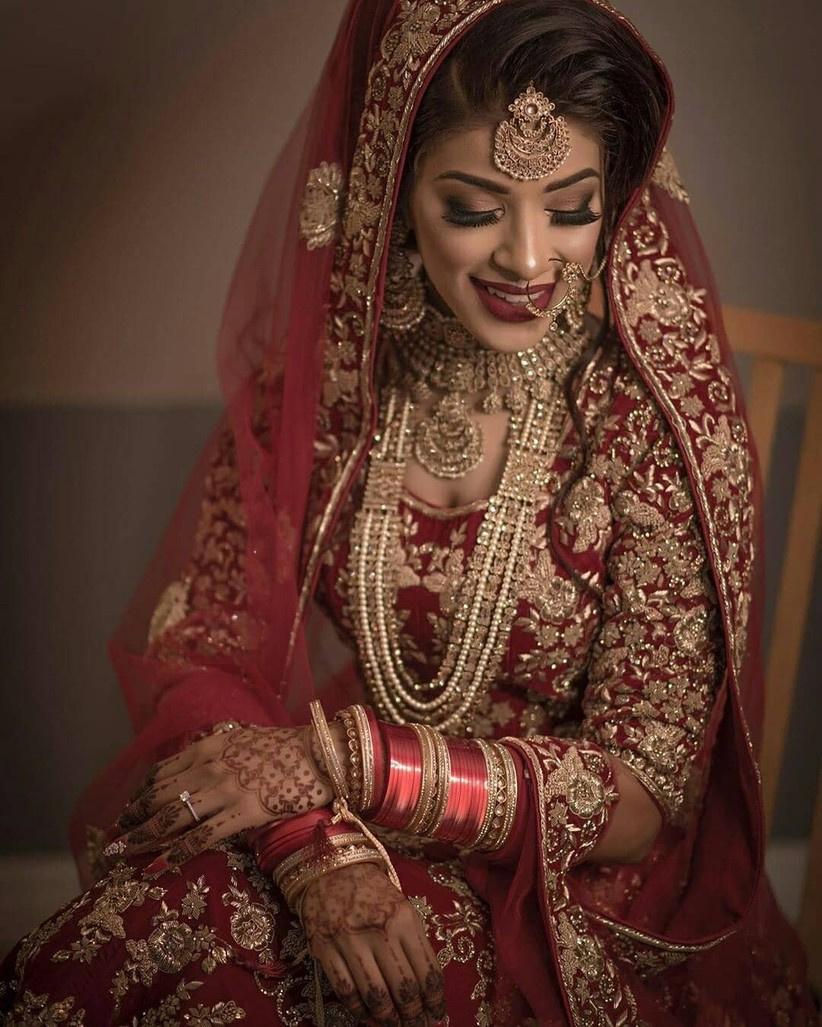 Image courtesy: Gurwinder Soor
Raani Haars are the true example of royal and traditional jewellery - from the base flat necklace in gold details to the strings of pearl covering it up. The golden hinges spruce up the details and go well with the neckline. This will definitely make you look like the queen of your world!
Long Necklace Design With Pearls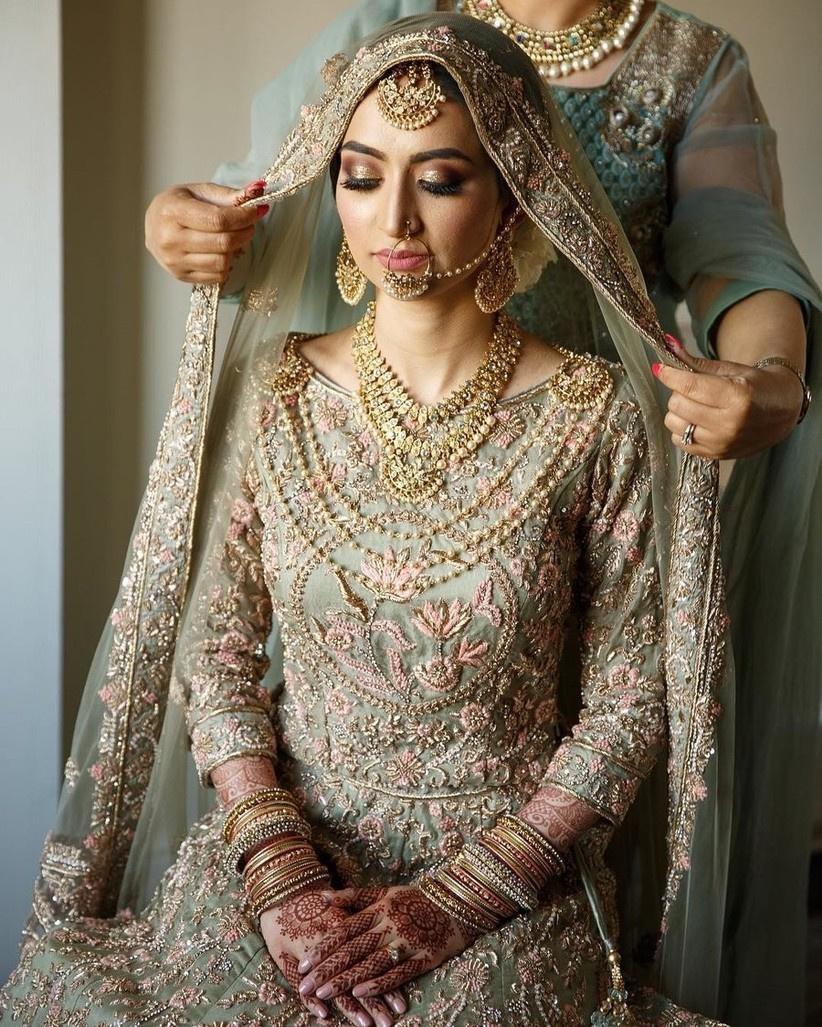 Image courtesy: Memoirz
Spread-out boat neck long necklace designs always steal our hearts. When you're wearing an outfit with a covered-up neckline, go for a necklace like this. It'll avoid making the centre part of your neck look too crowded and will amp up the sides. Although this one is made out of pearls to seamlessly blend in with the colours of the clothes, you can also get one made with white stones.
Minimal Long Necklace Design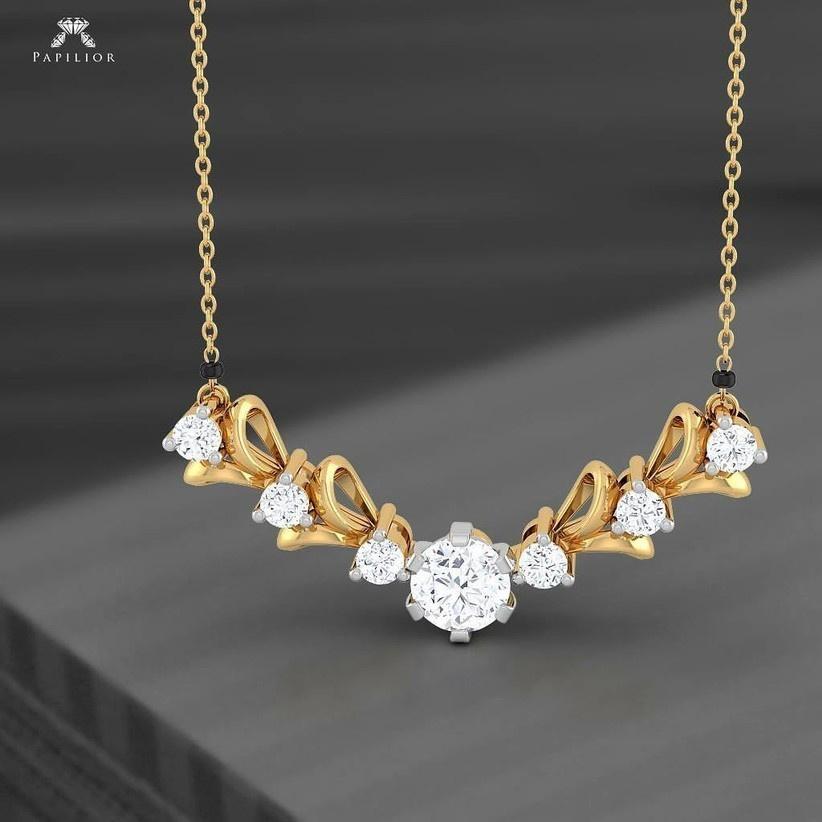 Image courtesy: Papilior
If your shorter neckpiece is heavy enough and you want to go light and elegant with the longer ones, this option is your jam! Gold and diamonds are the best way to add a sophisticated touch to any piece of jewellery and the cut-out work in the locket make our hearts go 'Woah!'
Temple Jewellery Long Necklace Design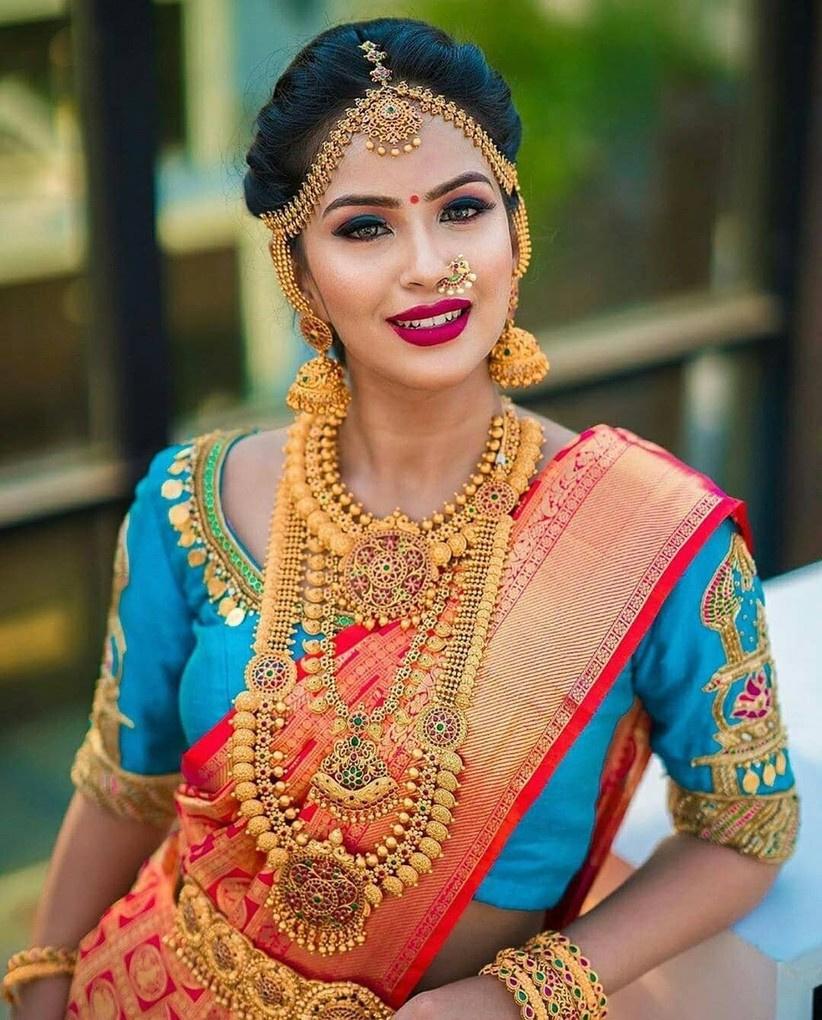 Image courtesy: Rahul Ravindran
South Indian brides who love the traditional look, often choose temple jewellery to wear on their D-DAY! Instead of just wearing a short, heavy necklace you can also wear a long temple jewellery neckpiece with contrasting colours and patterns. This one, for instance, has a massive floral motif in the centre to bring out the feminine energy!
Long Necklace Design With Lots of Bling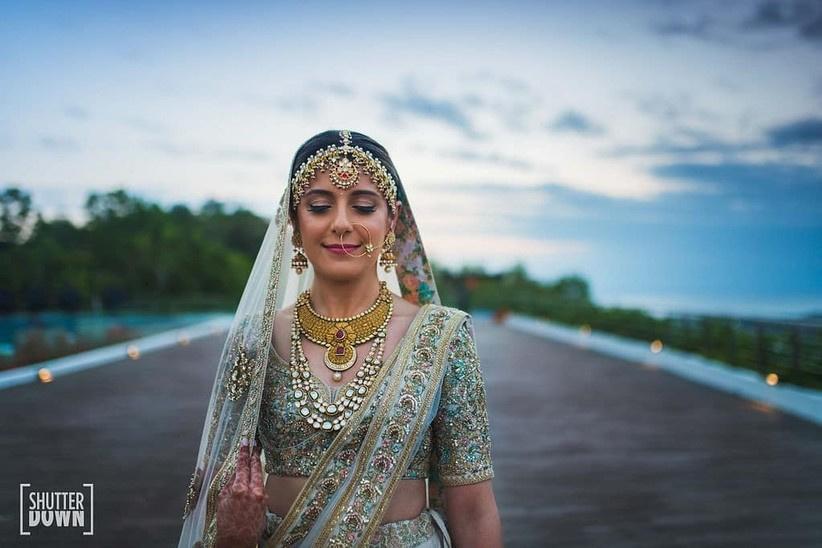 This is another stunning long necklace design in Kundan that is perfect for your #OOTD mood. The white stones in circular and dewdrop shapes add the perfect amount of bling to the otherwise traditional outfit and make the bride look phenomenal!
Temple Jewellery Long Necklace Design With Ghunghroo Embellishments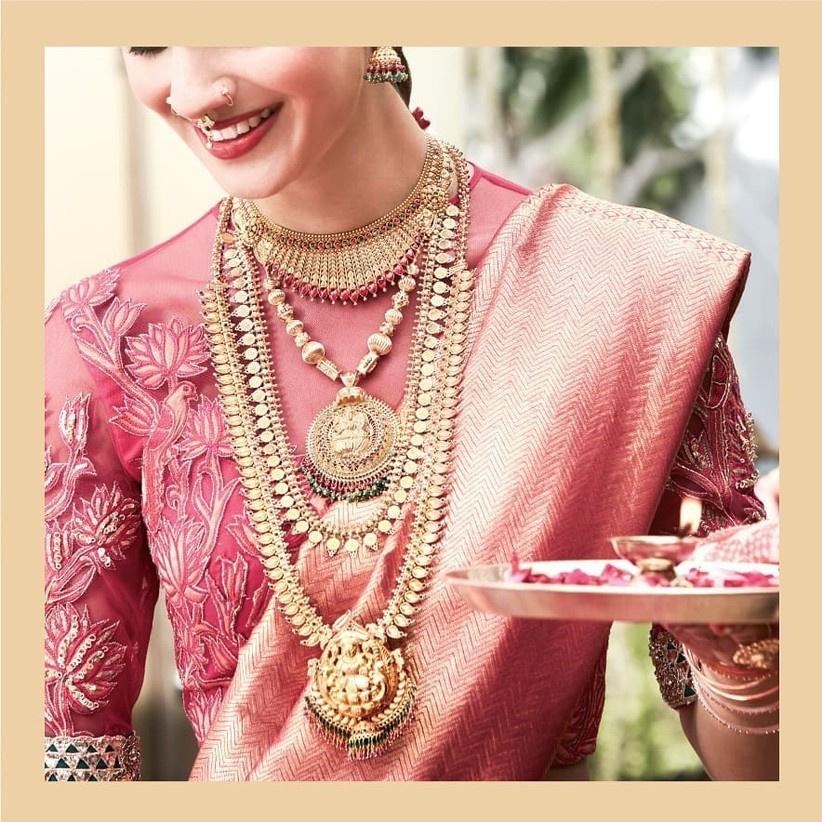 Did you know that traditional jewellery pieces like the temple necklace come in different variations too? While the one we talked about earlier had a floral motif at the bottom, this one has Ghunghroo embellishments to spruce up the long necklace design and the locket had the carving of a cultural deity, that's known to usher in prosperity.
Long Necklace Design With Multiple Chains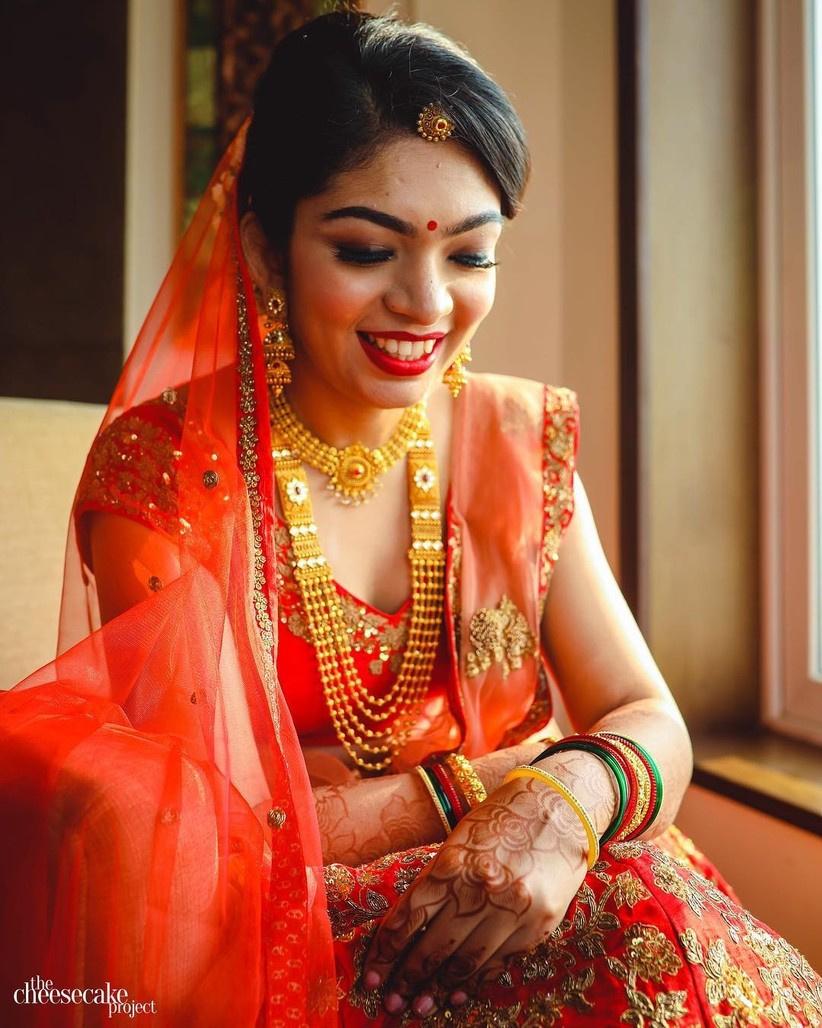 Why wear a necklace with a single strand when you can flaunt one with multiple chains? This ultra-bright long necklace design in gold goes very well with vibrant shades like orange and bright red and the multiple strands with the hinges in between are the only things you need to look like a mesmerising bride!
Long Necklace Design With Exquisite Patterns

Detailing is always dazzling. Take a look at this long necklace design in pure gold with exquisite detailed patterns at the end. The patterns come in multiple layers and are the perfect addition to your super-gorgeous outfit!
Long Necklace Designs With Coloured Beads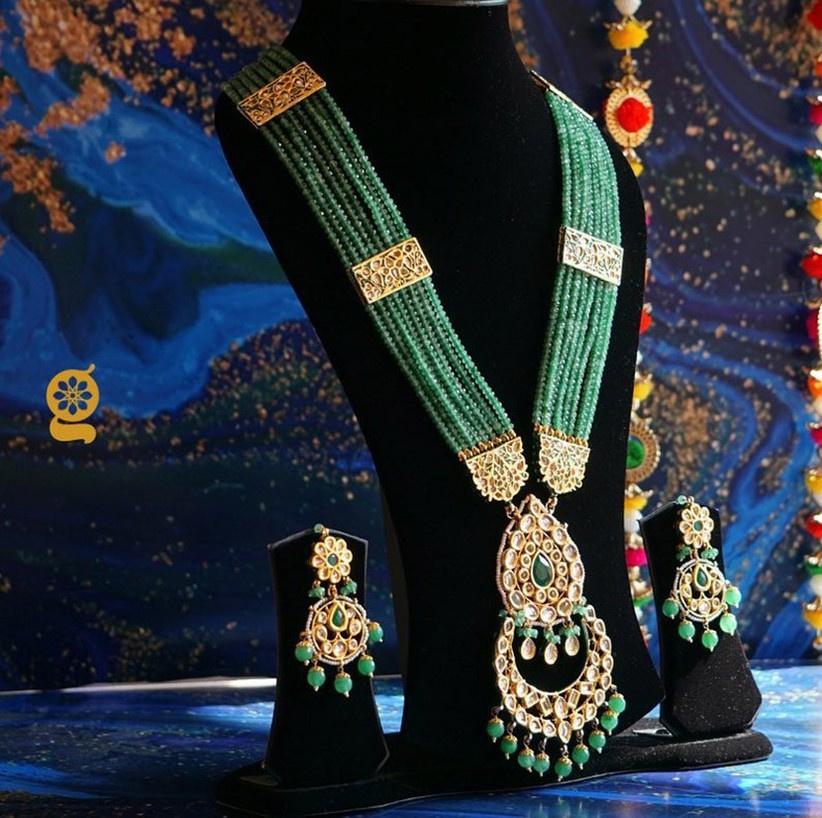 The simple secret to wearing coloured jewellery is getting the shade right so that it blends effortlessly with your outfit. For brides wearing maroon, this shade of green long necklace design will look mind-blowing.
If you're wearing lehengas and sarees in other colours, speak to your stylist and choose a shade accordingly. Long necklace designs are great for layering up your neckpieces. You can always wear a heavy and intricate shorter neckpiece and match it up with a lighter or equally intricate long necklace, depending on your style!
Loved these long necklace designs? Get in touch with our jewellers to get one of these for yourself!