Stunning Temple Jewellery Set Designs That Can Amp Up Any Attire
Looking for bridal jewellery and think temple jewellery set is too ethnic to amp any look? Well, let us busy your myth with some beautiful temple jewellery pieces that you need.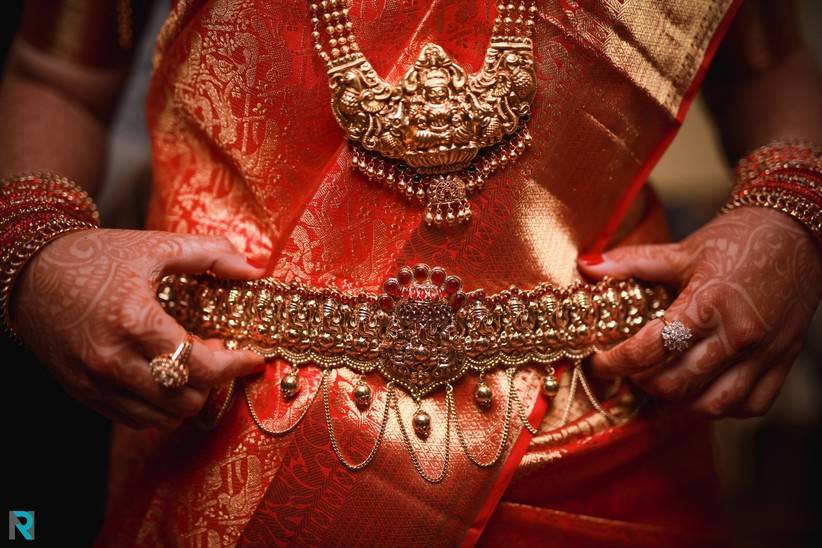 Temple Jewellery as we all know is an ethnic jewellery type that is designed in various forms of Gods and Goddesses most popularly worn by the south Indian brides. Generally made in gold, temple jewellery uses many other gemstones like ruby, emerald, Kundan, kemp, meenakari, polkas, and even diamonds. However, the popular belief amongst millennial brides is that temple jewellery set is too ethnic for their taste. Well, we'd like to disagree.
Temple Jewellery with its wide variety of designs gives the brides of today a regal and graceful look that no other piece of jewellery can. The statues of Gods, Goddesses, and the designs of lotus and peacocks are its signature patterns that look gorgeous with any outfit and for any look that they wish to carry.
Nowadays brides are carrying more modern designs in temple jewellery set that are not just graceful but also extremely trendy. We have put together a list of some stunning pieces that every bride must include in her temple jewellery set to make it one of a kind and yet ethnic in its own way.
1. Temple Jewellery Earrings with Pearl Droplet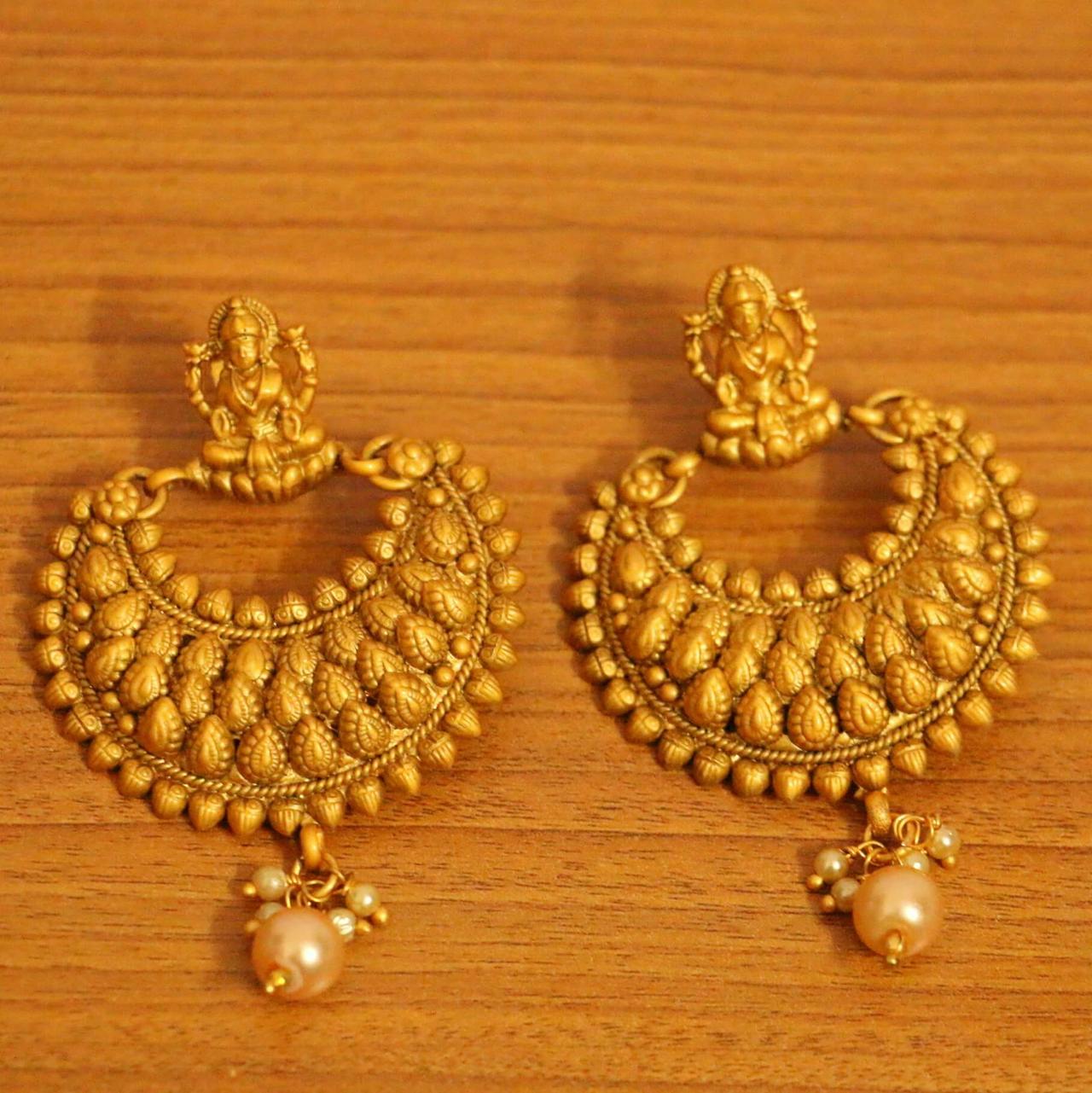 Let's begin this list with one of the basic necessities of any temple jewellery set and that is the gold earrings with the idol of god and a delicate pearl droplet at the bottom. This is a piece of jewellery that you can pair with anything from your Indo-Western Mehndi outfit to your traditional wedding day outfit as well.
The Chandbali design adds a touch of glamour to these otherwise simple pair of earrings and makes it look younger and appealing to the brides of today.
2. The Intricate Peacock Necklace with Rubies and Emeralds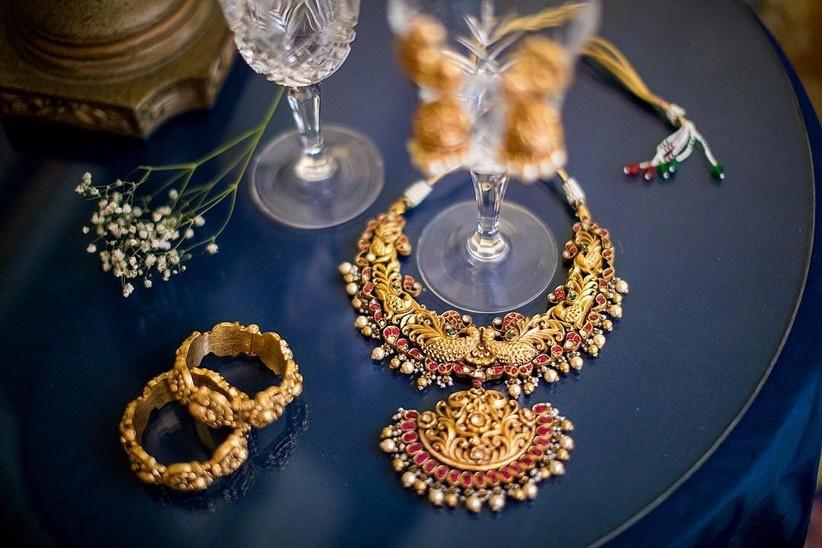 For the brides that are fans of big dramatic Malas and necklaces that speak volumes about their taste and style, this is probably what you're looking for. This intricately designed piece from temple jewellery set with peacocks embellished with rubies and emeralds all over is what we call an out an out stunner.
This one deserves to be in the limelight on an occasion as big as your wedding day. The pearl droplets all over the necklace add to the drama and grace of this jewellery piece.
3. The Statement Mala with Idol of God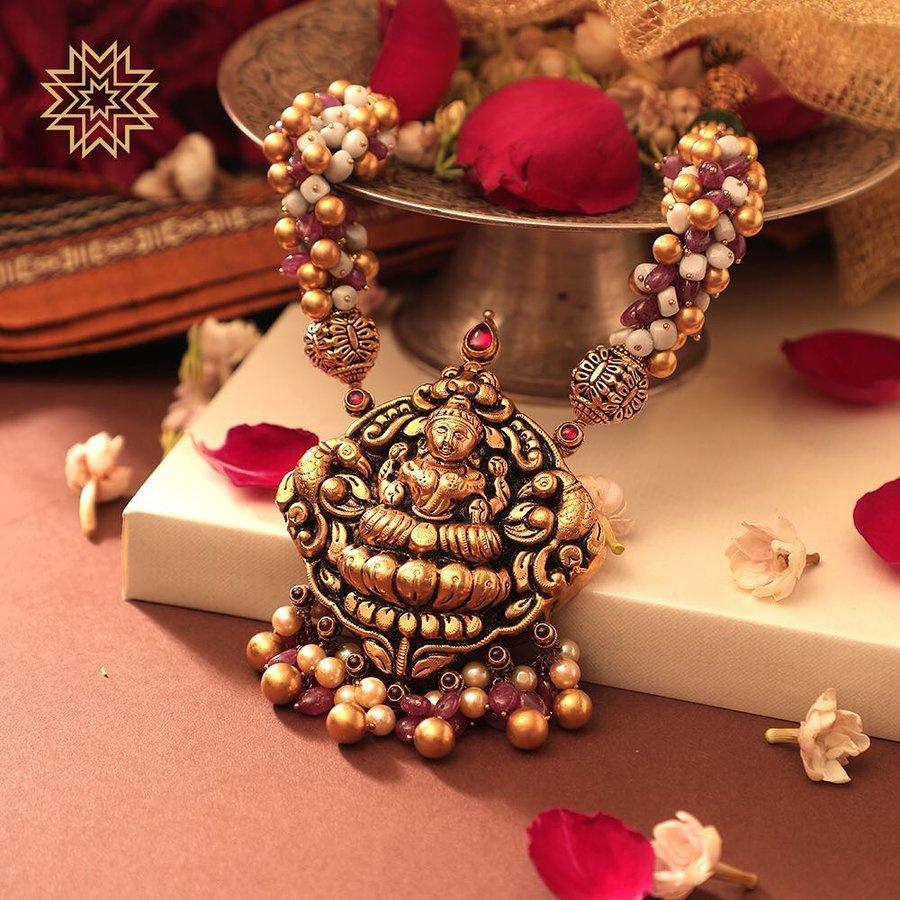 This bold piece from temple jewellery set is truly for brides that love embracing the ethnicity of this jewellery type. The big idol of god at the bottom does not just make everyone's eyes turn to it but also makes this an extremely beautiful piece to own for any bride.
However, what makes this one of the most unique pieces we have come across is its Mala made of gemstones that give the look of the Mala a contrast. This contrast is what you can call as the millennial addition to the traditional temple jewellery set.
4. Temple Jewellery Bajuband with Rubies, Emeralds and Pearls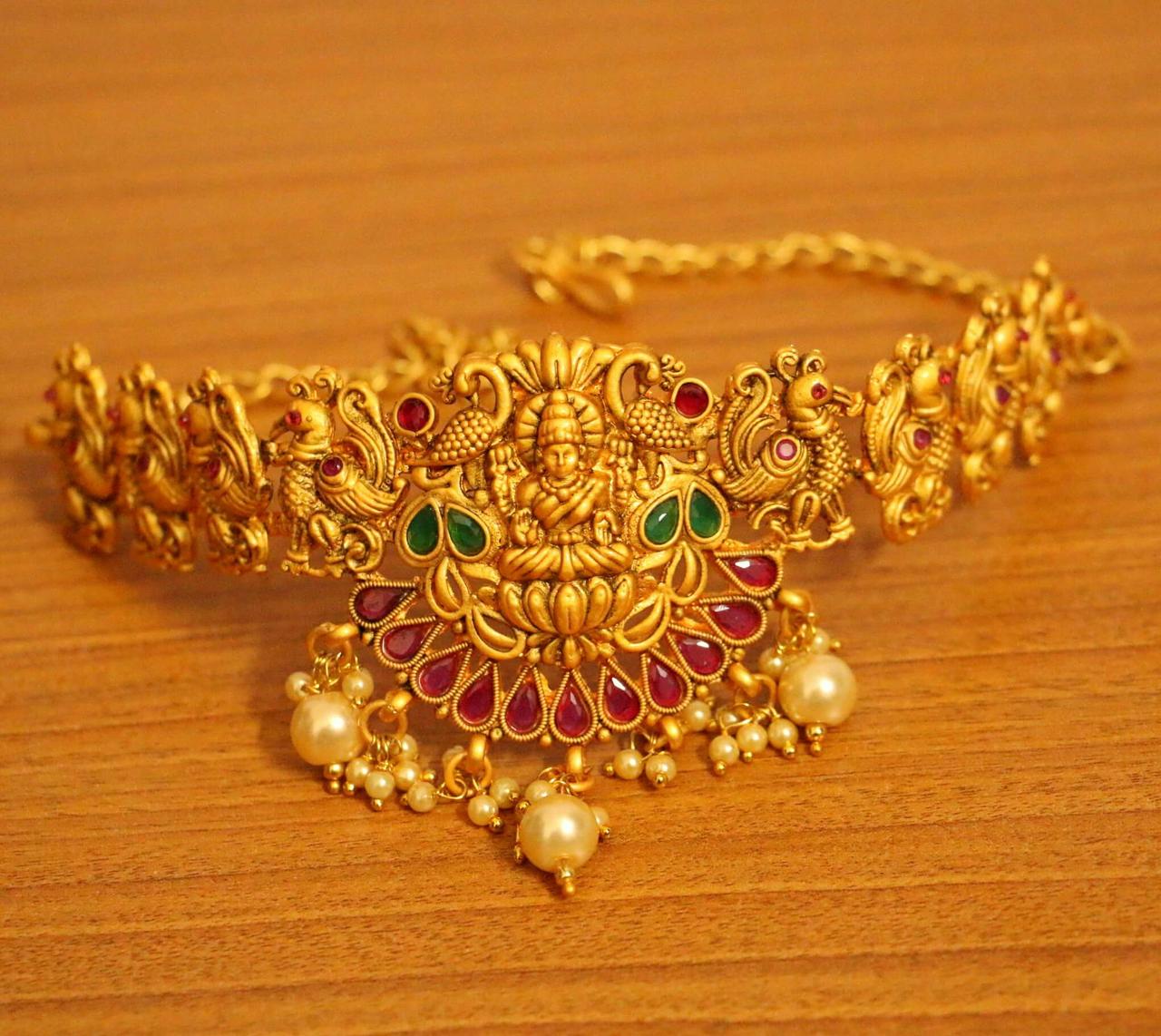 Bajuband is that piece from a temple jewellery set that not many brides from the millennial generation consider wearing on their big day. However, the truth really is that a Bajuband is that accessory which does not just amp the look her blouse sleeves but also gives her arms a definition making it look one of a kind.
If you are on the verge of making this choice, we'd suggest you choose a Bajuband as ethnic as this one with idols of god and gemstones like ruby and emeralds along with pearl drops adding a touch of grace and charm to your wedding day look.
5. The Delicate Mathapatti with a Bold Embellishment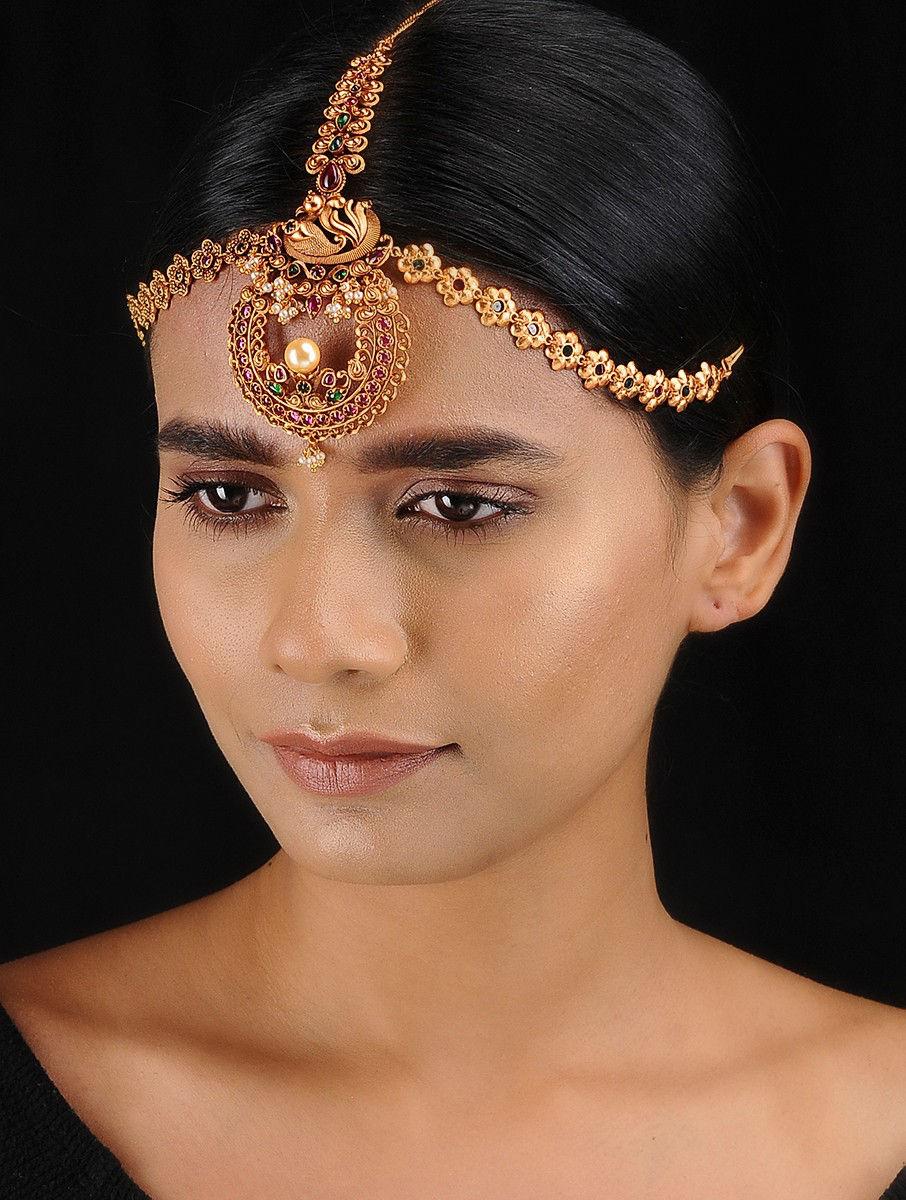 Image Courtesy: Jaypore
Now here's something our millennial brides will love. This bold yet delicate Matha Patti from temple jewellery set is something that they wouldn't even have dreamt of. With delicate flower embellishments on the side and the back of the Matha Patti, this one is surely a show-stealer. However, it goes without saying that its bold embellishment on the forehead is what will truly create the impact that this generation is looking for.
The use of ruby and emerald is what makes this piece an all-time stunner. So whether your outfit is traditional or Indo-Western, this Matha Patti is sure to be adding some glamour points to your look. Try it on your dhoti with cape outfits to create an actual mix and match.
6. Circular Poola Jada with Ruby and Emerald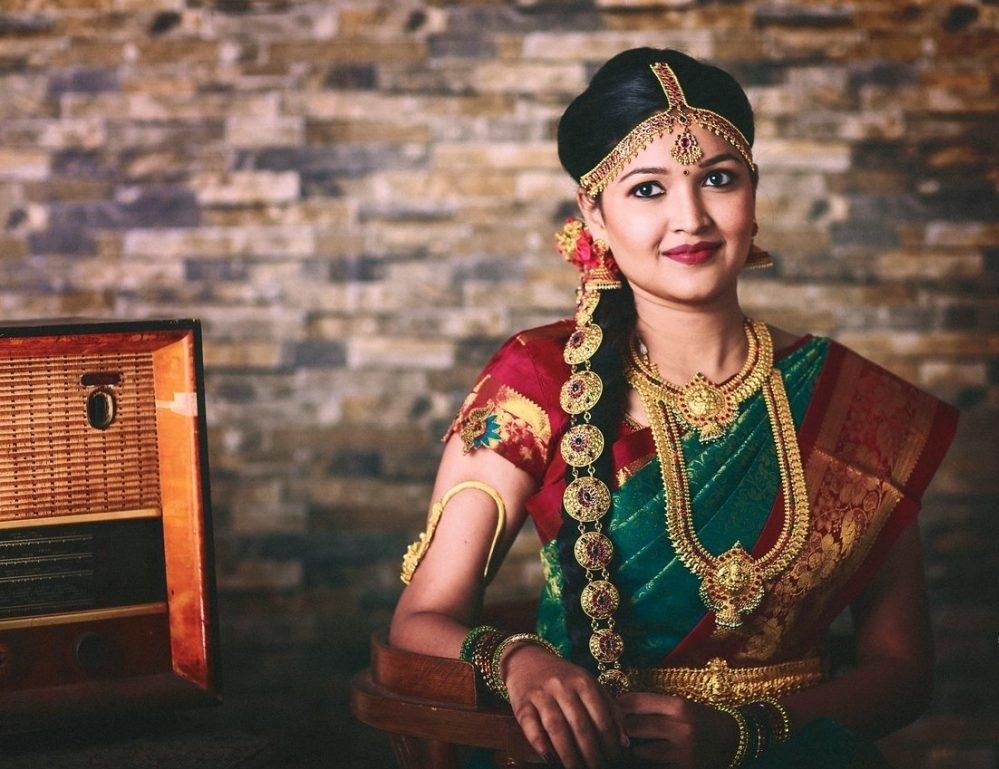 Image Courtesy: Jebin Dravyam Photography
Poola Jada is an accessory well-known to the south Indian brides and a concept now being fascinating to all the other brides as well. It is used to add glamour to the hair braids and is very much a part of their bridal jewellery set as well. This Poola Jada from temple jewellery set is unique because of its circular embellishments connected with two delicate chains in between.
It is a piece of accessory that ensures that the brides look stunning from the back as well. It not just adds sparkle to their look but also amps their outfit in ways no other jewellery piece can. You can pair them with your modern crop top and skirt and it will still look very appealing.
7. Temple Jewellery Kamarband with Delicate Pearl Drops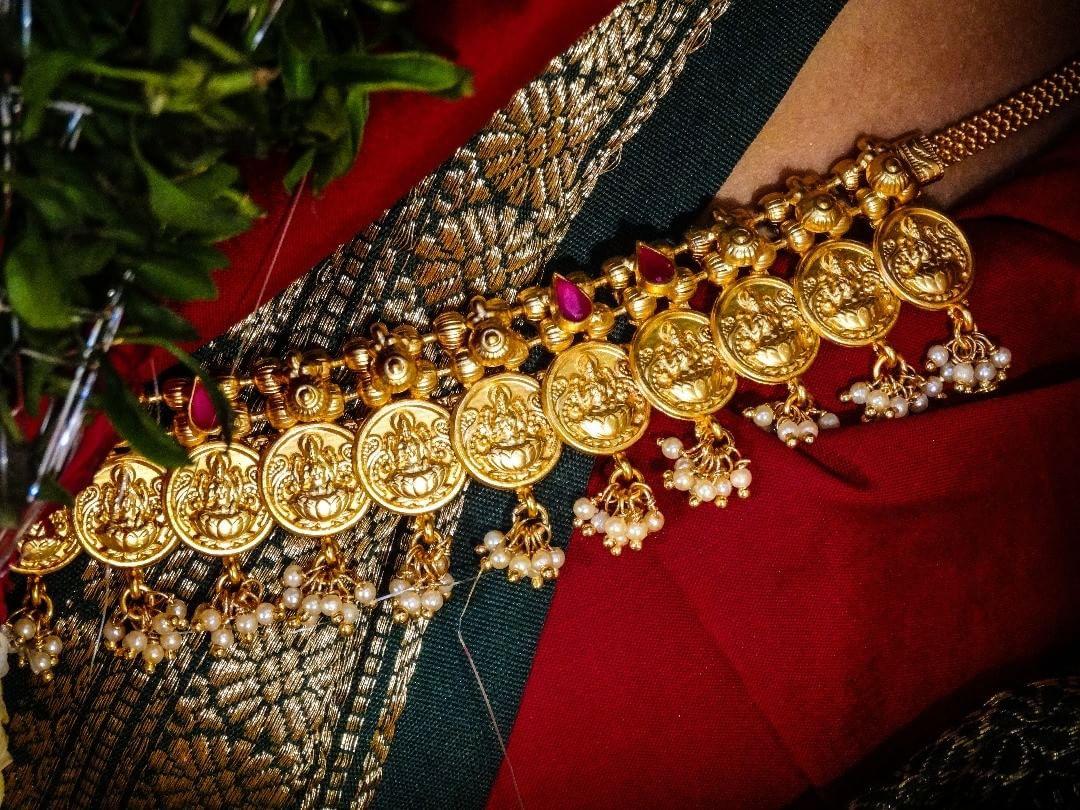 Image Courtesy: Sandeep Ganesh Capture Perspectives
Now Kamarband truly is a concept that very few brides of today prefer. However, if you are planning to go with a traditional silk saree or lehenga, there is nothing that can accessorize your outfit more than a delicate Kamarband. This intricate piece from temple jewellery set is for the brides that love embracing the ethnicity and gracefulness of it and know how to blend it with their bridal outfits to make it look even more glamorous.
8. Silver Temple Jewellery Set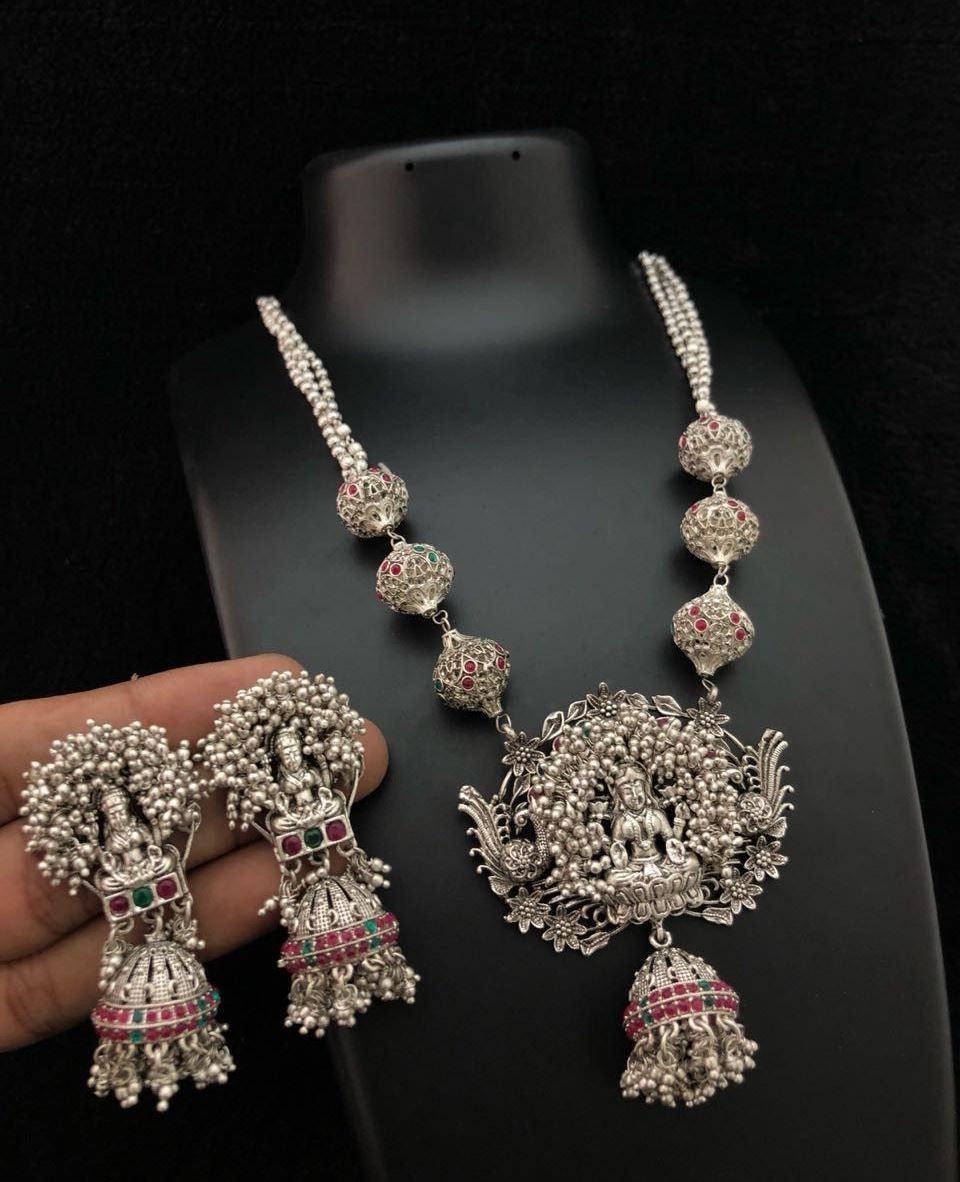 Image Courtesy: Etsy
For brides that love silver jewellery, this temple jewellery set is just what you need. This bold and beautiful silver plated temple jewellery set is the perfect addition to your Mehndi or Haldi outfits. Apart from making a statement with your unique choices, this one is sure to get you all the attention that you need for your big day.
The biggest benefit of silver jewellery is that they look flawless even when teamed up with indo-western outfits. You can even pair it with your maxi dresses on a Sunday afternoon with friends and it will still be the most eye-catching bit of your look. So all millennial brides-to-be, if temple jewellery is your first pick, then you know how to make it stand out.
While the designs and patterns in temple jewellery set can be many, what makes them different from any other jewellery is its ethnicity. However, that does not always mean that brides need to pair it with outfits for a traditional look only. That's why we have put together a list of stunning pieces from temple jewellery set that can be paired with any and every outfit of your choice. So choose your pick and amaze your guests with how these temple jewellery pieces amp your outfit.
Are you a fan of temple jewellery? Tell us in comments which out of the above stunning pieces from temple jewellery set are you most likely to wear.