5 Royal Looking Chandbali Designs That Will Transform You Into a Nawabi Bride!
Chandbali designs are a traditional form of earrings that come from Hyderabad. These earrings are immensely popular these days due to their distinct look. Find out what makes them so special!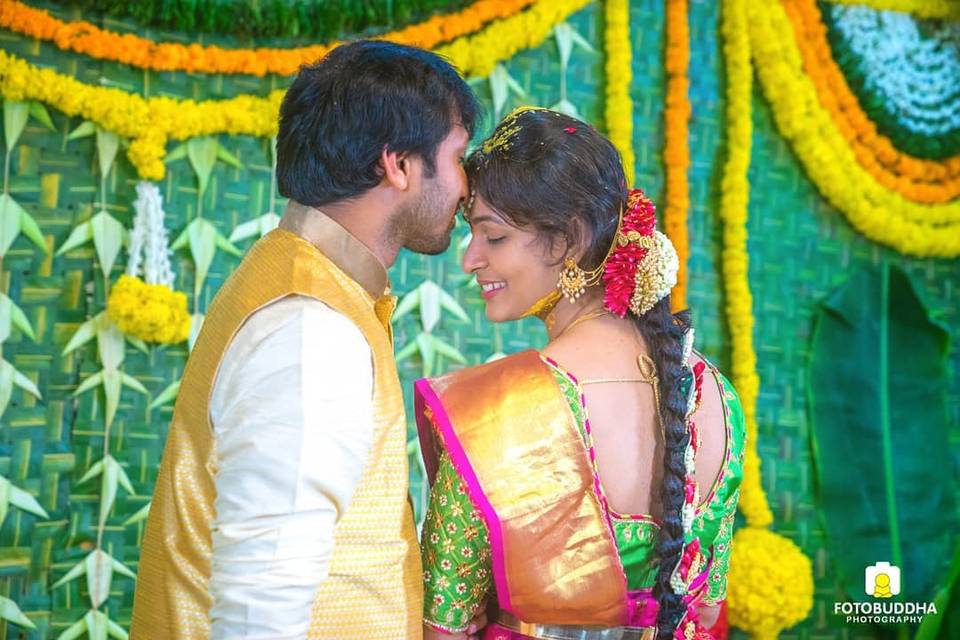 Chandbali designs are primarily associated with Hyderabadi jewellery, as they originated in Hyderabad during the era of the Nizams. During their rule, Hyderabad saw a large import of pearls, which is why pearl jewellery rose in popularity at this time. Though the original Chandbali designs did include pearls., modern variants of the same include other types of jewellery styles such as Kundan designs, Meena work, jhumka styles and so on. One can also find Chandbali designs made out of pure silver, an aesthetic that is quite far from what the Nizams created.
1. What is the difference between chandbali designs and hoop earrings?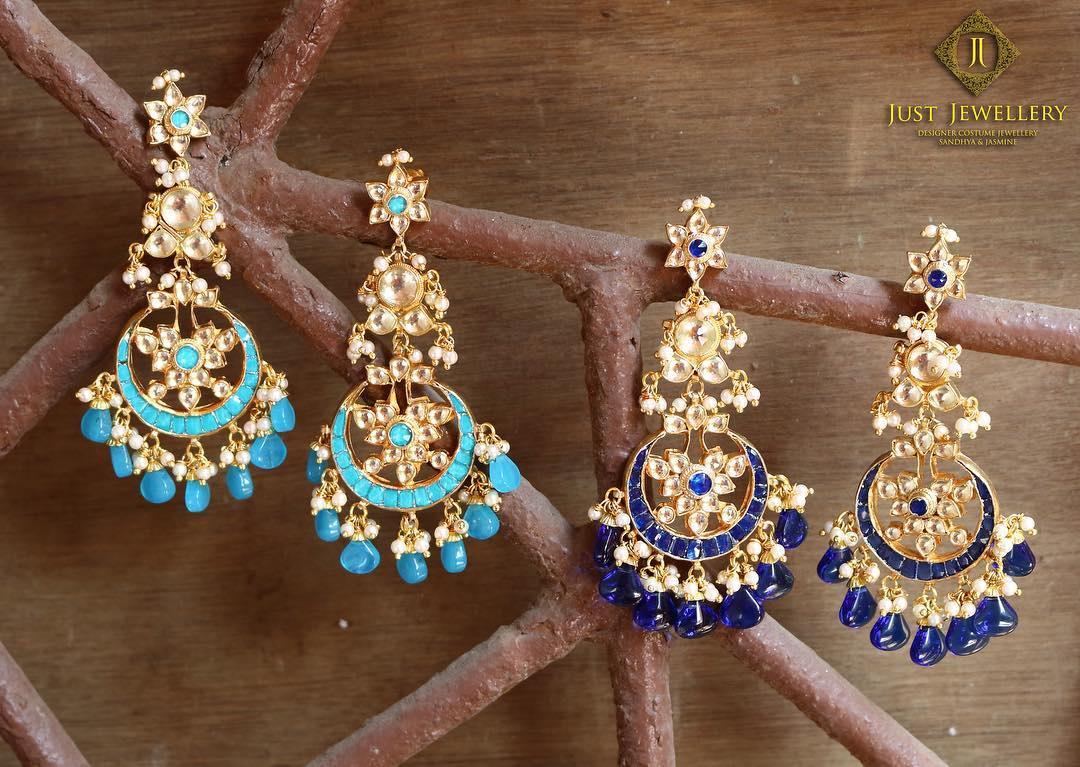 Many people find it a little to distinguish between hoop earrings and Chandbali designs. This is because, from a very basic visual perspective, the two have round, hoop-like designs. However, that's where the similarity stops. Chandbali literally translates to moon earring, so that should be a huge clue while looking for these designs. Though they are circular in shape, the bottom part of the hoop is heavy and designed in a way to resemble a crescent moon. Along with this moon, one can see a range of other design elements added on such as jhumkas, pearl drops, peacock shapes, and so on.
In simpler terms, a Chandbali is a type of hoop earring, but not all hoop earrings are Chandbalis! So, now that you know what Chandbali designs are, you can now look at a few great examples with a more informed eye! Here we go!
2. These jhumka chandbali earrings!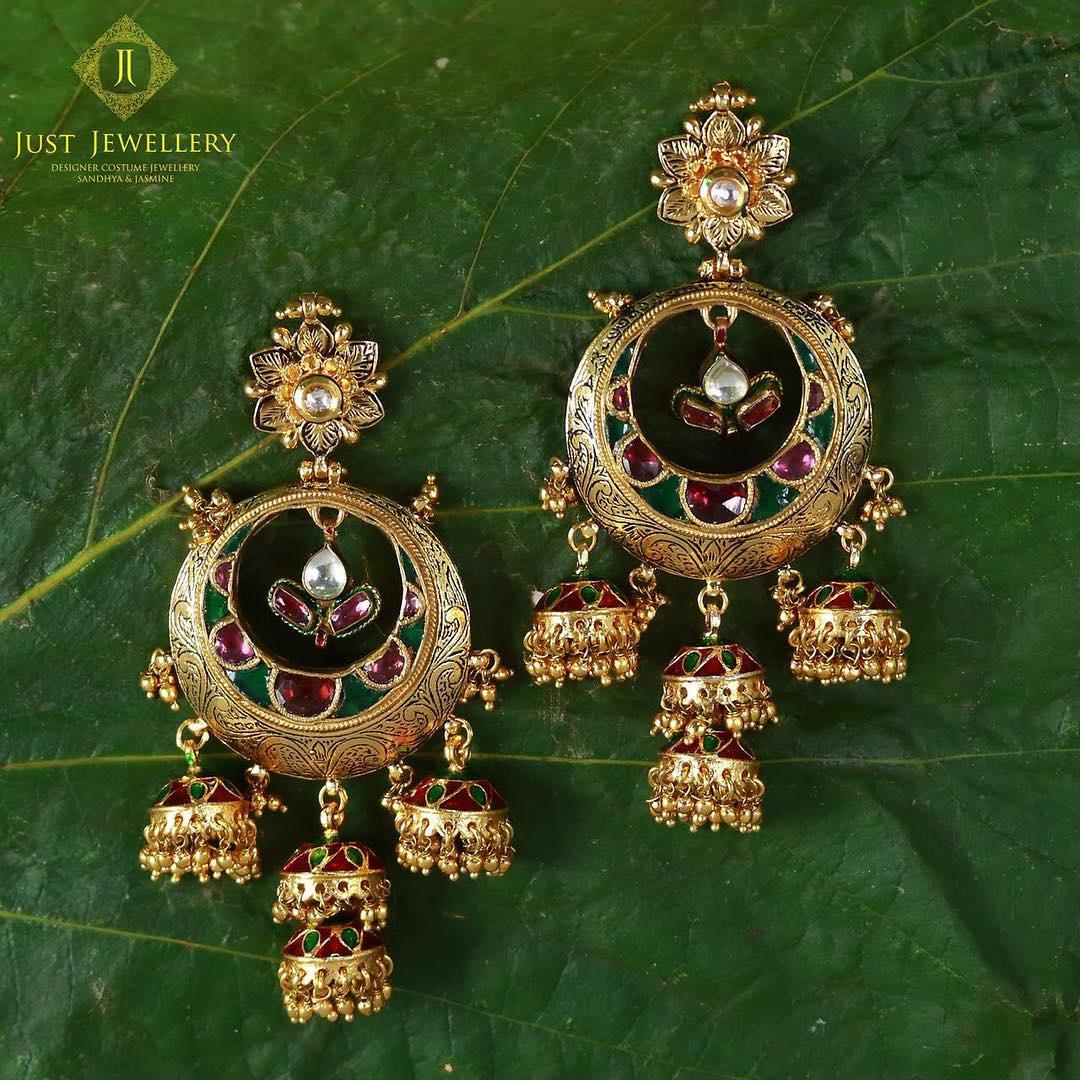 Jhumka earrings are quite beloved in India because of their girlish charm, so we are not surprised to see that the traditional Chandali designs have been reformed to accommodate these pretty trinkets. As the moon portion of these earrings is quite thick, the heavy effect is balanced perfectly with the addition of the jhumkas at the ends. The green and red colour combination work perfectly with this design, making these earrings perfect for a formal event. Pair them with a gorgeous Anarkali suit to nail that Nizami look!
3. These double mooned Kundan earrings!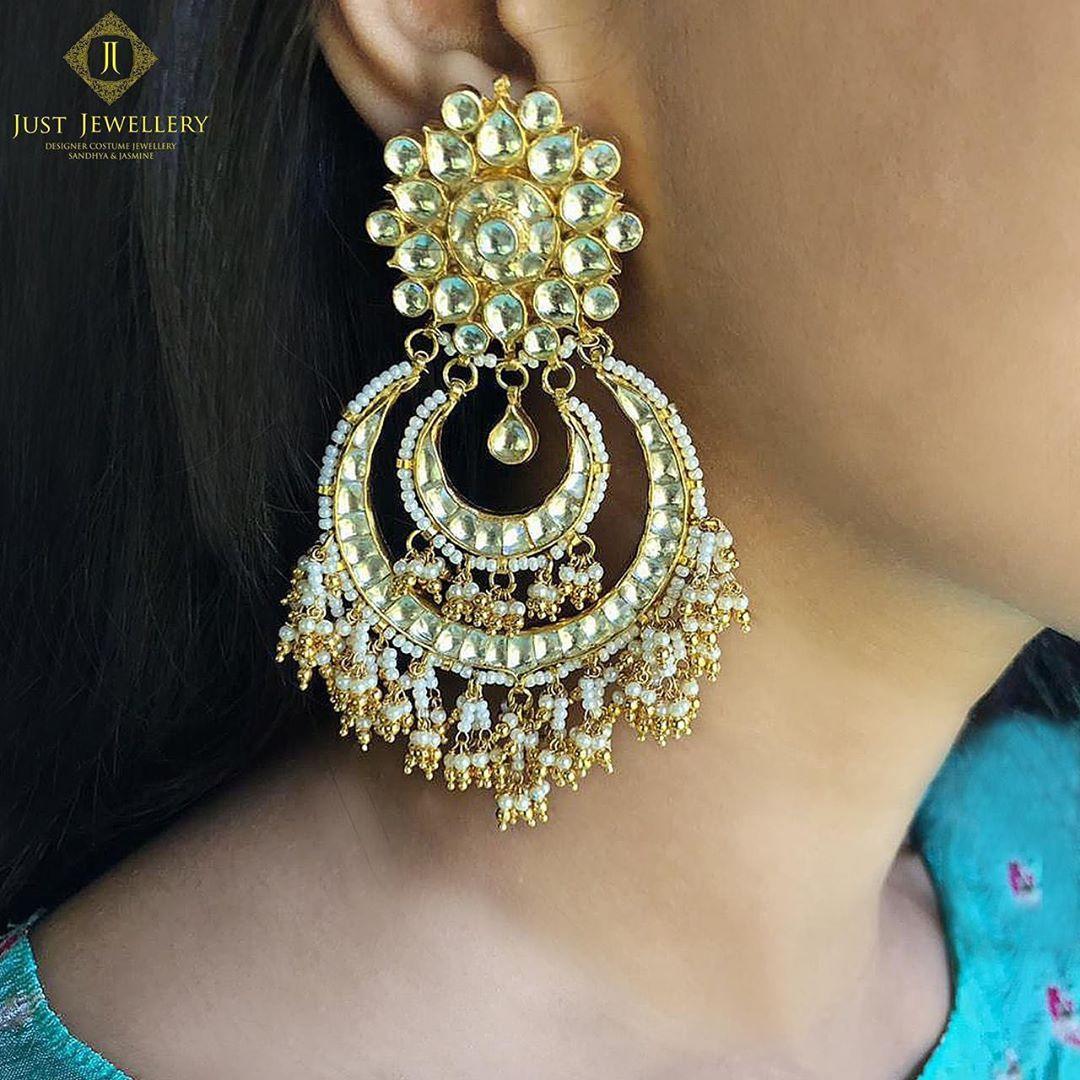 With two crescent moons crafted into this pair of earrings, we get that stacked look that goes so well with a heavy ensemble. One of the things that really stands out in these earrings is the heavy Kundan piece right on the earlobes. Tiny pearls hanging from the moons complete the look, making this one a really classic Hyderabad jewellery design. Make sure that you find a Maang Tikka with a similar design for a fantastic, cohesive begum look!
4. These colourful Chandbali designs with meenakari work!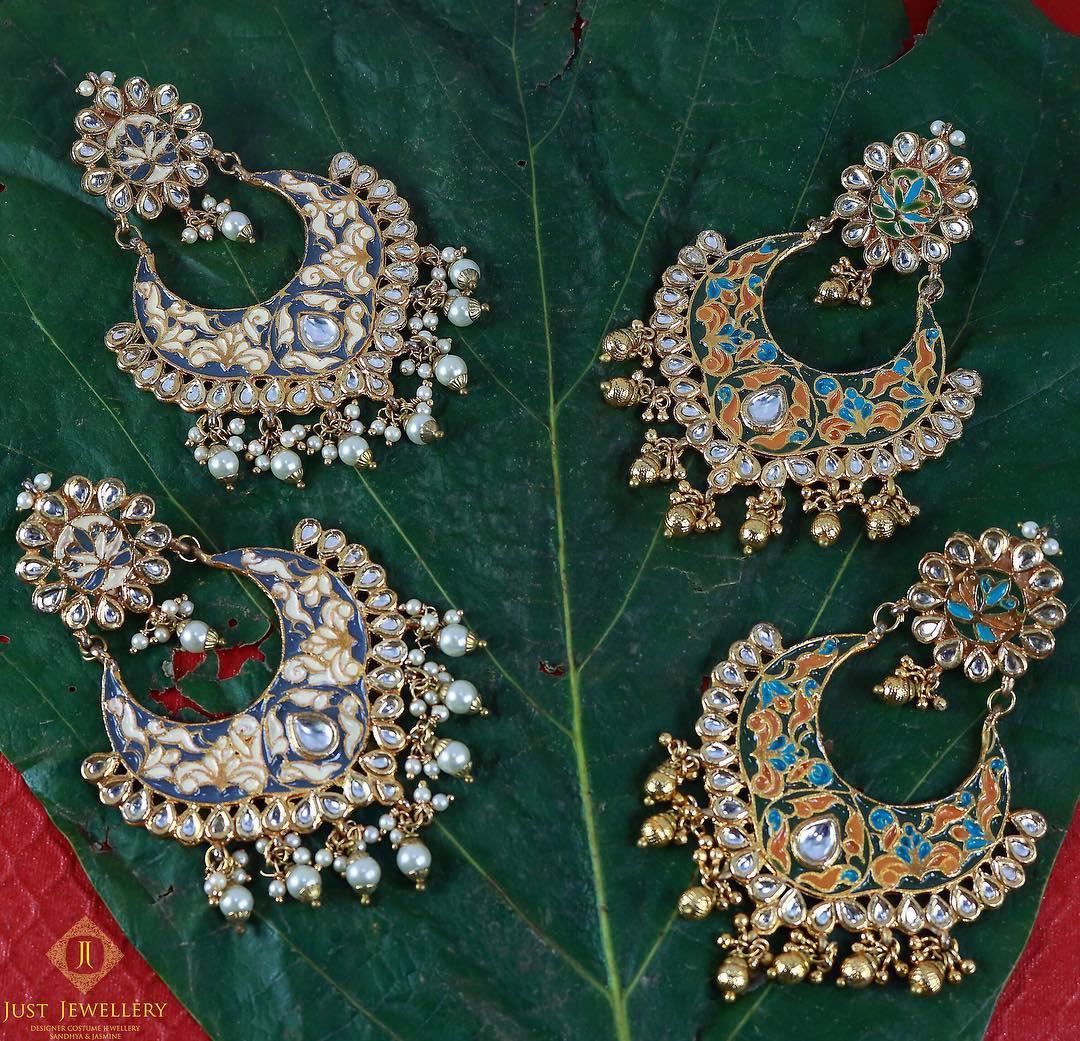 These Chandbali designs bring all the attention to the crescent moon shapes and rightfully so! With colourful Meenakari work on the earrings, this is a bold, statement pair that definitely requires you to keep your hair up. The Meenakari work on the earlobe section is surrounded by Kundan designs that highlight their colours even more. Little drops of pearl complete the look, making this a blend of the authentic style and contemporary innovations!
5. This Prussian blue set with double moons and the sun!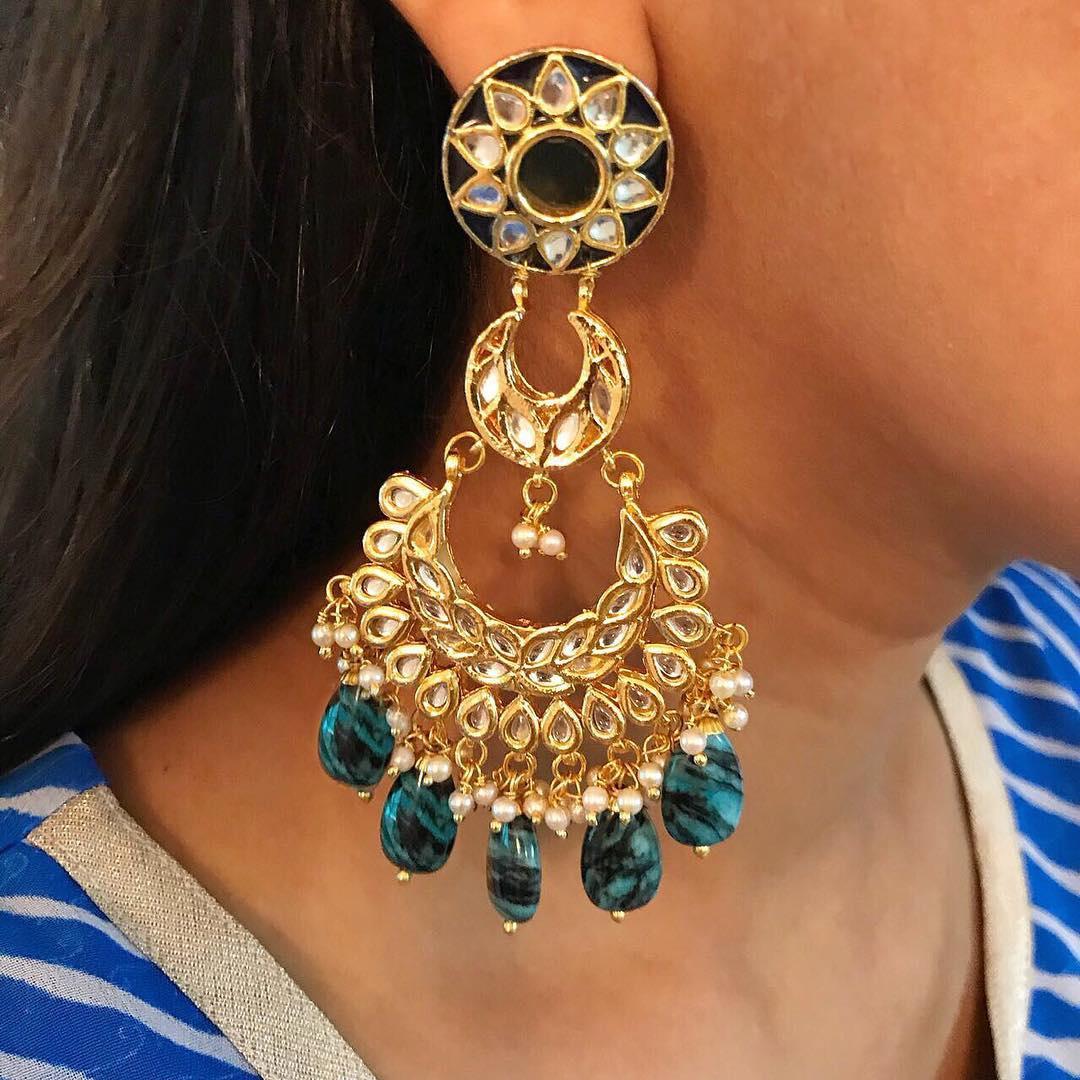 Are you looking for a pair of earrings that has it all? This one has the double moon design that's made in Kundan, but what makes it unique is the fact that it also has a design piece that looks like the sun. Who doesn't want a piece that has the sun, moon, and stars all together? Additionally, the Prussian blue stones hanging from the moon are gorgeous elements that add a pop of colour to the earrings, and consequently, your ensemble too! This is another piece where finding matching Jhoomars is a must!
6. This plain kundan look with red stones!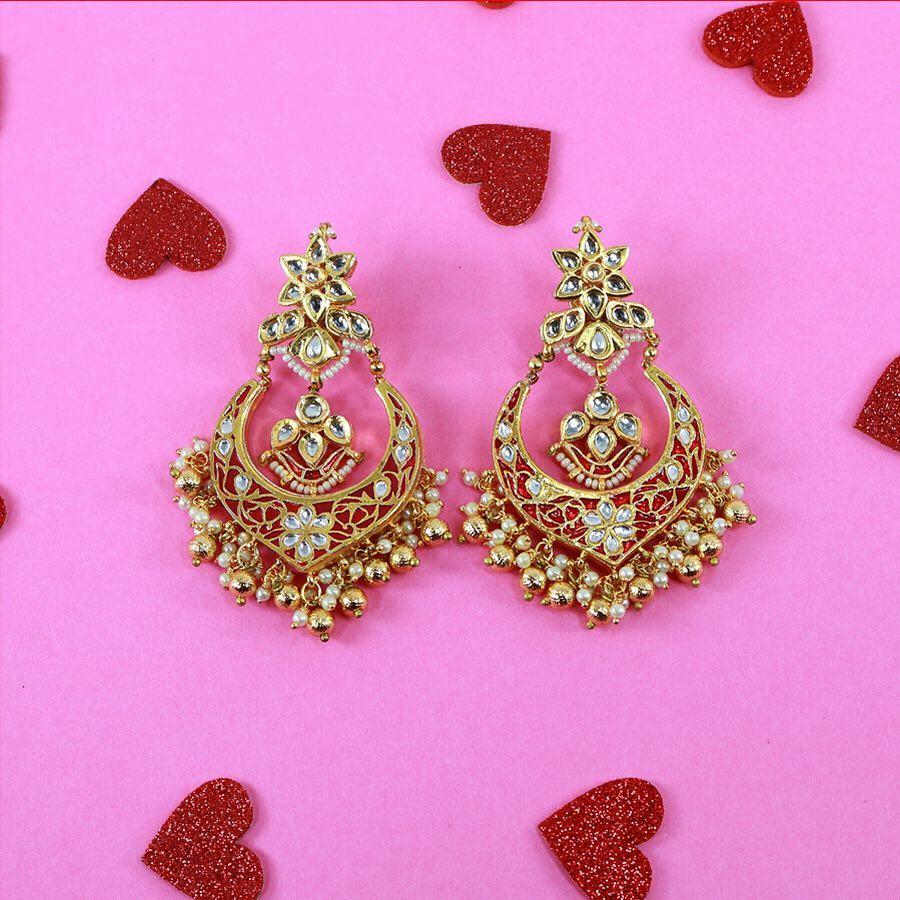 If you've ever found yourself wondering what the difference between Kundan and Polki designs are, then have a look at this piece. With pure gold moulded to form frames onto which red stones are placed, this is the perfect example of Kundan. Furthermore, do you see those white uncut diamonds that are surrounded by gold? That's Polki! Chandbali designs that combine both these classic aesthetics are always a plus, as both have their roots in royalty!
Whether you're having your wedding at a heritage hotel and what to imbibe that royal look, or just love looking like a princess, Chandbali earrings are the perfect type of jewellery to add to your wedding collection. Make sure that you add different styles of it so that you can wear them to all types of festivities after you are married. Whether you like longer dangers, small classic earrings, or oversized moon shaped earrings, you'll find them all when you're on the lookout for these awesome earrings.
Don't know where to source these beautiful jewels from? Check out our list of amazing jeweller vendors who have them all!