Heavy Jewellery Sets to Seal the Deal in Style on The D-Day
Are you aspiring to look like a royal queen on your wedding? Check out these breathtaking Heavy Jewellery sets we've handpicked for you for some inspiration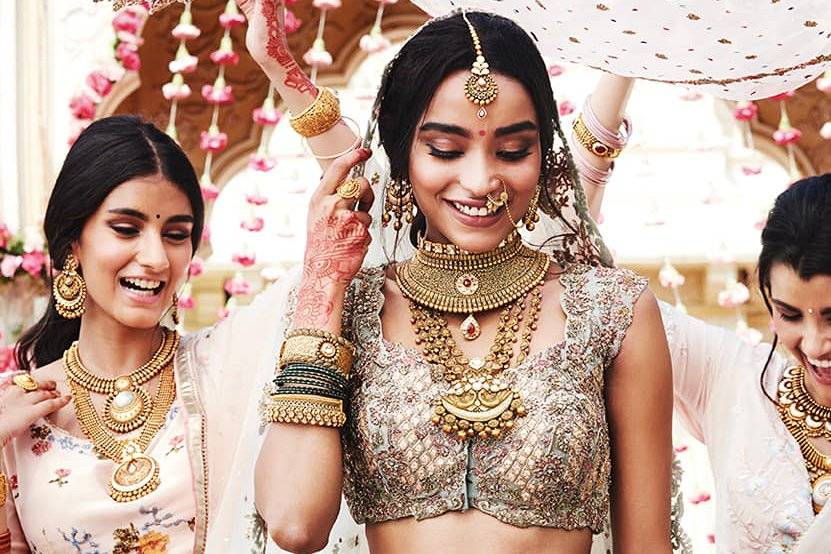 If you are the kind of bride who believes in going OTT with your bridal jewellery to become the ultimate show-stopper at your wedding, we have exactly the article for you today! Polki sets, diamond jewellery, pearl necklaces or traditional gold ornaments...whatever your choice of jewellery material is, on your wedding day, you need it big and heavy!
Something that screams grandeur; something that goes perfectly with your ravishing golden lehenga or your divine Kanjeevaram saree! Getting intrigued? No need to wait anymore! Check out these stunning heavy jewellery images, read about some important info on where you can get them!
Gold Kundan set
A broad gold Kundan jewellery set is one of the most favourite kind of heavy jewellery among brides. The gleaming gold with exquisite Kundan work on the necklace, makes it a work of art. With a few pearls dangling from the bottom of the bib necklace this is the kind of jewellery ideal for a royal theme wedding. Oversize Chandbali gold earrings, golden Nath and a matching Matha Patti just add the right ingredients to complete your look.
Where to find them: Ganga Jewellers (East Delhi), Orra, Turner Road (Mumbai), PC Jeweller (Jodhpur).
Starting price: ₹200,000/-
Designer Heritage jewellery set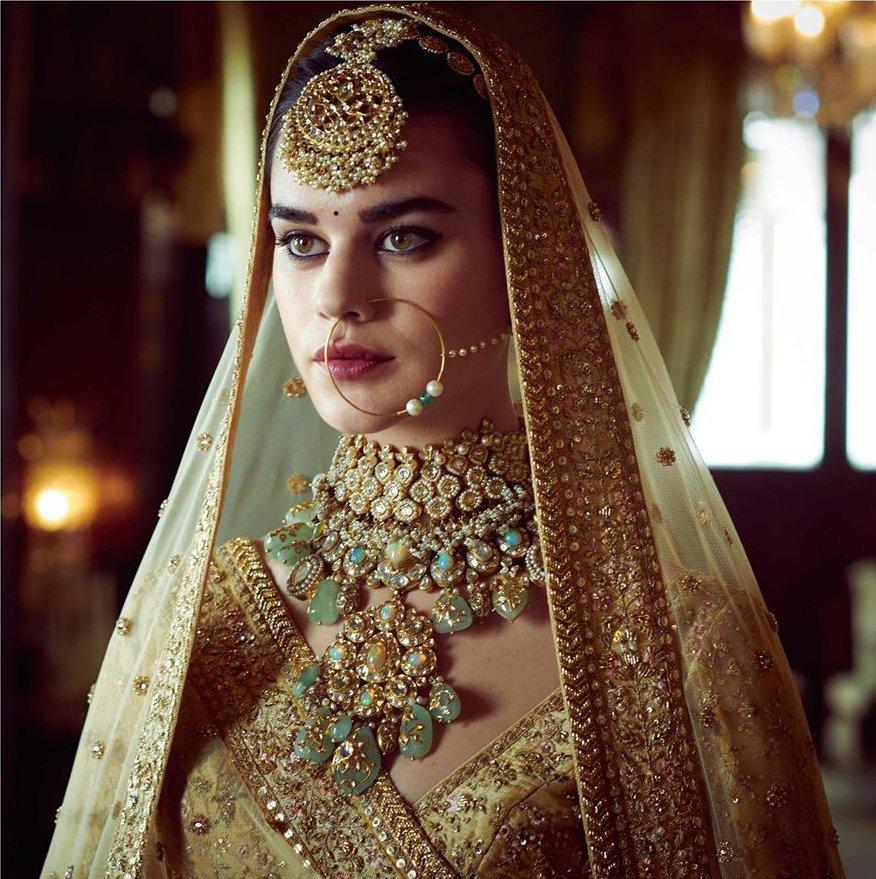 Image Courtesy: Sabyasachi Jewellery
When we talk about heavy jewellery sets, how can we not mention the legendary Sabyasachi bridal collection? One of his such masterpiece creations is the heritage jewellery collection. The combination of gold, pearls and large aquamarine gemstones in teardrop shape together makes the jewellery set look absolutely divine. Other than the incredible statement necklace, the subtle yet large nose-ring with two pearls and stone and the magnificent heavy Maang Tikka makes this entire ensemble totally awe-inspiring.
Where to find them: Sabyasachi Flagship stores, Evoluzione (NCR), Carma and online stores and websites.
Starting price: ₹2500,000 to ₹3000,000
Designer "Nargisi" jewellery set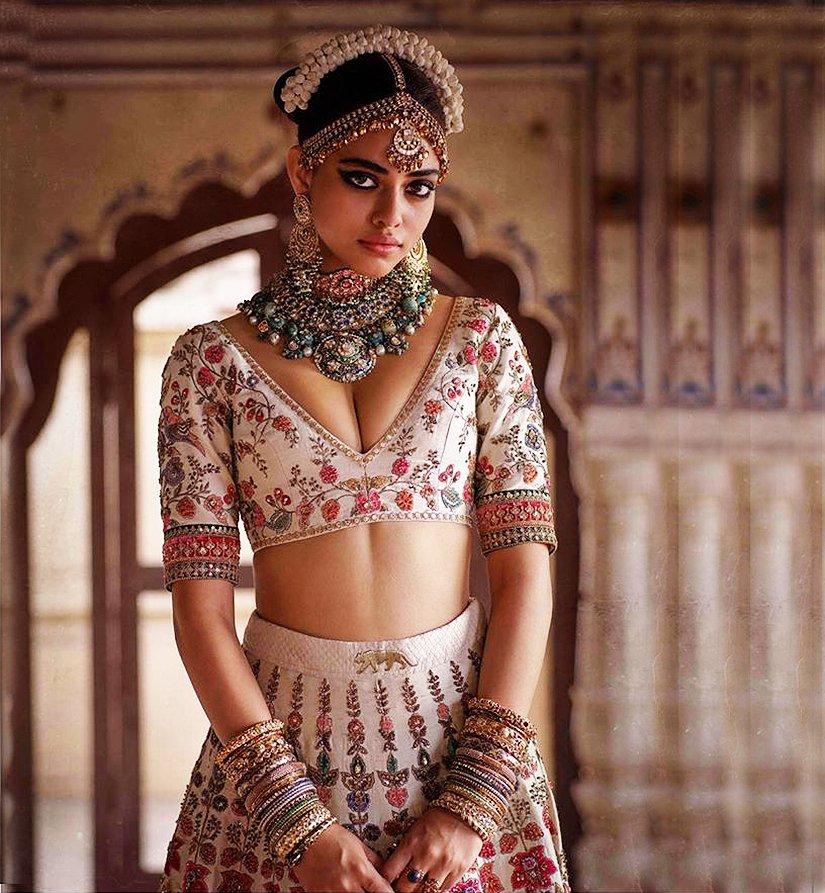 Image Courtesy: Sabyasachi Jewellery
Another gem from Sabyasachi's bridal set, this is something that would instantly make heads turn by its unconventional magical beauty! Despite being a heavy jewellery set, this particular bridal "Nargisi" collection as named by its creator, is made of gemstones and pearls. The blue-grey and metallic combination in the heavy choker necklace gives the perfect Boho look yet maintaining the bridal elegance. The rustic Matha Patti and Chandbali earrings only add to the drama. And not to mention the gorgeous bangles in golden, blue and all the matching colours.
Where to find them: Sabyasachi Flagship stores, Evoluzione (NCR), Carma and online stores and websites.
Starting price: ₹2500,000/- to 300,000/-
Polki jewellery set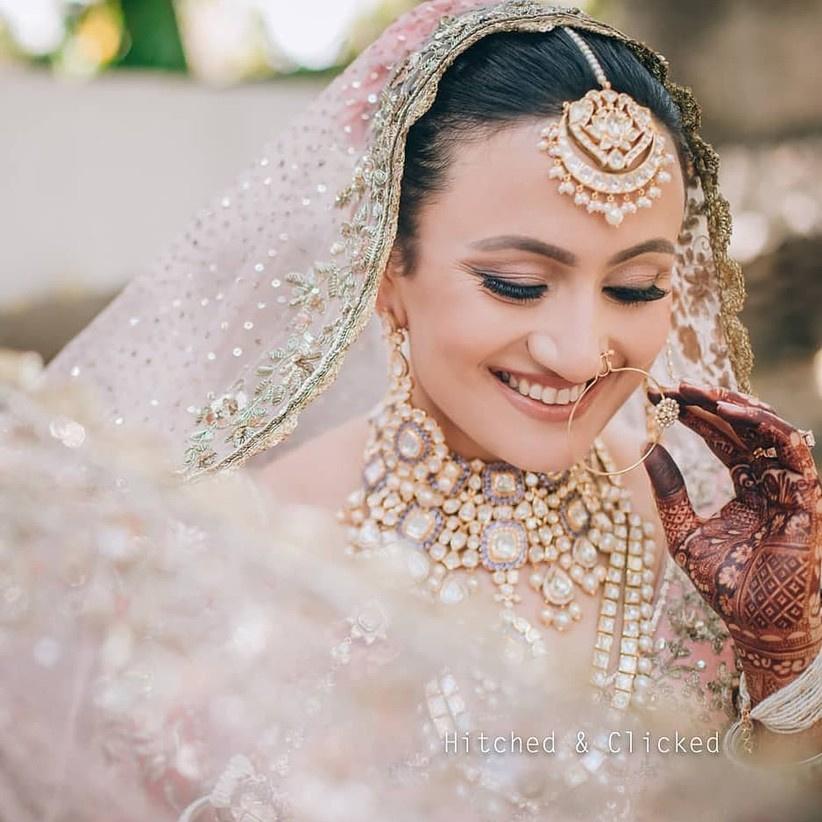 Some women just love big bold stones on their jewellery! And if you too are one of them, you'll love this Polki set as your bridal adornment. Wear this heavy jewellery set made of beautiful stones forming multiple layers in your Polki necklace along with some pearl studs. You can go for a large Matha Patti, Chandbali earrings made of gold and Polki stones. If you're thinking OTT, go with a broad golden Haath Phool and golden bangles.
Where to find them: M Rajsons Jewellers (South Delhi), Gauri ke Gahne Jewellers (Jaipur), Surbhi Jewellers (Mumbai).
Starting price: ₹400,000
Nizami jewellery set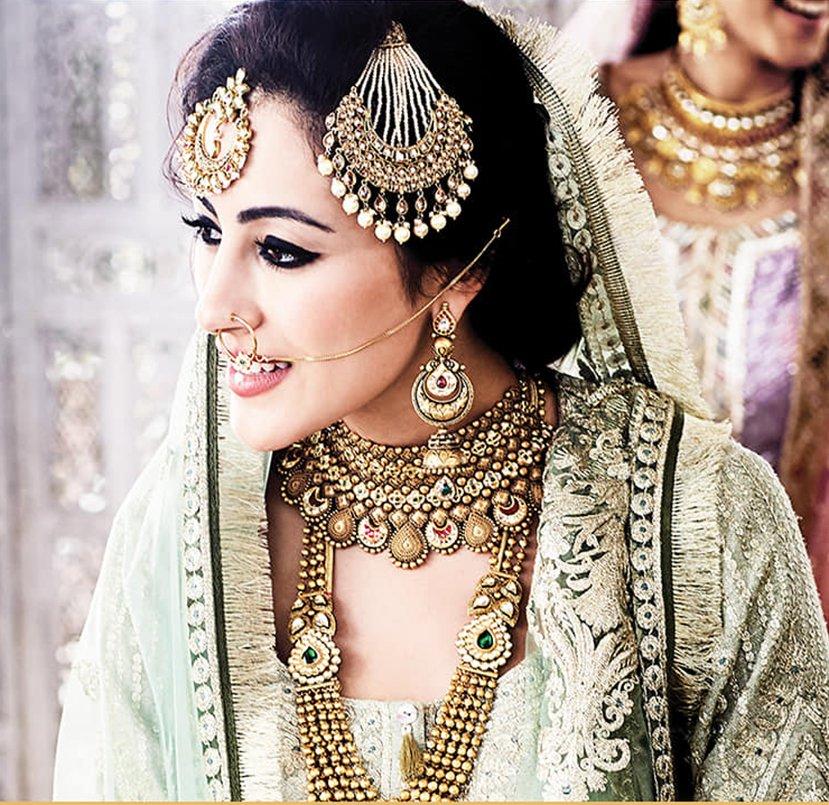 Bring out the Malika in you with this exquisite Nizami jewellery set made of gold. This kind of heavy jewellery will not only make you look like a queen but will also add oodles of regal grace to your whole outlook. These antique jewellery designs comprising of a golden choker and a Rani haar, teardrop-shaped Jhumka earrings, a sleek Nath and a gorgeous Passa jewellery has "grand elegance" written all over it!
Where to find them: Shreeji Bridal (Mumbai), Akoya by Anurkriti (Hyderabad), Kathana Jewellers(North Delhi).
Starting price: ₹7,00,000 (for real jewellery) ₹7000 to ₹11000 (for artificial jewellery).
Bengali gold jewellery set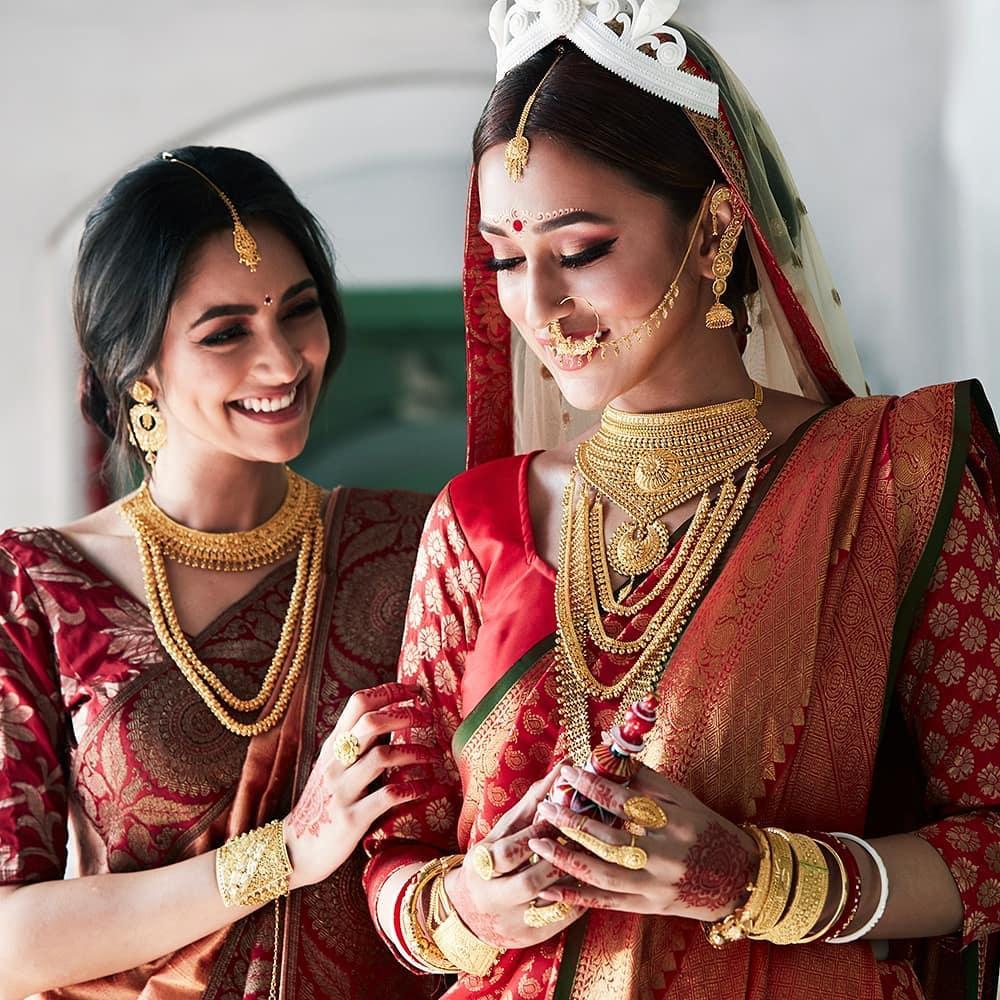 Getting married in a true Bong Bodhu style? Try this traditional gold heavy jewellery set for your wedding. The multi-layered necklace, the Chic (choker), the shonar mukut (gold Mukut), Tikli & Tayra (Mang tikka & matha patti), Kaan bala, Chur and bala...do the whole Bengali bridal get up along with a red Banarasi saree, ready to rock your Bong Biye!
Where to find them: Subhangi Jewellers (Kolkata), Kalyan Jewellers, Gariahat (Kolkata), Sathi Jewellers (Kolkata).
Starting price: ₹300,000
Temple jewellery set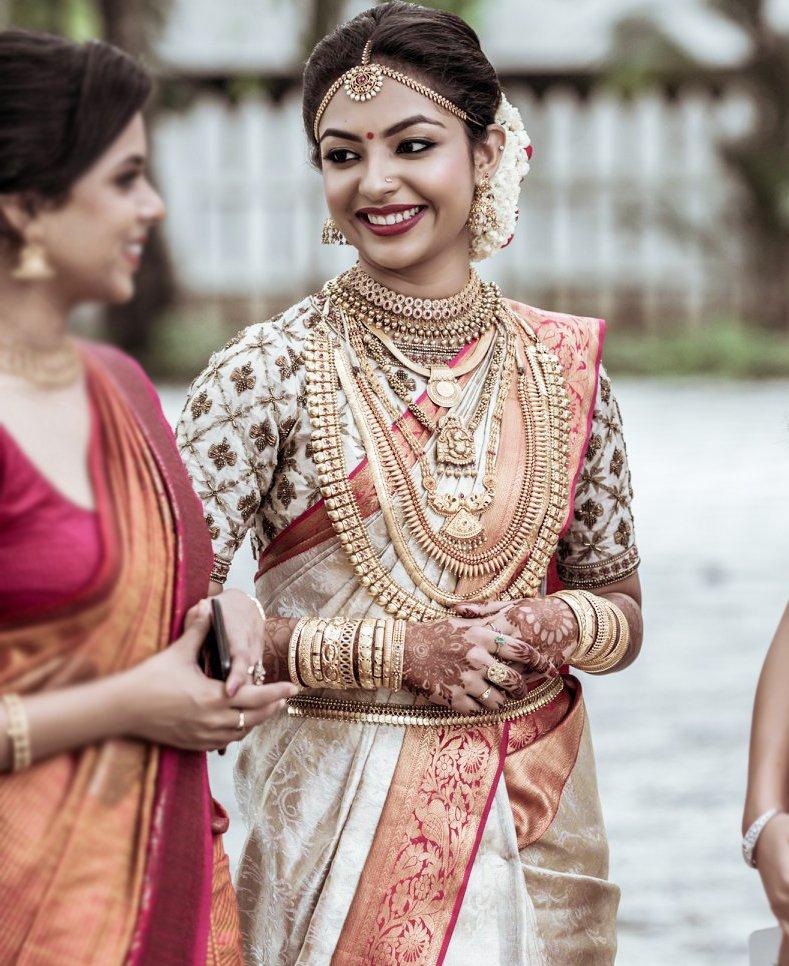 Dial up the grace factor in your bridal look with a charming Temple jewellery set! If you're looking for heavy jewellery designs that are also extremely delicate with intricate designs, temple jewellery is your thing. Sport that spectacular Manga Mala and Kasumala with Vaanki (Armlet), Nethi Chutti (Matha patti) and Vadiyanam (Kamarbandh belt) with your gorgeous Kanchi-Pattu saree for that ultimate Goddess look!
Where to find them: Dhanesh Jewellery (Chennai), KCR Jewellers (Bangalore), Kalasha Fine Jewels (Hyderabad).
Starting price: ₹920,000/- (real jewellery) ₹2000/- (artificial jewellery).
Your heavy jewellery set doesn't necessarily have to be made of real gold or diamonds. You can opt for artificial jewellery designs for your wedding that have heavy looks. Explore the online world of jewellery to look for maximum options. In case you're going for imitation jewellery, make sure to choose only premium quality products and check for skin allergies. You can also try other metals like brass, copper, silver ornaments which look spectacular if worn right! Choose your adornments carefully based on your own personal style, budget and personality!
Which one of these is your kind of jewellery? Share your thoughts with us in the comment section below!