Manga Mala Designs That Will Enhance The Look of Every South Indian Bride
When you dress up for your wedding it is essential to not forget your roots. So, wear a Manga mala to remind yourself how appealing your roots can be.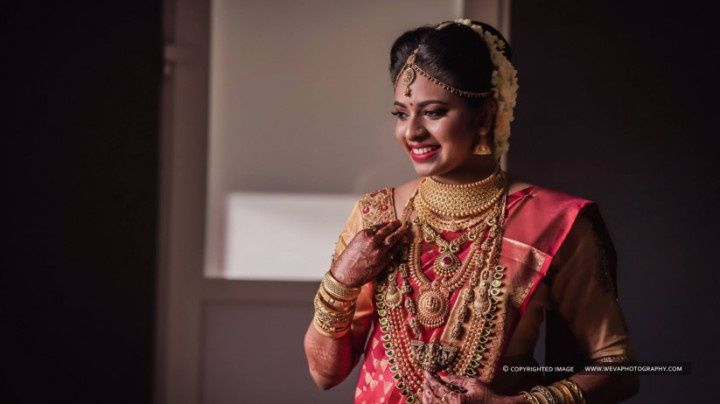 The Manga Mala (or Malai) is what you call an authentic part of the South Indian jewellery. A proper Manga mala would consist of paisley motifs going all around the necklace, of the same shape and size, in succession. If you know a Manga mala's description, then you would recognise it even without having seen it before. It has a deep significance to the South Indian culture, which is also reflected in the name itself. The Manga Mala means the "mango" necklace, as the design around the necklace is, what you can call either paisley shaped or also mango shaped. The mango tree in India symbolises love, wealth and fertility, and what better benediction to carry than those while getting married. So, why not get one that suits you the best, and carry these blessings with you, for your new journey.
1. Untouched Design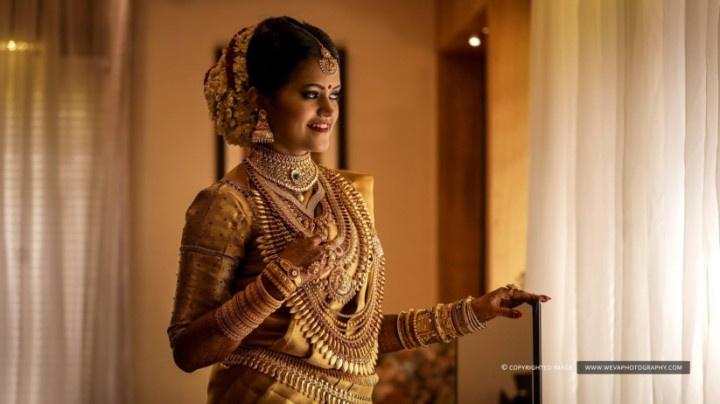 Are you one of those brides that love her heritage, and traditions untouched? Then there is no other way for you to go, other than getting the classic Manga mala for yourself. It is plain gold with intricate designs done all over its paisley and would look ravishing when worn. This kind of necklace can be worn with layers of other all-gold necklaces to make the whole effect look rich. It can be worn over a Kanjeevaram saree, making you look like a completely traditional bride.
2. Short And Sweet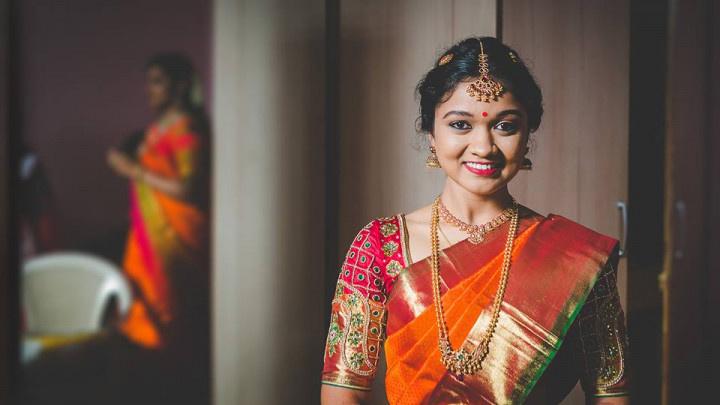 Get yourself this necklace in a short version, if something light is what you are looking for. Not all brides want to carry a lot of jewellery, so in this case, pairing this mala with one long necklace should work in your favour. Though if you want you can have a couple of necklaces but do not overpower the short Manga mala with bold jewellery. Wear it with a nice bright coloured saree as your jewellery would leave a good gap for your saree to shine through.
3. Multitude Of Jewels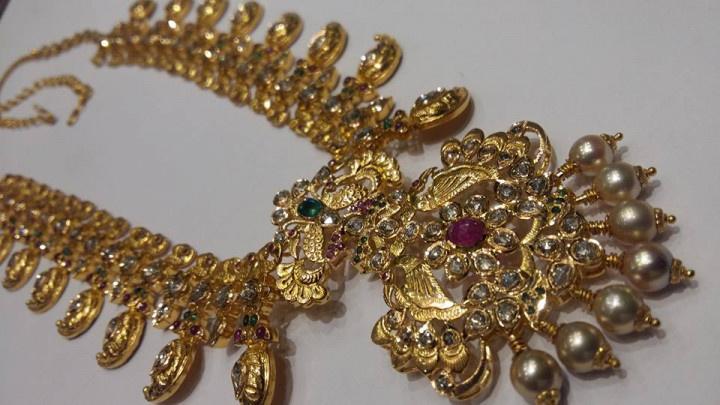 A good way to add colour to your jewellery is to add them in your Manga mala. You can add pearls, small diamonds, emeralds, rubies, and other classic colour jewels like this to have fun with your mala. Though make sure that none of these jewels overpowers your mala's design as the base of the mala is what makes it so significant. With this medium-sized mala, you can add a gold choker to highlight it, but it would look amazing even if it is worn alone. Go for a classic colour saree, when you have so many coloured jewels in your mala to balance it out.
4. Choker Piece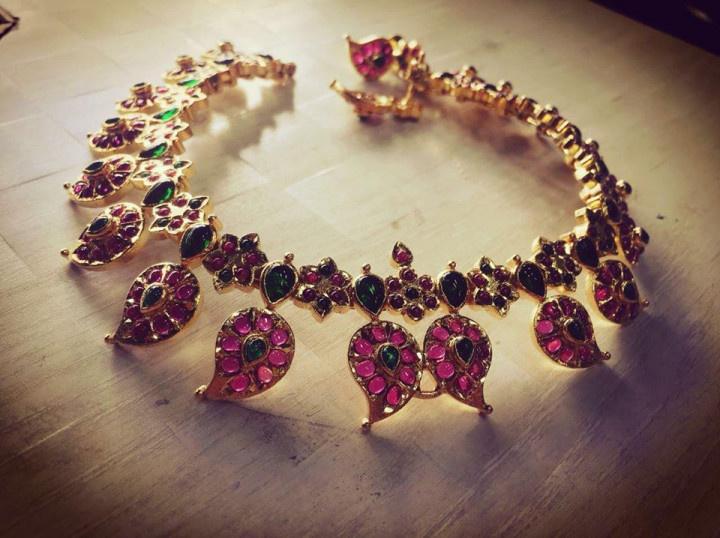 Image Courtesy: Antique Temple Jewellery
The up and coming jewellery of today is the choker piece. Everywhere you go, you see this piece being made or refurbished to suit the tastes of today. In a similar way, why not take this ethnic piece and tweak it just so much that it suits the taste you like. This piece might just look best being worn all alone, and let it shine in its glory. Or if that does not suit your taste you can wear a minimal amount of other mala with it. You can experiment with this mala and pair it with maybe a Banarasi saree if you please.
5. Peacock Mala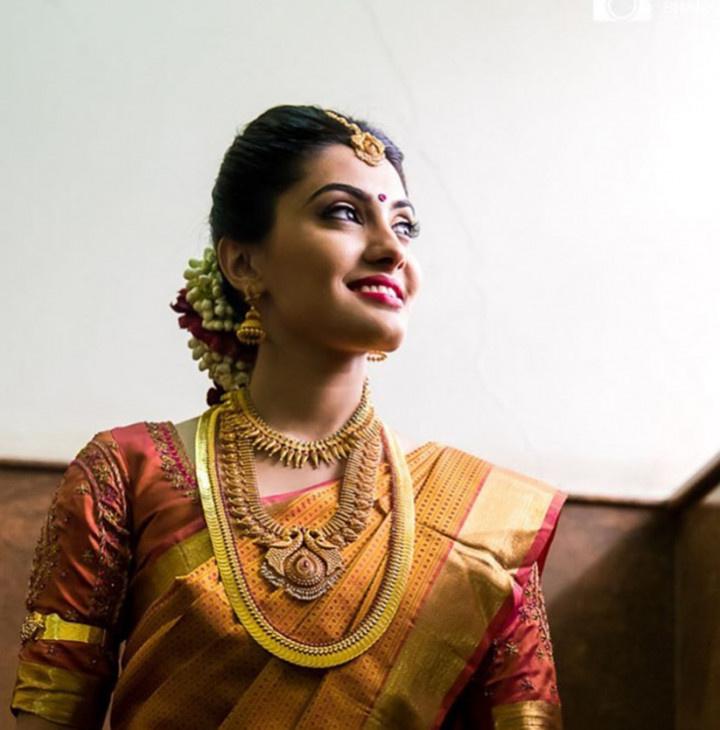 Like mangoes, peacocks also hold a significant place in our traditions. Thus, what can be a better idea but to pair the two of them to make a Manga mala. This beautiful mala merges these two designs flawlessly, making the peacock's feather look similar to the paisley design and then merging them with the actual paisley. Put on this mala with other simple gold jewellery so that the beauty and the simplicity of this mala show through. Add this mala to a classic Kanjeevaram saree and let your culture be seen.
6. An Antique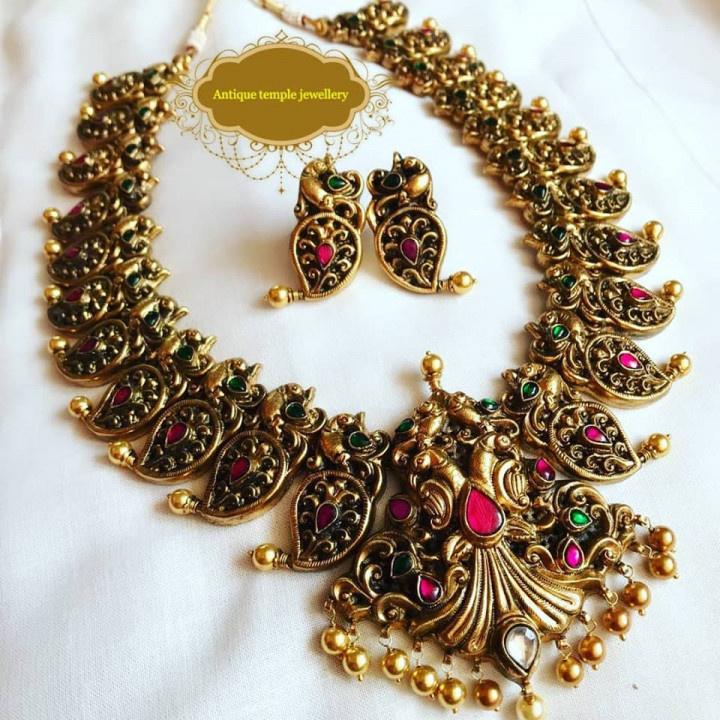 Image Courtesy: Antique Temple Jewellery
Knowing that you are wearing a piece that carries years of history, gives you a feeling like no other. The same thing you can feel if you manage to get hold of the Manga mala's that your mother or grandmother have had with them for years. New designs are charming, but antique designs hold weight and can be noticed without any help. Skip wearing extra necklaces with this piece, and let it speak for itself. You can pair this up with an equally traditional saree, but it might be fun to see how it reacts with a saree which it is not meant for. (IMG- antique temple jewellery-manga mala-antique) [outside]
Manga mala is a jewellery piece that you can enjoy for your small functions as well as for your big day. They are also the most treasured pieces that you might plan to pass on to your daughters in the future. No doubt that this is beautiful and has a lot of cultural significance, and it is up to you how you wish to carry it.
Go and get one of your own, to see how tradition can enhance your look.