6 Kanjeevaram Silk Designs That Would Woo The Brides Of Today
There are some clothes from each state which do not just belong there but are meant for the pleasure of each bride they come across. Kanjeevaram silk is one such type of cloth, once you come across it, it will woo you all on its own.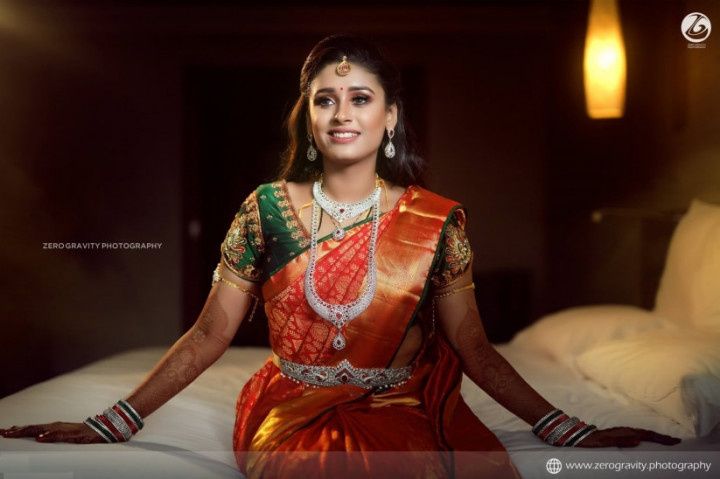 Kanjeevaram Silk or Kanchipuram Silk borrows its name from the village of Kanchipuram where it originated. Kanjeevaram silk sarees are essential to any bride's wardrobe, especially in the South it is almost compulsory in your wardrobe. With India becoming even more diverse and people borrowing from every culture Kanjeevaram silk is not just for people from the South but for anyone who appreciates quality. The marvellous point about the Kanjeevaram silk is that now it is not just used for sarees. You would find it made in a blouse or a dupatta. It has endless possibilities and can be mixed and match with items and other materials too. Kanjeevaram silk is not just cloth but for a number of people, it is a tradition too.
1. Traditional Mandala Saree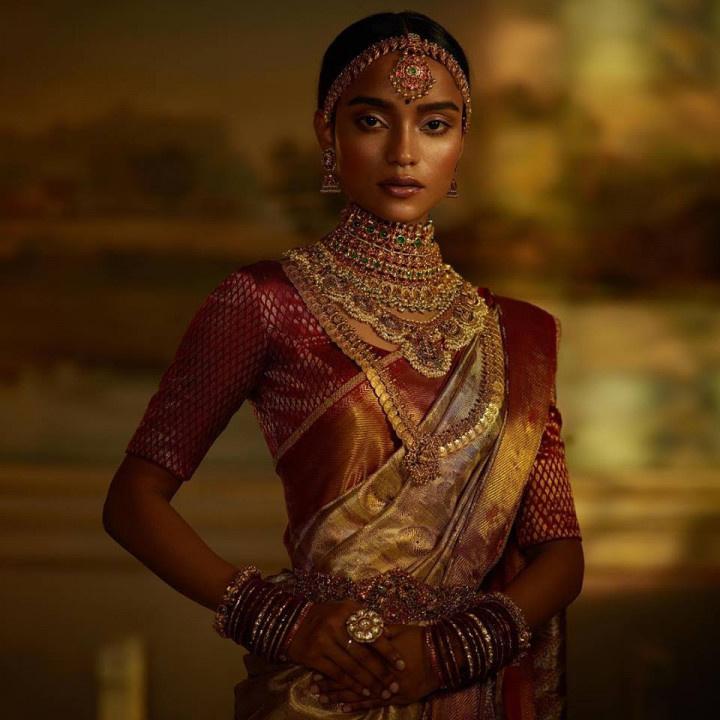 Image Courtesy: Sabyasachi's Facebook Page
A traditional saree would never go wrong with traditional motifs in place. These traditional mandala's look right in place with this saree. It makes it look like something the old queens would wear. If you want to wear it right pair it with the right kind of gold jewellery. With the saree looking so rich it would not matter in the extreme if the jewellery you wear is not very heavy.
2. Paired Up Blouse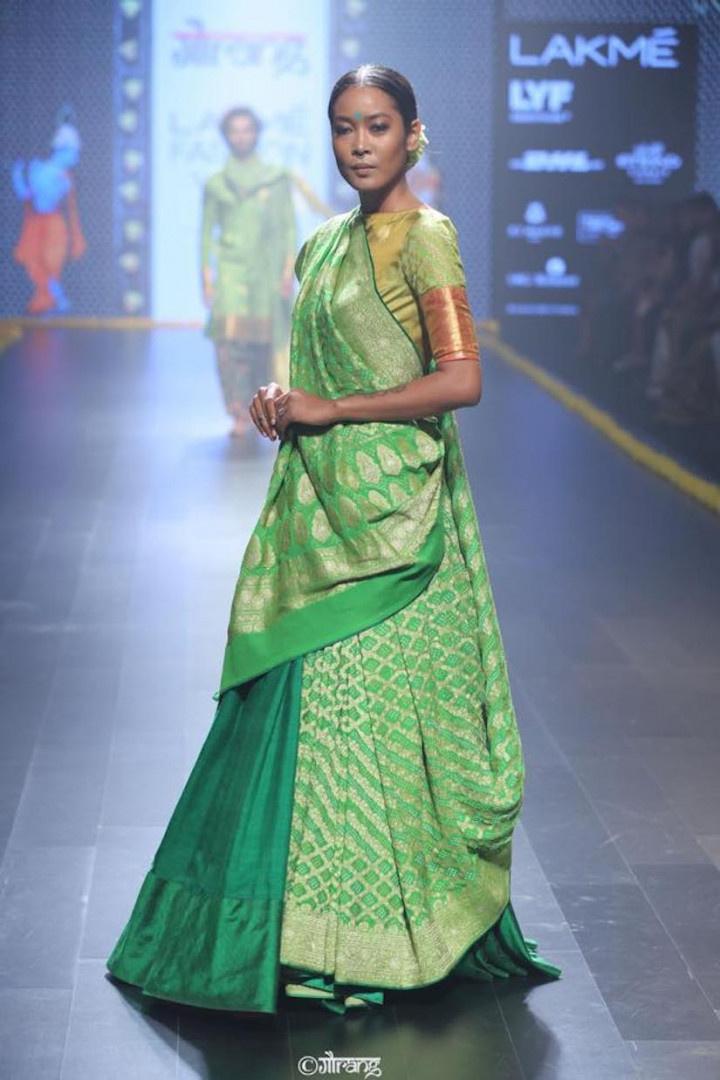 Image Courtesy: Gaurang Shah
If you do not want a kanjeevaram silk saree, why not go for something smaller like a blouse. It looks richer than most blouses since the cloth used is so flavourful. It would look wonderful if it is made in a classic looking blouse. This blouse can be paired with other types of traditional work sarees, like Patola, Banarasi, Lucknowi, making these sarees look without compare. You can wear light jewellery with it, as to not over-shadow the blouse and the cloth.
3. Historic Design Saree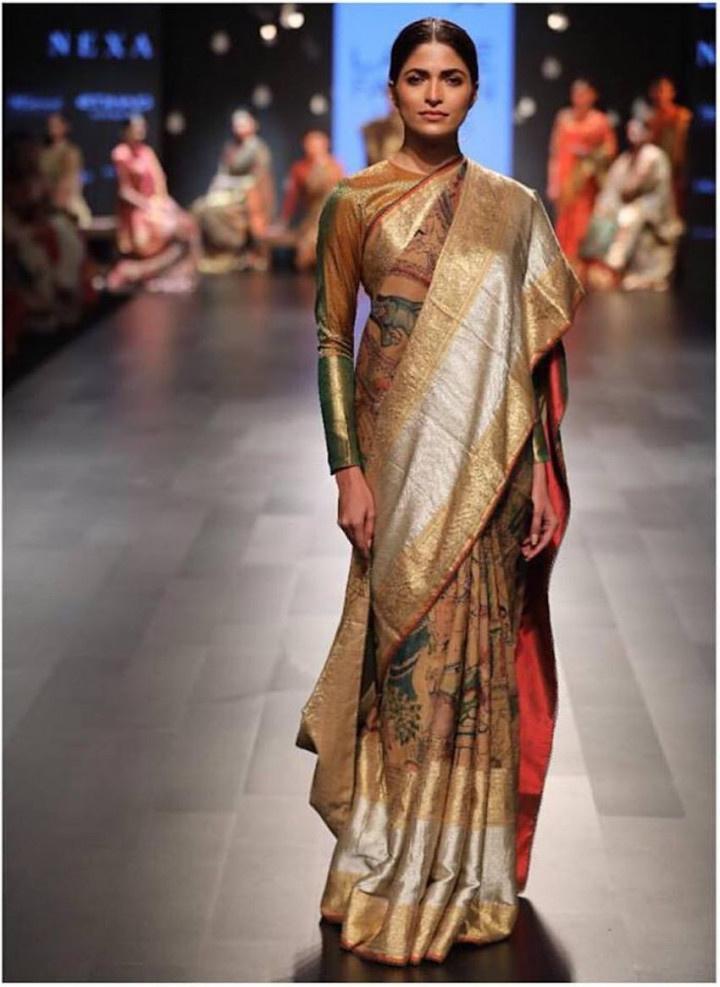 Image Courtesy: Gaurang Shah
What are historic designs? Anything that depicts something very old, and that is just the case with this saree depicting the view of Ajanta caves. The Kanjeevaram silk gives the design even more lush look. The colours are dull but the shimmer effect of the cloth would be the perfect effect for the design. Wear this saree with equally unconventional jewellery to give it more depth. No one would be able to tear their eyes off you.
4. Translucent Effect Saree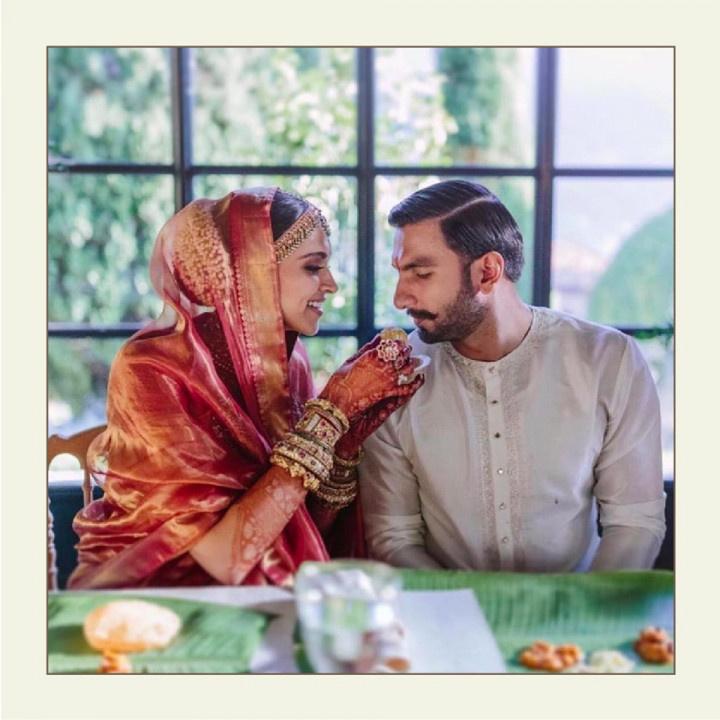 Image courtesy: Angadi Galleria
Ever had something have the kind of effect that you cannot tear your eyes off it? Well it is the case with this saree, as people would have a hard time looking away. Such a translucent effect that this saree offers is amazing and mesmerising. The reddish orange colour impression on the borders and the red translucent body will make sure you look at no other saree. Pair this with heavy Kundan jewellery so as to balance out the delicate saree with a piece of solid looking jewellery. Also, since you would see through it make sure that you do your hair elegantly with flowers as the effect would look beautiful with a veil effect.
5. Solid Colours Saree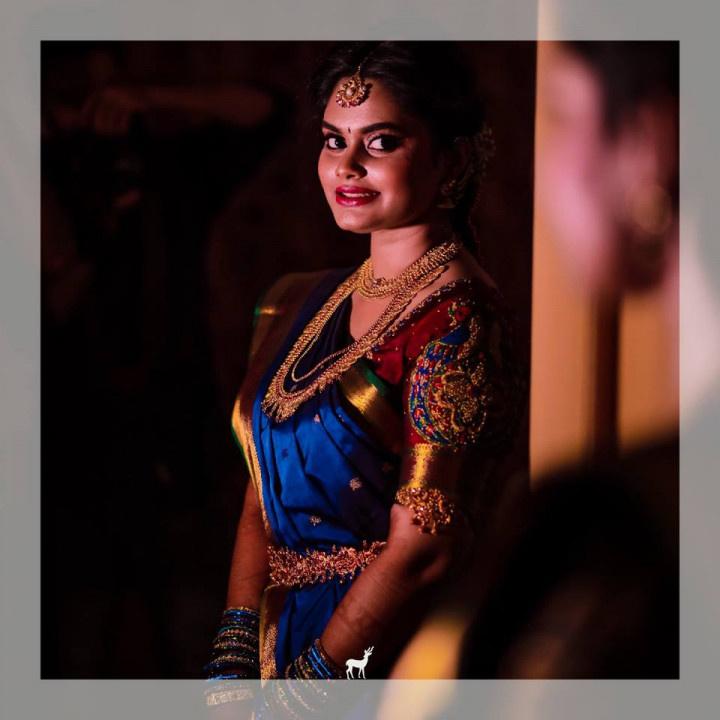 Image Courtesy: Kanakavalli
Don't get a Kanjeevaram silk saree in muted or pastel colours. Though pastel is in fashion, but with such a rich cloth bold dark colours would look amazing. These colours would make sure to highlight you in a crowd, and why not it is your day. Pair your saree with light gold jewellery and revel in it.
6. Dual Cloth Dupatta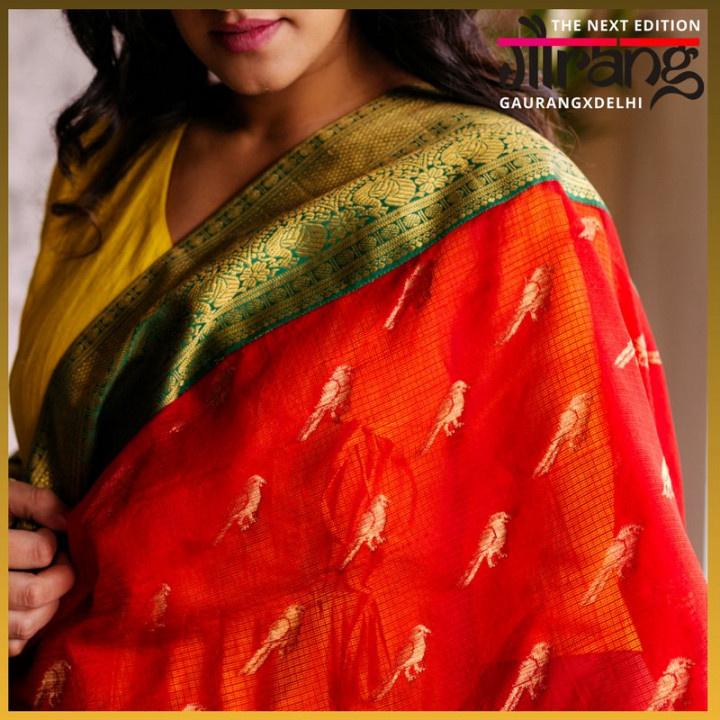 Image Courtesy: Gaurang Shah
Kanjeevaram silk is such a silk cloth that it does not just look stunning but it can make something ordinary also look extraordinary. Such as with a dupatta, if it of Kota, or cotton, if you add a simple border of Kanjeevaram in contrast to the body it would make sure the dupatta is something you can carry for big functions too. Pair the dupatta like this with a relatively light suit so that the contrast of the plain suit, plain lehenga or anything else would make sure that your dupatta blooms in front of it. Have your wedding photographer and wedding videographer capture you as you gracefully away across your wedding venue.
Kanjeevaram silk is not just an investment but for some people it is an heirloom too. People pass it from mother daughter and it as a saree, dupatta or anything else does not go out of fashion, rather since it is a part of your culture and traditions, it just keeps making an appearance.
Kanjeevaran silk is something that everyone wears without an exception, from your celebrities to your normal people. It cannot be replaced by anything else.
So, after knowing so much about Kanjeevaram aren't you also tempted to get one heirloom for yourself?