Jaw-dropping Temple Jewellery Designs for That Extra Sparkle
Add oodles of grace to your bridal trousseau with gorgeous Temple Jewellery Designs. Know everything about the elegant temple jewellery and get inspired.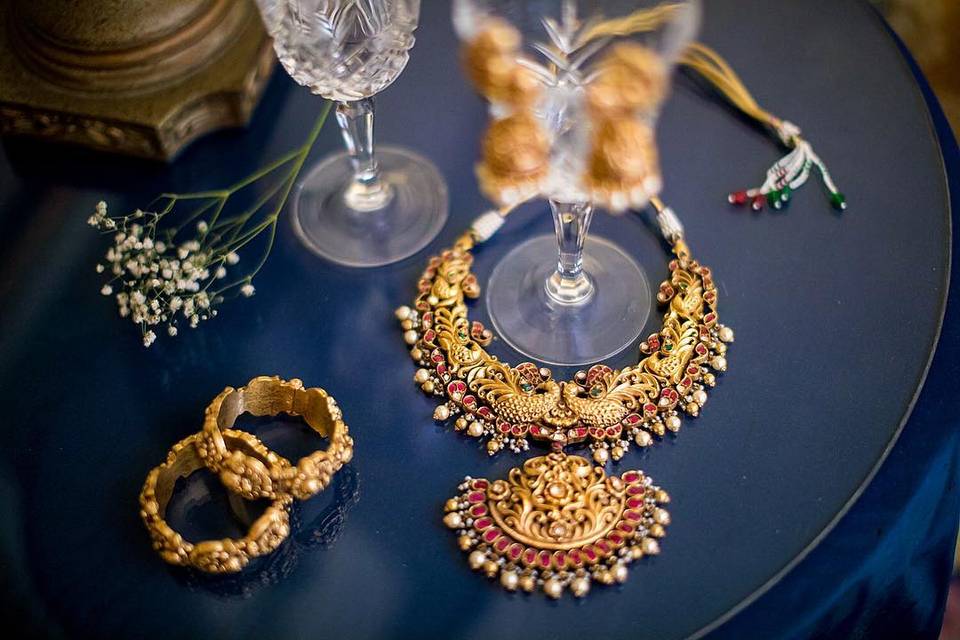 Jewellery is not a mere accessory to a woman's clothes. Jewellery is an emotion. Owning a jewellery collection is never about "what you need" but always about "what you want"! Brides all over the world have been fascinated with jewellery for ages and this hasn't changed over the centuries. One such kind of gorgeous Indian jewellery is the temple jewellery. From Devasena earrings to Manga Mala to Nethi Chutti...every piece of jewellery is tremendously adored by women across the country.
So do you want to know more about this stunning jewellery form? Keep reading for more details and how you can coordinate temple jewellery designs with your wedding outfits.
1. A little Flashback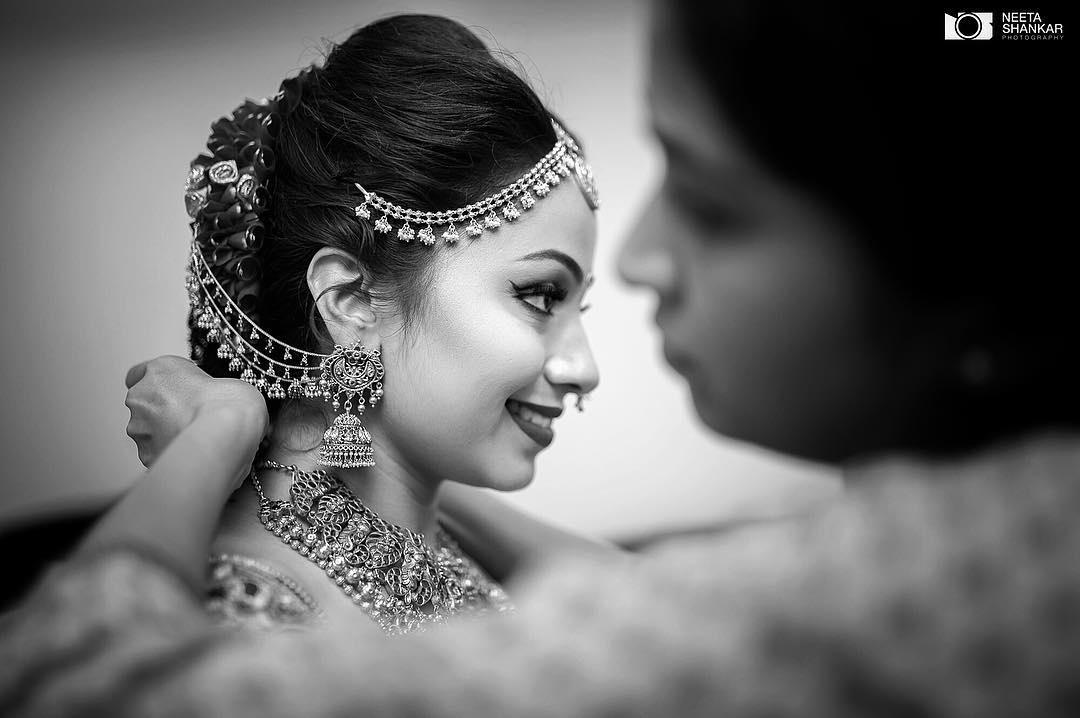 Originated in the 9th century, temple jewellery designs have become a rage among Indian brides lately for its sheer exquisiteness. This form of jewellery was first inspired by the pillars and walls of South Indian temples during the Chola dynasty.
That's why Gods and Goddesses' idols are sculpted on temple jewellery. The core metal was originally always gold. But eventually, to make it more affordable, silver, copper, bronze etc. were also being used. Other than Gods and Goddesses, peacocks, lotus, vines are also popular motifs used on south Indian temple jewellery.
2. Types of Temple Jewellery
All temple jewellery designs are categorised under two broad sections:
Regular temple jewellery- As the name suggests, the regular temple jewellery designs are lighter and can be worn on semi-formal events like anniversary parties, Mehndi or Cocktail functions, birthdays etc. The common ornaments worn as regular jewellery are Devasena earrings, Manga mala or Kasumala (necklaces), bracelets, chains, rings and bangles.
Occasional Temple Jewellery- Under this type of temple jewellery comes to the heavier designs that are usually adorned during a wedding. For example, Poola Jada, Vanki (Armlet), toe-rings, anklets, Vadiyanam (belt or Kamarbandh) and Nethi Chutti (Matha Patti).
3. What makes Temple Jewellery Sparkle?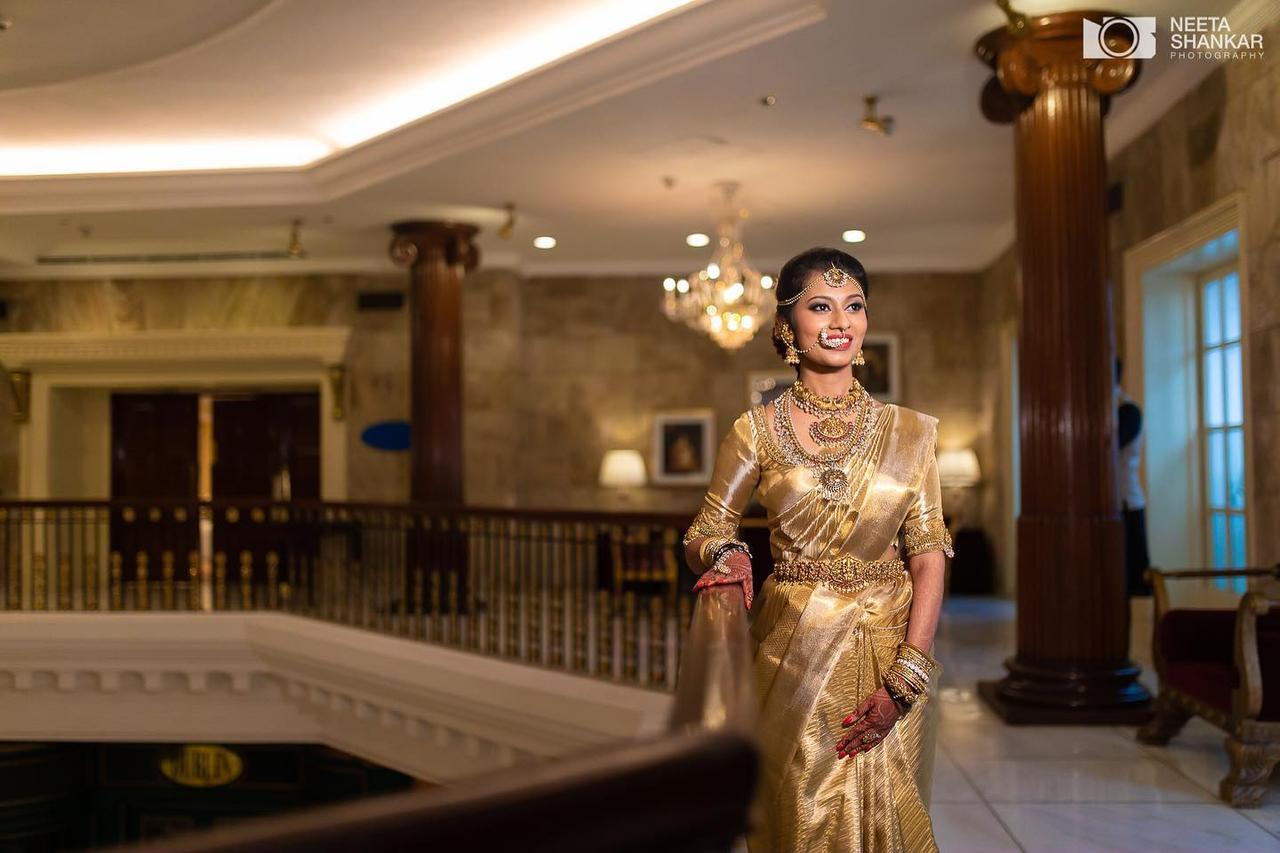 So what's the secret that makes temple jewellery designs stand out? What makes them distinct from any other kind of jewellery? Lets' find out! Other than the fact that temple jewellery is made of pure gold as its core metal, these are studded with precious and semi-precious stones that give them a classic elegance. Rubies, emeralds, Polki and Kundan stones, are some of the popular choices. Other than these, maroon Kemp stones are hugely used too to embellish the temple adornments.
The intricate work using attractive motifs is the second factor that makes temple jewellery designs look divine. From simple elegant designs like peacocks, swans, lotuses and floral motifs to baroque Lakshmi idol, dancing goddesses and royal figures- skilled artists from Tamil Nadu make these jewellery masterpieces, with their craftsmanship.
4. Outfit Combo with Temple Jewellery designs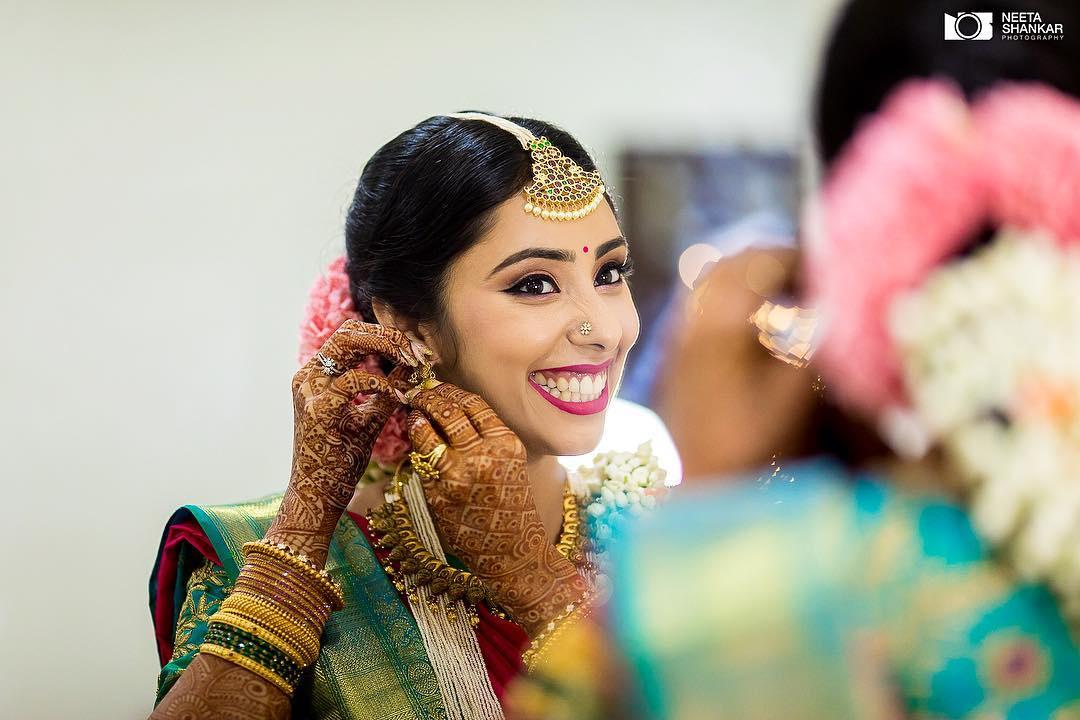 Now comes the most exciting part! Pairing up the temple jewellery designs with your wedding outfits! You might think that only a traditional Kajeevaram silk saree would go best with this jewellery, right? Well, let's give you some more ideas on mixing and matching! It's time to explore the horizon of fashion!
5. Where to look for Temple Jewellery designs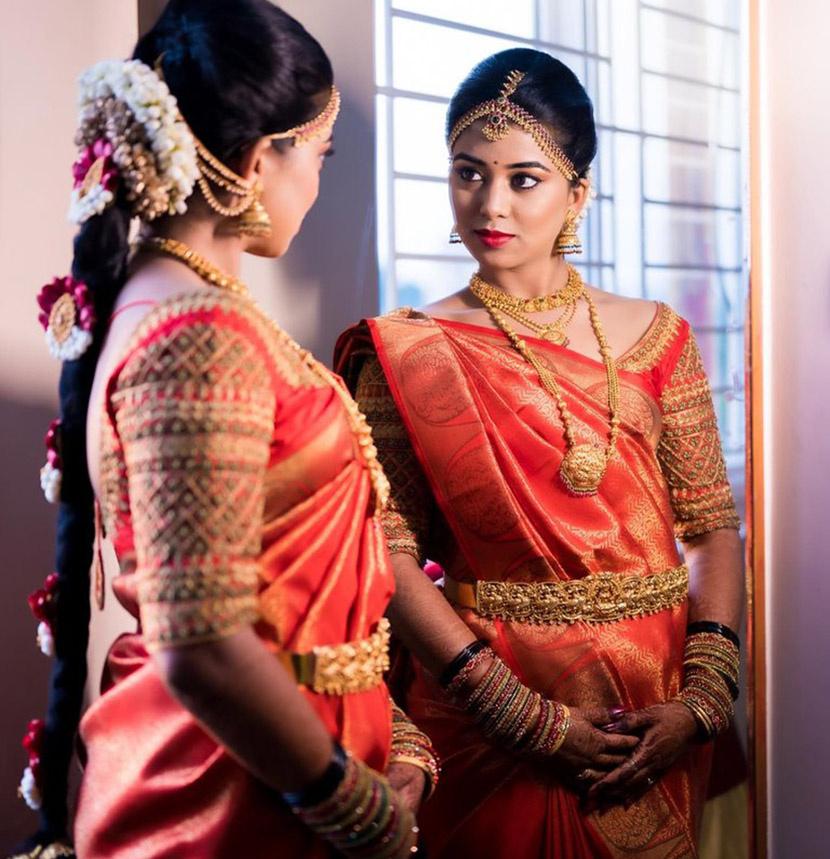 You must be totally psyched by now after feasting your eyes with these temple jewellery designs! So now it's time for some names. Take a look at some of the stores and shops in India where you can find your temple jewellery:
Sulthan Diamonds and Gold (Mangalore, Karnataka), Golden Leaf Jewels (Chennai), Chemmanur International Jewellers (Chennai), Dattatreya Jewellers (Bangalore), Shiva Jewellers (Bangalore), Suraj Bhan Jewellers (Hyderabad), M B Ashtekar (Pune).
Temple jewellery designs are works of art. You need to carefully sport each item to do proper justice to them. If you're wearing a heavy necklace with bold elaborate temple motifs of God and Goddesses, balance it with a relatively light outfit so as not to draw the focus of your jewellery. While choosing your Devasena earrings, make sure the size of your earrings are not bigger than your ears. basically, balancing is the key. Wear the light rings or single piece bangles on your pre-wedding photo shoot and Sangeet ceremonies and leave the heavier items for your big wedding. And finally, don't feel shy to fuse things up! Let your temple jewellery define your personality because that's what will make heads turn!
Which is your favourite temple jewellery item? Share your thoughts in the comment section below!