Designer Long Kurti With Palazzo: the Ideal Outfit for Sagan, Chuda and Other Light Functions!
Planning your outfits for lighter ceremonies can be much harder than planning for the main event! Explore the idea of wearing designer long kurti with palazzo for Sagan, Chuda, and other such functions!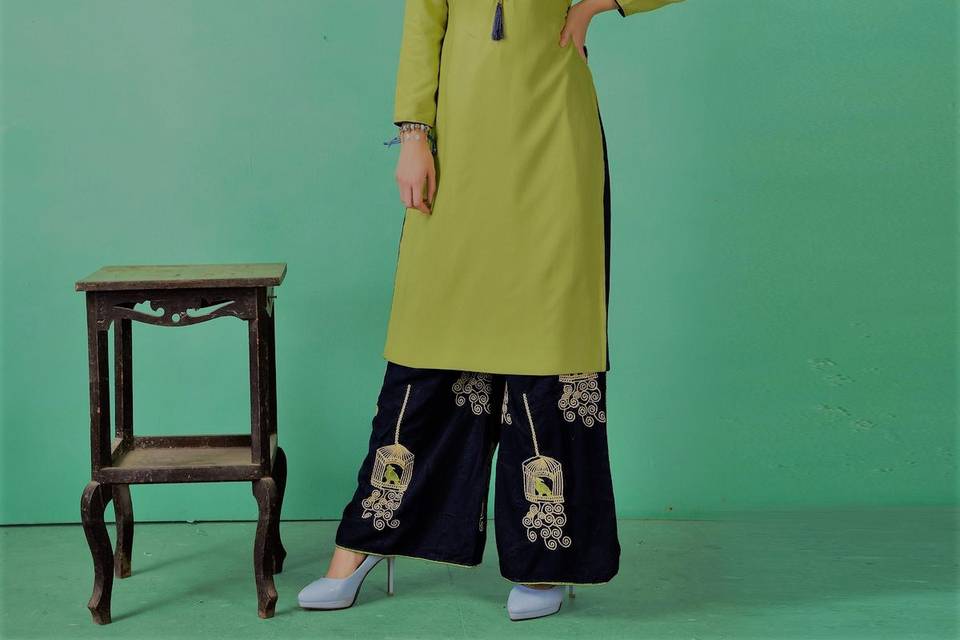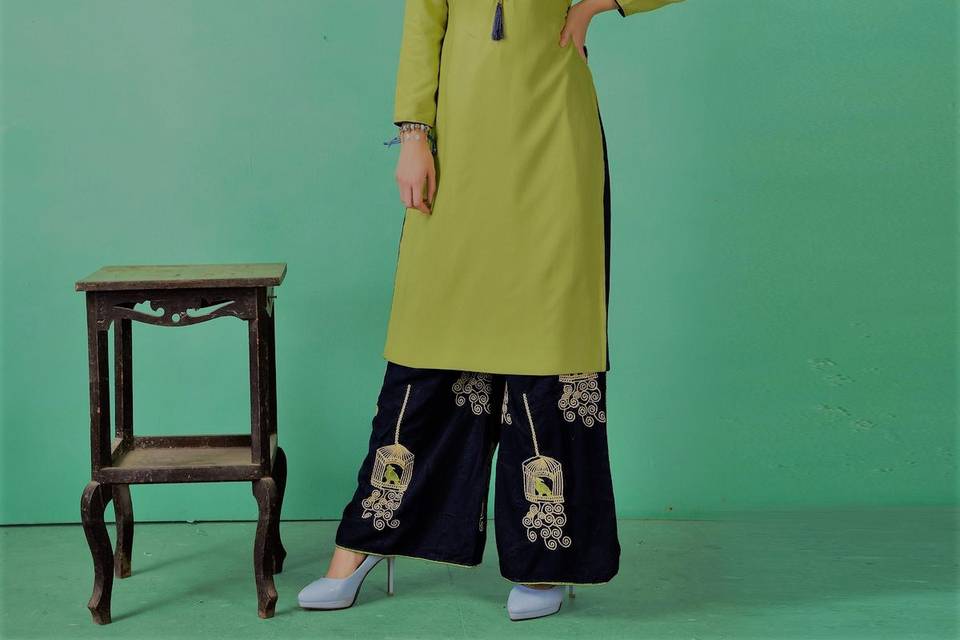 Image Courtesy: Peach Mode
Deciding the outfit for the main events like the Sangeet and wedding is easy-peasy – you've probably got a few great options of lehengas and sarees to pick from. But, what should you wear as a guest to lighter ceremonies like the Sagan or the Chuda, when even the bride herself is not super decked up? Often, this is the real dilemma that most women face when thinking of wedding outfits! What is light enough for these functions, but still dressy enough for it to be appropriate? We know the answer! Designer long kurti with palazzo!
The kurti and palazzo trend has been here for a while and we can see why. It combines the comfort of a Punjabi salwar suit along with the elegance of a saree. The column-like shape that comes with the kurti and the straight palazzo pants create a lovely aesthetic and also elongate your body, making you look taller. So, when you've got these functions in mind, stick with designer long kurti with palazzo to look charming and dressy!
Check out our gallery of designer long kurti with palazzo options to get some inspiration when you go shopping!
1. Brocade kurti with pink palazzo pants!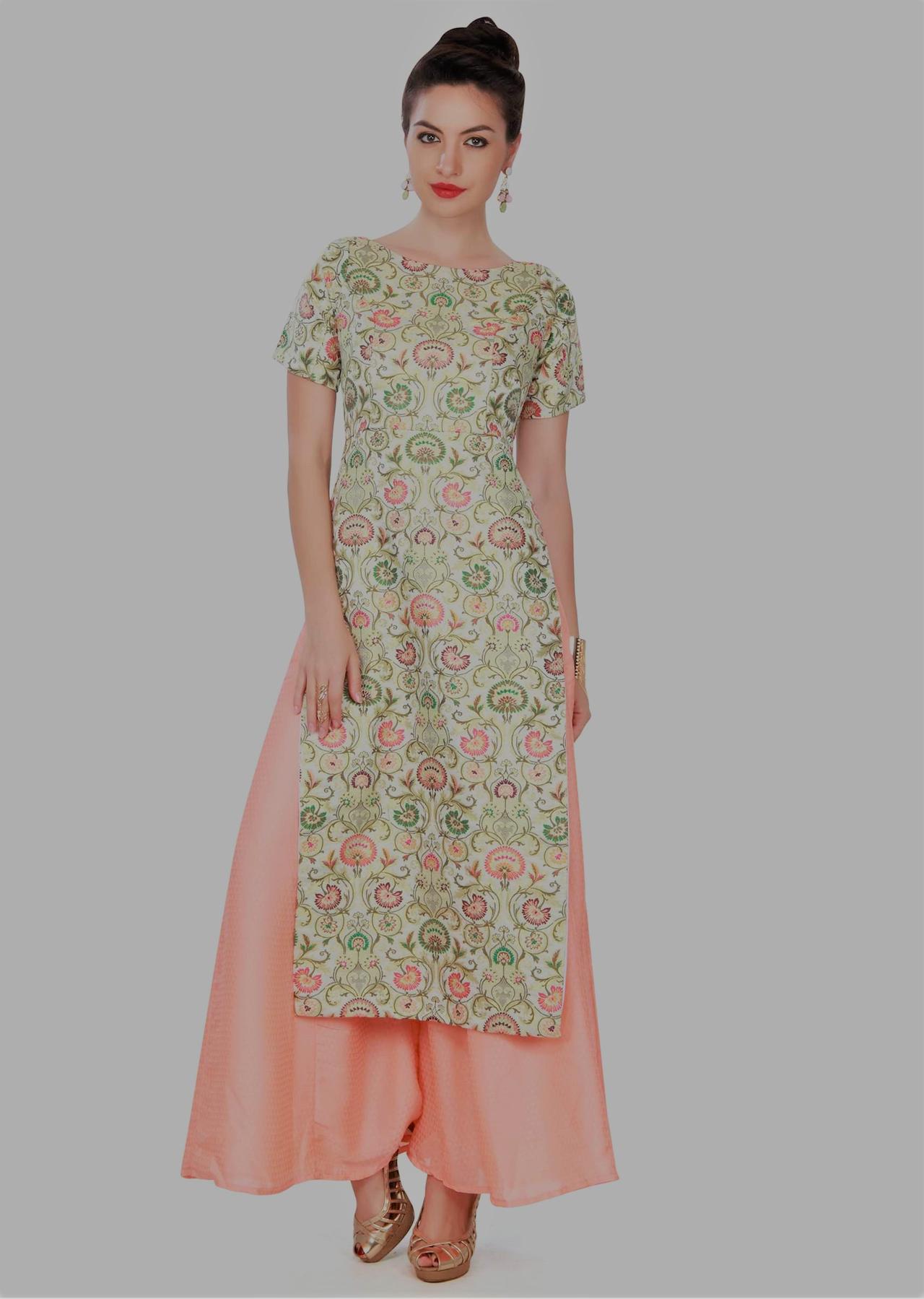 Image Courtesy: Kalki Fashion
This mint green brocade kurti has a sturdy fabric, which makes this garment look structured and formal – just the words you need to hear when picking outfits for a family function! However, that isn't to say that this outfit is boring! The kurti has floral motifs in varying shades of pink, which matches really well with the pastel pink palazzo pants at the bottom. The light flare of the pants adds a sense of flow to the fabric, making it ideal for an event where you have to meet a ton of people.
This designer long kurti with palazzo is priced at ₹20, 940
2. Ivory floral kurti with matching pants!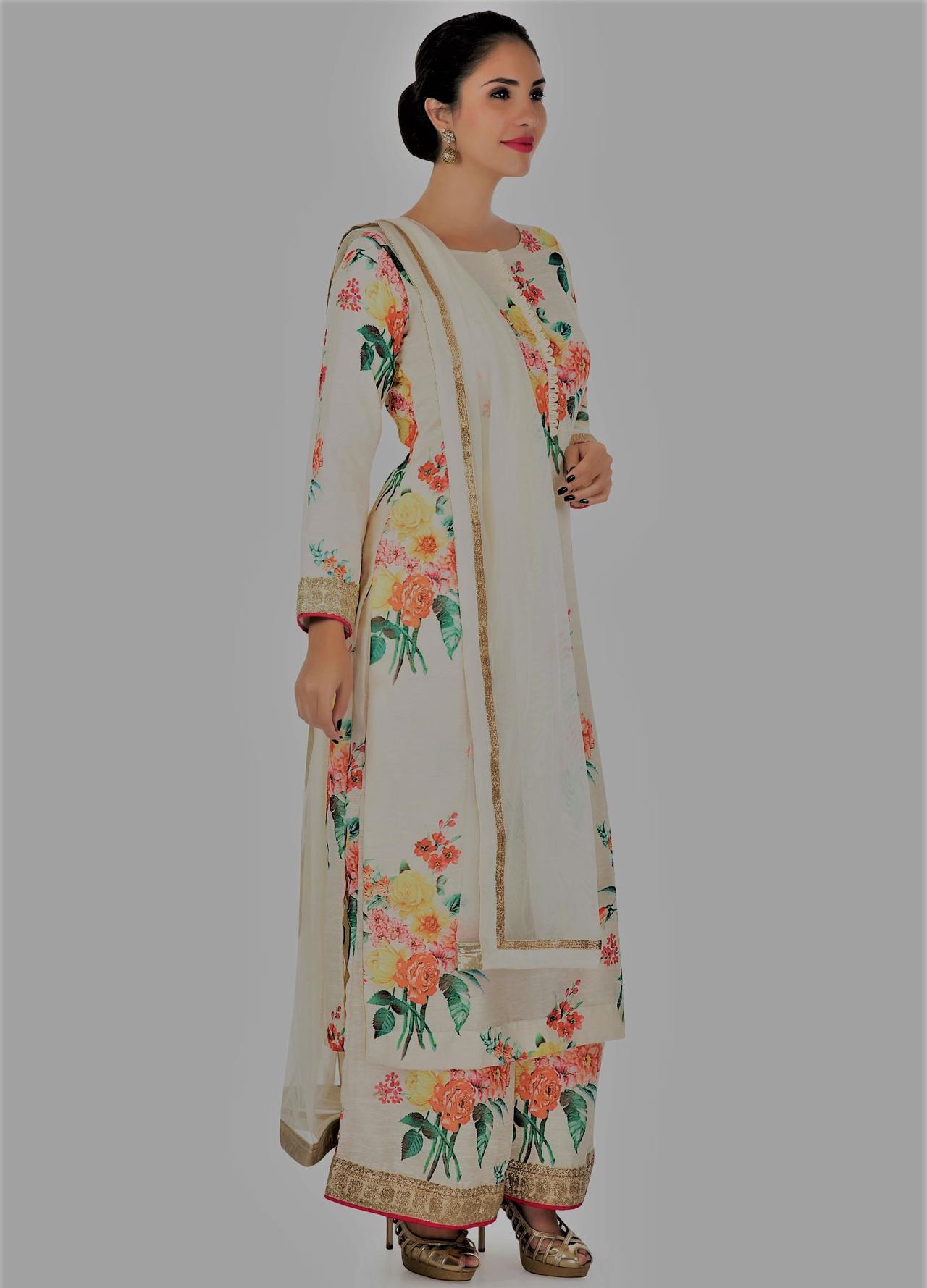 Image Courtesy: Kalki Fashion
One of the many reasons why this designer long kurti with palazzo is ideal for a light wedding function is that it is made on raw silk, which is a lux fabric that exudes just the right vibe for a function. The yellow and orange flowers on the kurti make this garment ideal for a daytime outdoor event, like a Chuda ceremony held in someone's lawn! This outfit will make you look like you've made an effort, but it still has that understated look that is appropriate for a Chuda.
This designer long kurti with palazzo is priced at ₹5, 940
3. Sea Green with pastel roses!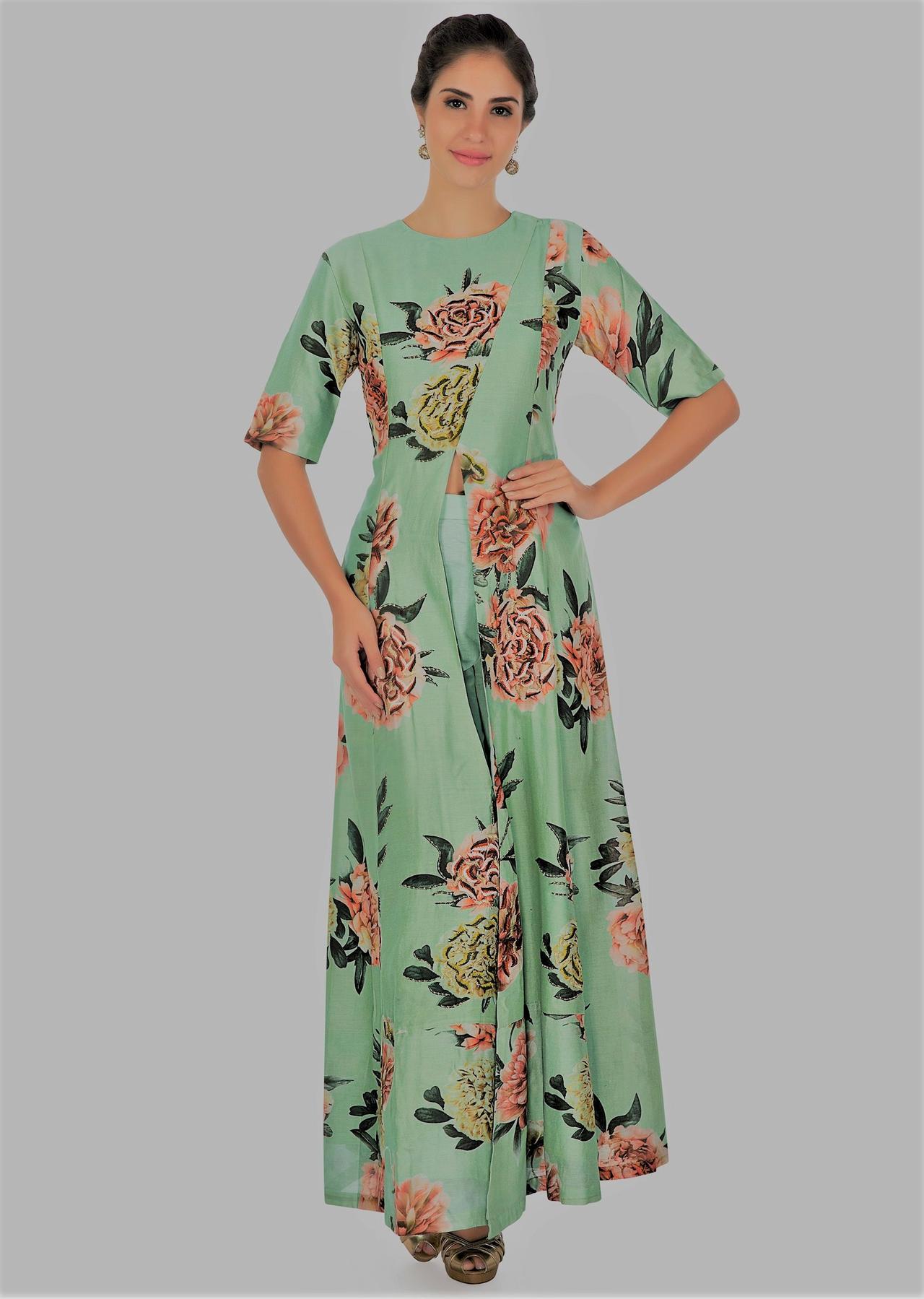 Image Courtesy: Kalki Fashion
Imagine walking into a Sagan ceremony wearing this gorgeous outfit! This is one of those outfits that bound to garner a ton of compliments. Made on Chanderi fabric, this outfit is definitely one that is formal enough for these occasions. The light pink roses add a great touch to the garment, making you look super on-trend. If you want, you can wear pink roses in your hair to complete the look. This will look great if you tie your hair in a top knot!
This designer long kurti with palazzo is currently sold out, so we can't really tell you what it is priced at! But, that does tell us that is a super popular one!
4. Peach and off-white kurti and palazzo!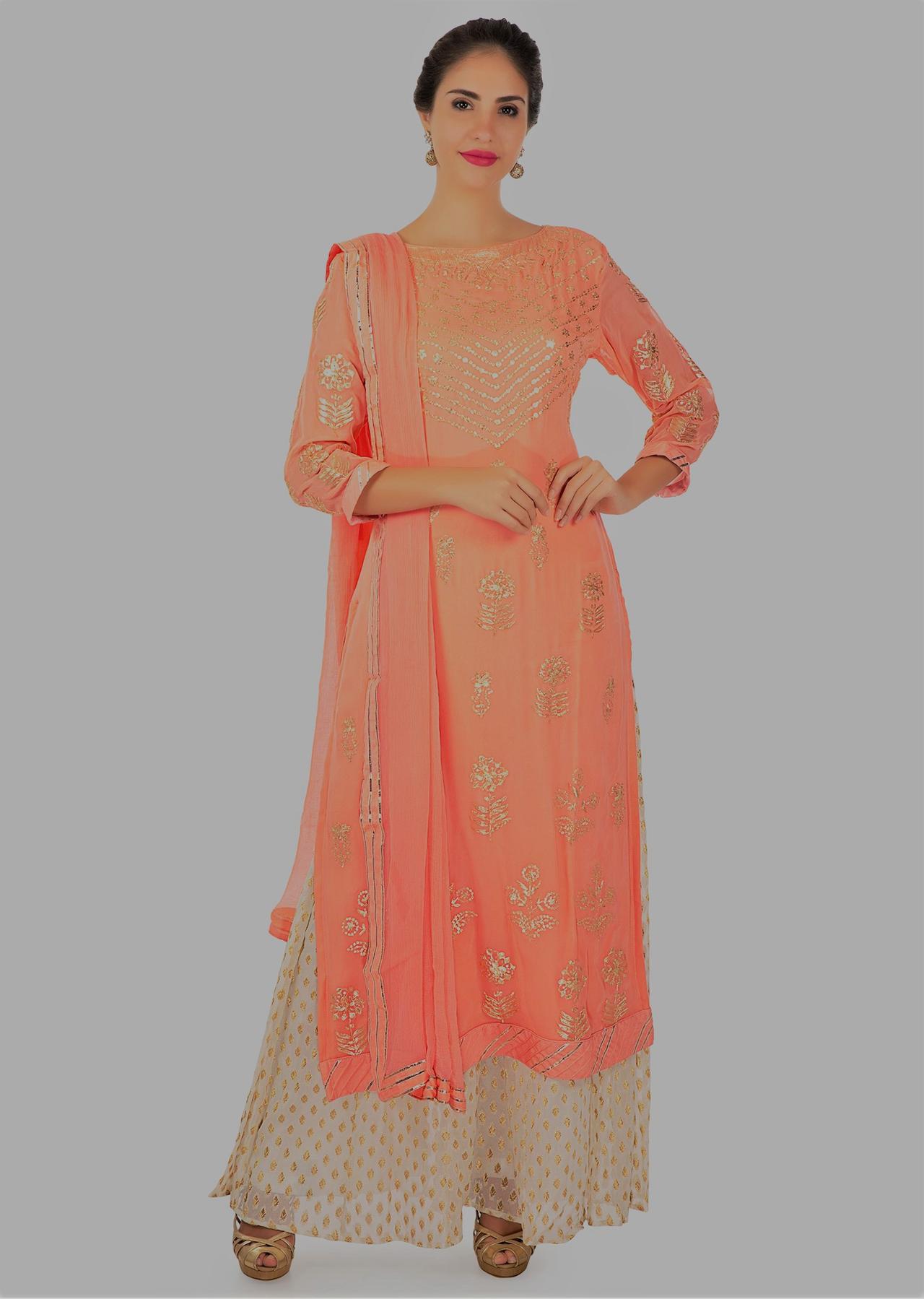 Image Courtesy: Kalki Fashion
This designer long kurti with palazzo is one that is totally on-trend, as peach is one of the biggest colours this season. It is designed with beautiful zari work all over, making it a lovely ensemble to look at. The off white palazzo pants also contain light zari work that matches the kurti, and a chiffon dupatta completes the entire look. Be sure to wear this with heels as the fall of the kurti and the pants will be accentuated in a better way with them.
This designer long kurti with palazzo is priced at ₹10,140
5. Pistachio green kurti with gold work!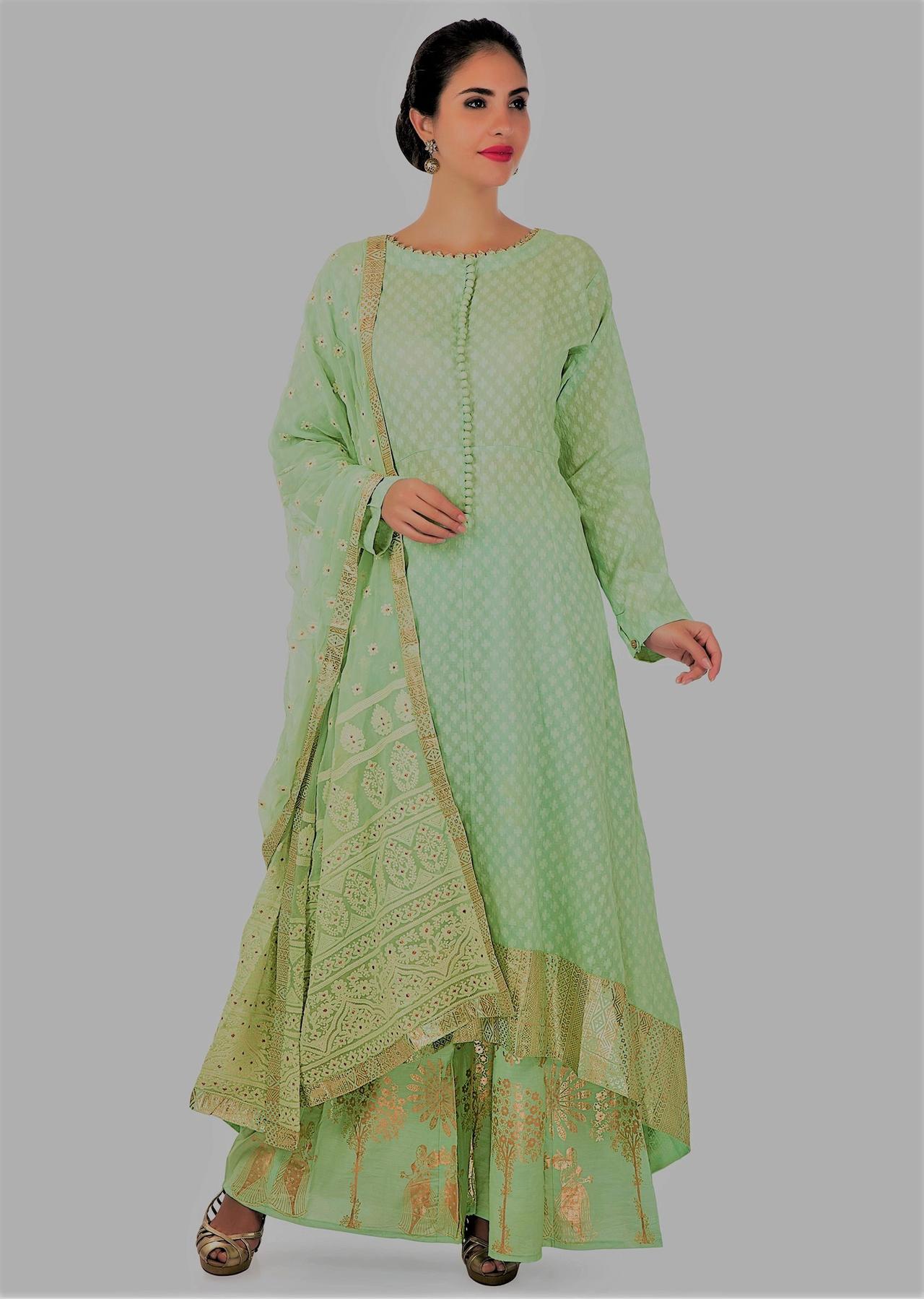 Image Courtesy: Kalki Fashion
With prominent gold foil work, this is an ensemble that is absolutely stunning. Its design makes it a piece that is stunning for the Sagan and Chooda alike. You can also wear this to the Mehndi ceremony if you want a subtle look during the function. Add like gold shimmer on your eyelids to match your outfit and we guarantee that you will look absolutely lovely!
This outfit is also currently sold out on the brand's website! Looks like more people were as in love with it as we are!
Now that you've been through this list, we're sure you're feeling a little more at ease about the outfit options you can explore for lighter ceremonies! Take your pick of these beautiful designs and you'll look amazing!
Get in touch with our makeup artists for looks that are appropriate for lighter ceremonies!