Kerala Saree Designs That Are Great Both for the Bride and the Wedding Guests for a Kerala Wedding
If you are the bride then you have a lot to consider while picking your outfit. Look at some of the best Kerala saree designs that we've curated for you!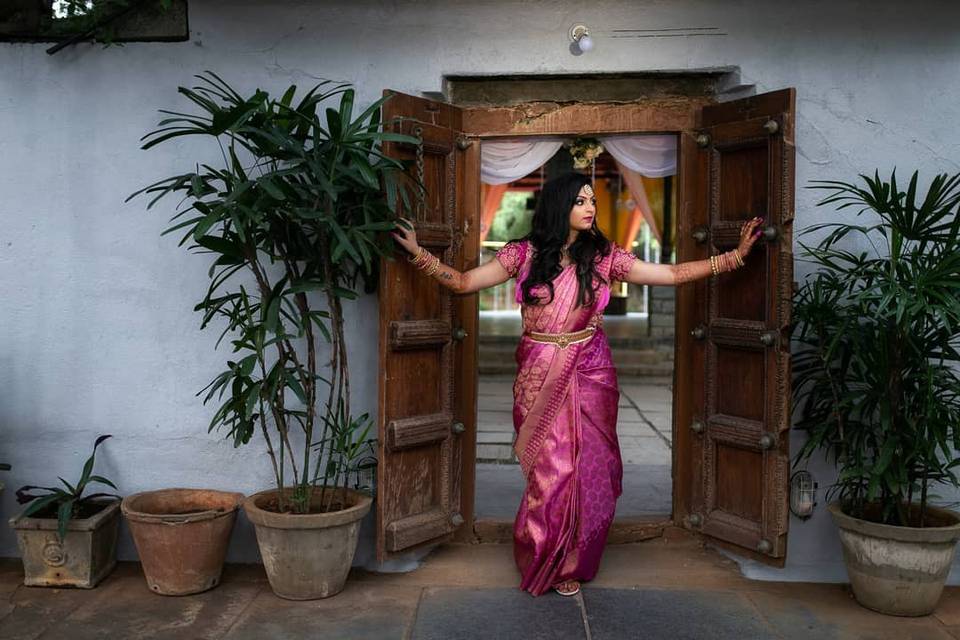 When it comes to sarees from south India, women cannot stop gushing over them. Such is the craze over these traditional garments. The Tussar silk, the Kanjeevaram saree design, the colours used, everything is unique in its own way, making it extremely popular among women from not just India but the whole world. All the states in the southern part of India have different designs and colours that they prefer.
Here, we are talking about Kerala saree designs for not just the bride but for the guests at the wedding as well!
In Kerala, the most popular saree design is the Kasavu, which is quite similar to silk but not exactly the same. It is popularly worn as both the bridal and non-bridal outfit. The sarees do not have too much heavy embroidery and are lovely even without the use of any mirror or stone works, making the sarees extremely lightweight and easy to carry.
Now that you know the basics of what most of the sarees from Kerala look like, let us delve into some of the best bridal and non-bridal Kerala saree designs.
1. Beige saree with an embroidered green blouse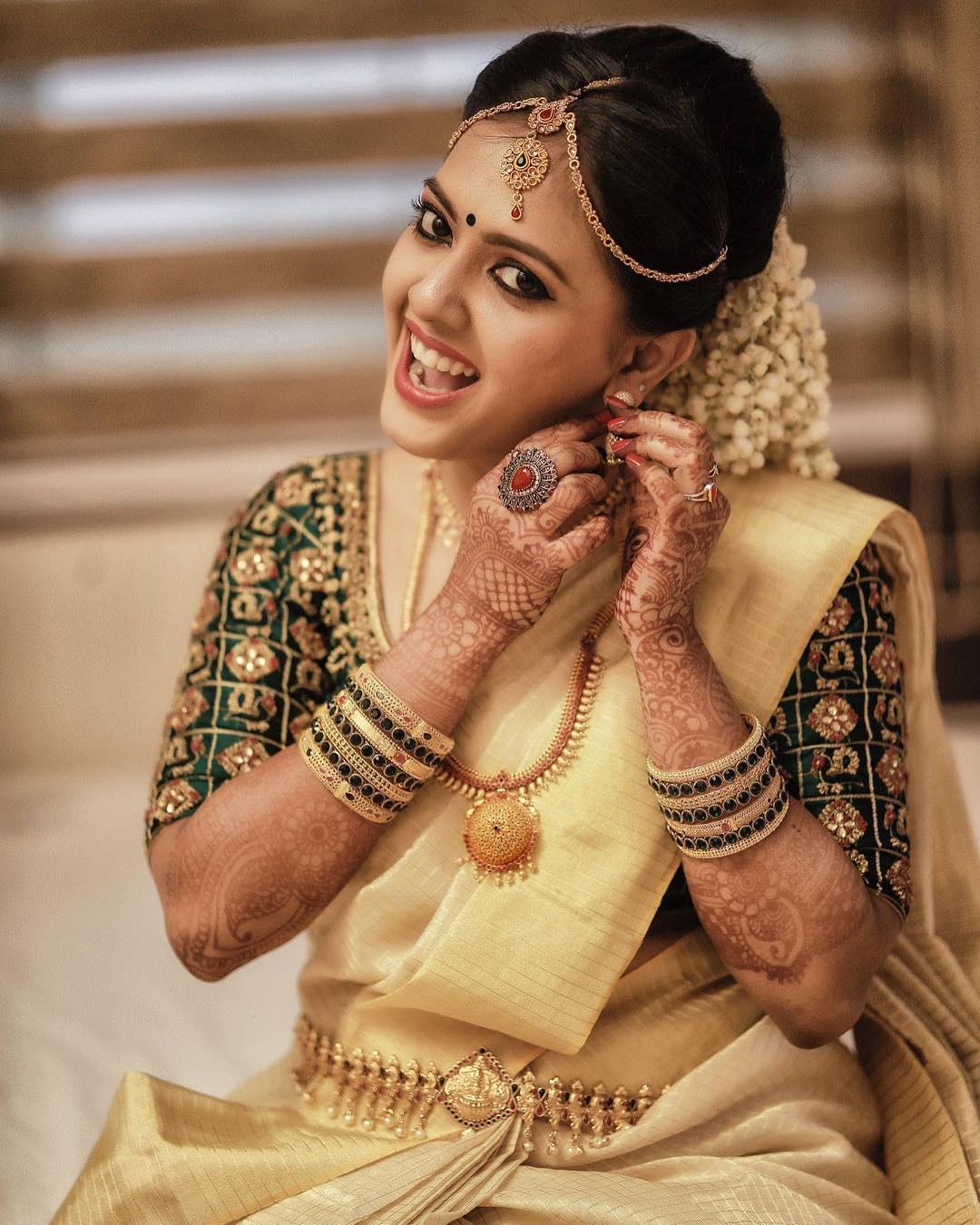 Image Courtesy: Kerala Wedding Styles' Instagram
When you think of Kerala saree designs, the first thing that comes to mind is the beige or the off-white colour with golden embroideries and contrasting blouse. The Kasavu texture with golden embroideries makes it the ideal Kerala wedding wear. Here, the blouse used is the classic dark green one with patterned embroidery designs all over it.
You can choose the material of the blouse and, as per the norm, it can be either cotton or velvet. Furthermore, the saree must-have designs using green threads as well. Similarly, you can choose other shades as well according to the colour of the design you have on your saree. Blouse embroidery designs are a great way of adding versatility to the saree.
2. Ditch the traditional colours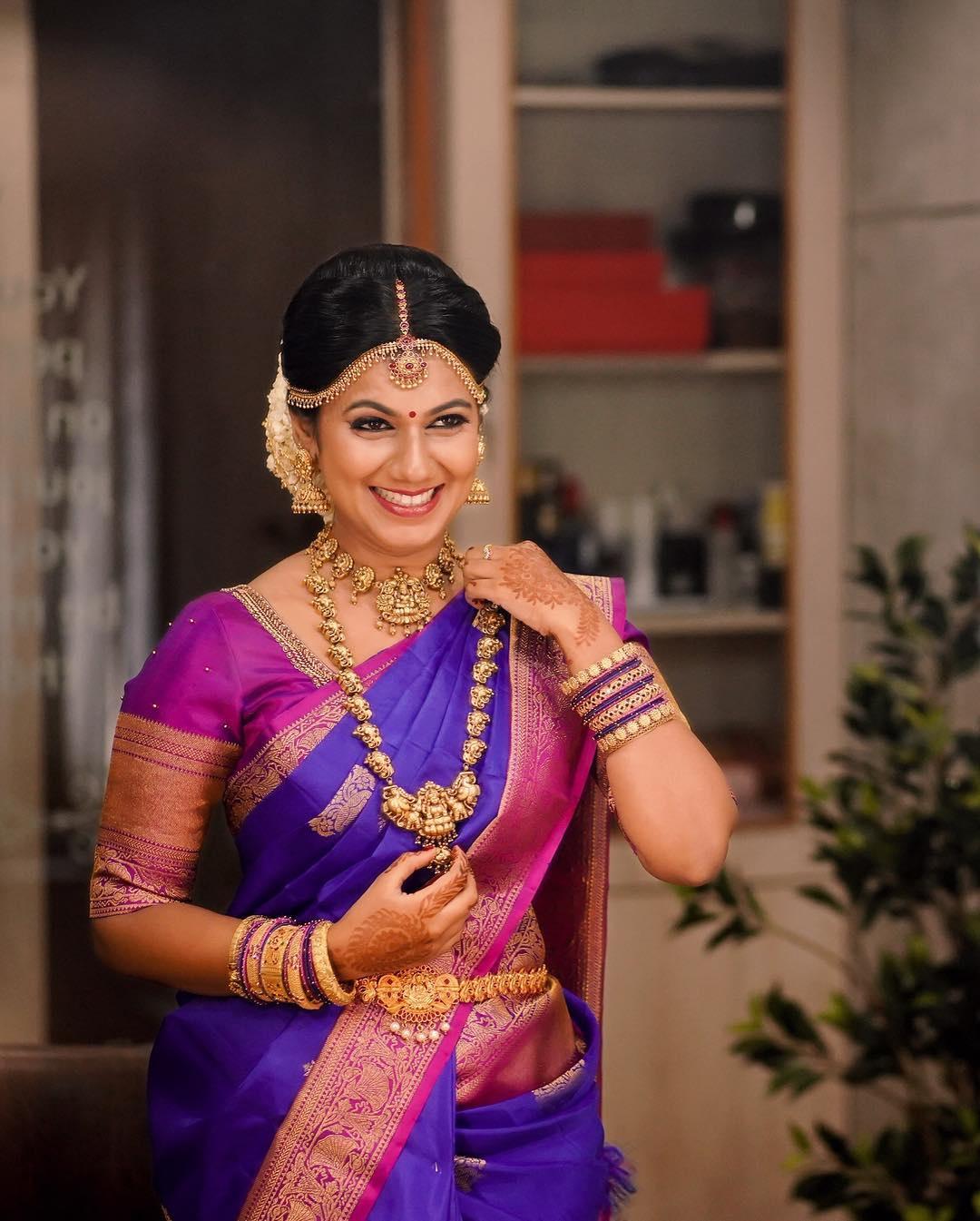 Image Courtesy: Kerala Wedding Styles' Instagram
Kerala saree designs allow you to have an incredible number of options to explore due to its design style. So, why stick to the usual colours you see on everyone? Even the colour combinations you may believe will clash can end up looking good here, thanks to the sheen that silk gives to the garment. A combination of purple and violet is not something you usually think about in a saree but look how gorgeous it looks!
You can accessorise your saree accordingly to complete the ensemble. Make sure all your jewellery is to the point with this saree. Nothing should look over the top as everything pops in this colour.
3. The classic red and golden saree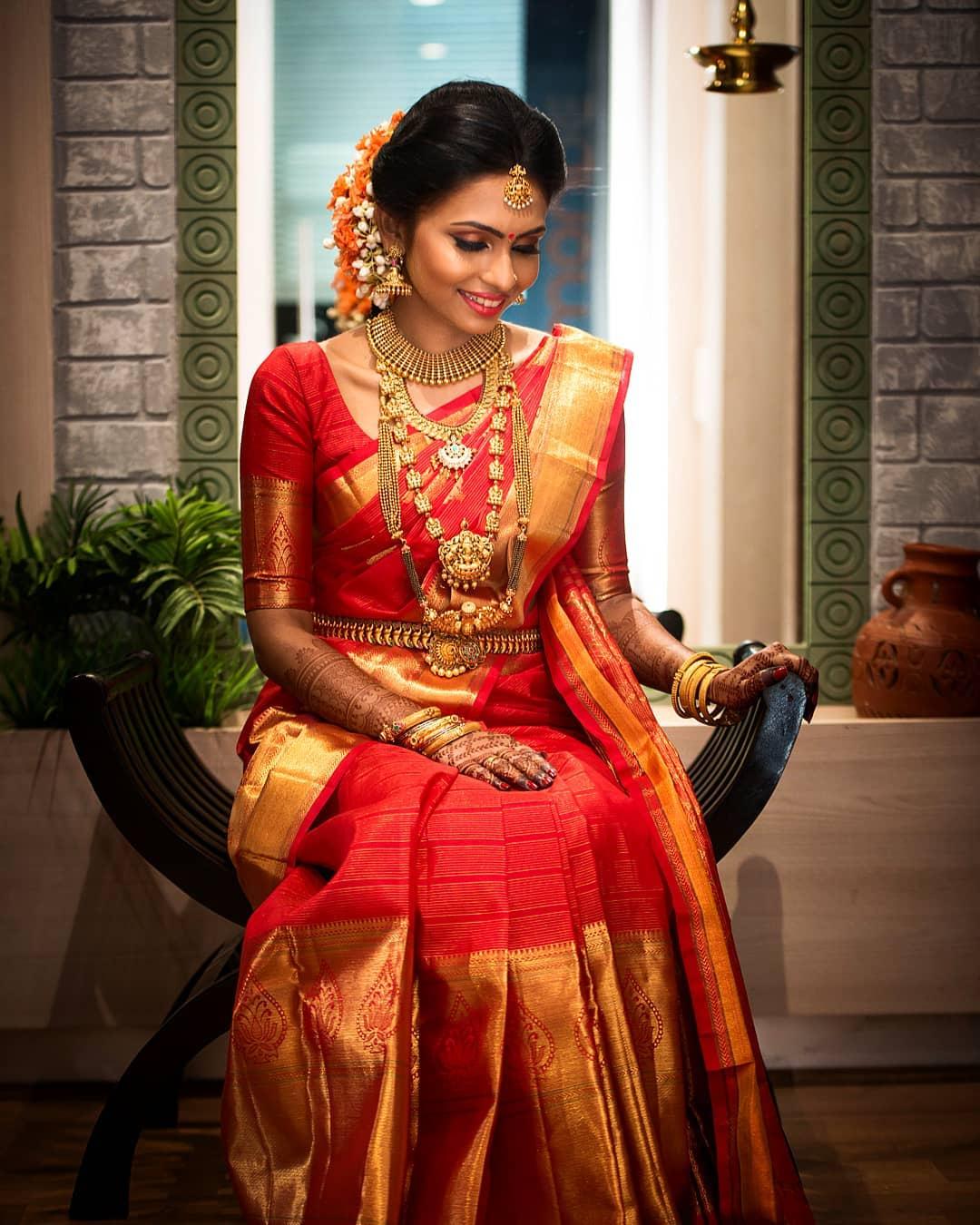 Just like in any culture in India, red tops every other colour when it comes to wedding outfit in Kerala too. Here, you can see a Kanjeevaram saree with Kerala style design and embroidery works in golden colours. The combination of red and gold can never go wrong, especially for a Kerala bride who wears a lot of gold jewellery.
You may go for temple jewellery to enhance the traditional look even more. Furthermore, it provides a regal look as well, making you look nothing short of a princess from the Travancore palace.
4. A green saree with golden embroidery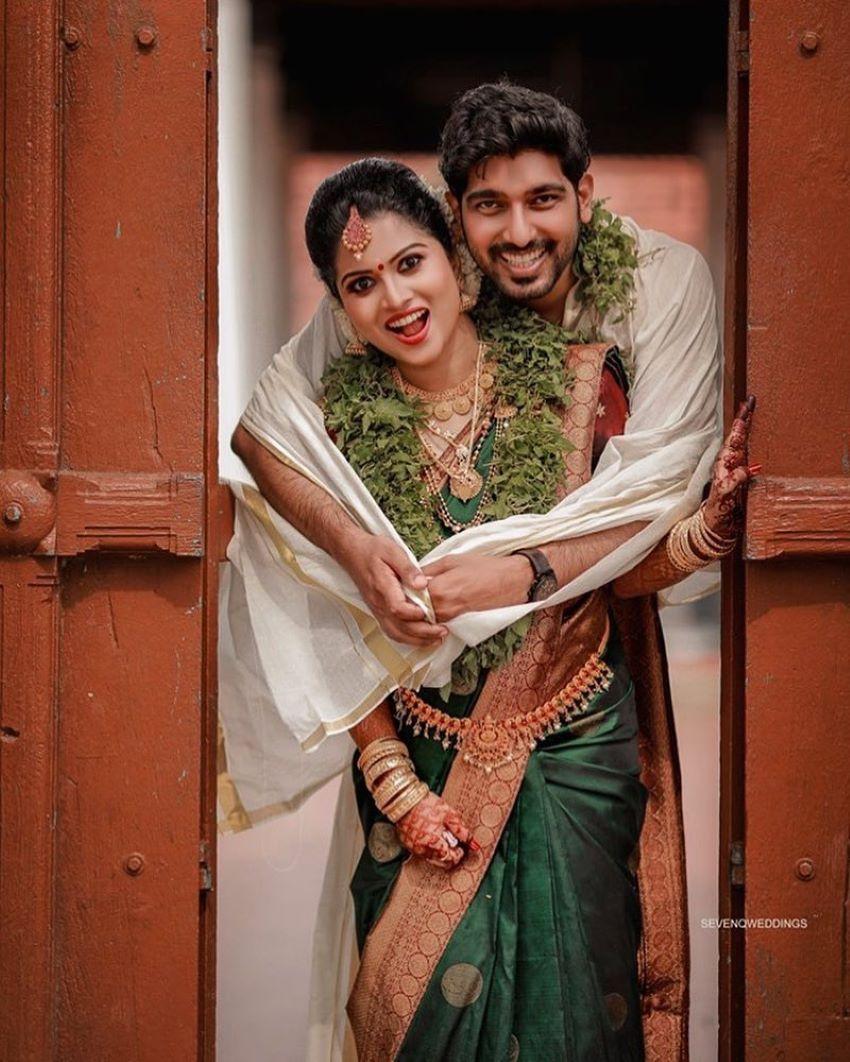 Image Courtesy: Kerala Wedding Styles' Instagram
Now, this is a great take on Kerala saree designs, as it is not the classic Kassavu or the typical traditional look but something that still looks authentic to Kerala. This green saree with golden embroidery looks simple but highly elegant. The jewellery matches the saree perfectly as well.
Moreover, it is perfect for a Hindu Brahmin wedding as they use a garland made of green leaves as the Varmala. It would complement the saree quite beautifully.
5. The rich silk saree with continuous designs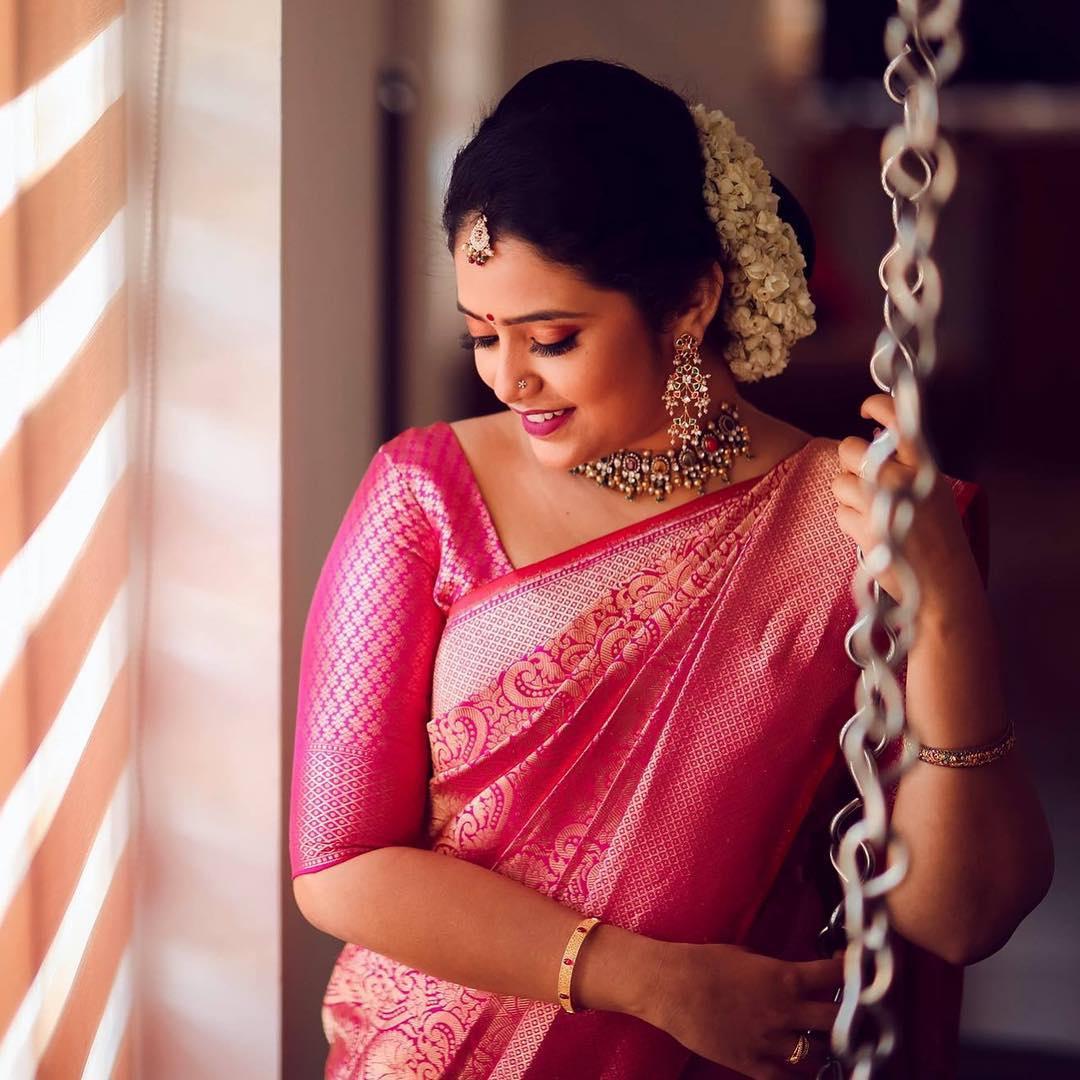 Image Courtesy: Kerala Wedding Styles' Instagram
This saree is the perfect example of Kerala saree designs that can be used as a bridal outfit as well as a non-bridal outfit. How many times have we seen the wedding dress never being used again? Such sarees allow you to wear your bridal attire again if you want.
It has the perfect blend of opulence with the continuous golden designs but is also subtle enough to make it perfect for you to wear to other occasions.
6. The simple look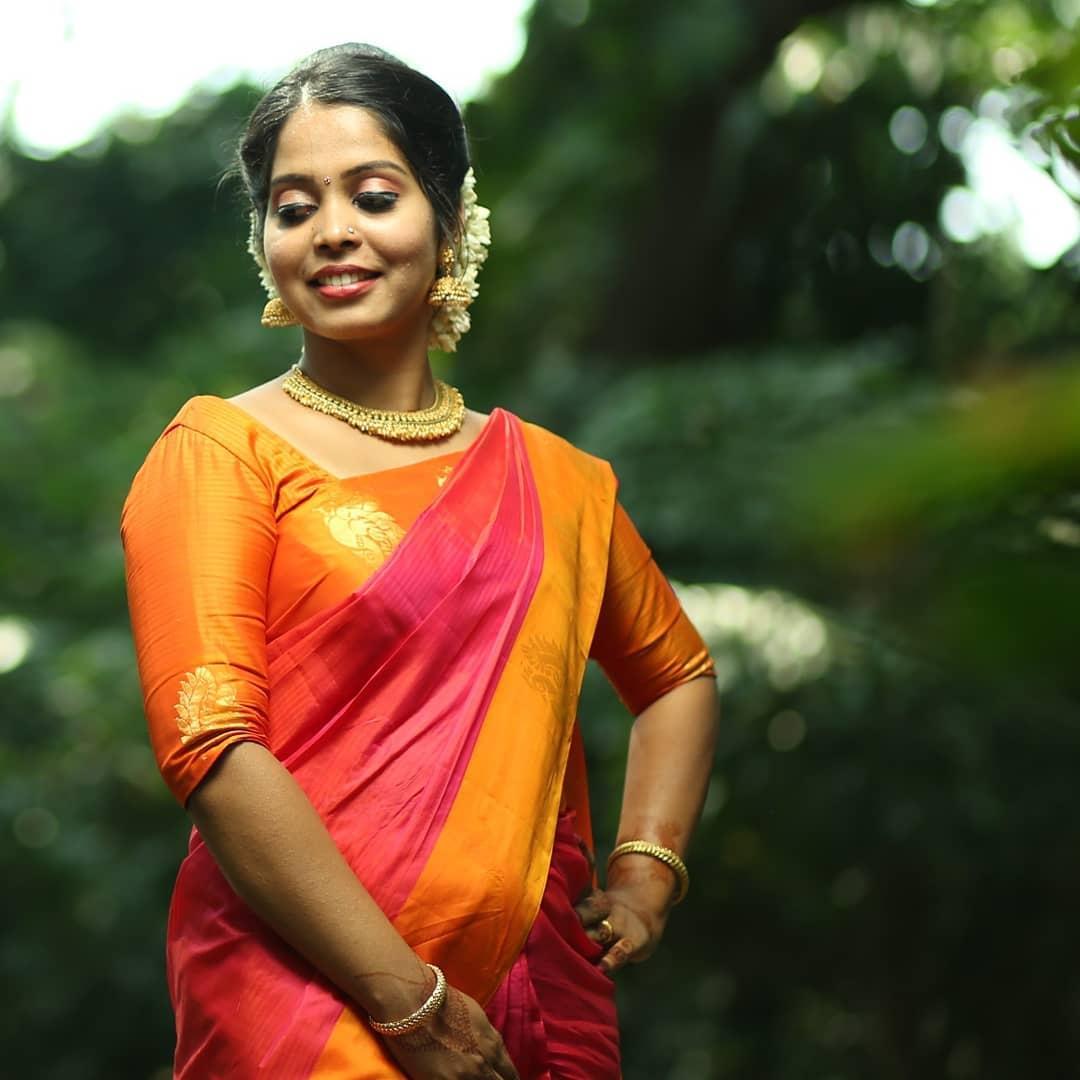 Image Courtesy: Kerala Brides' Instagram
When it comes to sarees from Kerala, the use of simple colours can also produce a charm like none. The colour combinations are perfect and they blend into each other seamlessly. The subtle use of golden designs makes it even better. You can experiment with the type of blouse design you want according to your preference. Wear a simple necklace and one beautiful bangle for each hand, to make it the perfect attire for a guest at a Kerala wedding!
Kerala saree designs are highly versatile and can help you create different distinct looks. In fact, with such a wide variety of Kerala saree designs, you can arguably wear this outfit for every function of a wedding, and still look different at each one!
Get in touch with our jewellery vendors for the perfect temple jewellery to pair with these outfits!