10 Dulhan Bangles That We Just Couldn't Stop Fawning Over!
Rock your wedding look with this modern take on Dulhan bangles with styling options for the bride-to-be! Check out this unique mix of traditional and contemporary!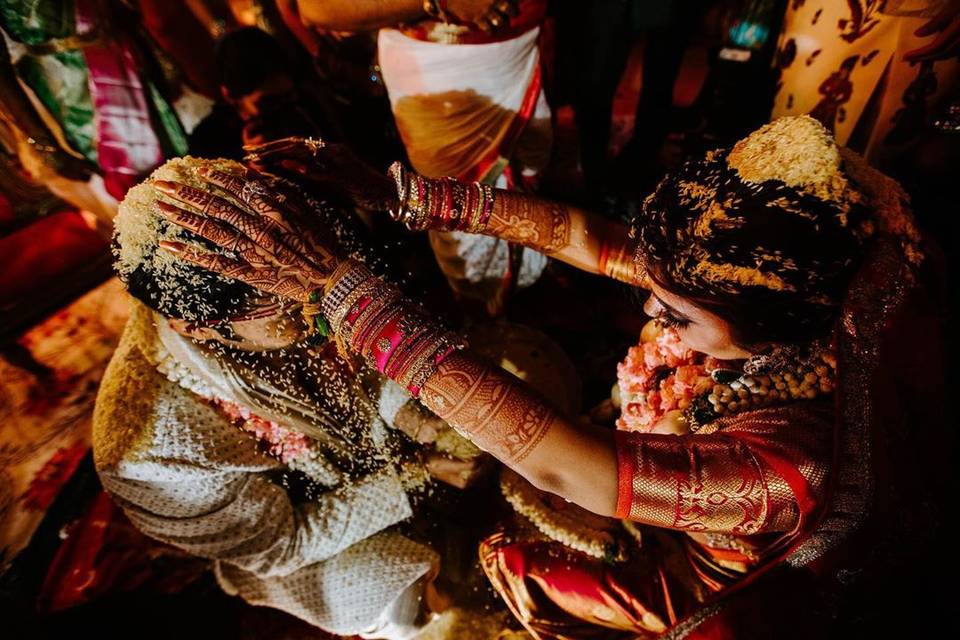 One of the most significant features of the quintessential Indian bride would be her bangles. Over the years, though bridal couture has seen a tremendous amount of change and evolution, some things that will always remain close to our hearts are traditional elements that define every bride. Dulhan bangles happen to be high up on that list and represent vitality in the wedding culture and the bridal etiquette that has been passed down over generations of brides.
Here are the trendiest ways to level up your traditional Dulhan bangles and complete your bridal look with these truly admirable hand accessories.
The classics with Red Bangles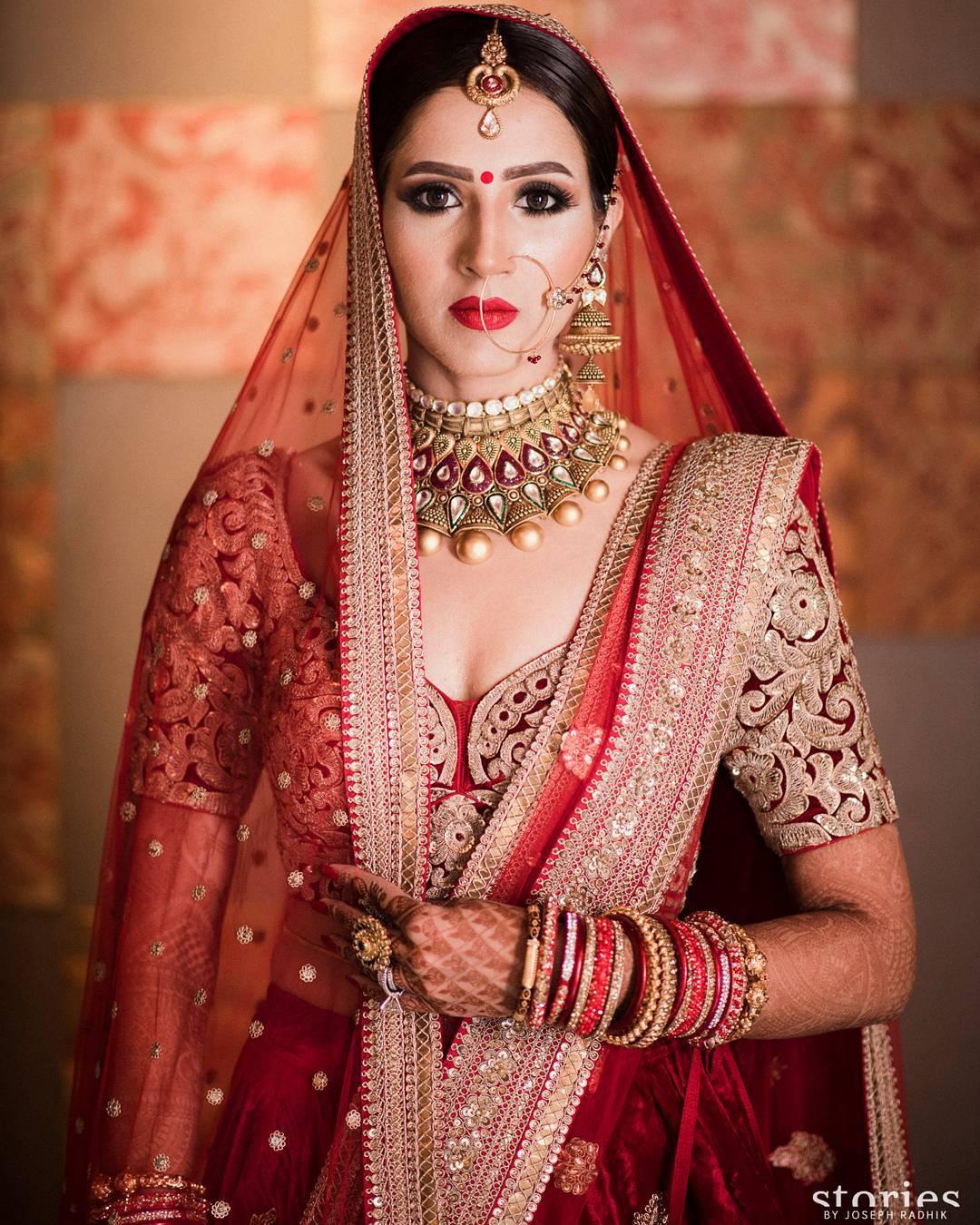 Image Courtesy: Stories by Joseph Radhik
This set of bangles is made by mixing and matching various designs and styles to create a unique look to adorn your hands with. They would be perfect if you want to experiment with fun combinations and put together a dazzling set of bangles. The mix features glittery bold red shades alternated with gold plated sets for a twist on the classic bridal colours. Accessorise your bridal lehenga with this set to get a glamorous finish!
Multi-coloured Bangle Set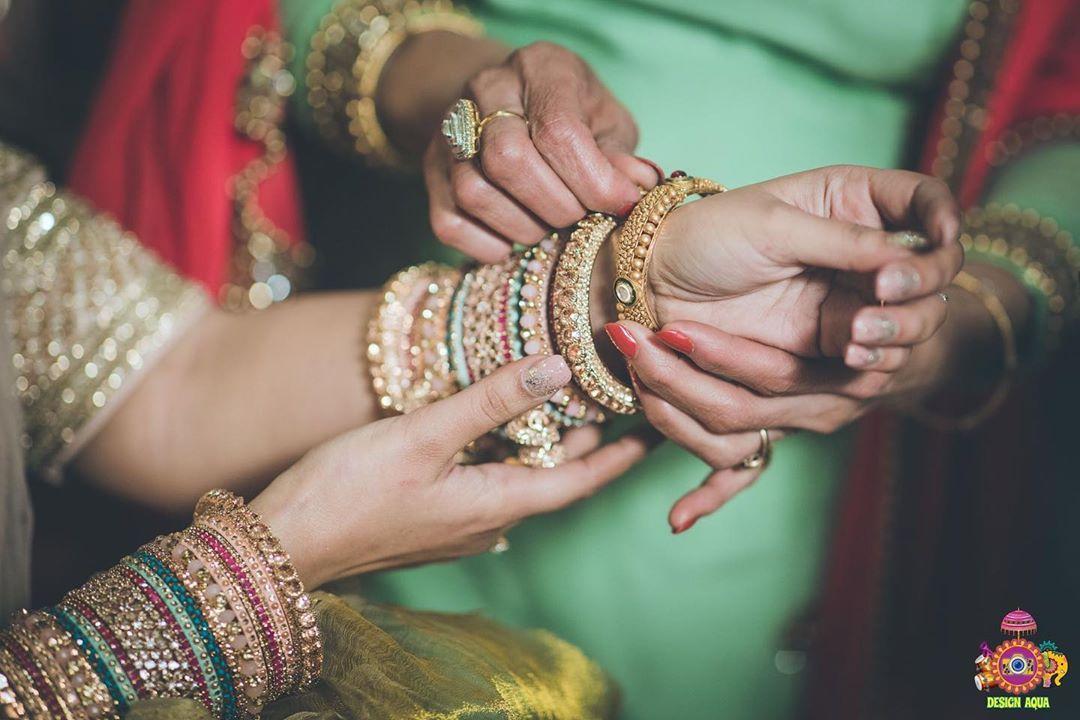 If you want to add more colours to your bangles try doing this. Pick out milder and brighter shades from your bridal outfit and incorporate it into your traditional set of bangles. It will elevate your style and would give you a flawlessly stunning look with little effort. The stonework on each bangle or colour palette may vary but the overall effect will complement the entire set as a whole, perfectly.
Rich Brown Shades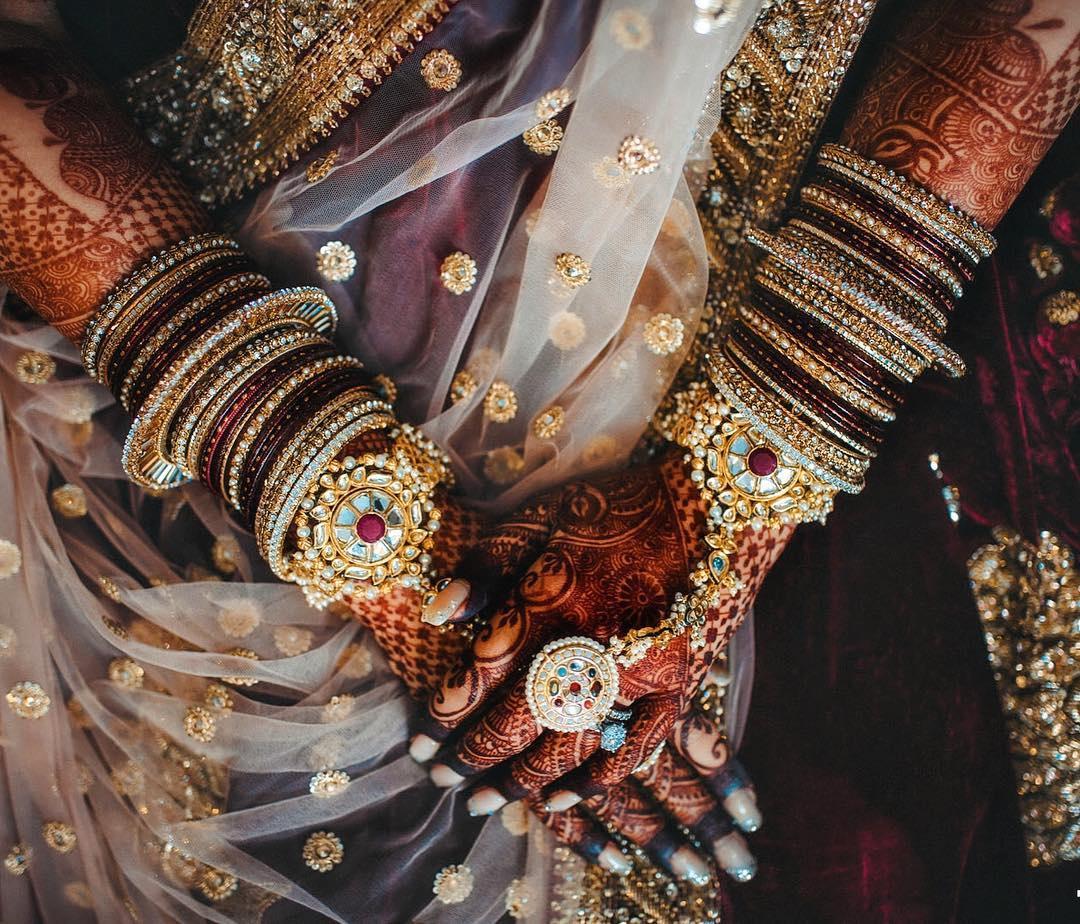 This arrangement of deep coloured Dulhan bangles mixed in with gold and crystal-encrusted bangles would make a killer combo with dark-toned outfits. You can accessorise your bridal wear with these deep shades to match velvety textures (and even duller colours will be elevated beautifully). The sets are alternated with metallic toned bangles to bring out the gold detailing in the outfit. Also, the bigger mirror studded bangle or Kada breaks away the textural uniformity in the set giving you an edgy feel!
Green Glass Bangles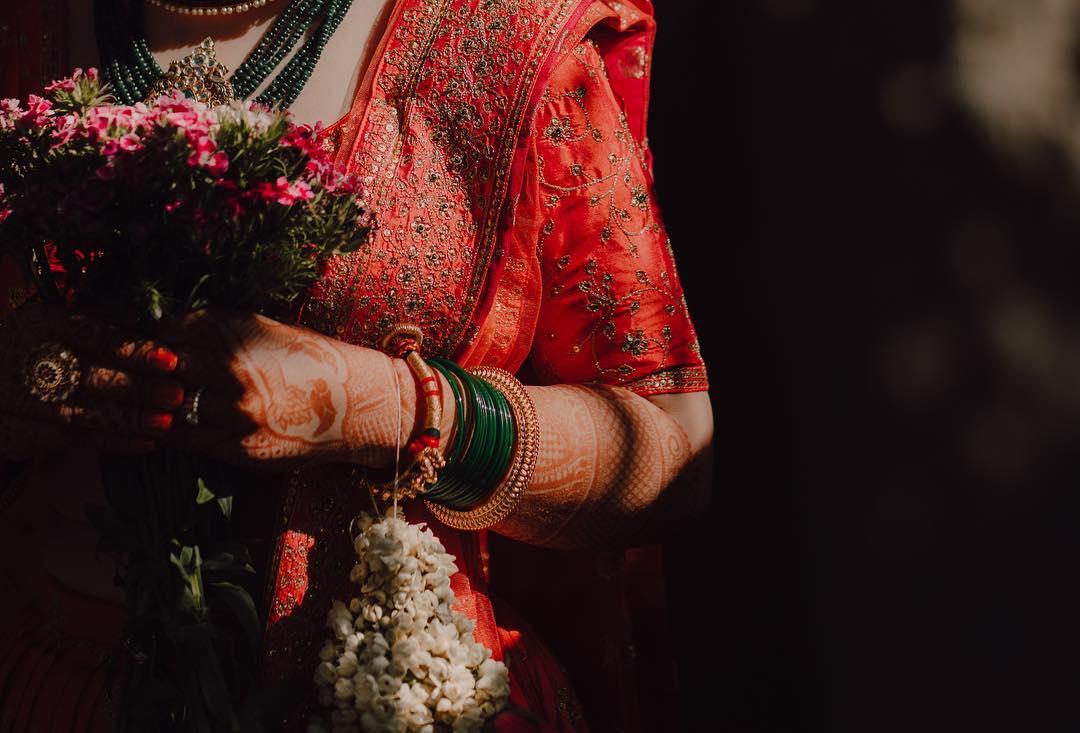 Go for a completely contrasting set of glass bangles to keep it simple and classy at the same time. This bottle green set of glass bangles delivers a contrasting effect that's perfect for all shades of red, bright oranges and cherry toned sarees and lehengas. Add a mismatched heavy gold Kada on either end of the glass bangles to finish the set.
Orange Bangles & Haath-Phools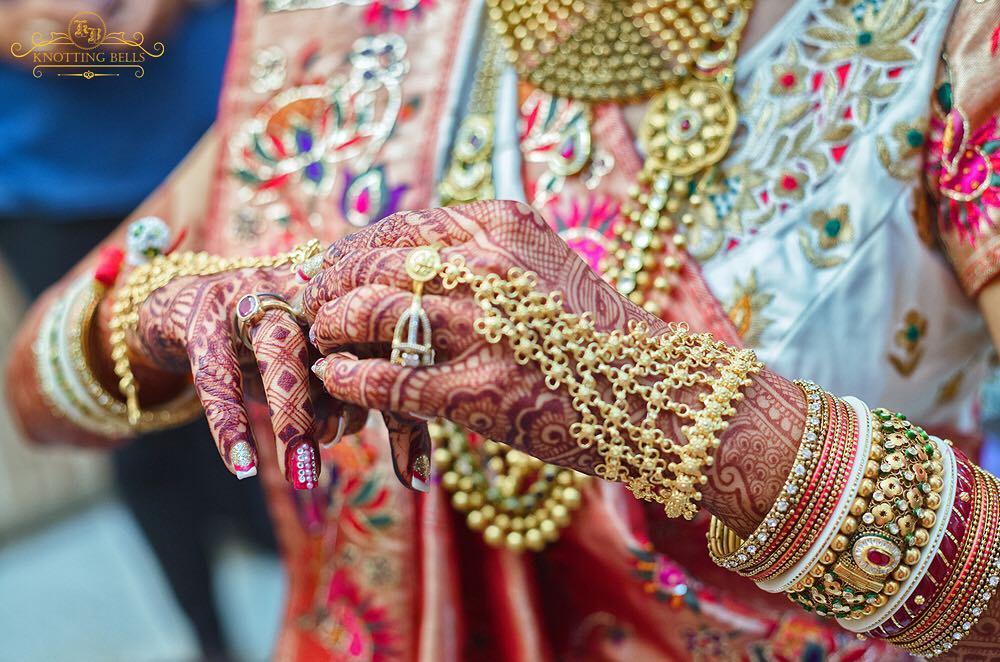 Often an additional accessory like a haathphool can go a long way to enhance your bridal jewellery set and gives a well-put-together look. A metallic haathphool would be like the icing on the cake for the Dulhan bangles here. The bangles have multiple styles and shades of red along with a larger antique style Kada as the centrepiece. The Kada can be set with Kundan, Meenakari or crystal detailing to give it a majestic appearance.
Purple, Brown & Sea-green palettes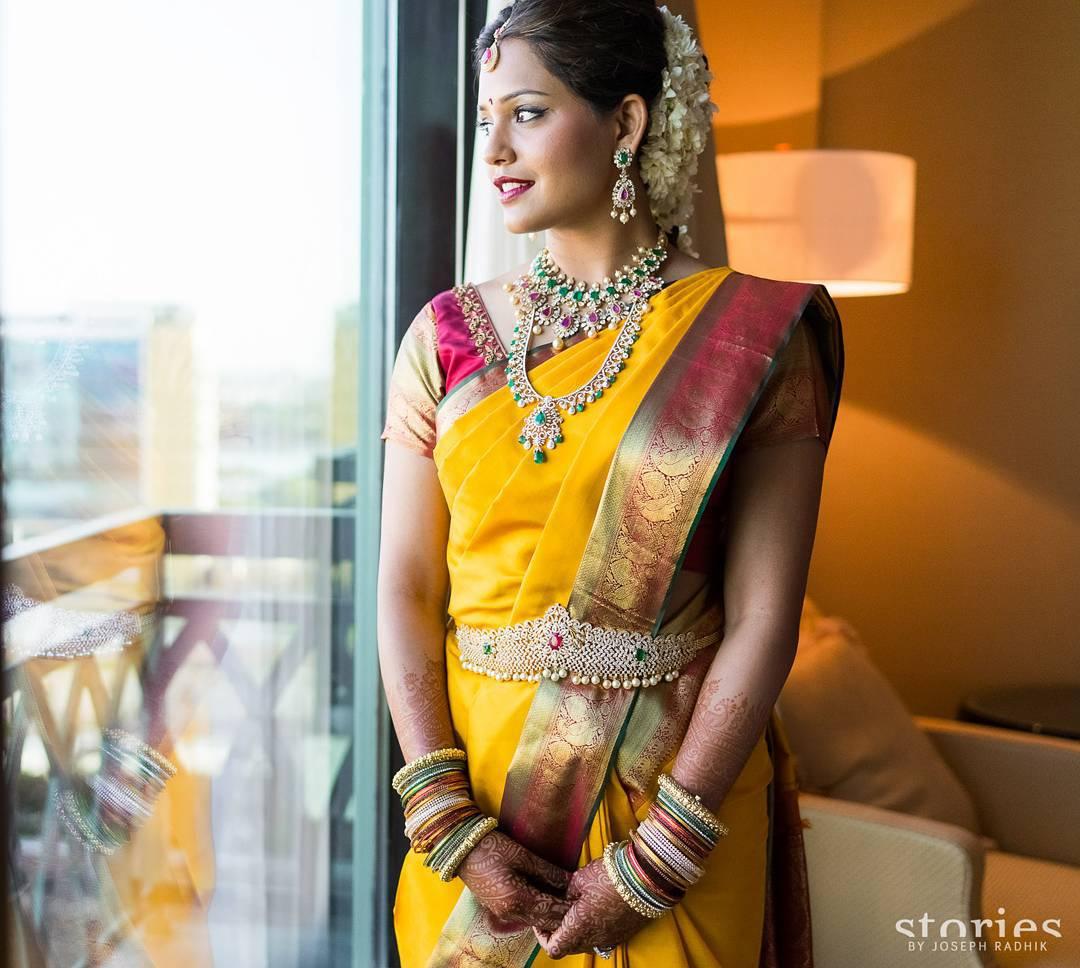 Image Courtesy: Stories by Joseph Radhik
A perfectly matching colour palette for your Dulhan bangles works wonders to upgrade your bridal saree look. This set captures the silk saree's textural elements and impeccably enhances the colour combination of the dual-toned borders. The heavier gold bangles used to tie up the ends of the set offers a great finish to the look. As each bangle in the set is thin and delicate, it can balance out heavier pieces of jewellery for the over-all bridal look.
Maroon & crystals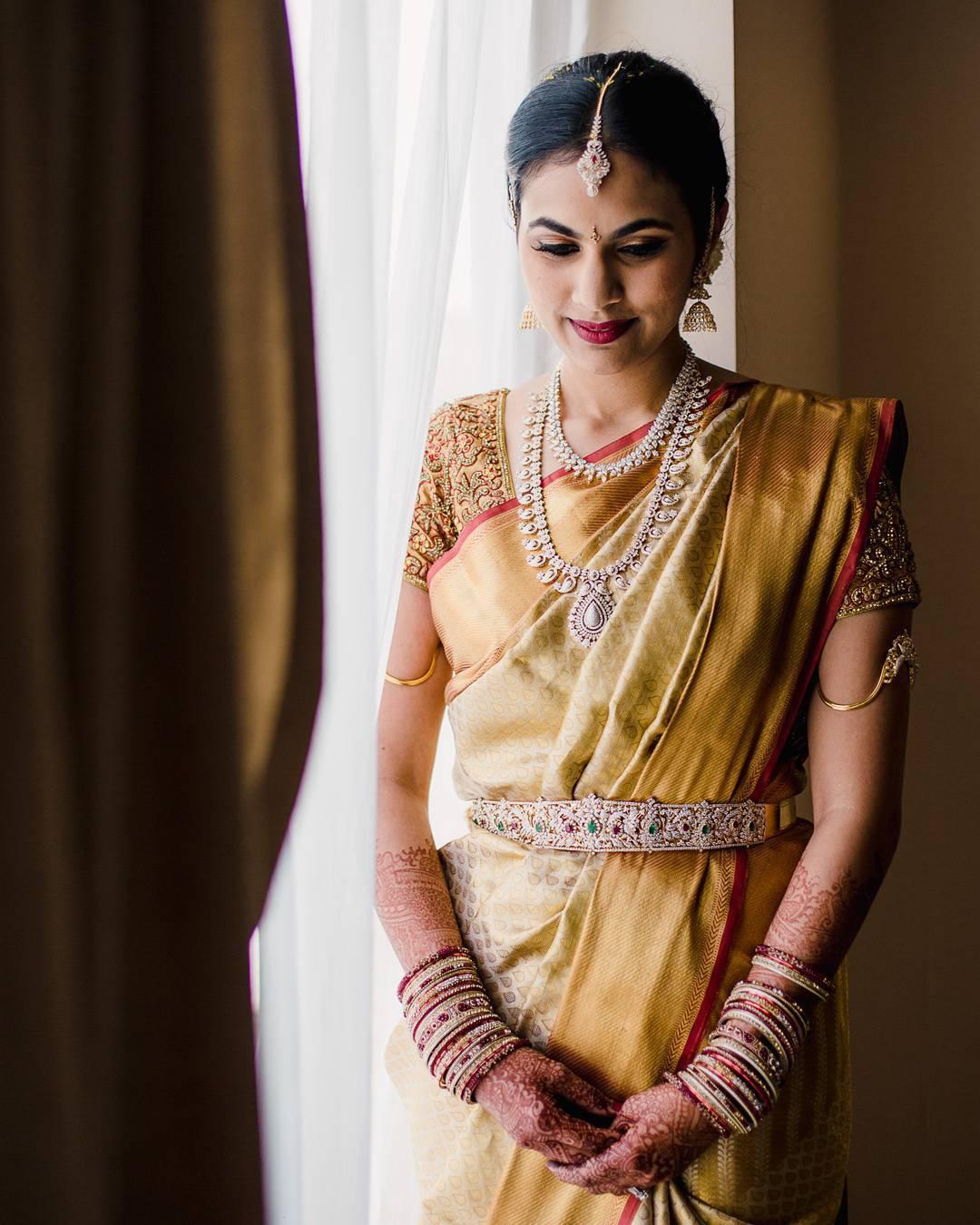 Image Courtesy: Stories by Joseph Radhik
Opt for this crystal-studded red and white glass bangle set to effortlessly match your bridal wear as they are one of the most versatile ornaments and go with many looks. These bangles work well with green, red and white sarees or lehengas that have gold detailing. It is a sensational look that never goes out of style. The white stonework allows room for experimenting with diamonds and white pearls for other jewellery elements to complete the look.
Purple & Gold
Image Courtesy: Stories by Joseph Radhik
Who said bangles are made solely for a bride? Get your bridesmaids lined up to show off some great bangle styles to make for some gorgeous photos. Use the colour theme from the outfits' distinctive colours for each bridesmaid and get ready for some fabulous moments to be captured on screen.
Pink Dulhan Bangles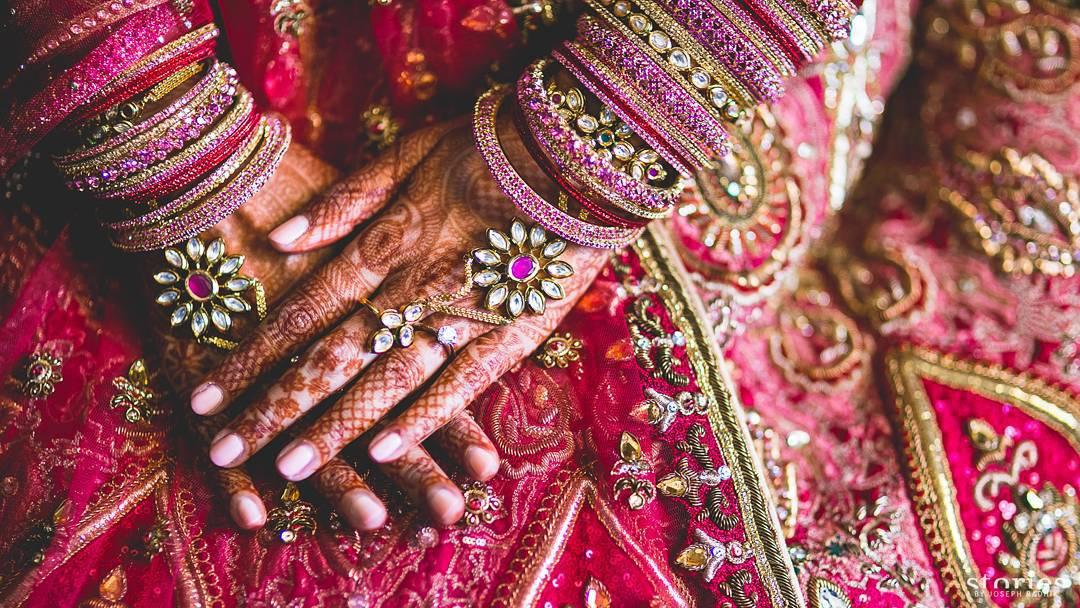 Image Courtesy: Stories by Joseph Radhik
Jazz up your bangle collection by adding a large set of glittery pink ones to turn up the heat. The heavy and intricate stonework on the pink bangles is balanced out with Kundan style bangles thrown into the mix. It is complete with Kundan style cuff linkers that bring out the milder tones in the outfit. You can pair this with any bridal wear outfit that has tons of pink in it.
Magenta Marvel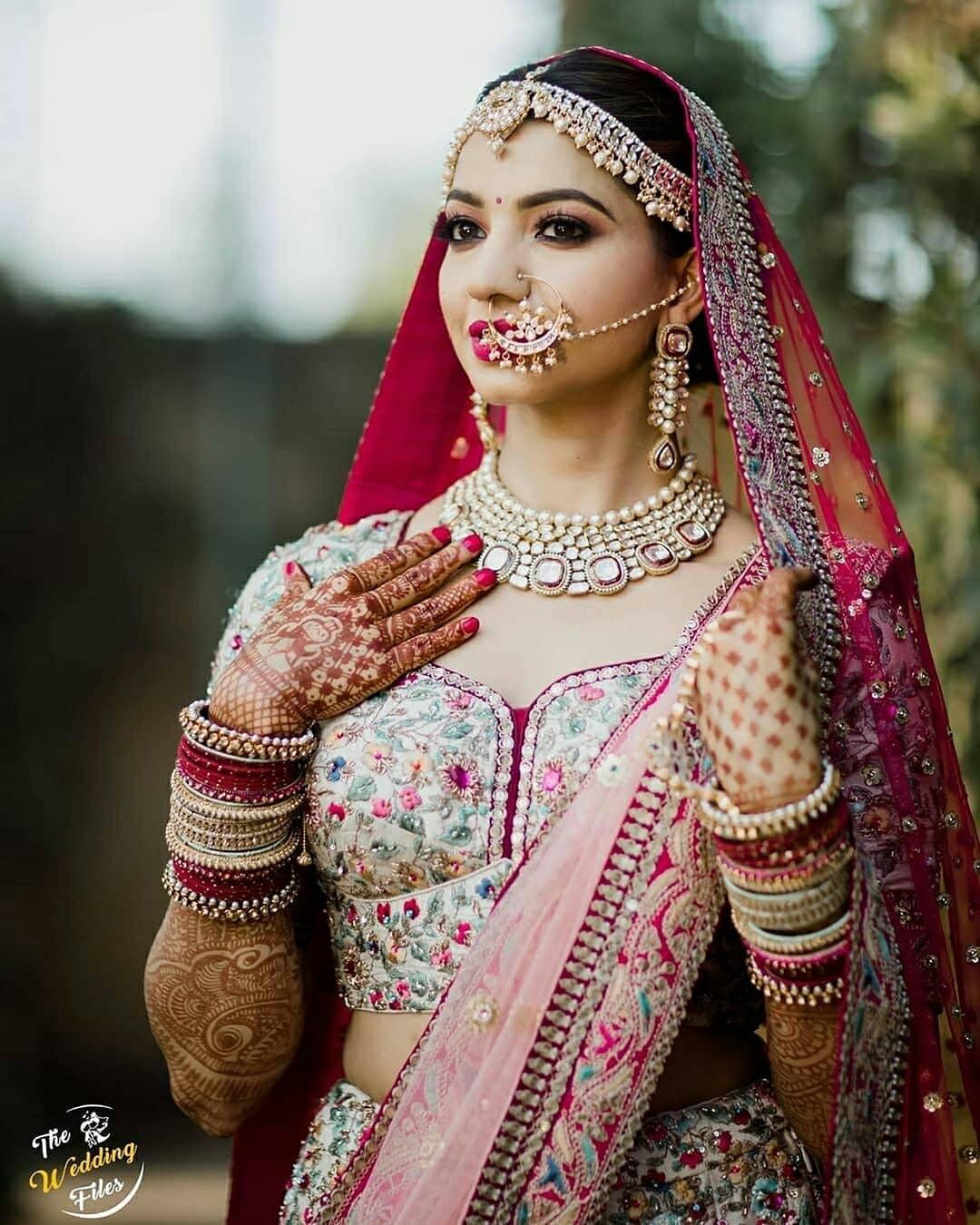 Image Courtesy: The Wedding Files
You can try to highlight a particular colour from your entire outfit with the Dulhan bangles. The remaining accessories can have a monotonous colour scheme with crystal and pearl detailing to give it an imperial appearance.
The magenta colour in the bangles gives a striking look and will make you stand out as a trendy bride. The deep magenta shade is complimented by gold and white bangle sets intervening to match the primary colours of the outfit. This logic will work well with any outfit. Spot a hidden colour that runs through the garment and use that as a foundation to build up your accessories!
Bangles form an essential styling feature when it comes to traditional bridal couture but stand for much more than just a sparkly hand accessory! Brides are known to handle their bangles with care as they are symbolic for the new life they will begin upon marriage.
These bangles are auspicious elements that are worn with pride. So rock your wedding look with this list of absolutely magnificent Dulhan bangles!
Check out these stores near you for the best bridal jewellery!