Colourful & Unique Silk Bangles Designs to Help You Steal the Show
Silk bangles designs are quite versatile & lightweight. If you plan to add a dash of colours & keep it easy-breezy for your D-day, here are the latest silk bangles for inspo.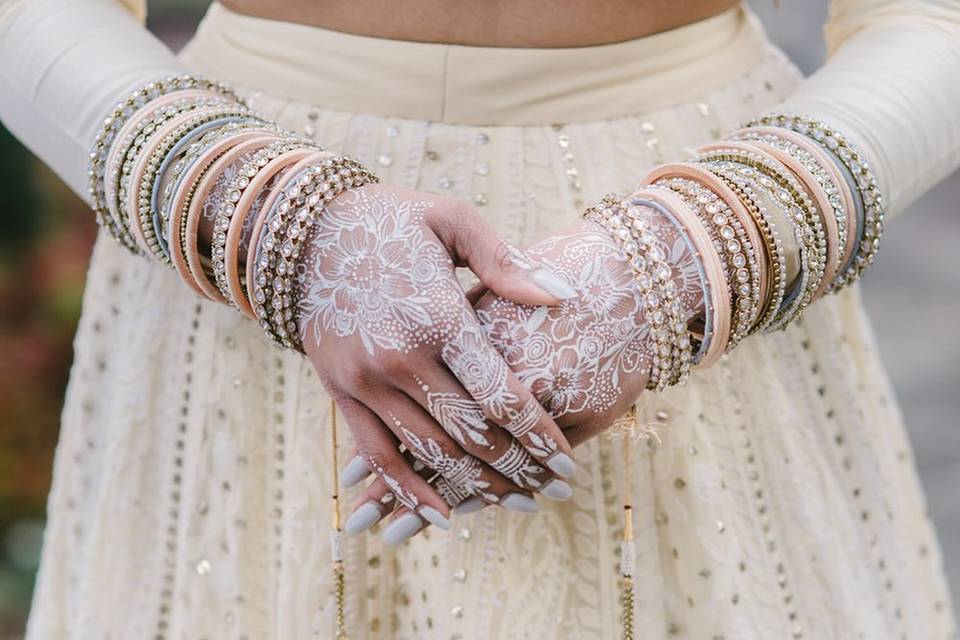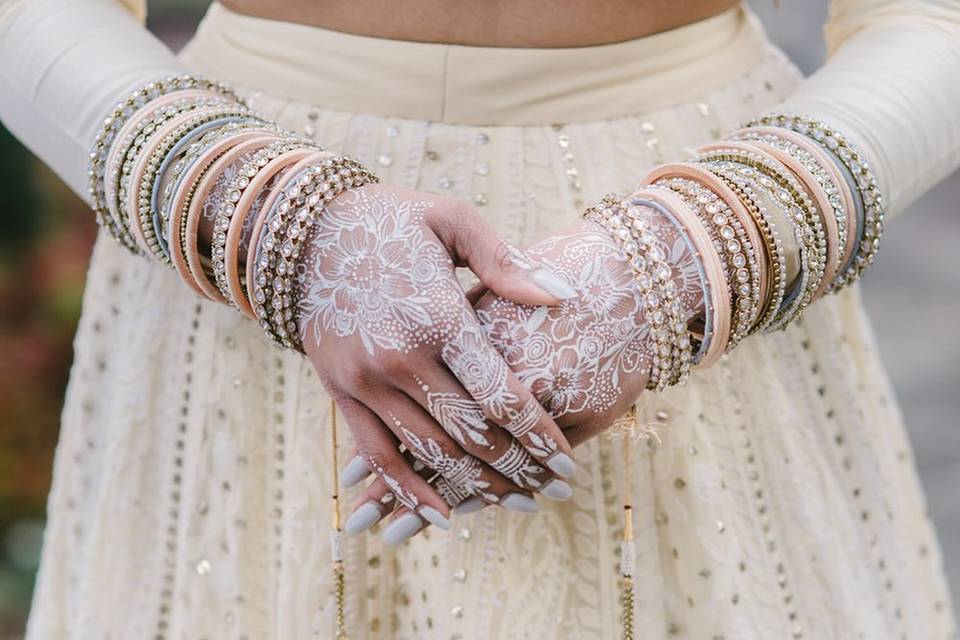 Image Courtesy: Strokes Photography
When we think of bangles for the bride-to-be, we instantly imagine beautiful gold bangles with elaborate designs and even precious stonework to make it more royal. While that is perfect for the wedding day, when it comes to thread jewellery we immediately relate to quirk and a fun pop of colours that is just right for other wedding ceremonies like the Haldi ceremony and the magical mehndi. The delicate threads of beautiful silk wrapped around the bangles make silk bangle designs scintillating.
These thread bangle designs are often crowned with beads, glass, pearls, studs, mirrors and other shimmery elements like a Gota Patti work to add to the bling. They are not only charming to look at but are also extremely lightweight and comfortable to be worn for long hours without any difficulty.
They are available in a host of designs like any other piece of bridal jewellery. You can pick the best set of silk bangles from options like stone-studded silk bangles, glittery ones, and abstract patterns, unconventional colours in broad Kangans. Silk bangle designs are a huge hit amongst brides who love to add that splash of colours to their #OOTD.
To inspire you and to help you pick from the various designs of silk thread bangles for the bridal trousseau, we have curated a list of the latest Indian silk thread bangles. Don't forget to bookmark and save your favourites.
Embellished Silk Bangles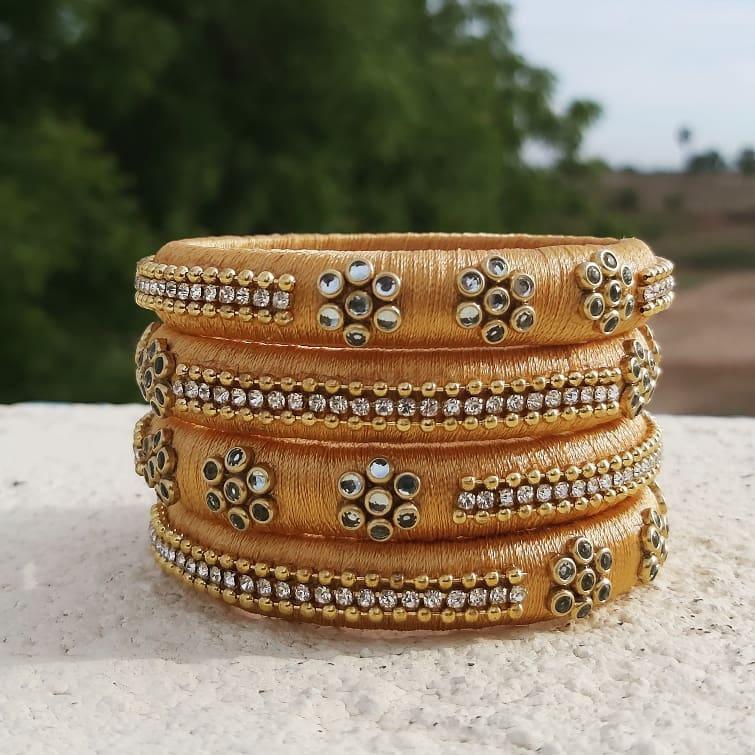 Image Courtesy: Threads and Crafts
A set of single-hued silk thread bangles set for brides that are topped with intricate stone-studded work alongside miniature beads is a beautiful addition to the bridal trousseau. The precision of the stonework on the vibrant thread bangle amps it up to be the perfect pick for your Haldi ceremony. If you are planning an absolutely conventional Haldi ceremony where everyone wears yellow or shades of orange to match it, you can opt for a similar set of yellow silk bangles designs.
Silk Thread Bangles with Jhumkas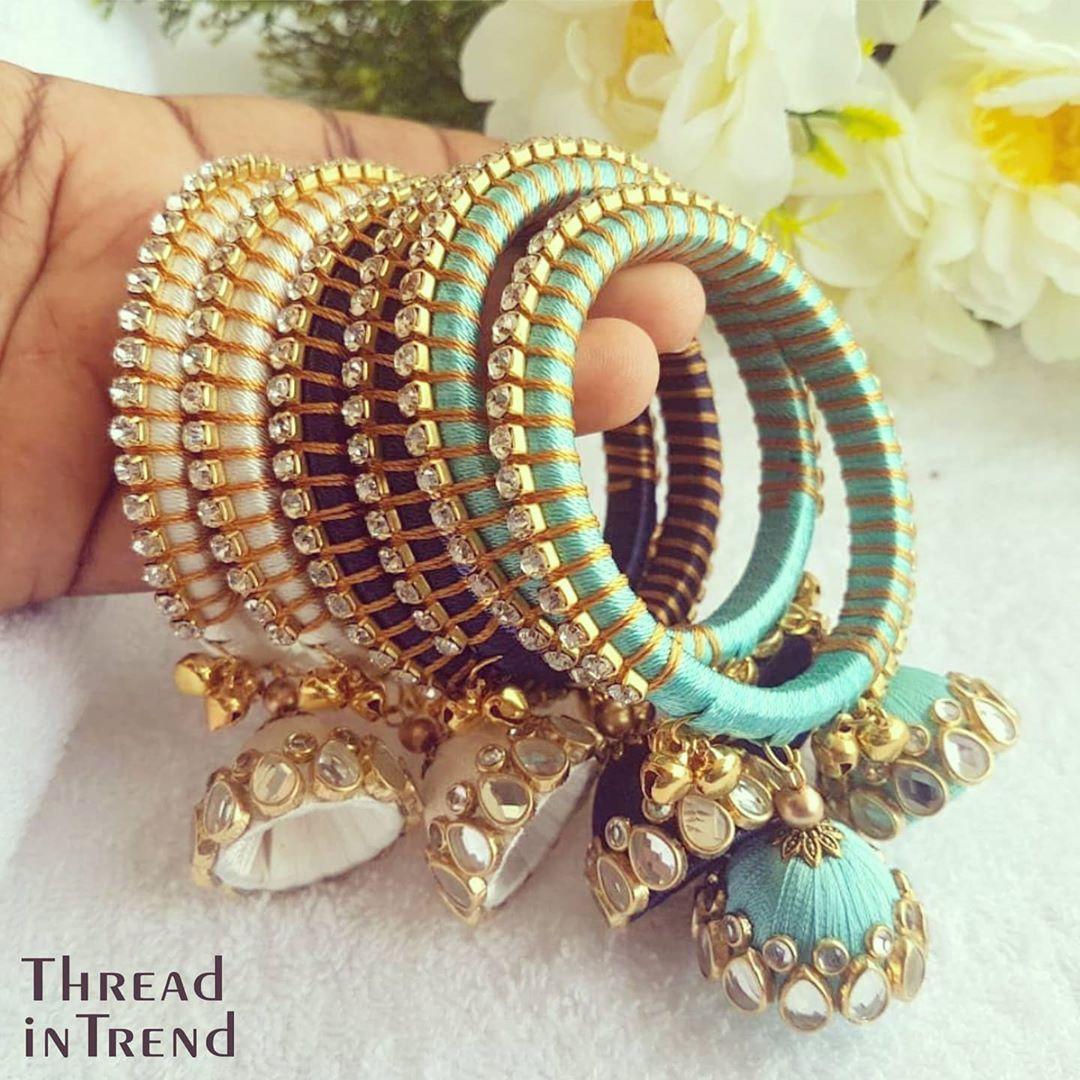 Image Courtesy: Thread in Trend
The colourful silk bangle designs are further enhanced by beautiful jhumkas attached to it. The jarkans that run so precisely through the centre of the bangles along with a contrasting thread entwined around it makes the set of bangles stand out. This set of silk bangles designs also flaunts some trinkets. You could pair them up with a variety of thin regular bangles and place these pairs alternately to create a mesmerising look. The bright colours are just right for any day ceremonies.
Glass & Silk Bangles Designs Set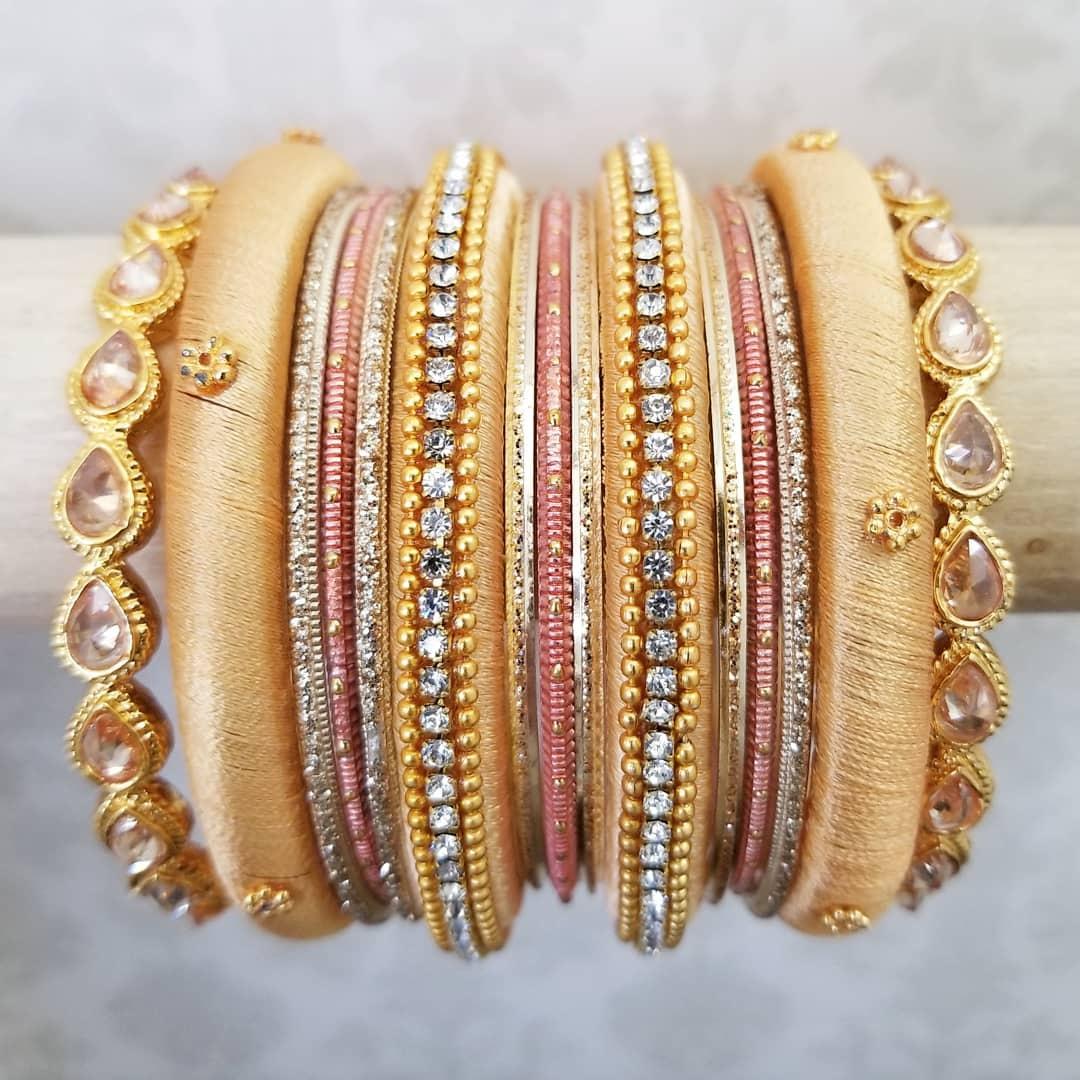 Image Courtesy: Thread Banglez
There are many ways to flaunt a silk thread bangle design and one of them is to alternately place them in between glass bangles. Use thin or regular width glass bangles and alternately place medium width Silk thread Kangans. To complete the set of mix and match, make sure the last two bangles have Kundan work or are stone-studded. The bling of this silk bangles designs set is just perfect for your Sangeet ceremony if you plan to flaunt a pastel lehenga.
Pastel Silk Thread Bangle Set with Pearl Bangles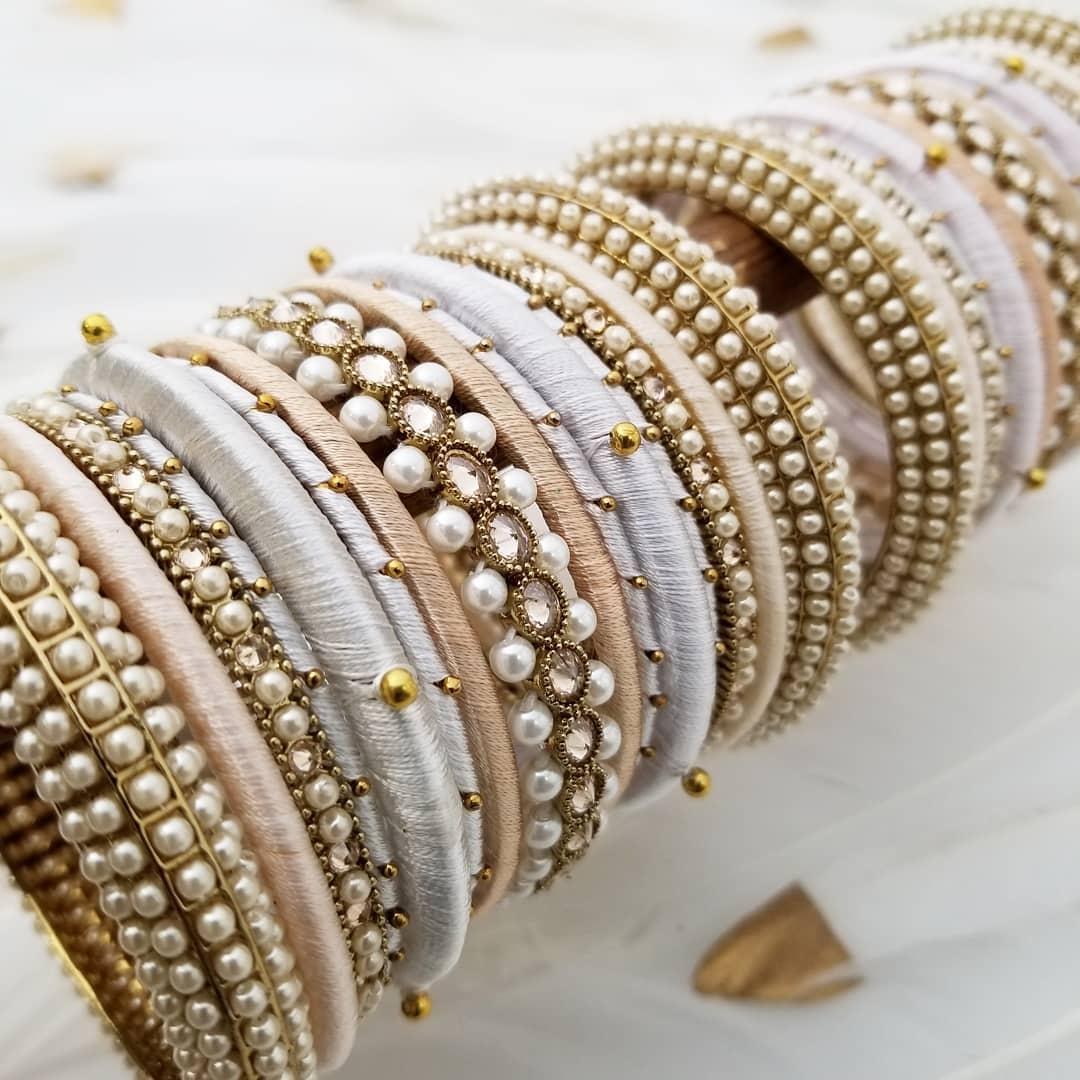 Image Courtesy: South Asian Jewellery
As pastel lehengas continue to rule the hearts of the millennial brides, this set of silk bangles in pastel palette is a show stopper. You can enrich these new silk bangles designs by alternately pairing them with pearl bangles or gold stone bangles. This will be the perfect way to accessorise your wedding lehenga in subtle shades or your outfit for a day ceremony like the Anand Karaj among Sikhs. The stone-studded bangles and the pearl ones give it the impression of being a heavy bangle set perfect for the big day.
Broad Silk Thread Kada in Peach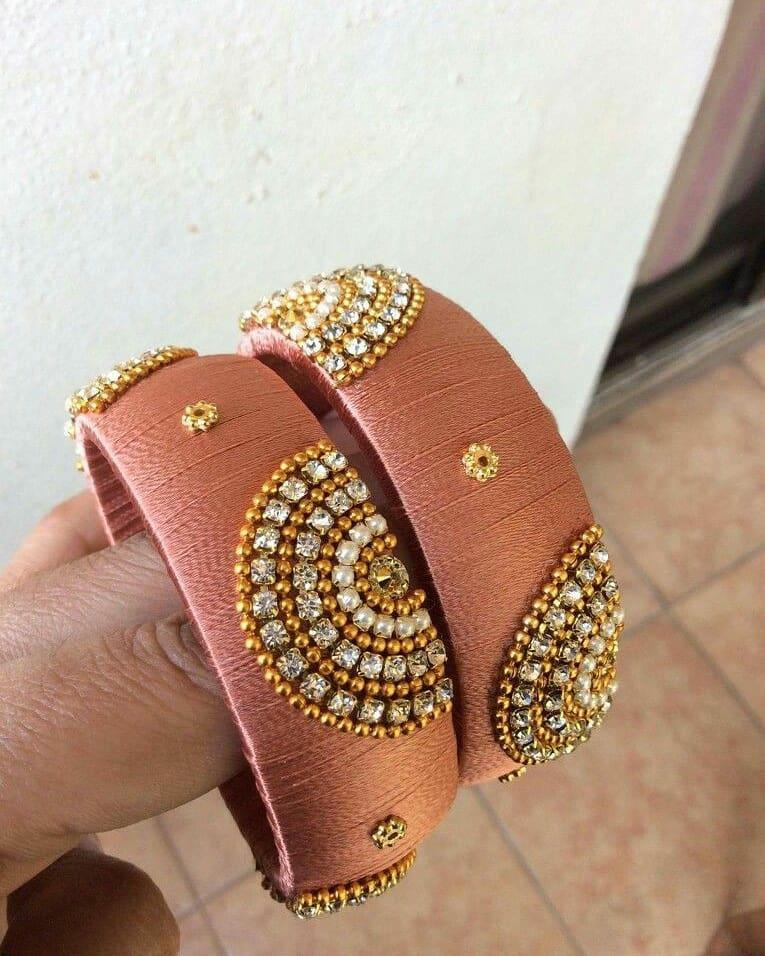 Image Courtesy: Silk Thread Creations
Pastel colours always work wonders during a spring-summer wedding. Be it a pastel lehenga design or be it a pastel sherwani for the groom, the subtle shades of the pastel palette are mesmerising for the spring-summer weddings. If wearing too many silk bangles does not seem very appealing, you could take the minimalist road and flaunt a pair of these broad silk thread kadas with jarkans, beads and faux pearls embellished in semi-circles. You could opt for them for your Haldi ceremony.
Braided Silk Thread Bangles Designs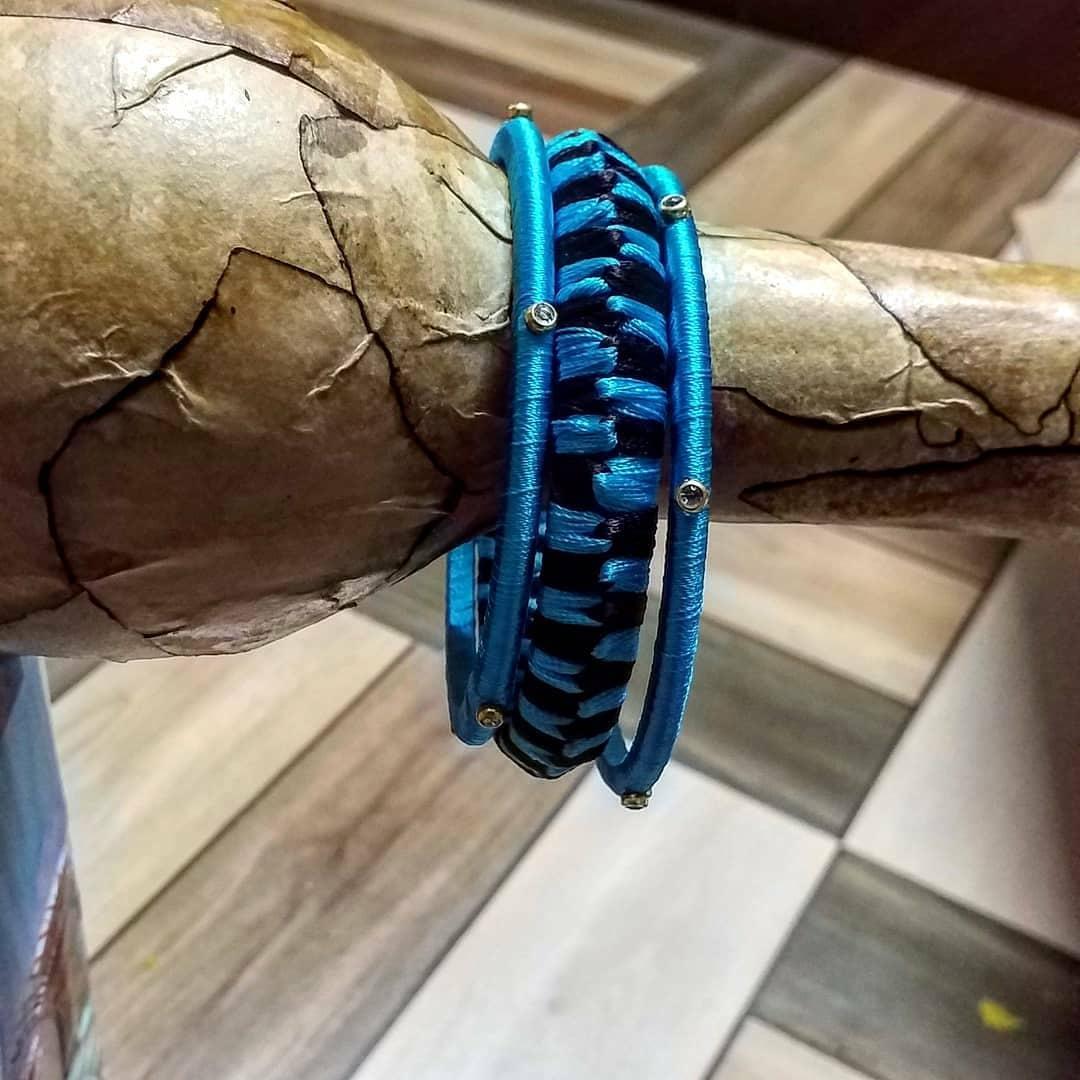 Image Courtesy: SK Kavvya Thread
While being a minimalist design to carry with negligible bling, this new design of silk thread bangle includes braided patterns that create an illusion of alternative checks. These bangles come in multiple colour combinations and can be made to order, according to the colour of your outfit. The nominal beads on the two narrow bangles just accentuate the simplicity. You can wear it for a day occasion or pair some glass bangles alternately to flaunt it at night.
Orange Fancy Silk Bangles Set With Jhumkis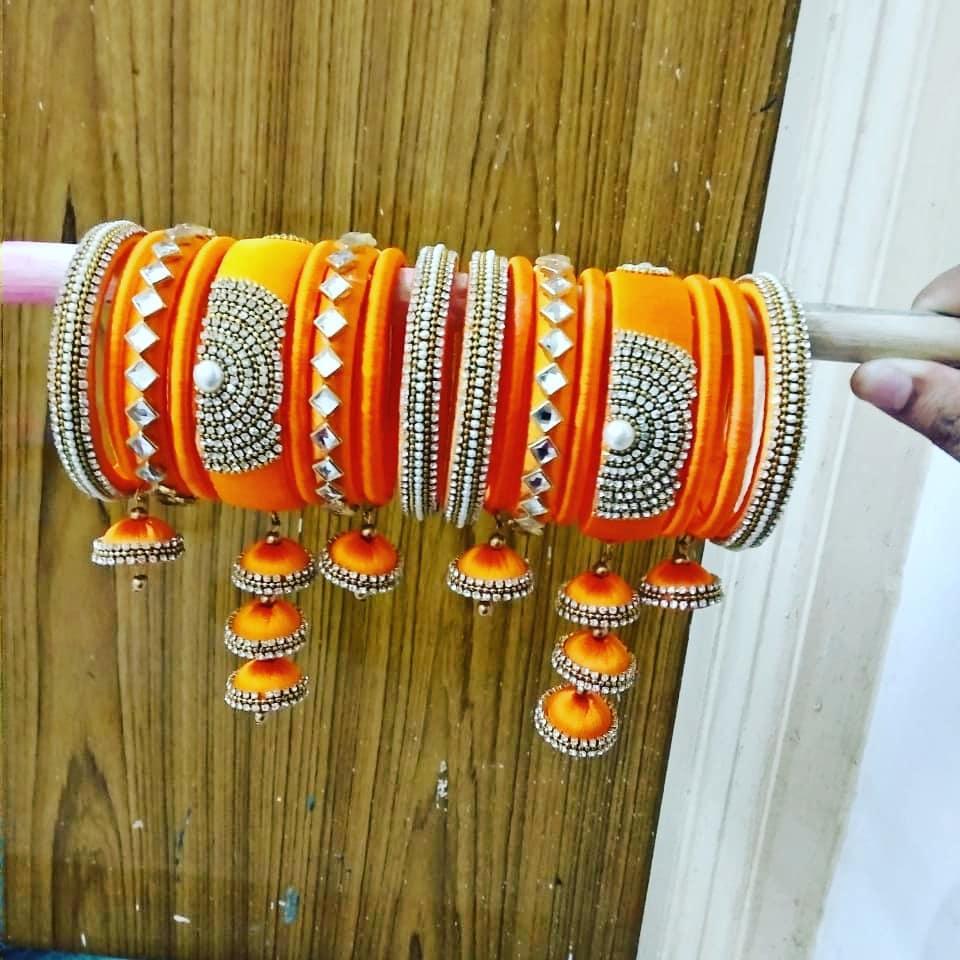 Image Courtesy: Silk Thread by Priti Jewellers
The vibrancy of the tangerine orange silk thread bangle designs is just right for a true blue wedding look. If you plan to flaunt an off-white lehenga or other subtle colours for your day wedding, this set of handmade silk thread bangles is sure to enhance the look with the eccentric pop of colours. This fancy set of thread bangles can be worn as a mini kalire too.
Simple Silk Thread Bangles in Blue, White & Gold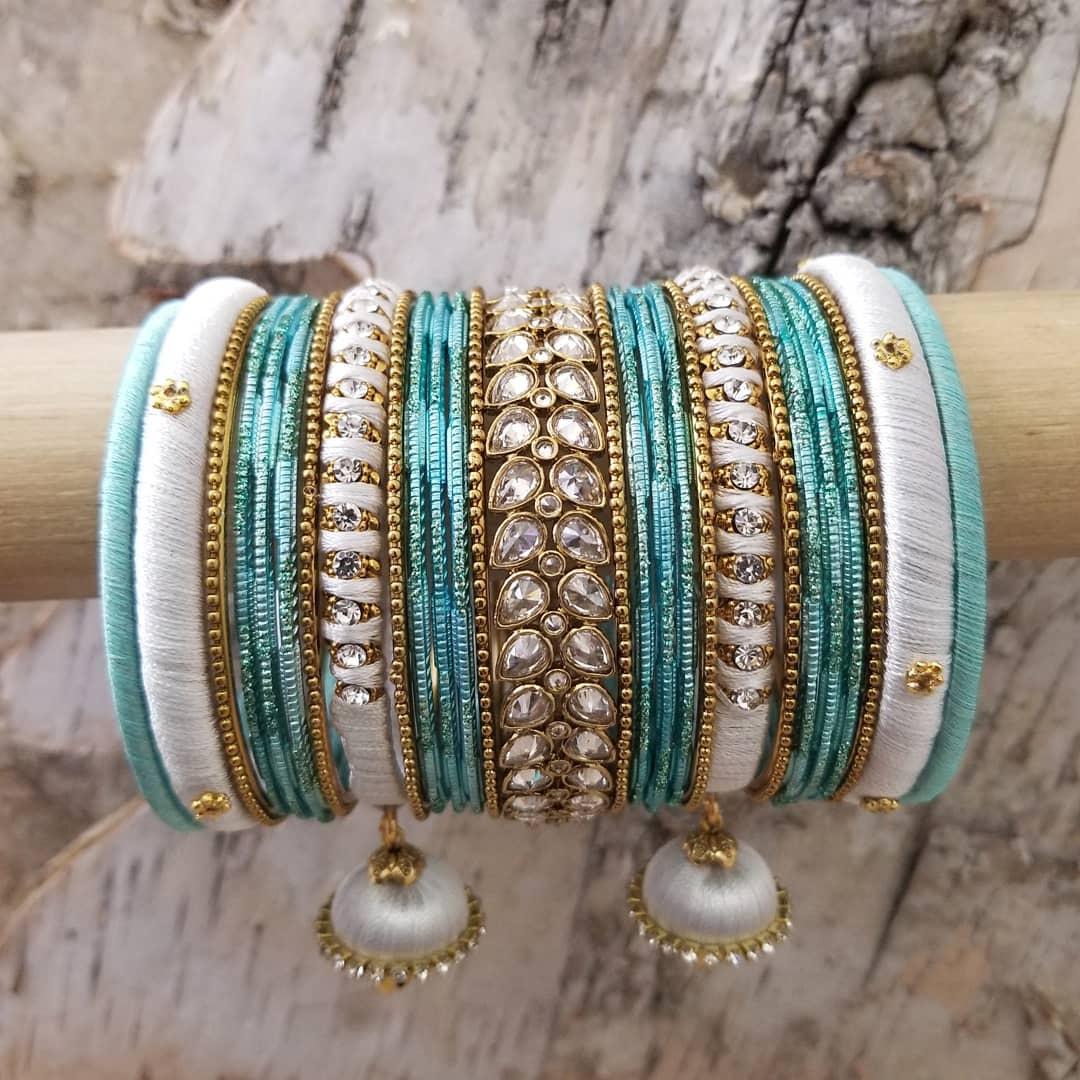 Image Courtesy: Banglez Jewelry
Similar to the bridal Chura, this new bangles design in silk thread has a combination of metal as well as glass bangles in the set. The tranquil colour of this bangle set fits perfectly for a day wedding ceremony. For the brides-to-be who want to go light on their jewellery and plan on flaunting a Chikankari lehenga in shades of white or grey can definitely add to the oomph with these bangles.
Personalised Simple Silk Thread Bangles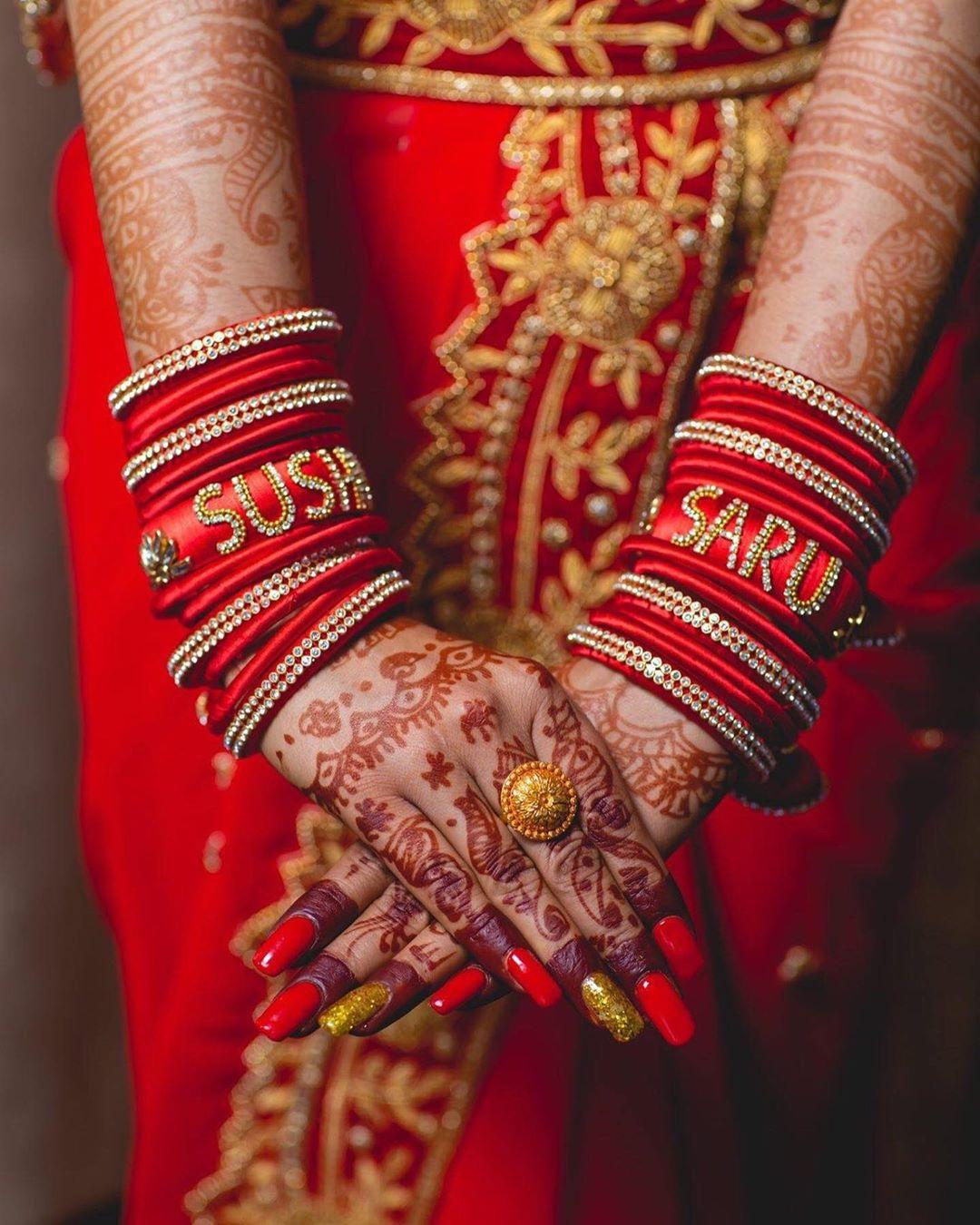 \
Image Courtesy: Silk Art Nepal
When it comes to personalising the wedding, the sky is the limit. From wedding hashtags to the wedding decoration and even the wedding outfit with quirky Latkans on personalised wedding lehengas - it can all be personalised. These beautiful red silk bangles with the fine studded design on them have the bride and groom's name encrusted on the thick silk Kadas. The sheen of the silk thread along with the subtle bling of the stone-studded detailing make this the conventional pick for the wedding ceremony that can be paired with a red lehenga or a red saree too as a Dulhan bangle set.
Turquoise & Yellow Silk Bangle Set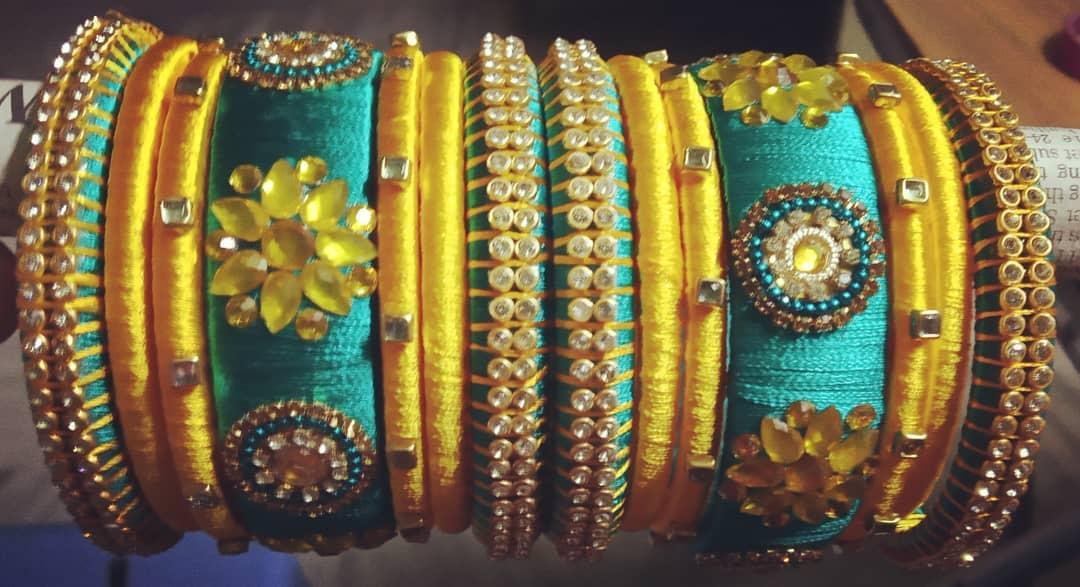 Image Courtesy: Rupa Silk Thread
With a more elaborate stone setting in quirky colour combinations, this multicolour silk bangle set flaunts stones, beads, minimal Kundan studs, floral designs and a finesse that makes this bangle set wedding-worthy. If the bride is ready to flaunt a multicoloured lehenga or a light coloured Kanjeevaram silk saree for her wedding celebrations or the wedding reception, these bangles fit the look flawlessly.
South Indian Silk Thread Bangles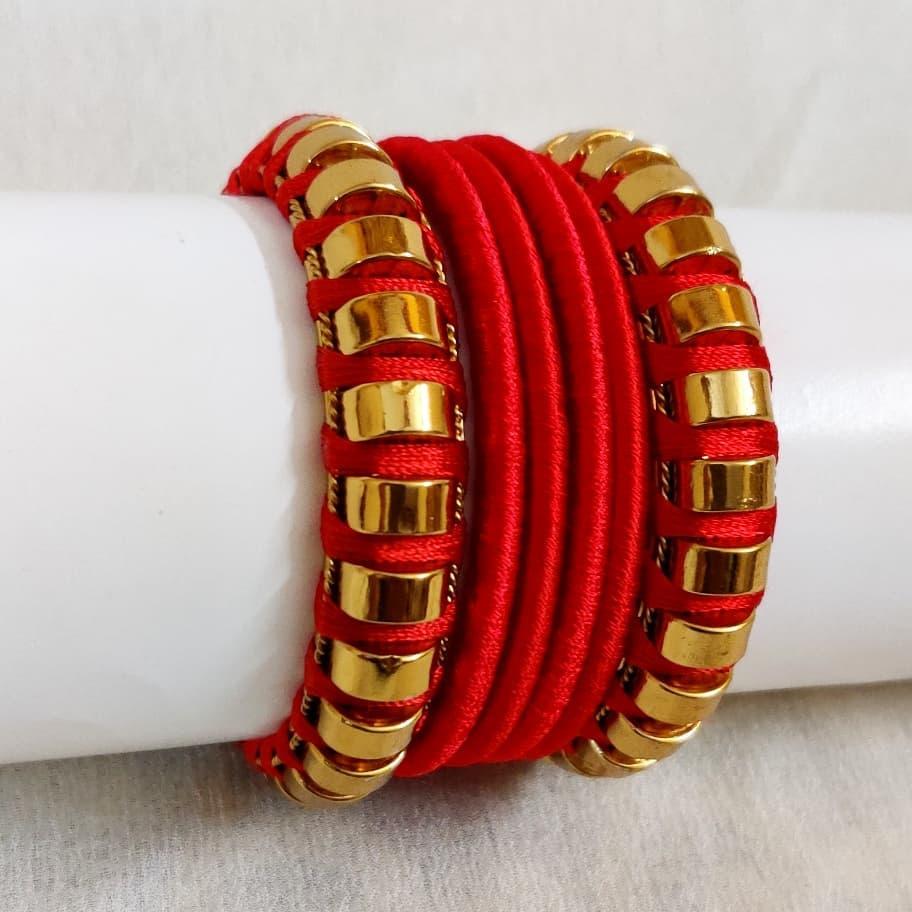 Image Courtesy: Gems Collection
Inspired by the famous South Indian Temple jewellery that forms an integral part of the South Indian bridal trousseau, these silk bangles are quintessential designs. To go with the Kanjeevaram saree or the different Pattu sarees, these South Indian silk bangle designs are hot among the brides. The gold bangles that have thread work on them make this a valuable addition to the bridal trousseau while being an exemplary accessory to complete the look.
Silk Bangles Design with Kundan Setting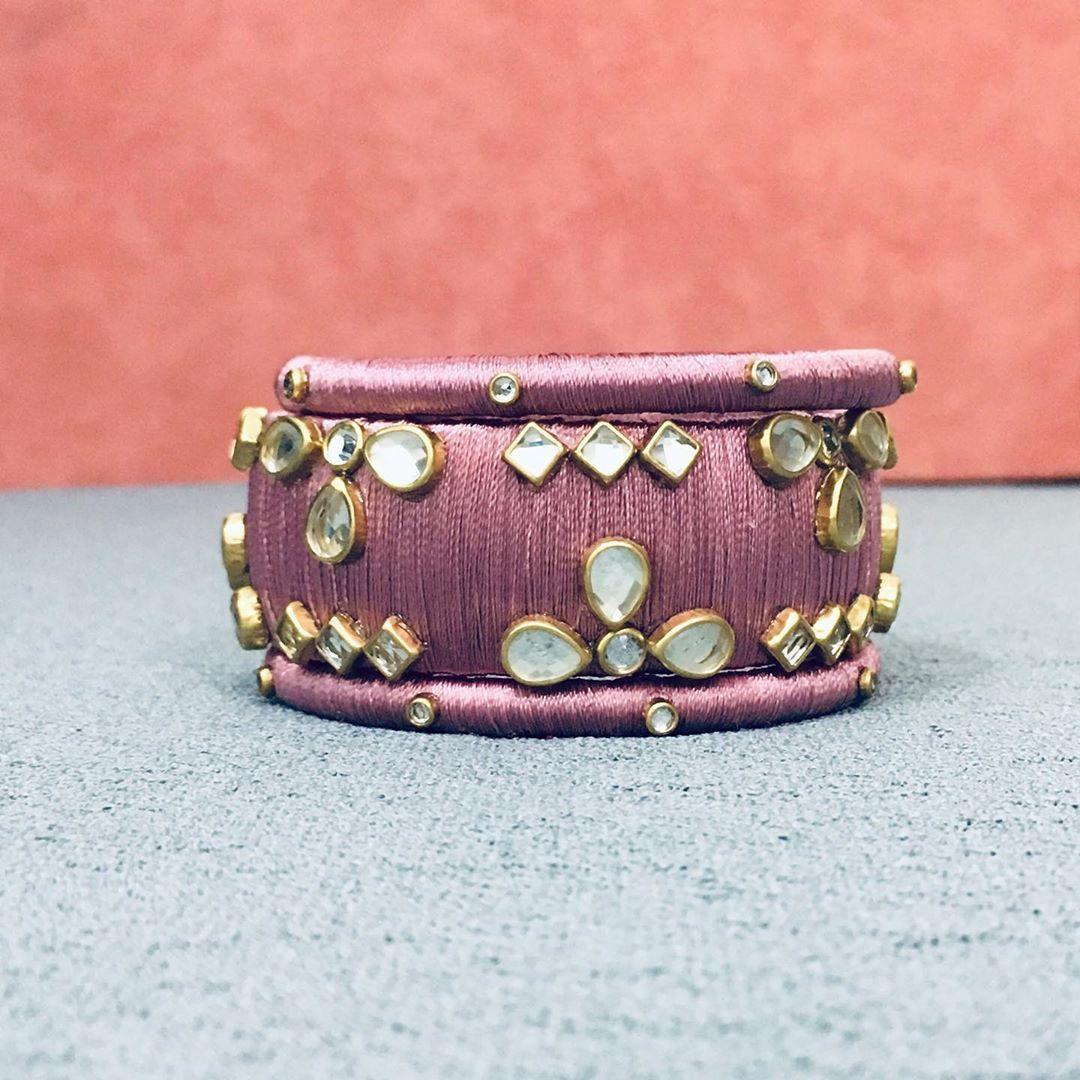 Image Courtesy: Craftsbury
From Kundan jewellery sets to Kundan rings, a bridal trousseau is almost incomplete without the royalty of Kundan sets. The work of Kundan encrusted upon the thick silk thread Kada in the centre is a fine work of art. Beauty lies in simplicity and the sparsely placed studs on the narrower bangles balance the bigger Kundan stones. If you were wearing a full sleeve blouse, Kurti or Anarkali, a dash of lilac will work wonders!
Green Simple Silk Thread Bangles Set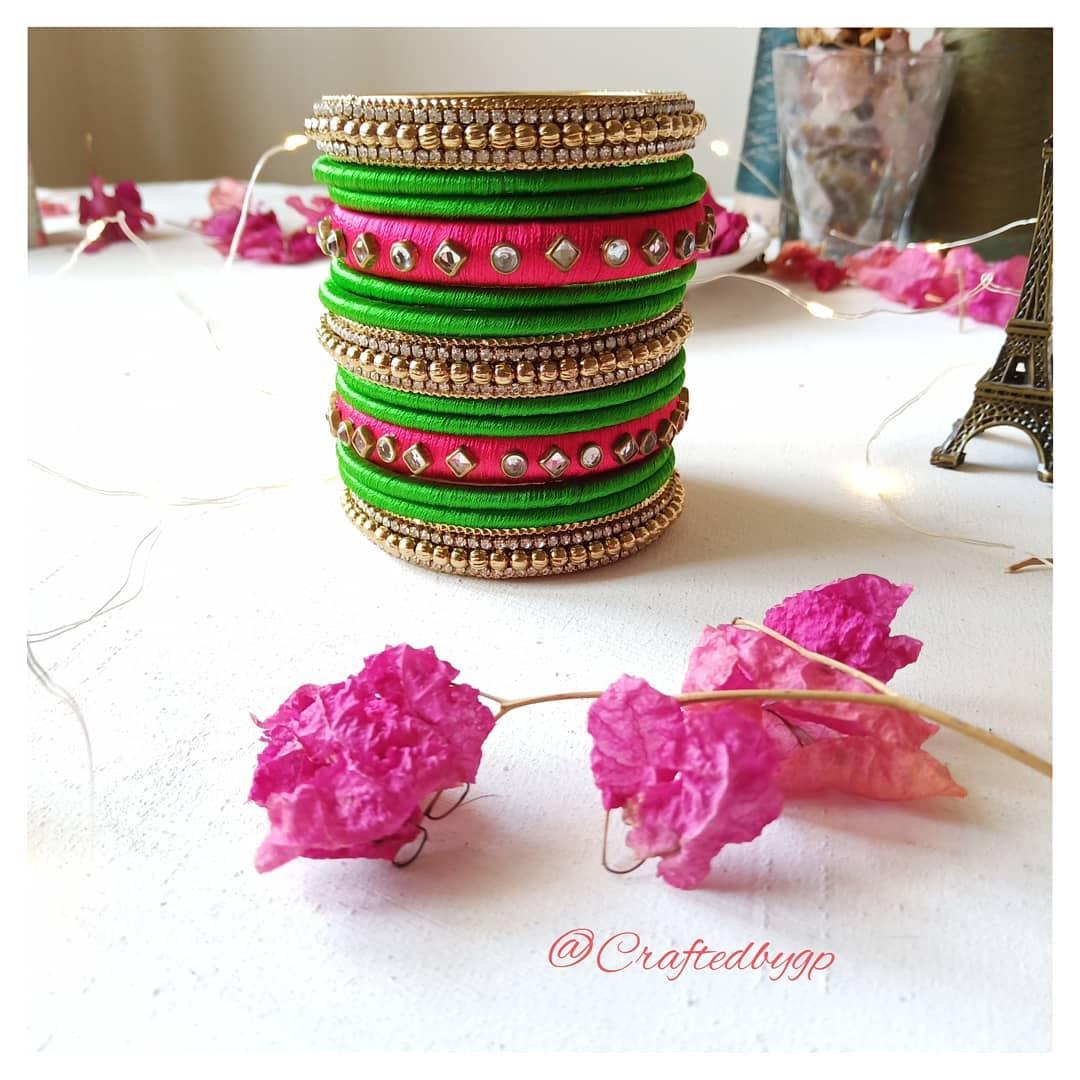 Image Courtesy: Crafted by GP
These green simple silk bangles combined with the pretty pink silk bangles along with the beaded and stone studded bangles placed alternatively is a beaut. The prominent green colour of the thread bangles makes them the right choice to complete your mehndi look. While handmade floral jewellery is the tradition, you can add to the conventions by flaunting these silk thread bangles.
Black & Gold Fancy Silk Bangle Designs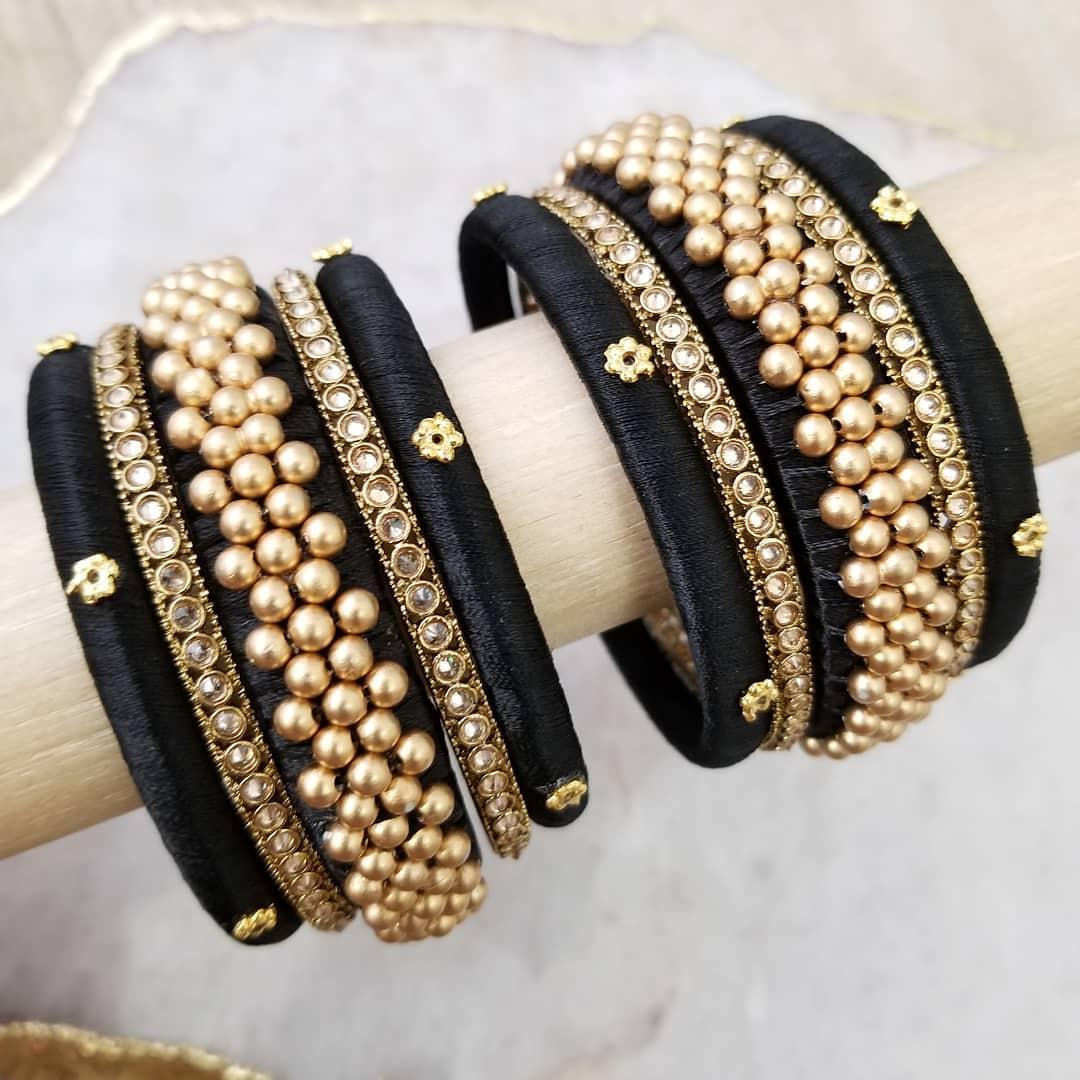 Image Courtesy: Banglez Jewelry
The ceremonies where you can pick the silk bangles designs to flaunt are not limited to the pre-wedding or wedding day only. These black beauties are a head-turning accessory with the pearls sewn into the bangle design. You can pick a beautiful black Indian gown design or an Anarkali suit to wear for your unforgettable wedding reception party. Paired with stone-studded bangles and basic silk thread bangles, this set of black silk thread bangles is an elegant pick that can never go wrong when picked for a nighttime ceremony.
Light Blue Silk Thread Bangles with Glass Bangles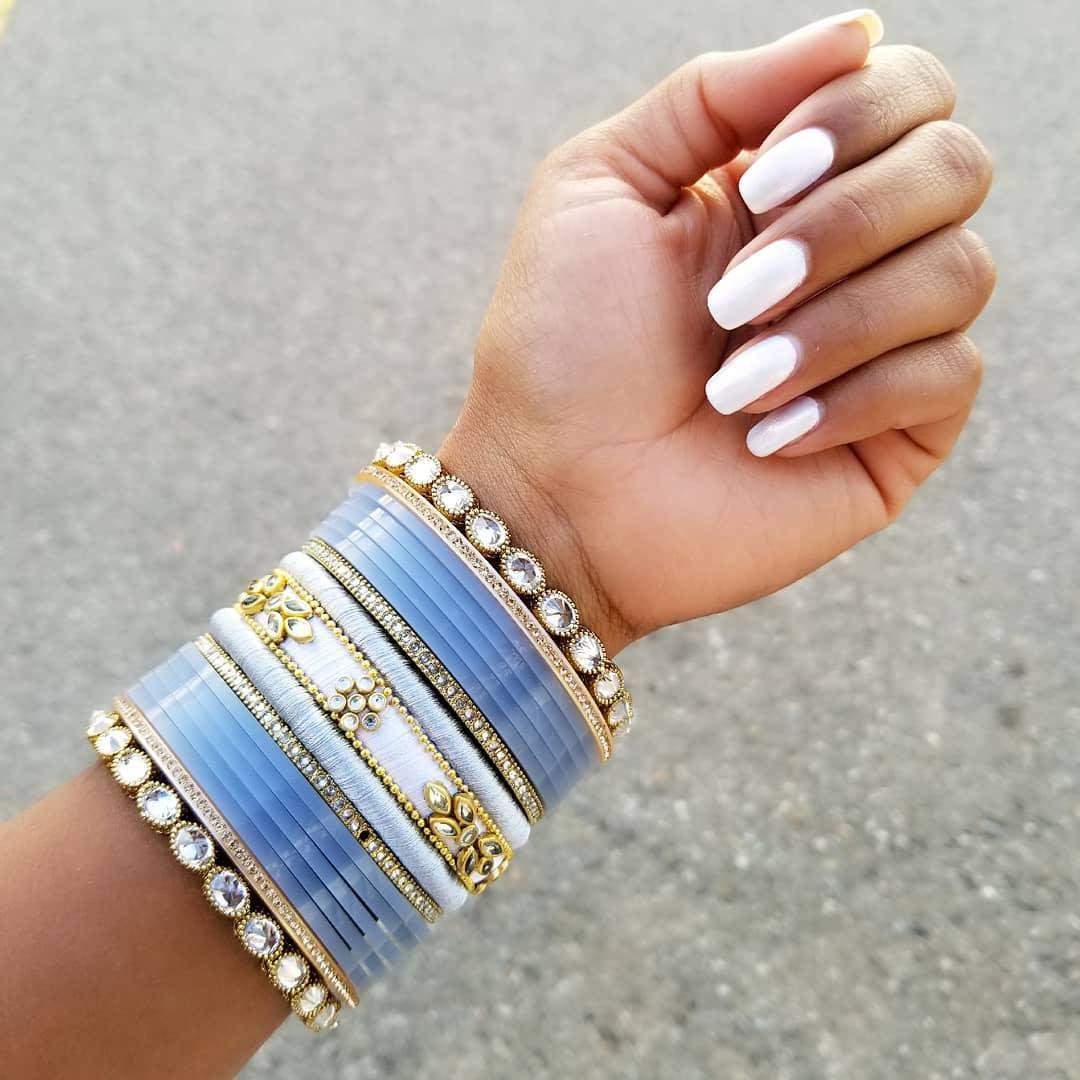 Image Courtesy: Banglez Jewelry
If you are the bride who is planning to flaunt a light blue lehenga on your D-day, this set of bangles that include both glass bangles and silk bangle designs is a new bangle design and the colour is just perfect for your dreamy D-day look. With stone bangles in the two ends, this bangle set is as aesthetically appealing as it gets.
Pink Silk Bangles Designs with Kundan Work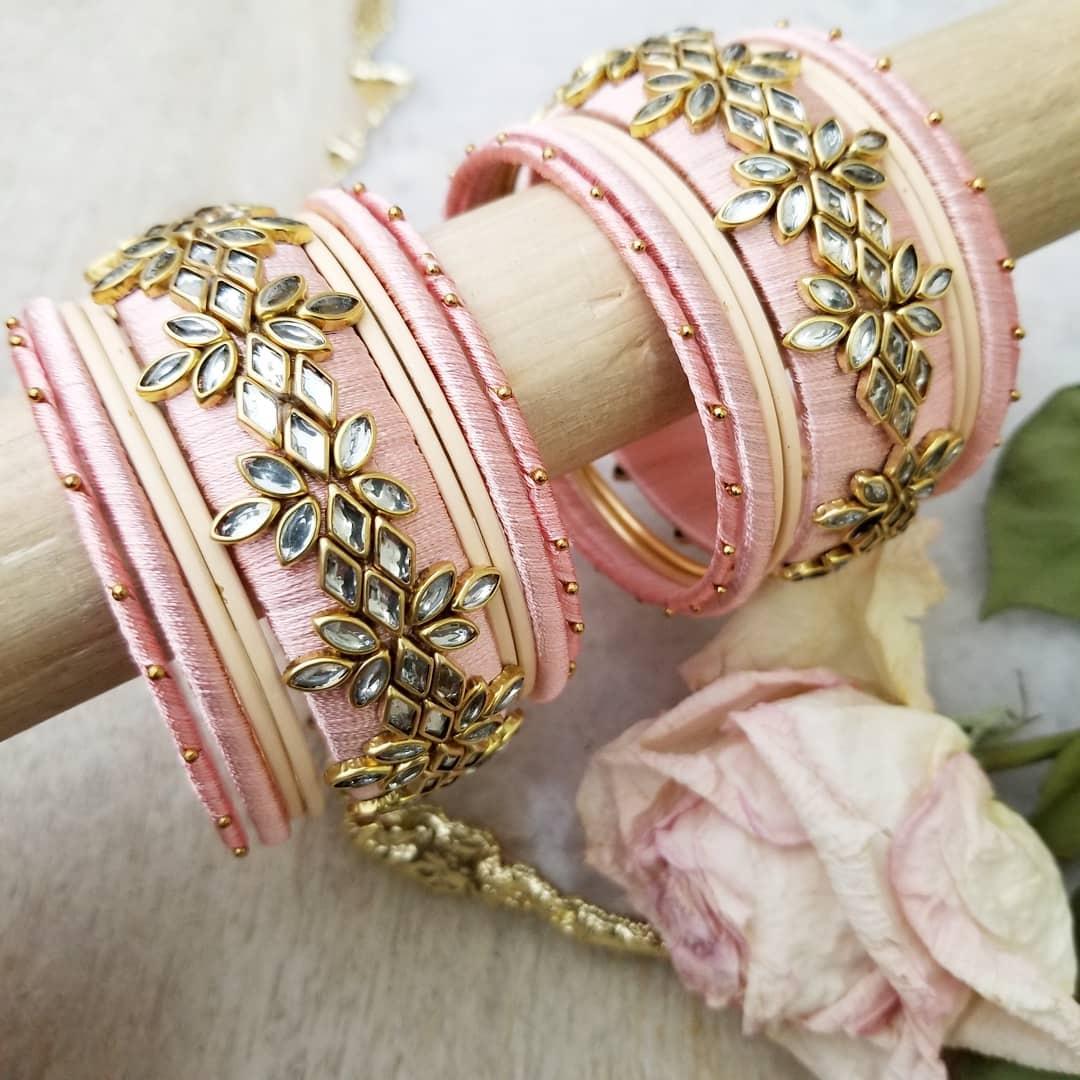 Image Courtesy: Banglez Jewelry
Pastel pink silk bangles are a dainty set that the bride-to-be can flaunt with her pink lehenga for the big day. These set of pretty bangles with the silk thread Kada in the centre that is topped with the finesse of Kundan stonework is a sheer work of art. While being absolutely light and convenient like every other silk bangles designs promise to be, the stone-studded feature makes it perfect for any occasion. The thin wooden bangles placed in between the simple silk thread bangles add to the beauty.
Dulhan Bangle Set with White Silk Bangles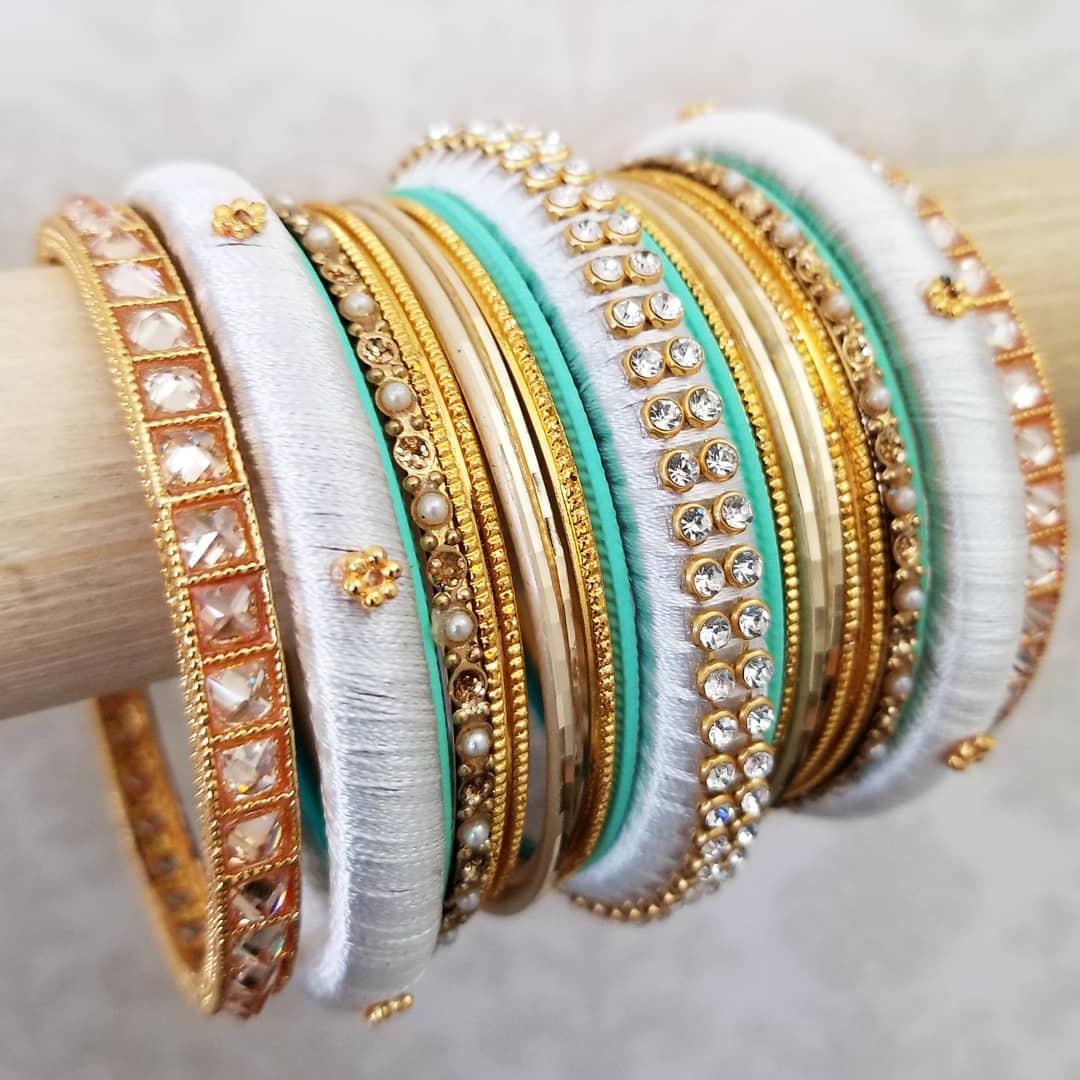 Image Courtesy: Banglez
This set consists of gold bangles, glass bangles as well as silk bangles designed for a unique perfection. This set is a balance of glitz that the golden and glass bangles carry and delicate finesse of the simple thread bangles in between. The turquoise thin bangles that are placed after the white silk bangle designs with flower-shaped minuscule studs and Jarkans are a perfect set of accessories to complement your Pattu sarees for the wedding day.
Simple Silk Thread Bangles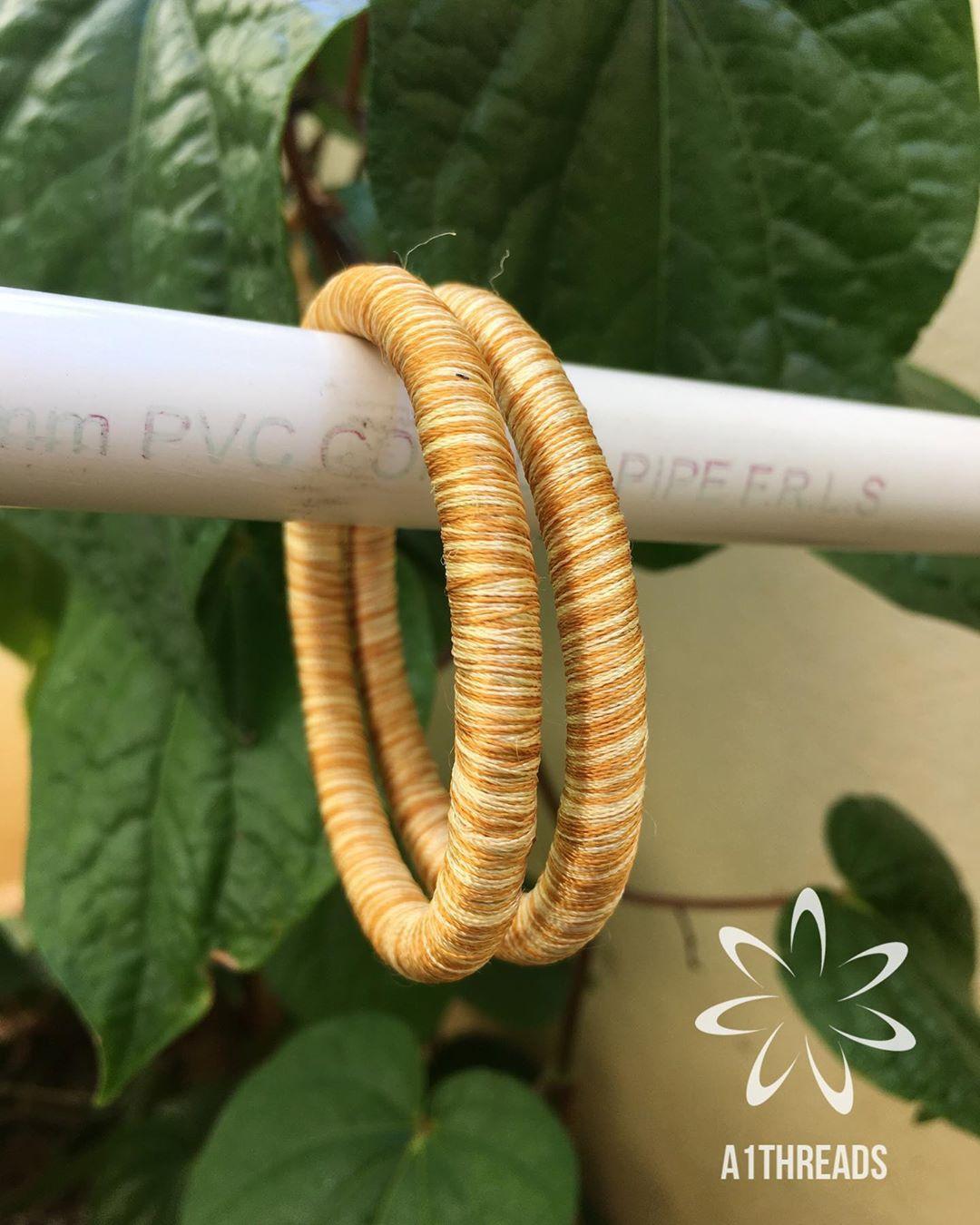 Image Courtesy: A1Threads
While the pre-wedding ceremonies like Haldi and Mehndi mostly involve floral jewellery, you could top up your Haldi ceremony dresses with this pair of simple silk bangles designs. Entwined with a darker shade of yellow-orange thread, these yellow bangles are a basic addition to your pre-wedding look. In fact, they can be worn on a regular workday with your kurta pyjama sets or a cropped top and skirt that you pick.
Green Silk Bangles Designs with A Dash Of Blue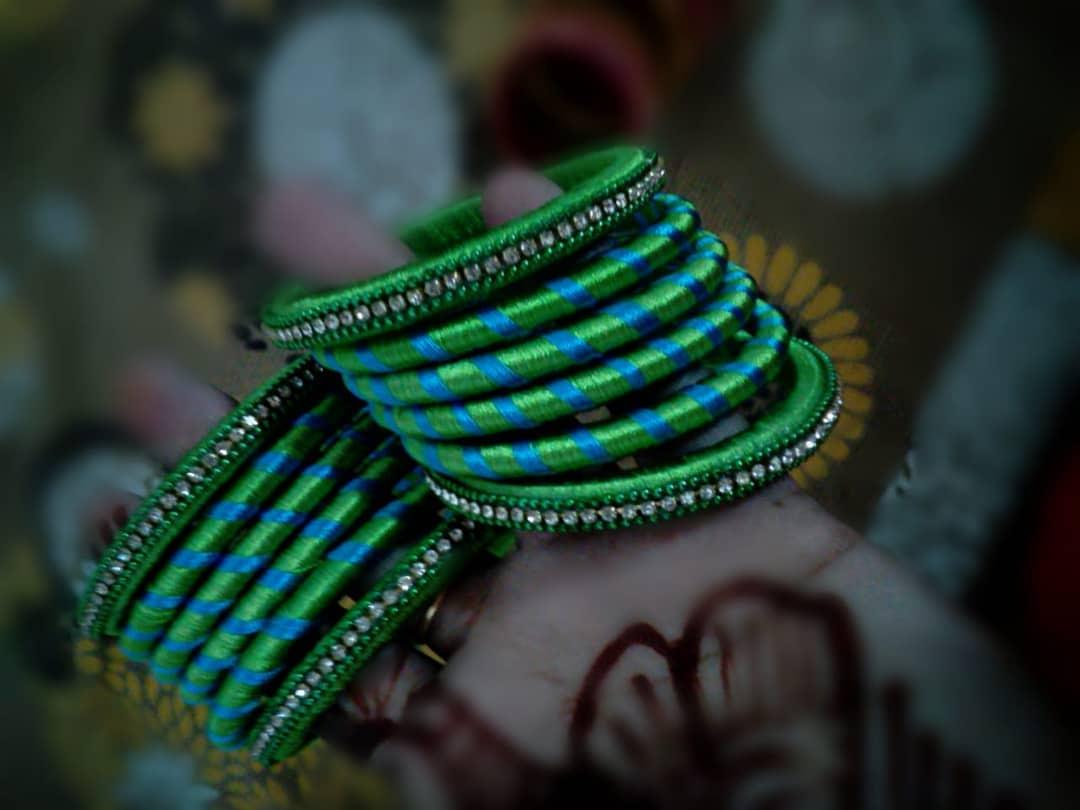 Image Courtesy: RJ Bangles
The beauty of the green silk bangles is enhanced by the dash of blue stripes. Wearing a breathtaking mehndi outfit while sitting on the beautiful mehndi jhoola is a vision to adore. You can opt for these green silk thread bangles to complete your mehndi look. While the mehndi artist decks you up with gorgeous Arabic mehndi designs, keep it easy breezy with this set of light thread bangles set.
Silk Thread Bangles with Shells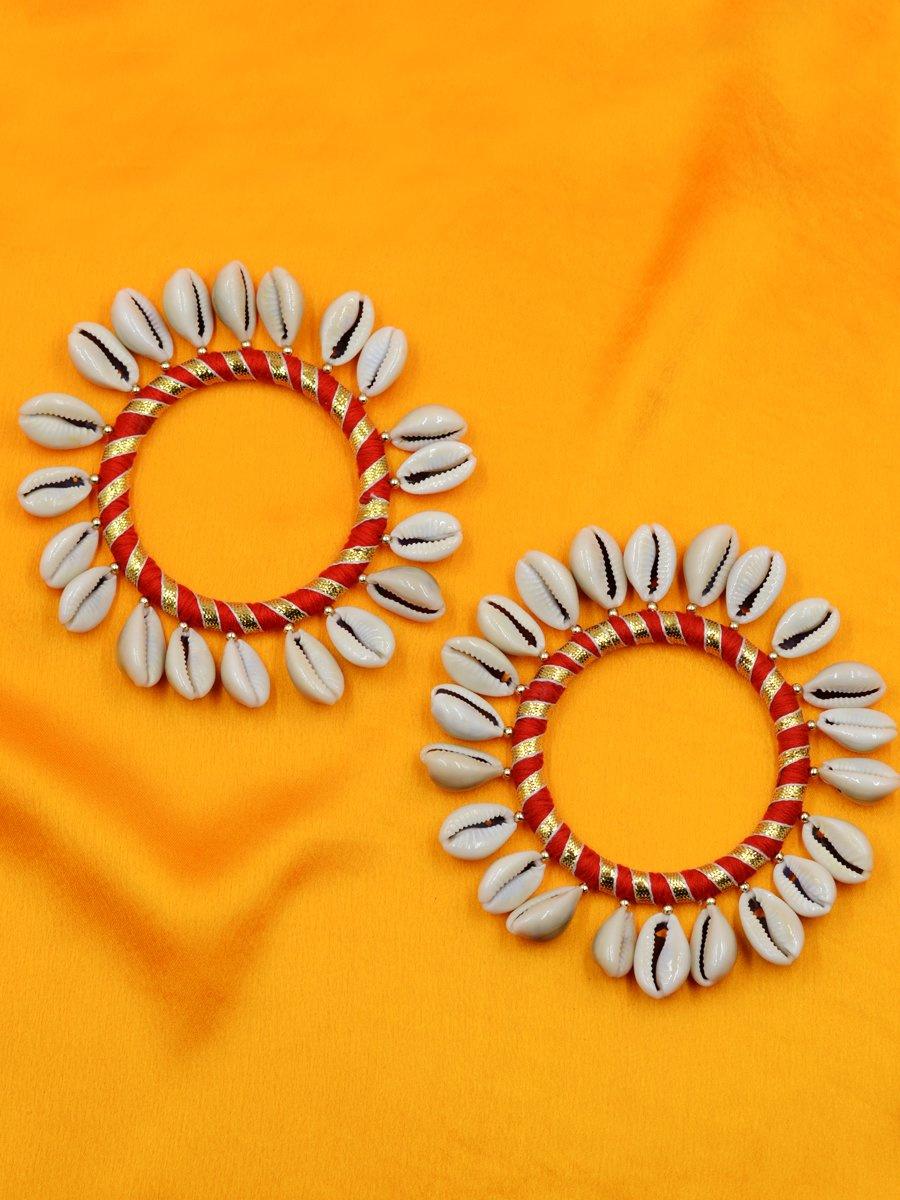 Image Courtesy: Krafted with Happiness
Shell jewellery is a trend that has become very popular for weddings. From shell Kalire to cowrie shells on silk thread bangles, it is a great addition to your bridal trousseau. For the brides-to-be who are on the constant lookout for new trends to amp up their bridal look, this pair of thread bangles with Gota Patti work and cowrie shells will definitely be the quirky touch to your bridal jewellery.
A Rainbow Silk Bangles Set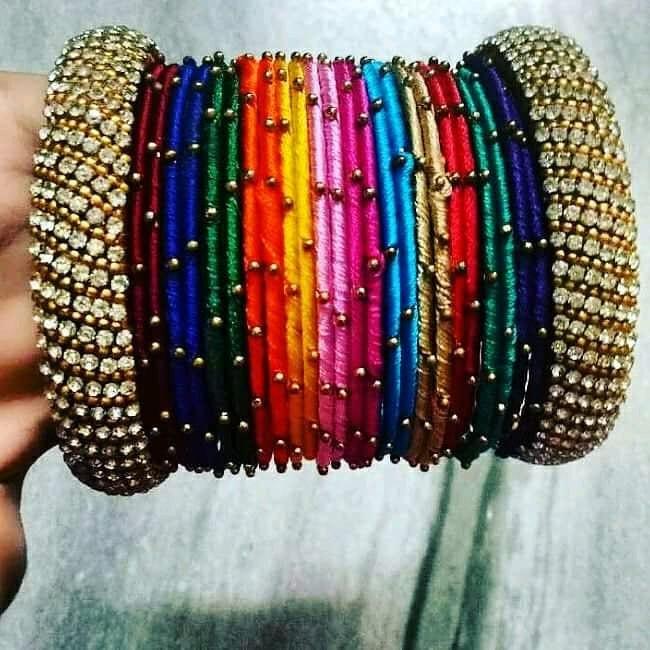 Image Courtesy: Threaded Fashion
When it comes to picking colours for your silk bangles designs, there is no limit. This kaleidoscope of colours on the bangles set is a swoon-worthy set that brides can pick to accessorise their look. Be it a mesmerising white Anarkali or a serene white saree that you pick to flaunt the twirl on your reception, this set of rainbow coloured silk thread bangles embellished with golden studs. You can use heavy stone-studded kadas on the sides to complete the set with grace.
Checkered Multicolour Silk Bangles Set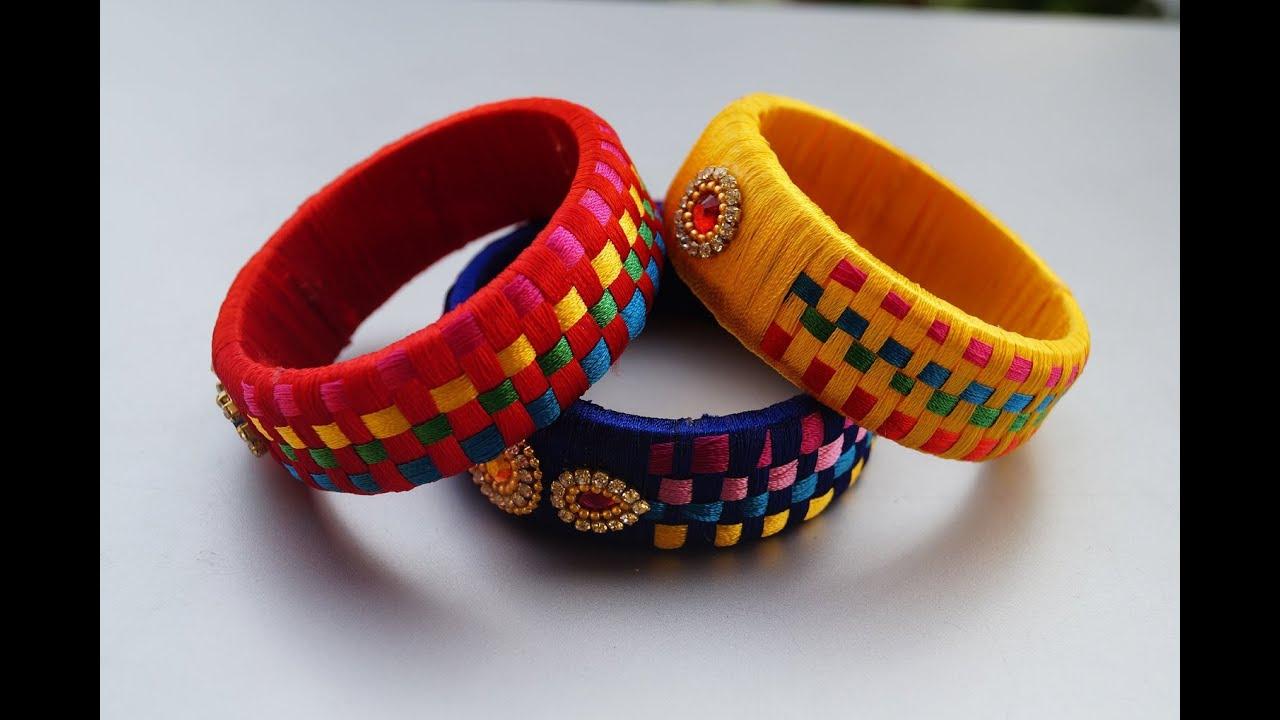 Image Courtesy: Prema Varalakshmi
There are a lot of innovative designs that can be experimented with while making a silk bangle design. To add to the splash of colours and make it as quirky as it gets, this silk bangle comes with a checkered design with multicoloured silk threads. The elegant semi-precious stones with miniature bead and Jarkan studding makes this a fine yet fun piece for the bridal look.
Floral Silk Bangles Designs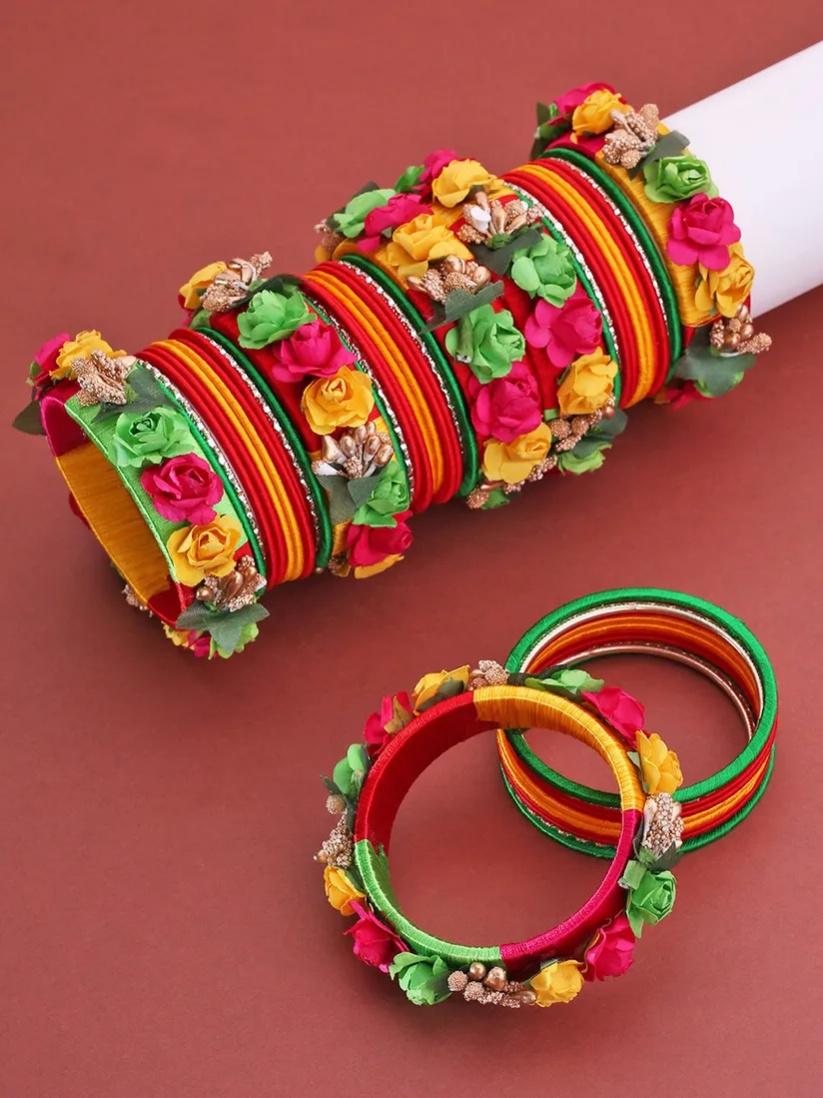 Image Courtesy: Priyaasi
Floral jewellery does not always have to be sewn in a thread with a lot of beads in between to make the cut. You can paste miniature flowers with artificial baby's breath flowers and some faux pearls too on a silk bangle. This new silk bangle design is a hit among the brides when it comes to their mehndi and Haldi jewellery. These sets are beautifully handcrafted by brands like Priyaasi and are available on online platforms too.
Mirror work Silk Thread Bangles Set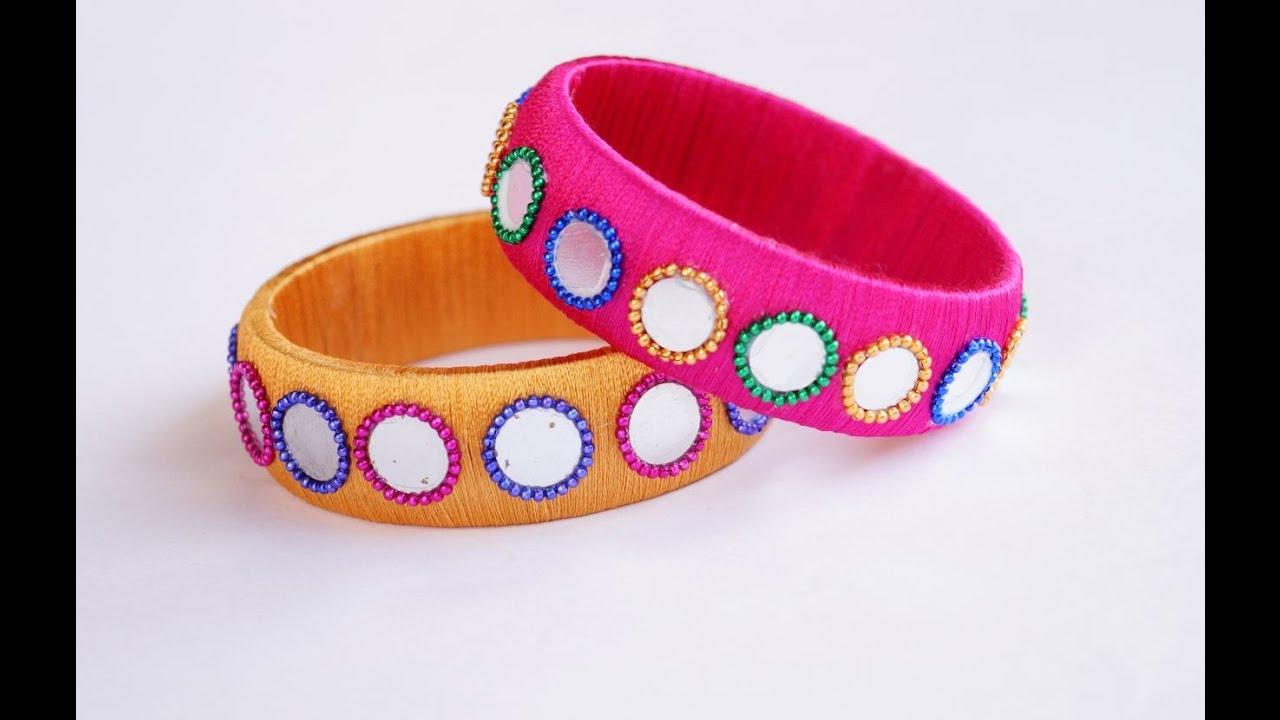 Image Courtesy: Prema Varalakshmi
From mirror work sarees to mirror work lehengas and even mirror work blouse designs, mirrors have been a hot favourite of the brides. It adds the right amount of bling to the look while keeping up the traditional feel of the colourful cultures. Mirror work bangles are also one such beautiful element that can be added to your bridal trousseau to up the notch. You could pick silk bangles designs with elaborate mirrors of considerably bigger sizes or ones with the tiny mirror work too.
If you have no limit to adding colours to your wedding trousseau and are up for some fun additions to your bridal look, we are sure these silk bangles designs have got your heart racing. The range of colours, sizes, designs and even shapes available that you get to choose from is vast and makes it all the more fun.
All of these designs are significantly fitting for your wedding ceremonies and they are affordable too. While you sieve through these latest silk thread bangles images for inspiration, you can also customise your silk bangles designs to your preference and outfit colours. You can choose to embellish them with precious stones and gold elements too. The homegrown designers and small scale businesses are the best places to find amazing designs of silk thread bangles and other thread jewellery sets.
Keep your wedding looks light and breezy with these latest silk thread bangles designs. Let us know in the comments below if you have any innovative silk bangles designs to add to this list.