Thread Bangle Images That Are Hot This Season
We have compiled a list of some trendiest thread bangles images that will give you ample inputs on what is in style this wedding season. Are you ready for the wrist party then?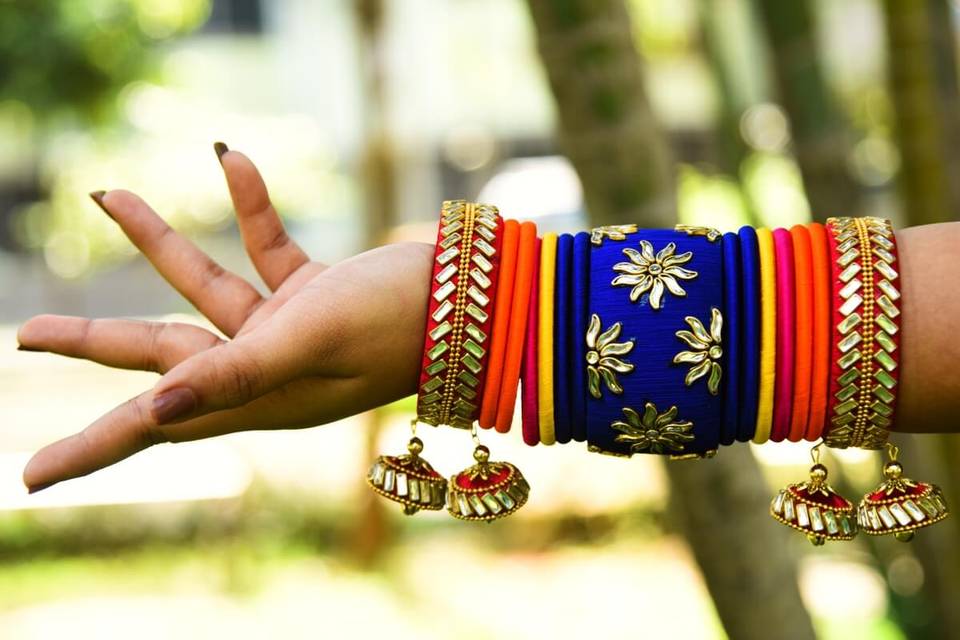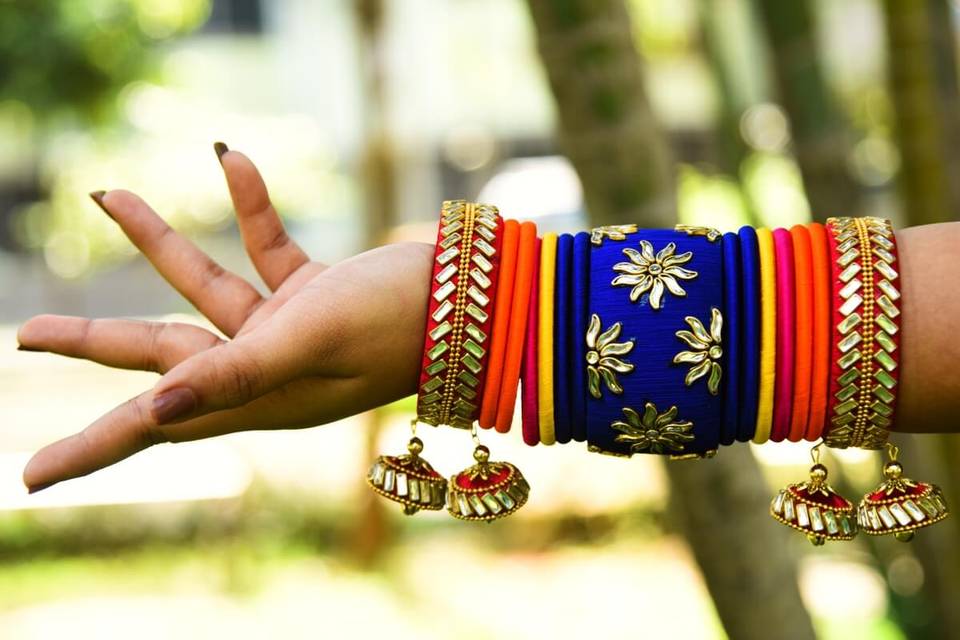 Image Courtesy: Aspire High
You need to browse through these thread bangle images if you wish to accessorise your ethnic attire for the upcoming wedding right. These thread bangle images showcase unique designs that will go very well with all sorts of lehengas, sarees and suits. What is the most catchy quality about the styles that these thread bangle images showcase is that they look heavy but are not at all heavy upon wear.
And with so many thread bangle images featured, we are sure that you will be able to find out the design that you have been looking for to team up with your ethnic ensemble. So, bridesmaids-to-be, this is your chance to add on colourful accessories to all your wedding wear wardrobe right. Take a look!
Zari Work Embellished Bangles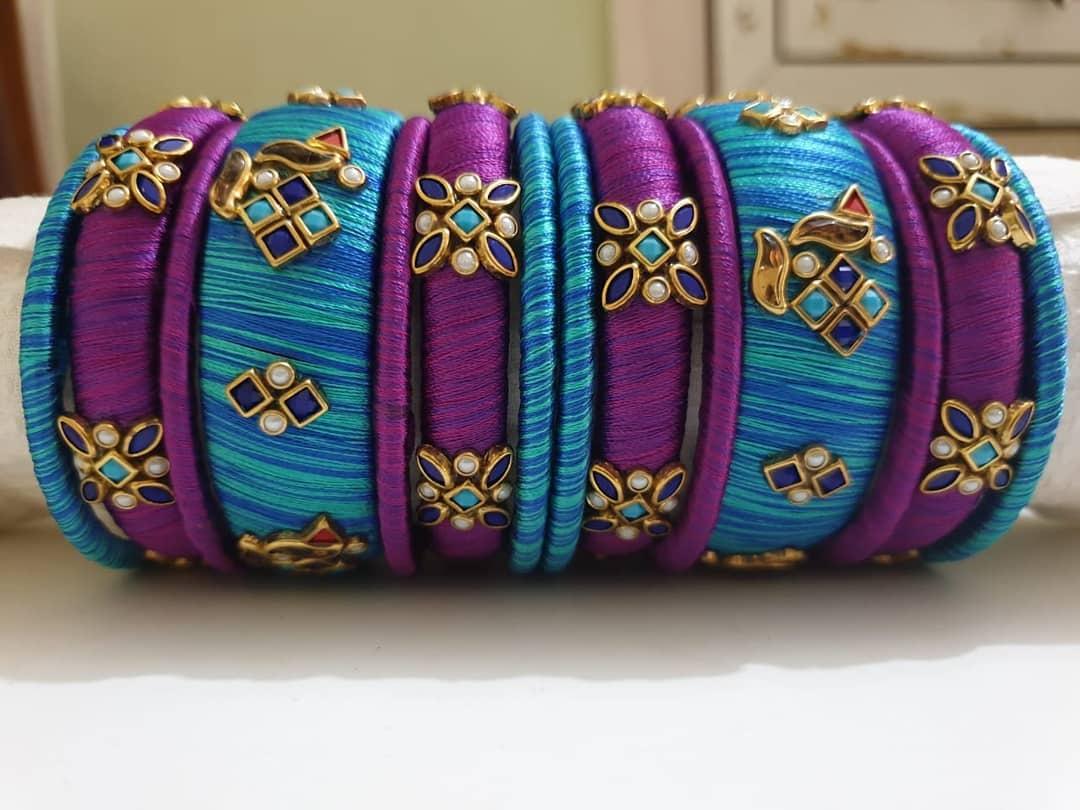 Image Courtesy: Pinterest
The most browsed and loved thread bangle images are that of Zari work embellished bangles. Simple colourful threadwork wrapped around the bangles and decorated with gold or silver Zari work designs make these bangle styles perfect wedding companions. Stock up on multi-coloured bangle sets of such designs so that you can mix and match them for every wedding outfit conveniently.
Custom Name Tagged Bangles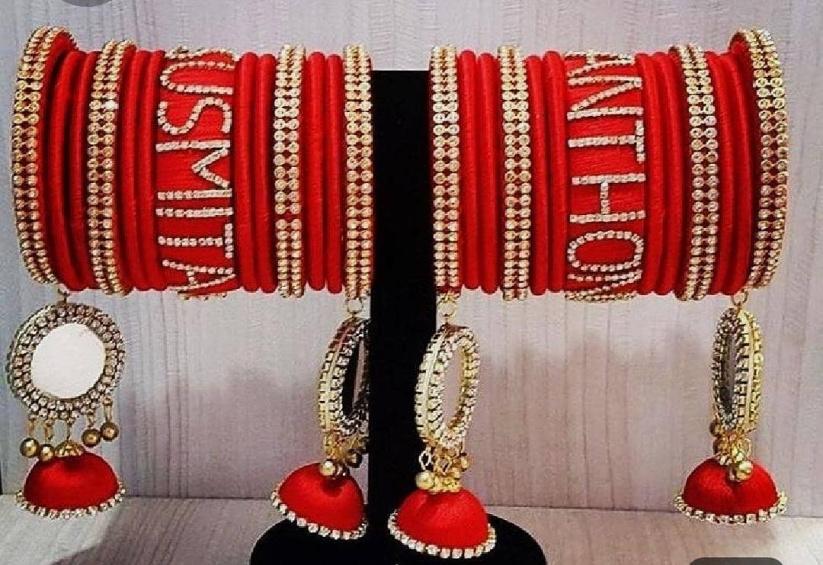 Image Courtesy: Tanina Collections
What is better than getting ensembles name tagged based on the wedding? With special wedding hashtags and portmanteau names given to the couple, custom name tags have become a common and much-loved trend. So how about doing something special for the bride-to-be and getting something custom-written on your bangles to show your love for her then? The most copied thread bangle images are that of bangles with #TeamBride written on them nowadays.
Stone-studded Bangles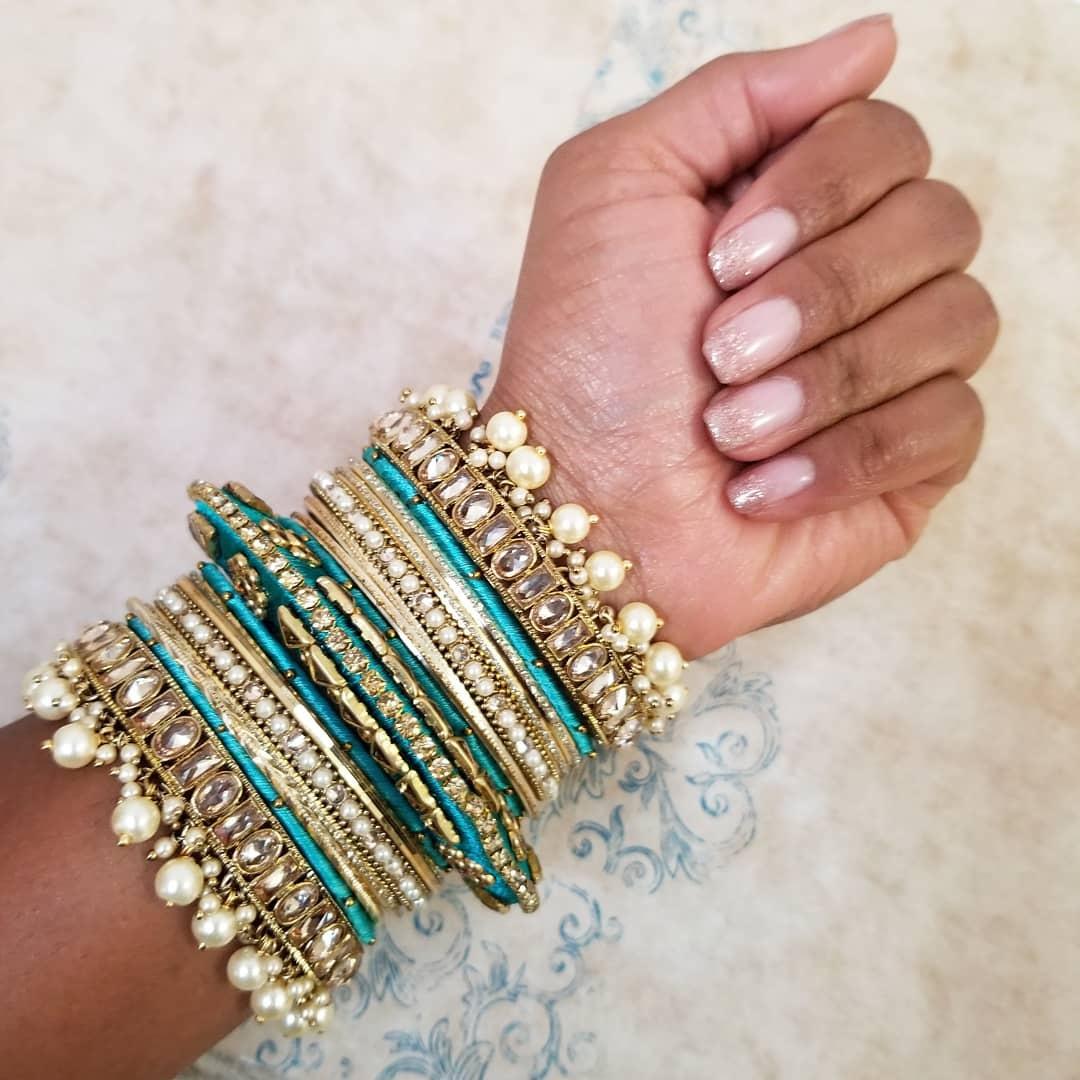 Image Courtesy: Banglez Jewelry
Pearls add sophisticated detailing to all kinds of jewellery. Bangles are no different, hence, getting thread bangles decorated with pearl danglers add animated charm to the thread bangles. The best way to incorporate such style is by getting danglers studded on the topmost and bottom-most bangles from the set, avoiding a cluster of pearl danglers all over instead.
Mirror-worked Bangles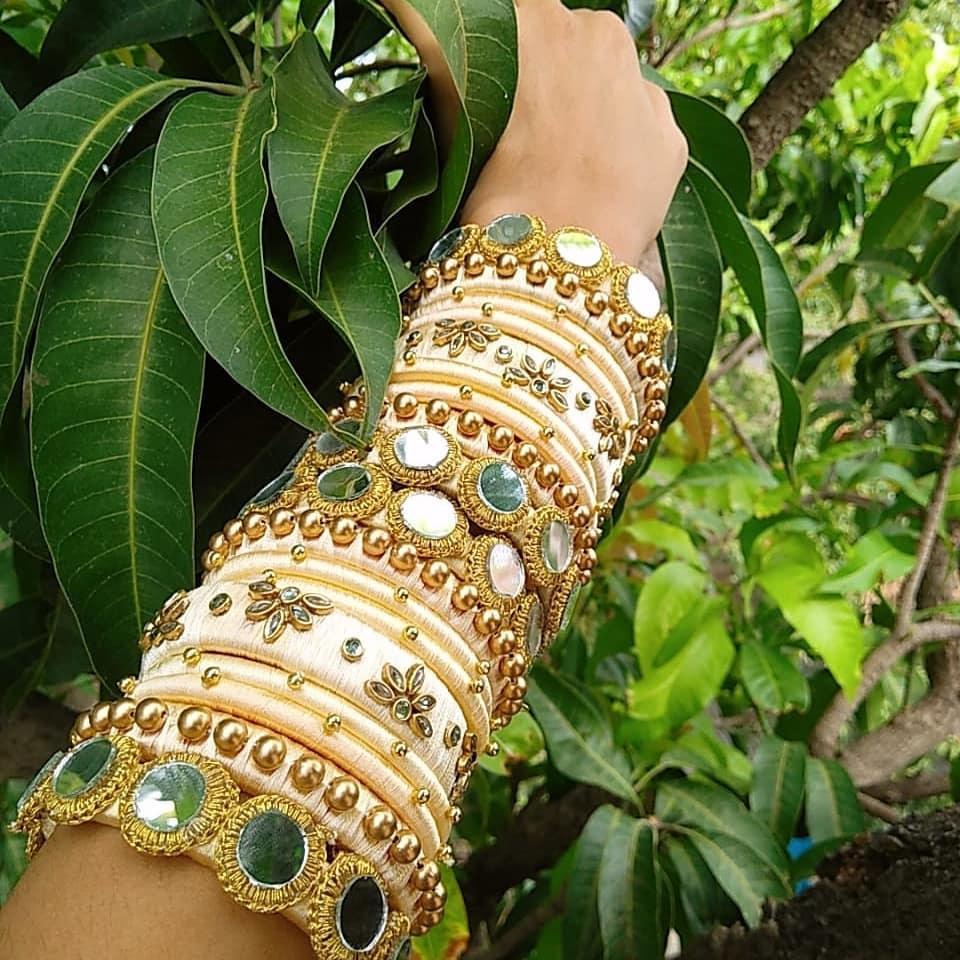 Image Courtesy: Sakshi Tanwer's Instagram
If Zari is not your style but you still wish to add shiny decorations to your sets of thread bangles, then mirror worked bangles are a great option. There are many thread bangle images available on the internet, showcasing the different way that mirror work has been done on regular thread bangles. Depending on how shiny you want your wrist party to look like, opt for sizes of mirror-work accordingly.
Gota Patti Bangles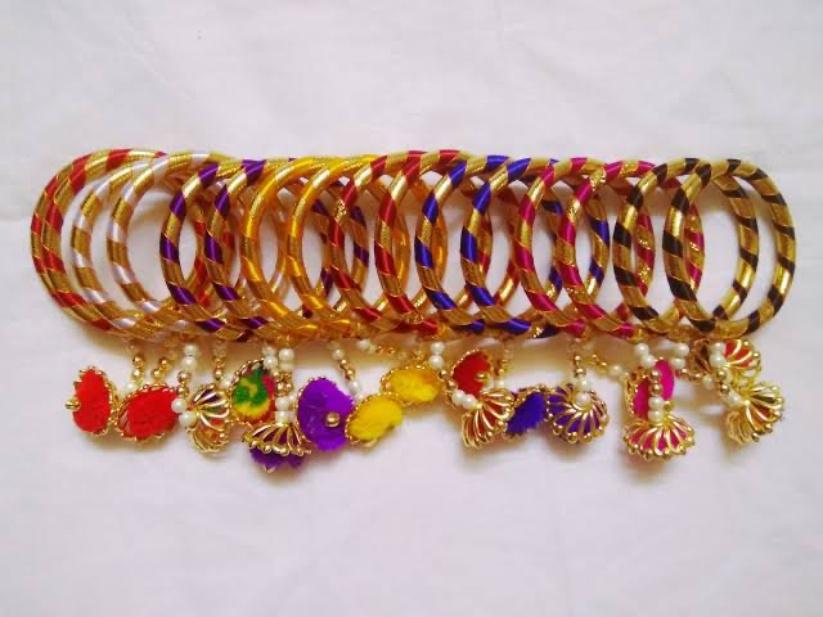 Image Courtesy: Rajasthani Shilp
Another very famous style of thread bangles among bridesmaids is the Gota Patti style bangle sets. There are two variants of this kind of bangles, with one style that includes the real Gota Patti ribbons wrapped around the width of bangles and then another style which consists of gold thread closely wrapped around the bangles to give a look of Gota Patti instead. Such style goes perfectly well with Rajasthani and Gujarati styles of ethnic wear, but can also be matched with multi-coloured ensembles of other Indianwear as well.
Oversized Bangles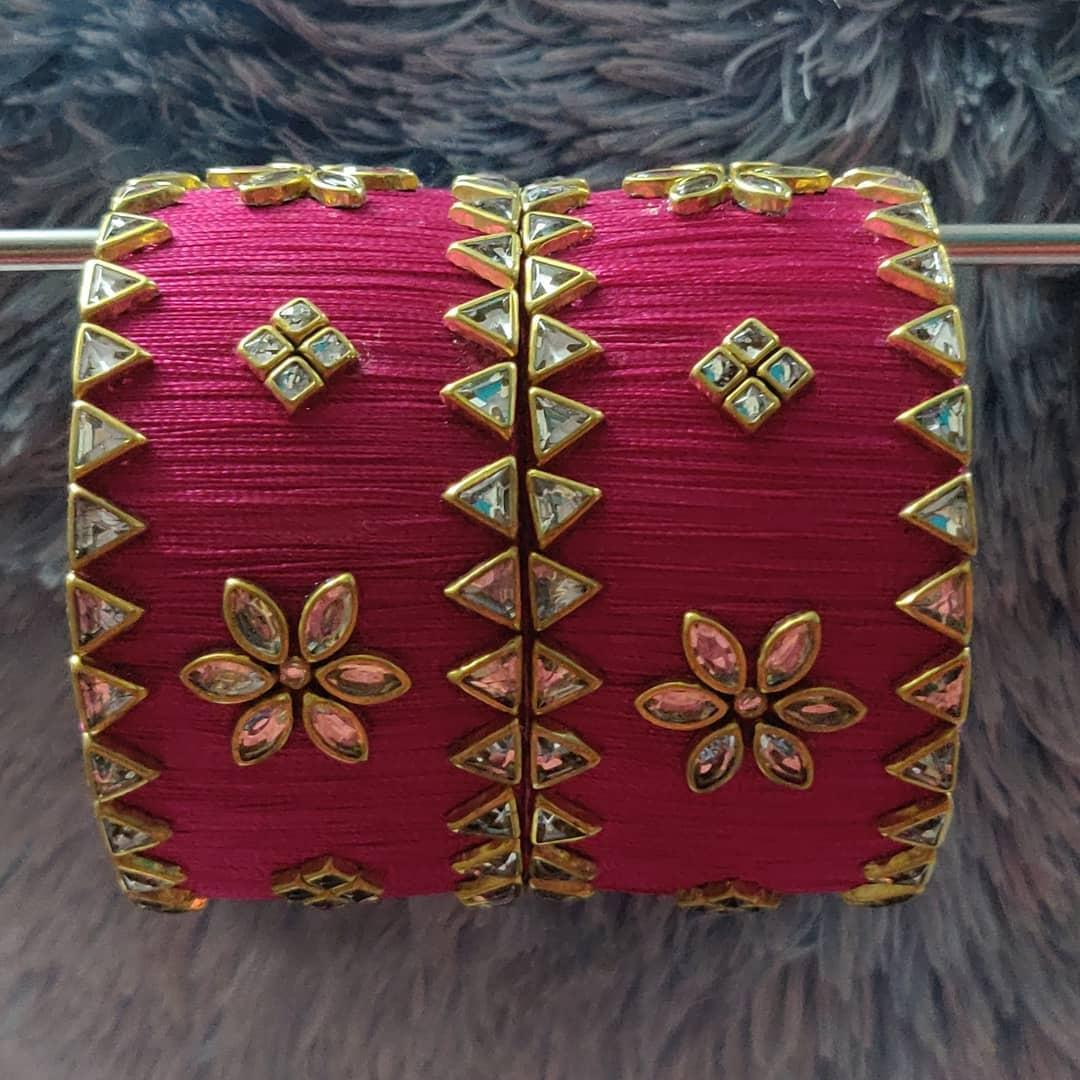 Image Courtesy: Silk Thread Creationssss
For bridesmaids who prefer having a fuss-free attire for the best friend's wedding rather than trying to stack-up multiple bangles for each function, oversized bangles are the answer. These thread bangles are mostly Kadha style, but because of their thread design, they appear to look like oversized bangles upon wear.
Ombre Bangle Style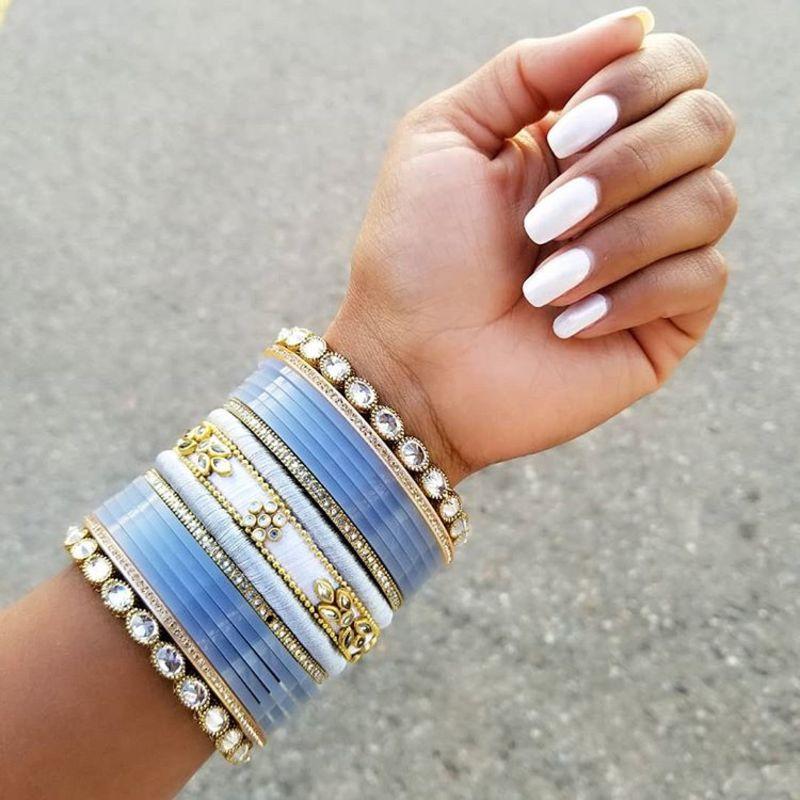 Image Courtesy: Studio SP Art
A great way to make west meet Desi vibes is by getting a custom set of ombre bangle style made for the occasion. Ombre is a trend associated with the Rastafarian fashion style of the west, making it a modern take on traditional bangles style to adorn for the wedding. Don't forget to get your nails manicured in similar hues so as to match everything in complete harmony.
Velvet Abstract Bangles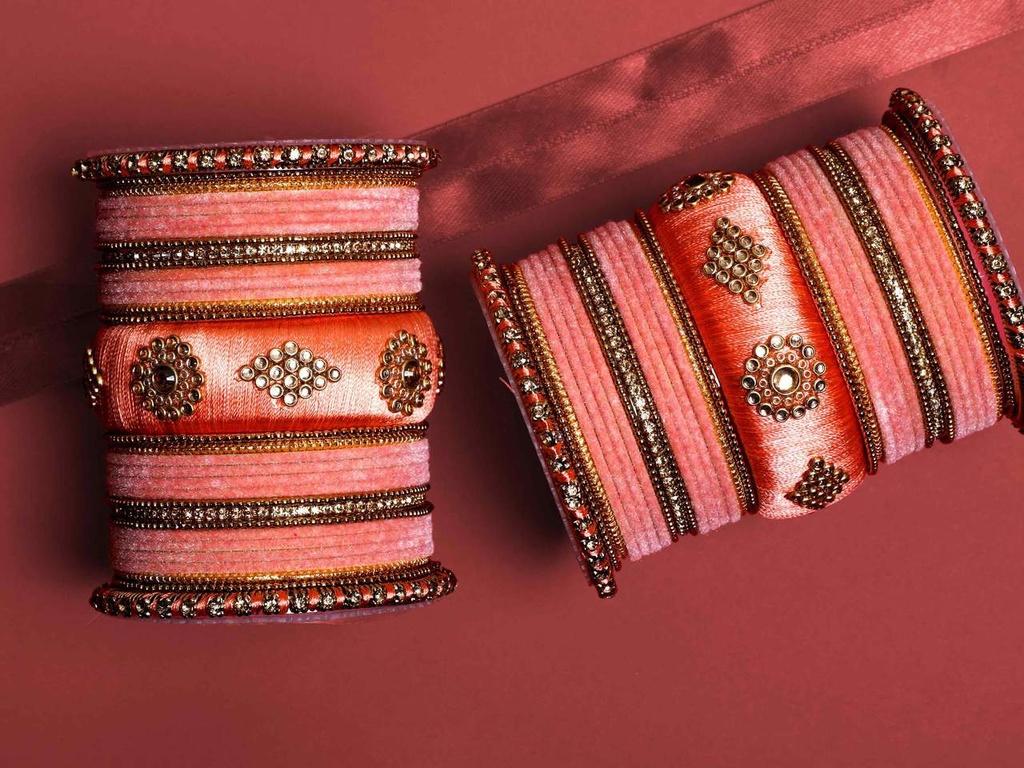 Image Courtesy: Leshya
By abstract, we mean that bangle designers come up with their own juxtaposition of thread work and bangle decorative styles that are very unique in nature.
For instance, such thread bangle images showcase threadwork in more than one style being done on a single bangle, with half-and-half embellishments to create different styles of bangle sets. They also use alternative fabric like velvet and so on.
We are sure that by checking out all these thread bangle images, you now have a fair understanding of what kind of wedding bangles are in trend for bridesmaids. We suggest that you bookmark the thread bangle images listed here that you wish to match with all your ensembles.
You can also use these thread bangle images to mix and match more than one style listed here to create your own unique designs as well.
What, as per you, are the trendiest thread bangle images listed here for this wedding season? Share your thoughts with us in the comments section below.