Trends come and go, but some are here to stay; a Zardosi blouse proves that. An ancient embroidery technique, a Zardosi blouse is handmade, using gold and silver threadwork. It was the choice of embroidery for opulent and intricate garments that were made for the kings and the royals of India. A Zardosi blouse design will typically display gold and silver thread embroidery, complemented with pearls, coloured stones, and other embellishments. These Zardosi blouse designs can also be customized by adding silk threads to the embroidered pattern in any colour. Today, these Zardosi blouse designs are usually made using copper wires with a gold or silver polish.
Here are some reasons you should invest in a Zardosi Blouse:
It is a versatile piece of attire that can completely transform even the simplest of attires. For example, you can easily team up a Zardosi blouse with plain silk and chiffon Sarees or a plain Lehenga skirt.
It has great usability as you can keep experimenting different looks and attires with the same Zardosi blouse.
A Zardosi blouse can look stunning in any colour, made with any fabric of your choice. The gold and silver thread work beautifully compliment and enhance all shades and hues.
It is a classic and traditional artwork that can dress up even the most modern cuts and styles.
10 places to buy a statement Zardosi blouse:
1. Sabyasachi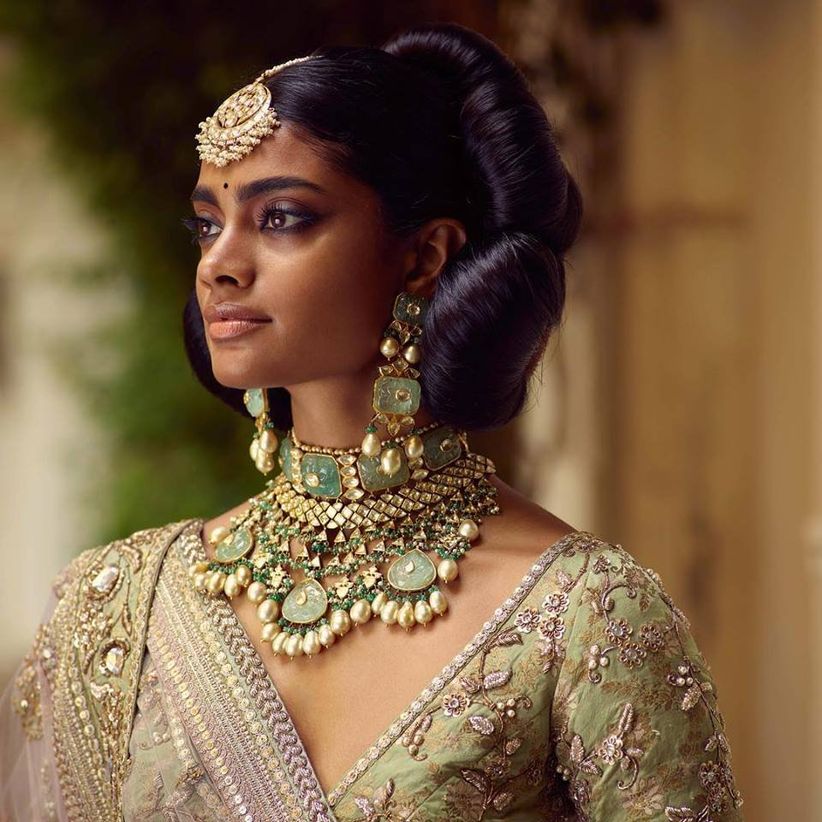 Image Courtesy: Sabyasachi
Sabyasachi is one of the finest brands for exquisite Indian wear. A Zardosi blouse from Sabyasachi is sure to be a work of the best craftsmanship, quality and design. The brand is all about traditional Indian weaves and artwork and offers a great collection to choose from.
2. Tarun Tahiliani
Another leading name to reckon with in the Indian fashion industry, a Zardosi blouse from Tarun Tahiliani's collection will offer you traditions, combined with the latest cuts and styles. From intricate work to simpler designs, you can find it all here.
3. Anita Dongre
Anita Dongre is a renowned Indian ethnic wear designer who understands the needs of modern day women. A Zardosi blouse from Anita Dongre's collection will give you the perfect blend between fun, sexy and stunning. Pastels, light fabrics and intricate work are the USP's of this designer brand.
4. Abu Jani Sandeep Khosla
The designer duo that has dressed up many Bollywood brides, Abu Jani and Sandeep Khosla are known for their elaborate yet intricate Indian fashion wear. A Zardosi blouse design from their collection promises to make you feel regal and nothing less than the queen-bee.
5. Anushree Reddy
Young, vivacious and versatile are just a few of the elements that describe a Zardosi blouse from Anushree Reddy's collection. The collection is in keeping with modern-day trends and can easily be paired with a wide range of attires.
6. Ritu Kumar
Another Indian designer who has time and again reinvented Indian ethnic fashion, Ritu Kumar, is all about traditions and traditional artwork. A Zardosi blouse from the designer is all about mixing traditional weaves with stylish cuts and modern styles.
7. Mayyur R Girotra
The Zardosi blouse collection designed by Mayyur R Girotra is perfect for anyone who likes new-age designs, enhanced with traditional elements. From sexy crop-top style blouses to elegant peek-a-boo designs, you can explore and experiment with different looks.
8. Mani Bhatia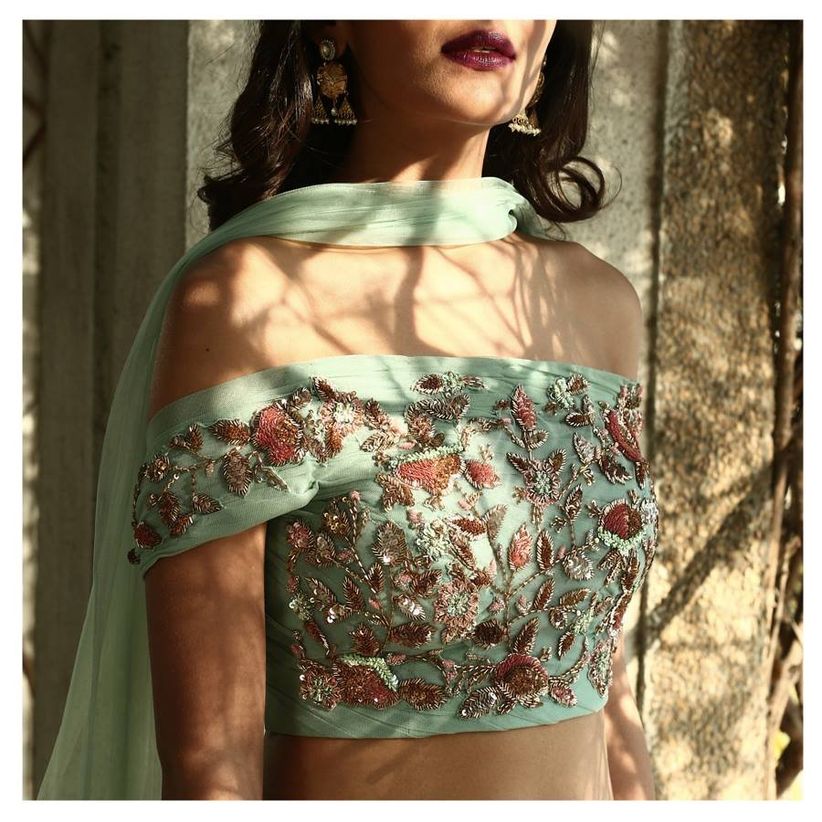 Image Courtesy: Mani Bhatia
When we talk about new and upcoming designers who are changing the way we see Indian ethnic fashion, Mani Bhatia is definitely one of the first few names that come to mind. Elegant and soft, yet sexy and powerful best describe the Zardosi blouse you can get here.
9. Asiana Couture
Modern day women like to experiment with their attires, without losing the traditional beauty of it. Asiana Couture is the place to go if you want some Zardosi blouse designs that are unique and modern, yet true to the traditional craftsmanship.
10. Kylee
Kylee boutique offers a bespoke collection of Indian ethnic wear that is customizable, modern and truly elegant. A Zardosi blouse from Kylee can be an elaborate one that can instantly dress up even the simplest attire or a subtle one that beautifully complements whatever you pair it with.
These 10 designers and brands are changing the Indian ethnic fashion trends by keeping with traditional attires and yet offering something so modern and stylish; just like the woman of today. Whether you want to pair up a statement Zardosi blouse design with a plain Saree for a wedding or looking for some Zardosi blouse designs to match your elaborate attire, you know where to get the perfect one.
How will you style these statement Zardosi blouse designs?