Latest Silk Thread Bangles Ideas To Enhance Your Bridal Look
Add a dazzling stack of silk thread bangles for that pop of colour in your outfit. We bring you the latest silk thread bangles of the season!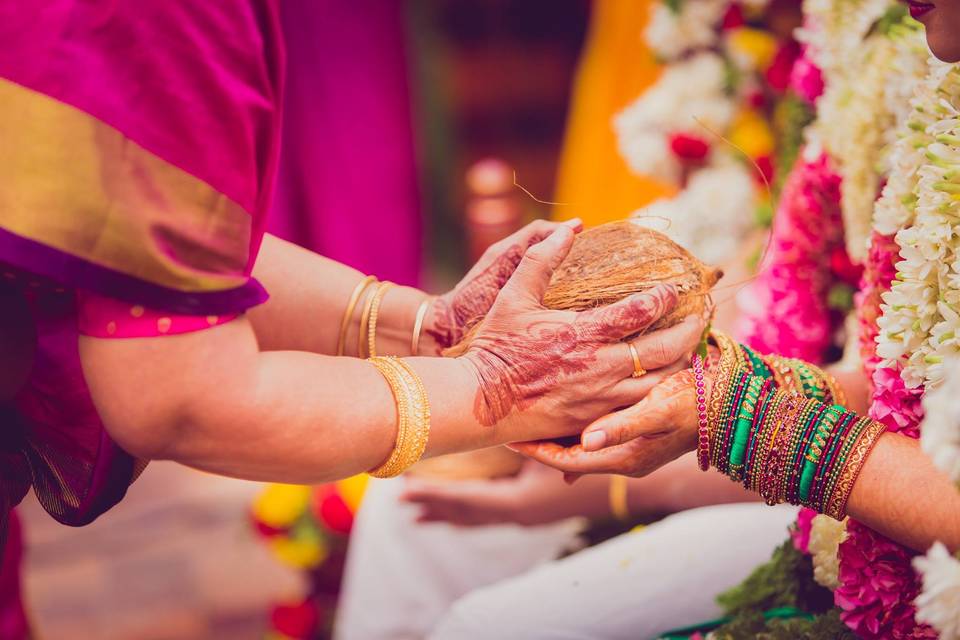 The perfect wedding jewellery can be different for every bride, some prefer to go with the latest trends of the season while others may want to take the traditional route. Latest silk thread bangles are just one of the many elements of bridal jewellery you need to keep in mind for your celebrations.
Whatever your choice of accessories maybe for the big day, you also need to think about the jewellery you wish to adorn for wedding functions and events preceding the main wedding. Functions like the Sangeet and the Mehndi call for more experimental jewellery that is not held back by traditional norms.
One stylish piece of jewellery that's budget-friendly and can add a pop of colour to your outfit are silk thread bangles. They can be styled to match your attire and embellished with stones, beads or mirrors. Like traditional wedding jewellery, silk thread bangles also come in various forms. We take a look at some of these silk thread bangles styles so you can rock them at wedding festivities.
Green And Black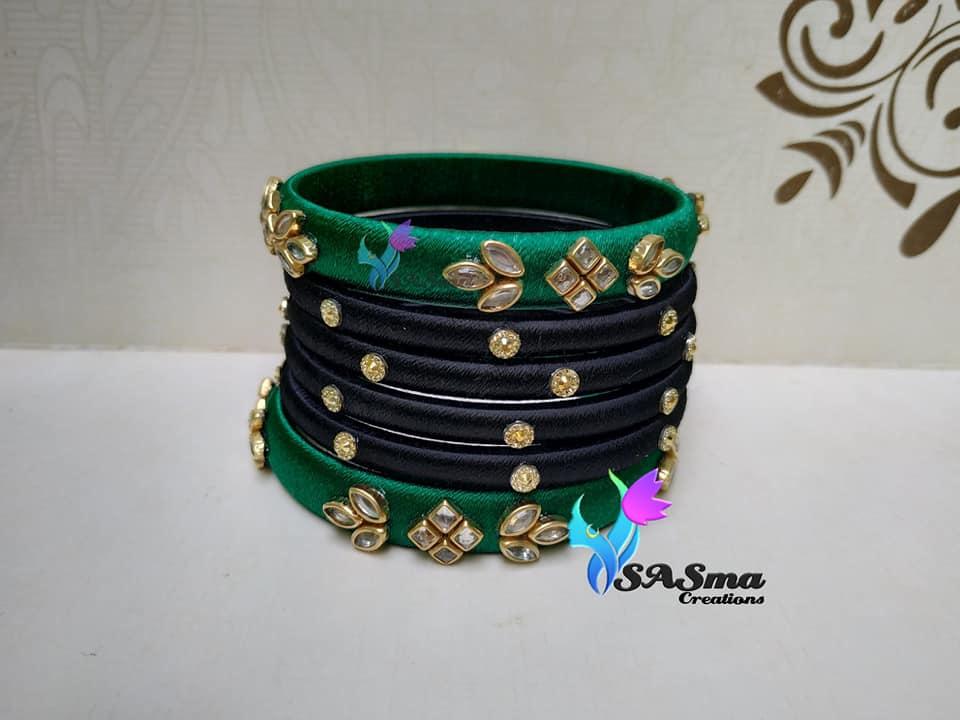 Image Courtesy: Sasma Creations
While weddings are often defined by pastels and light shades, you can give your outfit an edgier vibe with some dark-toned latest silk thread bangles. This bangle pairing includes a combination of black and green bangles. Four slim black bangles, embedded with small stones, are worn at the centre.
These are framed by green bangles on either side with a floral motif pattern. You can either pair these bangles with a black and green outfit or combine them with a light-toned bangle set for balance.
Blue Tones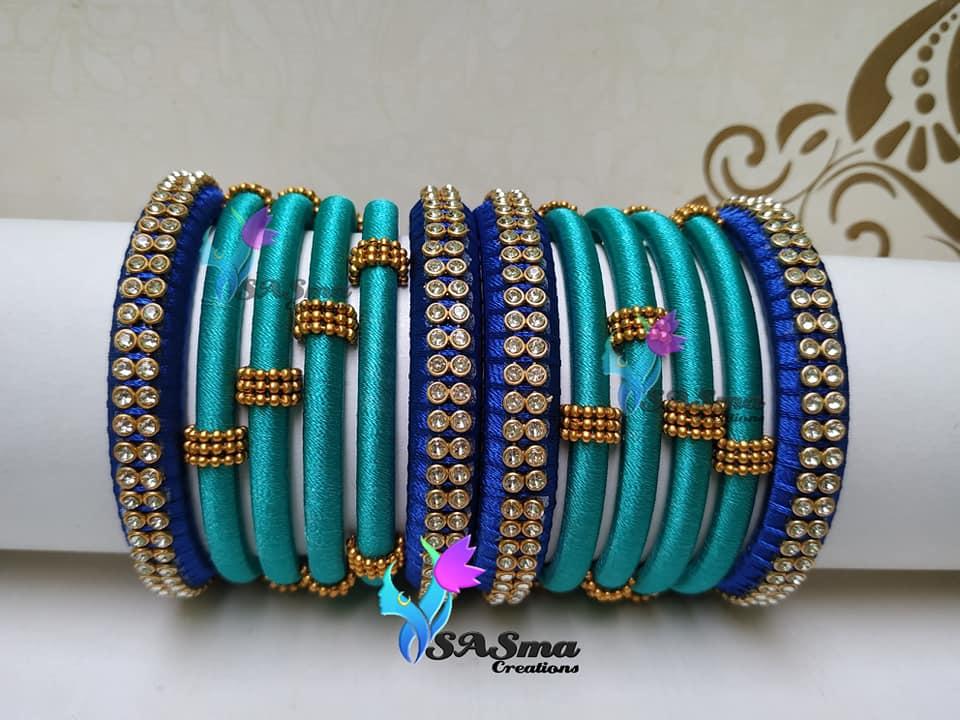 Image Courtesy: Sasma Creations
If you want to wow all your guests at the wedding festivities, consider making a statement in these blue-toned bangles. These blue bangles feature a mix of light and dark blue bangles. The slim bangles at the centre are accented with rows of gold beads. They are enclosed by two dark-blue bangles lined with mirrors.
These latest silk thread bangles can add a pop of colour to your outfit. They can either be paired with a blue outfit or mix and matched with other colours. Either way, these bangles can brighten up your outfit.
Pink And Navy Blue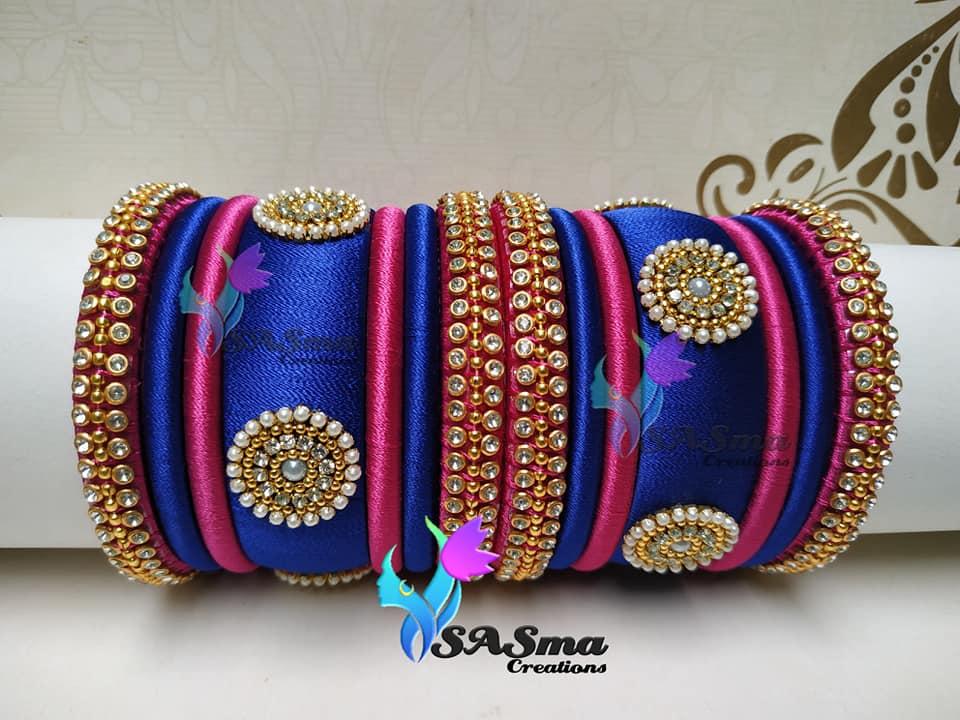 Image Courtesy: Sasma Creations
To add an element of glamour to your stunning attire, opt for jewellery that elevates the bold theme of your outfit. This set comes in a vibrant pink and navy blue colour to create a gorgeous set. For a more abstract feel, bangles of different shapes are paired together.
Two broad navy blue bangles embellished with beaded flowers are the mainstay in this set. They are accentuated with slim pink and navy blue bangles on either side. Two ornaments with mirror-work complete this latest silk thread bangles set.
Purple And Brown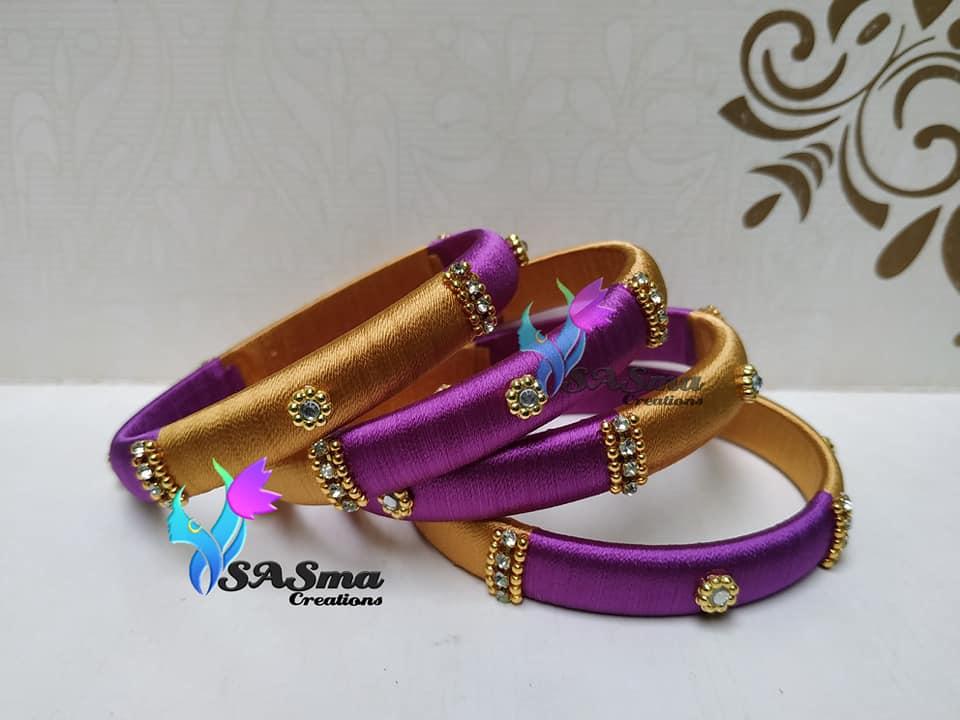 Image Courtesy: Sasma Creations
Minimalist brides who want a simple bangle pairing that's simple and chic can opt for a more understated set. These brown and purple bangles can accentuate your bridal attire and can even be worn with more casual outfits long after the wedding festivities.
Each bangle is wrapped with brown and purple silk thread in an alternating pattern and embellished with simple stonework. The contrasting colours give these latest silk thread bangles an edgy feel. You can also add this stack to a larger set of ornaments.
Multicoloured Bangles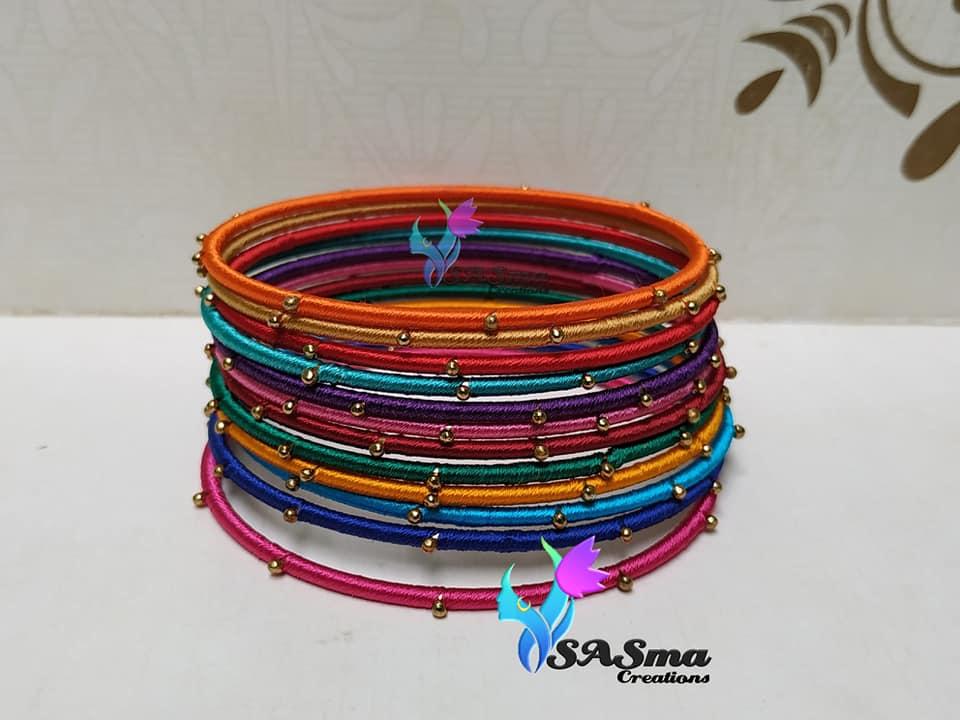 Image Courtesy: Sasma Creations
If want to add some vibrancy to your outfit, why stick to just one colour when you can opt for a multicoloured bangle pairing. These ornaments are perfect if you are trying to make a statement without going too overboard.
These slim bangles come in a variety of colours making them the perfect accessory for any outfit. They are studded with small gold beads for a touch of glamour. You can even pair these latest silk thread bangles with more casual outfits.
Sea Blue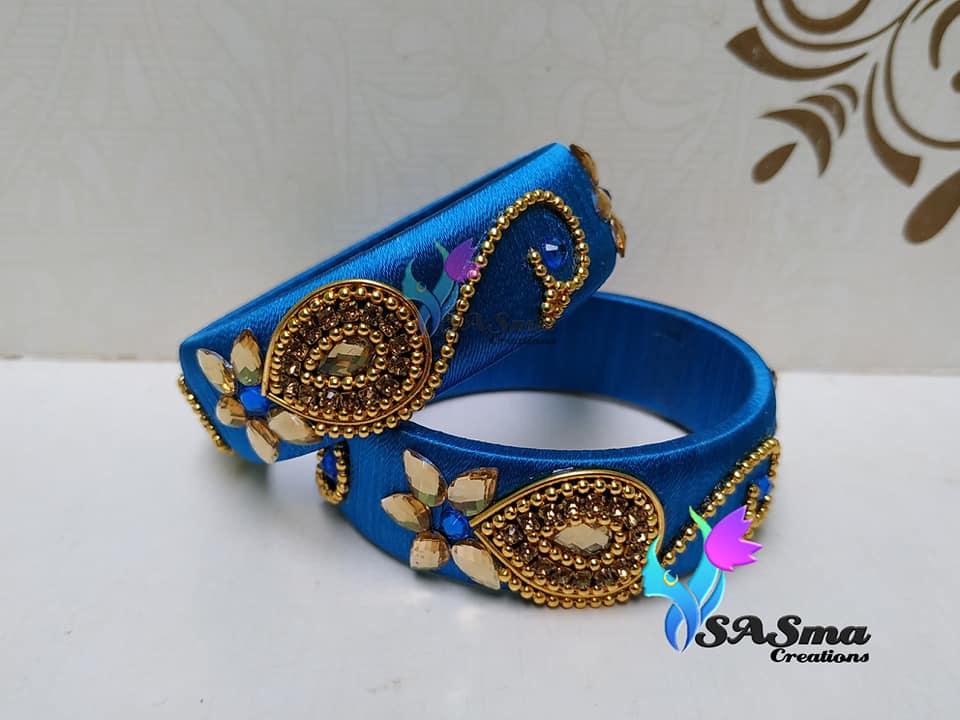 Image Courtesy: Sasma Creations
You don't always need a large number of bangles to make an impact, sometimes one statement bangle is all you need. These stunning blue latest silk thread bangles can be worn on either hand to enhance your attire. Each bangle is accented with gold beads that form the shape of a peacock and flowers made of shiny stones.
The gold embellishments complement the blue silk thread in an effortless way. For a bolder look, you can pair these statement accessories with bangles of different sizes and colours.
Pink And Green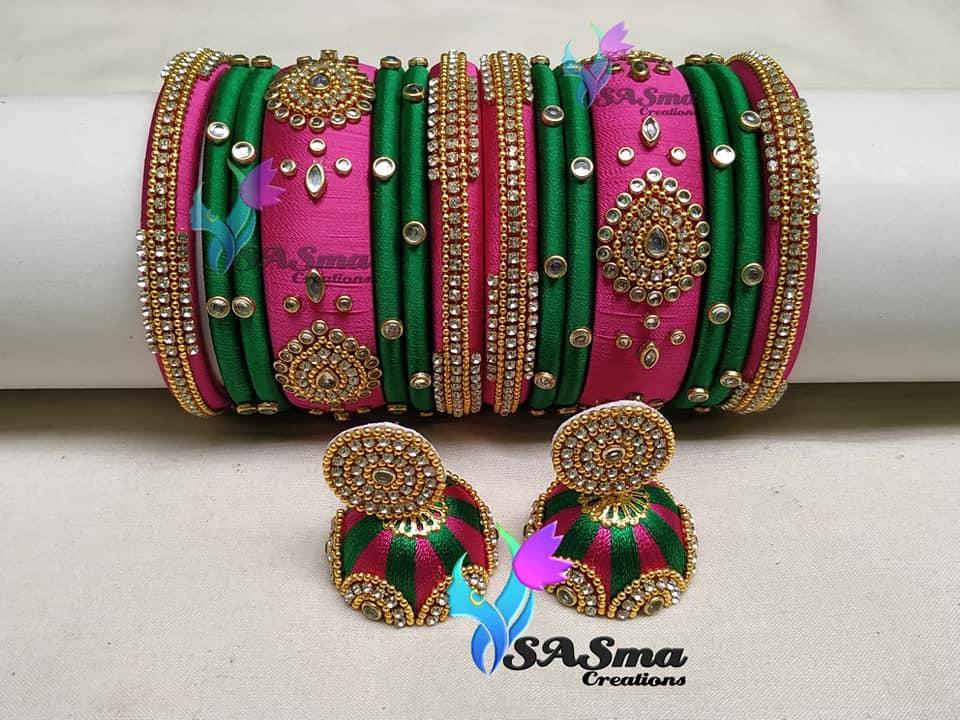 Image Courtesy: Sasma Creations
Silk thread bangles are the perfect choice for traditional brides as it helps add a touch of old school glamour to your outfit. If you are wearing a green or pink saree for the wedding function, consider adding these vibrant pink and green bangles to your ornaments.
The accessories are embellished with stonework and beads that form various floral patterns. Two statement white stone bangles are added on either side of this stack. You can pair these latest silk thread bangles with the matching Jhumka earrings to complete your look.
Red And Green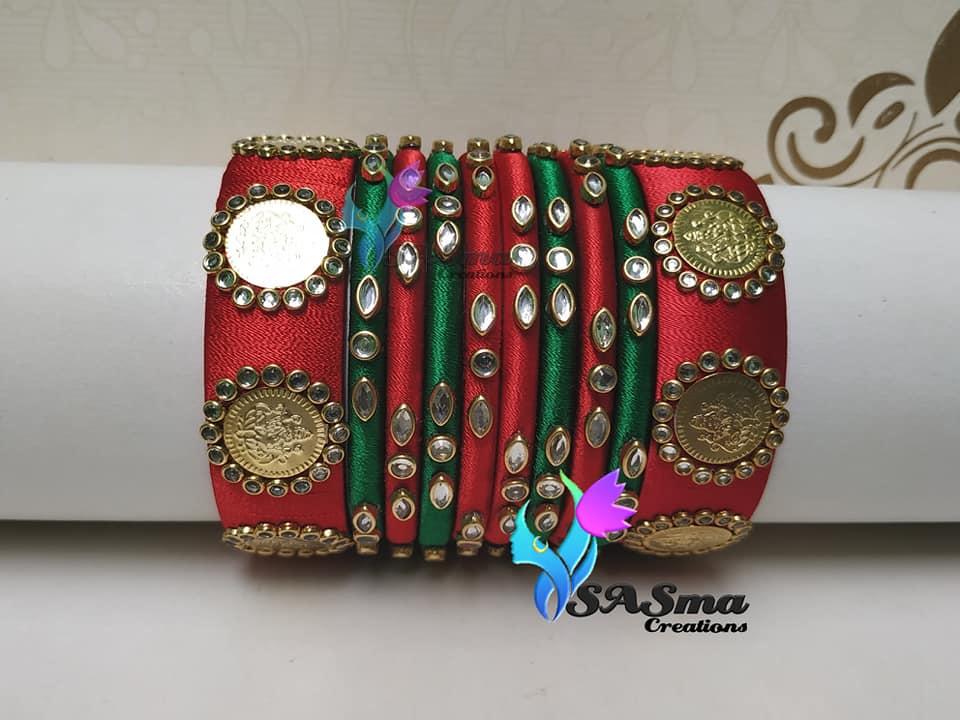 Image Courtesy: Sasma Creations
Red is a classic wedding colour and brides who want to accessorise their traditional attire can opt for these red and green bangles. The set incorporates slim green and red coloured bangles in the centre in an alternating manner. Each bangle is accented with small Kundan stones.
The statement bangles worn on either side are embellished with gold coins that feature an intricate lotus motif. These latest silk thread bangles are incredibly festive and can amp up your red lehenga or saree.
Blue And Green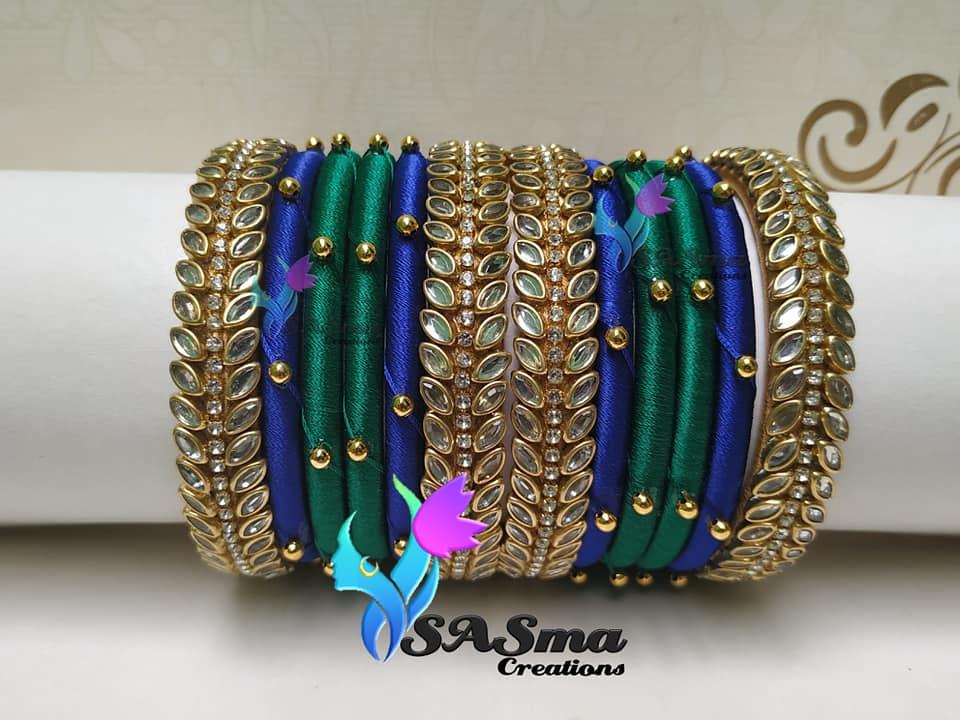 Image Courtesy: Sasma Creations
Make a stylish statement in these stunning bangles that feature a mix of silk thread bangles and Kundan ornaments. The centre of this set includes green and blue bangles accented with small gold beads.
They are paired with Kundan bangles that come with a leaf pattern and white stones on either side. This incredible stack of latest silk thread bangles are can add a touch of traditionalism to your modern outfit.
Bride's today are all about making a statement with their outfit which usually entails picking a unique silhouette with bold colours. Nevertheless, every bridal outfit can use a touch of traditionalism and the best way to incorporate this into your outfit is with some silk thread bangles. These bangles come in various colours and can be embellished with stones, beads or pearls.
They can either be worn as a statement piece or paired with other bangles to add a dash of colour. If you are a bride on the hunt for your wedding accessories, we hope this list of the latest silk thread bangles can provide some inspiration!
Love these bangles? Let us know your favourites in the comments below!