7 Pink Silk Sarees That Will Make You Look Drop-dead Gorgeous
It is hard to go wrong with pink silk sarees at a wedding function. The following are some beautiful designs that you can take inspiration for this wedding season!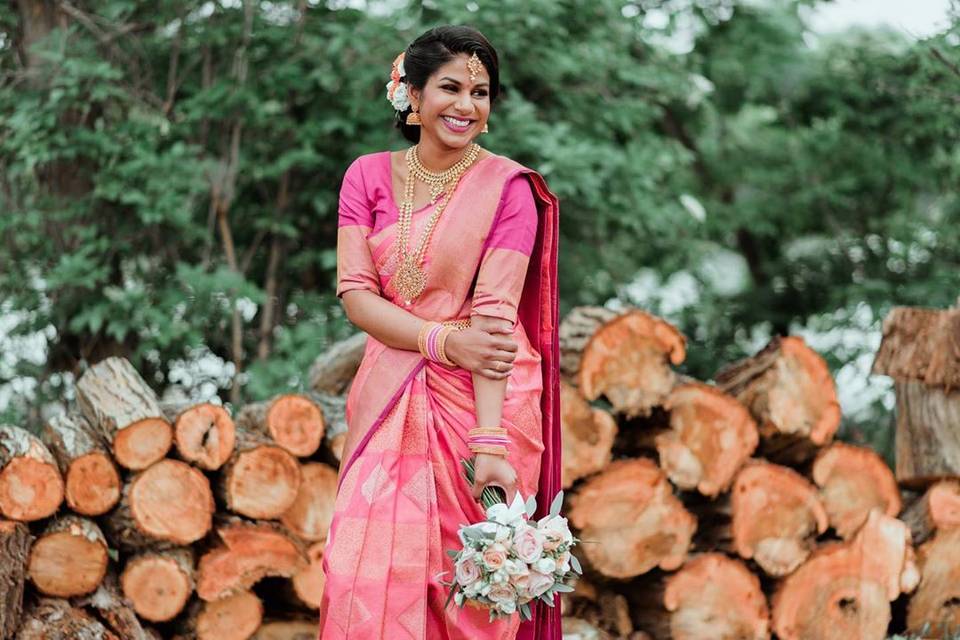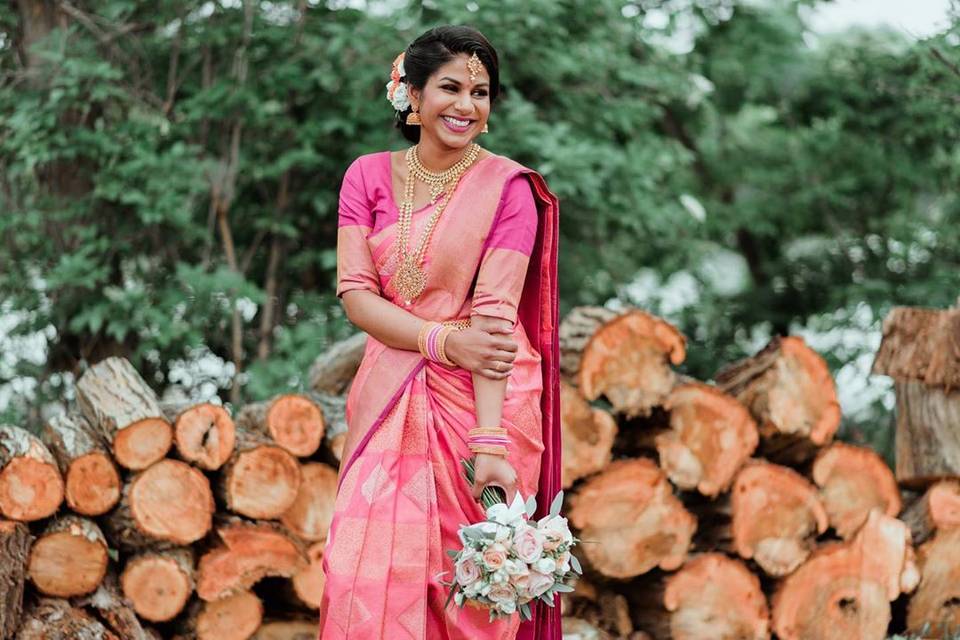 Image Courtesy: Black Magic Creations
Silk is one of the most luxurious and elegant looking fabrics in traditional Indian attire. It has the perfect balance of tradition and opulence. The texture and the heft of the fabric itself is enough to make you stand out at a wedding event. Silk has always been a favourite of the rich and famous people of the country and is worn by them frequently when they are in the public eye.
Pink silk sarees, in particular, are a favourite amongst women to wear at a wedding. Pink, being one of the most feminine and royal looking colours that you can go for, works very well with the silk fabric. Pink silk sarees can make you look elegantly beautiful at a wedding as they carry a subtle elegance that is hard to beat.
Choosing the right of pink silk sarees can be a confusing task. It is very easy to get overwhelmed by the variety of cuts and styles and the plethora of designs and embroideries that are available on these sarees in the market. It is important to take time to decide the type of look that you want to pull off and then have a picture in mind before looking for the perfect pink silk sarees to be worn at a wedding.
The following is a list of interesting designs for pink silk sarees that you can wear this wedding season.
1. Understated blush pink silk saree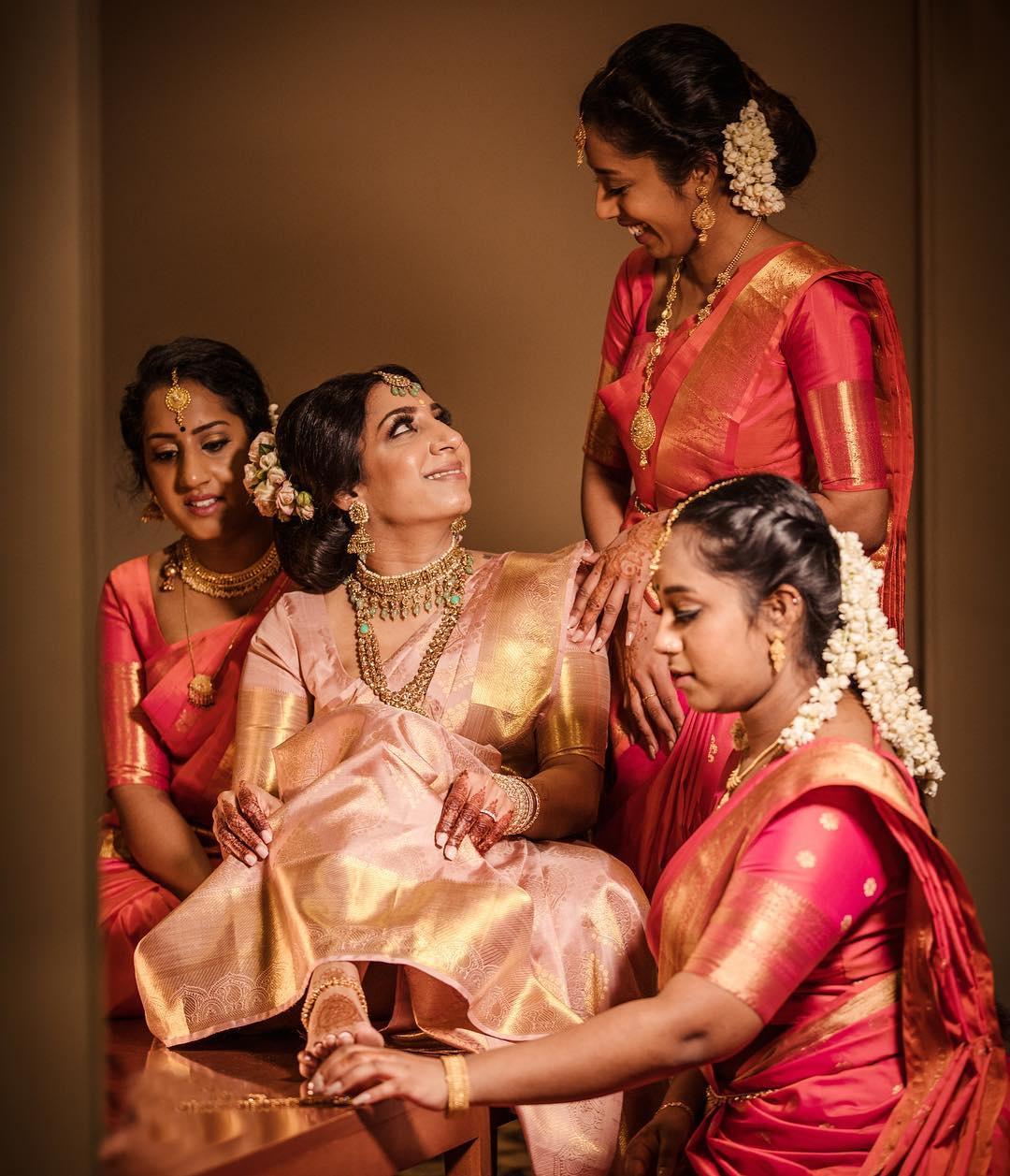 Image Courtesy: Black Magic Creations
In this image, we can see that the bride is wearing a beautiful example of blush pink silk sarees with a broad golden border. Traditional and heavy gold jewellery perfectly compliments the understated saree design. If you want the beautiful shade of pink and the beauty of silk to stand out on your wedding day, this is a great design for someone like you.
2. Pink silk saree with fine silver print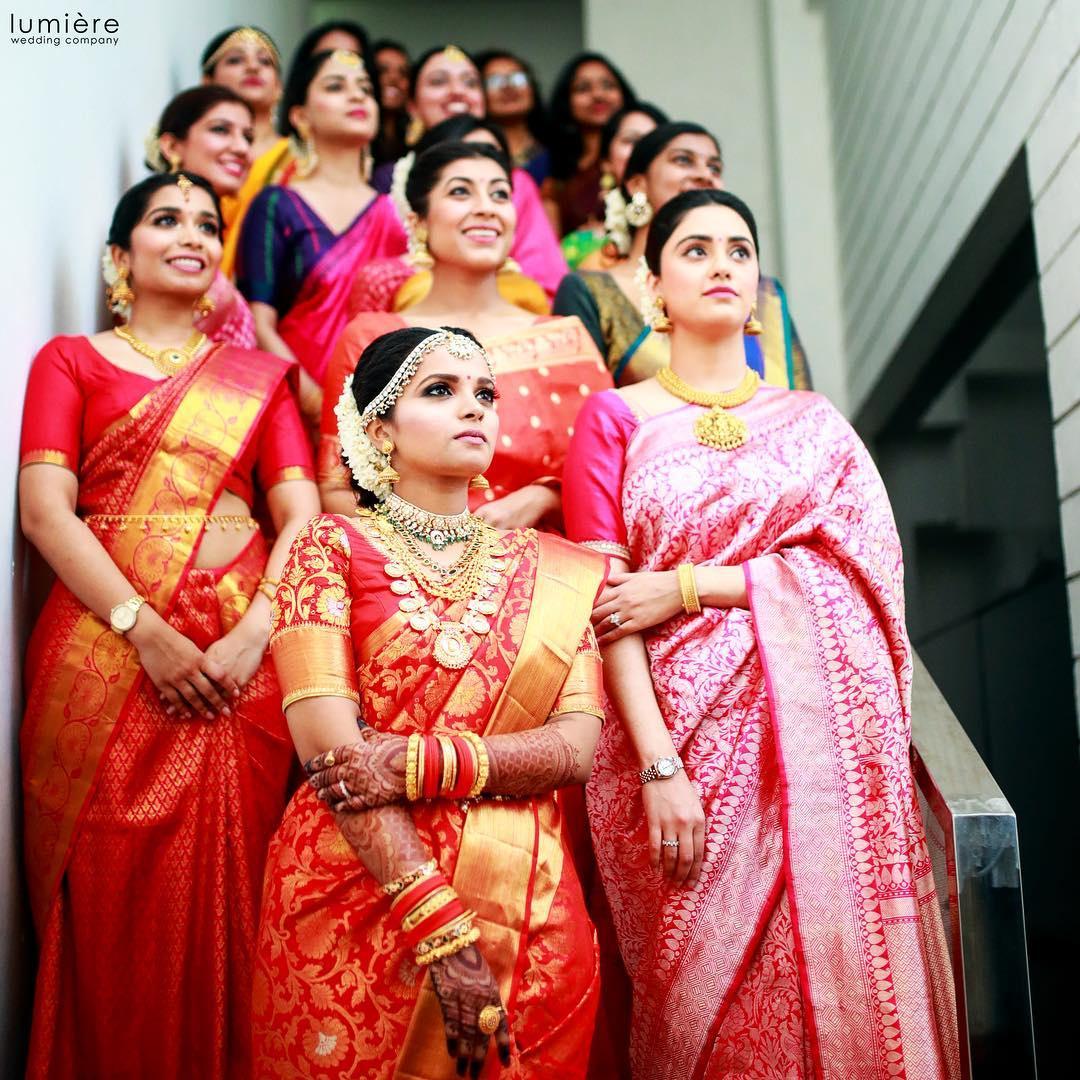 In the above picture, we can see the bridesmaid wearing one of the most beautiful pink silk sarees we've seen. It has a beautiful and intricate silver print design. While buying a silk saree, most brides go for the traditional gold prints on top of a solid fabric. This design, however, has a detailed silver print to compliment the pink base colour of the saree.
3. Hot Pink Silk Saree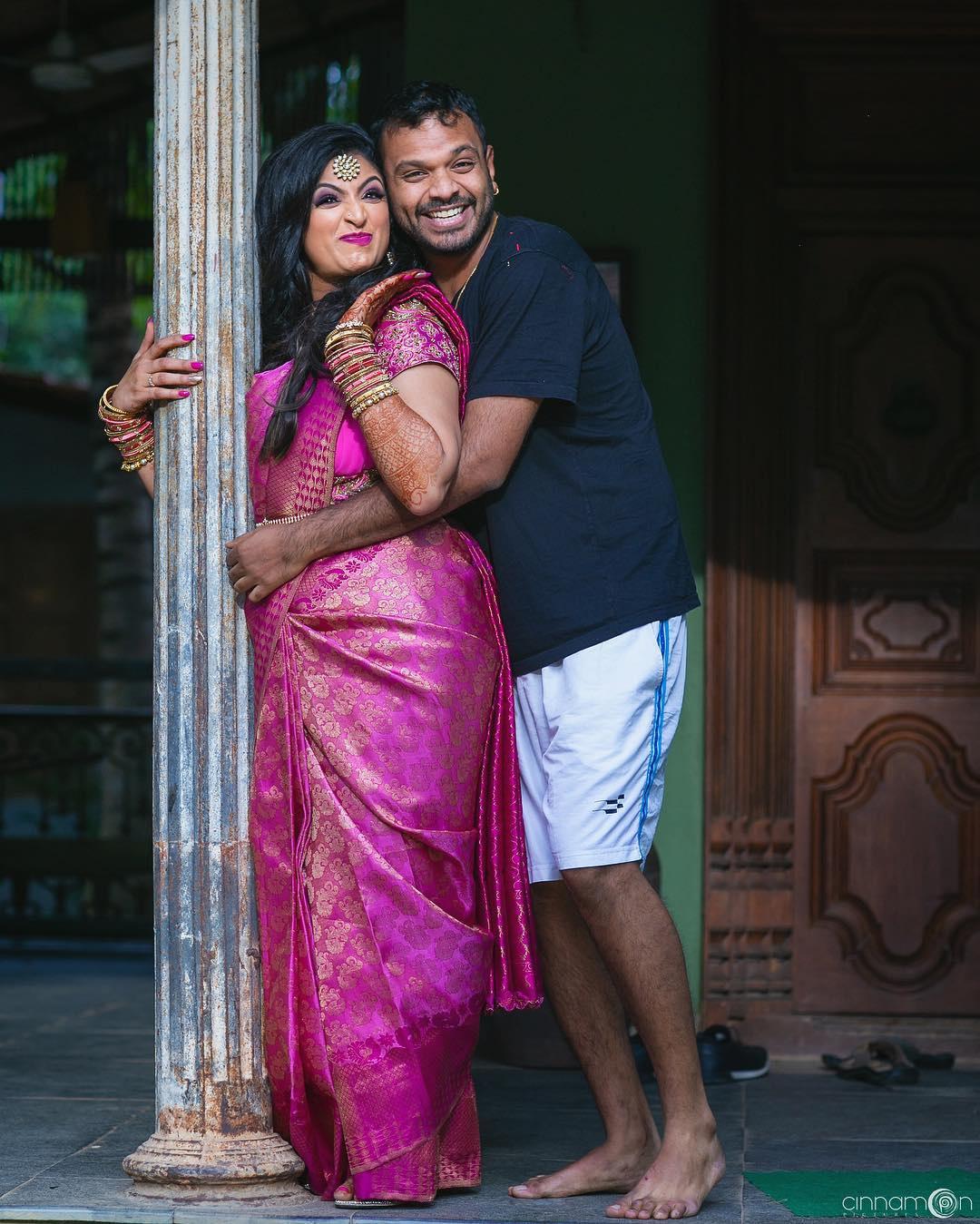 This hotpink silk saree is another great design if you want to go for a silk saree. The saree has a traditional gold print work throughout the length of the fabric and a patchwork design on the blouse that takes the design up a notch. Such a design for pink silk sarees is sure to make you look gorgeous at a wedding.
4. Pink silk sarees with patch work on the blouse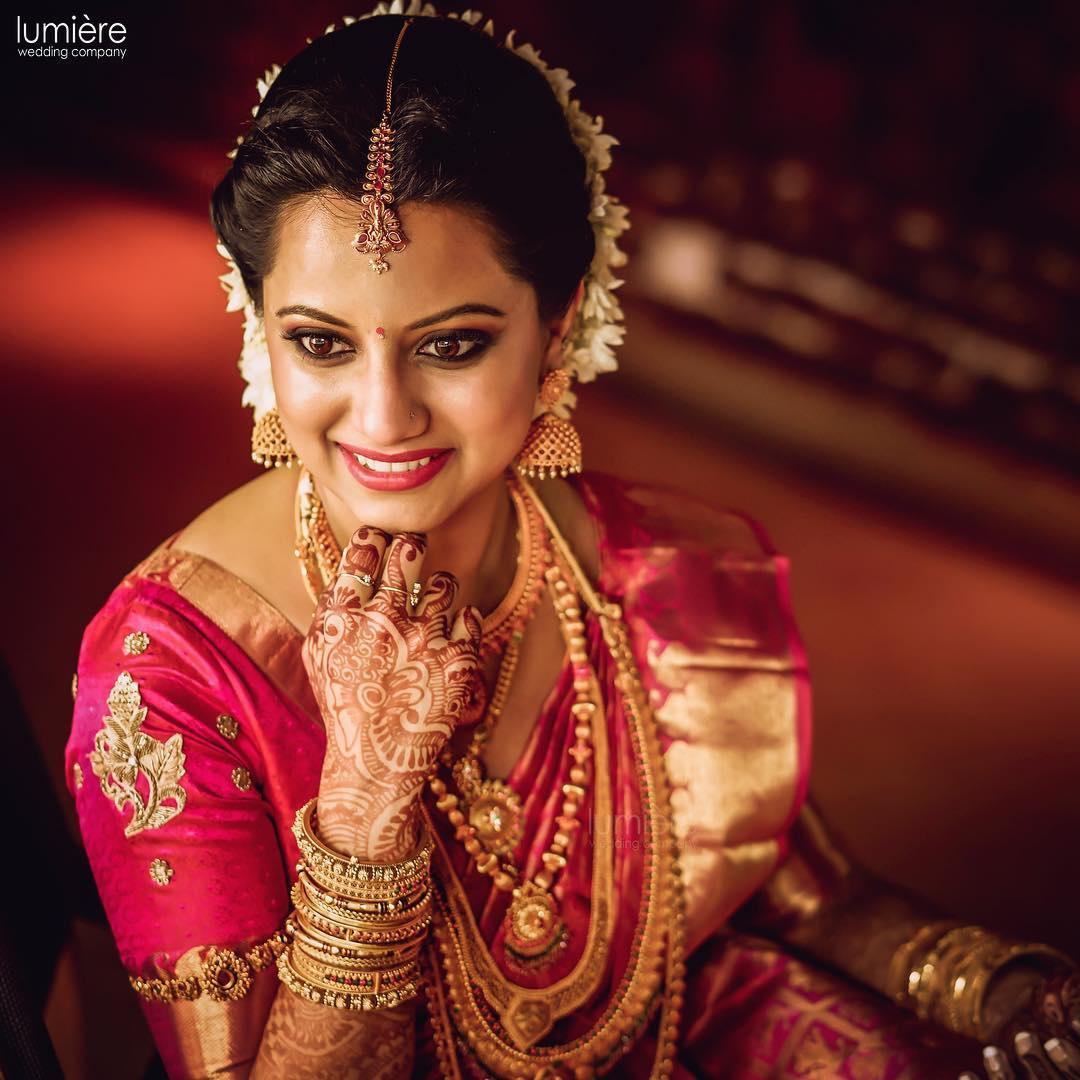 If you want to go for more extravagant pink silk sarees that make the elements of gold stand out it all its glory, then such a design is ideal for someone like you. The saree has a striking gold print work along with other fine details like a patchwork design on the blouse that further adds to the extravagance of the look.
5. Traditional Hot Pink Silk Saree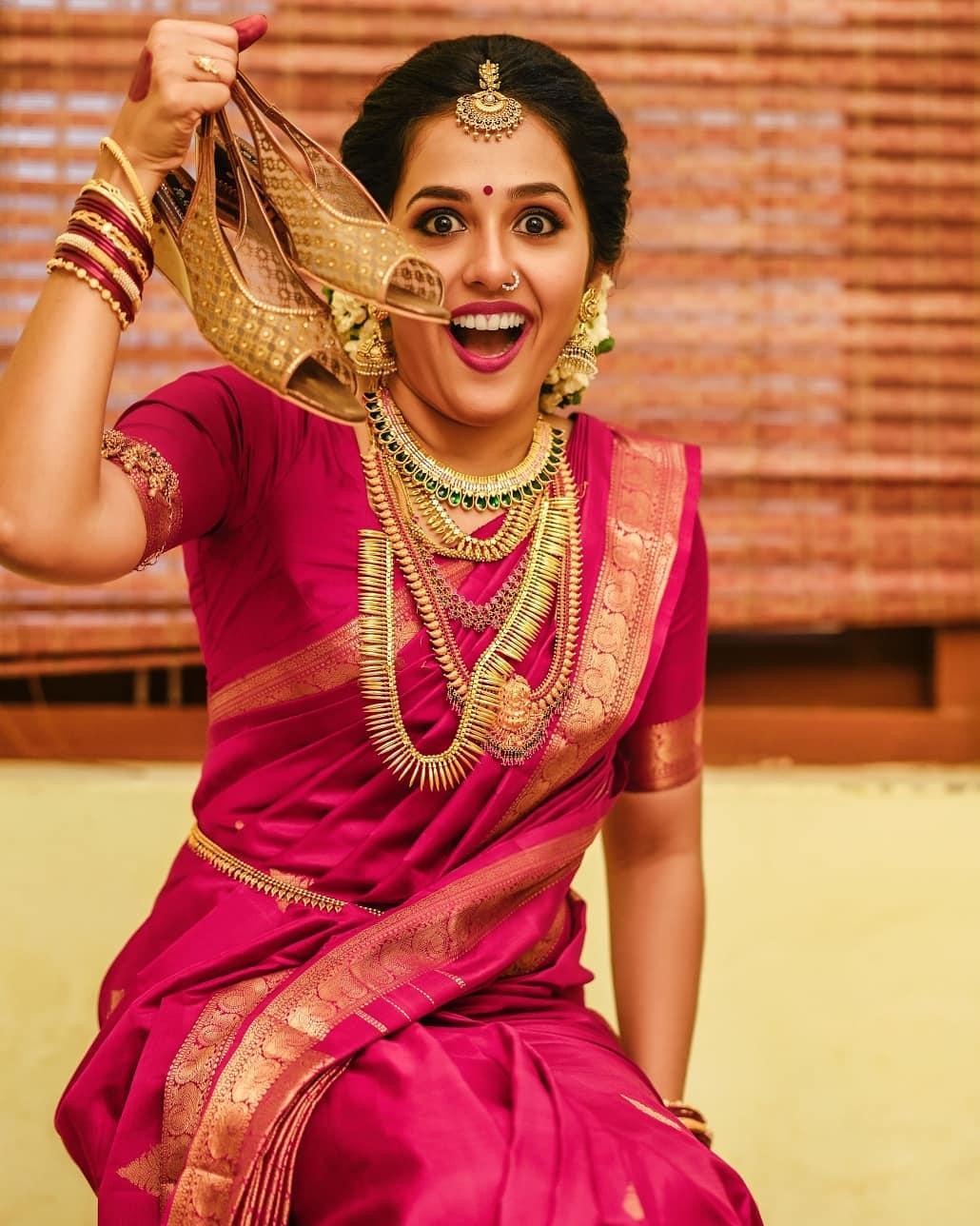 Image Courtesy: Wedding Bells Photography
This restrained and minimal hot pink silk saree is perfect if you want to go for a more subtle design that is not too loud and put more emphasis on the beautiful silk fabric with traditional gold print work that makes the saree look elegant and beautiful.
6. Light Pink Silk Sarees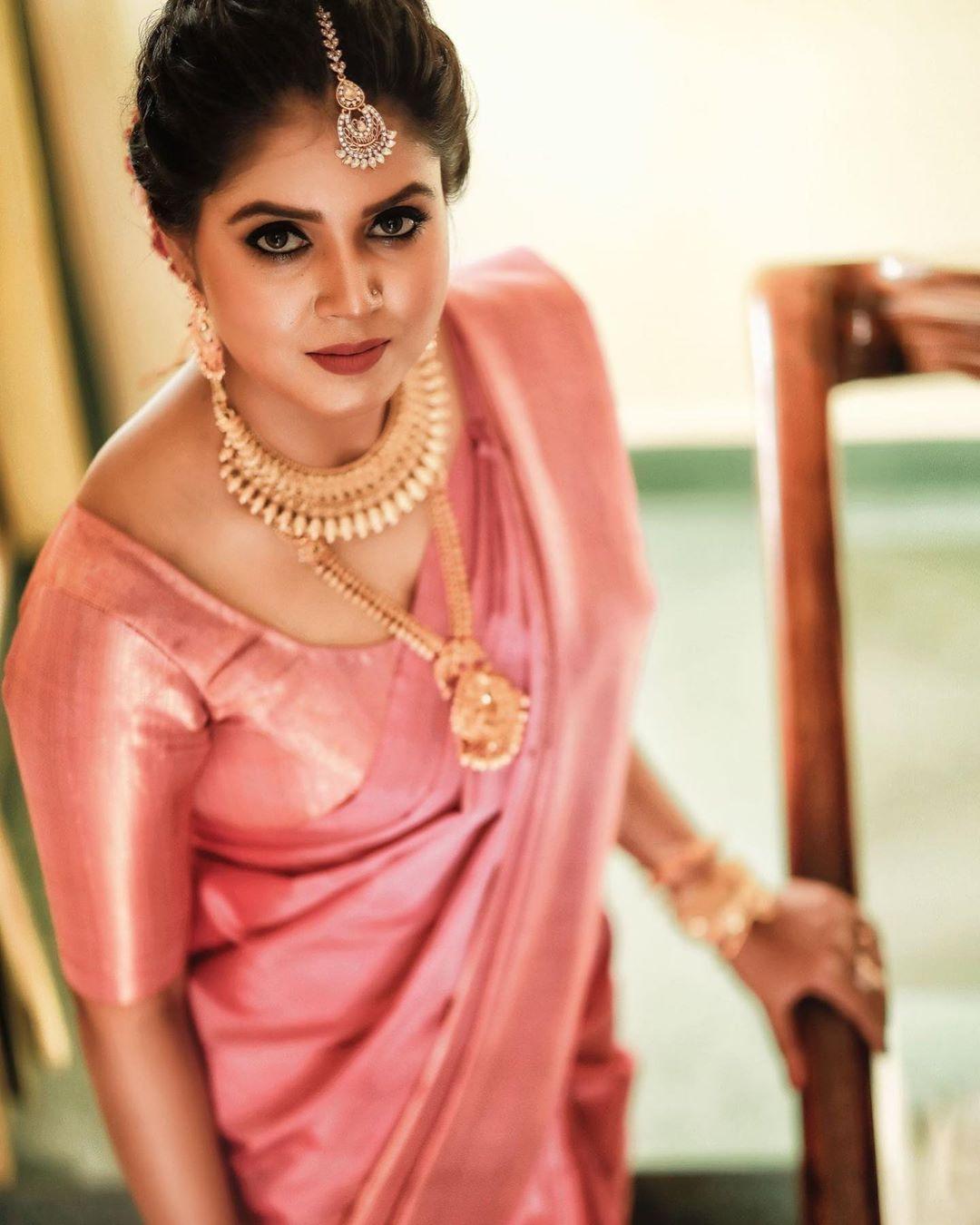 Image Courtesy: Wedding Bells Photography
In this list of pink silk sarees, we have another minimal silk saree design that lets this beautiful shade of pink shine. Such a design will be ideal for you if you want to wear something simple and light at a wedding.
7. Bridal silk saree with heavy jewellery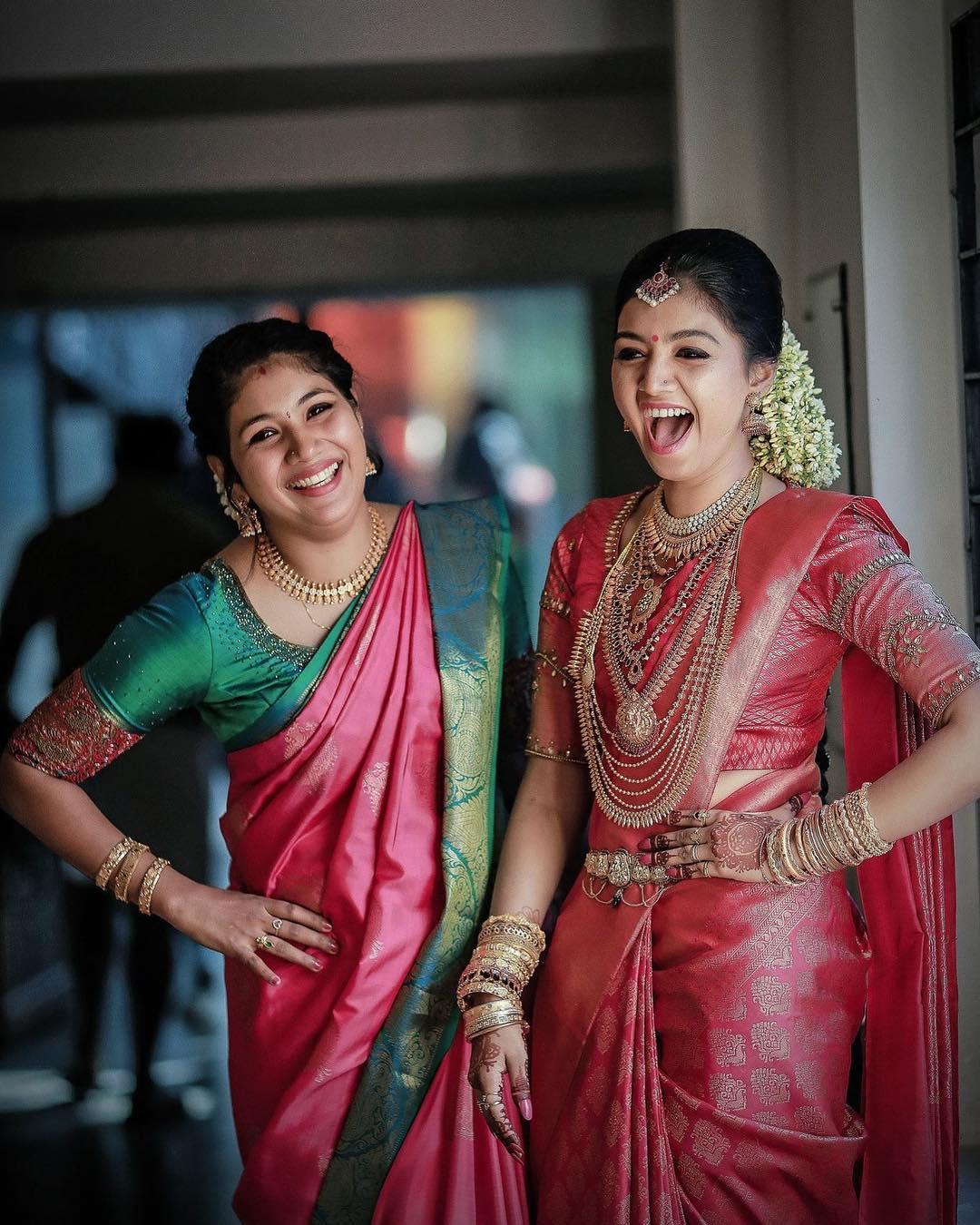 Image Courtesy: Wedding Bells Photography
For the last pink silk sarees option on this list, we have this bridal silk saree with a fine gold design that compliments this elegant shade of pink. The magnificence and the grandeur of the look is further elevated by the heavy temple jewellery. This look is sure to make you look like a beautiful south Indian bride.
Pink silk sarees are a great option to go for if you truly want to embrace traditional Indian fabric and styles. Silk is the ultimate expression of wealth, opulence and purity. Although silk sarees are more common in South Indian cultures, the sheer beauty of the fabric has made it a material to lust after in other parts of the world as well. We hope that this article helps you understand the best pink silk sarees for you to wear this on this wedding season!
To pair your traditional silk saree with the perfect jewellery, check out these amazing jewellery stores near you!