Bye-bye Red! Make Way for Beautiful Designs of Blue Lehengas That Are Perfect for Every Woman!
While selecting your wedding outfit, choose a colour that represents what you and your values are. The colour blue signifies loyalty and stability. Here are some beautiful designs of blue lehengas you or your bridesmaids can wear to your wedding.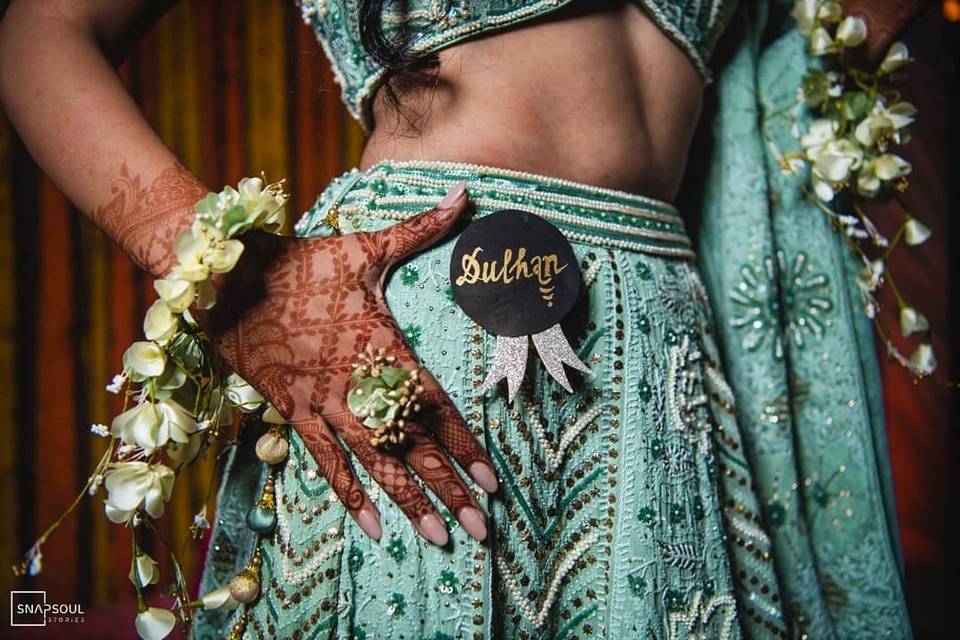 We have all felt stuck while choosing an outfit for any occasion and have often ended up wearing our favourite blue dress with beautiful designs on it.
Blue has a very calming and cooling effect on us and on other people around us too. The best thing about it is that it suits every skin tone and body type. With tons of shades and hues, blue is often our primary choice when it comes to traditional clothes.
With the day weddings being popular in summer and pastel shades being a huge part of this year's trending lehengas, blue has become the crowd pleaser. Brides love the dark and light blue shades with contrasting dupattas.
They plan their entire wedding décor around it too. Sometimes they like to complement each other and most times, the brides choose contrasting décor themes. Blue is also a favourite amongst bridesmaids too as it complements the bride's traditional red or pink look on her wedding day!
Blue coloured lehengas are gaining popularity every day. Here are some beautiful designs from which you can take inspiration for your own wedding. Check them out!
1. Light blue lehenga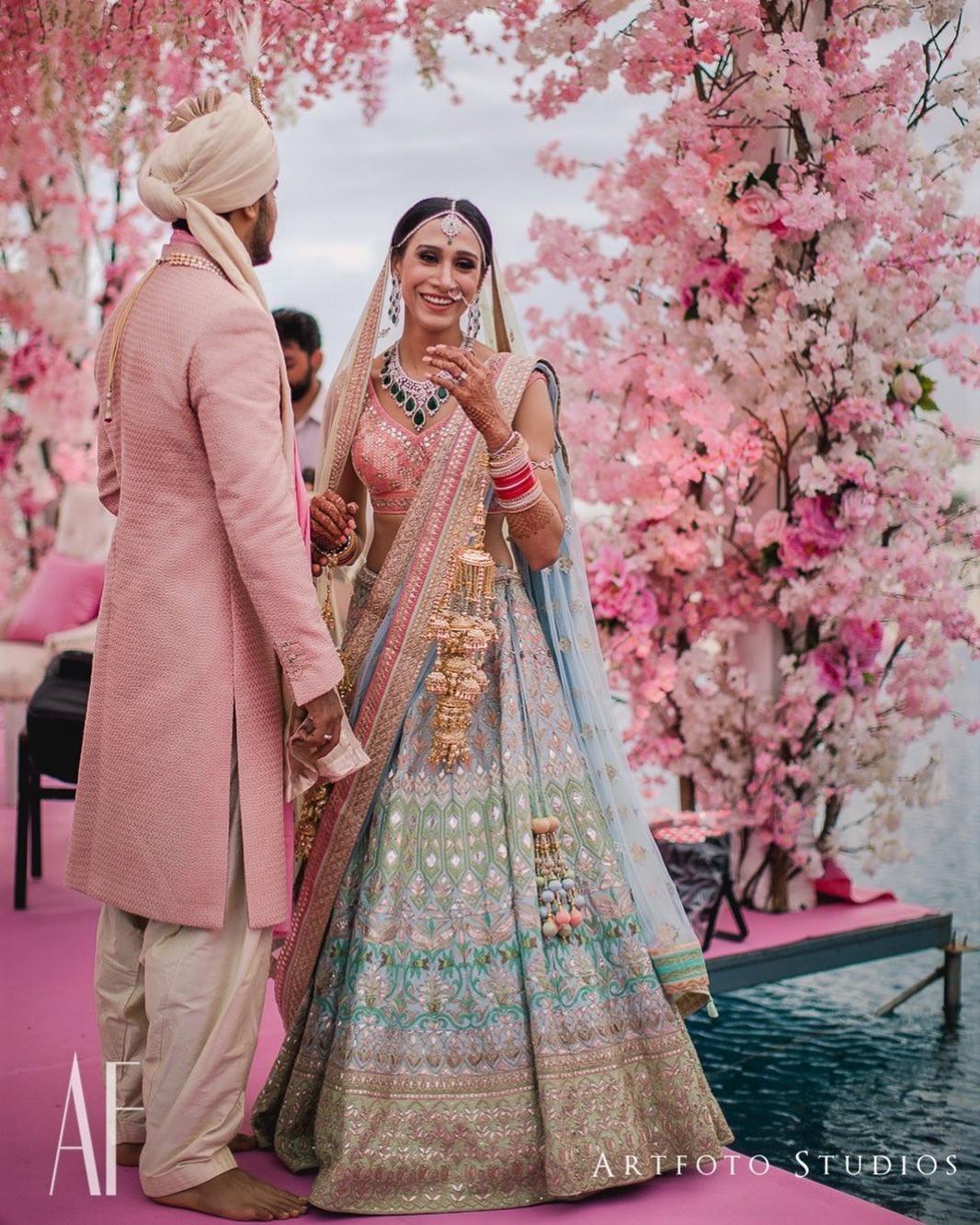 With day weddings becoming a huge trend, light colours or pastels shades are becoming more and more popular every day. Blue and pink are a huge hit and you will see more pink and blue combinations further down the list!
The beautiful designs of different shades of blue like tiffany blue and the light blue colour that is the most prominent are absolutely gorgeous and we are in love! With pink dupatta and complimenting pink décor, we cannot fault anything in this look!
2. True-blue lehenga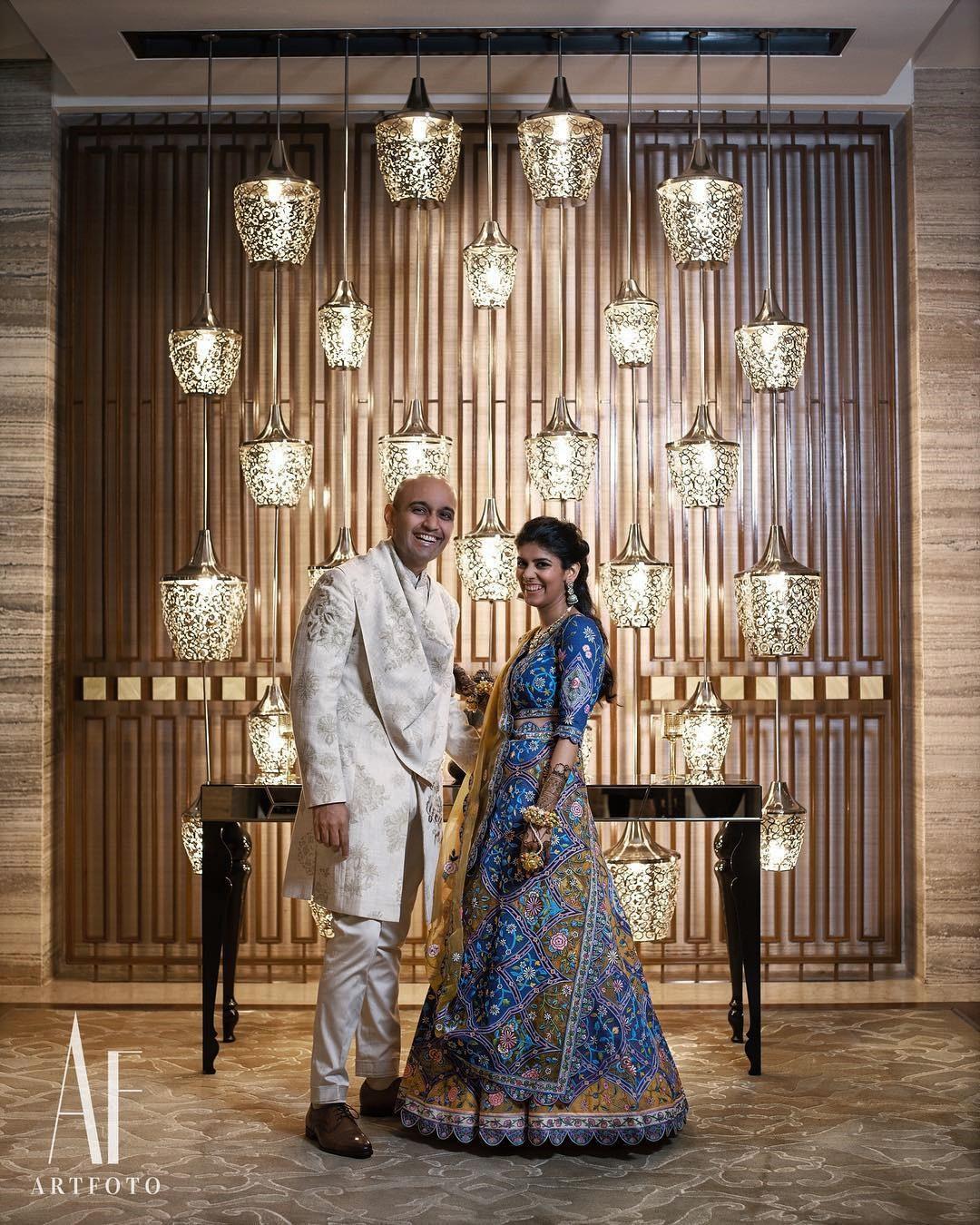 The true-blue colour symbolises authenticity and freedom, perfect for a bride for any event! With the blue fabric with mustard colour patches and colourful embroidery all over the lehenga, it is truly a work of art! The scallop cut used in the borders of the lehenga and the sleeves are beautiful and make the entire look feminine and graceful.
3. Navy blue lehenga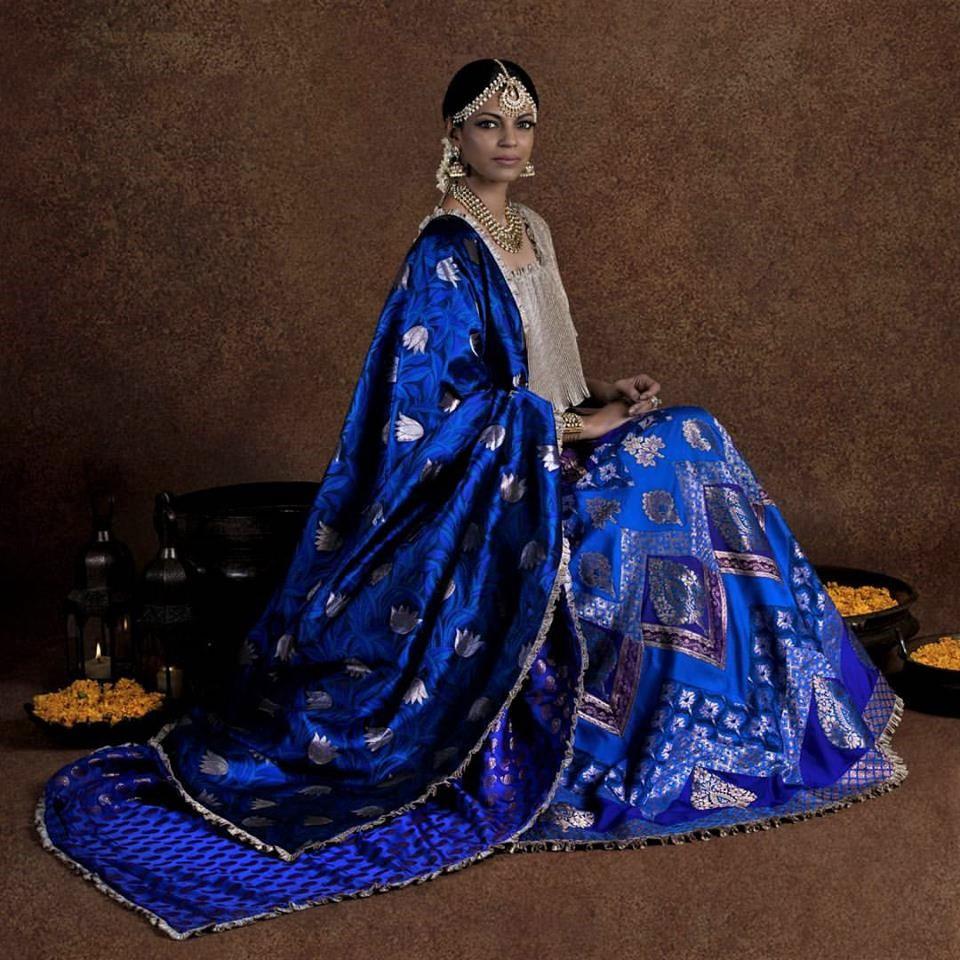 Navy blue is a powerful colour and the use of geometric patterns and lotuses make for beautiful designs that make this look perfect for our boss bride, the one who always likes to be in charge!
4. Tiffany blue lehenga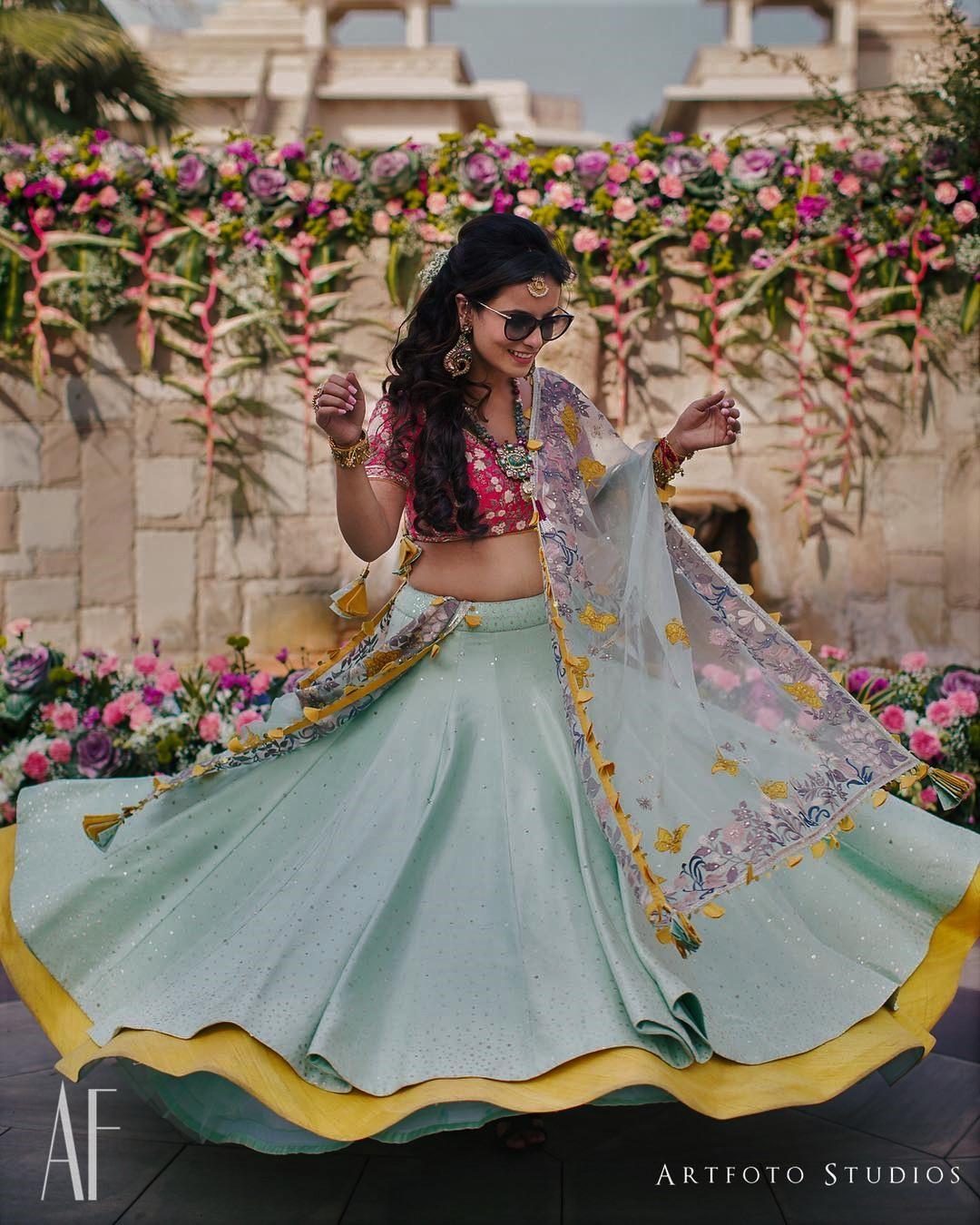 The soft shade of tiffany blue complements the bright yellow and pink really well. The same colour net dupatta is distinct and intricate. The beautiful designs and tassels on the dupatta complete the look for us.
5. Light blue lehenga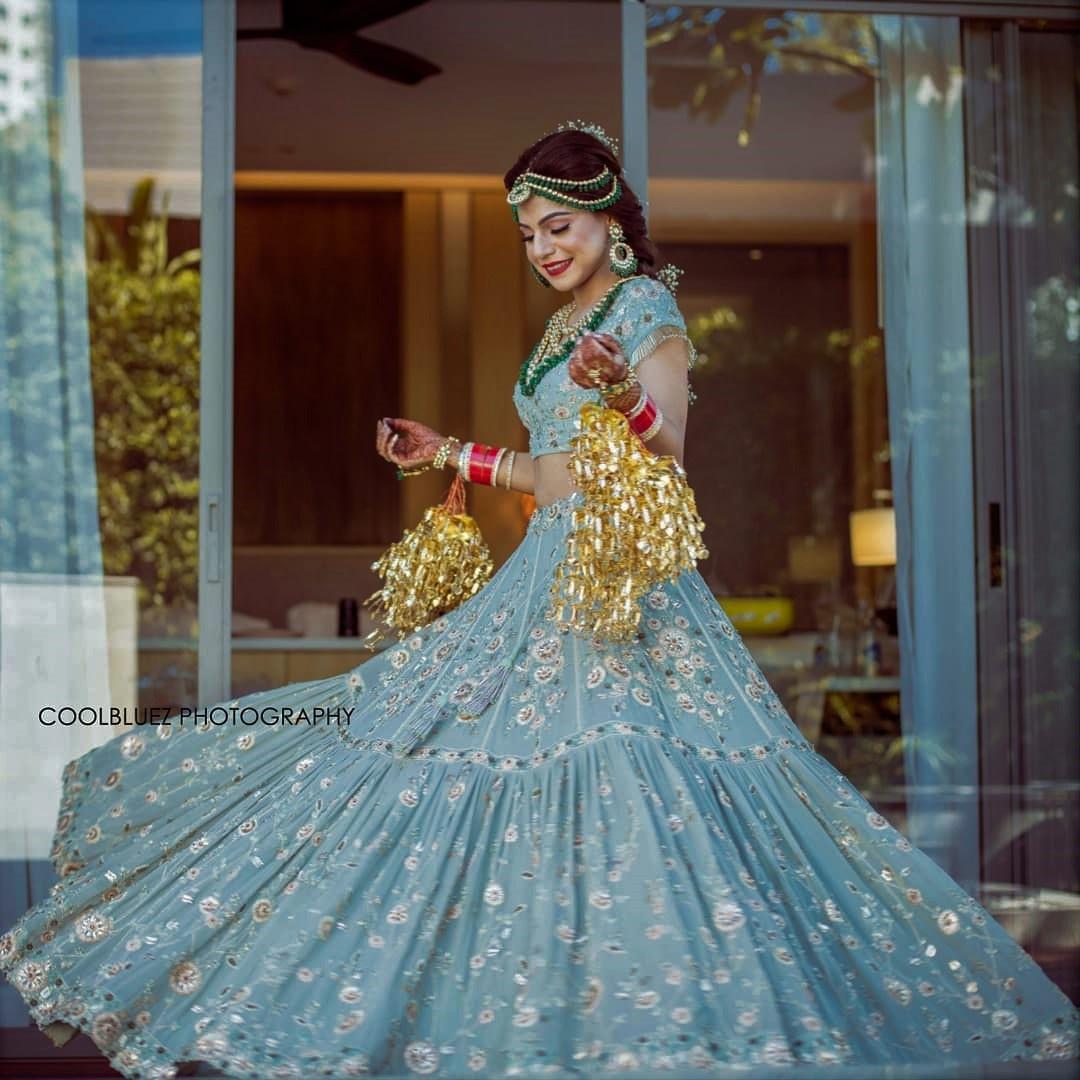 The light blue lehenga is perfect for a bride to wear on her wedding day. Accessorising with emerald jewellery is the cherry on top of the cake. This look is perfect for a modern funky bride.
6. Powder blue engagement lehenga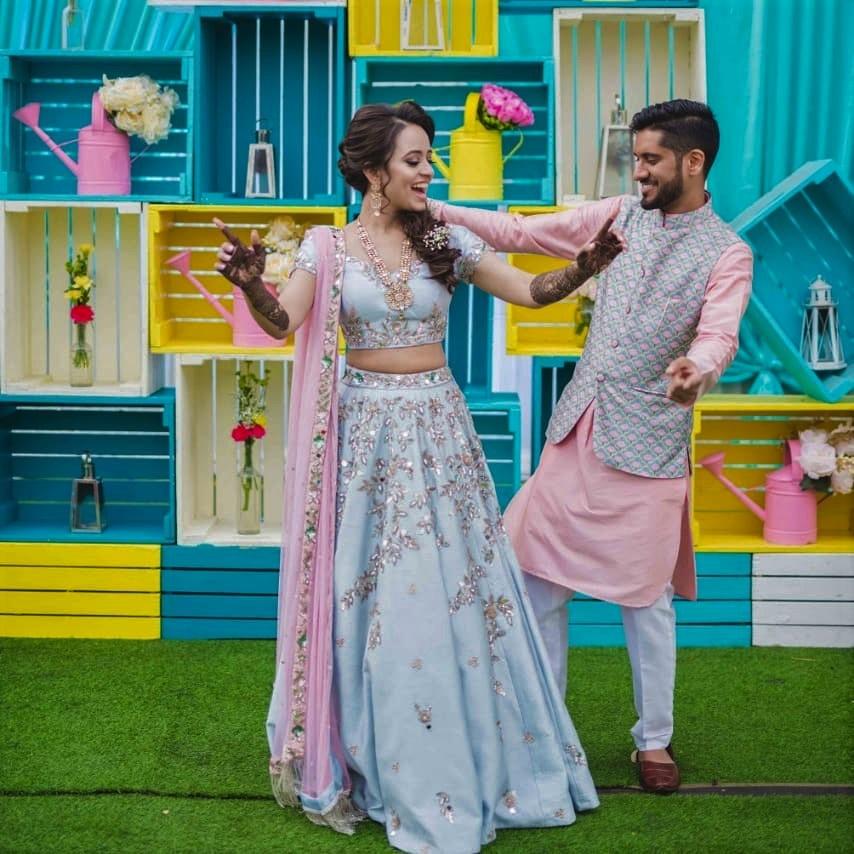 This powder blue lehenga is perfect for a small wedding function for the bride or even her sister. You can even twin with your partner or brother as these shades tend to suit men as well. Instead of the overused green lehenga for the mehndi ceremony, a bride can choose these soft tone lehengas as well.
7. Olympic blue lehenga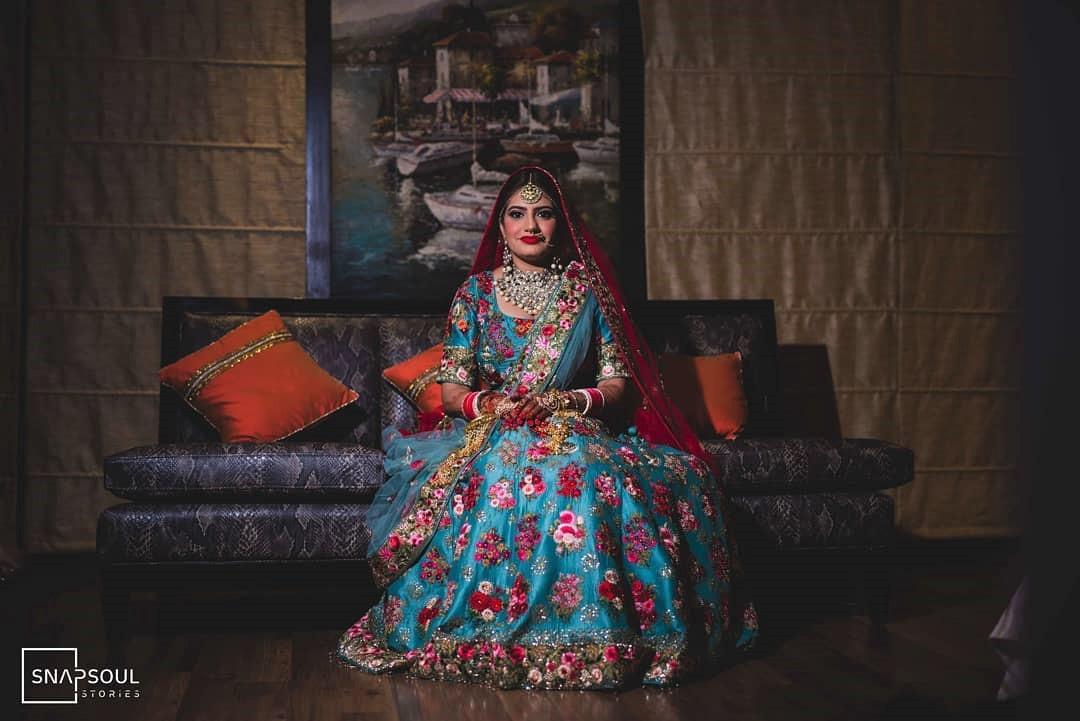 Olympic blue or Firozi is quite a traditional shade of the blue family. This colour is slowly but steadily gaining popularity with brides for their wedding outfits. The beautiful designs of flower motifs on the entire ensemble really enhance the Firozi colour of the lehenga.
8. Deep sky blue lehenga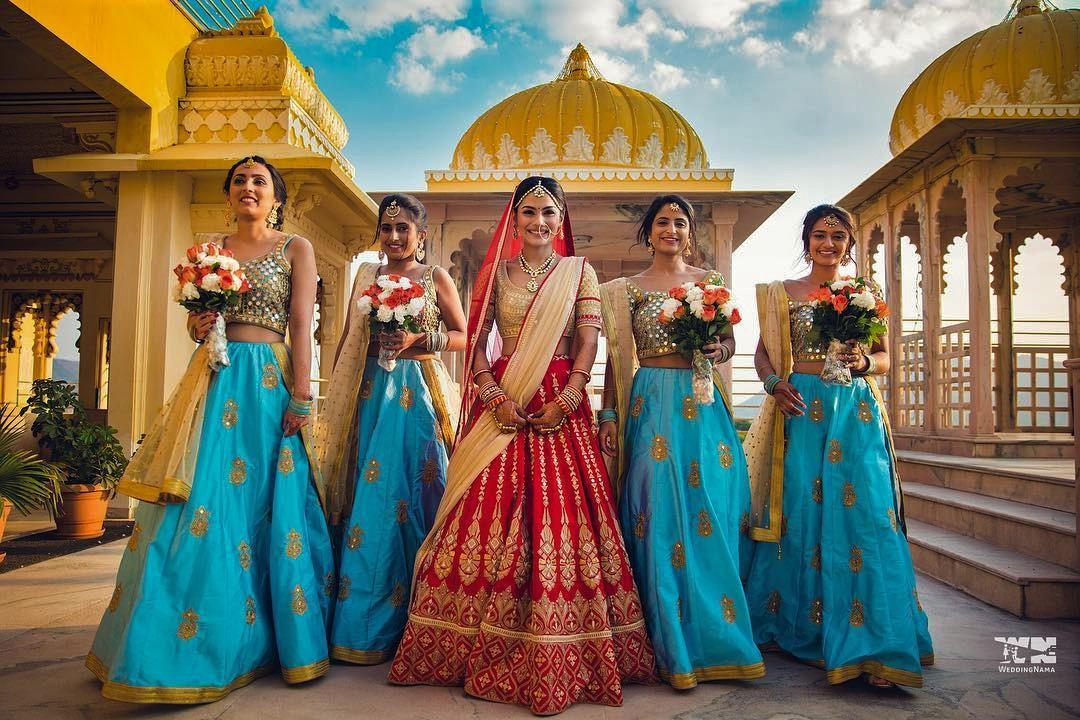 The bridesmaids need to look beautiful while helping the bride at every step. Looking ethereal with every skin tone, deep sky blue colour lehengas are a favourite in the wedding industry.
9. Midnight blue lehenga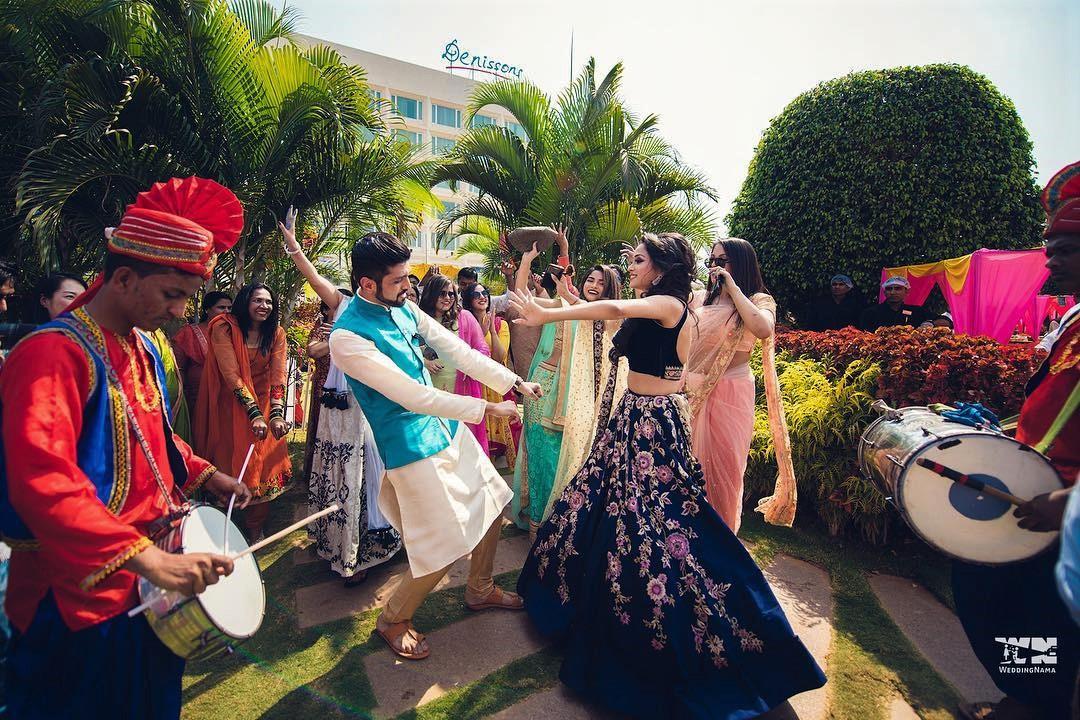 Midnight blue is perfect for any young women attending a wedding. With a full skirt and a velvet blouse with the beautiful designs of the lehenga, you will stand out on the dance floor for sure!
10. Cobalt blue lehenga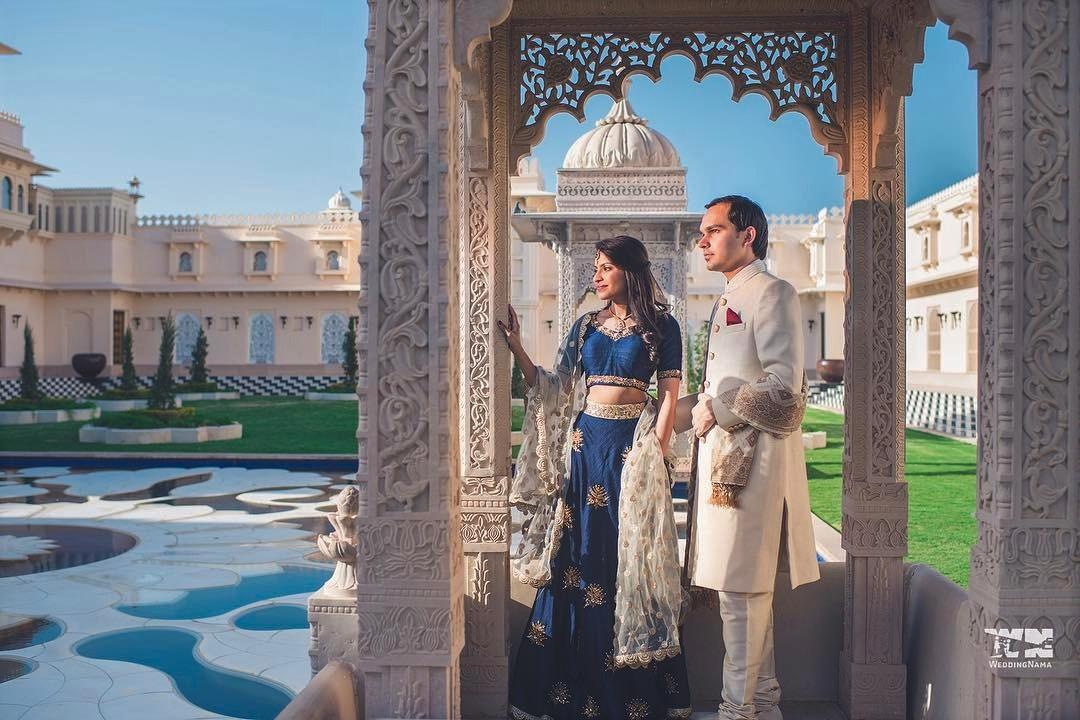 Blue and white, when paired together, create a natural palette that represents smoothness. You can don this look at your pre-wedding photo shoot, engagement ceremony or the cocktail party.
11. All blue lehenga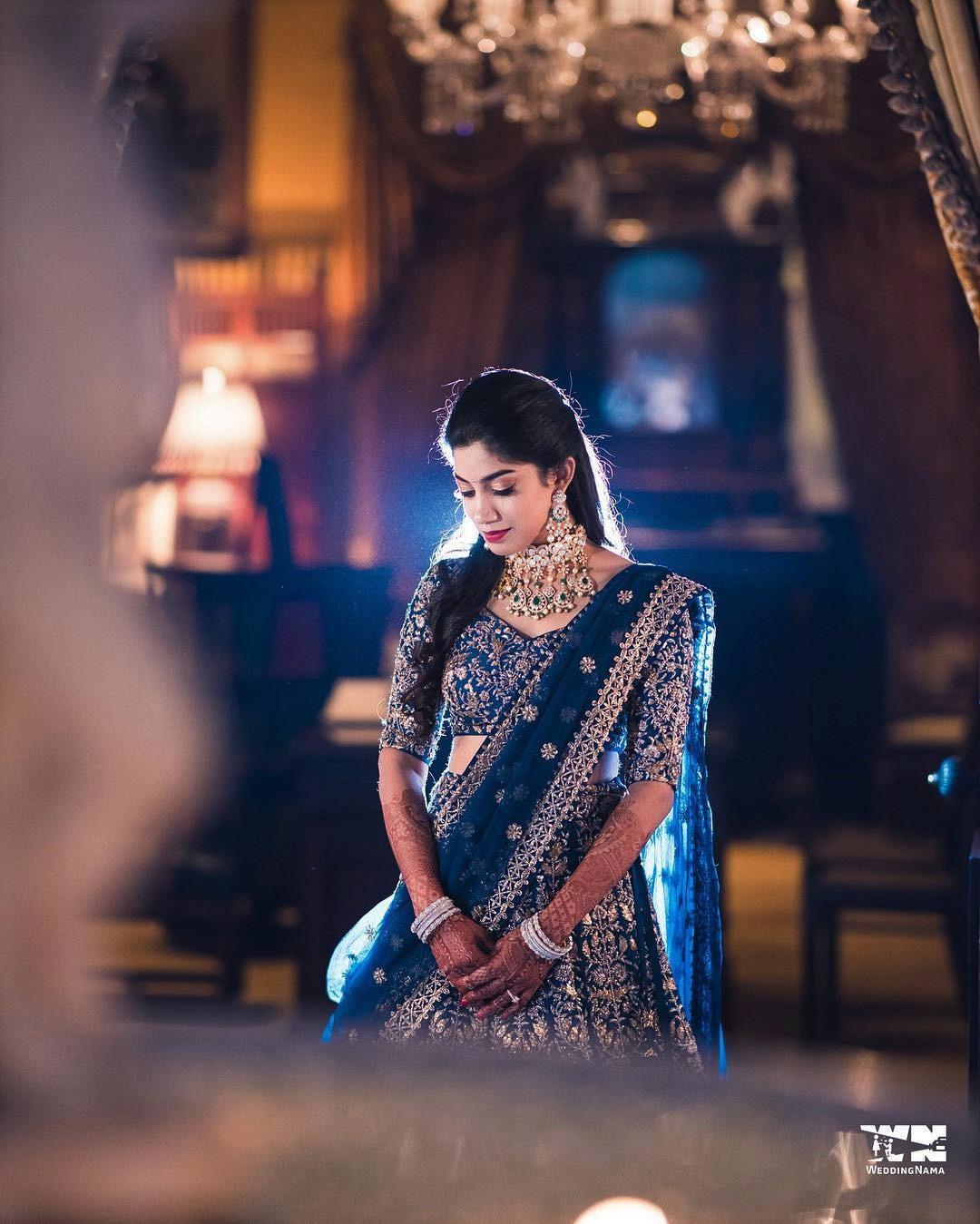 The perfect engagement look – an all blue lehenga with beautiful designs on the skirt and heavy necklace jewellery. Be sure to make a simple hairstyle so that it does not overpower your whole look.
Blue has always been a crowd pleaser and with hundreds of different shades and hues in its family, there is something for everyone in it! We hope you like the beautiful designs of blue coloured lehengas and chose one to wear to a wedding! To really amp up the blue, pick a blue theme for your wedding and you'll really end up creating a magical night!
Make sure that there's a professional around to capture all this magic! Get in touch with our wedding photographers today!