Bangles are a standard sight at all Indian weddings. They are worn by almost all ladies and are elegant, eye-catching, simple or a little hatke. These wedding bangles are worn for different reasons. For some it could complete their outfit, and while others just like wearing them for traditional reasons.
So, what is it about silk thread bangles that make it so different from all the other types of bangles you have? Well, these bangles are perfect for many reasons not just for the bride but also for the guests. Let us look at ways in which you might be able to make your Haldi or Mehndi brighter. You can also take some inspiration about some Haldi dresses to slay in at your function.
Silk thread bangles are pretty and bright as they come in various colours.
If you are a fan of bangles and enjoy wearing them, silk thread bangles are an apt choice for your Mehndi and Haldi functions. Other bangles might look elegant and classy, but you are not aiming for elegance here. These functions are there for you to have fun, be comfortable and light-hearted and silk thread bangles are sure to give you that look. In the setting of Mehndi and Haldi, which essentially are bright and colourful functions, these bangles go flawlessly. They can match your outfit flawlessly as you can get them customised in any colour you want with any additional embellishments. They also add to the atmosphere, making it more colourful and playful.
Silk Thread Bangles As Decoration
The thing about these bangles is that they do not have to be just used for the jewellery in these functions; they can even become a part of your decoration too. They can be used as hangings, like being made into a chandelier or even be hanged individually. They can be even used as a table decoration with candles in them or can also be kept in a basket in various corners or the venue. Well, the list is endless on how you can use them for decoration; all you have to do is pick and choose.
Silk Thread Bangles As Giveaways
Another thing that is a rage with these bangles is to use them as a giveaway present. These silk thread bangles can be wrapped up and presented to your guests after the ceremony. Or if you want your guests to have a little fun then you can set up a bangle stall and let your guests choose the bangles that they want. This works in your favour in two ways as your guests are provided with a way of entertainment and your gift is sorted too. Another added advantage of these silk thread bangles is that they are reasonable in their pricing as compared to other gifts that might not even look as good.
10 Beautiful Designs for Silk Thread Bangles
These bangles are made to look fancier with many different designs and embellishments. We will list down the different designs that silk thread bangles come in to help you pick and choose from. You can also match them with your outfits as they usually have similar work as your clothes.
1. Plain Silk Thread Bangle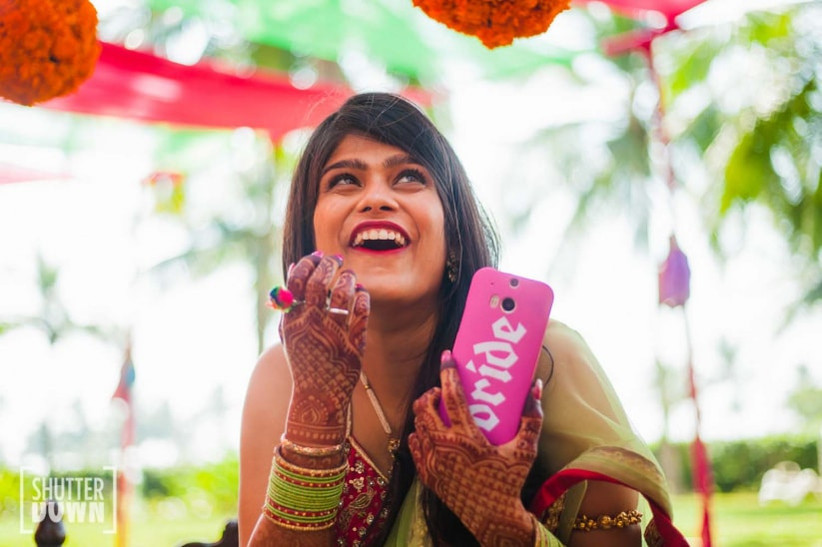 They have one colour and no embellishments on it and the solid colours look quite chic with outfits.
2. Dual/Multicoloured Bangles
These are usually a mix of two or more colours of threads around it making the combination more universal.
3. Kundan Work Bangles
Then there are silk thread bangles with Kundan work which are an excellent choice to match your jewellery with.
4. Silk Thread Bangles with Ghungroo
This is one of the most popular designs that look amazing and the Ghungroos even makes a little sound that is not too much to make it irritating.
5. Mirror Work
Silk thread bangles also come with mirror work, which looks excellent with almost any outfit that you choose to wear.
6. Zari work Silk Thread Bangles
This is an attractive choice as it looks pretty with zari work outfits themselves or outfits with a tinge of gold.
7. Bangles with Stone Work
Silk thread bangles with stones add the extra bling to your bangles and outfit.
8. Gotta Patti Silk Thread Bangles
These are very similar to the Gotta Patti jewellery and look as attractive too.
9. Silk thread bangles with Pearl Work
Pearl work on silk thread bangles look stylish, smart and at par with any other pearl jewellery that you wear.
10. Bangles with Beadwork
They are an excellent choice when you want to customise designs onto your bangles.
Where To Find Them
We are sure that you're already looking to find these bangles. Well, let us help you find them. Some vendors that we believe do silk thread jewellery with utmost precision are:
Sai Creative Silk Thread Jewellery - Based out of Chennai, Sai Creative Silk Thread Jewellery is known for their craftsmanship of unique jewellery.
Ishi Creations - Ishi Creations from Bangalore have a huge collection of artificial jewellery that you can get customised as per your wish. Apart from silk thread jewellery, they also have floral and semi-precious stone jewellery.
Barkaat Atelier - Barkaat Atelier's exclusive products include Gota bridal sets and bracelets and fancy silk thread bangles.
Bangles are an important and integral part of the bridal ensemble, that just not only completes a bride's look but is also deeply rooted in Indian wedding traditions. An Indian bridal look essentially comprises of 16 elements that complete and accentuate her look which are also known as Solah Shringaar. Bangles are one of the most important parts of this stunning ensemble. There are absolutely a large variety of bangles available in the market today in a range of shape, sizes, designs, colours etc.
But if you do not wish to flaunt the traditional set of bangles and looking for more fun and light-weight jewellery that would look beautiful even on your pre-wedding functions like your Sangeet ceremony or Mehndi, then this is an option that you certainly consider. We hope our list of amazing silk thread bangles were helpful for you to choose your favourite ones.
Hearing so many amazing things about these bangles, you would surely want to try them. Well, you have to look no further now, go ahead, shop and tell us in the comments which kind is your favourite?