30 Latest Wedding Dulhan Chura Designs to Inspire the Bride
Dulhan Chura is a massively significant part of a bridal "Shringaar". If you're interested to explore some of the latest Chura designs & styles, here is some inspiration!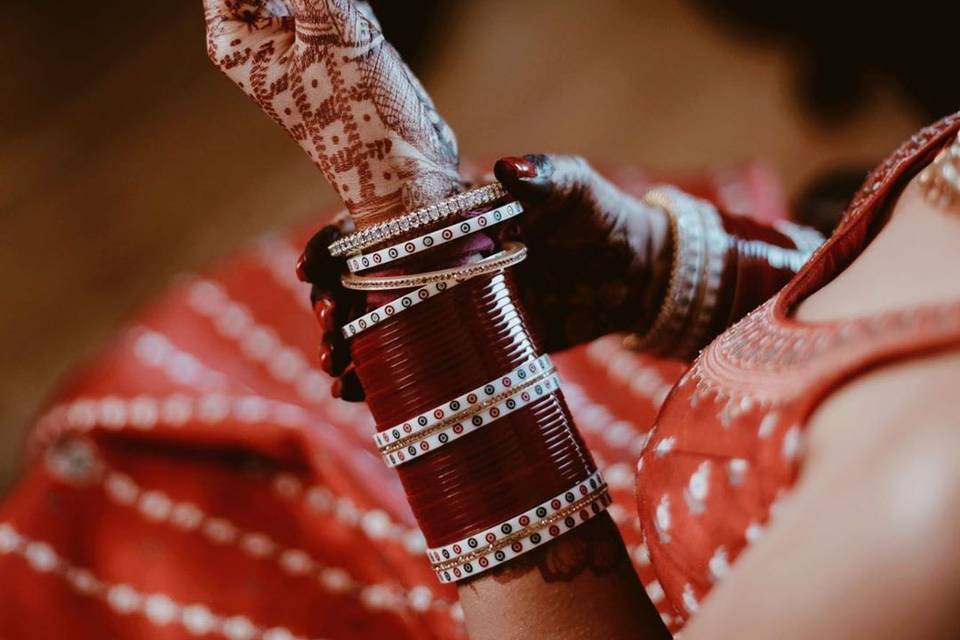 When you see an Indian bride, the gorgeous bangles adorning her hands are something you'll find in every culture and tradition. The significance of bridal bangles is evident in every part of Indian weddings as they're considered to be one of the most crucial elements of a bride. From the traditional red & ivory Punjabi Chura, gold Kada to Chur and Shakha Pola as a part of Bengali bridal jewellery set, bangles depict Suhaag or the holy marital state of a bride. Although red has been the traditional Chura colour, brides aren't afraid to experiment with other shades these days.
So, here we have a spectacular collection of Dulhan Chura images in different colours, combinations and styles. Check them out for some inspiration!
Red and Golden Dulhan Chura Set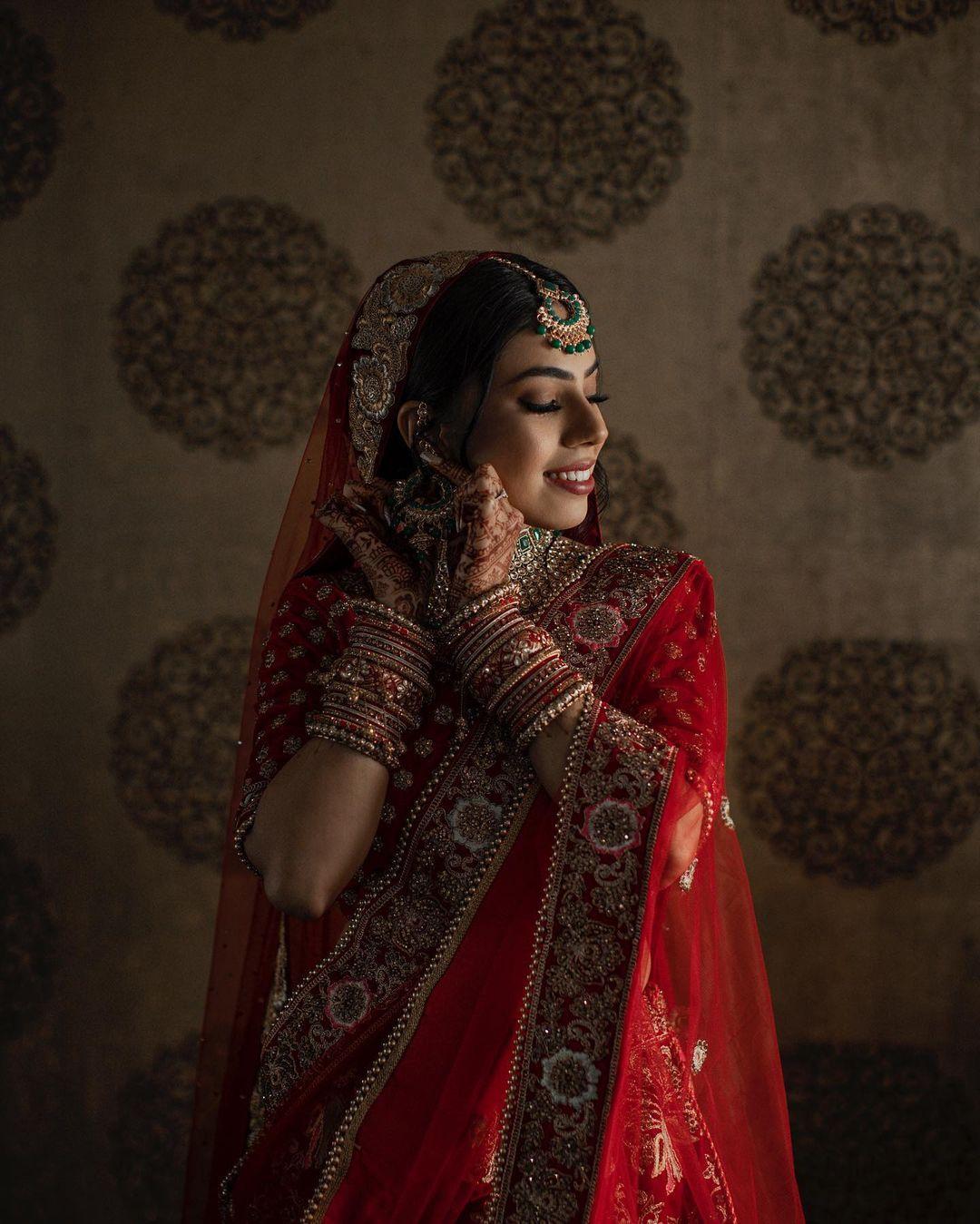 Image Courtesy: Rolling Canvas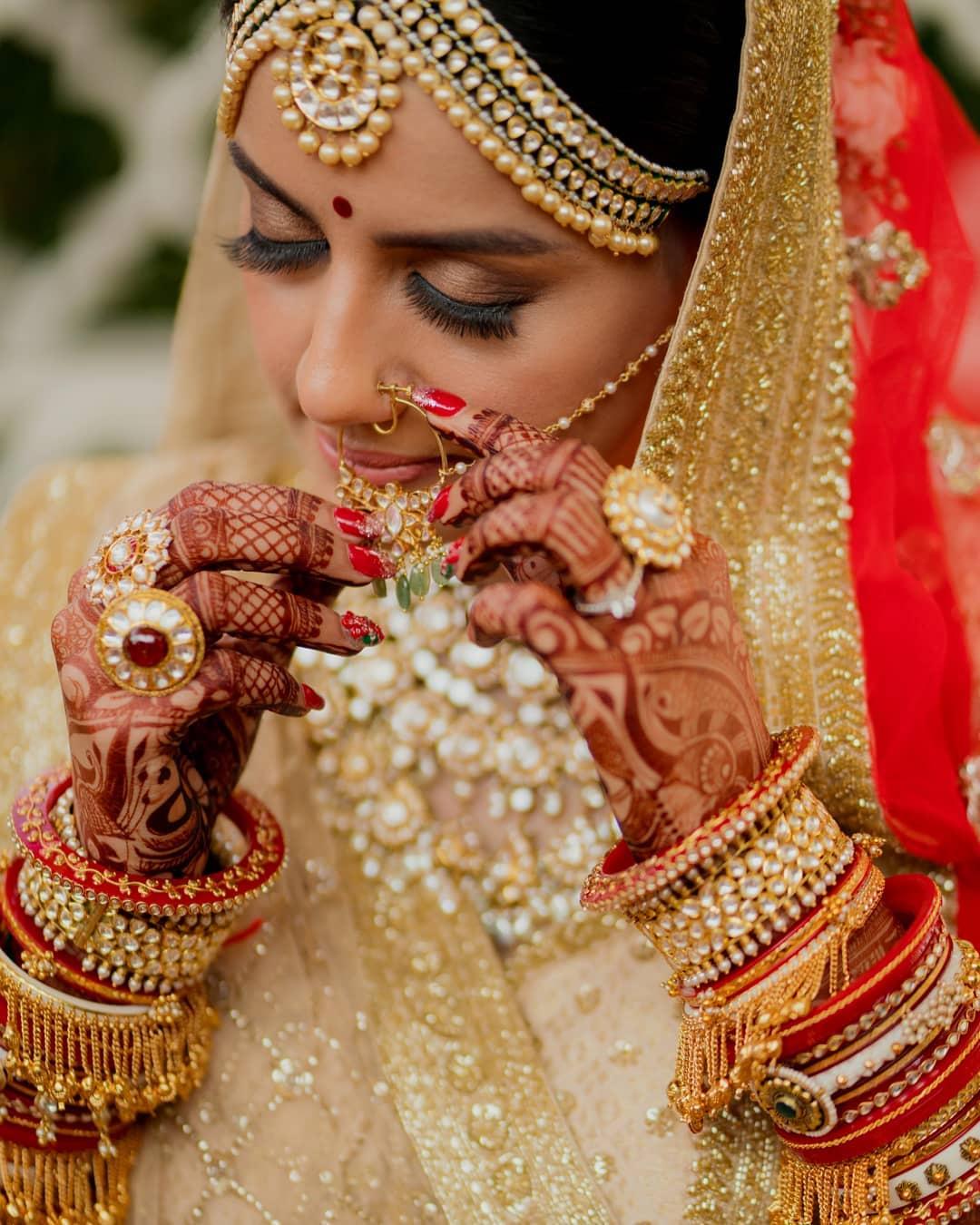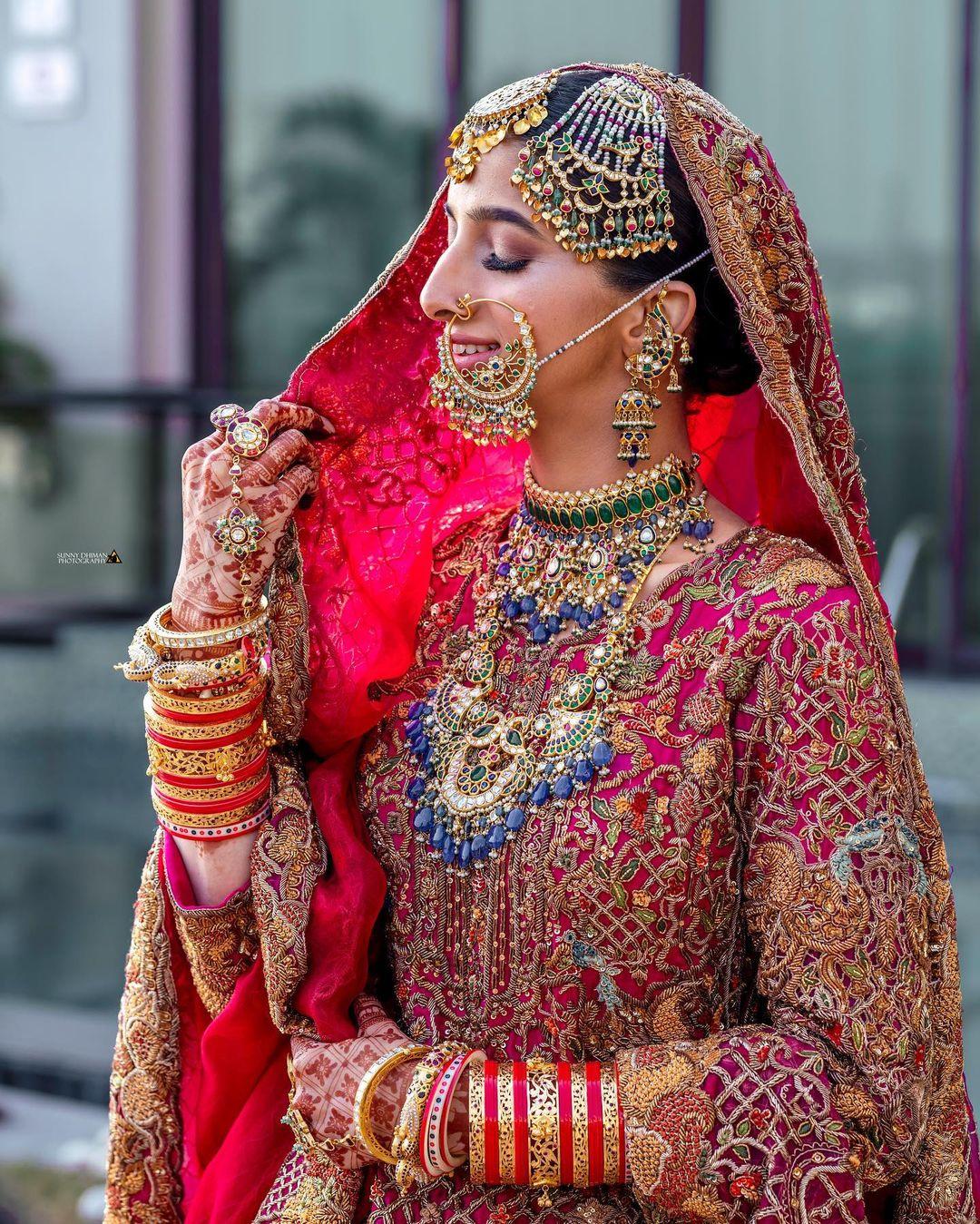 Red and golden Dulhan chura designs are some of the most beautiful combinations. The elegant duo not only makes the bride look gorgeous but adds a touch of class to the whole look. If you want to adorn a red chura but wish to add a touch of uniqueness and glam, then take some cues from this latest chura design. From the touch of Kundan to the studded white bangle, this Chura set is all you need to start the new beginnings with Nazakat. We are drooling over the latkan bangles in this beautiful chura set. Are you? Play smart by contrasting the evergreen red colour with a gleaming gold shade. Add a dash of glam to your outfit while you pick this gorgeous 'Dulhan Chuda'.
Subtle Off-White Dulhan Chura Design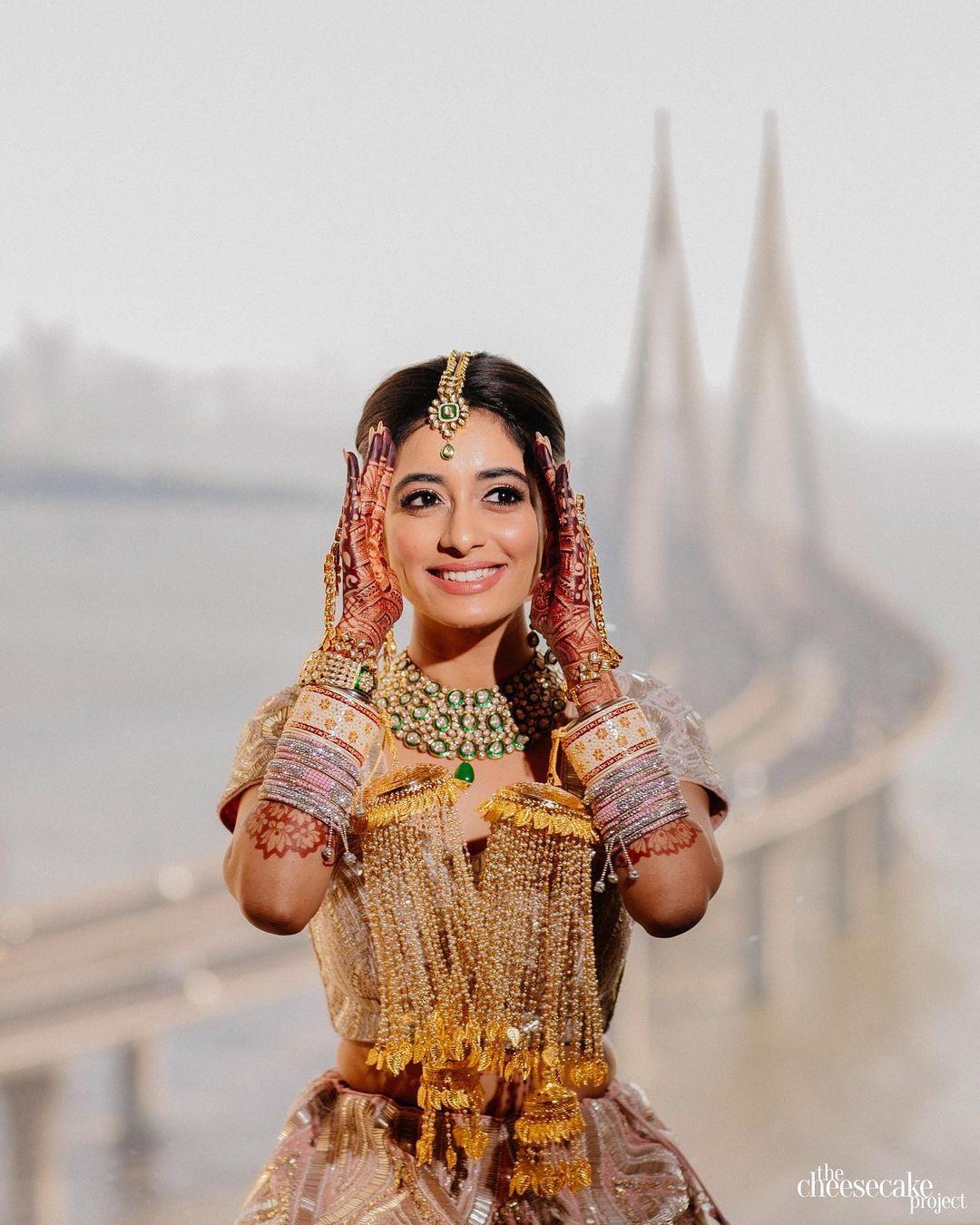 Are you that bride who loves everything subtle and simple? If yes, this Chura design is an absolute choice for you. The Off-White Dulhan chura design complements every outfit with eminence. We are swooning over the mellow combination of baby pink and off-white. How about you?
Hot Pink And Green Chura Design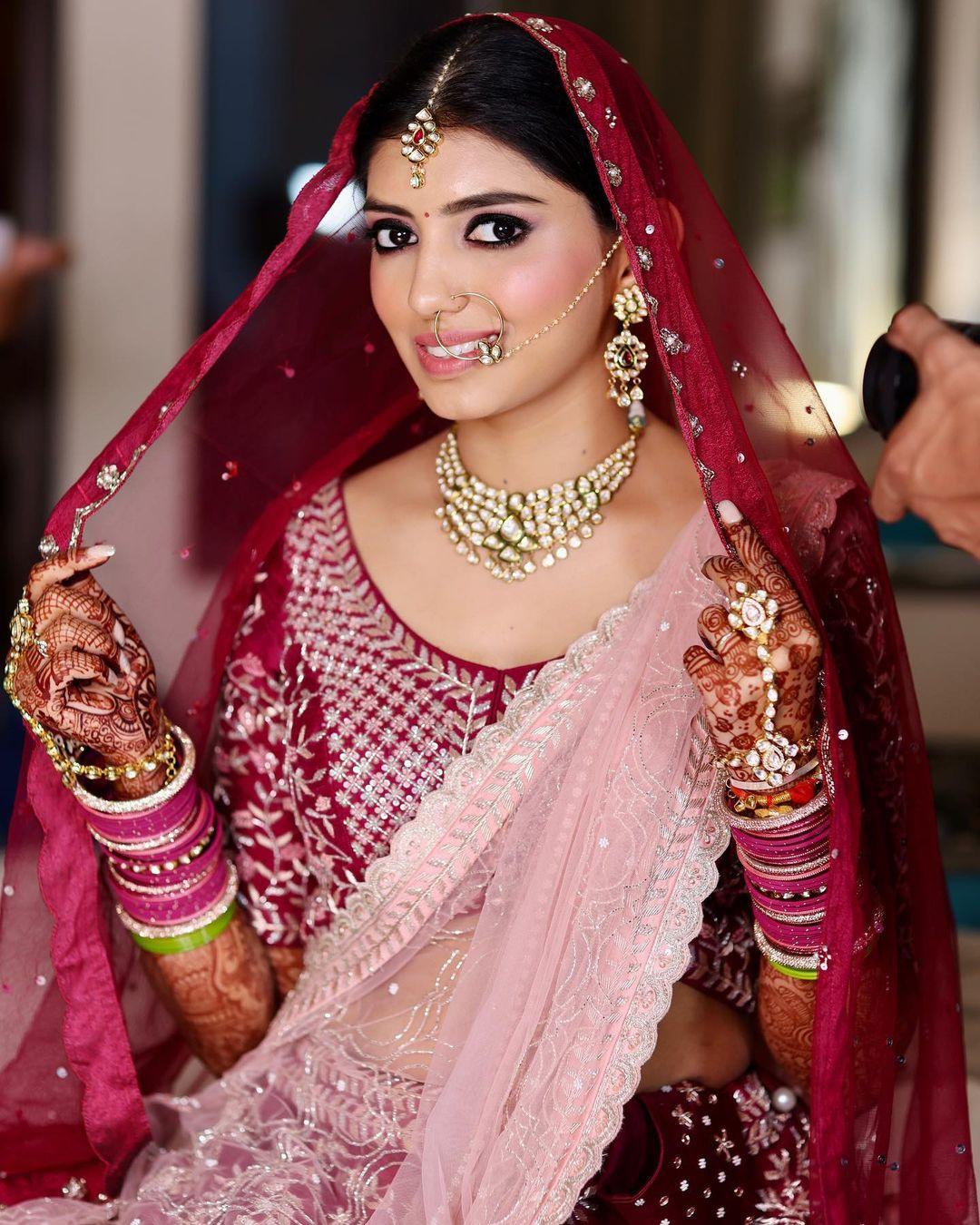 A hardcore fan of classic red bridal Chura? Say no more! We have got you covered with the prettiest Chura designs for your big day. If you like bold colours, then the red Dulhan Chura design is going to be your saviour!
Bottle Green Dulhan Chura Design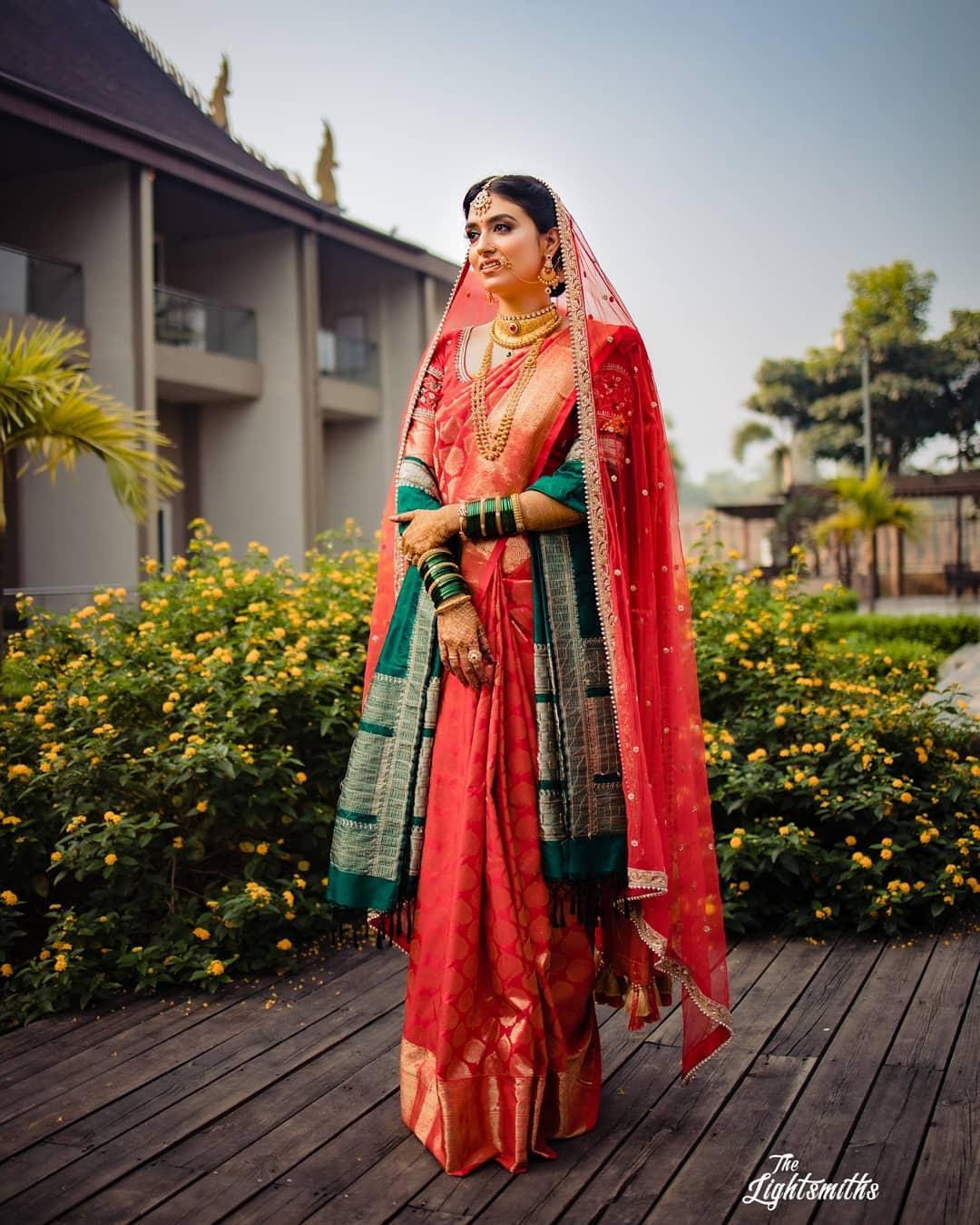 All the brides-to-be planning to hit the D-day with happiness, we have got you covered with the latest bottle green Dulhan chura design. Are you planning to play with the contrast? The beautiful green dulhan chura bangles will complement well with the outfit.
Shade of Pastel Dhulhan Chura Design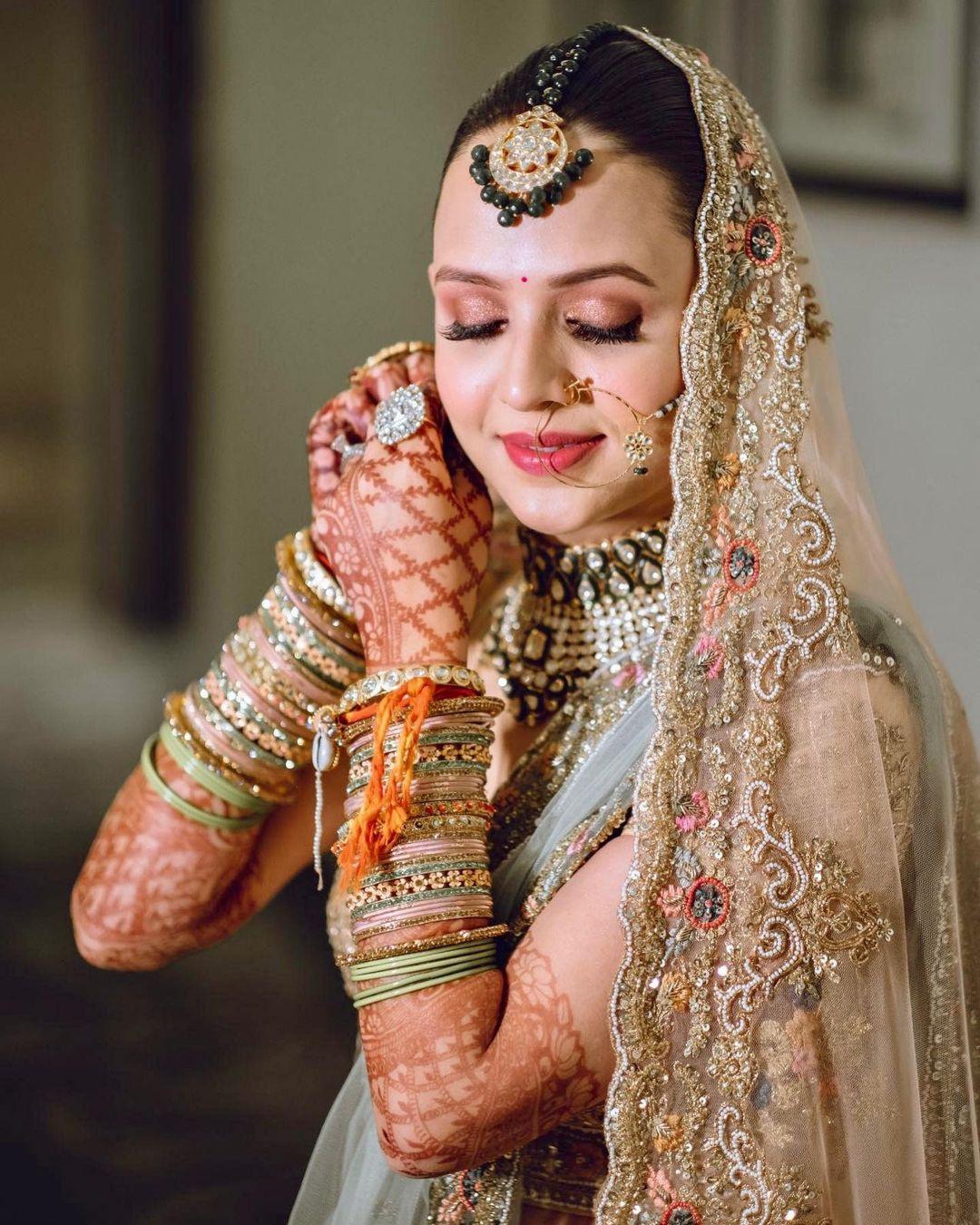 Whatever may come, the beauty of pastel shades can never go off fashion! Wearing pastel bangles on your wedding day can be a 'Hatke' choice. Pastel dulhan chura design gives princely vibes. Brides, Pick up the crown of new beginnings while you flaunt your Shaadi ka Chura with grace!
Customised Dulhan Chura Design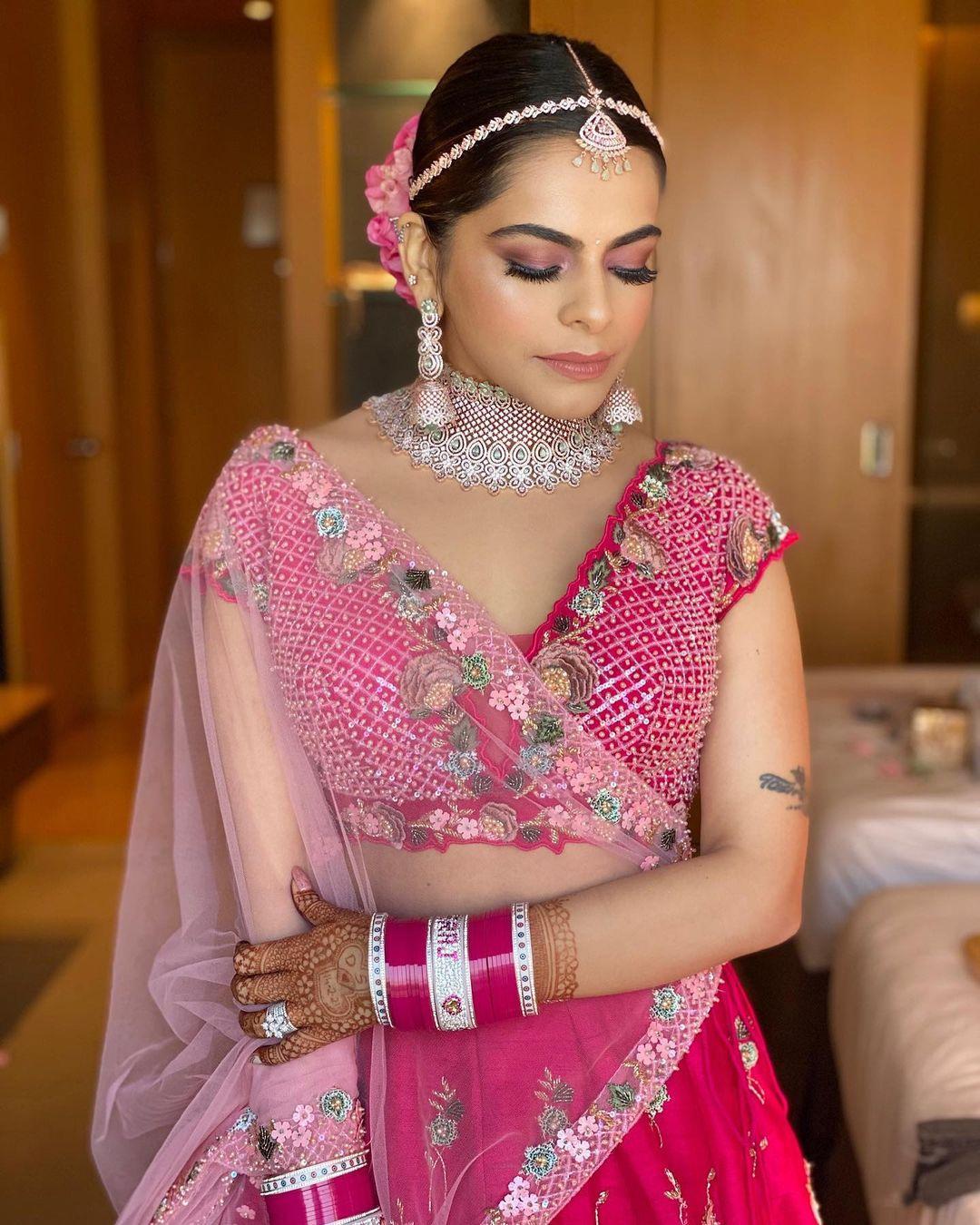 Do you love everything customised? If yes, this gorgeous chura design image will amp up your wedding chura design inspo to the fullest! The rose pink chura design is all about elegance. If you wish to shower some love on your better half, this latest chura design is an apt option for you. The design is one of the best dulhan chura designs that gives a dreamy feel! What are you waiting for? Pick one for your precious day!
Shades of White Chura Design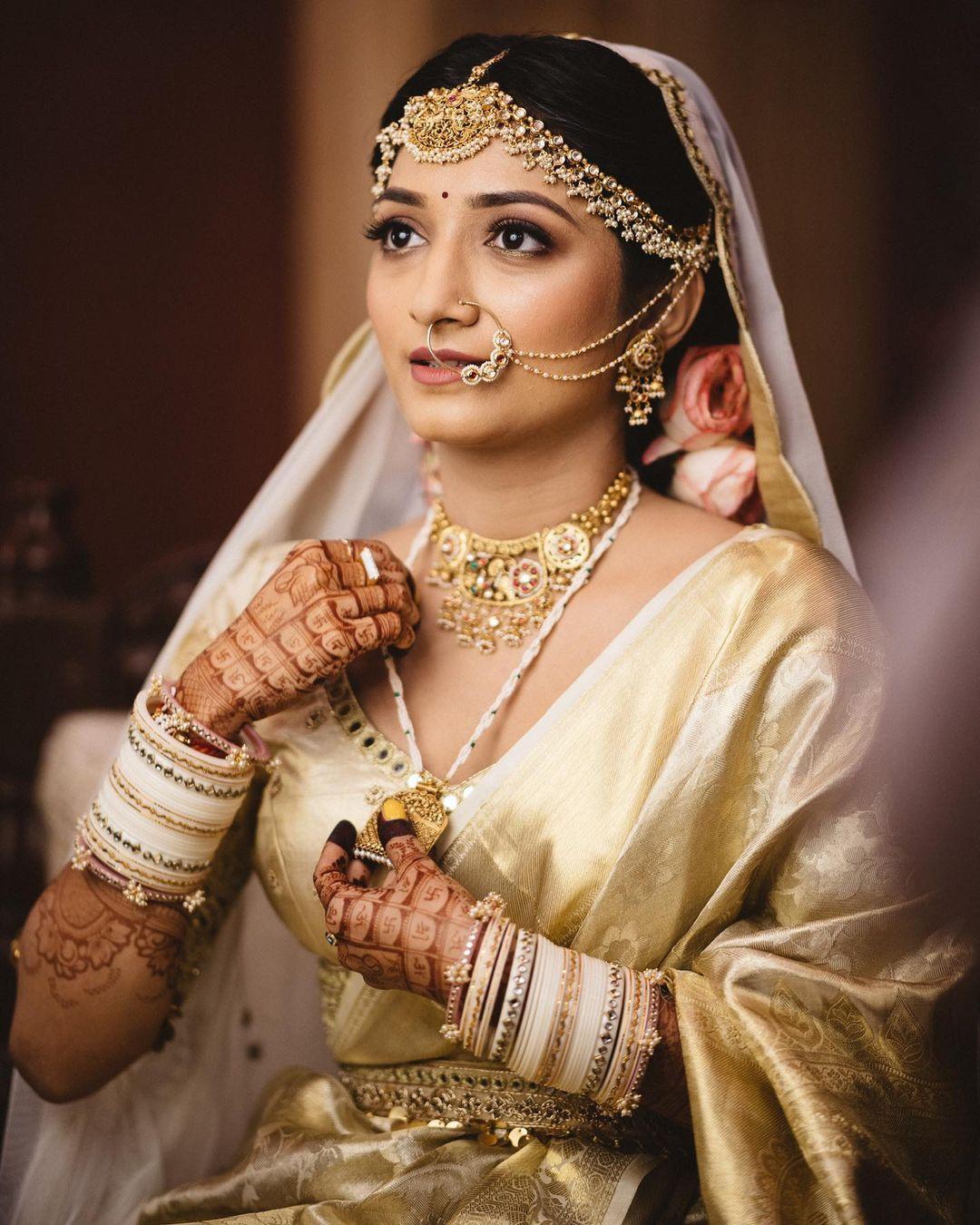 Image Courtesy: Sejal Savaliya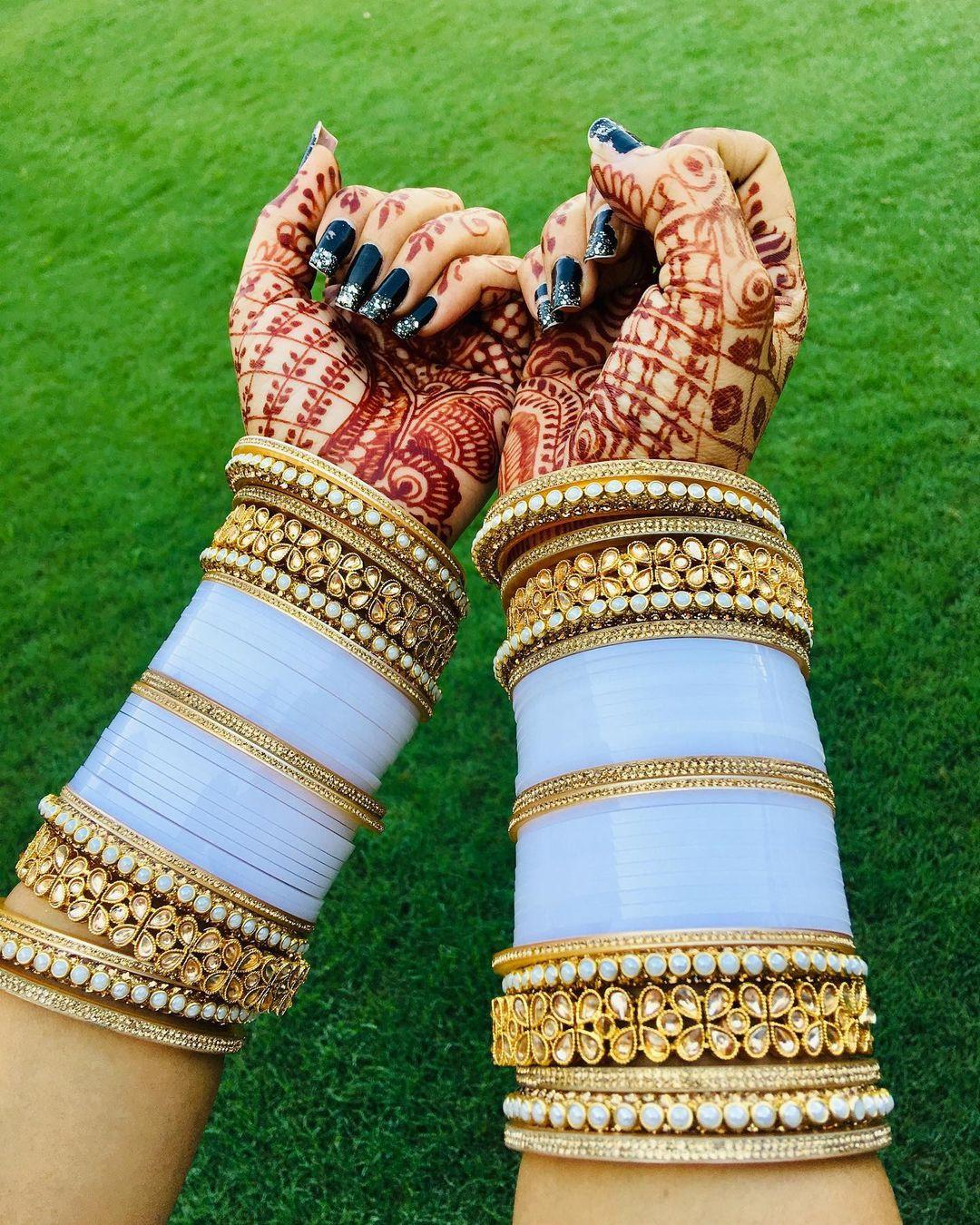 Image Courtesy: Roop_Vandar65
White colour has always been a sign of soothing vibes. If you are that bride who loves everything simple, this chura design is it! The combination of white and gold never goes out of style. These latest chura designs prove to be a mark of simplicity and elegance. Who would have thought that these ivory and white chura sets will amp up the bridal with grace? To all the brides planning to go all red and pastel, white coloured chura sets have got your back! Opt for these lovely wedding chura designs and rock your precious day with a bang!
The Subtle multi-coloured Chura Set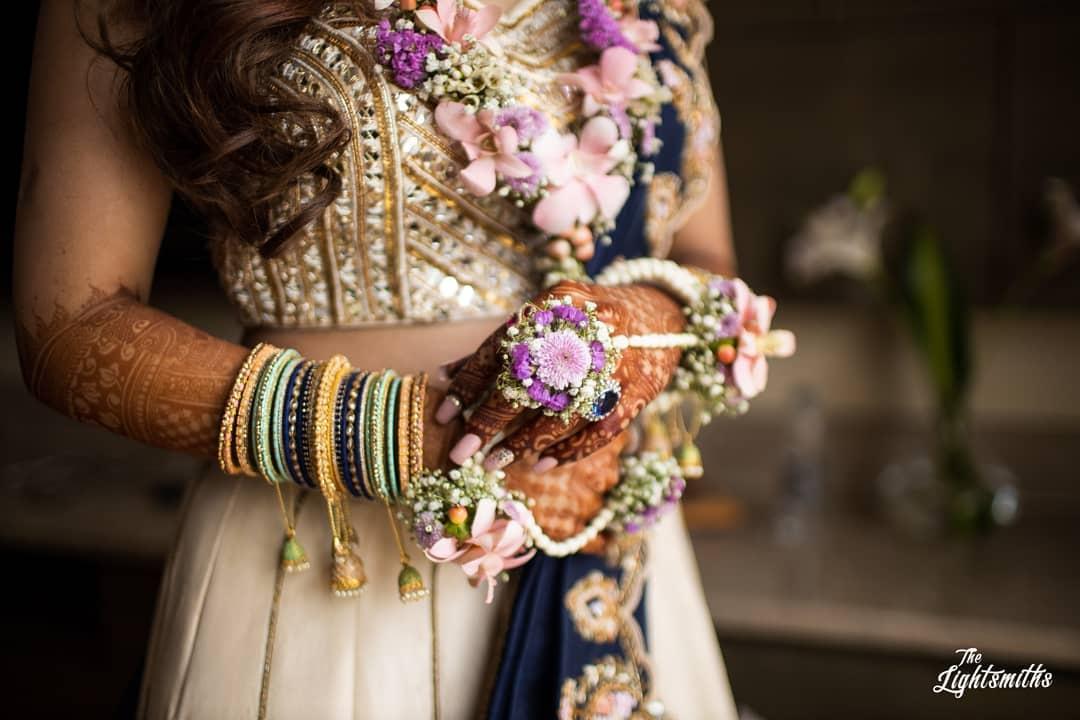 Are you that bride-to-be who loves to play with colours? If yes, then this latest chura design is the right pick for you. The shades of cool blues are always a good option to ace the bridal look with beauty. We love how the chura set complements the golden bangle! If you are a summer bride or planning a sundowner wedding, this chura set will help you achieve the 'Princess Goals' with ease.
The Bangle and Kada Chura Design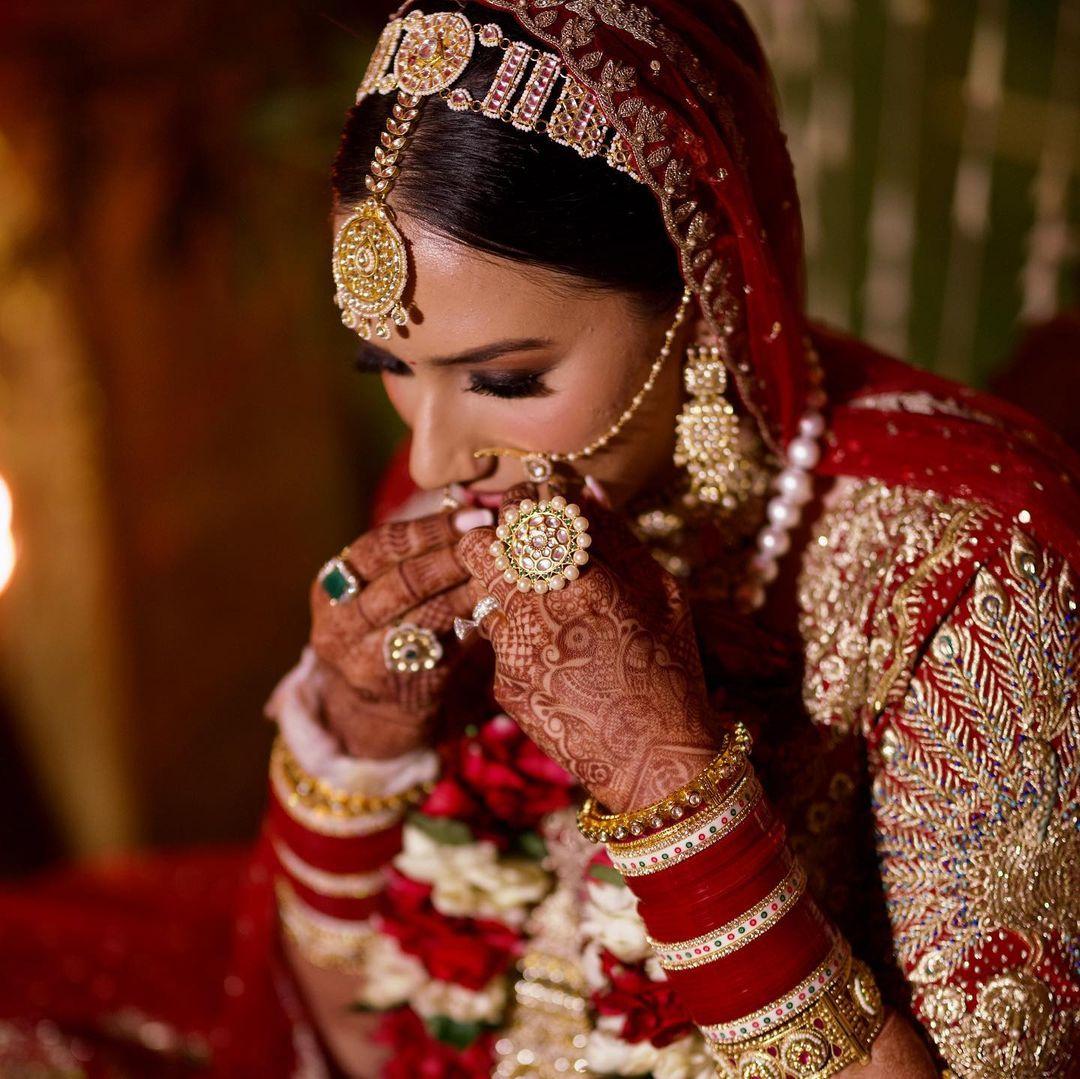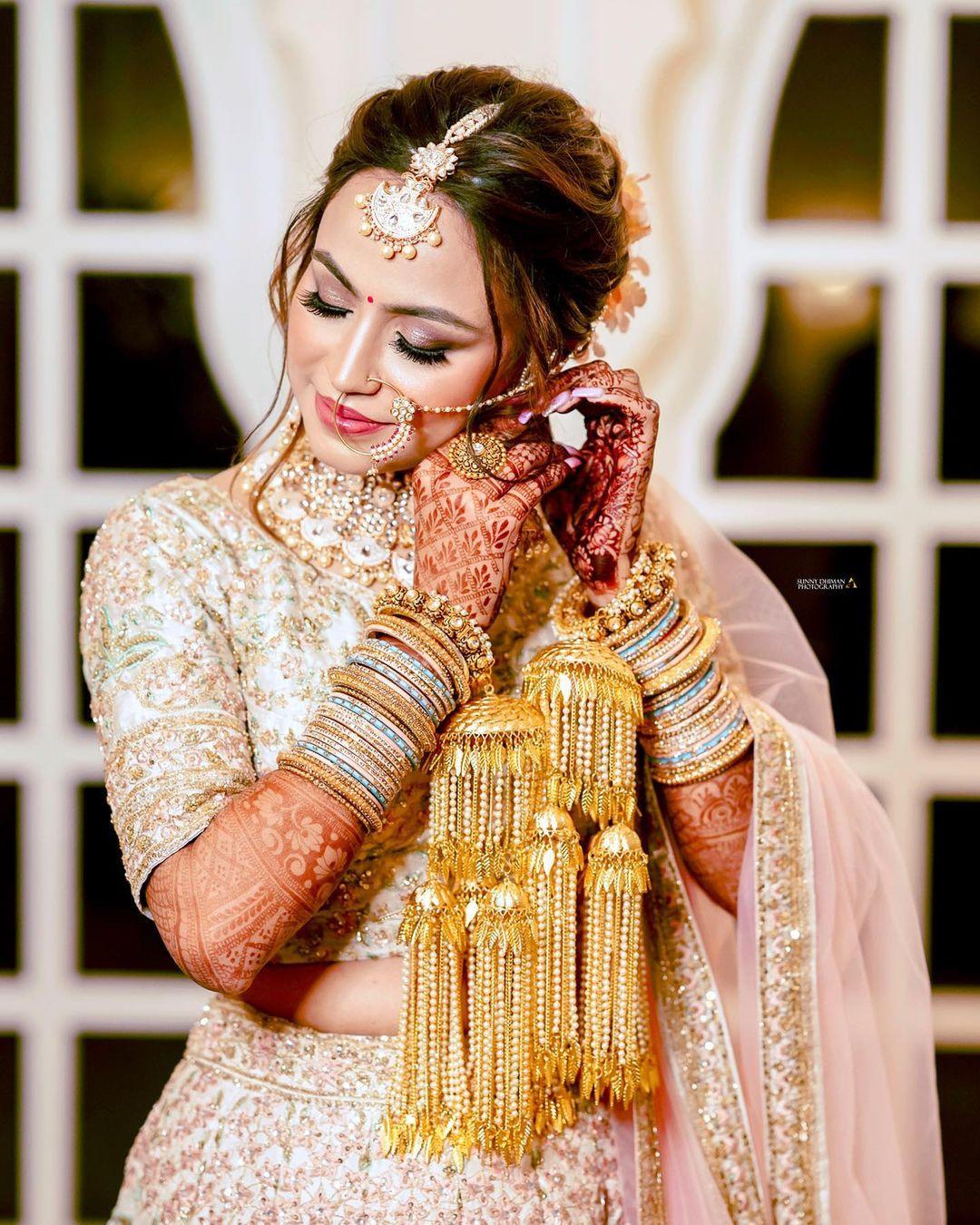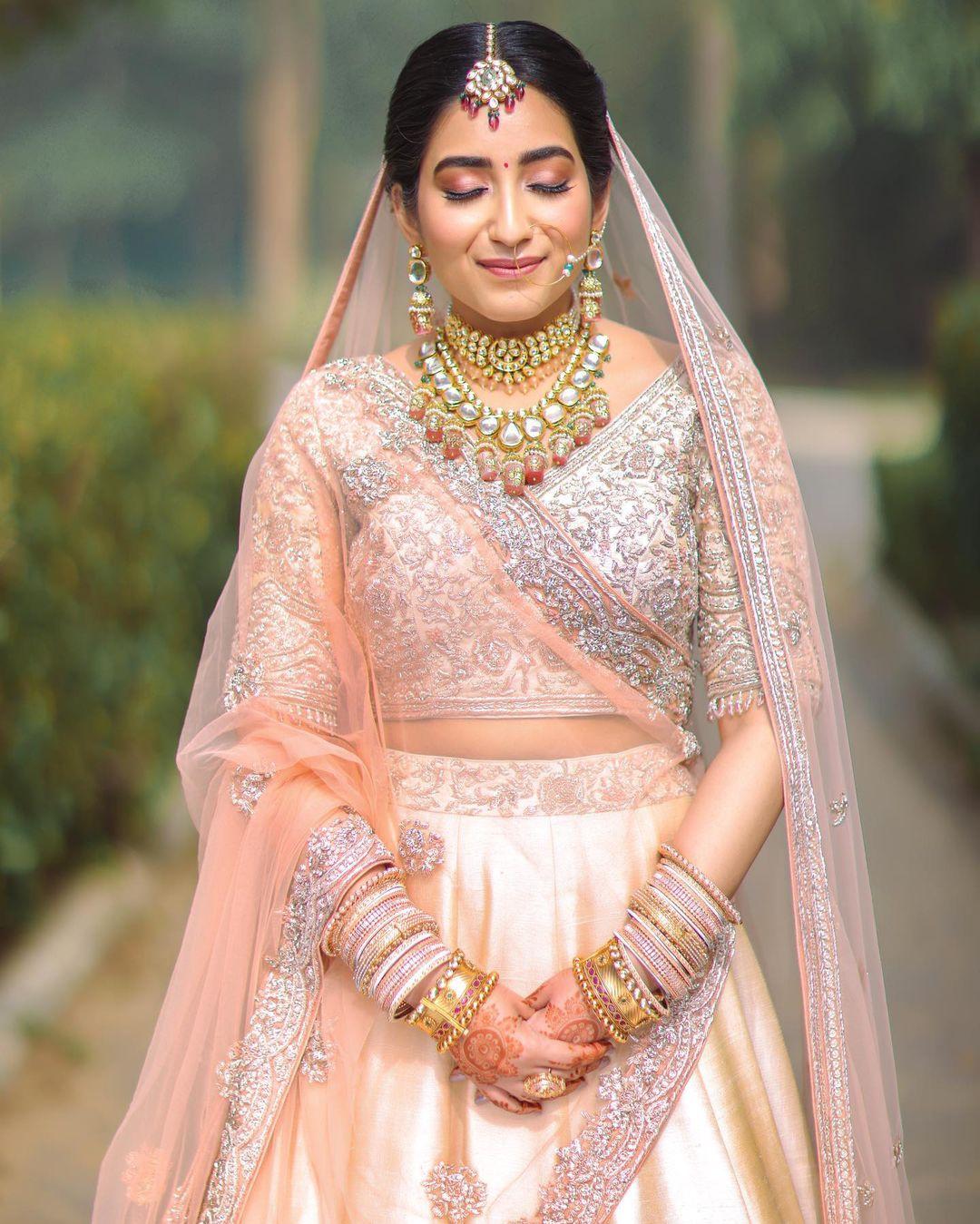 Loads of bangles paired up with gold, silver, pink, studded, Kundan kadas make a stunning bridal chura set and add oomph to the Dhulan look. Brighten your wedding day with these mesmerising bridal chura designs while you perform all the rituals in style. The combination of Kada and bangles always top the game of wedding fashion. Kada's are in trend these days, and if you are looking for going out of the box, then kadas will make an awesome bridal Chura set.
The Red And Blue Dhulan Chura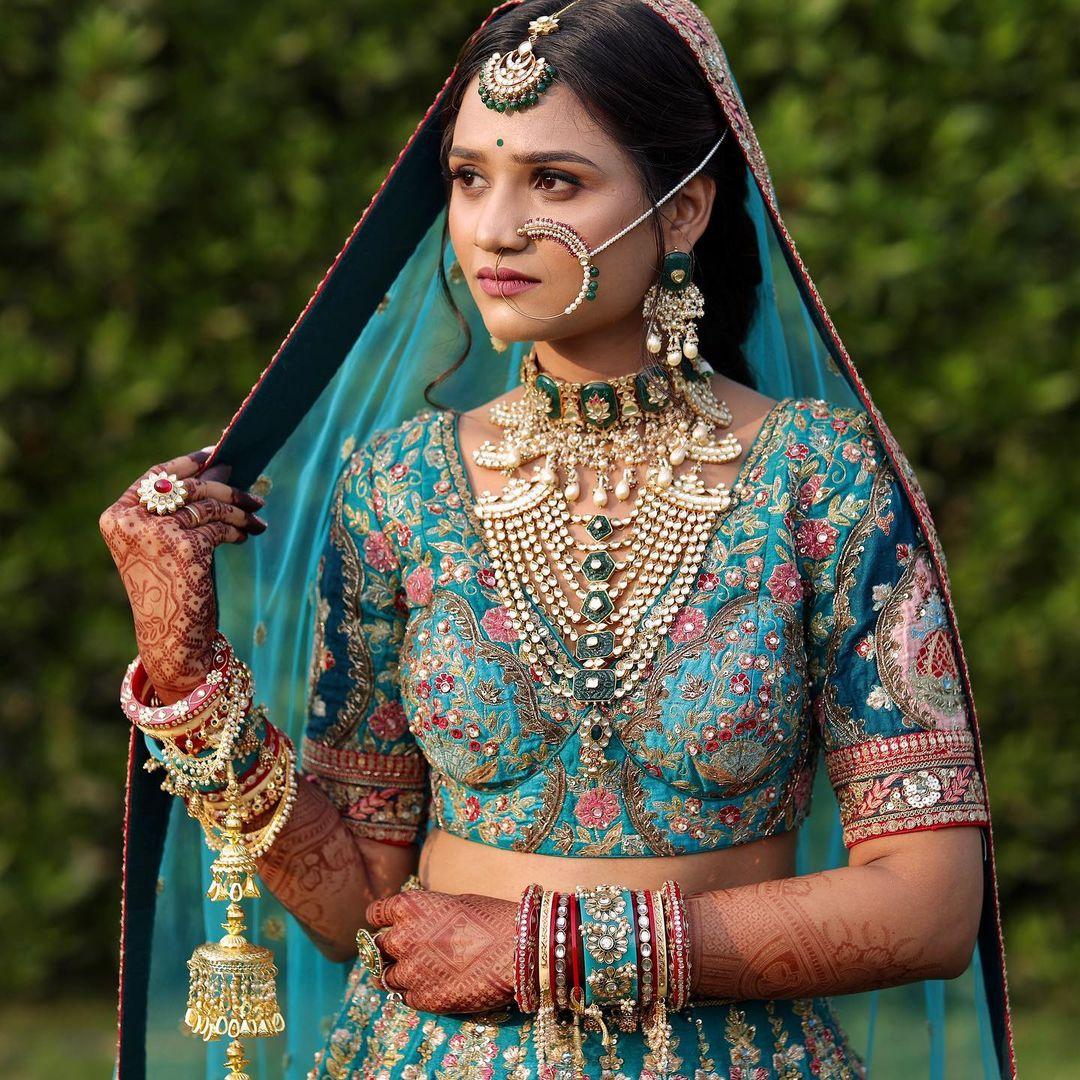 Image Courtesy: Sejal Savaliya
Planning to wear a blue lehenga on your wedding day but don't know how to match the chura set with it? This lovely chura set design has got you covered! Complete your dreamy outfit with the studded blue Kada and shades of red while you rock the ceremony with your 'Queening vibe'. Chura sets always adds an essence of charm to the wedding outfit. Therefore, picking the best wedding chura design is a must!
The Pinch Of Pastels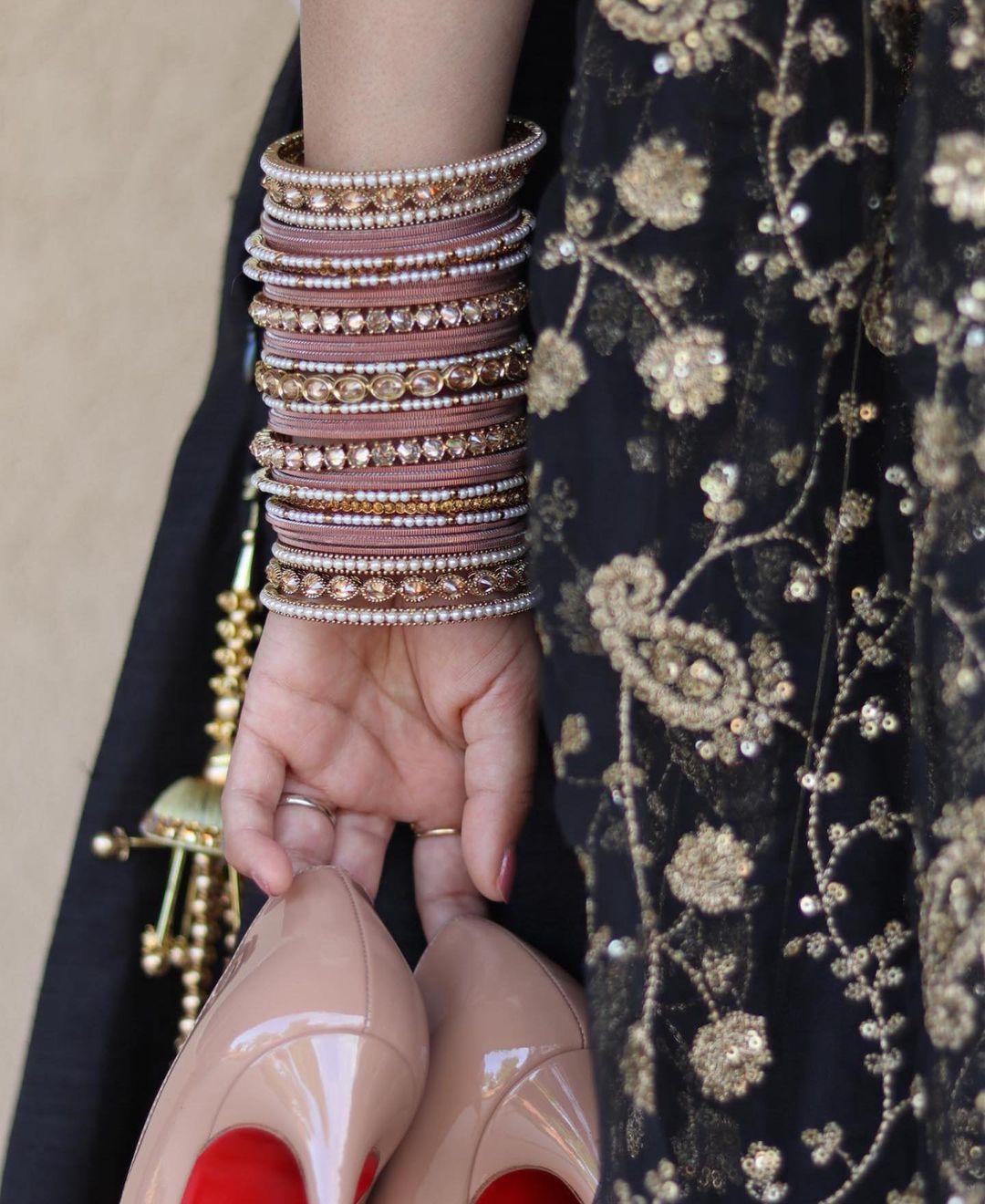 Image Courtesy: Evotique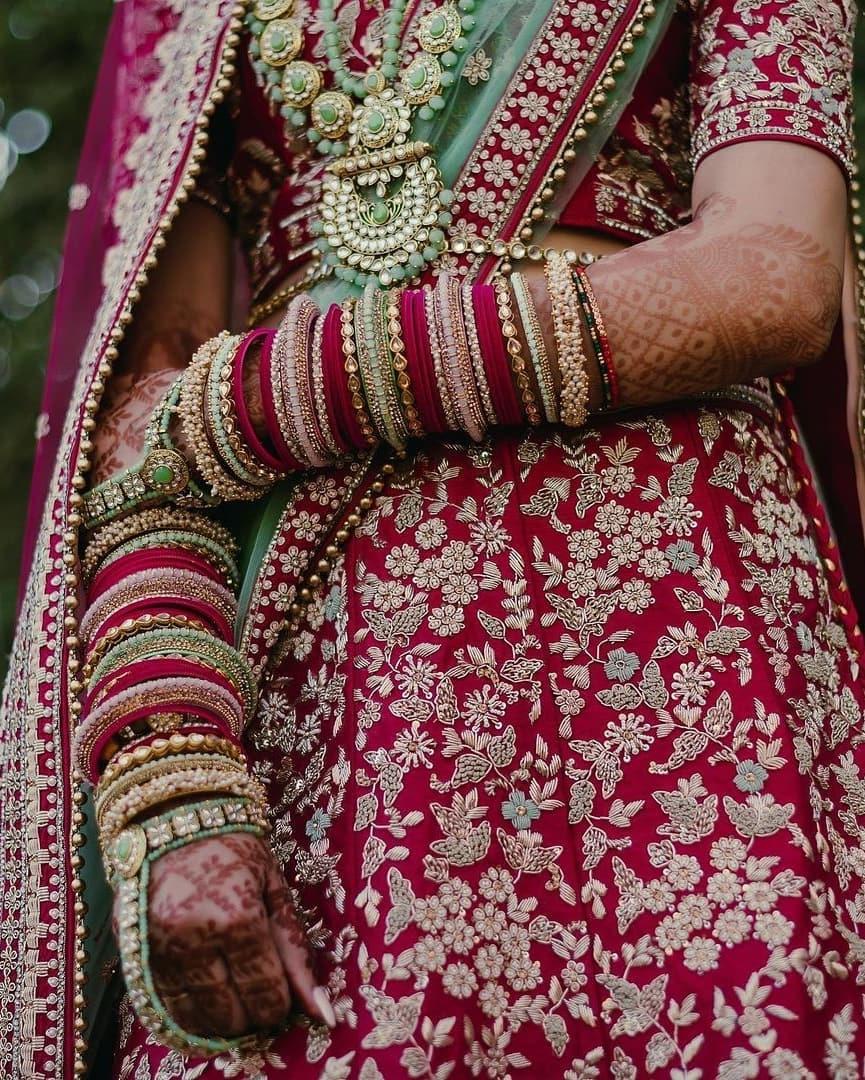 Image Courtesy: Scented Memories
Do you have a soft corner for pastel shades but don't wish to ditch the oh-so-bridal vibe? These latest chura designs 2021 will make you avail the 'Raani' vibe to the fullest. Ditch the red chura while you slay in these lovely pastel hues! If not red, shades of peach, pink and sea green are favourite of all millennial brides. Embrace the beauty of gorgeous Dulhan chura while you make memories with your favourite ones.
Baby pink & white Dulhan Chura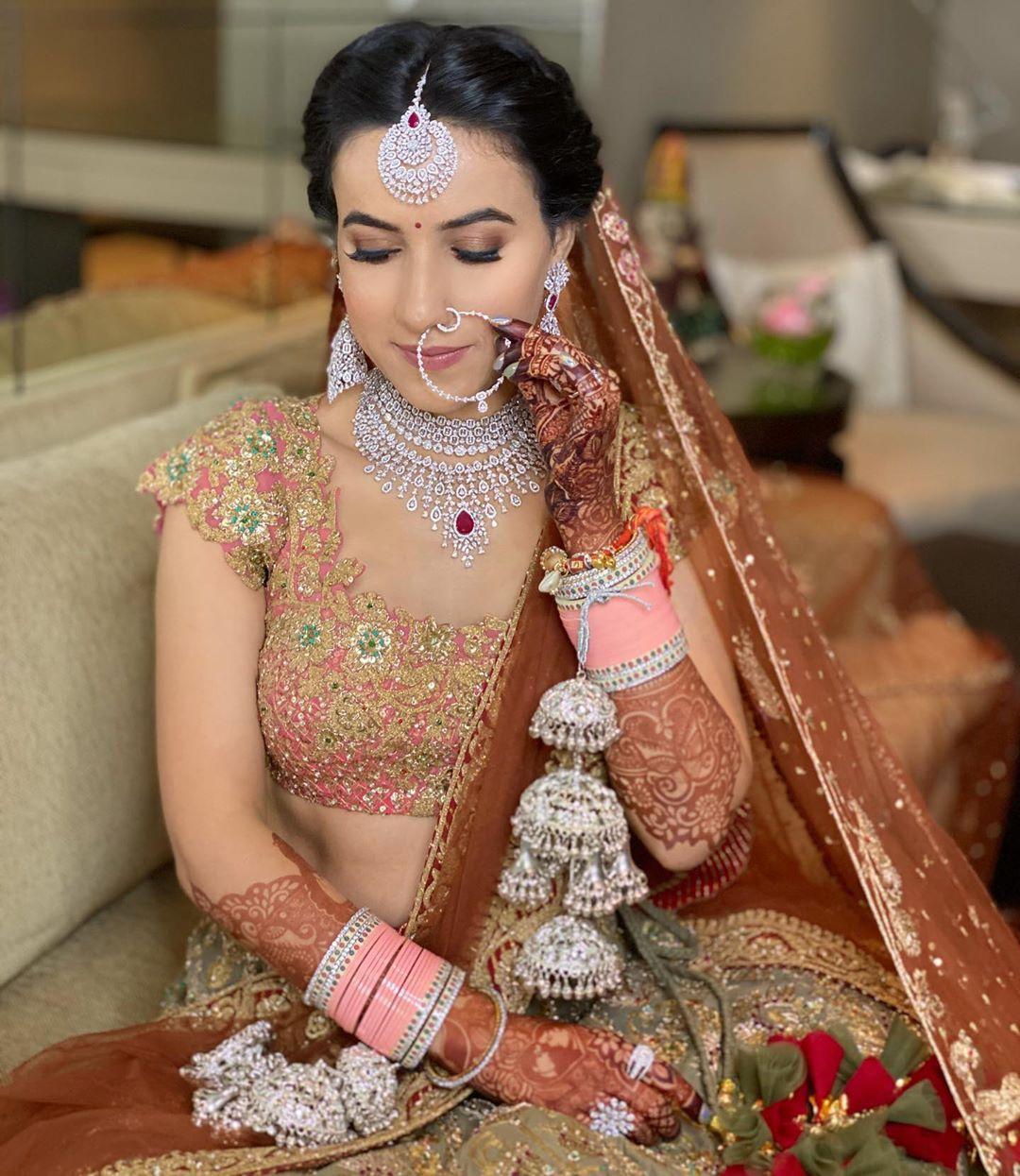 Some brides have always a soft corner for the pink! And if you're one of them, your heart will just melt with this one! This adorable Dulhan Chura in baby pink combined with white would be an apt choice for your wedding Chura if you're going for pastel shade lehenga. Wear a diamond necklace or white gold jewellery to go perfectly with your latest chura design.
Classic Blood Red & White Dulhan Chura Set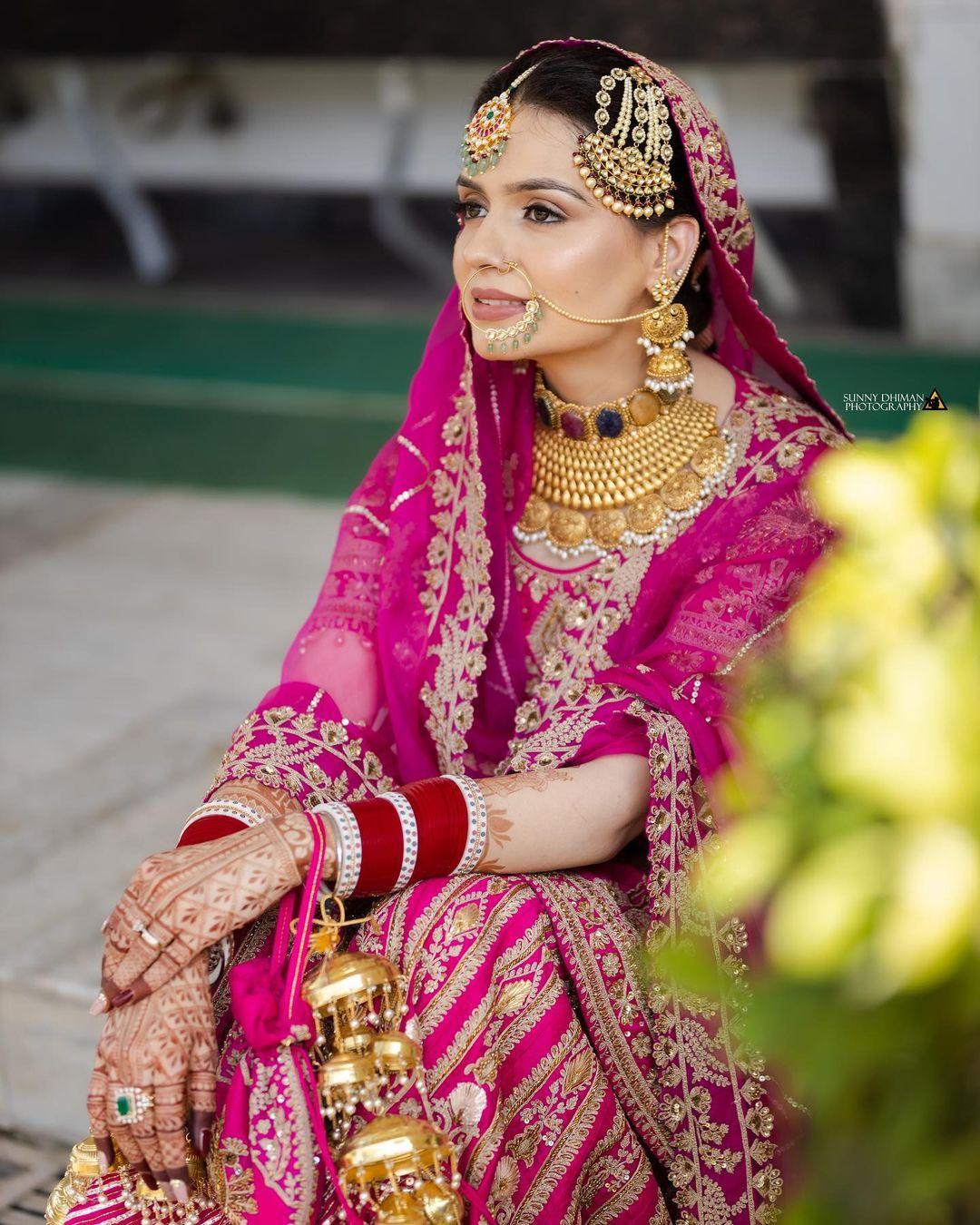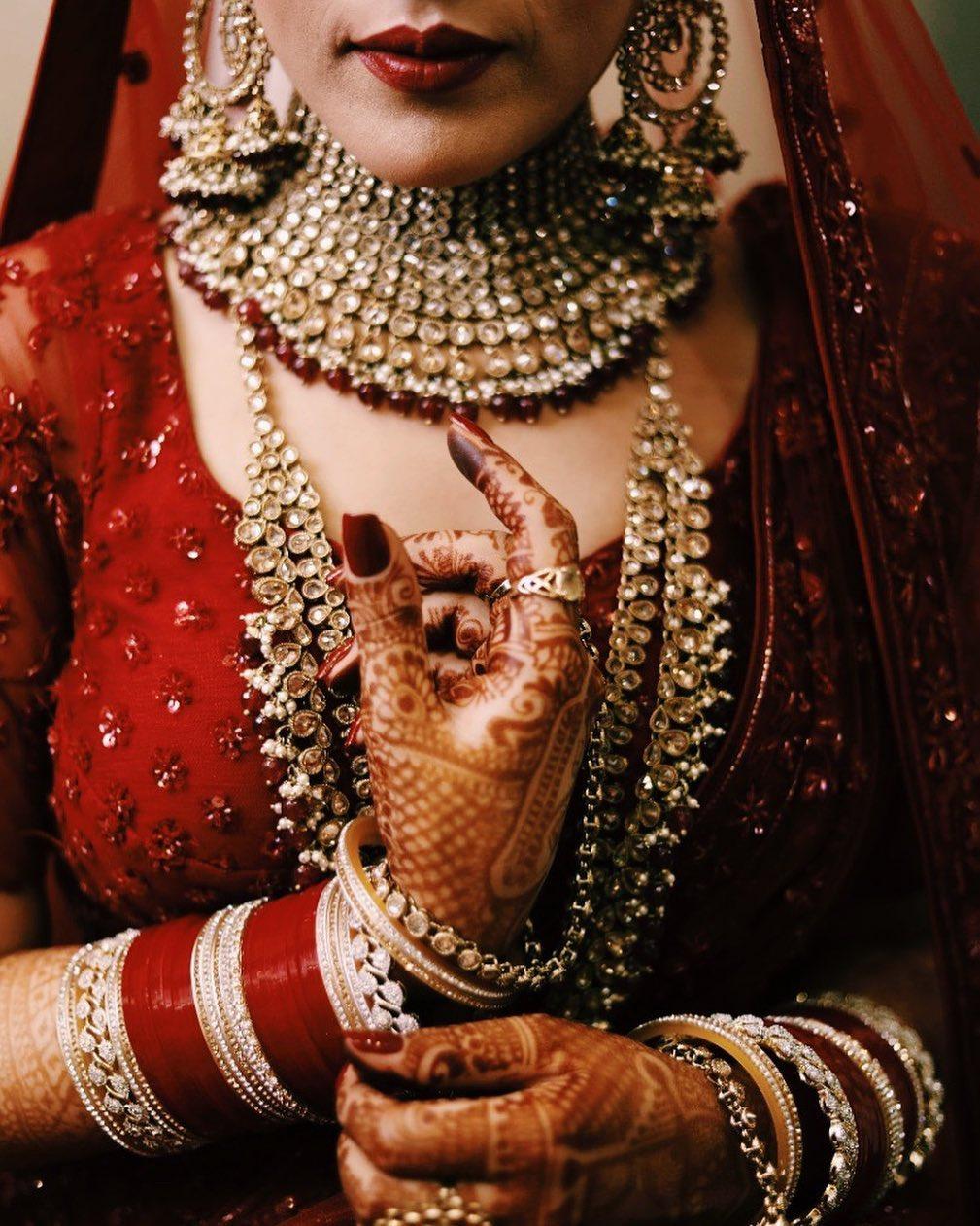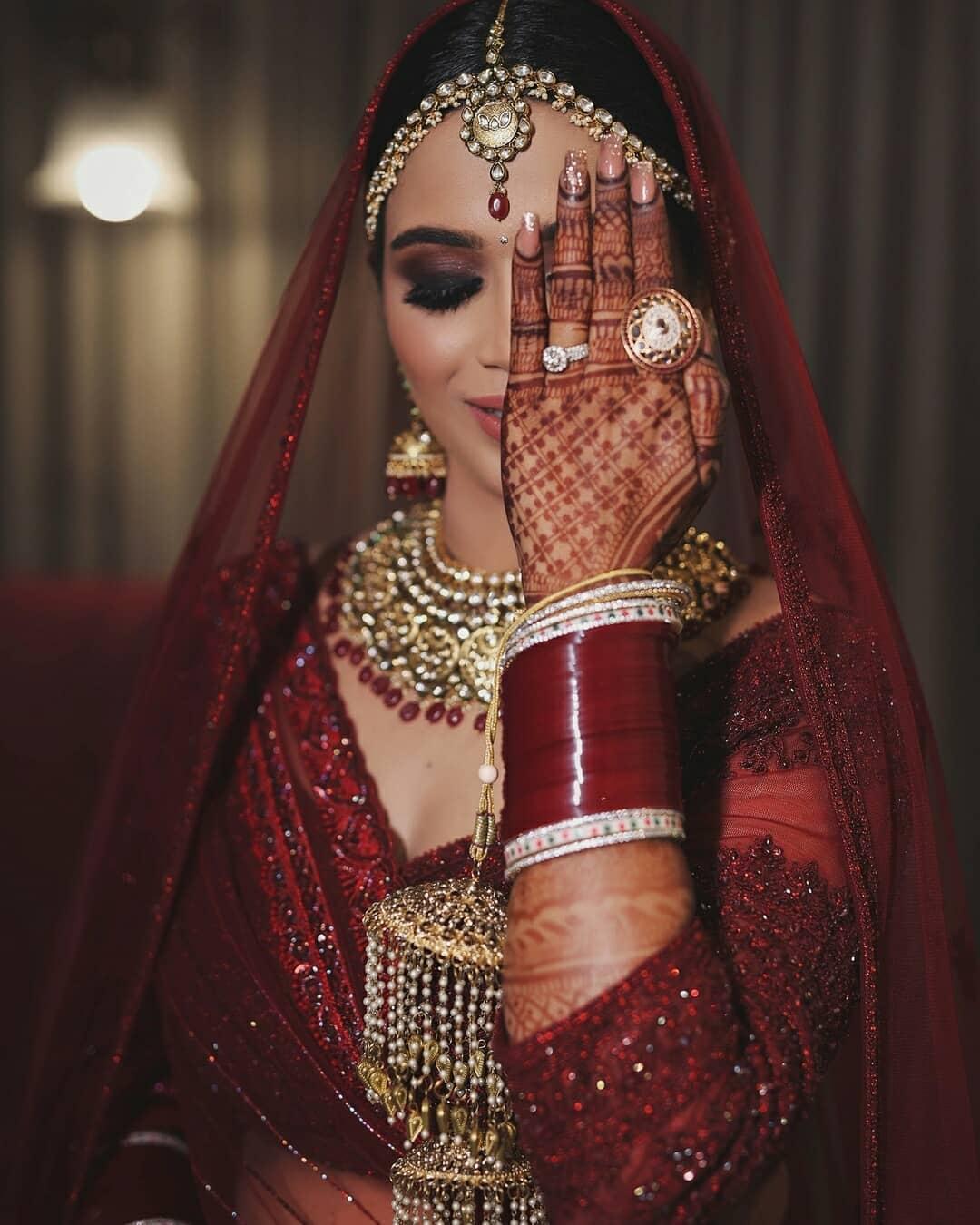 Because sometimes the classics are the best choices! A hardcore fan of classic red bridal chura? Say no more! We have got you covered with the prettiest Dulhan chura designs for your big day. If you like bold colours, then the red chura design is going to be your saviour! The blood-red and white is the traditional Dulhan Chura colour that will never go out of style. If you're planning to go with traditional bridal jewellery, the red chura along with a Polki necklace or Kundan jewellery would just complete your look. Sport a blood red lehenga for the ultimate Dulhan look!
Sky Blue & Pink Beautiful Dulhan Chura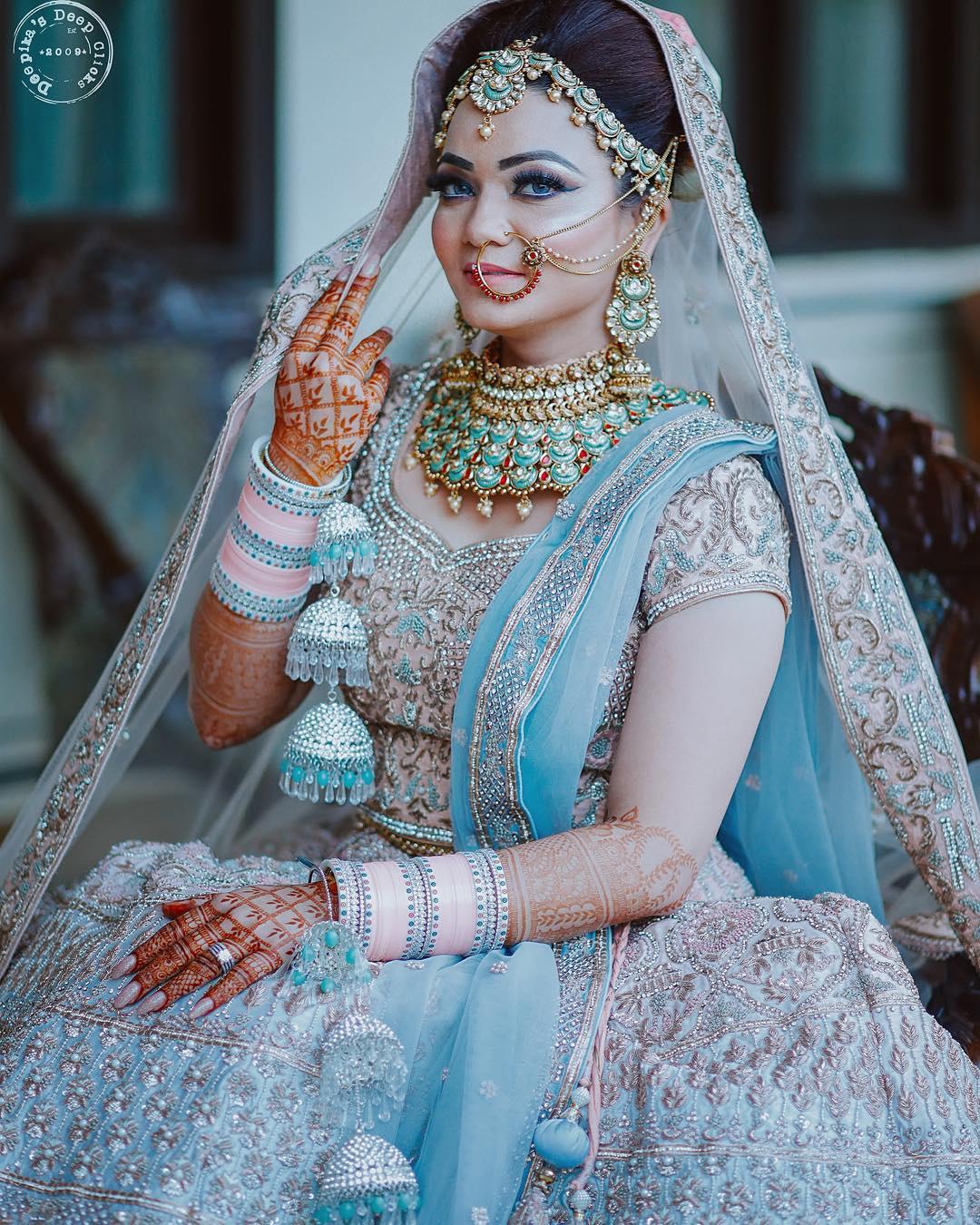 Did you pick a ravishing light blue lehenga for your big day? Then pair up your bridal attire with this latest chura design which is in sky blue and baby pink colour. The spot-on colour coordination of your bangles and wedding dress would totally steal the show. Moreover, the combination of blue & pink is a sure-shot winner material! Further your charisma with a statement necklace in large blue stones and matching earrings and Matha Patti.
Dulhan Red Chura with Shells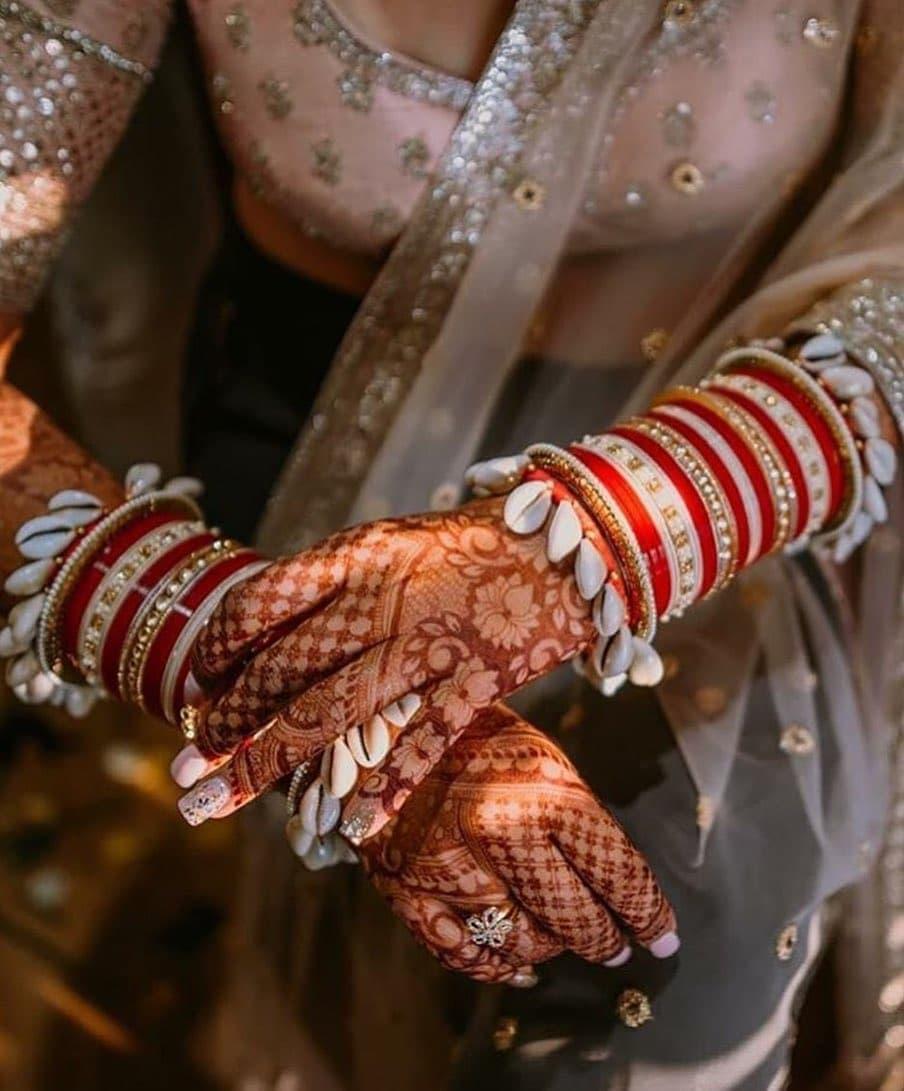 Image Courtesy: Royal Wedding Affairs
Now if you're looking to add some quirk factor in your Dulhan chuda design, here's an idea! Try these red Chura with shells hanging from two ends. Shells are considered auspicious in Indian weddings and there is major prominence of shells in many wedding traditions. For example, in Bengali wedding, shells are used in decorating bridal trousseau, wedding games and so on. And therefore, the addition of shells would be a perfect mix of traditions and fun on your bridal outlook. Wear soft colours like a pastel lehenga for a fun contrast.
Mehendi Green Fancy Dulhan Chura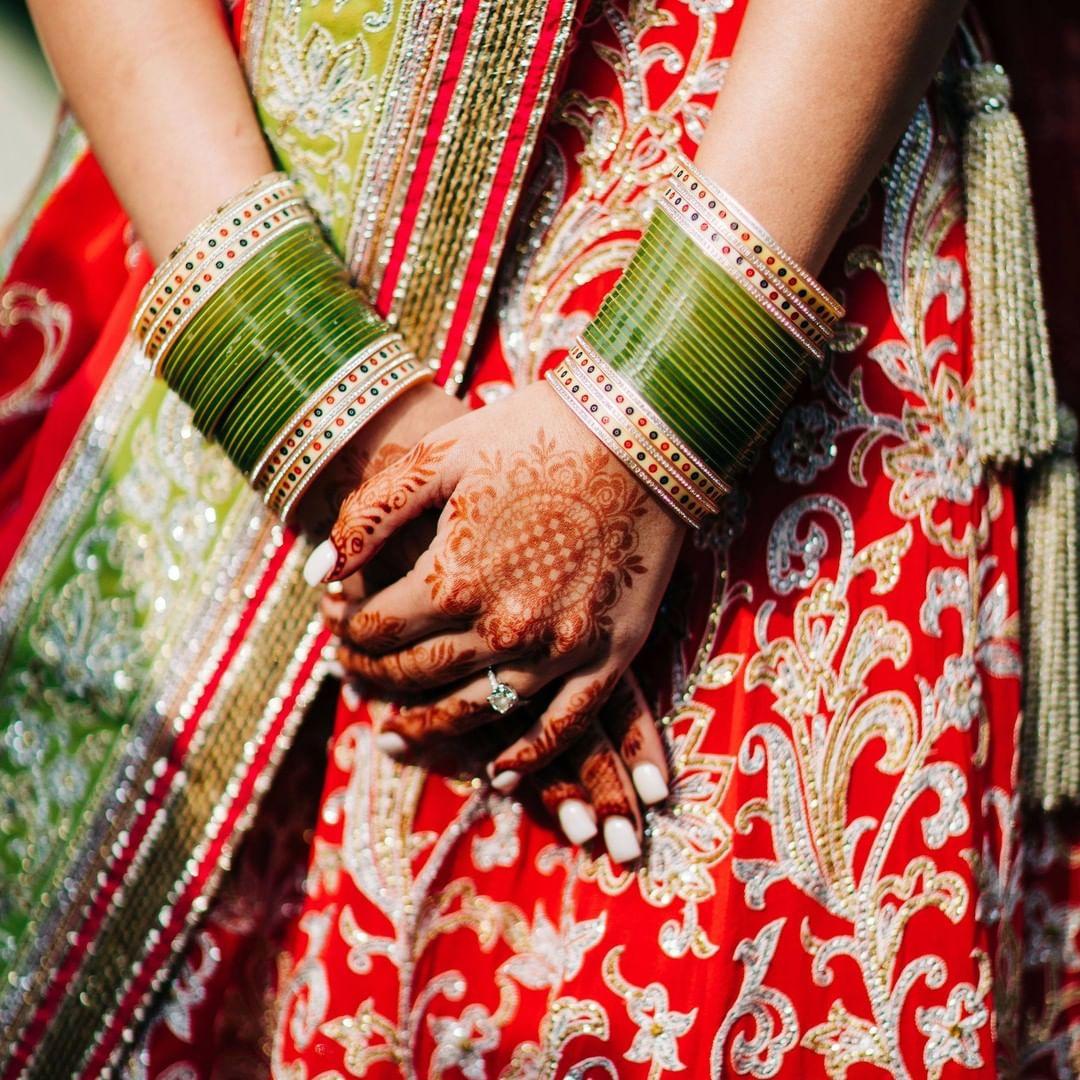 Image Courtesy: The Knotty Tales
Prefer contrast than matching? If you're wearing a red lehenga with green borders, try this contrasting latest chura set in Mehendi green colour with a few cream ones at both ends. The beautiful green bangles would look stunning especially because of the fact you matched them with your lehenga border colour. Play with colours while choosing your other jewellery. Like, go with large golden statement earrings and choker necklace with green stones.
Rose gold Latest Dulhan Chura Design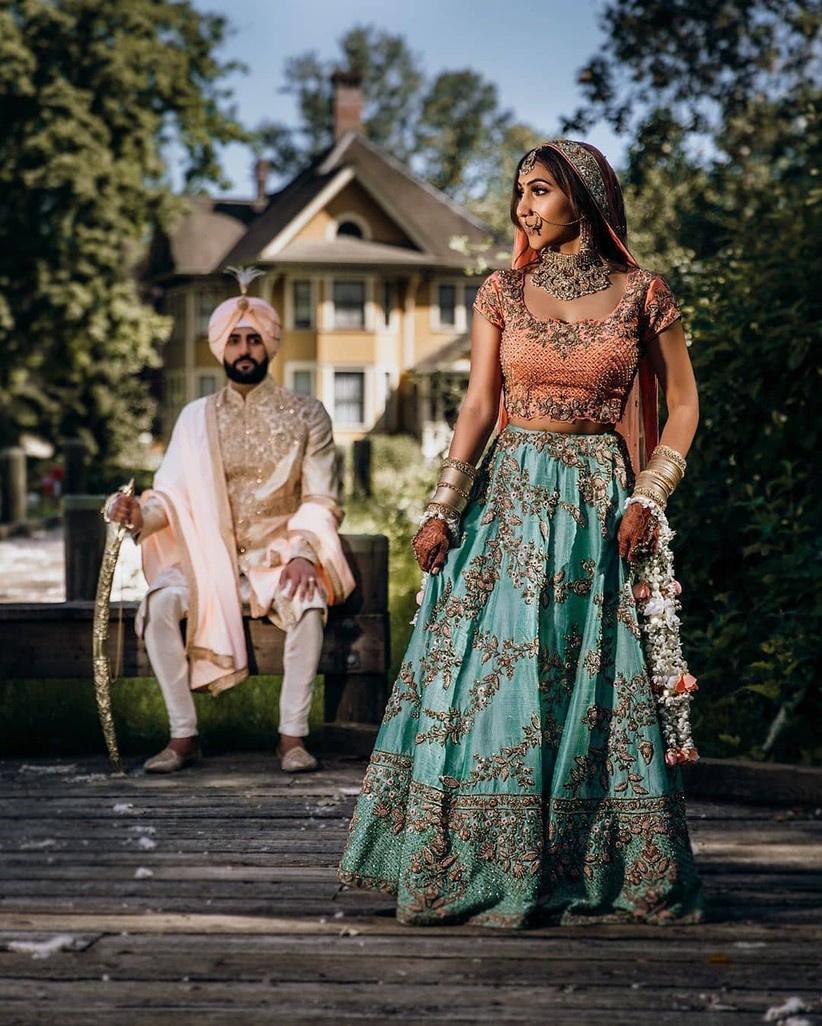 Image Courtesy: Dreambox Creations
If you're thinking about going a little more contemporary while picking your Dulhan Chura, we say go with an off-beat colour. A Chura set in rose-gold is something that you can pair up with almost any shade of lehenga or saree. The matte effect of the Chura colour makes it look uber chic and classy. Go with bronze based or nude makeup with dark kohl eyes to slay the night!
Yellow Gold Dulhan Chura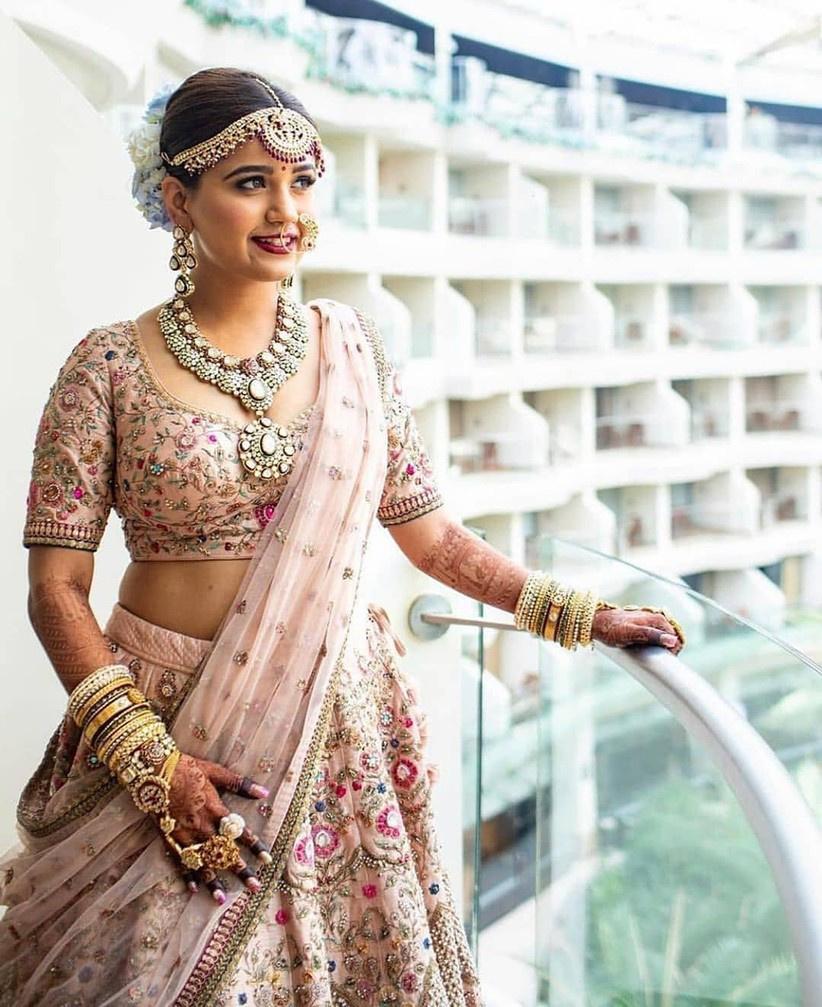 A set of traditional yellow gold Dulhan Chura can never go wrong! Whether you're draping a gorgeous silk saree or wearing light pink lehenga, gold Chura bangles are good to go with any kind of bridal attire. You could go with an all gold jewellery set or mix up things a little. Like, wear a diamond and Kundan necklace with a matching Matha Patti and Kundan earrings.
Red Dulhan Chura with Latkan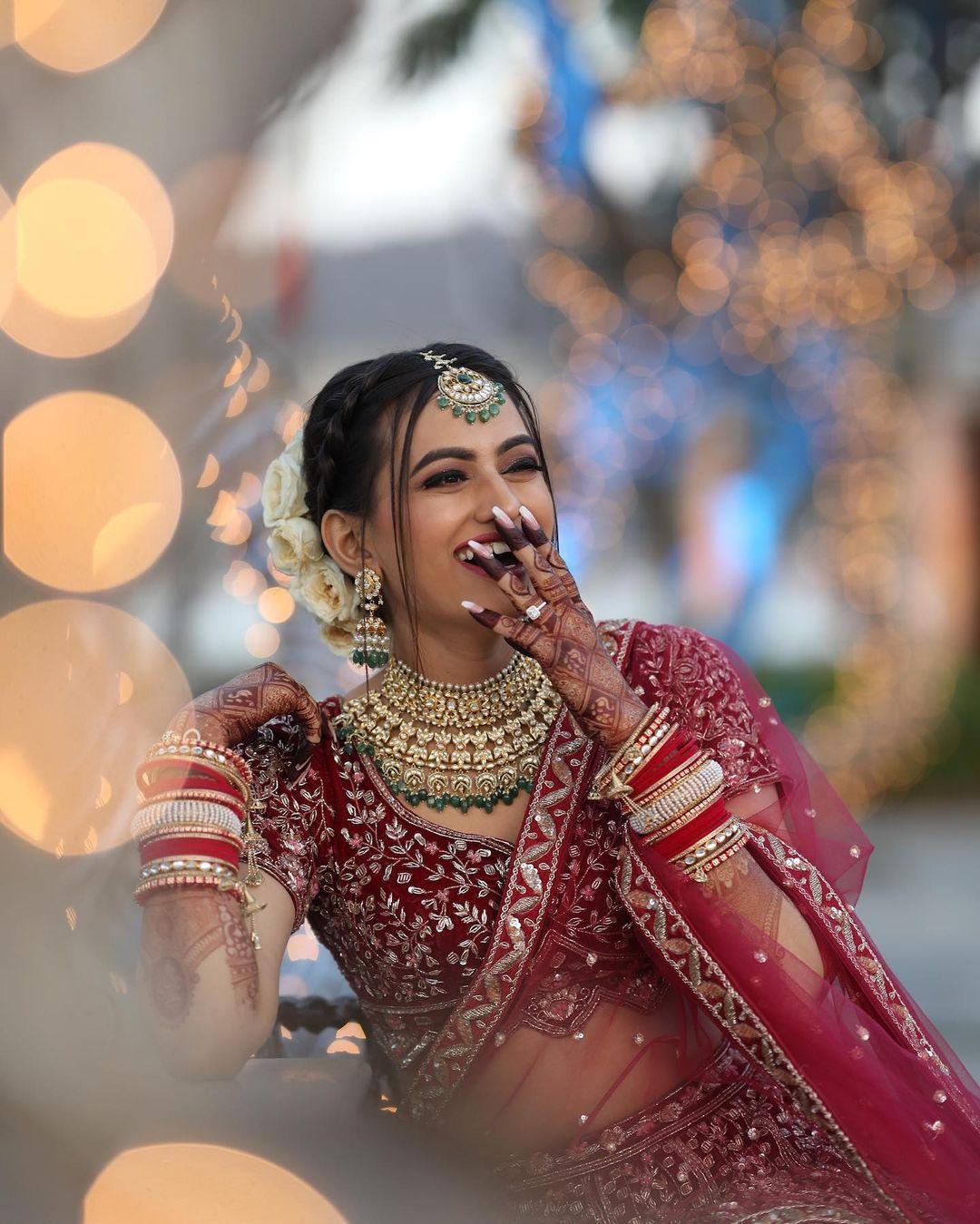 Hey, you pretty! Are you looking for ideas for a different wedding look? We suggest you pick a beautiful latkan dulhan chura design. A combination of Kada and latkans add an oomph to the whole chura design.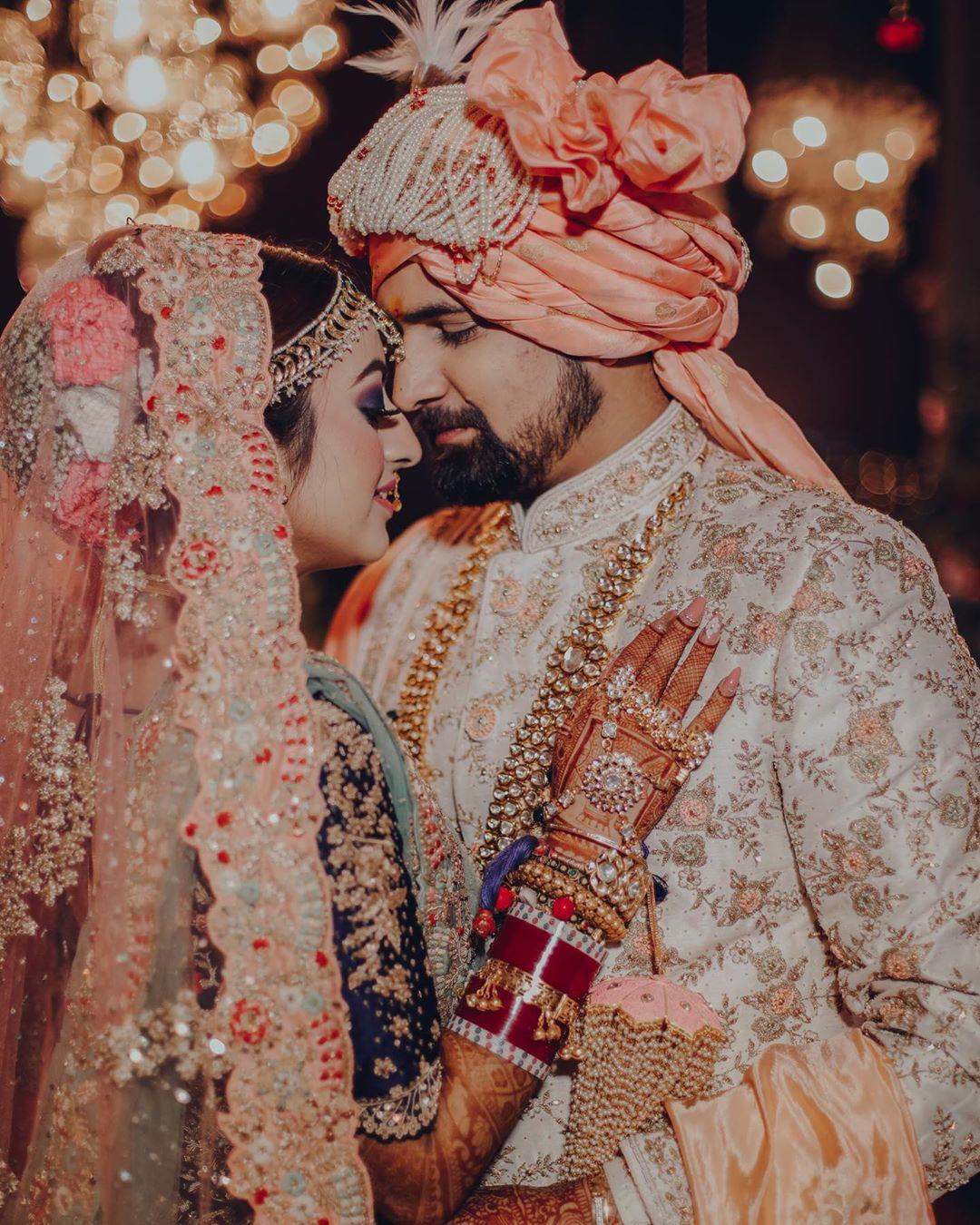 How about accessorising your Dulhan Chura? You can glam up your red Chura by adding golden Latkan in between the set. The combination of red and gold is always a great choice anyway. And the addition of Latkans will only add a dash of attitude to your bridal style! Pick this latest chura design while you add a pinch of glam to your bridal look.
Hot Pink & Yellow Dulhan Chura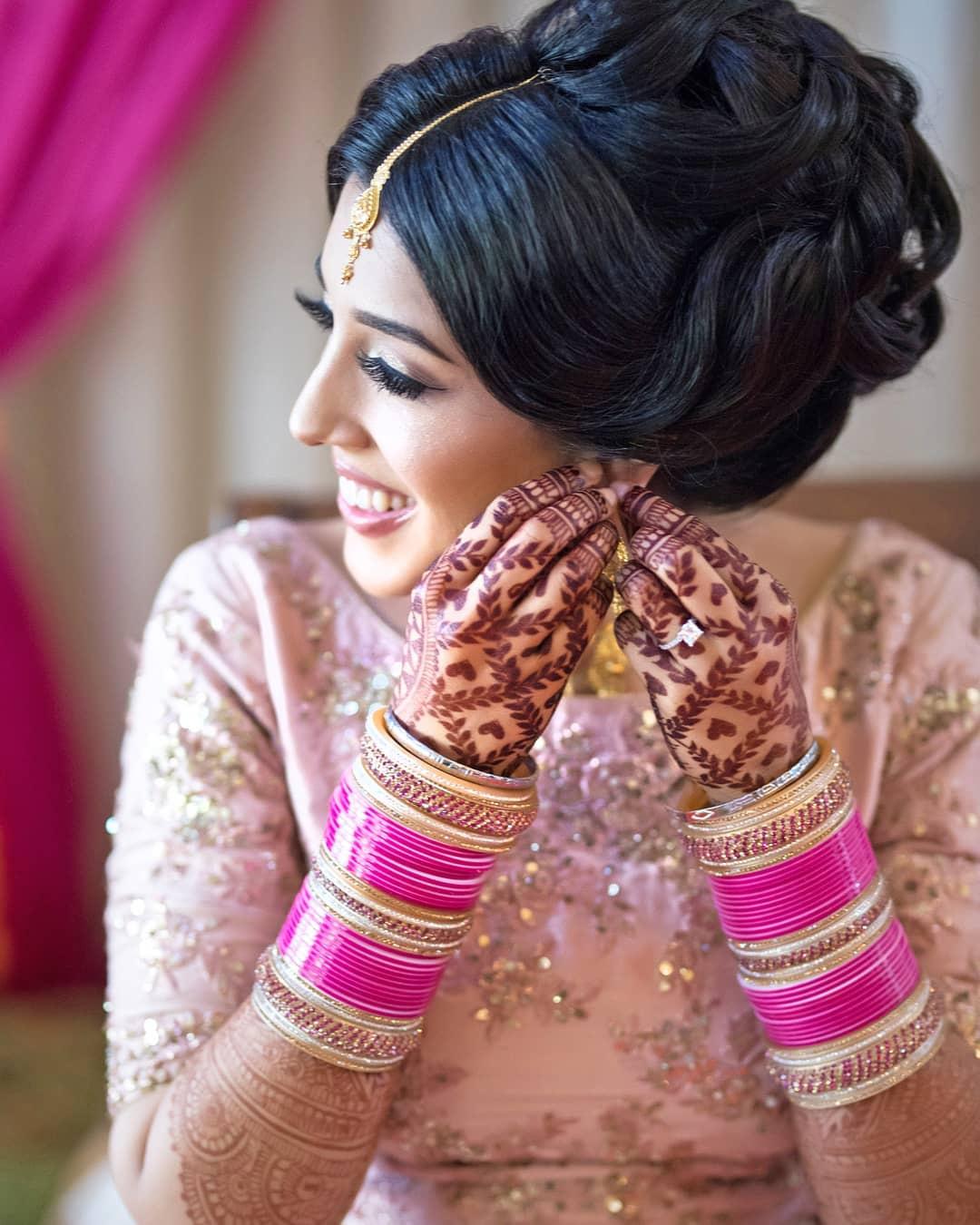 Image Courtesy: Wedding Documentary
Try this brilliant combination of hot pink latest chura design with occasional yellow thin bangles. You can also throw in a few gold stone bangles in the mix to up the grace factor a notch! Wear hot pink and gold lehenga or go with either colour for the perfect combination.
Choose your own latest chura design while you keep your wedding attire in mind. Try new styles, colours, combinations and even accessories for your Chura depending on your personal sense of style and personality. You could go for dual colours or even multiple colours for your bridal bangle set if that's what goes best with your outfit. A bride's bangles are her prized possession. No matter how many pieces of jewellery you own, your bangle collection will always be the special one. So choose your Chura carefully!
Did you bookmark the latest chura design for your D-day? Mention your views under the comments below!
Also written by Alakananda Bhattacharya