Bridal Chura Images That'll Melt Your Heart
While your wedding date gets fixed, in the meantime let's drool over the latest and the prettiest bridal Chura images to help you select one for your big day!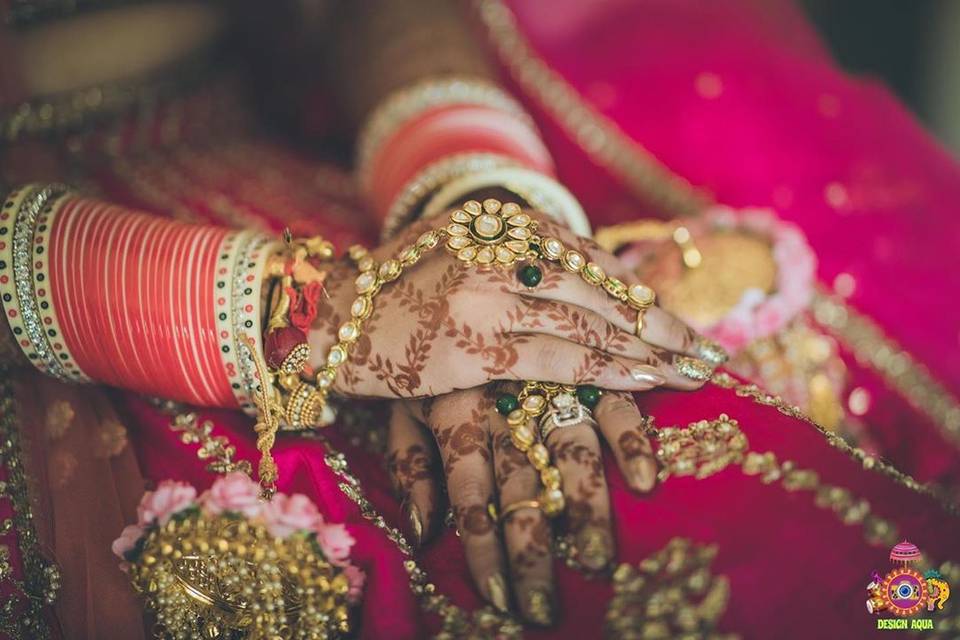 The gorgeous combination of red and ivory bangles, known as the Chura, is not just a bridal accessory. These pretty bangles hold a lot of cultural importance, too. Worn primarily by newly-married girls, the bridal Chura signifies the commencement of a new beautiful life. Customarily in Punjab, the newly-married girls are supposed to wear Chura for at least 1.5 months and up to 1.5 years; the duration varies throughout north India.
Traditionally worn by Punjabi brides a night before or on the day of the wedding, these bangles are now popular among girls from other communities too. This picture-loaded post of bridal Chura images is dedicated to all the brides-to-be who are looking for bangle designs and latest bridal Chura images to find one for their very own wedding.
The Chura Ceremony Picture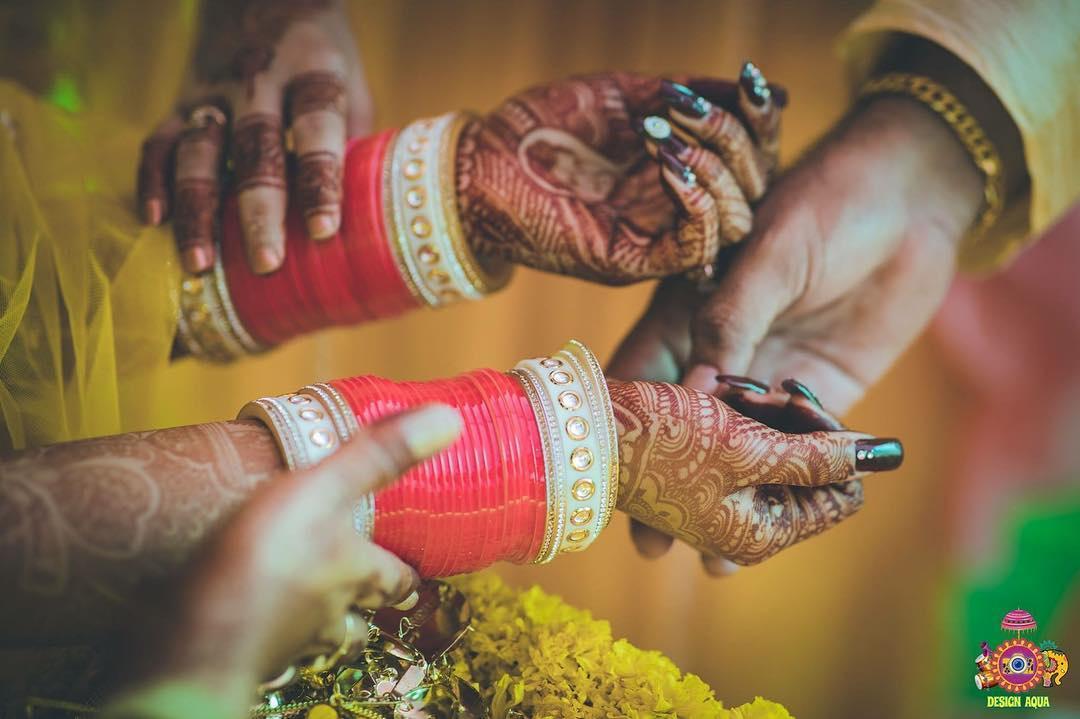 The bride's maternal uncle and aunt are supposed to gift the Chura to the bride. This picture perfectly captures the moment of a beautiful Chura ceremony. We can see the hands of the bride in her mama's hands, making her ready to depart for her new home.
The Elegant Bridal Pose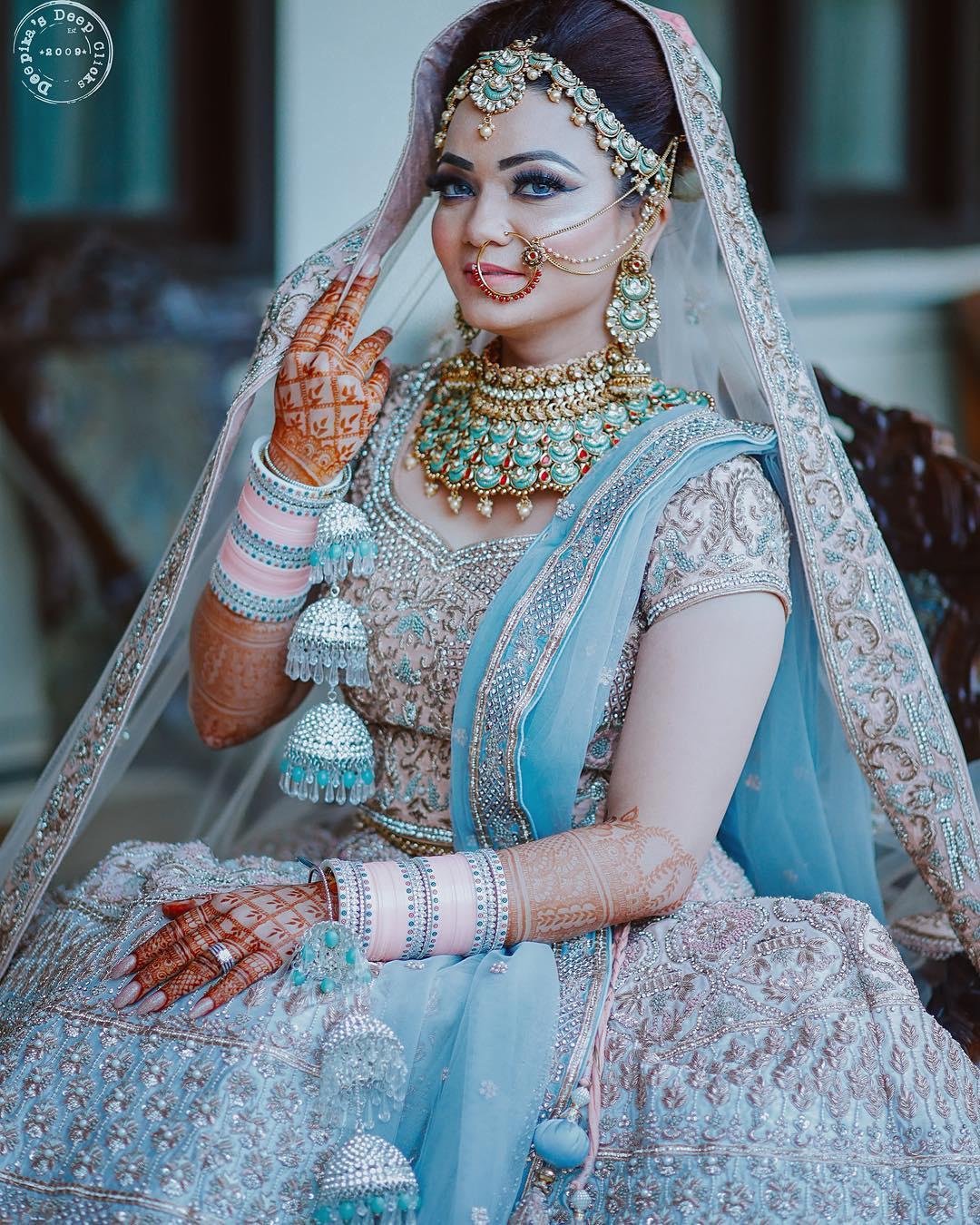 Experimental brides who desire to stand out always choose their bridal Chura in a unique colour. This bride picked a light pink pretty Chura set with traditional as well as diamante bangles. We can see the bride all decked up, ready to walk down the aisle.
The Bride and Groom Holding Hands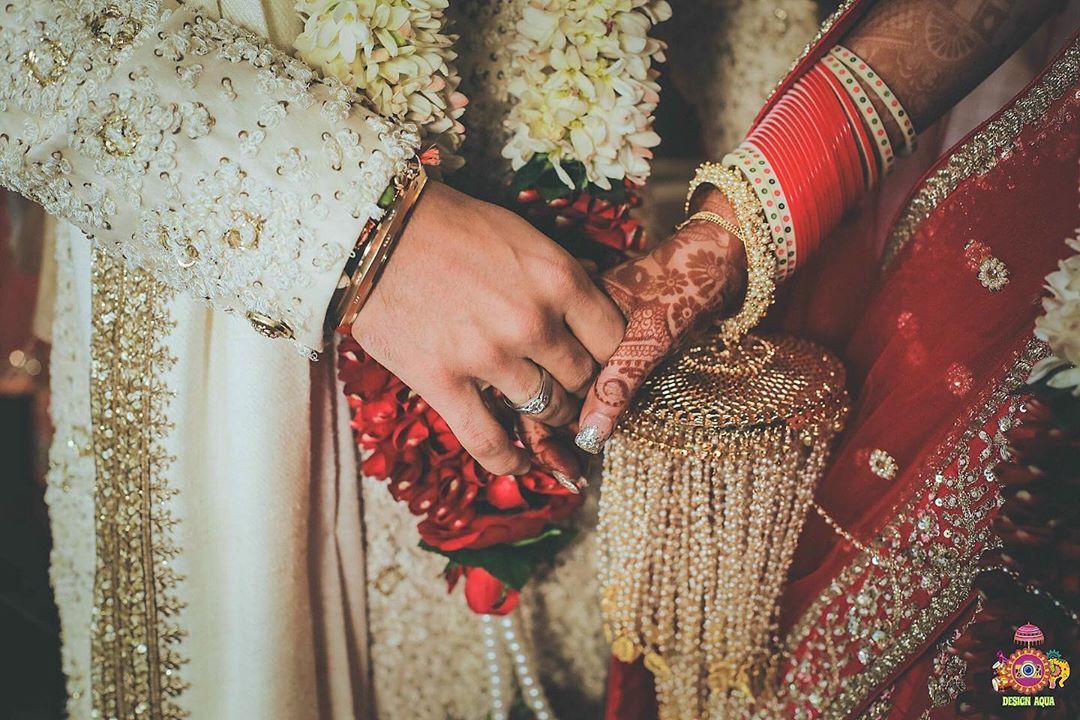 The bridal Chura is the symbol of new beginnings and it also signifies a girl's dedication towards her husband. Bridal Chura images like this one capture the essence of the moment when two souls become one. The bride and groom are holding hands during the wedding, taking each other towards a new life.
Pre-wedding Photoshoot Done Right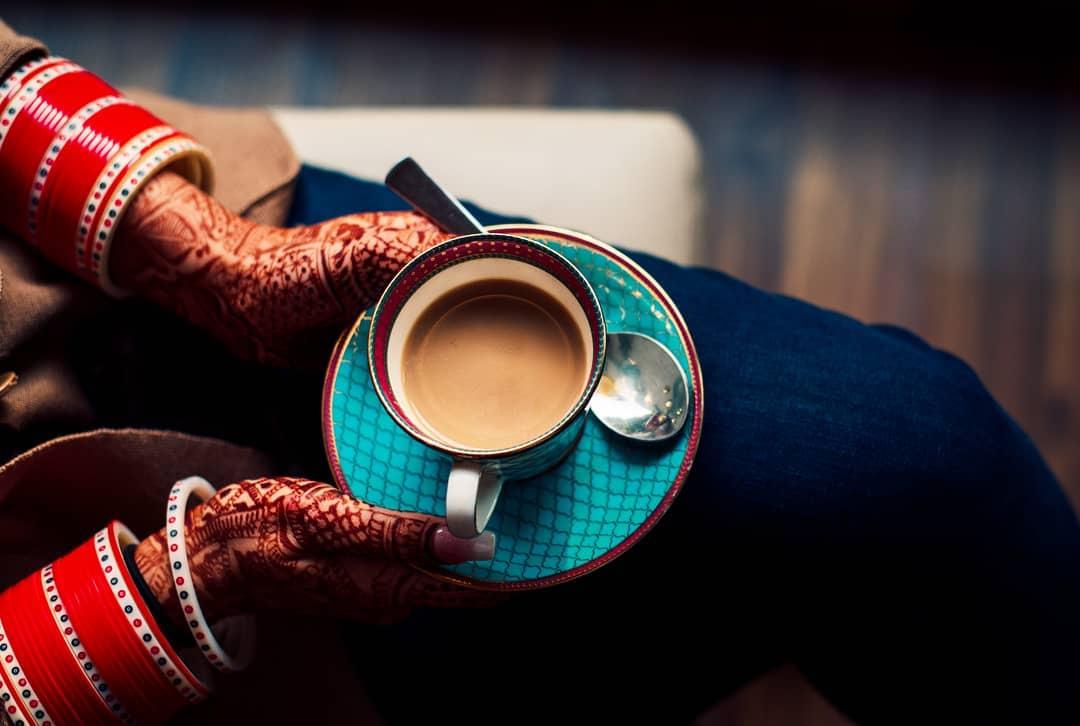 This bride is all set to get ready for her big night but she cannot skip her evening coffee! This unusual but creative shot gives the peak into an Indian bride's realistic getting ready session. The contrasting elements - traditional bangles and modern jeans - is simply wow!
The Classic Bridal Shot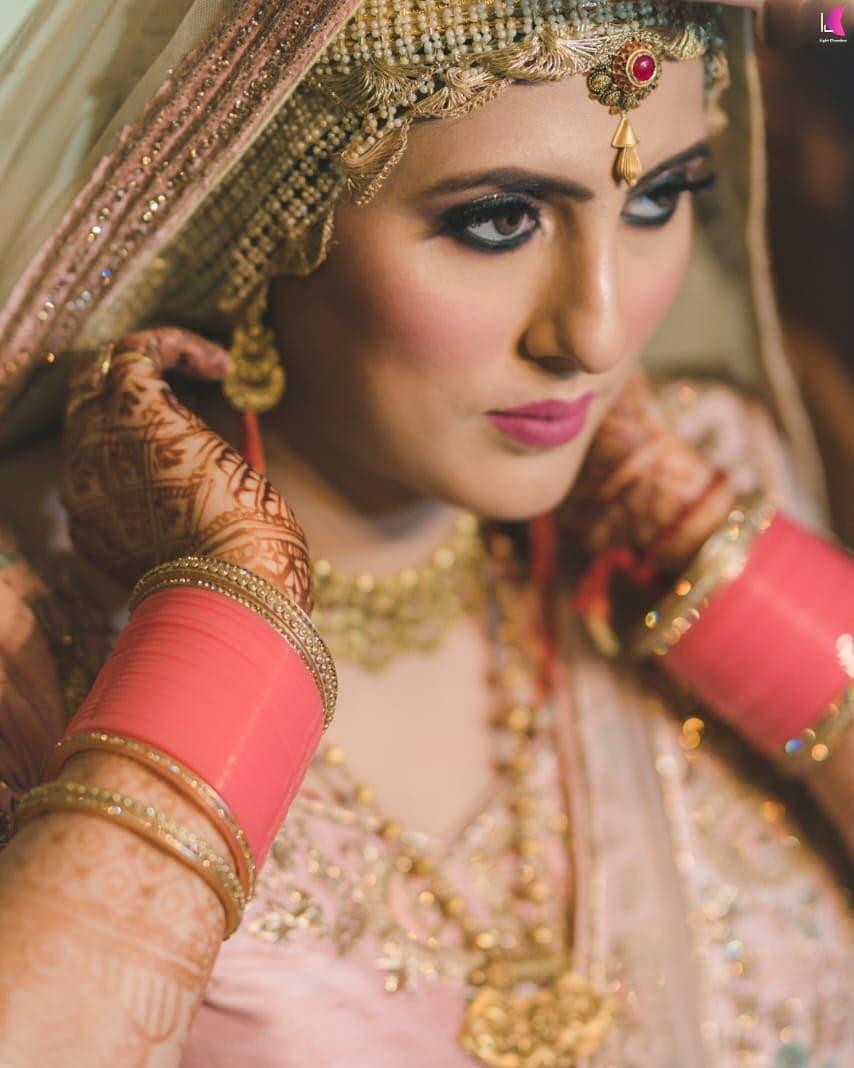 Image Courtesy: Light Chamber
This picture features a Kashmiri bride, arranging her accessories while showing off her pretty peach Chura. If you love minimalist but dressy Chura designs, check out this combination.
The Bridal Chura Paired With Floral Jewellery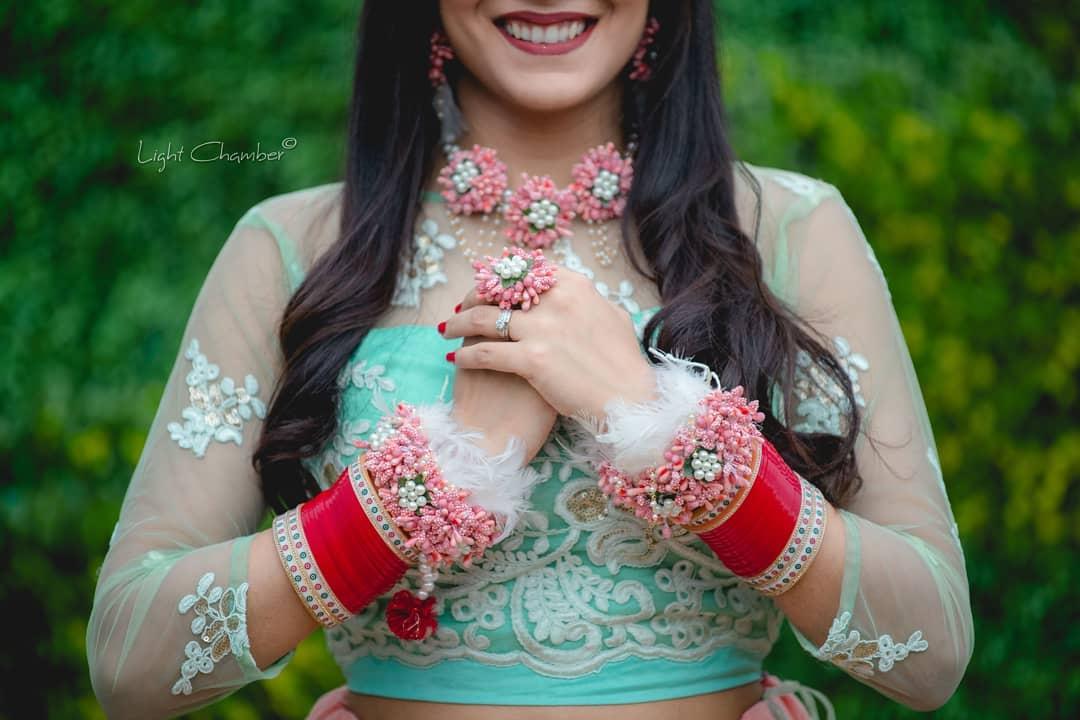 Image Courtesy: Light Chamber
Floral jewellery helps the brides-to-be appear prettier on their mehndi and Chura ceremonies. In this picture, we see the bride-to-be with her newly acquired bright red Chura. The contrasting pastel colours of her outfit and floral jewellery are making the bright red colour of her Chura appear more striking.
The Prayers of a Bride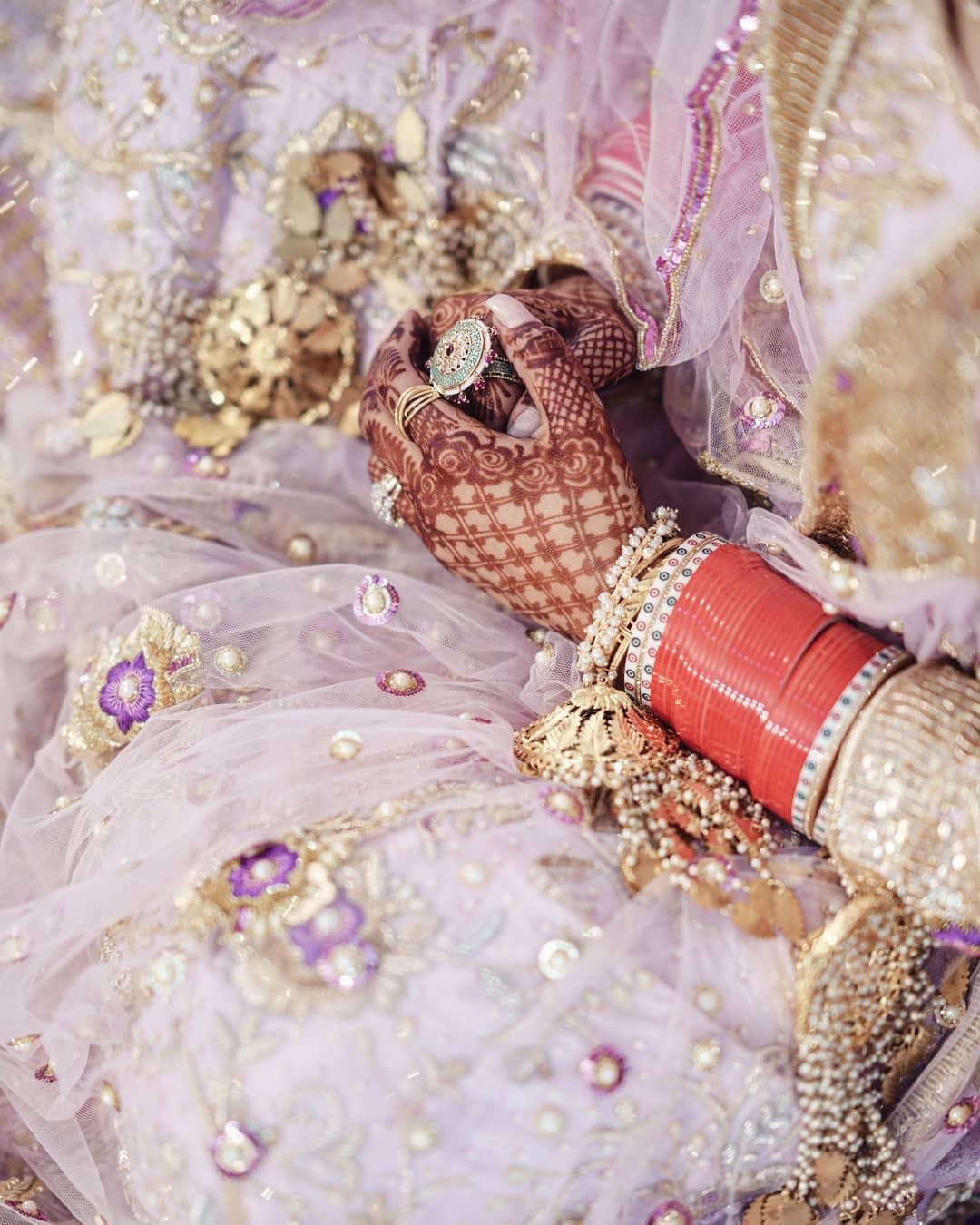 Image Courtesy: Mehar Photography
Gurudwara ceremonies are beautiful and serene. In this breathtaking picture, you can witness the bride praying during her wedding ceremony. The tiny bridal details, such as the flowers on her lehenga, the golden Kalire and, of course, her soft red Chura give so much substance to the composition.
The Eternal Bond of Chura and Kalire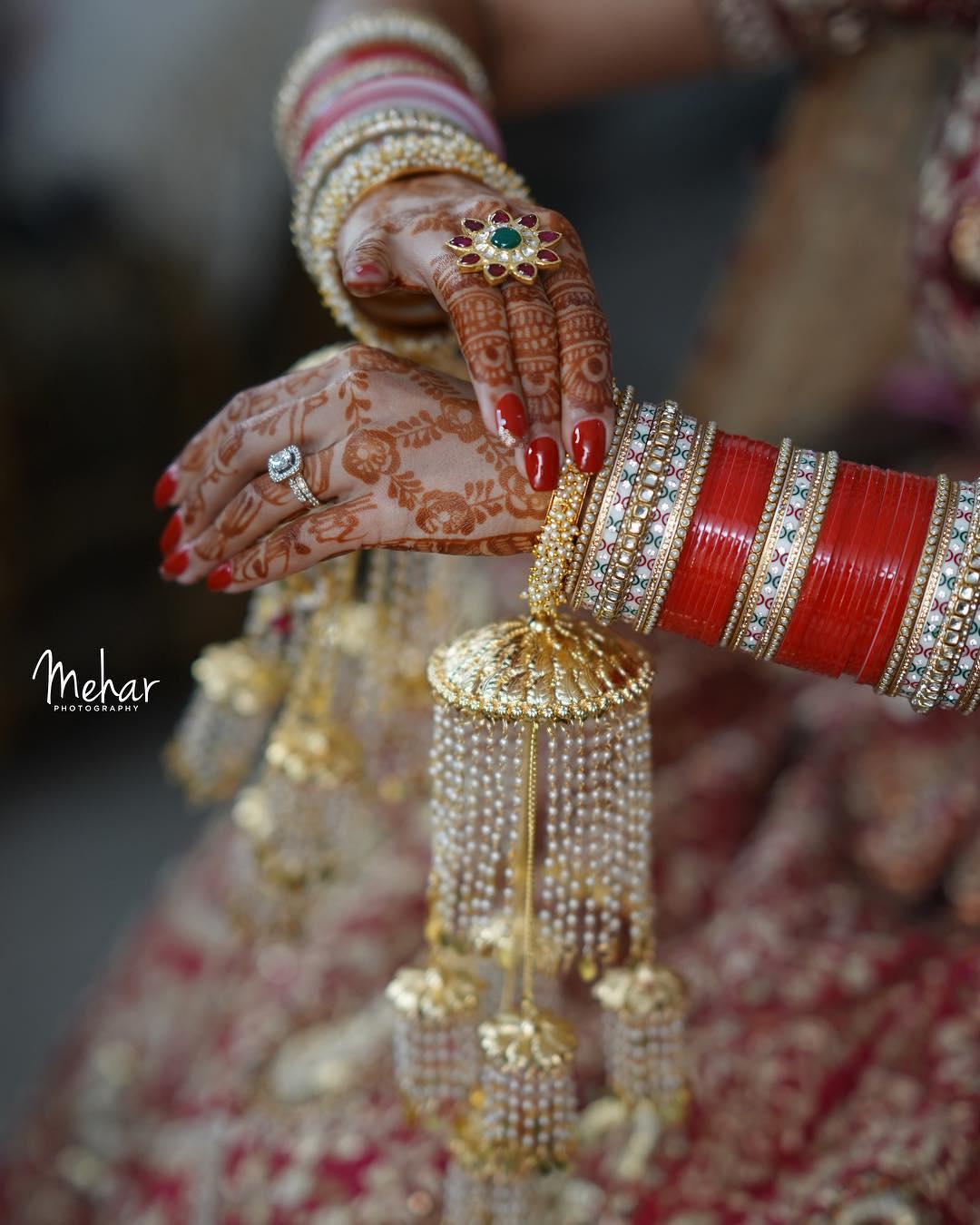 Image Courtesy: Mehar Photography
Chura bangles look incomplete without Kalire on the wedding day. This picture shows the bride adjusting her Kalire as she gets all dolled up for her wedding. For girls who prefer elaborate jewellery, this Chura design is perfect.
The Sindoor Shot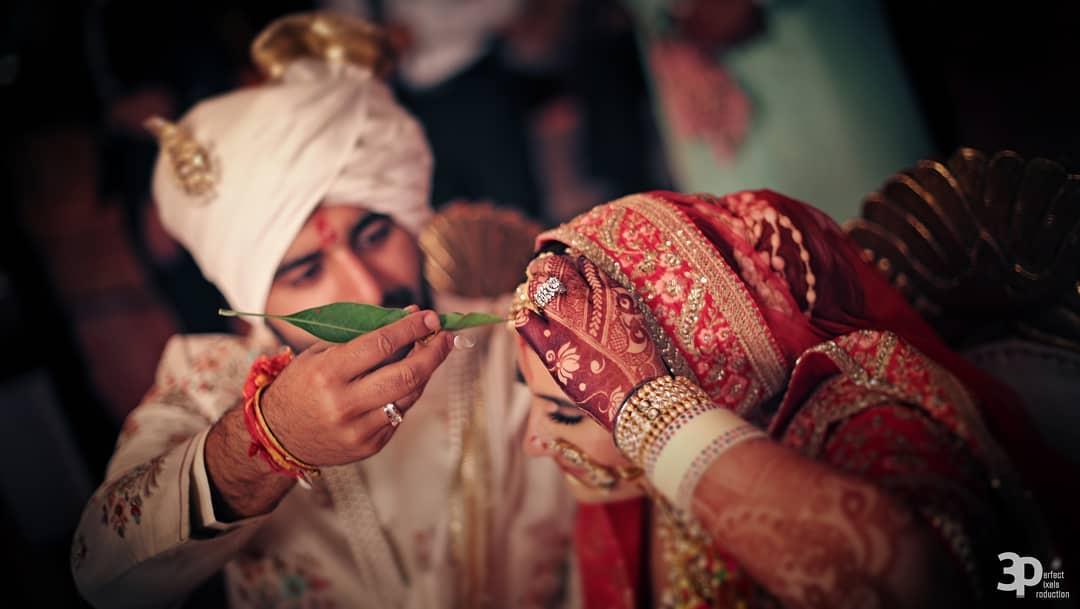 This is essentially one of the most romantic bridal Chura images in this list. The groom is applying the sindoor to the bride's forehead as she adjusts her Maang Tikka for him. But, what stands out is her unique white Chura that's paired with a thick, bejewelled cuff.
The Perfect Trio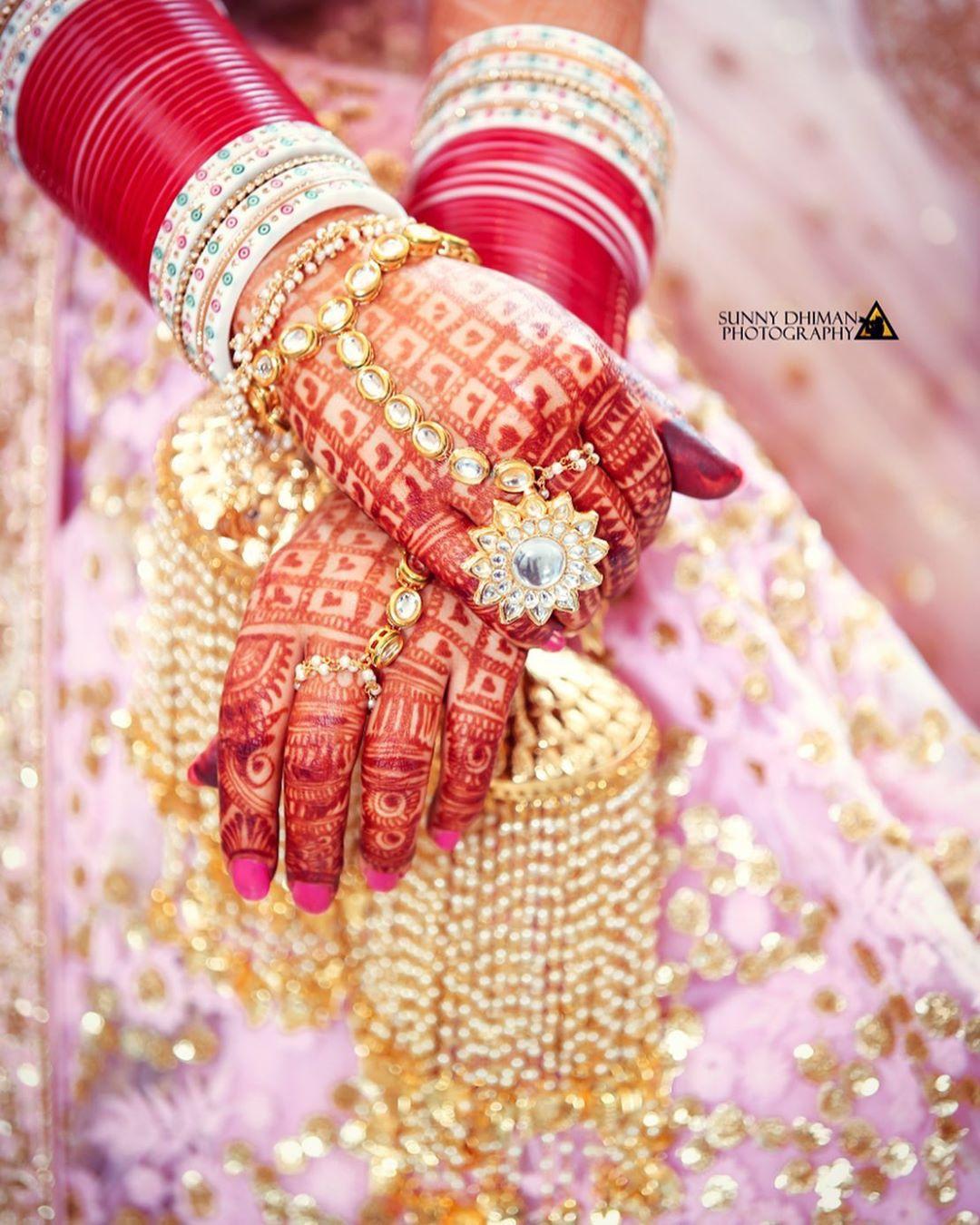 Dark mehndi, golden Kalire and red Chura make the perfect trio for every north Indian bride. This picture captures all of them in one shot as the bride awaits her Baraat. If you are a sucker for details, you must add bridal Chura images like this one to your list
The Bittersweet Goodbye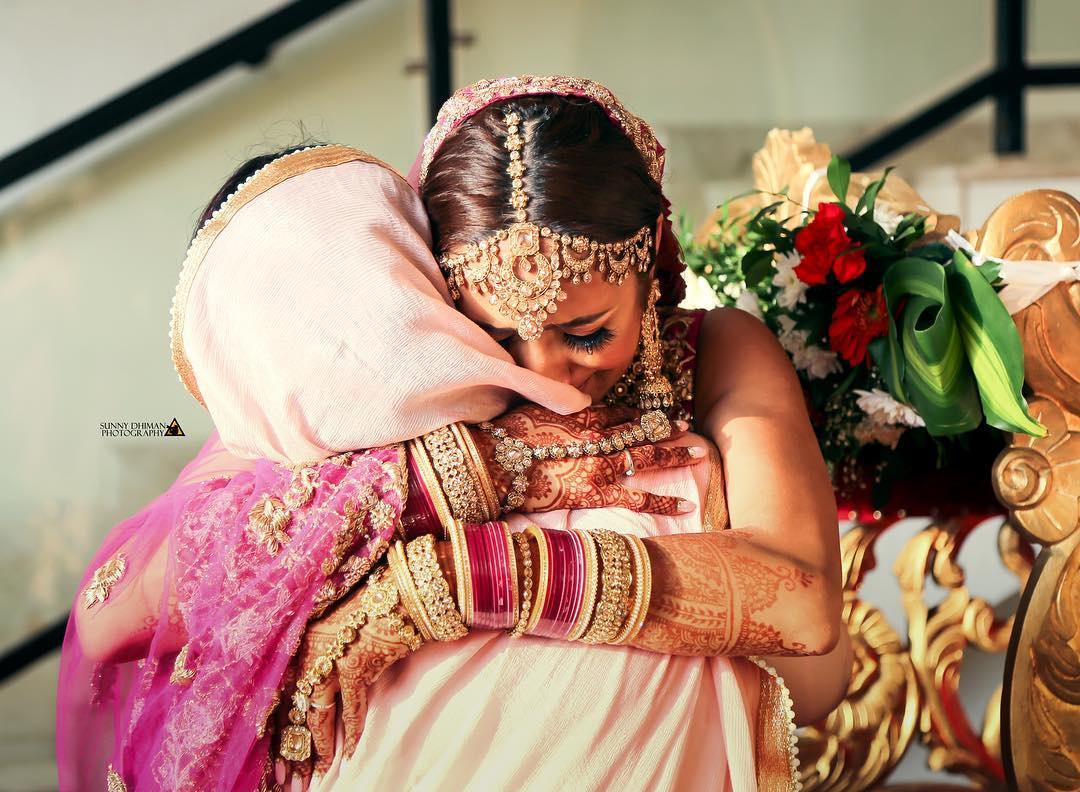 Goodbyes are hard, for the bride as well as for her family. In this perfectly timed click, you can see the bride hugging her mother, both overwhelmed with emotions. Don't such heartwarming bridal Chura images evoke a thousand sentiments in your heart too?
The Orange Chura With Floral Kalire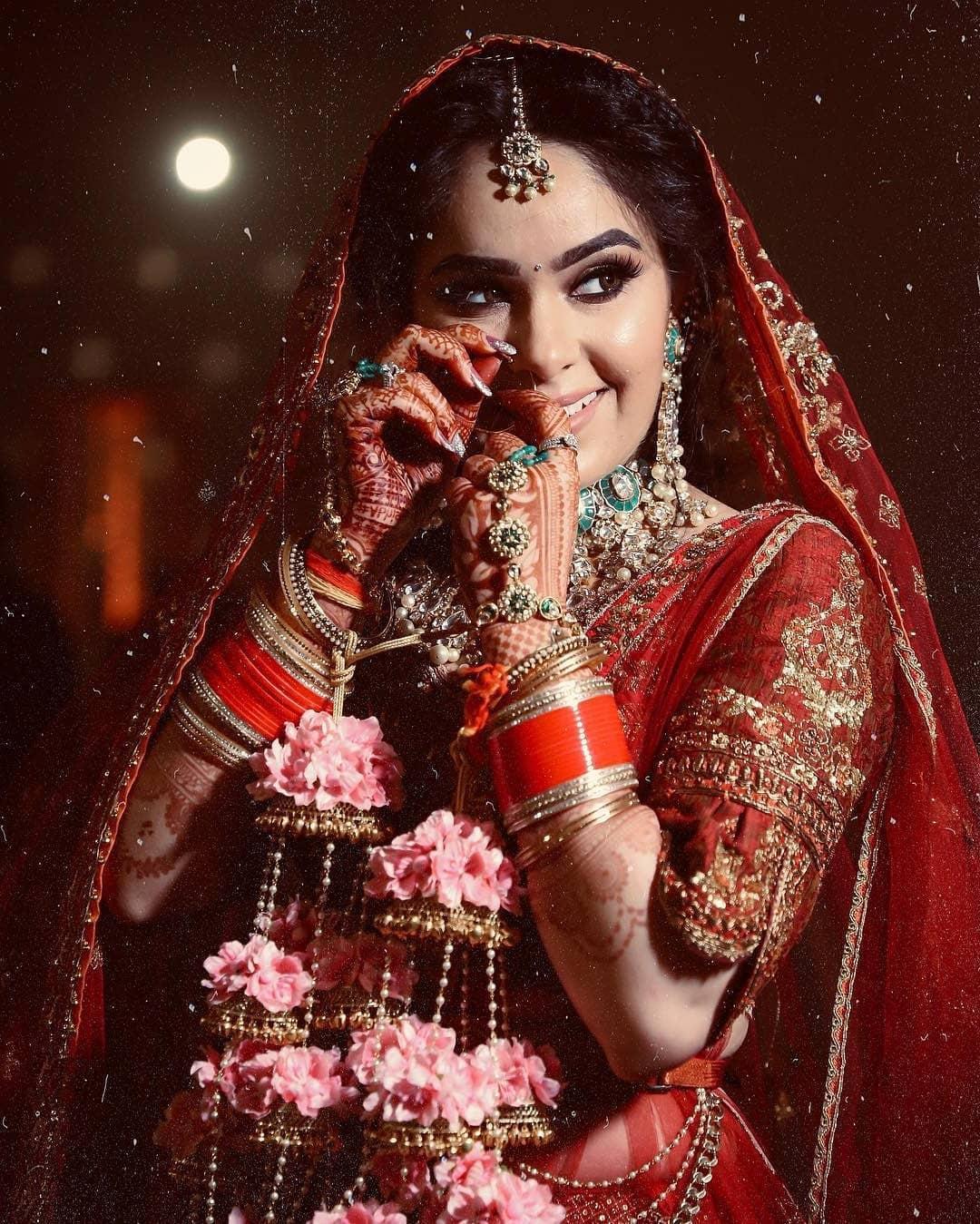 Beautiful bridal portrait shots can win anyone's heart. This magical picture speaks volume as it captures the expressions of this happy and excited bride well. We can also see her orange coloured minimalistic Chura stealing the limelight too.
The Rice Throwing Ceremony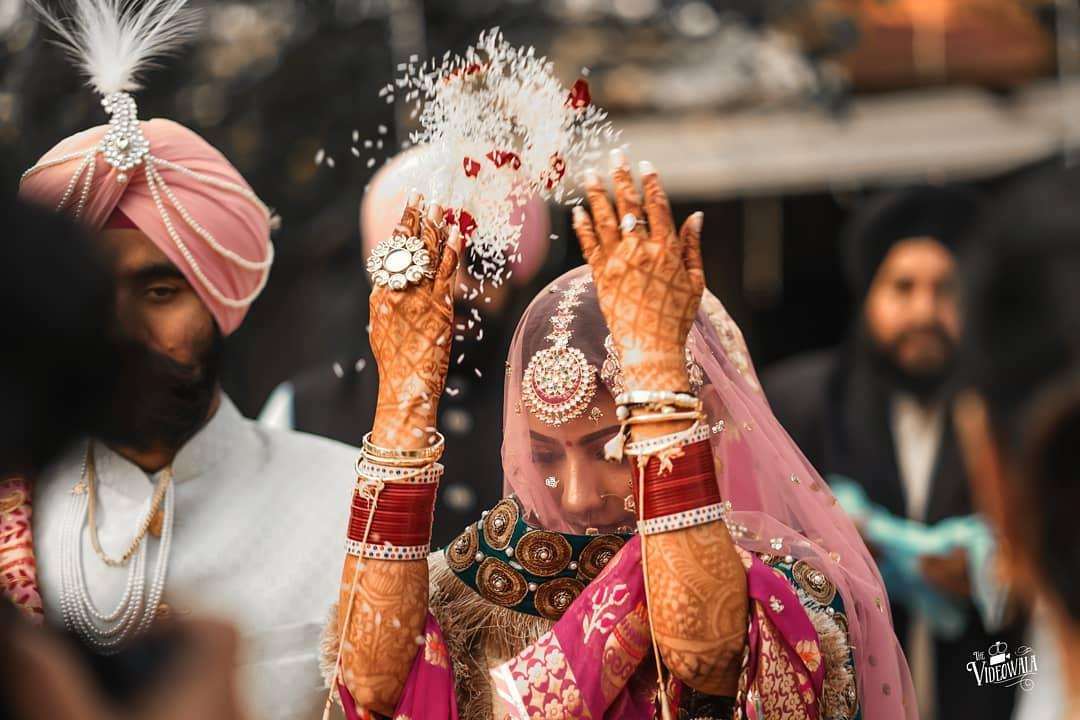 By throwing rice as she leaves, the bride shows gratitude towards her parents for enriching her life. This picture shows the bride throwing rice or puffed rice with her mehndi decorated hands and Chura laden wrists, leaving her old life behind.
Chura adds so much delight to the already beautiful Indian brides plus it enhances the beauty of their wedding pictures too. If you are planning to wear Chura on your wedding, there are many ways to click the images to capture the beauty of these bangles. Apart from taking design, colour and styling inspiration, you can also save these bridal Chura images to give reference to your wedding photographer for picture concepts.
Which of these bridal Chura images blew your mind? Tell us in the comments as to which of these bridal Chura images would you take inspo from for your own bridal photoshoot!