The Kashmiri Marriage Outfit: Royalty As She Wears It
From her Dejharoo to Pehran, Tarang and heavy anklets - a bride really pulls out all the stops for her Kashmiri marriage outfit. We explore these details and explain how they add a royal, yet delicate appeal to her.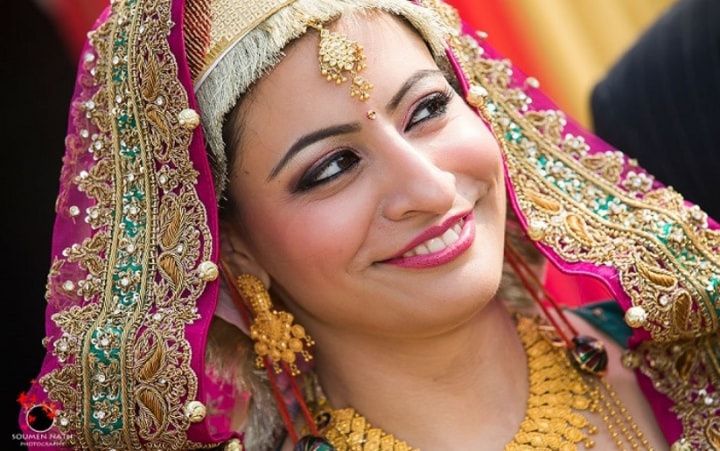 Every Indian wedding ceremony is beautifully intricate and elaborate alike and a Kashmiri marriage ceremony is no different. It is, in fact, one the most glamorous, detail-oriented and tasteful celebrations. Set against the beautiful valleys and scenes in Kashmir, a wedding here embraces traditions in a rather beautiful manner. From the Kasamdry (the engagement) to the Ghar Atchum (the reception), every ceremony is replete with a lot of details including lavish feasts and colourful outfits.
Spread across a couple of days, this royal affair celebrates not only the couple's union along every step of the way but also their culture with wide smiles as they sing the traditional Kashmiri songs in chorus.
In the spotlight: The Kashmiri bride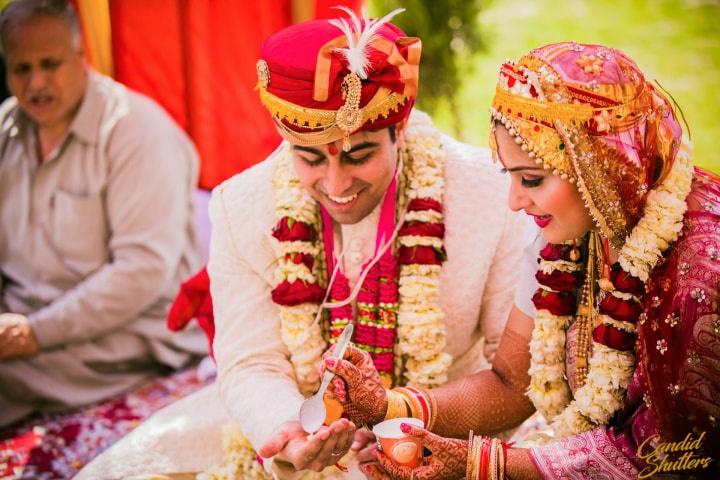 Think of a Kashmiri bride and you're suddenly transported to the opulent look of Nargis Fakhri in Rockstar or the more subdued Alia Bhatt in Raazi (with Dilbaro in the background). Her intricate Kashmiri marriage outfit leads to a majestic, yet unique look - from her Pehran to her shawl.
A Kashmiri bride is decked in luxurious fabrics and shimmering gold, she is a sight to behold. Even the groom is not exempted from the traditional outfit on this special occasion!
Pehraan – the traditional outfit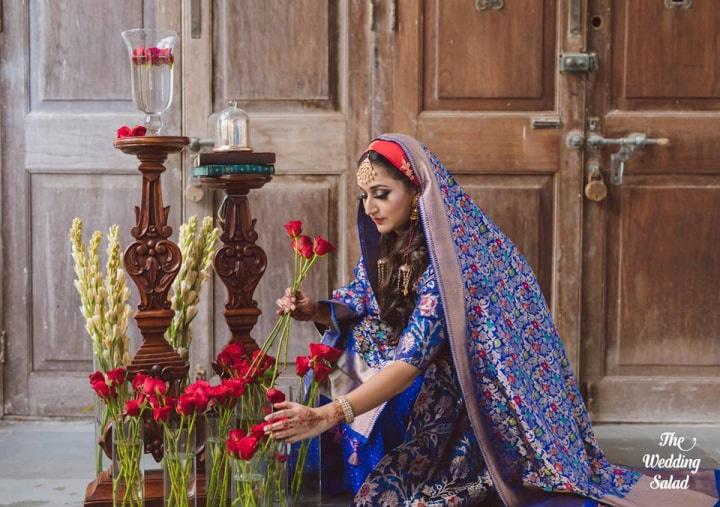 With each passing year, brides add a modern touch to the traditional elements of their outfits yet they remain in touch with their inspiring past.
Despite the contemporary twist, the idea behind the Kashmiri marriage outfit has remained the same. Both the bride and groom wear 'Pehraans' indicative of the traditionally cold weather in the backdrop of the snow-clad mountains.
The Pehraan itself has different variations across different regions in Kashmir yet it is emblematic of their roots and traditions. If you were to attend a Kashmiri wedding within the Gujjar community, you would see the Pehrans are coordinated with baggy salwars and have a touch of bright colours, which could hint towards a Turkish origin yet if you attend a wedding within the Dogra tribes, women here wear fitted pyjamas with tunics or kameez which feature darker shades like maroon, green and blue.
They use kamarbands on outfits extensively here to bring the look together.
For the groom, these long-sleeved attires, almost fashioned in the shape of kurtas, is tied together with a waistband made of pashmina which has intricate golden embroidery all over it, giving it a regal appearance. Precious wedding jewellery complete this elegant look.
All about the glamorous bride: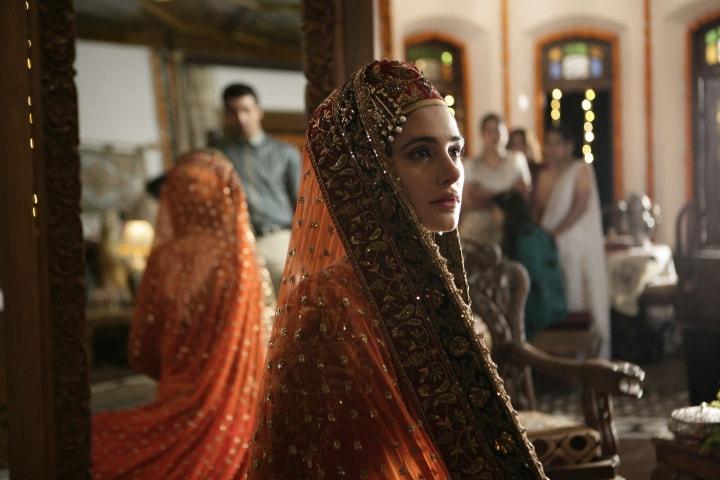 Image courtesy: Eros Entertainment
While the elements to a bride's Kashmiri marriage outfit seem a little more detailed with the colours, glitter and a touch of tradition. The bride too traditionally dresses up in what seems like a version of the Pehraan, which again follows the same pattern of a salwar kameez. The bride's pehraan is an elaborate piece of work with intricate zari work but also traditional Kashmiri threadwork. And just like most Indian brides, a veil covers her head.
While most traditional Kashmiri brides choose to wear red, maroon and shades of orange on their special day, many brides now are moving out of the traditional framework and giving their outfits a modern touch with a splash of colour. Many brides even chose to wear bridal lehengas and sarees on their special day.
Tarang – a headgear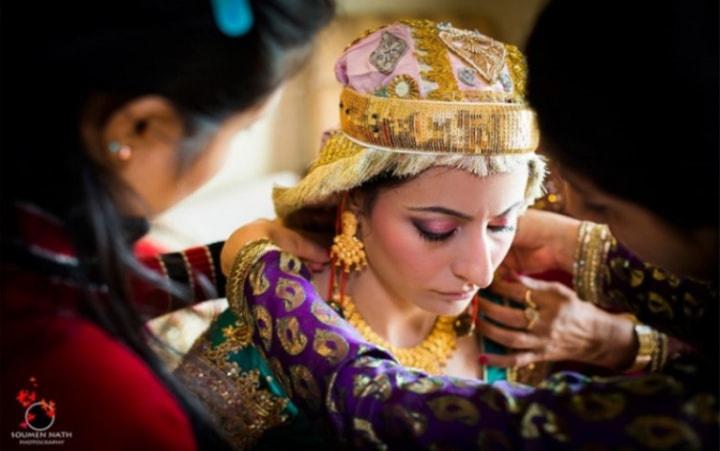 The first element for a bride's Kashmiri marriage outfit is the traditional headscarf called Tarang. The Tarang is essentially made of two elements. First, the bride starts with wearing a Kalpush, which is a long cap folded over 3 to 4 times. She dons a cloth called Zoojh on top of this in layers.
The bridal veil (or a bridal dupatta) is worn above this elegant headgear tying the look together in an elegant fashion. You may recall the elaborately thick and yet delicate headgear Nargis Fakhri wore in the movie Rockstar?
Jewellery for the Kashmiri bride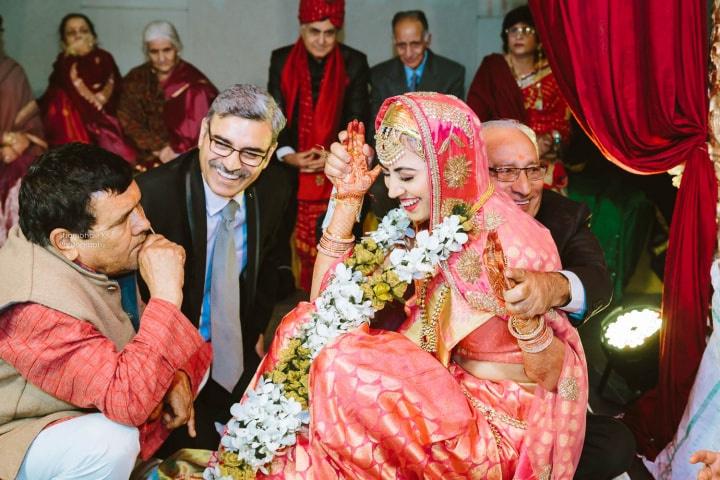 Beyond the Pehran and Tarang, heavy traditional jewellery items complete the look for a Kashmiri bride. These include heavy necklaces, nose rings, Kashmiri, bangles and payals.
Brides here also often wear waistbands to bring their look together.
Then there's the Dejharoo, a special ornament that brings another unique Kashmiri touch to the bridal look. These are basically a pair of pendants strung together with a silk thread or even chain, which is often tied to the hair or even ear. The Dejharoo is the first ornament put on during the wedding ceremony and is like the Mangalsutra in other Indian cultures. It is an emblem of the woman's marital status.
Shawl – the final touch
Yes, you read it right, a shawl is also an element to a bride's Kashmiri marriage outfit. Just like the double-dupatta trend which is envied by almost every modern-day bride, the Kashmiri brides have their own take on this style.
As told by tradition, Kashmiri brides always completed their outfit with a well complimenting and intricately woven shawl owing to their cold region. Printed items were never really in vogue in Kashmir as they had their own delicately and intimately handcrafted embroidery. Every bride has a unique shawl for herself as it is said that no two Kashmiri shawls are the same. The handiwork ensures every bride is special.
Apart from the main wedding function, there are a series of other functions with other significant elements to a bride's Kashmiri marriage outfit. We truly are in awe of all the attention to detail and the traditional attire.
Modern-day Kashmiri brides now even wear lehengas and sarees while adding a touch of their favourite traditional piece. The entire elaborate Kashmiri wedding is replete with fun, fervour and festivity where each step along the way the relatives and friends gather to celebrate the couple's new journey with love and best wishes. The traditions form a big part of their culture which has its own charm.
Hope we've been true to the thought of a Kashmiri marriage outfit for the bride. Share your thoughts with us in the comments below.