Ideas for Bridal Outfits for Temple Wedding to Ace the Bridal Look
If you are looking for the perfect bridal outfit for your temple wedding, you have landed in the right place. Take a look at the amazing bridal outfits for temple wedding for inspo.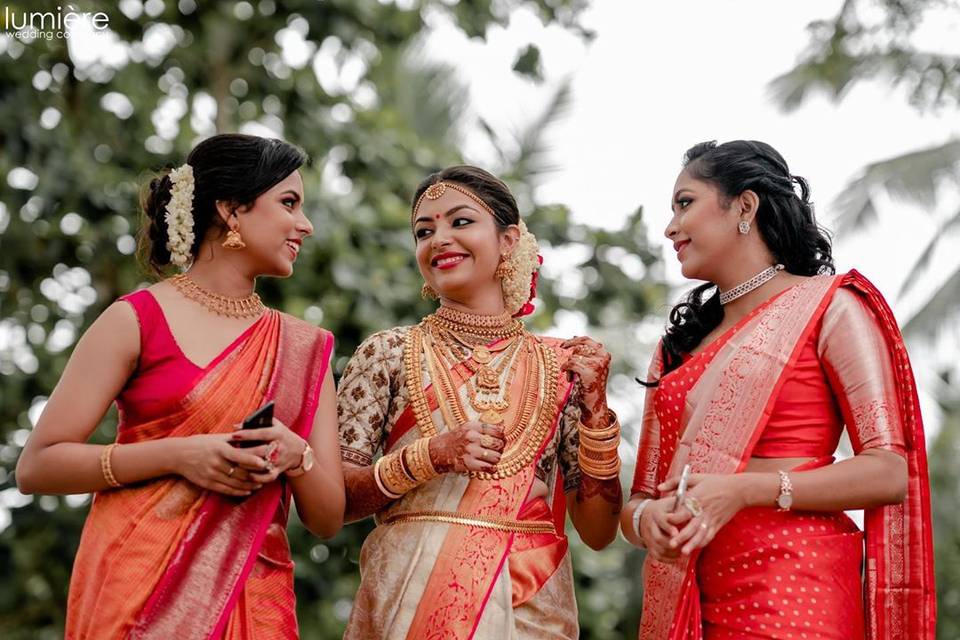 Many couples are preferring intimate weddings given the circumstances that the pandemic has unfolded. Many of these couples who want an intimate wedding also fancy an effervescent temple wedding. In many cultures of South India and even in North Indian Sikh weddings (Anand Karaj), weddings in temples are a part of the rituals.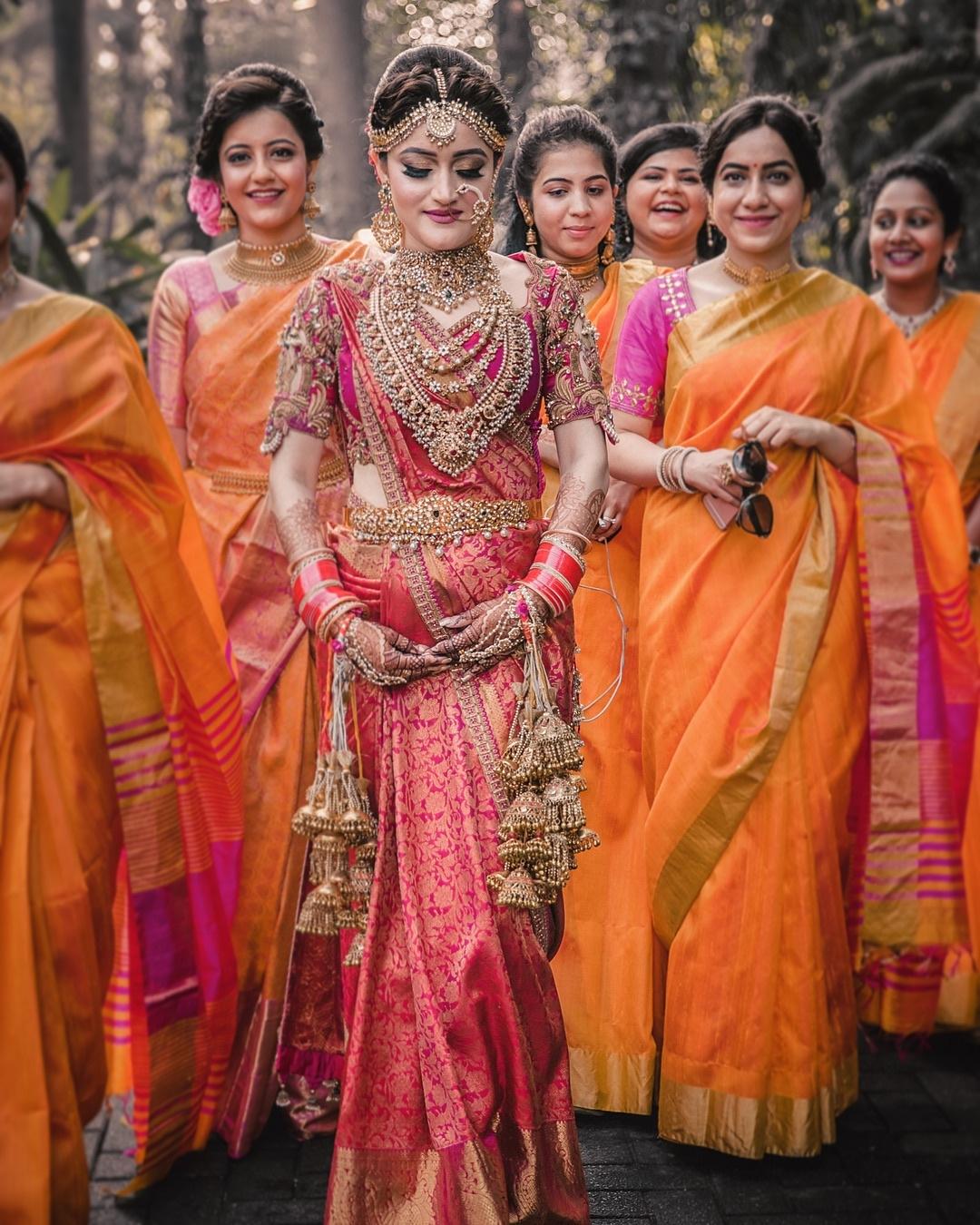 Image Courtesy: Shades Photography India
Apart from these weddings that culturally take place in the temples, couples are picking temple wedding for its serene aura, the magic one beholds, and the quaint surrealism. The bridal outfit for temple weddings is not always the same as you would pick for a wedding at any other venue.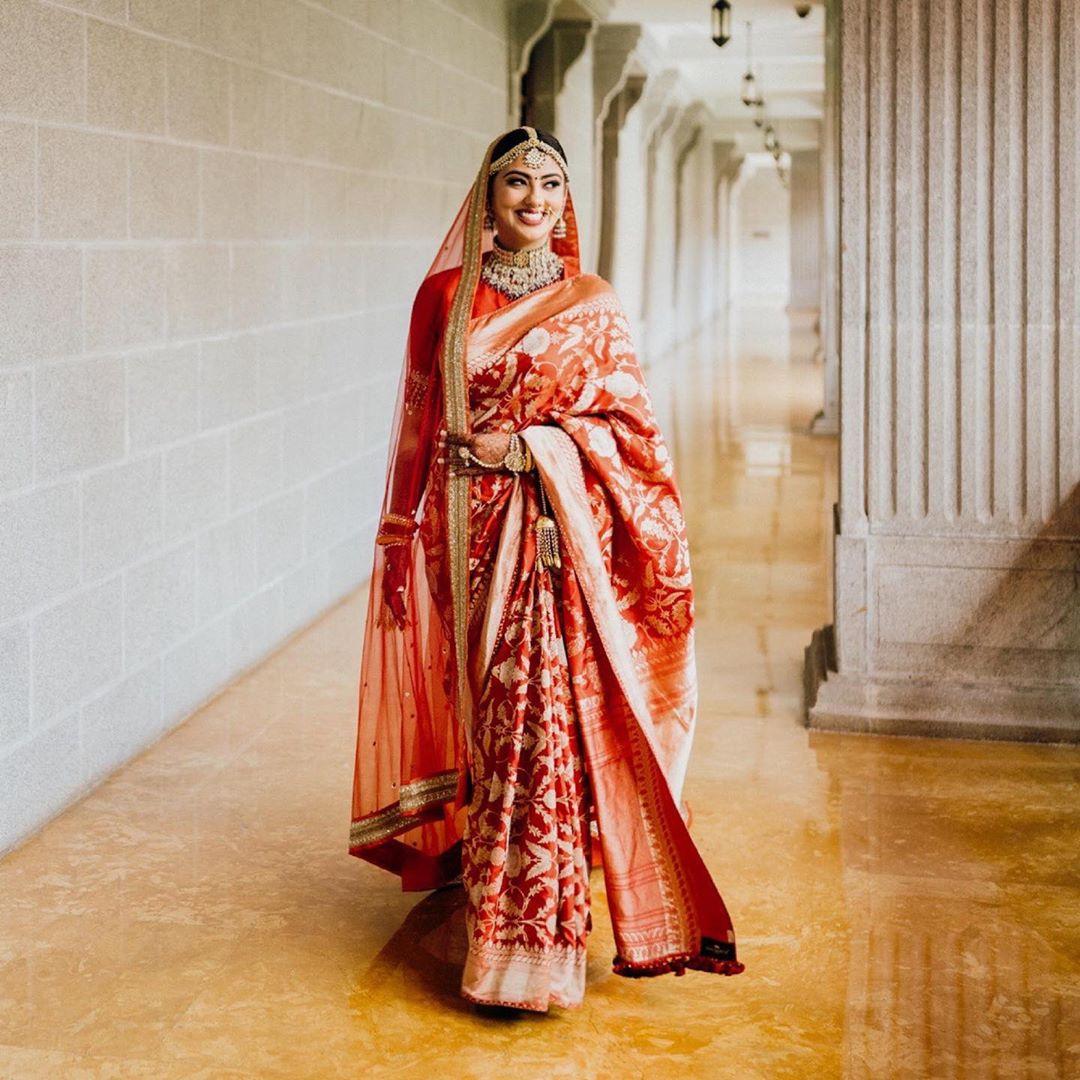 Image Courtesy: Sabyasachi
When you doll up for the temple wedding, you will realise it is all about choosing lively hues, fabrics that boast of whimsical work, and hints of traditionalism. To keep up with the aesthetic of the temple wedding, it might get a tad bit difficult to pick the perfect outfit for your temple wedding.
So if you are looking for bridal outfits for temple weddings, here is a lookbook that we have curated for your inspiration. Read to know.
Minimal Printed Red Lehenga for Temple Wedding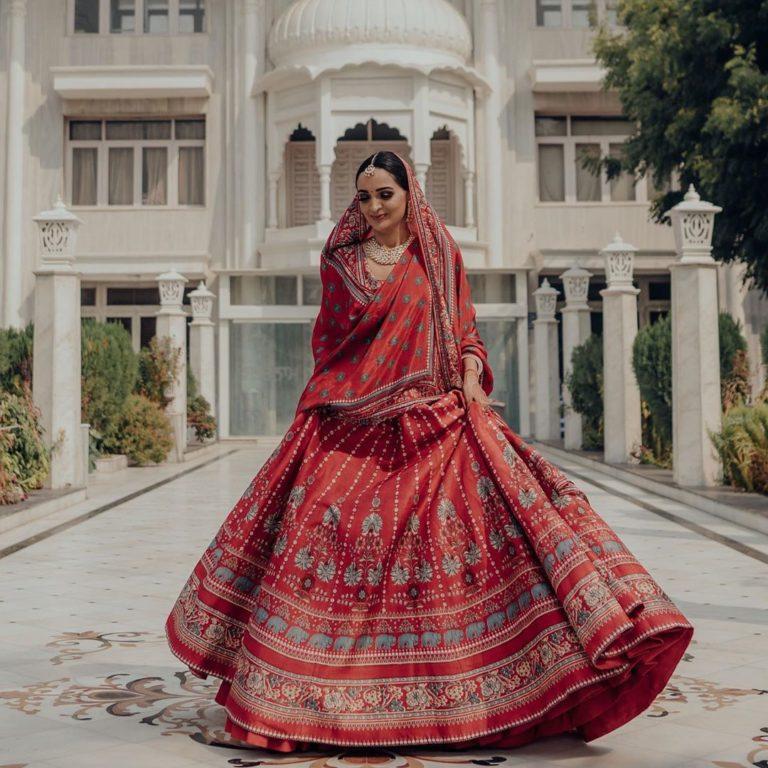 While a regal red lehenga with heavy zari work is the conventional pick for bridal wear, this lightweight lehenga in red by Anita Dongre will make for the perfect bridal outfit for a temple wedding. With the traditional motifs that are hand-painted on this red lehenga, it makes for the perfect outfit for an intimate wedding.
Pattu Saree for Bridal Outfit for Temple Wedding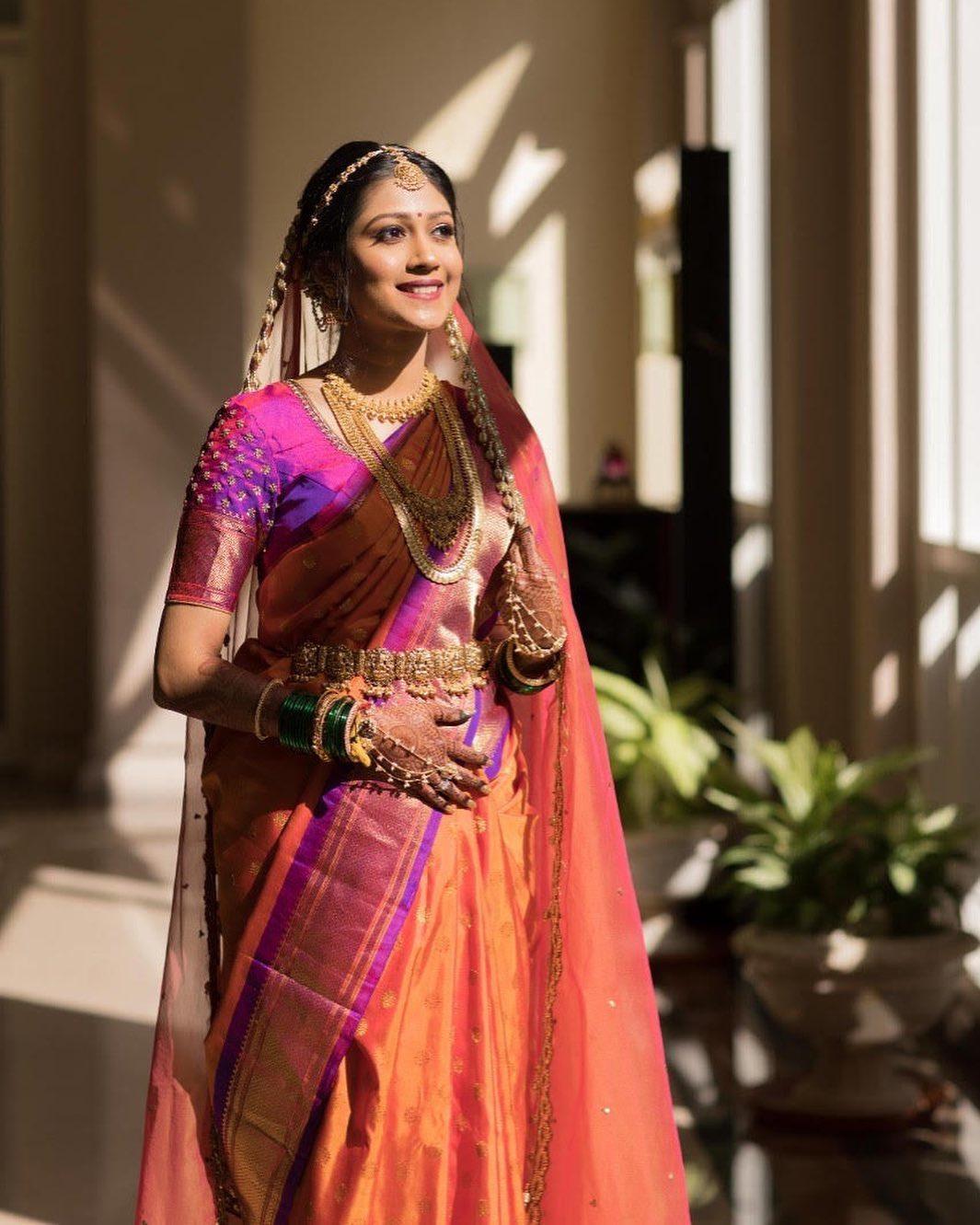 Image Courtesy: Kankavalli
Pattu sarees are a traditional trend picked by many south Indian brides for their weddings. The temple wedding demands a Pattu saree in brighter shades that is lightweight in nature. Keeping in mind that most temple weddings take place during the day, this bright orange and purple coloured Pattu saree by Kankavalli is a mesmerising pick for a bridal outfit for a temple wedding.
Solid Simple Red Lehenga for Bridalwear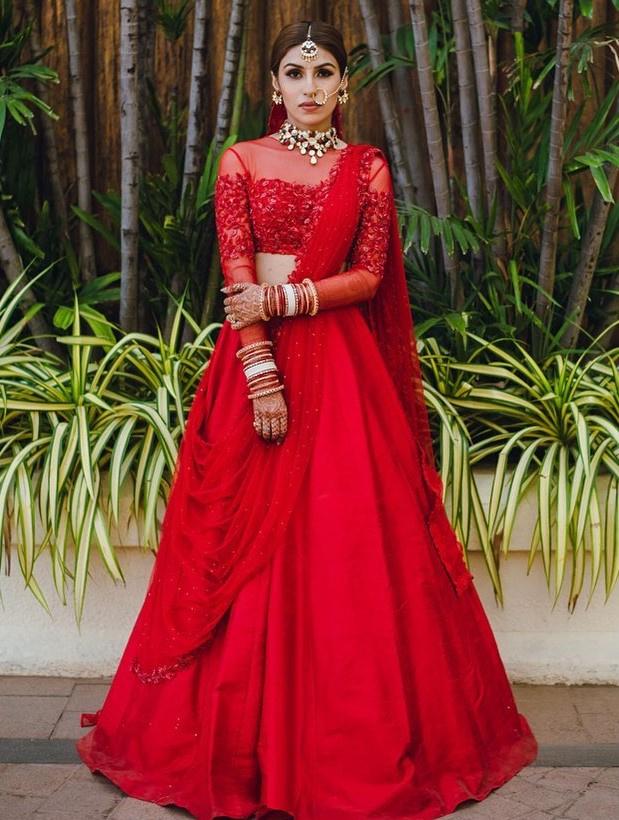 Image Courtesy: Shloka Khialani
There are a variety of red colours to choose from when it comes to the bridal outfit. If red is your colour of choice for the D-day attire, you can pick this simple and lightweight lehenga in red paired with an intricately embroidered net blouse designed by Shloka Khialani. The net gives the illusion of an off-shoulder while keeping it sophisticated and dreamy for the traditional ambience of the temple wedding.
Kanjeevaram Saree For Brides for Temple Wedding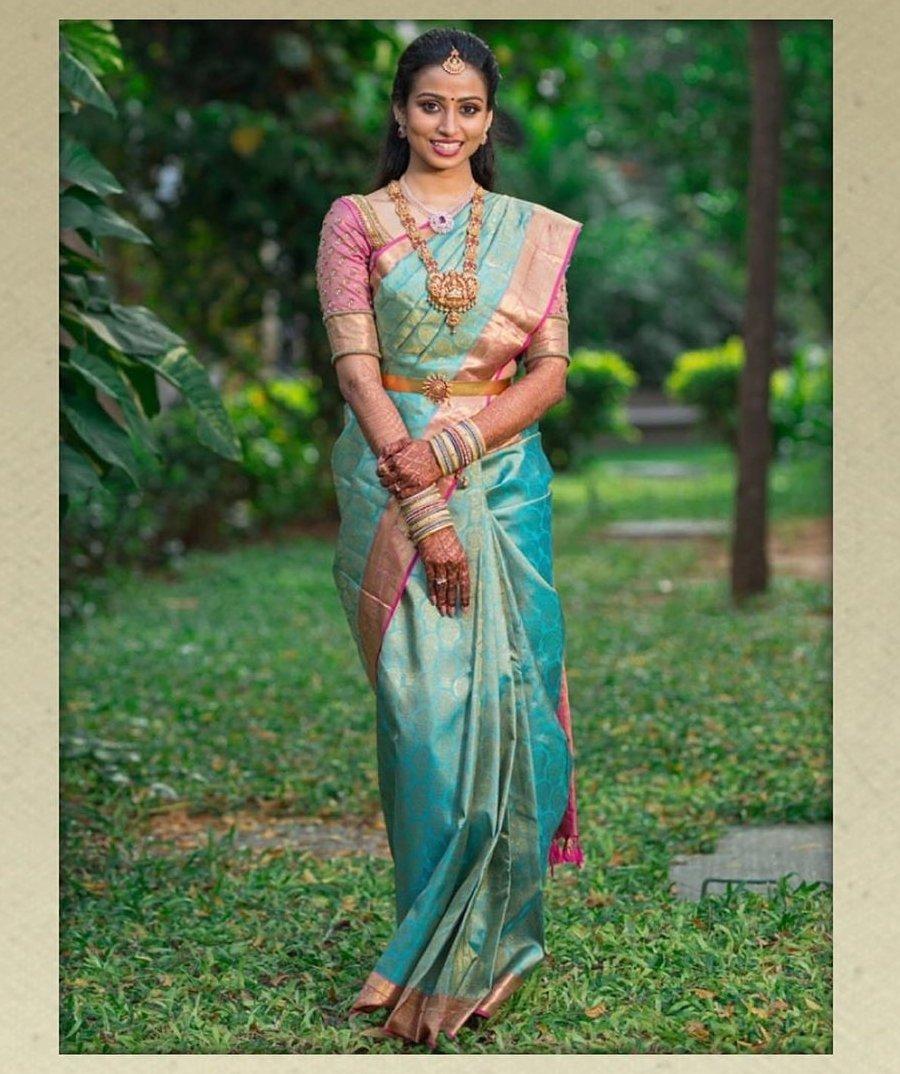 Image Courtesy: Kankavalli
The royal touch of a Kanjeevaram saree is an unparalleled outfit pick for a wedding in the south. This blue Kanjeevaram silk saree with golden motifs and a pink pallu by Kankavalli is a perfect pick for a day wedding. As most temple weddings happen during the day, avoiding intense colours and heavy fabric is the right thing to do. This blue Kanjivaram silk saree with delicate yet rich gold zari will make your bridal outfit look serene.
Red & White Kanchipattu Saree for Temple Wedding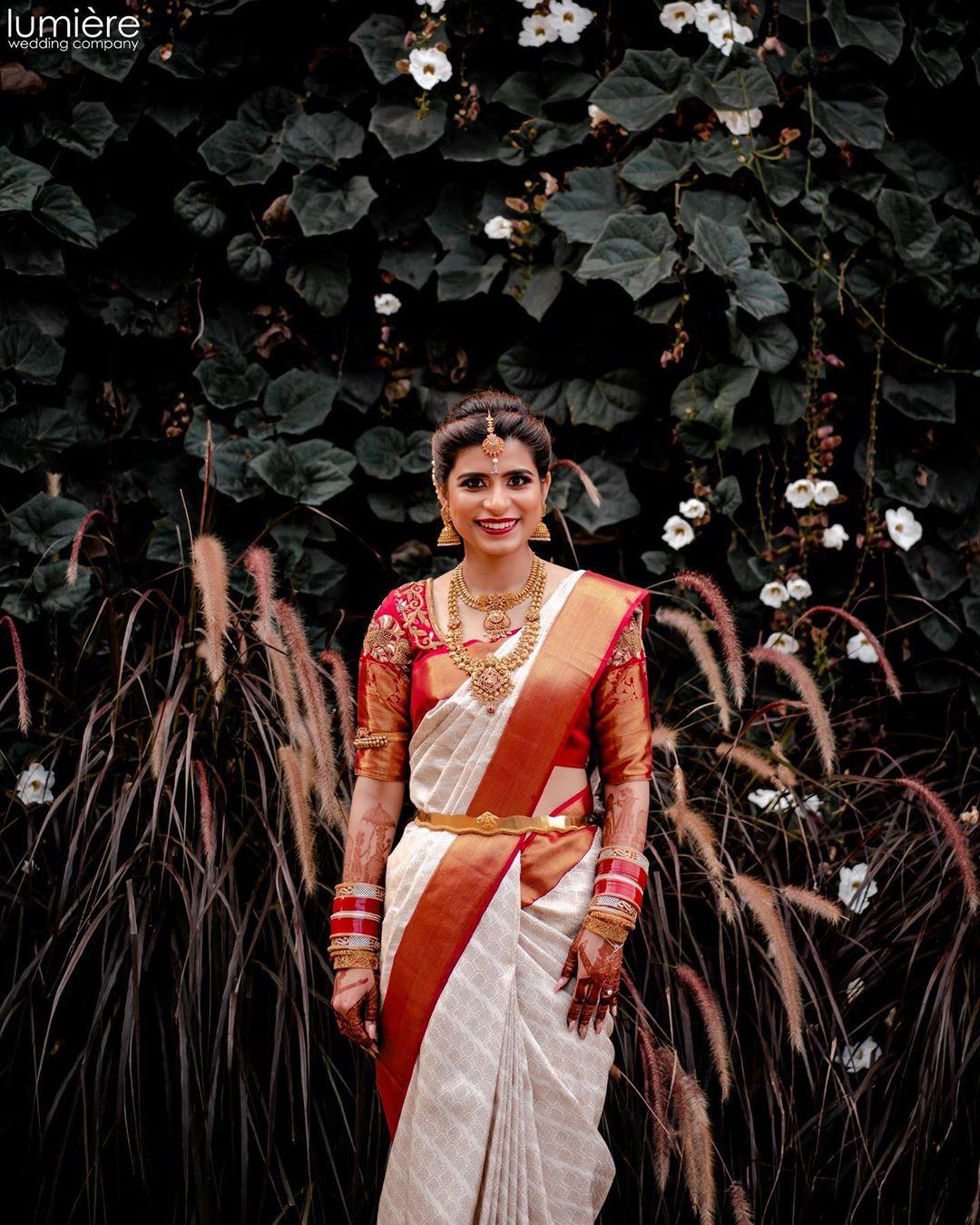 Red and white saree is a significant traditional attire in many cultures and is worn on various sacred occasions. This combination of red and white in a Kanchipattu saree is just perfect for an occasion as special and sacred as the wedding ceremony. Bengali brides are often seen flaunting a red and white saree and if you are planning to host a temple wedding for your big day, this Kanchipattu saree is sure to turn heads.
Red Saree with Brocade Work for Temple Wedding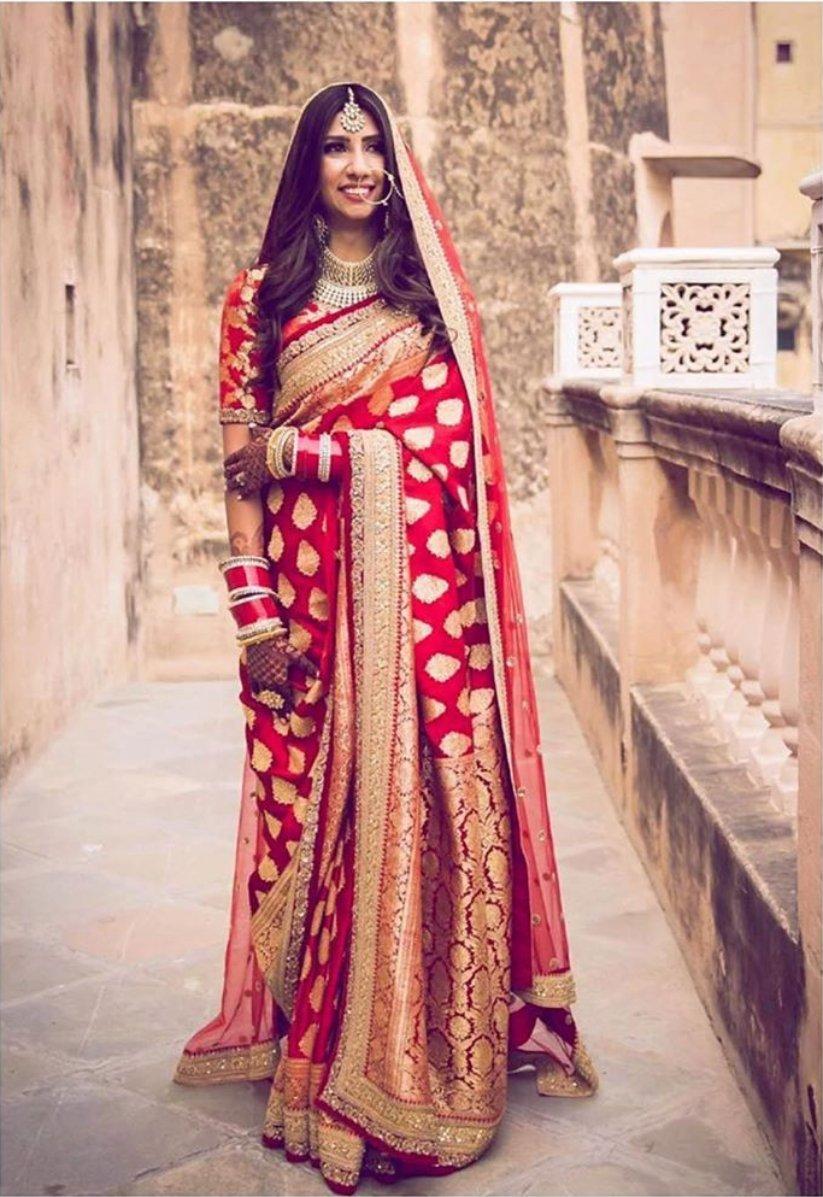 Image Courtesy: Sabyasachi
One of the most ace designers of Indian couture wear, Sabyasachi's designs have always beautifully incorporated the colour red. Merging the beauty of conventions with the beauty of impeccable designs, this red saree by Sabyasachi with intricate gold brocade work is a breathtaking pick for bridal outfits for temple weddings. Pairing it up with heavy gold jewellery will be one magnificent look to flaunt.
Hand-painted Pink Jamdani for Brides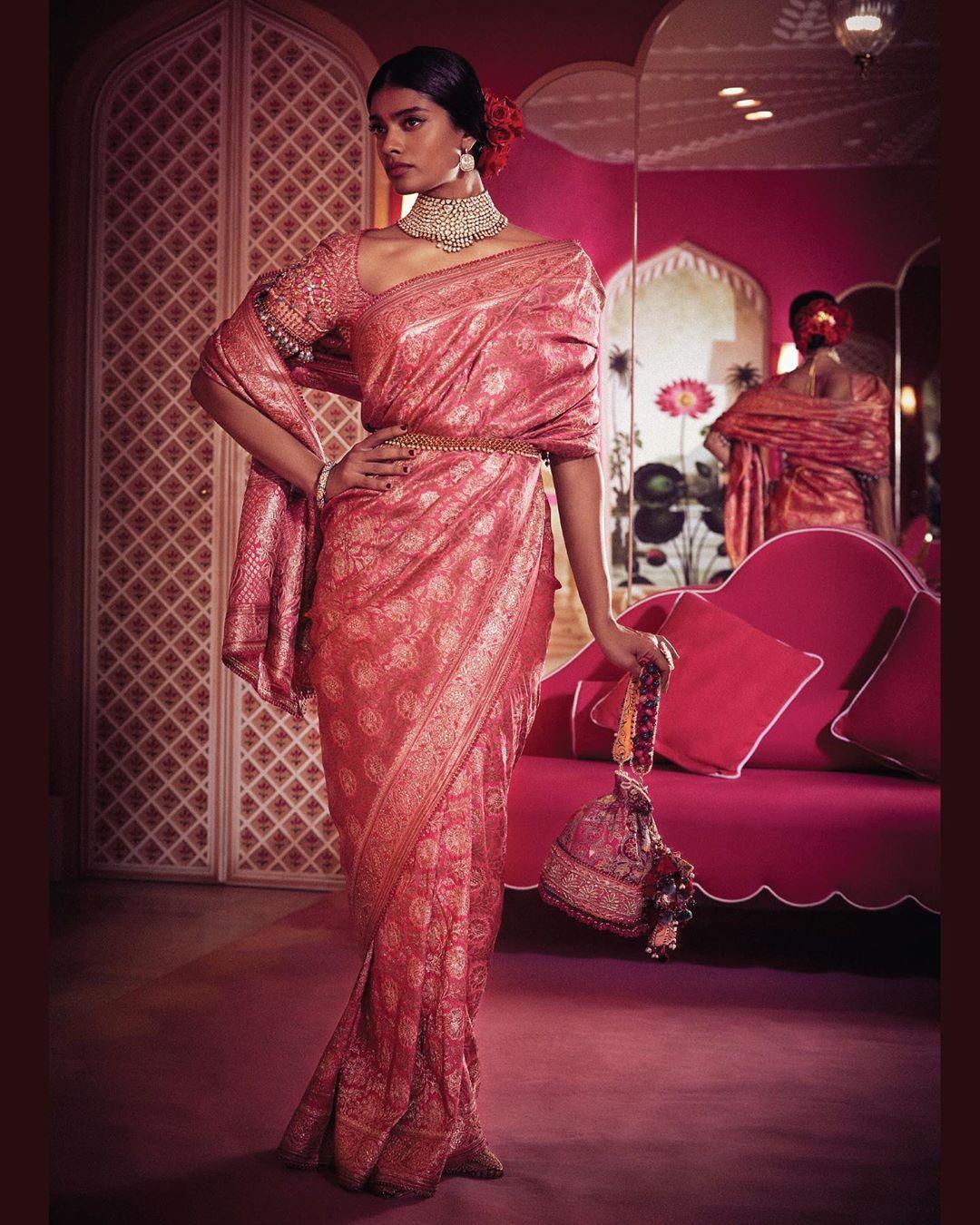 This hand-painted pink Jamdani with intricate work throughout the saree, by Tarun Tahiliani is going to look spectacular on the bride at a temple wedding. Temple weddings are intimate wedding celebrations and going OTT with the choice of outfits might just seem out of place. These delicate designer wear options will make sure to maintain the balance between the glamorous bridal look and the sophisticated traditional one.
Handwoven Silk in Coral for Bridal Outfit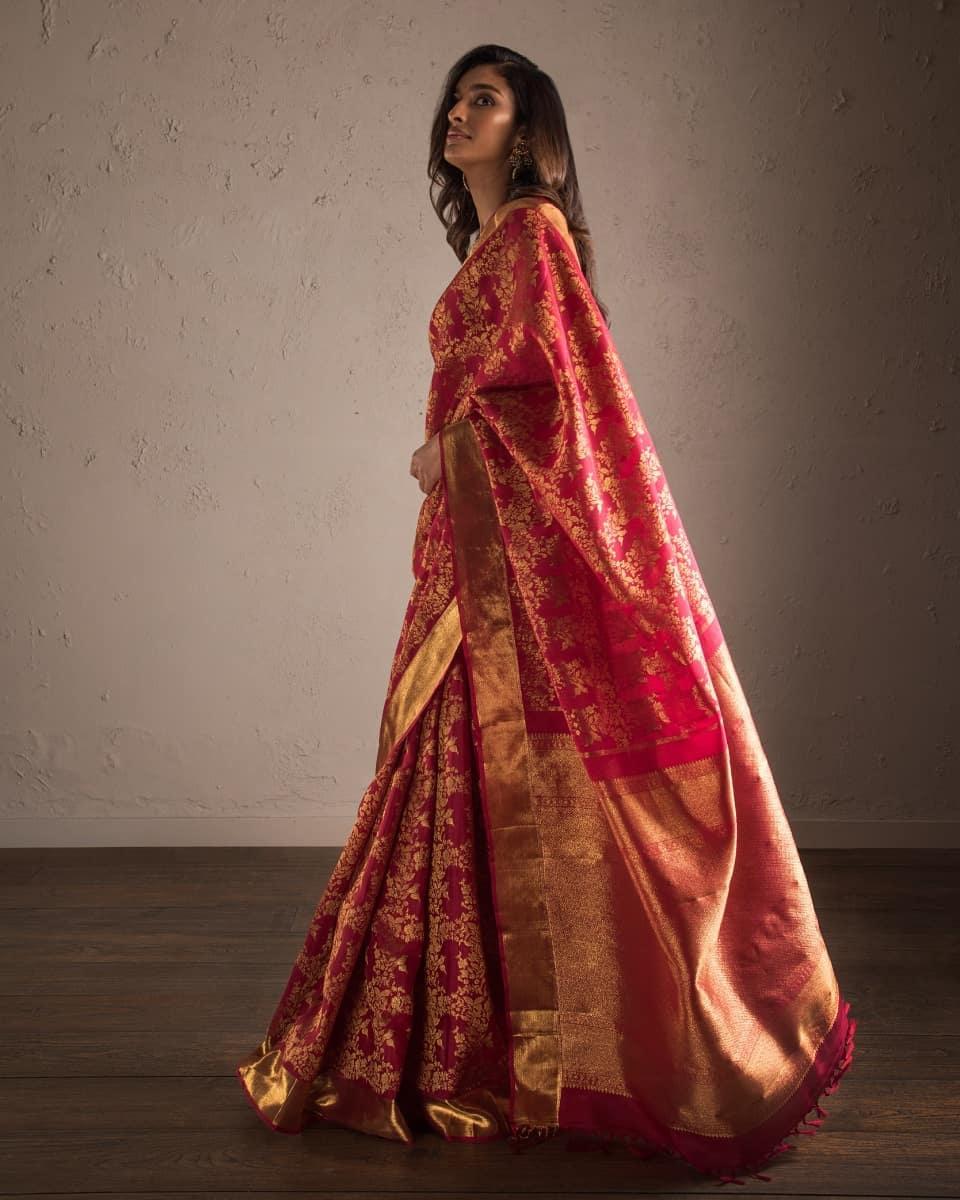 Image Courtesy: Label Advaya
The brocade Gandaperunda Kanjeevaram silk saree in coral is a beautiful pick. This contemporary two-tone Kanjivaram sari in the colour of the setting sun features gold parrot motifs and intricate Zari Butta on buttery soft pure luxurious silk. Perfect for a summer do, this Advaya Brocade Kanjivaram Sari is both sumptuous and festive.
Handwoven Banarasi Brocade Saree for Temple Wedding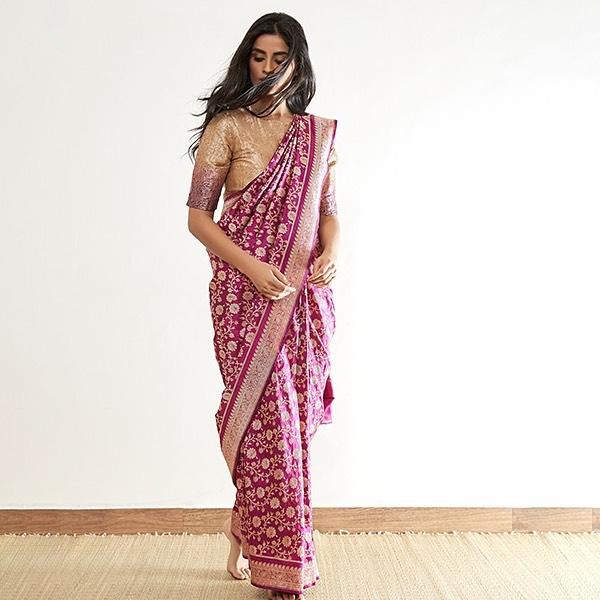 This onion-coloured saree by Ritu Kumar is a wonderful pick for bridal outfits for temple weddings. Hand-woven using the time-intensive Kadwa technique, sarees are sewn with a Konia motif - a corner motif woven into inside Banarasi Kadwa and is a mark of an authentic hand-woven Banarasi brocade. It is produced in collaboration with the craftsmen of Benaras and the intricate weave makes this saree one of a kind that is sure to turn heads.
Crimson Orange Silk Saree with Fauna Motif for Brides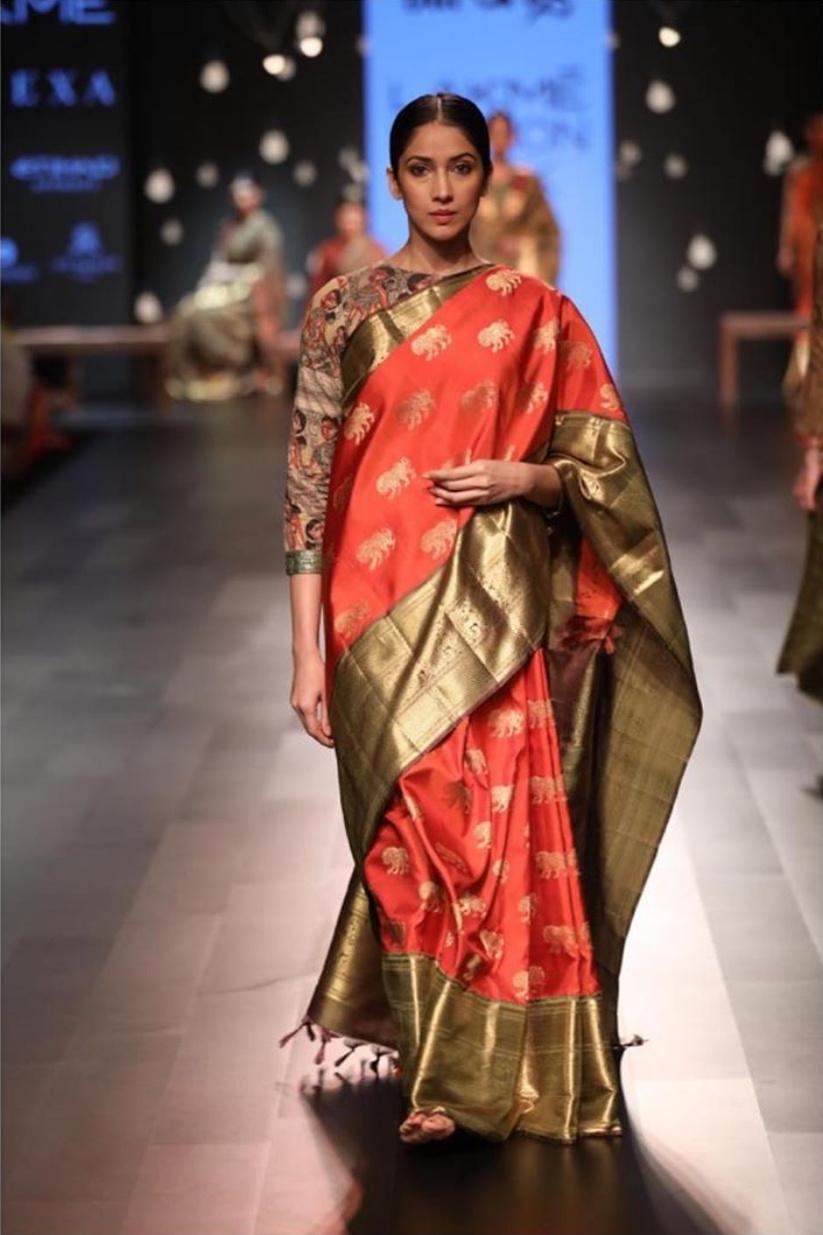 This crimson orange silk saree designed by Gaurang Shah is an ideal bridal wear option for temple weddings. Temple wedding outfits are all about the details and the fauna motifs (animal motifs) that run through the body of this silk drape in delicate golden threads is an amazing piece of art. The colour of the saree is just right for the bride who likes to keep it traditional! The copper border running along the hem gives it the perfect festive touch.
Picking out the right outfit in which you will tie the knot with your partner and step into a happily ever after is kind of pressurising. You get to do it once and you have got to do it right. If you are looking for bridal outfits for temple weddings then this guide will be of great help to you.
Get in touch with the ace designers on board with us who can help you curate the perfect look for your D-day. Which of these bridal looks for temple wedding did you love the most? Tell us in the comments below.