15+ Wedding Bridal Nose Ring Ideas for Women, Nose Ring for Marriage
Buying your bridal Nath to making sure it looks great on your D-day? we give you a guide to take cues and finalise a bridal nose ring for your D-day.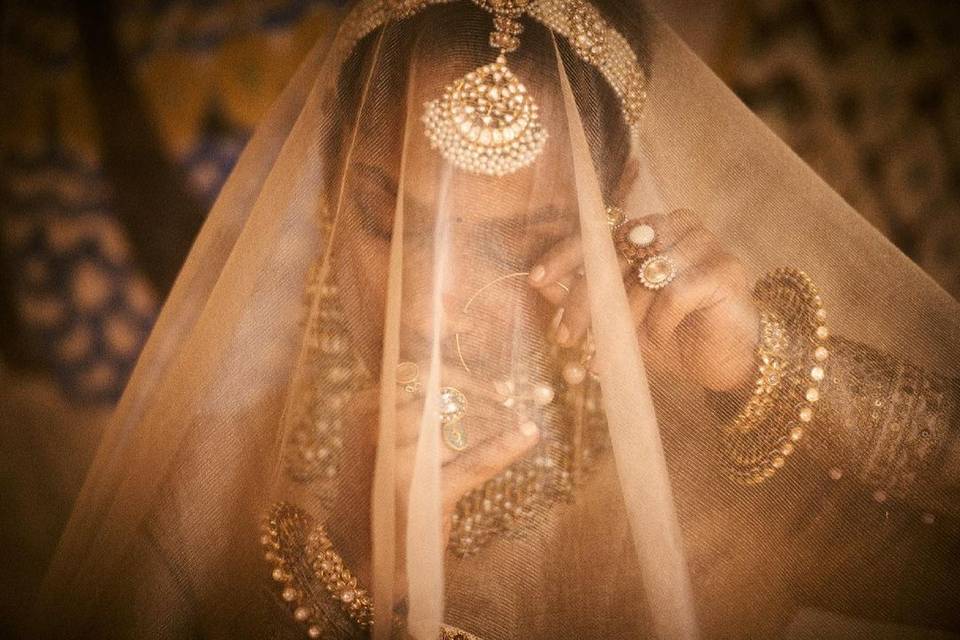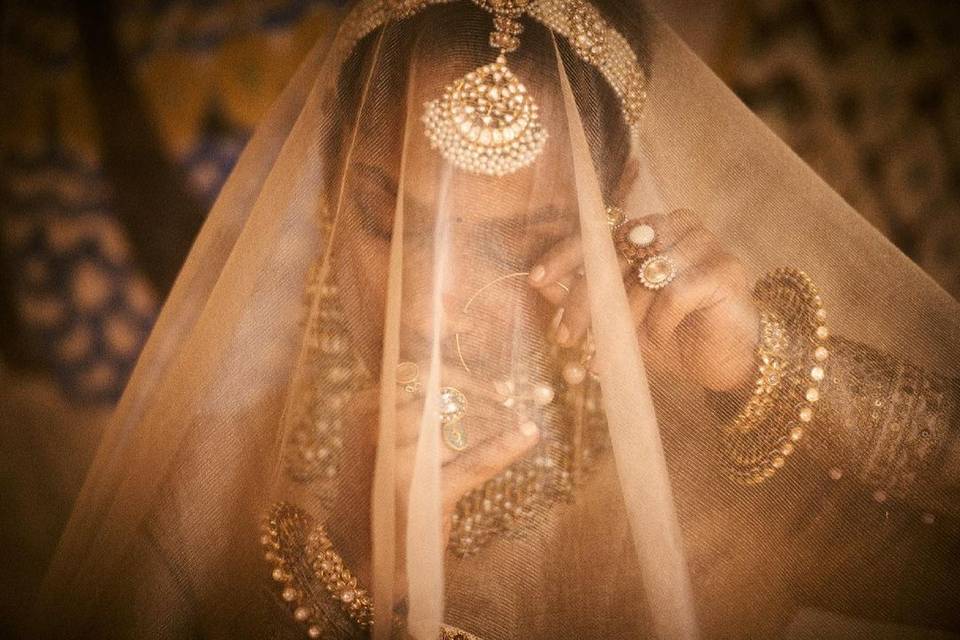 Image Credits - Masaba Gupta
Your bridal nose ring can be a very tricky part of your attire. Since these pieces are not generally bought with your bridal jewellery, they can be a tad bit hard to get right. Plus, this is not the only thing you should think about when keeping your bridal Nath in mind.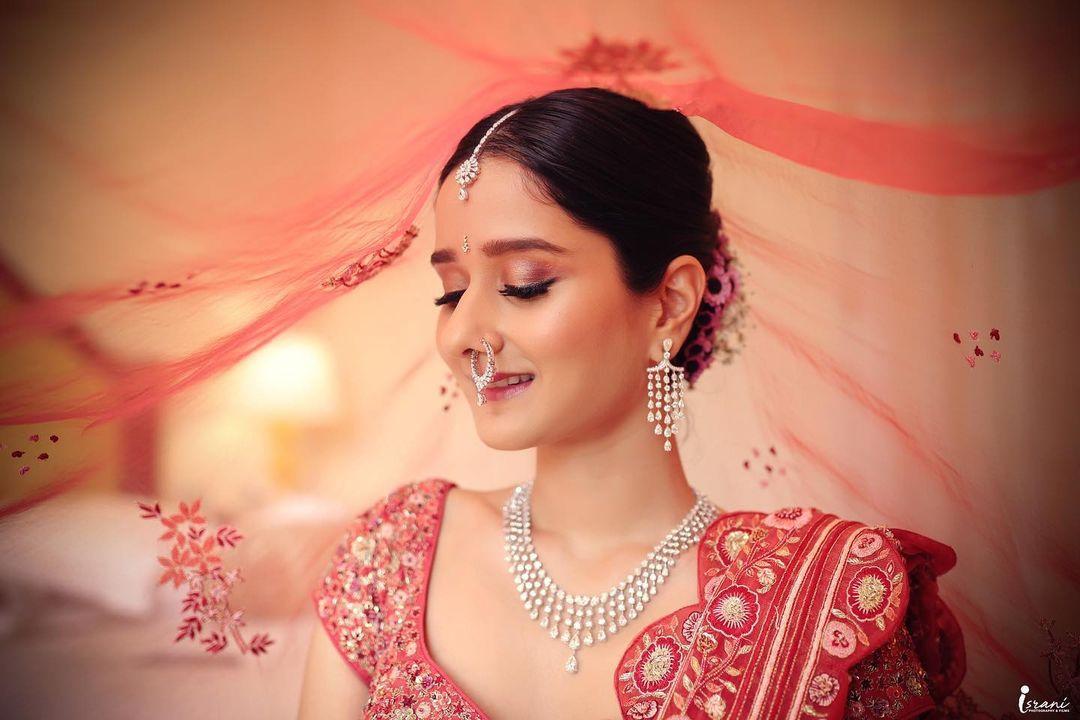 There are a number of intricacies that go with it, and it is hard to keep all of them in mind at times. Check out some different bridal nose rings as per cultural traditions and slay. This important part of your attire cannot be taken very lightly and it is not just the way it goes with your clothes that matters. Wearing it also makes for a list of things that should be looked after. So, we give you our own guide to all the things that revolve around your bridal nose ring and its aftercare. Take inspiration from this Nath design article to find the one for you.
Why do Indian brides wear nose rings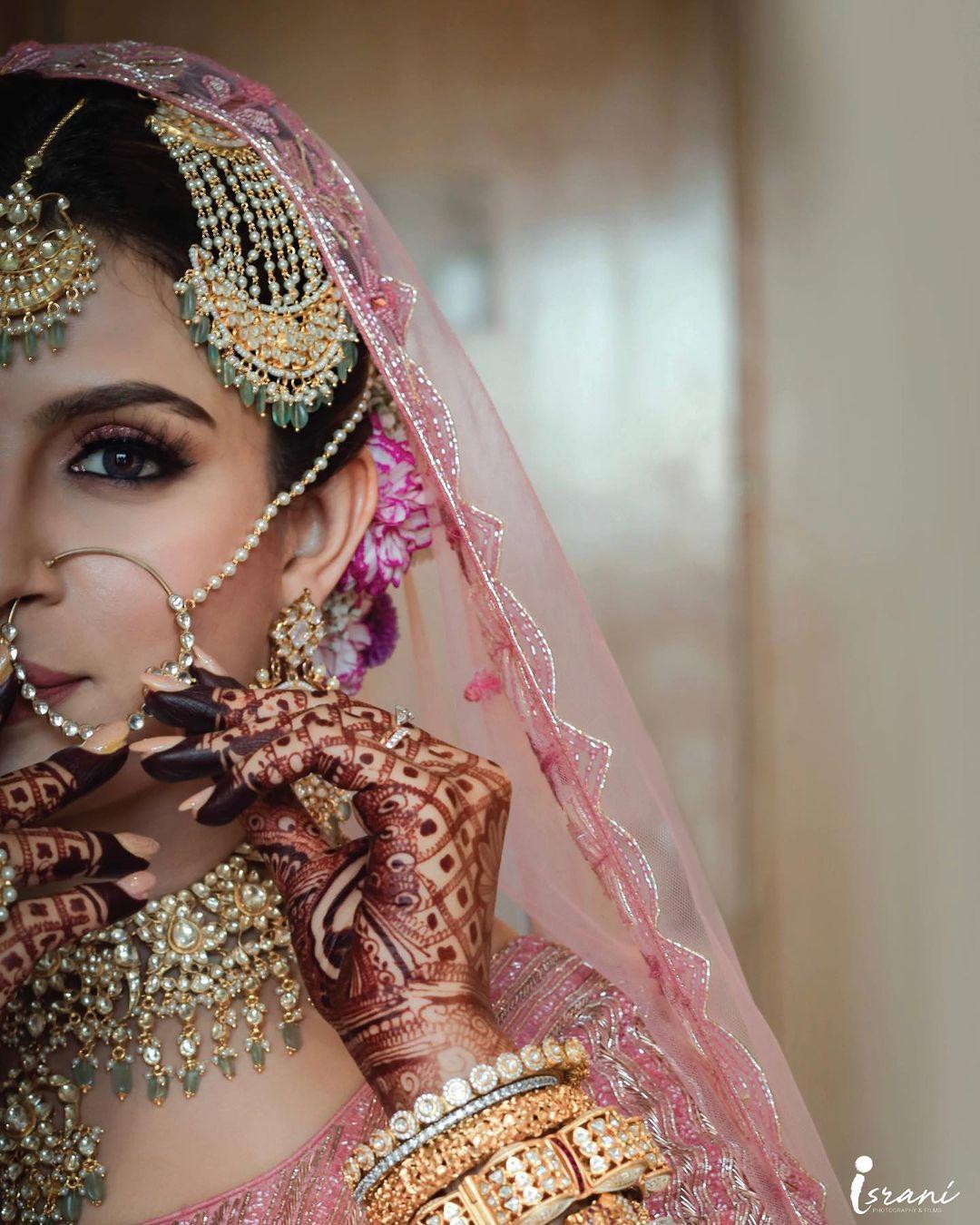 A bridal nose ring or more popularly known as the Nath is an important part of the bridal appearance and is deeply rooted in Indian culture. It is one of the most popular wedding traditions that is upheld by the bride and is in vogue because of its trendiness.
Being one of the gorgeous bridal accessories it is a significant part of the solah shringar that the bride adorns for her wedding day. Even if you are a millennial bride who is set to have a chic wedding, this accessory is definitely going to set you apart for your wedding festivities.
If you wish to flaunt this beautiful style but still haven't got your nose pierced, that is fine too as you can try on the clip-on Naths that would look equally stunning on your big day. As per the Hindu culture, the bridal nose ring is the symbol for a girl getting married.
Adorning this ornament is also considered as paying respect to the Goddess Parvati so that she blesses your union with abundance and auspiciousness. The practice of nose piercing and wearing a nose ring is also considered to provide certain health benefits as the lessening of the pain due to the pressure on a particular node.
Trends In Indian Wedding Nose Rings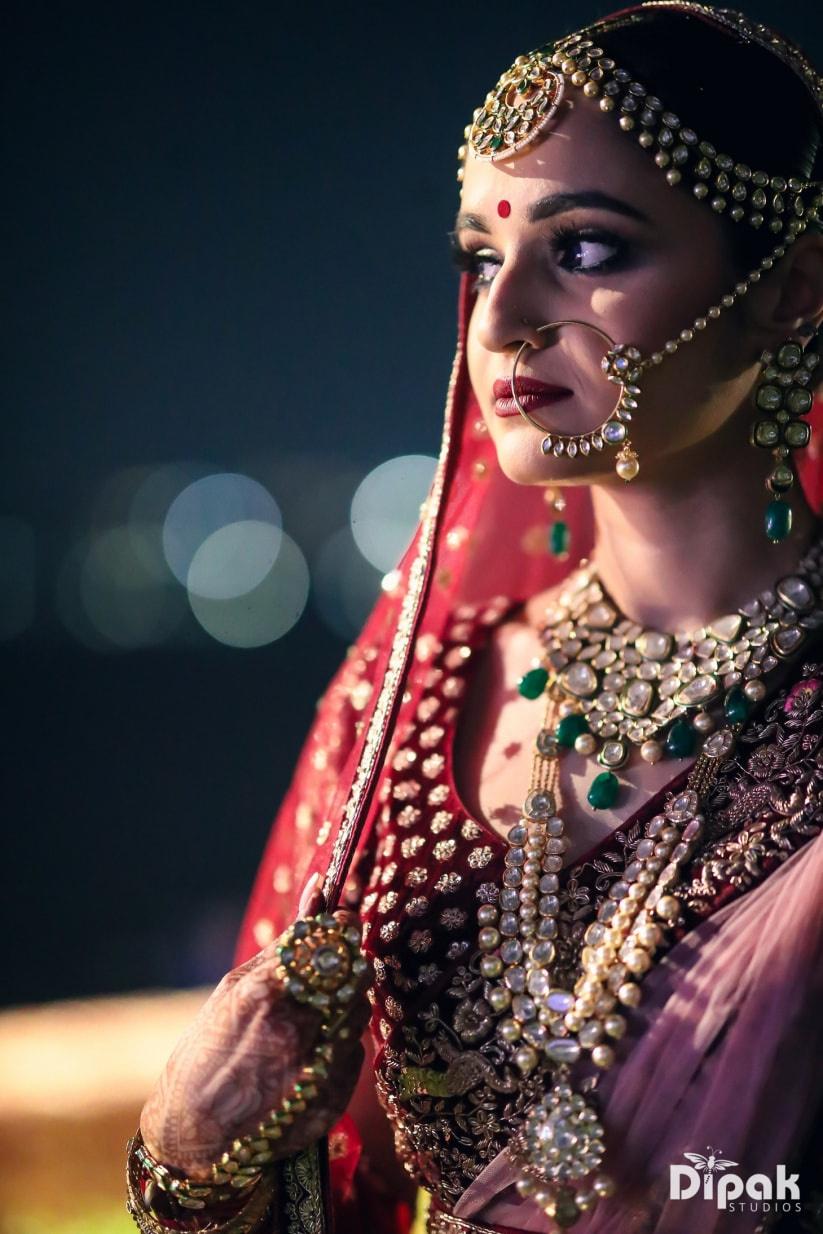 When you are in the process of buying your nose ring there are a couple of things you should consider. As different as each of them is, they are still important in their own regard. Have your wedding photographer and wedding videographer at the ready when you strike a pose. The bridal nose ring can be the real one for people who flaunt a nose piercing, but then for the brides who have no piercing, they can opt for the bridal nose ring that has a stick-on or pull-up mechanism of closure. There are new trends in the market for bridal nose ring. Let's look at the latest Indian bridal nose rings for the contemporary women.
Exquisite Bridal Nose Nath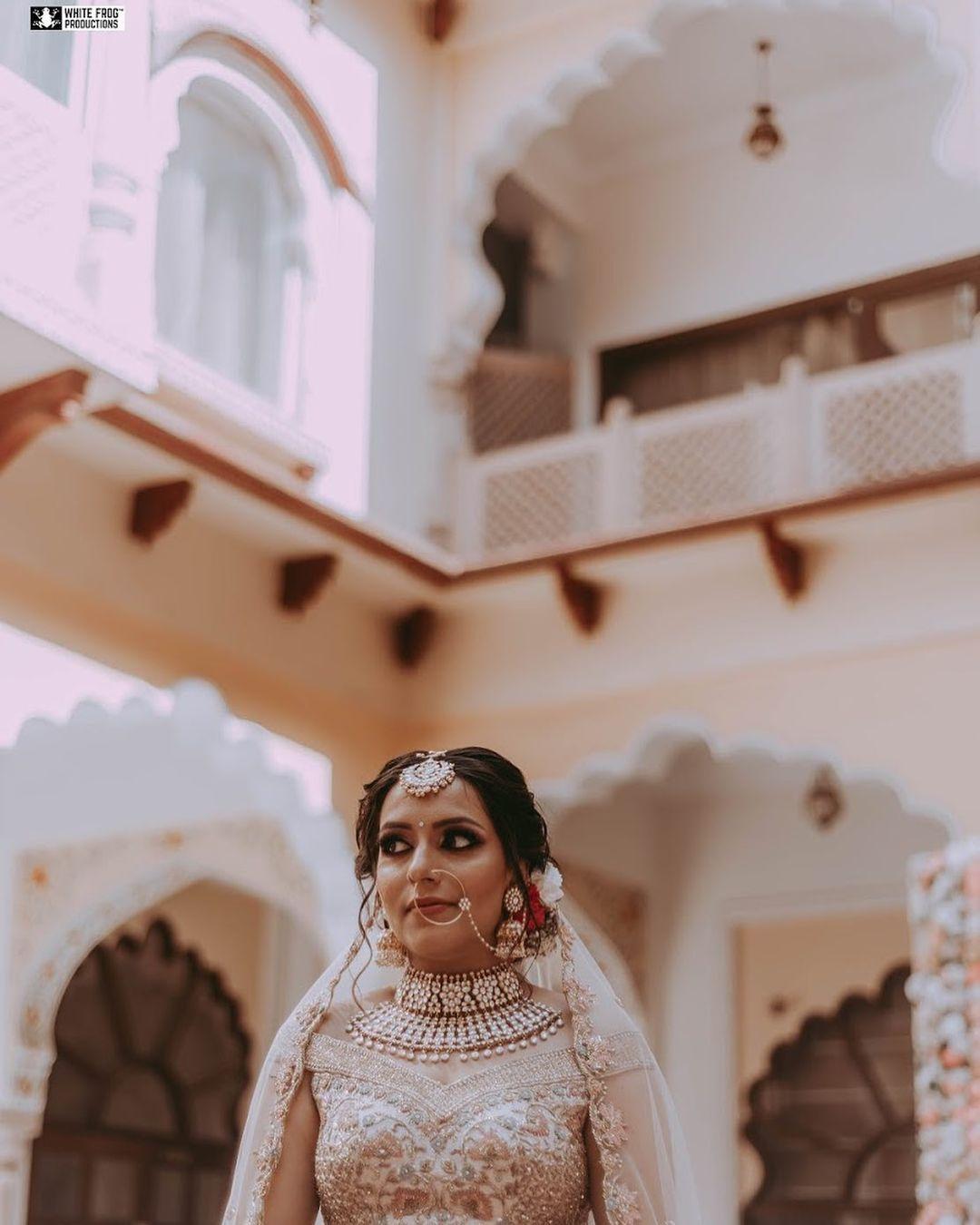 Your bridal Nath design does not have to be a complete twin but it should surely complement every other jewelry piece you have. Nowadays subtle is trendy and stirring. Matching Your Nath With Your Outfit. Another thing to make sure is that it goes as attractively with your bridal outfit as it does with your other jewellery. This is because your outfit is the most important part of your whole get up and your bridal nose ring should definitely be flattering it.
Pearl and Studded
Indian Bride Nose Ring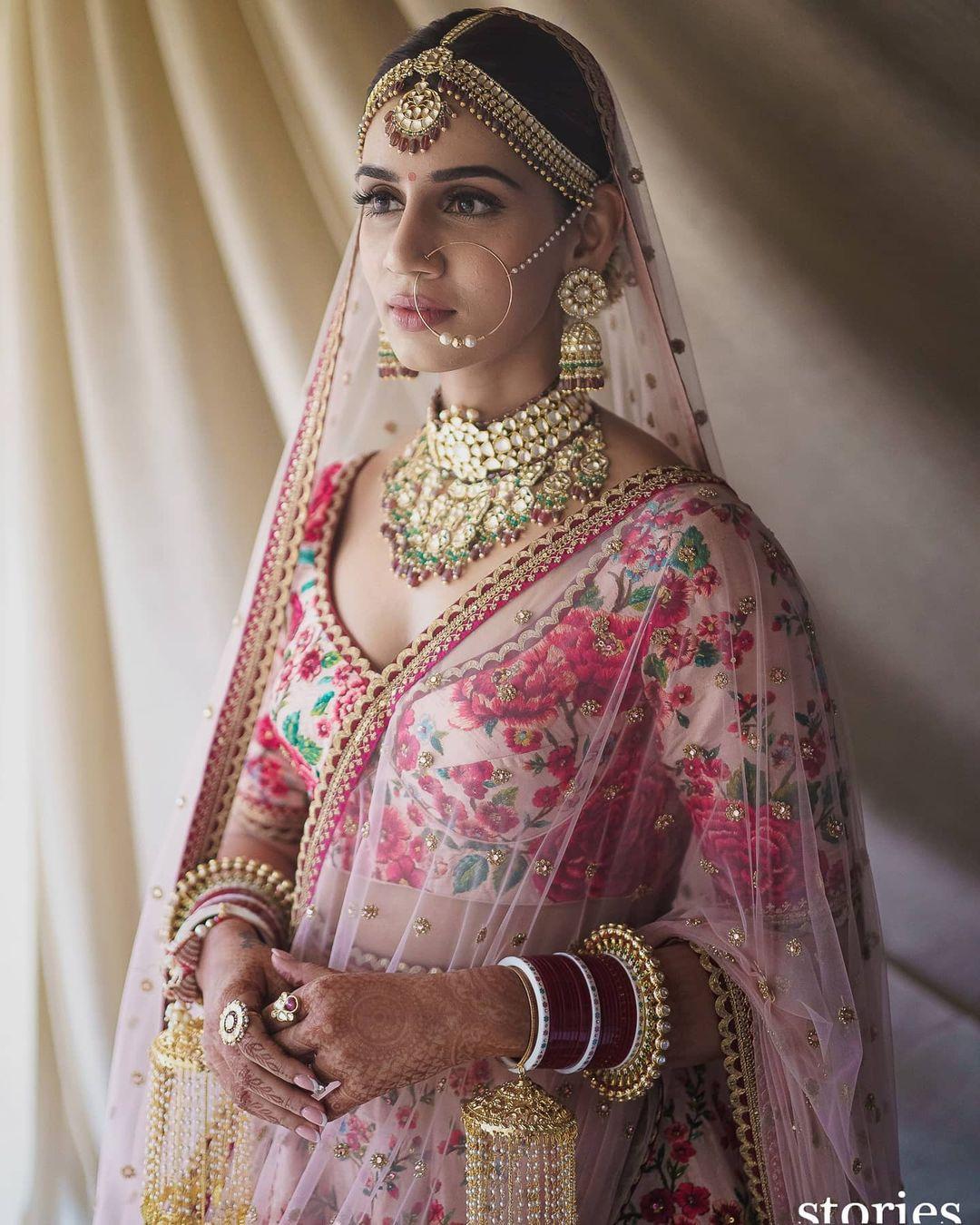 Image Credits - Stories by Joseph Radhilk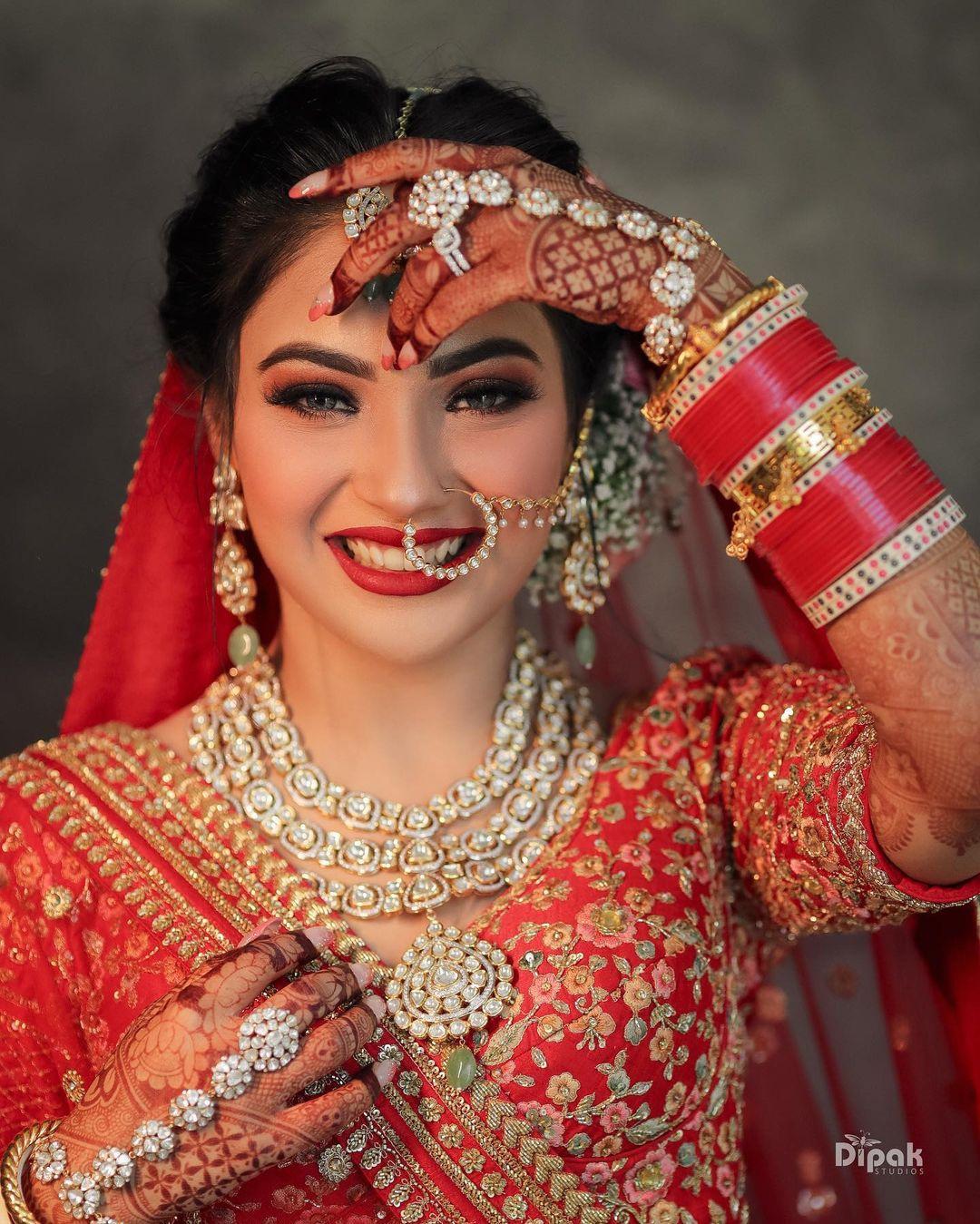 The bridal nose ring you choose has to essentially be something you feel comfortable with, as you are going to wear it for a long time. It cannot be something you feel is too heavy or uncomfortable, this would just make the hours you have it on anguish. The studded ones or some pearls on nose rings looks dainty and light. They go well with any kind of bridal attire.
Traditional Nose Ring For Brides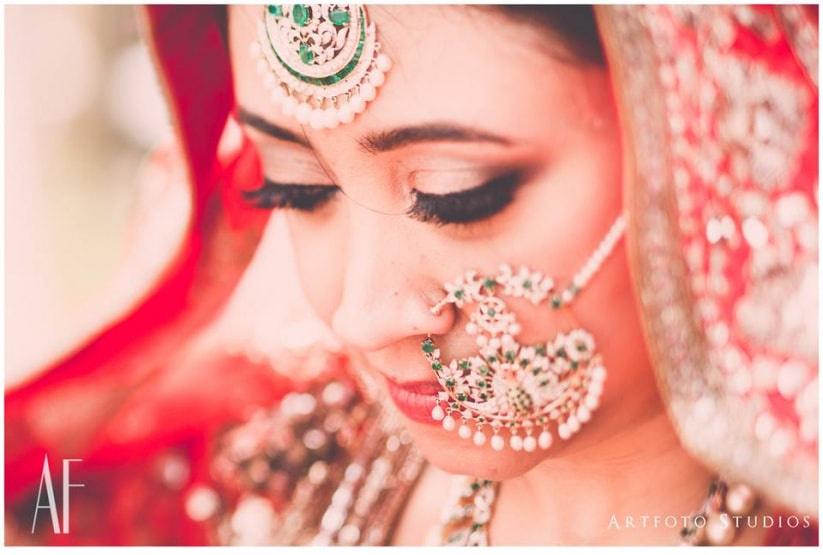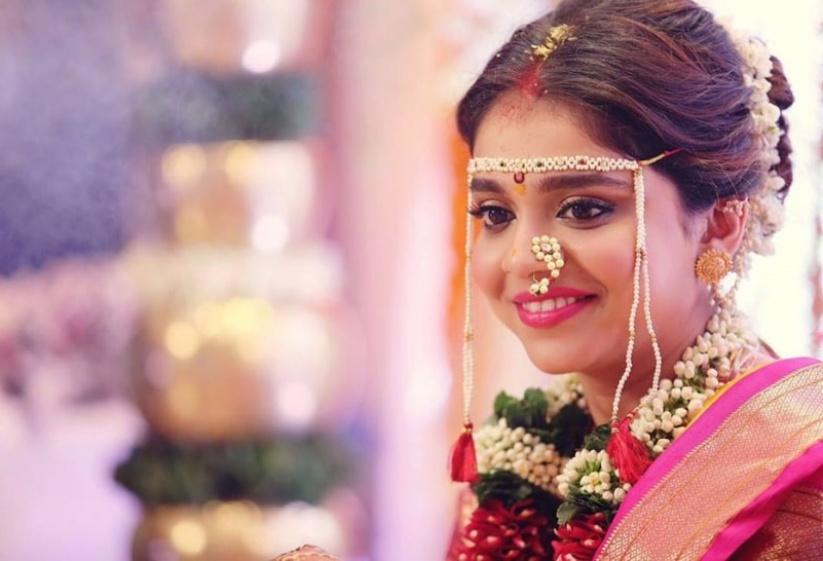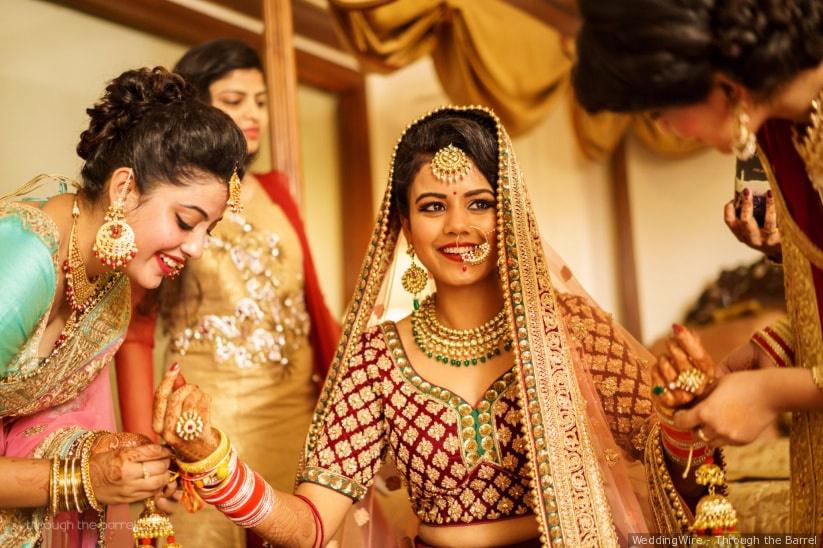 Some families have their own traditional bridal Naths or Nath design. Since marriage and weddings are based on traditions, if you feel comfortable enough with the choice given, it is a good idea to go the traditional way. The crowning glory to any Nath you get will be if it reflects you. It can be the most traditional piece you find or even the most modern. Looking at it people should realise that it is your choice. So go for a design that reflects your traditions.
Wearing the nose ring, you have selected, for your wedding day is not as easy as it seems. There are a number of things you need to take care of beforehand, which if not seen to, can be a big hassle on the final day.
Classy Bridal Nose Rings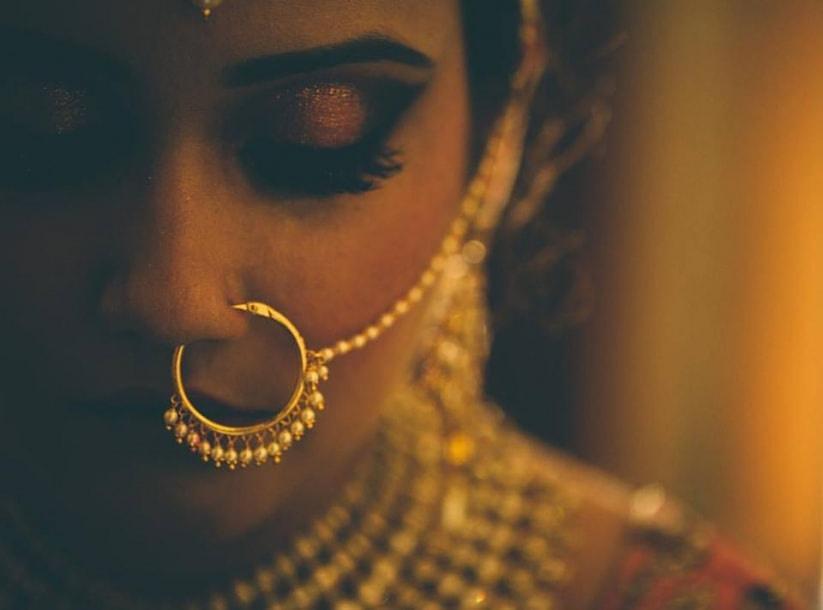 You need to decide beforehand if you want a piercing or not for your nose ring. If you do want one then it should be done at least 2 months in advance, as there are a number of complications that can arise in the wake of a piercing. To avoid all of the complications, get a piercing done as soon as possible.
Contemporary Nose Art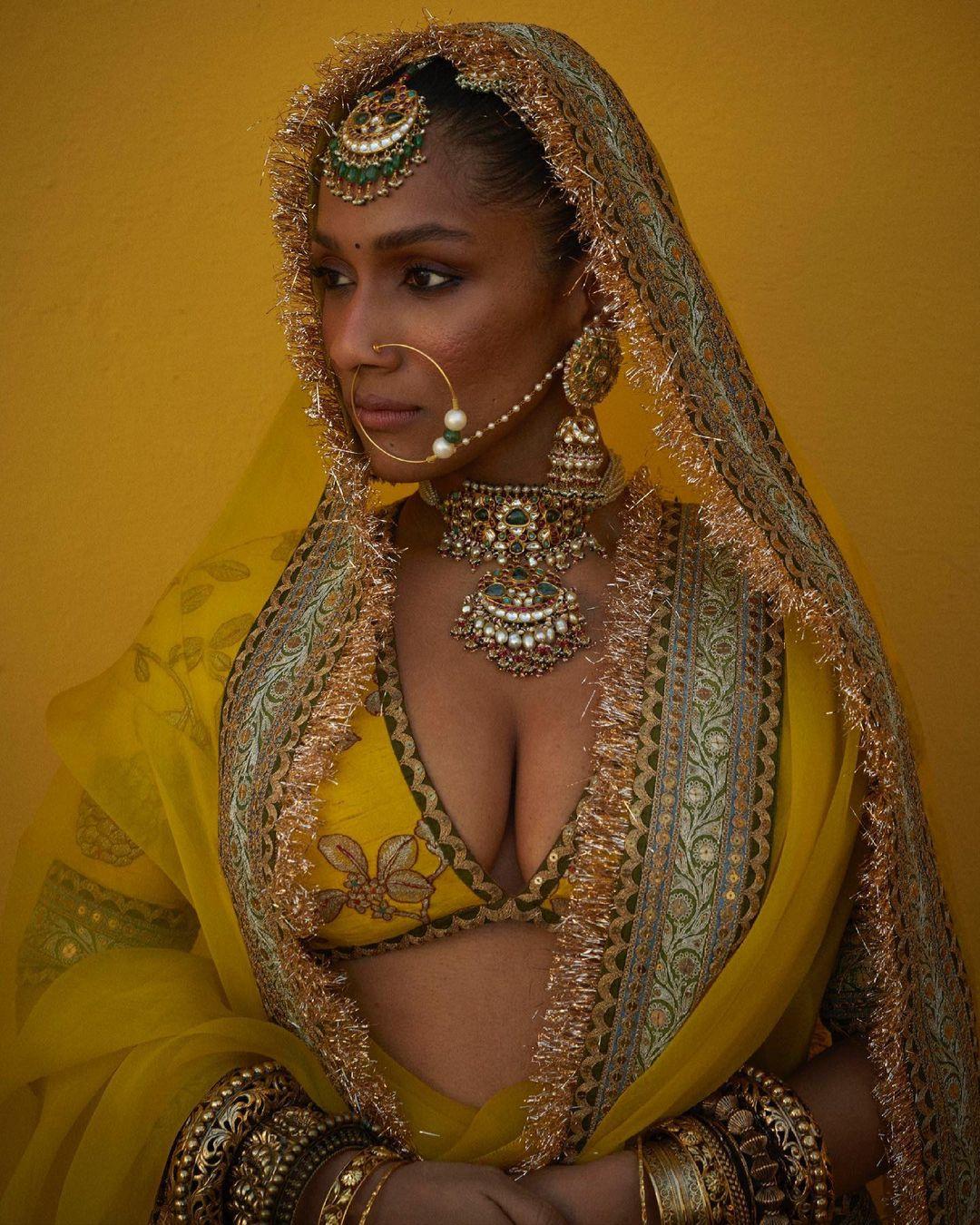 Image Credits - Masaba Gupta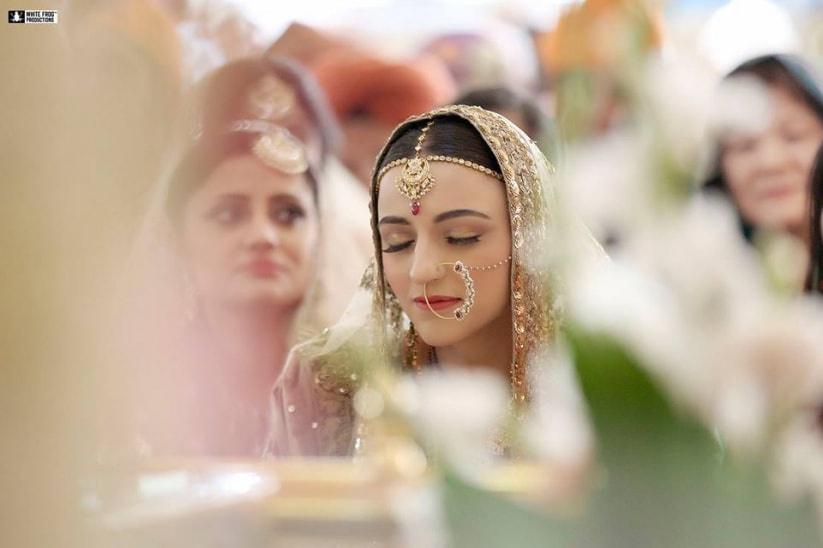 Carrying a heavy bridal nose ring is not as easy as it looks. Your nose can start hurting very soon, so it is a good idea to wear it and go around and practice a couple of times before your wedding day.
Subtle Support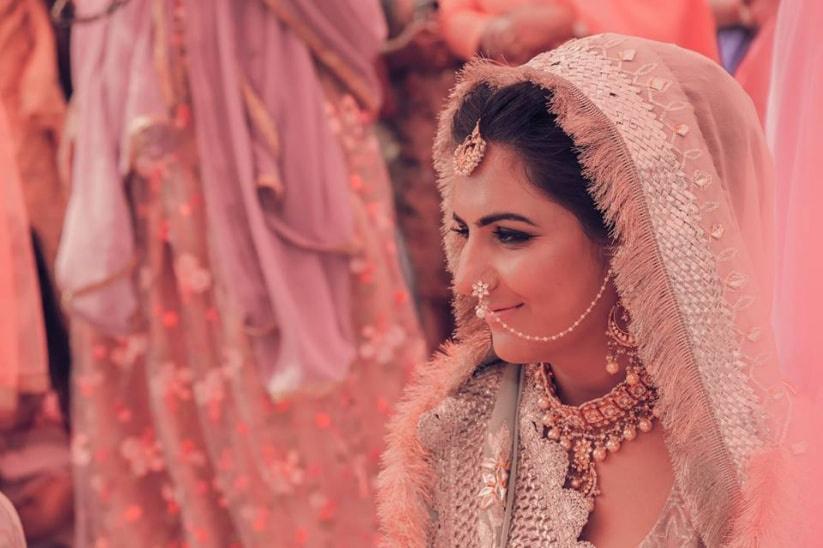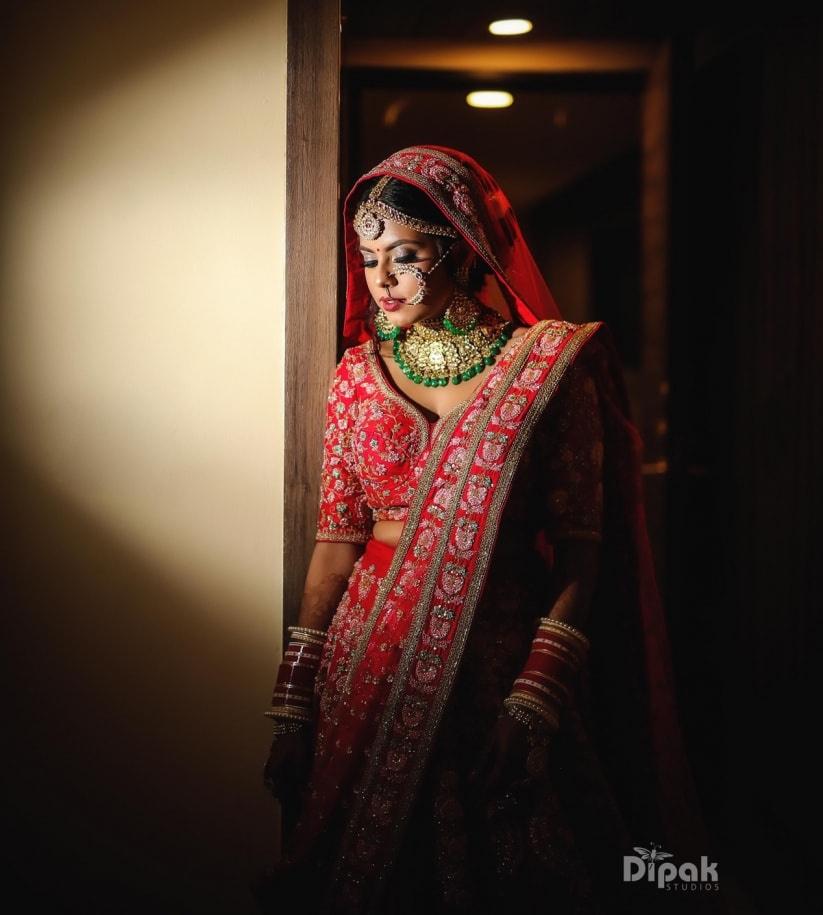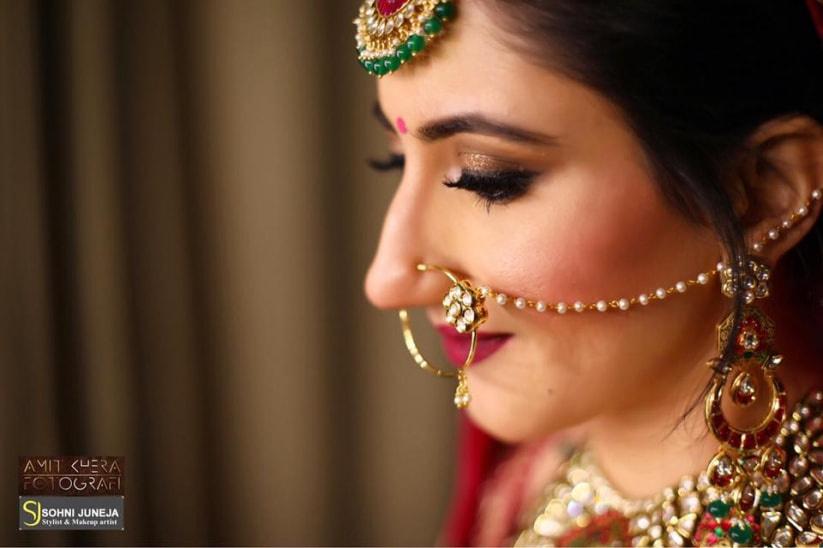 It is a good idea to opt for some kind of support for your Nath. It can be the chains attached to your hair or earring. If it is a heavy Nath design, then chains is definitely a pre-requisite. This is the most important part of wearing the nose ring. If you give it proper support then then your nose can hurt for a long time. So once you remove it, the one thing to definitely remember is to not wear something heavy for some time afterwards.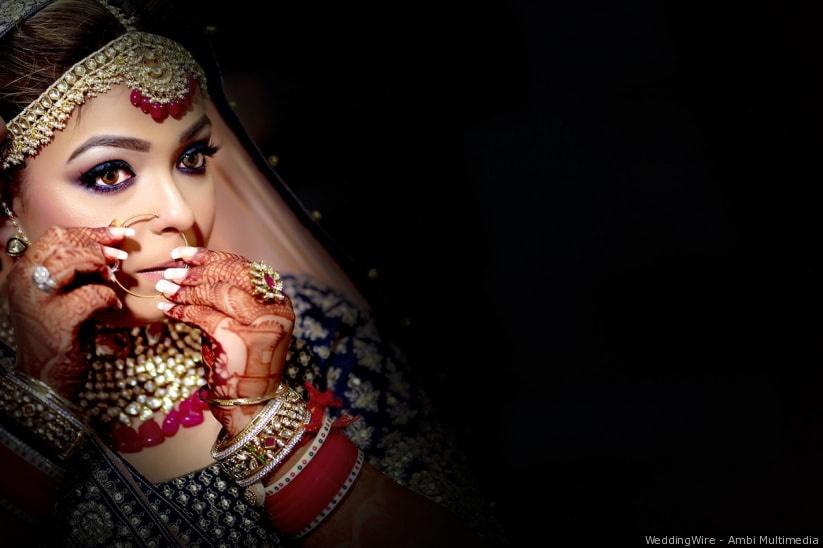 Check out some of our bridal jewellery vendors and find a design that has your name written all over it.
Don't you just love the elegance that bridal nose rings add to a bride's demeanor? Comment below and let us know how your experience of buying or wearing your Nath was?
With words by Chinar Ghorawat