15 Breathtaking Jewellery Photos to Inspire You for Your D-day
No bride is complete without her stunning bridal jewellery, so here are 15 fabulous jewellery photo ideas that we've found just for you!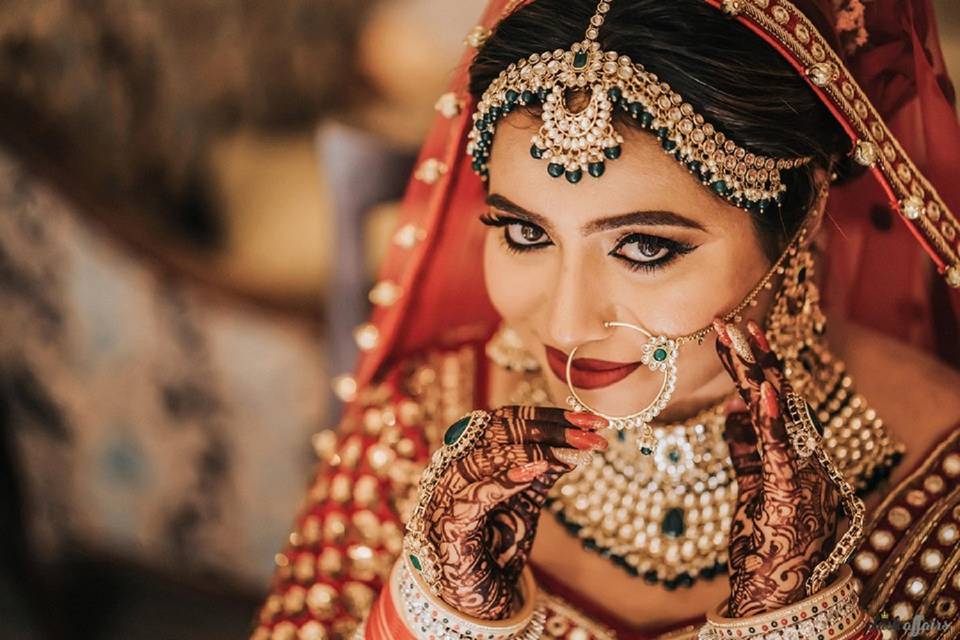 If you're a to-be bride looking out for some inspiration for getting the right jewellery for your wedding day, then you're at the right place! When it comes to bridal jewellery there are plenty of stunning designs available in the market. You can choose from a wide range of jewellery designs like gold, silver, oxidised, artificial jewellery and even floral jewellery.
Floral jewellery is more popular for pre-wedding functions like Haldi and Sangeet ceremony. For the main day, most brides choose to go for gold and artificial jewellery that can change the overlook instantly. Right from Maang Tikkas, nose rings to earrings, bangles and heavy neckpieces, you could get these as a set or even single pieces to look absolutely stunning on your wedding day.
To make things easier for you, we've put down some of the best jewellery photo ideas that you could choose for your big day. So here they are…
The Complete Jewellery Look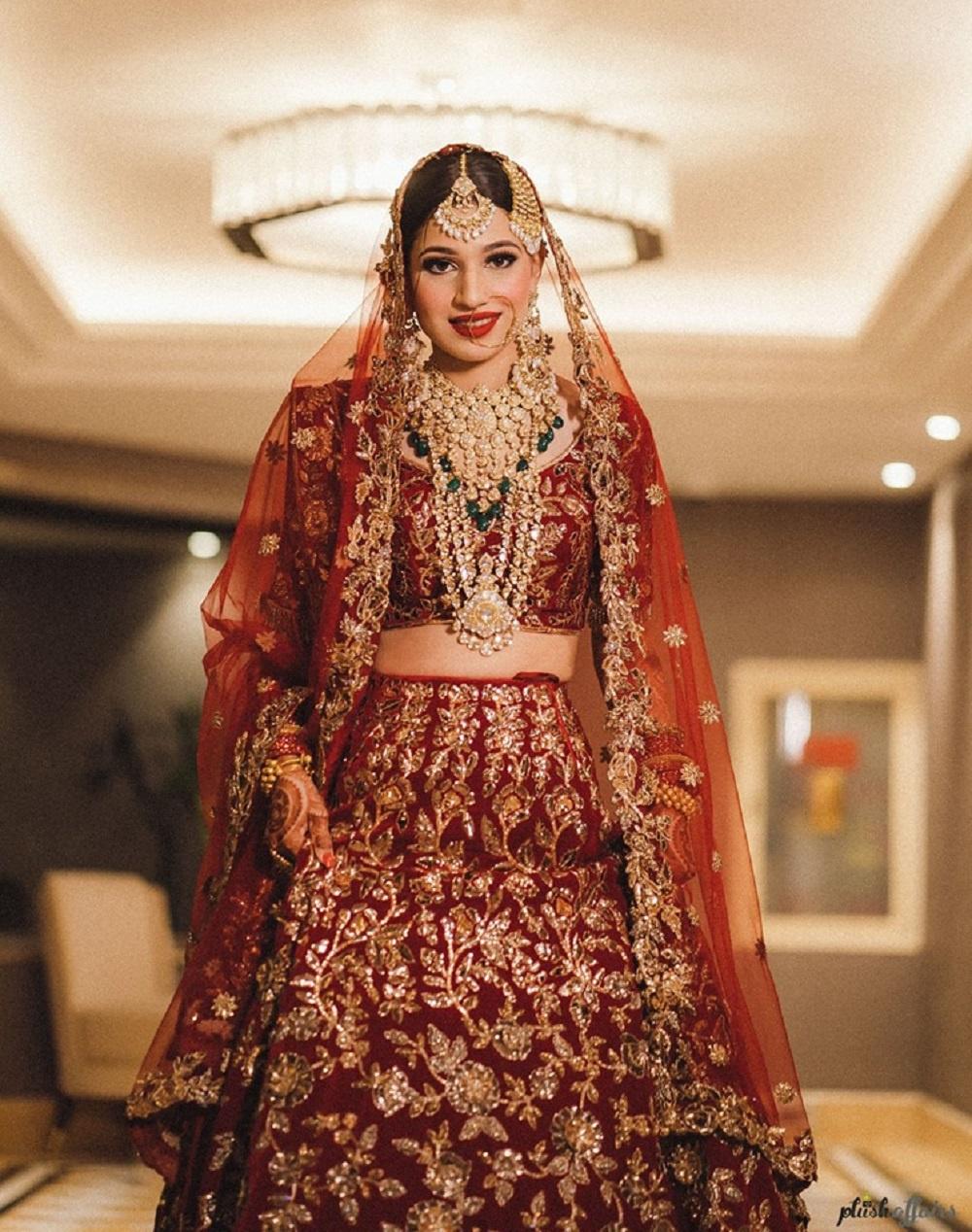 The first one on the list of jewellery photo ideas is this bride who's gone with the complete jewellery look. It's your wedding day, so go ahead and look like the perfect bride. Heavy jewellery is one of the best things you could opt for. You could pair it with your bridal lehengas and even sarees.
This bridal look consists of a heavy short chain that's clubbed with a longer necklace. The beautiful green beads of the shorter necklace is the most striking feature of this look. The earrings and Maang Tikka are equally stunning with pretty white beads hanging around.
This bride has also gone with a big nose ring to complete her look. The jewellery look of this bride is just amazing, and you could achieve the same look for your wedding day too.
The Pretty White Bead Jewellery Photo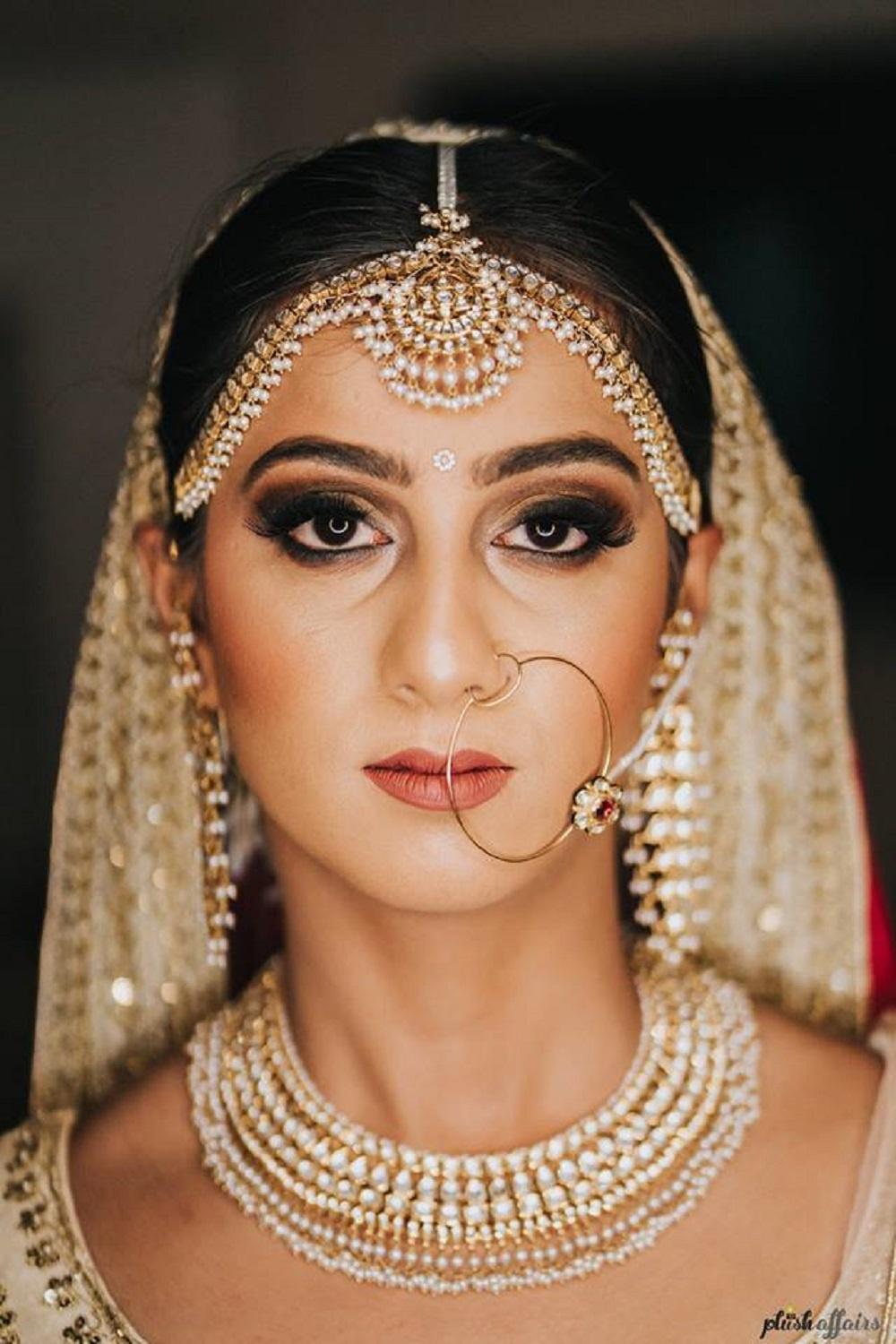 Check out this jewellery photo that's all things beautiful. This bride has gone with the perfect gold polki jewellery. The set consist of a chain Maang Tikka, long dangling earrings and a matching necklace. The set comes with little white beads all around the necklace, earrings and Maang Tikka. Since the bridal outfit is white in colour, the jewellery matches up perfectly.
The beautiful polki jewellery photo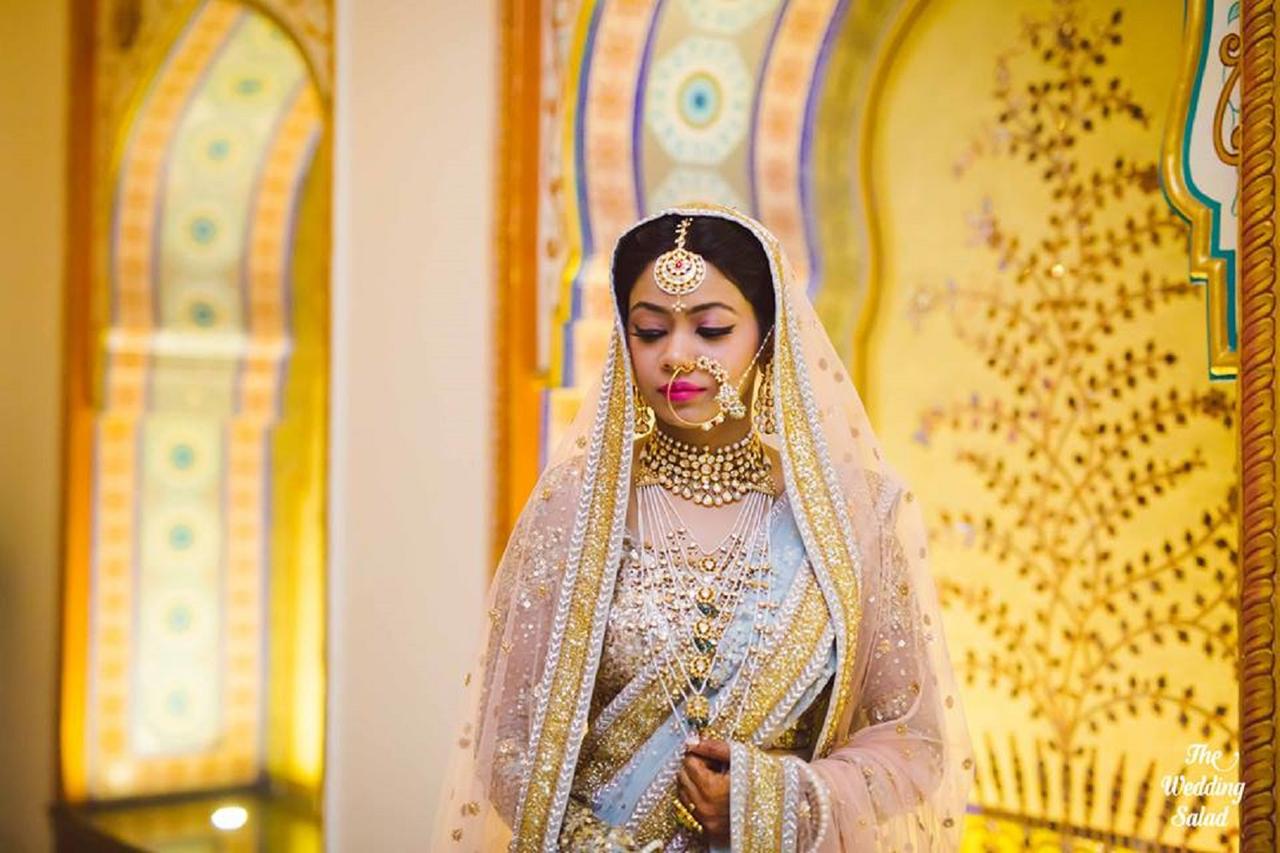 The next one the list of jewellery photo is this lovely polki jewellery design. You could choose a design like this to match up with your lehengas. Pick a lovely polki choker neckpiece alone or club it with a Rani Haar that's a long necklace that's worn together with a smaller necklace. This bride has gone for a beautiful layered Rani Haar that is stunning. Together with the chain nose ring and the big Maang Tikka, this bride is a stunner!
Heavy jewellery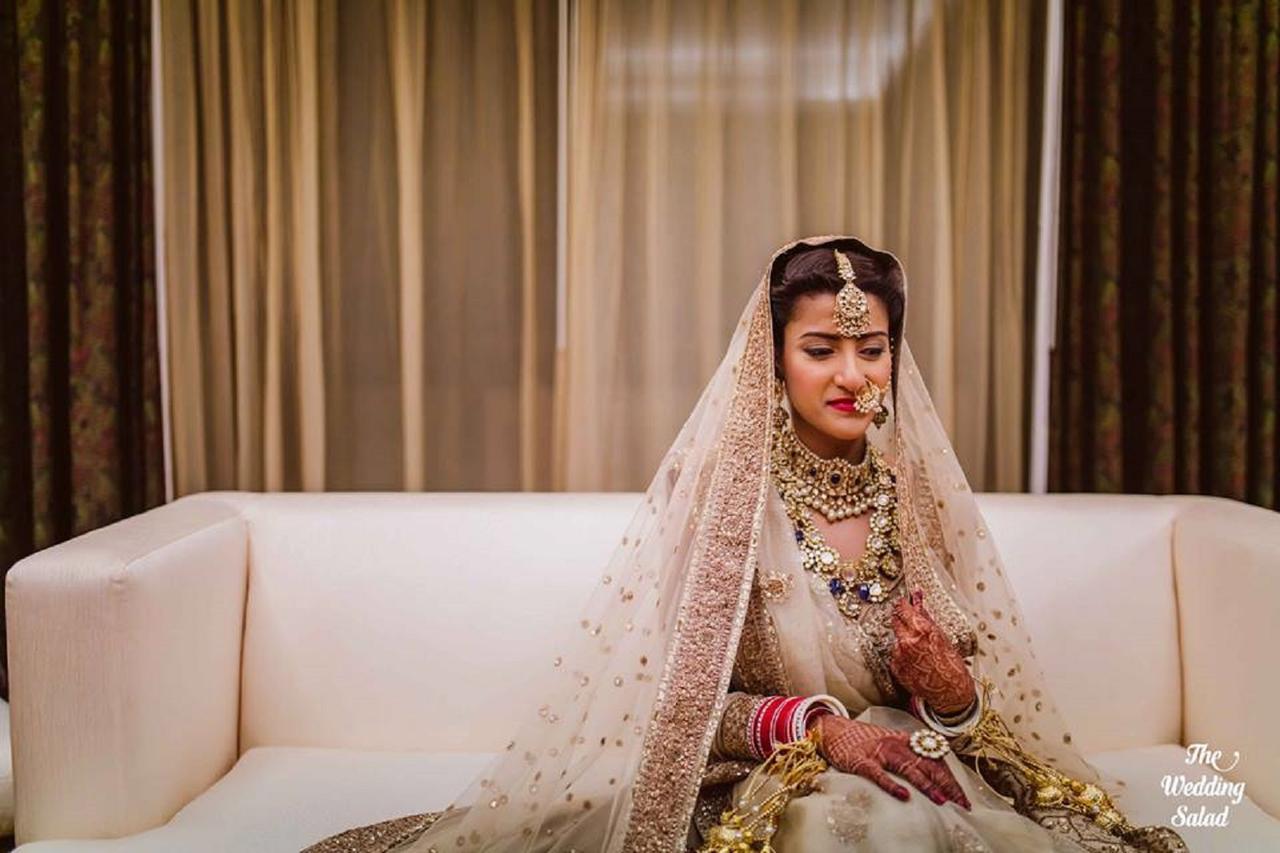 Looking out for the best jewellery photo to help you with your wedding attire? Take a look at this one. Here the bride has gone for heavy jewellery for her wedding day. The choker neckpiece is loaded with exquisite stones and beads, while the Rani Haar is equally impressive. The nose ring and Maang Tikka also match up with the neckpieces and is a complete set that suits the bridal attire. Heavy jewellery is the best thing if you want to look like a beautiful bride. You could choose to go for a simple outfit and let your jewellery draw all the attention.
A complete set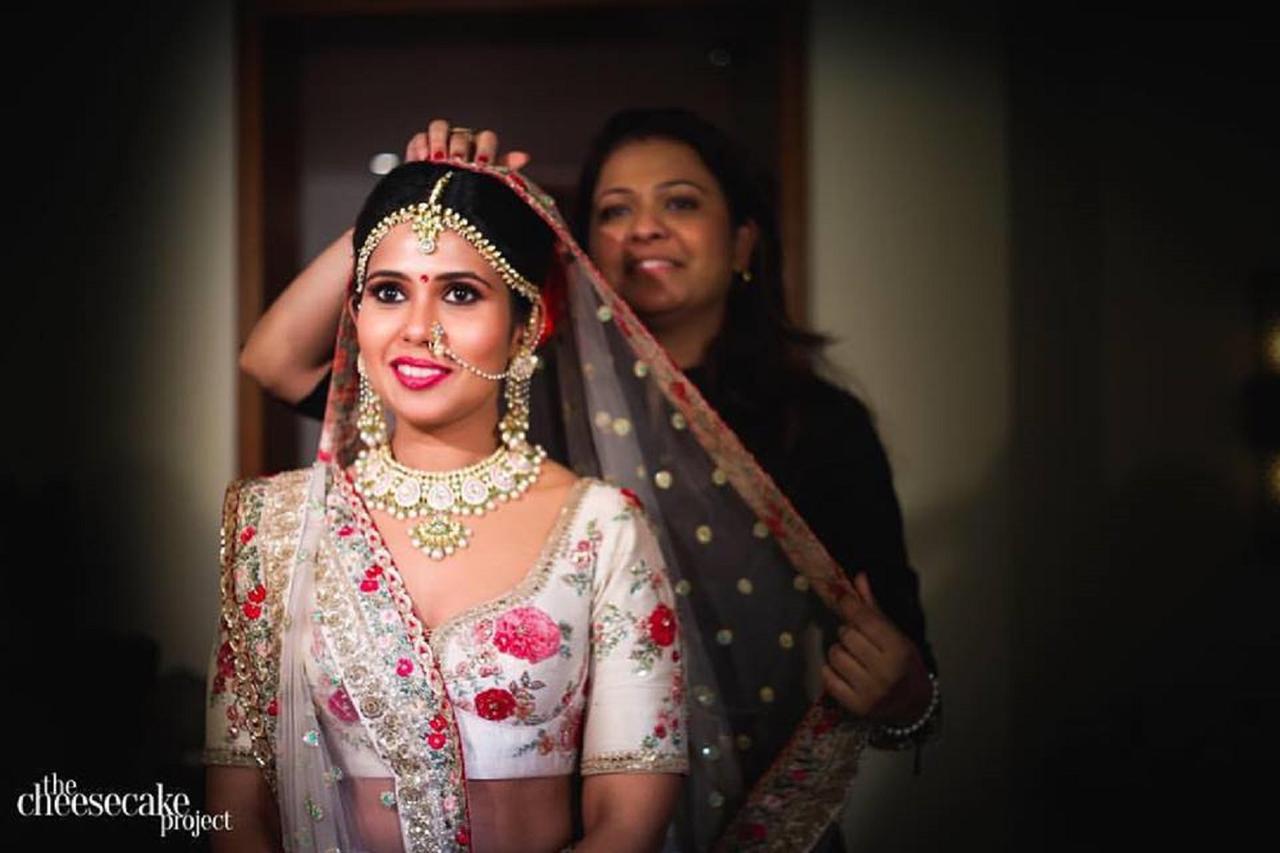 Wedding jewellery can be purchased as single pieces or as a complete set as well. If you're looking out for a complete set jewellery photo, then take a look at this one. Here the bride has gone for a bridal jewellery set that consists of a chain, earrings, nose ring and a Maang Tikka. While the nose ring and Maang Tikka is not too big, the beautiful beaded chain grabs all the attention. The set comes in gold and white beads that definitely matches up with the white and pink gorgeous lehenga.
Traditional jewellery photo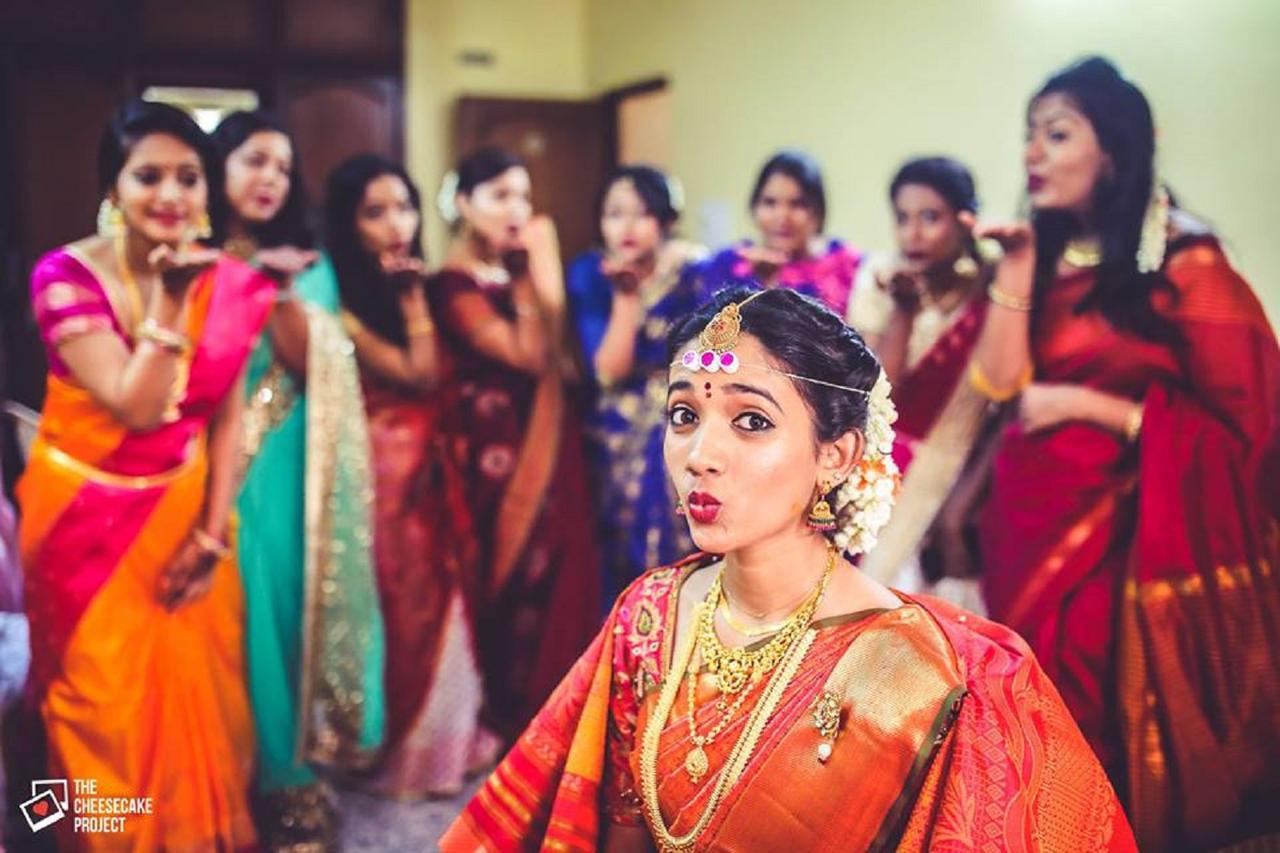 Are you a south Indian bride looking for some inspiration when it comes to your jewellery? If yes, then traditional jewellery just like this is the way to go. This bride looks gorgeous with her bridal saree and the beautiful neckpieces to complete her look. South Indian brides always go for gold, as it's more traditional. The elegant Maang Tikka with the gold Jhumkas are the perfect way to complete the look.
Stunning silver jewellery photo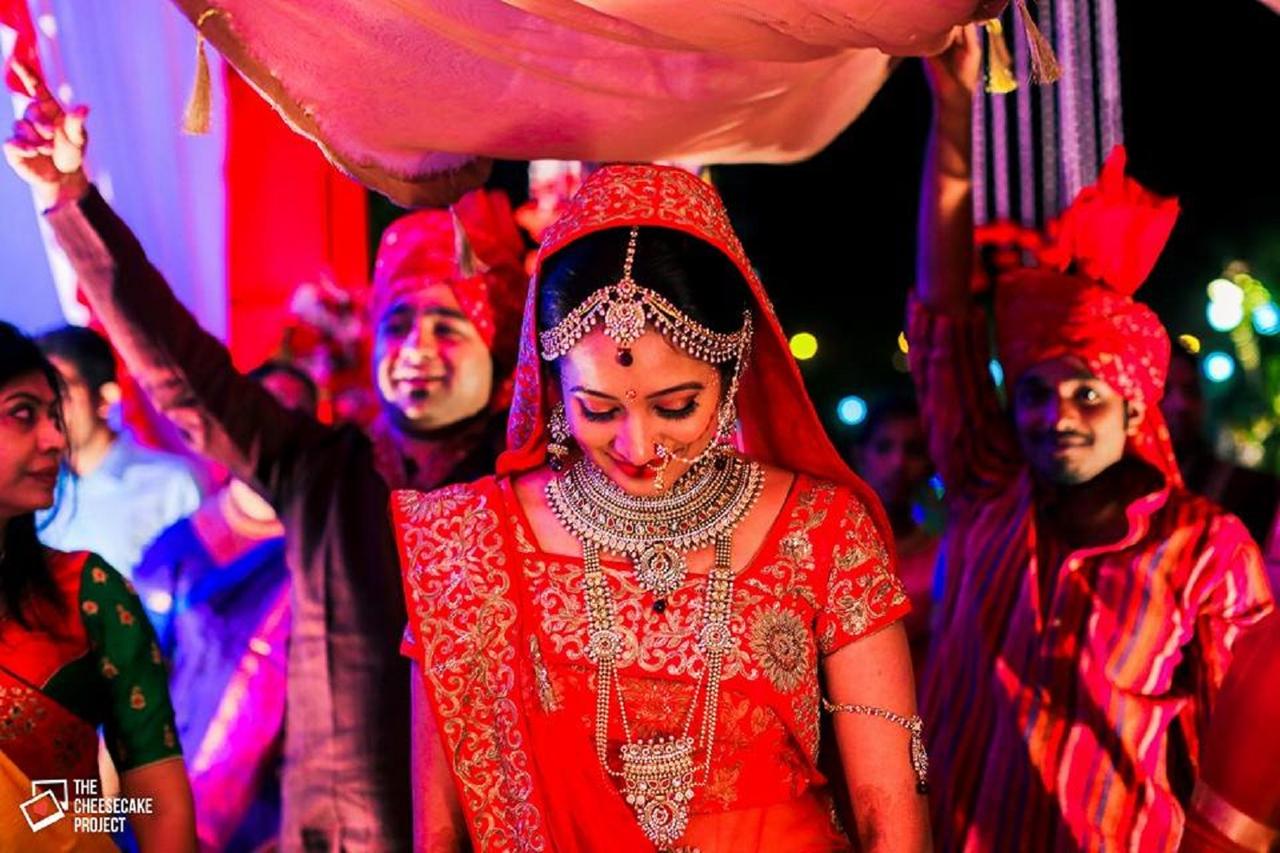 If you're not a girl who loves gold, then beautiful silver jewellery is the way to go. Silver jewellery can be equally stunning if you choose the right designs and styles to match your bridal attire. This is a lovely silver jewellery set that's worn by this bride. Right from the lovely choker design and the Rani Haar to the nose ring, earrings and Maang Tikka, this bride has got it all right for sure!
Elegant jewellery photo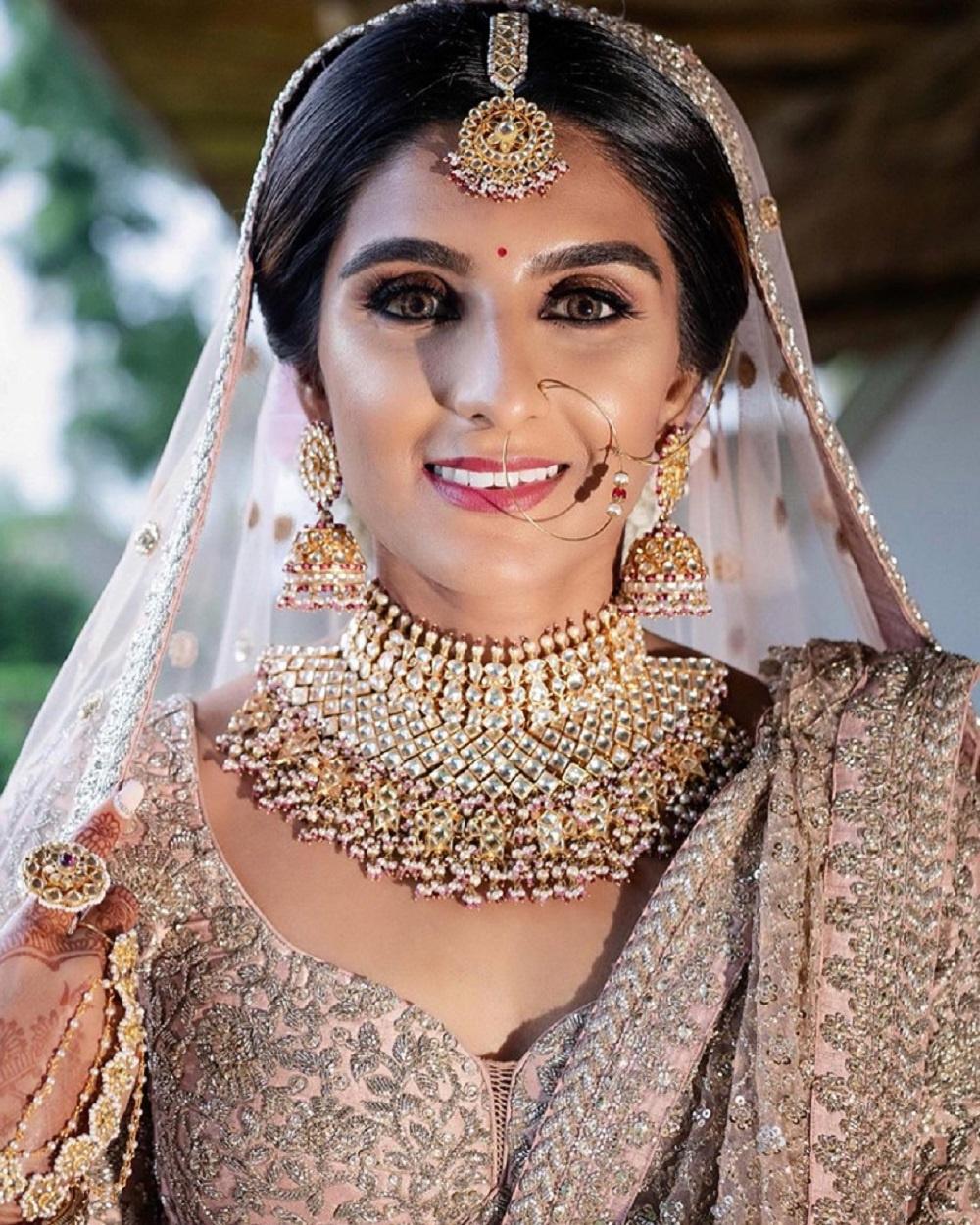 You could never go wrong with a choker style necklace on your wedding day, especially if you've got the right neckline to show if off. Most brides usually go for a choker style necklace and a Rani Haar as well, but if you're looking for a single neckpiece, then make sure it has all the right elements to stand out. This is a lovely Polki design neckpiece that comes in a choker pattern. The piece fits to perfection and simply looks like a part of the blouse. The little bells that hang all around the necklace just add on to this already stunning neckpiece. This choker necklace also comes with a set of earrings, a nose ring and a Maang Tikka that's equally stunning.
The maroon bead jewellery photo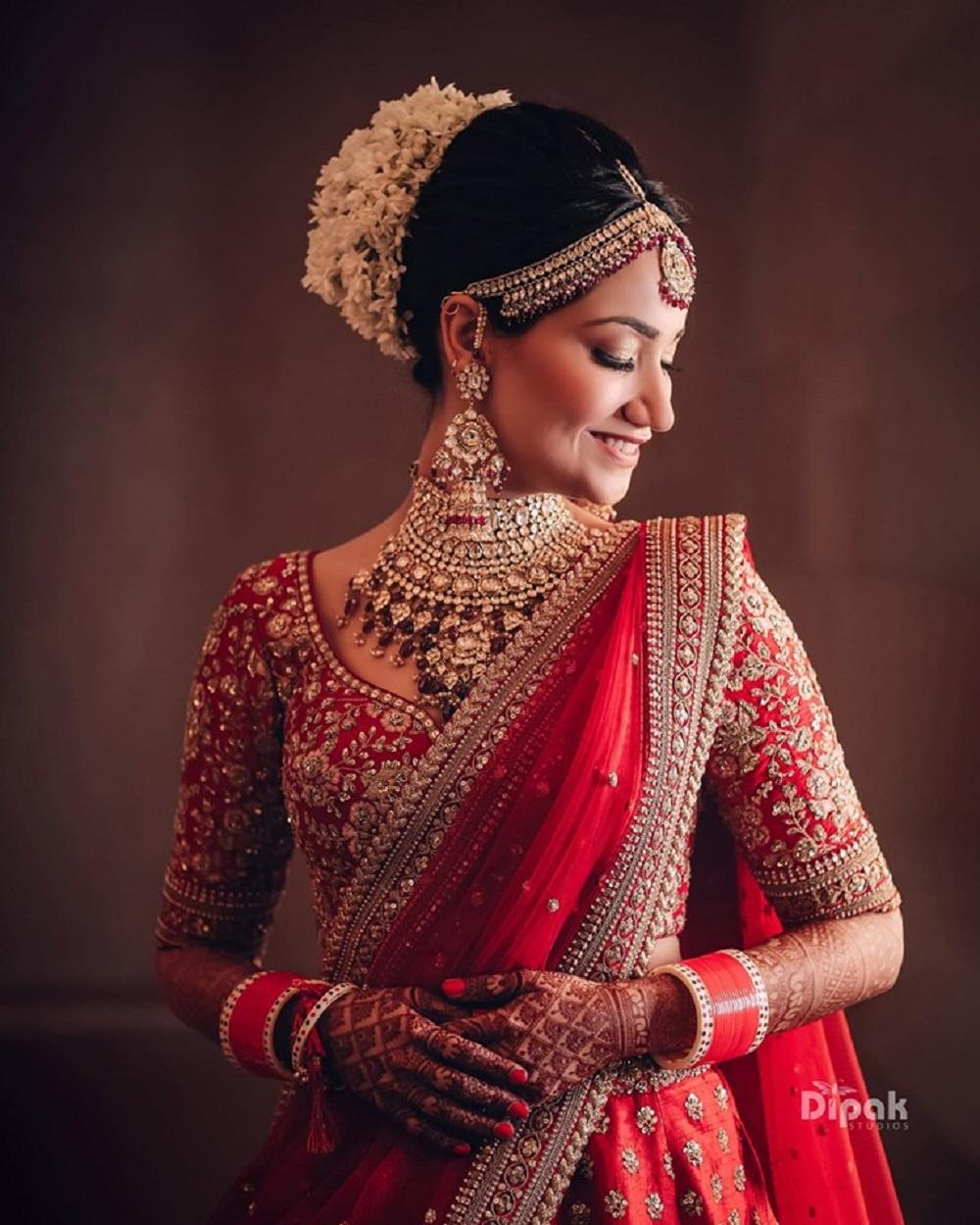 When it comes to bridal jewellery, Polki and bead designs are always the popular choice of most brides. When it comes to the colour of the beads, then green and maroon top the list for sure. If you're going in for a lehenga for your wedding, then choosing heavy jewellery is always the best thing to do.
This is a lovely Polki and maroon bead design that looks just stunning. Here, the choker necklace covers up the neck beautifully, while the chain Maang Tikka, and earrings complete the look to perfection.
Floral jewellery photo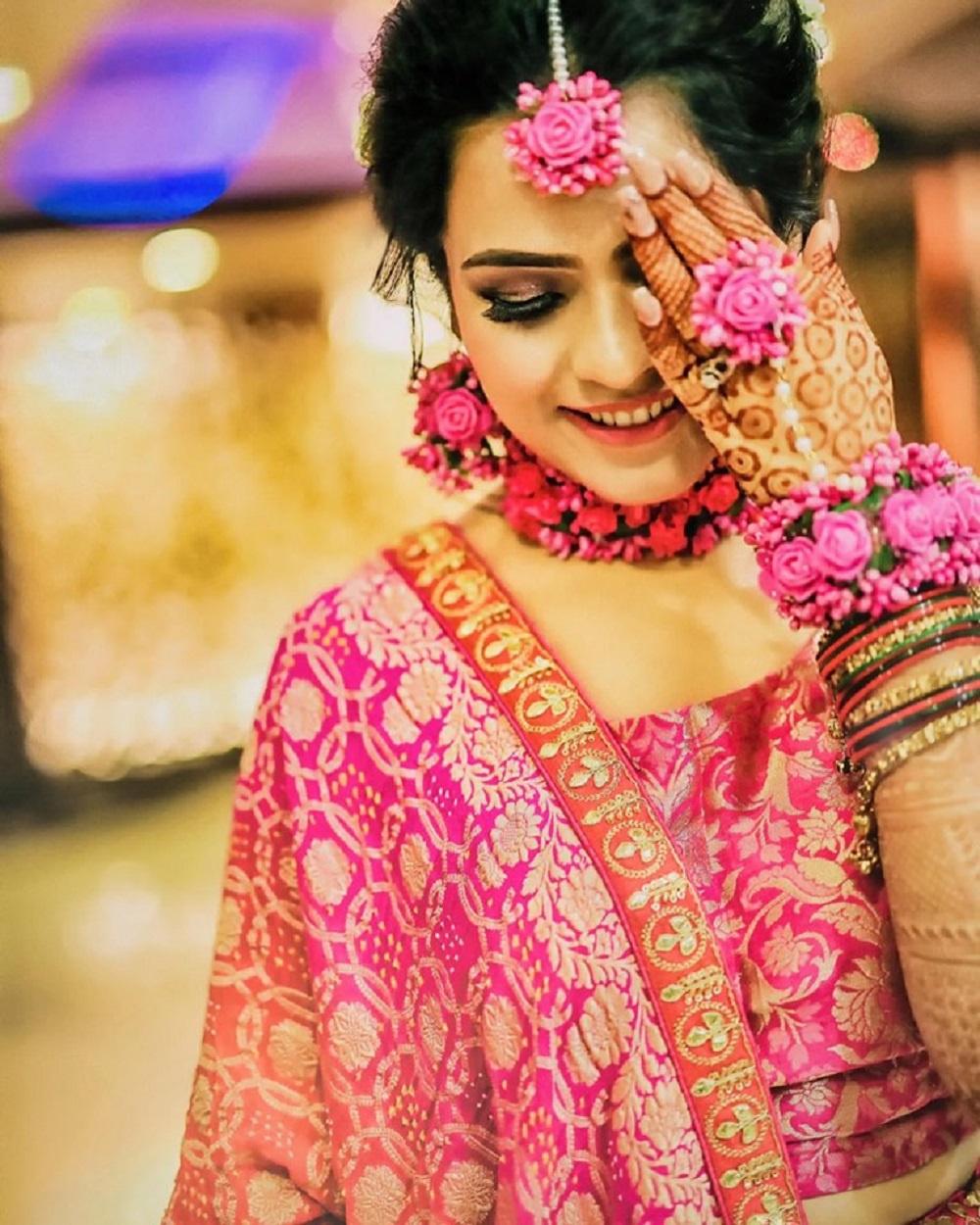 When it comes to choosing the right jewellery for your pre-wedding functions, then artificial floral jewellery is the way to go. Today, there are plenty of floral jewellery vendors offering a variety of designs and styles.
You can choose from beautiful earrings and Maang Tikkas to necklaces and bracelets. Also, you can order your floral jewellery in a colour that matches up to your bridal attire. So, whether you have a pink outfit or a purple one just let the vendor know, and you will get the perfect design to flaunt for the day.
The gorgeous green bead jewellery design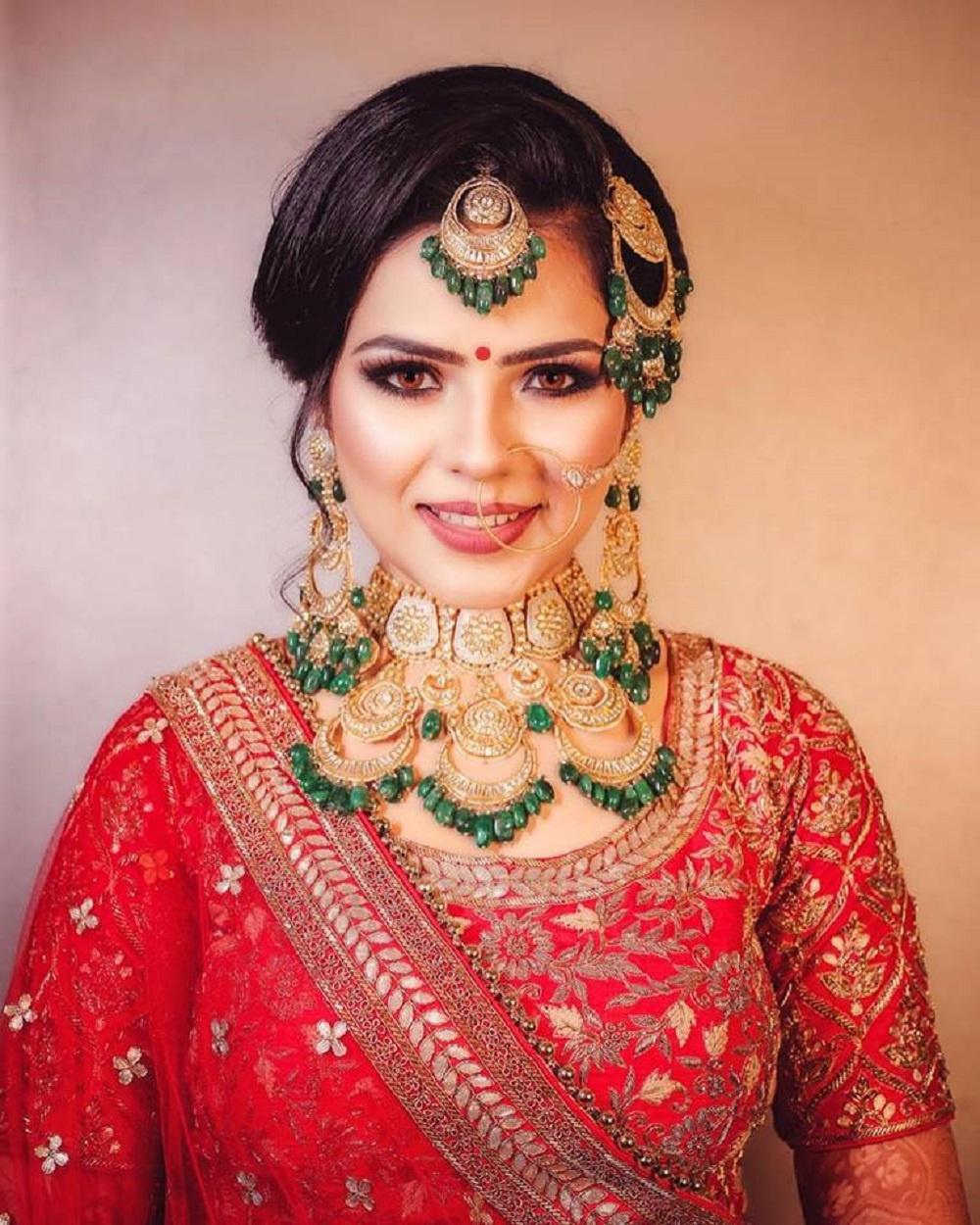 When it comes to modern bridal jewellery, green bead designs are becoming very popular. Every modern bride wants to add the green bead touch to their bridal jewellery, and we have to say it takes your look to the next level. There are different types of green bead jewellery designs that you can choose from.
This is a lovely gold choker style necklace that comes with a scallop type pattern that looks stunning. The little green beads are beautiful and cut to perfection. This set consist of earrings, nose ring and two Maang Tikkas, one that's placed at the centre of the forehead and the other that falls at the side.
Intricate pink bead jewellery photo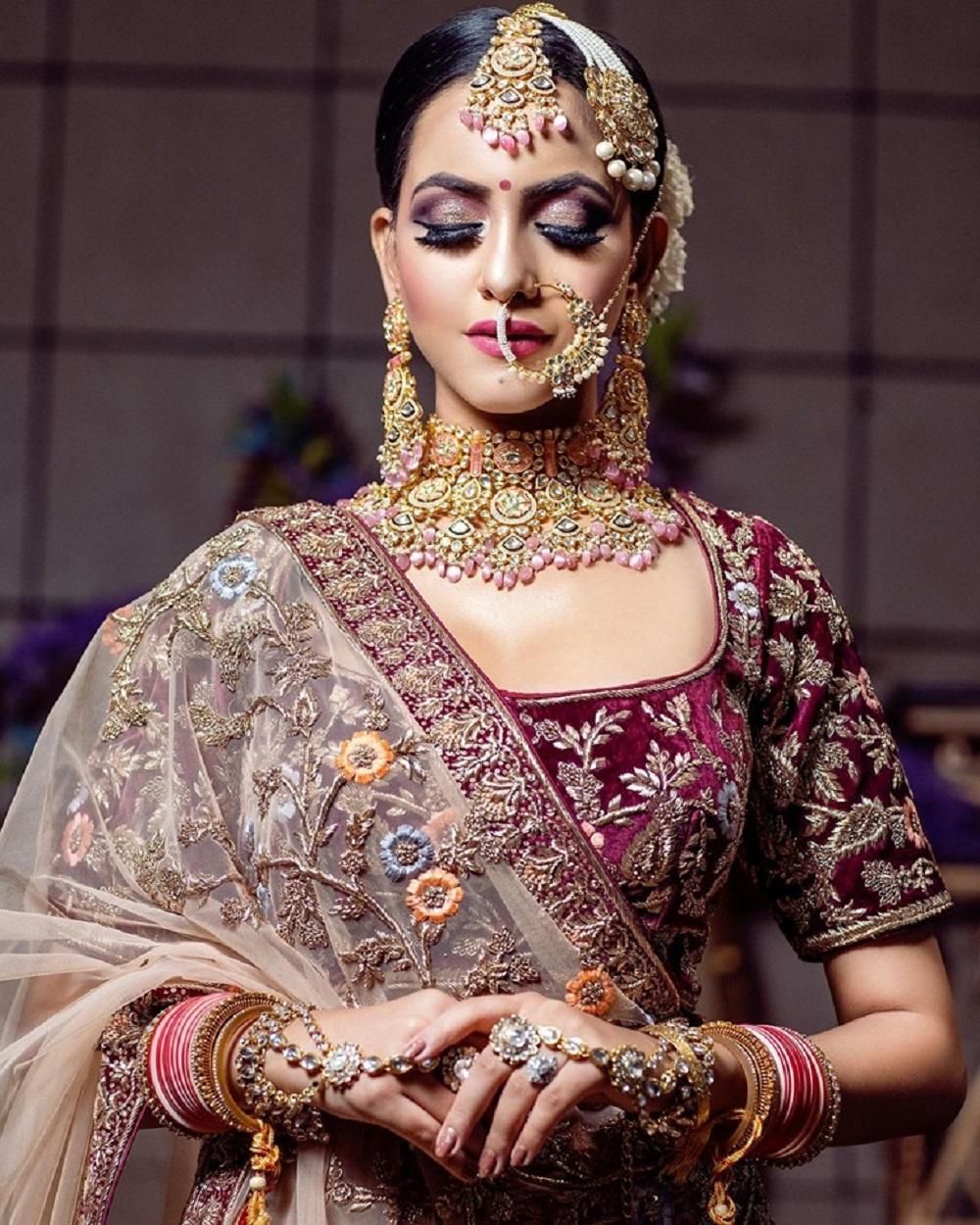 The light pink bead jewellery is another awesome design to choose when it comes to bridal jewellery. This is again a nice Polki choker design that comes with pretty pink beads hanging on the lower part of the necklace.
The two-piece Maang Tikka, nose ring and earrings come along with the necklace to match up with the beautiful maroon and gold lehenga.
Fabulous statement pendant necklace design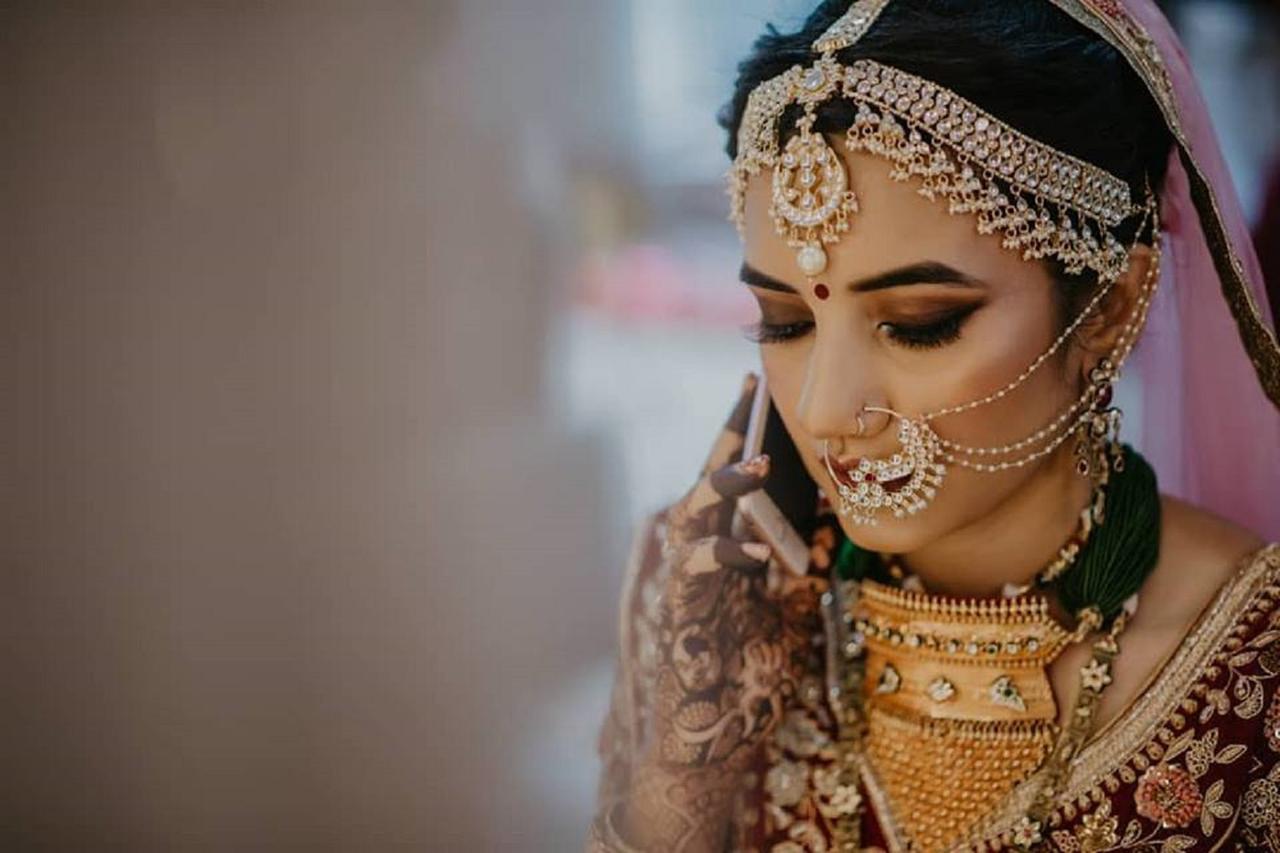 Not every bride loves those heavy neckpieces to complete her look, but if you're someone who loves those big pendants then choose one like this. This bride has gone for the statement pendant piece that looks quite classy. This one is a short necklace with a huge pendant. Rajasthani brides usually love to go in for a neckpiece like this. The bride has paired this necklace with a nose ring and a chain Maang Tikka.
The all-Polki jewellery look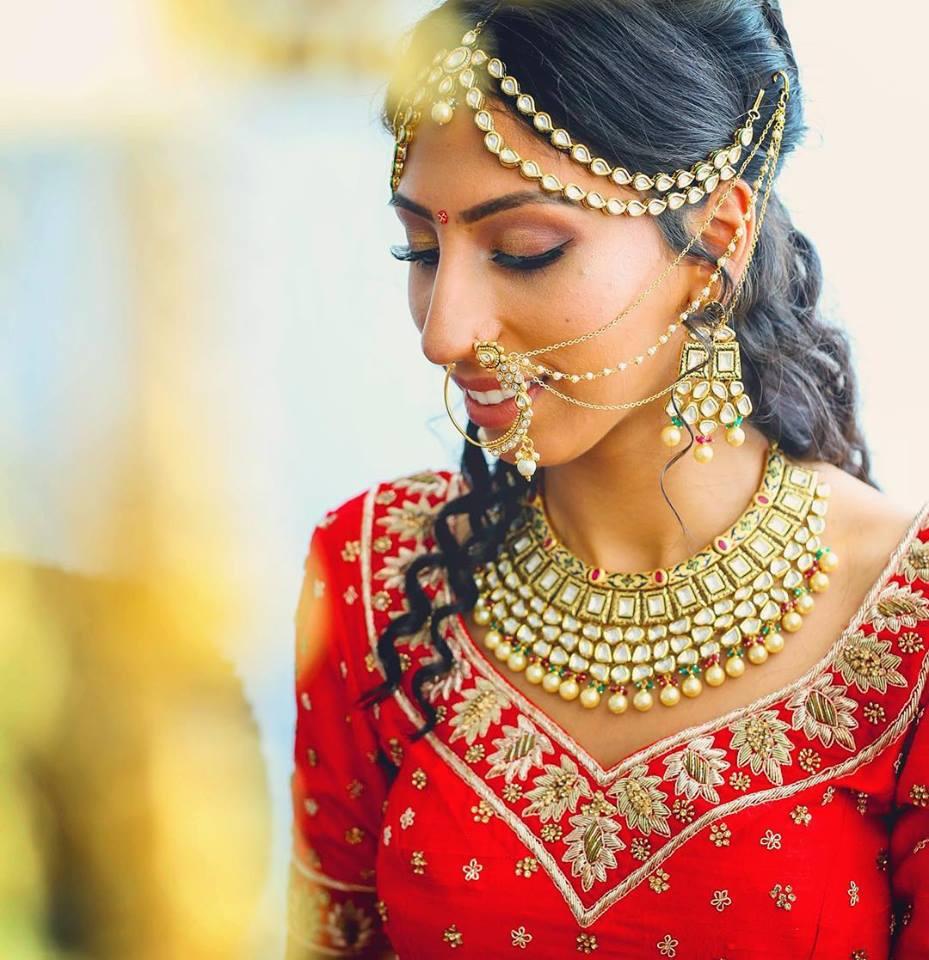 You could never go wrong with a polki design, so whether it's a choker design or a Rani Haar, going in for a polki design is a good idea. Here, the pretty polki Maang Tikka, earrings and necklace match up perfectly. The lovely chain nose ring adds that special touch to the whole getup.
Classy jewellery photo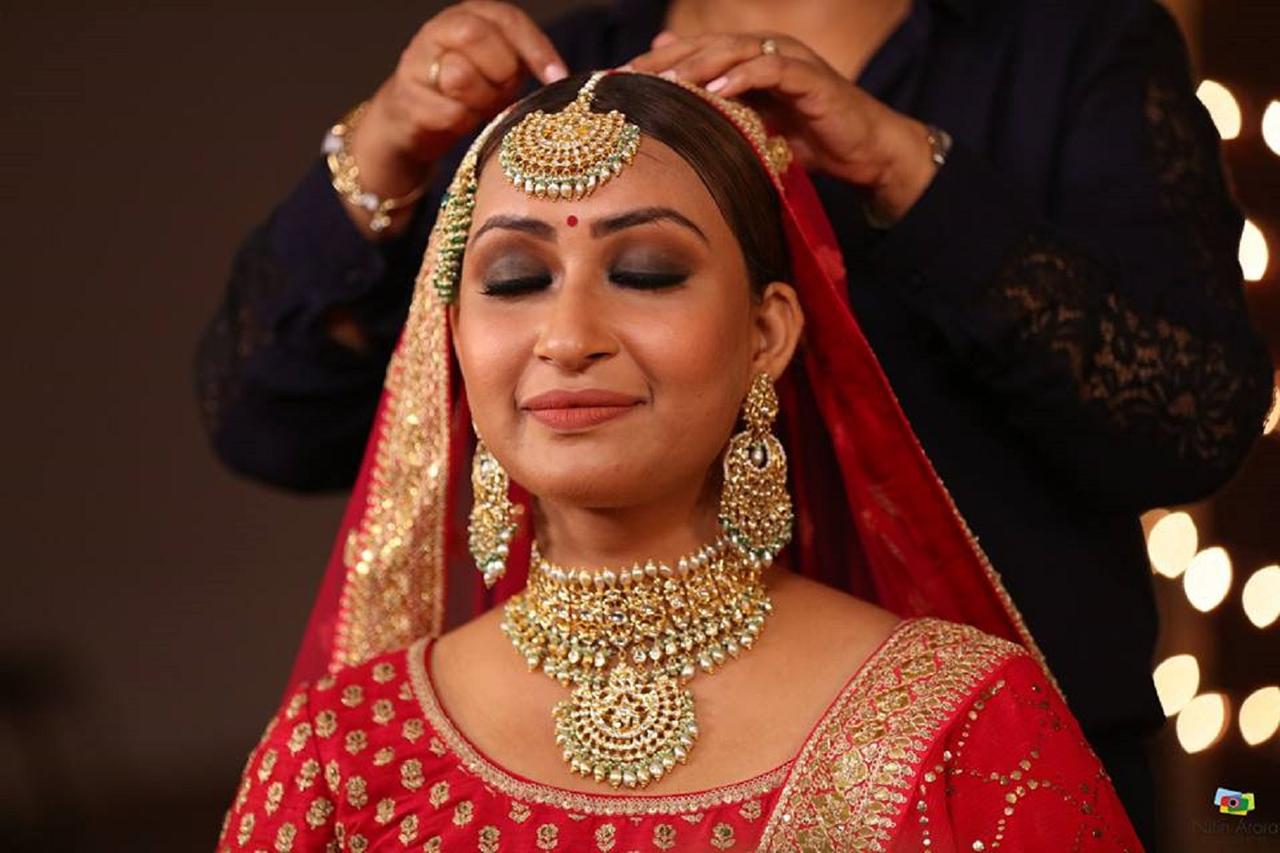 This is another classy jewellery photo that will inspire you to decide on your wedding jewellery right away. This is a choker design necklace that comes with a lovely arch-shaped pendant. The necklace has cut out diamond pieces placed beautifully, while the white beads add on to the shimmer and shine. The Maang Tikka is again arc-shaped with the earrings matching up as well.
These were 15 of the best jewellery photo designs we thought of sharing with you. There are plenty of bridal jewellery patterns to choose from, so make sure to start planning at the earliest,
If you're looking to get designs like these for your big day, then check out our jewellery vendors for the best options!