Check Out The Top 25+ Sequin Blouse Designs to Shine Bright at Weddings
Are you crushing over the trend of sequin blouses just like we are? If yes, then here are some of our favourite sequin blouse designs that you can get made this wedding season.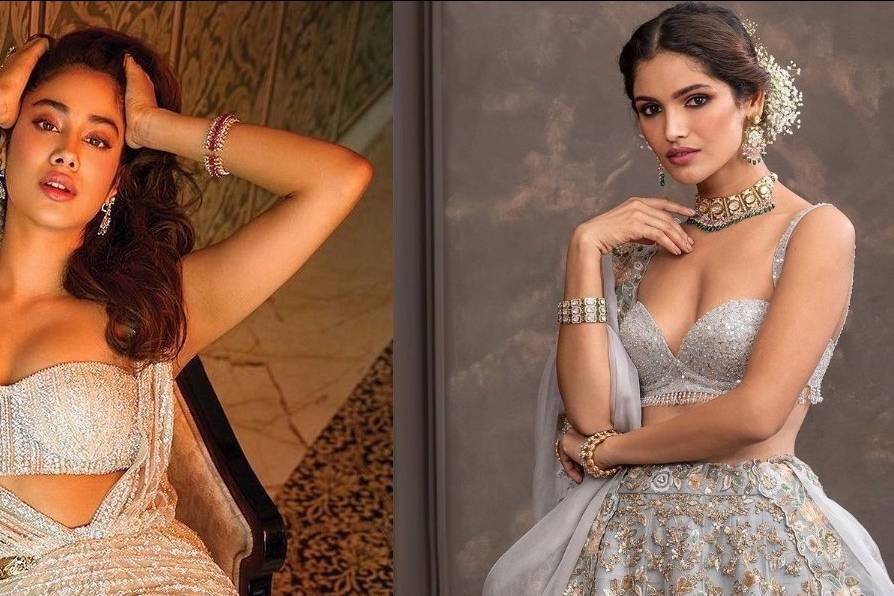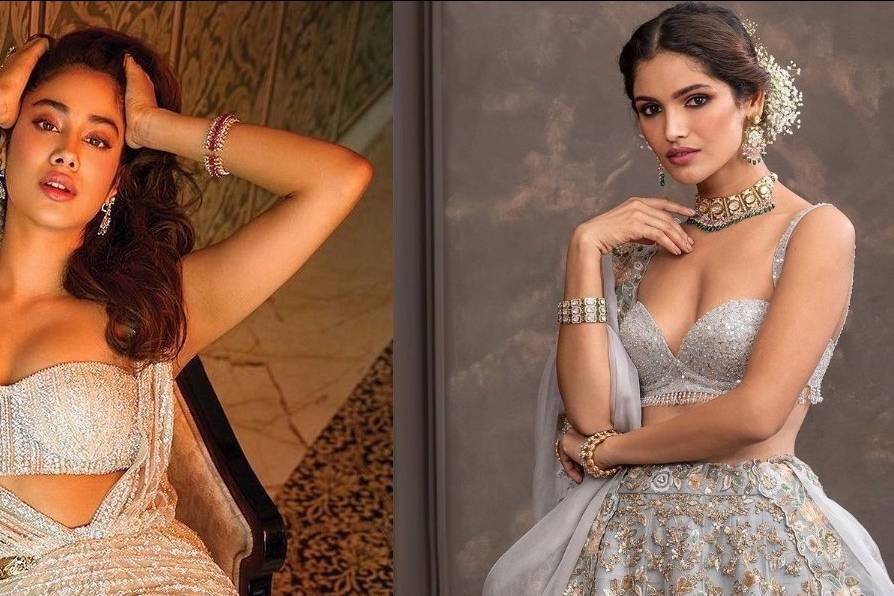 Image courtesy: Falguni Shane Peacock (L), Shyamal & Bhumika (R)
Sequin blouses have been popular forever now. From the late 70s, Bollywood actresses flaunted them to the contemporary fancy blouse designs that veteran designers like Manish Malhotra are creating using sequins - sequin blouse designs are very much in vogue. With the brides and bridesmaids picking gorgeous sequin blouses to walk inside a room full of people and leave each one of the beholders wowed, we cannot help but crush over sequin blouses all over again. For millennial brides, sequin blouses have been a game-changer as they have the capacity to be both elegant and stylish. While for the bridesmaids, it is one of the statement pieces that make any of their dream outfits come to life. In fact, not just for weddings, sequin blouses paired with sequin sarees or even with sequin lehengas can be a perfect outfit for any occasion - cocktails, Diwali parties, college farewells and the list goes on.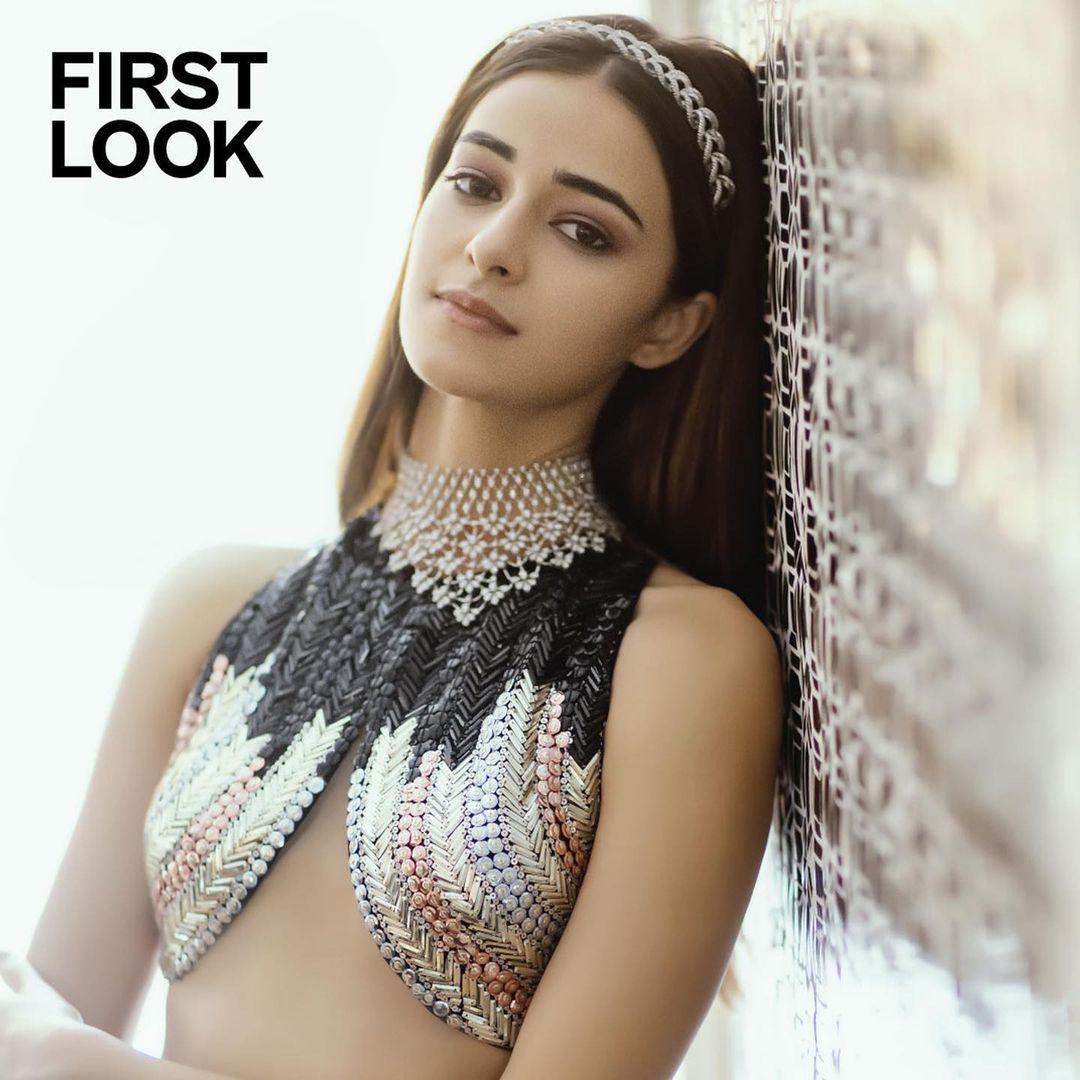 Image Courtesy: Manish Malhotra
By now it is established that blouse designs play a very significant role in making or breaking an outfit and therefore one must invest enough time in picking the best blouse that will not only uphold the outfit but also complement your curves right. So, whether you are getting married this wedding season or not, we are sure you have more than one reason to get a sequin blouse made for yourself. Here's what'll help you make the choice easier. Dig into these classic sequin blouse designs to know what works for you and how you would want to rock your looks in the upcoming wedding season in 2022.
Traditional Red Sequin Blouse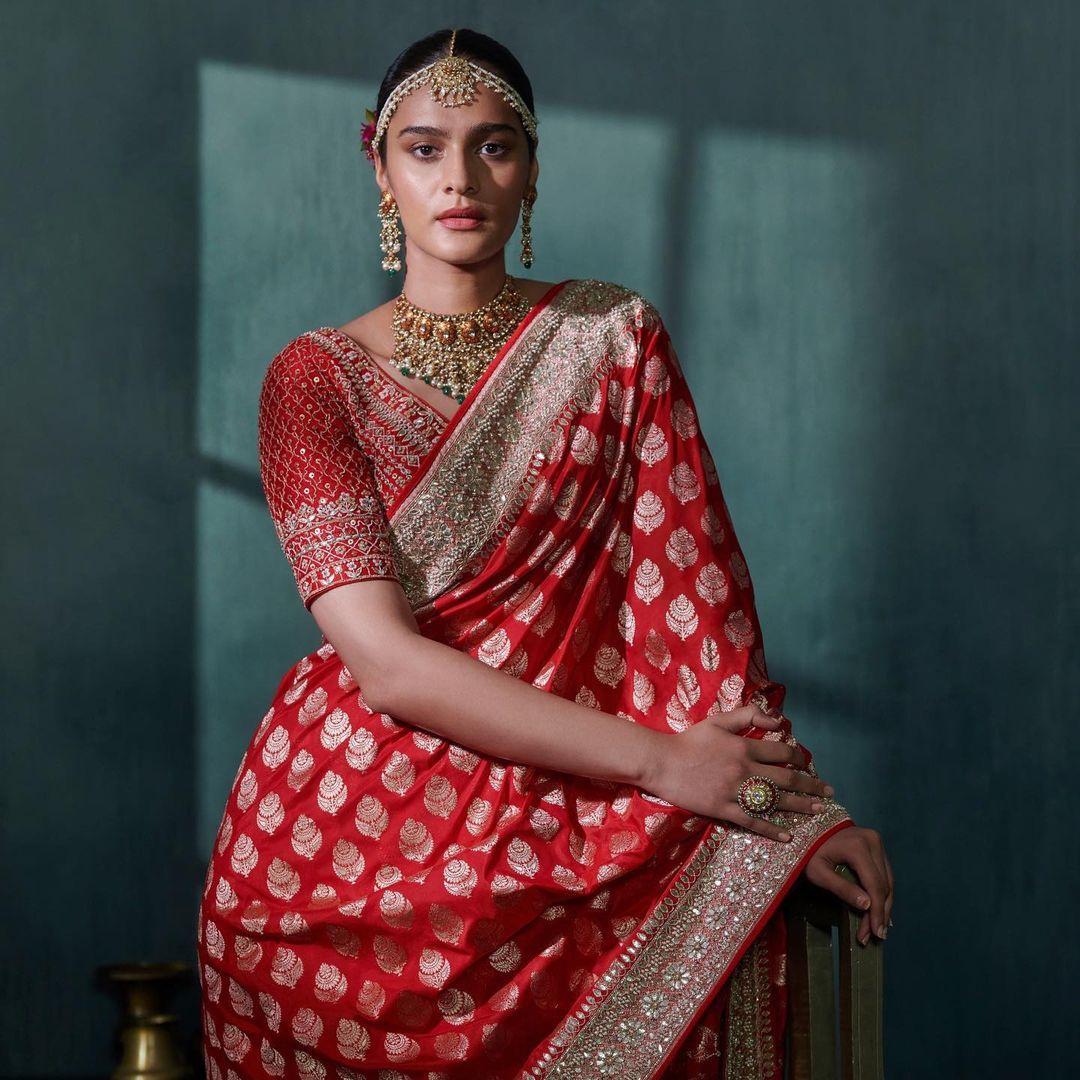 Traditional red sequin blouses are a fit for both red sarees as well as red lehengas. However, picking this red sequin saree blouse design is going to transform your entire traditional wardrobe. Red is the colour for brides at weddings without a doubt and this beautiful traditional red sequin saree blouse design brings the best of the old-world charm into the silhouette.
Peach Sequin Blouse Design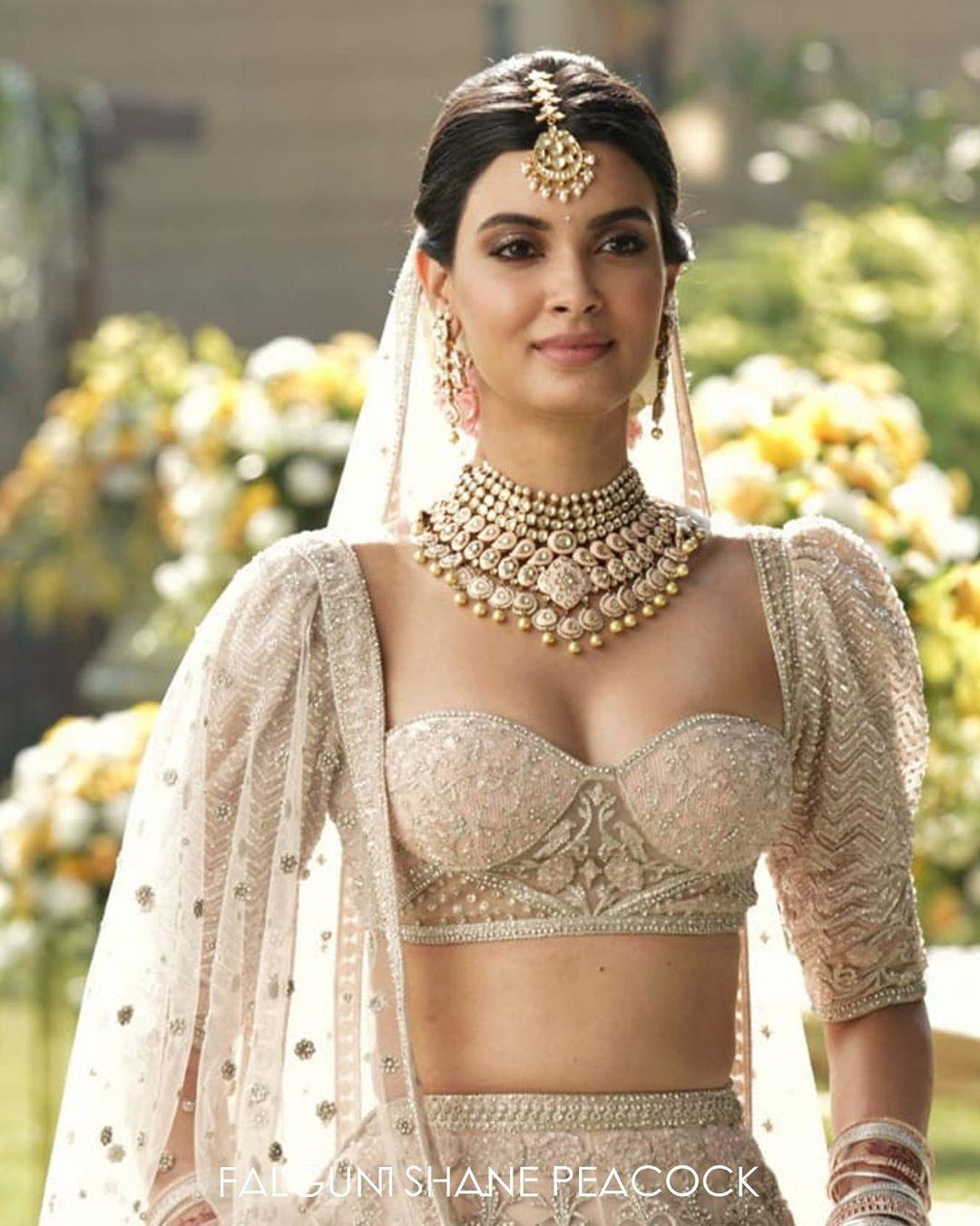 Image Courtesy: Falguni Shane Peacock
Peach is a beautiful colour for day weddings. Here is a peach blouse with intricate sequin work on it that will be the perfect addition to your day wedding outfit. The sweetheart neckline adds to the character of this delicate sequin blouse design. Floral motifs on this peach sequin blouse design enhance the overall look when paired with a peach lehenga.
Silver Sequin Blouse Design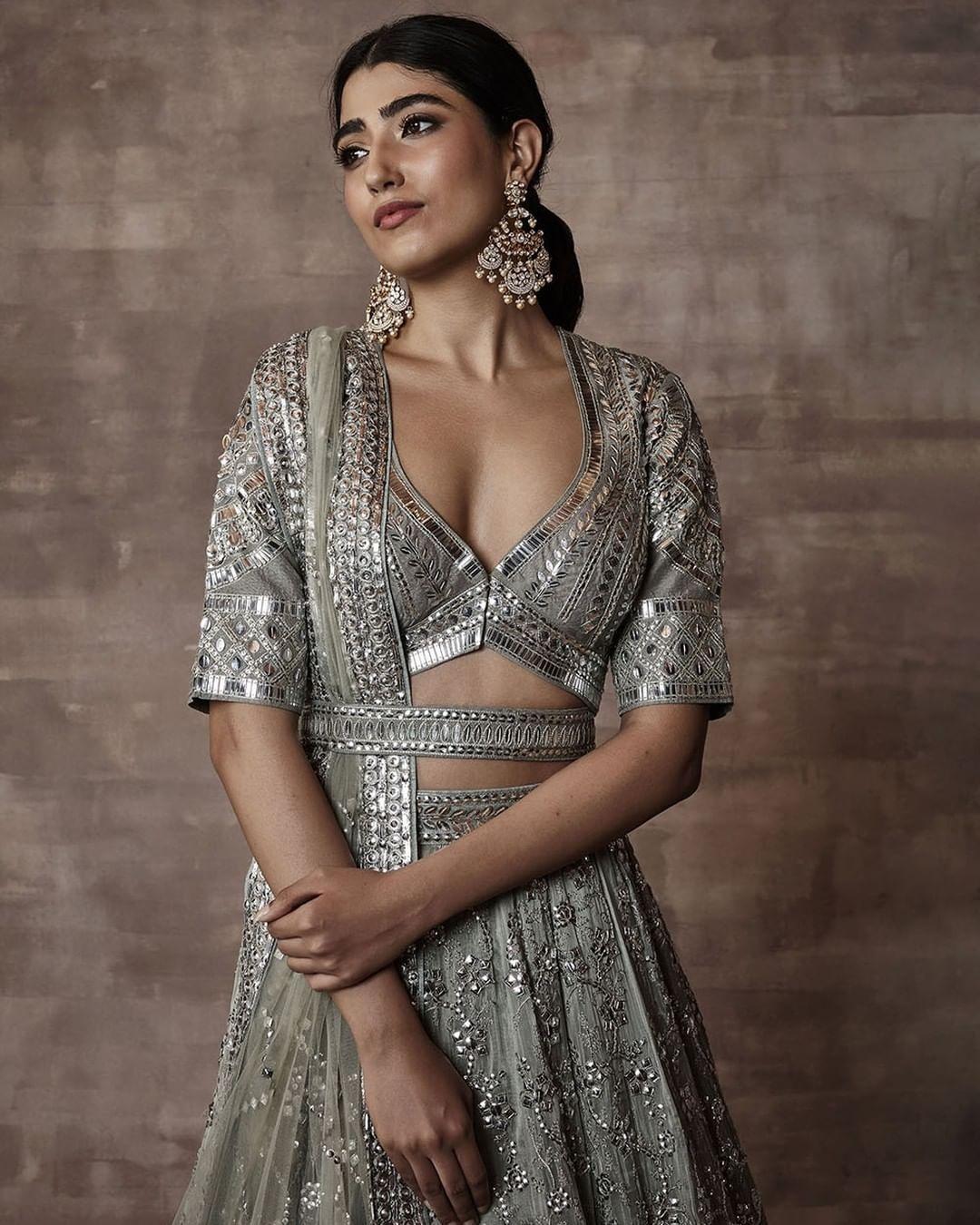 Image Courtesy: House of Neeta Lulla
Cocktails and Sangeet ceremonies at weddings are the glam fests of weddings. To add to the glamour of your pre-wedding ceremonies, you can add this silver sequin blouse. The Maggam work on the blouse and Gotta work on the lehenga makes it chic yet traditionally fashionable.
Also Read: Check out 25+ Latest Princess Cut Blouse Design Images Handpicked For You
Pastel Sequin Blouse in Lavender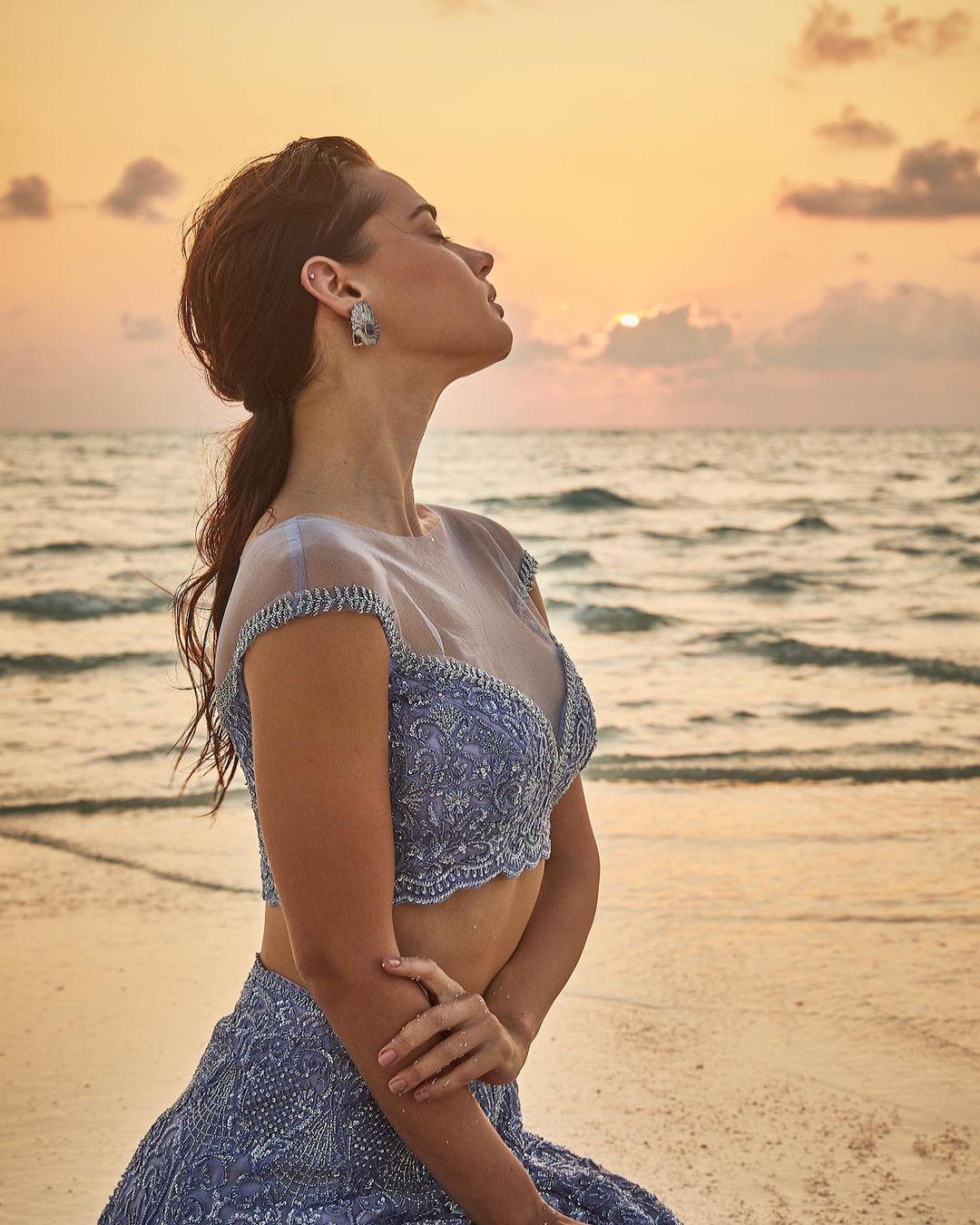 Image Courtesy: Kresha Bajaj
Kresha Bajaj is known for her work that involved glitz and glam typically. Talking of sequin blouse designs cannot be justified without a Kresh Bajaj blouse design on the list. The Lavender blouse with tulle neckline flaunts intricate embroidery with beads and sequins and the scallop hem of the blouse adds to the modern twist in the design that this gorgeous sequin blouse boasts of. You should pick a pastel lehenga to pair this sequin blouse with!
Sleeveless Blue Sequin Blouse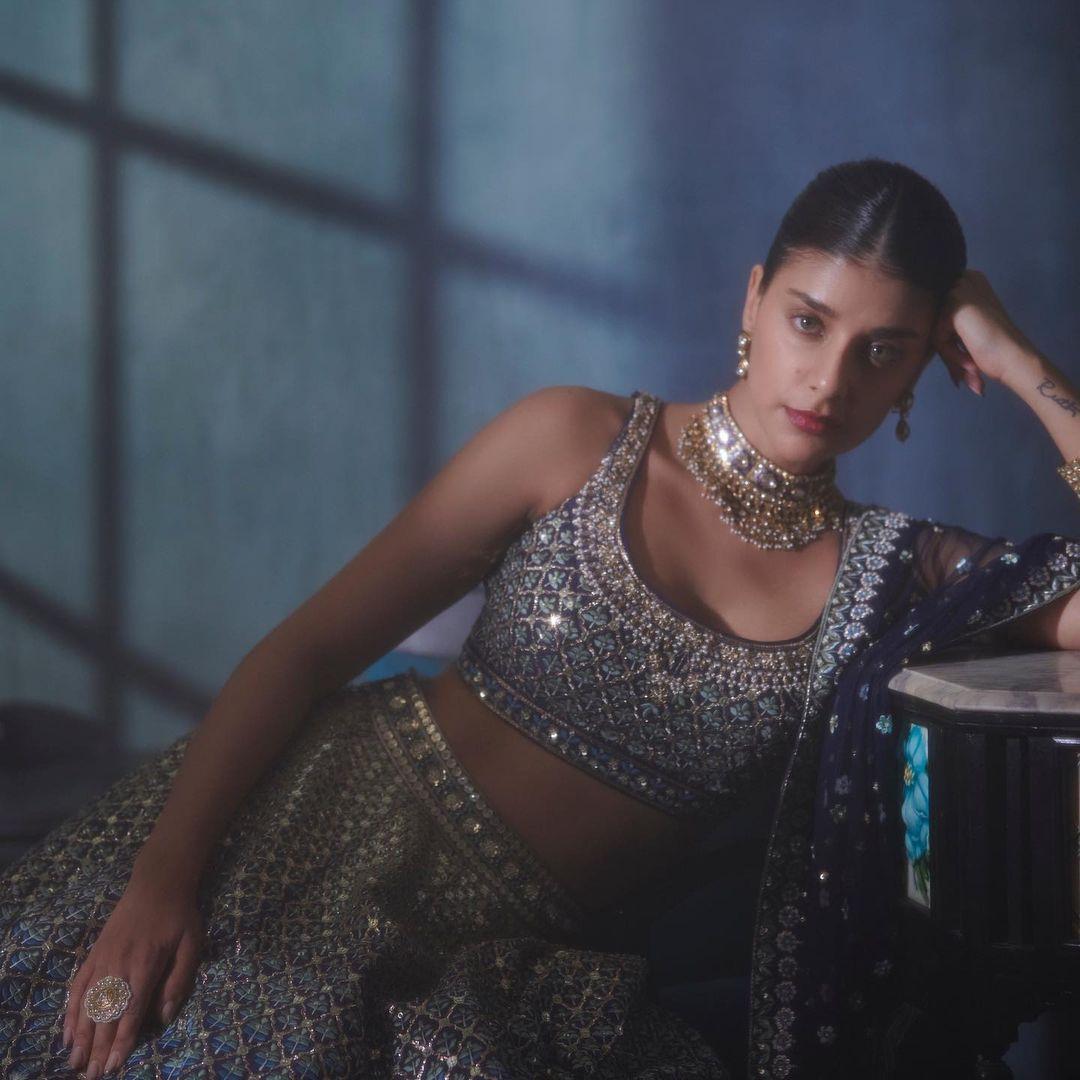 A beauty designed by Anita Dongre, the minuscule floral threadwork on the blue sequin blouse that is paired with a navy blue lehenga is a hoot! The sleeveless sequin blouse design with bead detailing that runs along the neckline looks like a necklace. Keep your accessories minimal or maybe just add one Rajasthani Aad necklace to complete the look for your Sangeet.
Maroon Sequin Blouse Design
Image Courtesy: Sabyasachi
Bringing the best of the bygone era, this simple sequin saree blouse design by Sabyasachi will make you look like art. The solid maroon sequin saree blouse design flaunts a scoop-neck and this plunging neckline sequin saree blouse design when paired with a floral organza saree, will make you look like a dream!
Also Read: High Neck Blouse Designs - Find Modern High Neck Blouse Design Front and Back and High Neck Blouse Designs 2021
Golden Sequin Blouse Design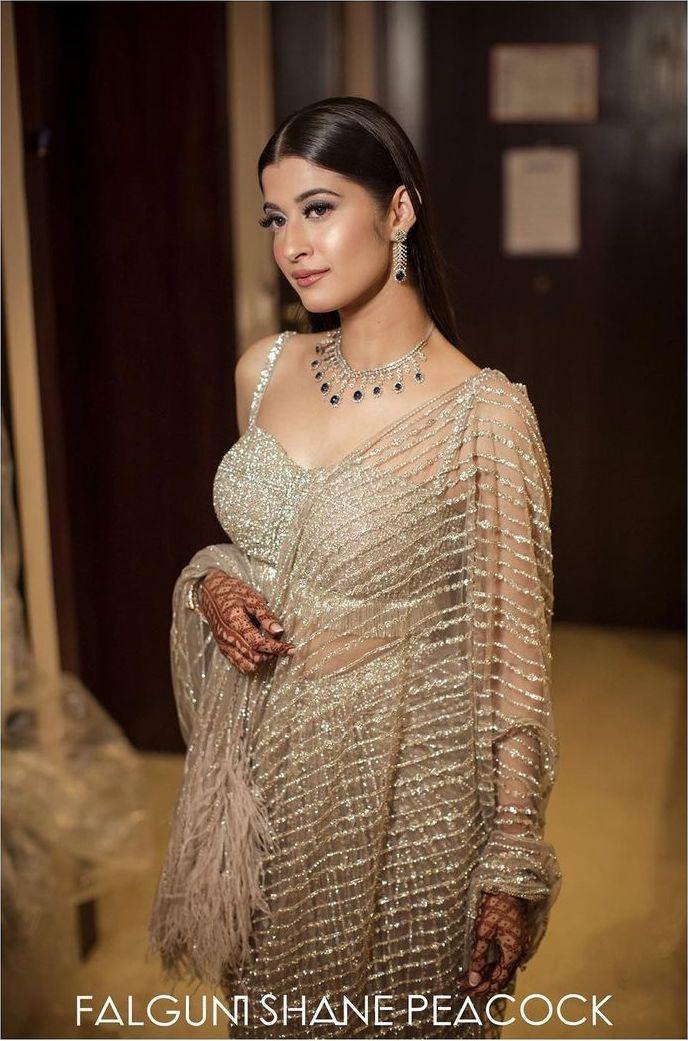 Image Courtesy: Falguni Shane Peacock
Fulfilling the millennial's dram of glitz and glam, here is a Falguni Shane Peacock golden sequin blouse in the shape of a bralette. The tassel detailing on the hem of the blouse adds to the allurement. When paired with a matching golden sequin saree, this sequin saree blouse design can work wonders and how!
Solid Simple Golden Sequin Blouse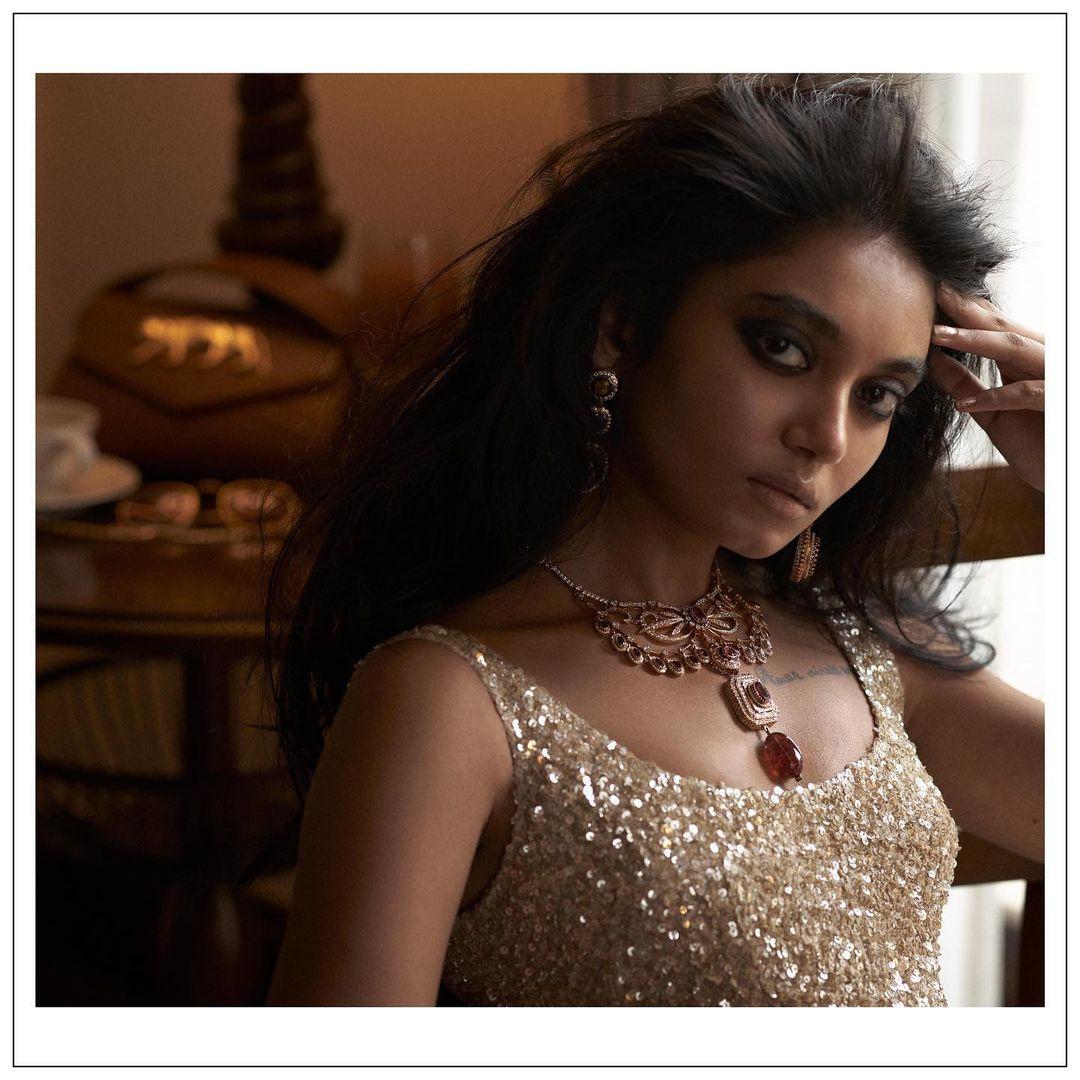 Image Courtesy: Sabyasachi
A simple solid golden sequin blouse is like a magic wand that has the ability to change any look in a jiffy. Imagine a plain chiffon saree with a silk blouse - normal. Now imagine a plain chiffon saree with this golden sequin blouse - excellence! The charm that the filtering sequin blouse designs add to your outfit is mindboggling and amazing!
Silver & Gold Sequin Blouse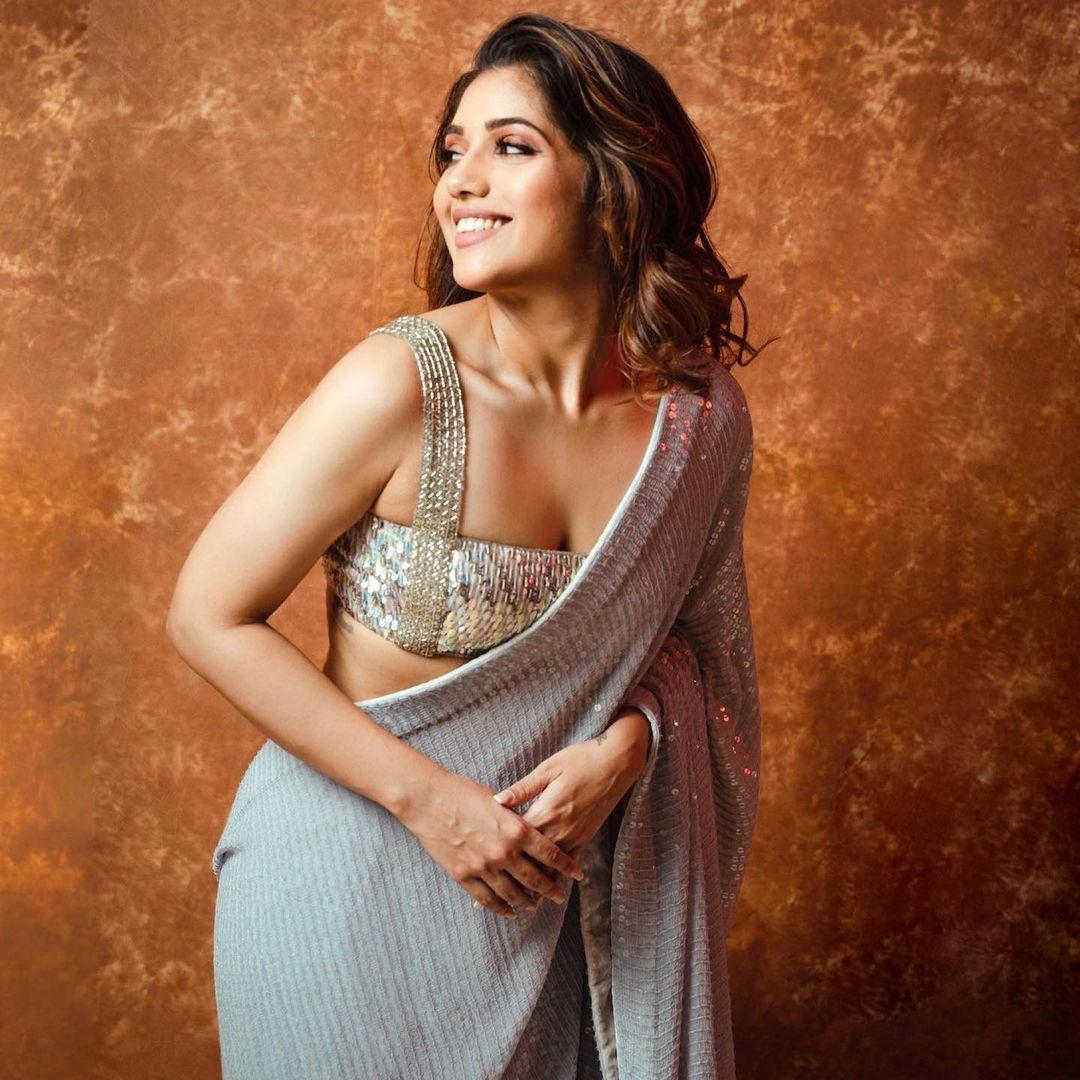 Image Courtesy: Manish Malhotra
While you are aware of the magic that golden sequin blouses can create, here is the perfect amalgamation of a gold and silver sequin blouse design. When paired with a sequin saree, this sequin blouse design tends to bring out the absolute best in the outfit without much effort.
Pink Sequin Blouse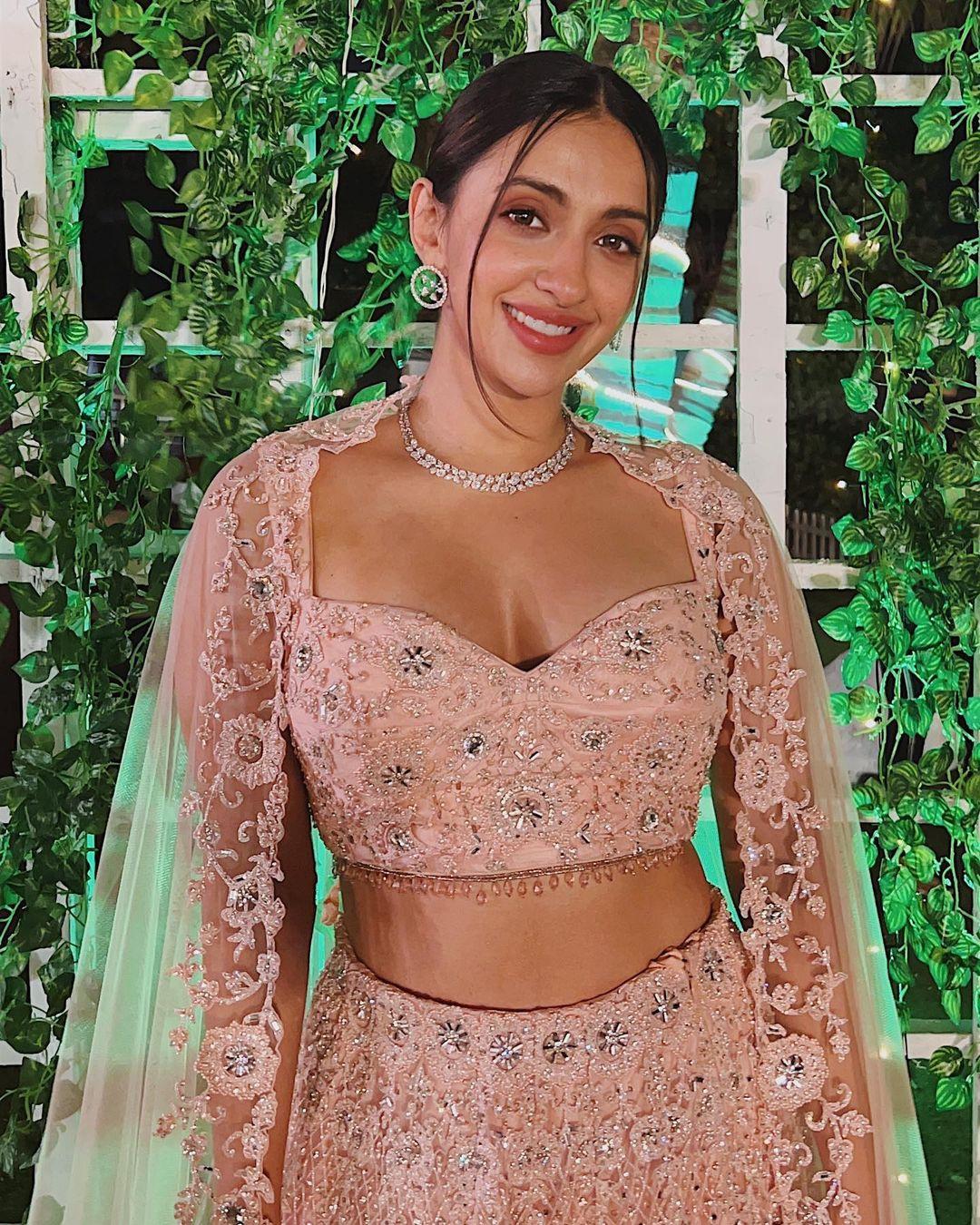 Image Courtesy: Varuna D Jani
Pink might look quite fragile but this delicate colour when paired with sequin work, can create a masterpiece. Here is a sequin blouse that was worn by Akansha Ranjan during one of the ceremonies at the Aditya Seal and Anushka Ranjan wedding. The beautiful pink sequin blouse with sequin detailing in silver and beaded tassels in the hem makes it perfect for any pre-wedding function, especially for the bridesmaids dresses.
Full Sleeve Red Sequin Blouse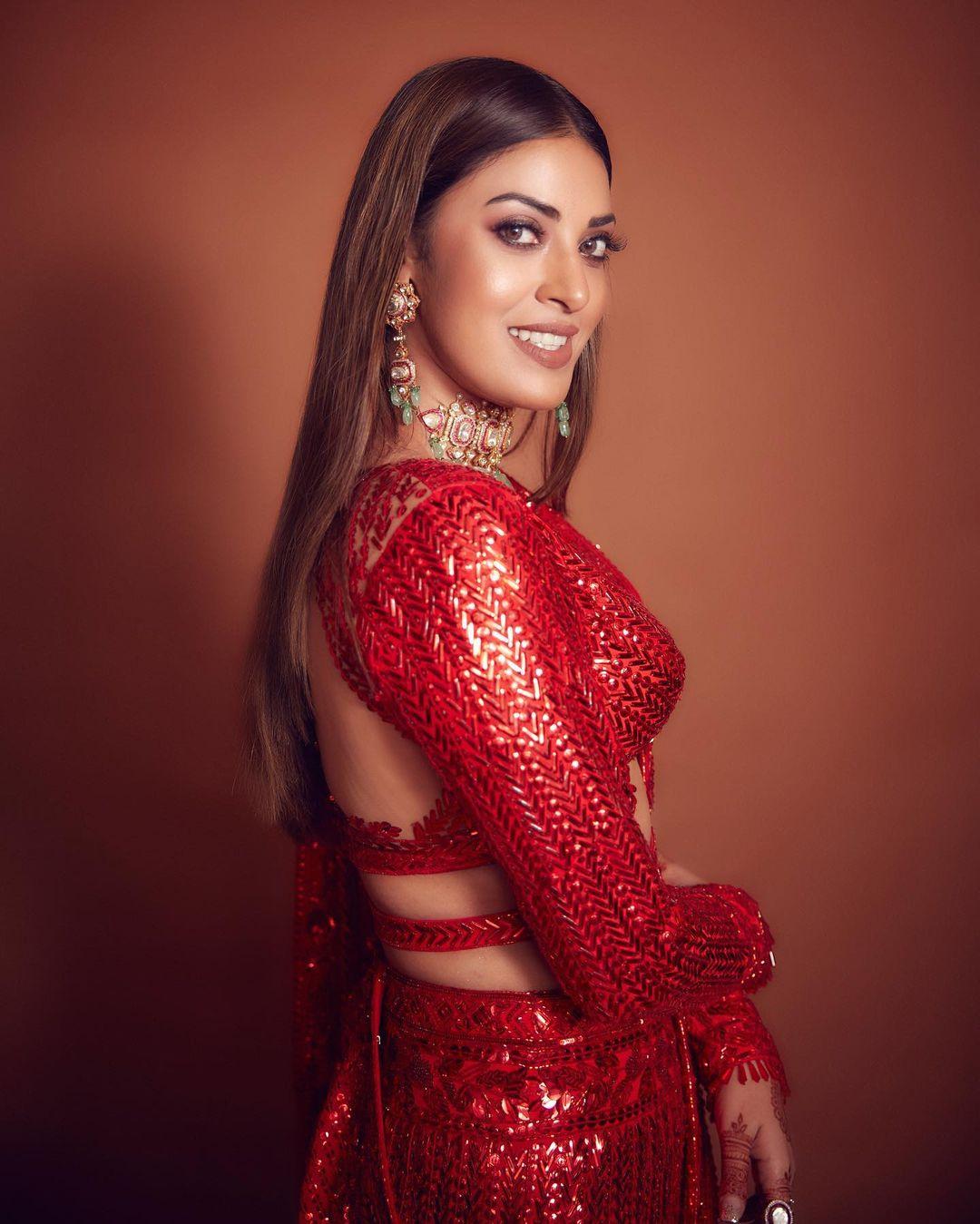 Image Courtesy: Manish Malhotra
When we think of sequin blouses, we think of them to be in gold. While that's not a fashion rule but just how we always imagine the perfect sequin blouse to be. So for all those of you who imagine yours to be in gold too, look at this sheer full sleeve blouse beauty that has sequins covering it completely to make it look even classier. This sequin blouse design in red is a sizzling number for your wardrobe!
Gold Sequin Bralette Blouse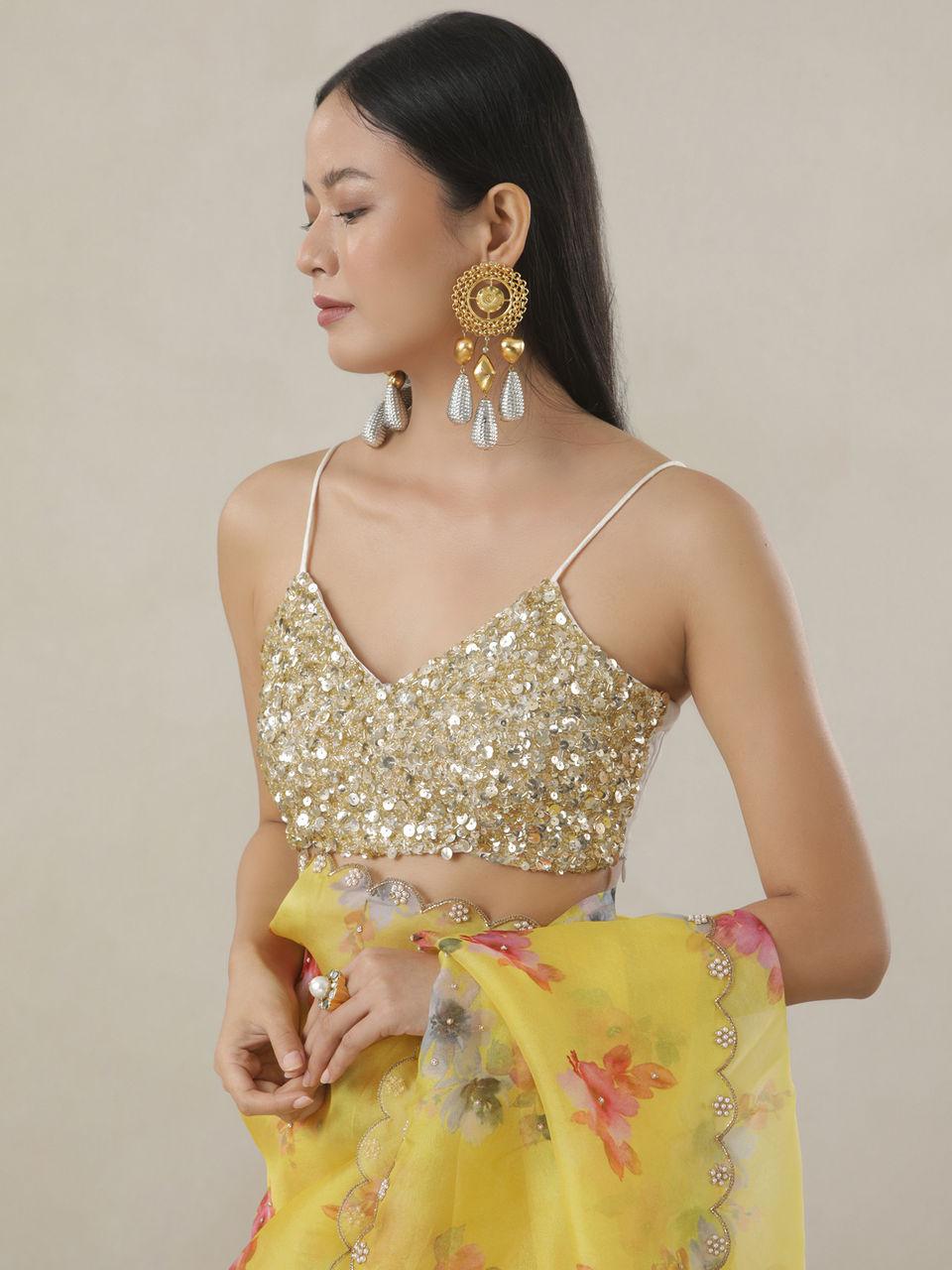 Image Courtesy: Gajra Gang
A simple golden bralette when worn with a saree can create magic. Proving this theory right again, here is a plush golden sequin blouse with noodle straps and heavy sequin embellishments that can add to the charm of your saree. If you are looking for one sequin blouse for sarees for this wedding season, you found the safest option right here!
Black Sequin Blouse Design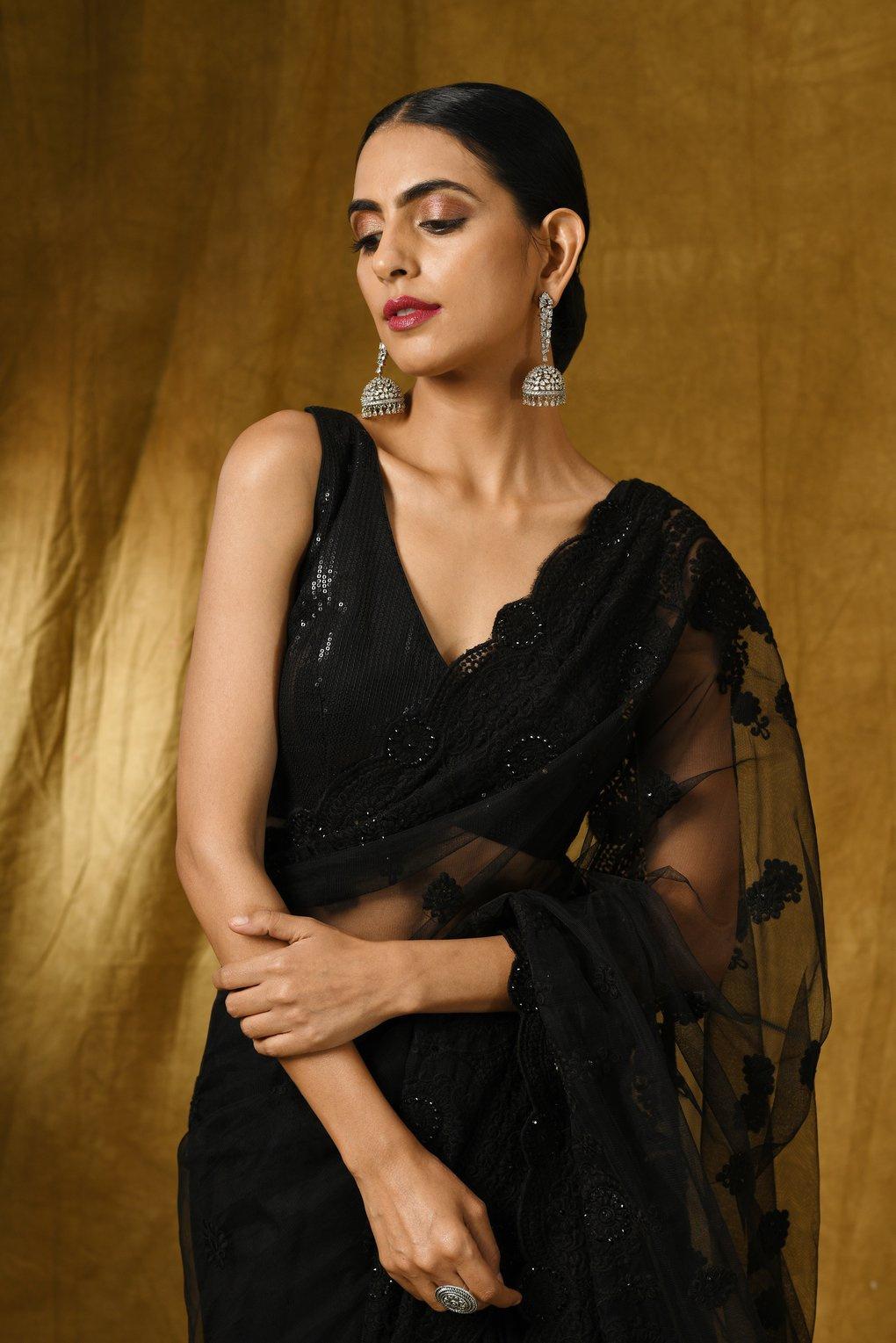 Image Courtesy: Swatantra
There is no outfit that a black sequin blouse cannot enhance. This black sequin blouse is making the simple black organza saree look like a catch and quite effortlessly. You can pair some diamond jewellery with this or even try your hand at statement earrings and silver oxidised jewellery to look alluring this wedding season.
Dark Green Sequin Blouse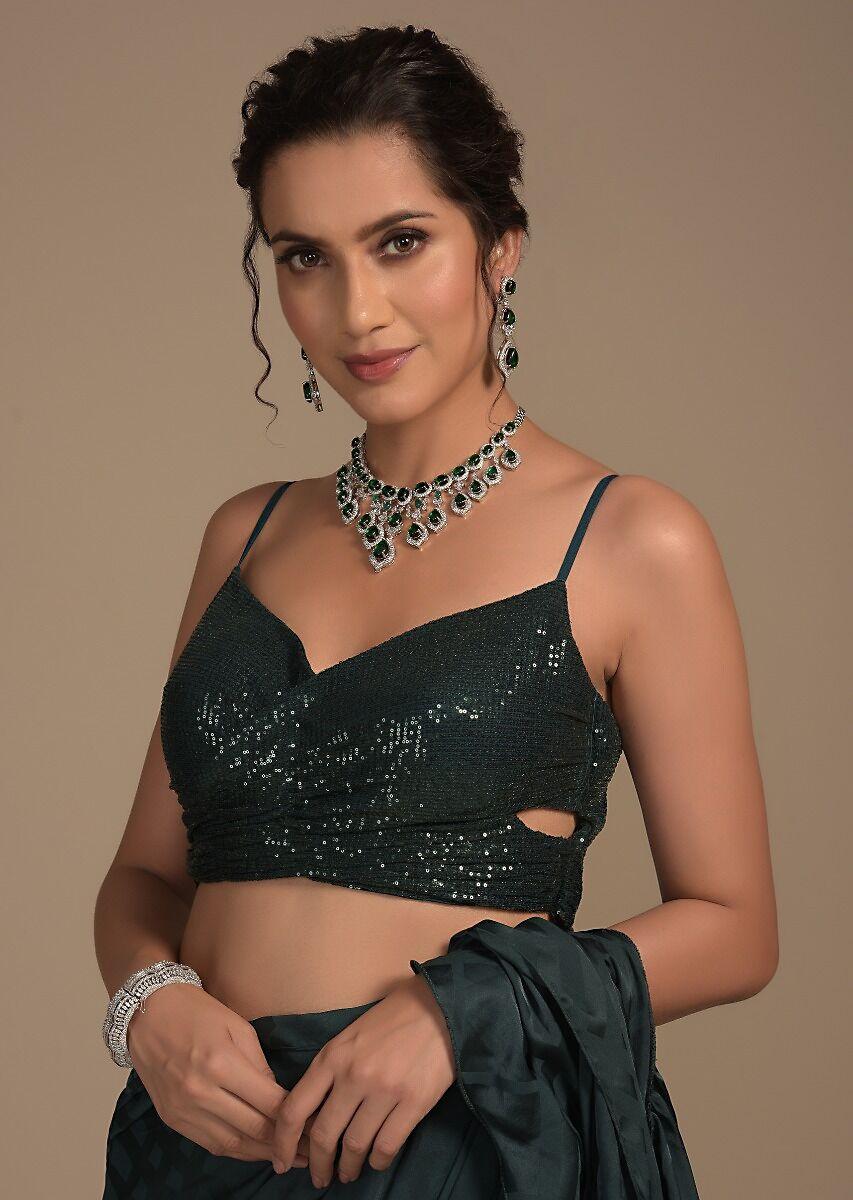 With a cutout detailing on both sides, this sequin saree blouse design in green is quintessentially regal. Wear it with your silk saree or even a net saree if not a sequin saree and be the talk of the town. Pair it with emerald jewellery to make your outfit perfect to the T.
Velvet Peach Sequin Blouse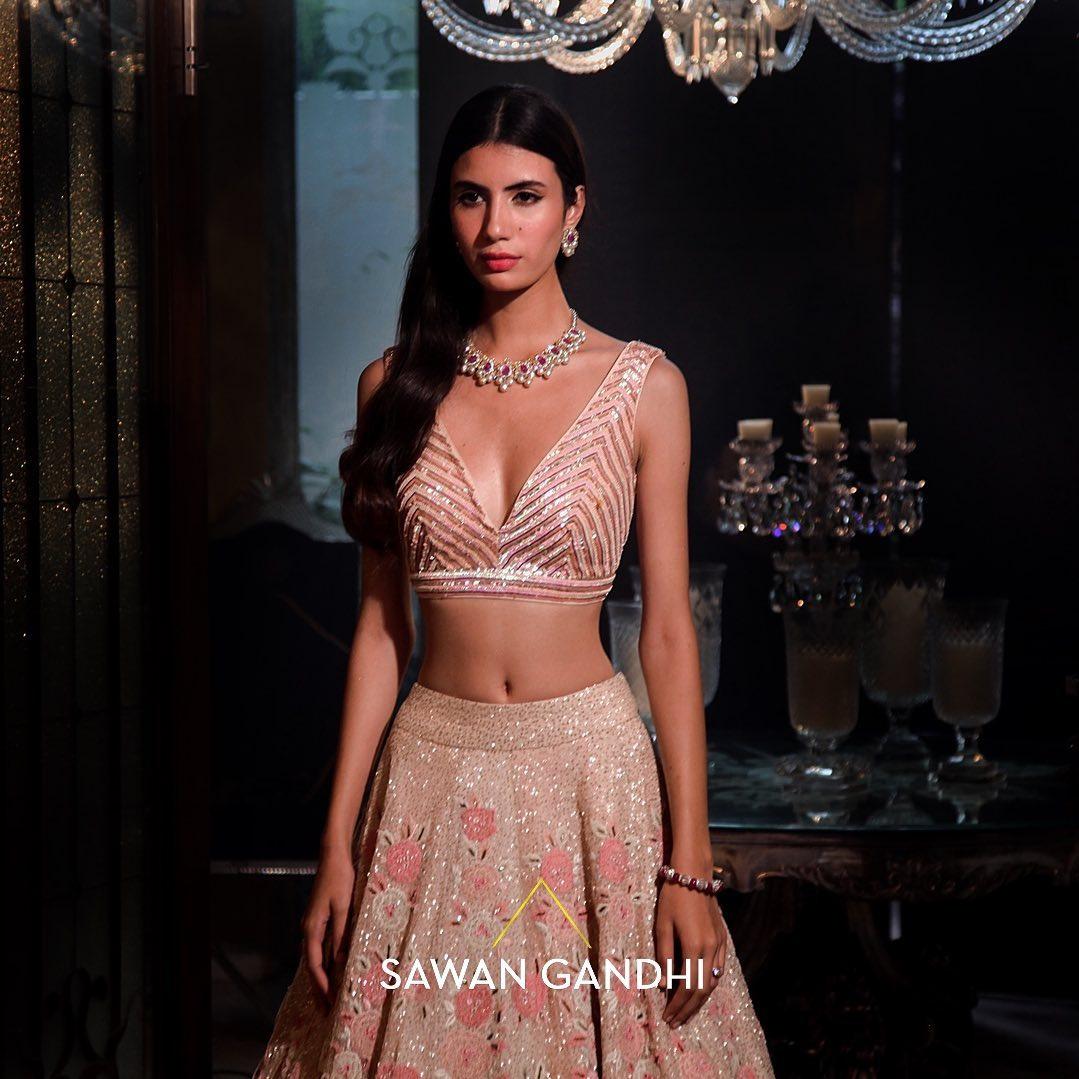 Velvet in itself is a fabric that oozes nobility. To add to the sheen of the peach velvet blouse, the sequin detailing that runs throughout the blouse is a beautiful one. The velvet sequin blouse in peach is not only good for your summer wedding but can be worn with your velvet lehenga for a winter wedding too. You can customise this blouse and add sleeves as per the length you are looking for. Pair some floral jewellery if you pick this for your mehndi ceremony.
Tulle Red Sequin Blouse Design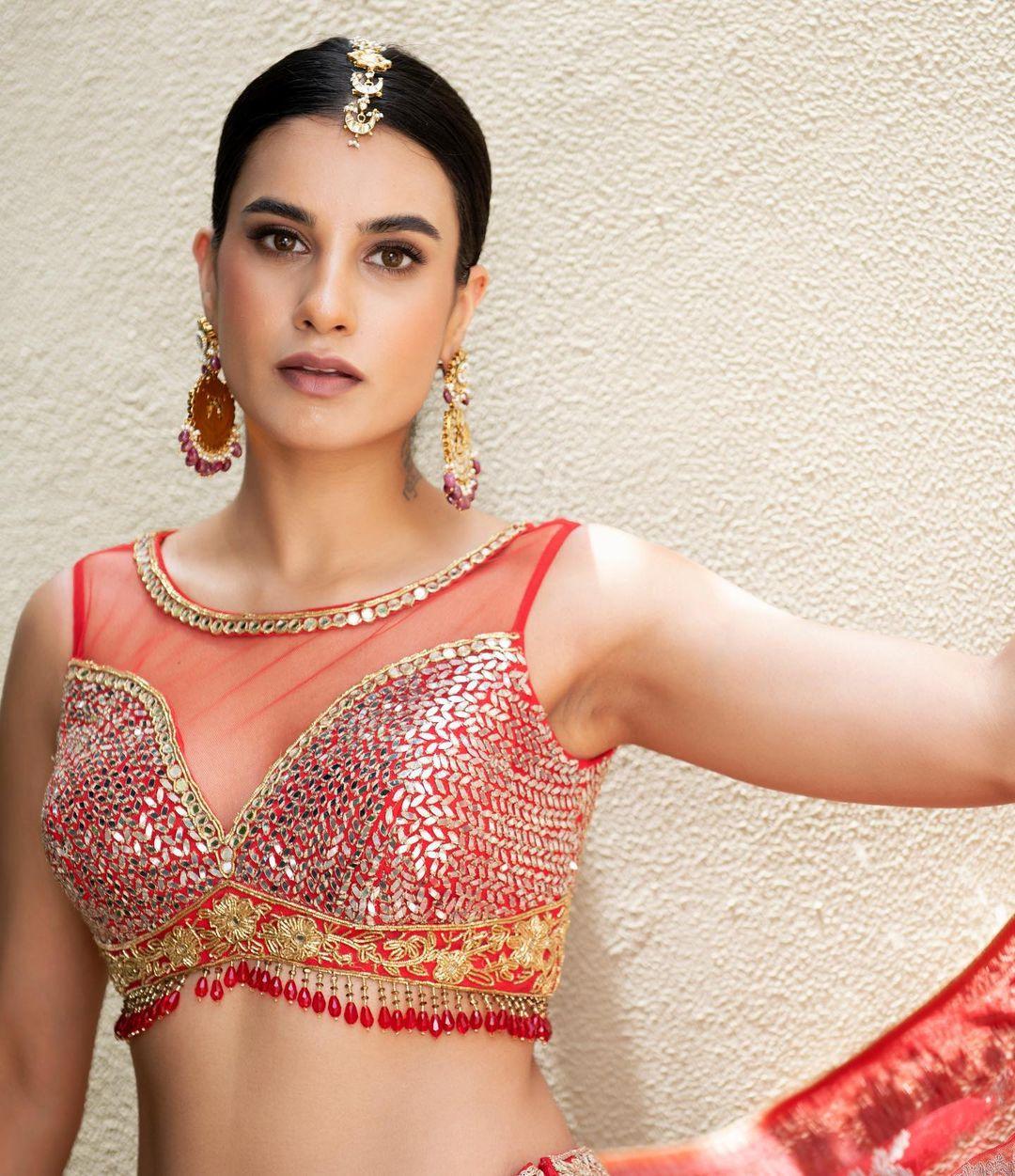 Red represents piety, prowess and vigilance. This red sleeveless blouse design with mirror and sequin work is a beauty for the brides of today. If you are planning a big fat Indian wedding this summer, then here is your perfect bridal blouse design. This red sequin blouse with Gota and beaded details will make your guests go wow. Make sure to pair the right gold jewellery set to add to the look.
Off-shoulder Mauve Sequin Blouse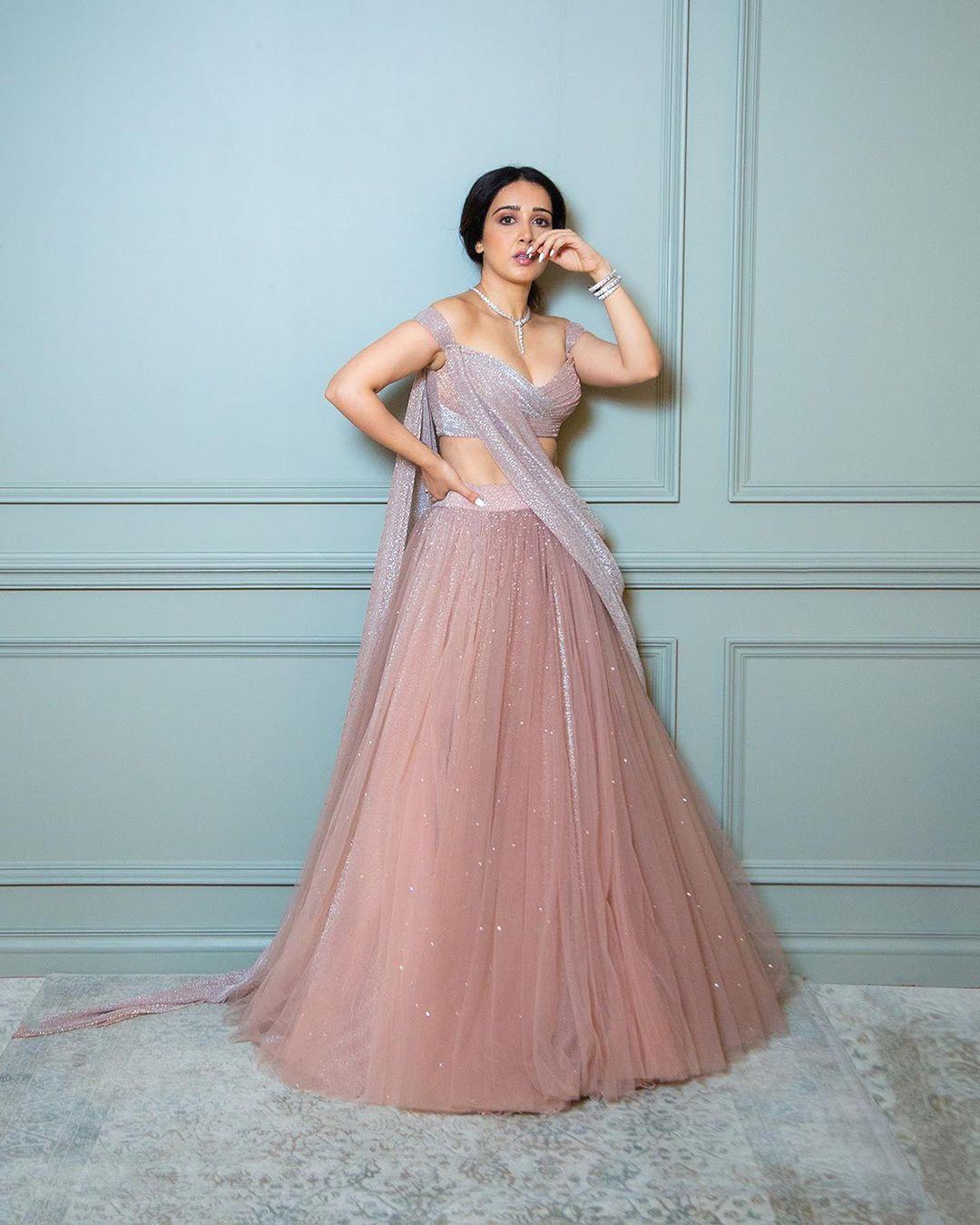 While this peach tulle lehenga by veteran designer Tarun Tahiliani does look like a gown, what steals the show is the marvellous blouse design. The shimmery appeal of the sequin blouse design makes it look a class apart. The sequin detailing on this blouse is not the usual embellished ones but this sequin blouse has a lustre that runs evenly through the fabric as if it is a part of the material. The layered detailing is the cherry on top!
White Sequin Blouse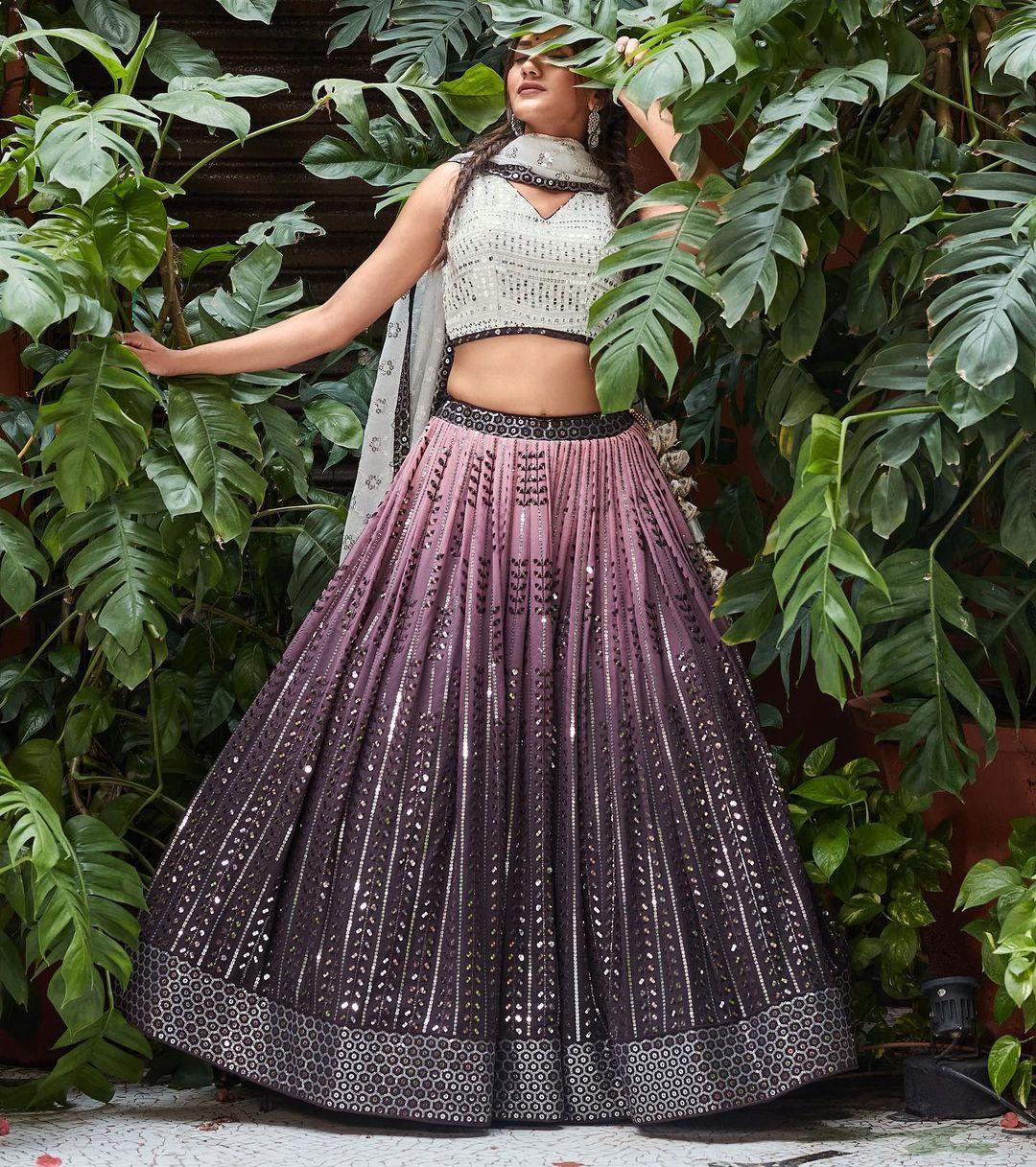 Image Courtesy: Sequinze India
Contrasting the purple ombre lehenga with sequin detailing, here is a beautiful sleeveless blouse with sequins on white fabric that will turn heads. The white sequin blouse with a V-neck sure adds to the charm of this lehenga. You can pair this sequin blouse with a contrasting saree too.
Caped Bead & Sequin Blouse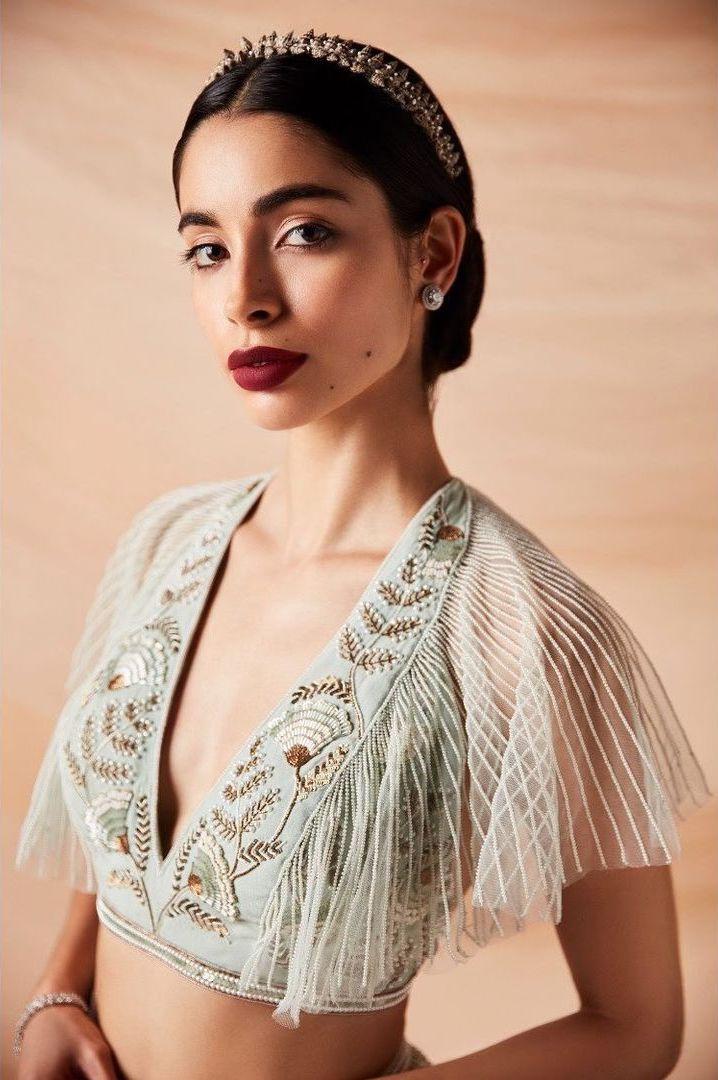 Image Courtesy: Rhea Pillai Rastogi
The illusion of the cape sleeves on this sequin blouse design in sage is what adds to the oomph. Whether you use it like a lehenga blouse or a sequin saree blouse, the beaded detailing of this sequin blouse is a hoot without a doubt. The halter neck blouse illusion of this piece on which the cape sleeves sit accentuate your collar bones making you look sensual as ever!
Beige Sequin Blouse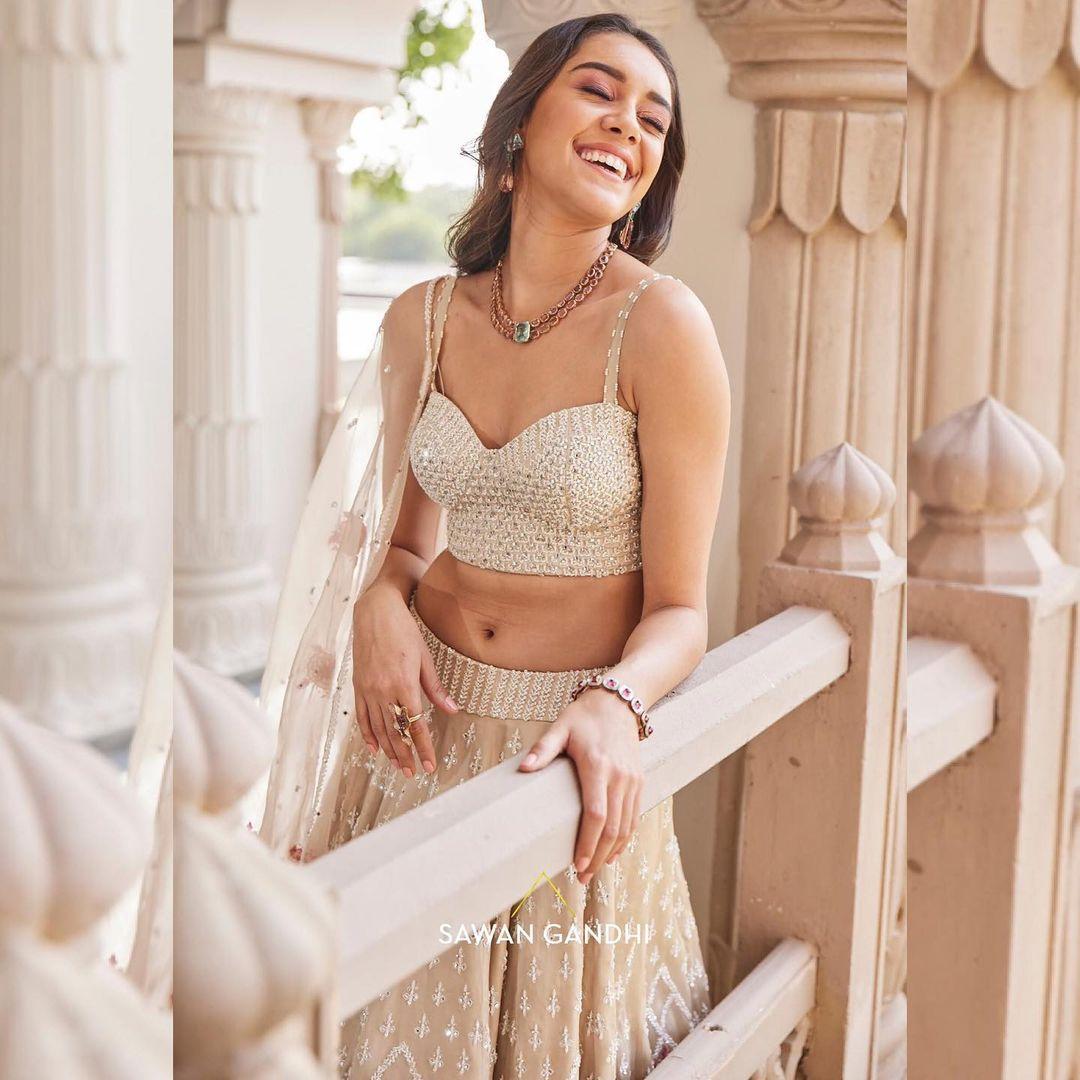 No! Sequin blouses need not be OTT party wear always! It can be a beautiful bustier blouse in beige with ivory threadwork and sequins. This simple sequin blouse design suits best when working with an ivory or white lehenga or with a nude lehenga for the mehndi or a rustic themed Haldi ceremony.
Cutout Golden Sequin Blouse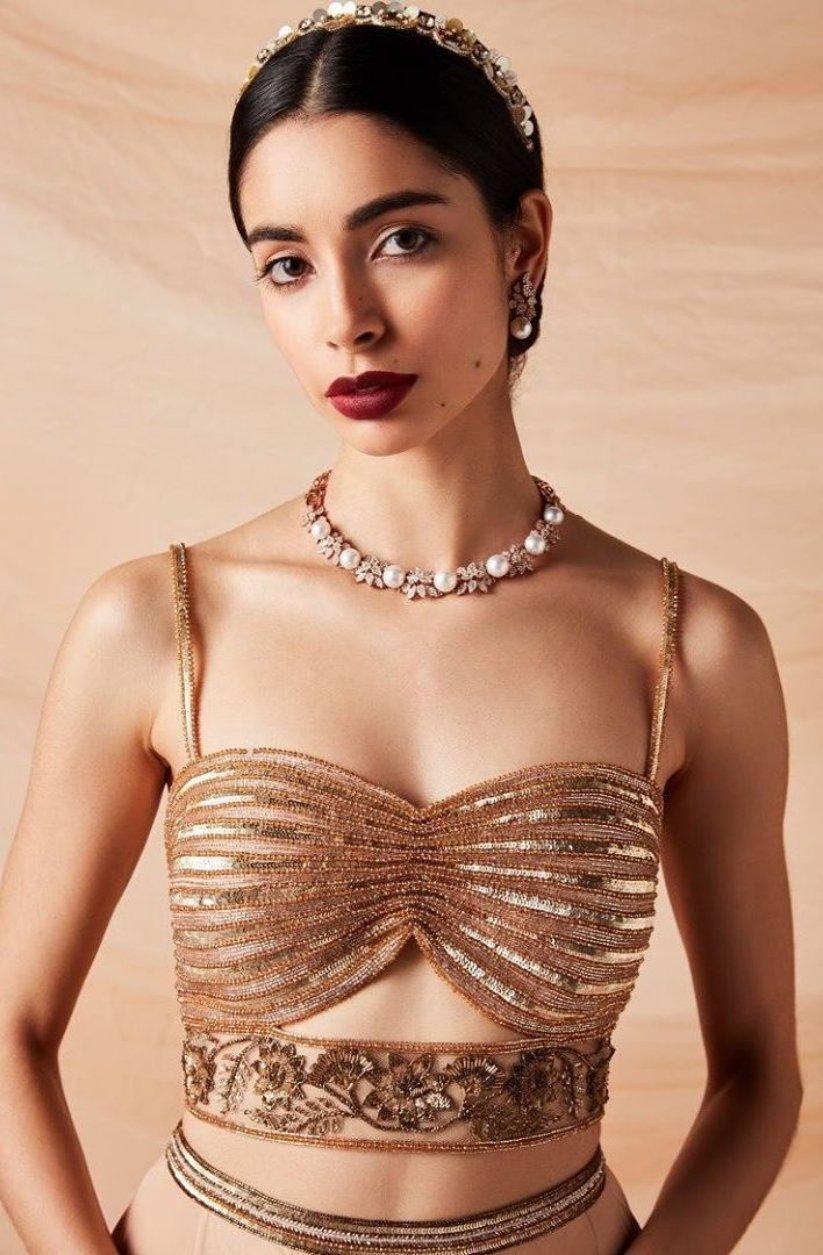 Image Courtesy: Rhea Pillai Rastogi
Let's begin the list with a design that can never go wrong, despite whatever your style or your body type is. The classic golden sequin blouse with a sweetheart neckline design is every bride's favourite. For those wanting to wait for a full gold lehenga, pair this blouse with a sequinned or plain lehenga and add a touch of embroidery to make it look one of a kind on your wedding day.
Embroidered Tangerine Sequin Blouse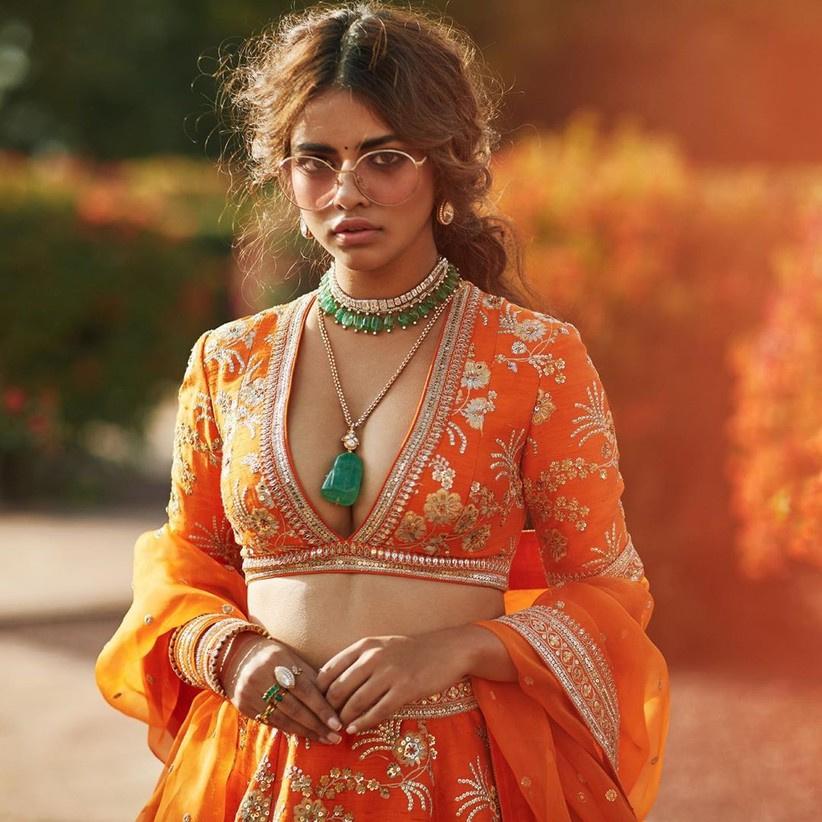 Image Courtesy: Sabyasachi Mukherjee
Another extremely famous sequin blouse design inspired by Sabyasachi's collection is one that has thread embroidery enhanced with sequins to make the outfit look rich and classic. This orange plunging V neck blouse is an example of how to thread embroidery and sequins together make for a refreshing combination for the bridesmaids to pair with any saree or lehenga of their choice.
Dramatic Cape Sleeve Black Sequin Blouse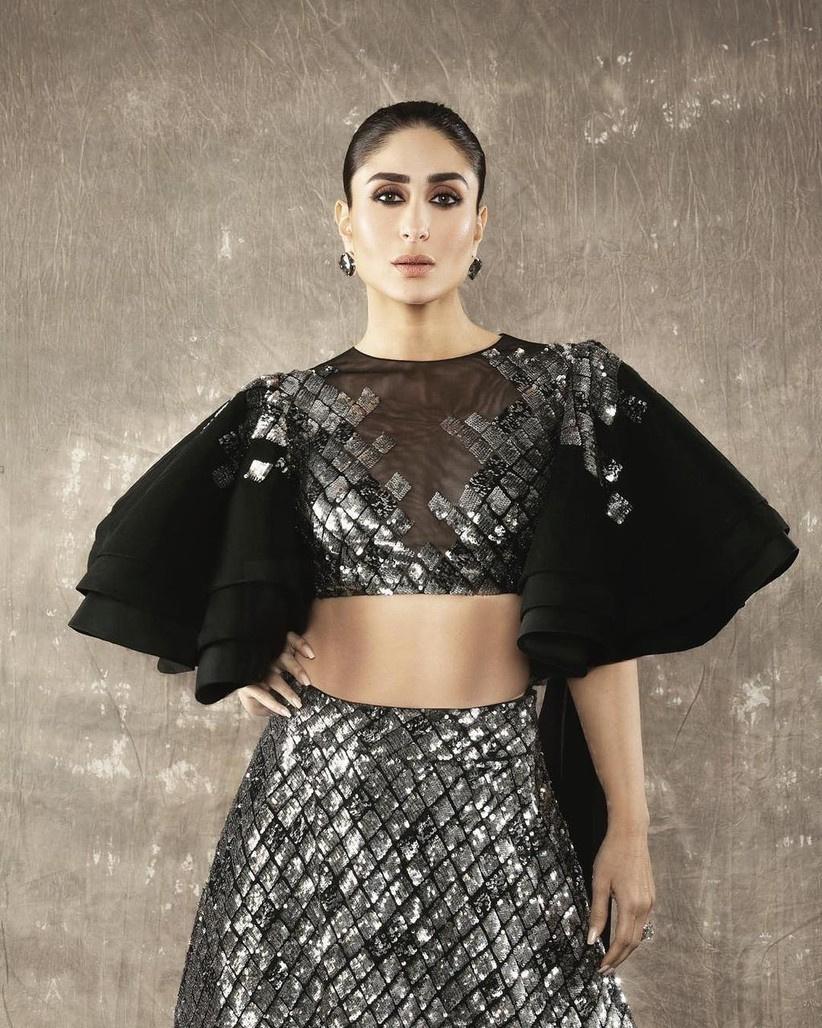 Image Courtesy: Manish Malhotra
Another beauty in black, this cape sleeve blouse is what every millennial would crush on. The dramatically large cape sleeves make for a stunning blouse design that has a sheer body covered with sequins giving it a rich cocktail outfit look. For all the brides and bridesmaids finding the perfect sequin blouse, put your dibs on this dramatic sleeve sequin blouse before someone else in your group does.
Zero Neck Chikankari Blouse with Sequins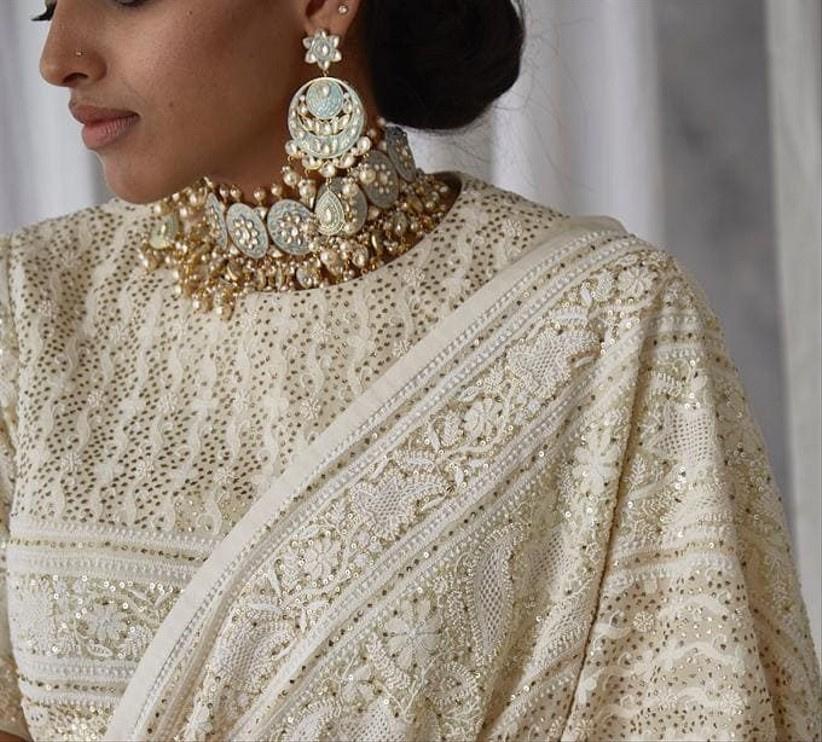 Image Courtesy: Anjul Bhandari
For the brides that have a more classic taste and feel sequin saree blouses are too stylish for them, we have the perfect design to melt your hearts. This zero neck Chikankari embroidery blouse is one of the most elegant designs that you can wear with a touch of sequins making it look finer and more regal. A timeless sequin saree blouse design, this is one of the most subtle yet regal ones.
Also Read: 23+ Unique Thread Work Blouse Designs For Your Wardrobe
Fancy Silver Sequin Blouse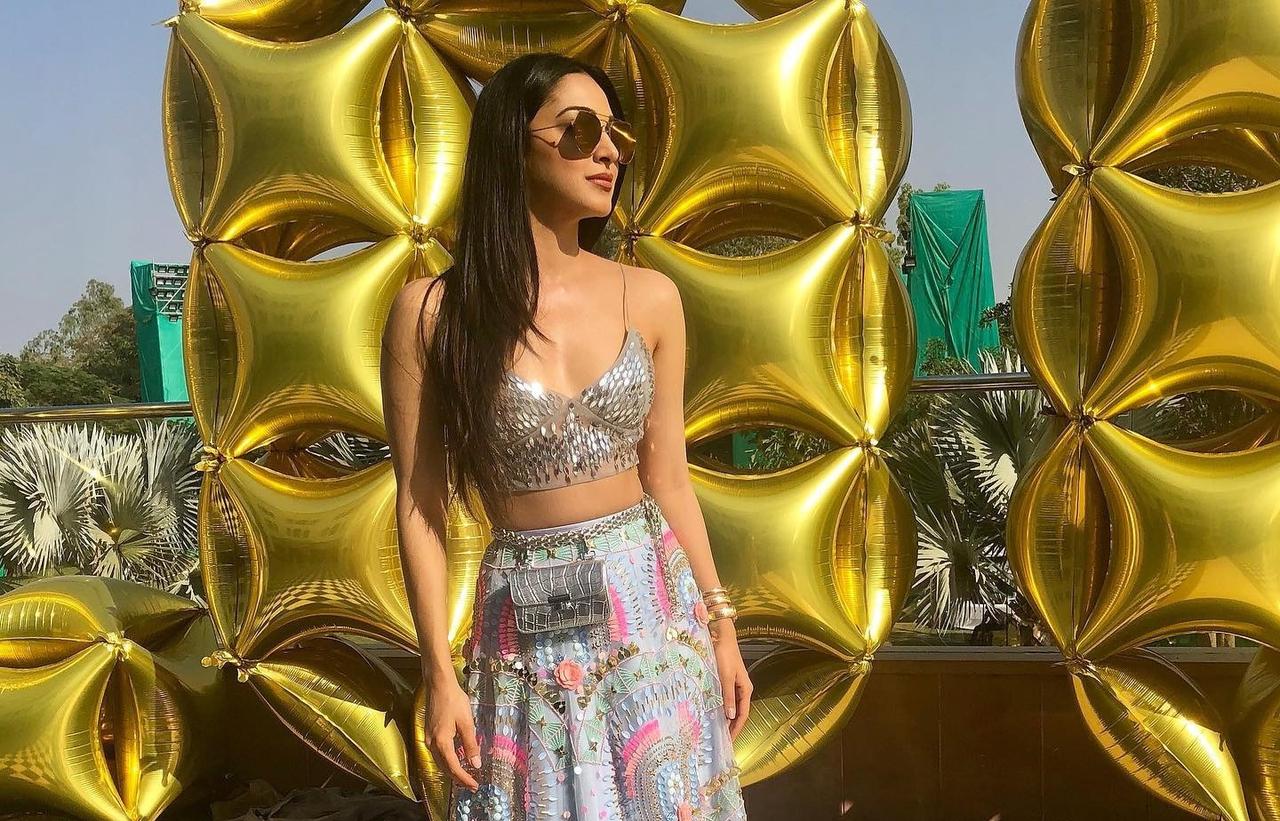 This one is for our bridesmaids that are done with all the traditional choices and are looking for something young and fun. This spaghetti strap blouse with sequin designs all over is the perfect example of what your lehengas and skirts need this wedding season. So do not shy away in making the right choice because 2020 is all about bold and beautiful.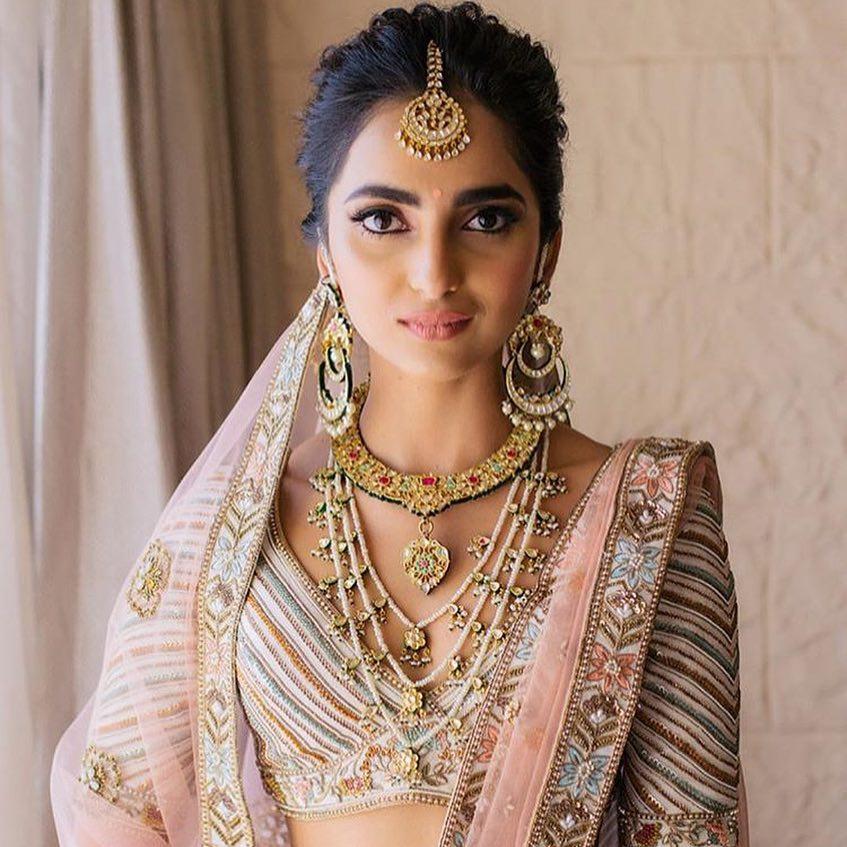 Image Courtesy: Rhea Pillai Rastogi
Are you convinced that these are some of the top choices in sequin blouse designs for 2020? So, pick something your wardrobe needs and make an impression every time you pair your sequin blouse to amp up an outfit. And for those of you that can't decide on one, we'd say pick as many as you want because no woman can ever have too many sequin blouses. So, be ready to rock the wedding seasons of 2020 with a little glitter, a little shine and all things fine.
Which sequin blouse design stole your heart the minute you saw it? Tell us in the comments below.
Read More -
Mehndi Design | Proposal Lines | Simple Finger Mehndi Design | Arabic Mehndi Design | Propose Day Quotes for Boyfriend | Wedding Anniversary Wishes for Sister | Change Aadhar Card Name after Marriage | Tamil Wedding Calendar | Simple Mehndi Design | Pre Wedding Quotes | Engagement Anniversary Wishes | Funny Wedding Wishes for Bestfriend | Blouse Design | Rangoli Design | First Night Tips for Bride | Wedding Anniversary Wishes