35+ Maggam Work Blouse Designs for Weddings & More
Intricate, exquisite & heavy bridal Maggam work blouse designs to inspire you this wedding season. Click for design inspirations you might have never seen before!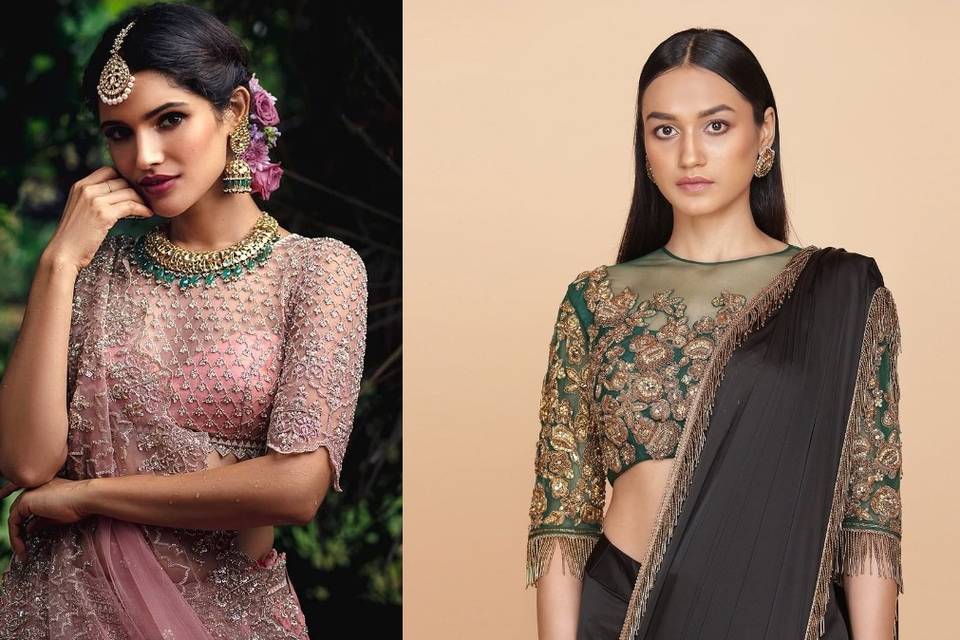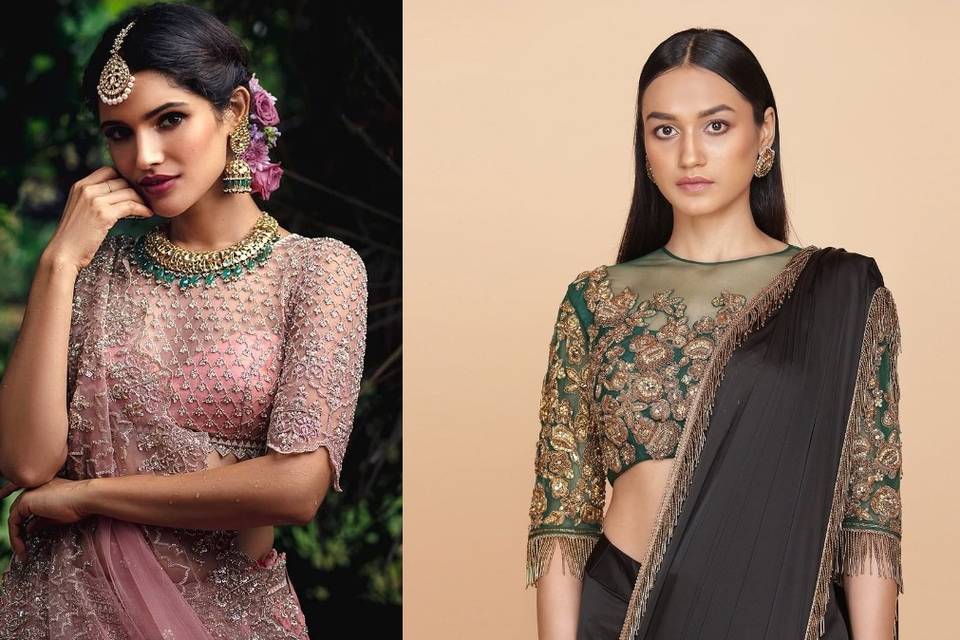 Image Courtesy: Anushree Reddy (L), House of Neeta Lulla (R)
Maggam work blouses are one of the oldest forms of traditionally embroidered blouses. In fact, these Maggam work blouse designs have existed for over a century now. The embroidery technique of the Maggam work blouses requires the artisans to use a needle that is shaped like a hook at the tip. The needle is somewhat similar to what a crochet needle looks like but the Maggam needle is finer and meant for more precision. Some needles are also shaped like an awl, but with a small hook at the end of the needle. Handed down to us by the century-old embroidery style of the Mughal era, Maggam embroidery is also often referred to as Aari embroidery. So Aari embroidery is known as Maggam embroidery/work in the peninsular states of Andhra Pradesh and Telangana.
Ornate and delicate designs inspired by nature are brought to life by skilled artisans with precise stitches and the gentle gradations of the colour of the thread. Maggam work requires a tight frame to hold the cloth, and this frame is designed with the same principles as that of the traditional Khatla found in most Indian villages even today. This work is hence also called Khatla work. Despite its ancient existence, even the millennial brides tend to instantly fall in love with the Maggam work blouses and we are no exception.
Given that blouses can completely make or break the look of your bridal saree or bridal lehenga, blouses play a very significant role in a bride's wardrobe. If you are looking for some fabulous inspiration to add more fervour and glamour to your wedding outfits, we have handpicked some of the top trending Maggam work blouses just for you. Scroll through this amazing list of the latest Maggam work blouse designs to pick a readymade one or to create your own design for D-day.
Marriage Bridal Maggam Work Blouse Designs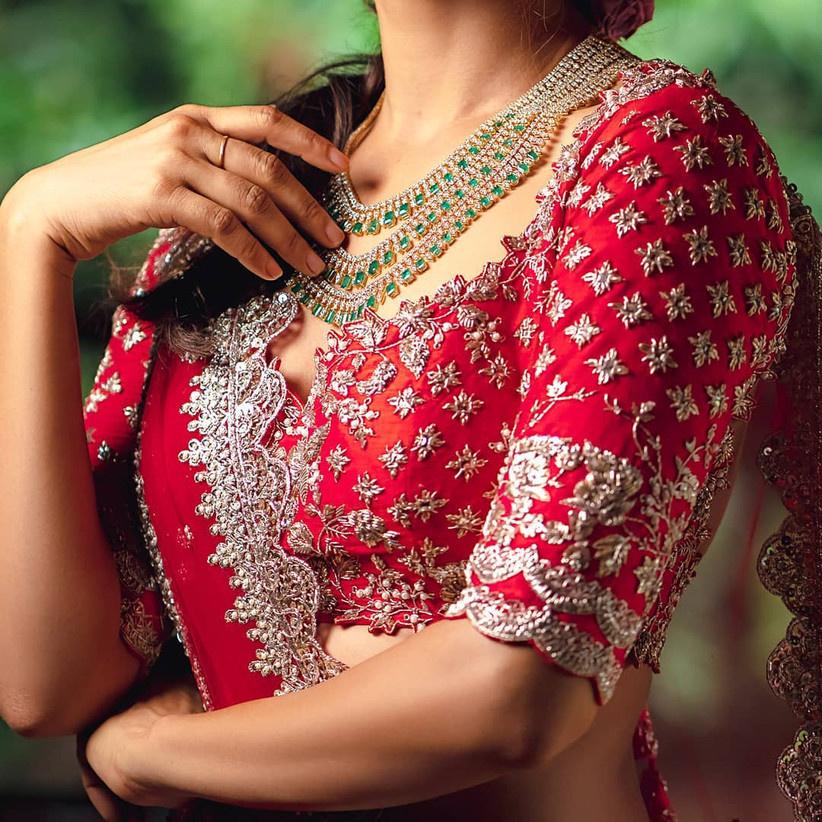 The wedding is one of the biggest celebrations of your life and we know how much it means for you to put together an alluring wedding ensemble that will complement your personality while upholding the traditions and fashion trends all at once. This red Maggam work blouse with silver threadwork by Anushree Reddy will be perfect to compliment your outfit. The scallop hems of the sleeves and the floral neckline adds to the elements of beauty in this designer piece.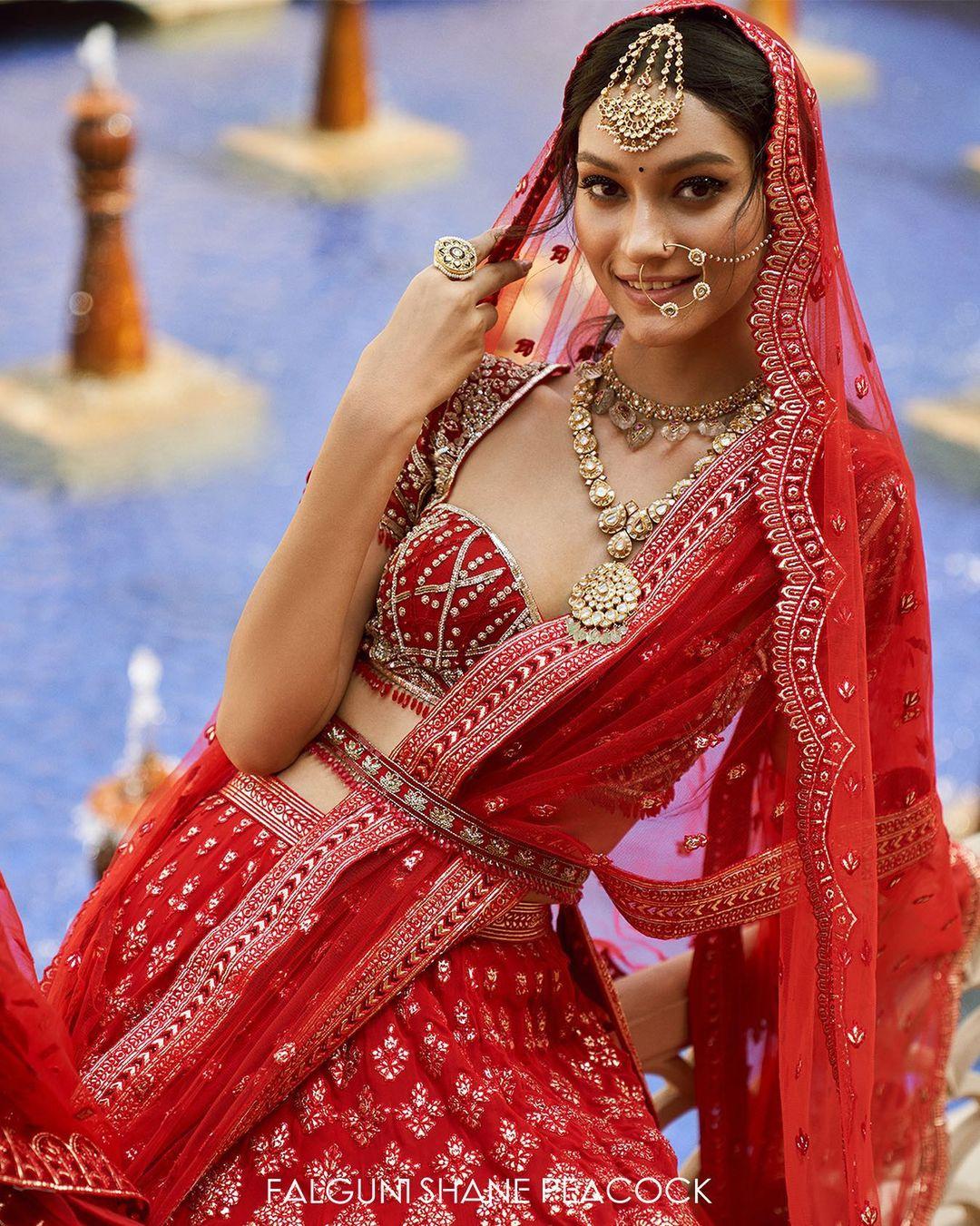 Image Courtesy: Falguni Shane Peacock
Quintessentially bridal, you can pair this red blouse with heavy bridal maggam work designs with your red lehenga and look flawless. The corset structure of the blouse with a Gotta Patti piping on the hem and the beautiful red and golden Maggam work designs is going to be a perfect fit for your traditional Indian bridal look. With a gold jewellery set and a Rajasthani Aad necklace, you can amp your look for the D-day and turn heads!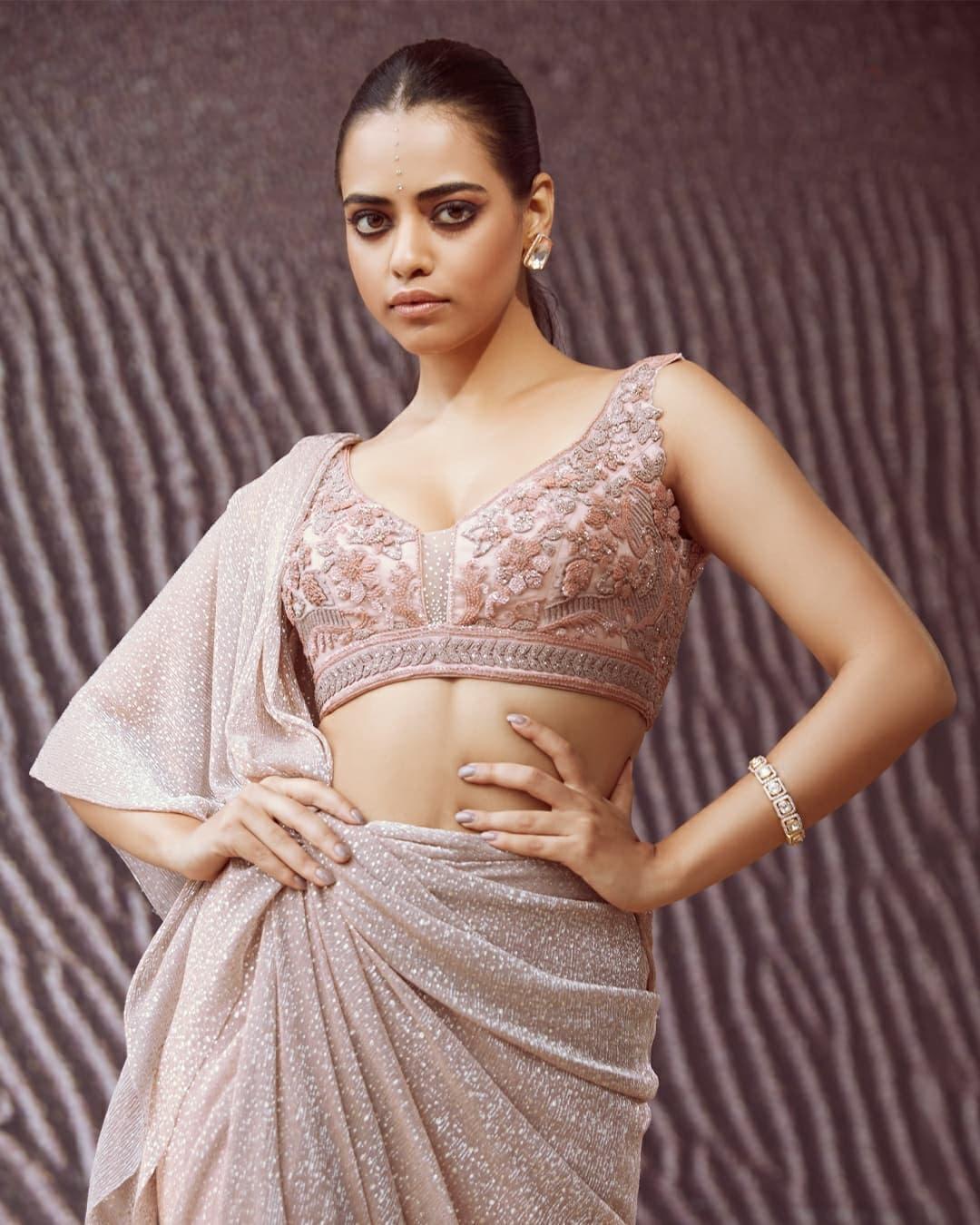 Veteran couturier Tarun Tahiliani's draped concept saree, designed in foil crinkle fabric in the shades of old rose is a beauty indeed. But what makes it outstanding is that it is paired with a décolletage hand-embellished Maggam work blouse with a low-cut back, it is also attached with a floor-grazing palla with a waterfall effect. One of the most subtle yet very distinguished Maggam work designs on a blouse, this is a masterpiece that upholds the oxymoron so well!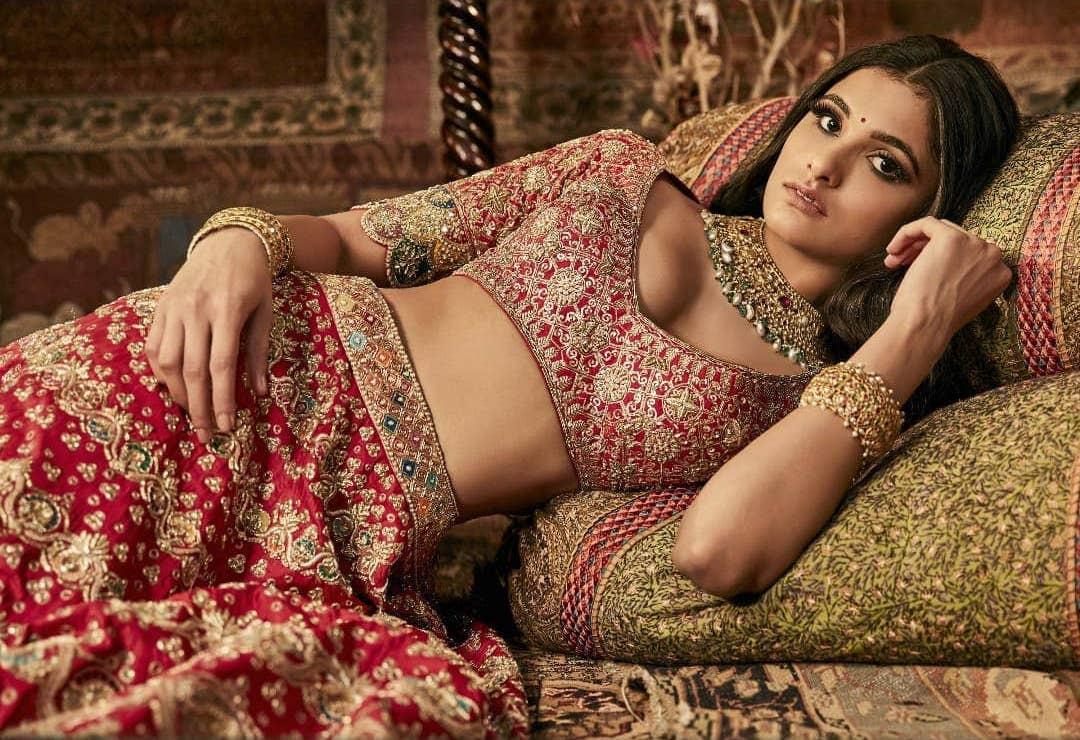 Another beautiful heavy bridal maggam work design blouse, the detailed Zari work on the body of the blouse design with a V neck and scallop hems on the sleeves makes this bridal maggam work blouse design perfect for an OTT big fat Indian wedding outfit. The delicate floral motifs and jaali designs on the blouse add drama and dimension that makes the bride look divine as she walks down the aisle.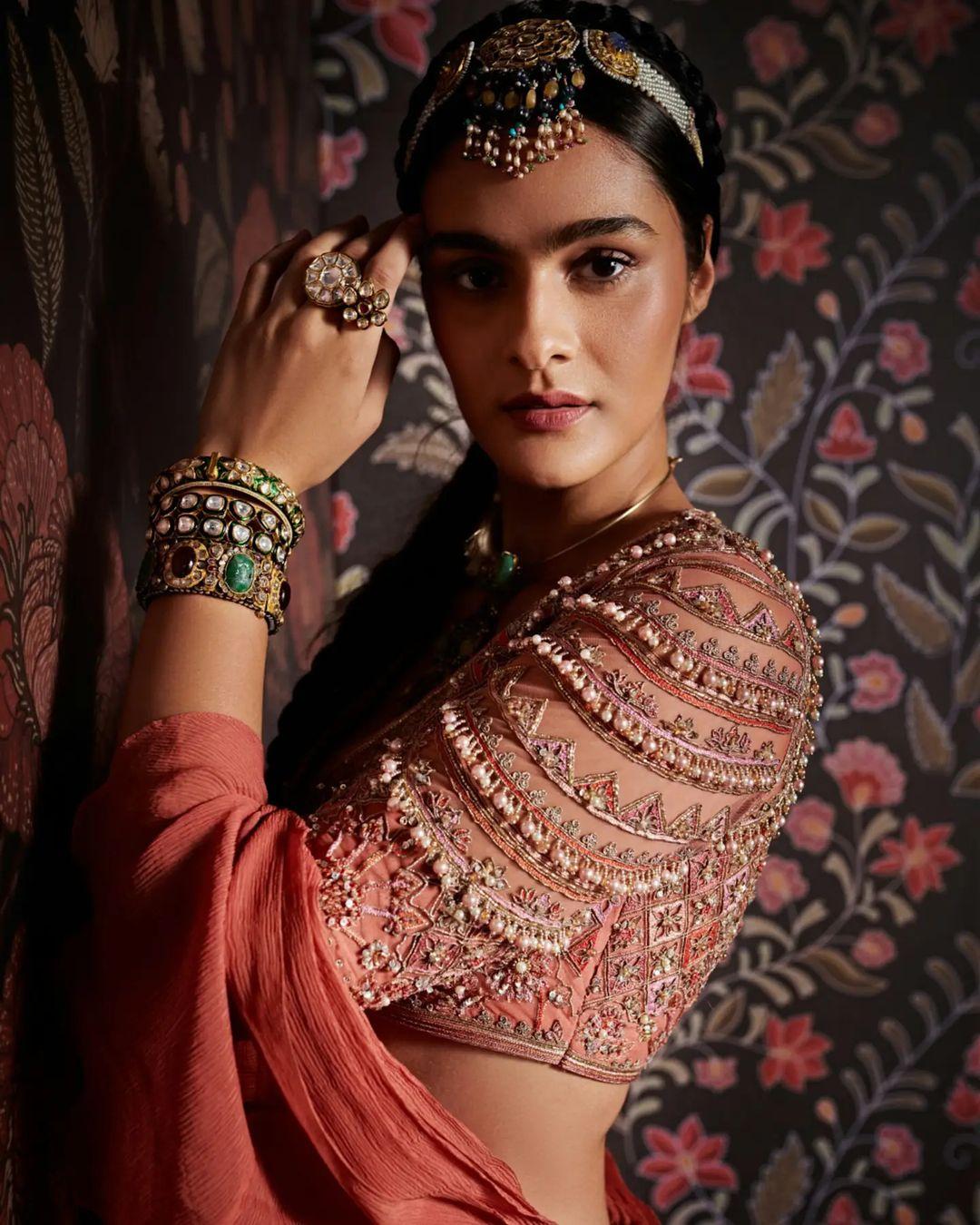 Image Courtesy: Ridhi Mehra
Maggam work designs on blouse sure turn the whole design around and we are well-aware of the magic. But when that new maggam work design on the blouse is topped with faux pearls and beads, magic is created. One such magical look can be created with this peach bridal maggam work blouse that flaunts beautiful Aari embroidery or maggam work designs along with beads and pearl embellishments turning a simple maggam work blouse design for brides into a new and latest heavy bridal maggam work designs for blouses.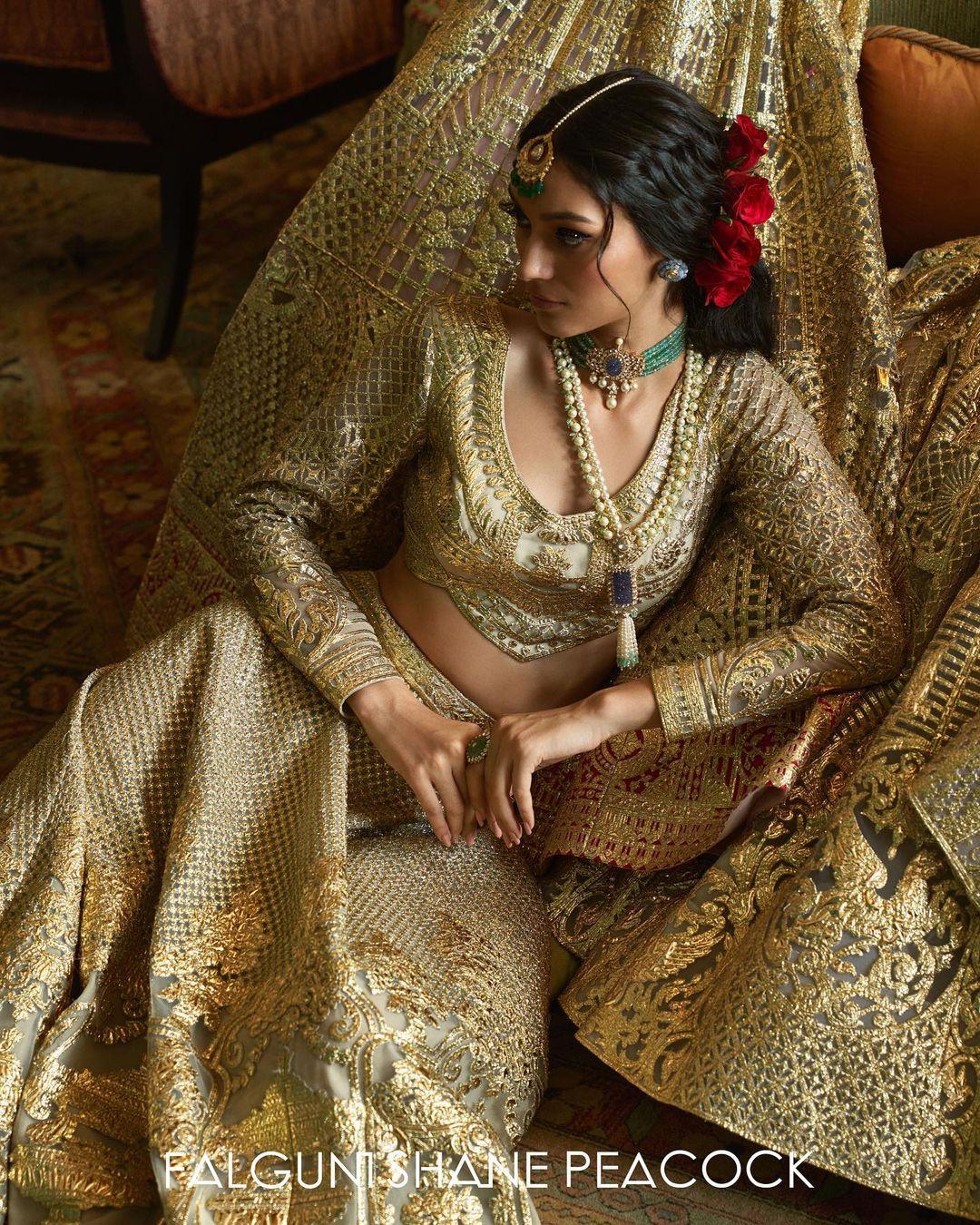 Image Courtesy: Falguni Shane Peacock
While grey full-sleeve blouse design with the matching lehenga might not be the most conventional bridal wear colour, it is still one of the finest maggam work blouse designs with thick golden thread embroidery. This blouse with heavy bridal maggam work design on it and the pointed hem that comes to the centre of your torso accentuates your features best and makes you look remarkable. Serve the bridal looks in this latest and new maggam work designs to look unforgettable!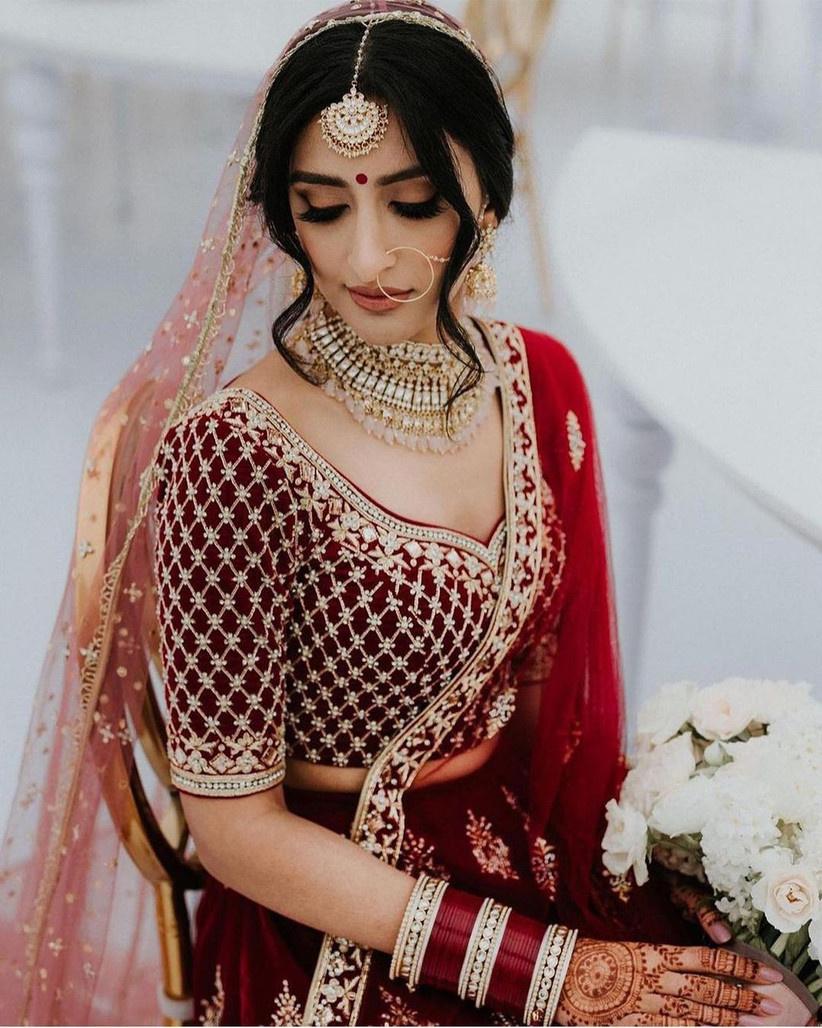 Image Courtesy: Neeta Lulla
Brides love velvet when it comes to picking their wedding outfits for a winter wedding. If you are planning to flaunt a velvet lehenga at your fall wedding, this Maggam work velvet blouse by none other than House of Neeta Lulla is an alluring addition to your wedding wardrobe.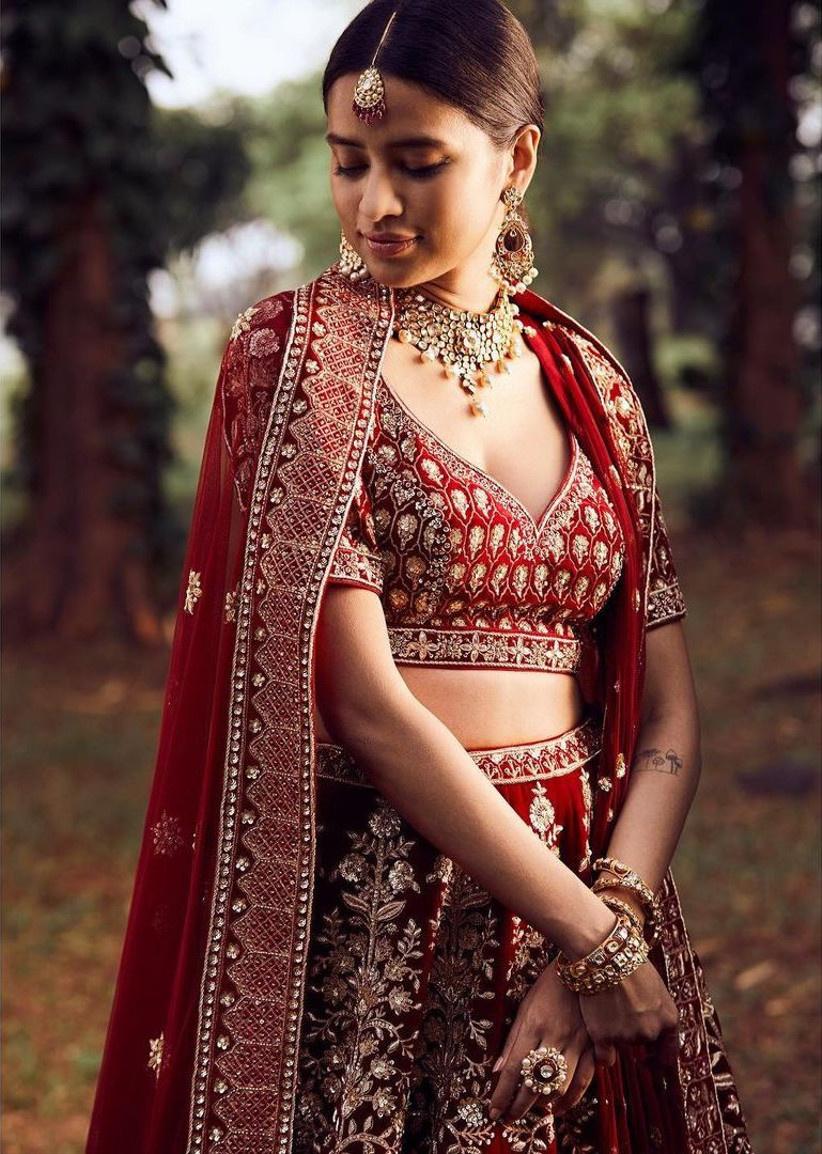 Red lehengas and Aari embroidery work is everything that we love about Indian weddings. The bride-to-be can pick this red Maggam work blouse design for her sundowner wedding ceremony and let the intricate leafy patterns melt hearts!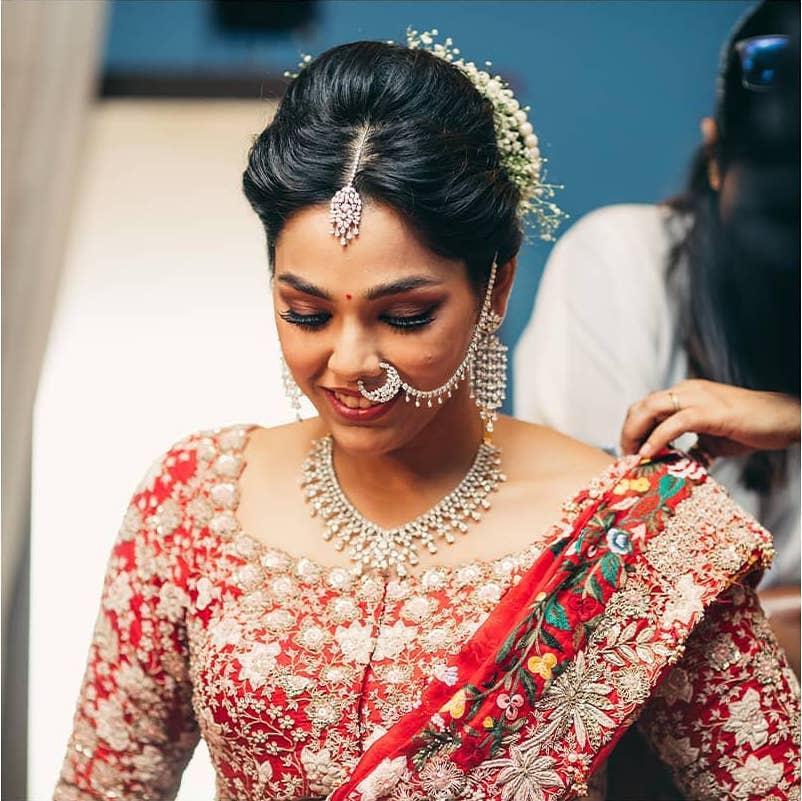 The bridal maggam work designs on a blouse are almost always OTT. So if you are the bride who is looking for heavy bridal maggam work designs, then this Anamika Khanna's bridal maggam work design is your safest bet. It is not only an evergreen design but also one of the most trendy and appropriate bridal wedding blouse maggam work designs you can add to your trousseau.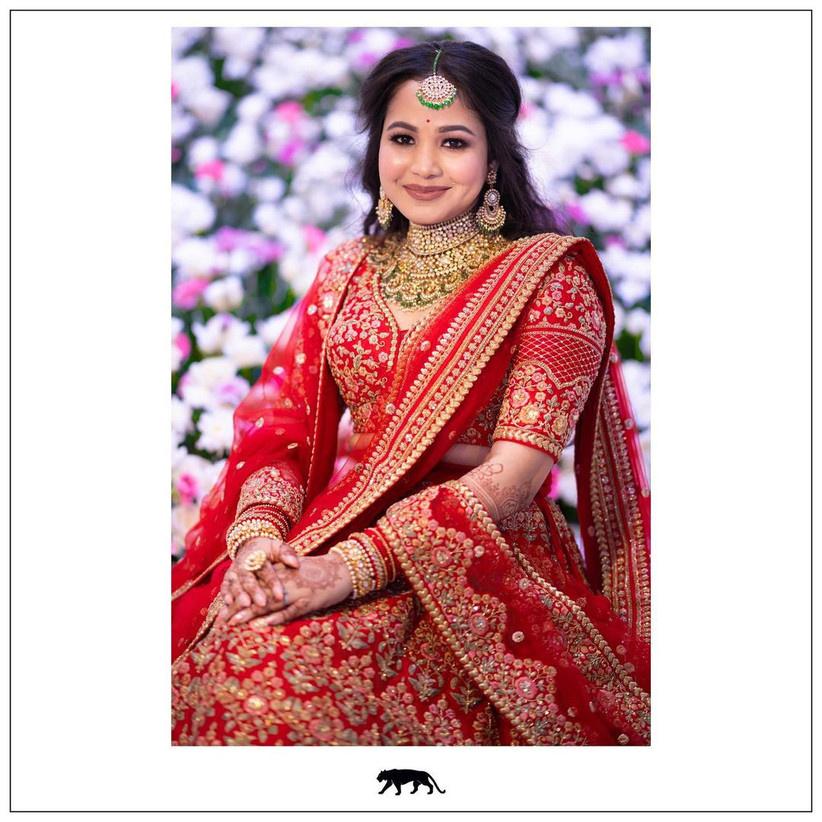 Image Courtesy: Sabyasachi
Keeping it traditional yet mesmerising, this Sabyasachi bride in her crimson red lehenga with the floral Maggam work blouse design and the gorgeous lehenga dupatta draping is a muse! If you are looking forward to turning heads as you walk by, this Maggam work blouse is a beauty you cannot miss.
Also Read: Check Out The Top 25+ Sequin Blouse Designs to Shine Bright at Weddings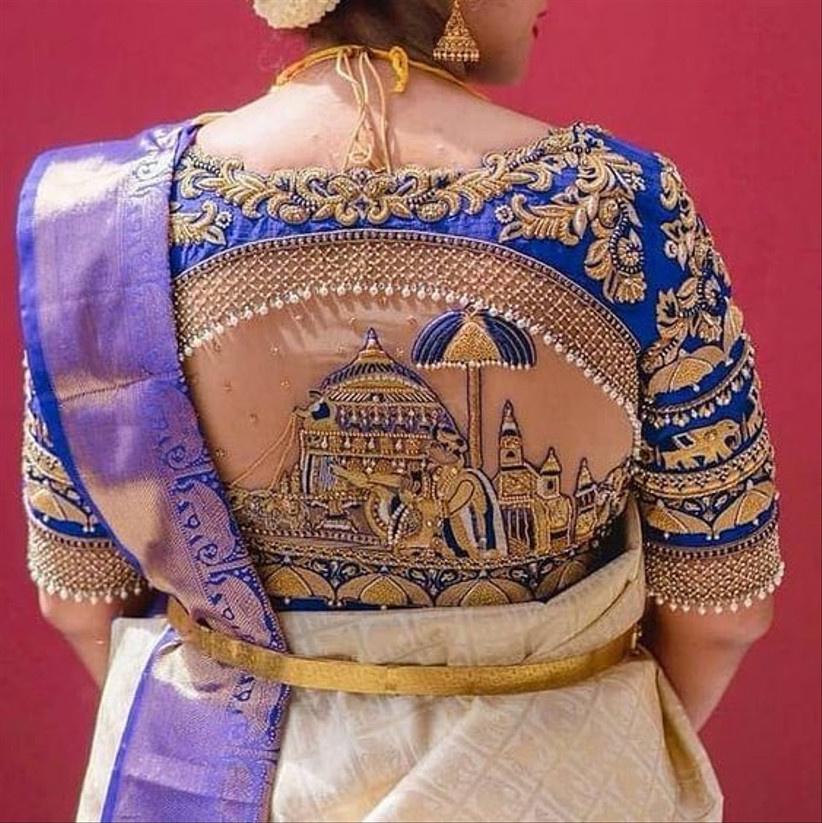 Image Courtesy: South Indian Fashion
We realize that blouse back designs are very popular among millennial brides. This cutout blouse back design with intricate golden embroidery and the faux bead detailing make this blouse an enticing addition to your bridal trousseau.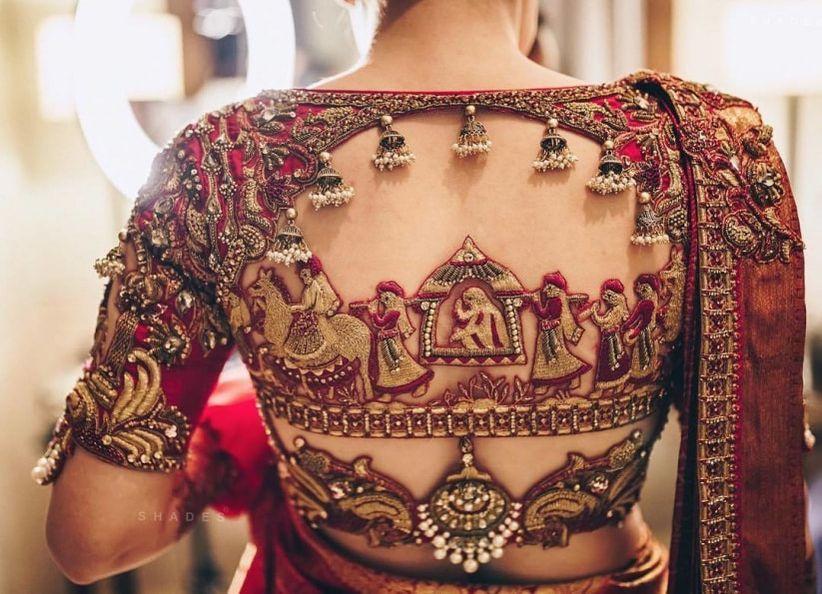 Going all out in the celebration of the biggest event of your life? Check your attire checked off the list with this Maggam work blouse design. Exhibiting a whole wedding scene where the bride is being taken in a palanquin on the back of your blouse design, this Maggam work blouse takes it up a notch by switching out tassels for Jhumkas.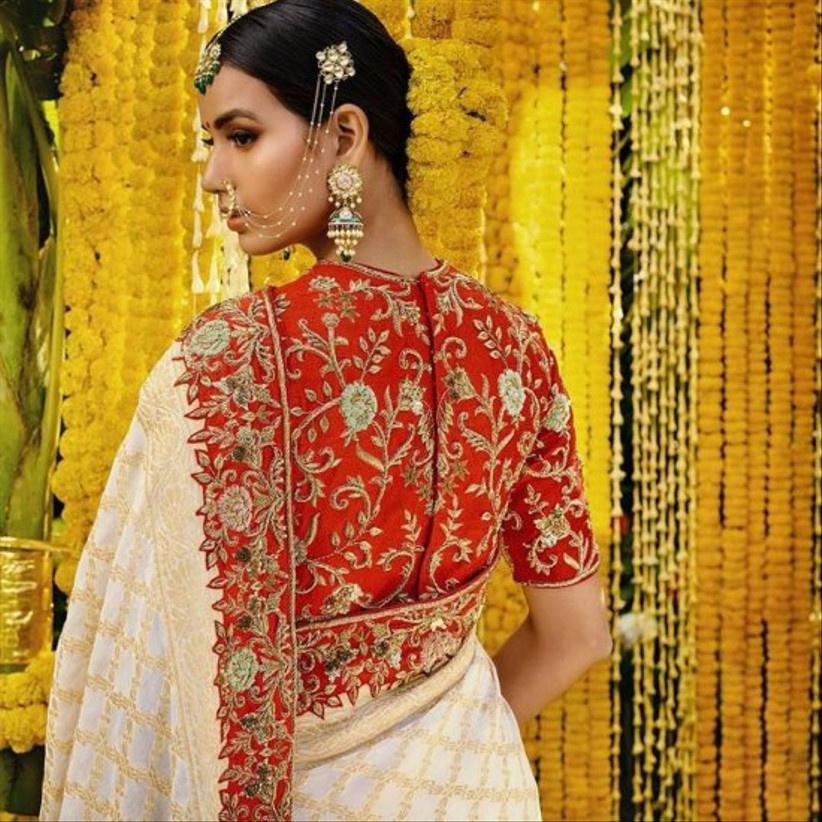 With the closure in the back, this marriage bridal Maggam work blouse design is a hoot. Keeping the elegance factor on top, this red blouse will be a great addition to your white lehenga too.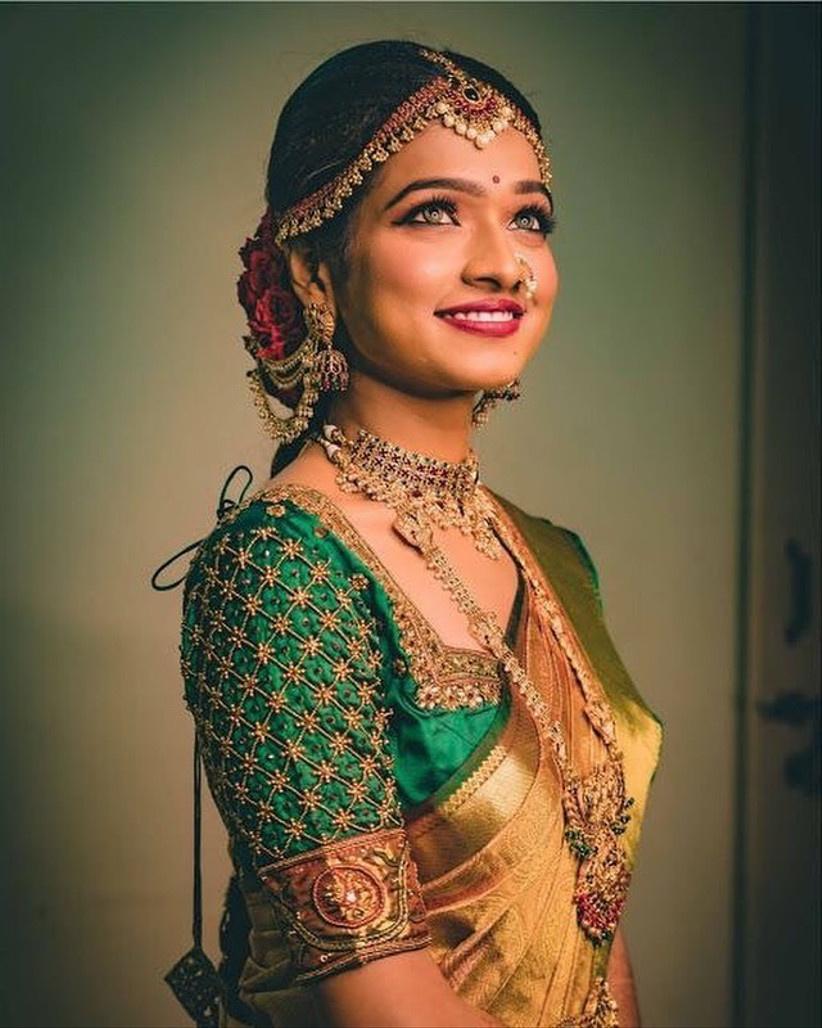 Image Courtesy: Maggam World
For the minimal bride looking for a touch of tradition and a generous dollop of sizzle in her bridal attire, this one's for you. This emerald green Maggam work blouse design with exquisite Gotta borders and an added dash of sparkle in the neckline is an eccentric design that you can add to your bridal attire and flaunt it with a Kanjeevaram saree or Pattu saree.
Also Read: 23+ Unique Thread Work Blouse Designs For Your Wardrobe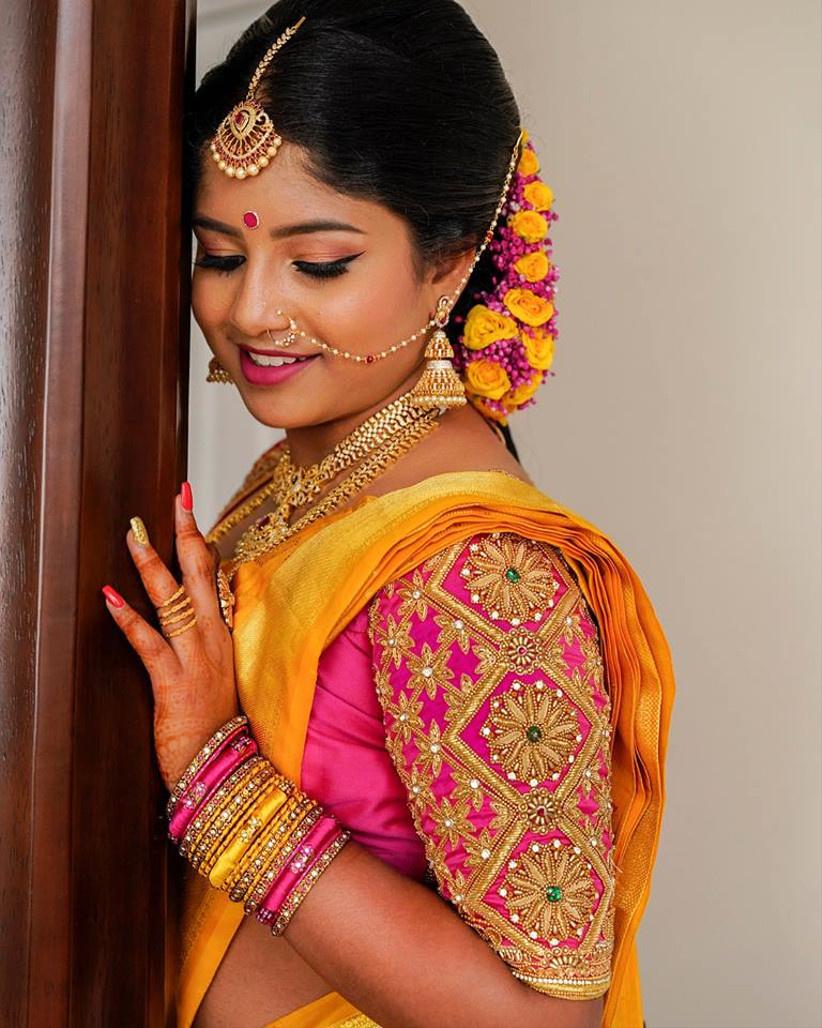 Image Courtesy: Maggam World
The vivid Maggam work on this blouse design is a regal blouse design that you can pick for a day wedding. Even if you are looking for a perfect temple wedding outfit, this pink blouse with a golden Maggam work design on the sleeves is quite the charmer.
Also Read: Check out 25+ Latest Princess Cut Blouse Design Images Handpicked For You
New simple Maggam Work Blouse Designs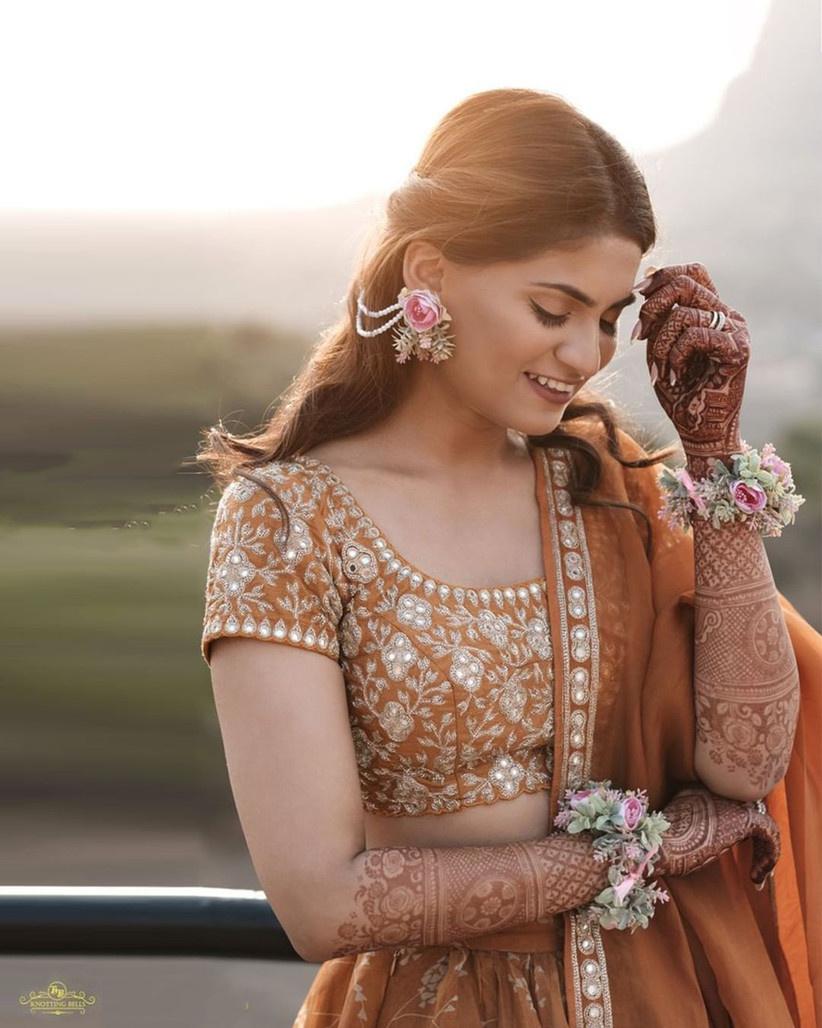 While bridal blouses with Maggam work are scintillating, this new simple Maggam work blouse flaunts beguiling embroidery with mirror work to create an elegant modern blouse design for the brides of today. You can wear it as your Mehndi ceremony outfit or even for your Haldi.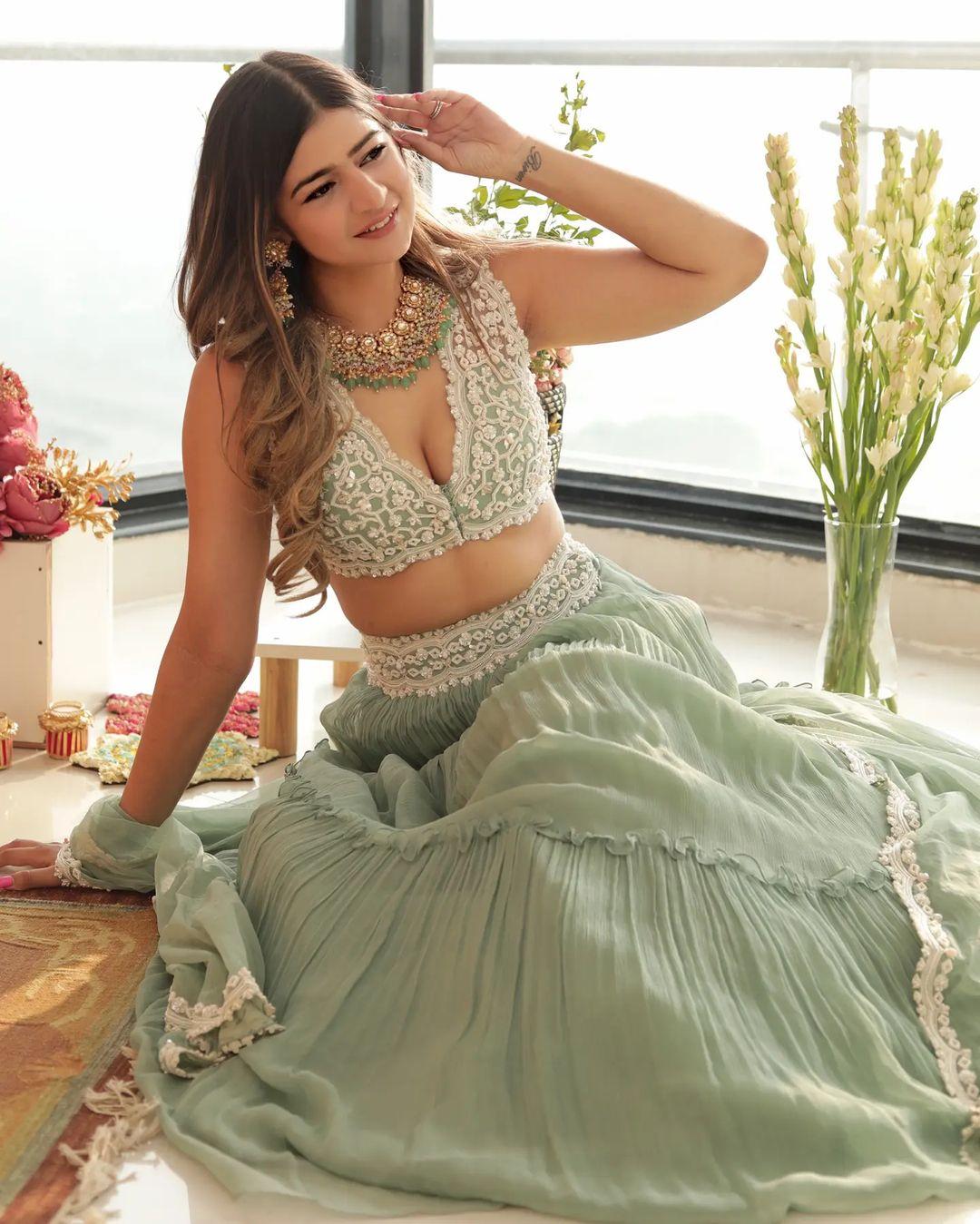 Image Courtesy: Ridhi Mehra
One unique blouse with maggam work designs on it, here is a sage green maggam work blouse design that will go perfectly with your green lehenga. It is not only distinctive for its threadwork and structure but also a new and simple maggam work blouse design that you can pick for your mehndi ceremony or for your Haldi ceremony even.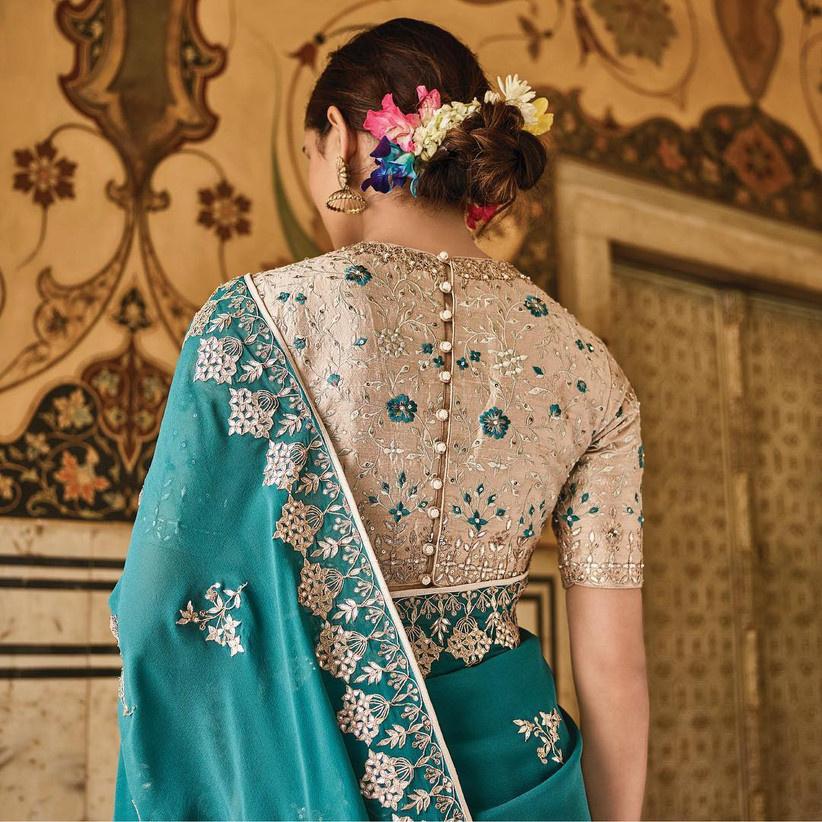 One word that describes this Anita Dongre blouse design accurately would be "elegant." The teal flowers act as an element of effervescence in this new yet simple Maggam work blouse design thoroughly handcrafted for the brides and bridesmaids of the 21st century.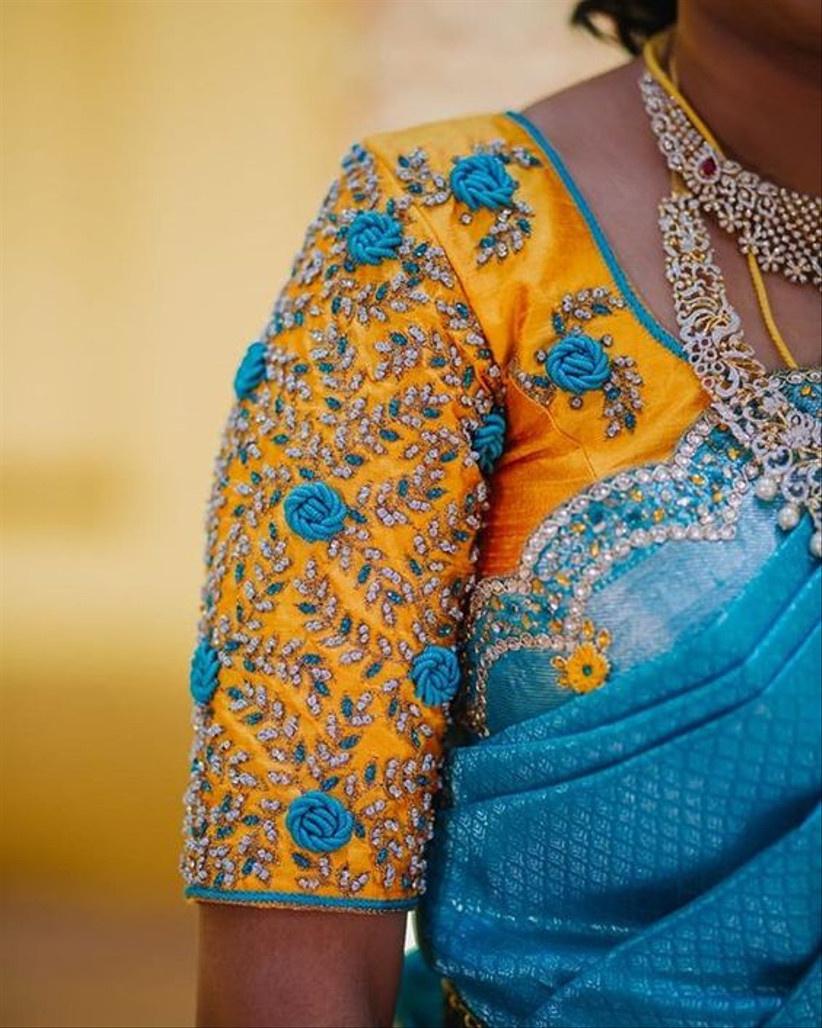 Image Courtesy: South Indian Fashion
South Indian weddings are always looked at as celebrations with vibrant colours and larger than life festivities. This new simple Maggam work blouse in a mustard raw silk base boasts elaborate threadwork and blue flowers in twisted patterns that can be a valuable yet trendy addition to the guests' wardrobe for a wedding.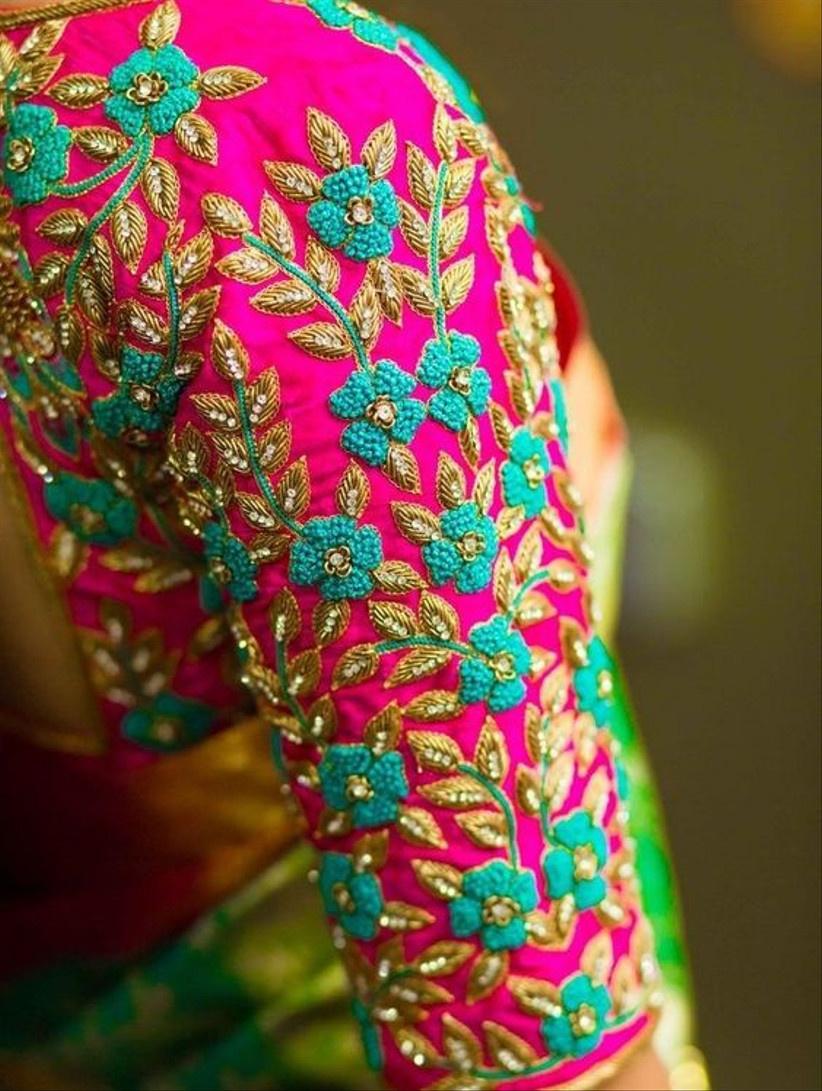 Image Courtesy: South Indian Fashion
Flowers and leaves are the fundamentals of Maggam work blouse designs and this bright Rani Pink coloured blouse with blue and golden Maggam work on it is a quintessential Maggam work blouse that you will love with your green lehenga or a saree too!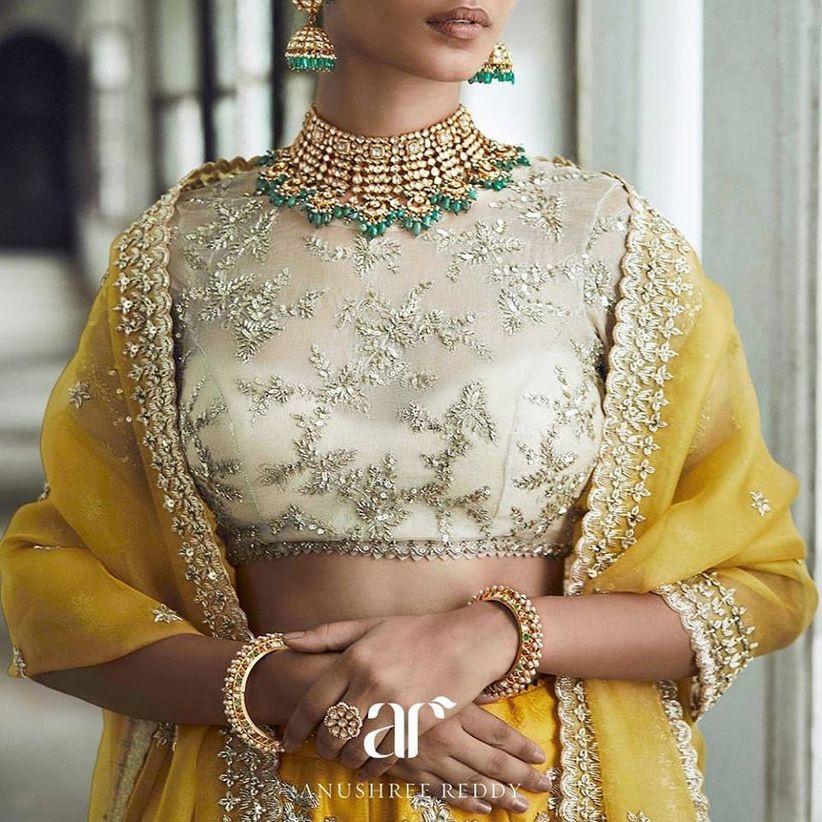 Your hunt for stunning Maggam work blouse designs for a Mehndi function end right here. We have the perfect champagne and gold blouse image to inspire you for just that. Dull gold thread embroidery gives this outfit a royal appeal.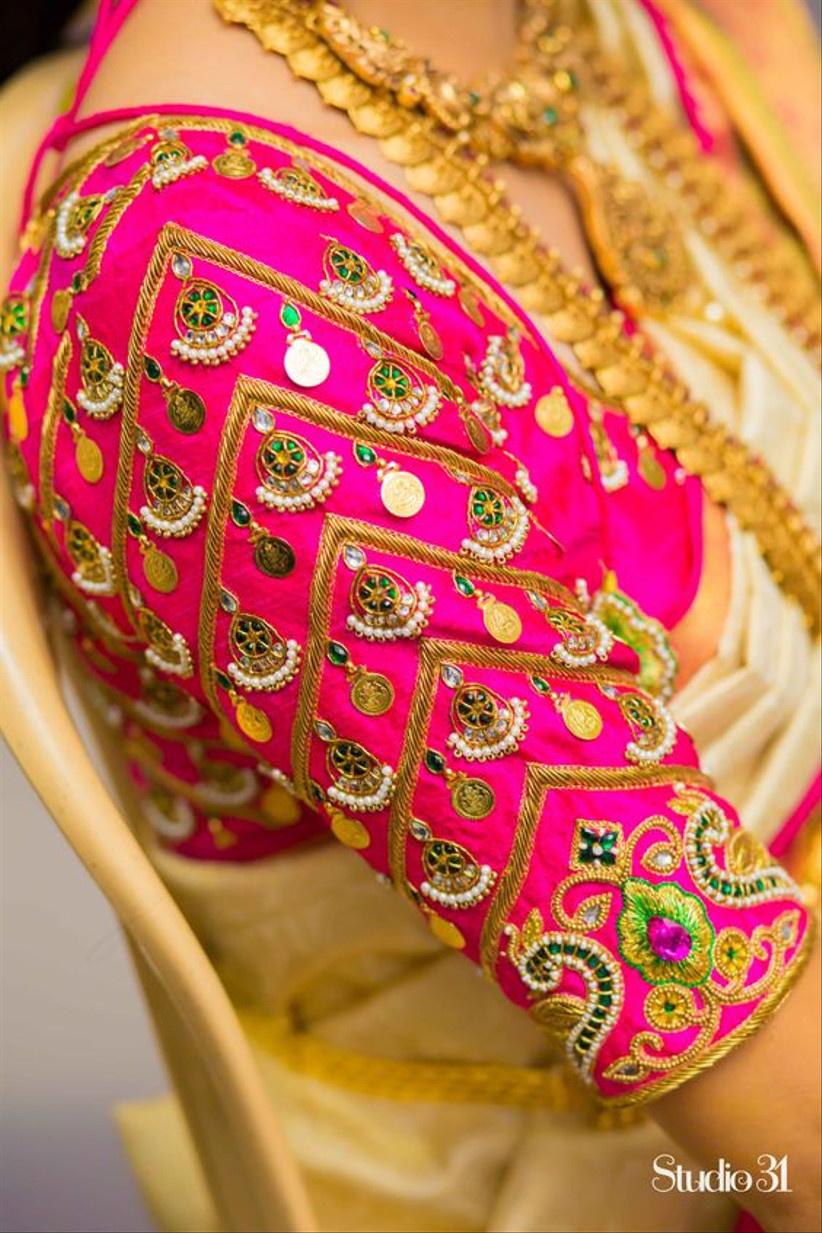 Image Courtesy: Studio 31
Adding small trinkets to the Maggam work blouse, this design is one-of-a-kind. The trinkets resemble the traditional Indian earring called Chaandbalis and the tiny white beads and coin detailing makes it worth the wear.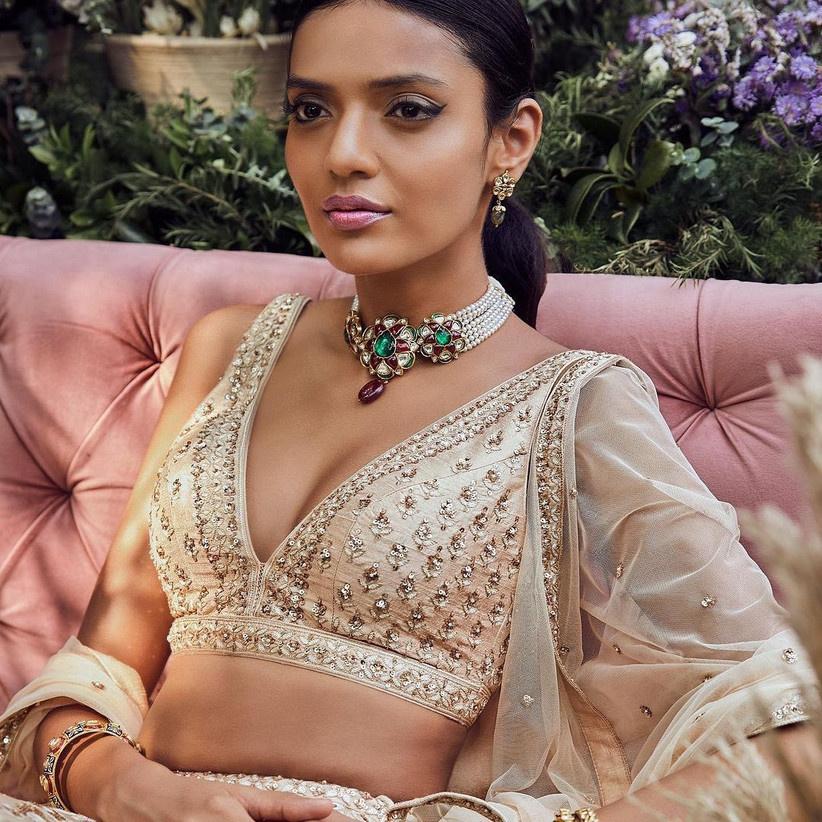 Another simple Maggam work blouse design with a plunging V neckline, this beautiful silk blouse by Anita Dongre is indeed simplicity in its best avatar. These simple Maggam work designs on blouses make even a simple V-neck blouse look downright stellar.
Latest Maggam Work Blouse Designs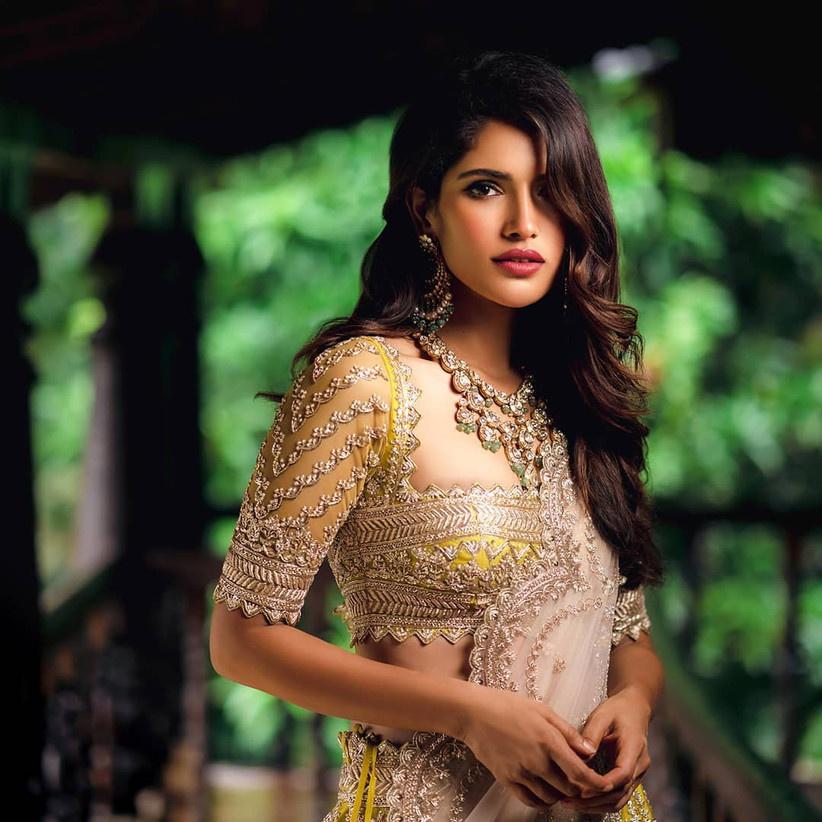 Look absolutely regal in yellow and golden Maggam work blouse designs delicately crafted with intricate floral embroidery and enhanced with a dash of sparkling sequence and a Zari work. With exquisite Maggam work lavishly spread on the blouse, your attire will twinkle no less than the jewellery that you adorn. The intricacy of these Maggam work designs is what makes them so eyecatching and remarkable!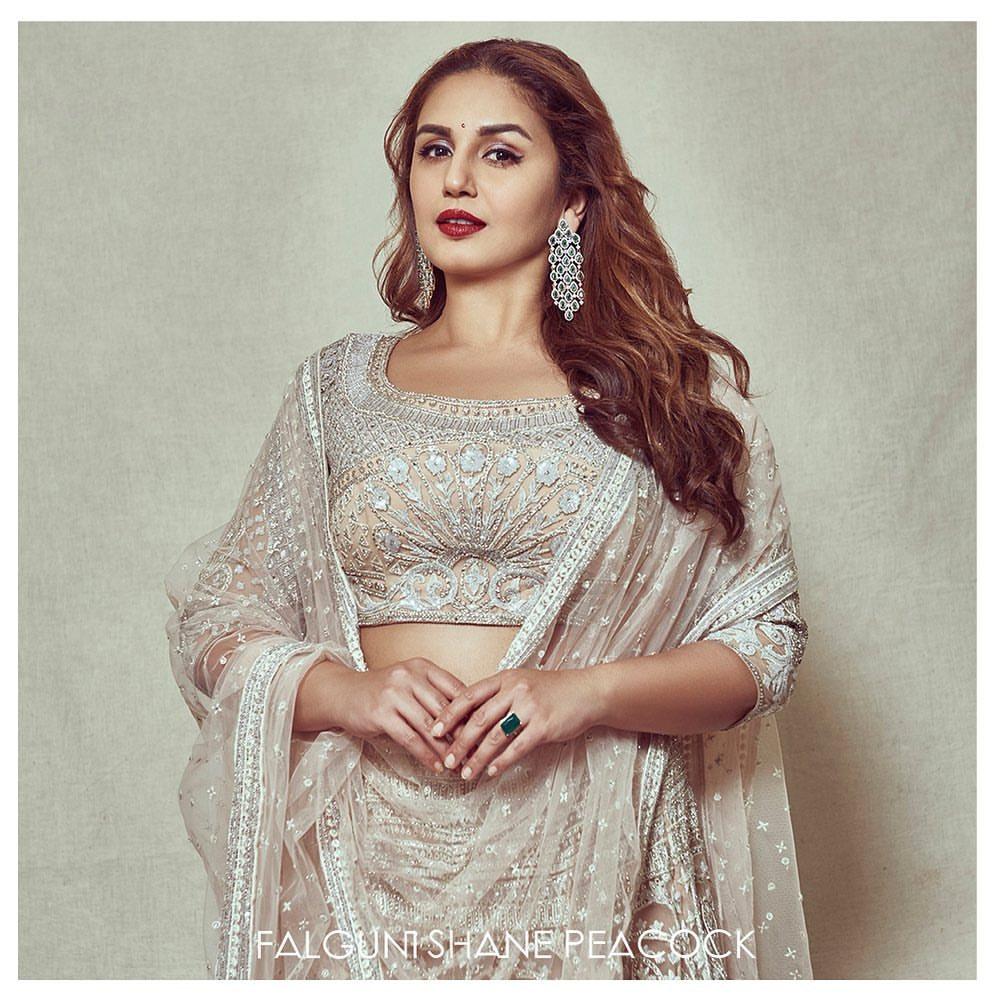 Image Courtesy: Falguni Shane Peacock
Huma Qureshi is an incredible actor and what makes her so exceptional is also her fashion. Flaunting this Falguni Shane Peacock blouse with Maggam work designs on it, she looks nothing short of the notable star that she is. The intrinsic sequin and beads embroidery seen on this Maggam work blouse design is gorgeous and a must-have for your bridal wardrobe!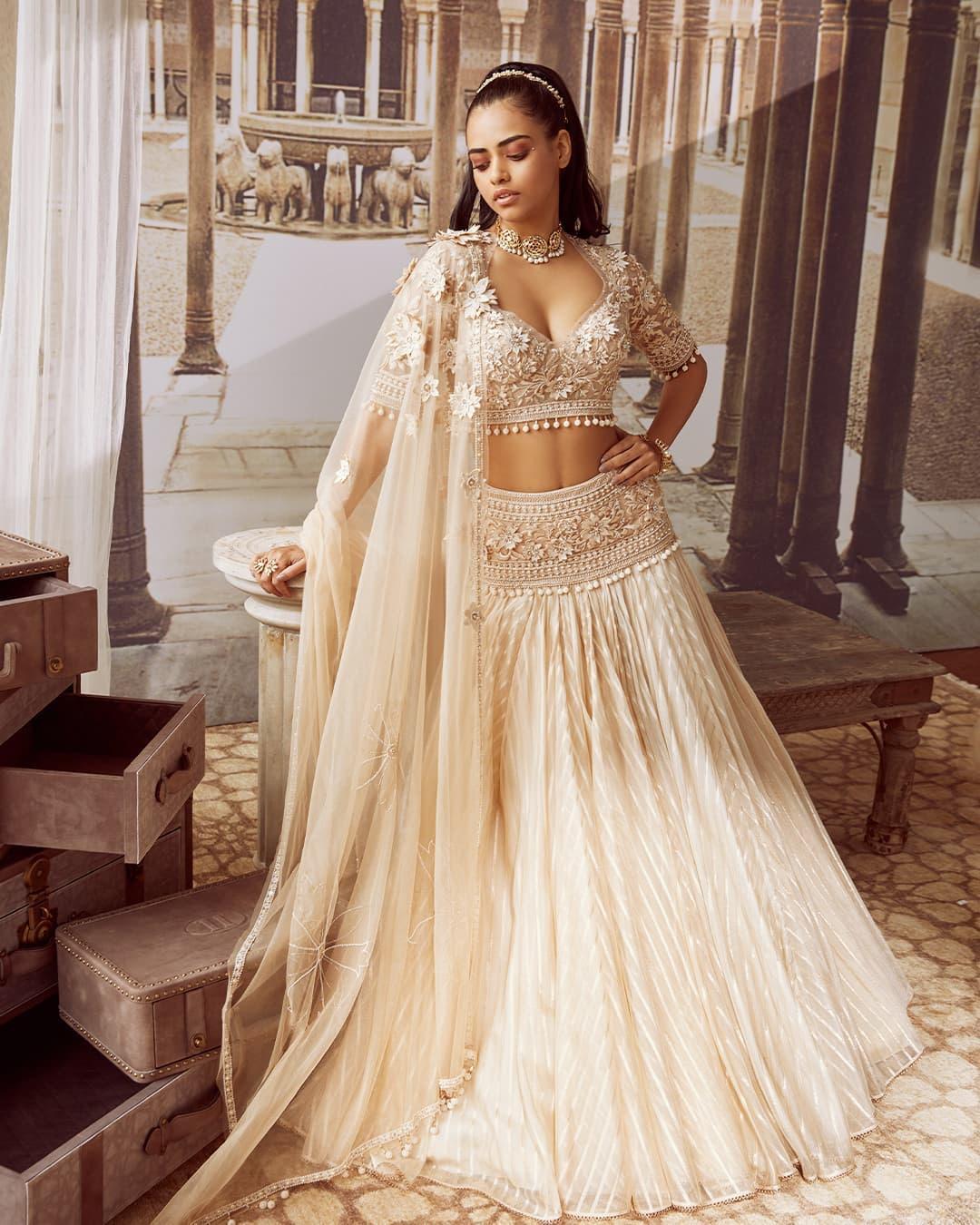 One of our favourite latest maggam work designs, take a look at the enchanting Maggam work blouse by ace designer Tarun Tahiliani. Built on an ivory base, the maggam work designs on this blouse are one of a kind. Be it your white lehenga or your ivory one, this pointed U neck blouse design is a dream for millennial brides who love shades of white at weddings.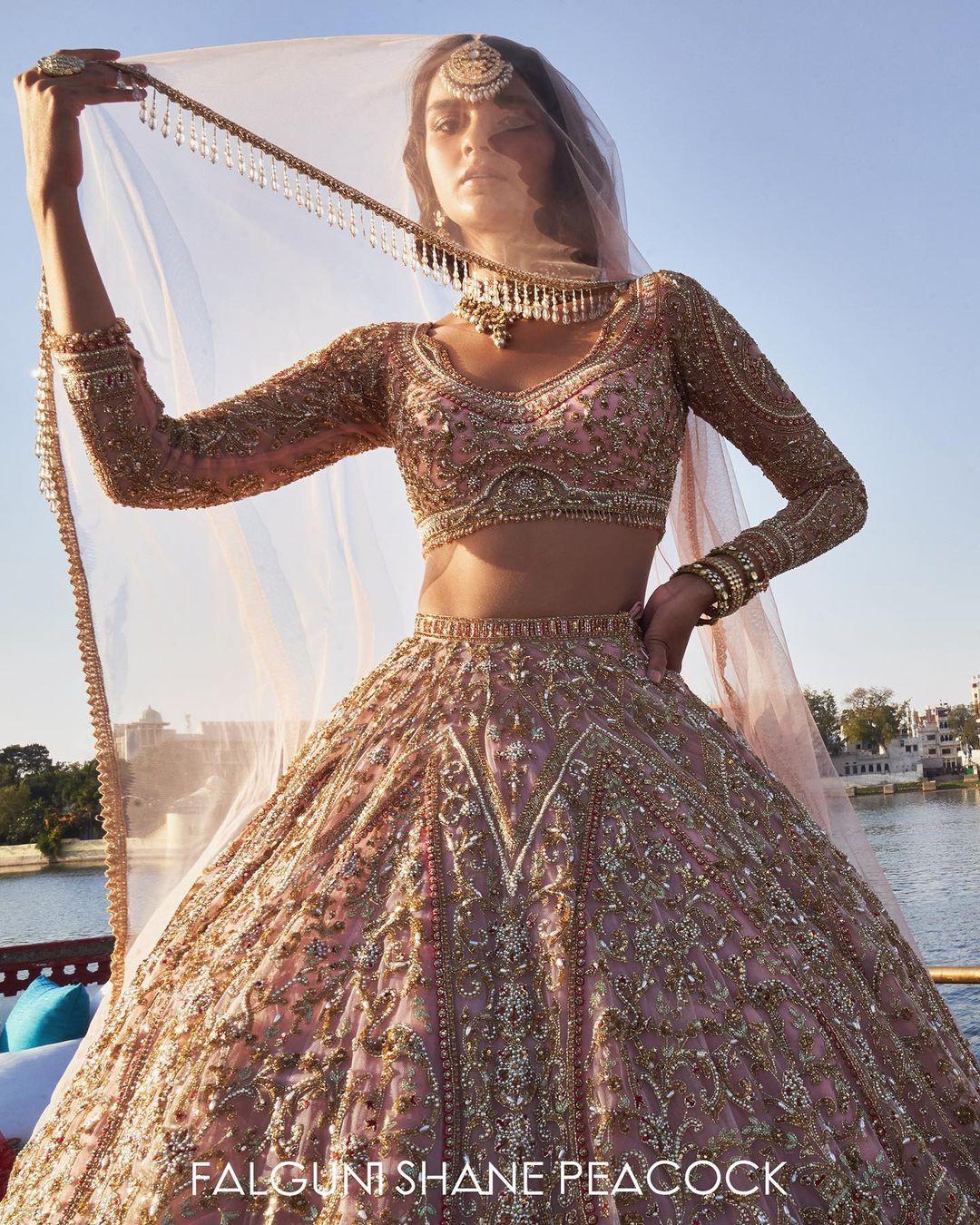 Image Courtesy: Falguni Shane Peacock
Falguni Shane Peacock is a paradise for brides who love heavy bridal maggam work designs. A pink designer maggam work blouse design with 3/4th sleeves and elaborate work that runs all over the blouse is an irresistible blouse design that will enhance the look of your pink lehenga. Pic this for your day wedding to shine through!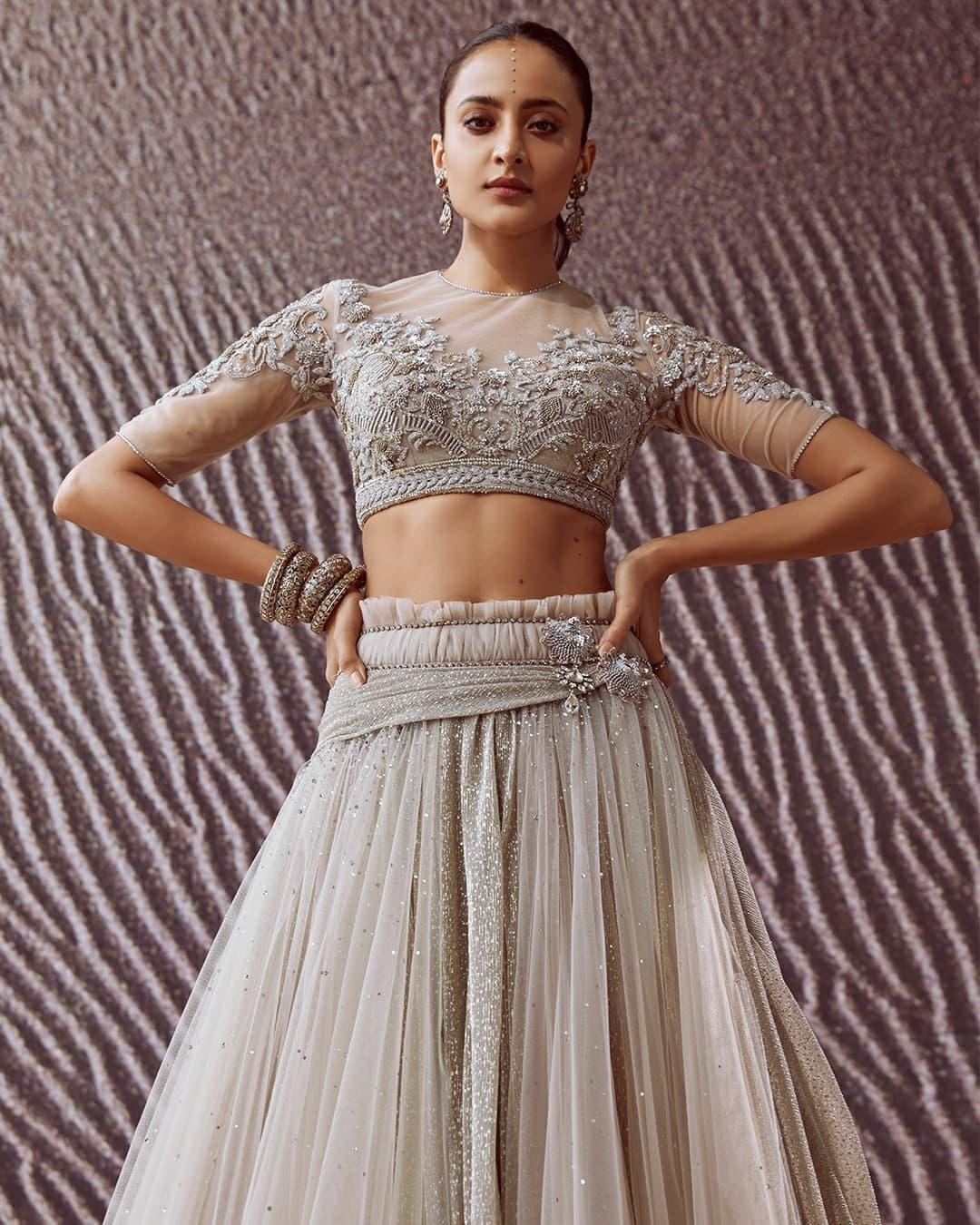 Zero neck blouses have been very popular with the brides who like to keep it classy but sophisticated. Taking that look up by a notch this blouse with heavy maggam work designs on it has a tulle/net neckline is a charmer. An intricate hand embellished sheer piece with a princess cut blouse design, this blouse is going to fit you like a glove - looking especially tailored for you.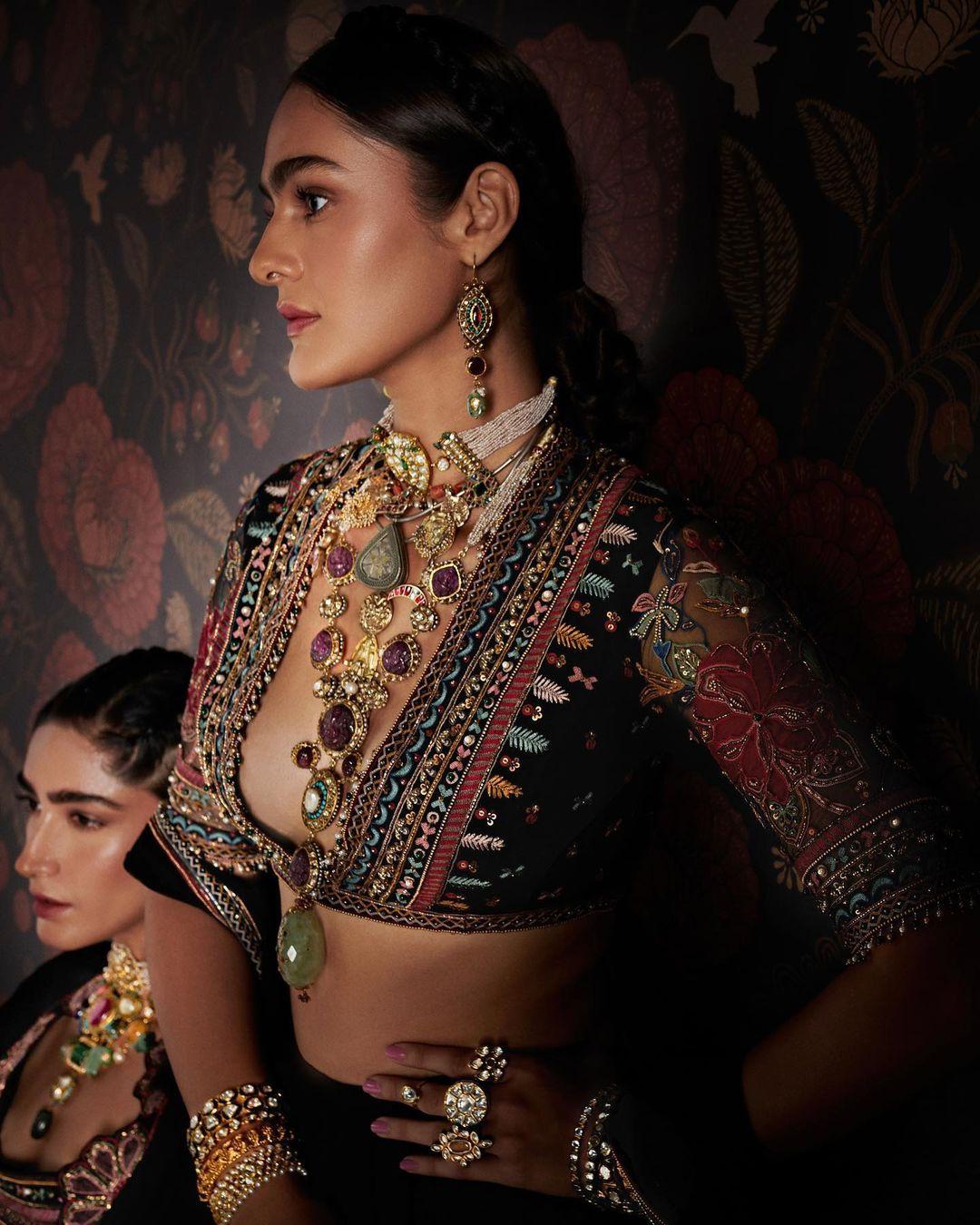 Image Courtesy: Ridhi Mehra
Upholding the traditional look that the maggam work designs exhibit, here is a plunging neck latest maggam work blouse design for the brides of today. The multi-coloured thread work on this blouse design might appear like one of those very simple maggam work designs, but it is a flawless piece of art that will add to the oomph of any of your outfits - be it a black lehenga with a contrasting blouse or a multi-coloured lehenga choli with maggam work designs on the blouse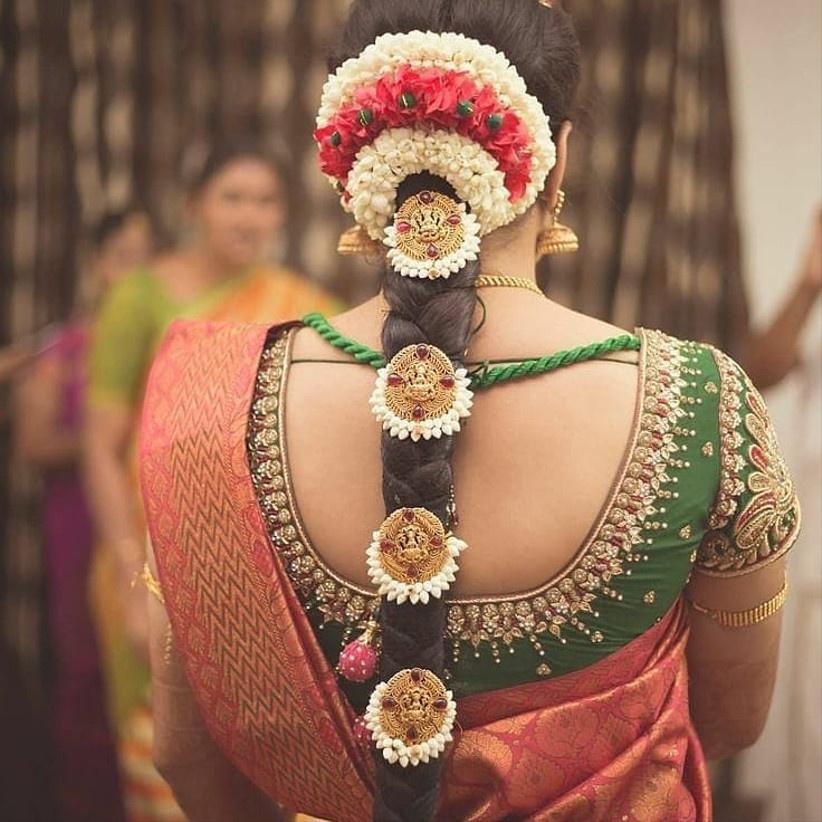 Image Courtesy: Pinterest
If this isn't a look full of Tadka for your Mehndi function when we don't know what is. This attire featuring Maggam work blouse designs has all the ingredients for a drool-worthy look. The Poola Jada with the Gajra in her bun hairstyle adds to the charm of this look. The golden embroidery adds a contrasting touch to the green blouse and brings the look together.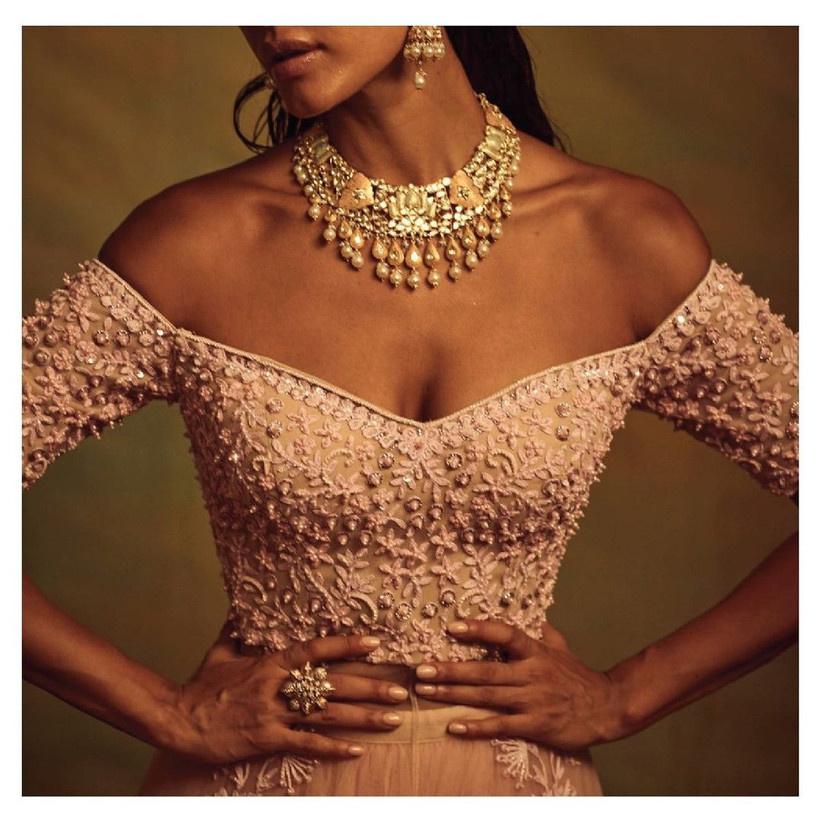 Modern women love to add a twist or tweak the quintessential bridal blouse design and this Reynu Taandon blouse design is a hoot. Adding to the bridal oomph on your cocktail or sangeet, this off-shoulder Maggam work blouse is a story of love at first sight with a bridal outfit.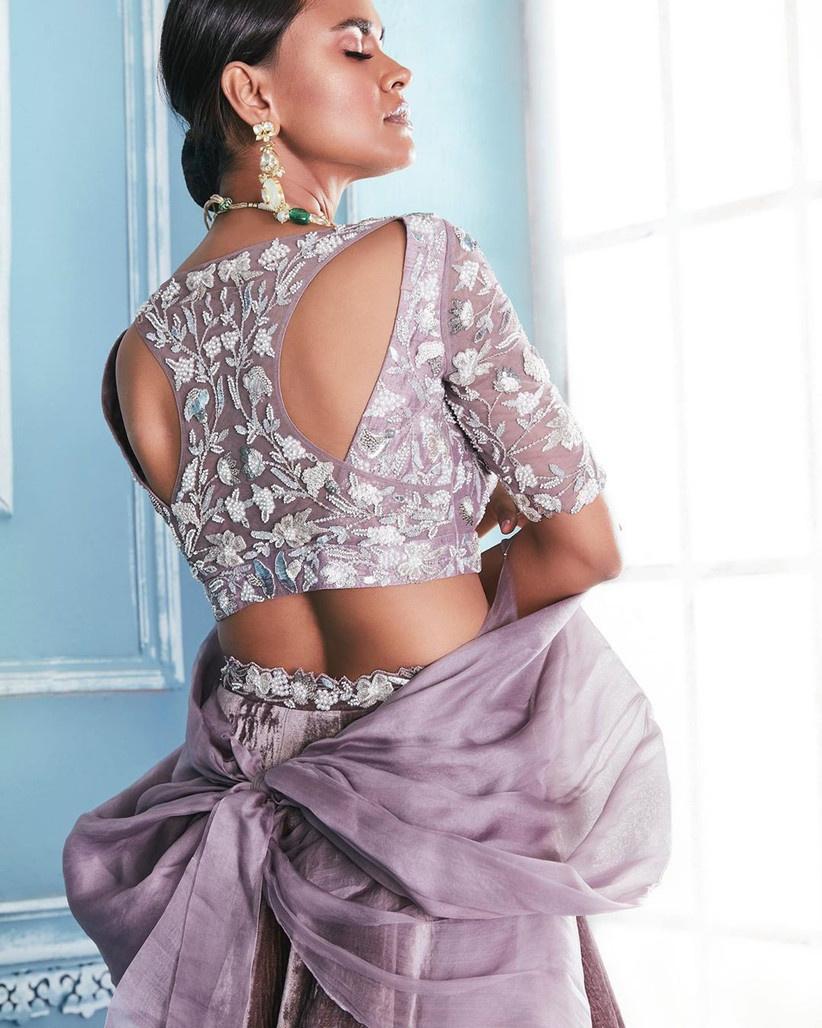 Image Courtesy: Mahima Mahajan
Another beauty in velvet with a racerback blouse design, the white thread Maggam work design that runs throughout the blouse is an unmissable designer piece. The beads in the floral motifs accentuate the grace of this blouse design.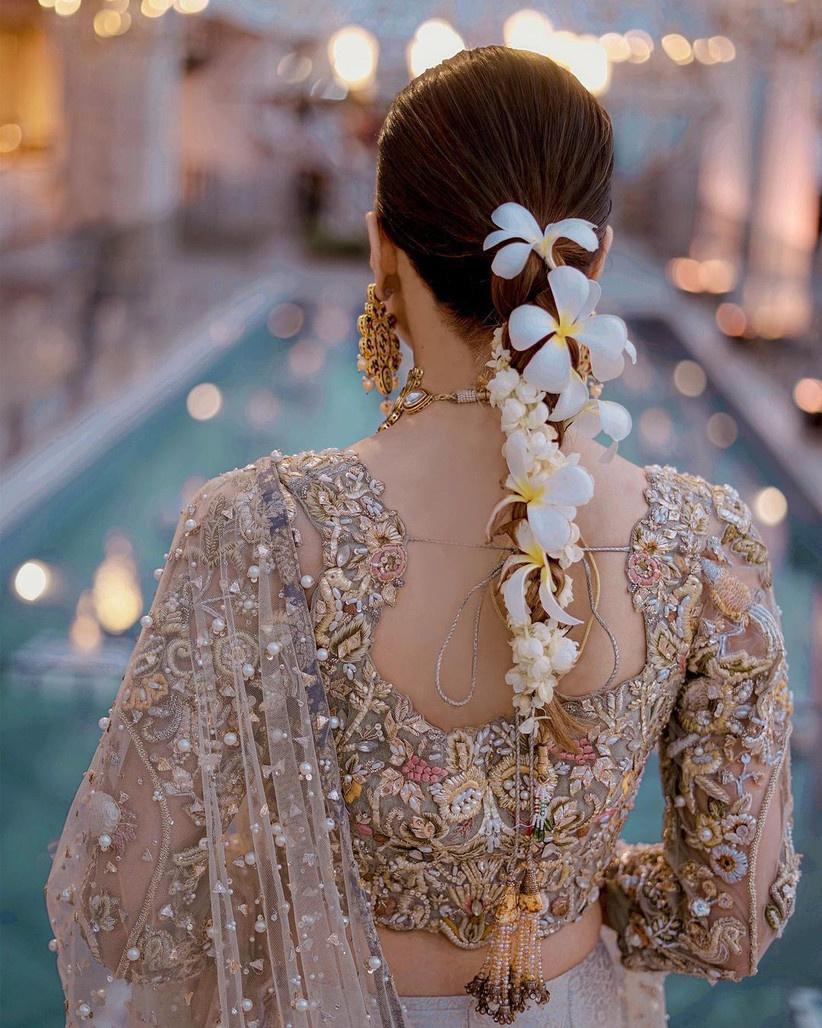 Image Courtesy: The Videographers
If you are a bride who likes to keep the outfit OTT then this full sleeve blouse design with Maggam work is an ethereal addition to your bridal wardrobe without any second thoughts.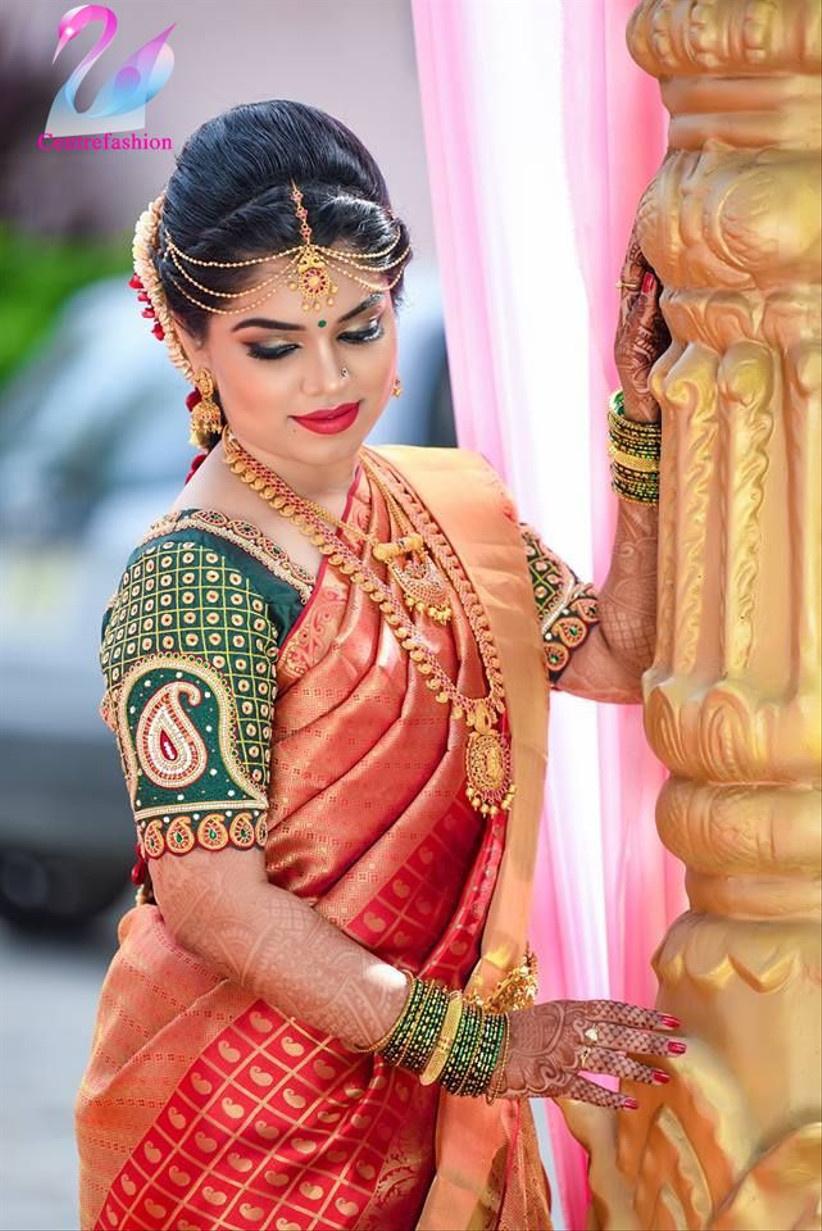 Image Courtesy: Pinterest
Green and gold are a match made in heaven, and when you choose bright pastel hues like crimson or orange - it makes the perfect combination for a sunny summer wedding. Be an inspiration for all the bride-to-be's this wedding season by adorning this green Maggam work blouse design with the paisley motif.
Maggam work blouses are definitely trending and there are many reasons for that. Firstly, it is the intricacy and the beauty of this ancient art of embroidery that makes it so traditional yet trendy. Secondly, brides today prefer unique custom-made blouses and since original Maggam work blouses are all handmade, customization is easily possible.
With Sarees being restricted to special days and occasions, most modern-day brides prefer simpler and lighter, but rich sarees that can be paired with different kinds of blouses to change the look. Similarly, Maggam work blouses are also versatile and can easily be paired with heavy silk sarees as well as light net or georgette sarees. This enhances its usability and use, without wearing the same combination every time.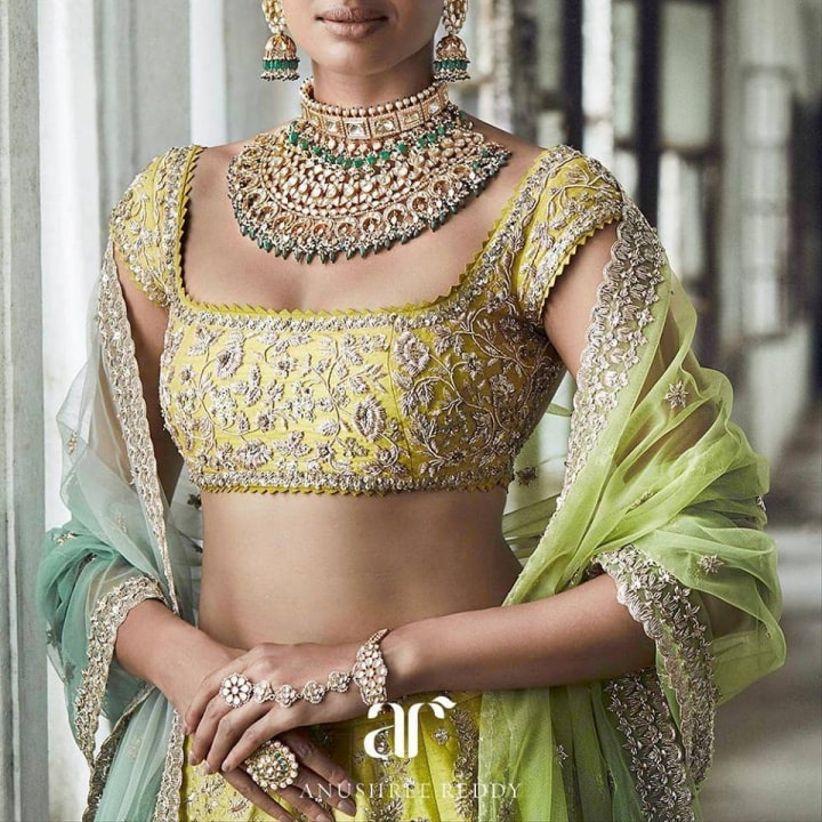 Most importantly, Maggam work blouses are trending because of their traditional look. So brides can choose to wear Maggam work blouses with traditional Kanjeevaram or other silk sarees and yet allow a bold blouse to make an individual statement. Maggam work blouse designs with exquisite precision require fine craftsmanship with numerous years of experience, which makes it all the more premium, exquisite and exclusive. All these traits make it worthy of being adorned by the divine bride on her big day. It's your special day after all! Be inspired by these Maggam work blouse designs and plan the outfit for your big day accordingly.
Maggam work blouses are definitely a great choice for the brides of today. You can easily team up traditional sarees with a stylish blouse and even customise it to enhance your personal style statement. Maggam work blouses are not just a piece of attire but an investment that you will treasure and flaunt for life. You can check out some of our bridal outfit vendors to find the blouse you love best.
Liked these designs and want to search for more like them? Head over to our bridal wear partners and choose from a plethora of fabulous designs!
Read More -
Mehndi Design | Proposal Lines | Simple Finger Mehndi Design | Arabic Mehndi Design | Propose Day Quotes for Boyfriend | Wedding Anniversary Wishes for Sister | Change Aadhar Card Name after Marriage | Tamil Wedding Calendar | Simple Mehndi Design | Pre Wedding Quotes | Engagement Anniversary Wishes | Funny Wedding Wishes for Bestfriend | Blouse Design | Rangoli Design | First Night Tips for Bride | Wedding Anniversary Wishes