Stunning Multi-colour Lehenga Designs for the Avant-garde D-day Look
For the sui generis brides who want to flaunt some unconventionally hep multi-colour lehenga designs, here are some outstanding ones for inspiration!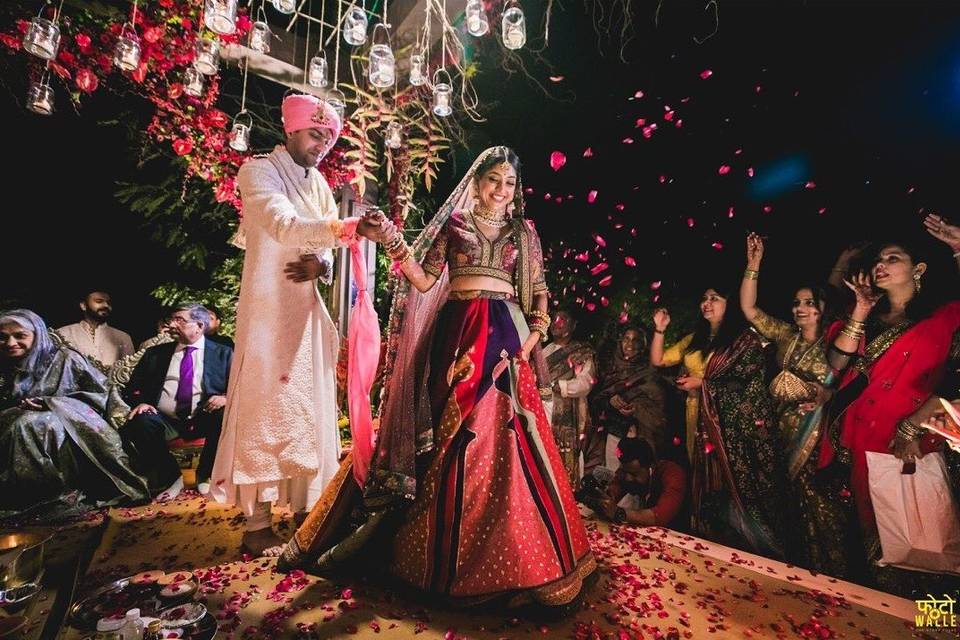 Wedding outfits along with wedding ceremonies have evolved with time and how we love the evolution! From the gorgeous red lehengas that fit the conventions to shades of maroon and then to pastel hues, the modern-day brides have been impressively experimental with their bridal outfits. While the monotone outfits have their own royal charm to the look, the trend of the multi-colour lehenga has been a gorgeous one too.
The millennial brides have not shied away from picking the multi-colour lehenga trend. From different shades of a blouse, dupatta and lehenga paired together to a multi-coloured skirt and top and even multiple colours on their lehenga solely - they have hopped onto the bandwagon of multiple hues for wedding outfits.
The designers have encouraged this style and created some absolutely stunning pieces of multi-colour lehenga choli sets for the brides to look as beautiful as ever on their wedding ceremonies. The designs will make sure you look like a princess as you walk down the aisle with your Phoolon ki Chadar, straight into your happily ever after story.
If you are looking for the perfect multi-colour lehenga to add some shades to your Sangeet night, Mehndi ceremony, the Haldi ceremony or the wedding day itself, here are some of the best picks for inspiration!
Multi-colour Lehenga Designs for Mehndi Ceremony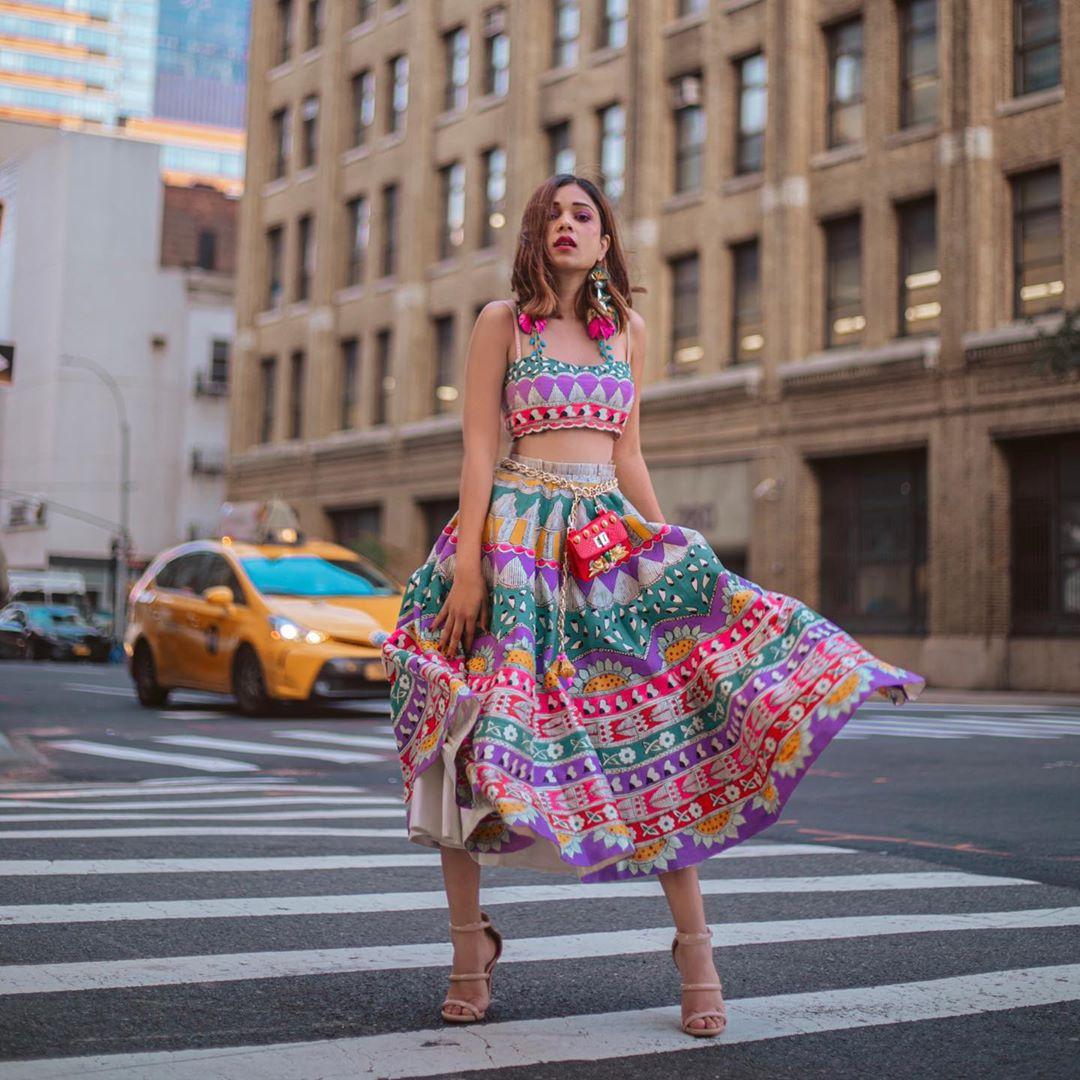 The emotions invested in a magical Mehndi ceremony are beyond count. A Mehndi outfit has always been a colourful and jazzy one for the brides. While you get ready for the gorgeous mehndi designs on your palm, you can opt for a colourful lehenga. The mehndi is the only time when the hep multi-colour lehengas fit best and quite naturally. Comfort is the key for your mehndi outfits keeping in mind the hours you will be sitting immobile.
Floral jewellery just adds to the beauty of those colours. From panelled lehengas that flaunt bright and dainty shades to a short lehenga and even a high-low lehenga, the Mehndi ceremony is a ramp where you can go all out with your multi-colour lehengas. However, make sure to wear a blouse or choli that has shorter sleeves or is sleeveless and also half lehengas with shorter length skirts are a blessing while getting your leg mehndi designs painted!
Scroll through our selection of multi-colour lehenga designs for Mehndi ceremony and add some quirk to your mehndi wardrobe.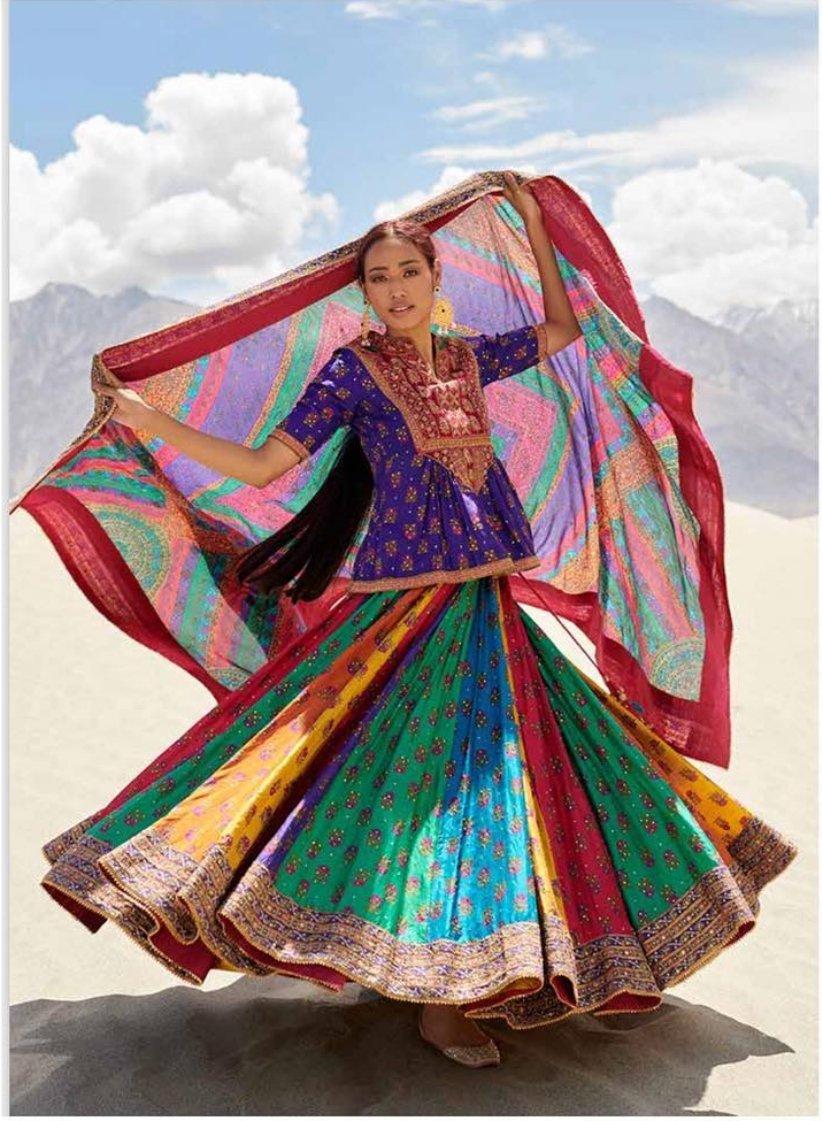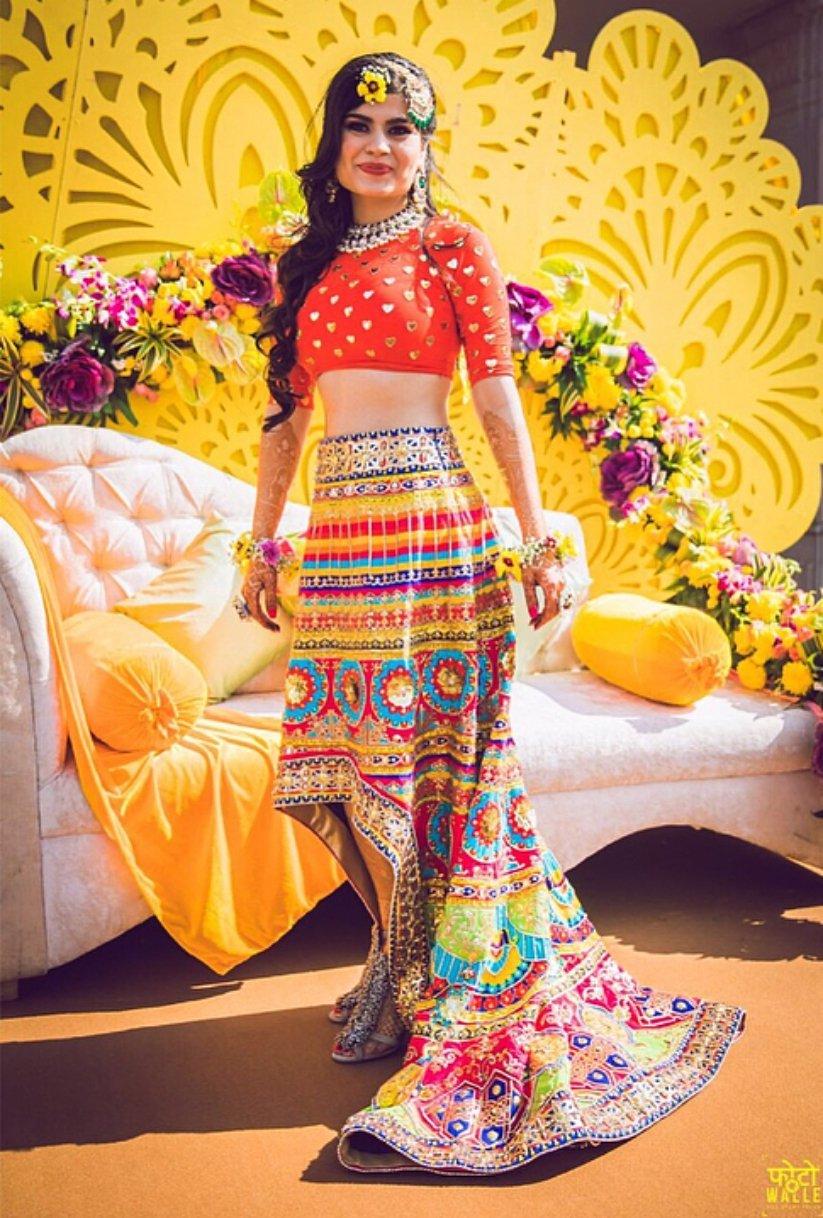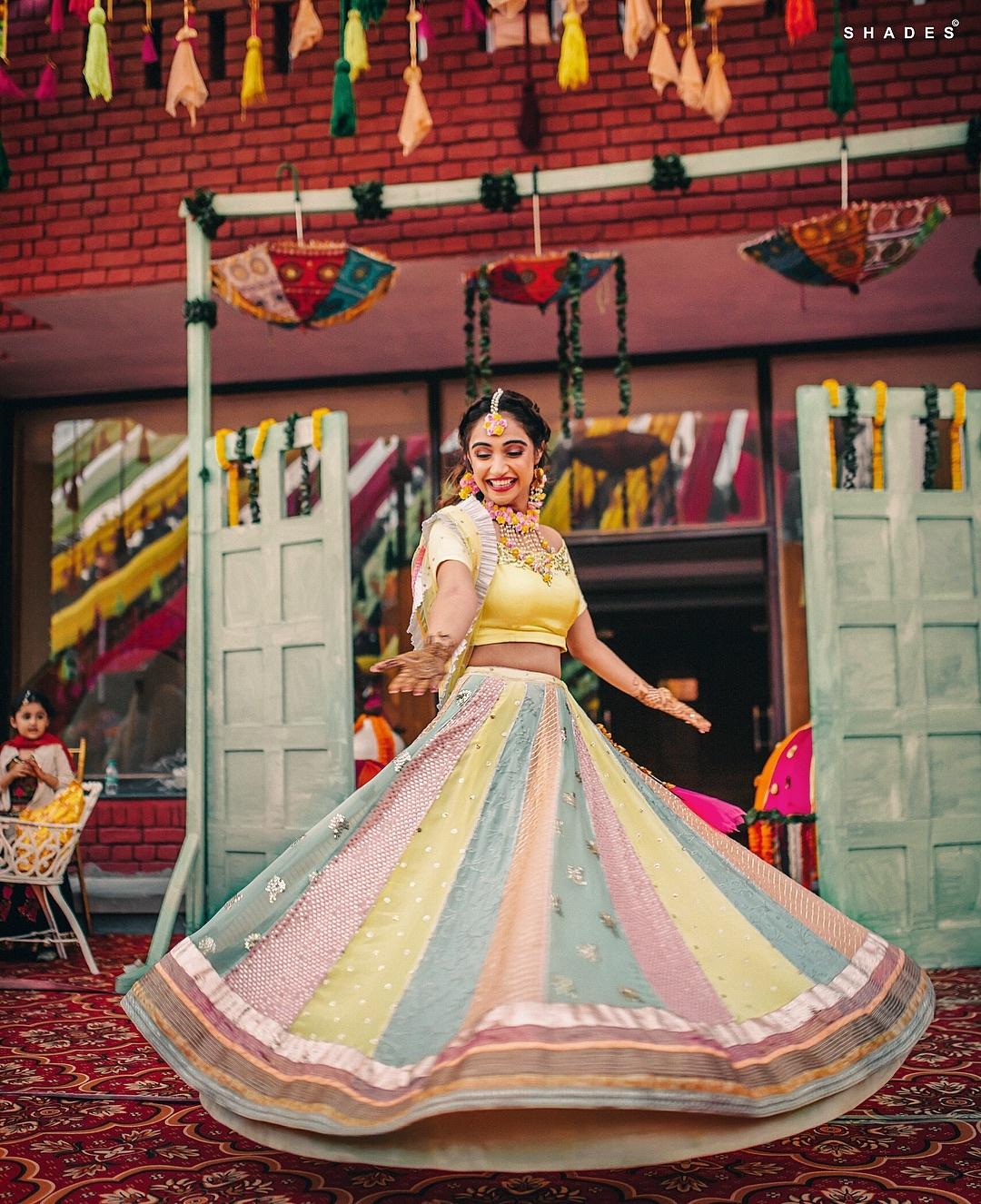 Image Courtesy: Shades Photography by Ashwin M.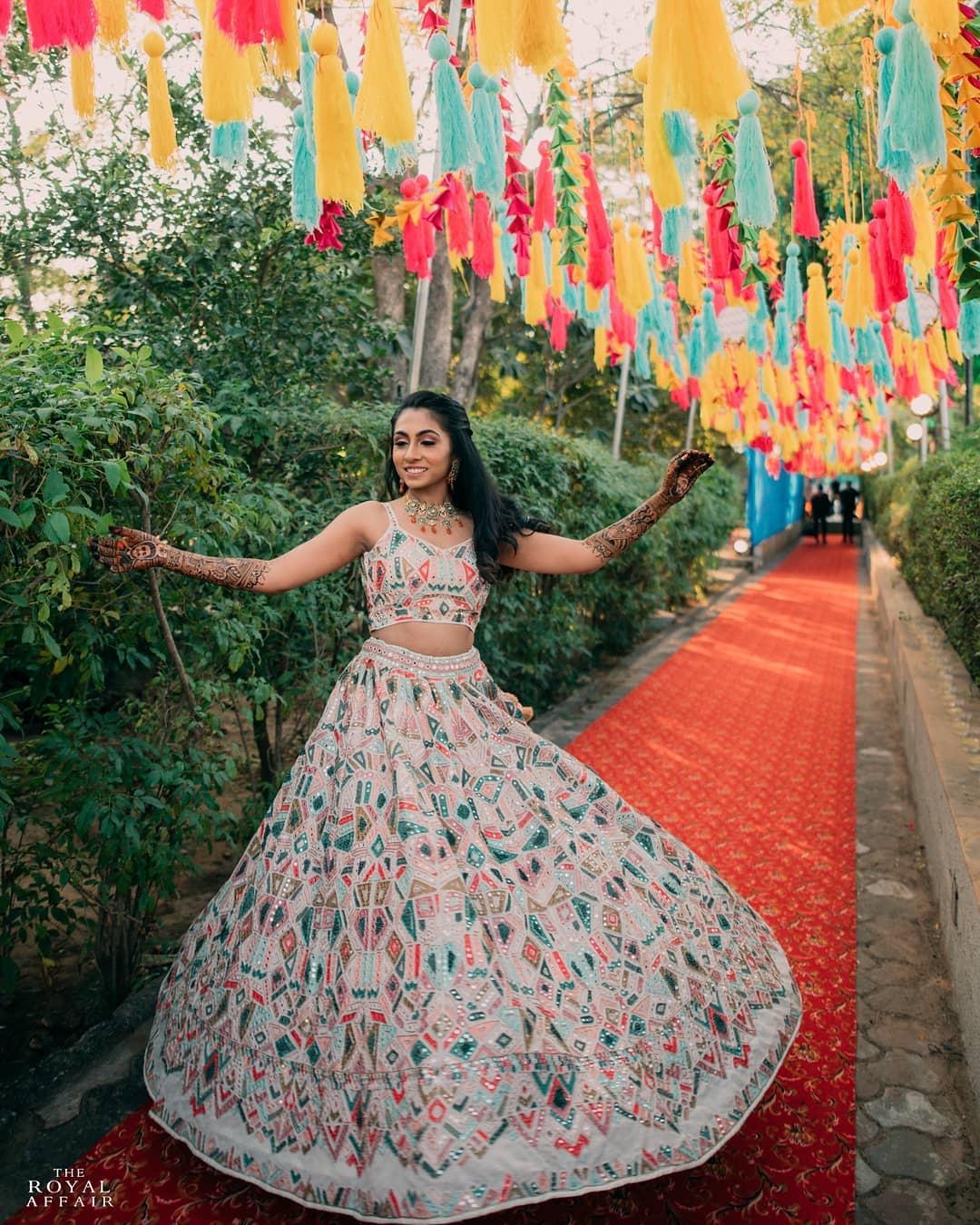 Image Courtesy: The Royal Affair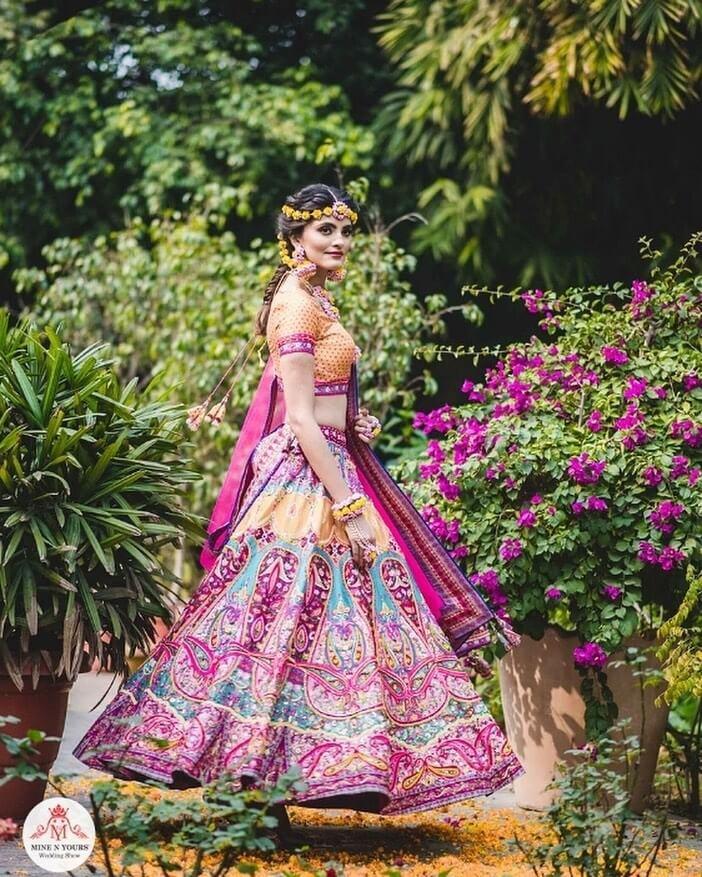 Image Courtesy: Mine N Yours
Multi-colour Lehenga for Brides on Haldi Ceremony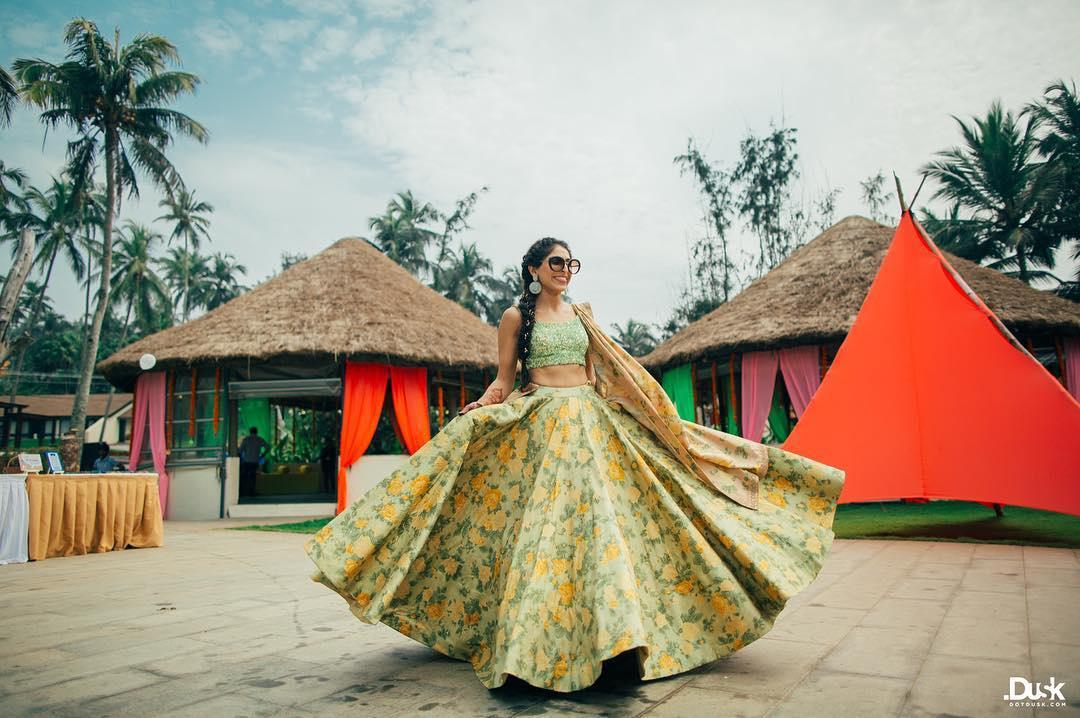 The Haldi ceremony is all about happy colours and marks the beginning of the wedding shenanigans officially. While ideally, the bride chooses something bright and yellow to make sure that it matches the stains of the turmeric and sandalwood paste, you can also go quirky and opt for a multi-colour floral lehenga.
While opting for a multi-colour lehenga for the Haldi ceremony, you can still keep the touch of yellow intact. The lehenga can have colourful flower prints on yellow or you can include yellow in your blouse or dupatta to go with the colourful lehenga. Make sure the lehenga you pick is imbibed with the joys of bright colours because it will be a day function and you need to be in sync with the ambience. Darker colours on your multi-colour lehenga might just not suit the setting so well.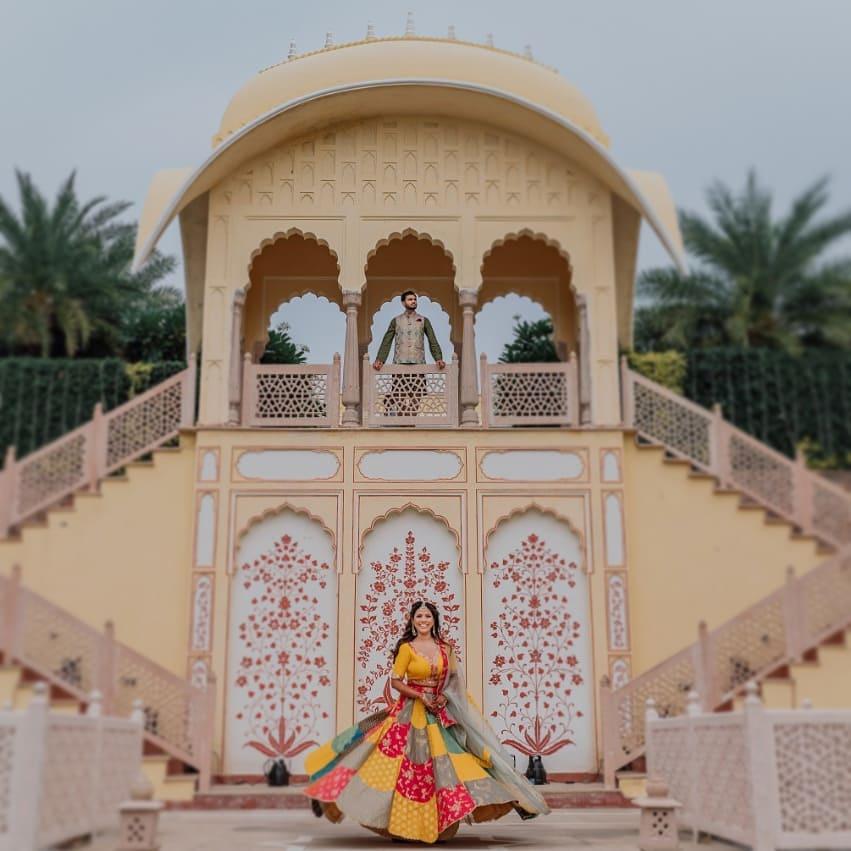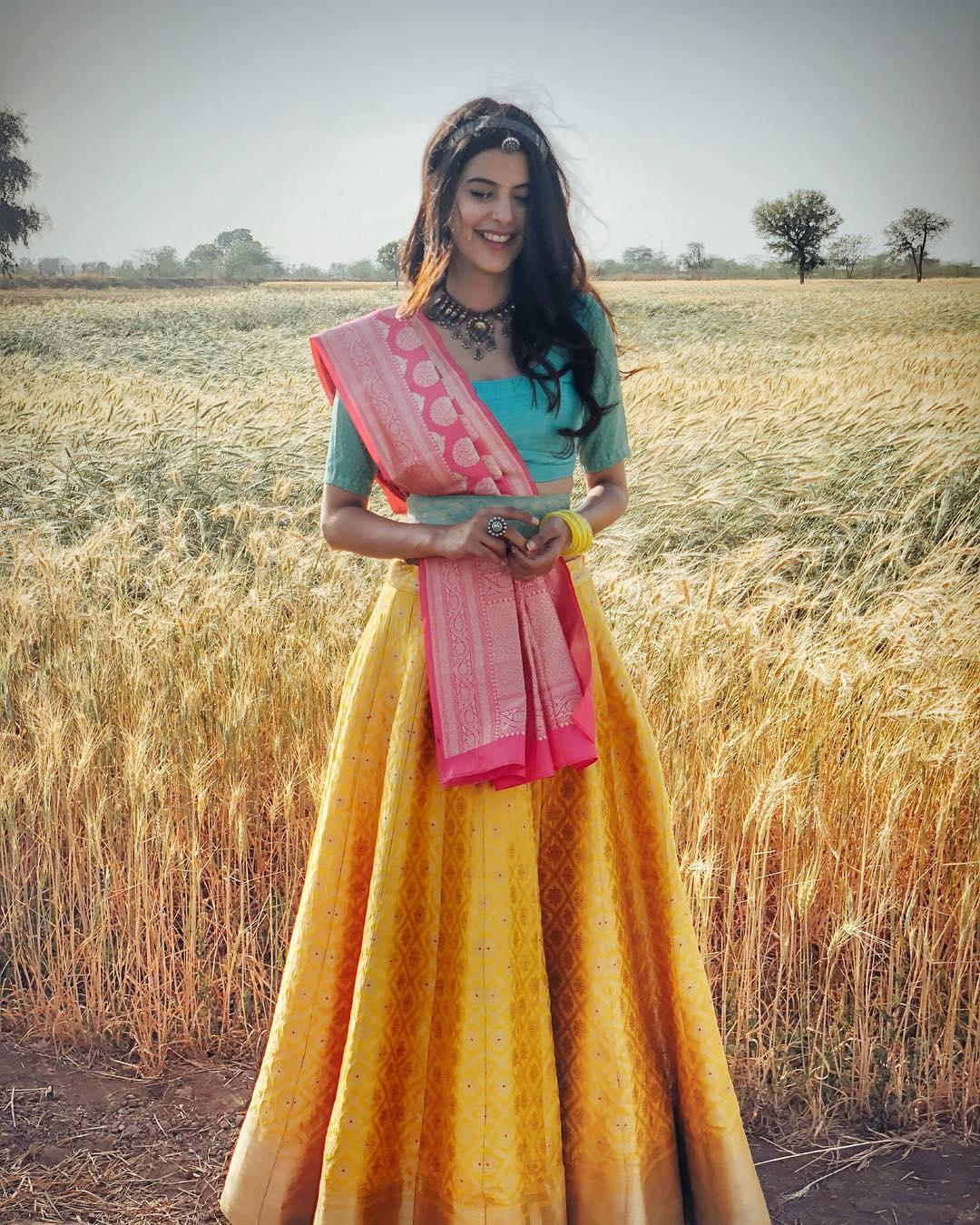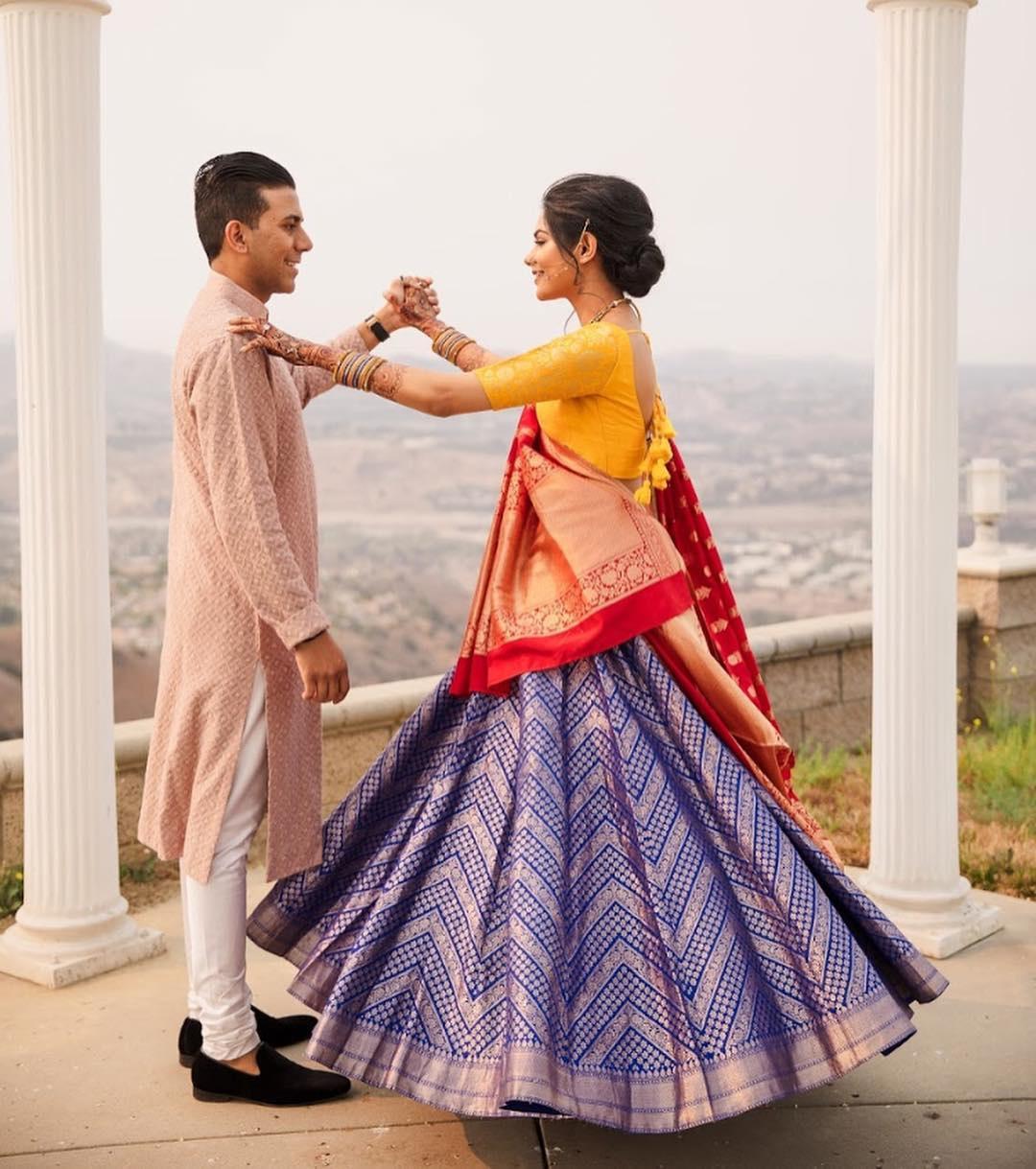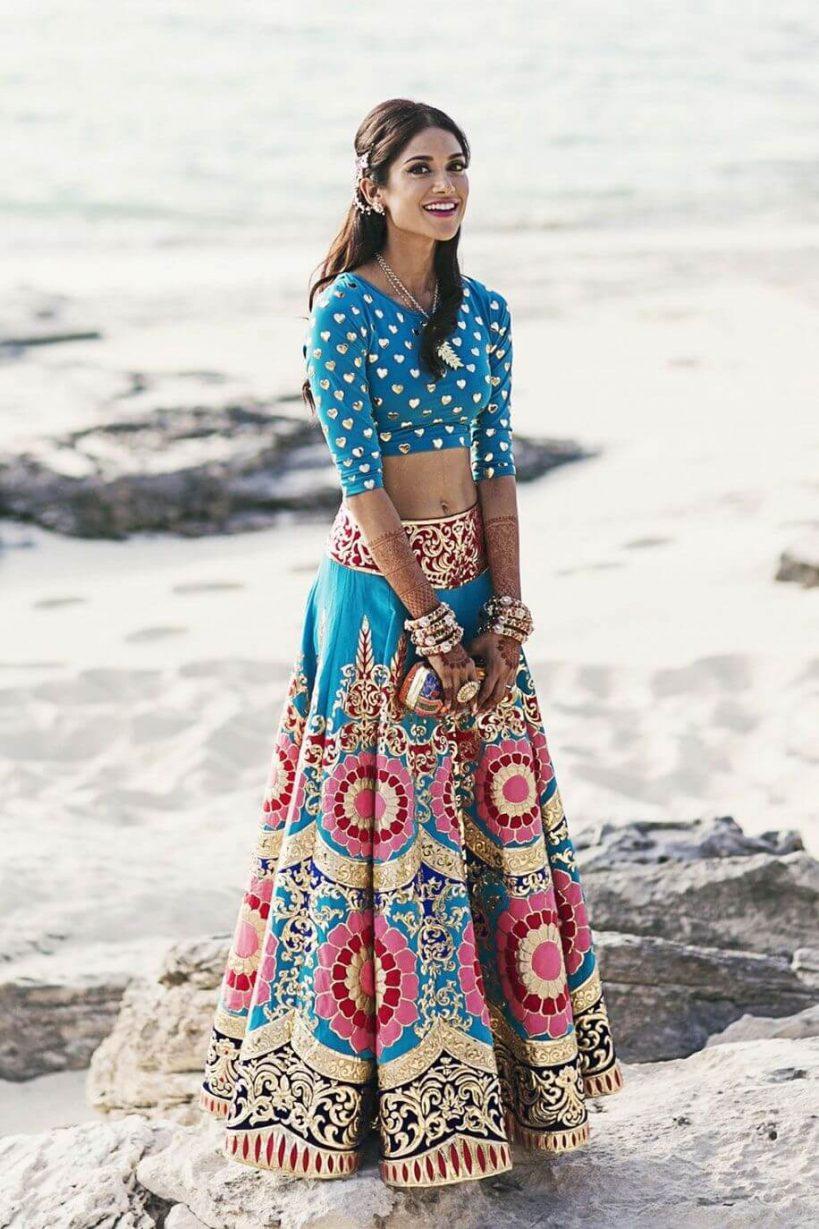 Image Courtesy: Pinterest
Multi-colour Lehenga For Sangeet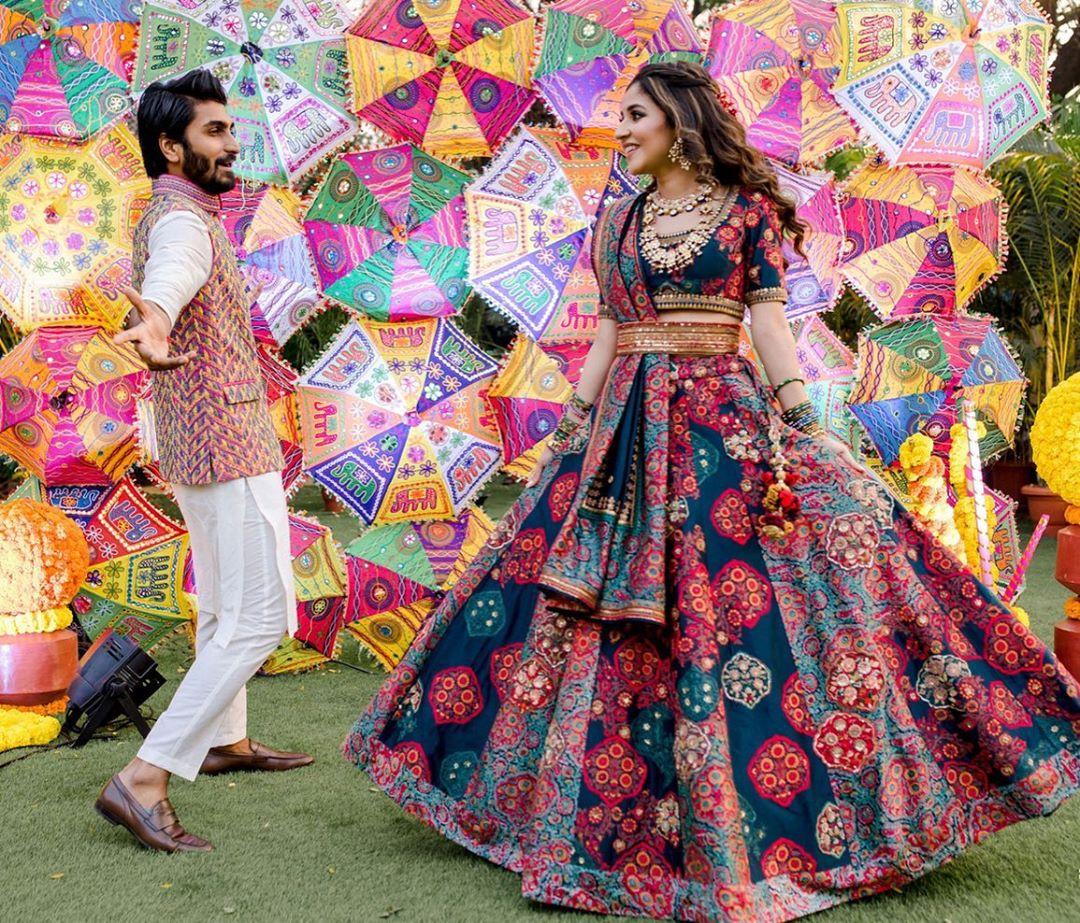 Multi-colour lehenga designs do not necessarily have to have an overdose of colours in big blocks or chunks. It can be some dainty traditional print like the paisley, intricate threadwork or embroidery or even bright patchwork that might also include sequins and mirror work. The Sangeet ceremony look has to be glamorous. The sheer timing of the ceremony demands you to flaunt some bling in the beautiful lights that deck up your venue.
While you get ready to set the dance floor on fire, pick a multi-colour lehenga for your sangeet ceremony in darker hues of the palette and with some shine and shimmer to add to the charisma. Bring in the beauty of embroidery and go all out for your Sangeet night with some Bollywood songs to show off the thumkas your choreographer has guided you with! Accessorise right with diamond or stone-studded jewellery sets to complete the look.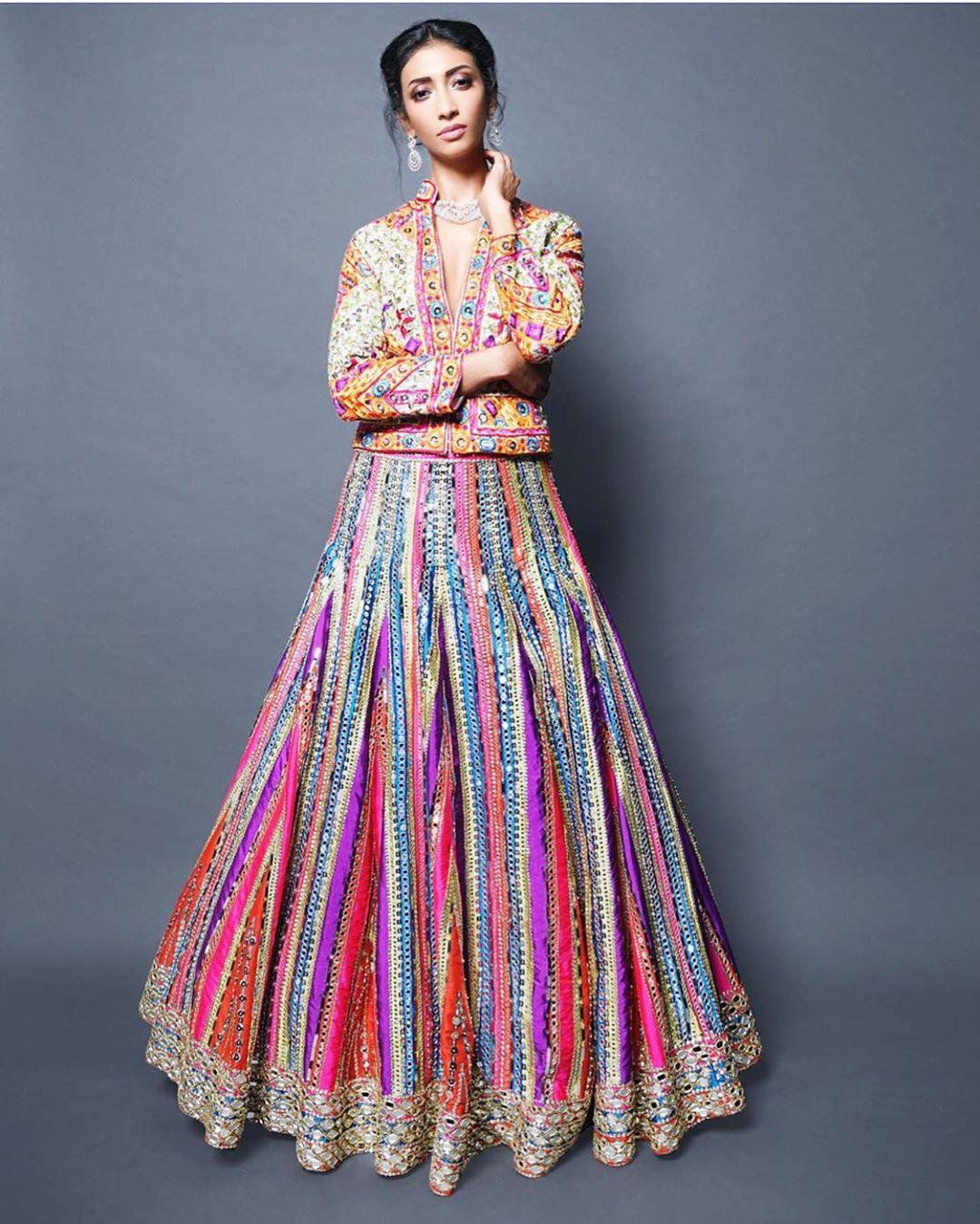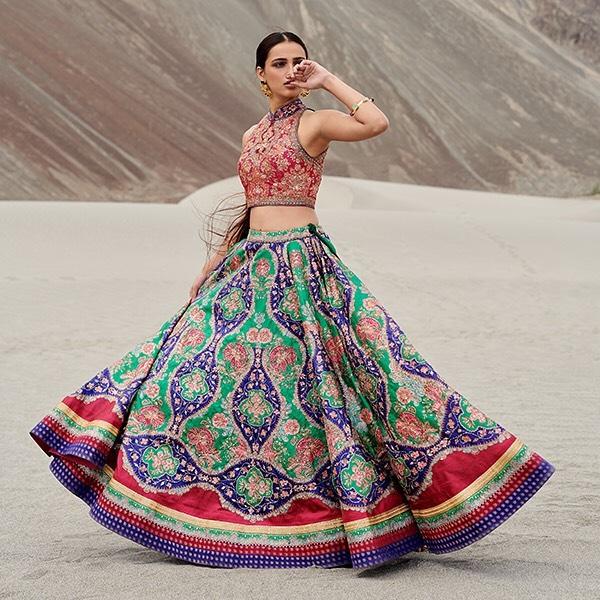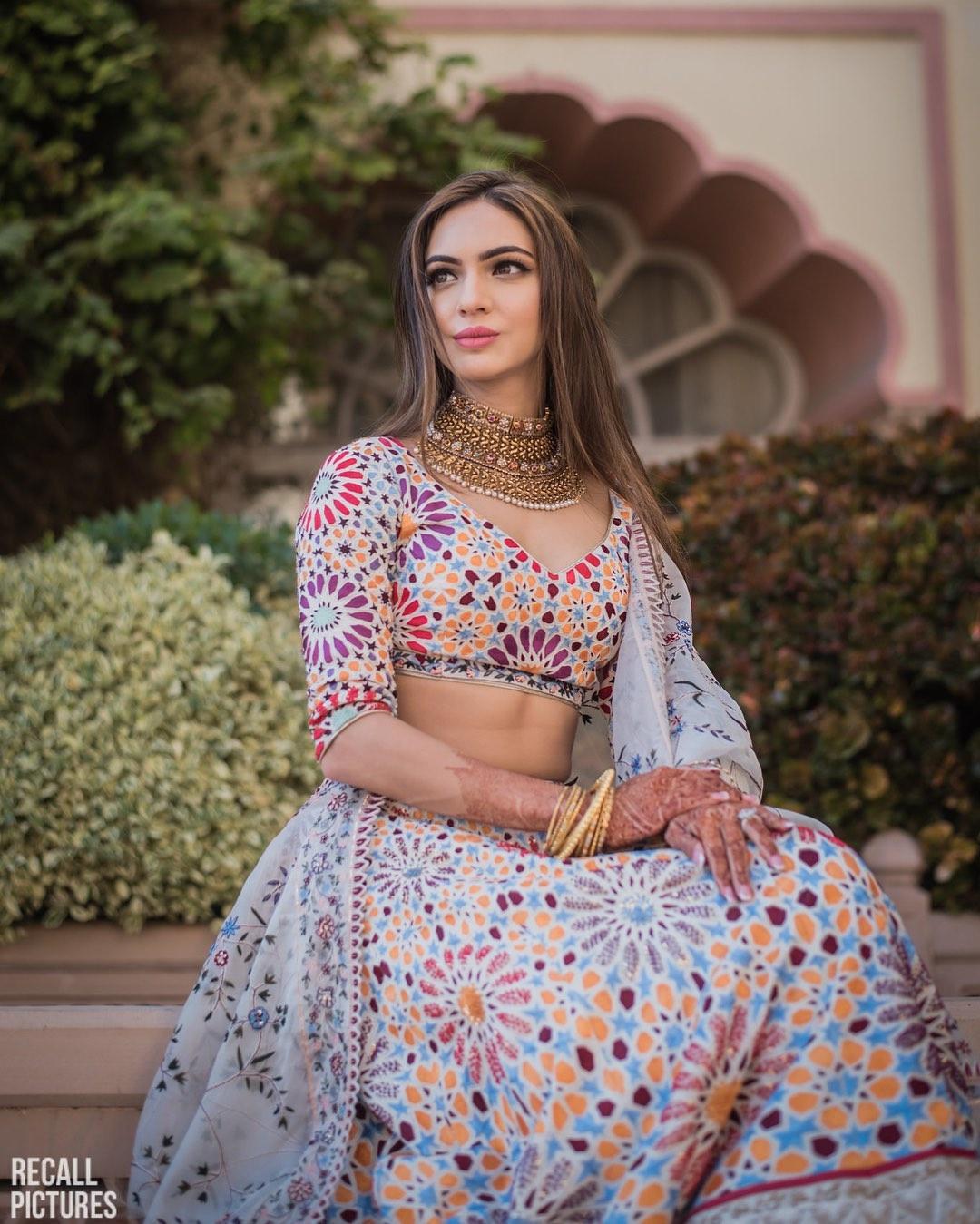 Multi-colour Wedding Lehenga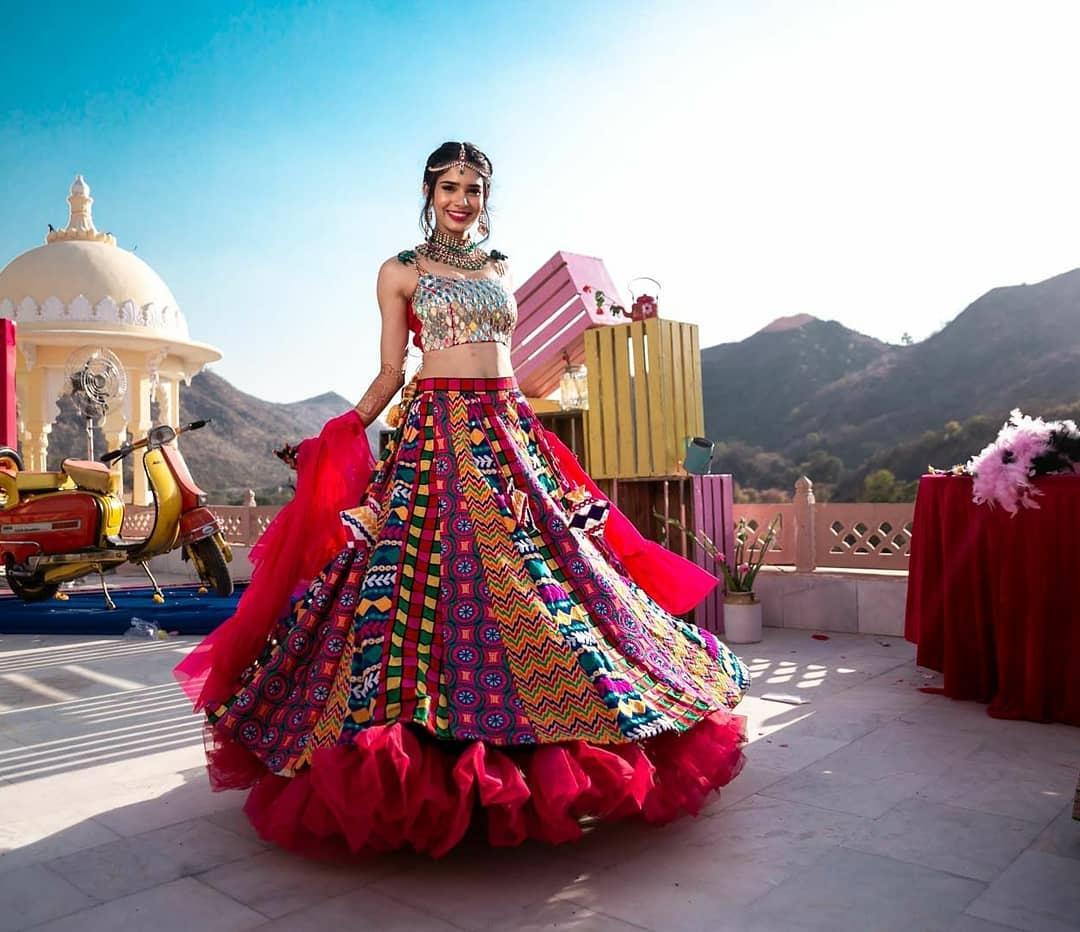 Image Courtesy: Ricco India
For the bride who loves OTT when it comes to their wedding lehenga and wants to hop on the bandwagon of multi-colour wedding lehenga, many couture brands and designers have showcased some signature styles that include a lot of shades. Be it a summer wedding, one in autumn or winters, colours are never out of fashion. While keeping it peppy is preferred by many brides, there are other brides who like it colourful yet subtle.
For each unique bride who deserves a unique bridal outfit, the range of multi-colour bridal lehengas will make you look chic and elegant while keeping the distinctive factor untouched. From rainbow hues touched by ruffles on the hem, subtle colour-blocked multi-colour designs to heavily embroidered sequin or floral lehengas from couture designers like Sabyasachi and Tarun Tahiliani, brides can have it all for their wedding.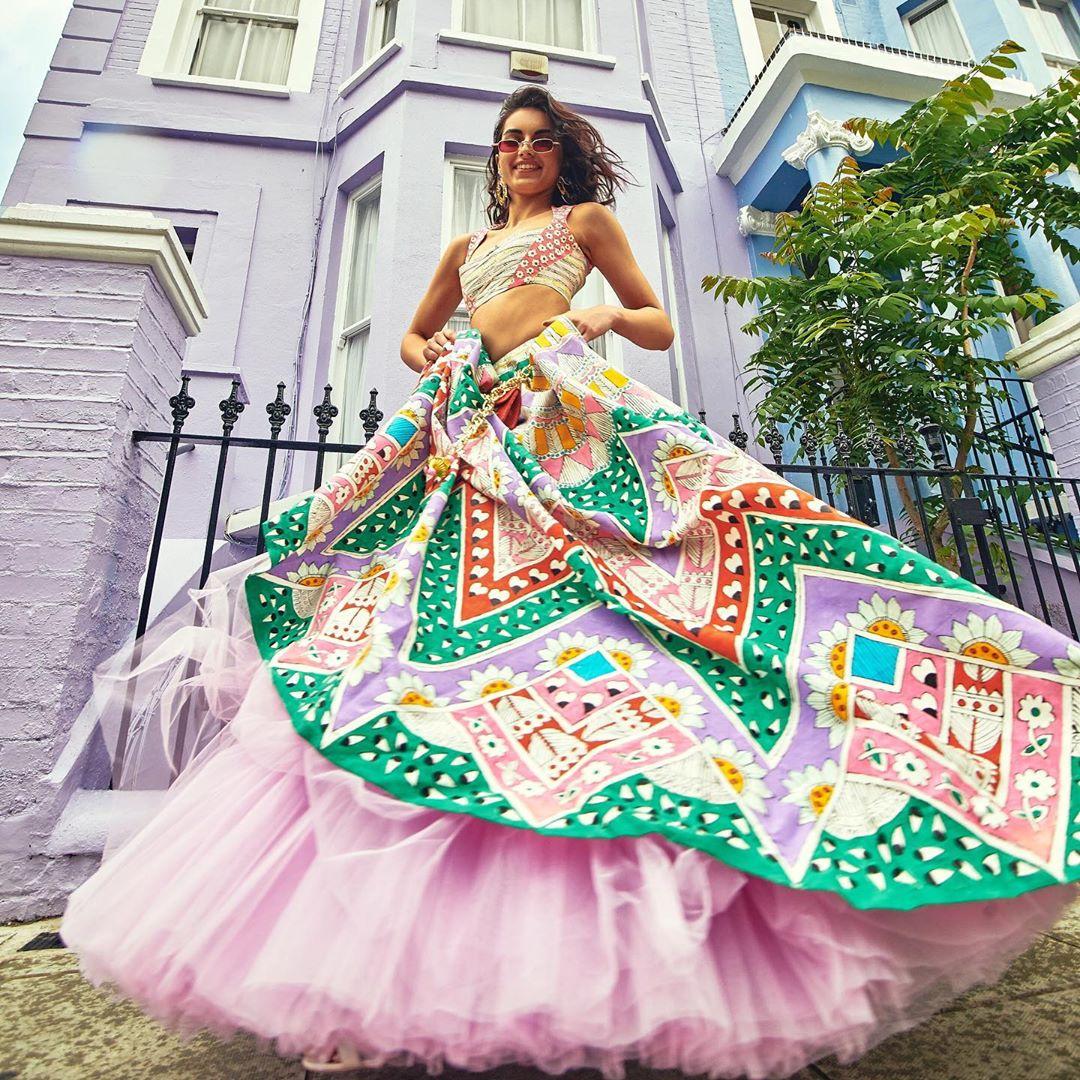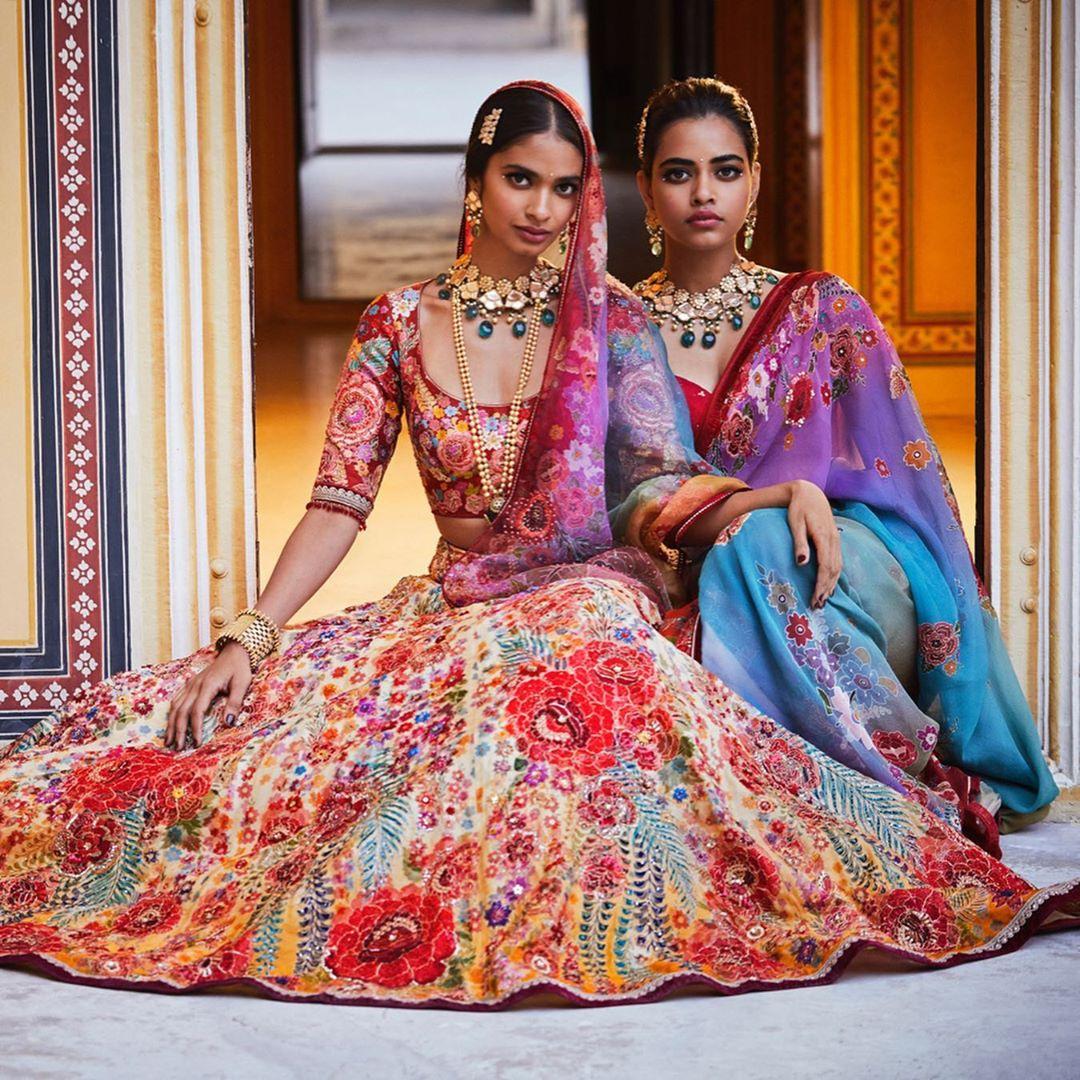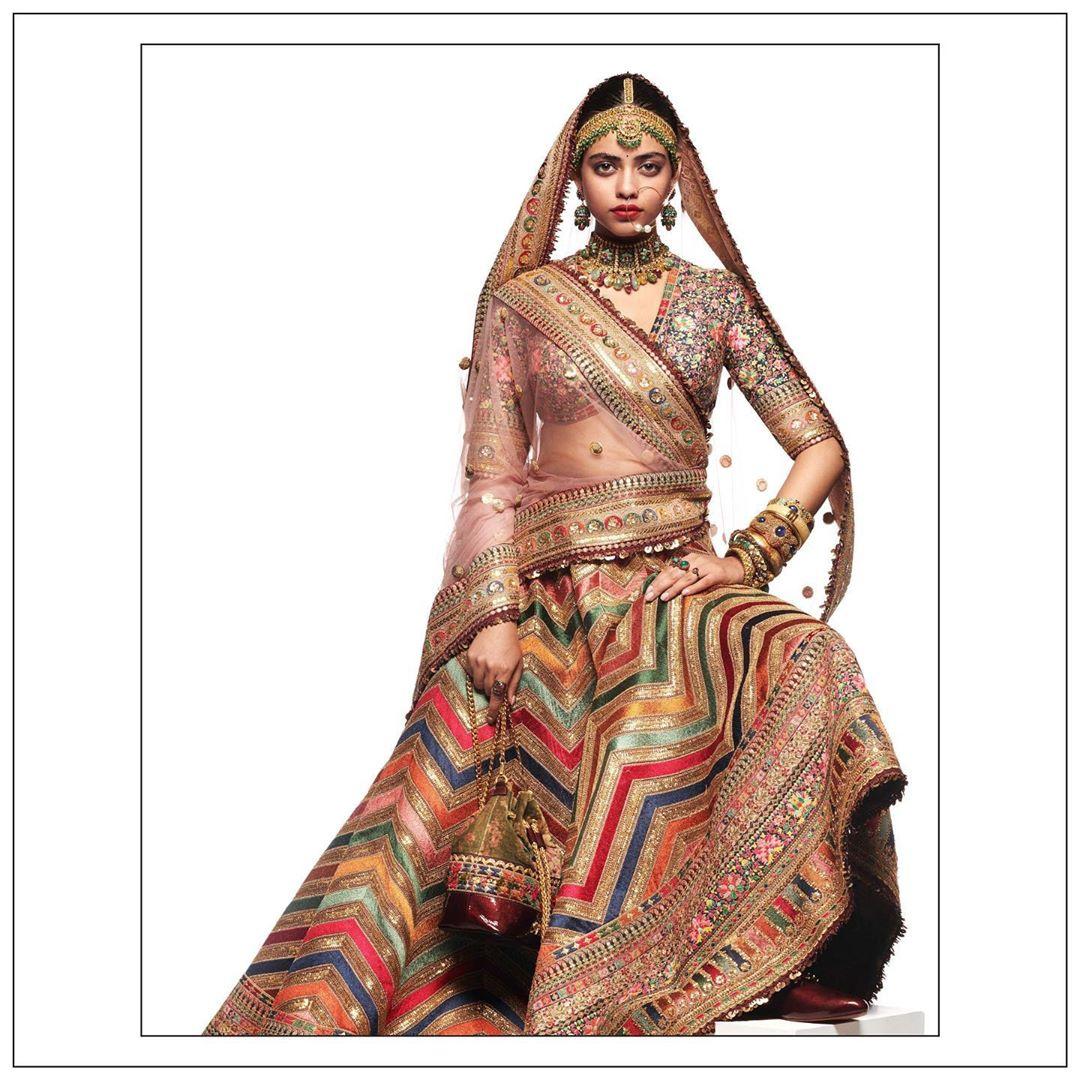 Image Courtesy: Sabyasachi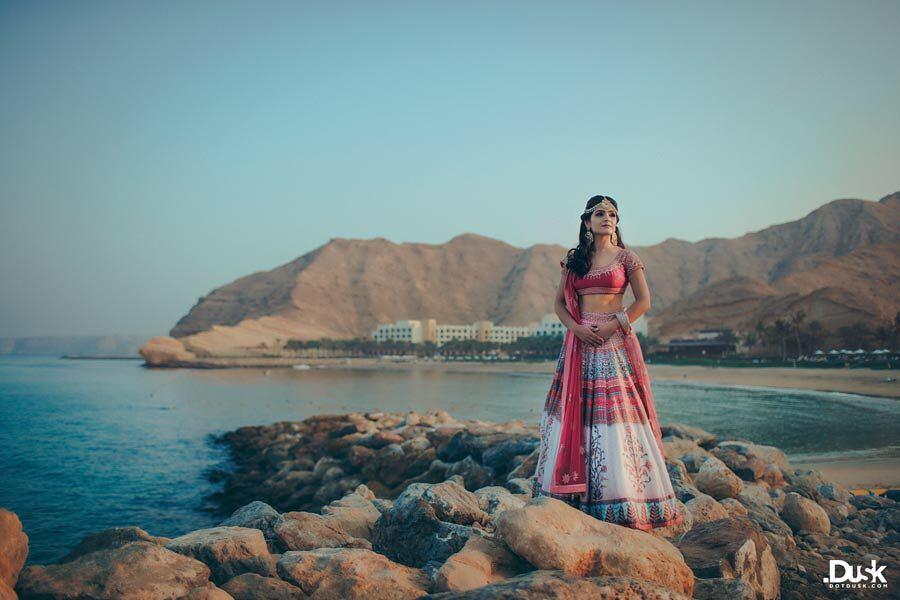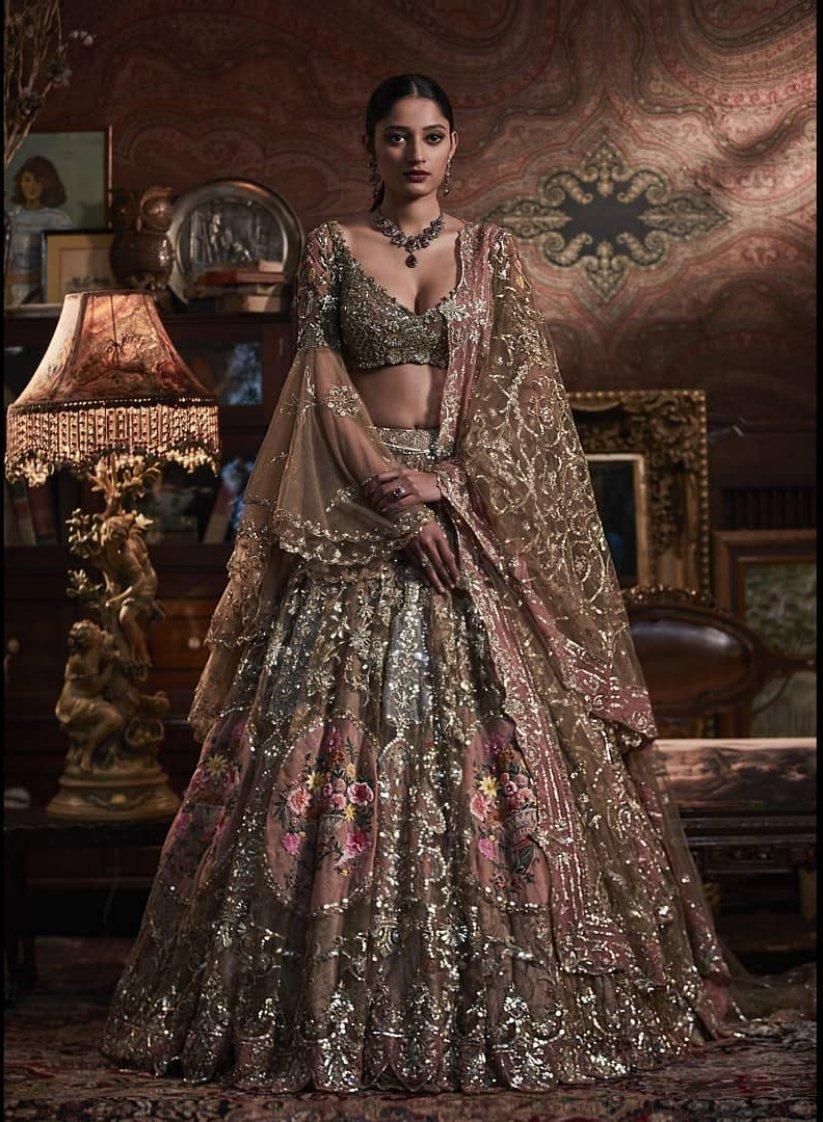 Multi-colour Lehenga for Guests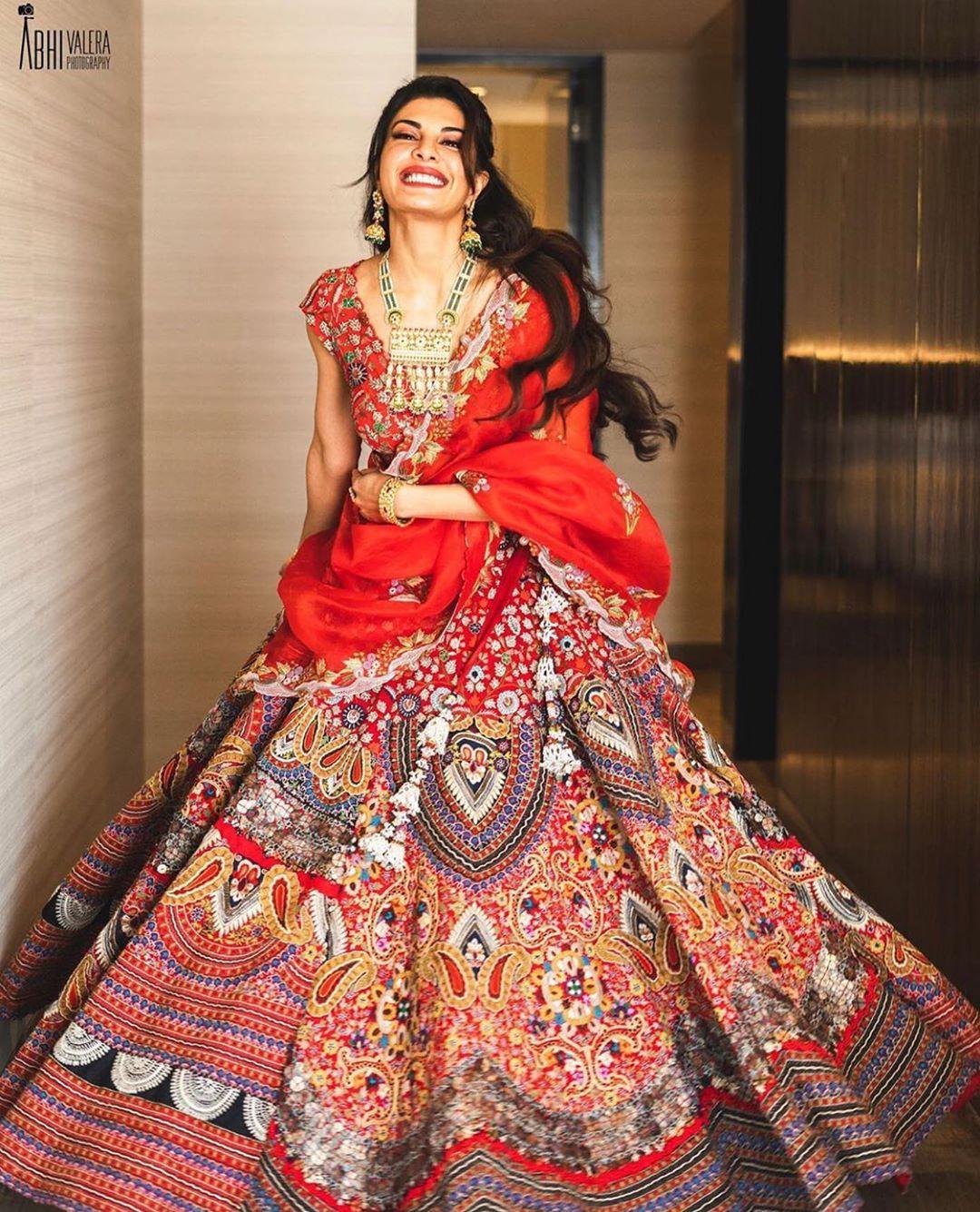 Image Courtesy: Abhi Valera
The brides are not the only ones who get to flaunt a multi-colour twirl in front of the photographers on their D-day. If you are going to a wedding as a bridesmaid or any other guest, you can hop on the multi-colour bandwagon too! The choices will be full of colourful organza lehengas that are lightweight lehenga designs and perfect for the guests to pick without going OTT.
The guests can also choose from multi coloured lehenga designs that embrace quirky pop of colours like neon shades in it. In fabrics like velvet too, designers like Akanksha Gajria have created breathtaking multi-colour lehenga designs that showcase praiseworthy tie and dye prints. The most commonly available multi-colour lehenga designs are the floral lehengas. With the base fabric of one colour that flaunts the splurge of beautiful shades from the palettes on the floral designs, floral lehengas are quite in vogue.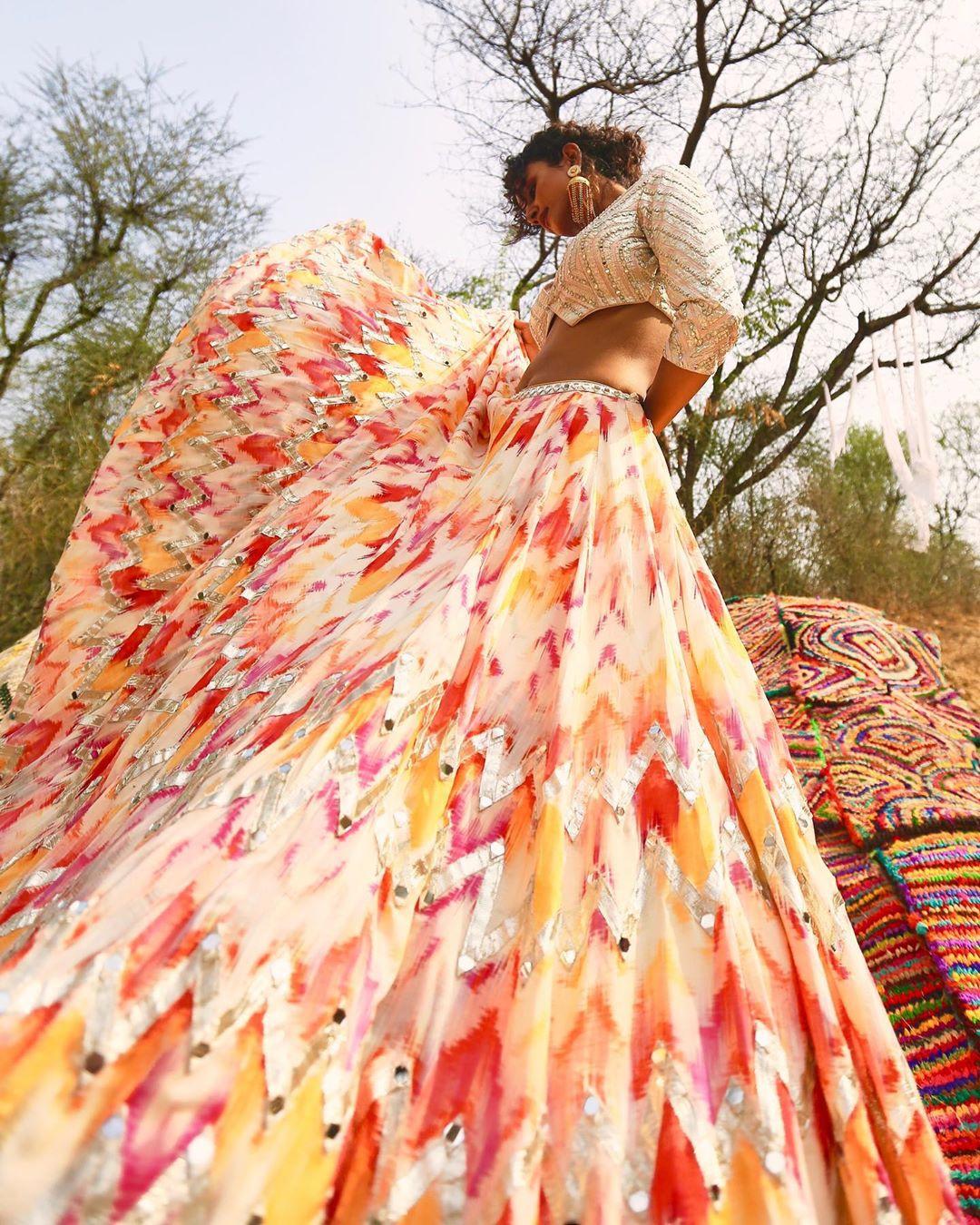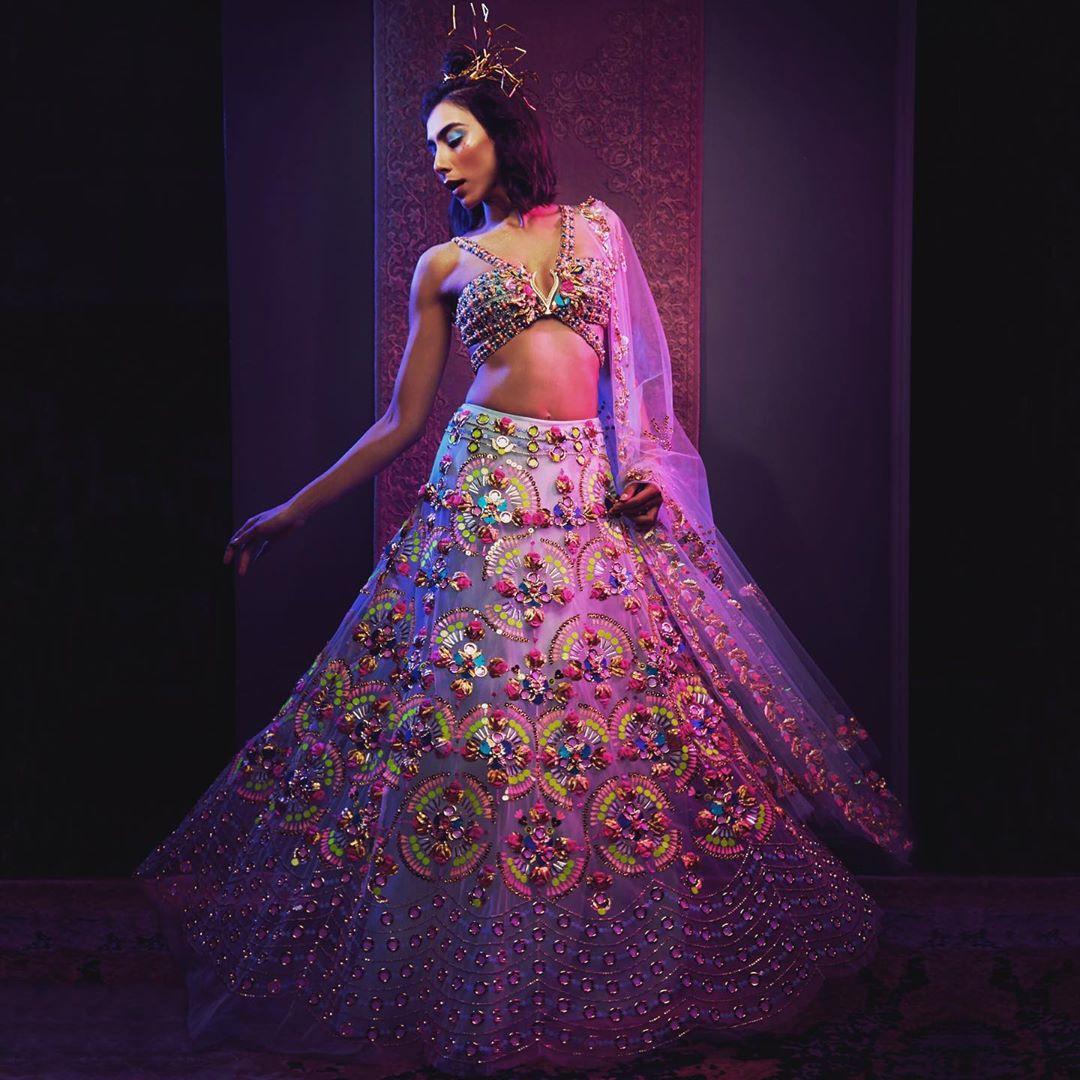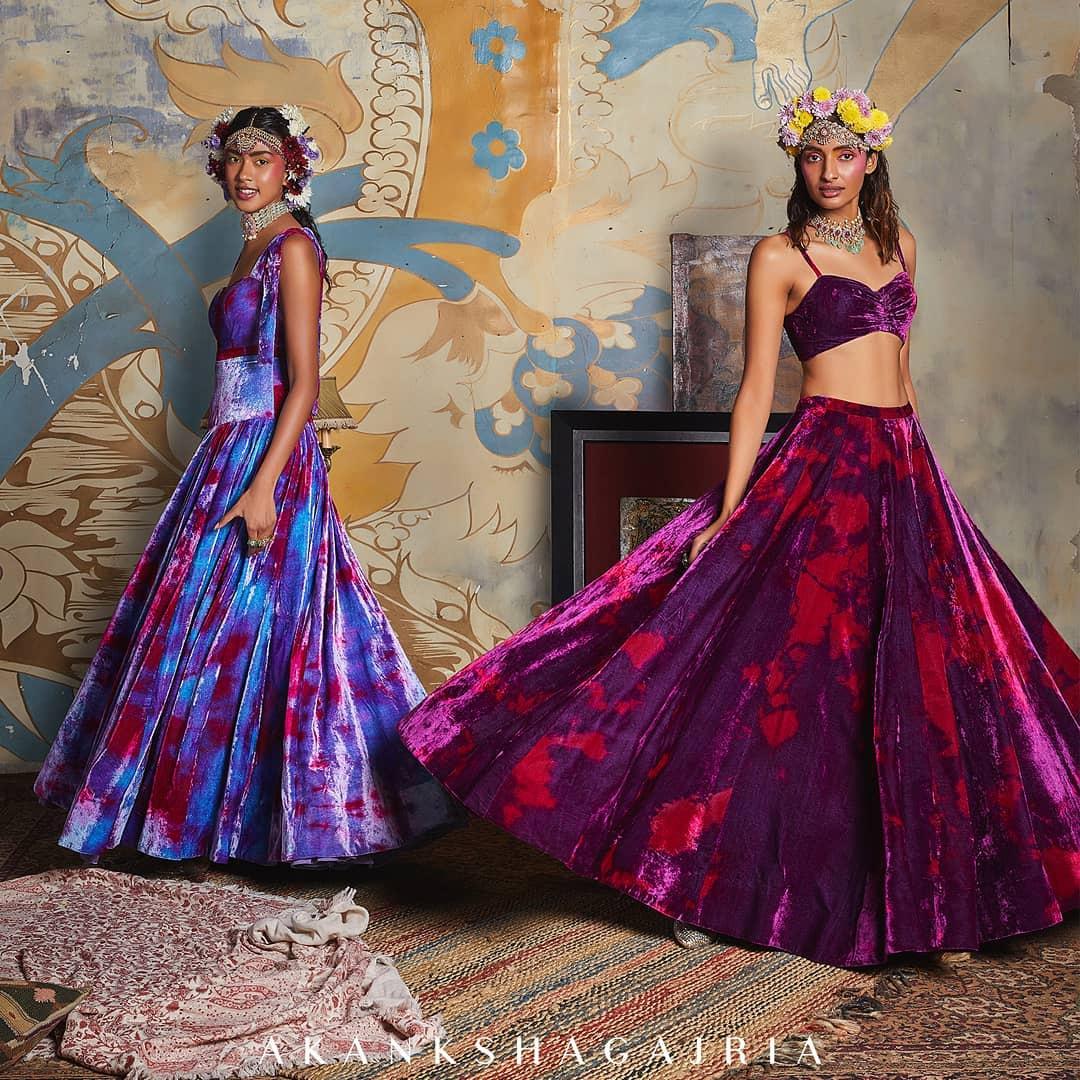 Image Courtesy: Akanksha Gajria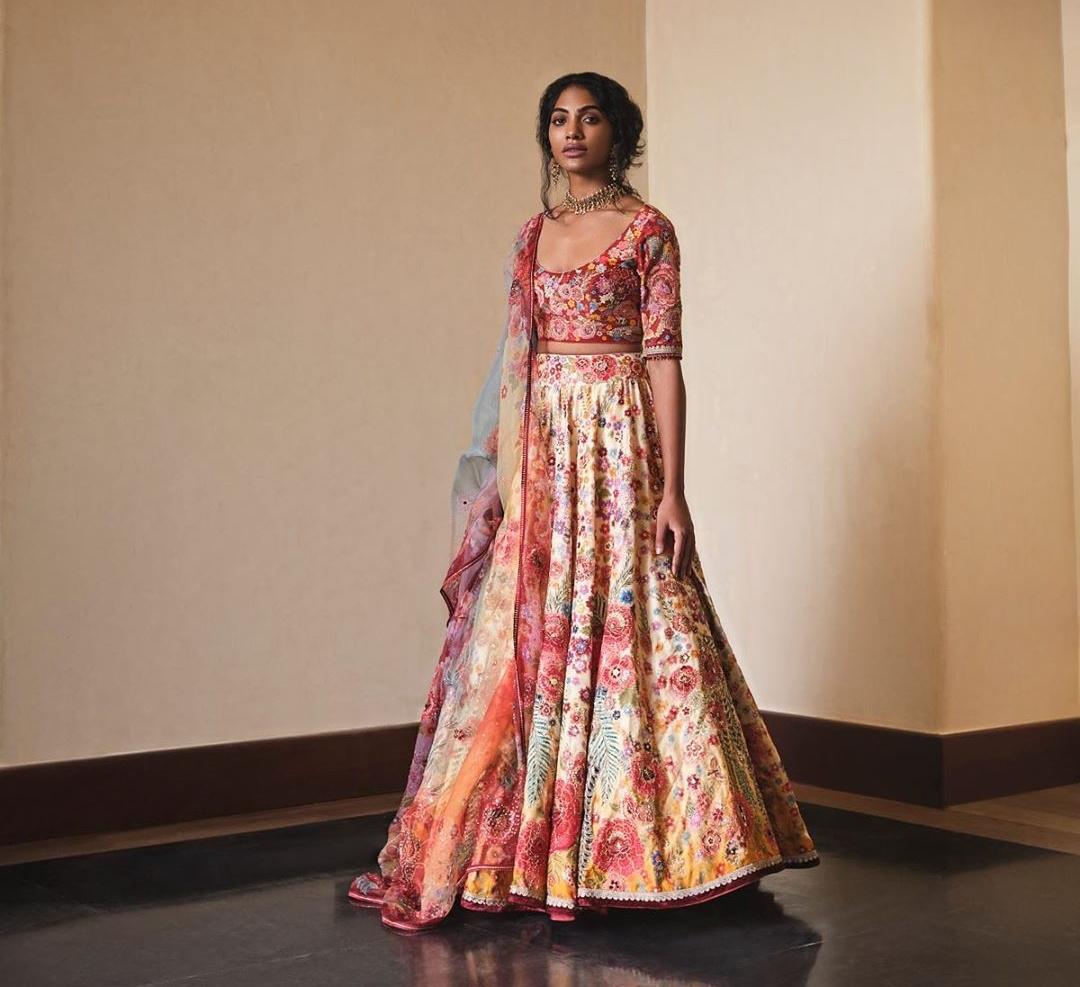 Image Courtesy: Ensemble India
There is no rule for wedding outfits. You could pair a crop top with a colourful skirt, opt for a colourful designer saree, pastel lehengas or even regally red ones. It is after all your big day and in the end, all that matters is you have done it the way you have always dreamt of. Multi-colour lehenga designs range from lightweight ones to heavy lehengas as well. The colourful lehenga designs are bright and catchy for any ceremony to turn jazzy and peppy.
Pick a contrasting blouse or dupatta, include colourful motifs on the fabric or maybe wear a boho print lehenga to make your wedding look as colourful and vibrant as it gets. If too much colour is not your cup of tea, you can still wear a multi-colour lehenga that has different panels of light pastel shades.
Ace designers like Anita Dongre, JJ Valaya, Abhinav Mishra have also spun some gorgeous designs of multi-colour lehenga for you to pick from apart from the signature peppy designs of Papa Don't Preach by Shubhika and Siddhartha Bansal that have almost always incorporated a lot of colours in them.
If you have decided to pick a multi-colour wedding lehenga for all the ceremonies or even one, get in touch with the best designers in the industry to get your perfect bridal lehenga. Get in touch with ace photographers who can freeze the beautiful moments for your wedding album.