Mehndi Outfits to Make You Look Like a Million Bucks
Mehndi outfits are all about bold colours, contemporary accessories and vibrant hues that set you apart and add to the joyful celebrations.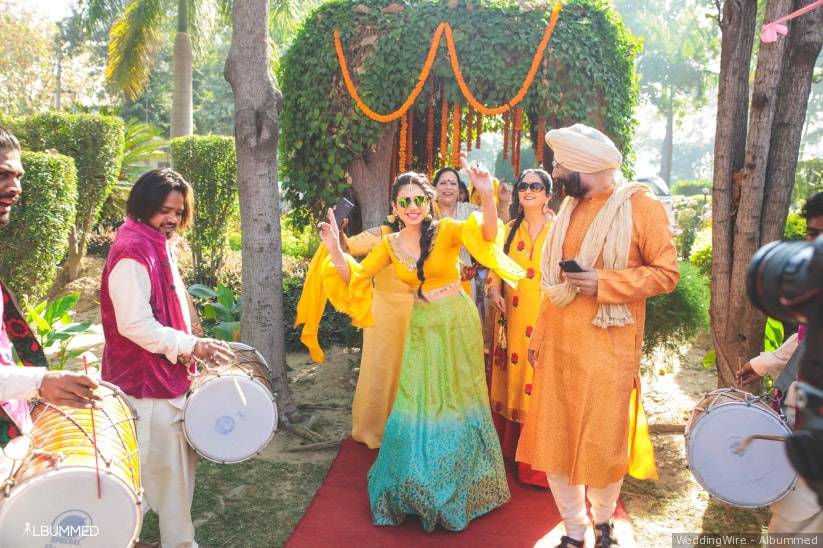 Are you looking for striking mehndi outfits for your own wedding or a wedding in the family? Choosing outfits for different wedding functions is all about striking a different yet stunning look for each event. While bridal colours today range from the traditional reds to royal blues, and contemporary purples; what makes each a stunner piece is how you style it and how you pick a unique look for different functions.
The mehndi function, usually a day-time affair, calls for bold and vibrant hues, complimented with statement accessories. We've got you covered!
1. Pink and Orange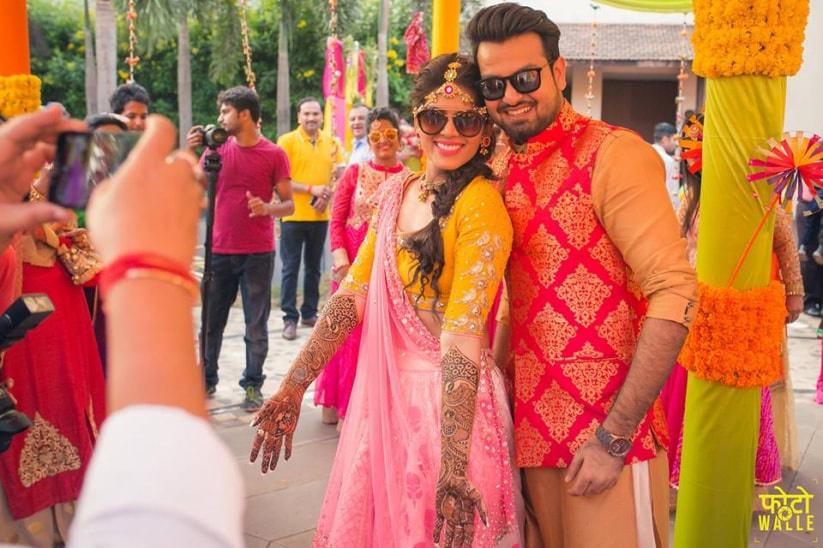 Fuchsia pink and flaming orange has been a trending wedding outfit combination for a long time now, and rightly so. If its mehndi outfits you are choosing, you can opt for a lighter pink and a subtler shade of orange that will beautifully shine through when the sun comes out. You can choose a simple skirt and blouse, a lehenga, a saree or even a one-piece flowy gown in this combination. Delicate thread, mirror or Gota Patti work further compliments this colour combination. You can add contemporary Gota Patti jewellery to add to your stylish yet classic ensemble.
2. Sunshine Yellow with a Hint of Turquoise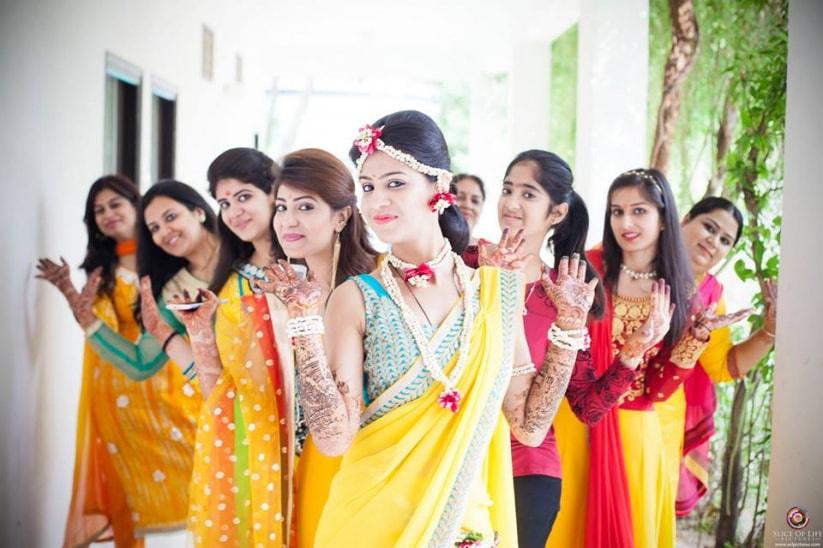 A plain sunshine yellow saree with a bolder turquoise blouse and border makes for one of the most effortless mehndi outfit combinations. It's the perfect balance between simple and stunning. If blue is not your colour, you can also combine a yellow saree with a rani pink, emerald green or a burnt orange blouse and border. Mehndi outfits are always more stunning when the primary colour is vibrant and nothing speaks of vibrancy like a happy yellow. Accessorise with white mogra flower jewellery and you are all set to strike a pretty pose.
3. Pretty Peach and Mint Affair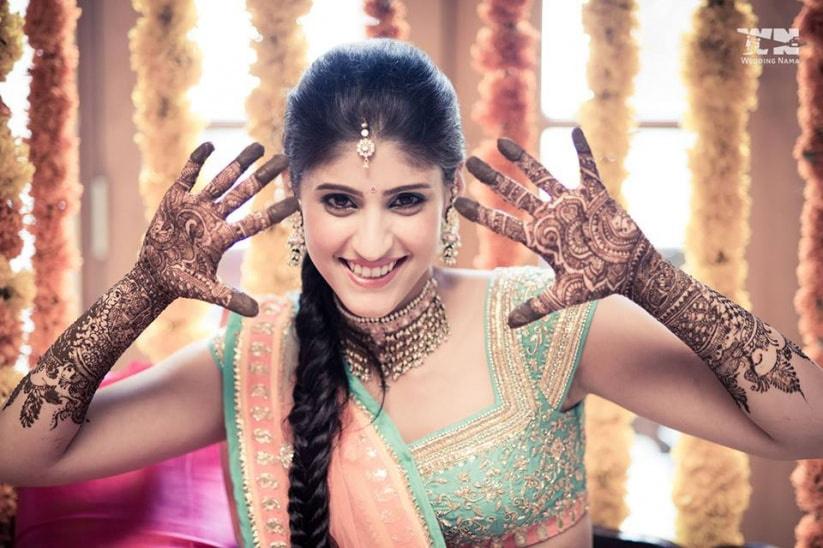 Peaches and Mint have become a hot favourite amongst modern day brides for the grace and charm these colours add. Mehndi outfits in a combination of pastel shades of peach and mint make a stunning combination. A peach and mint combination lehenga or saree, with delicate thread work in burnt gold or Swarovski work, with a statement jewellery set, is great for both daytime and evening Mehndi functions. If your mehndi function is followed by a Sangeet or cocktails, this is also one of the most versatile combinations that work through the day and night.
4. Mehndi Green and Yellow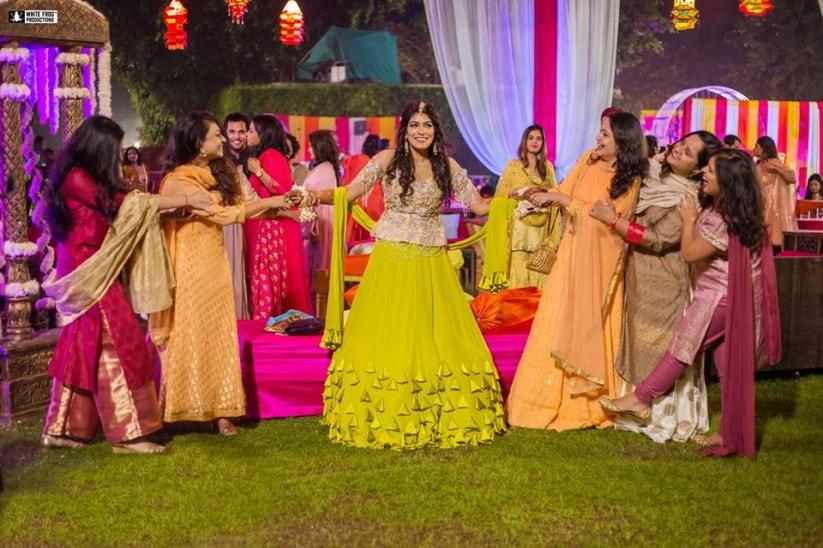 When you think of classic mehndi outfits, a mehndi green and yellow is the first pick. Well, it's called mehndi green for a reason, right? This combination works great for salwar suits, lehengas and even a simple skirt and blouse. Delicate gold thread embroidery or even colourful embroidery can make this the quintessential mehndi outfit.
5. Accessorise Right!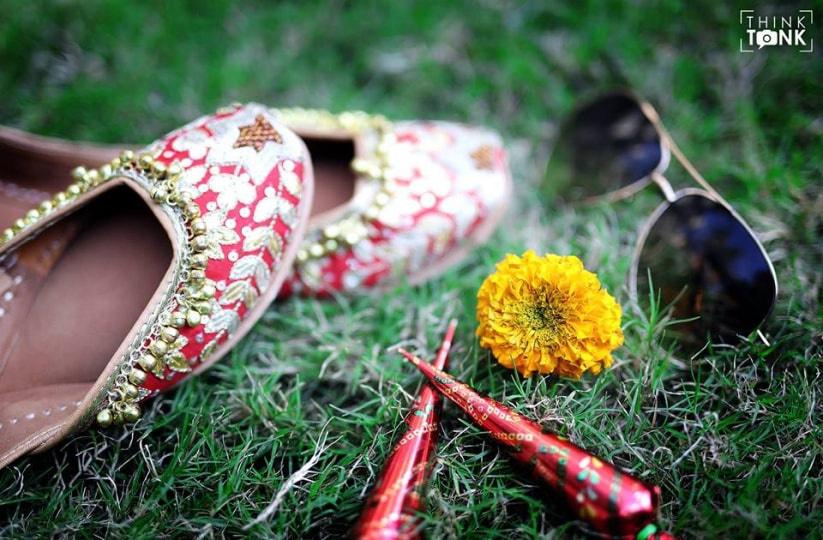 Mehndi outfits are incomplete without the right accessories. Today jewellery that is specially designed for the mehndi functions are an absolute rage. These are usually made of threads, Gota, fabric, jute or even fresh flowers. Additionally, a vibrant pair of comfortably chic Juttis, bangles, your stylish sunglasses and of course the right hairdo are definite musts.
We Will Also Suggest Some Makeup and Hairstyling Tips so That You Get the Look That You Truly Deserve!
No matter how spectacular your outfit it, your hair and makeup should complement you as well. We have enlisted some tips on how you can perfect every element and become the bride of the decade! These pointers and extra tips will make your hassle of finding a trusted partner that much easier. I mean, nobody would want stress related to the look on what happens to be one of the most special days, right?
1. Go for some trial makeup sessions
3. Make sure you show your outfit to your makeup artist. Some colour palettes don't sit well when paired together. So, discussing with your MUA beforehand will give both of you ample time to decide which type of makeup will look best
3. Follow the same pattern with your hairstylist as well. What if you wear a cape style blouse with a scintillating neckline and put your hair down? Your open hair will steal the limelight away from your blouse. There wearing your hair up in such a scenario would be a smarter thing to do
4. Don't settle for the first person you meet. Visit a handful of hairstylists and makeup artist, look at their work, way of doing bridal makeup and then make an informed decision
5. Start hunting for a makeup artist and hairstylst a few weeks prior to your big day. Don't go looking at the very last inute. After all, you get married only once, So no hasty decisions, please
6. Ask them about the cost. At times there are hidden costs. And, no last minute surprises will do you any good. So it is better to be open about your budget and about how much you are willing to shed
7. Ask whether or not your makeup artist and hair stylist are open to travelling to your wedding venue. If they happen to be open to doing so then it is a win-win situation or you, right?
Follow these easy steps and keep them in mind before you freeze your final look and we know for a fact that you will look spectacular no matter what!
Still confused? Just look for the brightest and boldest hues in traditional or contemporary cuts and jazz it up with stylish and modern jewellery and you are all set to make mehndi outfits trends.
What's your mehndi day style? Write to us in the comments about how you incorporated the latest trends in curating your vibrant mehndi outfits!