Because It Is a Happy Colour for All, Check out 6 Yellow Saree for Wedding Ideas and Improvise for Inspiration
A pop of yellow adds a hint of summer freshness to anyone's wedding affair. Here, we celebrate the colour, beyond just Haldi and Mehndi outfits - these are some of the most beautiful yellow saree for wedding looks.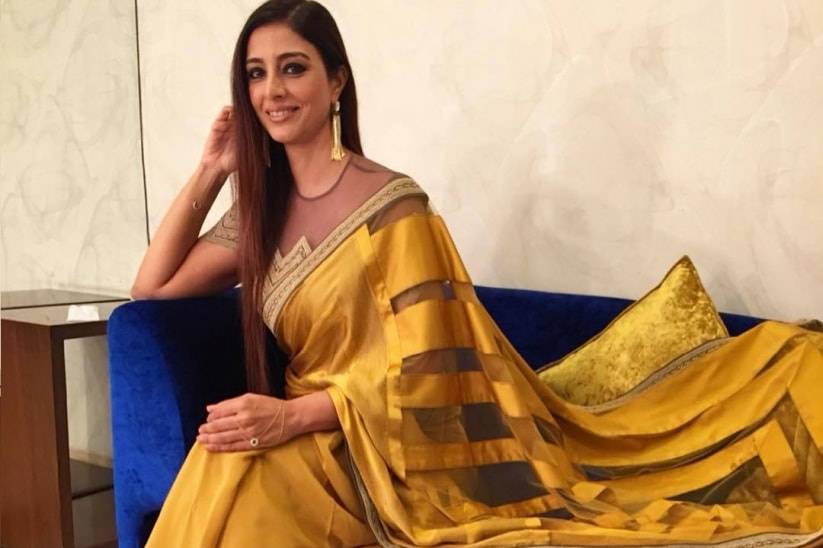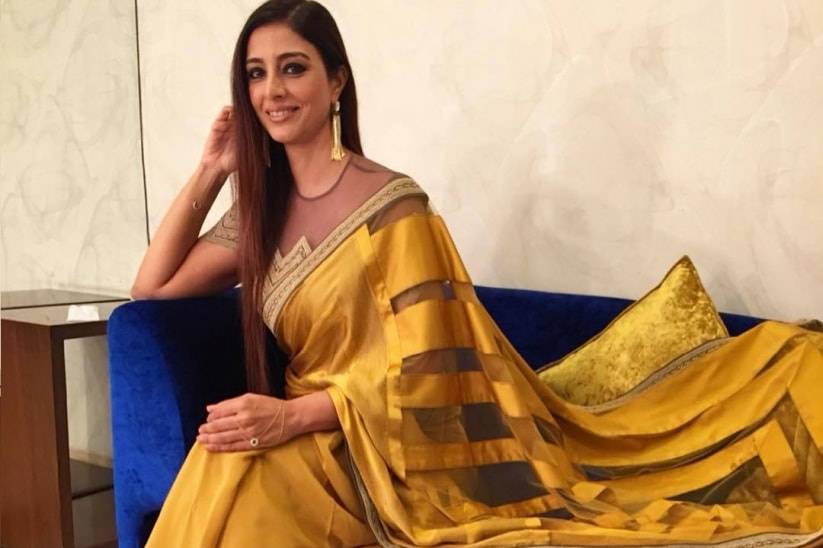 With exploding zest and energy, yellow brings a fresh-faced appeal to a wedding colour palette that's drenched in pinks, maroons, reds and pastels. The colour adds a spark to any summer wedding affair, especially daytime functions like Mehndi and Haldi. There are also brides who choose muted or buttery shades of the sunshine colour for their cocktail and reception outfits. And then there are the brides who still go for a bright, traditional yellow saree for wedding functions. Not many people feel confident when wearing yellow because they think it is too bright - but let us stop you right there! That is a myth and we are here to bust it for you! Have a look at these gorgeous ladies rock these yellow saree for a wedding and get inspired to throw in one at one of your own wedding festivities.
Yellow has always been a bright colour because it is the colour of the sun and pretty flowers and fruits. However, it has been a colour of hope too, where women waited for their husbands to return from the wars waging for months at once, with a yellow ribbon tied to their arms. Yellow is indeed a colour for the happy souls who are going to be the brides to their handsome grooms in no time and this happiness deserves yellow. Yellow is not just a shade, but it has a variety of shades within the shade where the contrasts and brightness intensify or fade away and each of these shades is an absolute treat to the eyes.
Here, we explore all the different ways in which the colour can be used for your big day, alongside pairing options with lightweight bridal jewellery, floral jewellery and even contrast colour options. Take notes and consider something yellow for your own set of bridal outfits.
A yellow saree for wedding:
So here we are, with 6 different yellow saree for wedding ideas that we know will look great on you. So, have a look and hit the stores to buy your first yellow saree for wedding:
1. The Dreamy Drape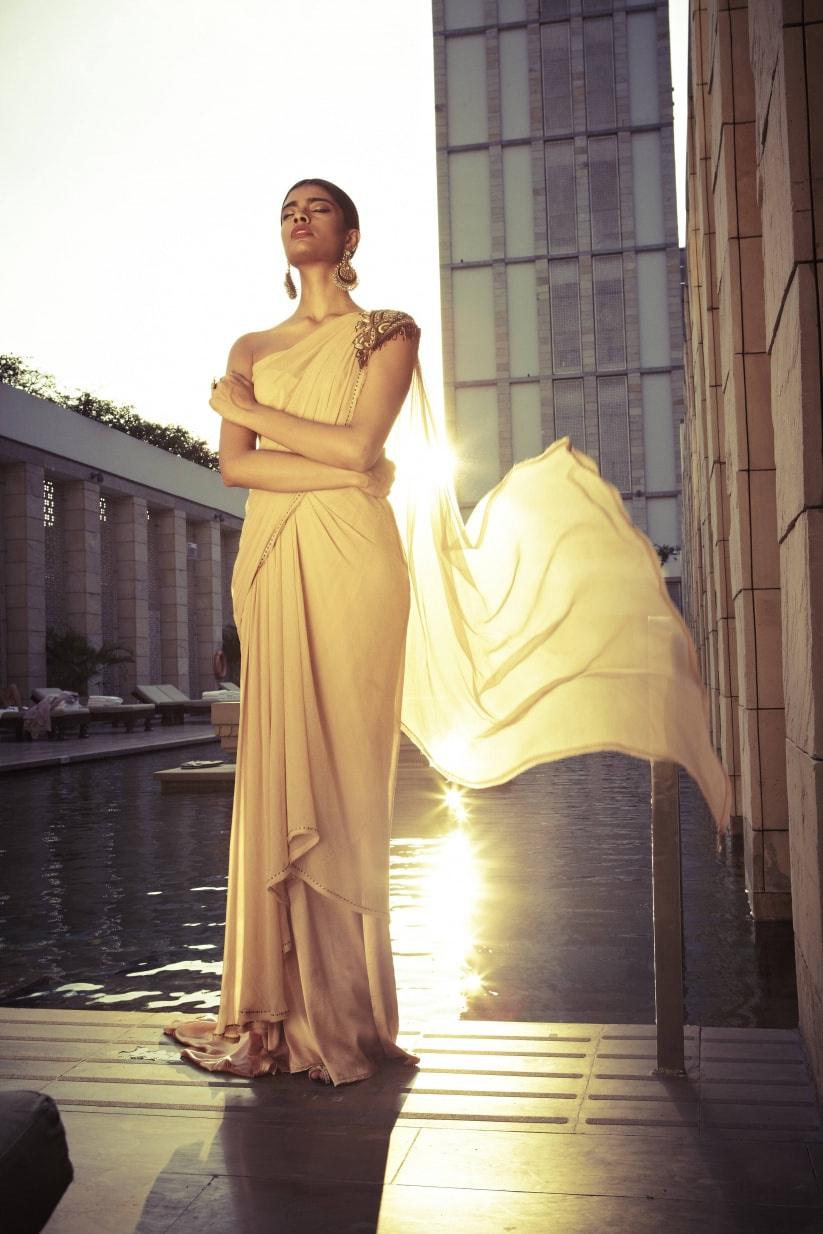 The ethereal dreamy fabric and the beautiful hue with floral embroidered detailing on the shoulder make this saree an experience to wear. This creation by Tarun Tahiliani number from his Ensemble collection is perfect as a yellow saree for wedding saree. If you were thinking pastel and left yellow out of the palette, this is your chance to reconsider because this piece is absolute wow!
Occasions for the outfit: Drape this chic yellow saree as your go-to cocktail saree for the speakeasy night and give any jewellery a miss.
Bridal jewellery options: You may or you can also wear simple Chaandbalis to enhance the look.
Do notice how the sassy pleats of this saree is giving it that oomph factor that is more than enough to make any bride-to-be look class apart and a headturner.
2. Recalling the Shailoom days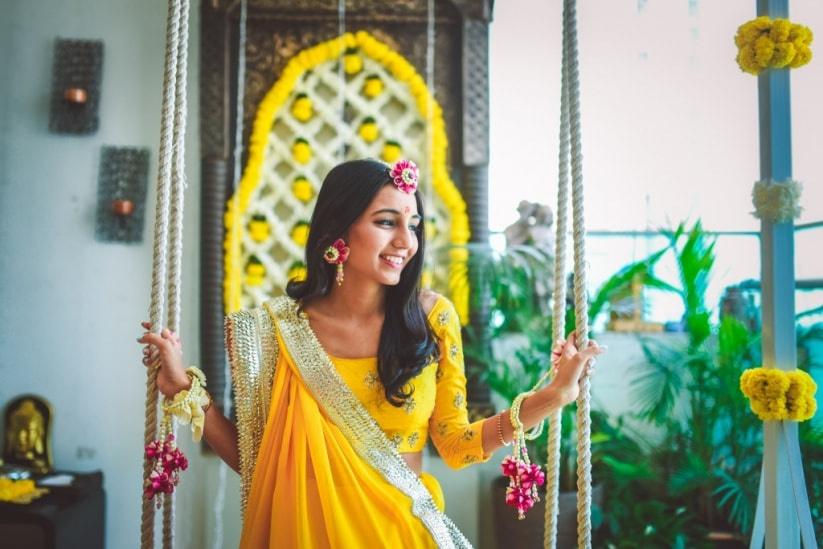 Do you remember when Masoom Minawala had completely taken over our Instagram feed with her wedding pictures? Reminiscing about those days and capturing the essence of yellow wedding saree worn by her on her Haldi function will tell you how this colour adds oodles of grace to your look.
The occasion for this look: Your Haldi function definitely
Bridal jewellery for the look: Her floral jewellery took our breaths away.
In all honesty, Masoom's innocent smile is also one of the important takeaways that all brides-to-be must have on their wedding functions. Isn't it? A yellow saree for wedding and a smile that has the power to kill - you will look like a beauty like no other!
3. Amchi Marathi Mulgi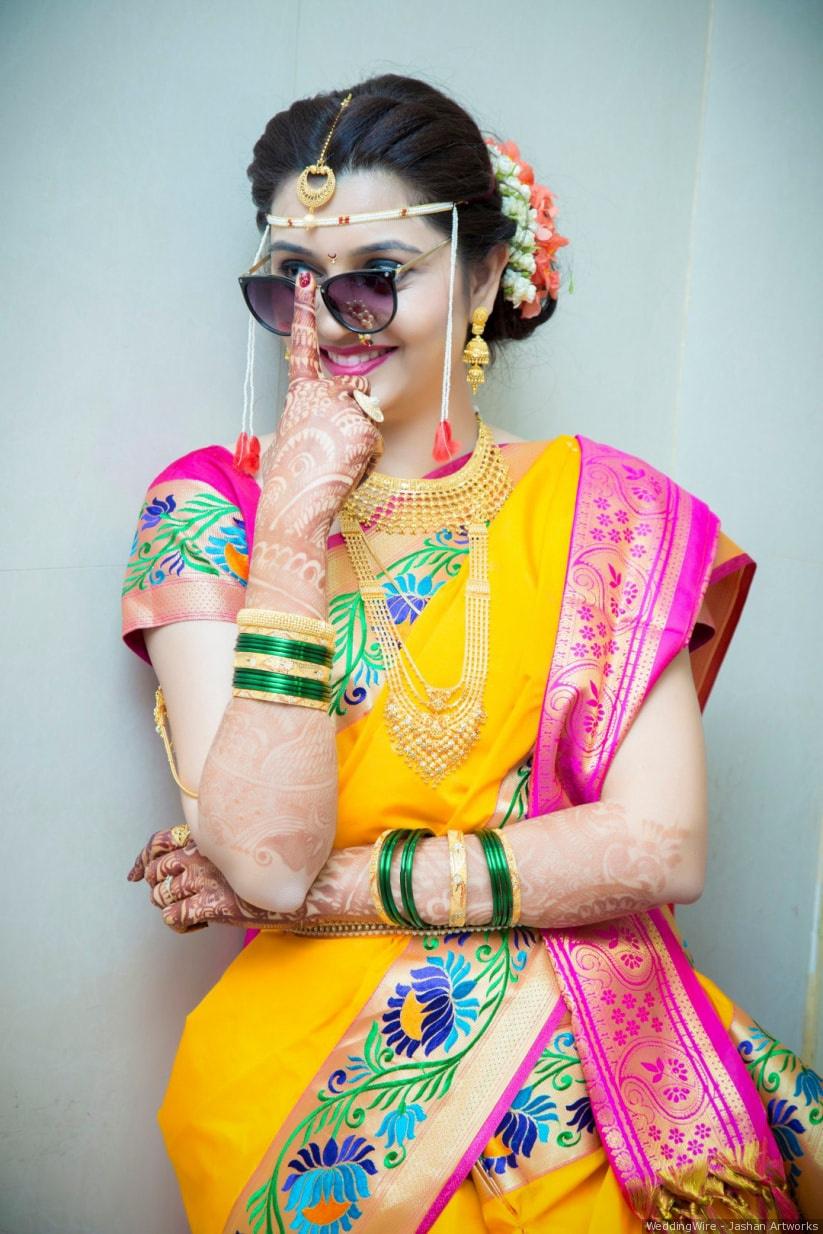 A Marathi bridal look isn't complete without the traditional Paithani saree, that's worn on the big day. And what, pray, is the colour? A deep, bright yellow or a calming bottle green. The pop of colours like pink and blue in the borders of the yellow saree all together brightens up the aesthetic essence with its jolly feels. This is one traditional look where we can think of no better shade. What about you?
The occasion for the outfit: The wedding day
Bridal jewellery: Traditional gold jewellery
The beauty and the takeaway from this yellow saree for wedding is that bold printed border on a plain yellow saree for wedding is a combination to die for. So, look for a yellow saree for wedding that has a bold and a striking border and believe us that is all that you need to look amazing at one of your wedding oriented functions.
4. Amber tones in the Deccan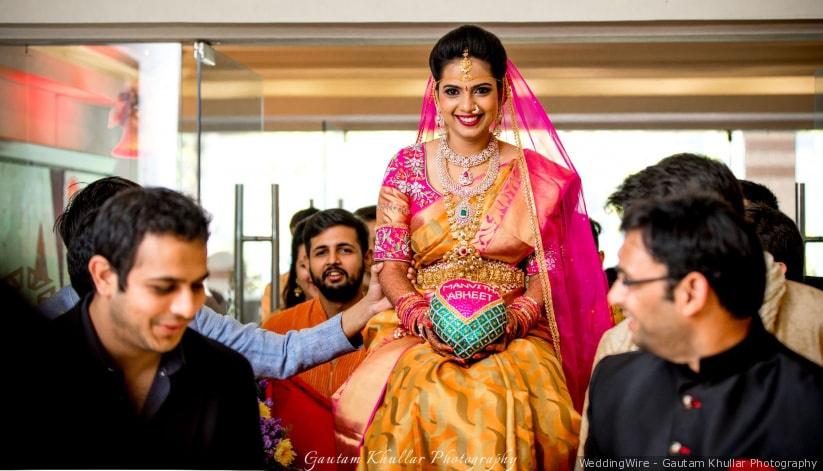 We all are die-hard fans of South Indian sarees and their unique saree draping styles. There is mind-boggling range amid these yellow saree for wedding inspirations - be it by embroidery styles, fabrics (pure silk, cotton silk, woven drapes, Khadi).
In fact, we recommend browsing through different styles in saree designs and saree blouse patterns for more inspirations.
Occasion for the outfit: Wedding day
Bridal jewellery: South Indian bridal jewellery designs
5. Let's paint the town yellow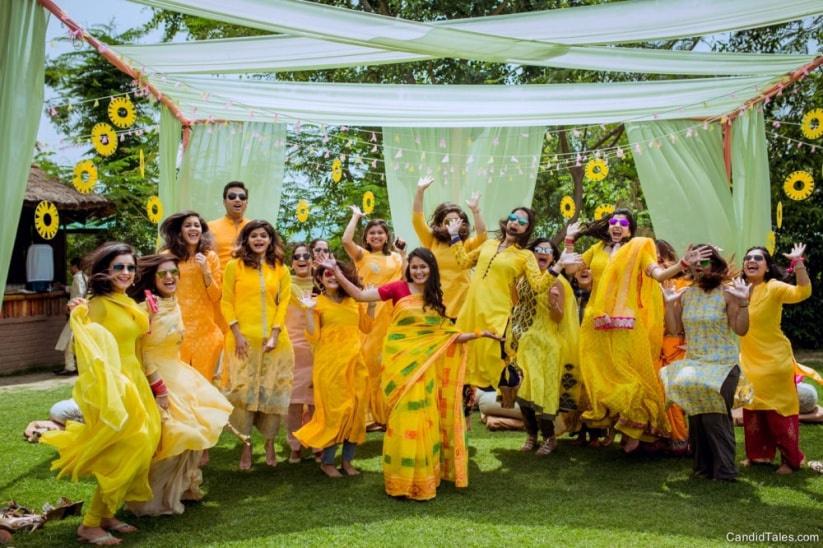 How about making the theme of your Mehndi function all-yellow? All the wedding guests are to wear yellow. You, the bride-to-be could coordinate a simple, yellow ikat designer saree with them and even ask your bridesmaids to drape it accordingly.
This bride themed her Mehndi function look in shades of canary yellow and look how amazing these pictures have turned out to be. (Remember when we said yellow gives amazing photographs). The best part is the light and fun atmosphere of this function that clearly reflects crazy fun and awesomeness of colour yellow! Even the decor is also all yellow and subtle shades of cream and mint green makes it look so stunning for the ceremonies held during the day.
Occasion for this look: Haldi function, Mehndi function
Bridal jewellery: Team with contrast floral jewellery and Mehndi jewellery
6. The experimental yellow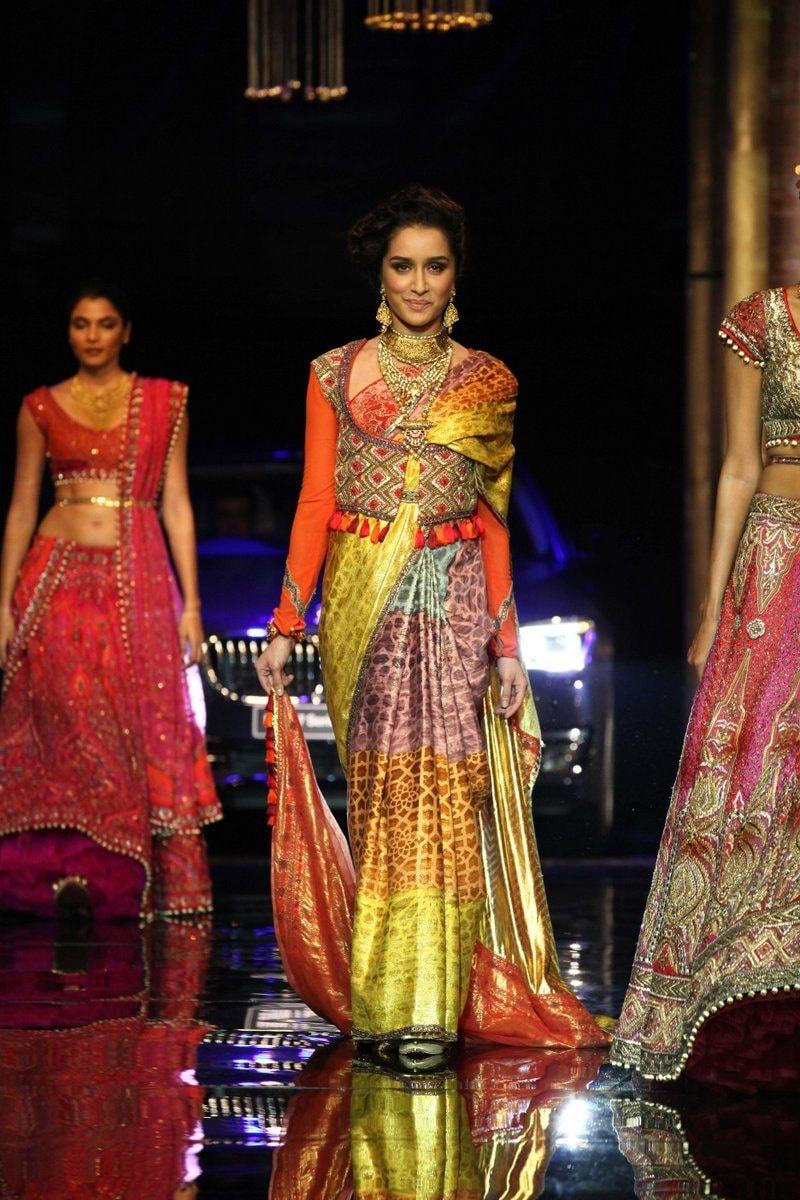 Designer JJ Valaya is known for quirks in his ensemble and when it comes to quirky colour like yellow, how can he miss on adding an extra edgy element? His collection The Nautch of Fez launched in Indian Bridal week was launched, it was a festive mix of Moroccan creations with Indian styles.
His showstopper Shraddha Kapoor looked like a diva as she wrapped this yellow saree with a gilded jacket with tassels. If you are one of those brides who like to create a bold statement, you can go for this on your cocktail and stun everyone with your look!
Occasion for this outfit: Cocktail
Bridal jewellery: Quirky, statement pieces of jewellery
The next step: Carrying the drape well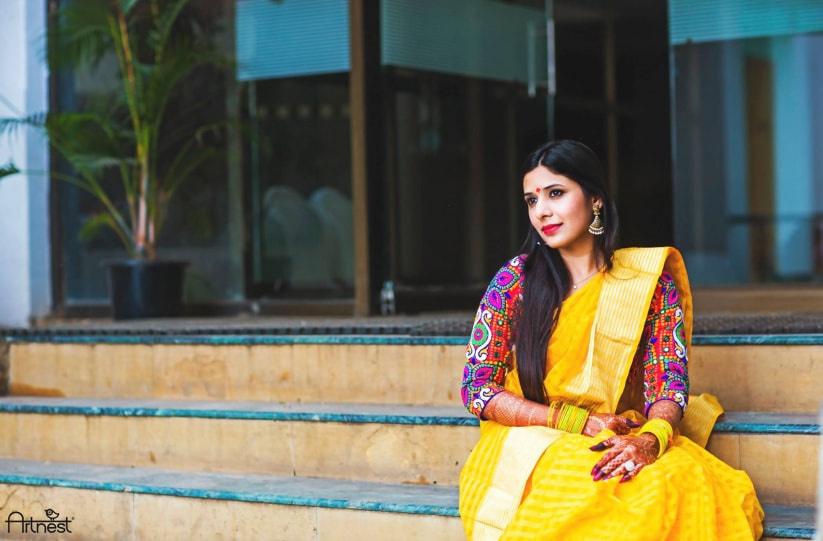 We think that every woman looks the best in a saree. However, choosing the right yellow saree for wedding functions is just half of the task. The next step is knowing how to carry them well. Here are some quick points which you can quickly pick up:
Drape your saree (or better get it draped) with tons of safety pins to ensure it does not get loose.
While walking, make sure you kick the pleats for a comfortable walk and better hand at handling your saree.
Keep your pallu also tucked-in, instead of keeping it loose. That way you can enjoy the function hassle-free.
Inspired by our picks amid yellow saree for wedding functions? Drop your vote in the comments below.