The Only Guide of Marathi Makeup That You Need to See Before Your Big Day for a Flawless Makeover
With bold eyes, flushed cheeks and divine simplicity, all these elements come together to make the quintessential Marathi Mulgi. Here is a Marathi makeup 101 for brides.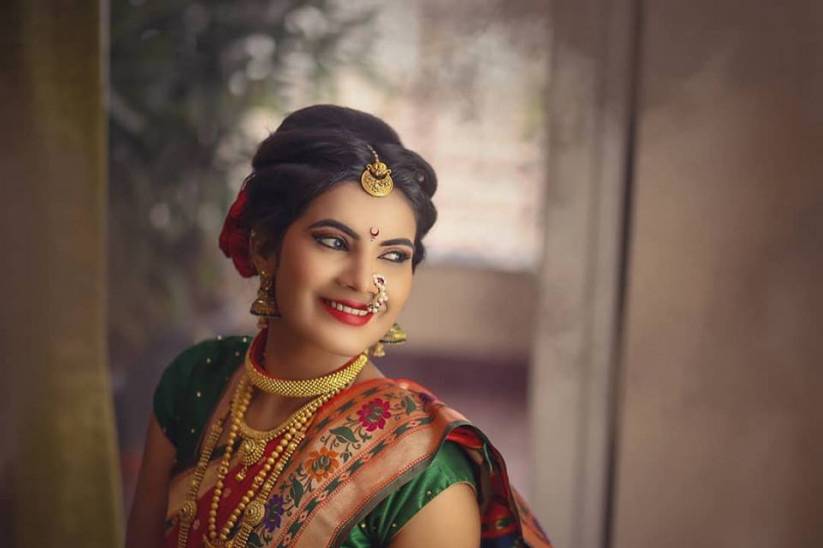 Simplicity, elegance and a sparkling smile are what defines a Marathi Bride. The subtleness of Marathi bridal makeup highlights her inner beauty which brightens her simple attire. As she walks down to the Saat Pheras the aisle, the showers of praises and wishes follow her to celebrate the greatest day of her life. A Maharashtrian wedding is one of the simplest weddings among the diverse cultures in India, but it is also full of colours and fun rituals that spice up the whole event.
The Marathi Mulgi or Bride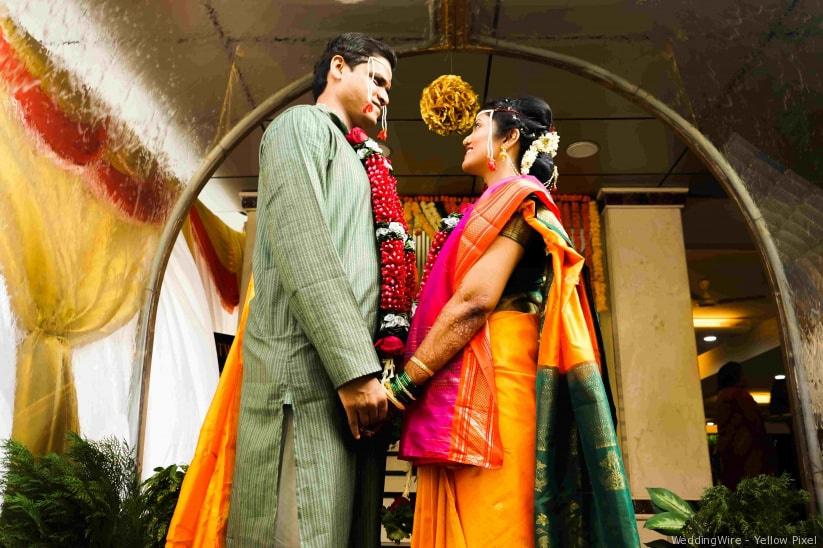 A traditional Marathi bride adorns a Paithani Saree (a two-toned silk fabric), which is hand-woven by artisans over a period of a few months. Don't let the simplicity of the saree fool you, the technique that goes behind it is a pure work of art. A Marathi bridal Paithani Saree is made with pure silk and is usually of a leafy green, golden yellow or aubergine colours accentuated with stunning Zari borders and traditional motifs of a parrot, peacock or flowers.
The Marathi Makeup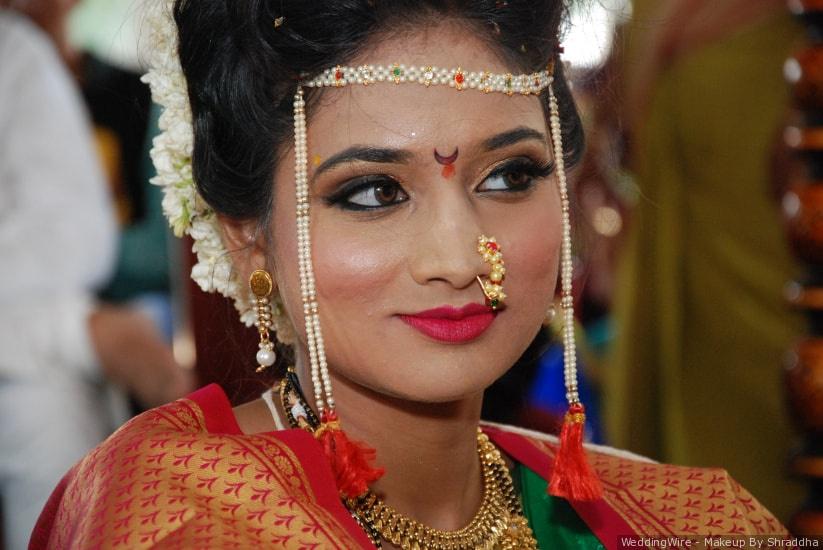 As explained in our piece on different bridal looks, the Marathi bridal makeup is one that is as true to natural form as possible. It emphasizes the natural beauty and the divine glow of the bride. Here we break it down, piece by piece.
Here are the different components of the Maharashtrian bridal makeup:
Expressive Eyes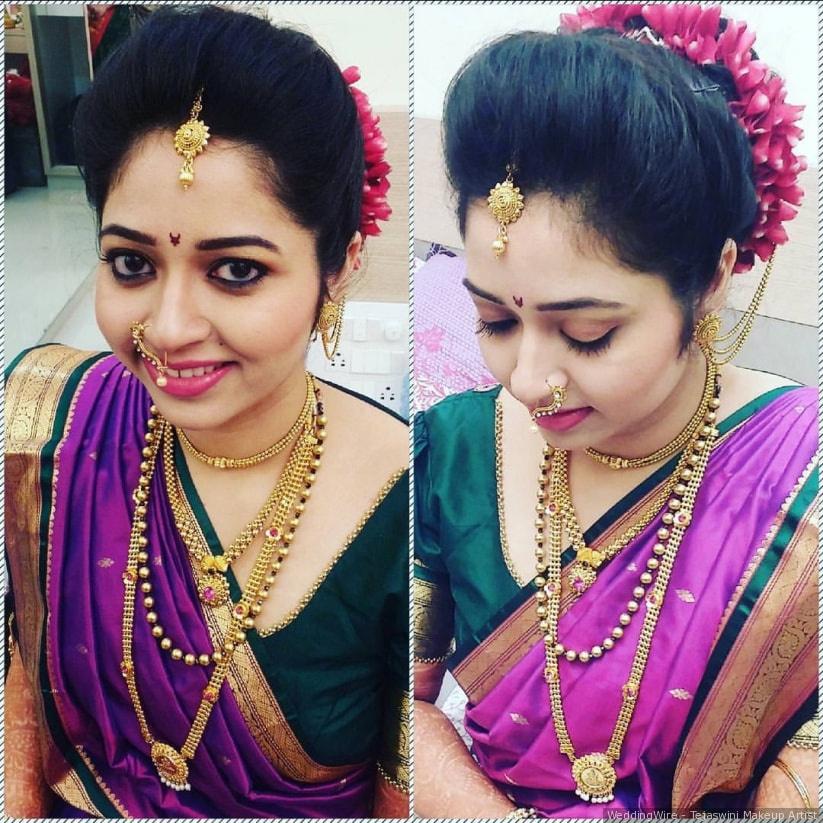 The base is a play of soft hues with a dash of highlight giving the bride a warm look whereas the eyes tell the tale. Shimmers of gold and copper colours are chosen from the eyeshadow palette and then lighter tones of the same family are used to define the inner corners of the eye and the brow-bone. All blended seamlessly for effortless and flawless eyes. A thick line of dark kohl liner is then used along the waterline and lash-line that brings out the natural shape of the eyes. The finishing touch is added by coats of mascara for the perfect flutter.
Hydrated, pink lips
To finish off the Marathi makeup for the bride is the perfect lip colour. Subtle shades of red and coral are the go-to choices. Apply a generous amount on freshly hydrated lips and then add a coat of loose powder and blot away any excess. This trick also ensures that the lip colour lasts longer and does not bleed over time.
Natural blush
For a natural looking blush, go for a shade in the same family as the lip colour you choose. Apply it to the apples of your cheek to complete your gorgeous bridal look.
The Crescent Bindi
No Marathi makeup look for the bride is complete without the traditional half-moon shape bindi which is worn on the forehead above a smaller and simpler bindi. The hues are usually from the red family and it a symbol of prosperity in the worship of Goddess Parvati.
Hairdos for the Marathi Bride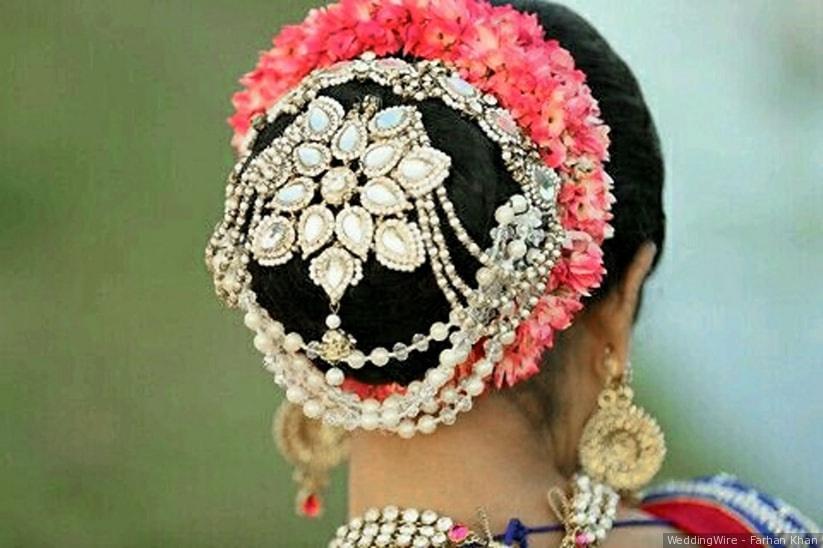 Hairstyles for Maharathi brides are not that different from the hairstyles of brides from any other culture in India. What sets them apart are the wedding accessories that they adorn.
Bridal bun with Mundavalya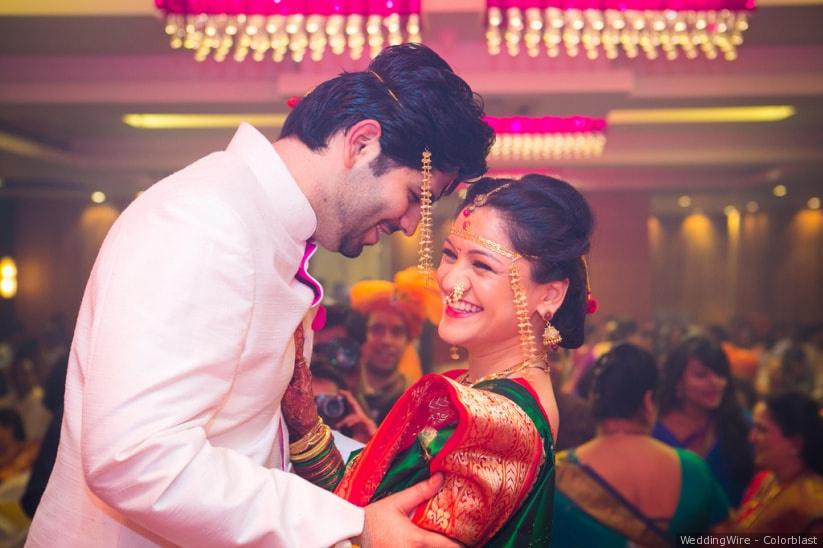 A simple bun is made stunning by adding a Mundavalya. Mundavalya is a pearl string (or a pair) running across the forehead and dangling for either side reaching your shoulders to beautifully frame your face. It is a unisex accessory and can be worn by the bride as well as the groom.
Bridal Bun with flowers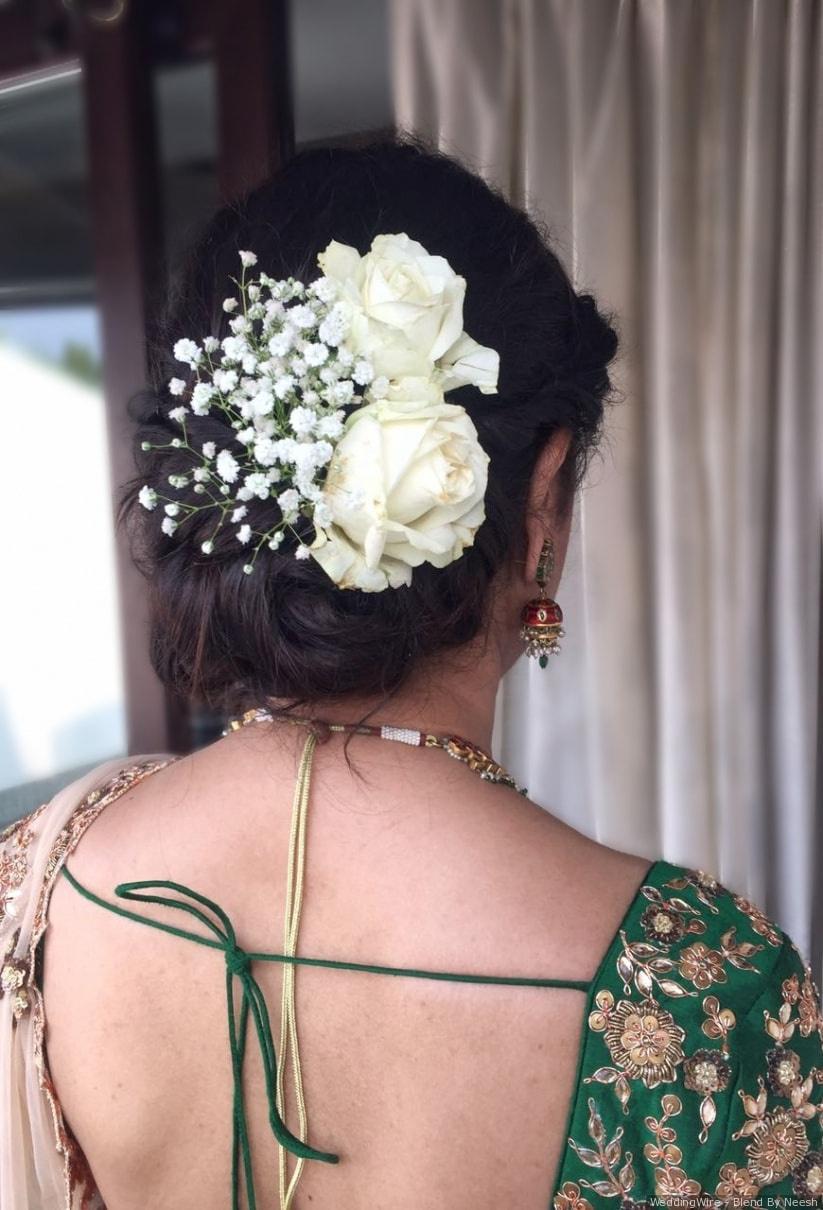 You don't need complicated twists to make a gorgeous hairstyle. An elegant Juda with a flower wreath traditionally known as Gajra completes a simple bridal look. This Gajra is usually made from jasmine flowers which adds to more than just the aesthetic.
The Traditional Marathi Hairstyle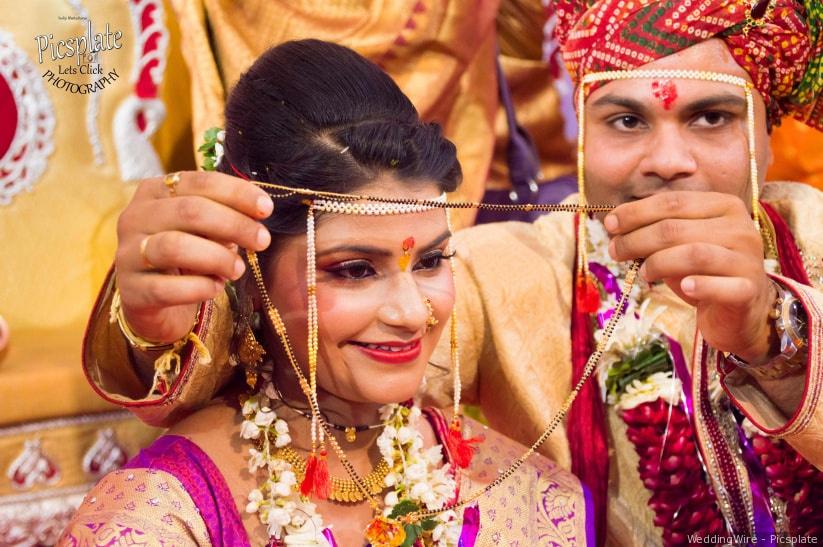 Whilst we take the modern and simpler route to getting the perfect hairstyle for our Marathi bride. The traditional Marathi hairstyle remains a classic. It starts with a mid-part and plaits from either side drawn back to join a bun at the nape of the neck. The hair of the crown of the head is raised to form a puff and the cherry-on-top is added with flowers. Other hair accessories like different flowers, studded Juda pins, embellished hairpins and traditional hair ornaments like Ambada are also used for a unique and one-of-a-kind hairstyle that sets the bride apart from the rest making her the Bell of the ball.
Marathi Jewellery and Accessories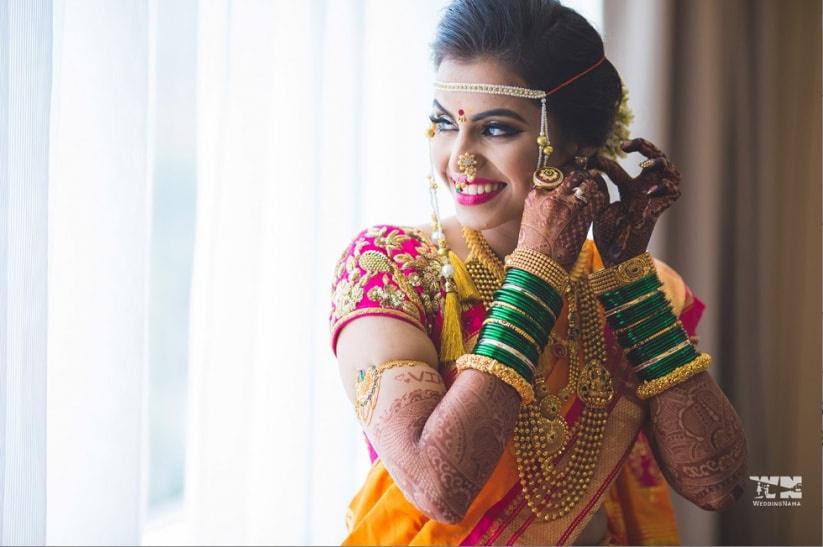 A traditional Marathi wedding might be simple, but the bride's jewellery is for sure not. Marathi brides do not shy away from bright colours and glistening gold. Pearls are most loved my Marathi brides in jewellery, which is why all the jewellery pieces worn by the bride are the perfect mix of gold and pearls.
Marathi Bridal Nath
A traditional Maharashtrian Nath has strings of pearl woven in 22Kt gold and studded with precious gemstones forming a paisley shape. Diamonds, Polki, rubies, and emeralds add the bling and colour to this ornament and give a distinct look to the bride. Bridal Nath is usually worn on auspicious occasions, wedding and Puja ceremonies.
Marathi Red Chura
Unlike the brides of other Indian cultures who traditionally wear red bangle Chooda, a Maharashtrian bride wears a green Chooda made of glass bangles. Green is believed to be a symbol of fertility and these bangles are worn in an odd number on both the hands with gold bangles separating each set.
Jodhvi Toe Ring
Jodhvi is traditional toe ring that the bride wears in the second finger. These are made is silver metal and are a gift from the bride's mother-in-law to signify her welcome in the new household.
Kolhapuri Saaz
Originated from Kolhapur, the Saaz defines the marital status of a woman. Each of its 21 elements has meaning and significance. 10 elements represent the various avatars of Lord Vishnu, eight-element depict auspicious occurrences and the last three elements are pendant out of which 2 have either rubies or emeralds. The final element is the pendant in the centre which is a Taviz that is believed to protect from all evil.
Thushi Choker
A stunning choker made from 22-carat gold beads threaded together to form intricate designs. It usually has multiple lines of gold beads of different sizes which can also be accompanied with pearls. The lower-most line is also extended to form a pendant which is accentuated with a gemstone. It comes in a variety of patterns, each more exquisite than the other.
Tanmani Choker
Tanmani is a traditional choker necklace made with multiple strands of pearls spaced with gold separators. The centre is an embellished gold pendant encrusted with precious gemstones like rubies and emeralds.
We understand how you waited all your life for this day and would thus like for it to be absolutely perfect. This step by step breakdown of Marathi makeup essentials will take you one step closer to your dream of looking like a beautiful quintessential Marathi bride-to-be. We hope now you have a fair idea of what all you need to take care of as you prep for the big ceremony. Get in touch with your makeup artist and hairstylist and get going!
With bold eyes, flushed cheeks and divine simplicity, all these elements come together to make the quintessential Marathi Mulgi, all courtesy, Marathi bridal makeup or Marathi makeup.