11 Stunning Cocktail Sarees That Would Make You Look Like a Dream at Your Reception
Sultry cuts, drapes, and embellishments, gorgeous cocktail Sarees are a head turner for an evening event. Explore these brands in Delhi for your fabulous find!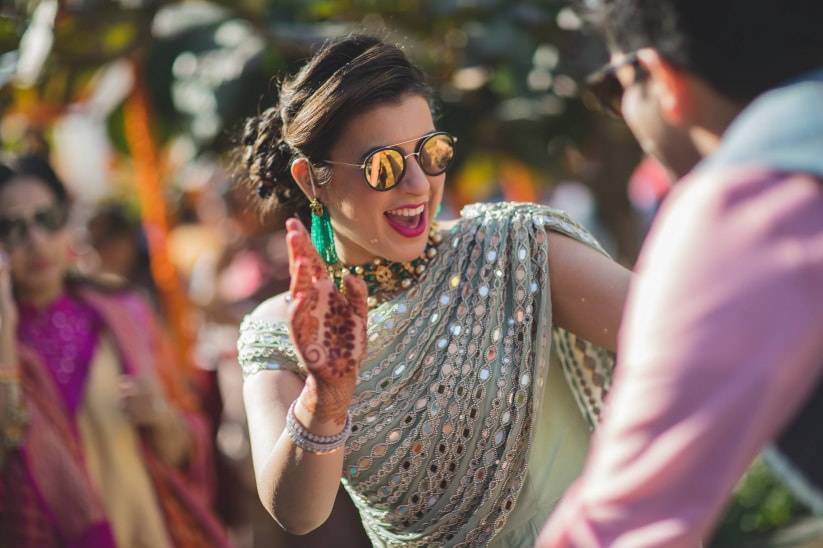 Sultry cuts, drapes, and embellishments that accentuate your curves, cocktail sarees are the call for Indo-western evening wear. If you are a die-hard saree lover who does not want to ditch the nine yards, then alluring cocktail Sarees are the pick for you. Go sheer, add glitter and drape it with style to be the head-turner at any event. A beautiful saree imbibes grace and beauty that is added to the overall appearance of the bride as she chooses this wonderful attire to adorn on her wedding festivities. If you are looking for a trendy and beautiful cocktail sarees to choose from, we got you covered.
We have gathered designers who master the art of creating a wonderful nine yards that you need to explore before you hit the market in the hunt for your cocktail sarees.
1. Gaurav Gupta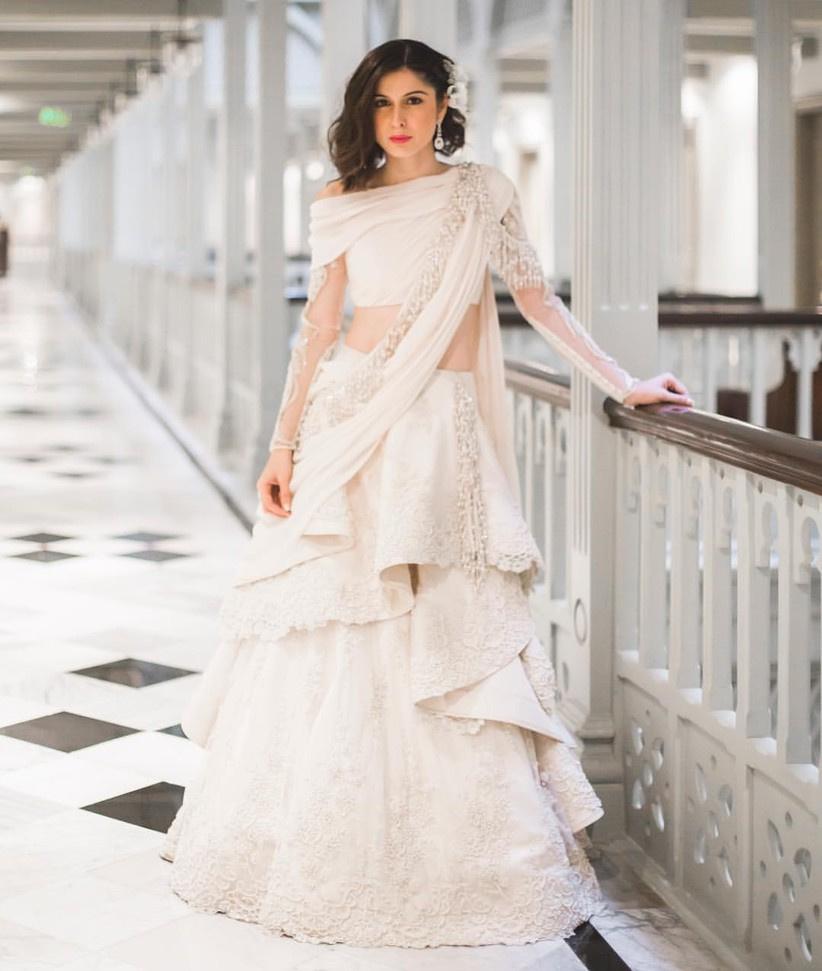 Add a modern look to your wedding outfit, by choosing the saree gown as your outfit of choice in your collection of classy, cocktail sarees. This combines the sensibilities of a gown with the layered drape of the saree, stitched to be absolute perfection. We loved how the designer worked his magic on Scherzade Shroff's wedding and continues to do so with this in advance.
Pair with statement earrings and let them work their magic.
Approximate cost: From ₹6,50,000 onwards
2. Study By Janak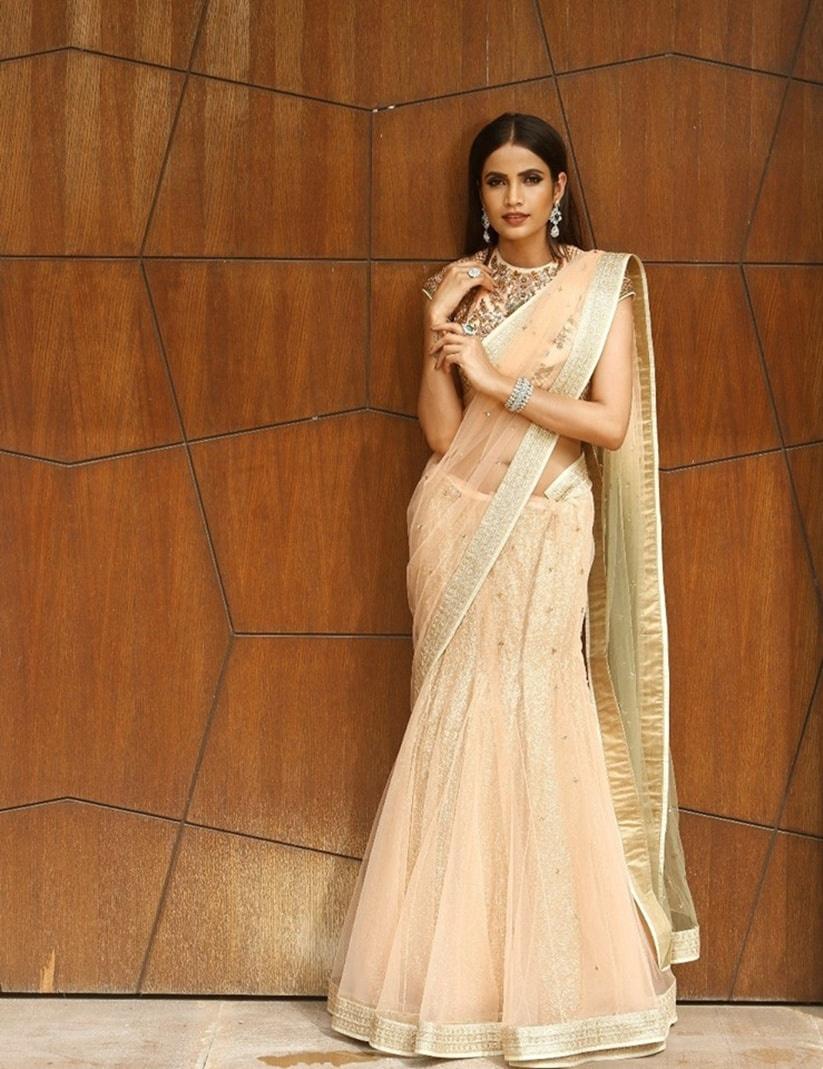 Opulent and dramatic, timeless creations from Study by Janak make this designer lead our list for cocktail sarees. Flawless, hand-embroidered blouse paired with an elegant net saree steals the show. Pair this with delicate dangling earrings and minimal makeup look to complete your attire.
Approximate cost: ₹12,000 onwards
3. Ritu Kumar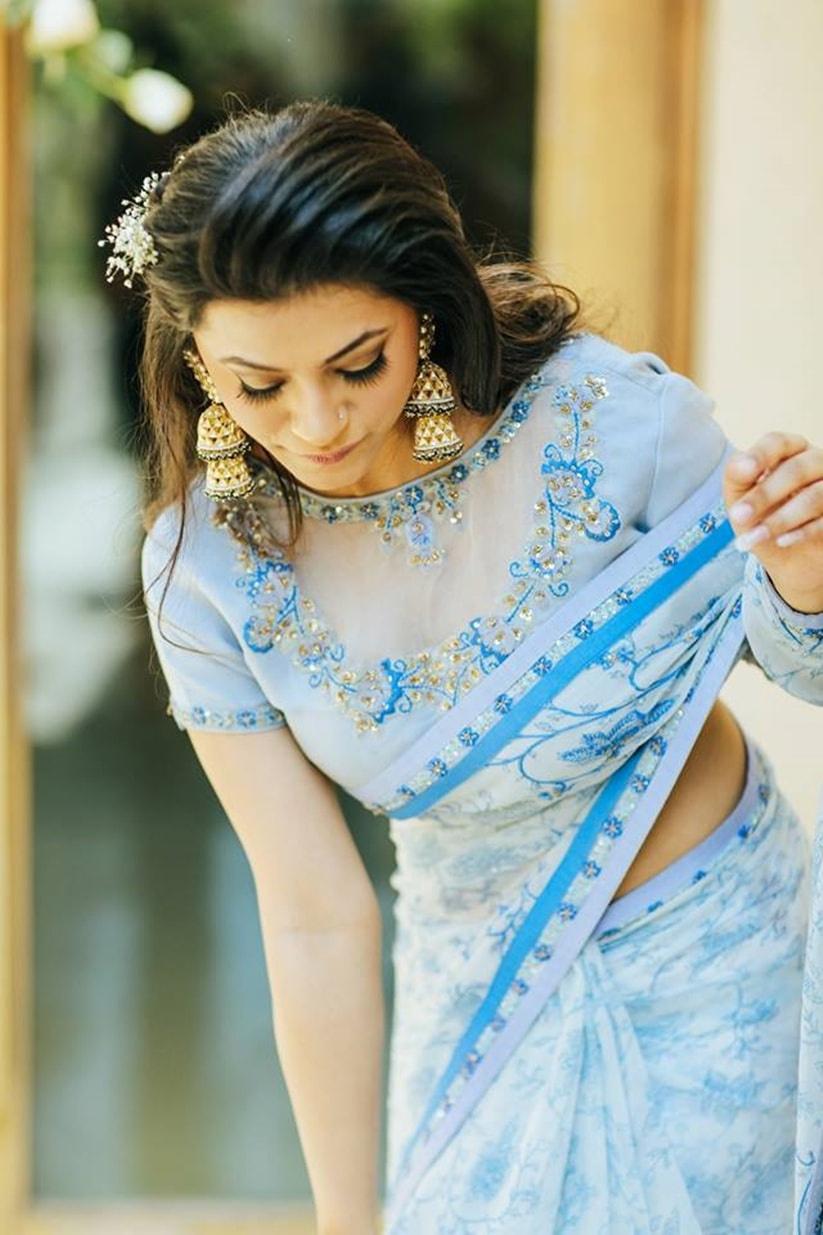 Ritu Kumar has a stunning collection of Georgette cocktail Sarees that glide and flow seamlessly with your every move giving a fairytale-like illusion. Lavish Kutch embroidery adds a twist of tradition to a contemporary style saree. Pair this with an embroidered clutch and chandelier earrings for a gorgeous evening look.
Approximate cost: ₹23,000 onwards
4. Satya Paul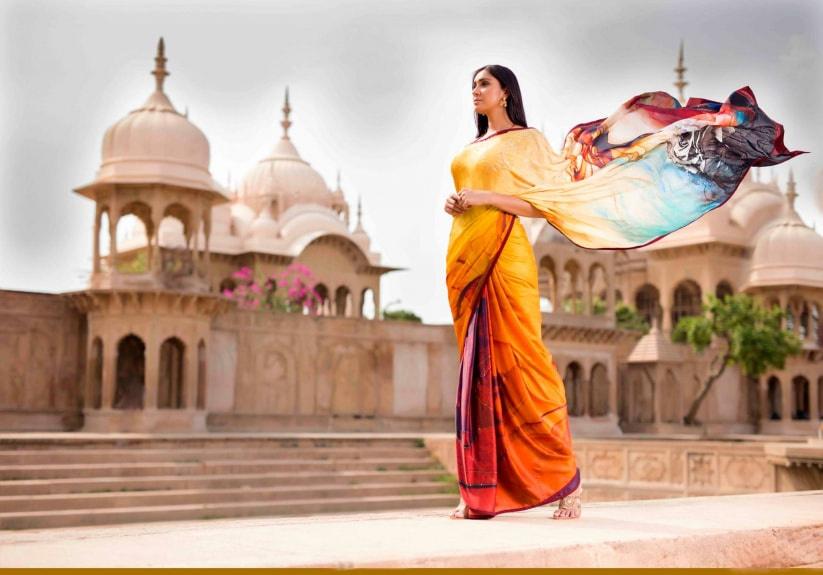 Classic geometric shapes and contrasting colours blending in to form captivating tessellated patterns is what Satya Paul Sarees are known for. These printed cocktail Sarees are light on weight and heavy on oomph! Pair this with a crop top style blouse and drape the Saree with an inverted Pallu for a truly unique look.
Approximate cost: ₹15,000 onwards
5. Tarun Tahiliani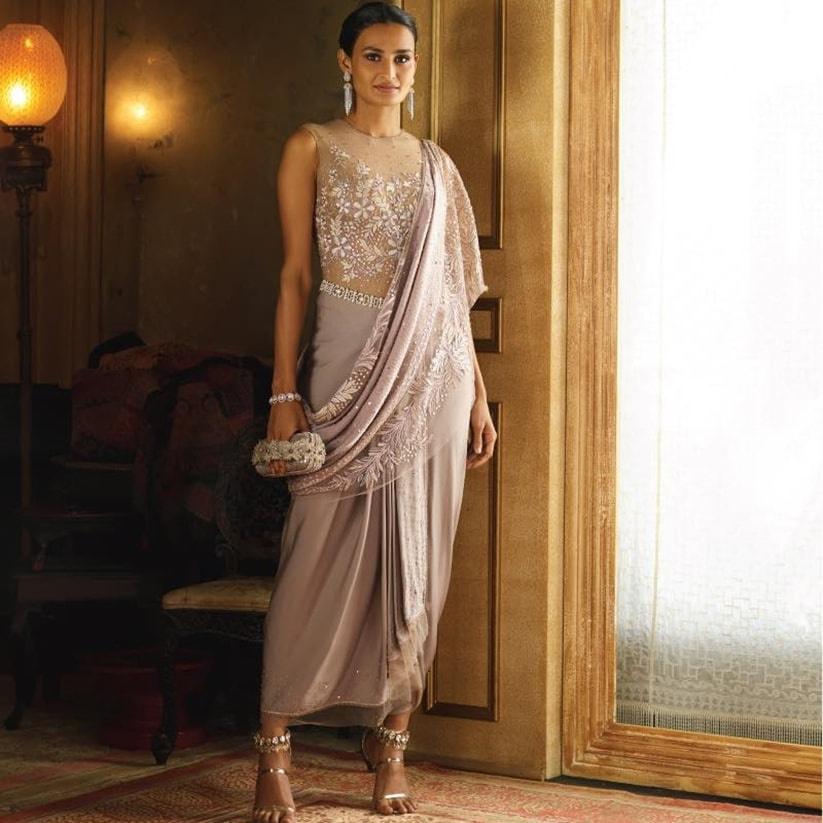 Celebrating the modern Indian muse, Tarun Tahiliani's Elysium collection reflects effervescence of exquisite thread work and twinkling diamantes in regal hues. The unique draping style is sure to catch many eyes. Pair this with delicate diamond dangles and a studded evening clutch to complete the look.
Approximate cost: ₹35,000 onwards
6. Meena Bazaar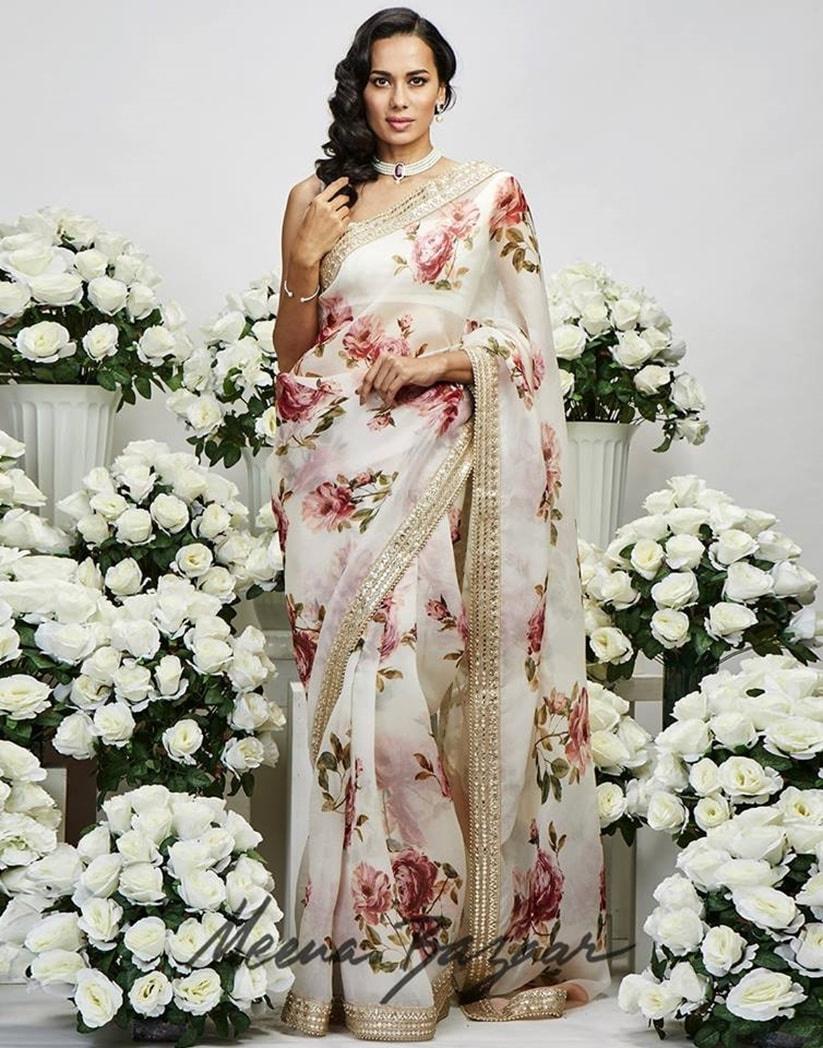 Another twist in tradition are these floral Banarasi cocktail Sarees from Meena Bazaar. This stunner features pink Banarsi net fabric accentuated with floral motifs and Zari borders. Complete your look with a soft low bun, an evening clutch, and gold Jhumka earrings.
Approximate cost: ₹22,000 onwards
7. Devnaagri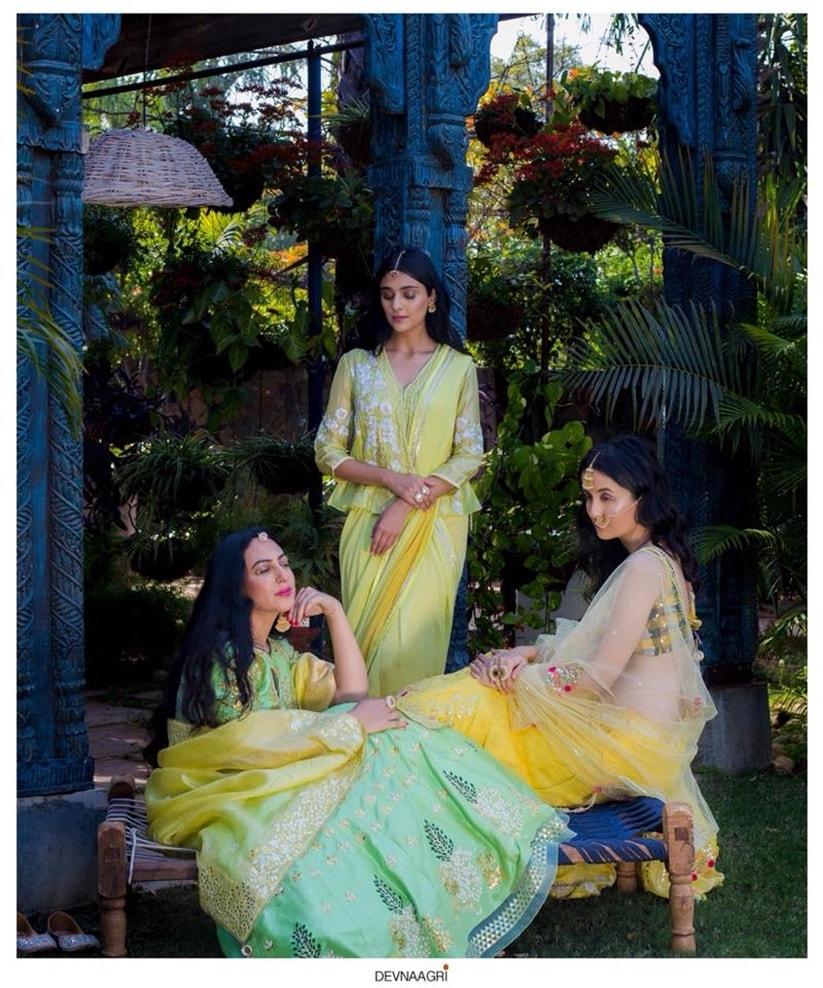 Devnaagri offers georgette-based cocktail Sarees in summer shades, embellished with pearls, Gota Patti and Daba work and further accentuated with minimal white Resham and Dori embroidery. Complete your look with a peplum top blouse, dangler diamond earrings and a Maang Tikka for a touch of quirk. Such stunning work will surely be an eye-catcher at your wedding functions.
Approximate cost: ₹35,000 onwards
8. Mayyur Girotra Couture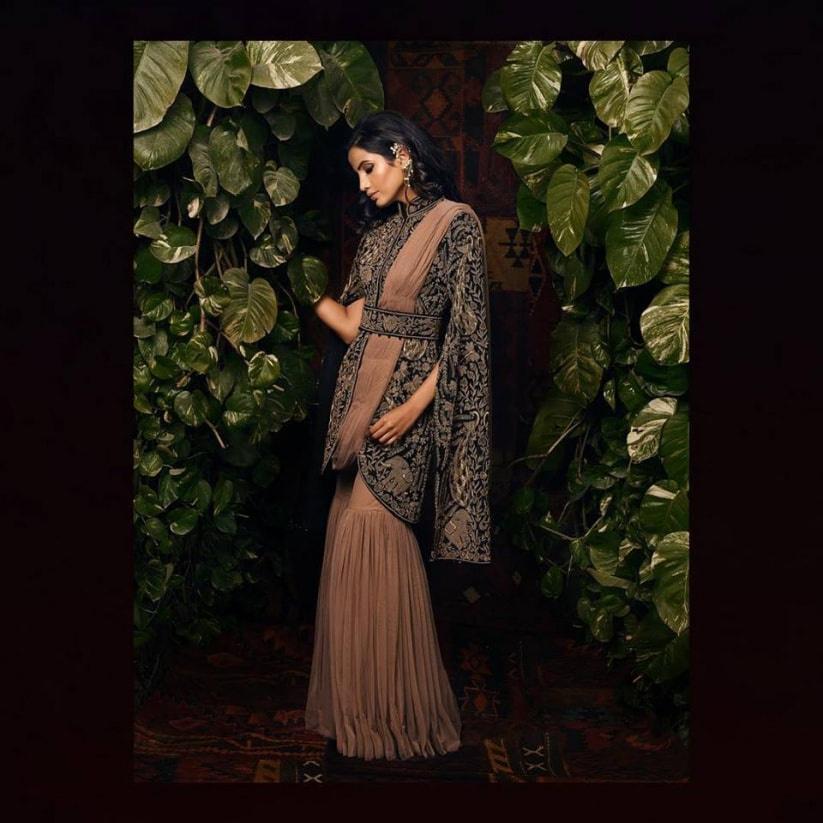 A rhythmic blend of a traditional Garara and an ethnic Saree is this gorgeous collection of cocktail sarees by Mayyur Girotra Couture. Accentuated with opulent motifs on an elephant, peacocks that celebrate nature and life. A touch of exquisite foliage of antique Zardosi adds an elegant finish to the attire. Wear it a pair of statement earrings that contrast with your whole outfit.
Approximate cost: ₹30,000 onwards
9. Ghungat by Shaveta & Anuj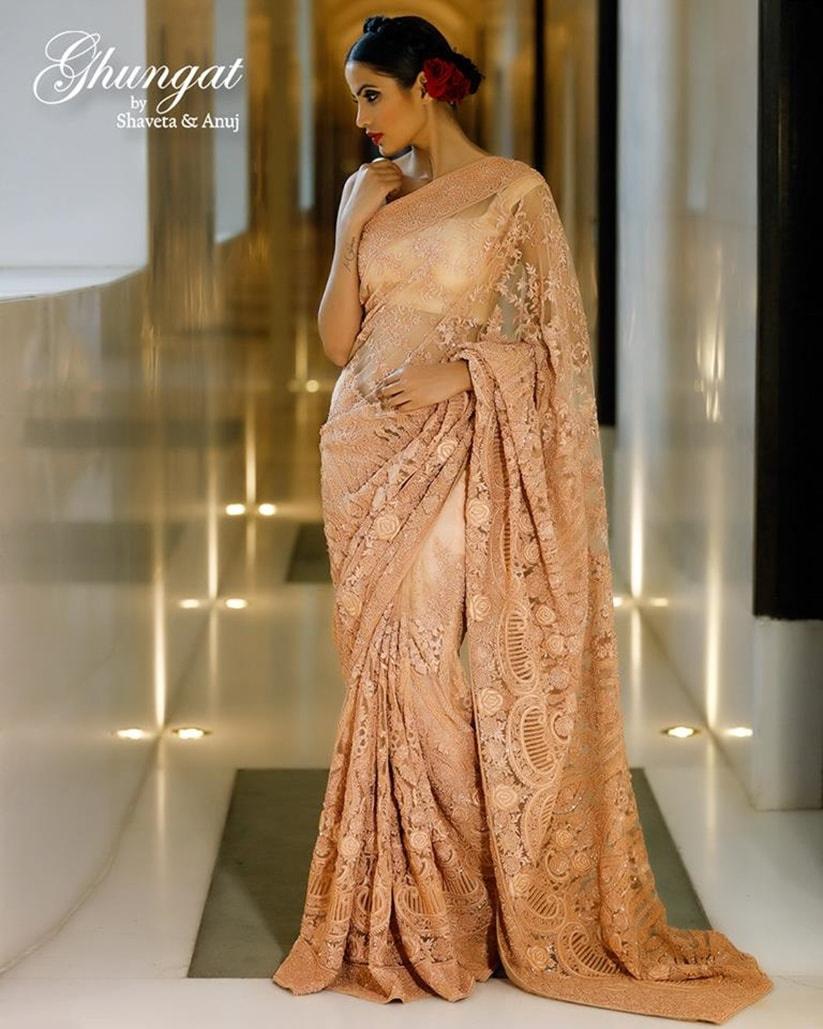 An utterly romantic collection of floral chandelier lace cocktail Sarees that features self-thread embroidery and hand knotted flowery forming a one-of-a-kind ensemble from the house of Ghungat by Shaveta & Anuj. Complete this darling elegant look with a pair of diamond dangle earrings, a low bun, and an embroidered evening clutch.
Approximate cost: ₹20,000
10. Anita Dongre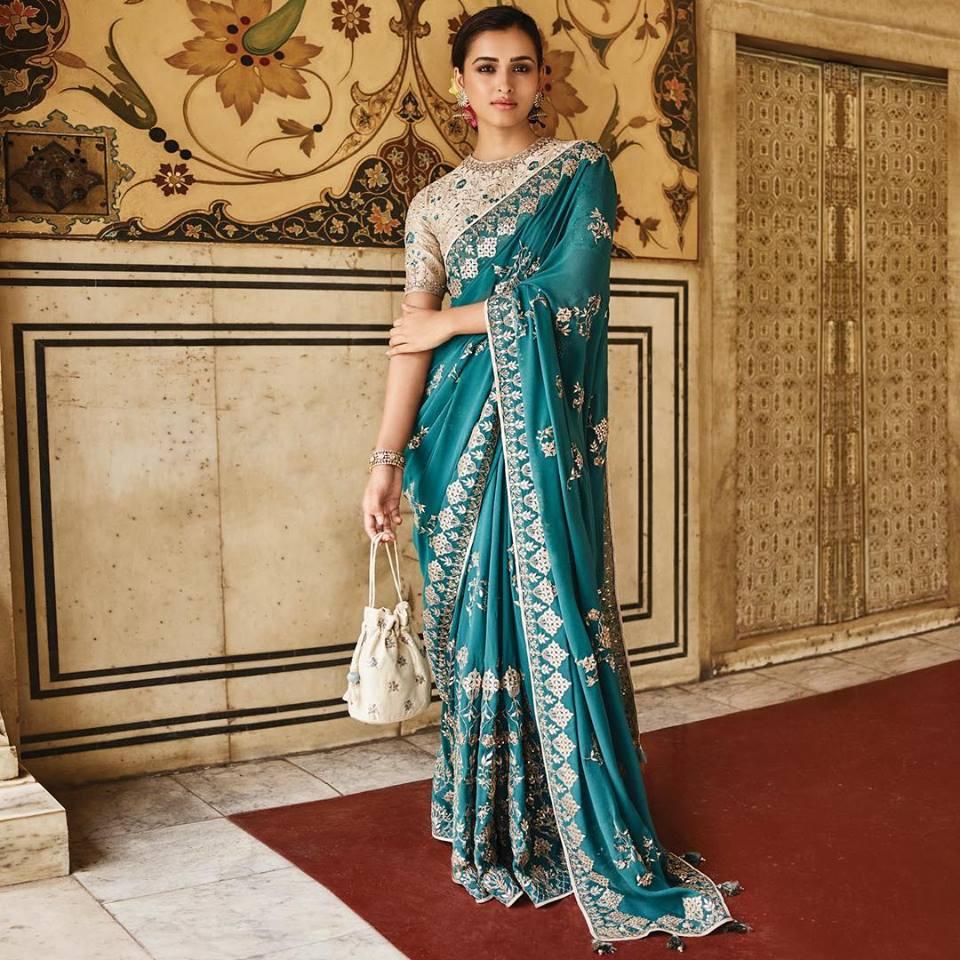 Offering some of the best and stunning collection of attires, Anita Dongre is one of the top picks for the brides while their curate their bridal trousseau. This stunning design is a beautiful Georgette saree with heavy embroidery work of pearls, Zari, sequence and Gota Patti. Wearing it on your Cocktail part or on Reception will surely make some heads turn as you would set some major fashion goals and inspirations. If you are opting for a boat neck blouse just like this, then you can skip the necklace and go for stunning statement earrings for a glamorous look.
Approximate cost: ₹20,000
11. Aza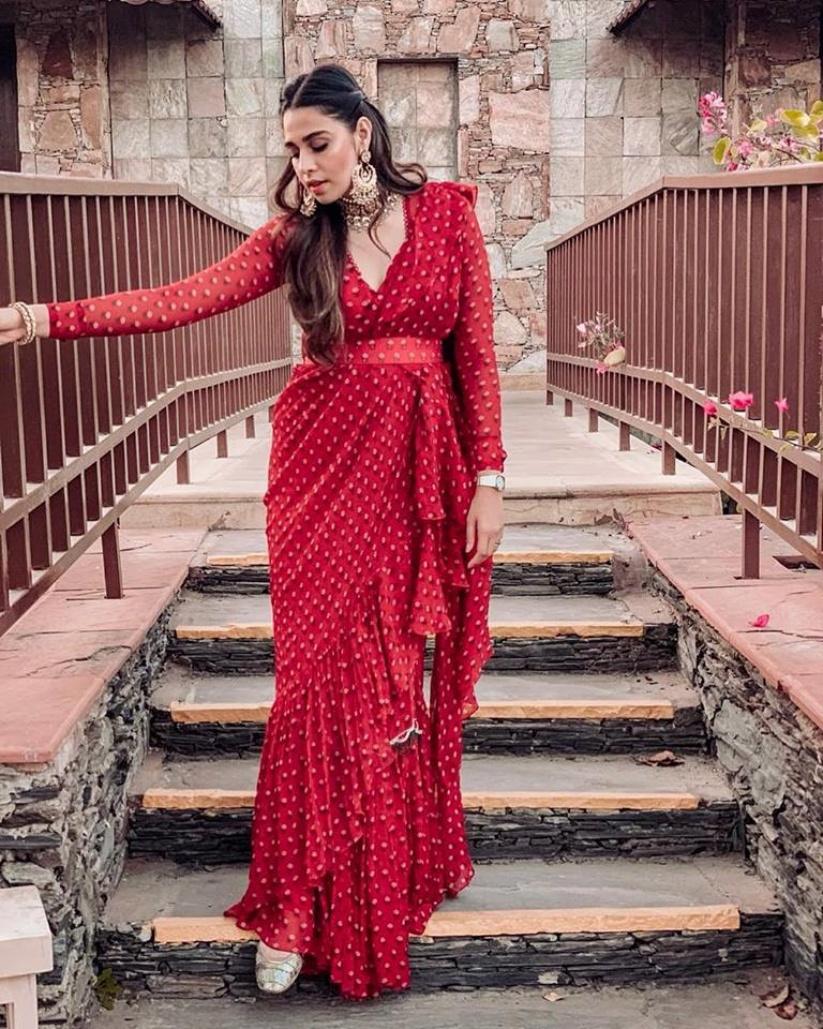 Bring back the iconic style of 80s fashion, this beautiful number from Aza is truly beautiful. This deep red Chiffon ruffle saree is enhanced with polka dots all over. Wearing the blouse in the same colour would offer a unique monochromatic effect which is then accentuated with beautiful ruffles that are becoming a big trend. Wearing this pretty cocktail saree on any of your wedding festivities will surely make it the talk of your entire event. You can style it perfectly by wearing a Kundan set that will define your entire look.
Approximate cost: ₹30,000
The quirk in cocktail sarees comes with the experiments you can do with the blouses. Try all sequin, embellished tops, collared shirts and style your Saree your way. The sensual appeal of cocktail sarees makes them a permanent hit in any woman's wardrobe. The blooming glamour is an added bonus! While there are so many beautiful and stunning cocktail sarees to choose from, we hope that our list of top saree picks would have offered you inspiration before hitting the market to find your perfect nine yards, that you would flaunt with grace, beauty and confidence.
Explore more brands for bridal sarees and make a selection that suits you best!s