10+ Poola Jada Images to Inspire Your Bridal Hairdo
Accessorise your braid with stunning accessories this wedding season. Take inspiration from these Poola Jada images.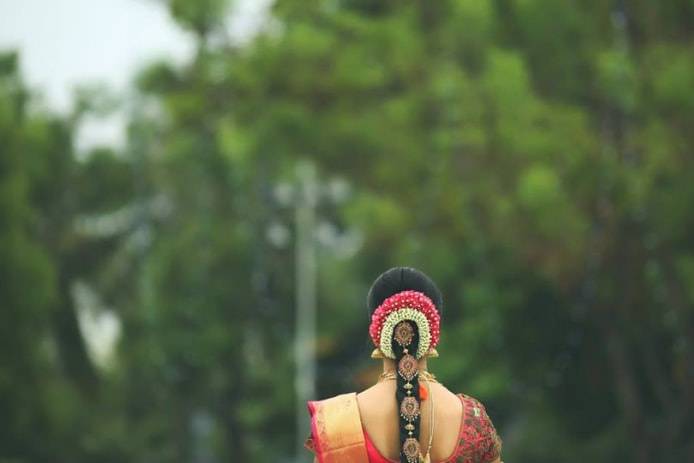 When we envision a South Indian Bride, we think of her beautiful long black tresses with some exquisite poola jada. The South Indian accessory further accentuates their hairdos and beautiful facial features too!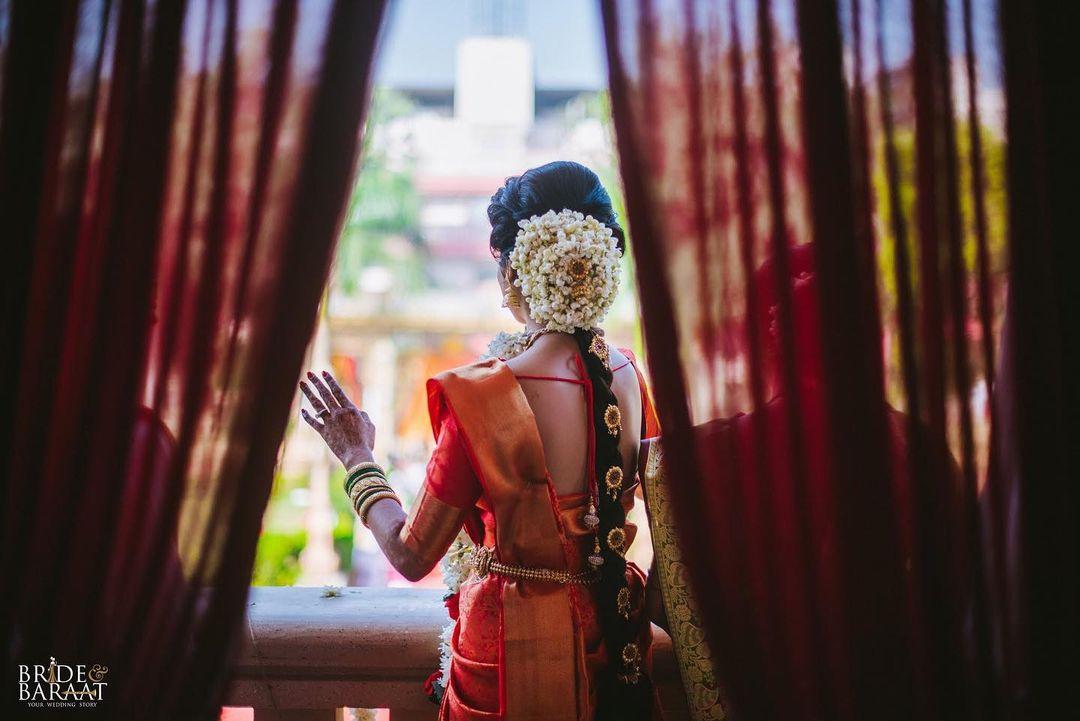 Image Credits - Bride and Baraat
A special hairdo is called for on her special day and what better accessory to glam up a hairdo than a gorgeous Poola Jada. Get inspired by this South Indian bridal accessory and adorn it on your big day. From traditional flowers to jewellery elements, Poola Jada images here will give you out-of-the-box to hair-do ideas that you are looking for. Here are some trendsetting bridal jadas for the millennial brides. These are traditional yet followed by the beautiful South Indian brides in today's time.
Bridal Jada for the Millennial Brides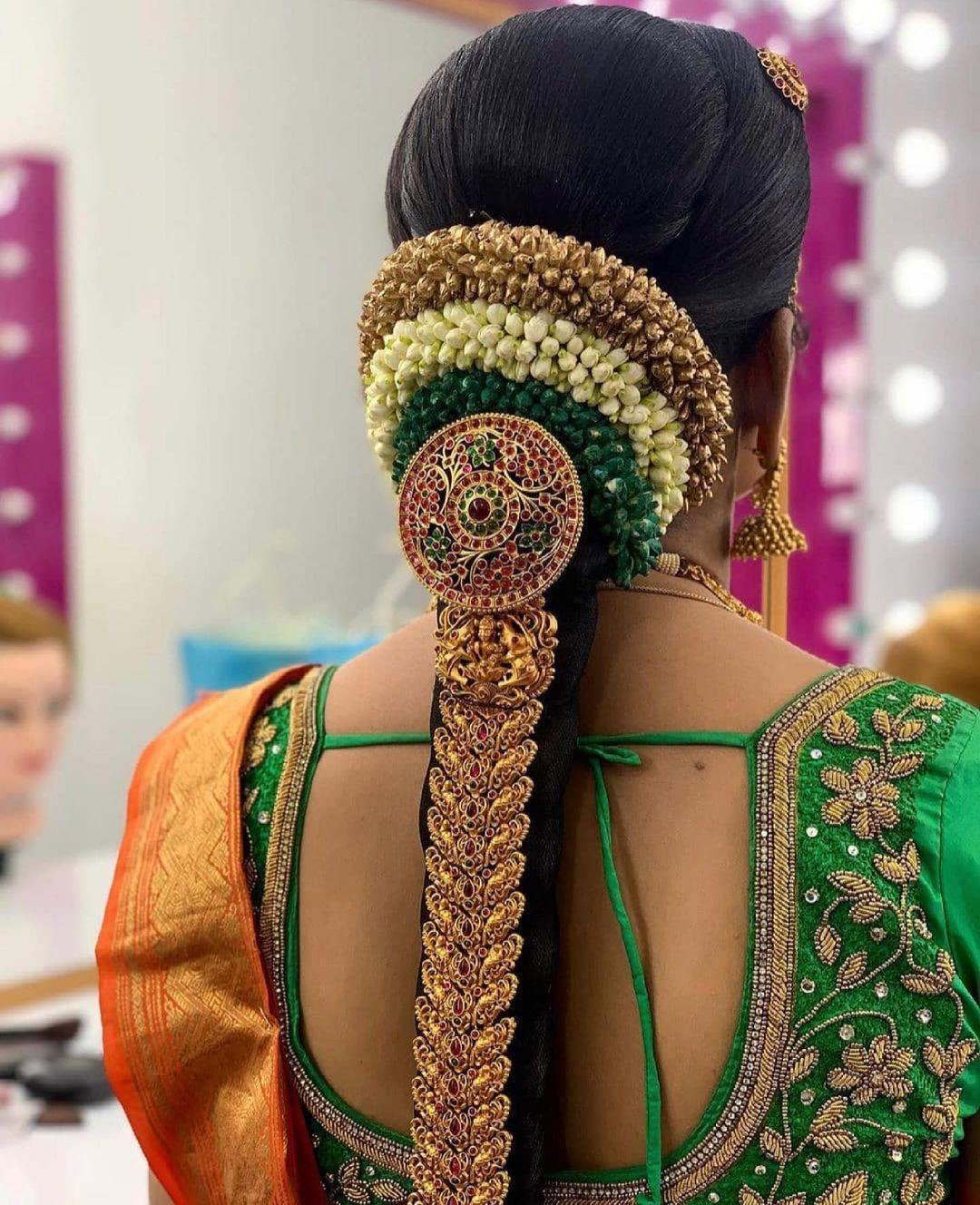 Image Credits - Vetri Hair and MakeUp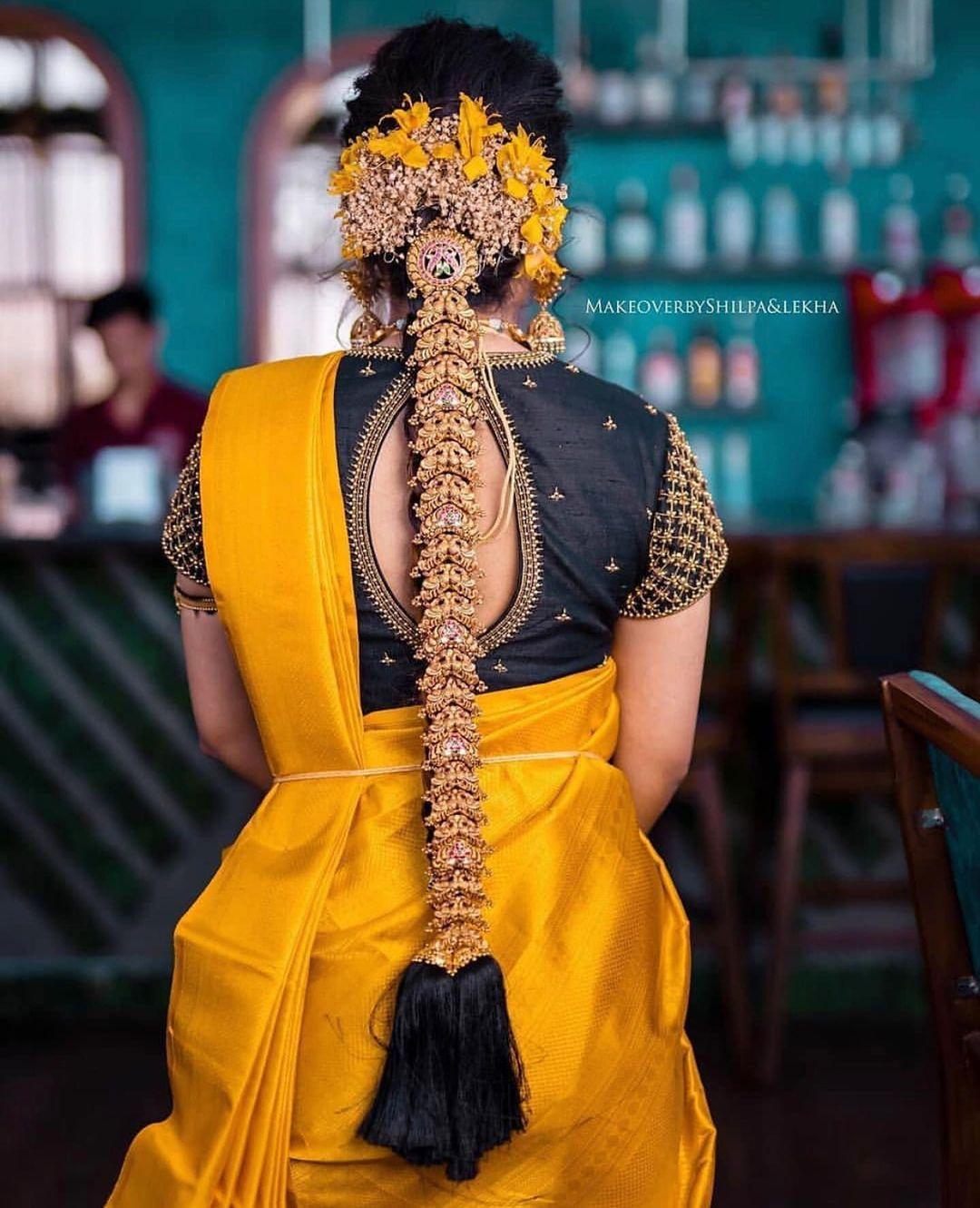 Image Credits - MakeoverbyShilpaandlekha
No matter how much forward thinkers are our young brides, but they like to adorn traditional hairstyles. See how these traditionally bridal jadas are beautifully adorned by brides. Aren't these hairstyles breathtaking?

Poola Jada with Jasmine Flowers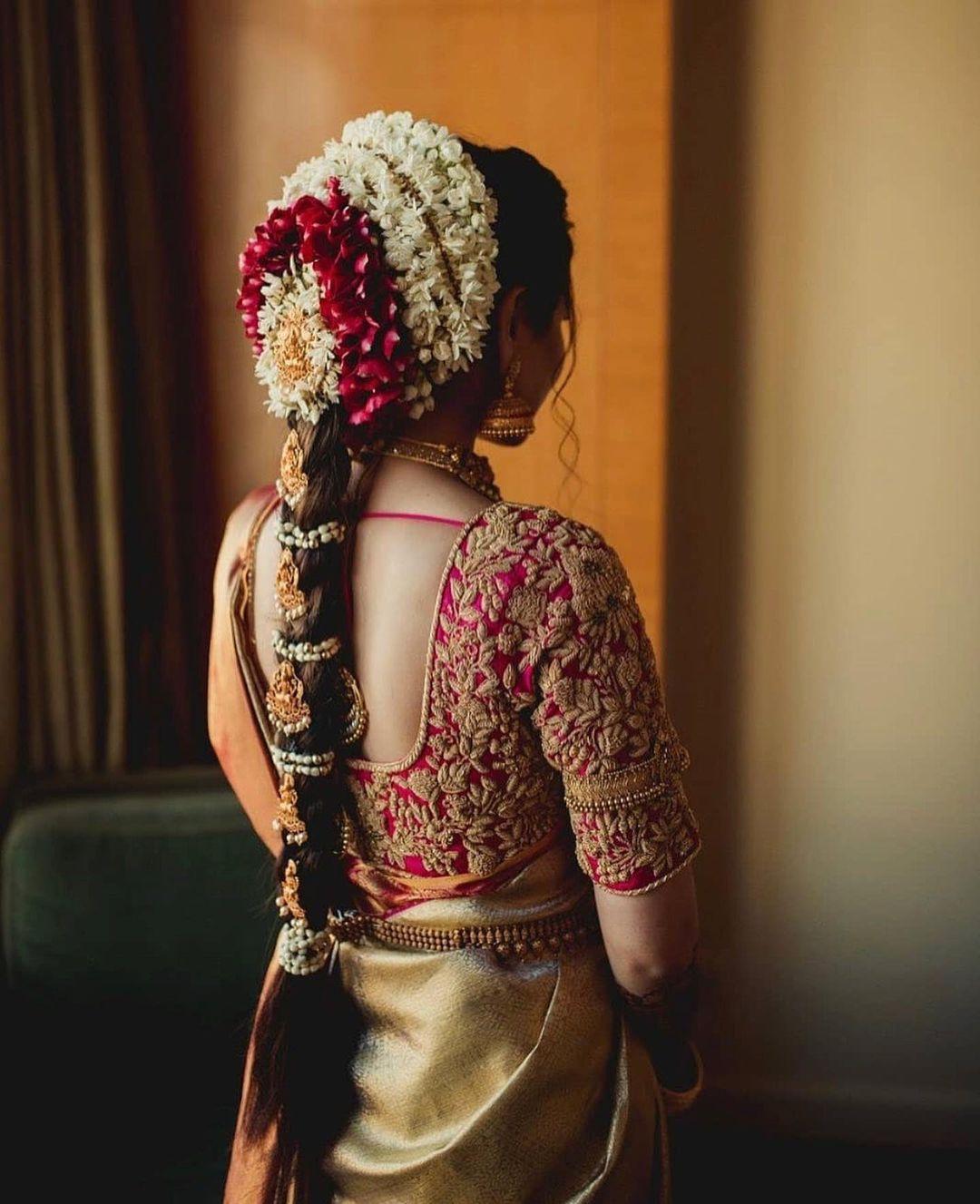 Image Credits- Vidhya Hairstylist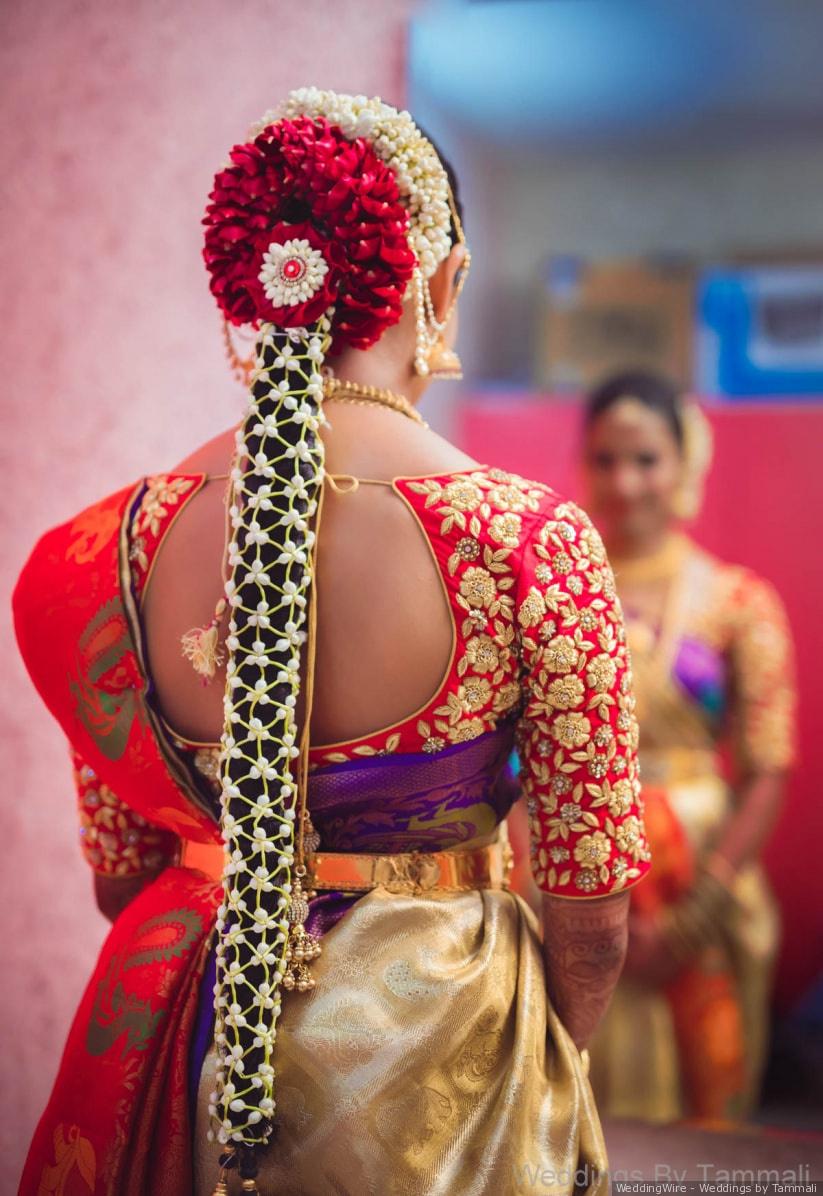 Beautiful brides adorning a Jaal made from small Jasmine flowers to cover up the entire braid. Tiny flowers are intricately weaved all over the braid to give it an exotic look. The top Veni is made from a duo of colourful flowers while the bottom is finished off with jasmine flowers bunched up in a ball. Match the colours of the crown with your Saree for an added oomph! These flowers accentuate their scintillating traditional attires too. So, if you are not into real jasmine flowers, then you can opt for an artificial floral bridal jada.
Rose Petals Poola Jada Images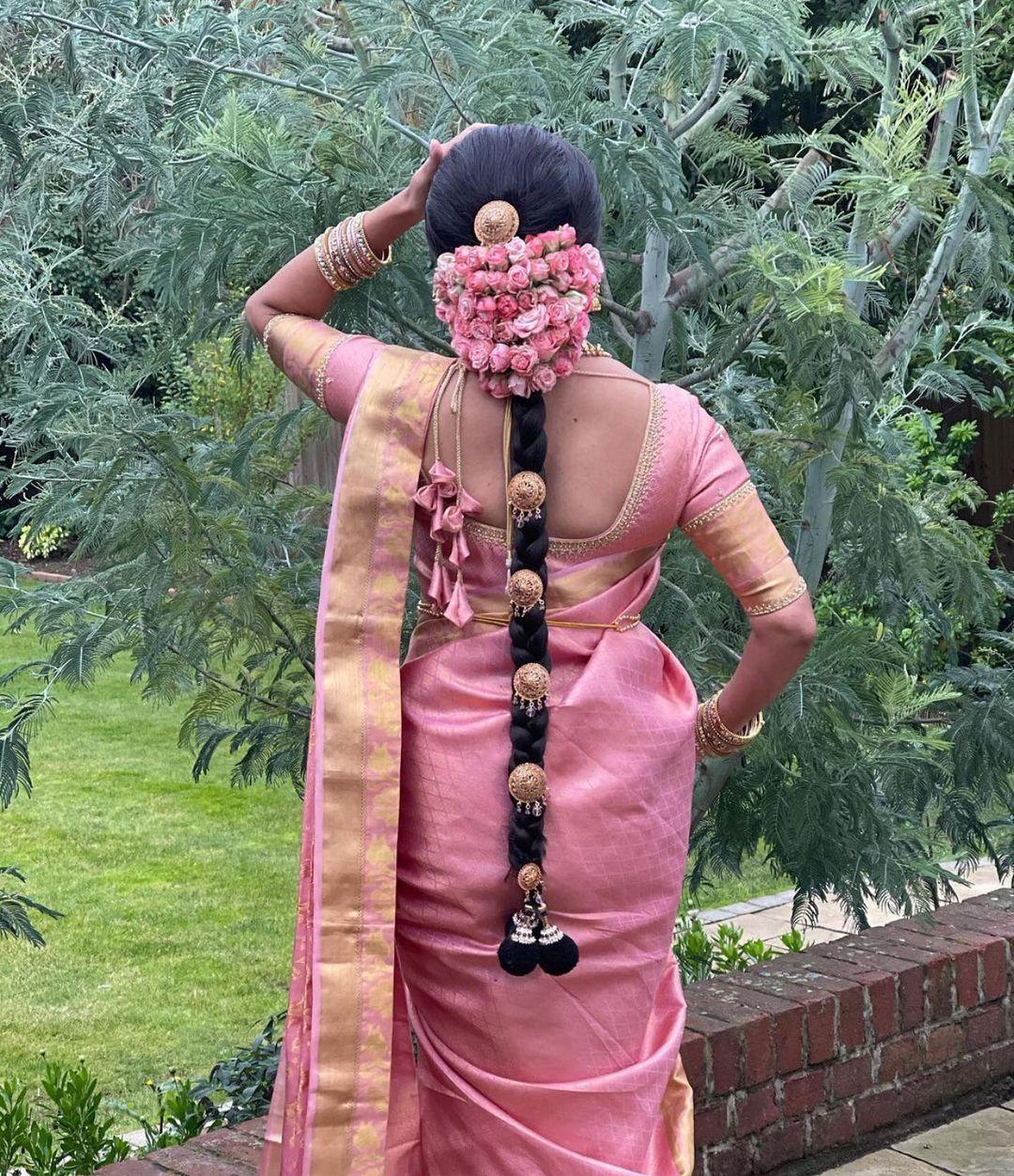 Image Credits- Renuka Mua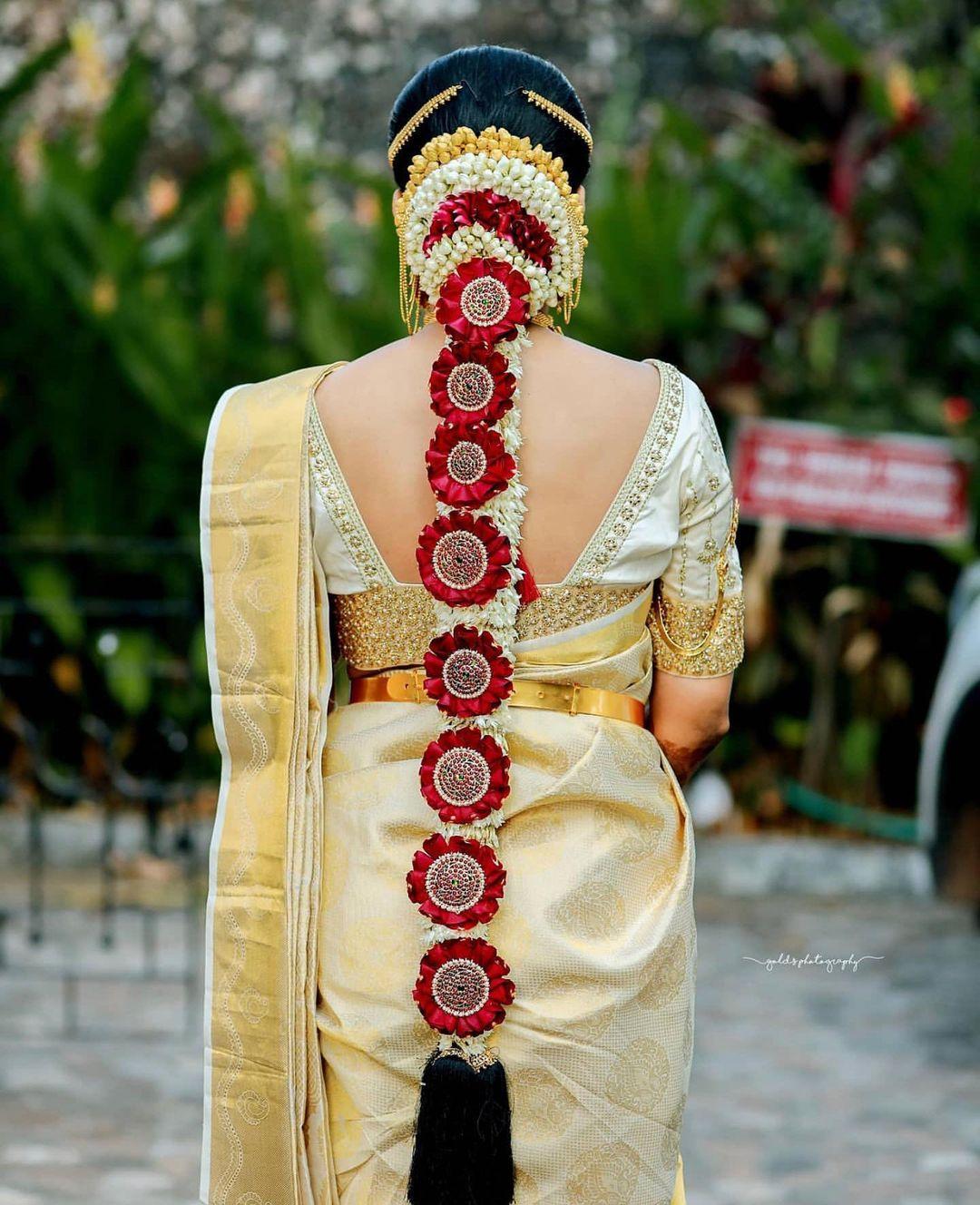 Image credits - gold photography
Rose enhances the look of bridal jada. It adds beauty, elegance and charm to the bridal jada. See how splendid these poola jadalu images are. Do try these bridal jadas for your wedding day.

Poola Jada Latest Designs Images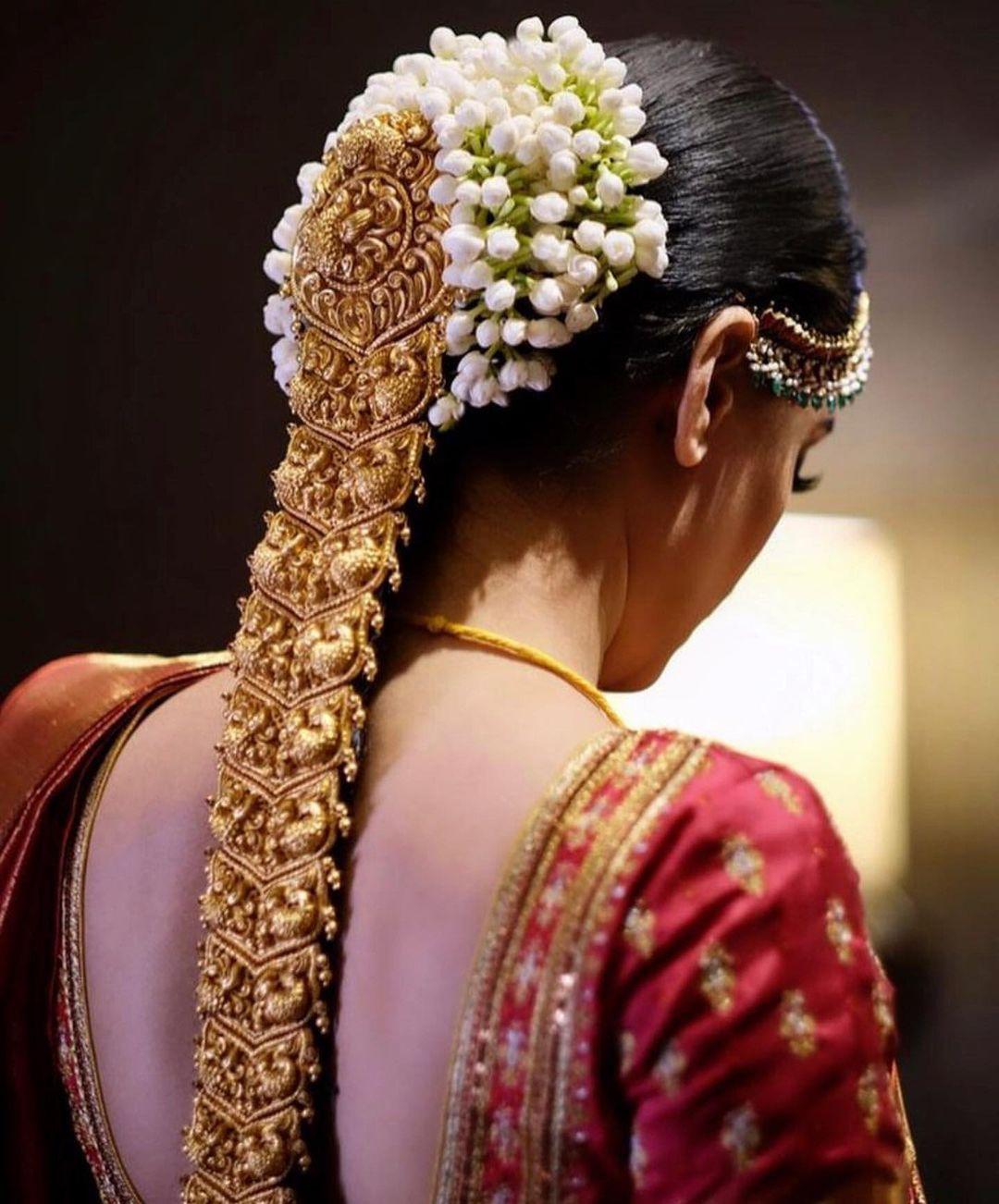 Image Credits - Ralph Daniels
Poola Jada with gold Jada Billalu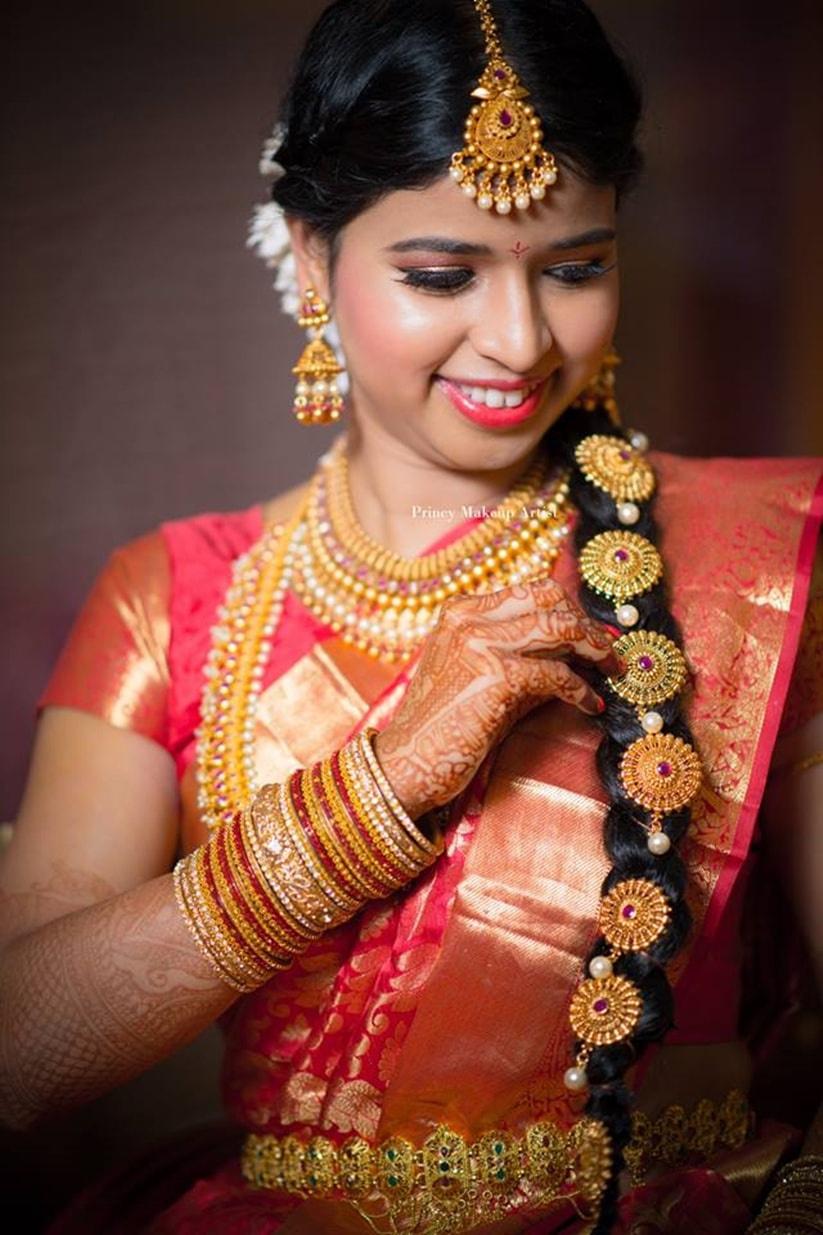 These Poola Jada images exhibit a perfect blend of fresh flowers with Jada Billalu (coins). These coins are traditionally adorned by South Indian brides and are a style statement worth the steal. Each Jada Billalu is accentuated with fresh white and red flowers, complementing the bride's attire. The Billalu coins are further beautified with the use of stone and intricately carved details. Bangaru Jada or Gold Chotti is a jewel which goes down the lane from one generation to another. This Poola Jada accessory is simple to put over the braid as all the Jada Billalu/Billas are joint to look like a braid. This bride looks stunning as her braid is covered with beautiful traditional Bangaru Jada with a 2 layered fresh flower Veni. To take it up a notch you can also wear a Jada Billalu/Billa on top along with the Veni.
Poola Jada with Diamond studded Jada Billalu/Billas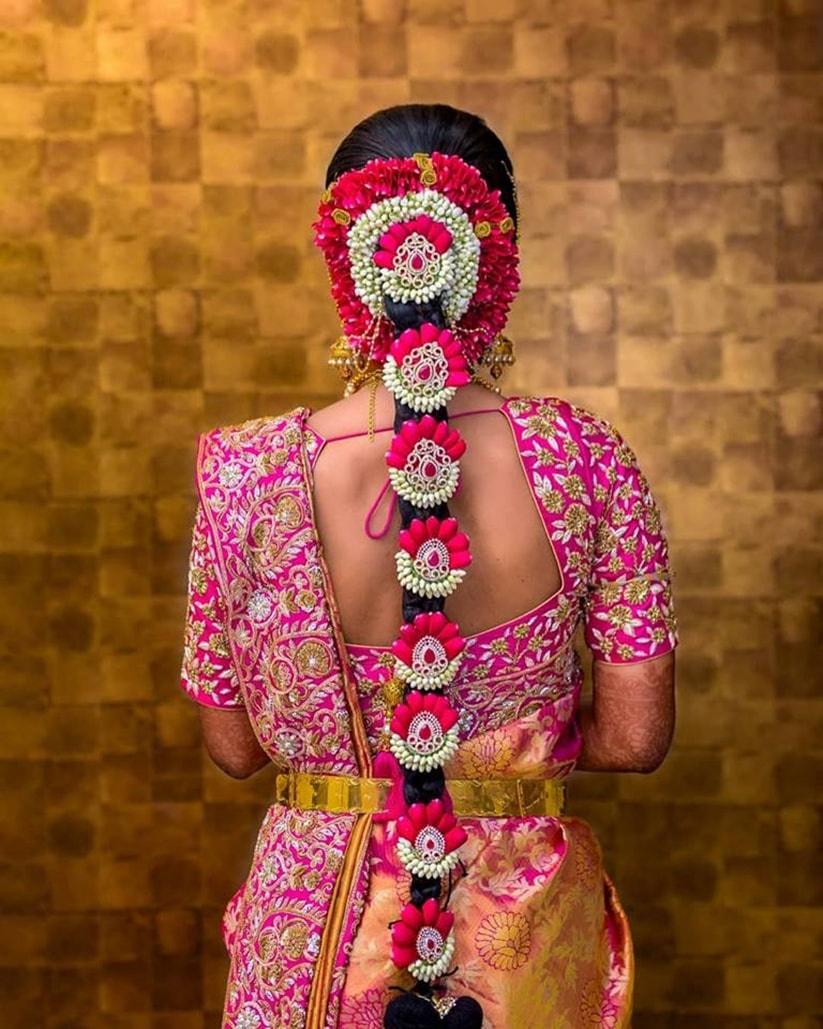 This alluring bride has really done her homework. The 2-layered Veni is supported by a small bun and is well-accessorised with the diamond-studded Jada Billalu/Billa. Small golden artificial flowers on top-most rose petal Veni are adding oomph to the look. Each piece of Jada Billalu/Billa is contoured with matching colour petals and is placed at a perfect distance so that each stands out perfectly. Don't miss out the Ladoos at the bottom of the braids, which is giving a complete look to this stunning Poola Jada.
Poola Jada with Fresh Flowers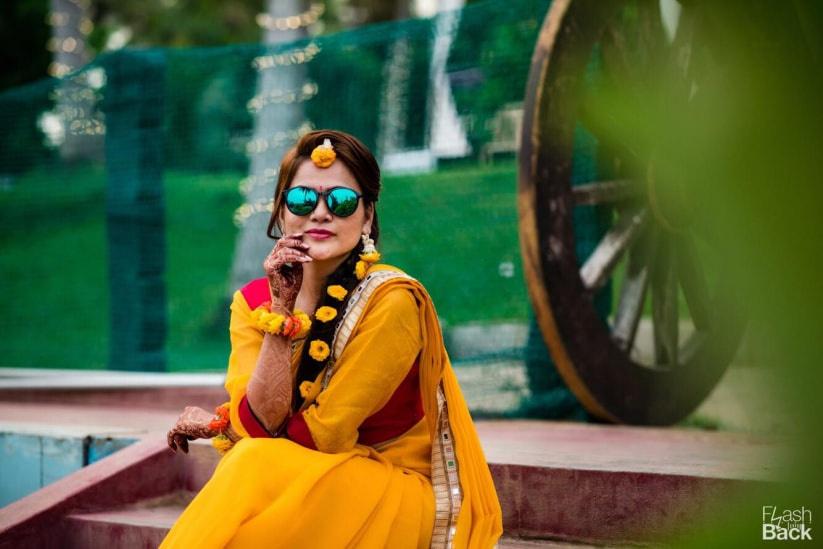 Nothing can outdo simplicity. As seen in these Poola Jada images this bride has gone for the authentic fresh flowers look. Traditionally the concept of Poola Jada started in the state of Tamil Nadu, which has abundant flower variety and brides used fresh flowers as an accessory. In this particular look instead of using just the petals, blooming red and white colour daisies have been used along with a bunch of jasmine flowers. To enhance the look of the flowers small golden flowers are tucked at the centre of each flower.
Poola Jada with flower swirl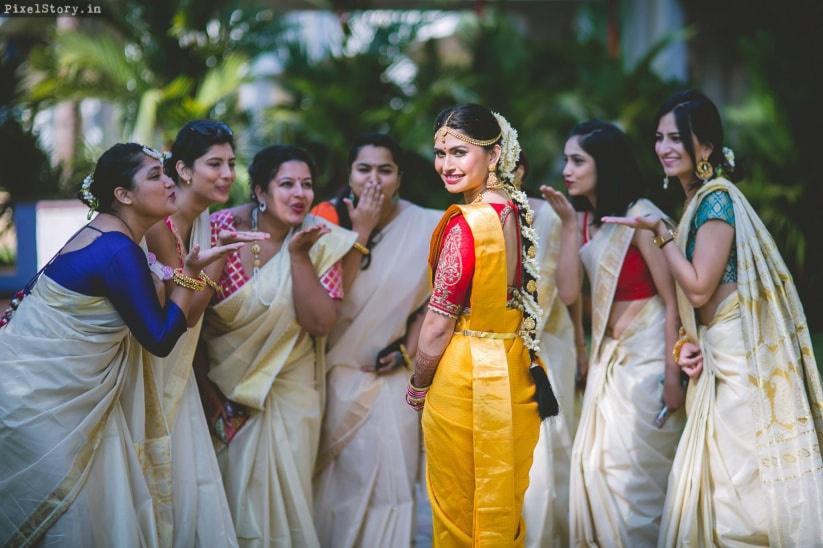 An all flower Poola Jada hairdo looks like shining stars in the dark night sky. This bride has adorned bunch of jasmine flowers as Veni and jasmine strings swirled around the braid giving a very simple and graceful look. As obvious by the Poola Jada images above, jasmine flowers can be paired up with any Saree or Lehanga. You can even go for coloured flowers to match your outfit.
Poola Jada with Kempu stone Billas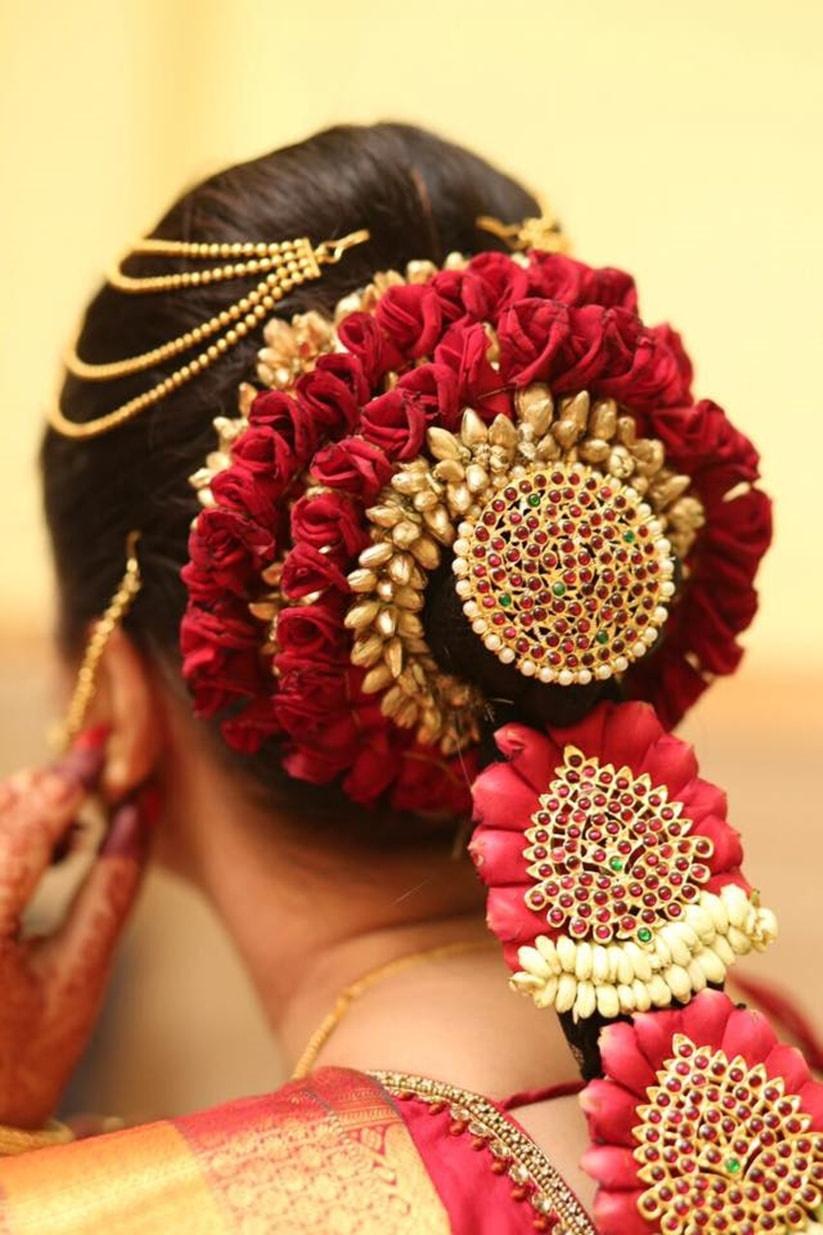 Kempu or Ruby is a stunning red hue precious stone encrusting a Poola Jada. A precious accessory rightly deserved by the divine bride on her big day. Also known as temple jewellery the Kempu stone sets come in big sets to adorn all parts from head to toe. Brides look absolutely amazing in these Poola Jada images when adorned with Kempu stone Billas on the braid.
Modern Poola Jada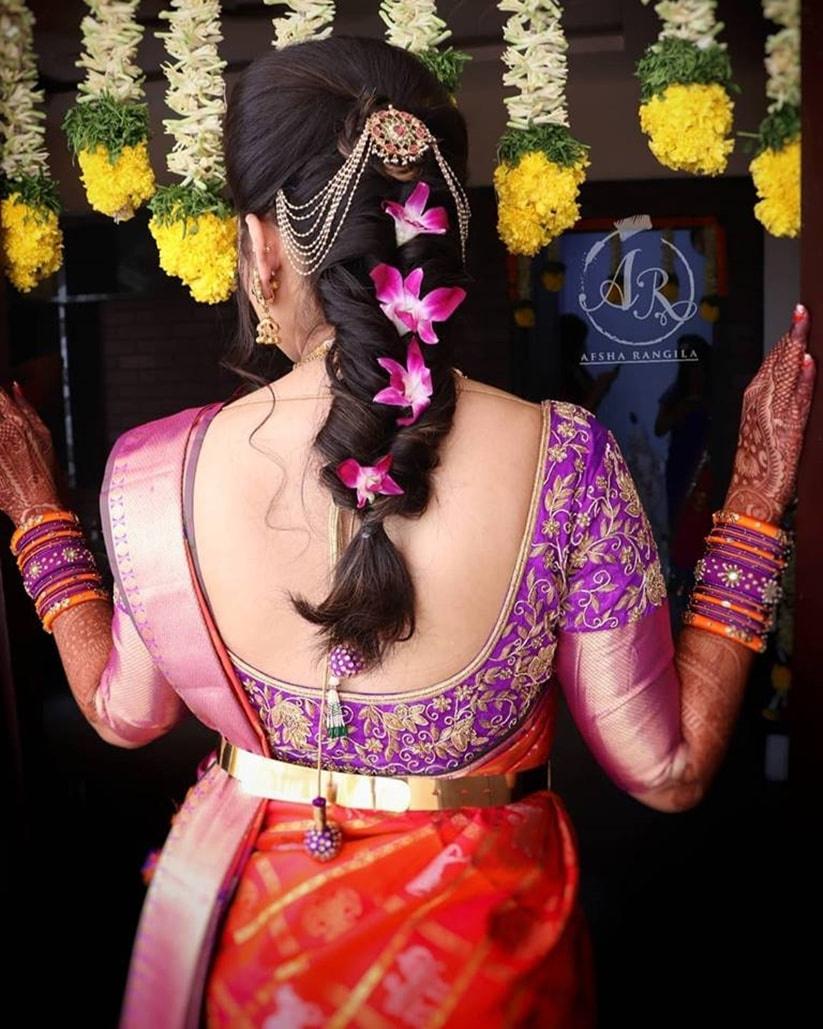 For brides who want to keep it simple, this is the look to go for. Give a modern twist to Poola Jada images by adorning them on messy braids with a sprinkle of traditional touch of rose flowers. This would be a perfect hair accessory for the millennial bride to flaunt on her Mehndi function.
So, if you are planning to get married soon then archive this article to freshen up ideas for beautiful and glamorous Poola Jada images. Whatever you choose, just remember to keep it classy and elegant.
We are crushing over all the poola jada! Are you? Rest to know more download the WeddingWire India app to stay updated with latest wedding trends & all the inspiration you need for your special day! ​Karo #ShaadiKiTaiyari with #WeddingWireIndia!
With words by Meha Khera