10 Latest Bun Hairstyles for the Modern Bride to Flaunt
Classic bun hairstyles have been sported by the Indian brides for many years now, and are still prevalent. That does not mean you have to go with it too. It's about time you revamp it a little and take a look at some new bun hairstyles.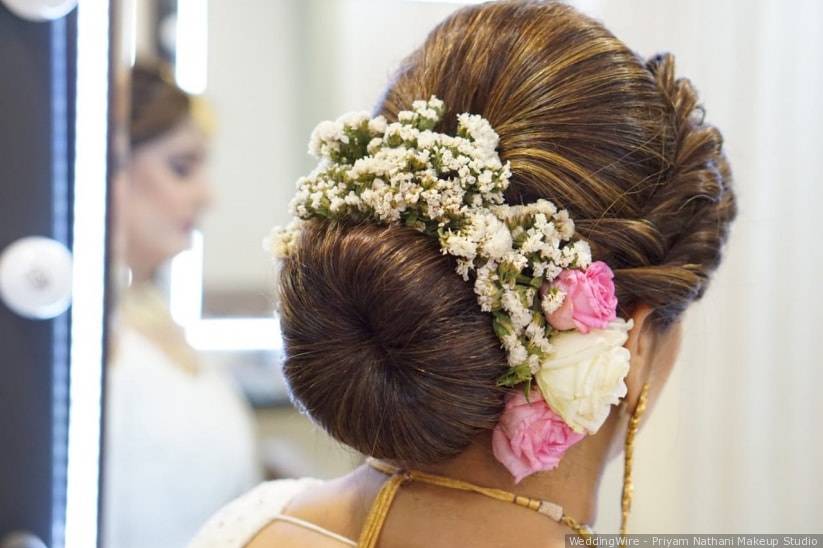 The bun hairstyles are one of the easiest to carry for your functions. They are no mess, no fuss hairstyles. With the number of variations a bun hairstyle has, it goes well with everything you wear. You do not have to worry about a bun being boring, the end result will be anything but so. Be it an elegant look that you want to flaunt for the engagement ceremony celebrations in the evening with a cocktail dress or a saree, or be it a messy look that you wish for with your Indo-western attire that you choose for your mehndi ceremony or even a natural look for the Haldi ceremony, the bun hairstyles will fit in for each of these and make you look like the diva who is bound to turn the heads as she walks by.
Now you might be wondering what are all these wondrous bun hairstyles we are talking about. Well, we have curated a list of the latest and trending bun hairstyles just for you.
1. Top Knot Bun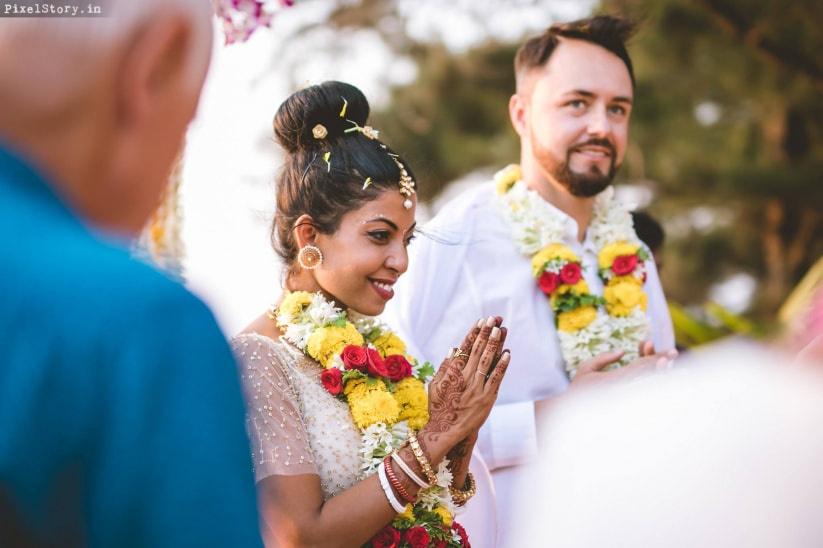 Want a free-flowing bun hairstyle style than your usual buns? Then get a top knot bun done. This style can be achieved by pulling half your hair in a bun and letting the other half fall free. The bun can be well-groomed one, but even a messy top knot works. You can use dainty embellishments, floral or jewel to complete this look. This bun hairstyle would suit at your reception. You can even pull the entire hair up in a neat doughnut bun in the crown area of your head and you are good to go. This enhances the jawline and makes you look edgy and makes a perfect hairstyle for the engagement or a Christian wedding ceremony with the pristine white gown.
2. Knotted Bun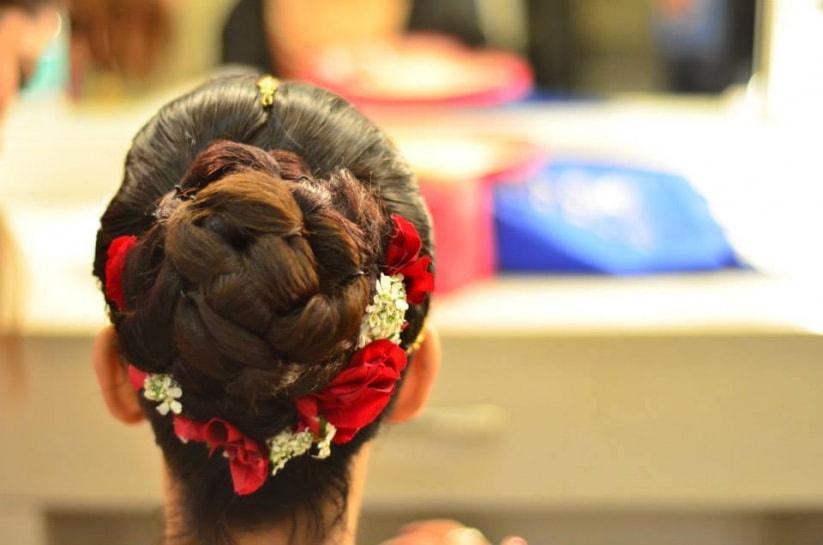 A knotted bun takes an effort to be achieved, but once completed this bun hairstyle looks pretty stylish. Staying true to its name, the hairstyle looks like it is attained by making a number of knots in your hair, though don't worry it is nothing so complicated. You can get this look by using a very large number of hairpins and a ponytail to twist any way you want it to. You can finish off this look by wearing a Matha Patti with it. This style is best suited for your Sangeet function or even the Shaadi. The floral accessory around the bun is the perfect finish.
3. Low Bun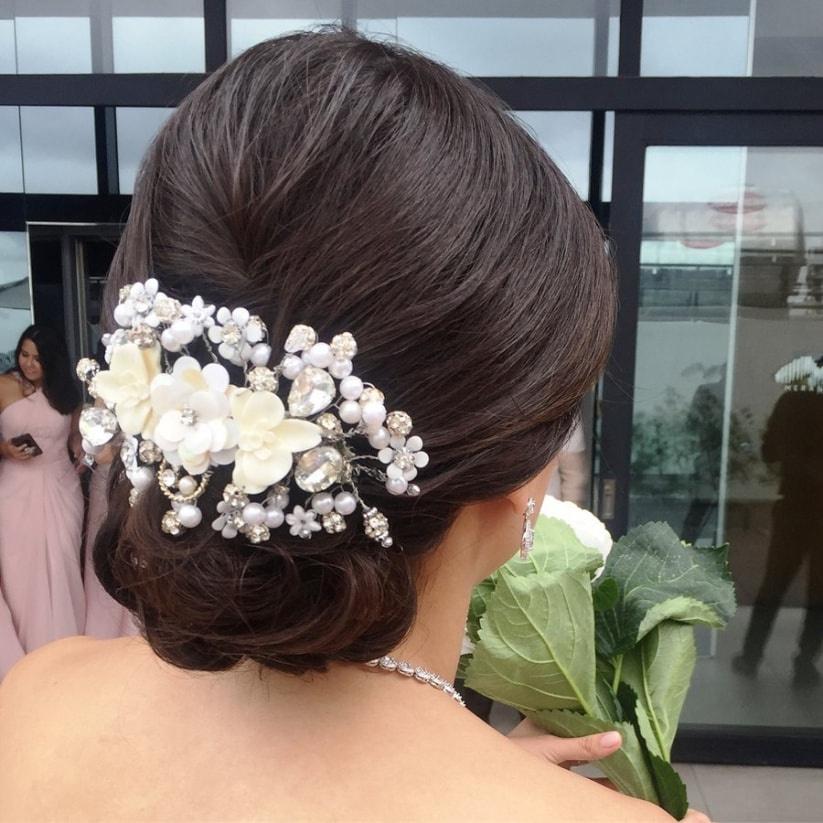 Photo Courtesy: Akshdha Designs
This bun is actually much easier and lighter on your head than many others on the list. They hand on your nape, so you don't have to use a thousand pins to make sure it stays up. You can make this bun hairstyle looks more attractive by decorating it with small flowers or jewel studs. This style can be worn for your Mehndi function to keep you fuss-free and comfortable.
4. The Messy Bun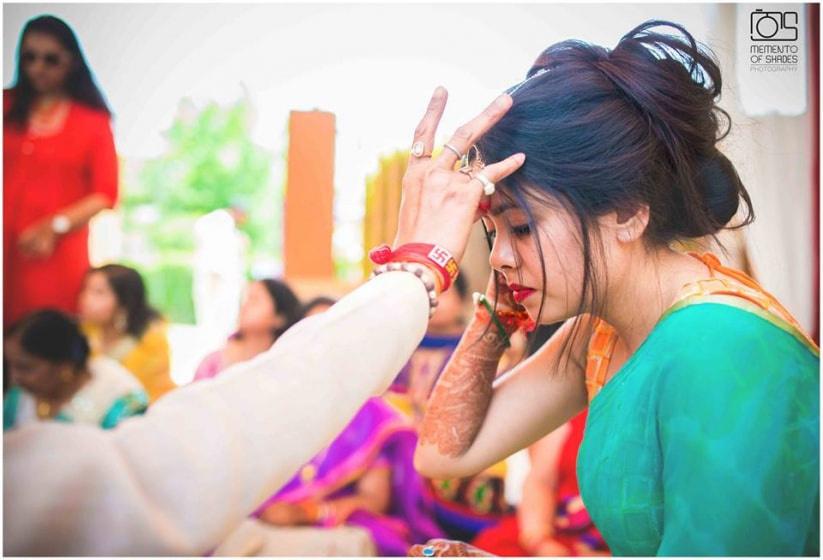 The is the easiest bun to make by far as it does need a lot of taking care of or even a lot of styling for that matter. This bun looks extremely stylish and so different that it keeps people guessing on how it has been made. It has wisps of hair coming out of the bun which makes it look extremely natural and not made up. You can add a Maang Tikka to accessorise the look, but it looks good even if it's left alone too. You can wear this bun hairstyle for your Mehndi or your Haldi function. The natural look demands a dewy makeup and fits best for the day time ceremonies.
5. The Retro Bun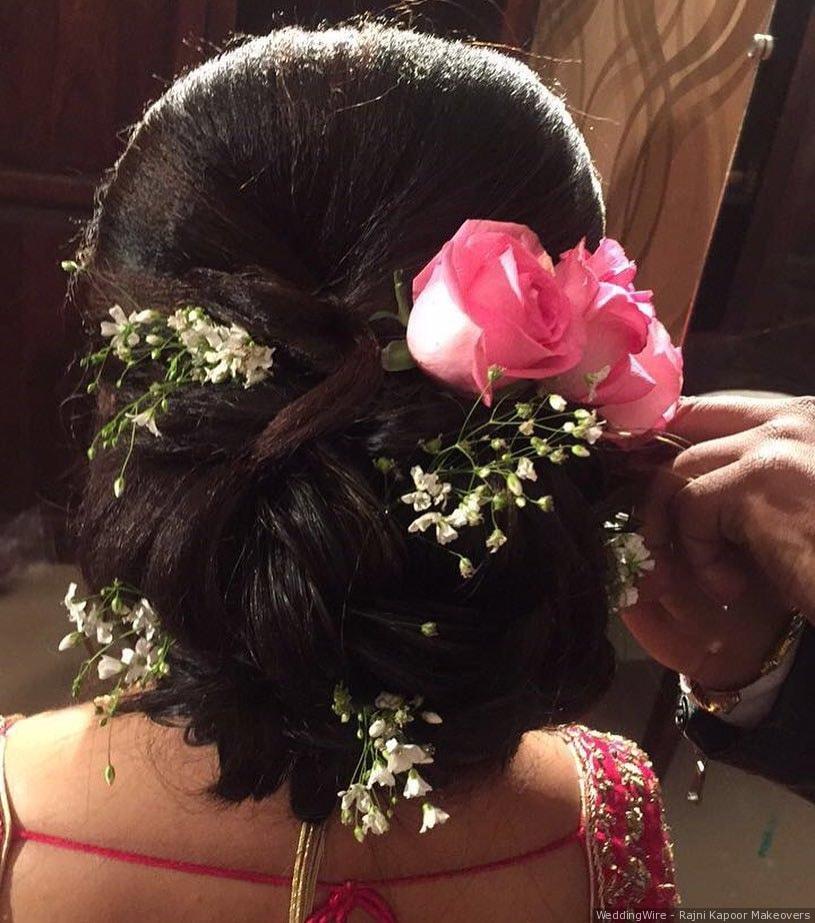 Well, this might be an old look for some of you, but definitely still looks extremely modern and chic with the strands on the side being a classic addition to it. The bun itself is voluminous and styled with curls. Adding flowers to this bun can complete your look altogether. As we all know, a red rose never spoils any hairstyle if you decide to go the classic way. The retro bun would look amazing on your reception night, as you are going to be the star of that party.
6. The Jeweled Bun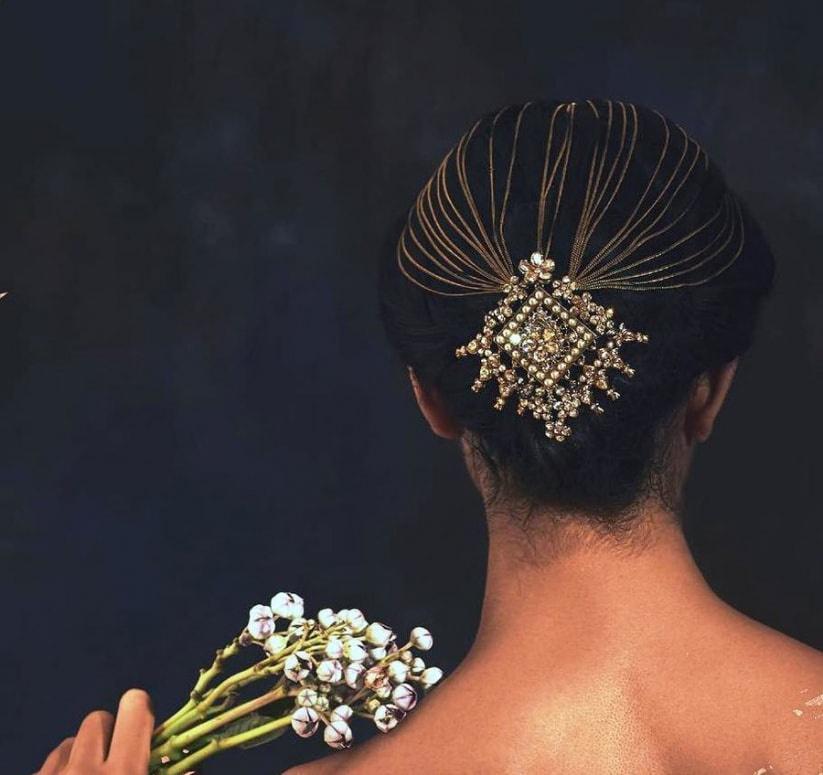 You might have seen this type of a bun before, but with more hair jewellery coming in, this look gets even more versatile. This bun is the perfect fit for a royal wedding and you can add to it by combining it with a Mughal style Maang Tikka as well. Wearing it for your wedding would be the best way to achieve its full effect.
7. High Bun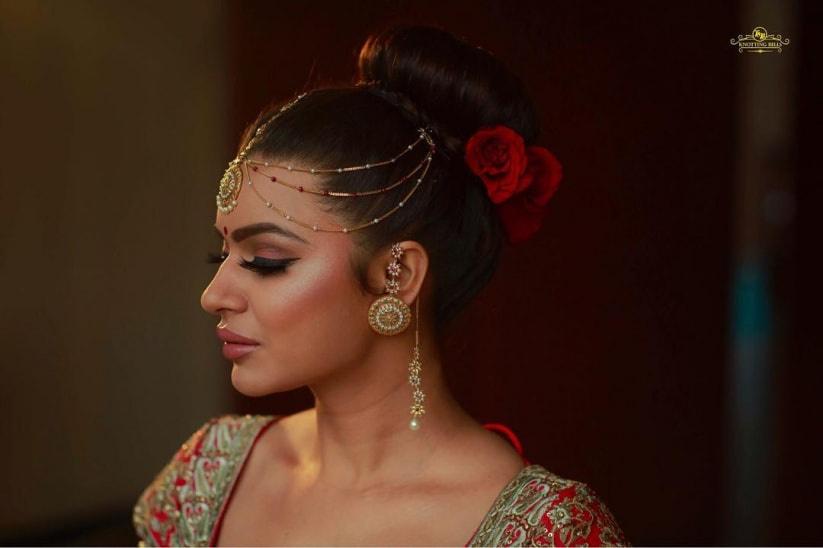 This bun stands out when worn. Some might confuse this with your normal bun but once made, it can never be confused as the normal bun because of its position. This bun hairstyle would achieve its full effect if you are not wearing a Dupatta. This look accentuates your neck making you look more elegant and tall. You can add a jewel stud in the middle of the bun to make it look chic. This is an ideal bun hairstyle to be worn to your Sangeet, or Mehndi function, as it keeps the hair out of the way.
8. Braid and Bun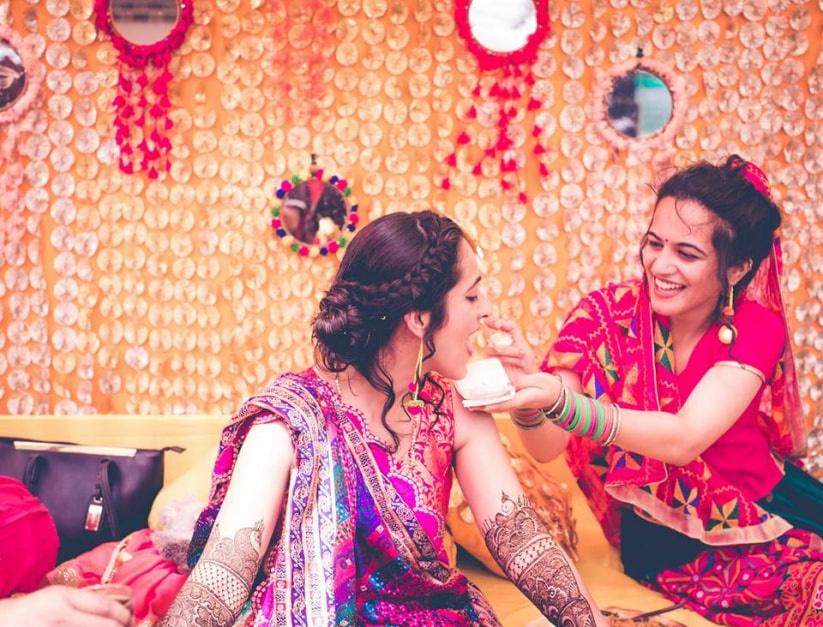 Not sure if you like buns more or braids? Well, try this bun hairstyle that has a side French braid which then mixes into the bun. It looks classy and different and is pretty easy to make as well. You can make it even more alluring by adding a jewelled hair band at the starting of the bun. A night function where you do not have to wear a Dupatta, maybe like the reception or the Sangeet is the best occasion to carry it. Leave the bun a little messy with locks of your hair left loose in curls to enhance the look.
9. The Ringlets Bun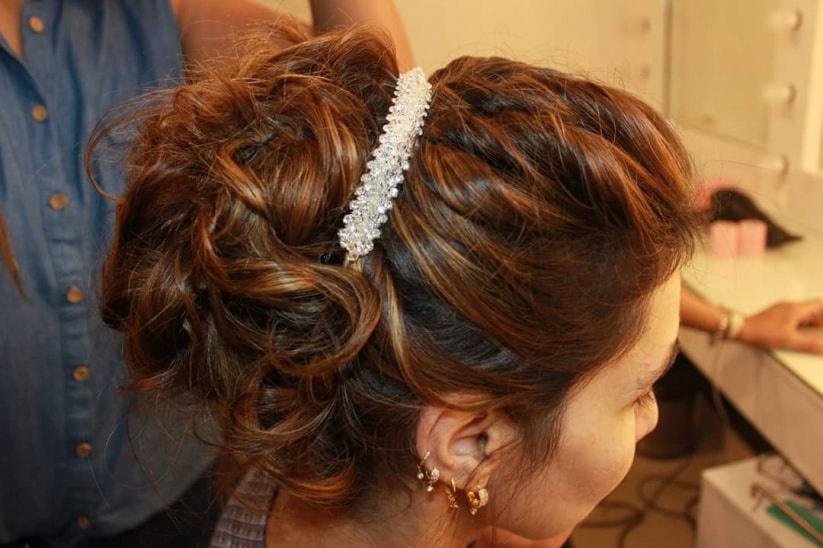 Looking glamorous should be high on your list, and how better to do it than with this bun? Put on a simple bun and then curl your hair in ringlets to cover your bun with the ringlets. You can add a jewel or floral band to your hairdo, to give it a complete look. Select this for your Sangeet or Shaadi night to complement your outfit with a hairstyle that is equally intricate as your outfit.
10. The Bouquet Bun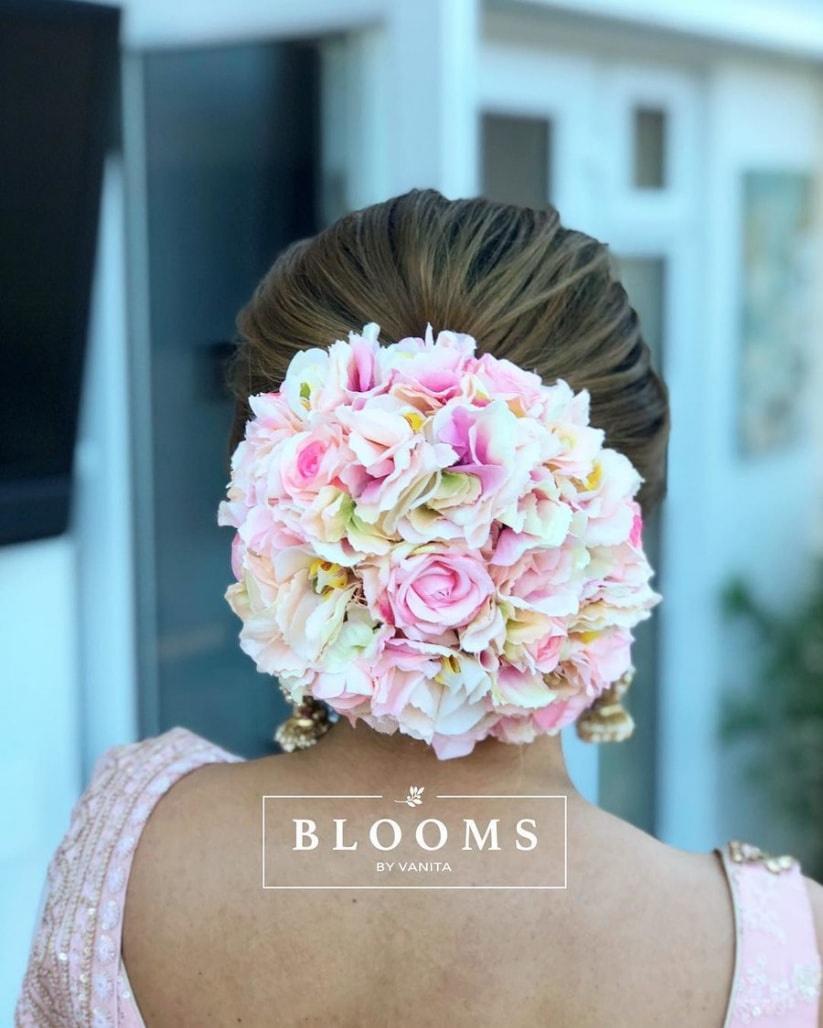 Photo Courtesy: Blooms by Vanita
One of the most popular bun hairstyles on the market right now is the bouquet bun. With Deepika Padukone very recently adorning the same for her reception, a number of brides are sporting it and for a good reason. As the name suggests it looks like a whole beautiful bouquet of flowers. It is done by covering each portion of your bun with flowers and though it sounds simple, it looks quite exquisite and exotic. This elegant and eye-catching hairdo should be worn for your reception night or even wedding day. You can improvise the colours of the flowers that you choose according to the theme of your wedding and also according to what your groom decides to wear!
Each of these bun hairstyles is unique and frankly gorgeous. Who says a bun hairstyle is simple? It can be so much more and in so many different ways. If you have a hard time doing them yourself you can look up a range of hairstylists on our website.
Does discussing these bun hairstyles make you even more excited about your wedding day? Tell us in comments which of these would you want to try out for sure?