Up the Game With Stunning Christian Wedding Gowns, a Trend That Makes You a Princess at Your Wedding
Find out where you can buy Christian wedding gowns in Delhi. Whether it's the price, the design or the quality, we are here to help you pick out your perfect wedding outfit.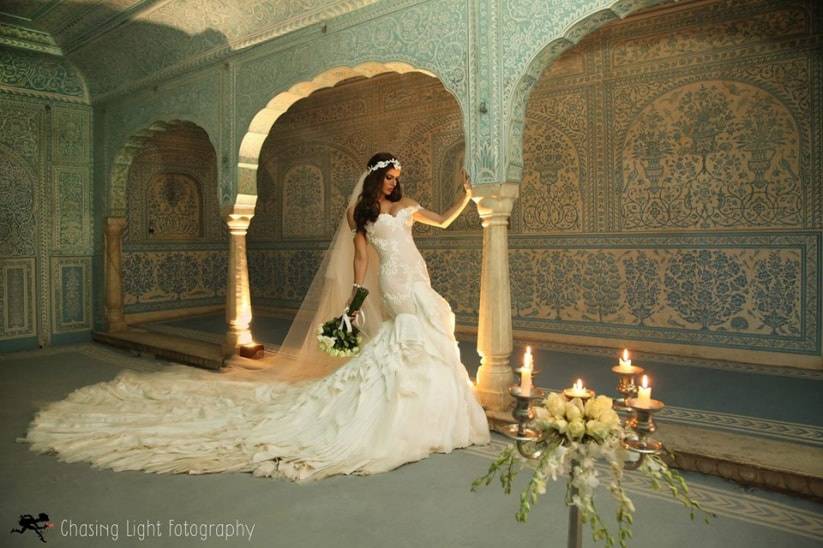 If you need a Bridal Lehenga, you can find one in almost every nook and corner of a market in Delhi. However, when it comes to buying a Christian wedding gown, it's tough to spot the shops where you can find one. But, how do you find the perfect Christian wedding gown? That is a million dollar question. But, this is where we will help you resolve the greatest dilemma of your life. From lace sleeves to sleek crepe-layered silhouettes, wedding gowns have endless styles and cuts to choose from and it sure gets overwhelming when you don't know what will look best on you on your big day. That's why we have compiled a list of stores where you can look for a Christian wedding gown, for the coming wedding season. Each of them is worth a visit!
Christian Wedding Gowns vs Dresses - The More Popular Trend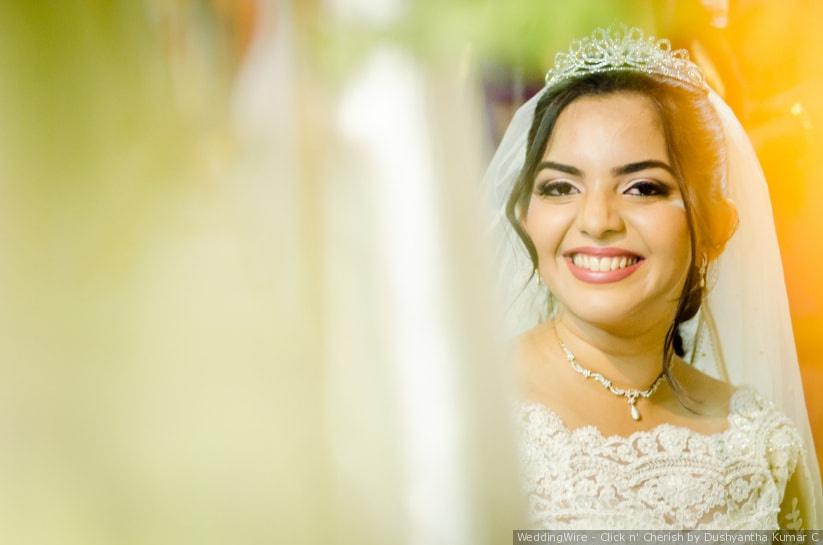 Before we get to the list, let us take you through two wedding outfit trends that are going around for Christian brides-to-be.
Wedding Gowns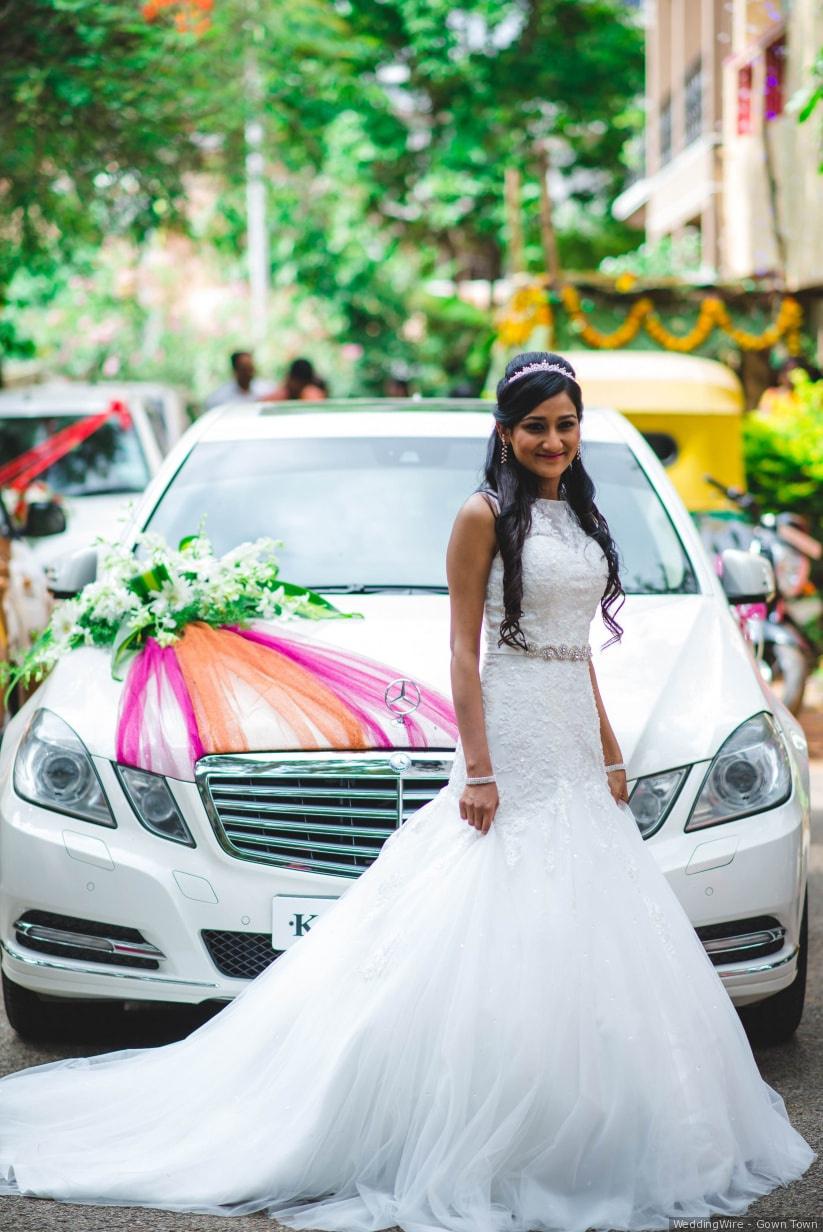 Have princess dreams with a bridal train, gliding over the steps to your wedding ceremony? Then you have a Christian wedding gown in mind, one of the oldest forms of church wedding finery. Here is why they still catch our fancy:
Traditional and evergreen style
Ballroom gown style
Formal style
Wedding Dresses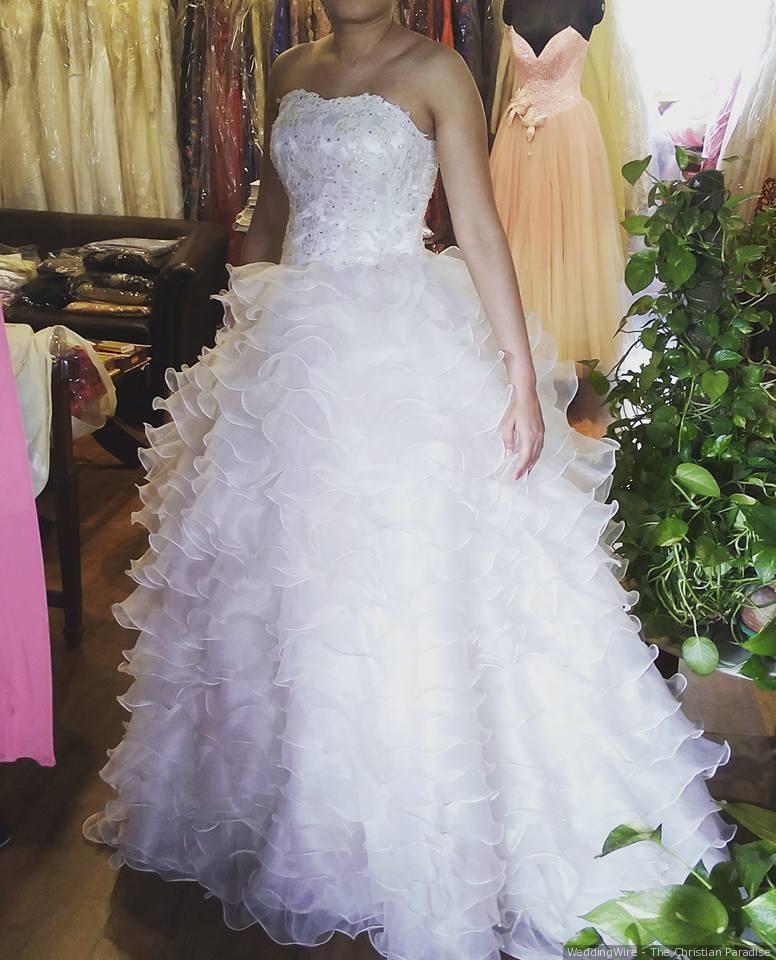 Want to sport a white gown that's comfortable too? An ankle-length or knee-length wedding dress would then suit you and your modern sensibilities more.
Contemporary and modern
A-line style - be in ankle-length, calf-length, knee-length in nature
More casual than a Christian Wedding Gown
Both of these styles are popular among brides, though the 'wedding dresses' trend has become more popular. "There are a lot of brides who go for wedding dresses because they are comfortable and can be reused in the future as well. They are not as heavy as a wedding bridal gown. However, I personally preferred a wedding gown over a wedding dress because my style is more old-school than contemporary," said Komal Thomas who got married last month.
Boutique and Stores in Delhi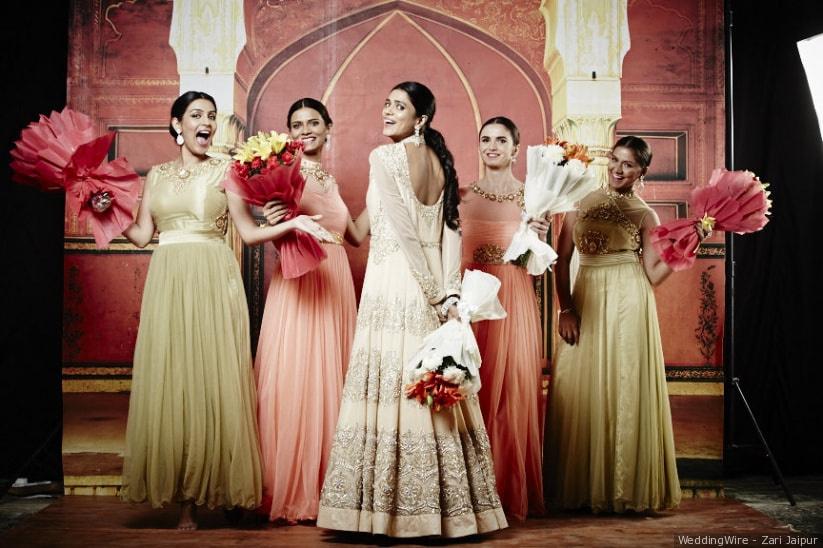 1. La Fantaisie By Rachel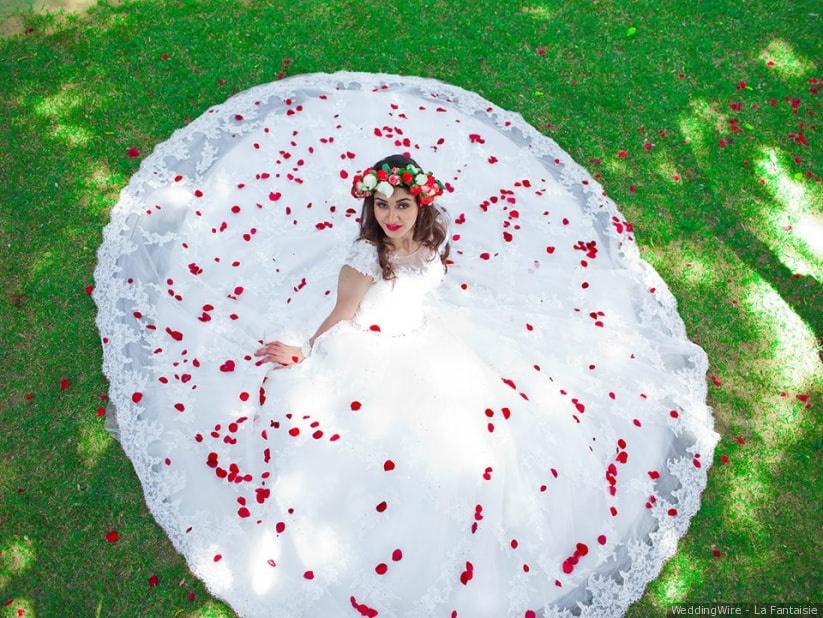 If you don't want to spend a bomb on your wedding dress and still look magnificent, you need to check out the collection at La Fantaisie. They have a variety of Christian wedding gowns and dresses along with all the bridal accessories you need for your ultimate dream outfit. From elegant, vintage bridal gowns to the modern shimmer and lacey wedding gowns - you'll find everything here. They also have a website where you can place your order and get it delivered within 3 days.
Price Range - ₹14,000 - ₹24,000.
2. KM By Kanika Manchanda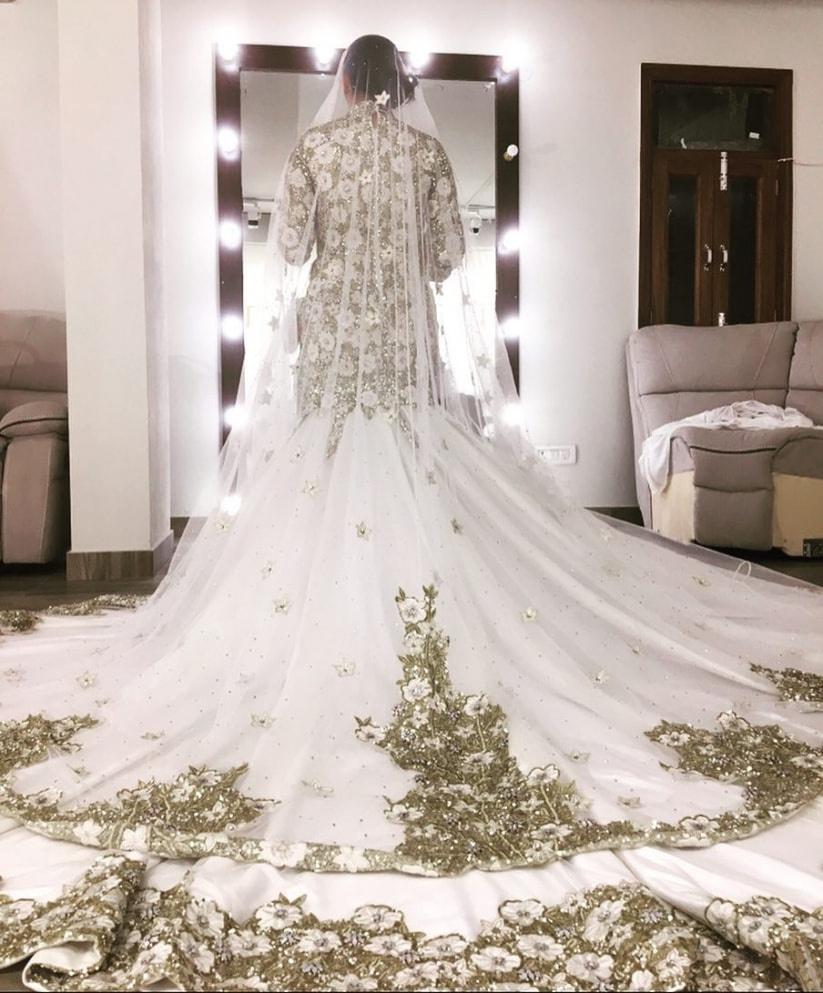 KM by Kanika Manchanda specialises in gowns. Whether it's a Christian wedding gown or a cocktail party gown - this designer knows her craft like no other. She also specialises in creating jackets and skirts. You can get a custom-made outfit for your wedding here.
All you need to do is share your vision with this talented designer and she'll surely put your thoughts in her design. Though the outfits might be a little expensive, believe us, they are totally worth it. So, we say splurge your pockets at this boutique because it is totally worth it.
Price range - Starting from ₹50,000.
3. Sincerely Bridal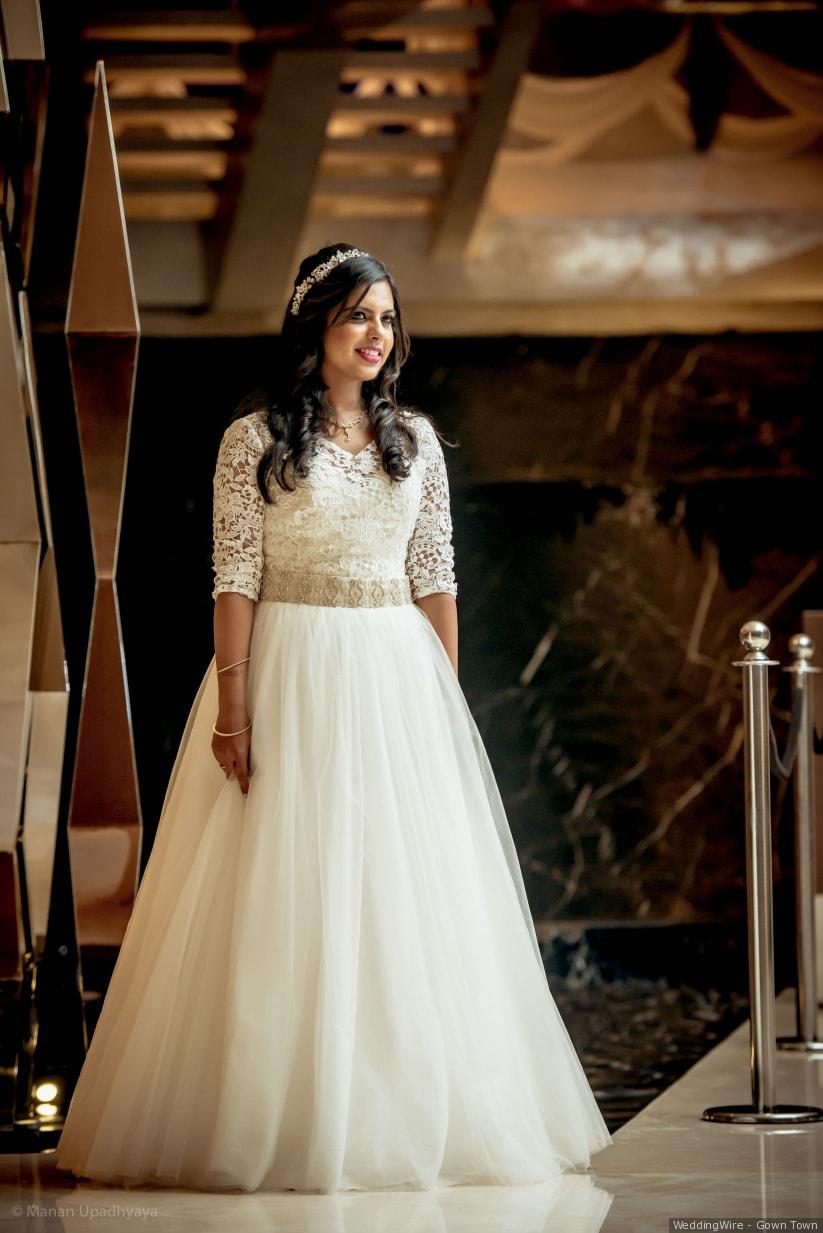 Sincerely Bridal is a boutique run by the very talented designer Glady Vaiphei Hunjan. Her designs are beautiful and you are going to love shopping here. Of course, they personalise and even design an entirely new outfit for you, according to your needs. With a wide range of Christian wedding gowns to choose from, we are sure you will definitely find your dream outfit here.
Price Range - Price starting from ₹14,000.
4. Kanika J Singh Boutique
If there's a one-stop solution to all your styling questions, it's here at Kanika J Singh's boutique. From experimenting with different types of fabrics for creating the ultimate bridal look designed especially for you. You are going to love everything you find at this boutique. If you are a fan of lavish Christian wedding gowns, you're sure to find one for yourself here. Head to Defence Colony and check out this store. They do offer discounts on their previous collections so you don't want to miss out on that.
Price range - Starting from ₹25,000.
5. Aza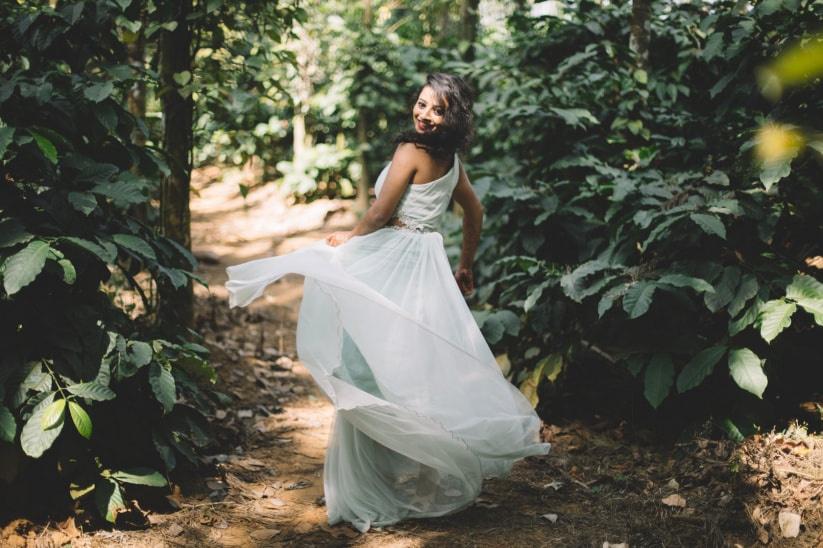 Aza is a multi-designer store and is definitely on the expensive end. If you are someone who doesn't mind spending on an opulent wedding outfit, you should definitely check this boutique out. From designers like Gaurav Gupta to Nikhil Thampi, you will find a wide range of Christian wedding gowns to choose from. From silk to organza to georgette to chiffon - the Aza boutique is your ultimate go-to option for luxury clothing fabrics along with intricate detailing.
Price Range - Price starting from ₹75,000.
6. Pammy Wedding Gown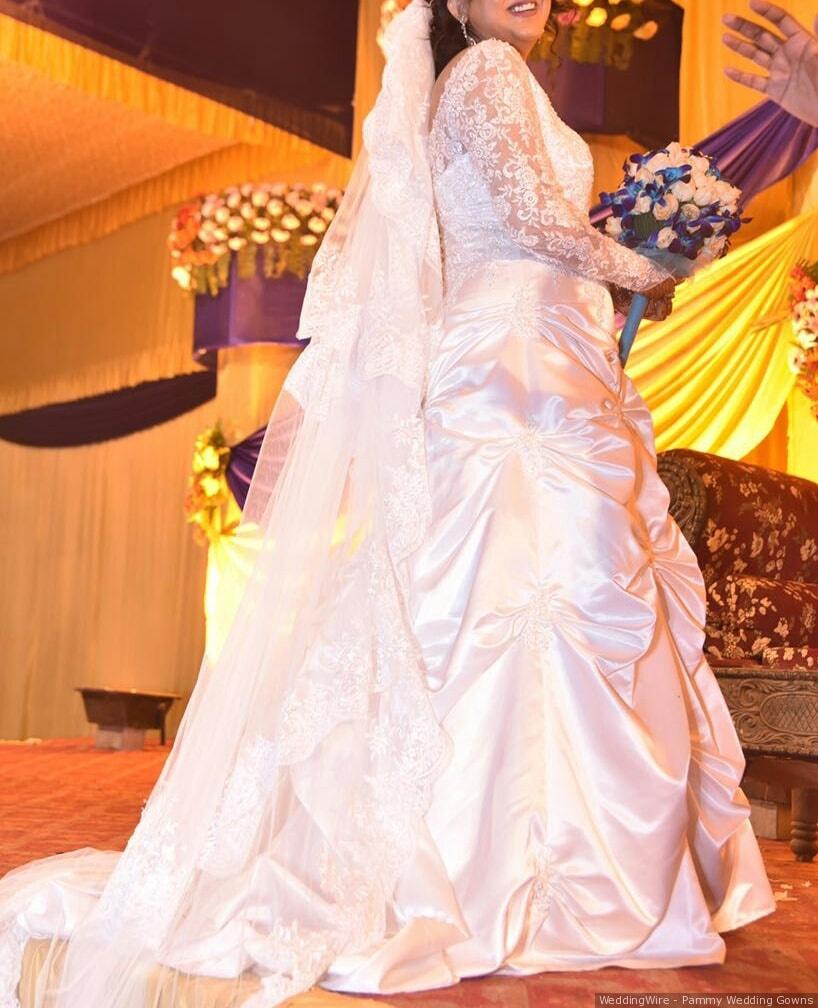 Looking for custom or bespoke bridal wear for your special wedding day? Then, Pammy Wedding Gowns could serve as your answer. They offer to work with all fabrics, silhouettes and embellishments in both pristine white and unconventional colours. They also work around other kinds of dresses - from standard reception and cocktail dresses to sarees and bridal lehengas this boutique has it all. You will be overwhelmed with the epic proportion of talent their designer has. Visit them and say bye to your wedding gown hunt.
Price - Starting from ₹14,000
7. Grace Wedding Gown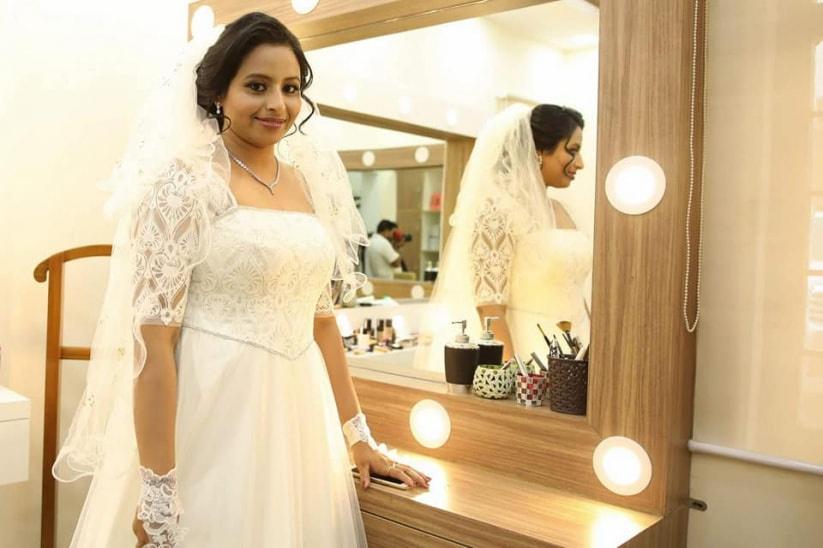 Image courtesy - Grace Wedding Gown Boutique
Off-white, cream or an ivory gold outfit - you name it and Grace Wedding Gown boutique will have it is less than 2 weeks. If you are running short on time and don't know where to go, this boutique will help you solve all your problems. Visit them and design your own wedding gown along with their experts. The kinds of services and outfits they provide are absolute value for money.
Price - Starting from ₹20,000.
Gorgeous Brides Who Stole the Show on Their Weddings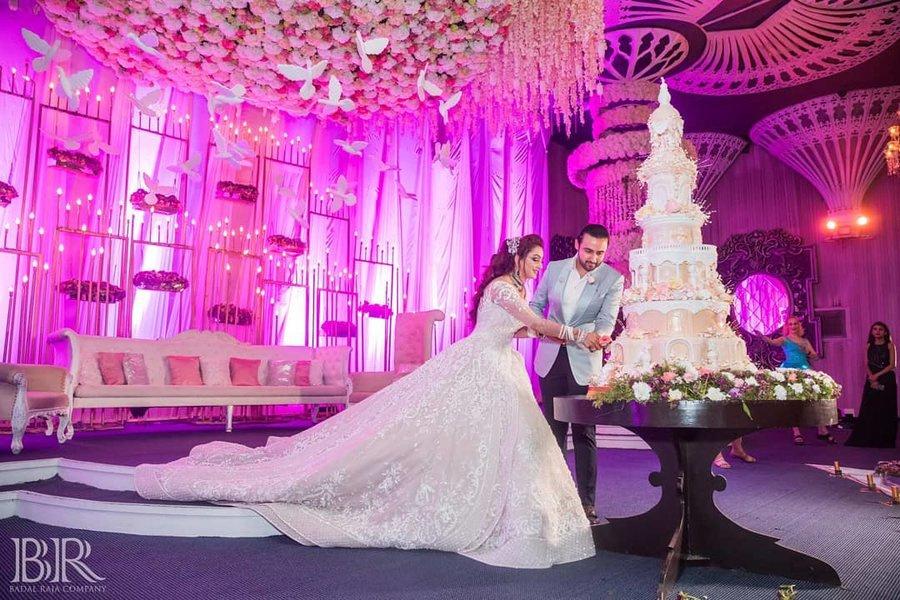 Image courtesy - Badal Raja Company
Decked in all white, each bride looks pristine and dreamy at her wedding where the Christian wedding gowns definitely steal the show. Whether you have always wished for a fairytale wedding or not, this bride surely looks like a princess. The flowy Christian wedding gown with sparkling lacework will surely be the talk of your wedding festivities.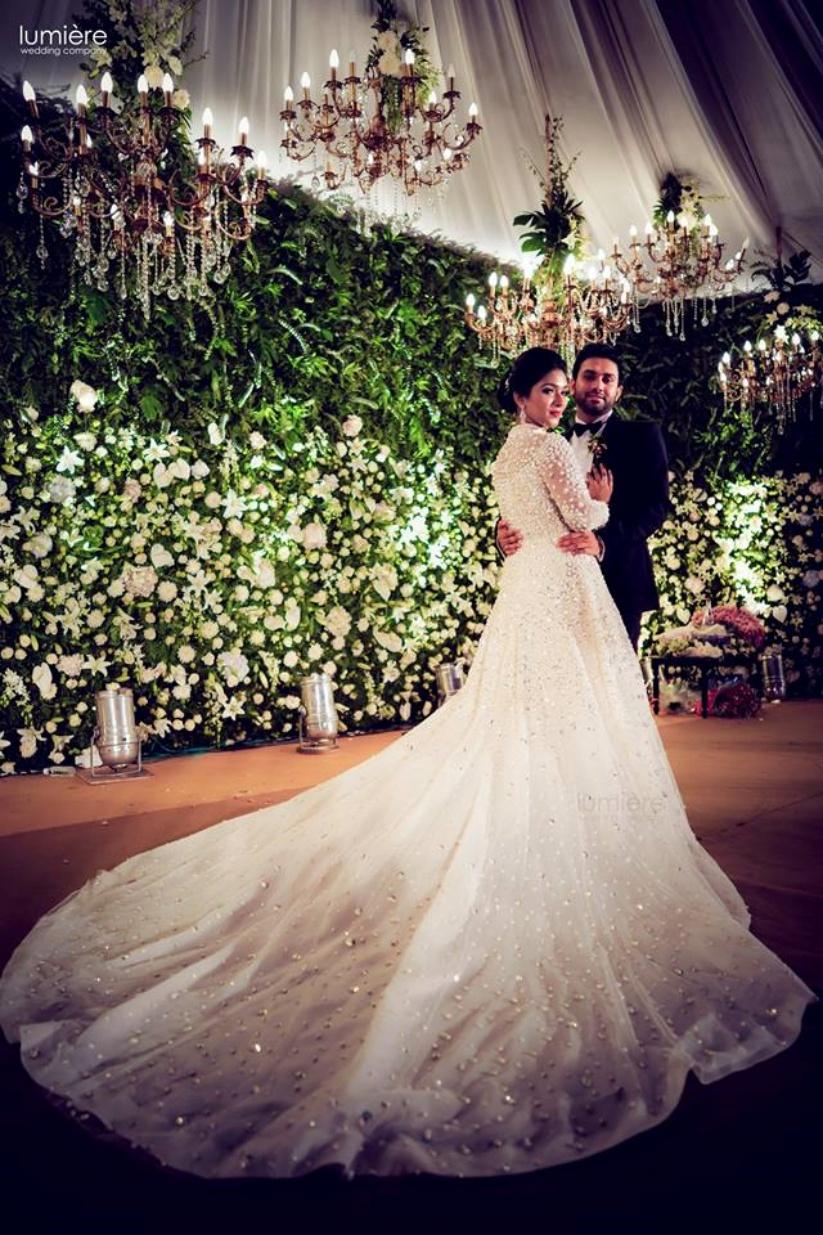 Etheral Christian wedding gowns simply create magic on one of the most important and biggest days in your life, that is your wedding. The trail of this gorgeous gown is simply stunning, while the way the bride carries it is a style statement in itself.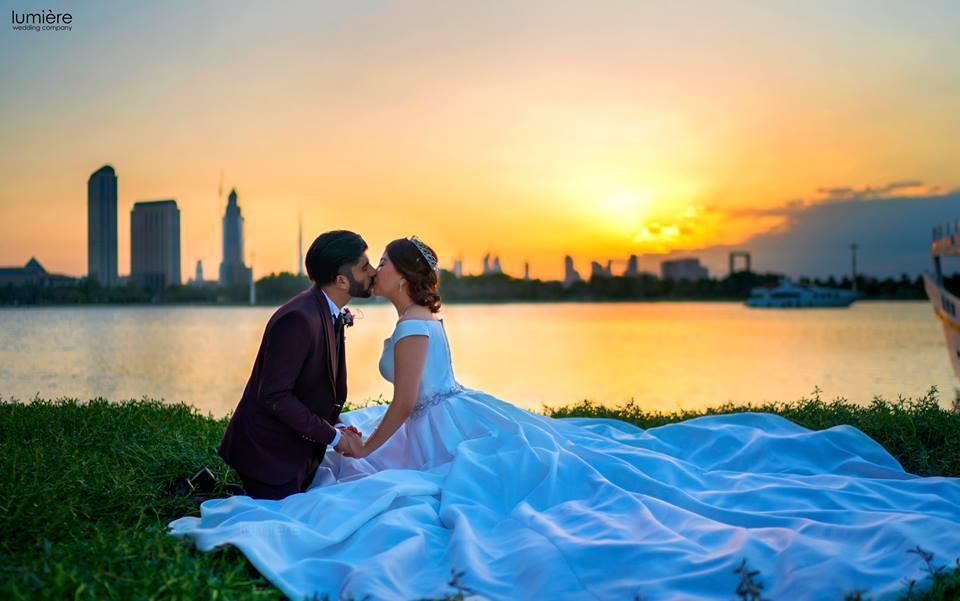 A perfect picture displaying the beauty of Christian wedding gowns with intricate details and flowy white fabric. The bride has gorgeously styled this dreamy wedding gown with a tiara on the head and light diamond jewellery which surely sets her apart.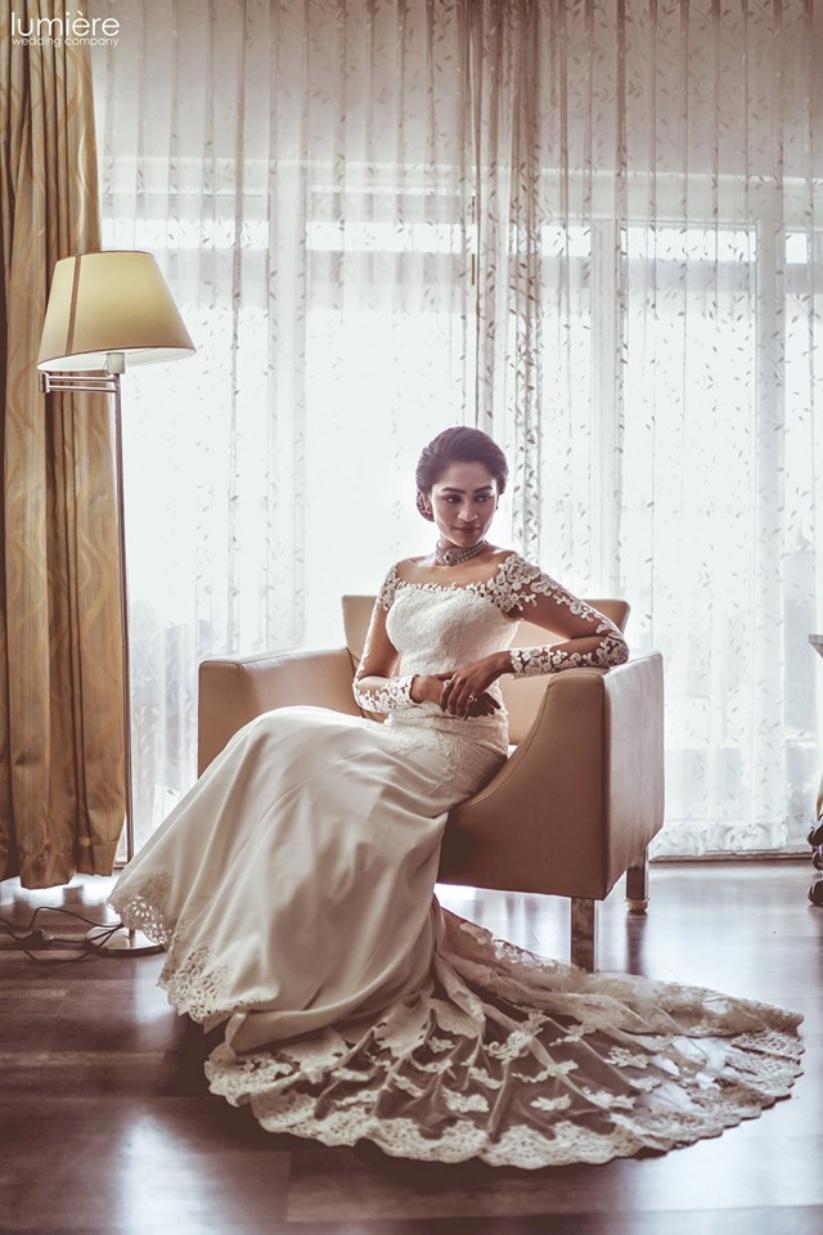 The sheer sleeves, lace and cutwork in this stunning Christian wedding gown are simply beautiful. It not only carries within its weaves the grace but also the elegance which accentuates the overall appearance of the bride on her wedding day. This pristine Christian wedding gown is styled with a neat updo and statement choker necklace which is defining the neck of the bride in this boat-neck gown.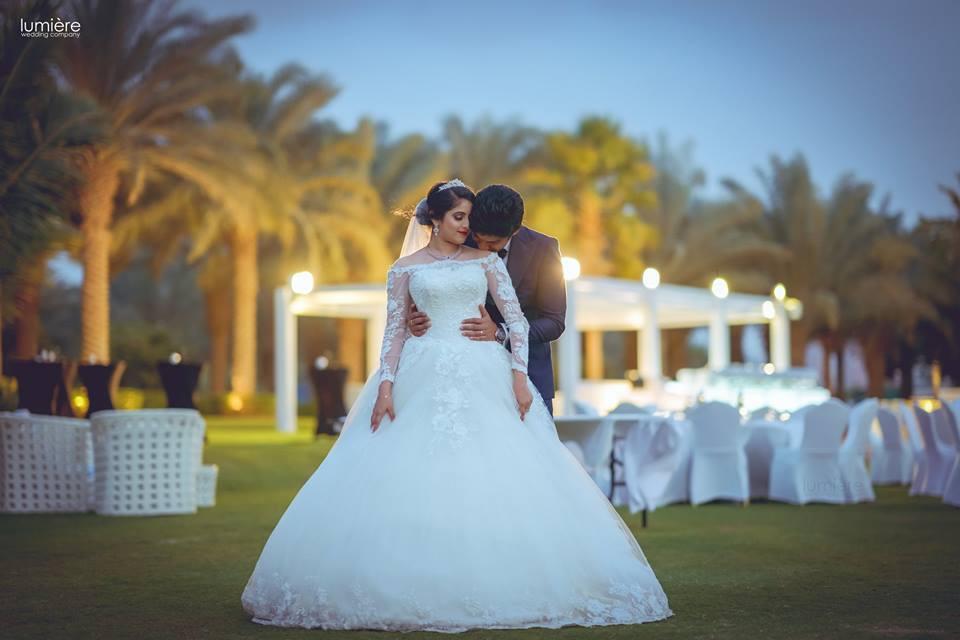 A figure-flattering gown constructed with showstopping lace details that will turn the volume on your bridal style all the way up is legit every bride's dream. A wedding gown is a one-time investment and we know how much you were looking forward to it. Before you hit a store or two we hope you have a clear picture of where you need to shop for Christian wedding gowns in Delhi.
Also, experiment with a few silhouettes before you finalise on a wedding gown. You will be surprised what a body-hugging gown could do your overall bridal avatar. Before you head out to buy your wedding outfit, make sure you refer to this list. You can thank us, later.
So are you ready to make your wedding shopping appointments? Tell us through comments.