Know All About Kerala Traditional Dress More Than White & Gold
Ever wondered how Kerala traditional dresses have changed from being a basic Mundu & Mundum Neriyathum to becoming a trendsetter in recent times? Here's how!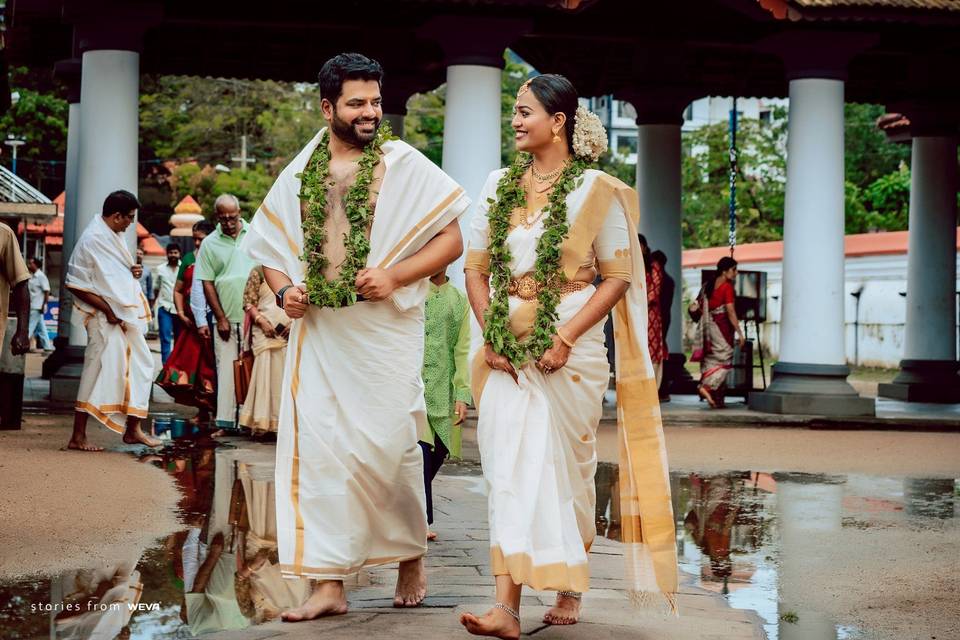 Unlike traditions of the north, where the colour red rules wedding hues, Kerala is one of the Southern states that focuses more on adhering by the colour white and gold for wedding ensembles. But now, with the ongoing trends, the designer takes and need to go for something different, brides and grooms can be seen adorning different colours and styles of apparels for their own wedding ceremonies.
Let us share with you a glimpse of what Kerala traditional dress for the bride and groom is all about and then let us focus on some of the trendiest trousseau styles that we have spotted real couples adorning for their own wedding ceremonies.
For The Bride
Mundum Neriyathum Saree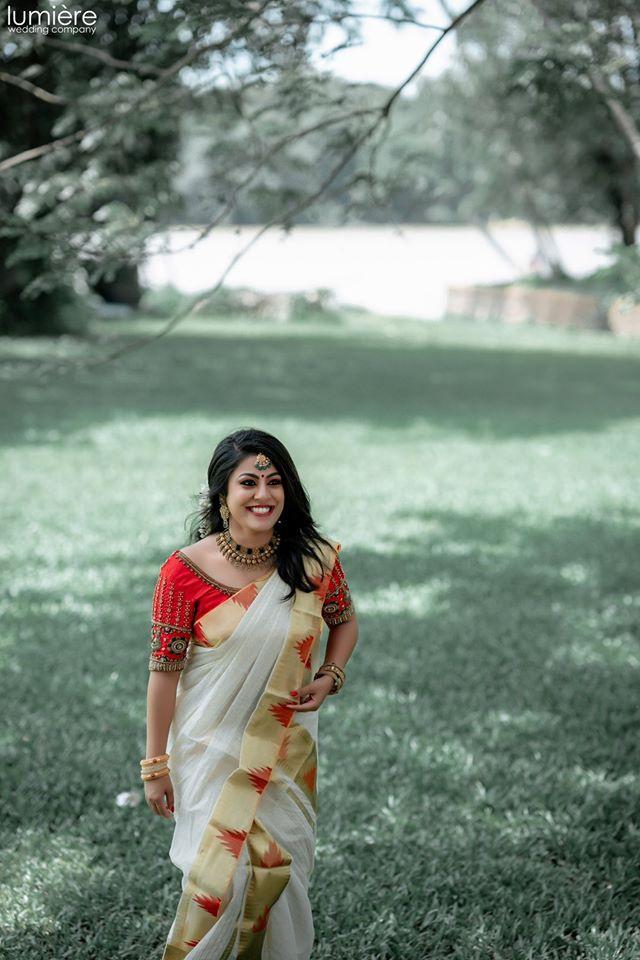 Let's start with the authentic Kerala traditional dress - Mundum Neriyathum saree. Mundum in Malayalam means the lower garment and Neriyathum means the upper garment that goes with Mundu or Mundum. Traditionally, it is supposed to be two pieces of clothes worn together to create a dress, but now a Mundum Neriyathum saree is what brides and other ladies adorn for special occasions and weddings. The white saree is identified with its golden border which is known as Kara in Malayalam.
Neon Mundum Saree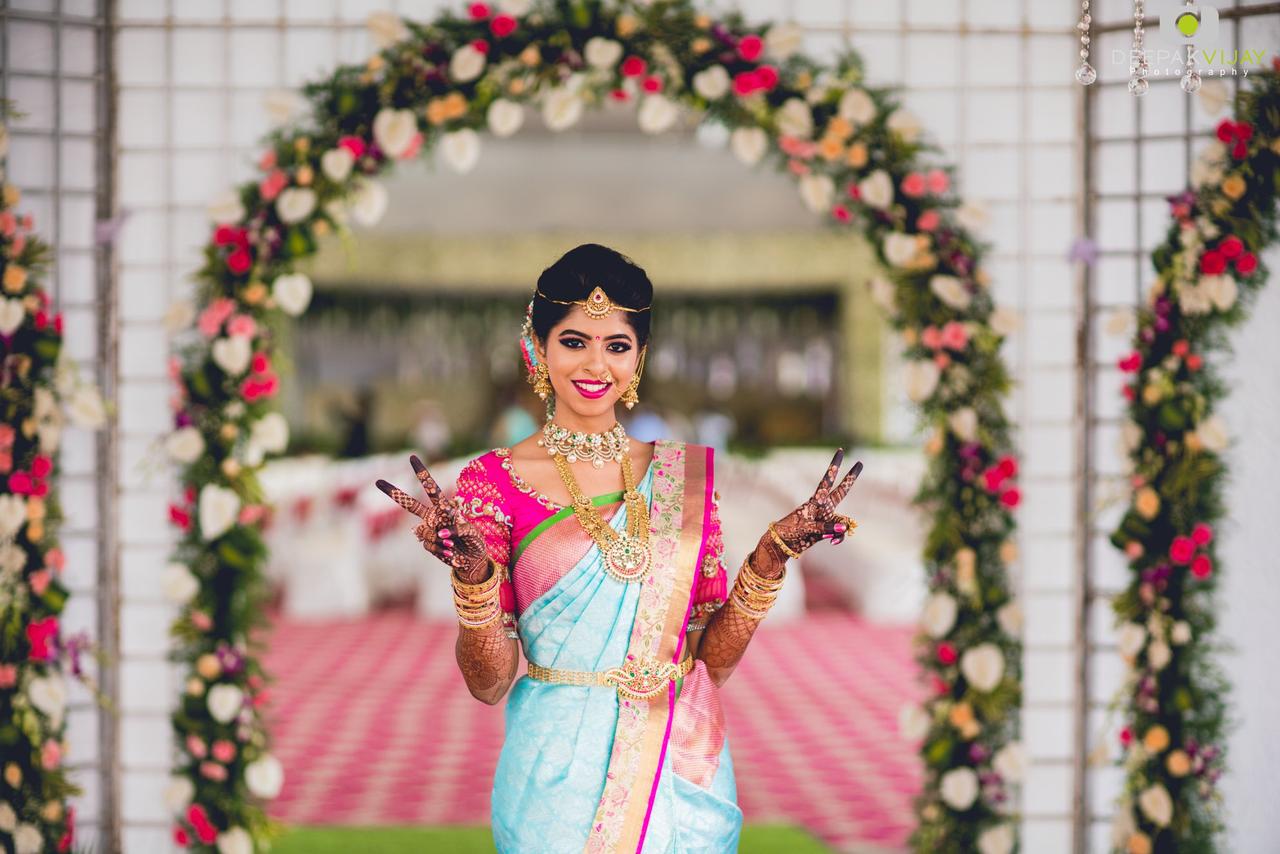 A Kerala traditional dress for brides consists of a white Mundum saree with gold borderline in different widths. If you wish to adorn Kerala traditional dress with a twist, invest in a neon Mundum saree style that looks stunning for all the morning functions of a Kerala wedding. The rani pink coloured blouse adds to the pop of brightness!
Block Print Saree With Kara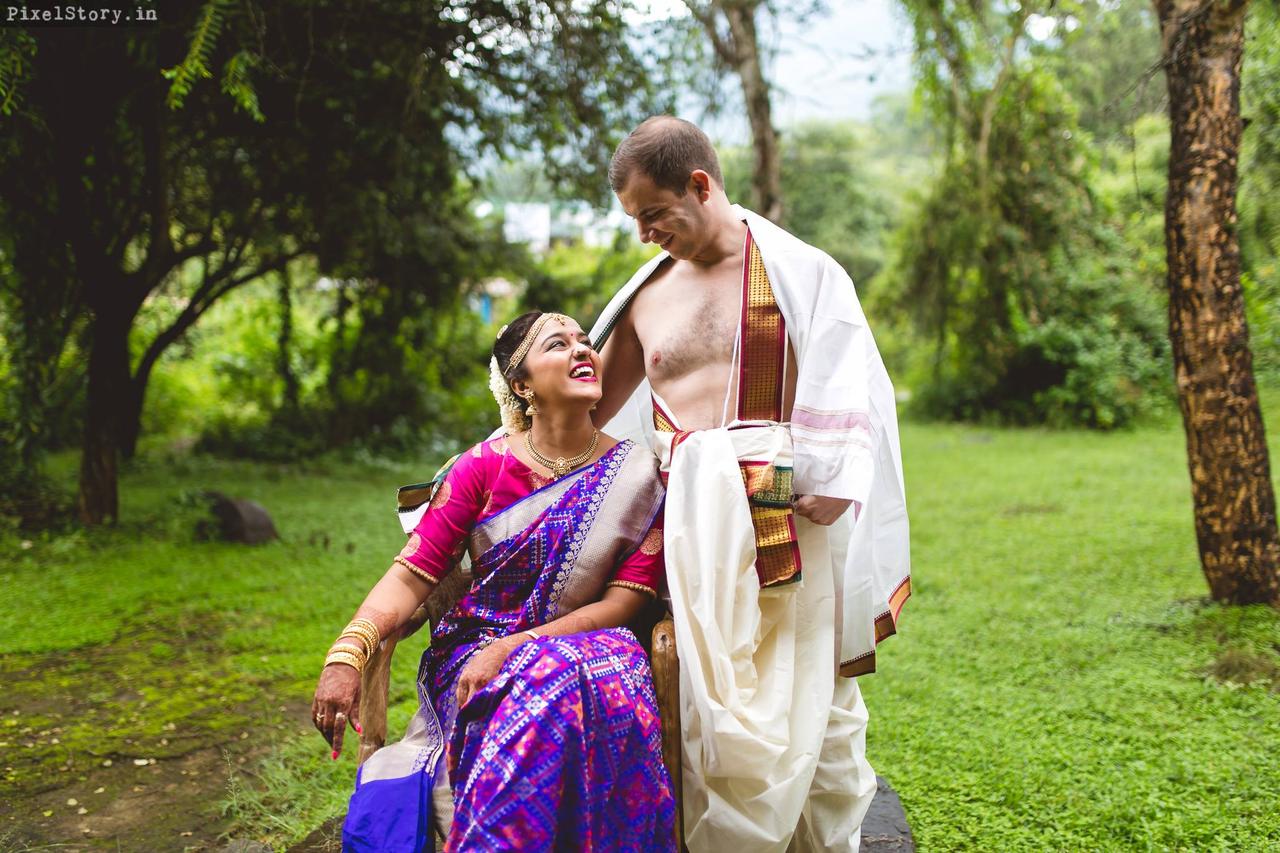 If prints are your personal preference but you wish to adorn a Kerala traditional dress for your wedding as well, then you can try a printed silk saree with Kara border. Many designers and boutiques now offer multi-coloured sarees with Kara borders, keeping up with the traditions as well as delivering a demand for something different for the wedding trousseau.
Powder Pink Silk Saree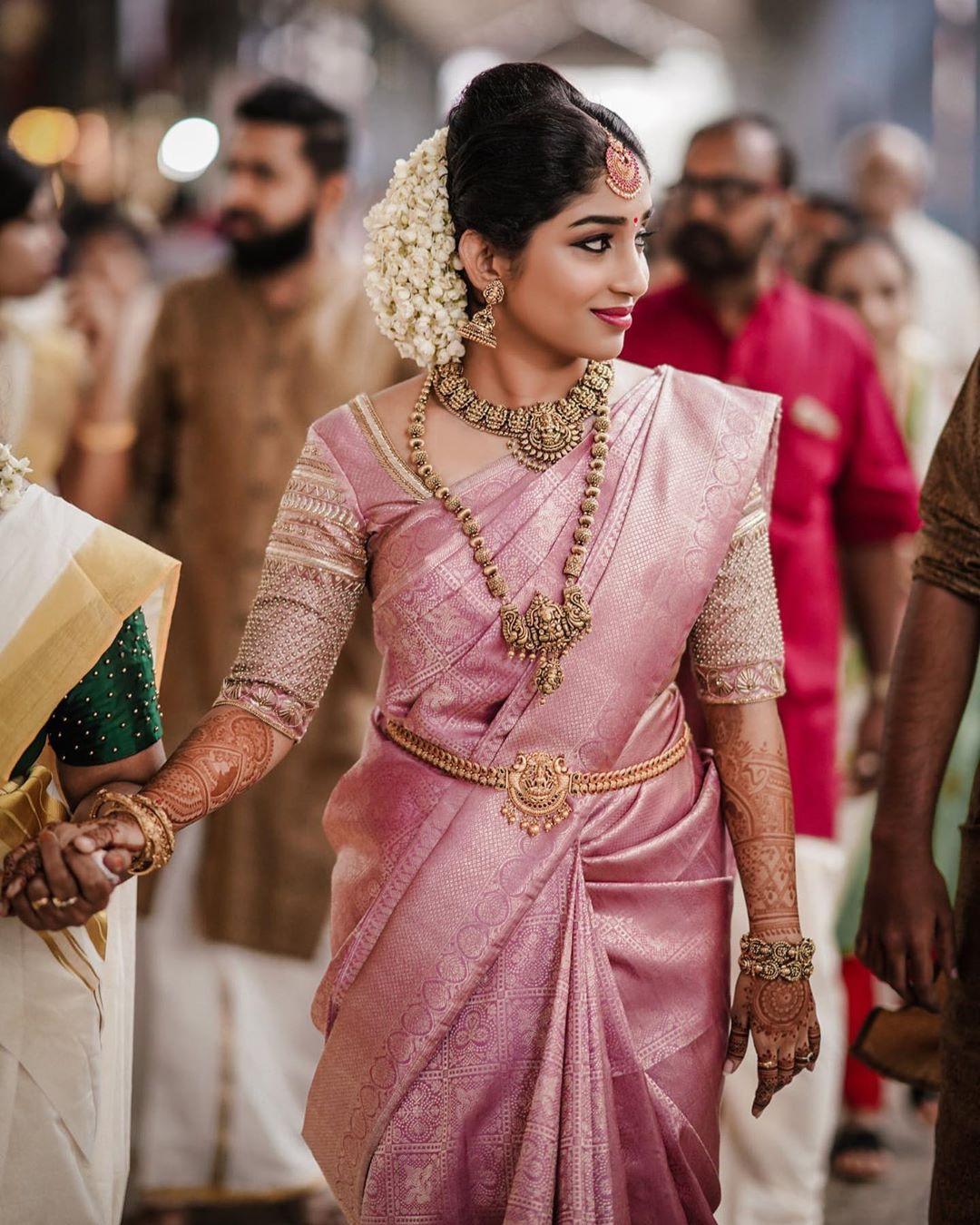 Image Courtesy: Wedding Stories by Hari
If not neon, then a powdered silk Mundum saree with silver or golden intricate foil print also looks every bit a stunner at the wedding. When accessorised with traditional temple jewellery and a Mogra-Gajra, the entire wedding look will make any bride look speechlessly stunning! Pastels have never let us down!
For The Groom
Zari Embroidered Shirt With Lungi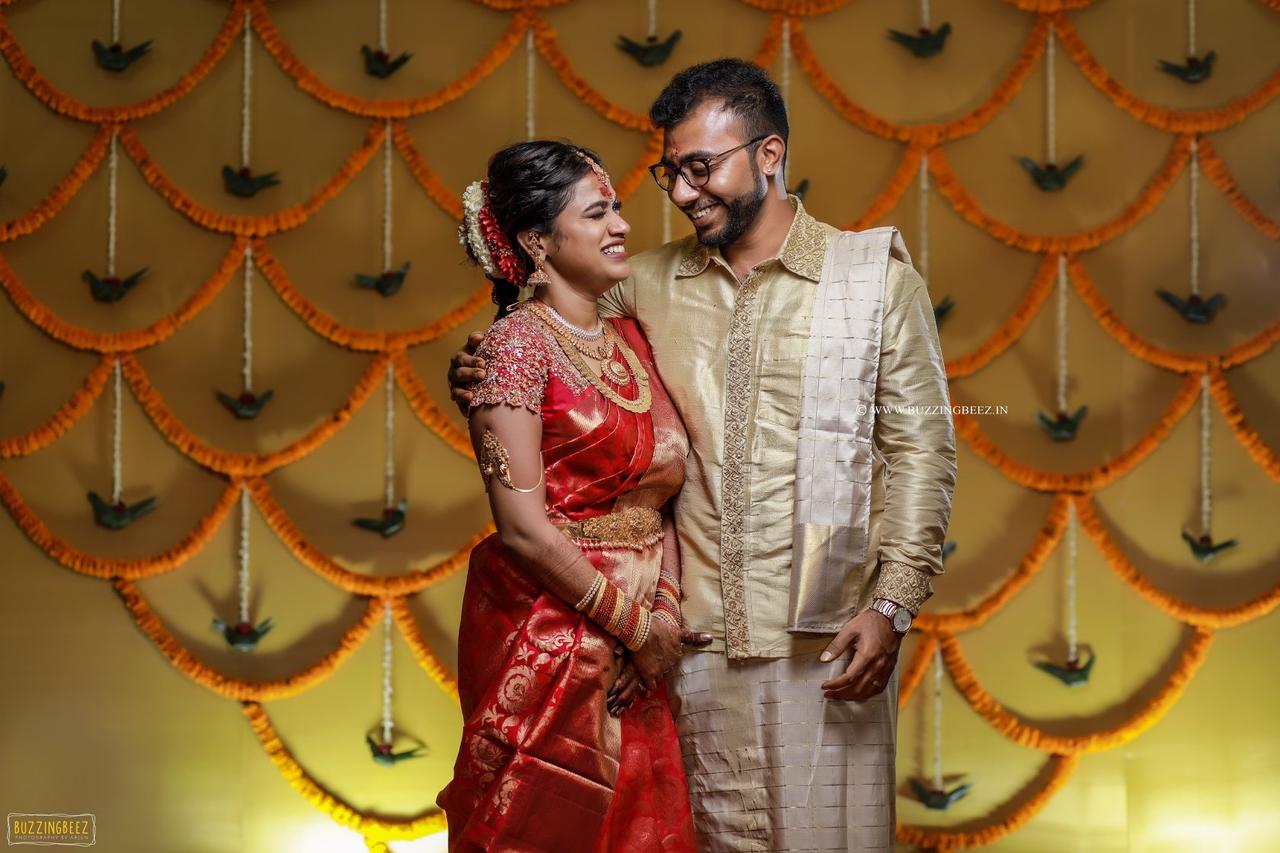 Image Courtesy: Buzzingbees Photography
A Kerala traditional dress for the groom usually consists of the Lungi or Mundu with gold Kasava border and a folded Melmundu cloth that rests on the shoulder. Traditionally, the groom only wraps the Melmundu around his bare chest for the wedding, but nowadays the grooms can be seen wearing shirts with Lungi for the main ceremony instead. A Zari embroidered shirt can be a great option to add luxe-quotient to the otherwise simple attire for the wedding.
Prince Coat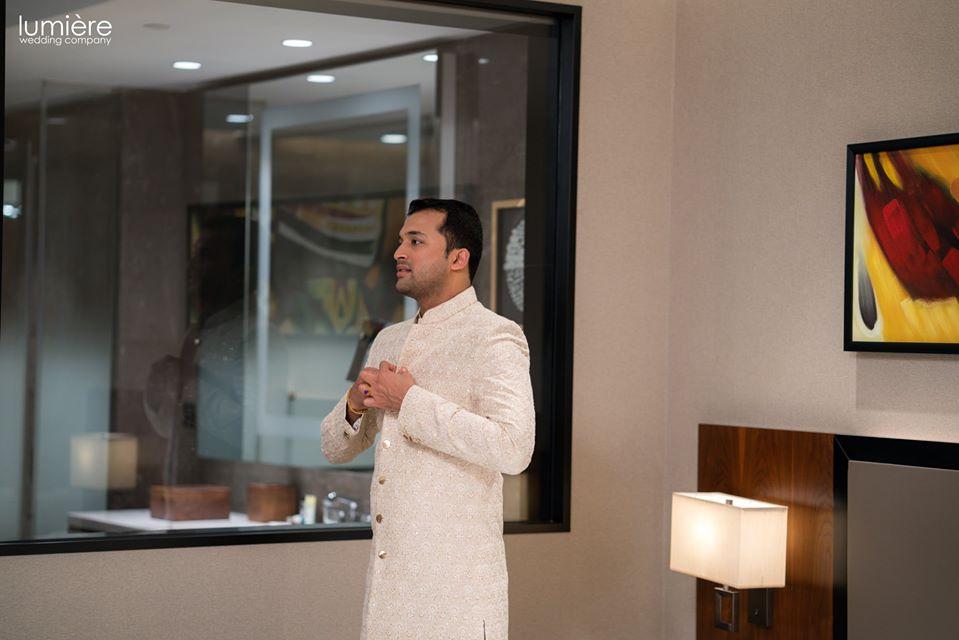 Prince coat is a modern groom's take on the Kerala traditional dress. Often grooms can be seen adorning this structured coat with a rose pin or pocket square, keeping the look neat and sophisticated for the wedding ceremony. It can be paired with a Lungi or even a Churidar.
Kurta With Lungi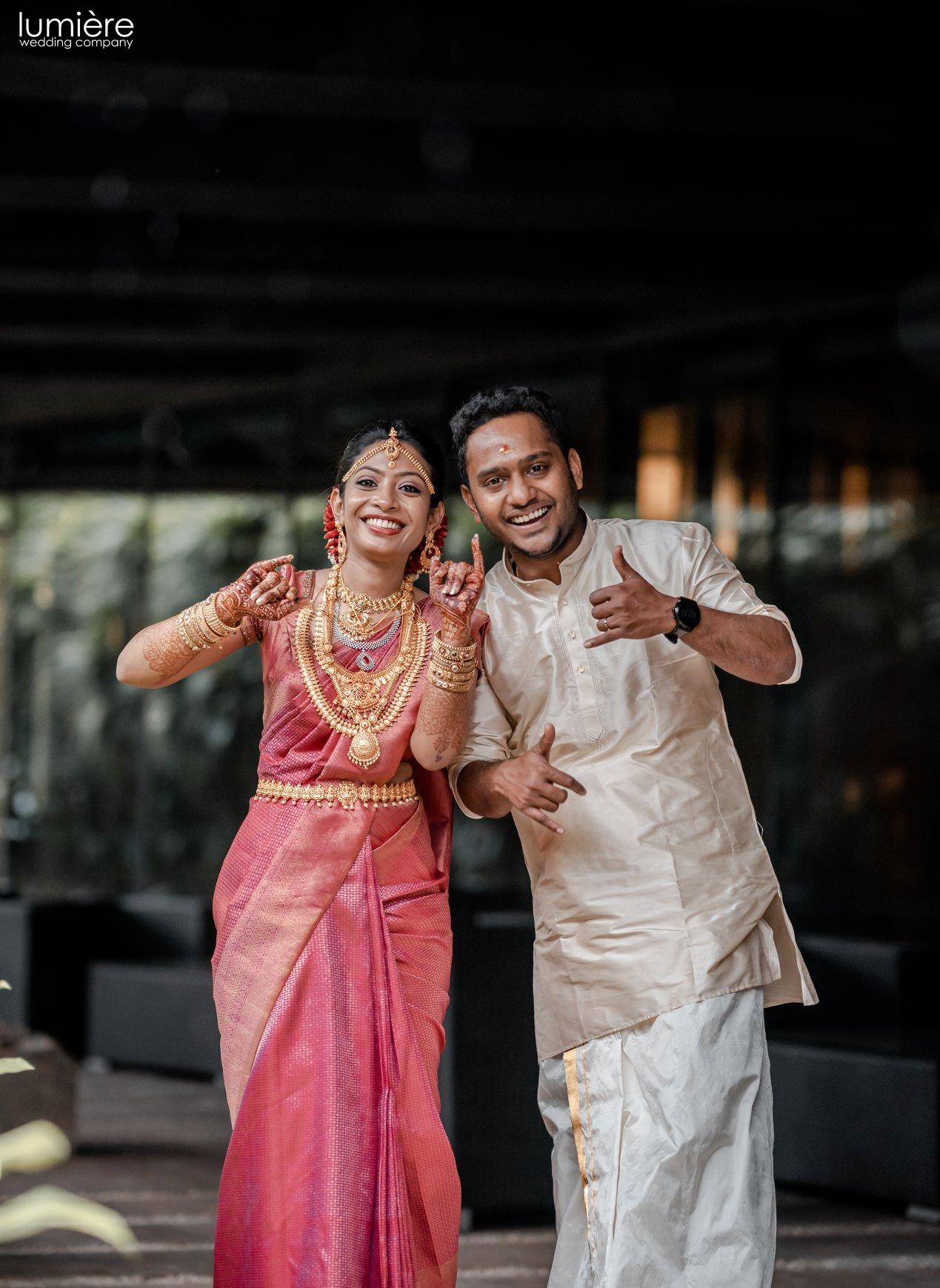 The most common tweak that grooms prefer giving to the Kerala traditional dress is by swapping the Melmundu cloth and bare chest for a Kurta instead. Simple cotton or silk Kurta in white or cream shade goes very well with the Mundu as well.
Formal Shirt With Mundu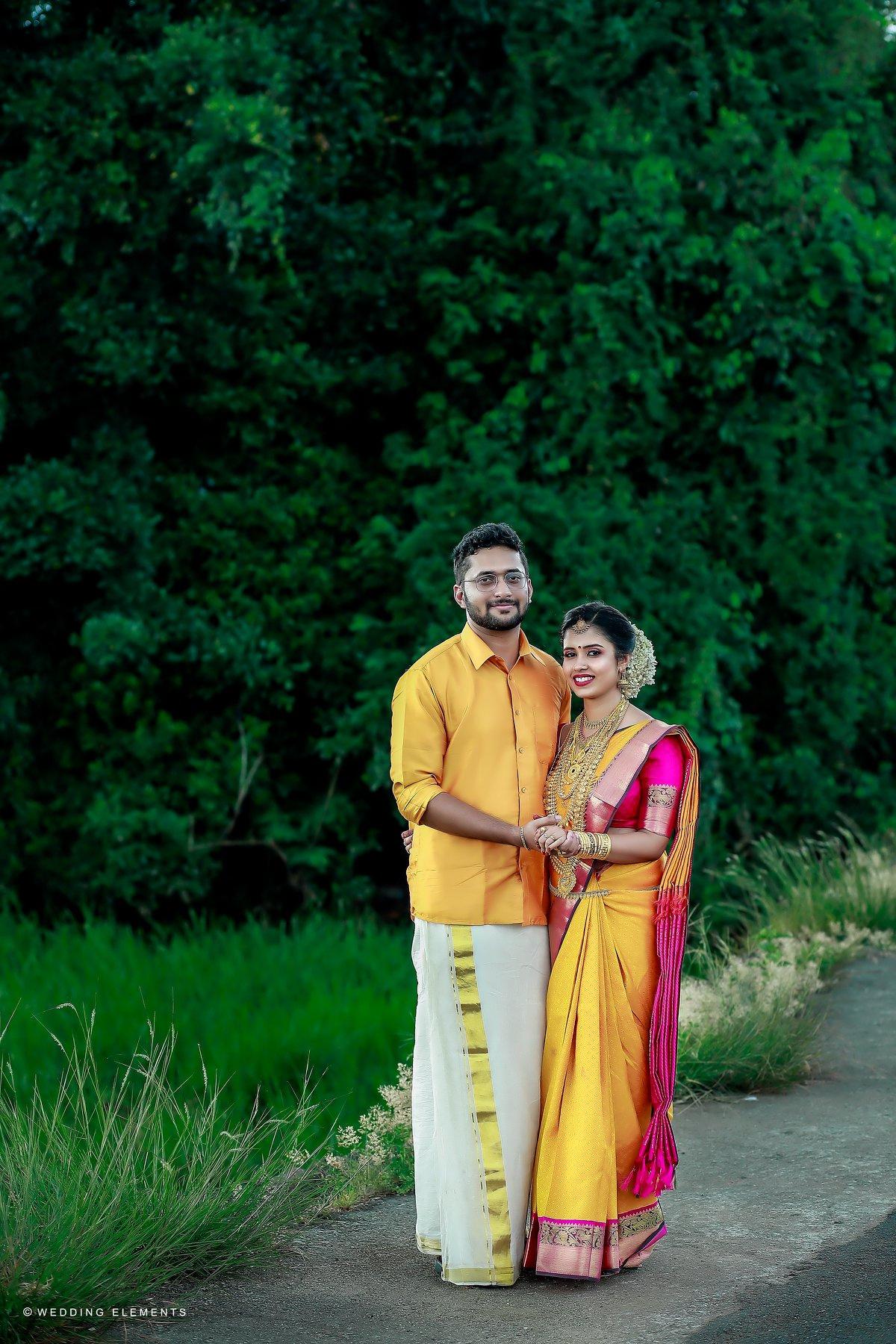 Image Courtesy: Wedding Elements
If not the knee-length Kurta, then grooms nowadays also have taken up the trend to adorn a formal shirt in a hue that matches the trousseau of the bride-to-be. A cotton full-sleeved shirt, folded till the forearms and combined with a traditional Mundu goes perfectly well as wedding attire.
Asymmetric Kurta Pajama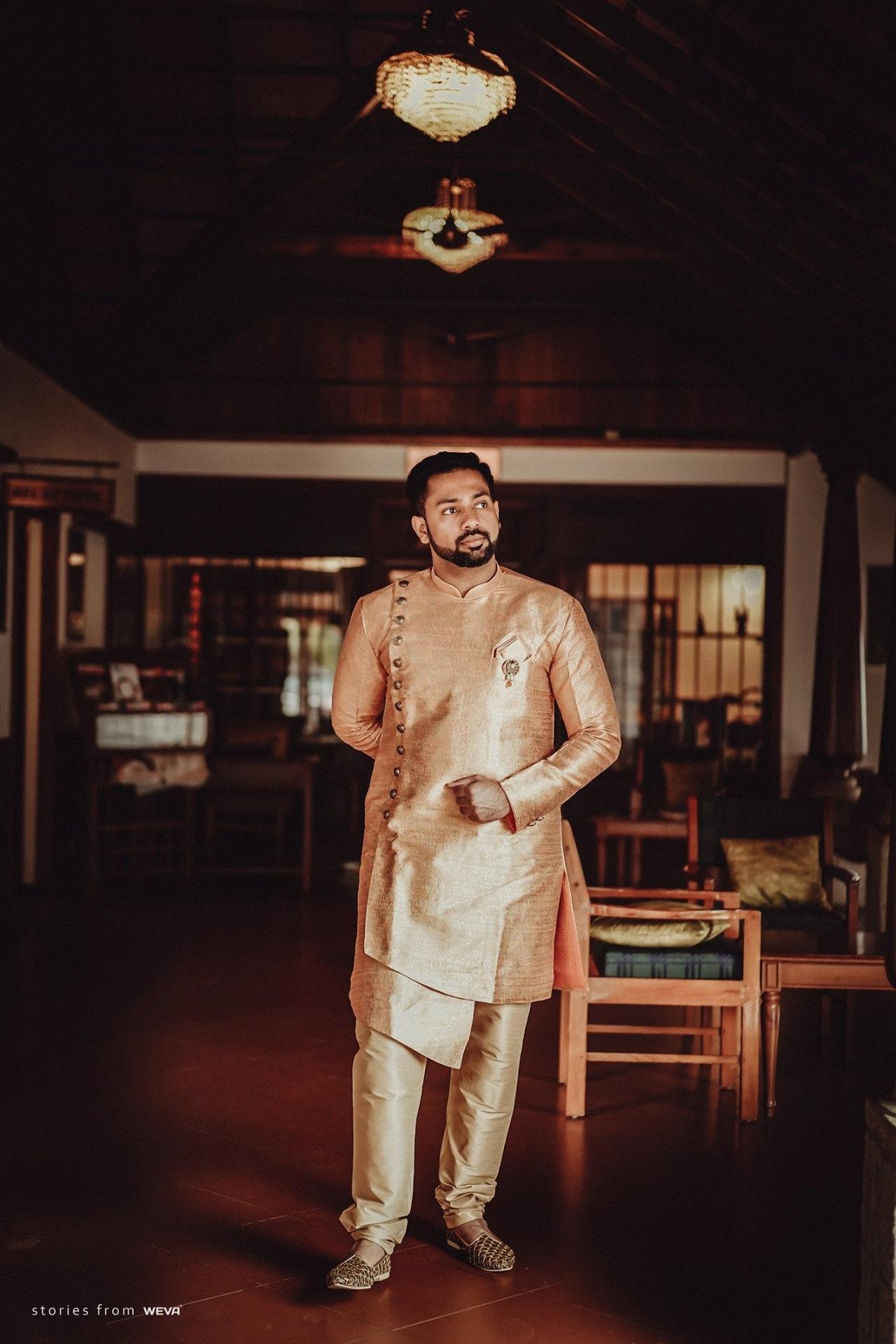 Just like the grooms of Northern India, men in the south have also started giving preference to asymmetric Kurta Pajama over the Kerala traditional dress for their wedding. An Angrakha style asymmetric Kurta Pajama goes very well as the wedding, Sangeet and even reception look.
Whether the couple decides on wearing Kerala traditional dresses for their wedding, or they opt to twist the norm and adorn something more comfortable or modern, the only thing that matters is both of them feeling confident and at ease in their attires. South Indian weddings also put in a lot of focus on accessorisation, so jewellery of any kind is a must for both the bride and the groom-to-be. The trending style is obviously Temple jewellery and without a doubt, it compliments the simple look that the Kerala Traditional dress is all about.
We have many designers and boutiques that offer both Kerala traditional dress as well as contemporary styles every season. Check them out on our vendor's list.