Stupendous Temple Jewellery Designs in Gold to Make You Look Fab
Jewellery gives women a gorgeous, feminine look. A beautiful bride in temple jewellery designs in gold is the ultimate epitome of splendour and beauty. Heres how!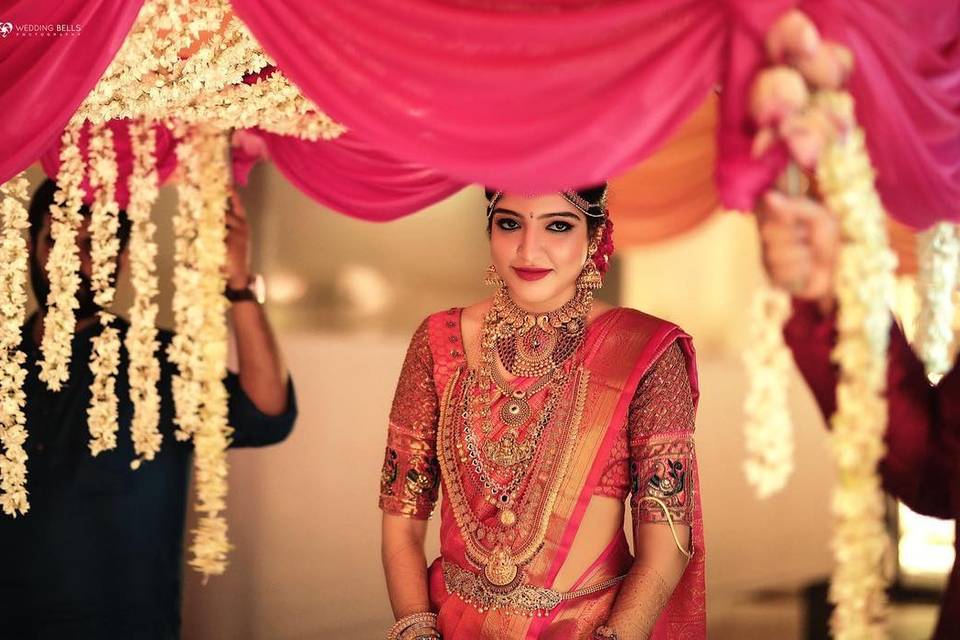 Temple jewellery has always been in vogue with its traditional look accompanied with elegance and beauty. It has managed to create a perfect blend of fashion, culture, and tradition into its pieces of jewellery designed for brides.
This is why even though this style was traditionally associated with the South Indian aesthetic, brides all over the country are now vying for a beautiful temple necklace set! It's time for you to get your hands on one as well!
Here we present 10 stupendous temple jewellery designs in gold for you to choose from to glam up your bridal look!
Multi-layered necklace in gold and more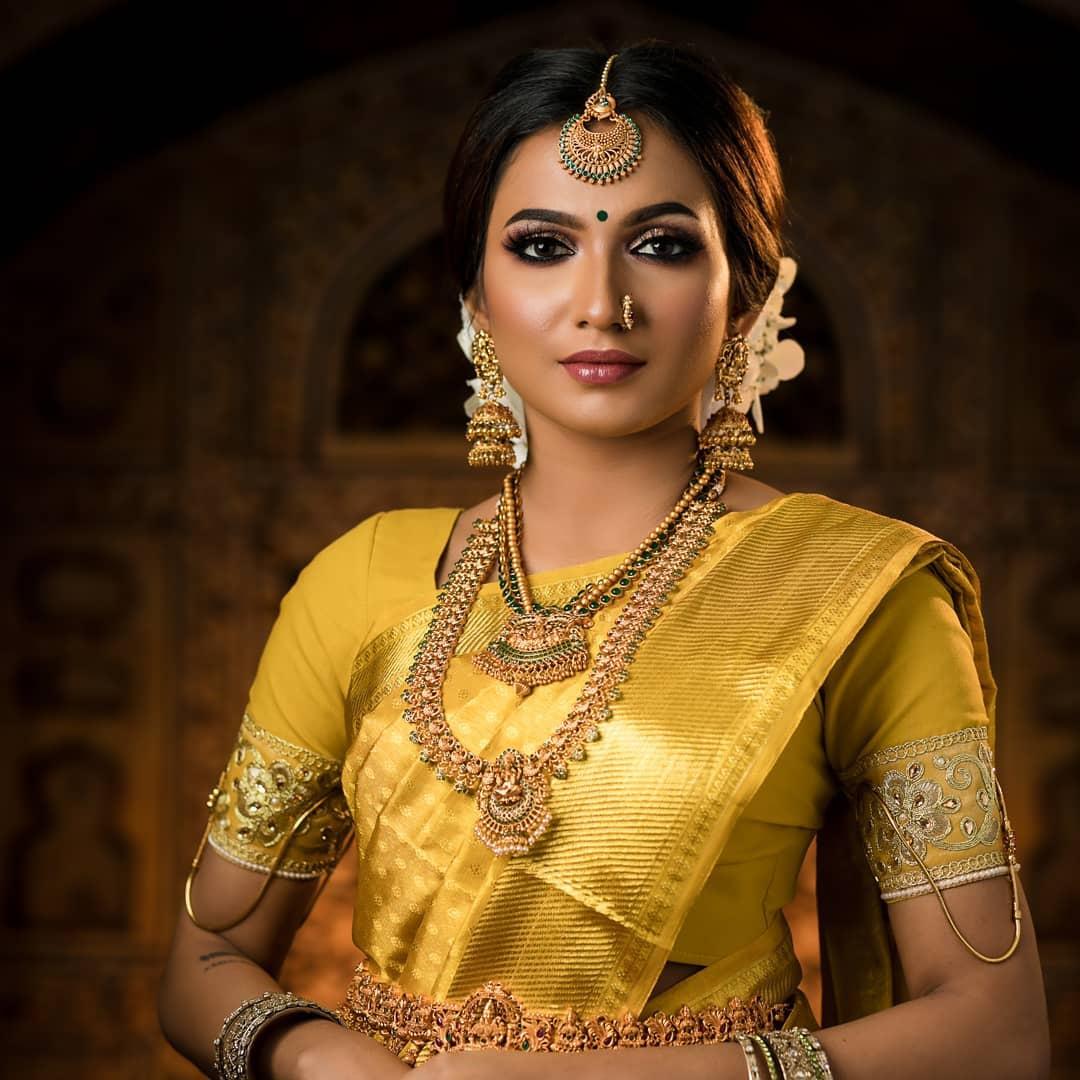 Image Courtesy: Ashevin K Photography
This gorgeous look has an antique multi-layered necklace in gold and emeralds along with an oversized Goddess Laxmi pendant. Team it with another heavy gold necklace with a Lord Ganesha pendant in the centre with emeralds and other precious stones, and stay blessed with the blessings of both the deities!
Complete the look with a pair of simple gold armlets or Vanki and gold bangles or Valayal. Oversized gold Jhumkas and the perfect nose ring or Besari worn with a mesmerising bridal saree will help you steal the show.
A dazzling necklace and Kamar Bandh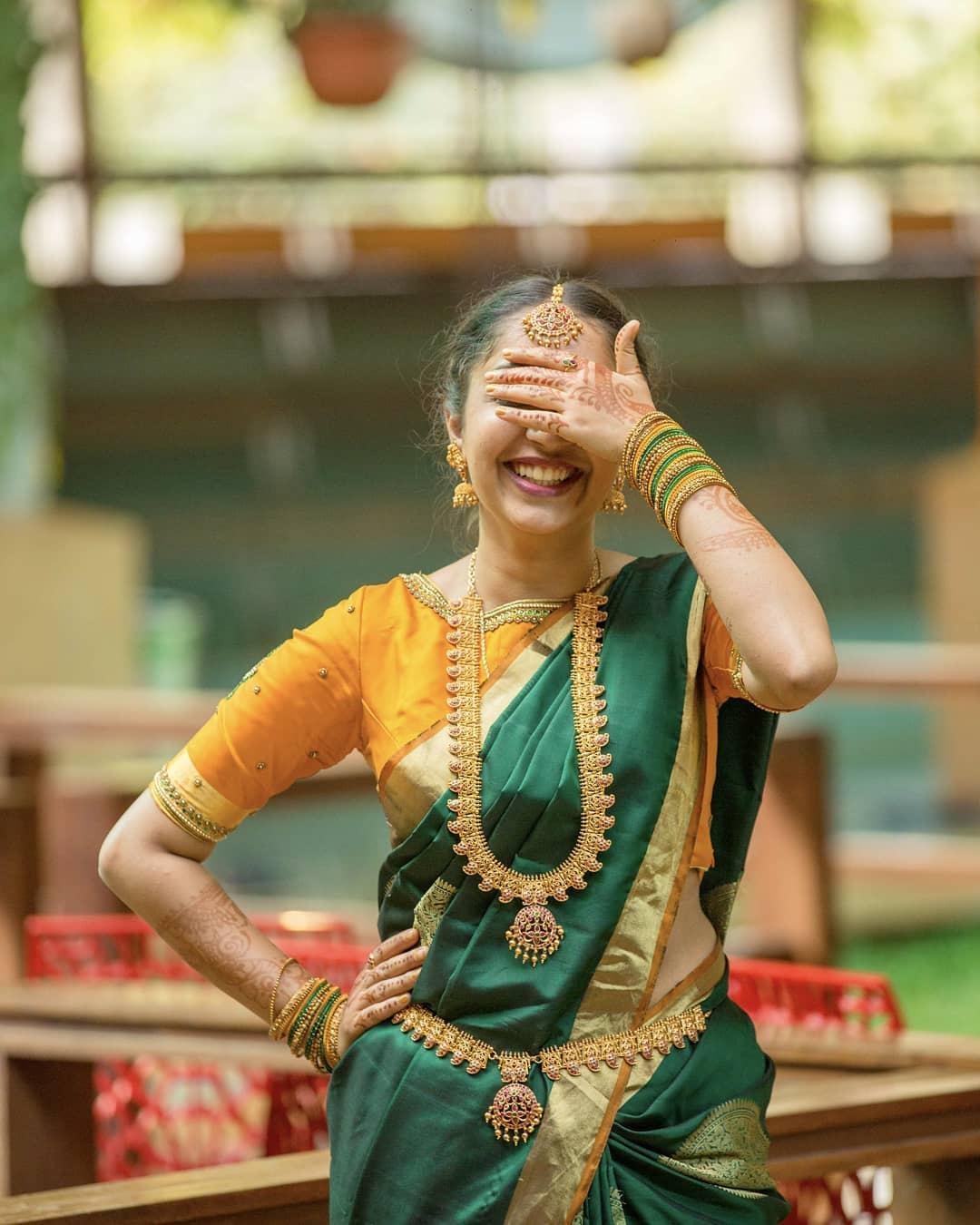 We know most brides will fall in love with such temple jewellery designs in gold! Here is a majestic gold Raani Haar with a pendant embellished with rubies and other precious gems. The chain is intricately hand-crafted with gold mango shaped motifs studded with rubies. Wear it with a magnificent gold Kamarbandh on your bridal saree.
The waist belt called Oddiyanam keeps the sari in place and is typically made of gold or silver. The one in the picture has elaborate figures beautifully decorated with pearl and rubies.
Goddess Laxmi armlet and Kamarbandh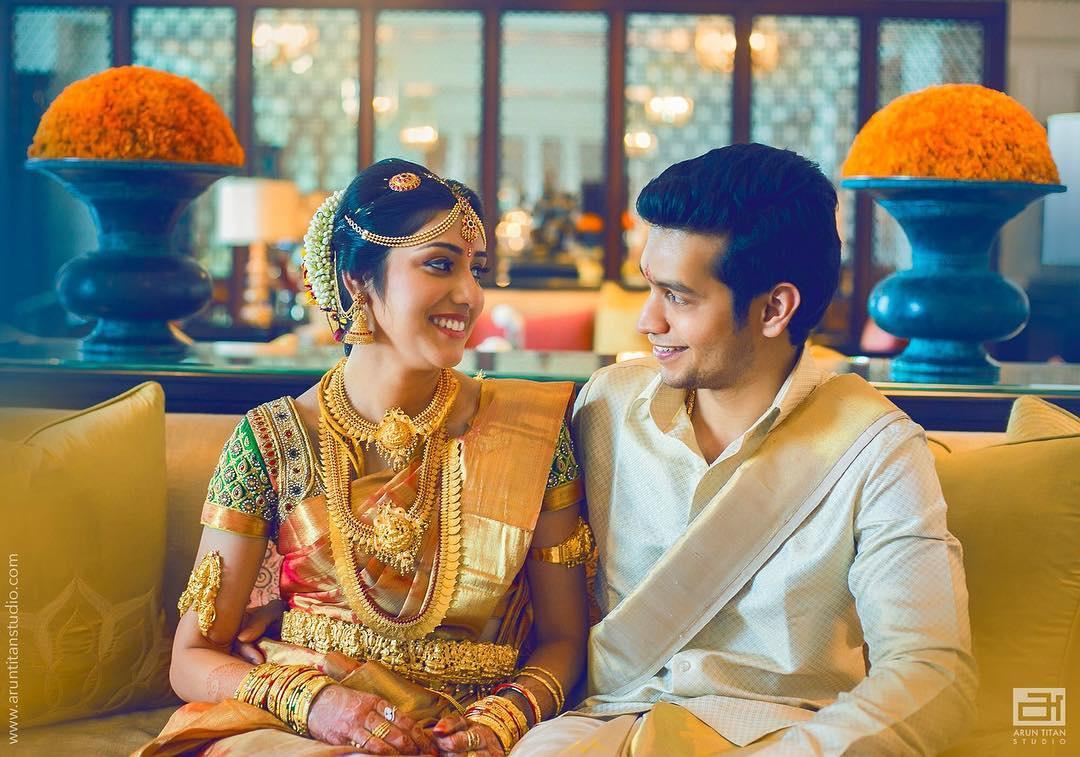 A traditional South Indian bride decked up in elegant temple jewellery designs in gold is nothing less than a goddess to behold. Adorn these amazing pieces of temple jewellery to get that feel.
The 3-layer gold necklaces –gold choker, leaf necklace (or the Kodi Malai) and the magnificent Raani haar or the Kaasu Malai will add to your charm. The gold bridal Kaasu Lakshmi bajubandh or armlet, and the Thalai Saman are other glorious features of these pieces of jewellery!
These amazing ornaments of Temple jewellery designs in gold should be on your wishlist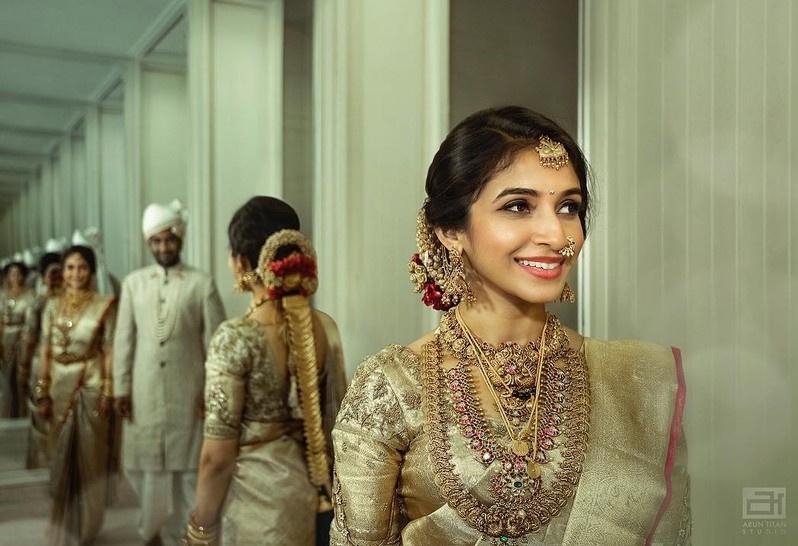 Here, is a gold and ruby extravaganza for the heavenly bride! The Goddess Laxmi choker with its highly intricate design, the mango shaped motif necklace studded with rubies and the perfect Raani haar or the Kaasu Malai are the show stoppers of this look.
Wear them with traditional gold Jhumkas and Maang Tikka. To steal the show is an elegant gold Jadanagam or 'Hair serpent' that graces the long braid of the bride.
Walk like a Queen with these exquisite pieces of jewellery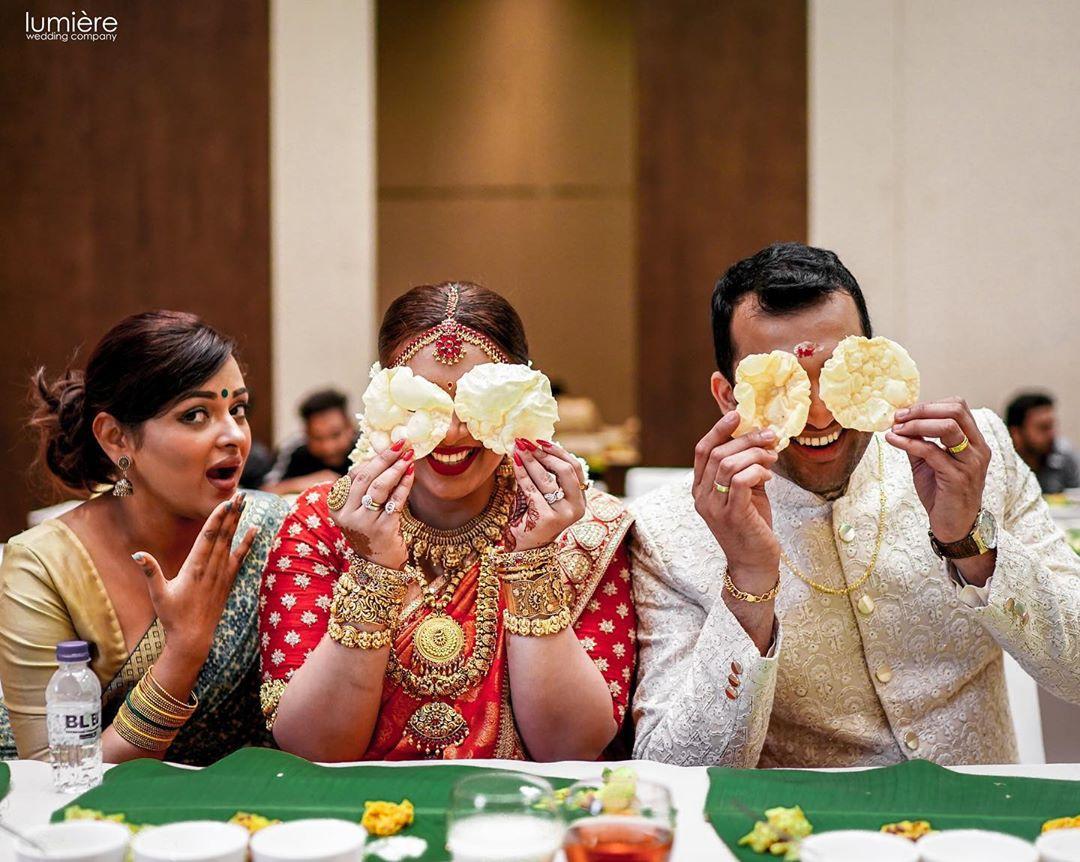 Here is another stunning gold choker with figures of Gods carved out, along with magnificent haars with royal pendants. Wear it with intricately handcrafted gold bangles and an all ruby and gold beaded Matha Patti for the perfect bridal look!
Give an ethereal touch to your attire with these gold ornaments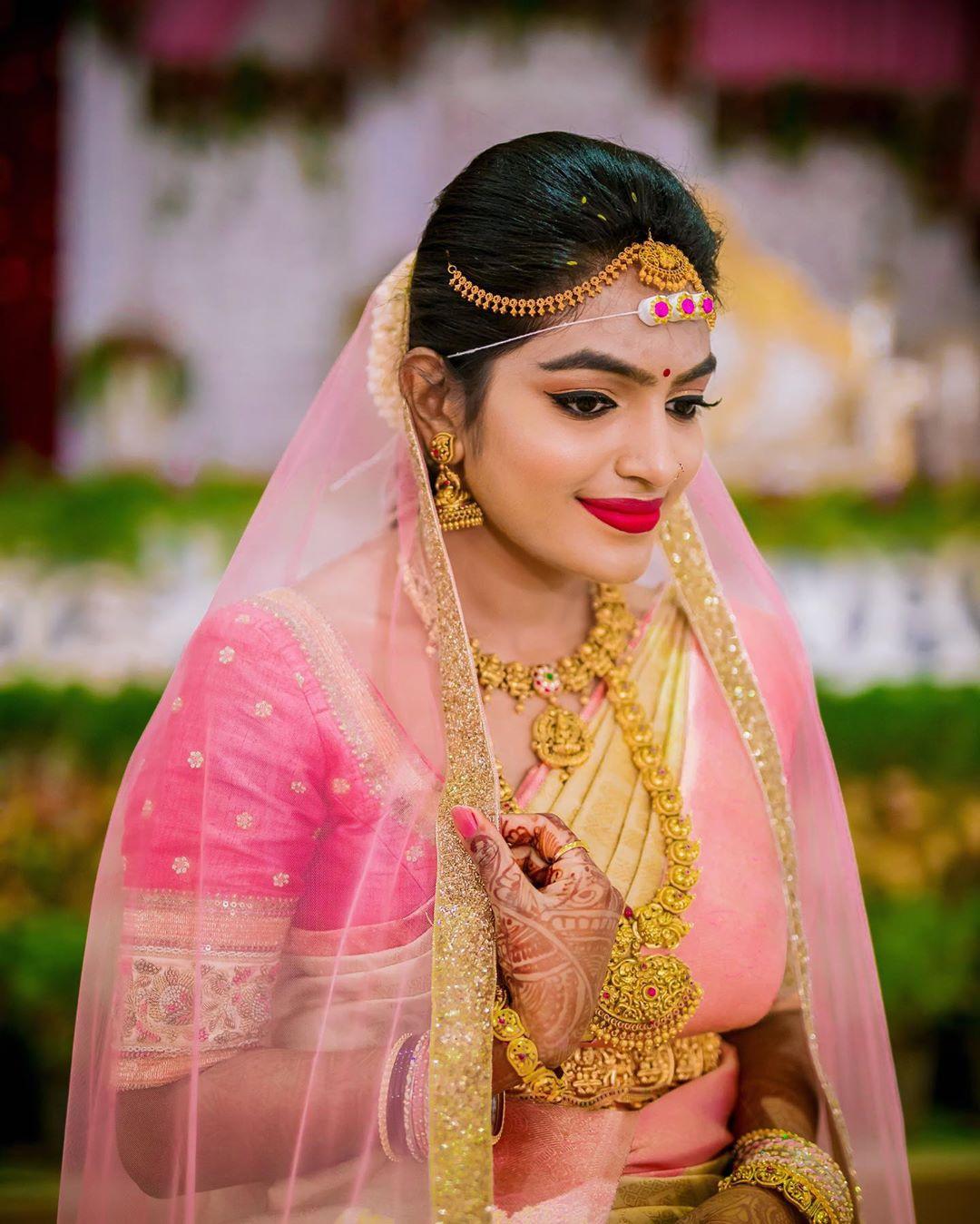 Enhance the colours and the vividness of your bridal attire with these temple jewellery designs in gold. Adding a touch of ethnic beauty are the two gold Haars that have motifs of Goddess Laxmi and mango bootas intricately crafted in the designs. These gold ornaments (including the magnificent waistband, bangles, and the Jhumkas) are studded with rubies and other precious stones.
This gorgeous and authentic gold necklace with a Goddess Laxmi pendant and Matha Patti to make you shine like a star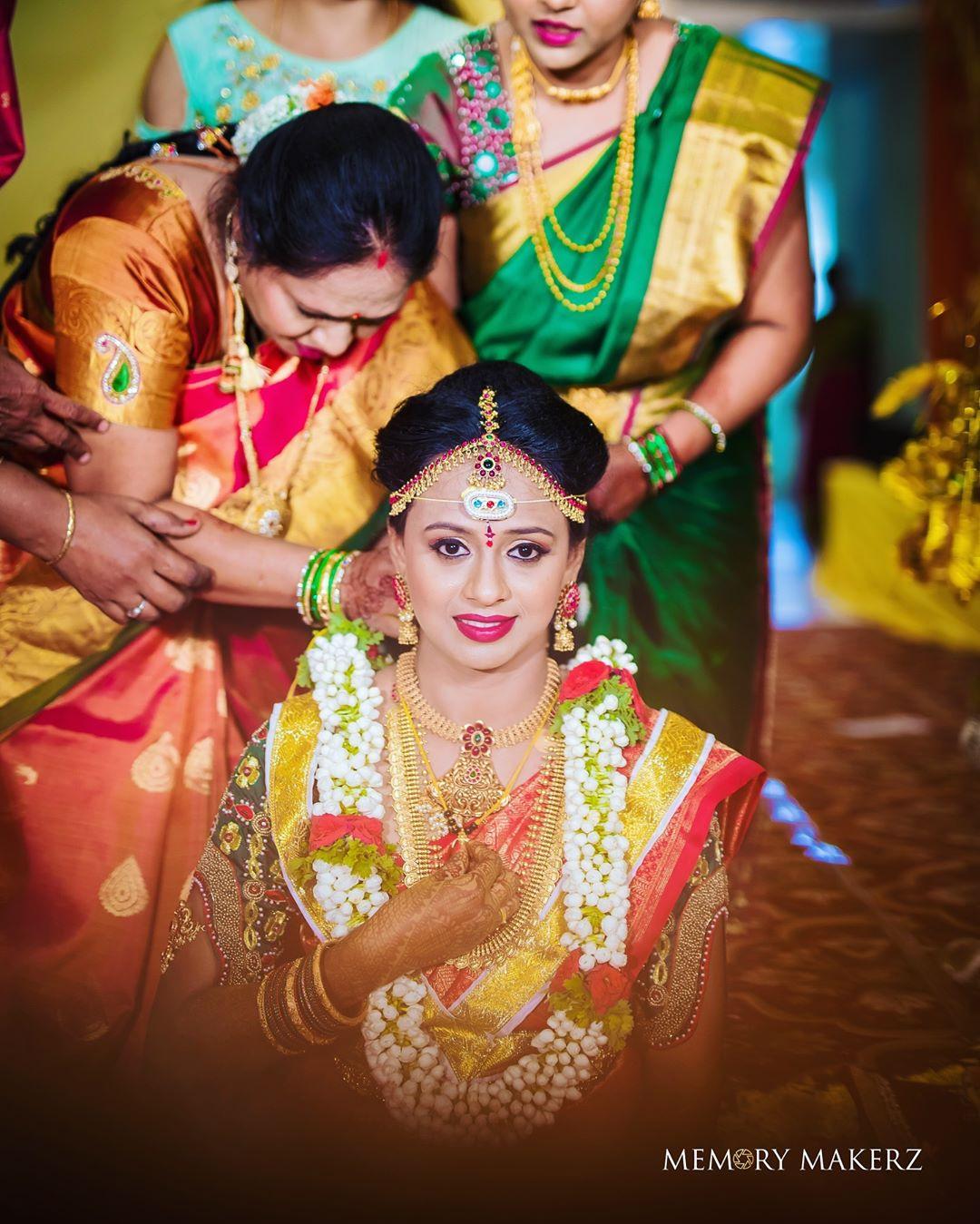 Such temple jewellery designs in gold will keep mesmerising you with their elegant charm as every ornament is a unique design in itself. Here is an example of intricate gold and ruby craftsmanship in a gorgeous necklace and an equally stunning Matha Patti and Maang Tikka. Both the designs have finely carved gold and ruby work to leave you drooling.
Get awestruck by these seven-layered stunning necklaces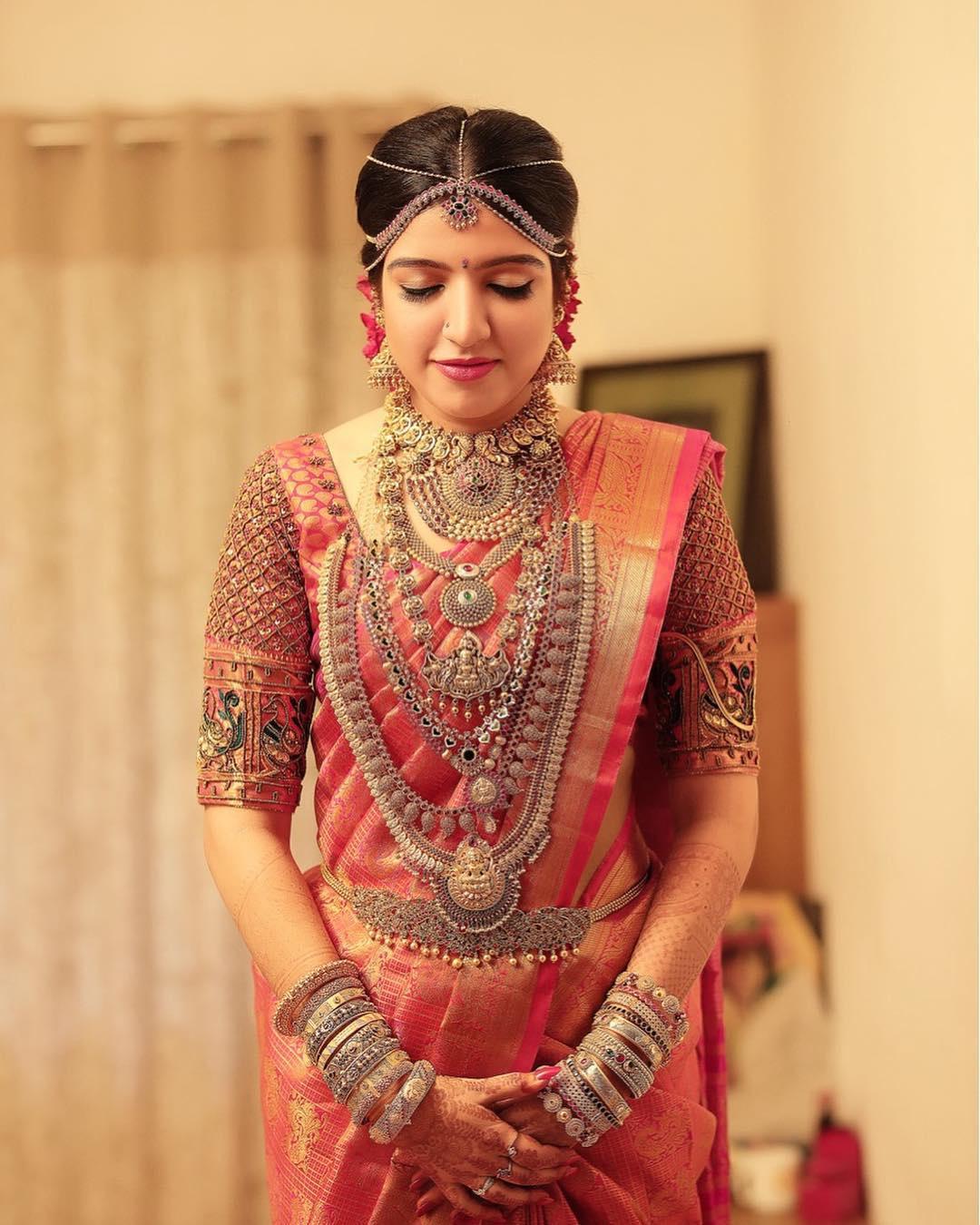 Make yourself feel like a stunning goddess with these heavy pieces of temple jewellery designs in gold. Adorn the look of the traditional South Indian bride decked up in gold from head to toe.
This beautiful bride is completely laden with gold jewellery in the seven traditional gold Haars, all with magnificent motifs and craftsmanship. With the gold head ornaments, the Kamar bandh, the majestic gold bangles, the jhumkas and the armlet or the Vanki, nothing is left out.
Get an enthralling look with this stunning Haar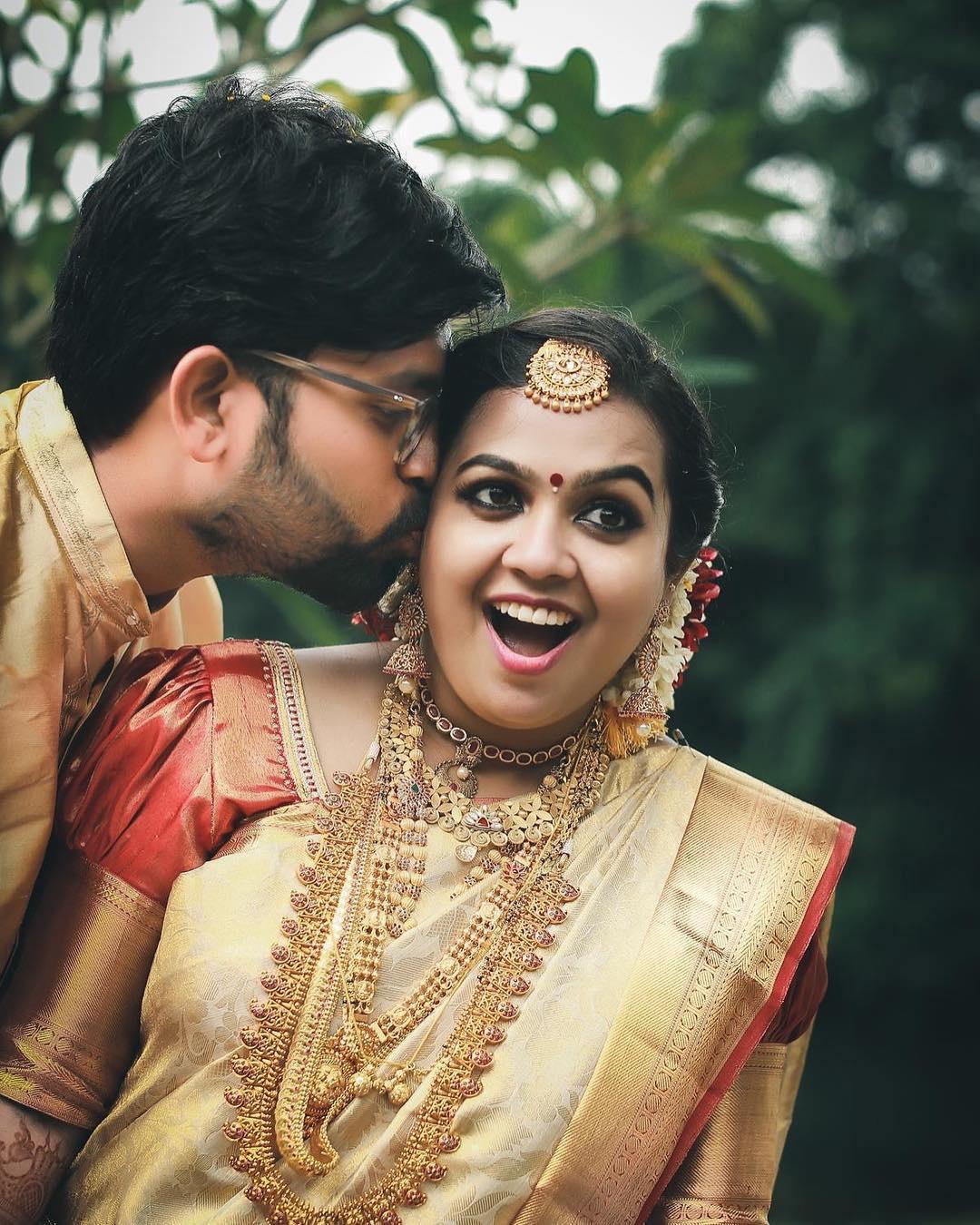 Add to your bridal charm with these beautiful temple jewellery designs in gold. Each necklace is a masterpiece in itself. The ruby studded choker, the finely crafted short necklace chains, and the opulent Rani Haars will bestow a Maharani feel to the bride.
Wear a stunningly perfect necklace for the simple bride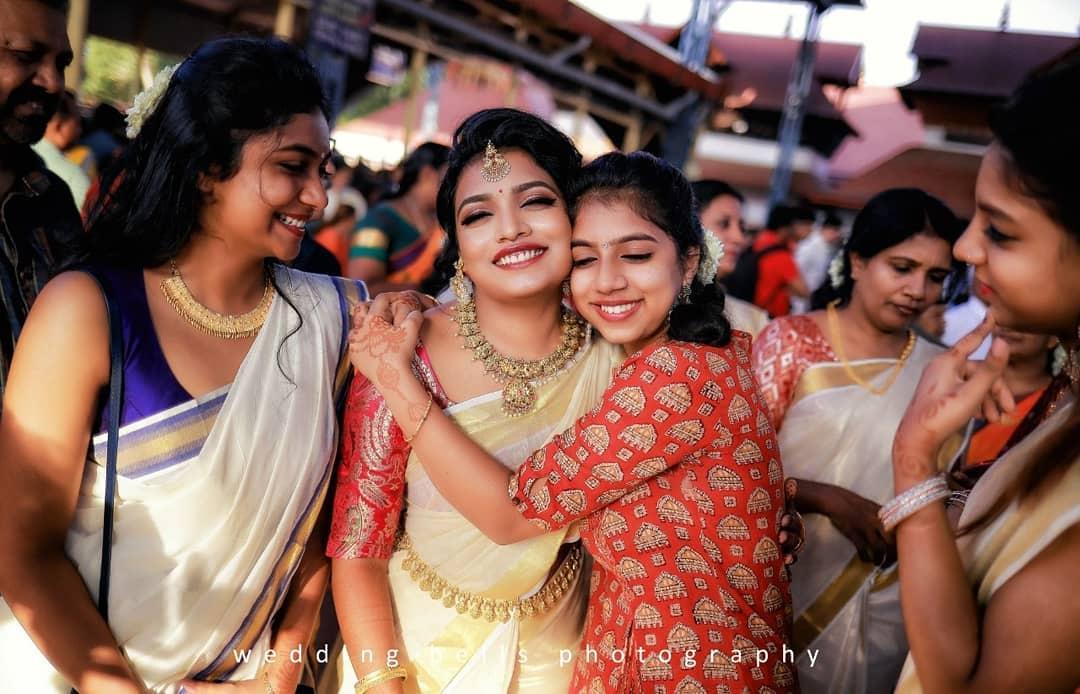 If you do not like to be covered in layers of heavy gold jewellery as shown in these temple jewellery gold designs, here is something simple yet elegant for you. Adorn an intricately gold crafted collar necklace studded with rubies and other gems.
Nothing beats a perfectly created look where you've paid attention to every element of your ensemble, including each piece of jewellery! Get your hands on these traditional temple jewellery designs and dazzle all your guests!
Check out these jewellery stores near you that offer lovely designs!